Leaf tattoos are a popular choice for many people looking to express their personal style and creativity. They can be simple or complex, small or large, bold or subtle. No matter what type of leaf tattoo you choose, it will always be unique and meaningful to the wearer. This post is an amazing resource that showcases some of the most beautiful and creative designs available today.
The meaning of leaf tattoos
The leaf tattoo is a popular design that has been around for many years. It is often associated with the season of autumn, as it typically incorporates colors and shapes that are reminiscent of falling leaves. The leaf symbolizes the cycle of life; it begins in spring when new growth appears, then matures through summer before finally dying off in fall. This can be seen as an analogy to our own lives. We start out young and full of potential but eventually succumb to age and death. By getting a leaf tattoo, one can celebrate this natural process while also paying homage to nature's beauty during its most colorful season: autumn!
The colors used for these tattoos usually consist of warm oranges, yellows and reds which represent the vibrant hues found on fallen leaves during this time period. Additionally, some artists will incorporate other elements such as birds or squirrels into their designs which further emphasize how closely linked Autumn is with nature's cycle. These animals are commonly seen gathering food from trees at this time year before winter sets in!
Furthermore, there's something very special about getting a leaf tattoo. Not only does it remind us all about mortality but also serves as reminder that every moment should be cherished no matter what stage we're currently at in life's journey.
Discover the Beauty of Leaf Tattoos
If you are searching for inspiration when selecting a leaf tattoo, we have compiled 50 leaf tattoos showcasing a range of creative designs and styles.
From small minimalist designs to larger, more intricate works, these leaf tattoos are certain to provide you with a wealth of inspiration for your next tattoo.
Orange Salmon leaves with an eye tattoo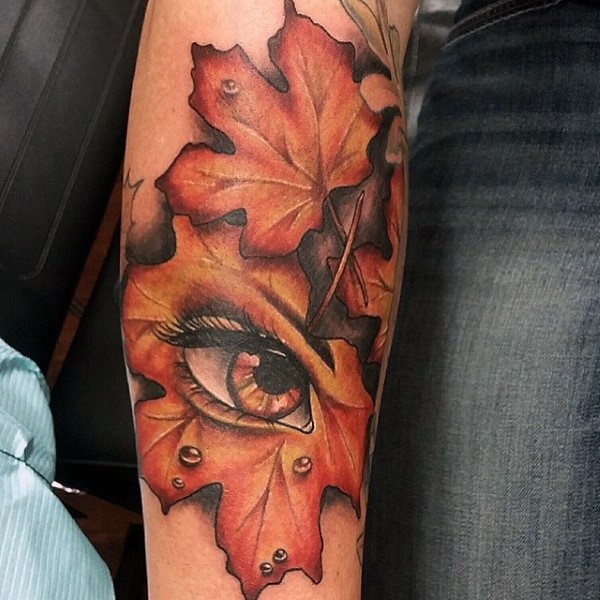 The orange of the salmon leaves, combined with a black eye tattoo on the forearm, creates an exquisite contrast against the backdrop of other fall colors in autumn. This striking image inspires artists to capture its beauty and share it with others who appreciate nature's artistry. The vibrant hues are sure to leave a lasting impression on anyone to witness this stunning display.
Vibrant Reddish leaf with gradient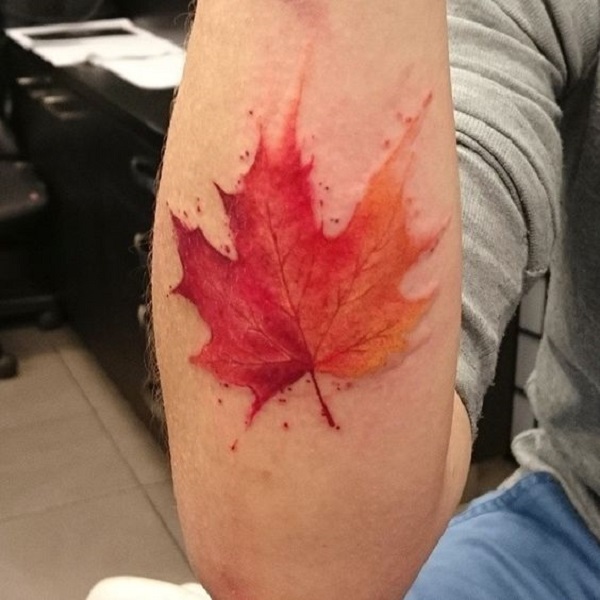 The vivid colors create an eye-catching design that is sure to draw attention wherever it's seen. With its unique styling, this tattoo is perfect for anyone looking for something special and memorable.
Autumn leaves with a piece of green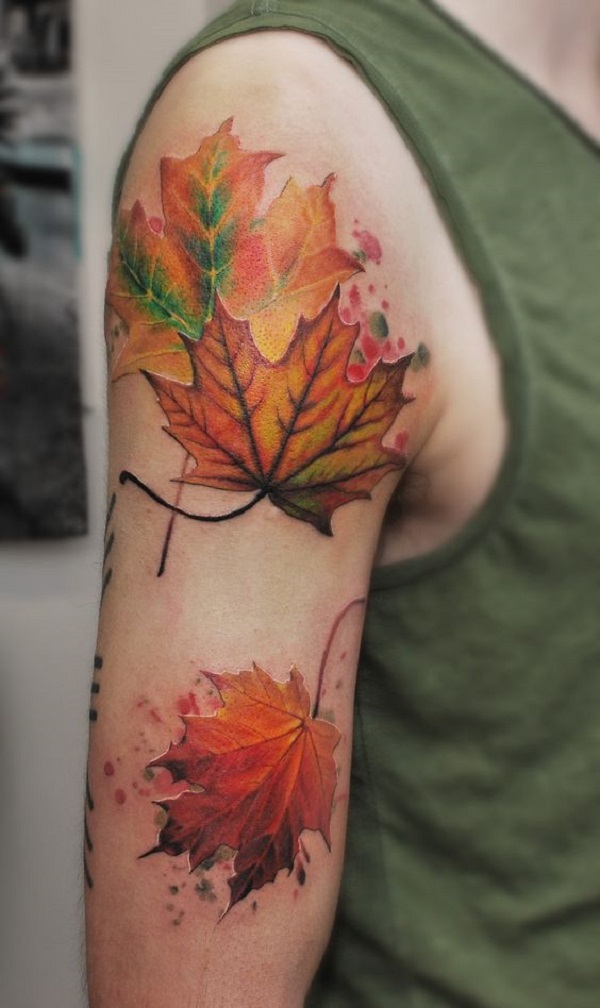 Autumn leaves are a beautiful sight to behold, with their vibrant colors of reds, oranges and yellows. Despite the changing season however, there is always one piece of green that remains in the foliage; an ever-present reminder that life goes on even when everything else around us changes. The resilience of nature is truly remarkable and it's something we can all appreciate as we watch these majestic autumn leaves slowly make their way to the ground.
Watercolor painting of autumn leaves with looming skull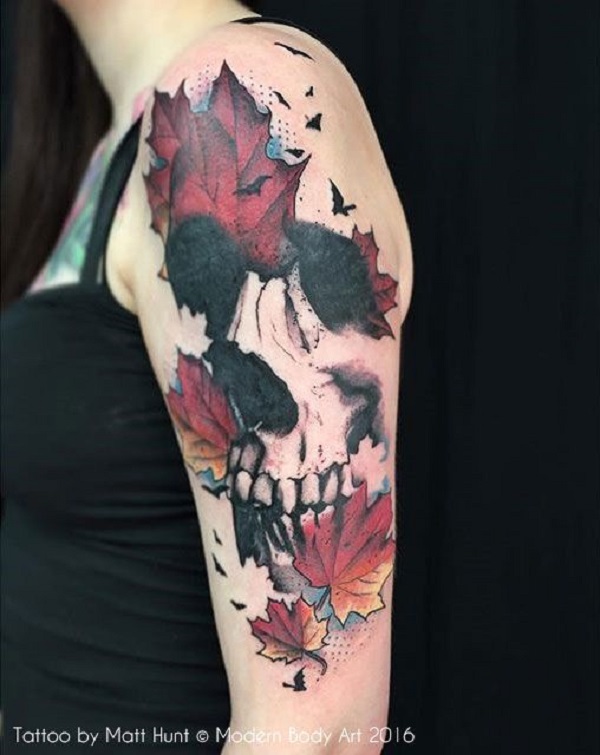 This eye-catching sleeve tattoo features a beautiful watercolor painting of autumn leaves with looming skulls, creating an interesting juxtaposition between the beauty of nature and the macabre. The vibrant colors used in this piece capture both the vibrancy of fall foliage and its inevitable decay as winter approaches. This unique design is sure to draw attention wherever it's seen, making it an ideal choice for those looking for something truly special.
Crimson leaves with drops of dew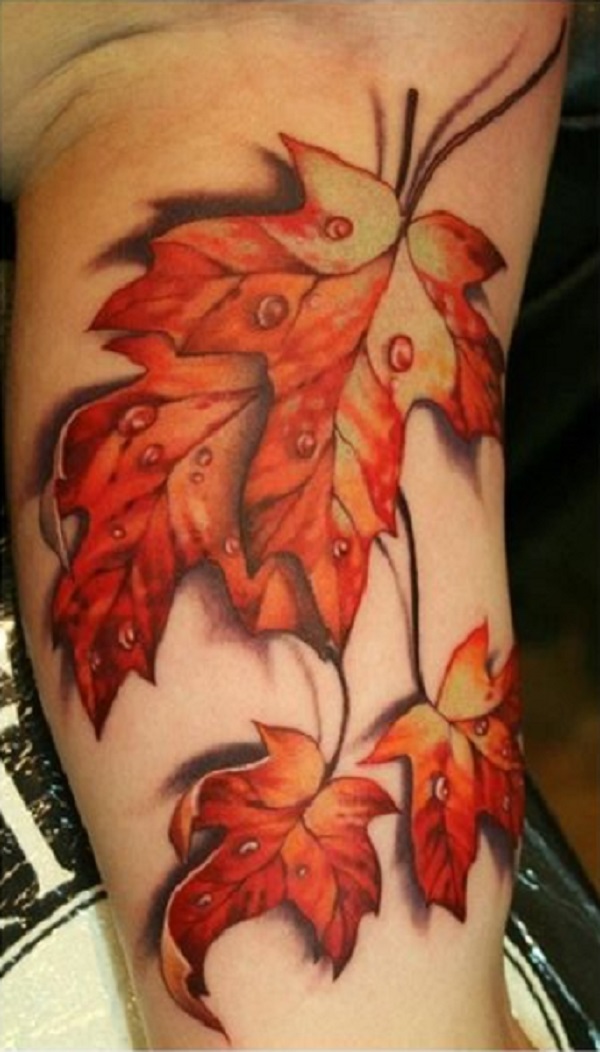 This beautiful tattoo features a collection of crimson leaves with dew drops glistening on their surface. The vibrant colors and intricate details create an eye-catching design that is sure to be admired by all who see it. It's the perfect way to express your love for nature while also making a bold statement about your personal style.
Whimsical leaf ink with multiple colors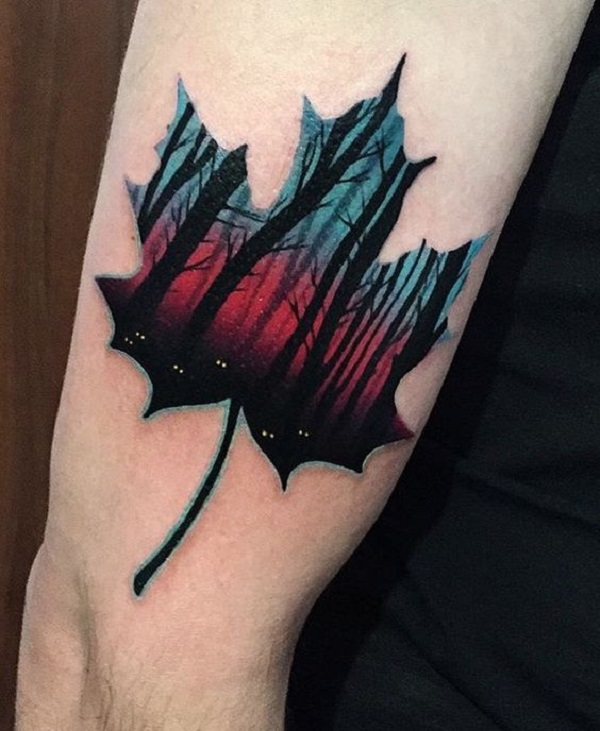 This whimsical leaf tattoo is a beautiful and unique way to show off your own style. The intricate design is made up of black, red, and blue colors that come together to make a piece of body art that stands out.
A piece of leaf on the back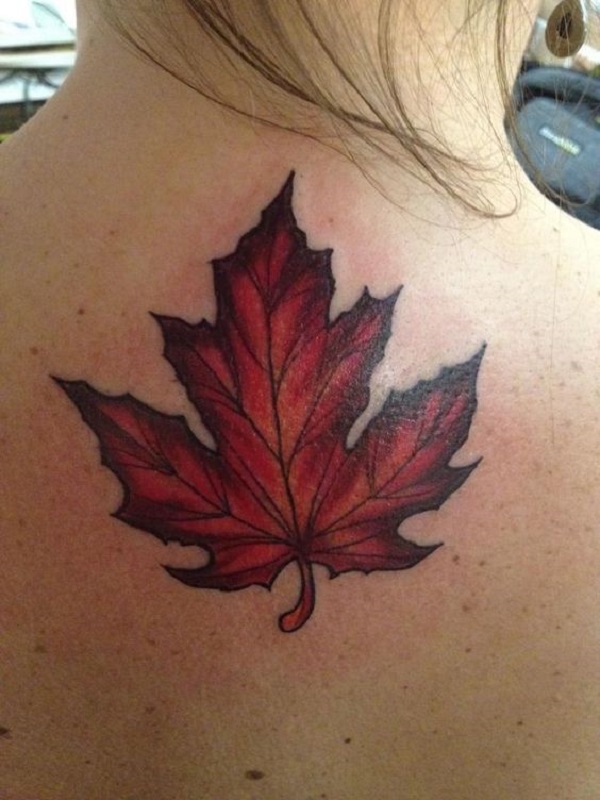 A piece of leaf tattoo on the back can be a great way to express your creative side and show off your unique style. It is an attractive design that has been gaining popularity in recent years, as it offers a subtle yet eye-catching look. Leaf tattoos are also associated with nature and growth, making them perfect for those who want to display their appreciation for the natural world around them. Whether you choose a realistic design or something more abstract, this type of tattoo will surely make you stand out from the crowd!
Sleeve tattoo of outlined Foliage on a light brown watercolor background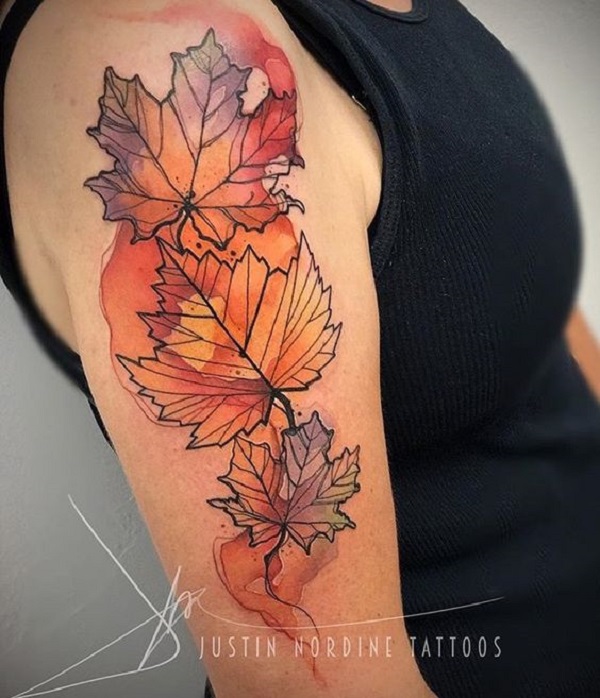 This beautiful and unique sleeve tattoo features intricately outlined foliage in black on a light brown watercolor background. The design is bold and eye-catching, with the shading of the watercolor adding to its visual appeal. This tattoo will look great for years to come, providing you with an interesting piece of art that can be proudly displayed wherever you go.
Coffee wine leaf tattoo on the arm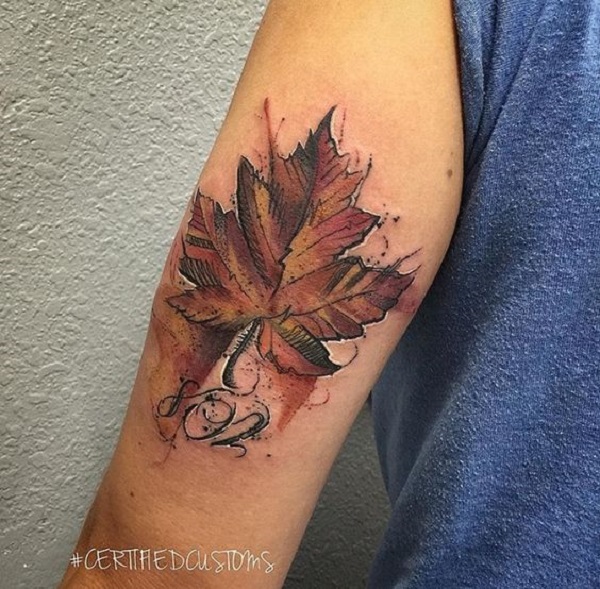 Small Foliage Ink on the Ankle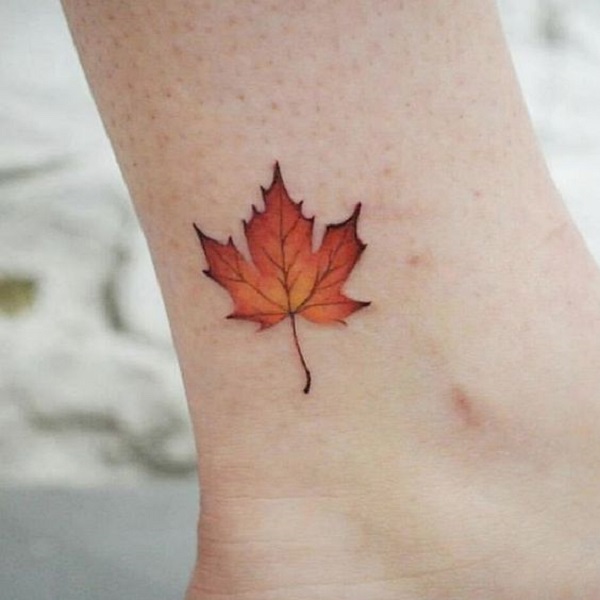 Red and black foliage tattoo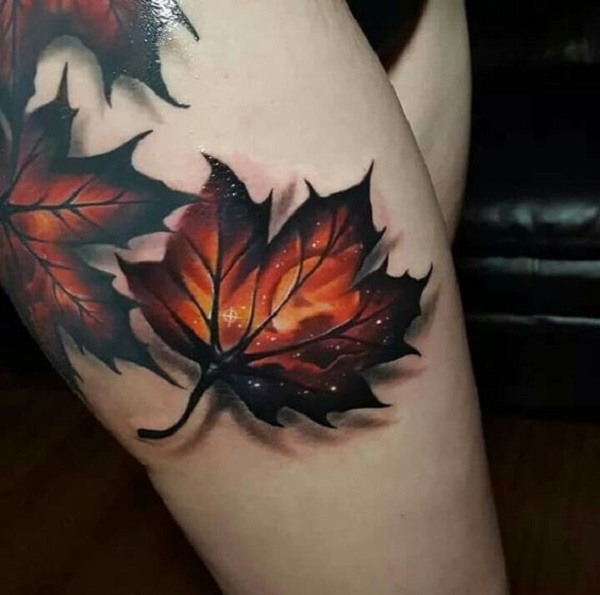 This stunning piece of tattoo is sure to turn heads. The intricate details of the leaves, branches are beautifully complemented by a crimson sun background that adds an extra layer of depth to this piece of art. This tattoo will be a conversation starter for years to come as it stands out from traditional designs with its bold colors and unique design elements.
Magic galaxy leaf tattoo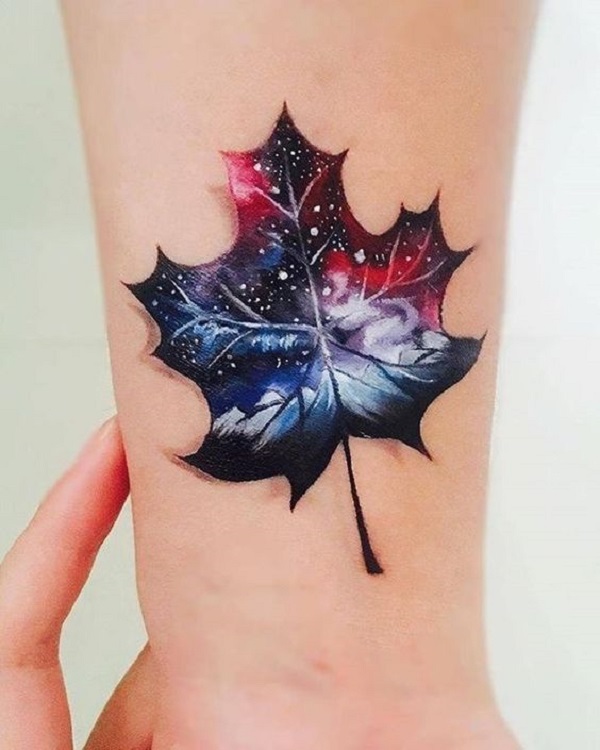 The magic galaxy tattoo is an incredibly beautiful and unique design that can be placed on the hand. This intricate design features an array of vibrant colors, capturing the beauty and mystery of a galaxy in one mesmerizing image. It's perfect for those looking for something special to commemorate their life journey or express their creativity through body art.
Mysterious leaf tattoo with a tree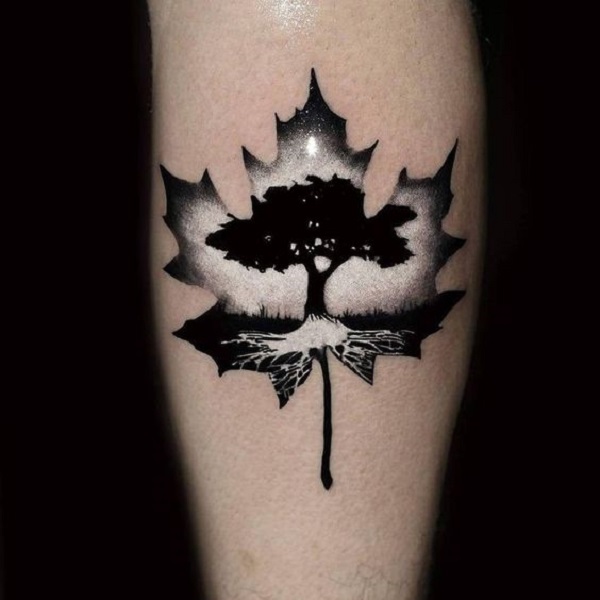 This mysterious leaf tattoo is a captivating piece of art. The tree stands proudly in the center, with its roots settling deep into the soil beneath. It's an eye-catching piece that speaks volumes about whoever wears it – strength, resilience, beauty and mystery all wrapped up into one unique work of art.
Sleeve tattoo with foliage above water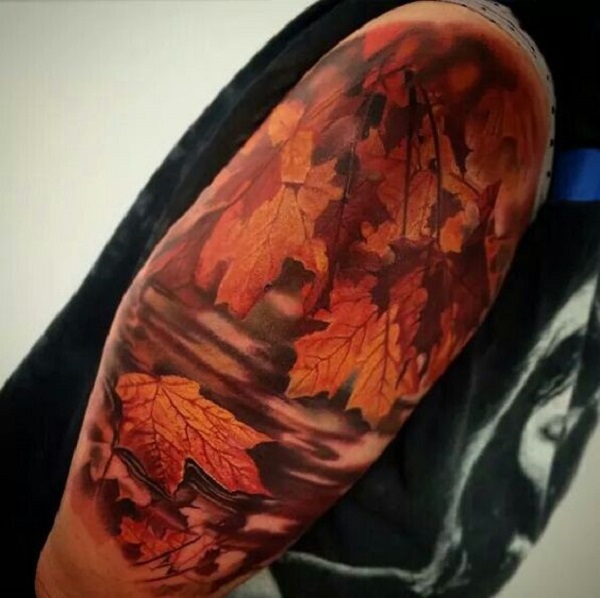 This sleeve tattoo features a beautiful scene of foliage above water. The design is intricately detailed, capturing the movement of the leaves and branches as they sway in the wind and ripple in the current. The colors are vibrant yet natural, creating an atmosphere of serenity that will draw people's attention to this unique piece for years to come. This sleeve tattoo is sure to make a lasting impression!
Black and gray foliage tattoo on the arm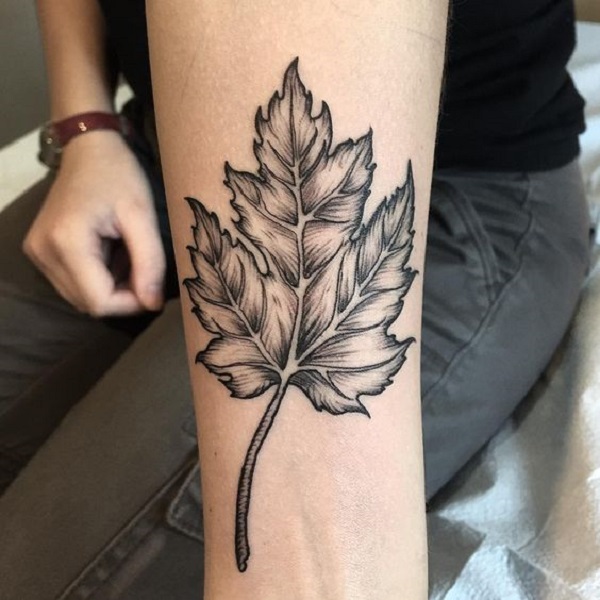 Dot work – half black and white and half colorful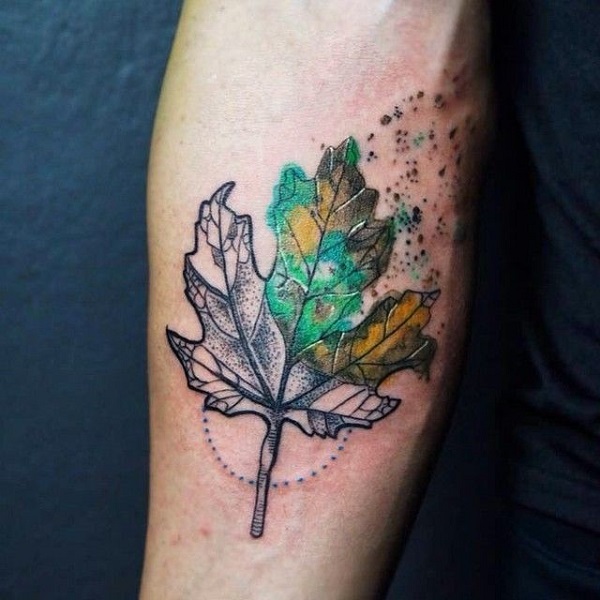 Realistic tattoo of leaves falling on the ground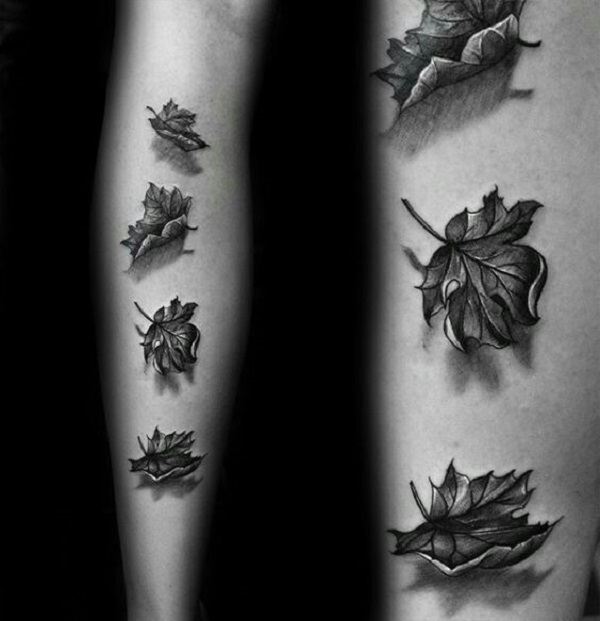 This realistic tattoo is a beautiful and meaningful piece that can represent many things. Whether it's symbolizing change, growth or letting go, this tattoo will capture your story in an elegant way. With its lifelike detailing, this design will be sure to stand out from other tattoos and make for a stunning addition to any body art collection.
Aged tree amidst a vivacious background and foliage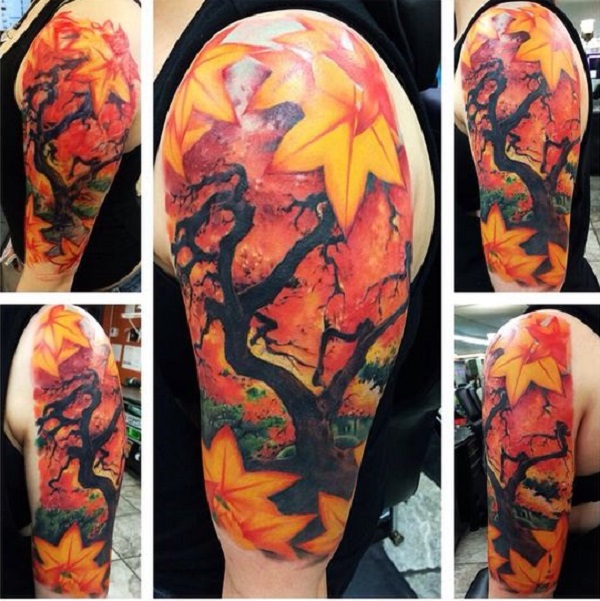 In this beautiful tattoo on the sleeve, an old tree stands tall against a background of vibrant leaves. With its intricate details and bright colors, this piece is sure to get people's attention. This one-of-a-kind design is perfect for anyone who wants a beautiful tattoo with a lot of character.
Fallen leaves and dandelions blow with the wind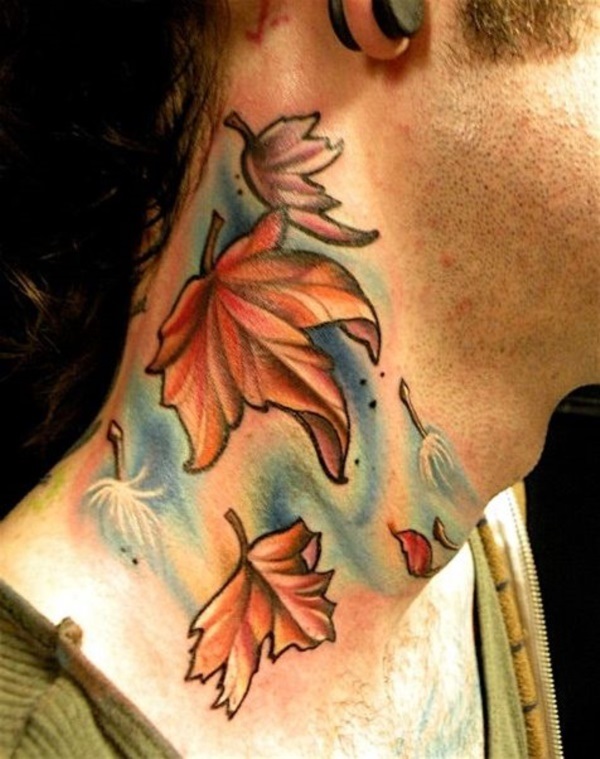 A whimsical pattern of blowing leaves and dandelions decorates this delicate tattoo on the neck. The intricate details bring to life the beauty of nature, while its placement on the neck emphasizes its unique aesthetic. It is sure to be a conversation starter wherever it travels.
Leaves fallen on the ground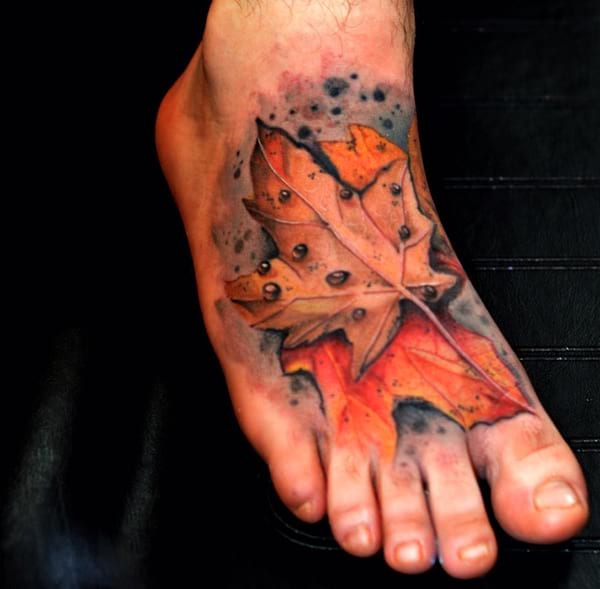 Vivid leaves with a piece of green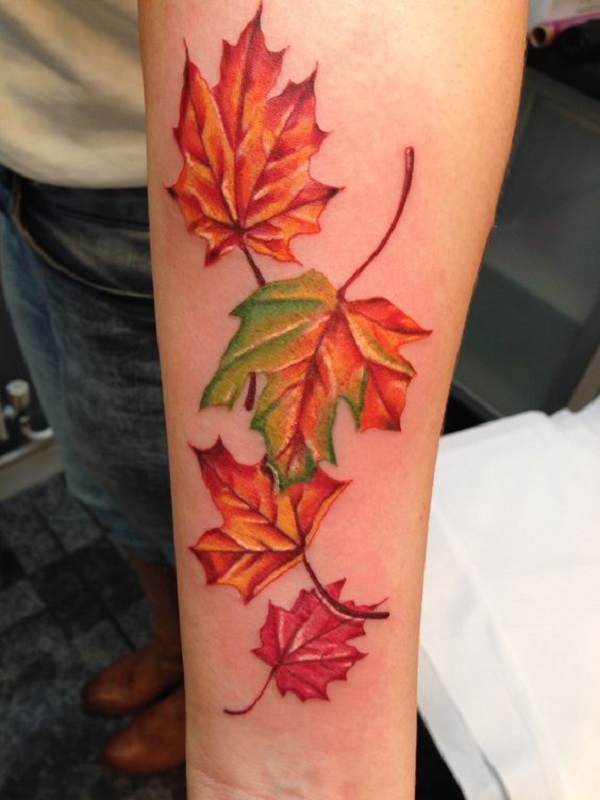 Leaf tattoo of 2 deers in blue wonderland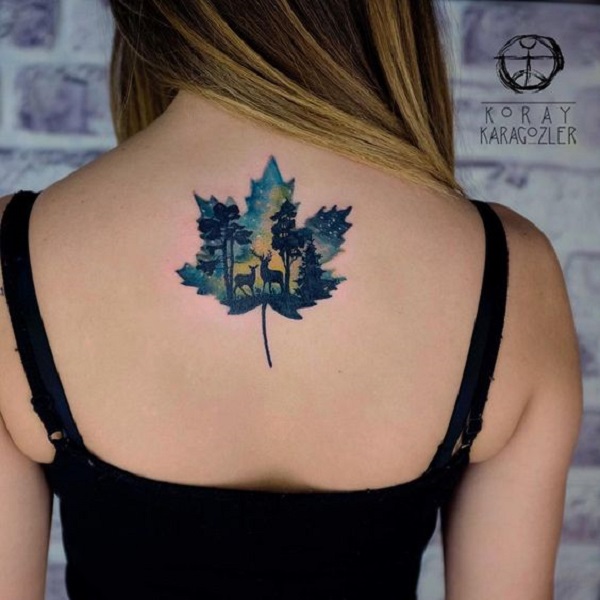 This stunning leaf tattoo of two deers in a blue wonderland is an intricate and beautiful piece of art, located on the back of a woman. The background consists mostly of blues, creating an ethereal atmosphere that perfectly complements the graceful animals depicted within it. This exquisite work will be sure to draw attention wherever it goes as its beauty speaks for itself!
Ink of two leaves in black theme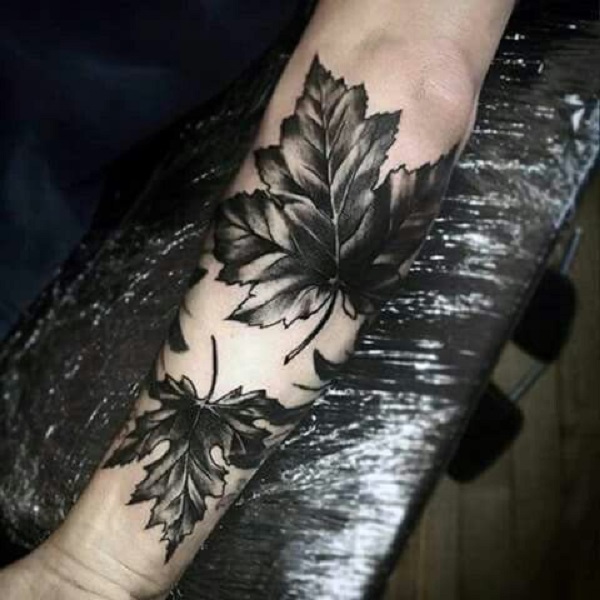 Leaf-shaped tattoo with a deer silhouette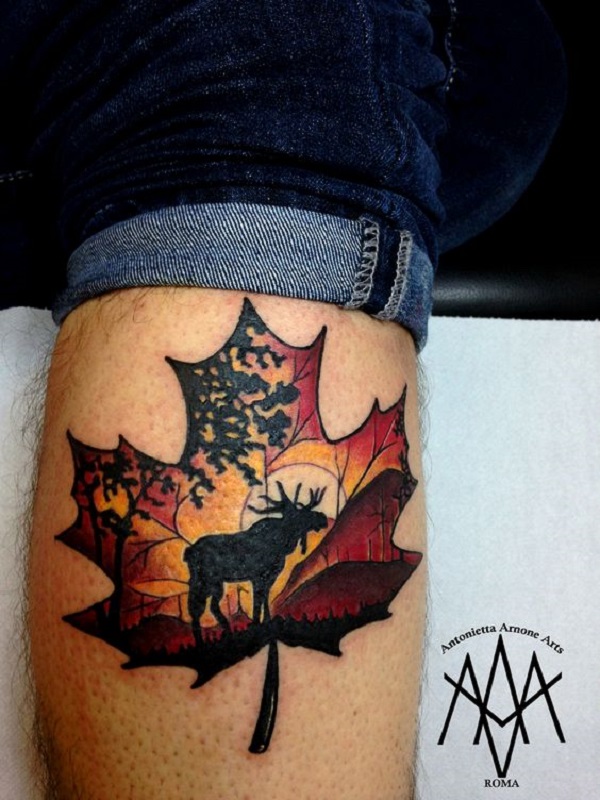 Watercolor ink of a piece of leaf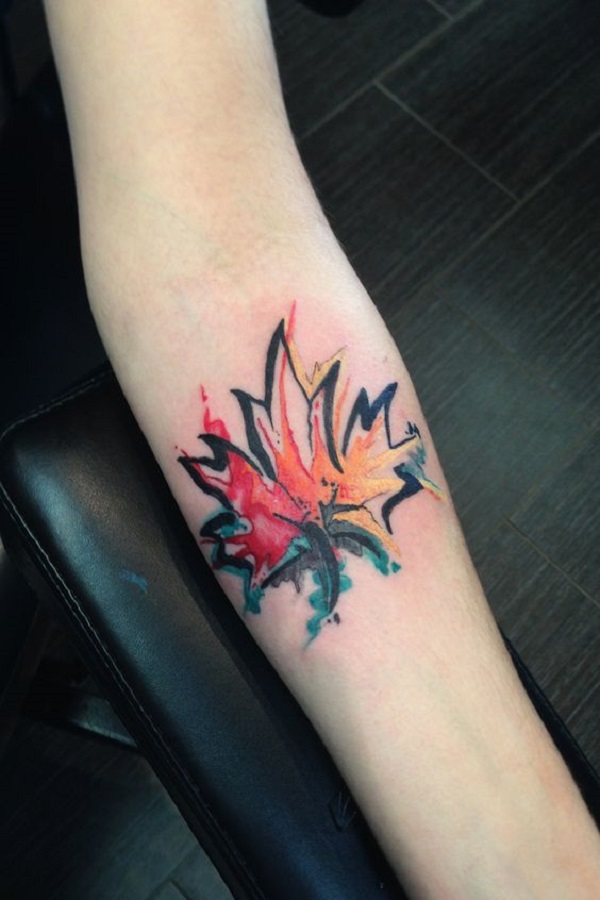 Vibrant leaves tattoo on the arm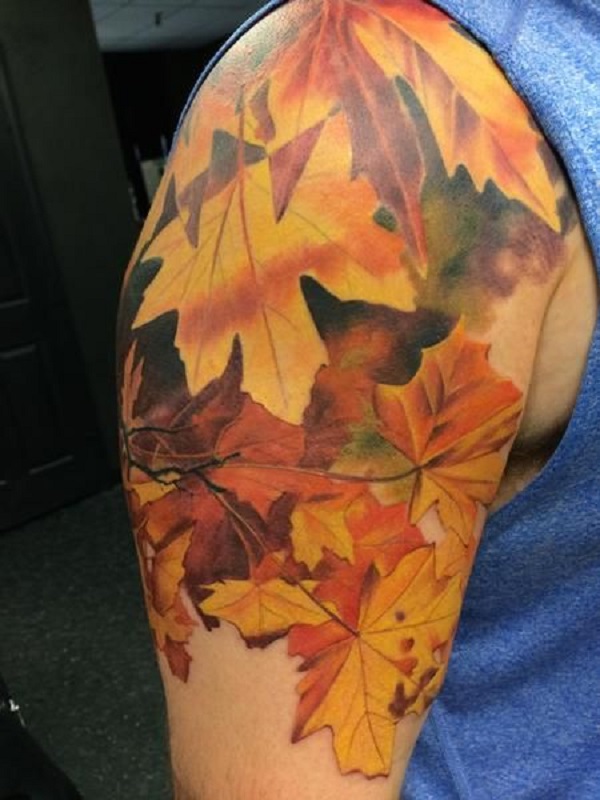 Cherry red rose with leaf-shaped petals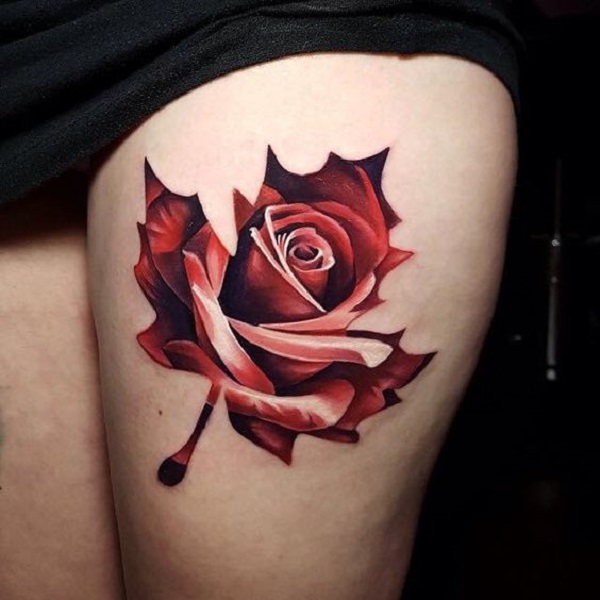 Two pieces of crimson leaves on the ankle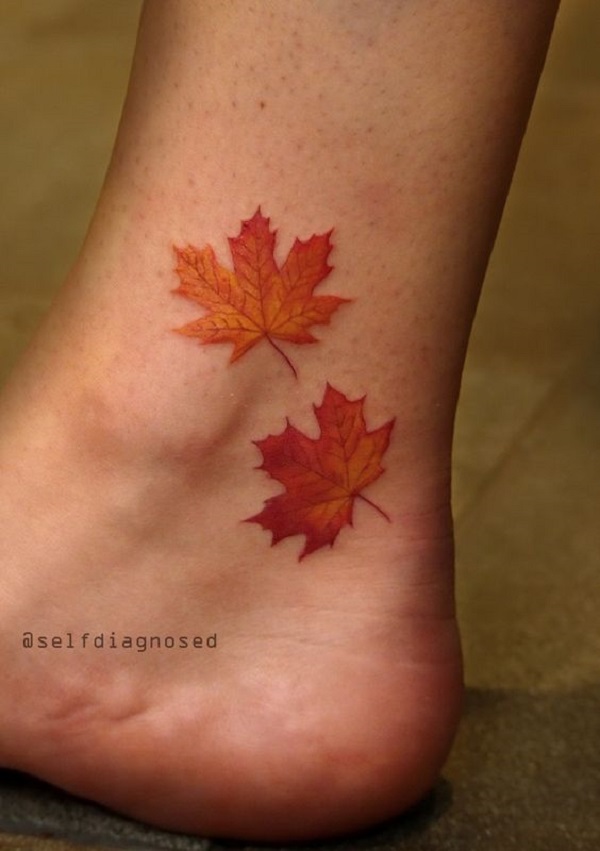 Blue and yellow leaf tattoo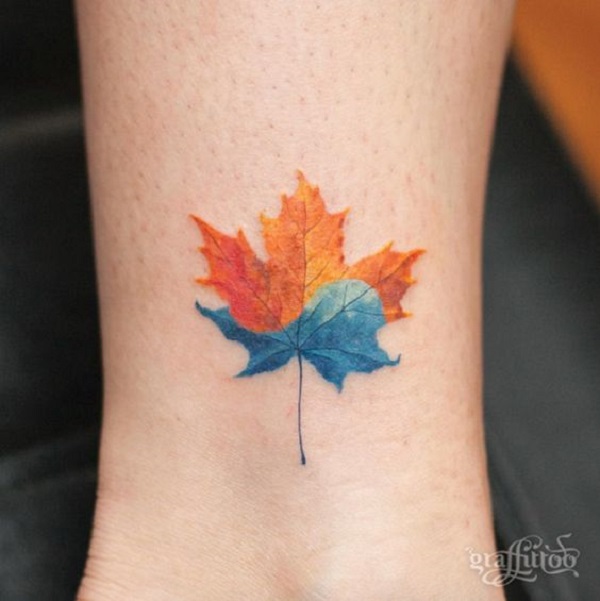 A piece of leaf above the compass tattoo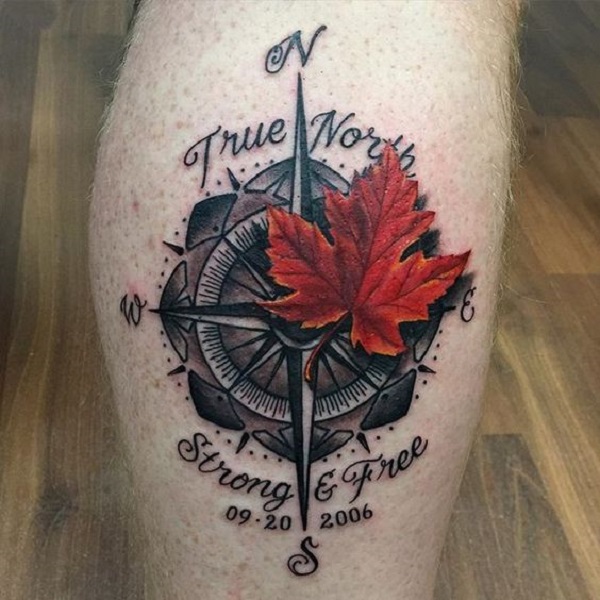 Intricate design with clock, leaves and birds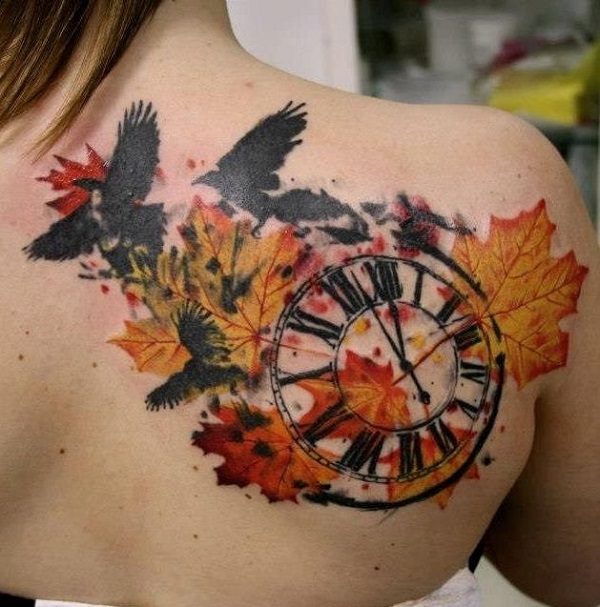 Falling leaves with aged branches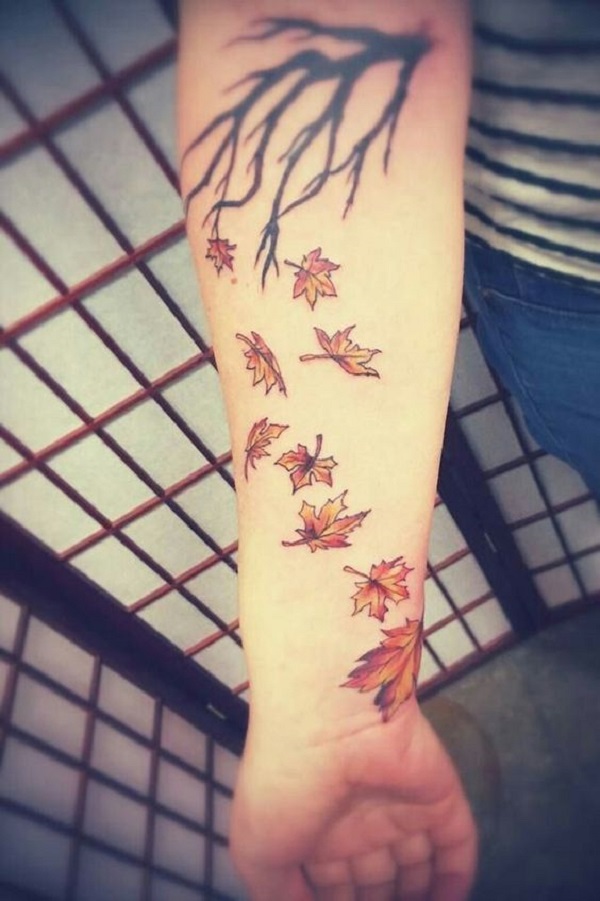 Yellow foliage with a piece of green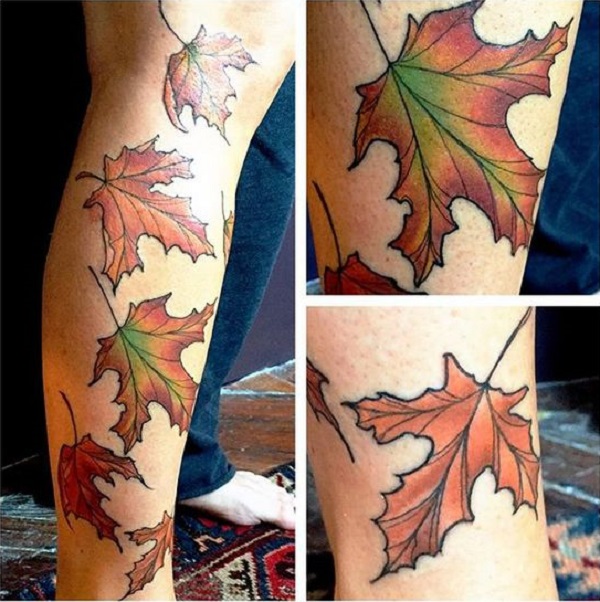 Broken leaf tattoo with a wolf and forest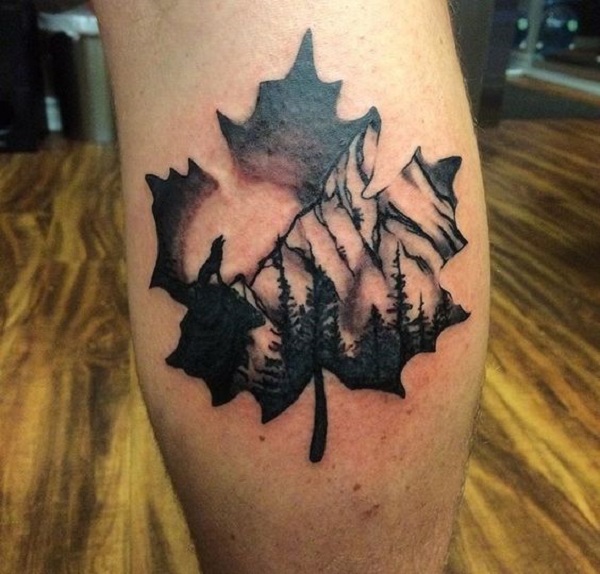 Watercolor leaf tattoo with two drops of dew
Vibrant full sleeve tattoo for men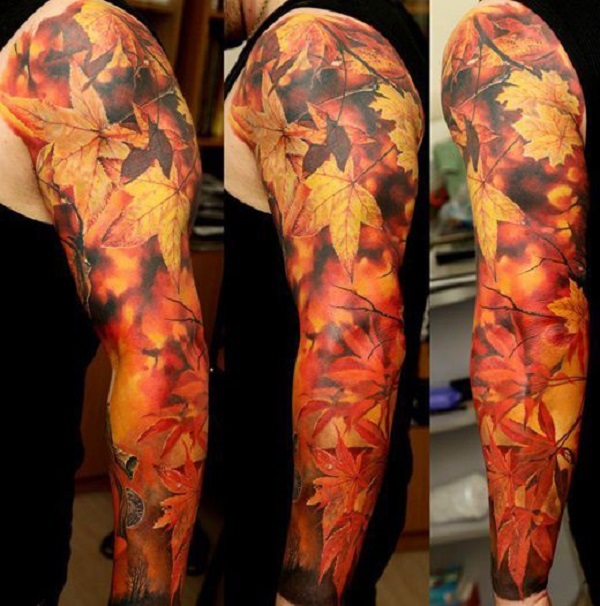 Two small leaves tattoo on the ankle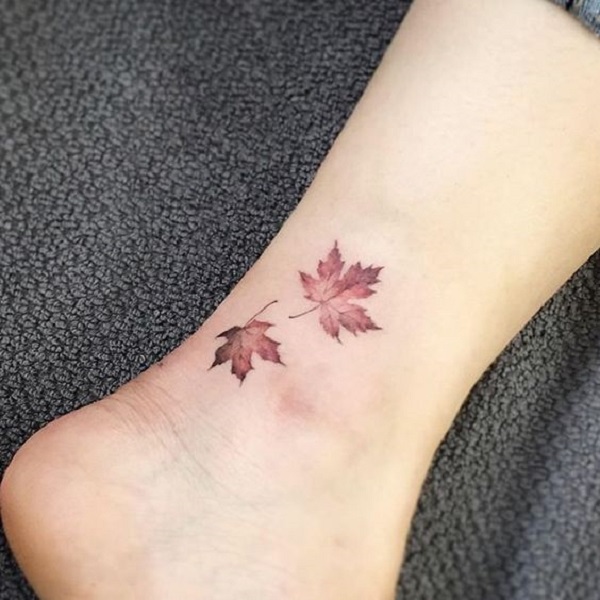 Leave sketch with mountain, river and forest on the rib
Black and white leaf tattoo on the arm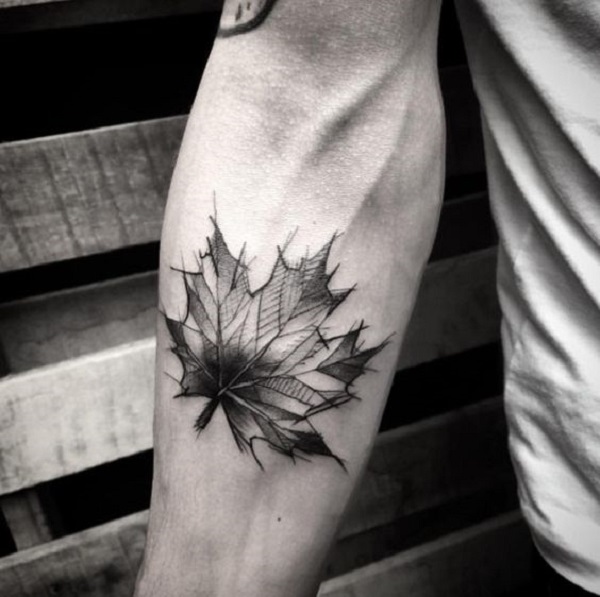 Blue night of wonderland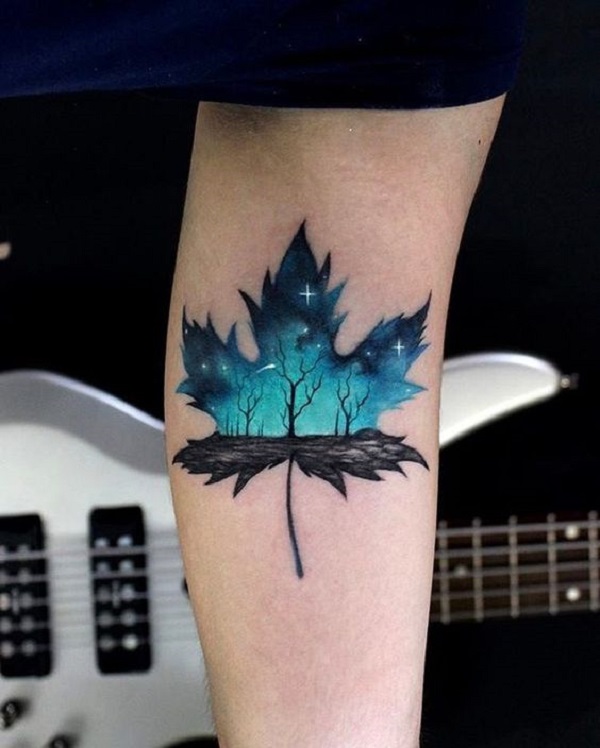 A piece of leaf on forearm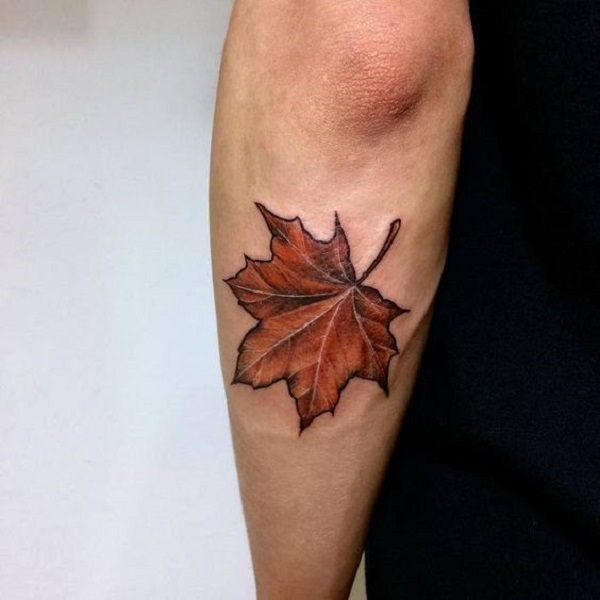 Foliage tattoo spanning from shoulder to arm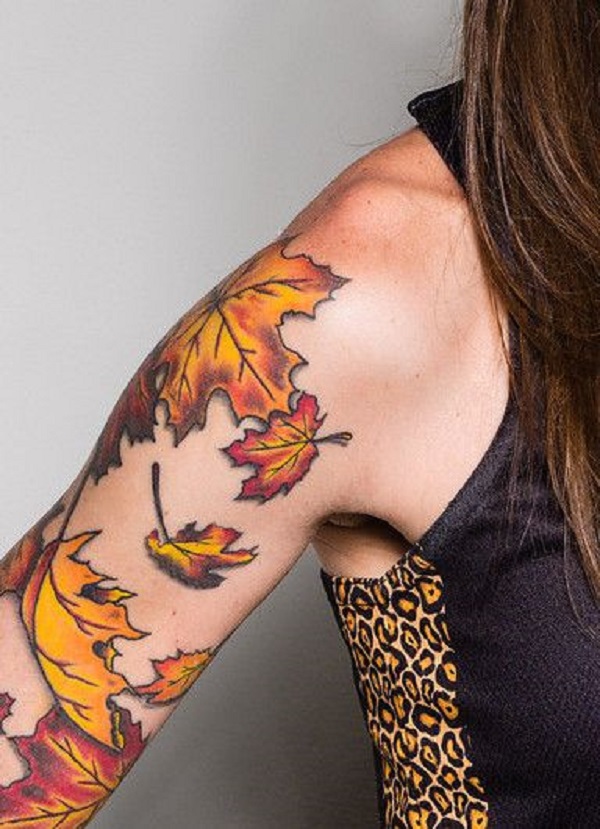 Watercolor abstract leaf tattoo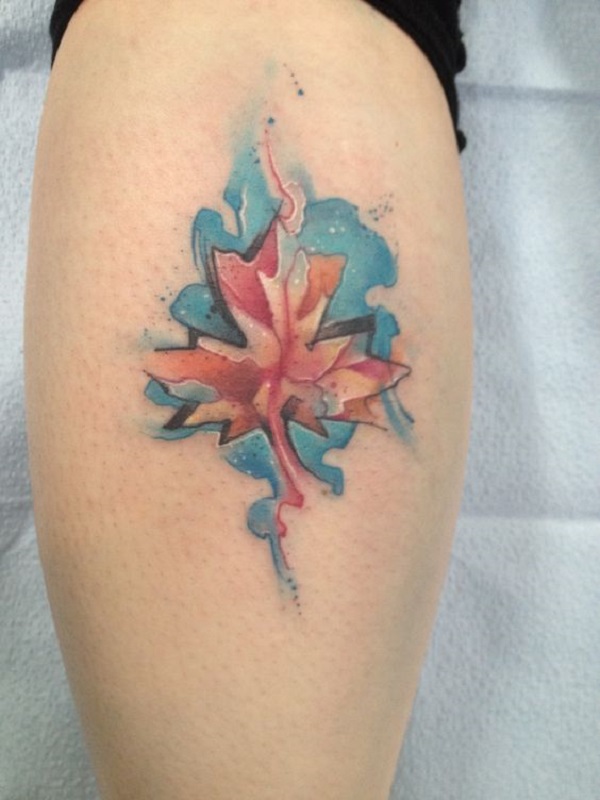 Full sleeve tattoo with leaves, flower and sunshine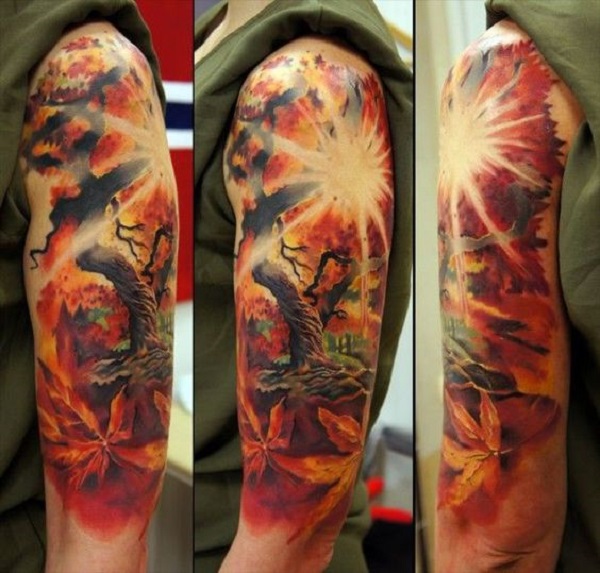 A large foliage tattoo on the chest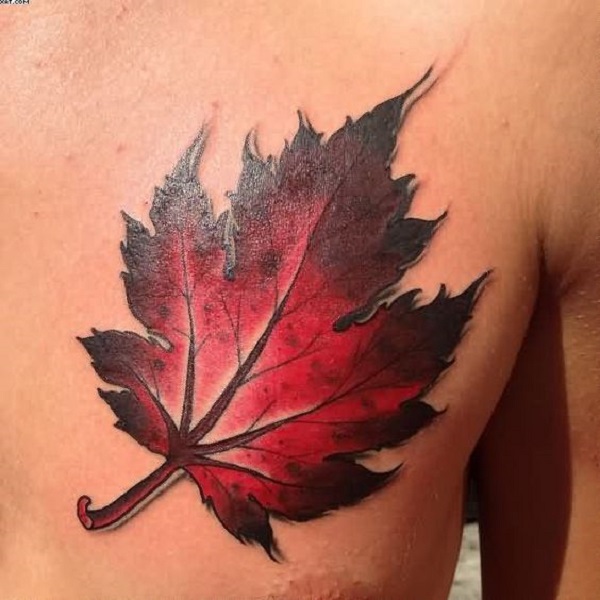 Intricate leaves sleeve tattoo for men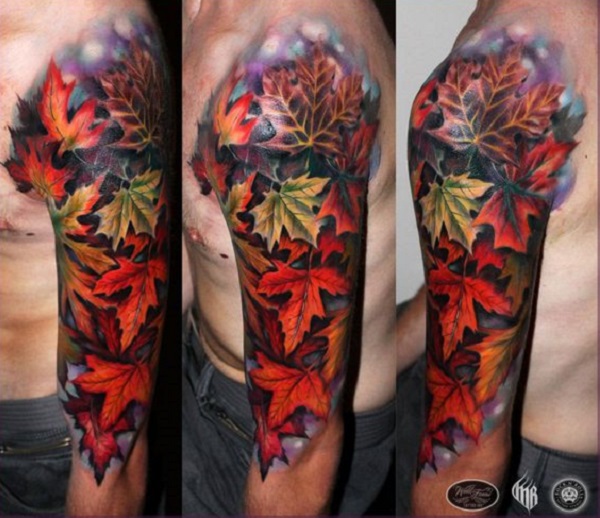 Two leaves partially stacked together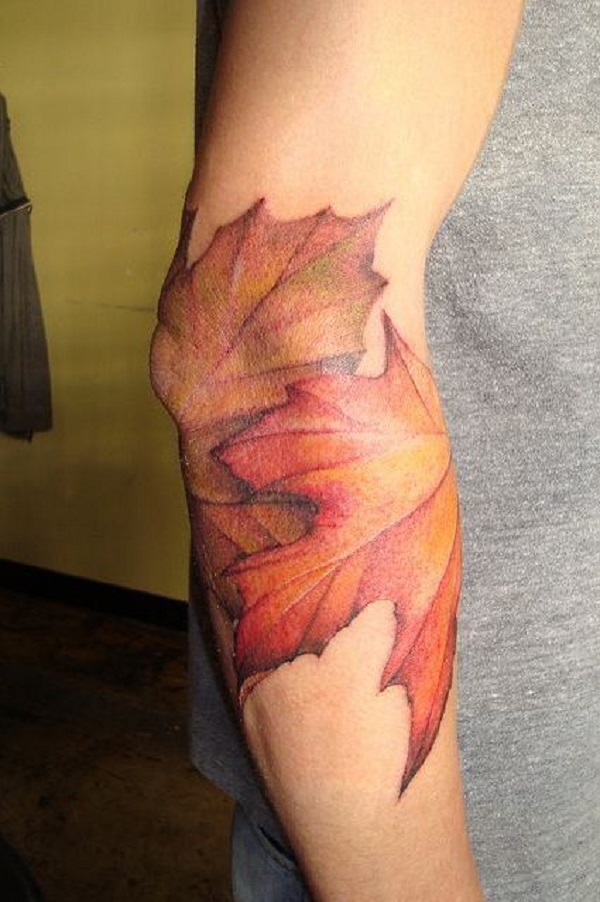 Brownish red leaf with black shade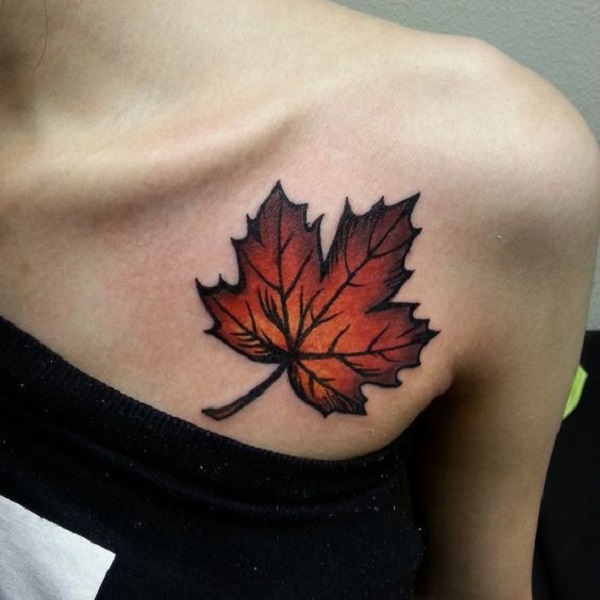 This tattoo has a subtle yet powerful look that is unique and meaningful. The contrast between the bright red of the leaf and dark shades of black creates an eye-catching design that stands out from other tattoos in its boldness. Furthermore, this type of tattoo carries deep symbolism associated with growth, resilience, and renewal which makes it perfect for those looking to express their inner strength through art on their body.
Foliage and harvest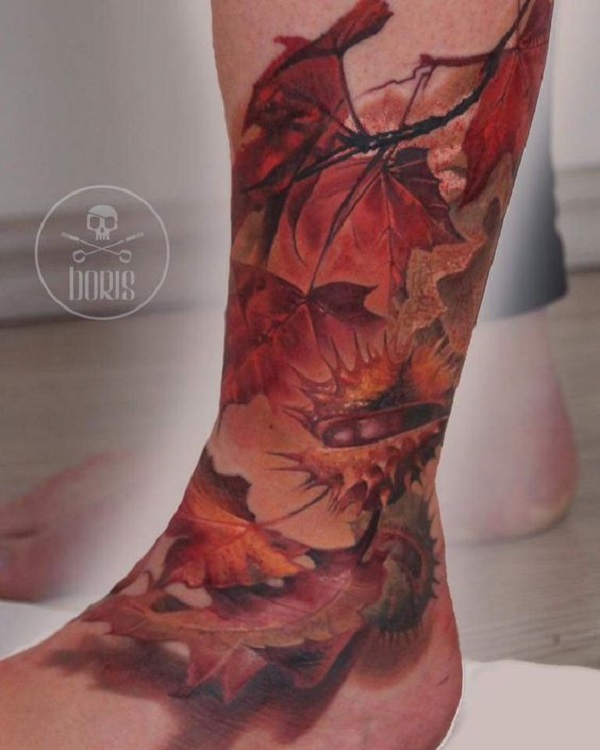 Foliage tattoo with swirls on the leg