"Where in the world would a star be without the love of the sky?" Well, of course! There are times in our lives when we all wished to be an astronomer to unfold the mysteries holding inside the vast sky. No surprise! these beautiful yet mysterious things are often converted into tattoos and that is the reason why the galaxy tattoos are so much popular out there among both men and women in the world.
Almost all of us have laid down under the cover of mighty blue galaxy and felt like no other thing can be comparable to its beauty. Perhaps millions and trillions of stars and thousands of galaxies brings endless list of questions about the universe that we adore.
With lots of mysteries and questions in mind, there is no wonder that a lot of tattoo enthusiasts want to have galaxy tattoos to have inked on their body.
Galaxy Tattoo Meaning:
The reason being for the popularity of galaxy tattoos is that it offers quite a lot of meanings. A galaxy can be too large to become a universe and too small to fit in a tattoo. The different shapes and sizes can be done in tattoos and they represent specific meanings.
The galaxy tattoos can represent the life dreams and sometimes, it represents the humanity. Sometimes it represent the complexity while sometimes it represents the romance and love forever. So, if you are planning to get a tattoo on your body, consider getting the galaxy tattoo ideas below.
65 Amazing Galaxy Tattoos to Try:
Get ready to turn your dream of reaching the sky into reality, well, without any spaceship of course!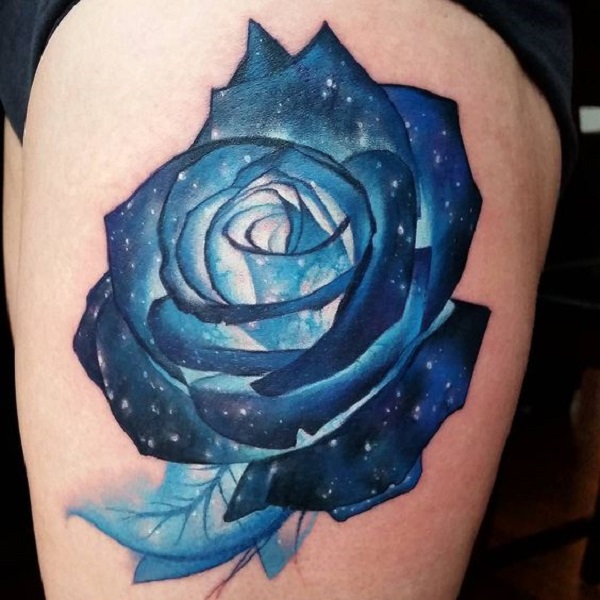 Galaxy in a Rose. This beautiful tattoo depicts a sparkly rose exploring our space.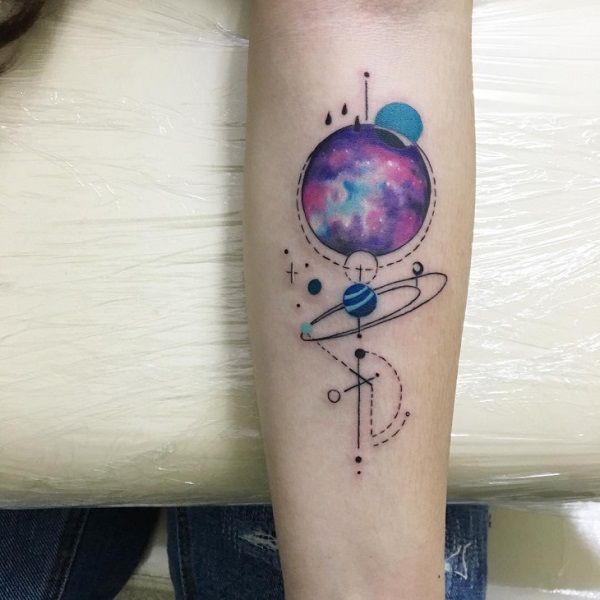 Geometrical Space. This amazing space tattoo offers the geometric planets and stunning image to wear.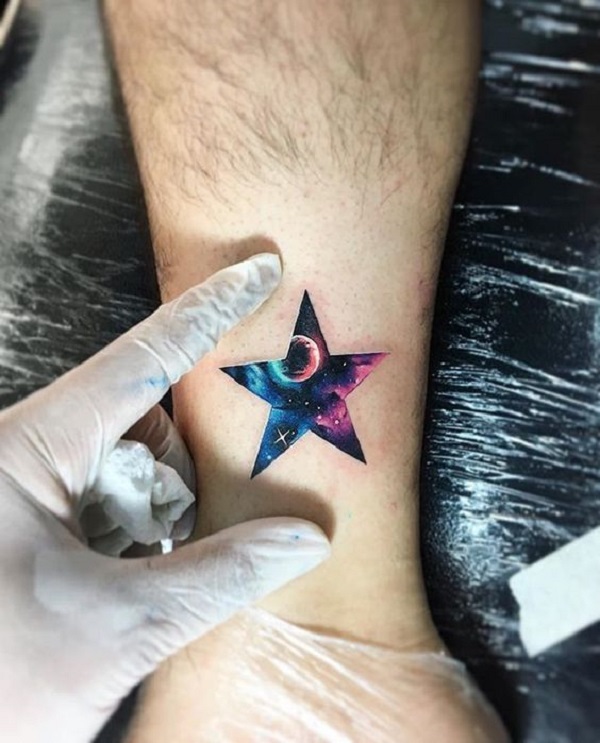 Galaxy in the Star. This science fiction tattoo is worth trying for all the space lovers.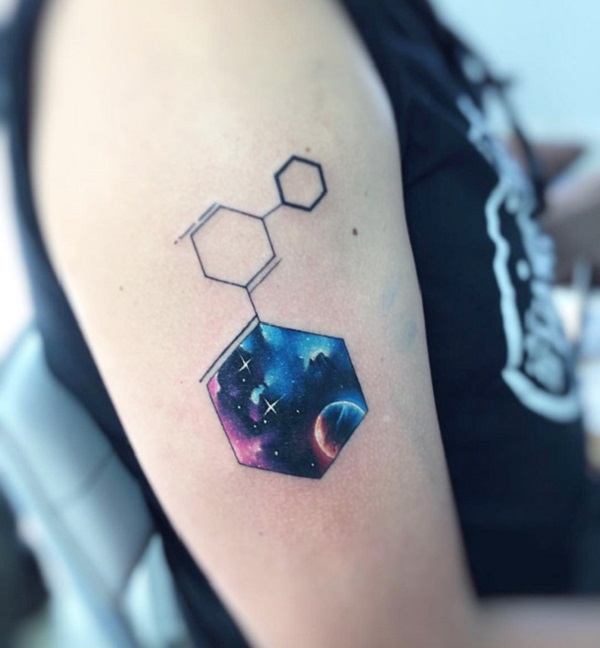 Space in hexagon. This tattoo is all about shapes and galaxy.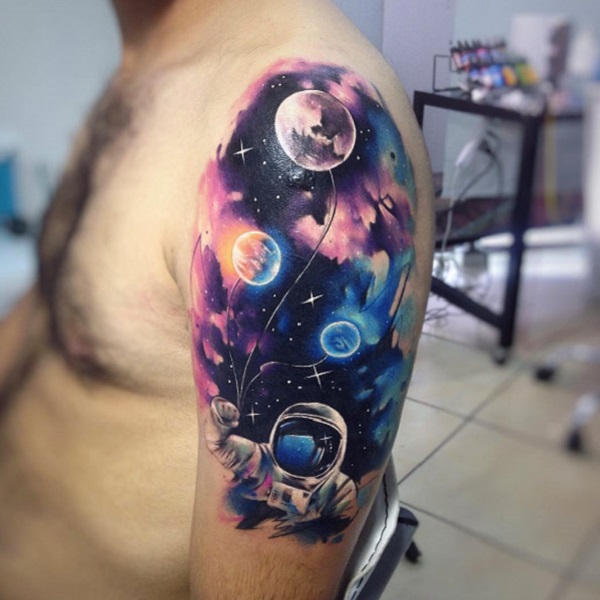 Astronomer sleeve tattoo. This sleeve tattoo depicts an astronomer exploring the mysterious space.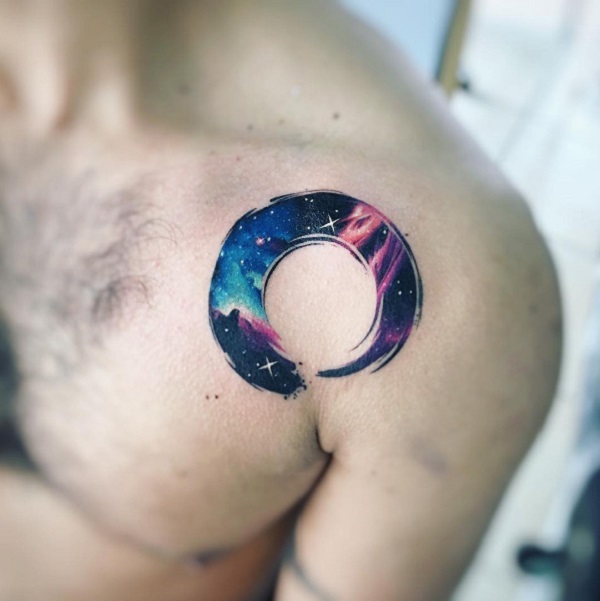 The swirl of Galaxy. This element of space is extremely inspiring and cool to wear.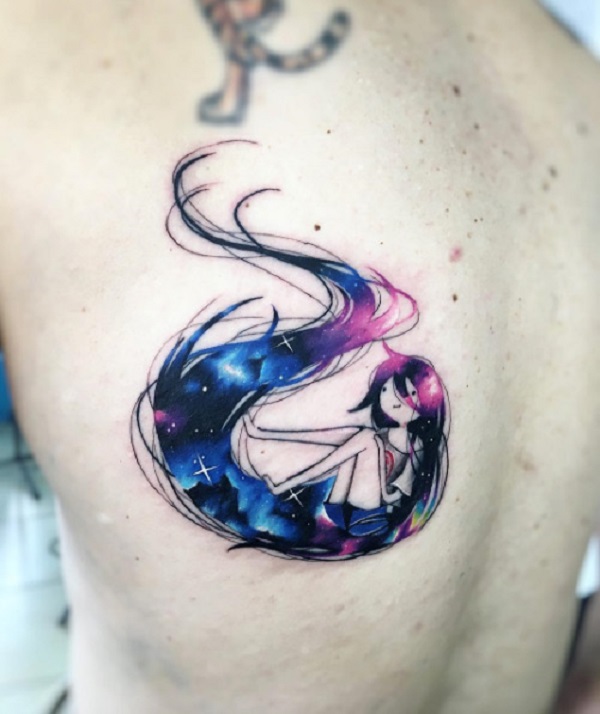 A Girl with dreams. This cute yet stylish tattoo is designed for all the girls with aims mighty and high like the sky.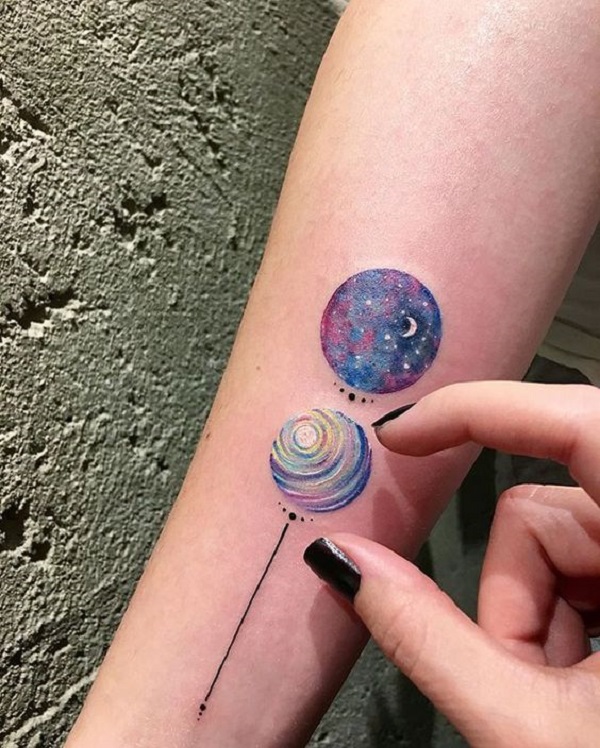 The Galaxy.. This tasteful forearm art illustrates the vastness of the galaxy within just two globes.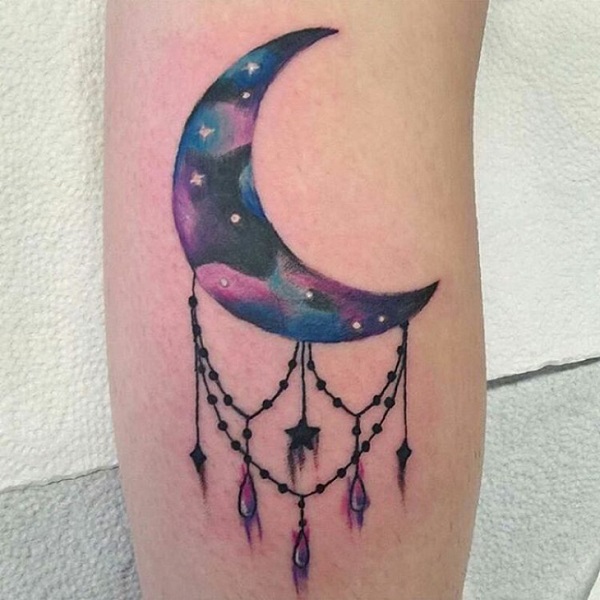 The Moon Shaped Galaxy Tattoo Idea. This beautiful forearm arm piece is really inspiring and great to wear.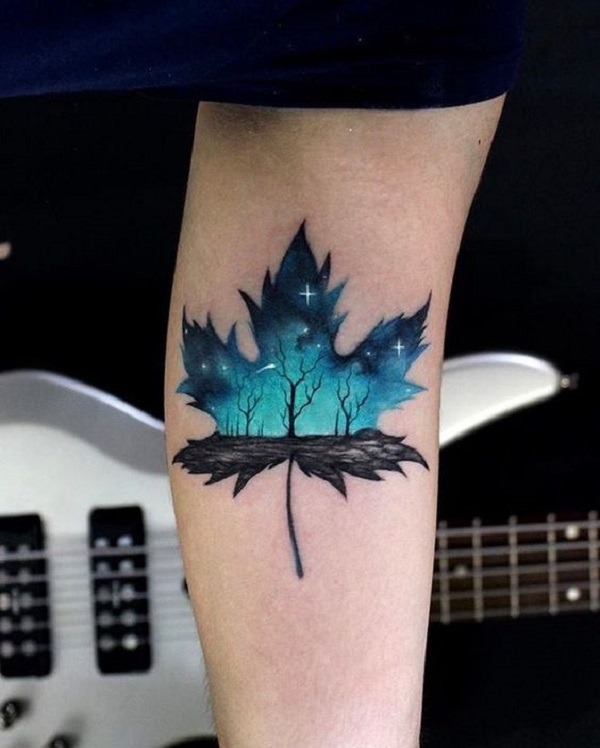 Galaxy in the Maple Leaf. This one is the simplest design that you can get on your arm.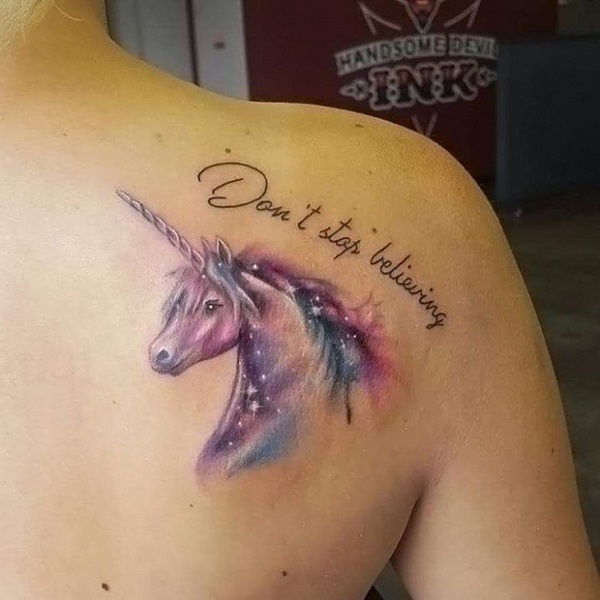 Don't stop Believing galaxy Tattoo. This inspirational tattoo with the stunning galaxy unicorn and "Don't stop believing" is really worth giving a shot.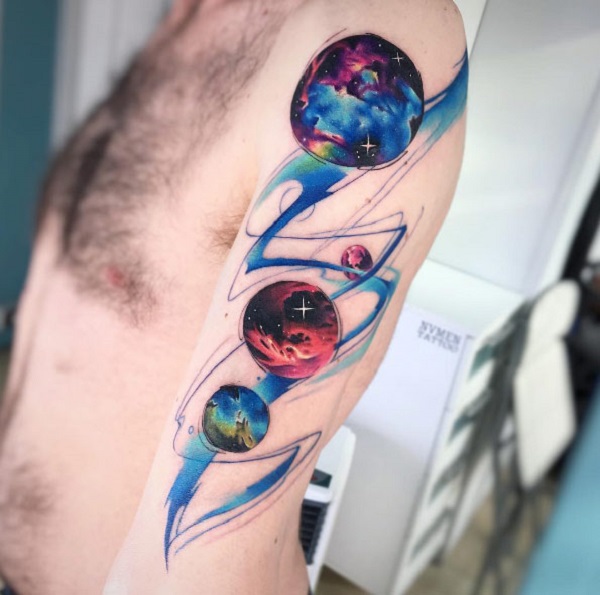 Beautiful Galaxy Inspired Tattoo. This tattoo depicts the solar system with its mighty and beautiful planets including our Earth.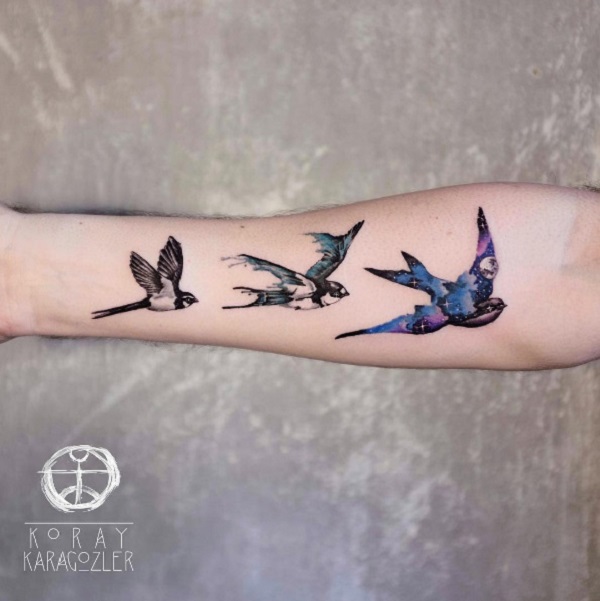 Galaxy in the birds tattoo. Galaxy in birds? Yes, Please!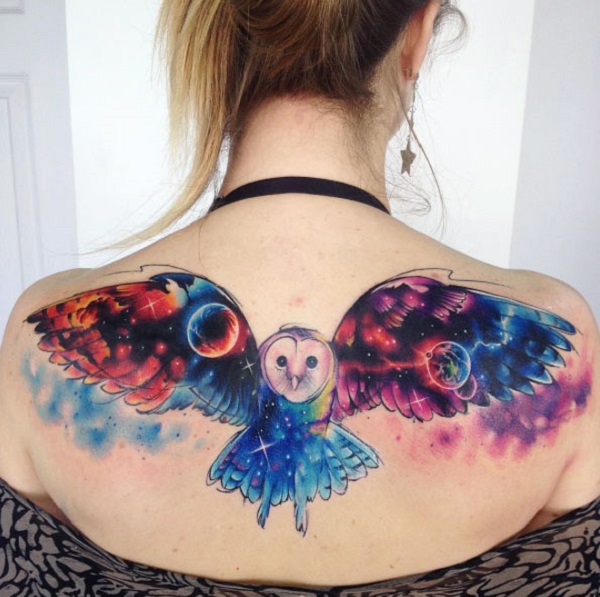 Eagle with Galaxy Tattoo. This cute eagle is just your next tattoo art inspiration.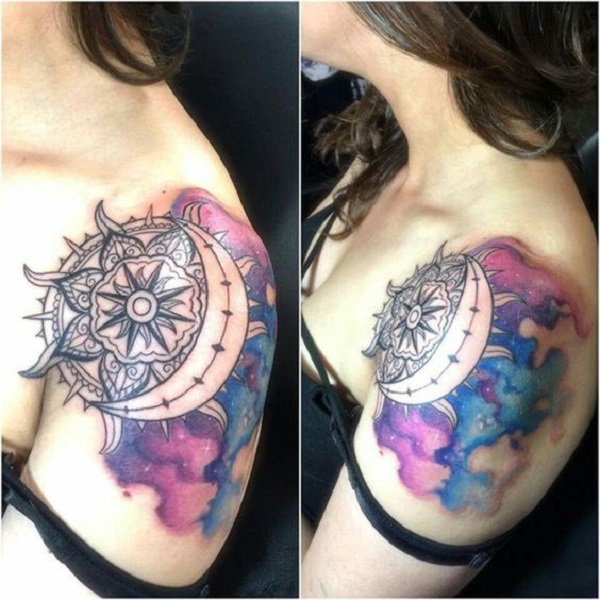 Beautiful Galaxy Tattoo Design. Tribal art with the water colors play makes a great combo.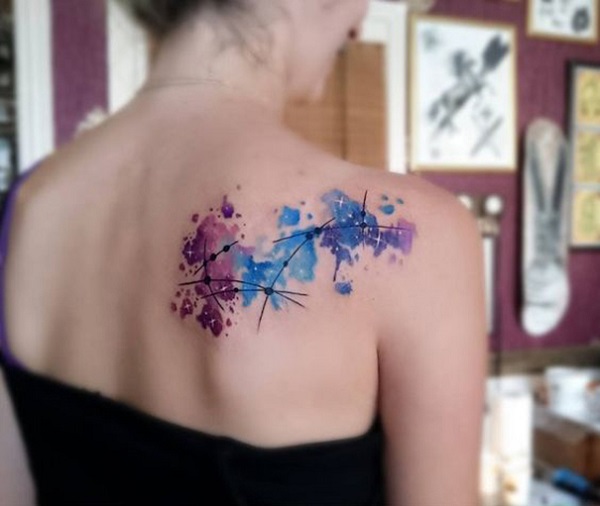 The Element of Galaxy. If you are looking for something unique yet simple galaxy tattoo, then this one surely designed for you.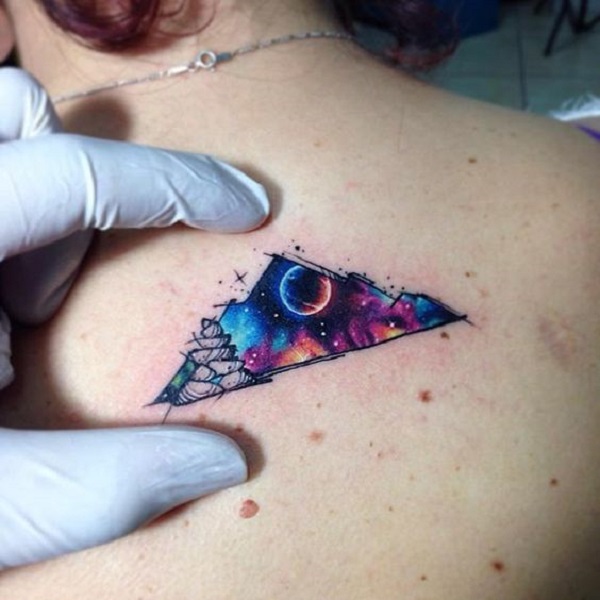 Water colored Galaxy Tattoo Design. The mighty galaxy fits in this shape and looks seamlessly beautiful.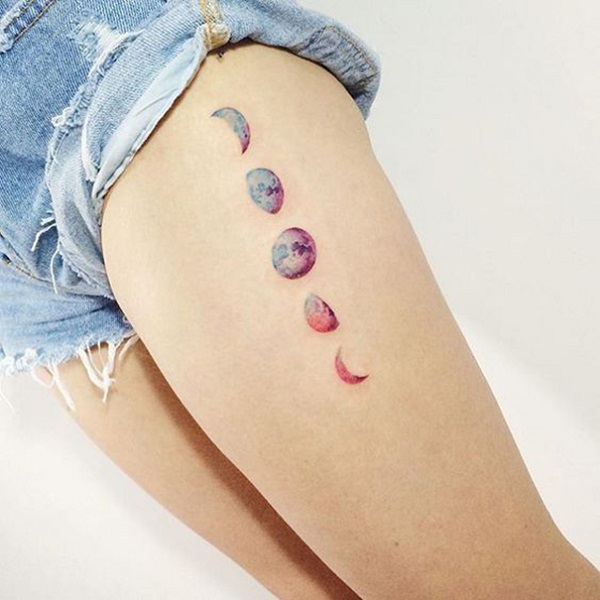 The Phases of Moon Tattoo Design. We all have learned about the phases of moon in our school life. If you love the nature's cycle, you can have this unique tattoo on your body as well.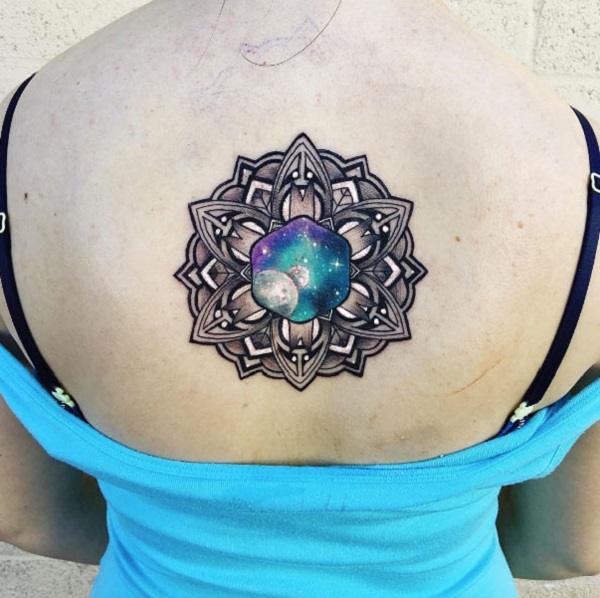 Geo Galaxy Tat. Geometrical shapes with the galaxy gem in the center is definitely a sight worth seeing.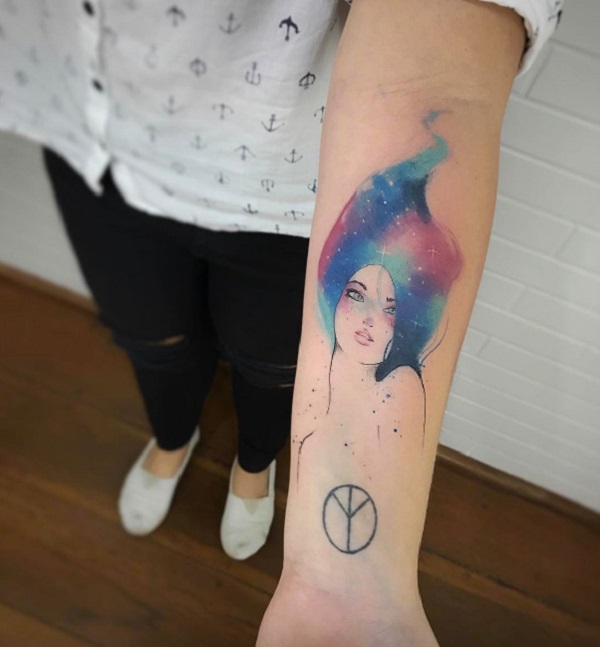 A Girl Full of Dreams Tattoo Idea. Sparkly galaxy hair? Well this dreamy girl tattoo will surely get your mind.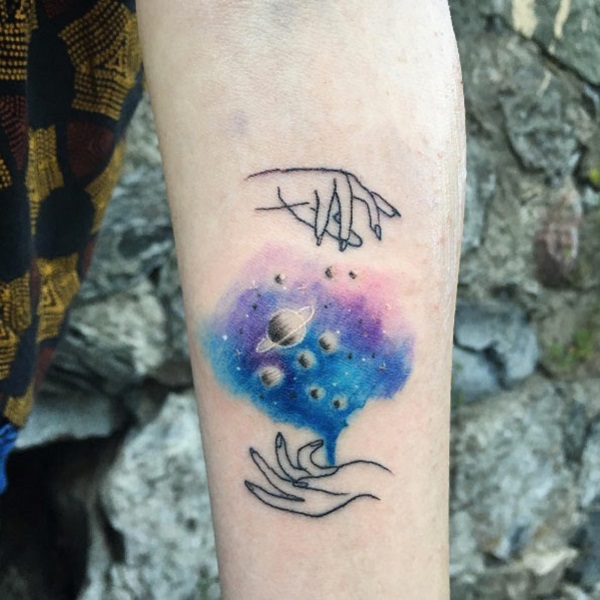 The Fortune teller tattoo Design. Have you ever visited the fortune teller? If yes, you would probably get the idea behind this tattoo.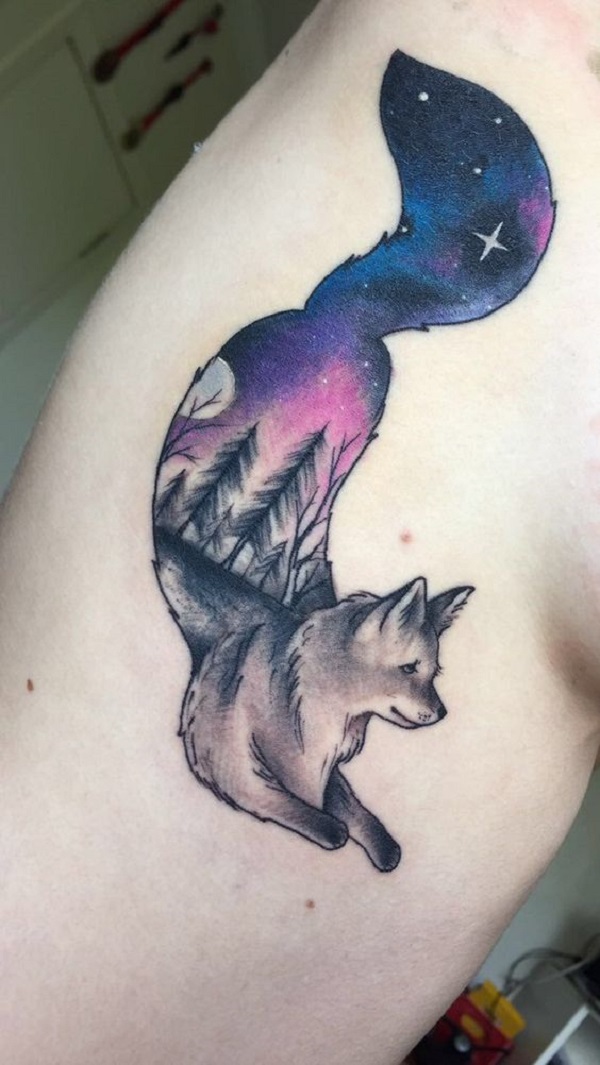 Galaxy in the Fox Tattoo. This water-colored galaxy fox tattoo is really offering a mysterious meaning.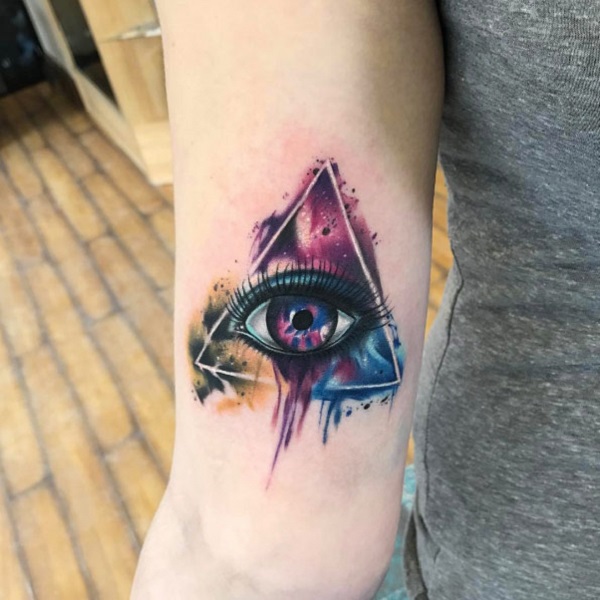 "The All Seeing Eye" galaxy Tattoo. Although this one is the controversial symbol, but actually it is symbolism for high spiritual power or even an awakening of the spirit.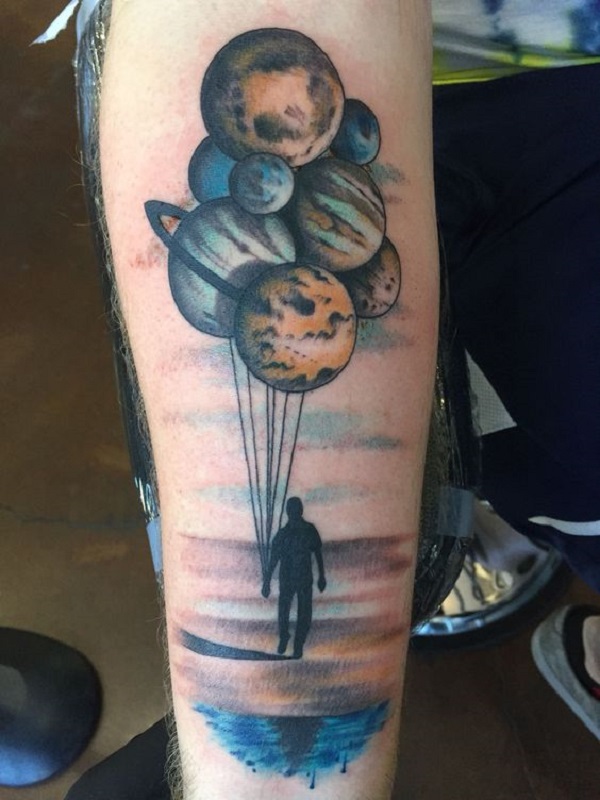 A man holding planet balloons. Tattooing is all about creativity and art. You can convert all your imagination into a tattoo with the help of colors and ink.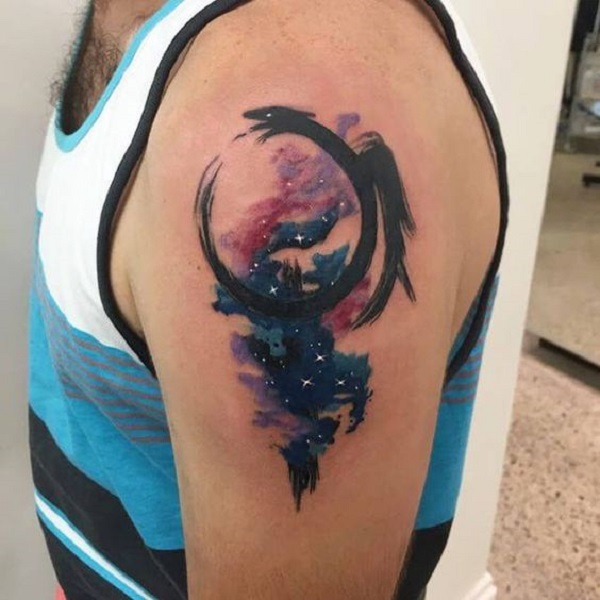 The spark of galaxy Tattoo. Another beautifully done galaxy tattoo on the list.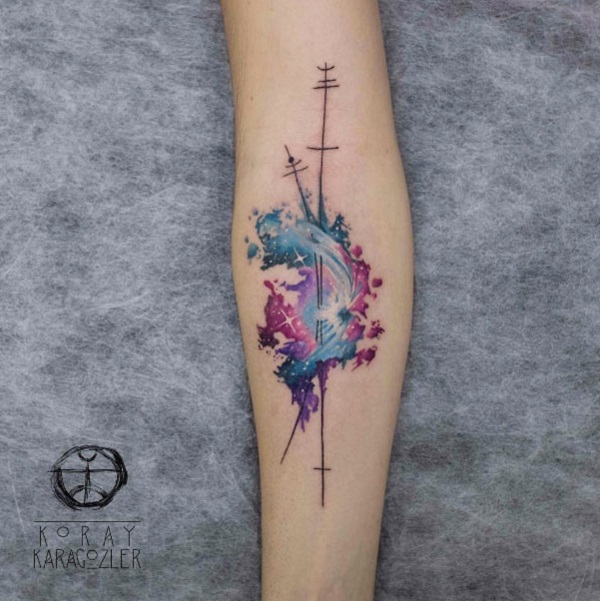 This Inner Arm Galaxy Piece. This one is seamlessly beautiful and worthy getting.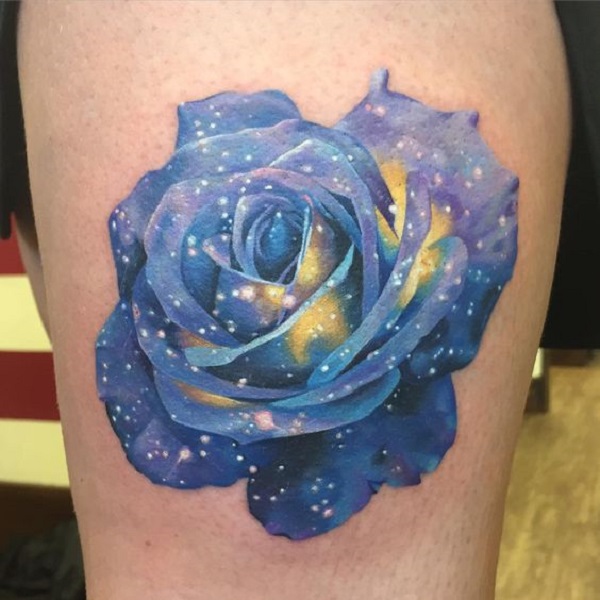 The Galaxy Colored Rose. This beautiful rose with the spark of galaxy and vibrant galaxy colors captures the n4ext spot 0on the best galaxy tattoos.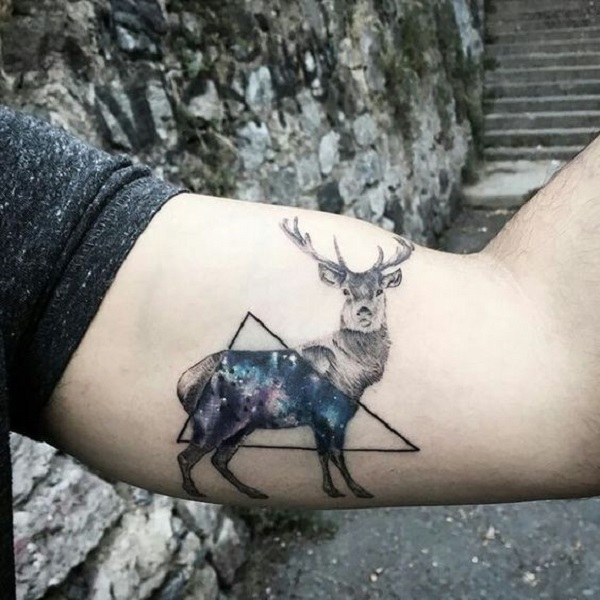 The Supernatural Beast with Galaxy Tattoo. Deer is often thought to be a supernatural beast in most cultures and with the galaxy theme incorporated, this tattoo is definitely shouting for a mystery.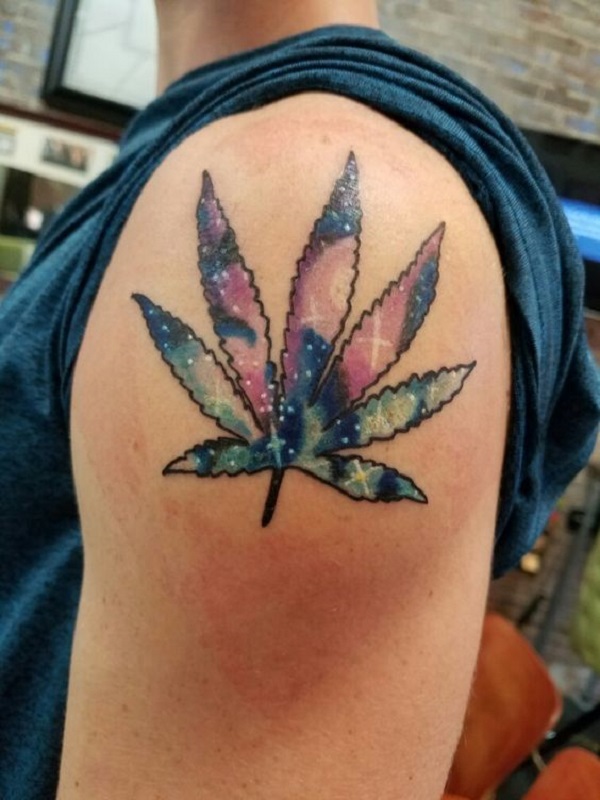 Galaxy Filled Maple Leaf. Maple leaf is a sign of freedom and galaxy is the symbol of peace. This tattoo could mean freedom with peace.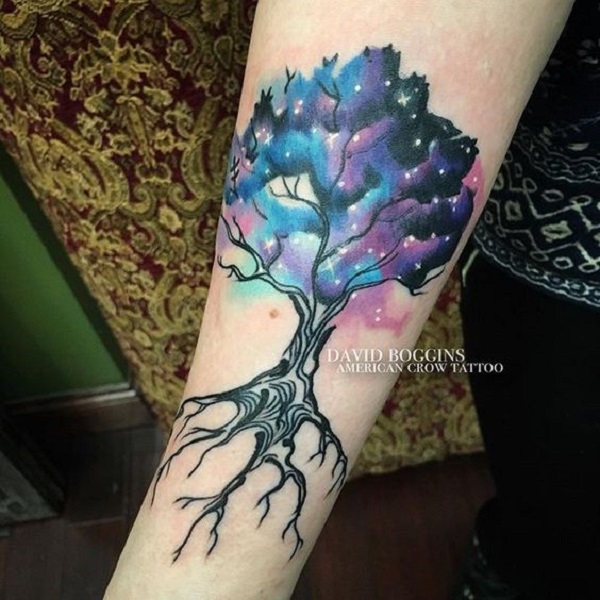 The Galaxy Tree. This tree with the galaxy theme is definitely the one worth eye-catching.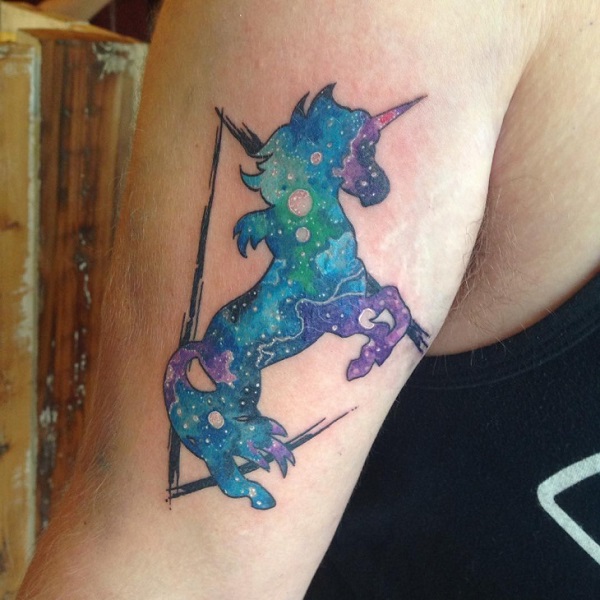 Beautiful Galaxy Filled Unicorn. This oh-so beautiful galaxy filled unicorn is definitely going to be my next art.
The Magic of Galaxy Unicorn Tattoo. The artist of this tattoo should be saluted because of his amazing creativity and art. The play of colors and the magic of this tattoo is definitely unmatchable.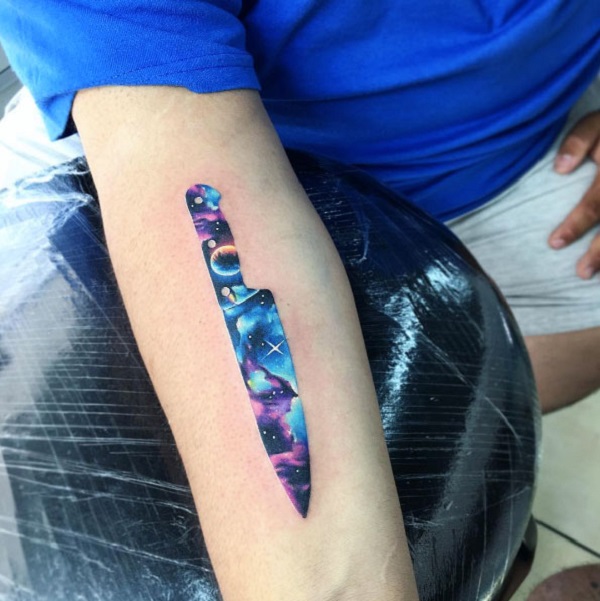 Galaxy Filled Knife tattoo. This galaxy filled knife is a sign of protection and defense.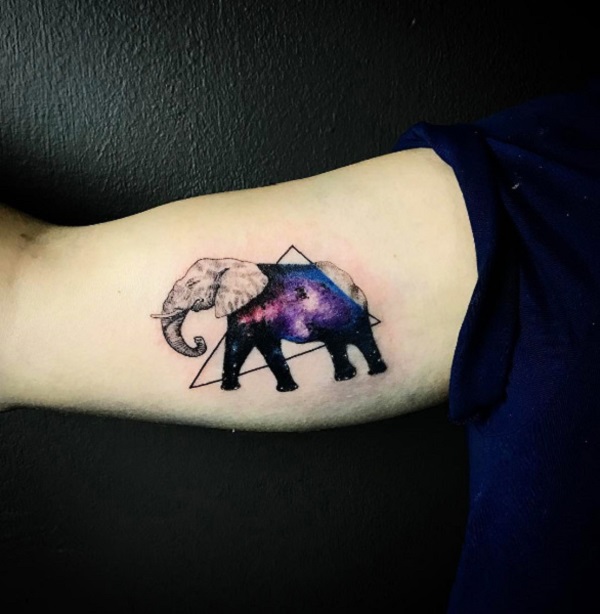 Vibrant Galaxy within Elephant. You might have seen a  number of animals incorporated into the galaxy tattoos like fox, unicorns etc. but you haven't seen this giant elephant in any galaxy tattoo yet. Well, that is the reason we have got this unique tattoo on the list.
The Earth with Galaxy Tattoo. A beautiful scenery has been depicted in this little tattoo art.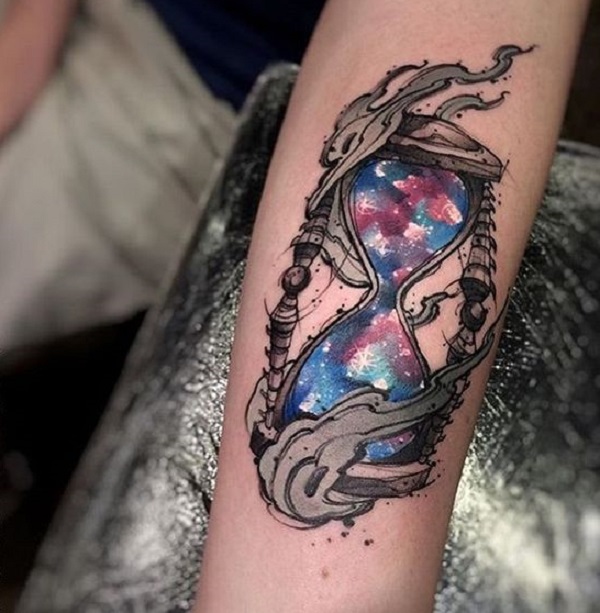 The Sand Clock Galaxy Tattoo Design. With the mysterious image, this tattoo is holding a beautiful meaning.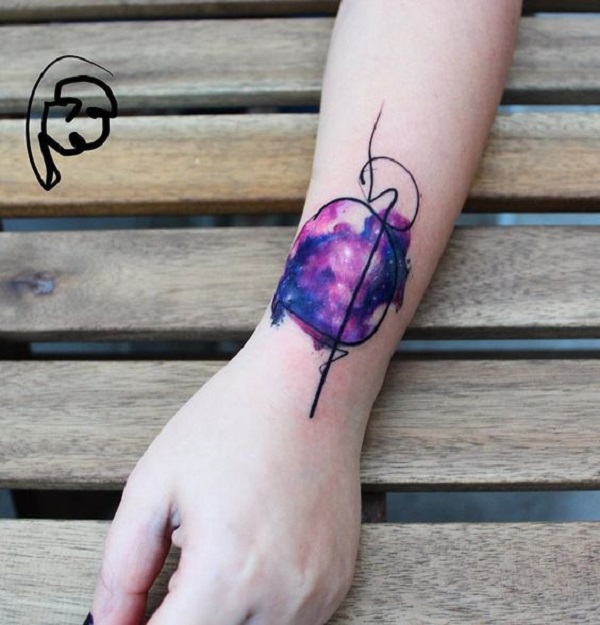 Beautiful Galaxy tattoo for Her. Simple yet classy, this galaxy tattoo is definitely designed for her.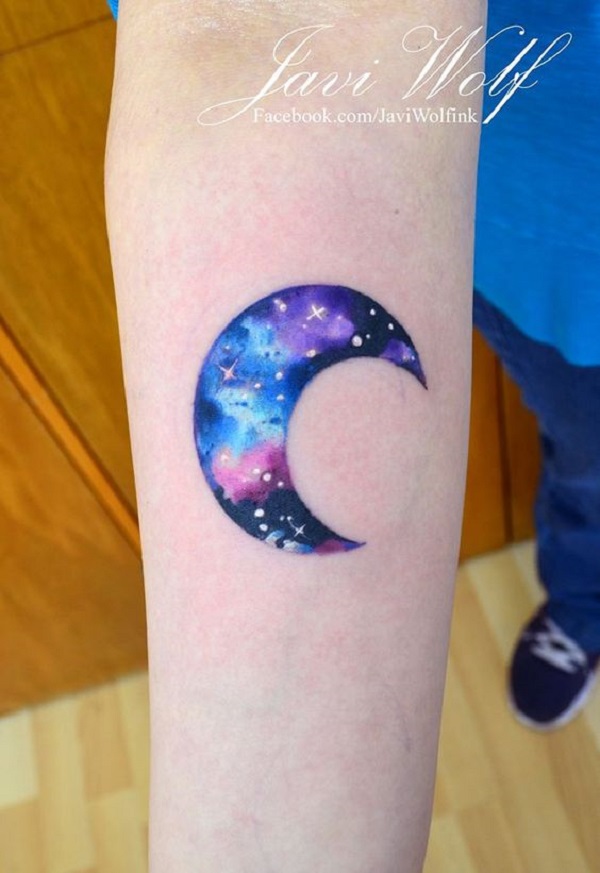 Another spectacular Moon with Galaxy tattoo. How many of you have promised your loved ones to bring moon and stars for her? Well, we can get a tattoo for sure.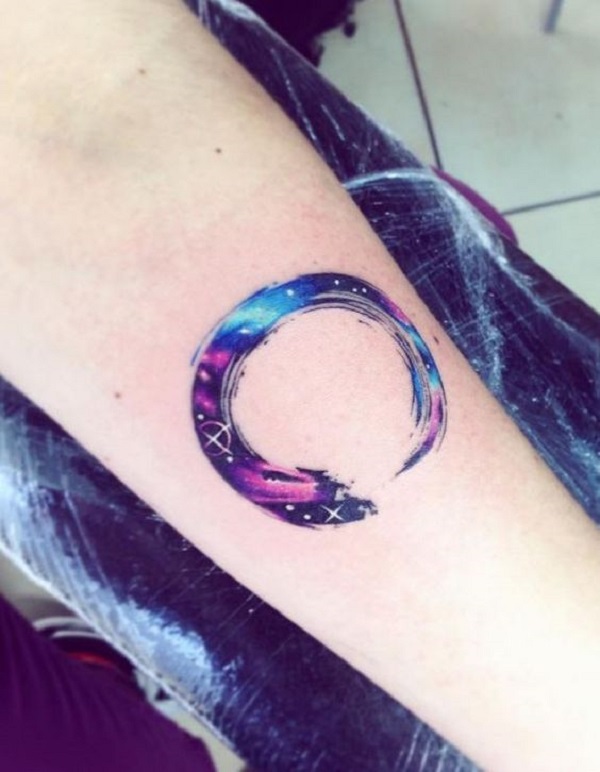 Spiral Galaxy Tattoo. This tattoo is like a brush stroke with the galaxy fit inside.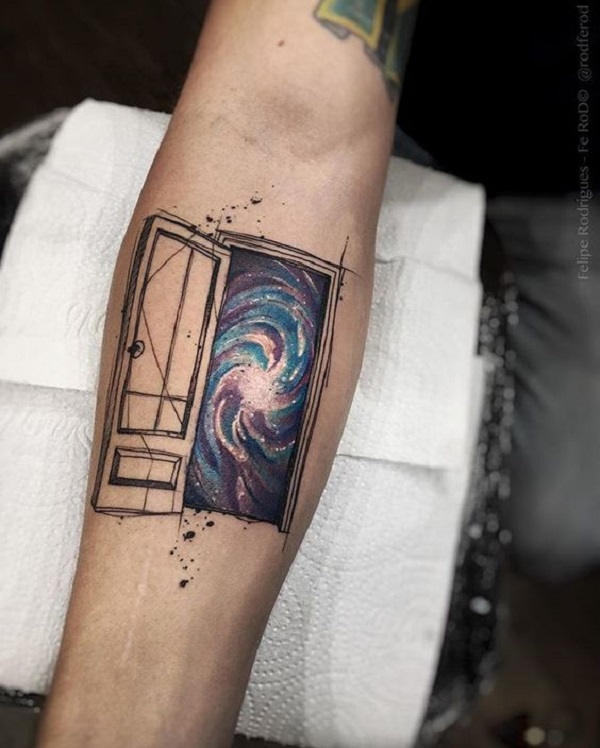 A Door to Galaxy tattoo Design. You might have wished to get a door to galaxy sometime in your life. If so, you can have it with the aid of ink!
A Paw with Galaxy Tattoo Design. This cute paw galaxy tattoo will remind you of your first pet.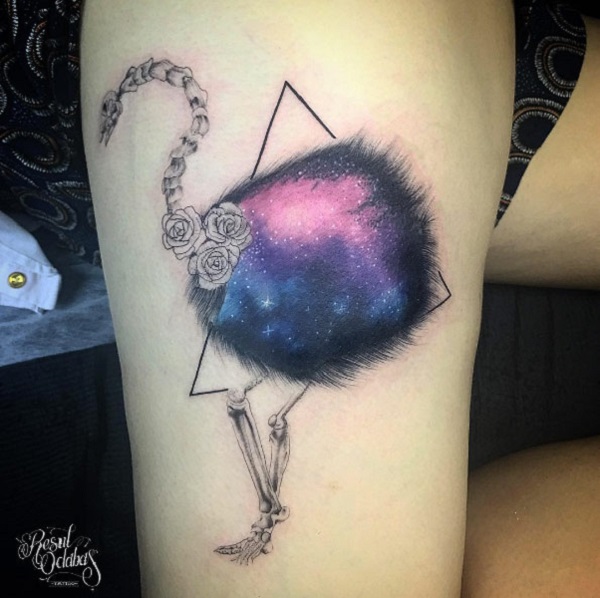 The Ostrich with Galaxy. Another animal with the galaxy symbol. This tattoo represents femininity and honor.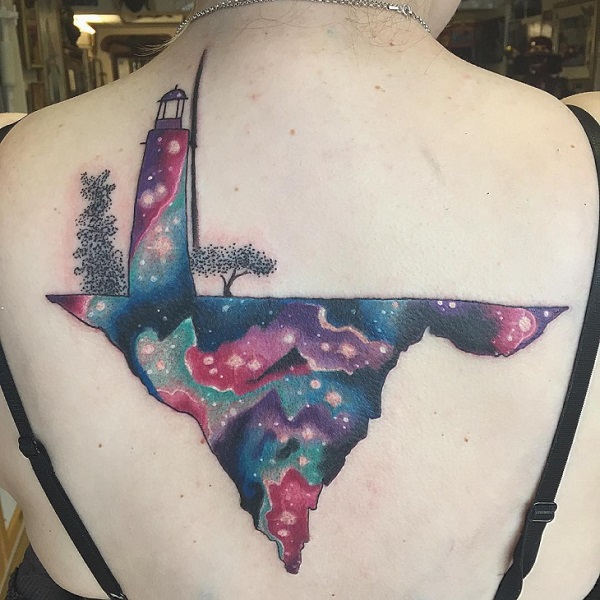 Galaxy Under the Ground Tattoo Design.This beautiful and meaningful back piece is worth giving a shot.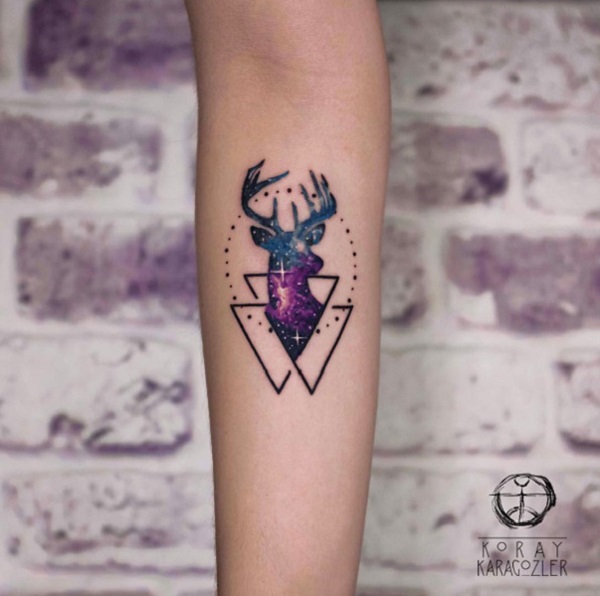 The Deer Antler's Galaxy Tattoo. With the spak of galaxy and the symbol of deer, this geometrical galaxy tattoo is definitely captivating.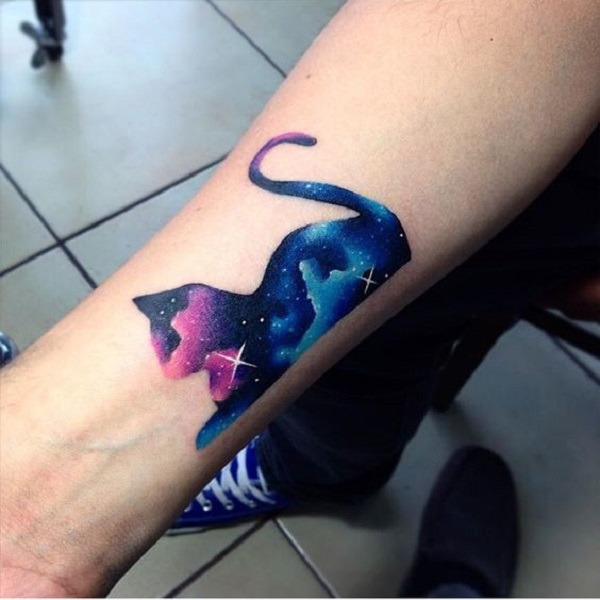 Vibrant Cat Tattoo with Spectacular Colors of Galaxy. Love cats? Show your love to your cat by having this beautiful vibrant colored galaxy cat tattoo on your forearm.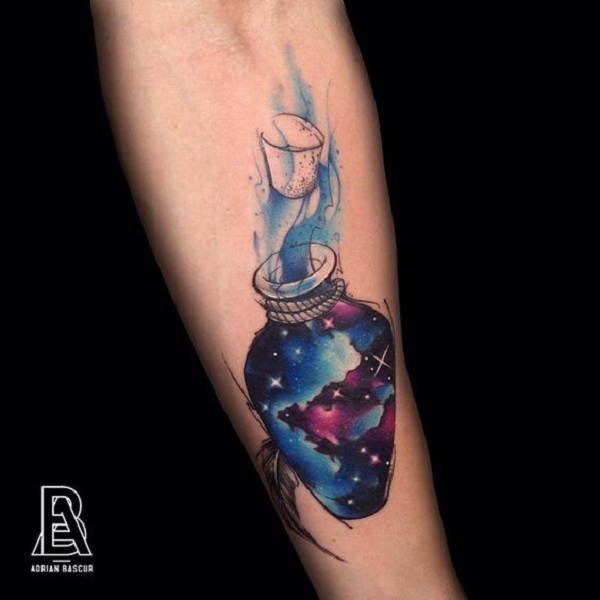 A Beautiful Pot of Galaxy. This tattoo holds a meaningful meaning in its symbol. All you need is the courage to hold that.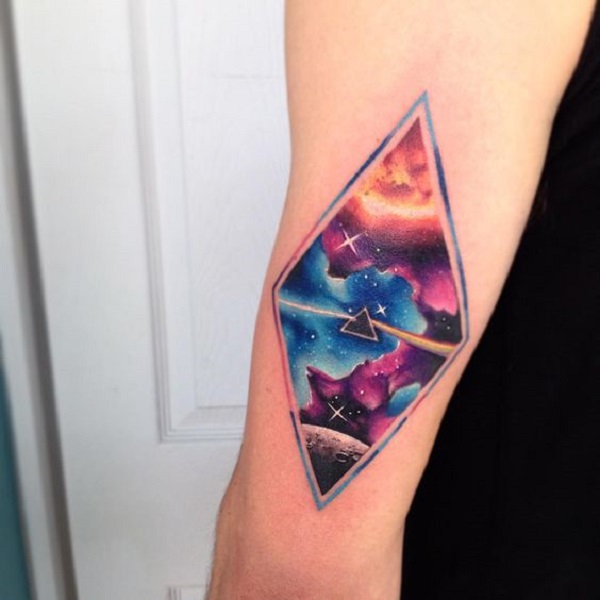 Galaxy Filled in Diamond. This tattoo might look simple, but the colors of the galaxy filled in this shape is definitely beauty.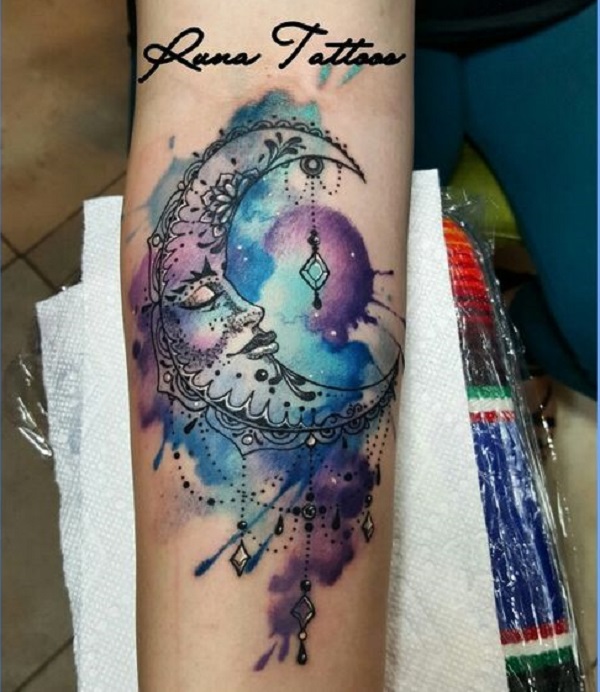 Beautiful Moon with Water-colored Galaxy Tattoo. Galaxy colored theme and galaxy's element, this tattoo is truly galaxy inspired.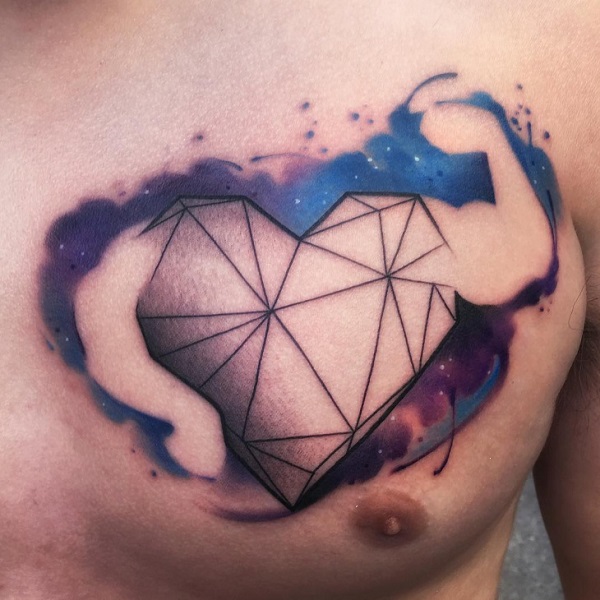 3-D Galaxy Tattoo. This tattoo is all about lines and colors.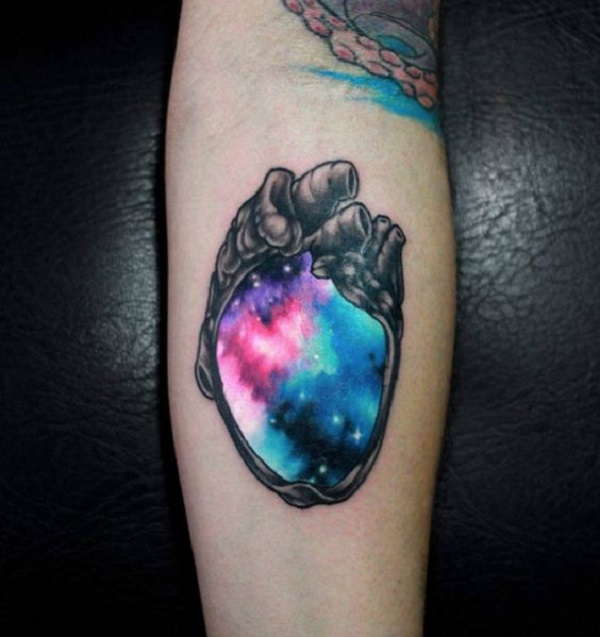 Space filled in Heart. As space tattoo depicts love and life, the heart filled with space means the heart filled with love and affection!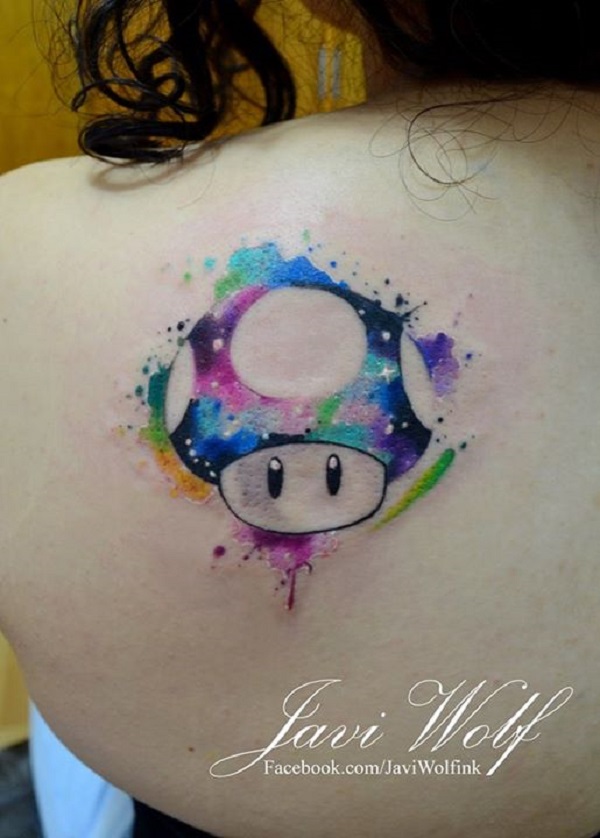 Cute Galaxy Tattoo for her. For the girly girls, this cute little galaxy themed tattoo is an inspiration.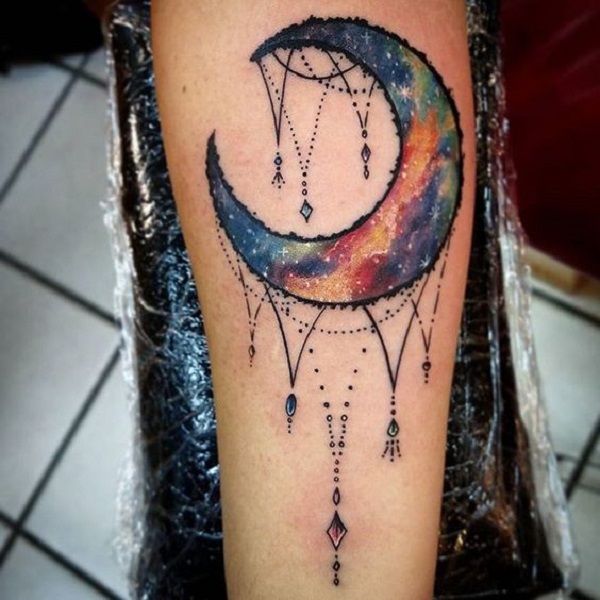 A Moon Galaxy tattoo. This festive moon galaxy tattoo is calling for celebration.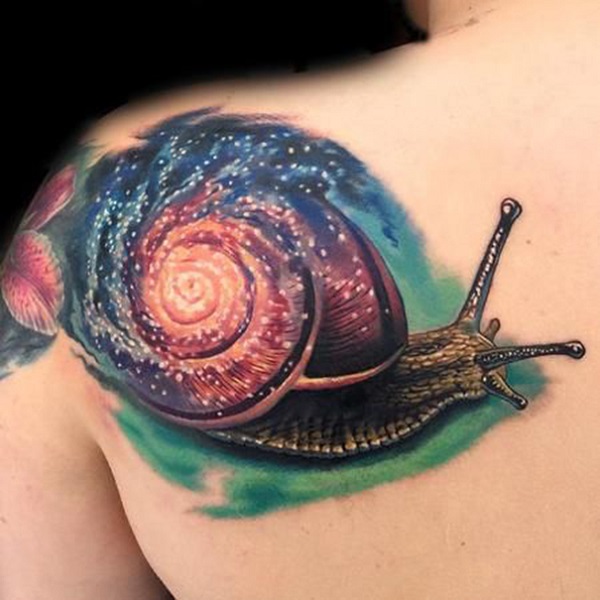 Snail Twinkling with Galaxy. The love of nature is filled in this tattoo. Get yours, if you love the nature equally.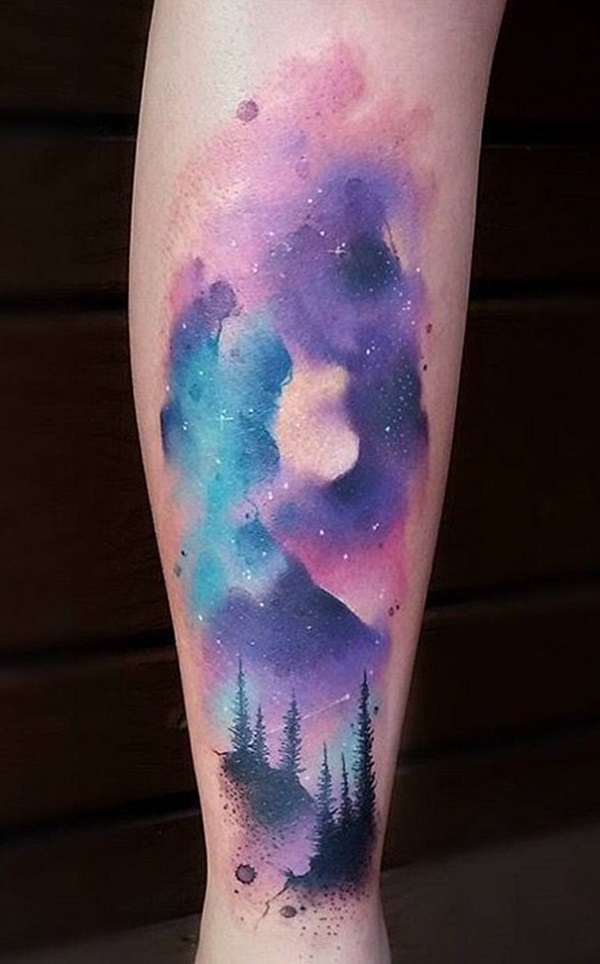 Mighty Galaxy Tattoo for Forearm. This forearm piece is definitely  eye-catching.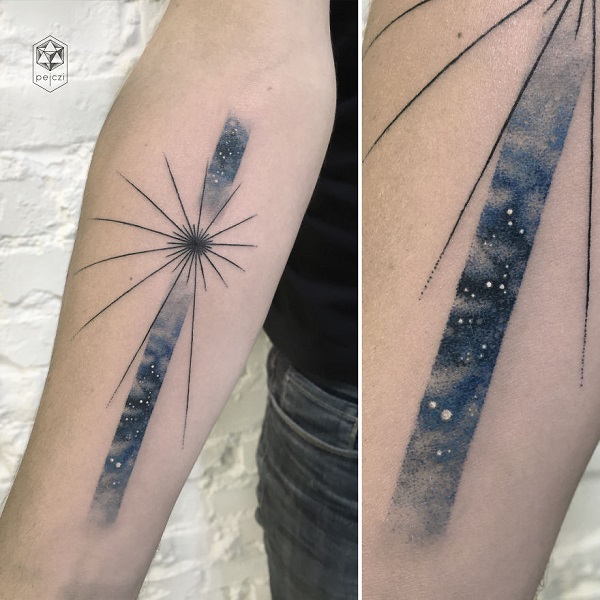 The Beautiful Constellation. This constellation themed tattoo is truly a inspiration for all the space lovers.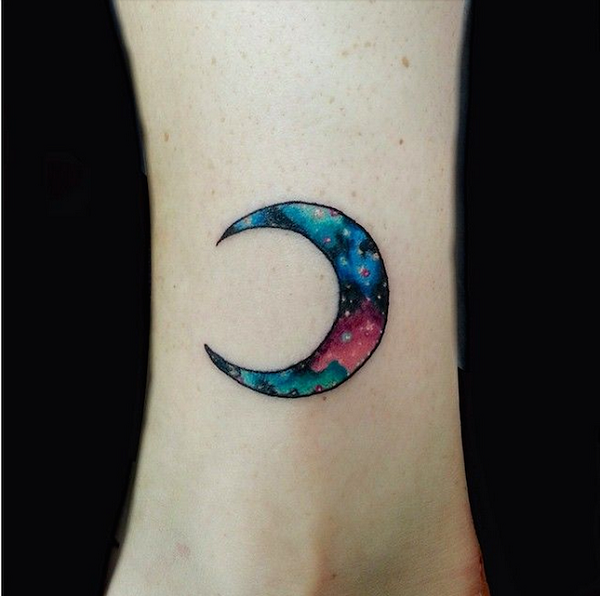 Tiny Moon with Galaxy Tattoo. Looking for simple yet meaningful tattoo? This one is made for you!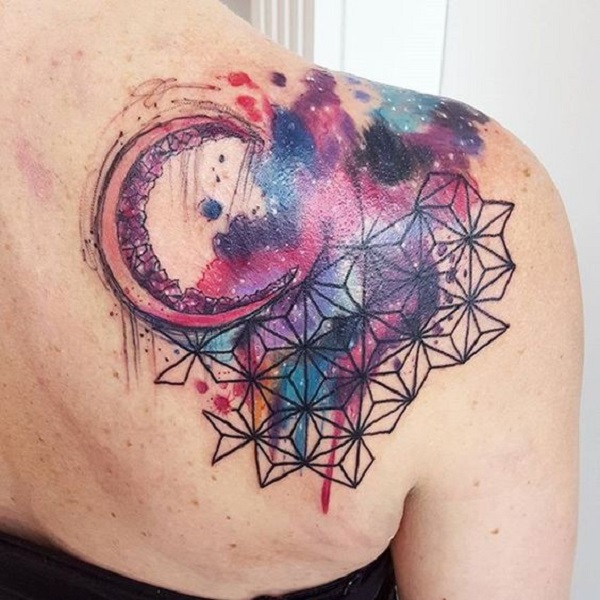 Fantastic Water-colored Galaxy tattoo. The vibrant mix of colors and the bold outlined patterns makes this tattoo worth trying.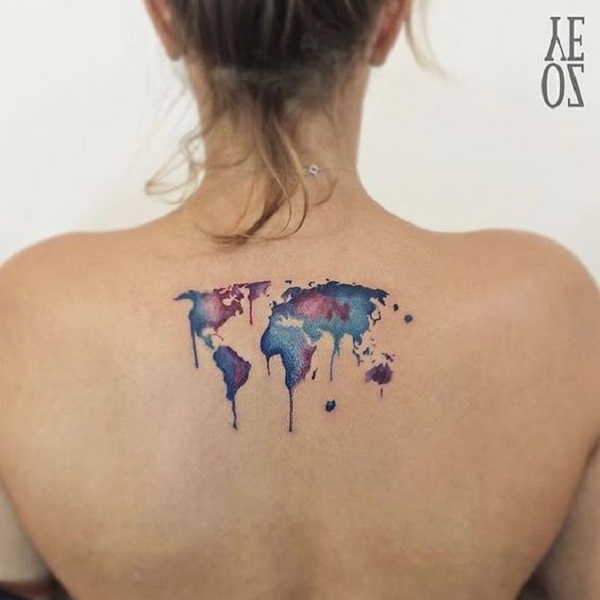 The Bleeding Sky. This tattoo could represent the pain hidden in the sky.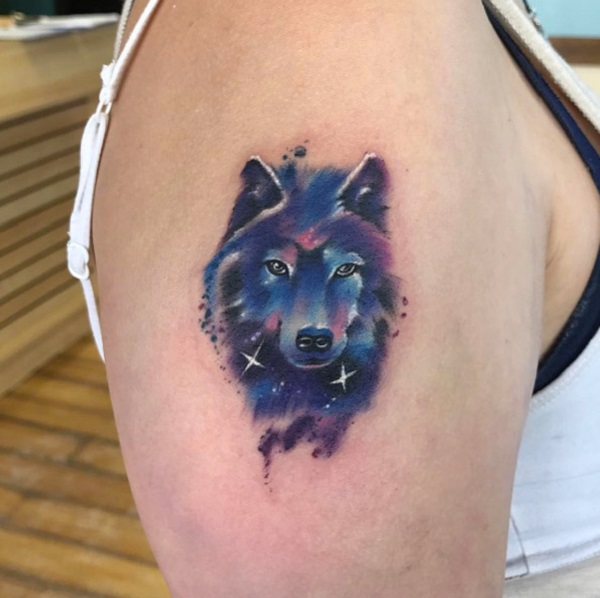 Fox head Galaxy Tattoo. This gorgeous galaxy themed fox head tattoo is perfect for guys looking for strength and motivation.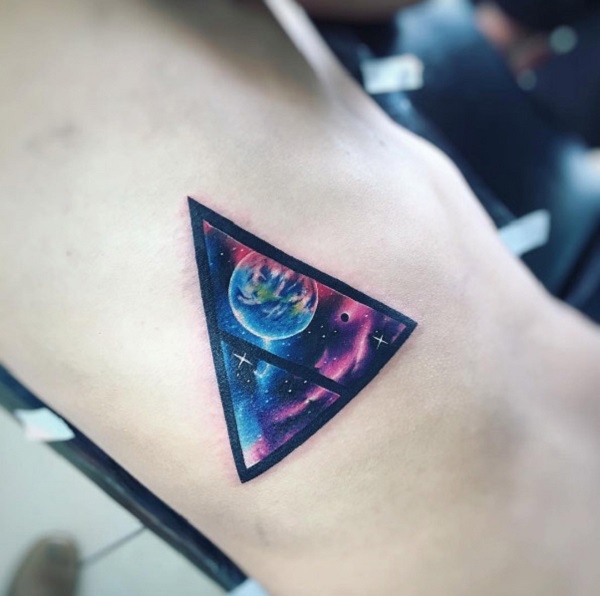 Galaxy Within a Triangle. Here, a triangle in filled with universe.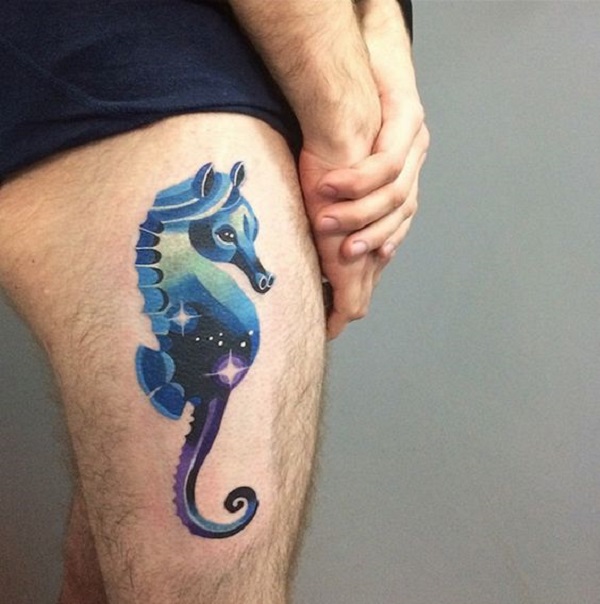 Sea Horse Inspired by Galaxy Tattoo. Another galaxy inspired animal tattoo. This tattoo might be holding some great meaning.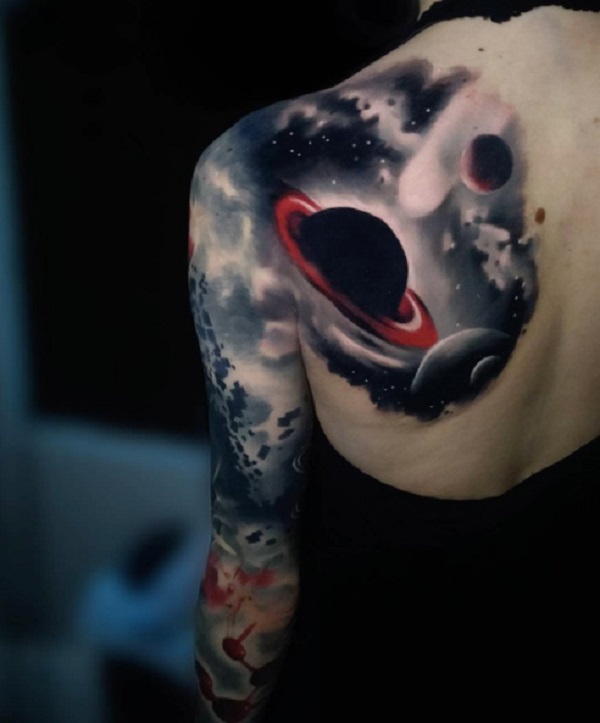 Terrifying Bright Red and Black Sleeve Galaxy Tattoo. Not cosmically accurate… but this one is pretty cool.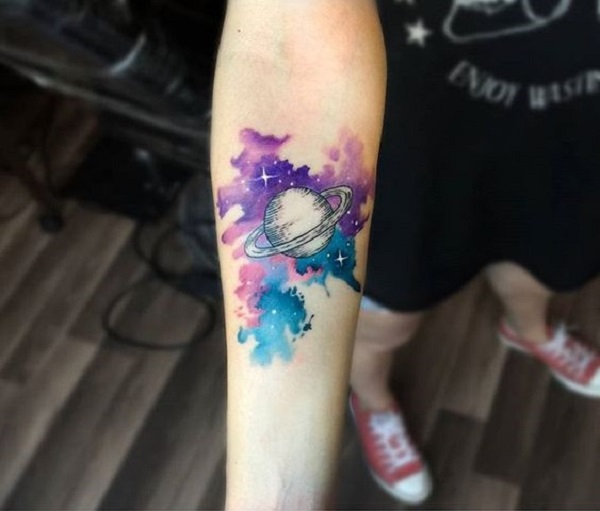 A Planet in the Sky Tattoo. Planetary tattoos are forever in the fashion. Make your statement with your creativity.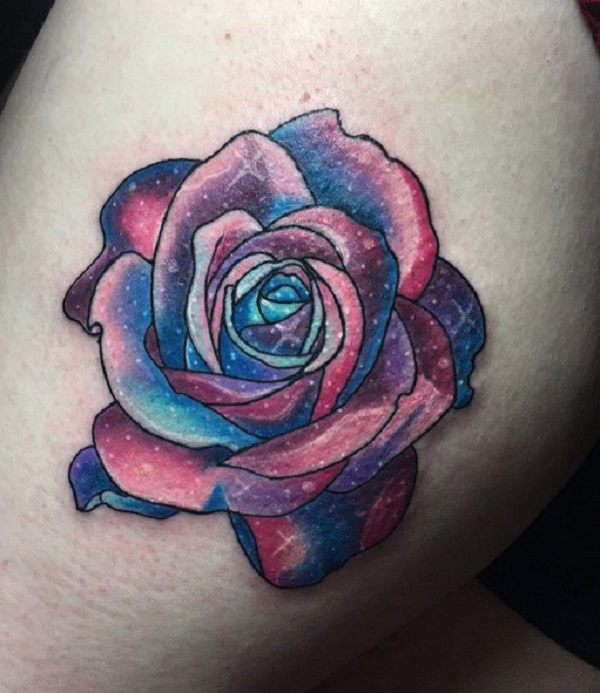 Beautiful galaxy Tattoo. Galaxy combined with the flowers symbolizes romance and love.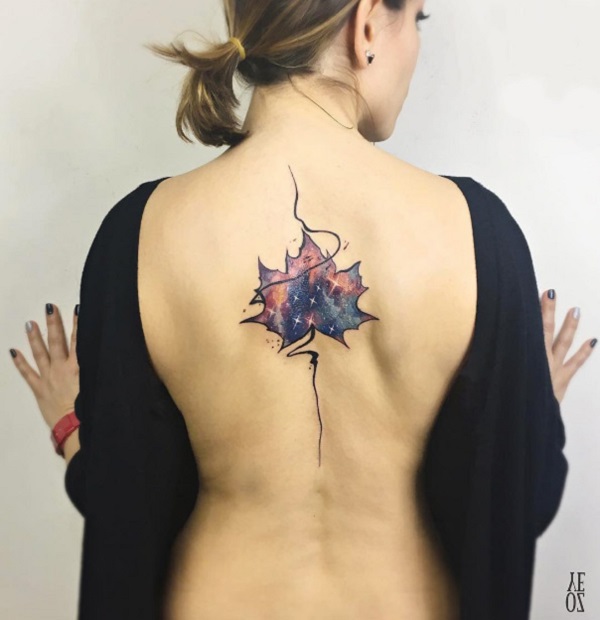 Maple Leaf Galaxy Tattoo. This beautiful back piece for her is definitely an inspiration especially if she is fond of space and galaxies.
Try these fascinating galaxy tattoo ideas and express your love for space!