Virgo tattoos are a popular way of expressing oneself artistically and symbolically. With a variety of meanings, they can serve as tributes to loved ones, personal reminders, or representations of one's personality. As a zodiac sign, Virgo has a strong presence in tattoo design, inspiring some popular and unique designs. Virgo spans from August 23 to September 22 and has several characteristics that make it a popular choice for tattoos.
Symbolism of Virgo
Virgo is the sixth sign of the zodiac and is ruled by the planet Mercury. People born under this sign are known for being intelligent, practical, analytical, and detail-oriented. Virgos are also known for their perfectionism, which can sometimes lead to being overly critical or demanding. However, they are also reliable, organized, and efficient, making them a valuable asset to any team.
Virgo has connection with other zodiac signs. There is a strong connection between Virgo and Scorpio, which is the eighth sign of the zodiac. Both of these signs are ruled by the planet Mercury, and they share many similar traits such as being analytical and detail-oriented. Additionally, Scorpio's symbol is the scorpion, which is often used in tattoo designs. Some Virgos may choose to get a scorpion tattoo as a way to honor their connection with the Scorpio sign or to represent their own strength and resilience.
The symbol of Virgo is the virgin, which is often depicted as a young woman holding wheat, symbolizing harvest and abundance. The glyph of Virgo, which is a combination of the letter M and a loop or knot, represents both the mind and body.
Virgo Tattoos: Popular Design Ideas
Virgo tattoos are rising in popularity, with many people opting for sign-specific tattoos or zodiac constellations. Here are some popular design ideas for this zodiac tattoo.
The Virgin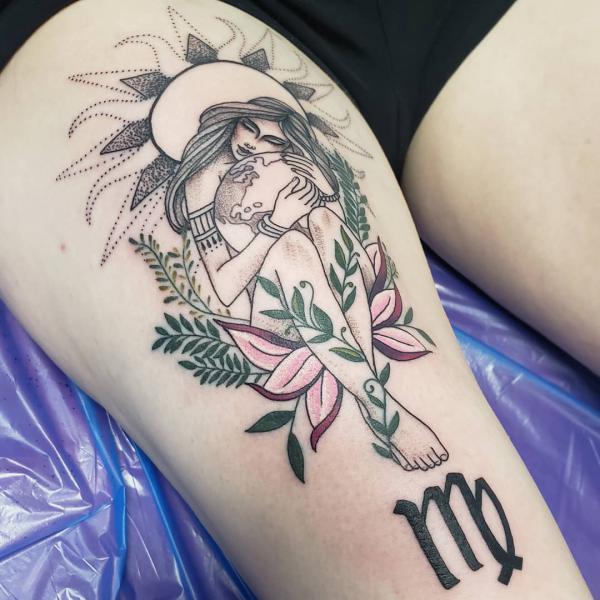 Virgo's symbol is a virgin, which can be depicted in many ways. Some people opt for a realistic or stylized portrait of a young woman, while others choose to incorporate the wheat she holds as a symbol of abundance. You can get the virgin tattooed on its own, or as part of a bigger design.
Virgo symbol back tattoo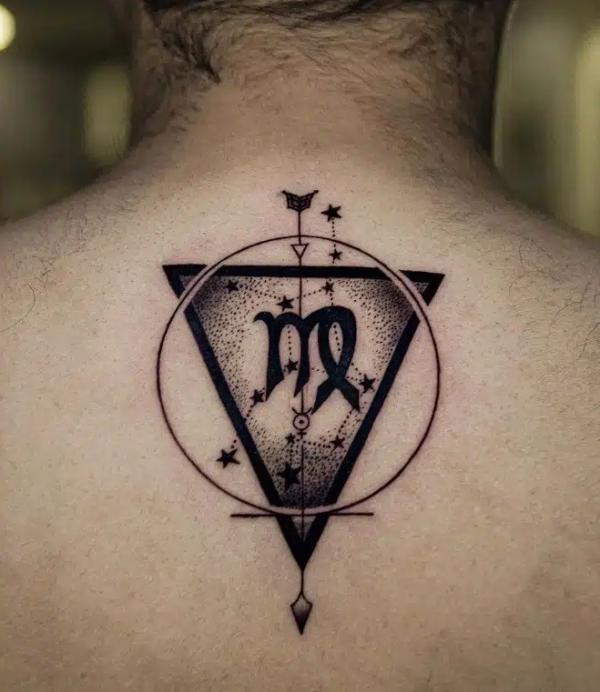 The most popular Virgo tattoo design is the symbol for the zodiac sign. The symbol is a representation of the maiden, and it depicts a stylized 'M' with a swirled tail at the end. A Virgo symbol tattoo represents the characteristics of the sign, such as intelligence, hardworking nature, and humility.
The word Virgo with flowers tattoo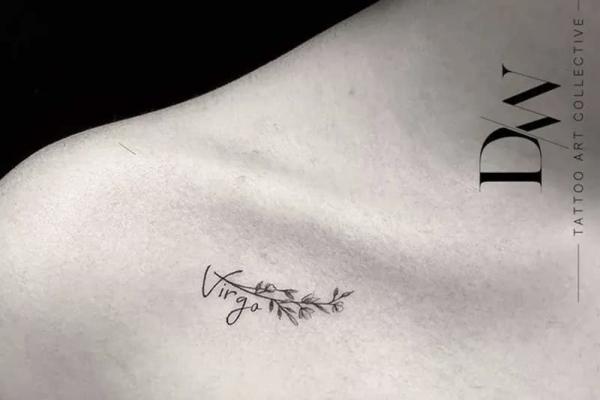 Some people like to sport subtle tattoos with one-word captions. A Virgo script tattoo is an example of this. A simple and elegant handwritten script with the word 'Virgo' can prove to be a great tattoo to show off your zodiac sign subtly.
Virgo potion bottle tattoo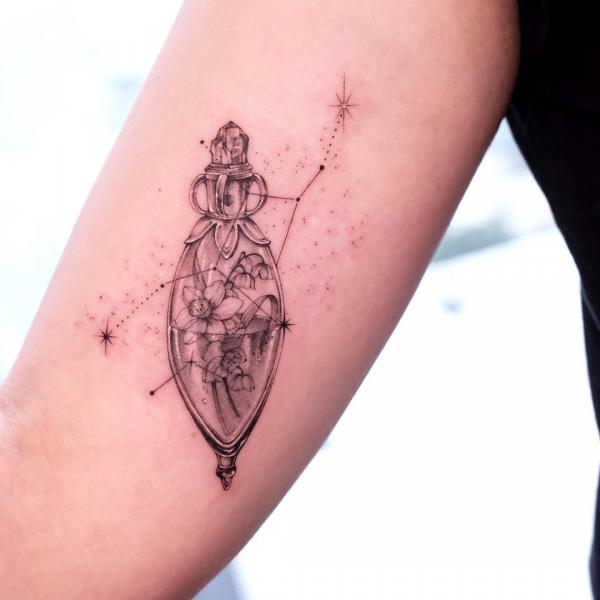 Virgo Tattoo with Quote – Don't let the bad days win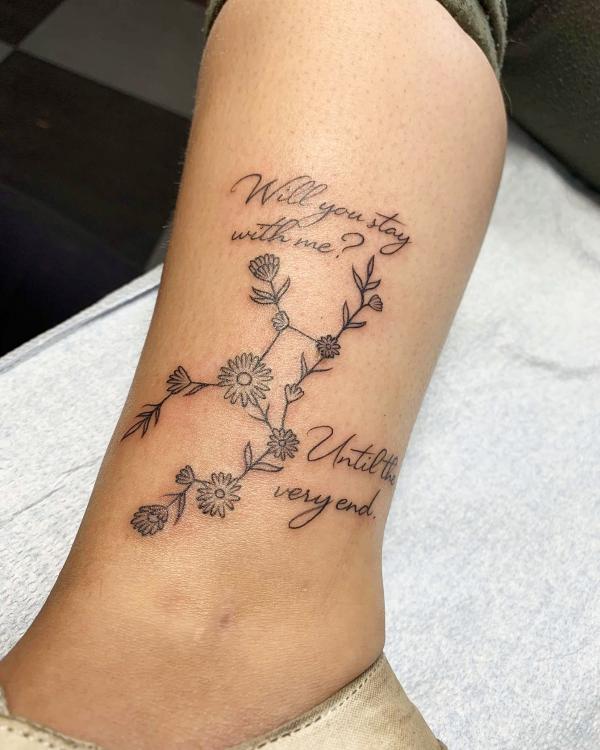 In keeping up with the Virgo trait of having a unique individuality, Virgo quote tattoos can be a fantastic choice. The quote can feature the zodiac sign itself or something inspirational and meaningful. This option allows for a more personalized tattoo design that speaks to an individual's unique qualities and virtues. Many people choose to incorporate meaningful words or phrases into their tattoos, and this is also true of Virgo tattoos. Some good choices for a Virgo word or phrase tattoo include "perfection," "precision," "discipline," or "organized." Alternatively, you could choose words that have personal significance to you, such as the names of loved ones or motivational quotes.
Virgo zodiac symbol in potion bottle
The tattoo on the upper arm depicts the Virgo zodiac symbol, intricately drawn within a potion bottle shape. Notably, the Virgo symbol is characterized by a sense of purity and attention to detail, while the potion bottle is a nod to Virgo's association with alchemy and the pursuit of knowledge. Moreover, the tattoo's placement on the upper arm signifies strength and confidence in one's identity as a Virgo. Ultimately, this design brings together the themes of astrology, science, and personal identity in a unique and visually striking way.
Watercolor crescent with Virgo symbol tattoo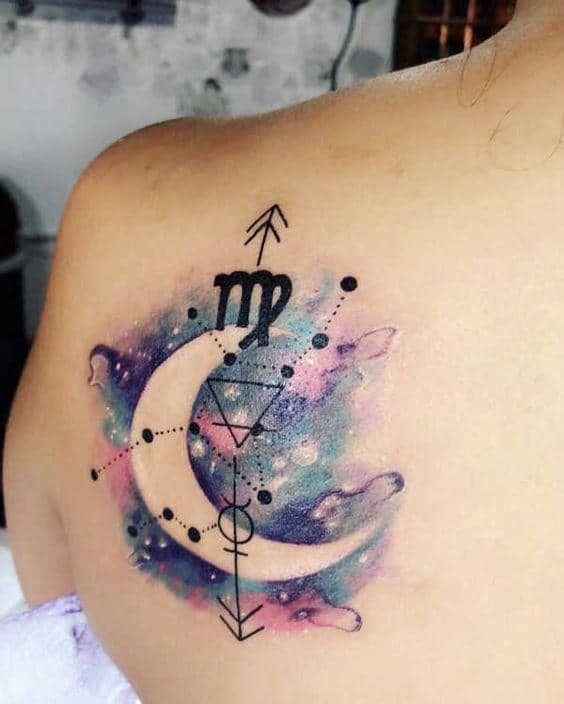 This stunning watercolor crescent tattoo with the Virgo symbol is a beautiful way to express your connection to the astrological constellation of Virgo. The vibrant colors and intricate details bring out its unique beauty, while also serving as an excellent reminder of your star sign's traits and characteristics. This tattoo makes for a great conversation starter when you want to share more about yourself or show off some personal flair!
Arrow and Virgo symbol forearm tattoo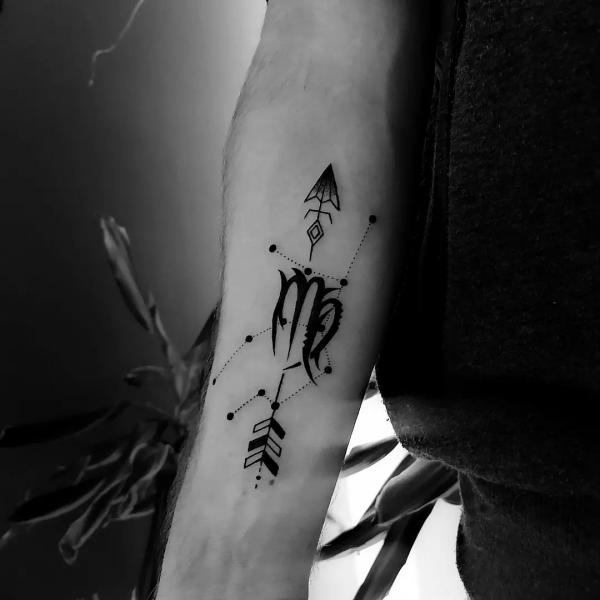 The arrow tattoo design represents the Virgo's sharp and analytical mind. This tattoo design often features an arrow pointing upwards, representing the Virgo's desire for knowledge and growth. The arrow can also represent the Virgo's determination and focus.
Bold Virgo Star Constellation Tattoo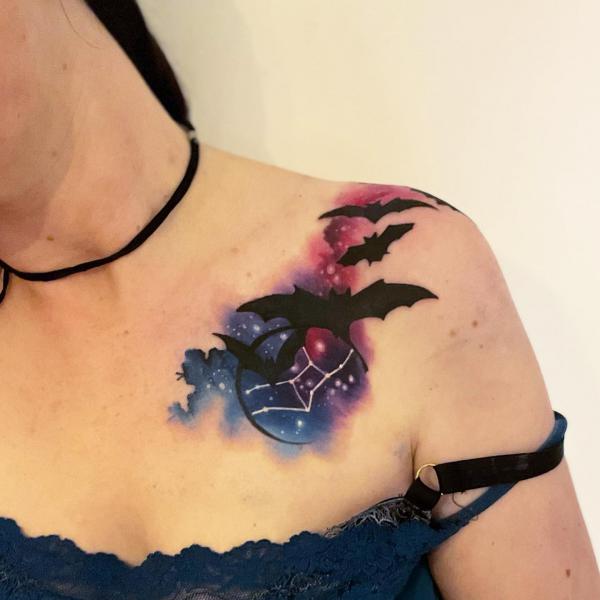 Another popular Virgo tattoo design is the Virgo Constellation tattoo. This design depicts the stars that make up the constellation of Virgo. A Virgo constellation tattoo symbolizes order, organization, and planning. It represents the idea of creating a roadmap for life, and following it with precision.
Constellation Virgo neck tattoo for women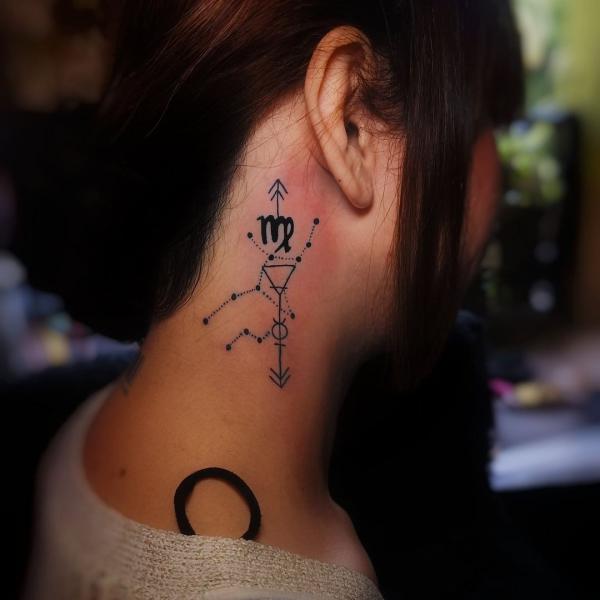 A Virgo constellation neck tattoo for women is a beautiful and meaningful choice. The tattoo features the constellation of Virgo, which is comprised of several stars in a unique pattern that represents the maiden. This tattoo can symbolize a woman's independence, strength, and intelligence. The placement of the tattoo on the neck is both elegant and discreet, allowing the wearer to show off their tattoo when desired. The use of black ink gives the tattoo a classic and timeless look. Overall, a Virgo constellation neck tattoo is a stunning and empowering choice for women who want to express themselves through body art.
Constellation Valknut Tattoo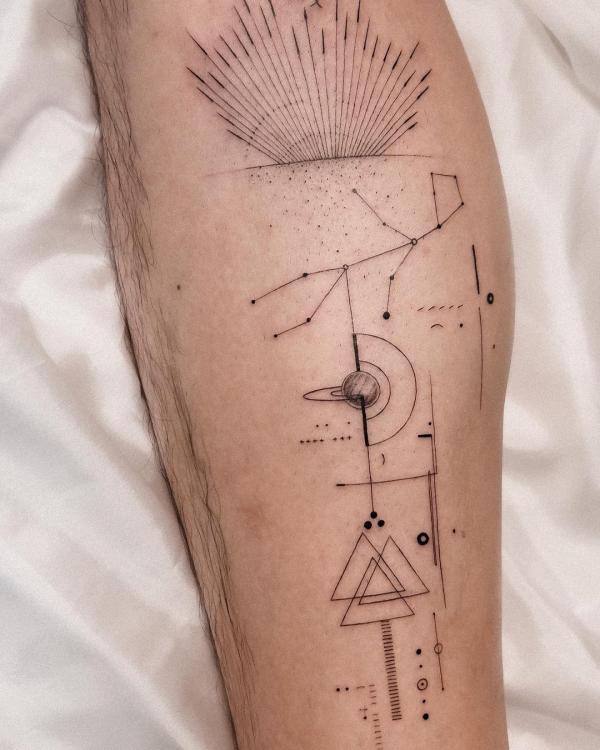 A Valknut tattoo is a symbol of three interlocking triangles, each representing different but interrelated elements such as life, death, and rebirth. The linework style of the tattoo emphasizes the intricacy and precision of the design, with clean lines and sharp angles. The constellation version of the Valknut tattoo adds a celestial element to the design, highlighting its cosmic significance. This tattoo is perfect for those who want to express their fascination with Norse mythology or their appreciation for intricate and meaningful designs.
Earth Element Tattoo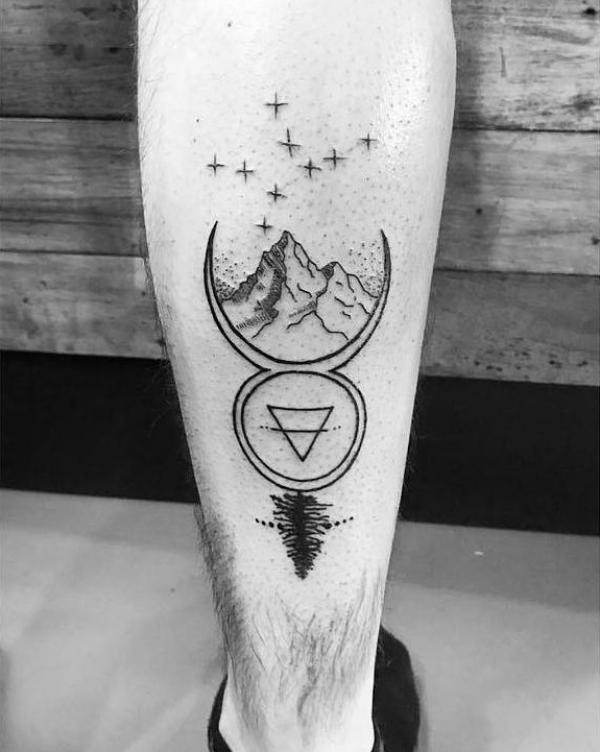 As an earth sign, a Virgo tattoo depicting elements of earth can be a great choice. An earth element tattoo could include a landscape, mountain or tree silhouettes, or other nature-inspired elements that reflect the qualities of strength and grounding. Virgo elements celebrate the importance of land and the earth in the natural world.
Flower Virgo word with realistic eye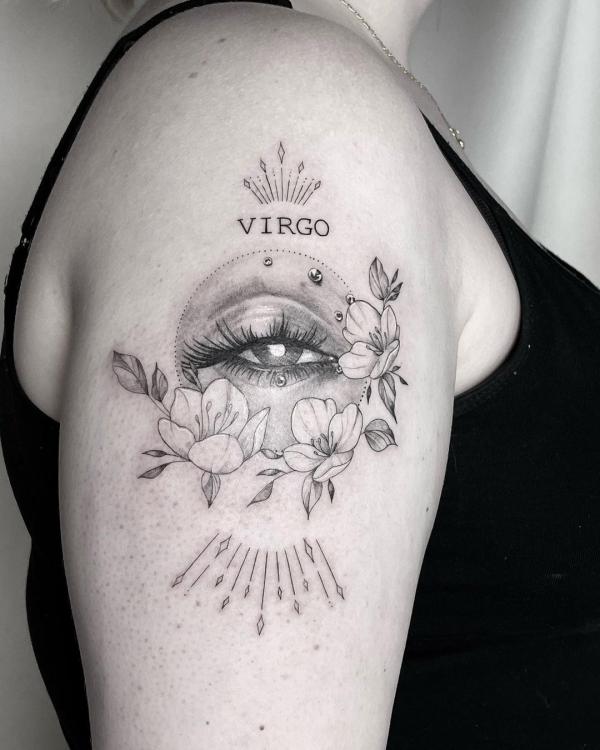 This tattoo design features the word "Virgo" in a stylized font, surrounded by a light depiction of a flower. The centerpiece is a beautifully rendered eye, adding an element of depth and intrigue to the overall composition. This design is a unique and elegant way to showcase your love for Virgo astrology while incorporating natural elements and stunning artistry.
Leopard Virgo Constellation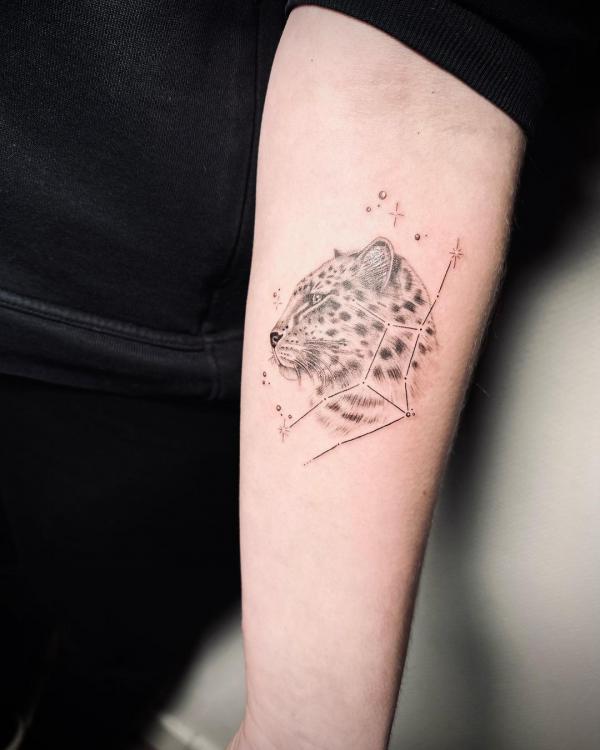 The Leopard Virgo Constellation tattoo on the forearm is a beautiful and unique design. The intricate lines of the constellation are delicately etched, forming the shape of a majestic leopard. The black ink contrasts beautifully with the natural skin tone, making it a striking addition to any outfit. This tattoo is perfect for those who love astrology, wildlife, or just want a stunning piece of body art.
Line work Virgo symbol and Constellation forearm tattoo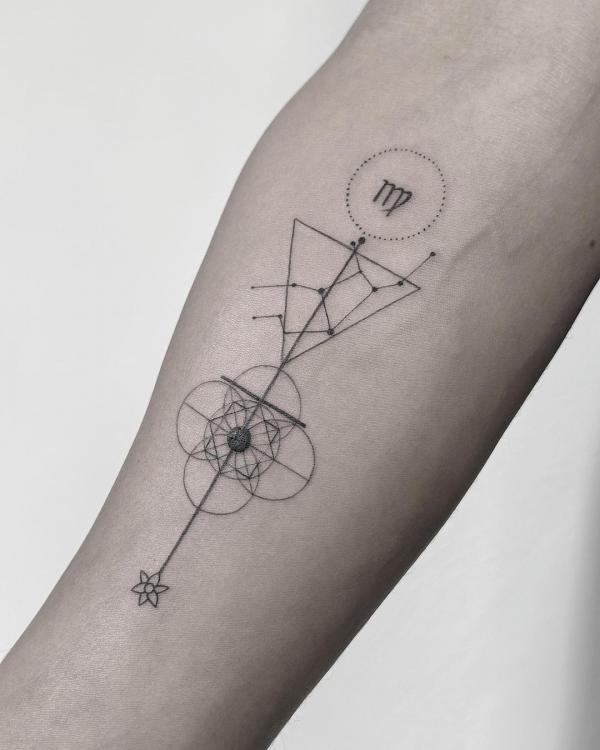 This tattoo features a stunning combination of a line work Virgo symbol and a constellation on the forearm. The Virgo symbol is depicted using precise line work, creating a bold and intricate design that is sure to impress. The constellation is artfully rendered, with each star carefully placed to create a visually stunning effect. The placement on the forearm allows for maximum visibility, and the overall effect is both eye-catching and elegant.
Linework Elephant Virgo back tattoo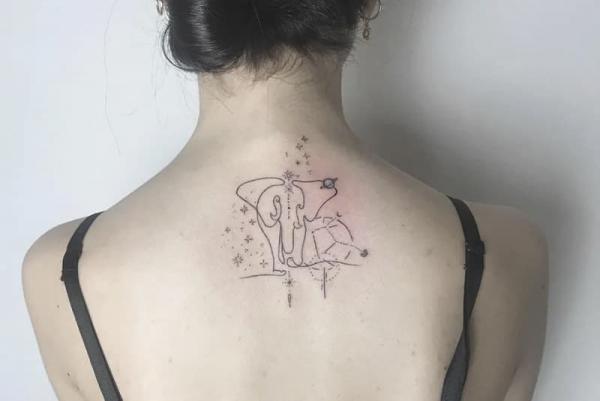 This elephant tattoo is a beautiful and intricate design for women who love tattoos. The linework style is perfect for those who appreciate fine detail and clean lines. The elephant symbolizes strength and wisdom, while the Virgo zodiac sign represents practicality and intelligence. When combined, these elements create a unique and meaningful tattoo. Placed on the back, this tattoo is perfect for those who want a larger piece that can be easily concealed when necessary. Overall, this design is a stunning choice for any woman looking for a beautiful and meaningful tattoo.
Mandala Virgo tattoo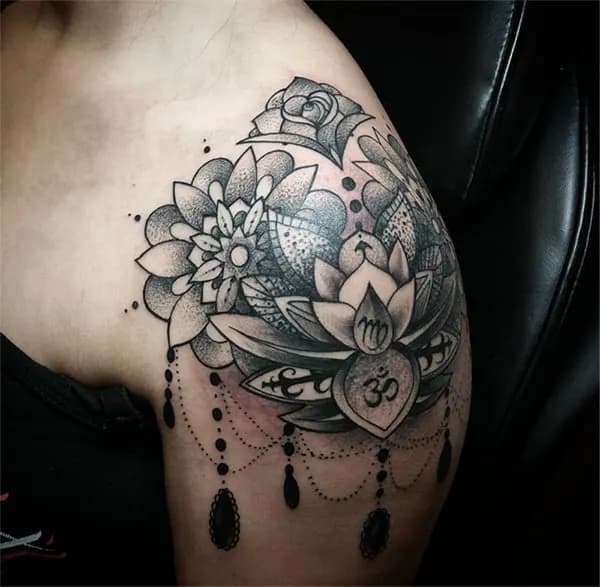 Mandala designs have become increasingly popular when it comes to tattoo art. A Virgo mandala tattoo can create a beautiful piece of art that reflects intelligence, inner beauty, and practicality. Applying the zodiac symbol into a mandala design brings in a sense of order and symmetry, representing the Virgo's ability to draw up plans and organize their lives.
Planet and Virgo sign tattoo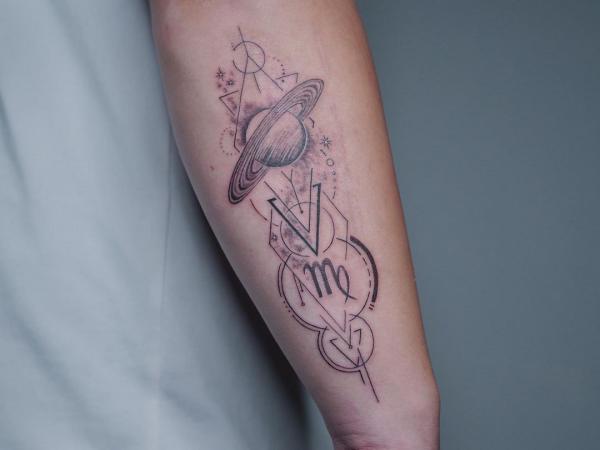 This tattoo design features a planet with a spinning orbit and the Virgo zodiac sign. The planet appears to be in motion, which adds a sense of dynamism to the overall design. The Virgo sign is incorporated in the design seamlessly, adding a touch of personalization to the tattoo. It's a unique combination that showcases both an interest in astronomy and a connection to astrology.
Simple Virgo finger tattoo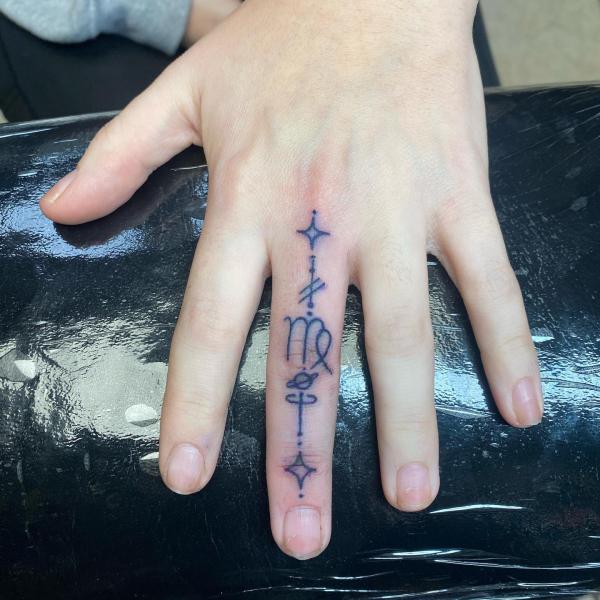 A Simple Virgo finger tattoo is a minimalist design that features the zodiac symbol for Virgo on the finger. It is a discreet and stylish way to represent your astrological sign. The tattoo can be done in black ink or color, and the placement on the finger adds a unique touch. This design is perfect for those who prefer a subtle and meaningful tattoo.
Celtic knot Virgo tattoo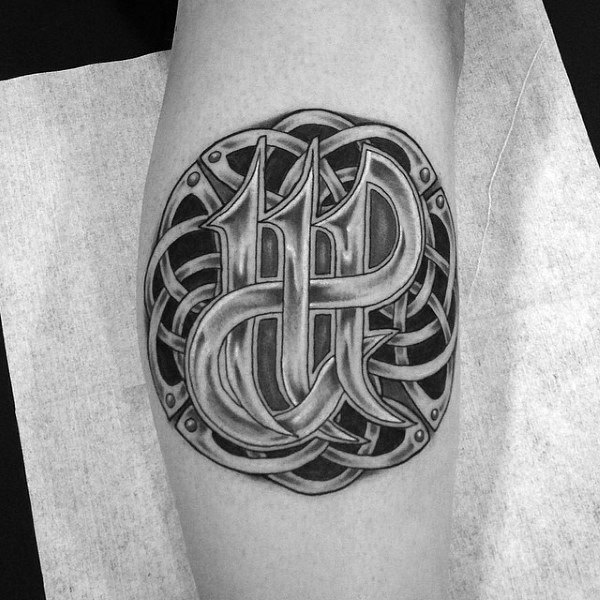 Celtic knots have almost become synonymous with tattoos, especially for individuals who prefer smaller and detailed tattoos. A Celtic knot can depict Virgo's qualities like determination and a deep love for traditions. The design offers a more subtle way of depicting the Virgo sign, using a knot that complements the zodiac's symbol's fluid curves.
In conclusion, a Virgo tattoo can be a beautiful addition to your body art collection. The designs mentioned above present an array of powerful and meaningful choices that represent the Virgo sign's qualities. A Virgo tattoo is a way to showcase one's unique personality, beliefs, and values. Choose a design that resonates with you, and always consult a professional tattoo artist for the best results.
FAQs regarding getting a Virgo tattoo
Q: Can anyone get a Virgo tattoo, even if they're not a Virgo themselves?
A: Yes, anyone can get a Virgo tattoo as a way to honor a Virgo in their life or appreciate the traits associated with the zodiac sign.
Q: Are there any specific colors that are commonly used in Virgo tattoos?
A: There are no specific colors that are required for a Virgo tattoo. However, earthy tones such as greens, browns, and yellows are often used to represent the practical and grounded nature of the Virgo sign.
Q: Can a person born under a different zodiac sign get a Virgo tattoo without conflicting with their own sign?
A: Yes, a person born under a different zodiac sign can get a Virgo tattoo without any negative effects on their own sign. Tattoos are a form of personal expression and do not have any impact on astrology or the alignment of the stars.