What to do before you get your tattoo
Arm tattoos are one of the most eye catching types of tattoos that people love having. Why is this so? It's because sleeve tattoos are unique and they can be comprised of lots of wonderful designs that can be creatively placed on the person's arm. Nowadays creativity plays a big role on the kind of body art that people would want to put on themselves. This is because there is much higher regard for unique art as time passes by. Tattoos are also a good way of expressing one's beliefs, personality or passion and having them on your sleeves is one of the best ways to show the world what you are all about.
One of the troubles in getting a tattoo is how you can pick out a design? There are tons of great designs out there so you can be confused on which one can actually suit you best. You don't want to choose half heartedly or you may regret your decision afterwards. A tattoo is a permanent ink on the body and it will cost to remove it once it is done, that is why always choose wisely.
Tips on choosing the right sleeve tattoos
Of course one of the first things that you should think about is the cost of the tattoo that you want. You should set a budget on what types of tattoo designs you can be able to afford and how much you should be willing to spend n it. This helps you eliminate other choices which you feel are way too cheap or far too expensive. This is more like a damage control tip so that you will not be overspending on something when you can have an option that can fit your budget.
Look for more information about the tattoo designs you want. Research is the key and that shouldn't be too hard with the presence of the internet nowadays. You can simply log on and look for designs and their meanings and choose one which suits you best. If you want a more customized tattoo then you can always consult with the tattoo artist you have in mind to see if he or she has any other recommendations. This is an integral part before getting the tattoo because you will get to learn more about the meaning and significance of the design you wish to have.
Pick out a theme. Make your sleeve tattoo coordinated and nice to look at. Choosing what type of theme for your tattoo can actually be very interesting. You can play through various themes and can even customize your own. All you need to do is to love your theme and try to make it more unique than before. Choosing the theme can also help motivate you to go and get the tattoo on your arm.
Choose a style that you like the most. Tattoos have different styles that you can pick out from, and this is important since it will impact the emotion or the effect that you want your tattoo to have. Some styles you can pick out would be the grey scale, multicolored. Macabre effect, bright and joyous effect, the mysterious and dark effect, minimalist, abstract and so on. These styles can either make or break your tattoo design as well as the message you want to convey for the people who get to see the tattoo.
The next step to take would be to find a tattoo artist that can create your sleeve tattoo for you. You may have tattoo artist friends or know someone via recommendation of your peers, bottom line is choose a tattoo artist that you trust he or she should have at least good background and experience in tattooing and you should also make sure that the equipment the tattoo artists is hygienic. There are times when you think you're saving money by going to a shady place but you are also risking your health and life.
When you first go to the tattoo artist you will be talking over what design you wish to have. Sketches and notes will be taken and the design will be drawn up for you to see when you return. Some tattoo artists do this but some have other procedures that you can follow. It depends on what you and the artist have agreed upon along with the schedules and how many times you will be back. Remember that each person is unique as well as the designs so consultations and results can vary.
Also it wouldn't be surprising if you would want some changes on the tattoo. Things like these are normal but to be able to cope up and not bring too much work to your artist, make sure that the design you pick has room for creativity and changes. This can help both you and your tattoo artist a lot.
Things to bring to your tattoo artist
A draft or drawing of the design you want, you can also use a description if it suits you best.
Write down possible words or quotes that you want to be added to the tattoo. Make sure that you check things like the spelling or grammar just to be sure.
You can also bring mementos or things that are important to you to show the artist. This is applicable if you want a customized tattoo that includes the things that you have brought with you.
It's also good to bring a book or poem that you want to be written on the tattoo. You can also use song lyrics.
Another choice would be to save pictures of your favorite artists or celebrities that you want to be included in the tattoo. You can transfer the files to your tattoo artist's computer or if you have a poster or printed picture you can give it to him or her.
And you can bring in more that you feel will be relevant and important in the session. You are free to talk it over your artist as to what he or she can do for the design. It will also be wise to leave the color combination to the artist especially when you don't have any specific ones in mind. Then sit back and relax and prepare for the day when you will be inked. It's important to be sure and to remain strong when undergoing the tattoo session.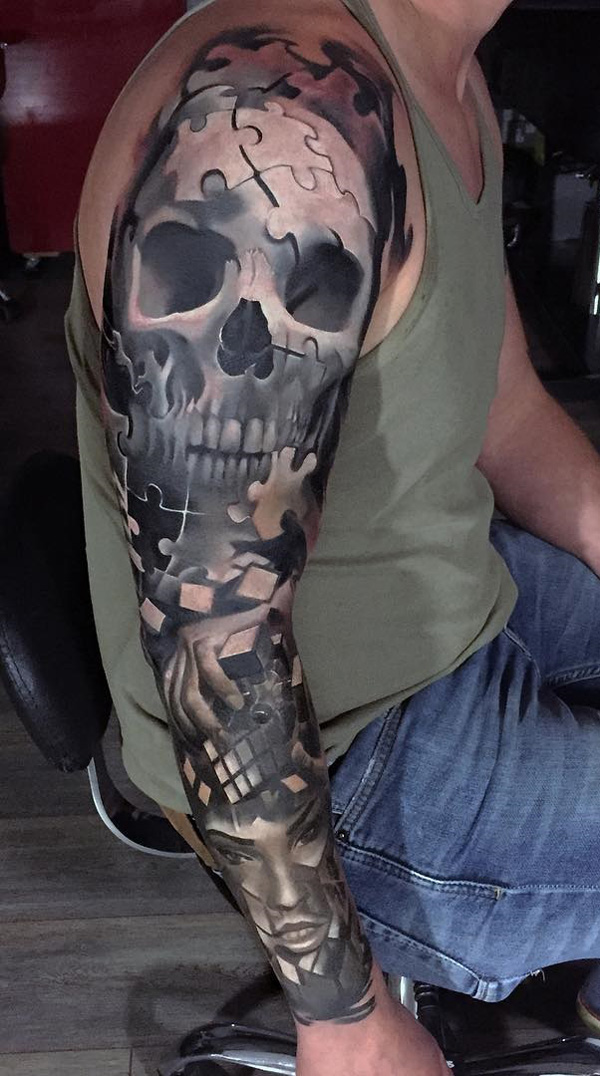 Skull inspired sleeve tattoo. The grayscale themed tattoo makes the design look mysterious and fearless. Below is a puzzle like design that combines to form a girl's face.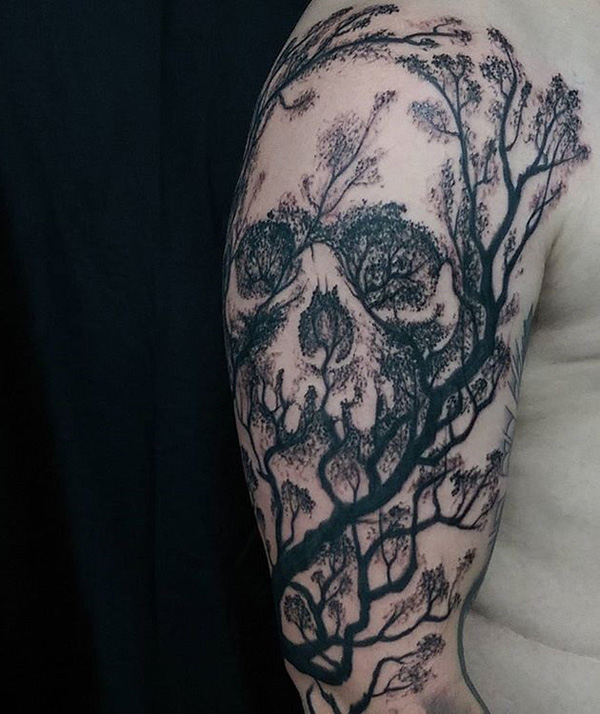 Skull themed sleeve tattoo design. Inked in black, the skull is formed through the help of tree branches and tree leaves in silhouette.
Beautiful skill inspired sleeve tattoo. The skull is also formed with the help of a series of clocks and clock hands that are also seen protruding from the skulls mouth.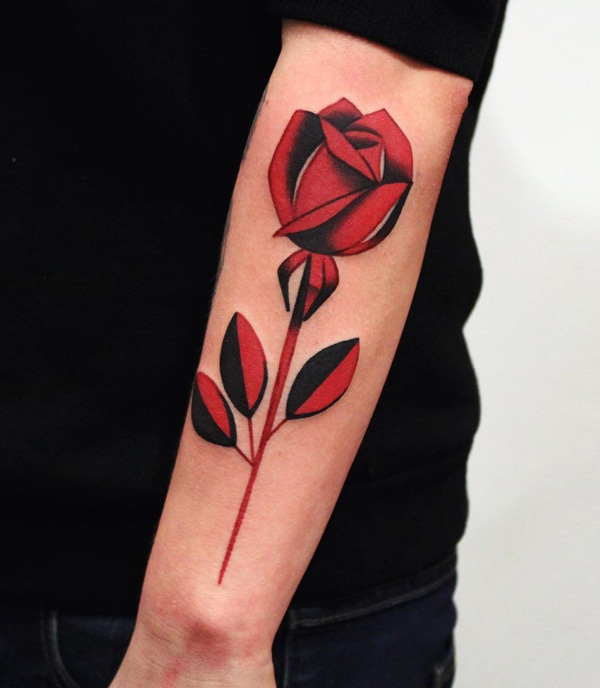 An enthralling flower sleeve tattoo. The sharp black and red sleeve tattoo design simply makes this design look mysterious and beautiful at the same time.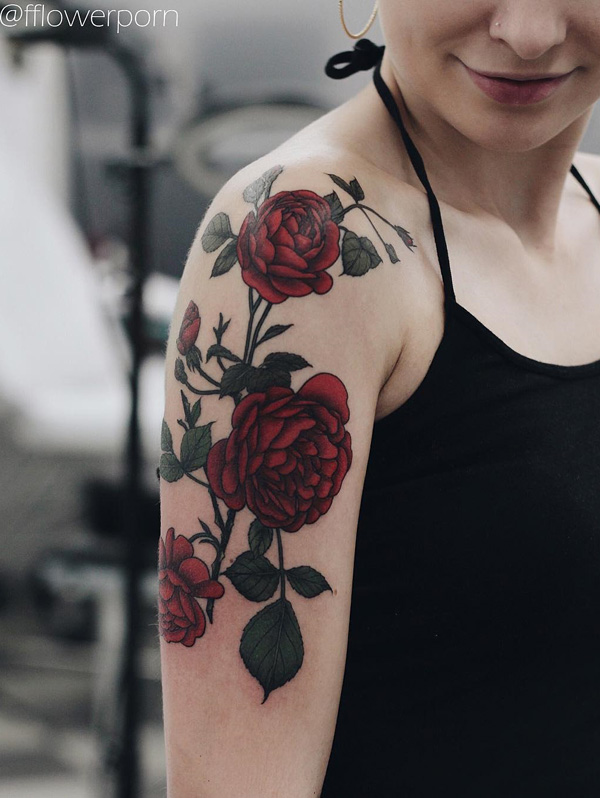 Sleeve tattoo design made up of red roses. The roses are inked beautifully on the arm with dark and full colors.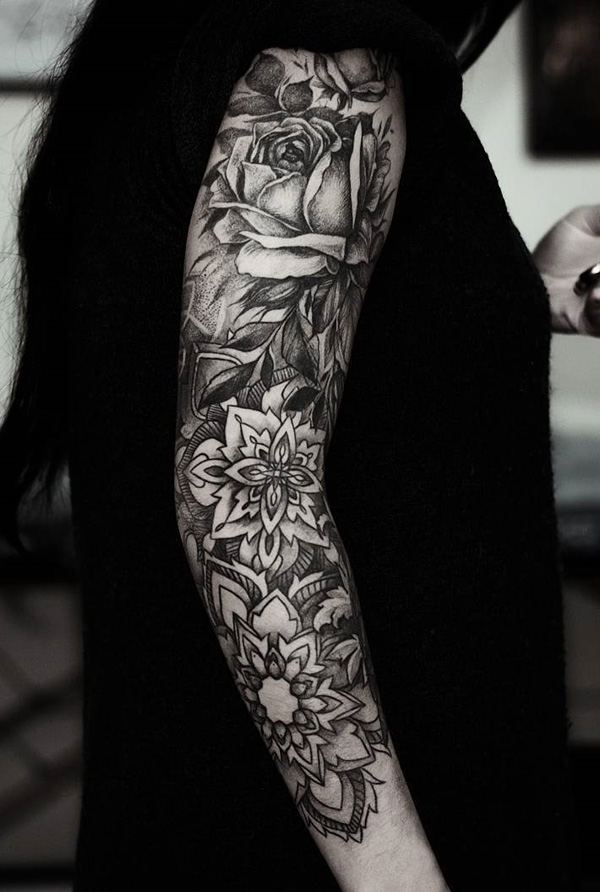 Wonderful looking floral sleeve tattoo. The sleeves are adorned with various flowers as it creates a magically inspired garden from the arm.
Source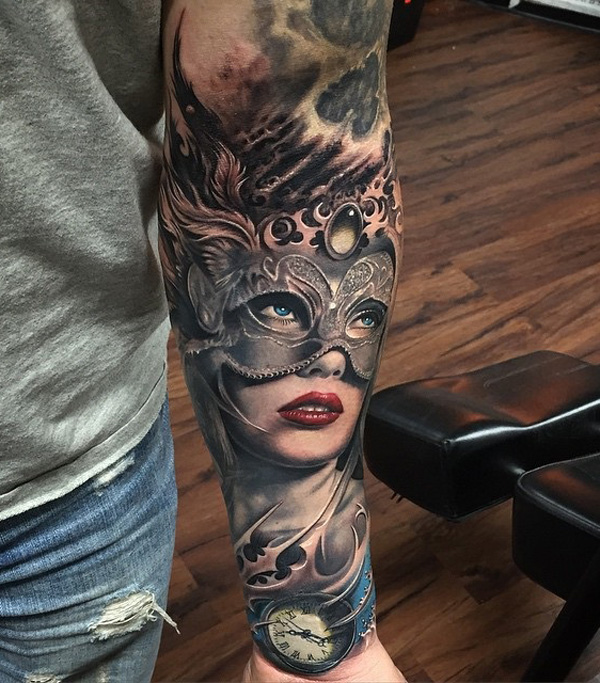 Beautiful masked lady sleeve tattoo. With the great attention to detail as well as the laid back inking of the tattoo makes it look very mystical and enthralling. There is also a pocket watch located below the woman.
Source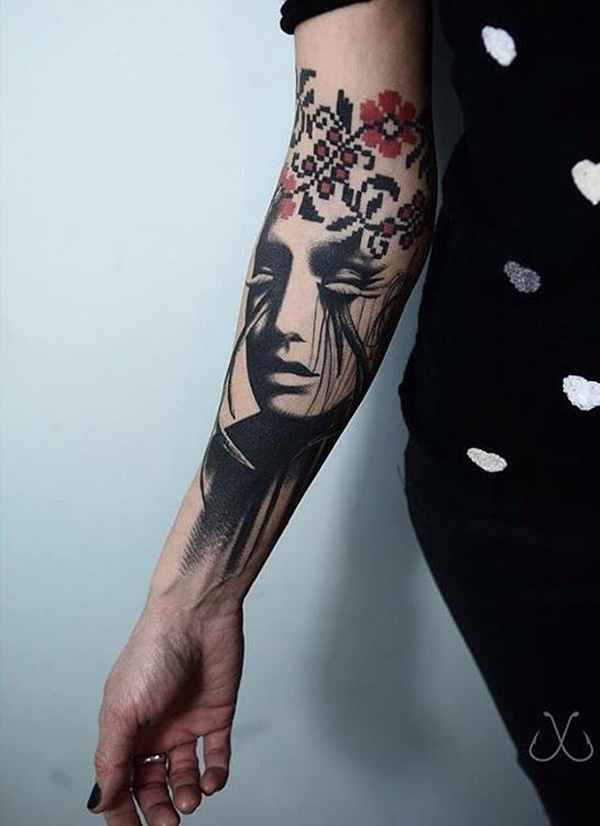 An interesting and abstract looking sleeve tattoo. The design starts off with pixel flowers above while transitioning to a woman with closed eyes below.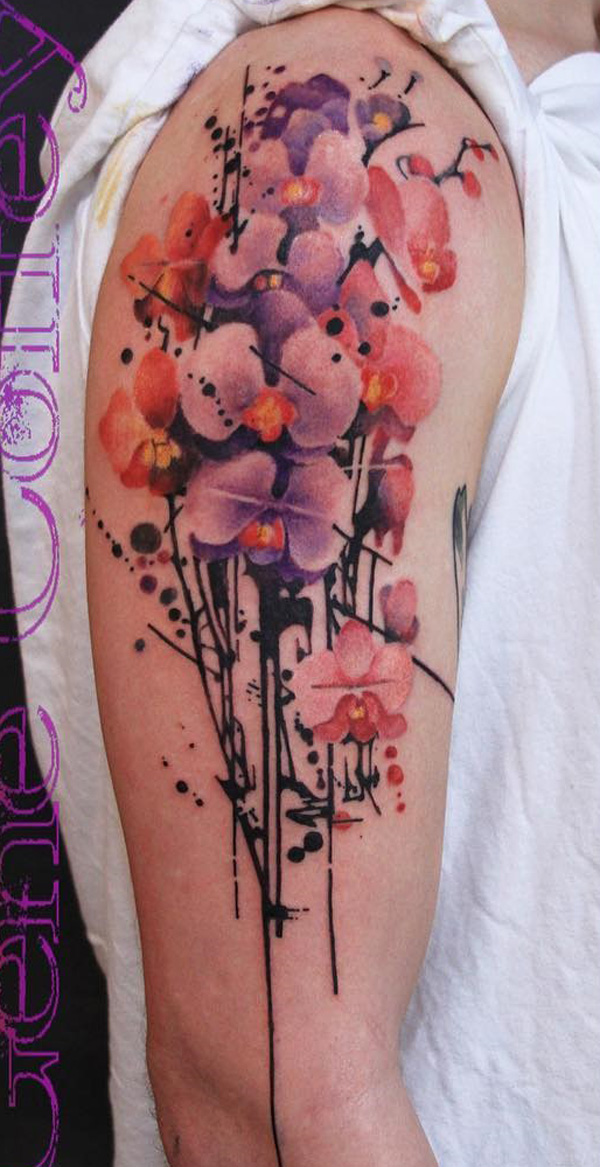 Amazing floral drip inspired sleeve tattoo. The flowers are inked in watercolor style which falls into artistic looking dripping stems below.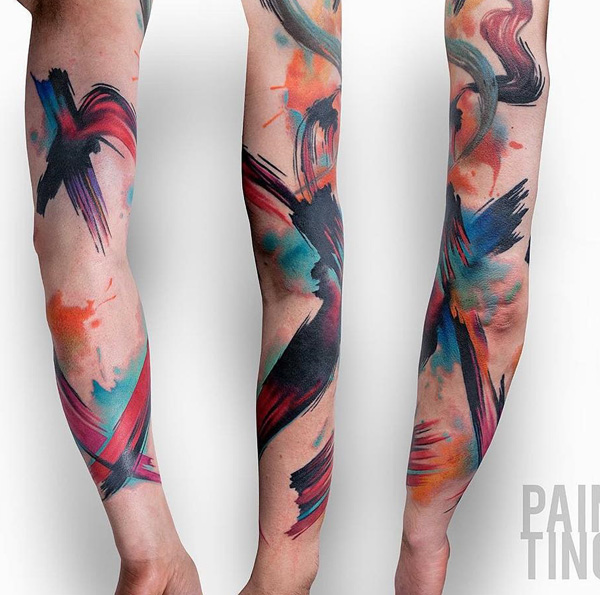 Abstract brush themed sleeve tattoo. Multi colored brush strokes are seen on the sleeve tattoo design. It looks like the arms are the canvas and the tattoo is the paintbrush.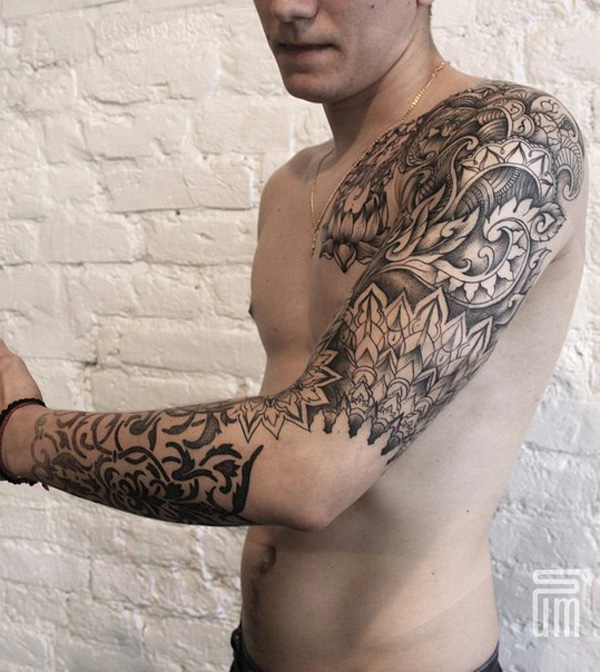 Tribal inspired sleeve tattoo. Inked in all black, the various shapes and designs on the tattoo give the eye a feast of creativity. How one design connects to each other gracefully is also noteworthy.
Source
Full length sleeve tattoo. This tattoo design starts from a snake that slithers down the arm to form flowers and extends way down to the wrist.
A wonderful looking avant-garde sleeve tattoo. The design plays around with floral and portal shapes and also borrows concepts from French inspired designs.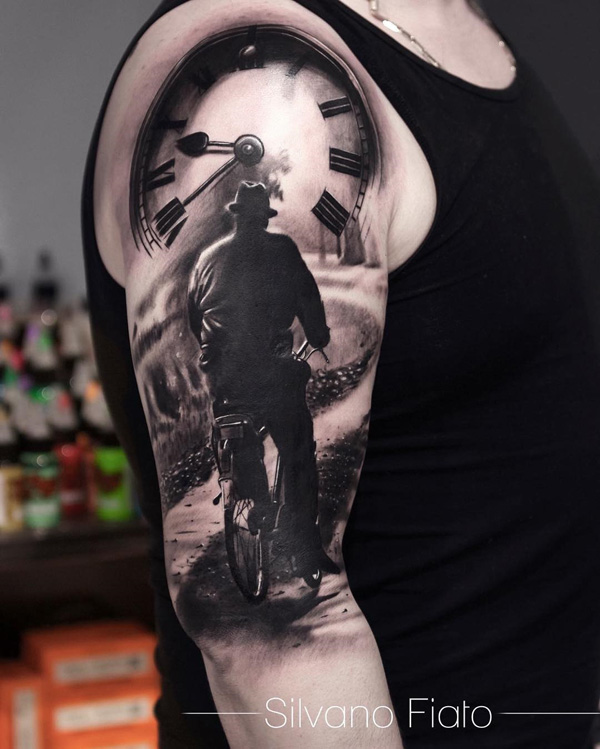 Beautiful sleeve tattoo of a man riding his bike. The attention to detail that this tattoo has as well as the amazing lighting makes it truly one of a kind and eye catching.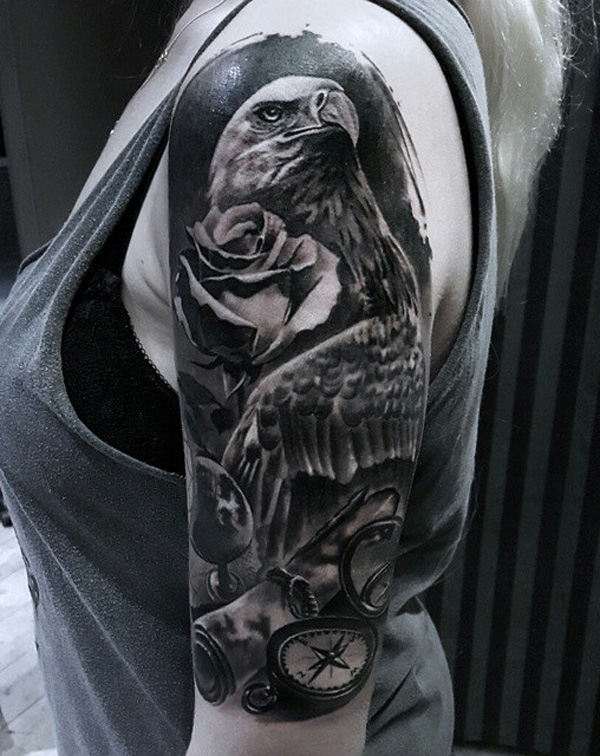 Black and gray sleeve tattoo. The tattoo consists of an eagle, a rose and a pocket watch that simply wants to make a statement with itself. It's definitely a head turner and has wonderful amount of detail out in it.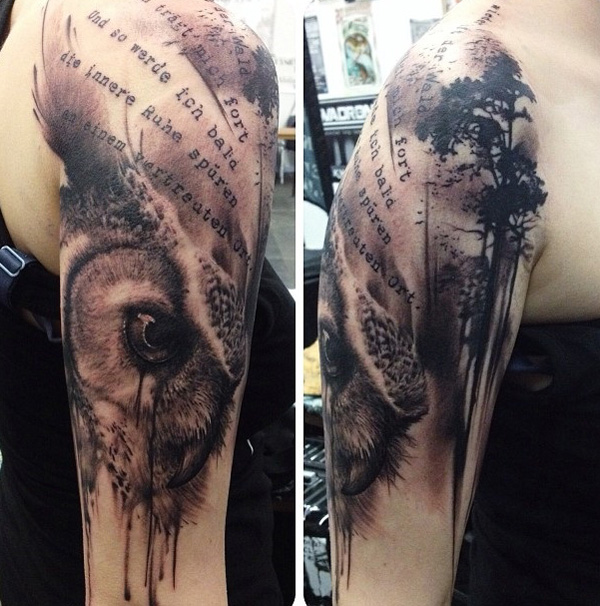 A very emotional looking sleeve tattoo. The transitions between the quotes to the trees and to the crying creature are simply flawless. This is one of those designs that make you want to stare at the tattoo for hours admiring its creativity.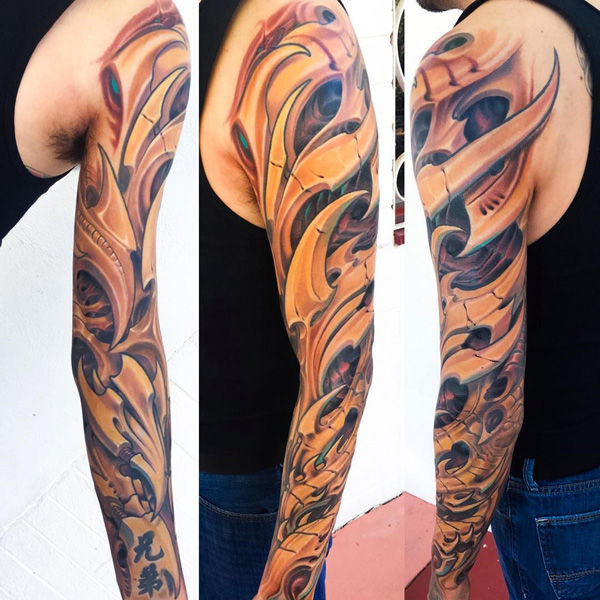 Amazing sleeve tattoo. The tattoo is composed of blade like objects that have been placed artistically upon each other to create a cascading design from the arm to the wrist.
Source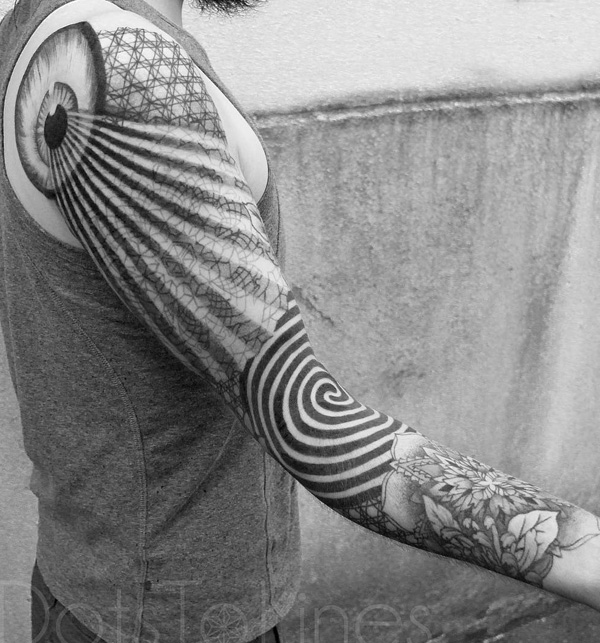 Beautiful sleeve tattoo in abstract design. The design is filled with dots and spirals to create this almost hypnotizing effect coming from the eye towards the final image on the wrist.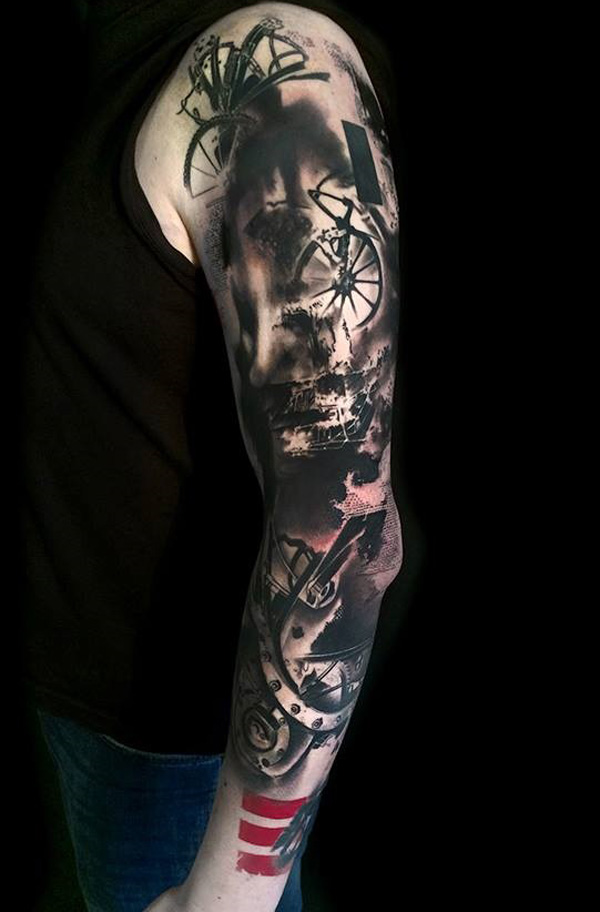 Great looking Trash Polka sleeve tattoo by Simone Pfaff and Volko Merschky. The awesome combination of events happening in the tattoo as if telling a story is what makes it look twice as amazing as it already is.
Source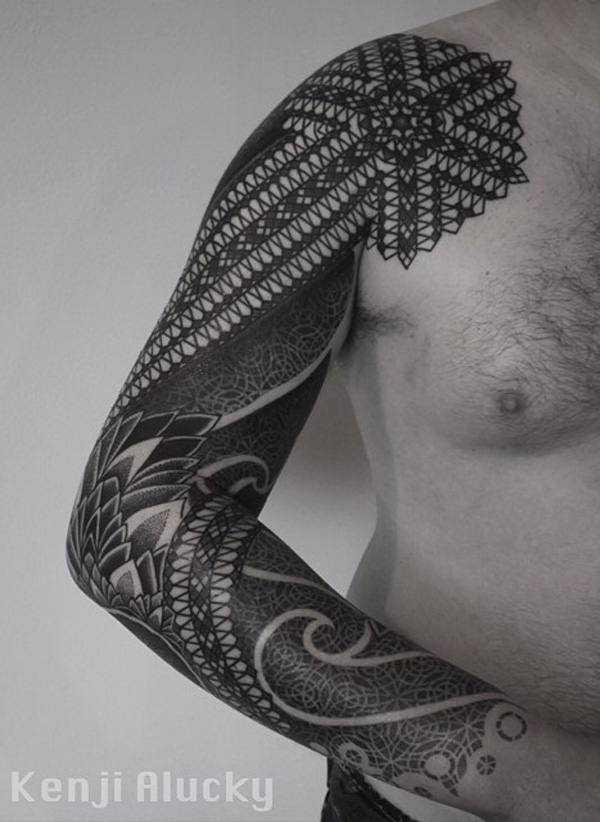 Stunning sleeve tattoo in black ink. With a combination of abstract images the tattoo forms a wonderful looking design that is unique on its own and can surely stand out from the rest.
Source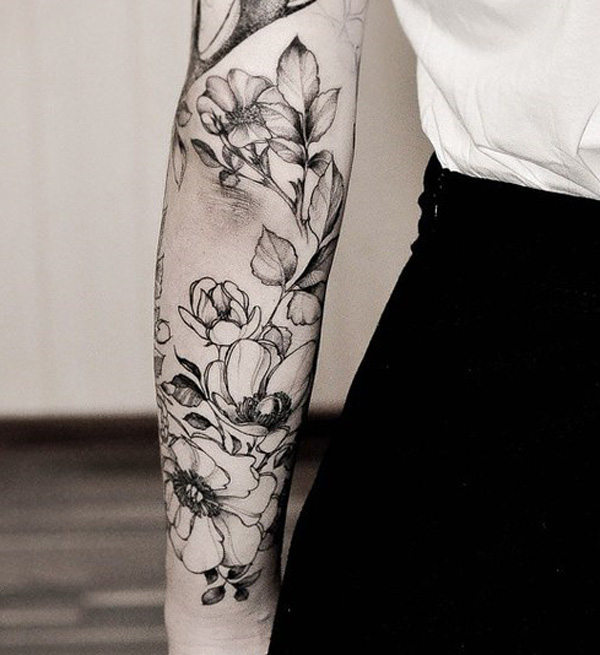 Enchanting sleeve tattoo with flora designs. The simplicity as well as the distance of the flowers from each other creates this serene and special look on the design which makes it even more beautiful.
Source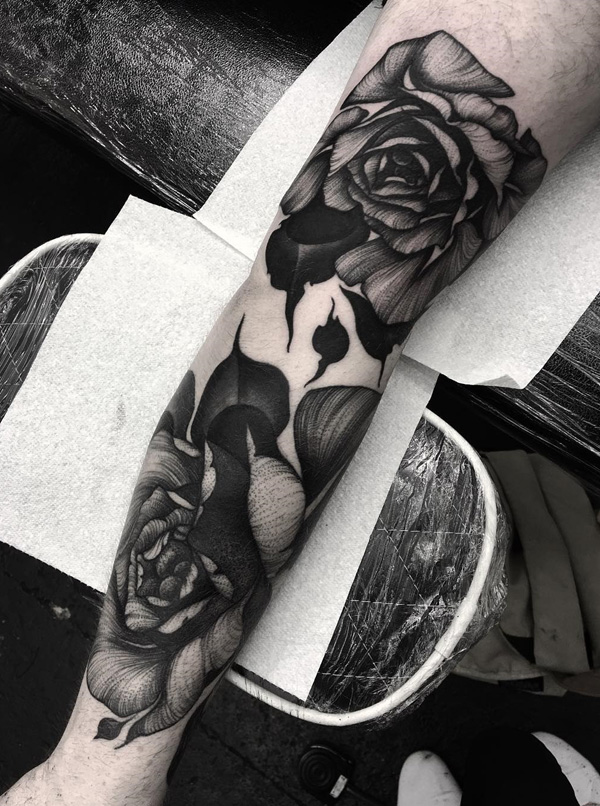 A group of beautiful roses sleeve tattoo. There's nothing like inking yourself with your favorite flowers or something as beautiful as this floral design, the grayscale effect also makes them look peaceful and mysterious.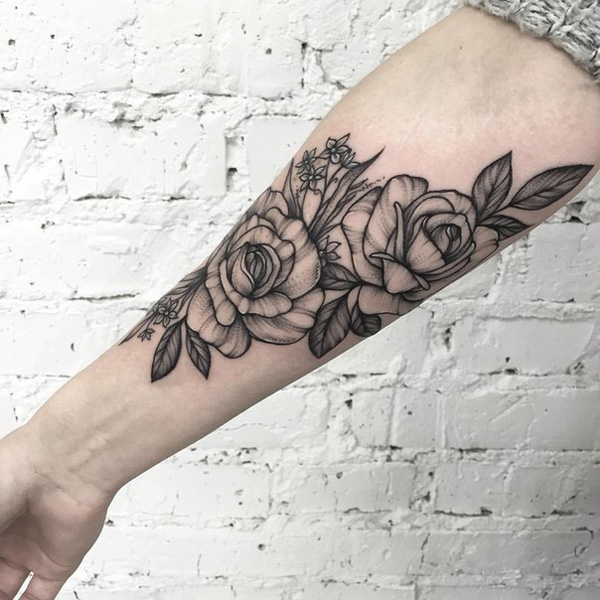 Simple and beautiful floral sleeve tattoo. Even though it lacks bright and sunny colors, it tries to cope up with the simplicity and the neatness that the design has. It also brings a fresh look into the tattoo.
Source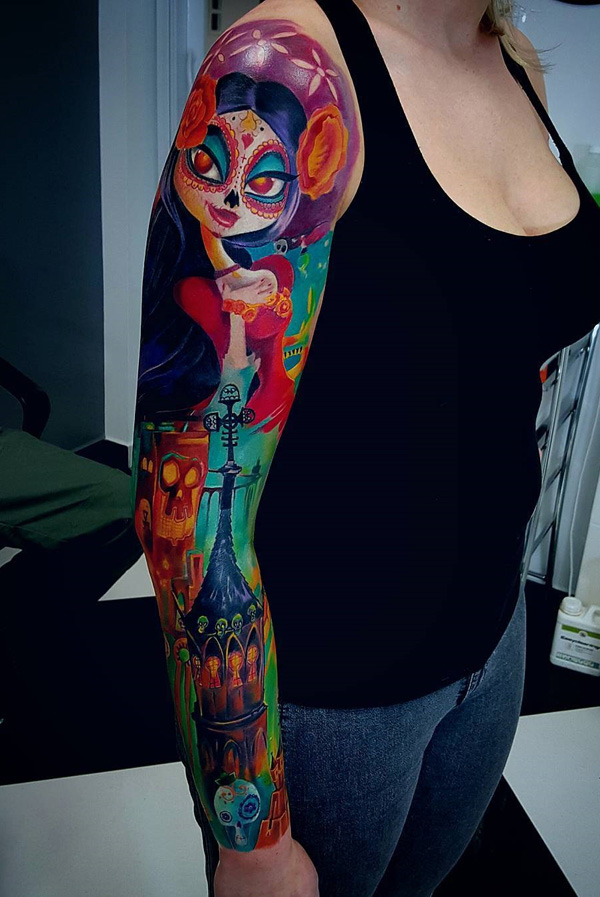 A brightly inked sleeve tattoo. What makes this design pop out is the usage of such bright and fun colors and color combination. Simply by looking at the tattoo you can already feel the energy coming from it.
Source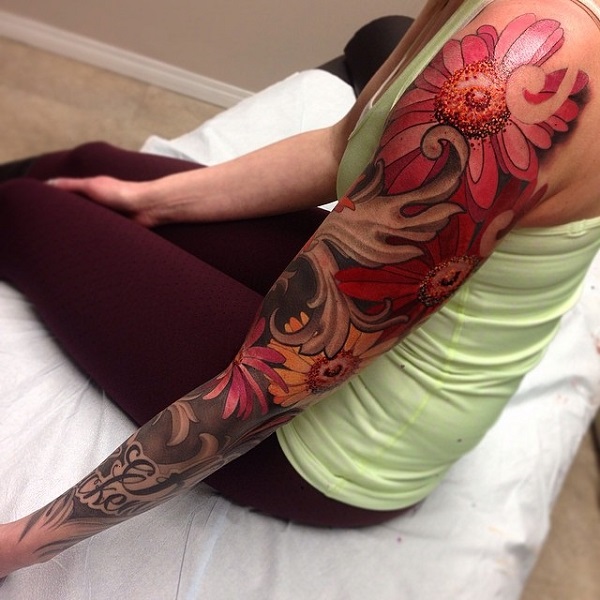 A really pretty flower themed sleeve tattoo. Groups of daises and gerberas are colored in outstanding shades that make it pop out alive and fresh looking.
Source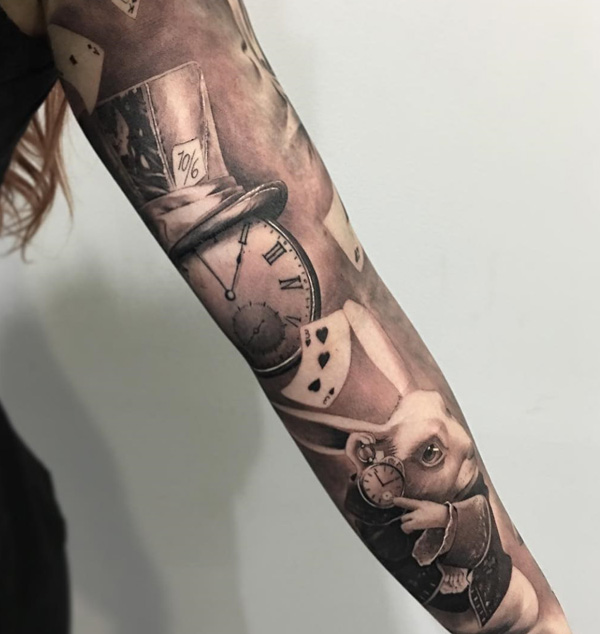 A somewhat Alice in wonderland inspired sleeve tattoo. You can see the mad hatter's hat, the pocket watch, the cards and the rabbit in the design and this helps bring back memories of childhood and the wonderful adventures of Alice.
Source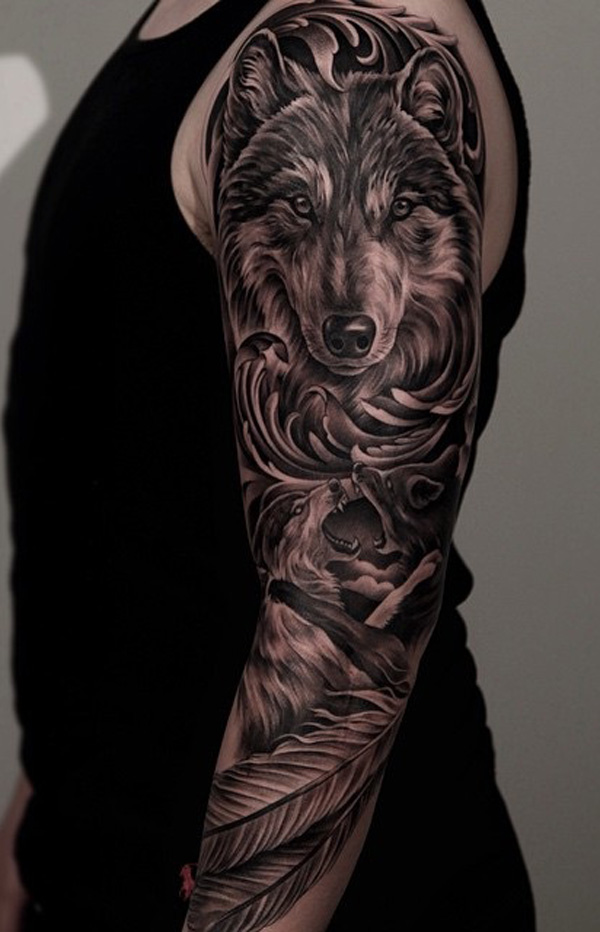 A majestic looking sleeve tattoo. The tattoo shows a face of a wolf who is seemingly ready for an attack and has sheer determination n the eyes. Below it are two more wolves engaging in a fierce battle for superiority.
Source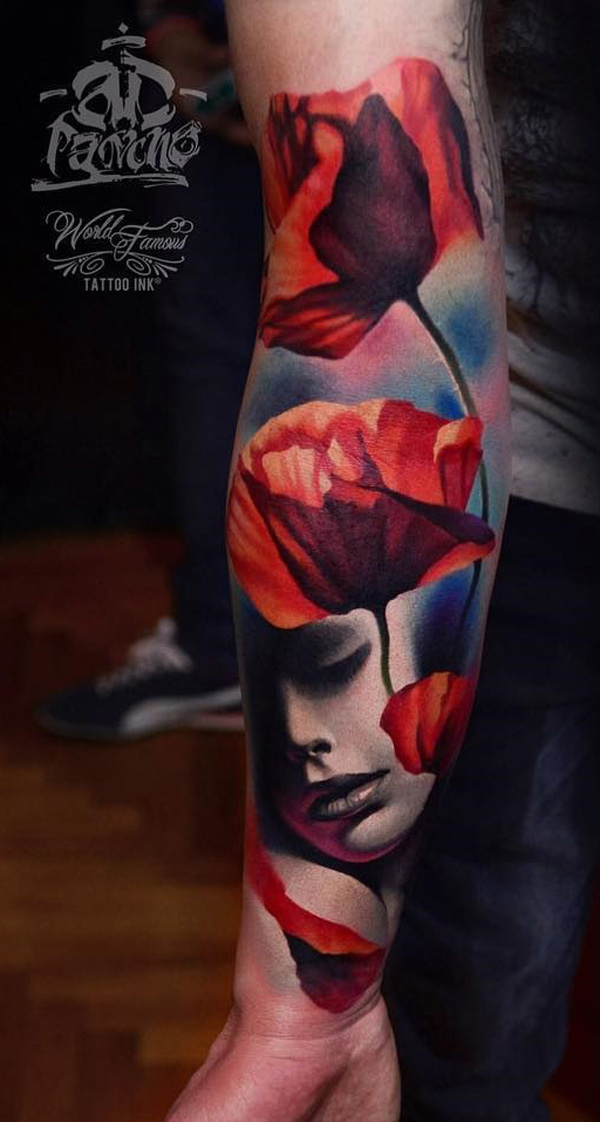 Beautiful looking sleeve tattoo. The design shows a group of red flowers facing the sun while its petals gently fall on the face of a sleeping woman.
Source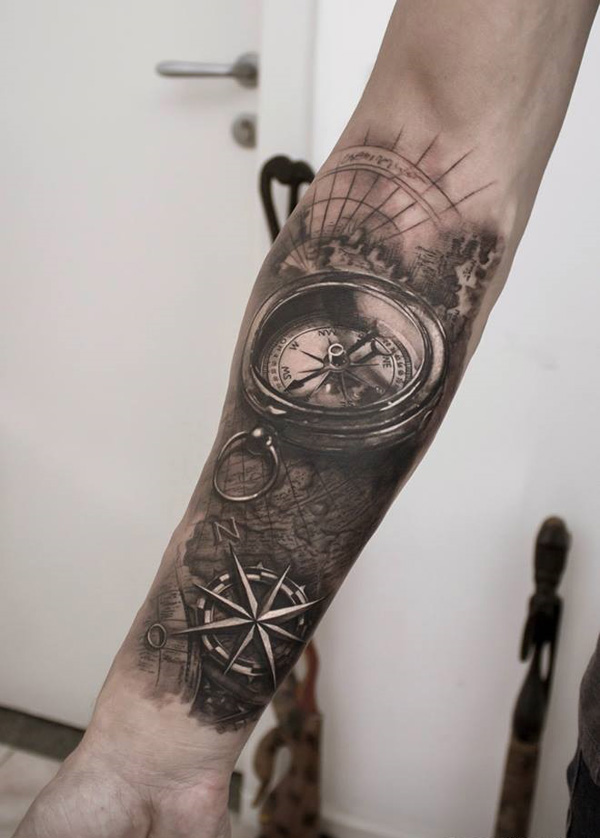 A well detailed and handsome looking sleeve tattoo. The details on the compass are simply stunning as well as how the map was drawn and the coordinates of the journey ahead. It makes you want to go on an adventure and into the seas.
Source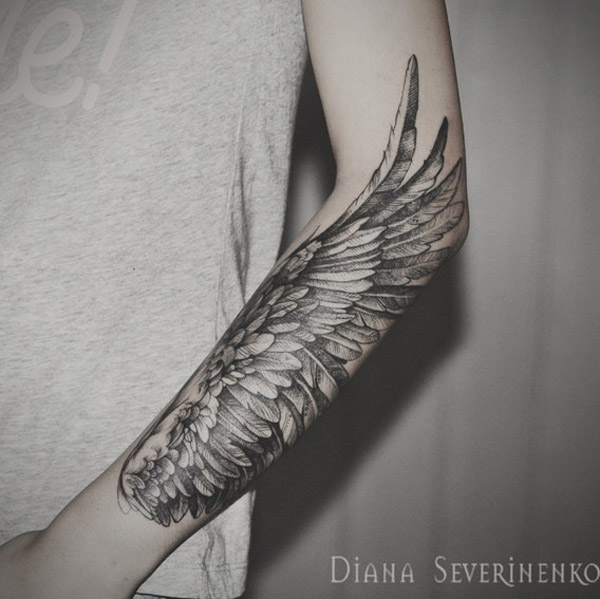 A majestic looking sleeve tattoo. If only we had wings then we could fly. This tattoo design simply shows the beauty of having wings and giving you a chance to don them on your arms via permanent ink.
Source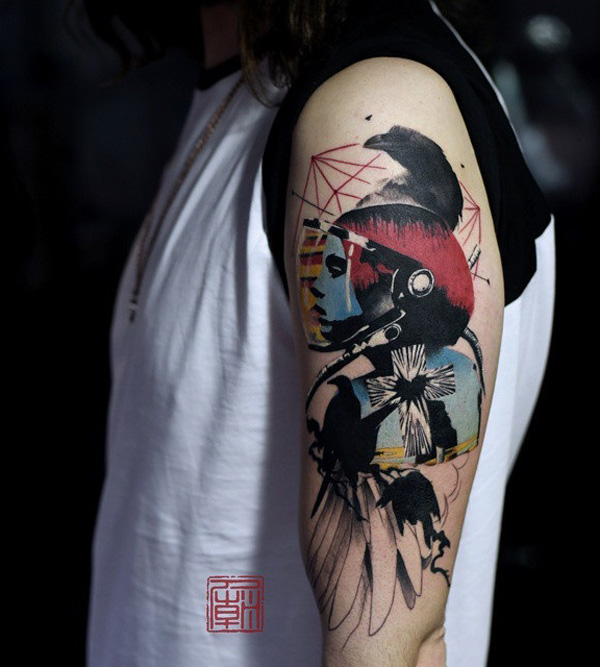 Interesting looking sleeve tattoo in abstract theme. The simplicity of the design helps make the abstract theme more apparent in the tattoo. The transitions between the images are also well placed.
Source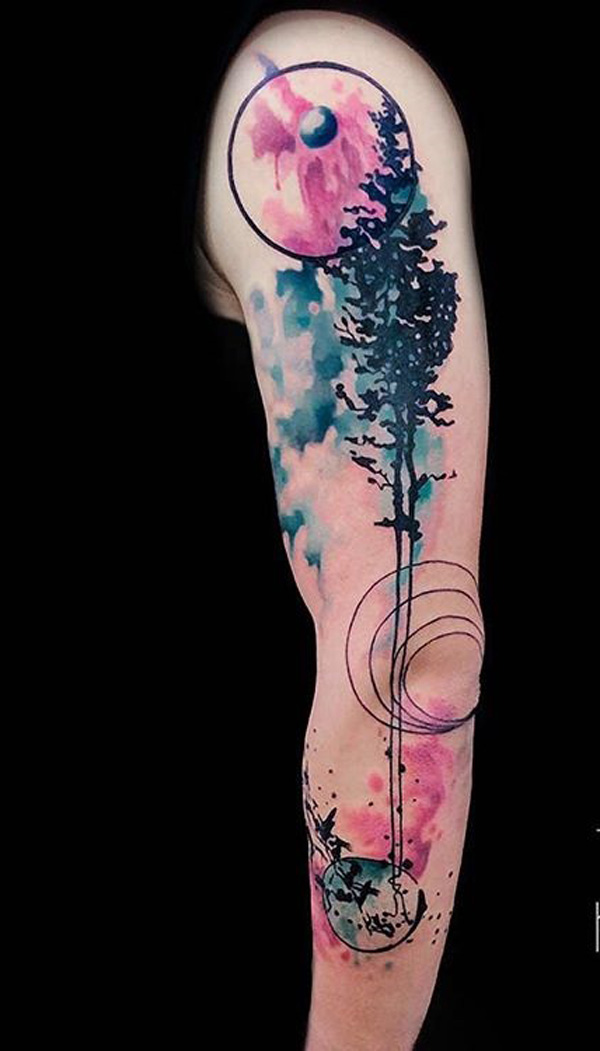 Beautiful abstract sleeve tattoo. The tattoo includes wonderful elements such as nature and the universe. You can make out the trees, the planets and the interconnection of the things around it.
Source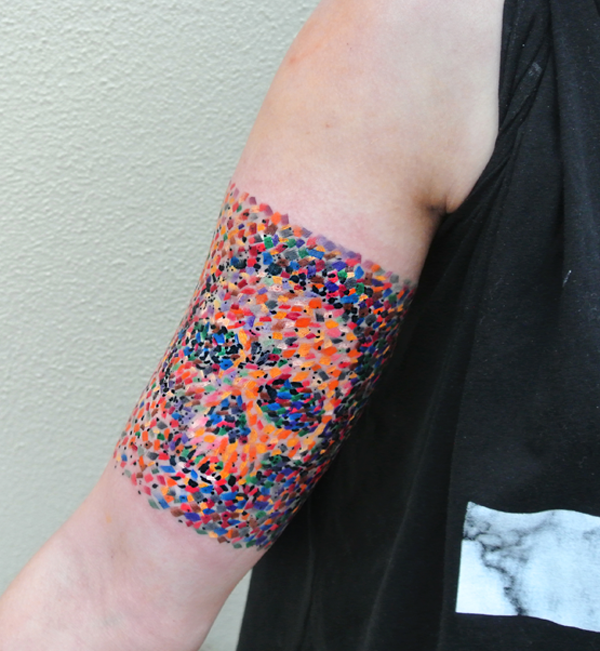 Colorful and mosaic inspired sleeve tattoo. The colorful confetti inked on the arm combines to form a skull with a sort of dark cloak draped on it. It's a wonderful contrast of the multi colored mosaic design that forms a much darker image from behind.
Source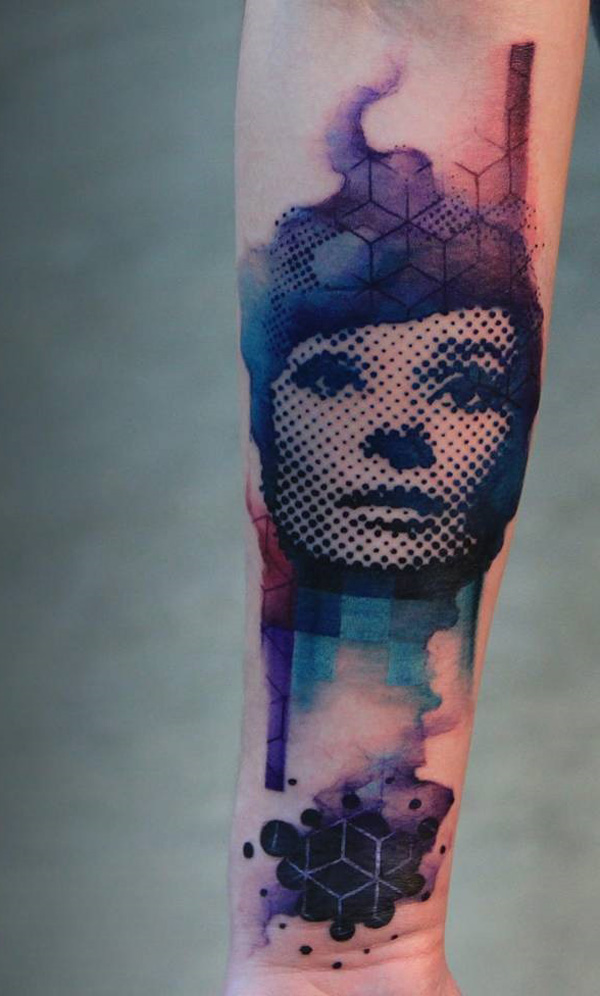 Beautiful half tone sleeve tattoo. The combination of the colors plus the abstract feel of the design makes it look unique and out of this world. The modern feel on the design also helps set it apart from other designs.
Source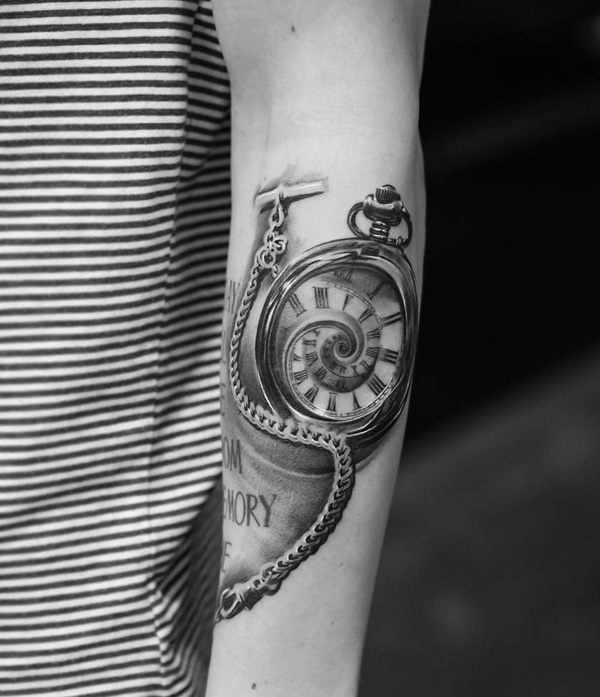 Pocket watch sleeve tattoo. The watch is always there to remind us of how much time we've spent and how much time we have left. It's a reminder and at the same time a warning which makes it endless and in irony, timeless.
Source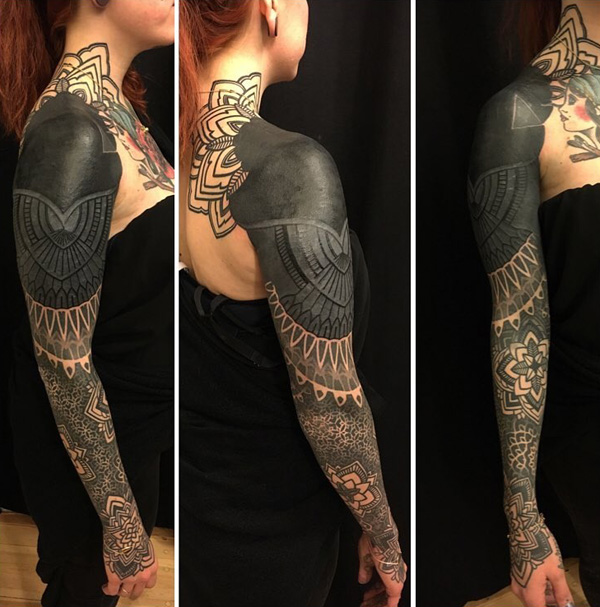 Breathtaking tribal inspired sleeve tattoo. Inked in grayscale, the sleeve tattoo is truly stunning on its own. You can see that it starts from a floral design to a fully inked tribal shape which goes down to lighter tones as the tattoo approaches the wrists.
Source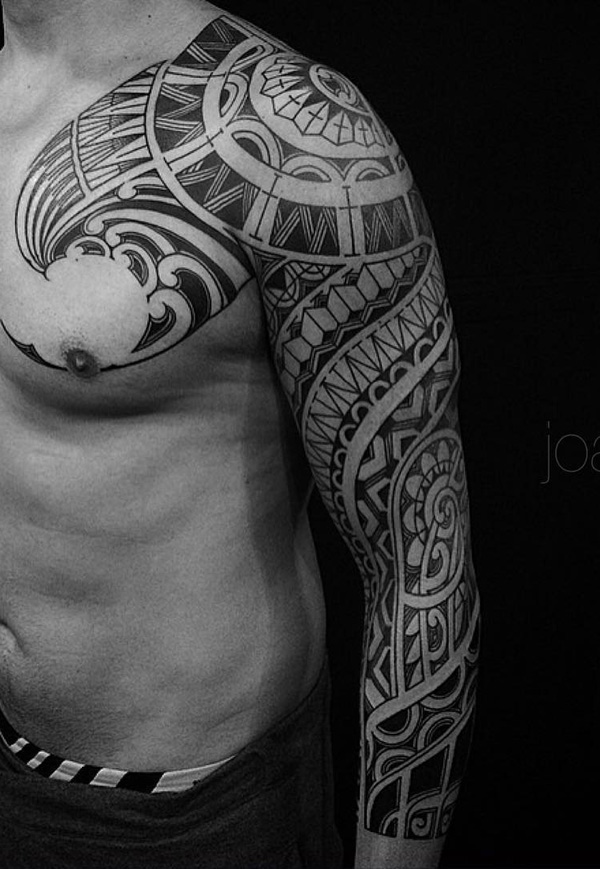 Another tribal themed sleeve tattoo. The tattoo is in all black ink and offers wonderful tribal designs that can be seen all throughout the arms.
Source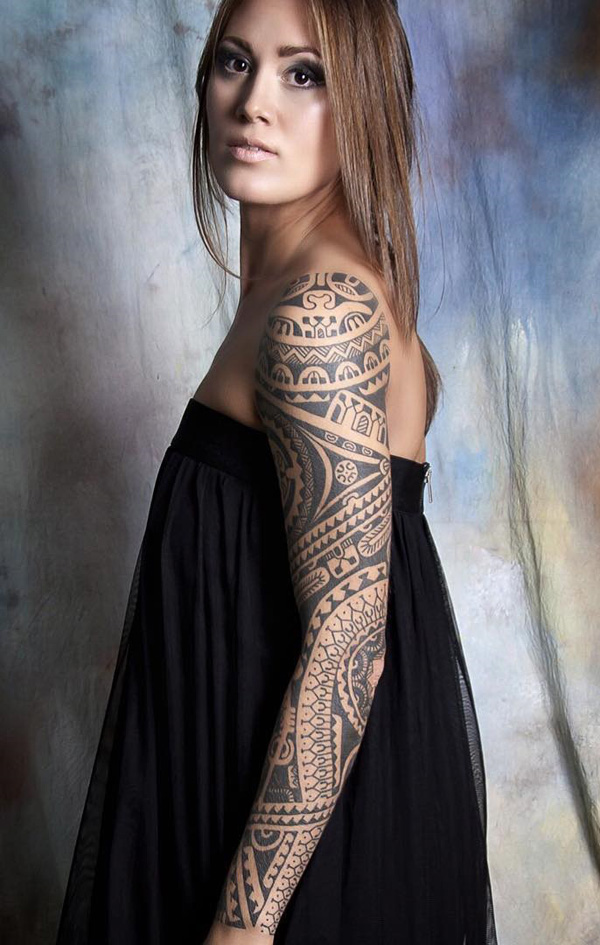 Polynesian inspired sleeve tattoo. The tattoo is very fun to look at and the more that you stare at the designs the more drawn in you will be. It's one of those tattoos that grow on you..
Source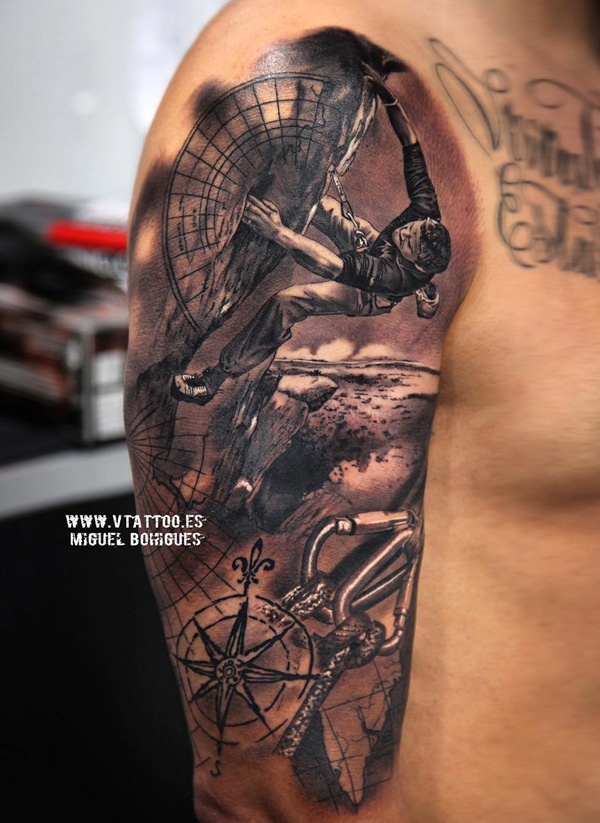 A well detailed sleeve tattoo with a powerful message. The tattoo shows a person on a journey throughout the globe complete with maps and a compass to guide his way. Various sceneries also play in the background showing the person wants to conquer the world.
Source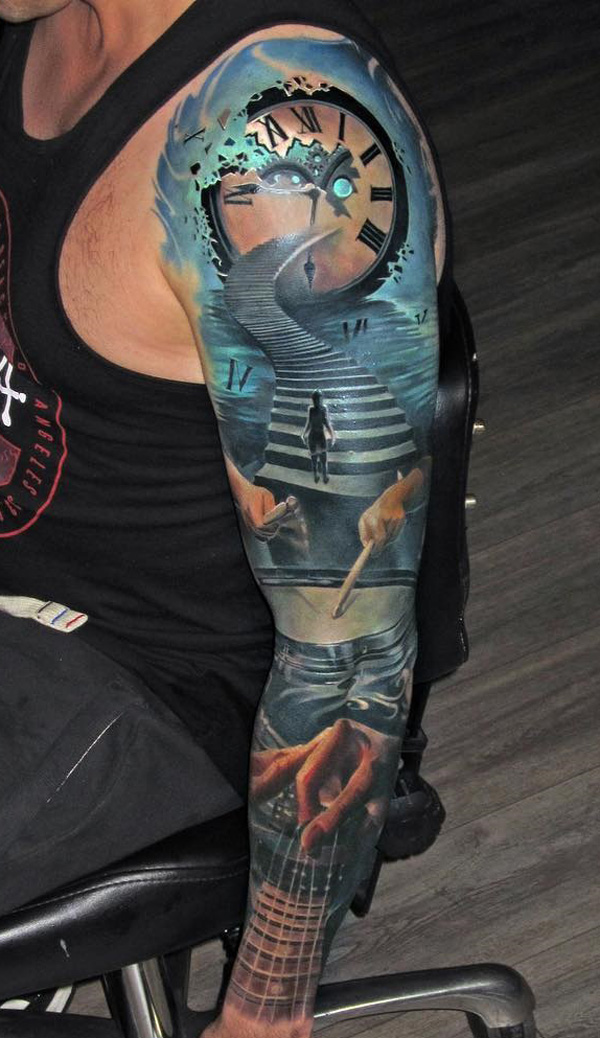 Exciting looking sleeve tattoo. There are many things that incorporate this tattoo just like the clock on top followed by a stairs with a person climbing it. You can see below these images are a pair of drums being played and a guitar being played as well.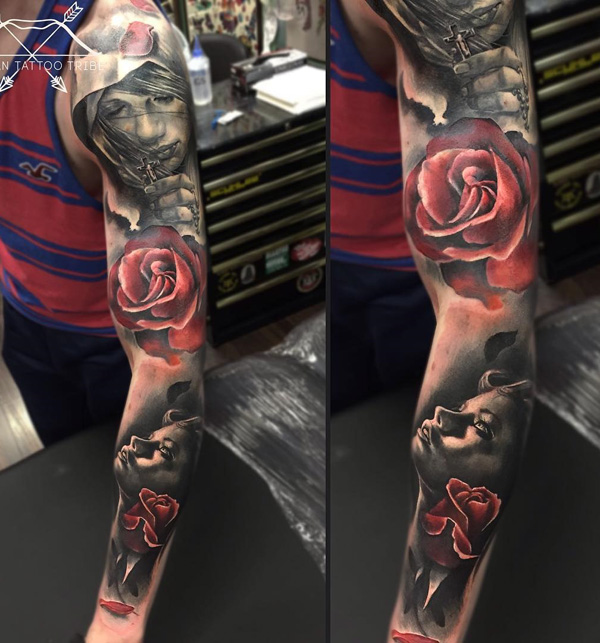 Beautiful and enthralling sleeve tattoo. The tattoo is both in greyscale and bloody red in color. You can see two women on the design one is holding a rosary while the other is looking up. There are also two red roses as well as falling petals.
Source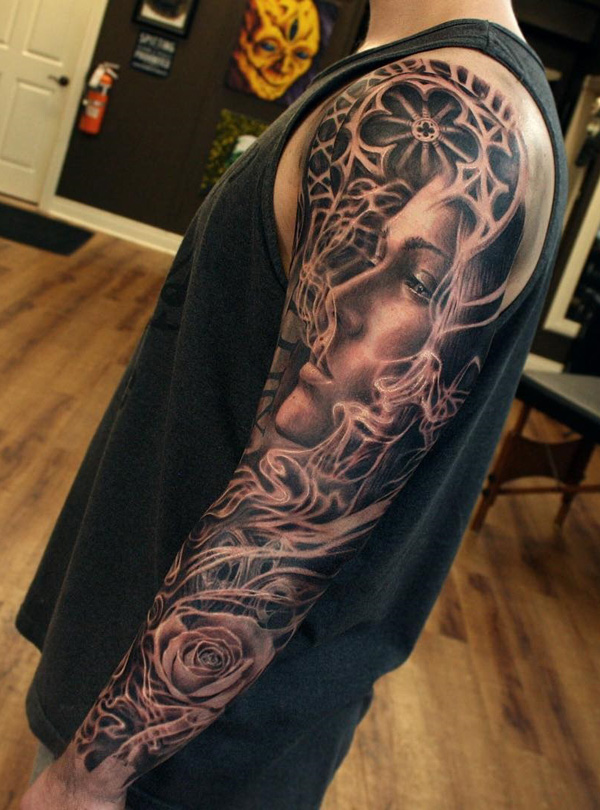 Sleeve tattoo that plays with the mysterious effect. You can see a woman with smoke coming out f her mouth as it forms into other objects which surround her such as flowers and clocks.
Source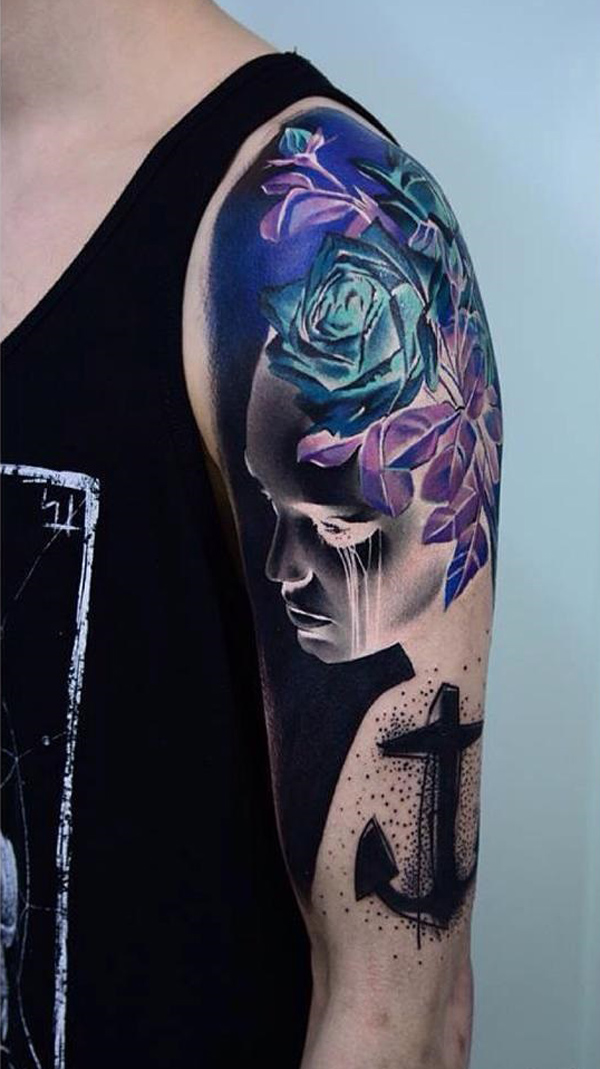 Interesting negative image sleeve tattoo. The tattoo has more to offer than what it looks like. Even though it looks like a negative copy of a picture in plain sight, when inverted the perfect colored image comes out.
Source

Amazing sleeve tattoo. There is a woman in the design that also has tattoos that cover her face and arms as it transitions down to a skull image on the forearms.
Source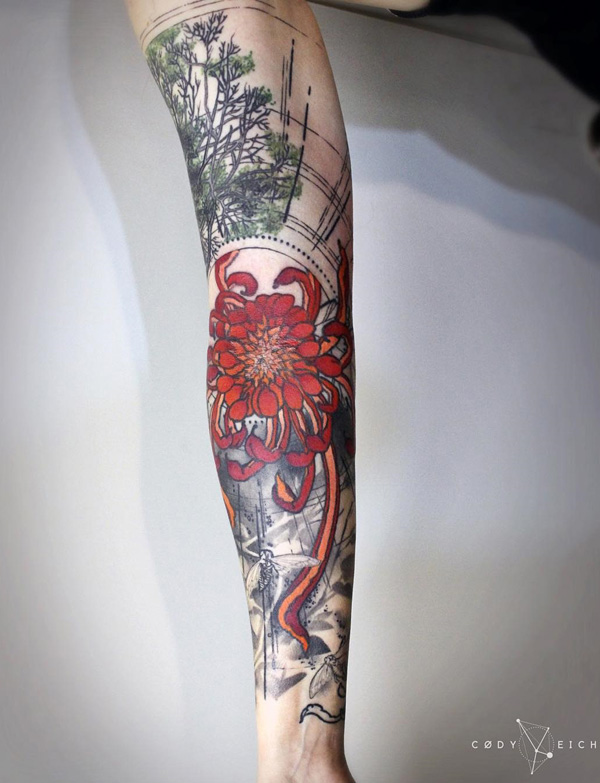 A really beautiful looking sleeve tattoo. You can see a red flower in the middle surrounded by ribbon like arms. The background plays in an abstract form with the trees and its branches visible as well as a sort of grid like object.
Source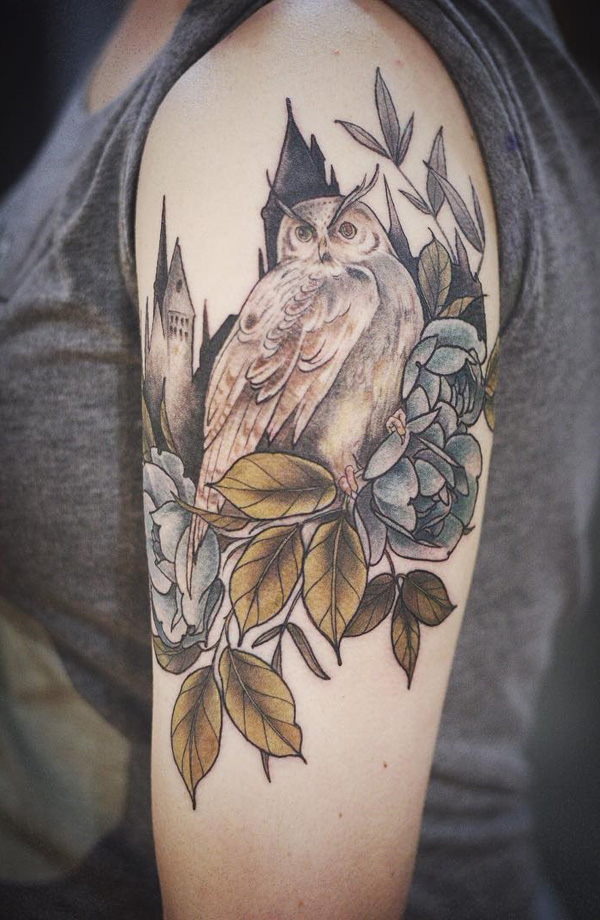 A Harry Potter inspired sleeve tattoo. The owl symbolizes a character from the book as it perches on a group of blue roses. Behind the owl is what we can all guess as Hogwarts School of witchcraft and wizardry.
Source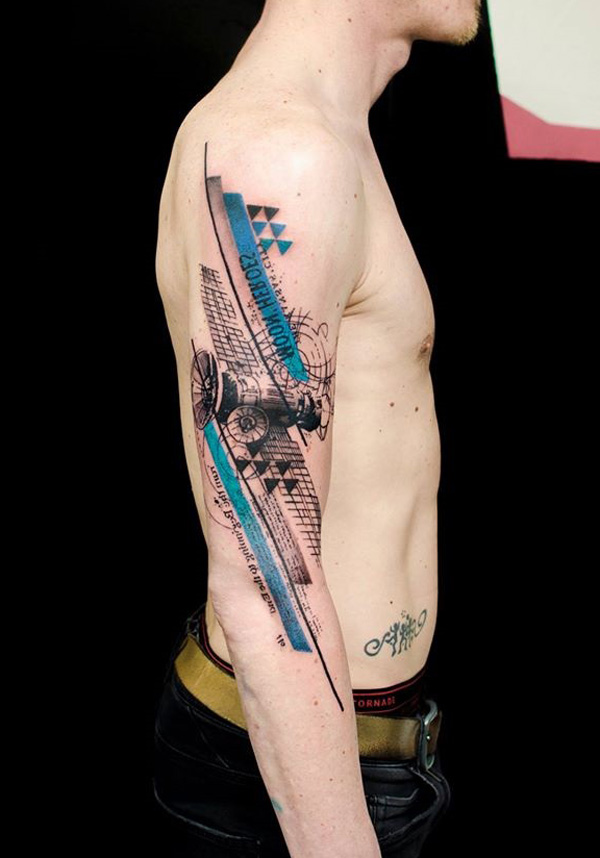 Amazing looking sleeve tattoo. The design is inspired by street theme as it is painted in all black except for brushes of blue which randomly coat the words and the objects on the design. It looks fresh and free, just like what the street is.
Source
A really beautiful sleeve tattoo about Stockholm, Sweden. The place is inked amazingly on the design and the details are absolutely stunning. The lone colored sky gives a peaceful vibe on the overall look.
Source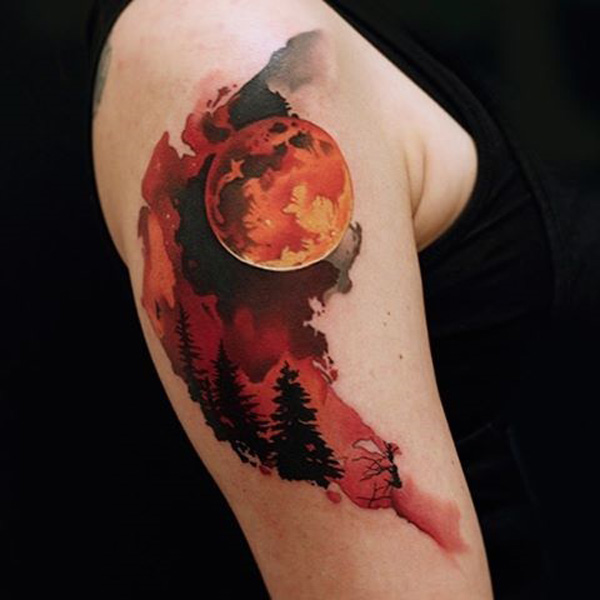 Deadly beautiful blood moon sleeve tattoo. The half ink design of the tattoo gives us a small glimpse of the blood moon and the terrifying night which is to come. It creates suspense and excitement within the design.
Source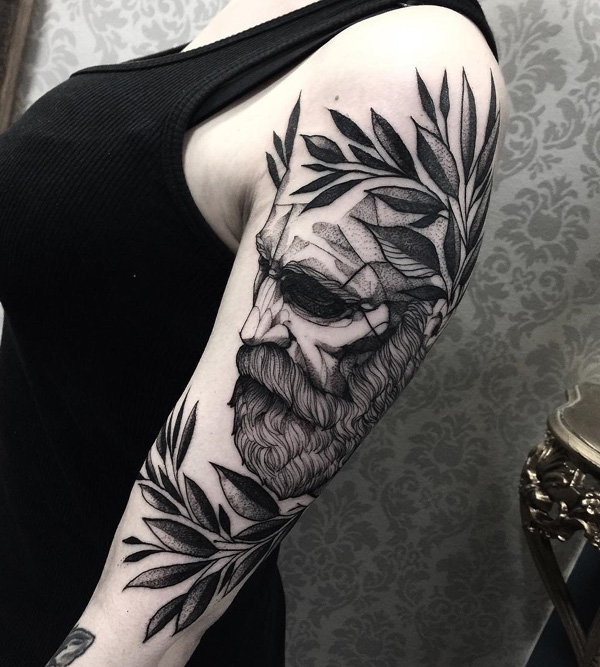 Artistic sleeve tattoo. The tattoo shows a man, who is presumably a scholar with a crown of leaves on his head. He seems to be closing his eyes as he bows down in front of him.
Source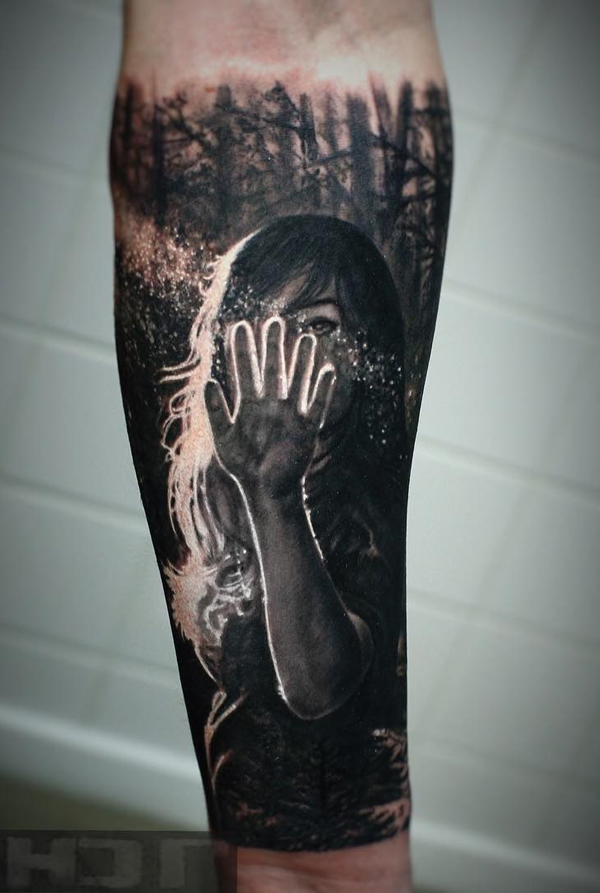 An absolutely magical sleeve tattoo. You can definitely feel the magic from where you are just by looking at the design. The girl seems to have found something interesting as the sun's rays hit her fingers and small dust particles begin moving around her hands.
Source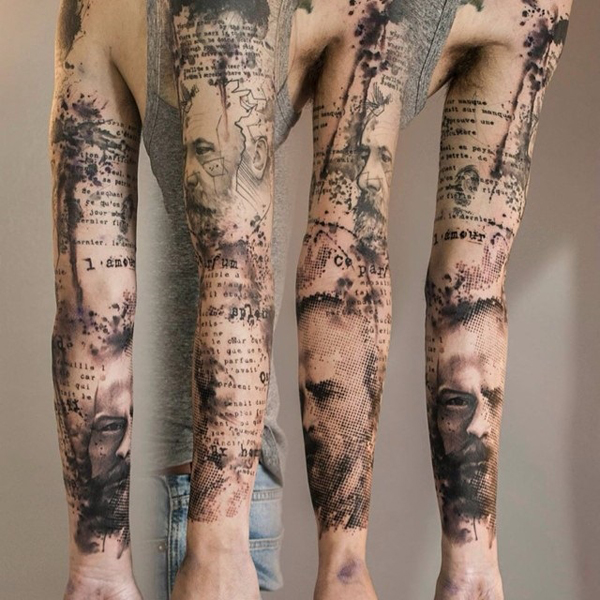 Watercolor style sleeve tattoo. It looks simple, easy but at the same time it is very tricky and hard to do. The beauty of this tattoo design is that it makes use of the skin and tries to show the true skin color with the design rather than using ink for it.
Source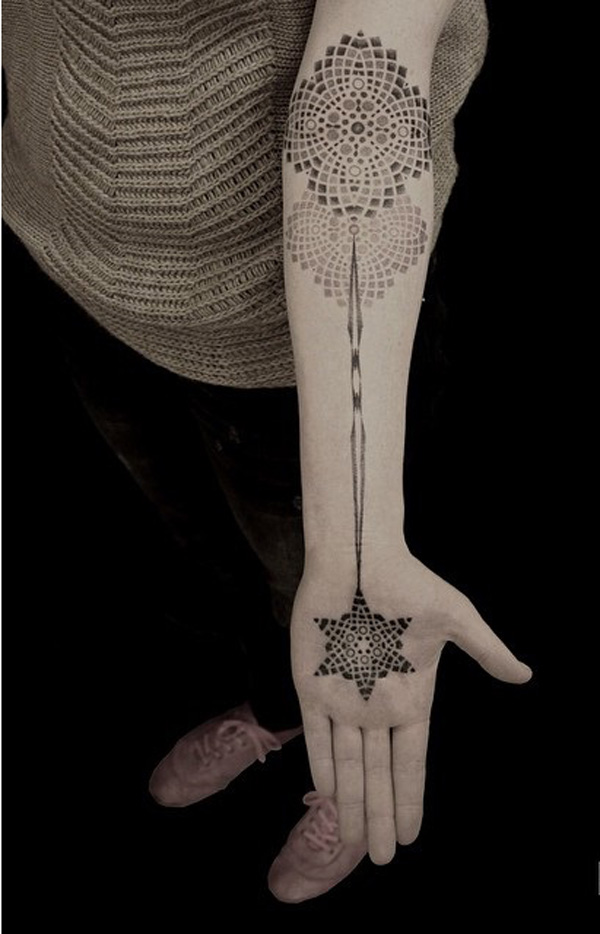 Beautiful tribal themed sleeve tattoo. The design as well as where it is placed bears a resemblance with how the Indians also ink and paint themselves. Beautiful designs with a mystical feeling to it.
Source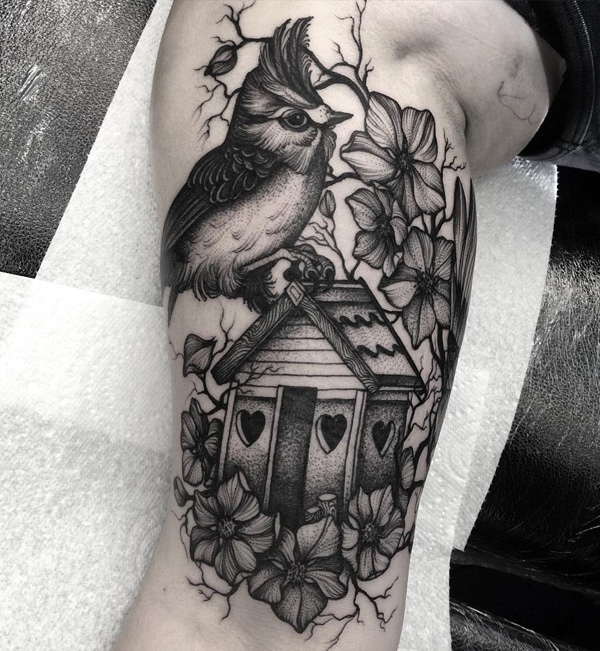 A cute and pretty sleeve tattoo. The grayscale tattoo suits the design perfectly. You can see a bird perched on a birdhouse that looks to be up in a tree filled with flowers. Everything adorable combined in just one design.
Source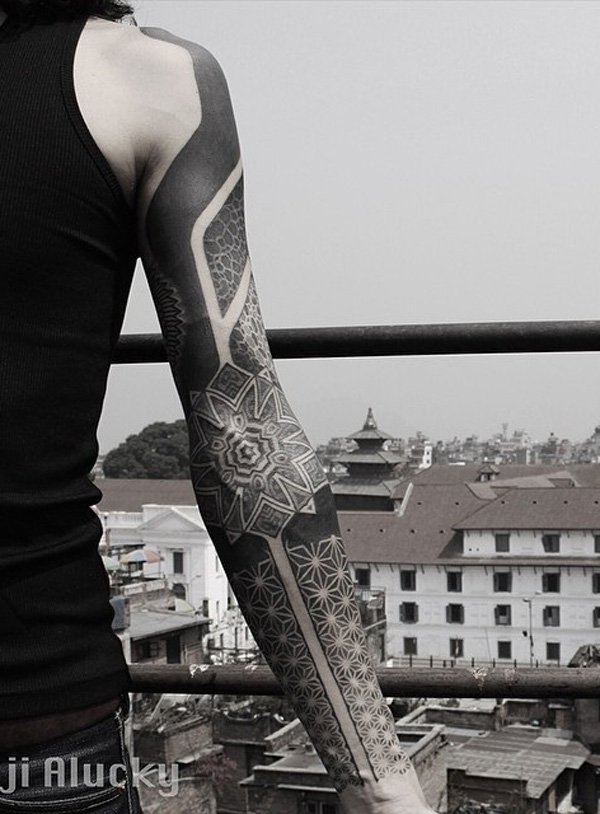 Enchanting tribal sleeve tattoo. The design starts out with bold colors and transitions into an image of a flower and further breaks down into images of small flowers filling the entirety of the forearm.
Source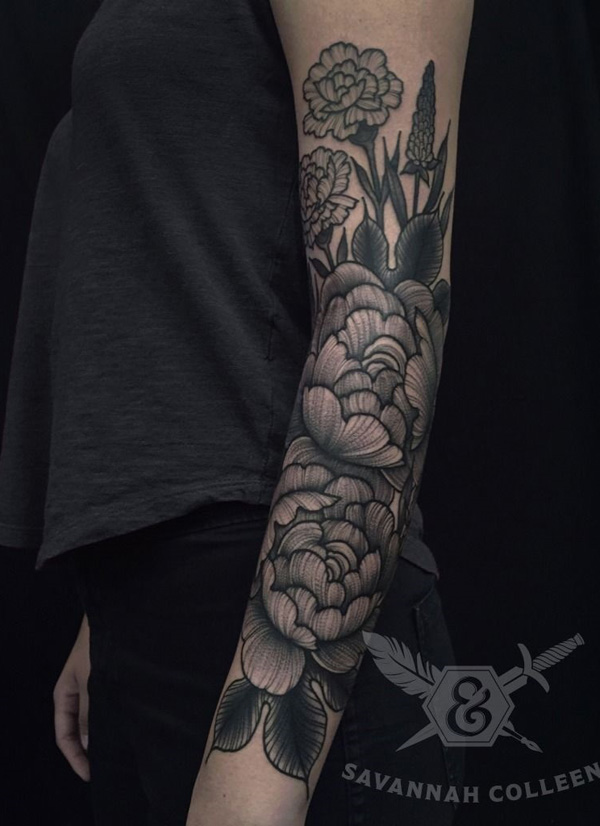 Floral inspired sleeve tattoo. Inked In gray and black, the tattoo is composed of several flowers and leaves making it look like you have your own bouquet right on your hands.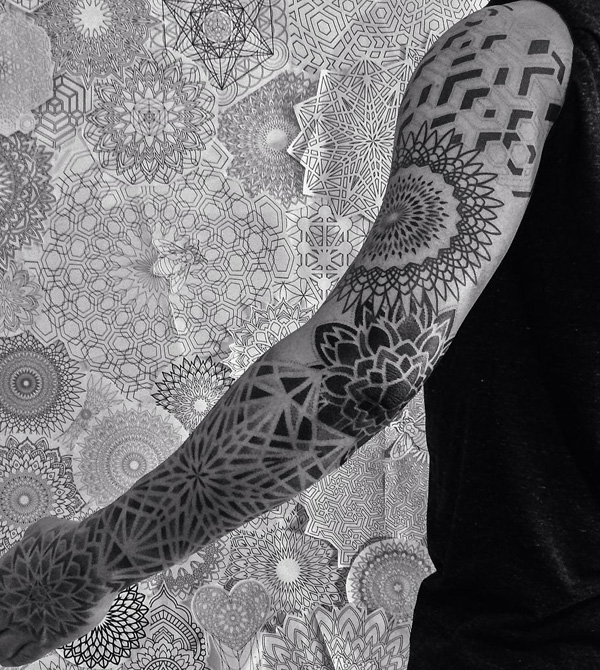 Interesting tribal inspired sleeve tattoo. You can immediately see how intricate the designs are and how artistically they have been joined together. Also playing along the abstract theme this design is simply wonderful.
Source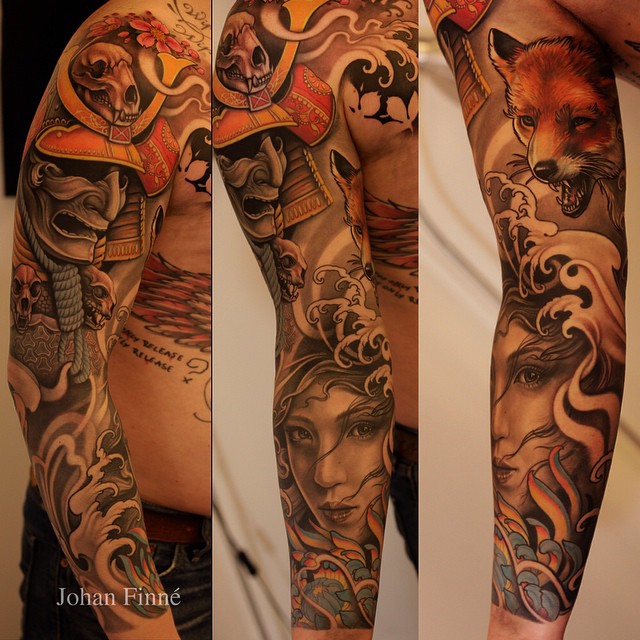 Johan Finne's sleeve tattoo design. Filled with warm colors the design seems to show a story that starts from a warrior adorned with skulls, fox barking down to the waves and a woman who appears to be underwater.
Source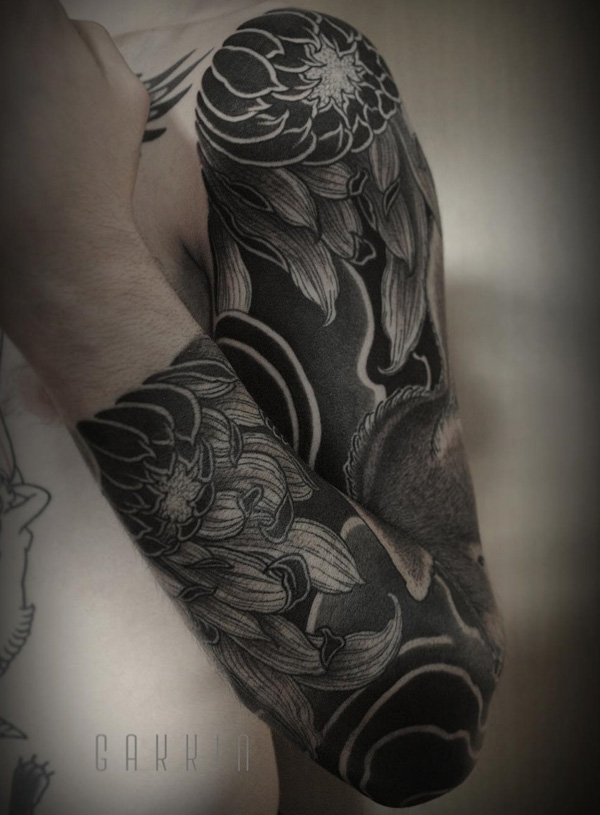 Flower sleeve tattoo. Beautiful, amazing and enthralling at the same time. The floral designs are one of the most popular designs when it comes to getting sleeve tattoos.
Source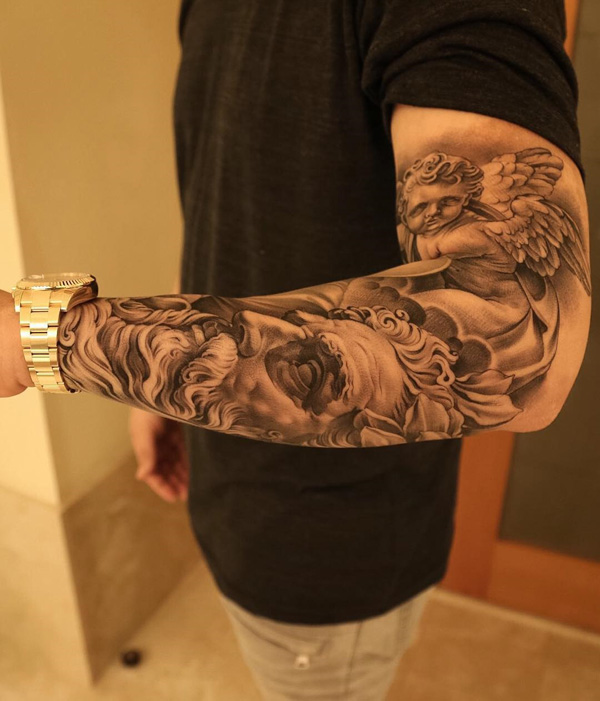 Well detailed sleeve tattoo, you can see a statue that resembles a young angel. Below him is another image which is a face of a man with long hair and beard that is also a carved statue itself.
Source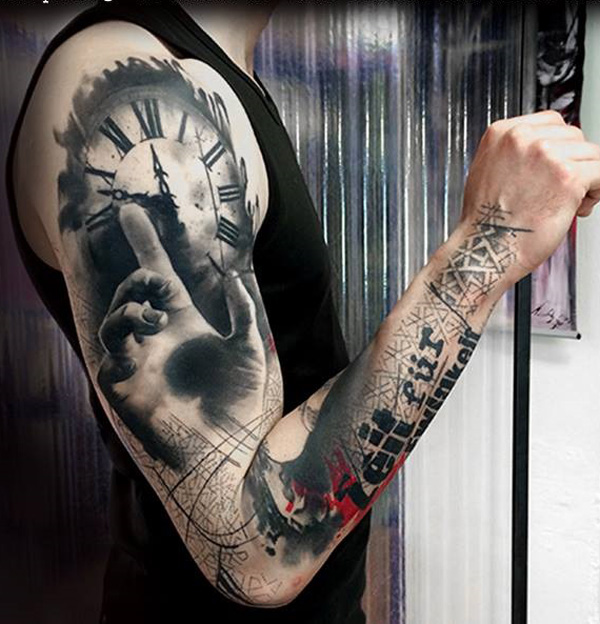 Sleeve tattoo by Simone Pfaff and Volko Merschky. The tattoo looks very creative as there is the clock on top with a hand seemingly reaching for it while the design dwindles downward unto the arm in what looks like a tower design.
Source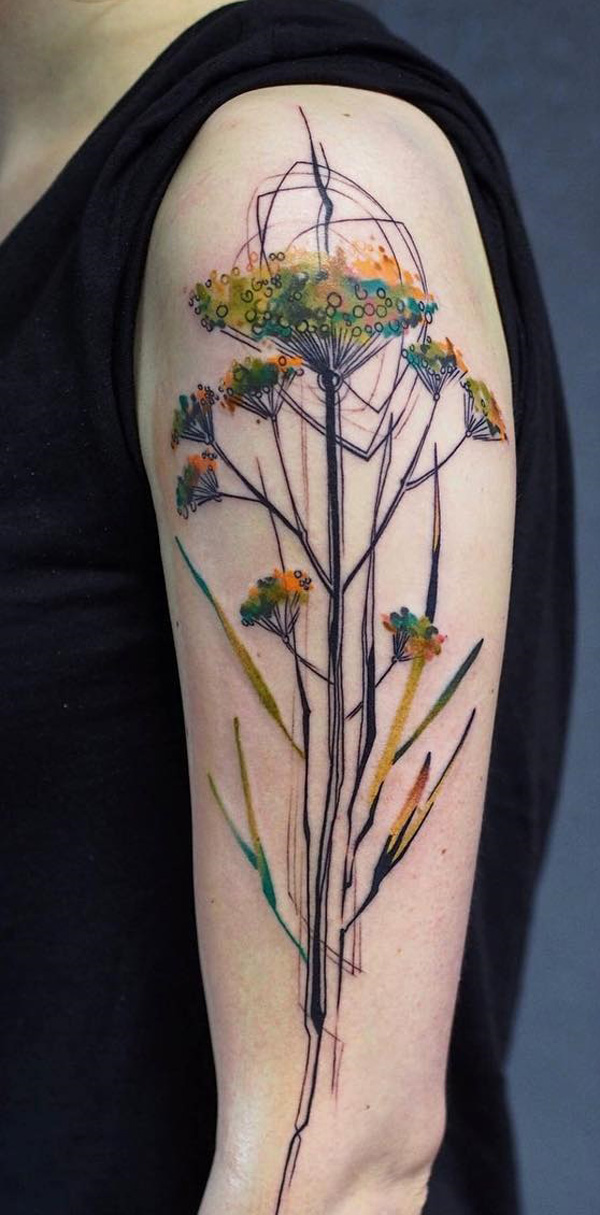 Adorable watercolor inspired sleeve tattoo. There is a botanical air to the tattoo as the flowers are blooming just about anywhere in single stems it makes you think about all the plants that you have and maybe even make you smell the roses.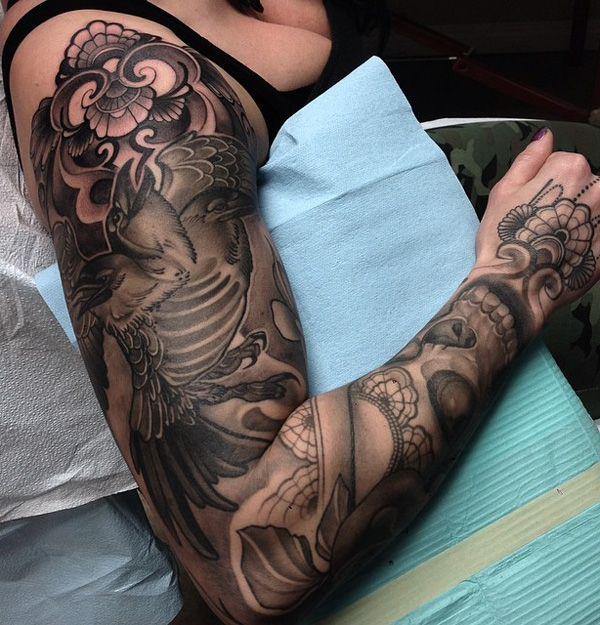 Grayscale sleeve tattoo about ravens. You can immediately spot the raven flying high and strong on the top of the arms. You can also see a bit of floral design as well as a few tribal themes too.
Source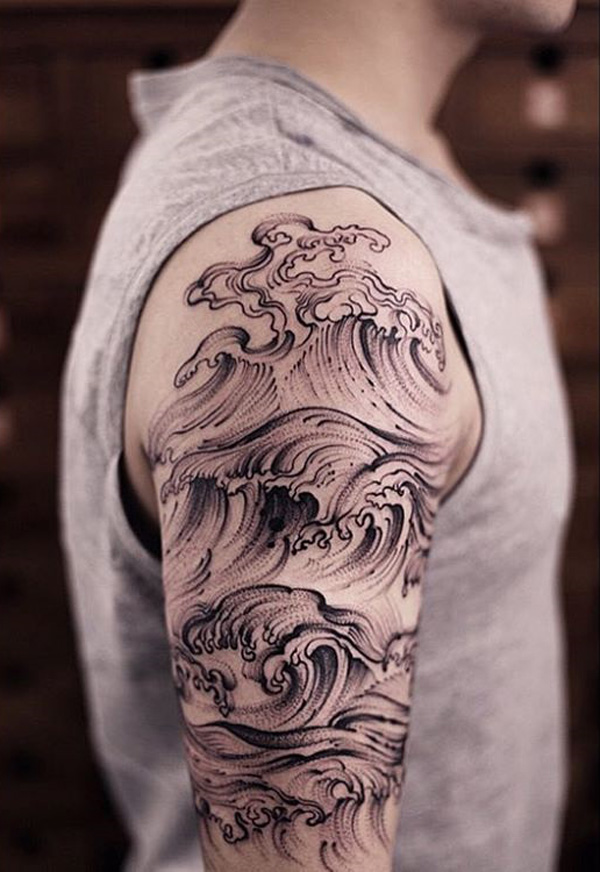 Refreshing sleeve tattoo about waves. The waves look absolutely stunning as they splash from left to right and from front to back. It looks simple but at the same time it has a regal and amusing vibe into it.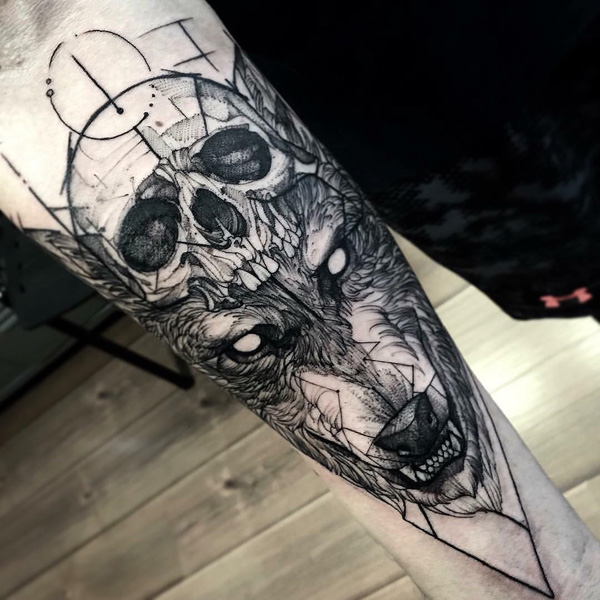 A skull and wolf themed sleeve tattoo. You can see the human skull being used as a hat by the angry looking wolf. The tattoo looks well done and fearless and definitely not for the weak of will.