For many, a palm tree symbolizes the ultimate escape to a tropical paradise. It evokes images of sunny skies, sandy beaches, and the sound of waves crashing on the shore. If you share this love for the tropics and want to carry a piece of paradise with you wherever you go, there's no better way to do it than with an incredible palm tree tattoo design. In this article, we'll explore some of the most stunning and unique palm tree tattoo designs that will inspire you to ink your own personal paradise.
The Power of a Palm Tree: Symbolism & Meaning
Before diving into the world of palm tree tattoo designs, it's essential to understand the symbolism behind these tropical beauties. Palm trees hold a variety of meanings and symbolic values across different cultures, which can make your tattoo even more meaningful. Some common associations include:
Paradise: As mentioned earlier, palm trees often represent a tropical paradise, a place of relaxation, and an escape from everyday life.
Victory: In ancient Rome, palm leaves symbolized victory and triumph. In Christian symbolism, they're associated with Jesus' entry into Jerusalem, representing peace and eternal life.
Resilience: Palm trees are known for their ability to withstand powerful storms and extreme conditions, making them a symbol of strength and resilience.
Fertility: In some cultures, palm trees represent fertility and abundance due to their fruit-bearing capabilities and lush green leaves.
With such rich symbolism, a palm tree tattoo can carry a deep personal meaning while also being a stunning visual representation of your love for the tropics.
Minimalist Palm Tree Tattoos: Less is More
Minimalist tattoo designs are gaining popularity due to their simplicity and elegance. If you're a fan of this style, a minimalist palm tree tattoo might be the perfect option for you. These designs are typically small and feature clean lines, making them a subtle yet powerful statement. Some ideas to consider:
1. Single-Line Palm Tree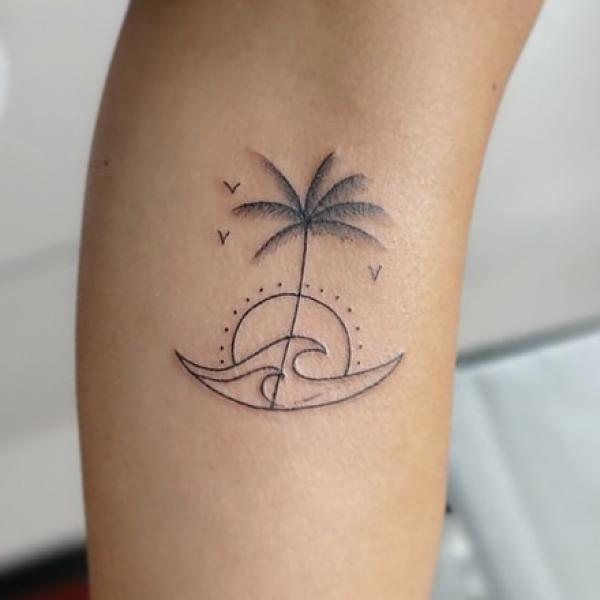 This design consists of a single continuous line that forms the shape of a palm tree. The result is a simple, delicate, and elegant tattoo that can be placed on your wrist, ankle, or behind the ear.
Mini palm tree behind wave at sunset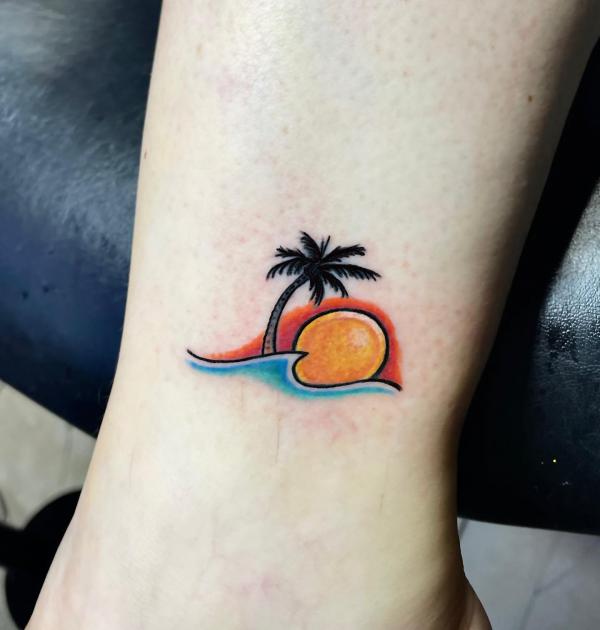 Crescent moon and palm tree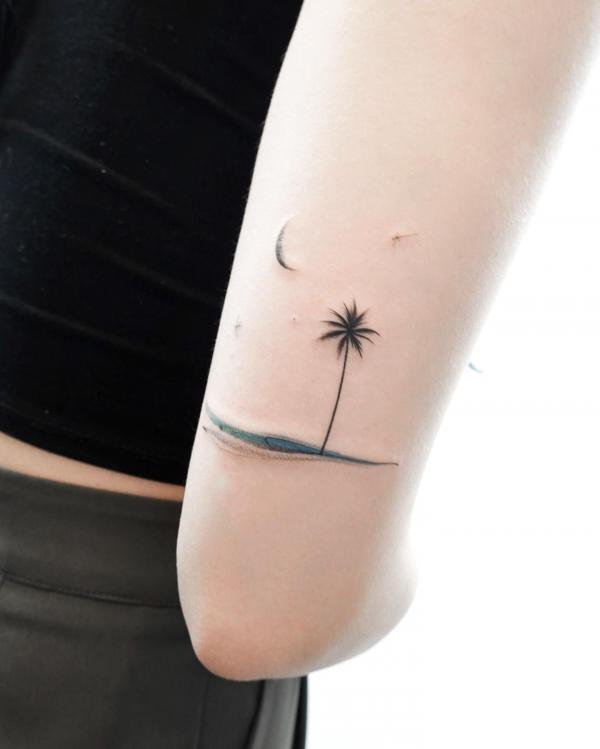 2. Geometric Palm Tree
Combine the beauty of palm trees with the precision of geometry for a unique and modern design. This could include using triangles, circles, or other shapes to form the tree's trunk and leaves.
Geometric wave and palm tree Design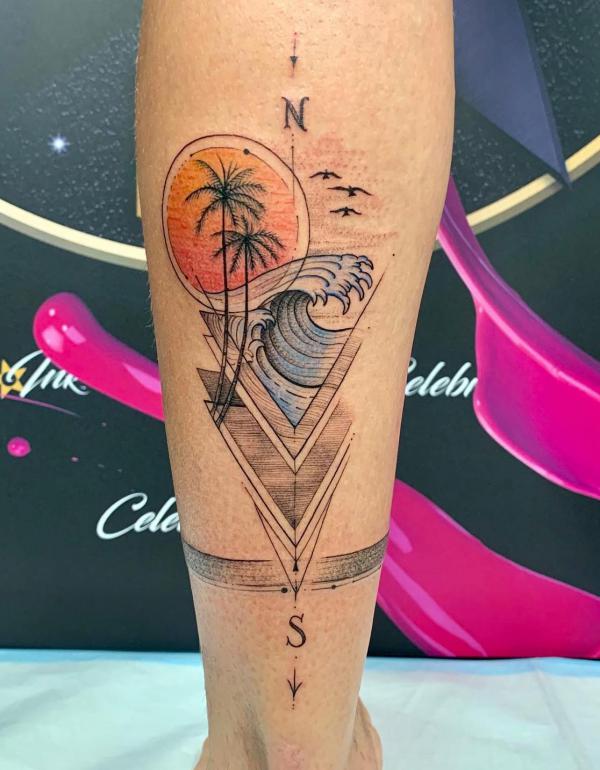 Palm tree on the backdrop of blue hexagon pattern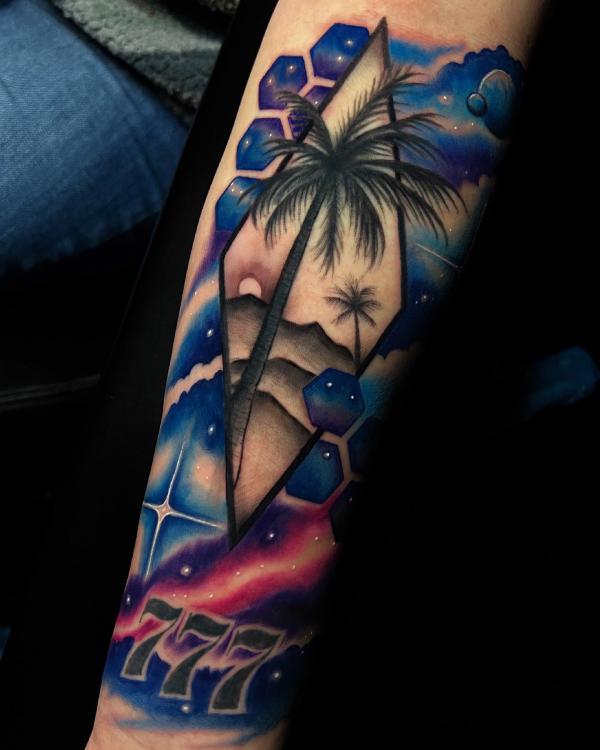 3. Silhouette Palm Tree
The silhouette of a palm tree is easily recognizable and makes for a sleek and minimalist tattoo. Choose a small size and place it on your wrist, ankle, or collarbone for a discreet yet stunning design.
Negative space seascape with palm tree silhouette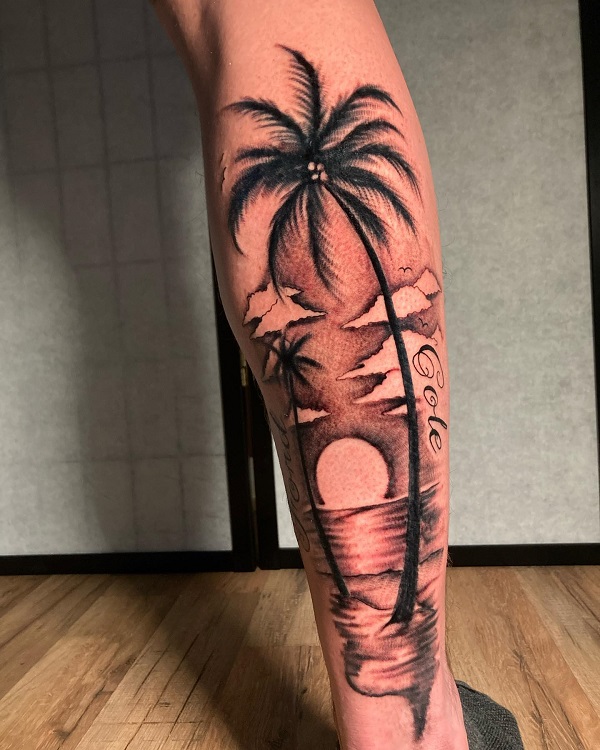 The Beauty of Black and Grey: Monochromatic Palm Tree Tattoos
If you prefer a more classic and timeless tattoo style, black and grey palm tree designs might be your cup of tea. These designs offer incredible detail and depth, making them a beautiful and enduring choice.
4. Realistic Palm Tree
A realistic palm tree tattoo will showcase the intricate details of the tree's bark, leaves, and coconuts. This design can be done in various sizes and works well on larger areas like the arm, thigh, or back.
Vacation villa with palm tree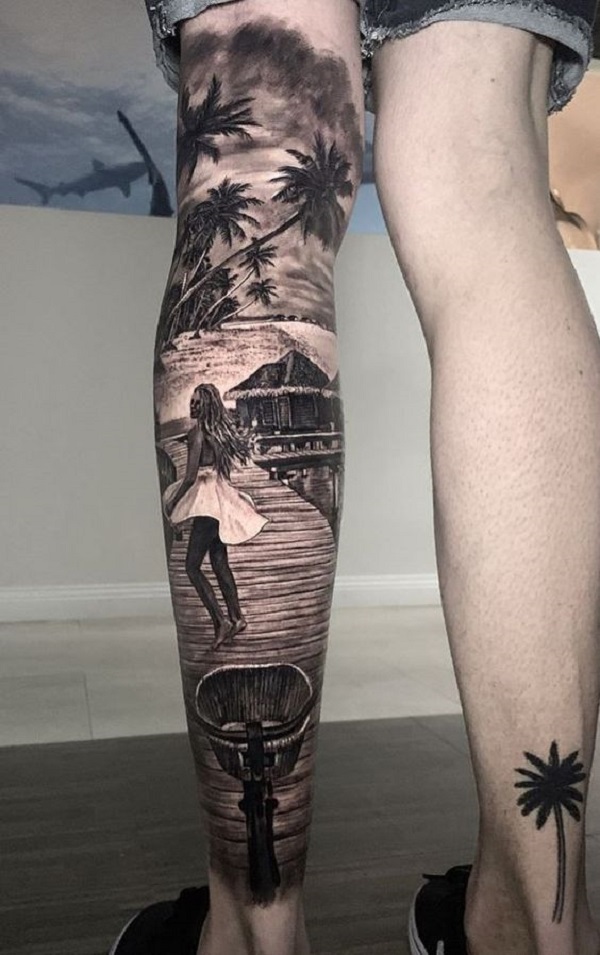 5. Blackwork Palm Tree
Blackwork tattoos involve filling large areas of the design with solid black ink, creating a bold and striking look. You can combine this technique with a palm tree design for a tattoo that truly stands out.
Birds flying under moon light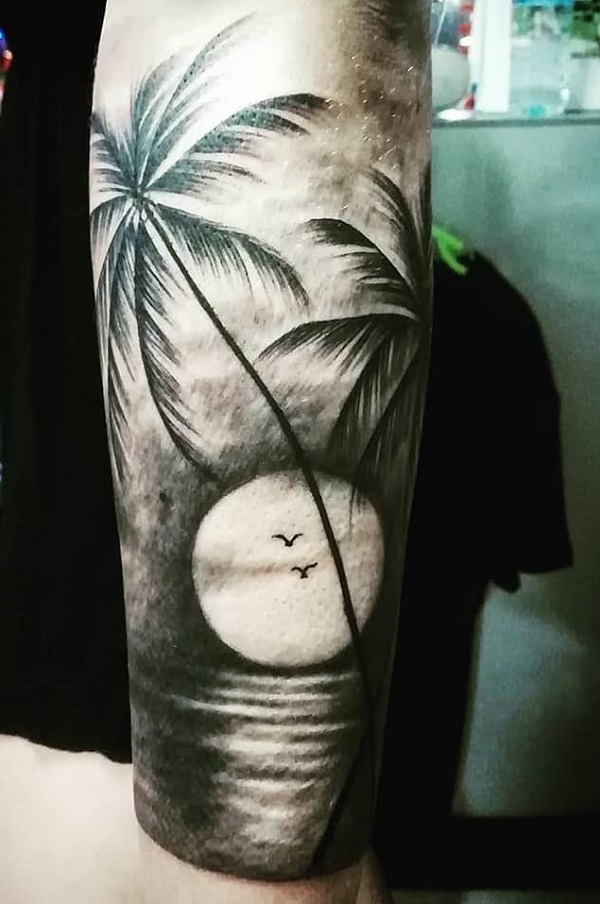 6. Dotwork Palm Tree
Dotwork tattoos are created by using small dots to form the design, giving the tattoo a textured and dimensional appearance. A dotwork palm tree can be incredibly detailed and visually appealing, perfect for those who love intricate designs.
Traditional palm beach scene dotwork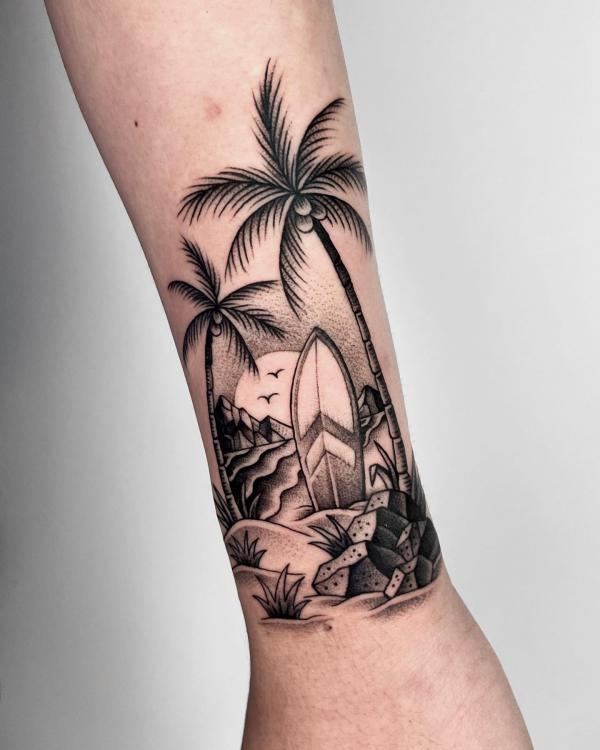 Summer and winter scenes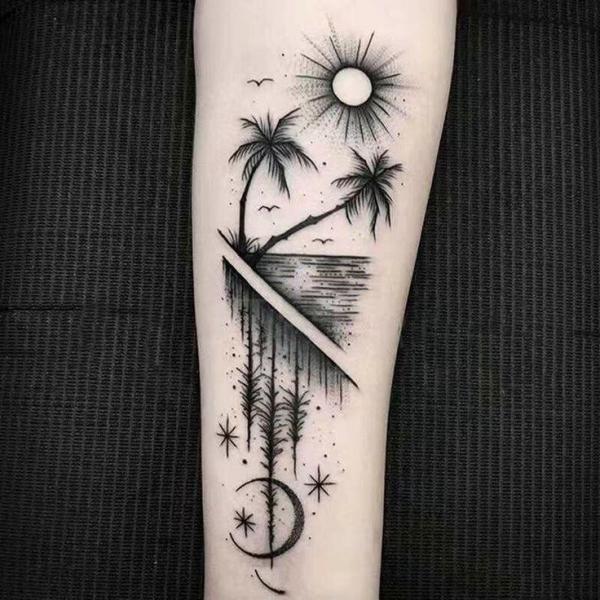 Tropical Vibes: Colorful Palm Tree Tattoos
If you're looking for a vibrant and eye-catching tattoo, consider adding color to your palm tree design. These tattoos can be as bright and bold or as subtle and pastel as you like, allowing you to truly capture the essence of paradise.
7. Watercolor Palm Tree
Watercolor tattoos mimic the effect of watercolor paintings, with soft, blended colors and a dreamy appearance. A watercolor palm tree tattoo can be a stunning and unique way to bring your tropical paradise to life on your skin.
A palm tree silhouette on abstract watercolor background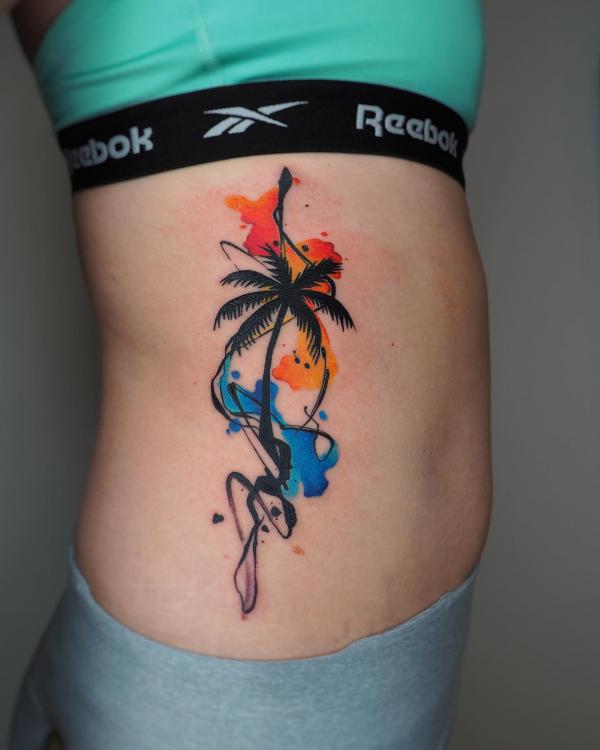 8. Traditional Palm Tree
Traditional tattoo style, also known as old school, features bold lines, vibrant colors, and simple shading. A traditional palm tree tattoo can be a fantastic way to pay homage to both the history of tattooing and your love for the tropics.
A skeleton drinking behind a Palm Tree at sunset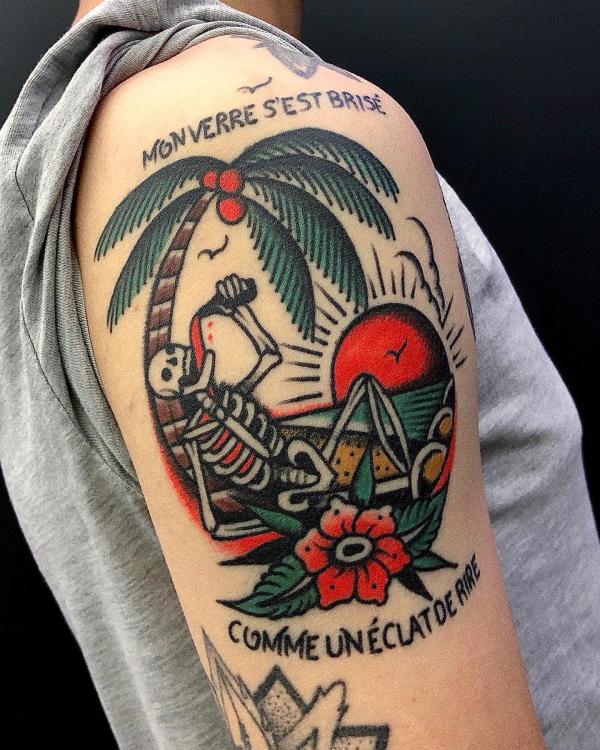 Birds flying over palm trees at sunrise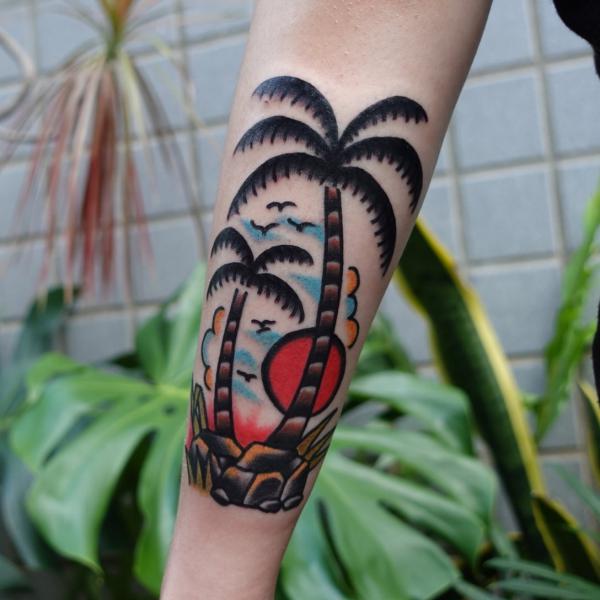 9. Sunset Palm Tree
Capture the breathtaking beauty of a tropical sunset with a palm tree silhouette set against a colorful background. This design can be as detailed or as simple as you like, and the colors can range from warm oranges and yellows to cool purples and blues.
A person watching the sunset seascape under the palm tree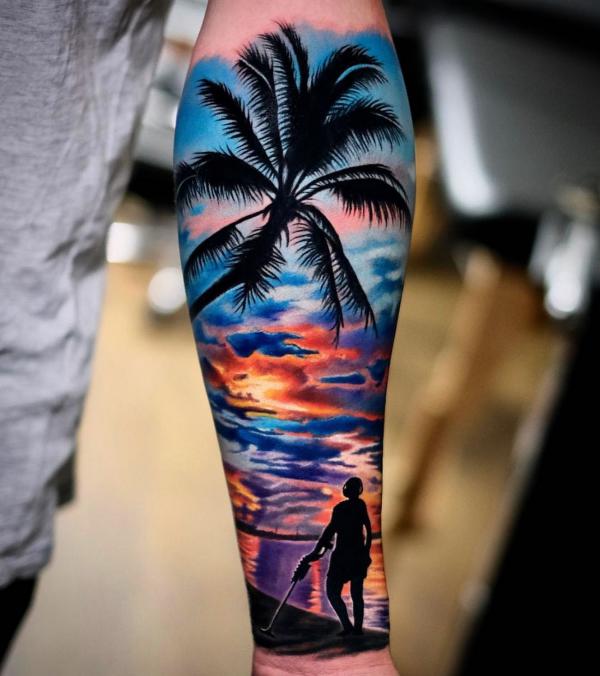 Hollywood Beach with sun and palm tree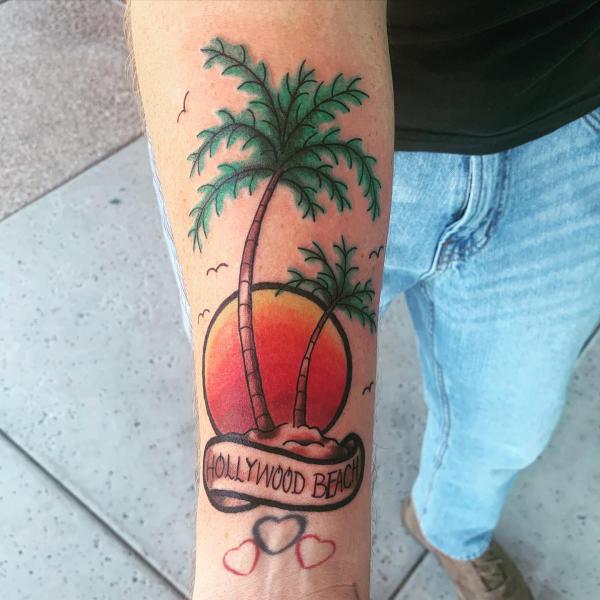 Island Scene with palm tree under the red sun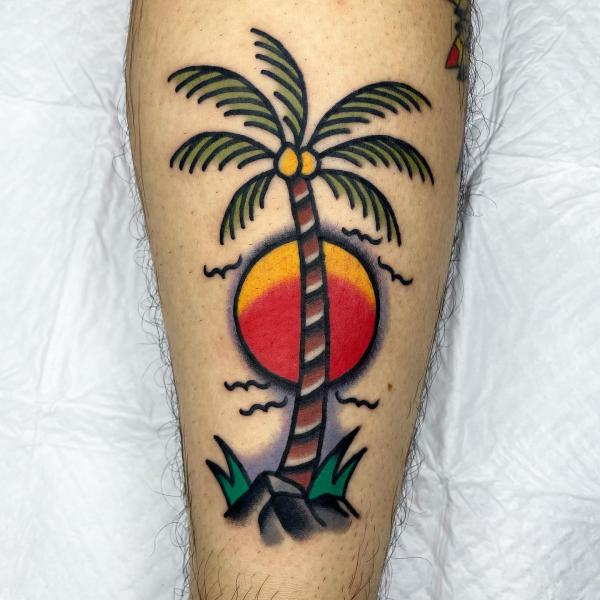 Minimalist palm tree and sun ankle tattoo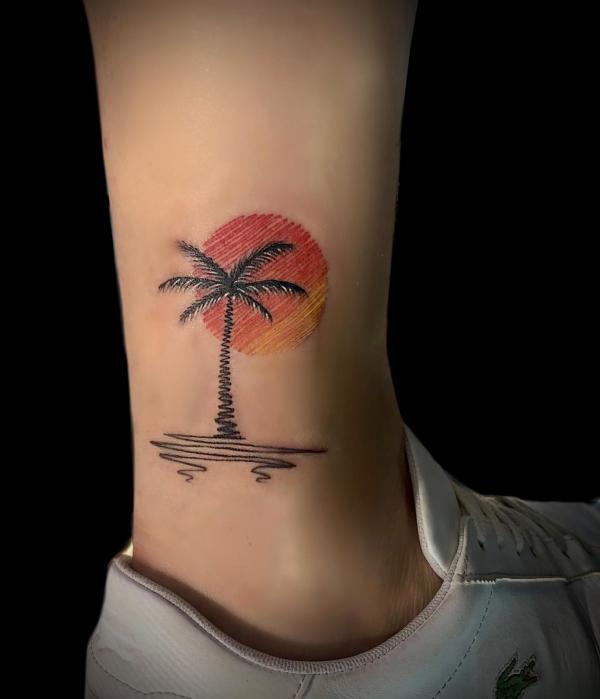 Birds flying over palm trees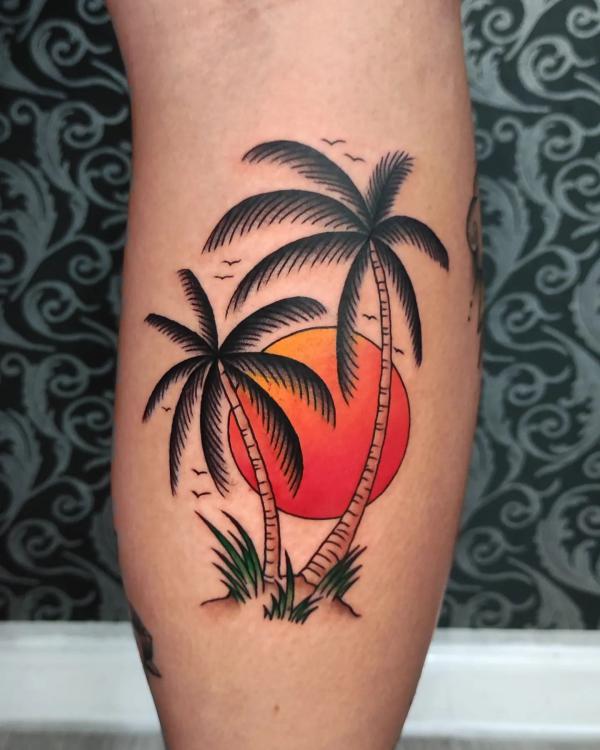 Unleash Your Creativity: Unique Palm Tree Tattoo Designs
For those who want a truly one-of-a-kindpalm tree tattoo, there are endless possibilities to explore and combine different elements, styles, and themes. Let your creativity run wild and create a design that truly represents your personal paradise.
10. Palm Tree and Ocean Waves
Combine the beauty of the palm tree with the power and serenity of the ocean by incorporating waves into your tattoo design. This can create a dynamic and visually stunning piece that embodies the spirit of the tropics.
Cute wave tattoo with crescent moon and palm tree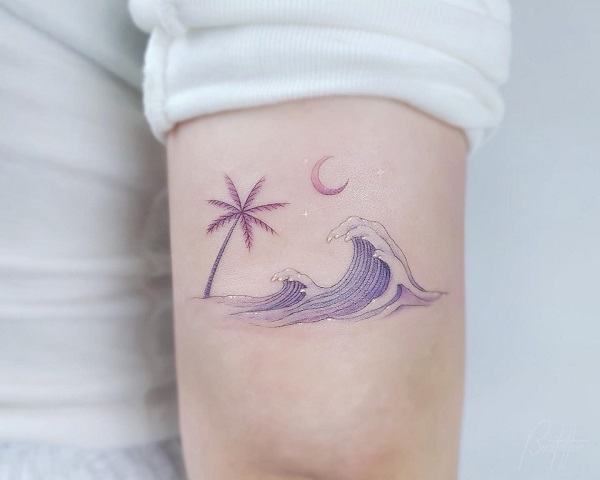 Black and white palm tree and wave at sunset wrist tattoo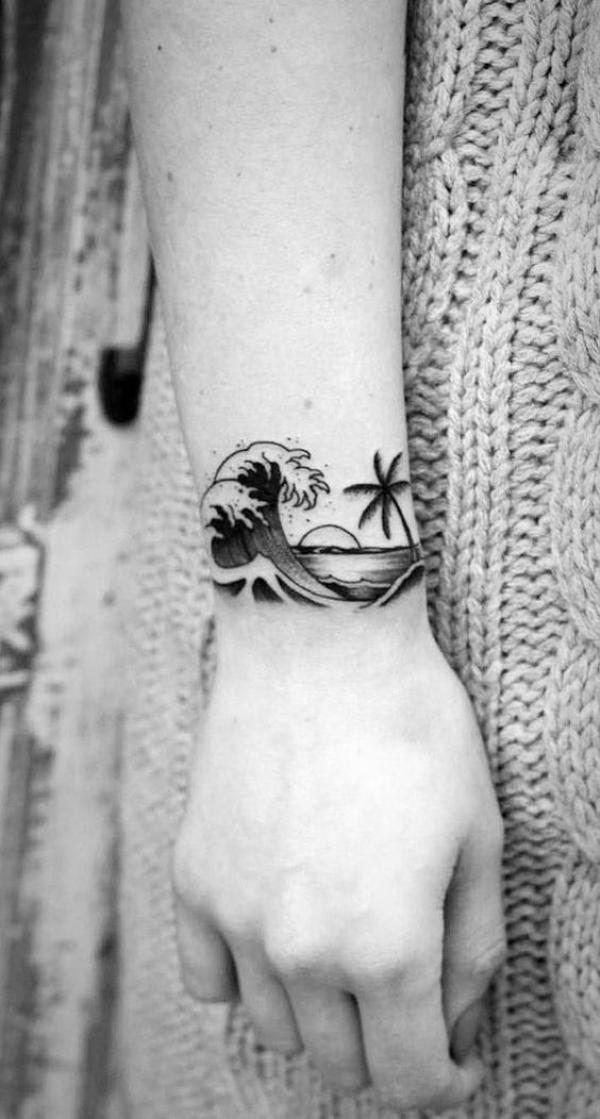 11. Palm Tree and Moon
The image of a palm tree silhouetted against the night sky and a glowing moon is undeniably enchanting. This tattoo design can evoke mystery and romance, perfect for those who love the magic of tropical nights.
Moonlight reflection on the sea with palm tree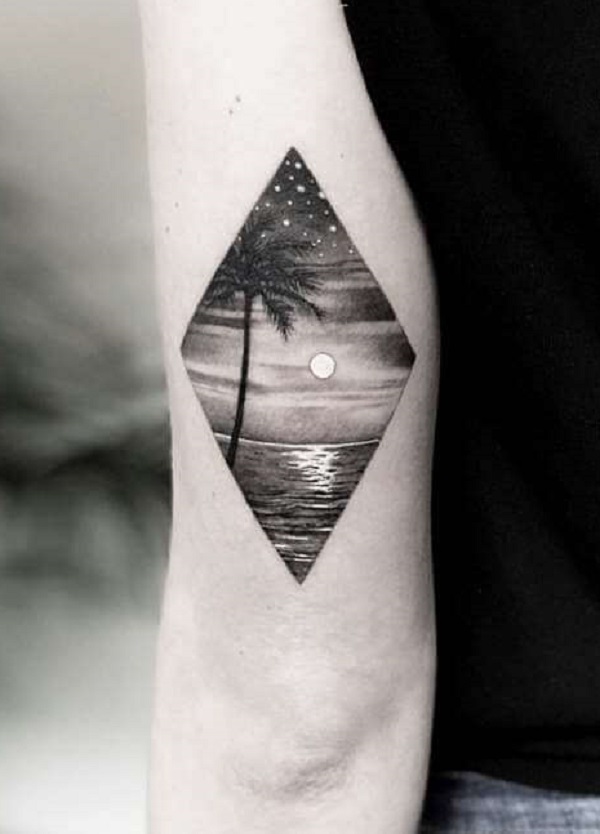 12. Palm Tree and Animals
Incorporate your favorite tropical creatures into your palm tree tattoo design for a truly unique piece. This could include birds like flamingos or parrots, sea creatures like turtles or dolphins, or even playful monkeys swinging from the tree branches.
Swimming sea turtle passing Palm tree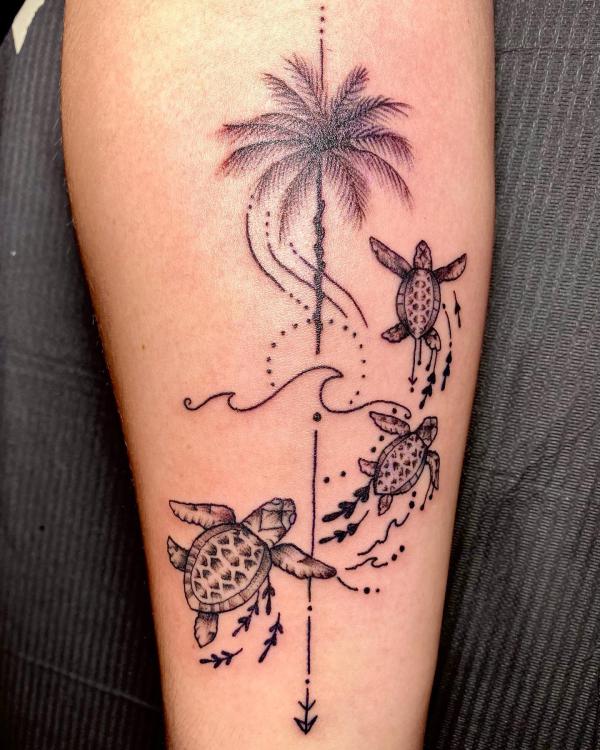 Two seagulls flying between palm trees and sunset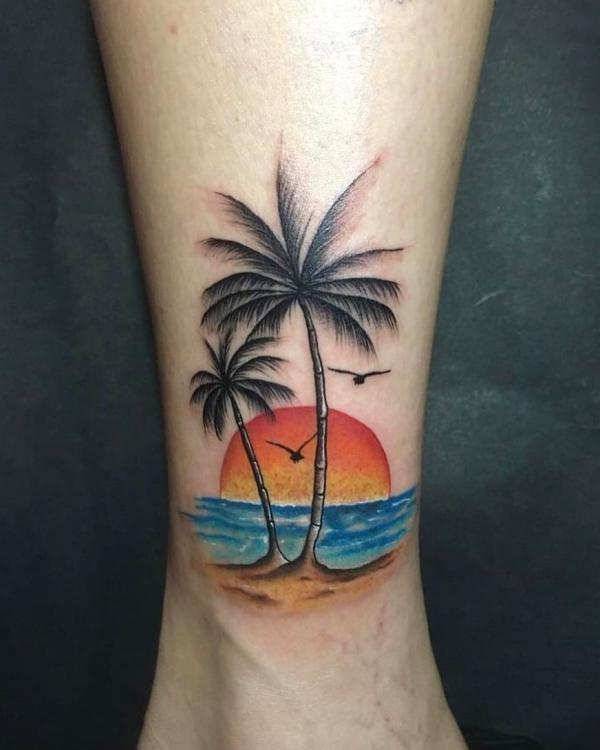 A snake entwined with a palm tree with a skull on top
The traditional snake tattoo design features a bold and vibrant depiction of a snake entwined with a palm tree, with a menacing skull perched atop the swaying fronds. The snake's sinuous body wraps around the tree's sturdy trunk, its red scales providing a striking contrast to truck of the palm. The skull, with its hollow eye sockets, adds an air of mystery and danger to the scene, while the use of bold lines and vivid colors characteristic of the traditional tattoo style brings the entire composition to life. This unique and captivating design pays homage to both the beauty of the tropics and the darker, more enigmatic aspects of nature, making it a powerful statement piece for those who dare to wear it.
Flamingo and palm tree tattoo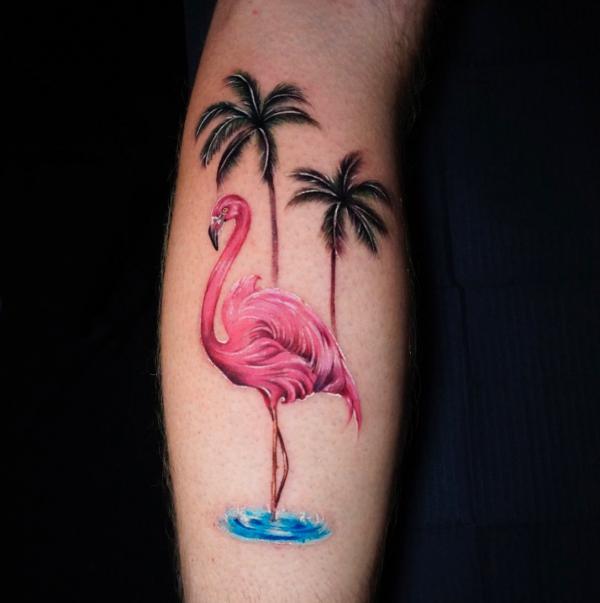 Sea turtle with seascape drawn on its back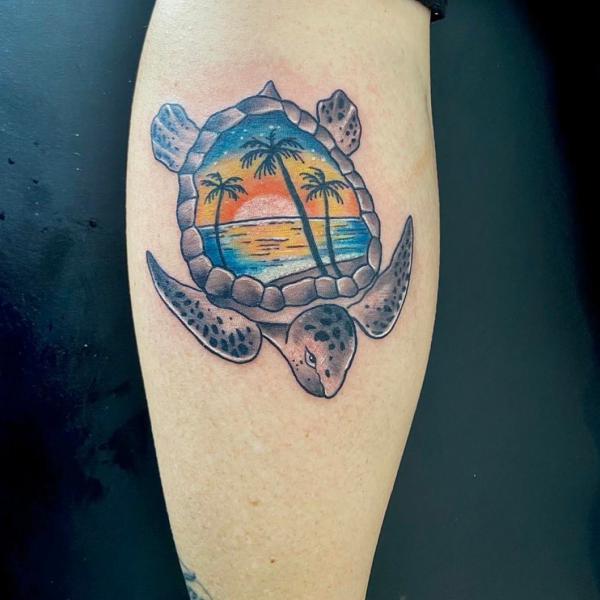 13. Abstract Palm Tree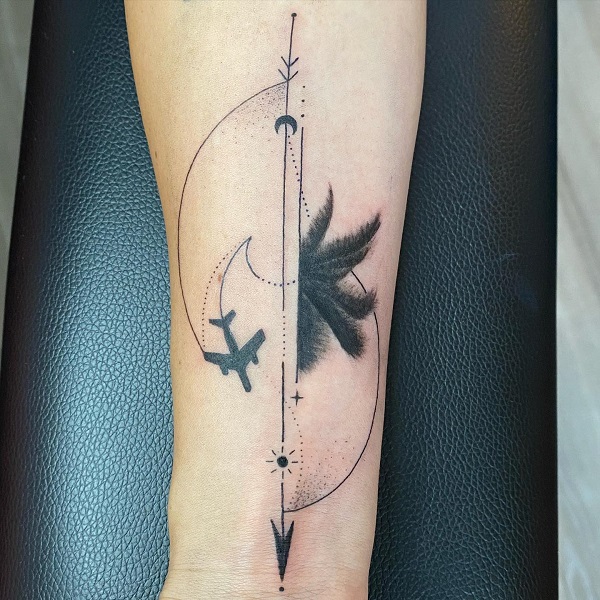 Step outside the box and opt for an abstract palm tree design. This could involve using unconventional shapes, lines, and colors to create a distinctive and eye-catching tattoo.
14. Palm Tree and Compass
For those who love to travel and explore, combining a palm tree with a compass can be a meaningful way to represent your wanderlust and love for tropical destinations.
Forearm tattoo with compass and palm tree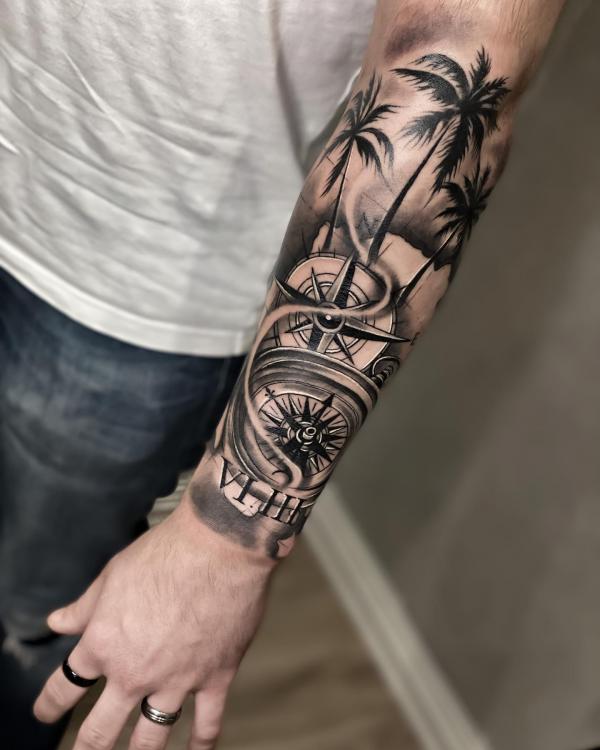 Black and white compass and palm trees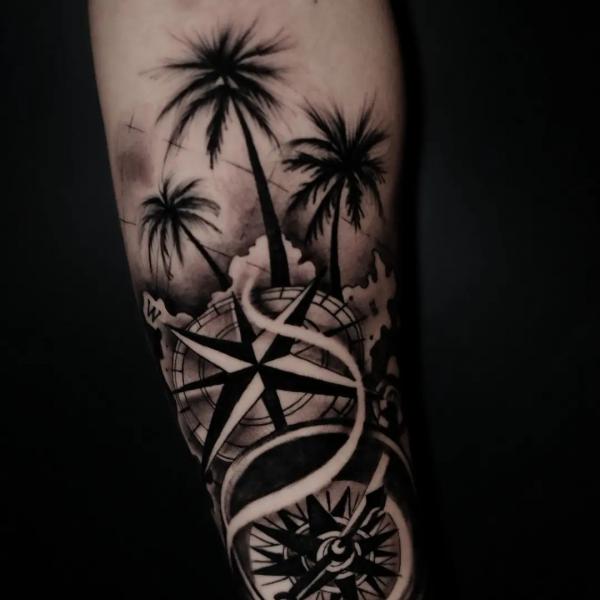 Compass rose on the map with palm trees beside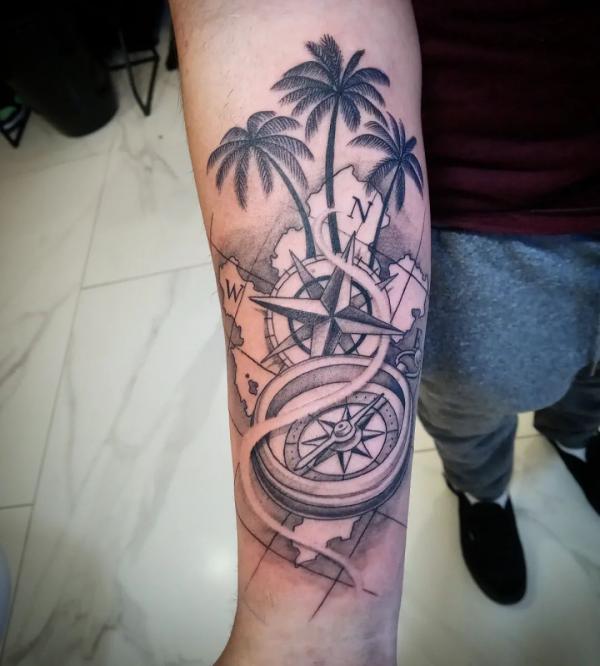 15. Double Exposure Palm Tree
Double exposure tattoos involve the merging of two distinct images into one cohesive design. A double exposure palm tree tattoo could involve combining the tree with a tropical landscape, an ocean scene, or even a portrait to create a truly captivating and unique piece.
Eye of family at beach with palm tree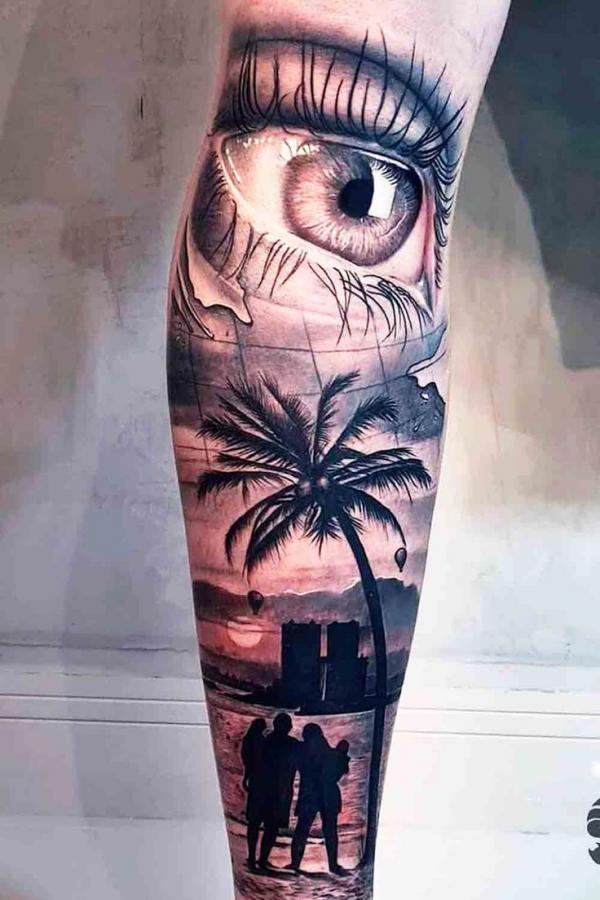 Choosing the Right Palm Tree Tattoo Design for You
With so many incredible palm tree tattoo designs to choose from, the decision might feel overwhelming. Remember that the most important factor is choosing a design that speaks to you and represents your unique connection to the tropics.
Take your time to explore different styles, techniques, and themes, and don't be afraid to consult with a professional tattoo artist for guidance and advice. They can help bring your vision to life and ensure that your palm tree tattoo is a beautiful and lasting tribute to your personal paradise.
Remember that tattoos are a lifelong commitment, so it's essential to choose a design that you'll be proud to carry with you for years to come. With the right palm tree tattoo design, you'll always have a piece of paradise with you, no matter where life takes you.
Conclusion
A palm tree tattoo is a fantastic way to capture your love for the tropics and create a lasting symbol of paradise, resilience, and adventure. From minimalist designs to vibrant, colorful pieces, there's a palm tree tattoo for every style and preference. So, why wait? Start exploring these incredible designs and begin your journey to tattooing paradise.