Tattoos have now become the reflection of style that has lot to offer. People who have tattoos inked on their body may represent sort of personal identity, but the most common reason of tattooing in the present age, seems for their fashion statement and symbolic meanings. Dreamcatcher tattoos, featured with a woven hoop with various elements, have become the most popular tattoo that is a powerful symbol with Native Americans.
The concept of dreamcatcher is rooted to native American history whose main purpose was to protect the babies from bad dreams while sleeping. When the hoop is incorporated with different elements like feather, woven web or beads, it depicts several other meanings.
History and Meanings of Dreamcatcher Tattoo Designs:
As mentioned earlier, dreamcatcher tattoos have their origin traced back to North America, so these tattoo designs are the most common forms of tattoo in that region. However, not only in North America, but these tattoos have become popular all across the world, equally, among men and women.
Dreamcatcher is basically an item, popular in the North America, that was traditionally used to bring good dreams for babies and to keep them safe from having nightmares and evil spirits. this thing was hung over the bed or the door of the bedroom, in order to trap any bad spirit or evil energy before it enters the room or touch the baby. In this way., the dreamcatchers got their way in protection sense and now being tattooed worldwide as depiction of harmony, peace, protection and religious beliefs of ancient culture.
However, when this dreamcatcher is coupled with various elements, it would offer different meanings. Like when the hoop is incorporated with the single bead in the middle, it can represent the good dreams that are trapped during the night. While the hoop itself represents the circle of life, which when coupled with feather depicts the symbol of air and breath.
The Ever So Gorgeous Dreamcatcher Tattoo Designs Done Right:
So, if you are an enthusiast of protection, harmony and peace, dreamcatcher tattoo design is worthwhile to try. We have rounded some gorgeous designs of dreamcatcher tattoos, that you can give a shot.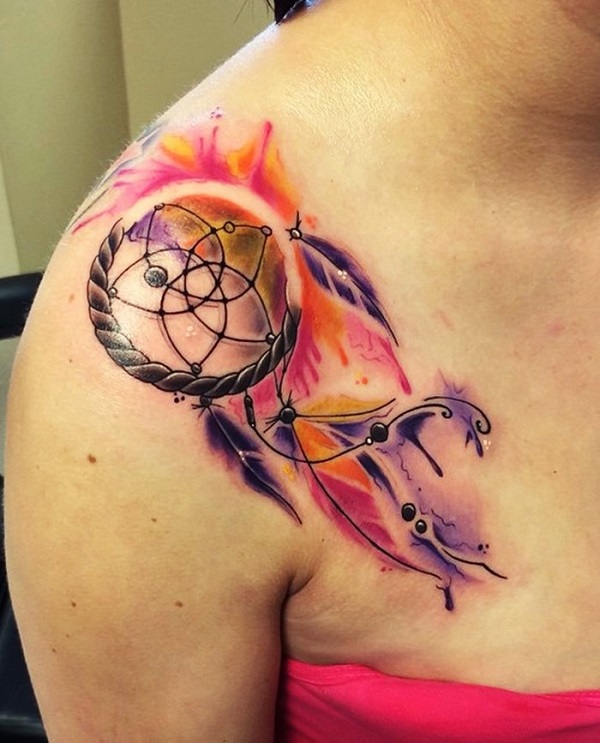 Watercolor Dreamcatcher Tattoo on Shoulder for women
The looped dreamcatcher design with play of water colors is an inspiration for you.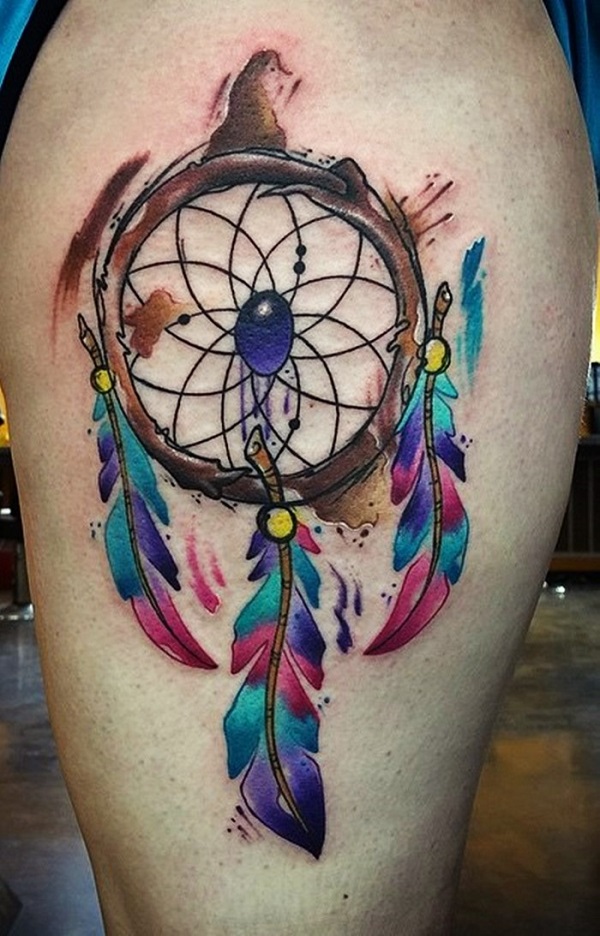 The Gem within the Dreamcatcher's Hoop
A gem beaded inside the flowery mosaic depicts good luck within financial career. 3 multi- colored feathers hanging also adds to the value of this tattoo design.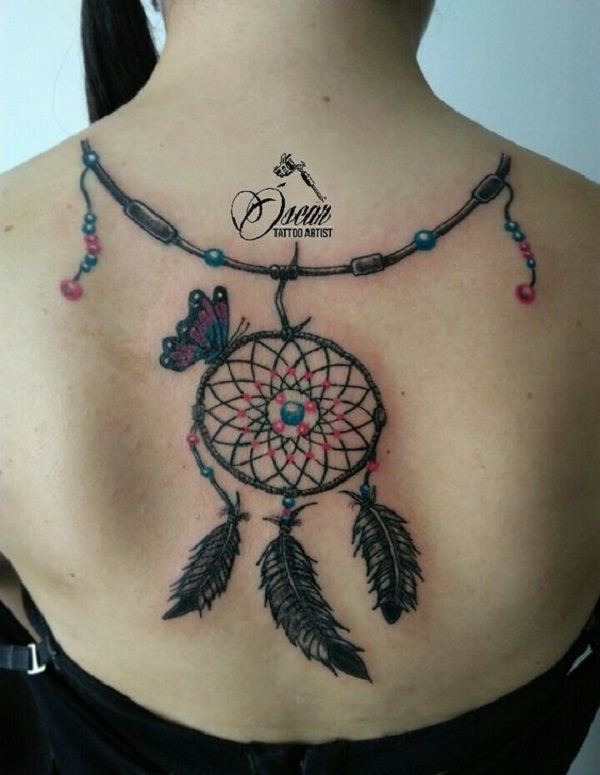 Dreamcatcher Necklace for Girls
For all those girls wanting a natural necklace with good luck, here's what they can have.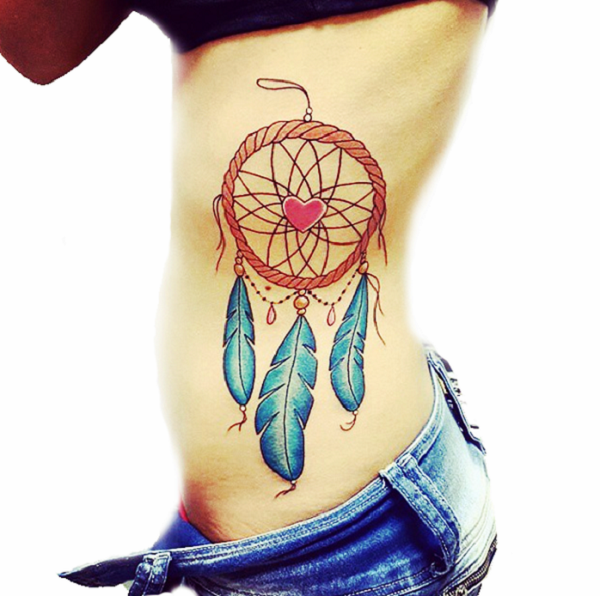 Rib Tattoo Design with Dreamcatcher and Cute Heart for girls
The heart within the dreamcatcher depicts the harmony in love. You can embellish your rib with this amazing tattoo and can surprise your loved one.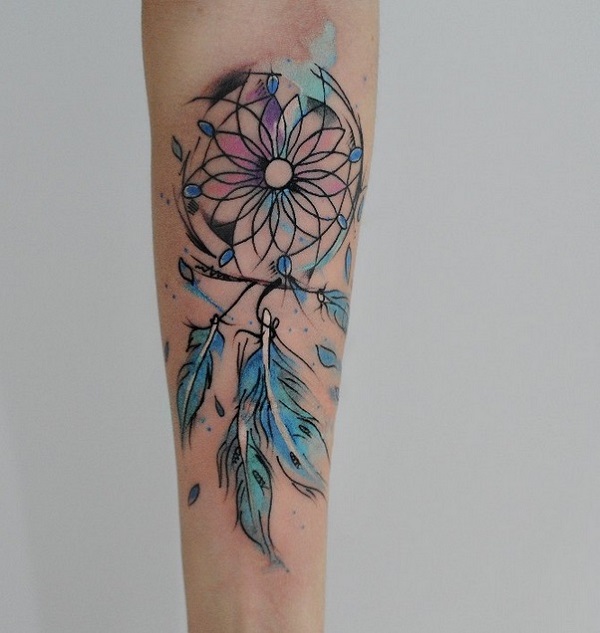 The blue dreamcatcher with shattered feathers is an inspiration for those who want something unique yet meaningful.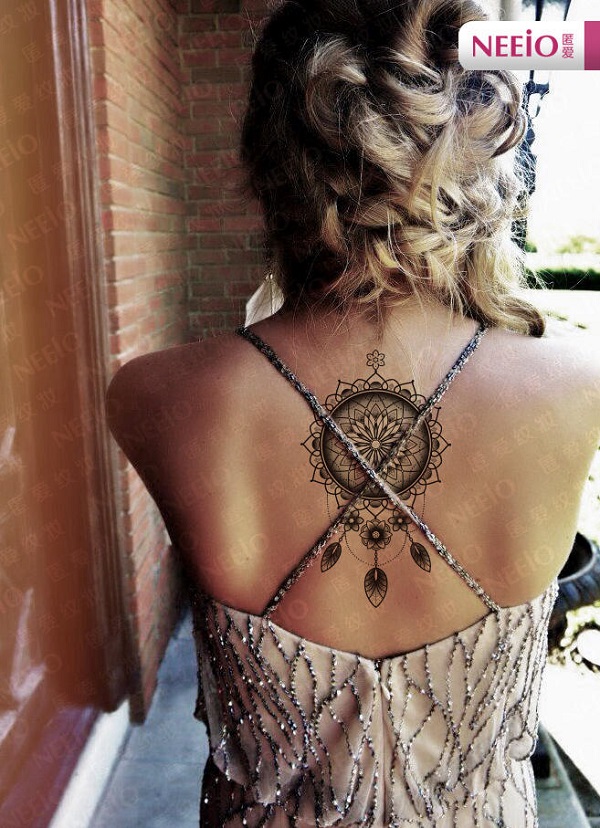 The shaded Dreamcatcher back tattoo for women
For those girls who want something graceful yet attractive dreamcatcher piece, this is the one worthy considering.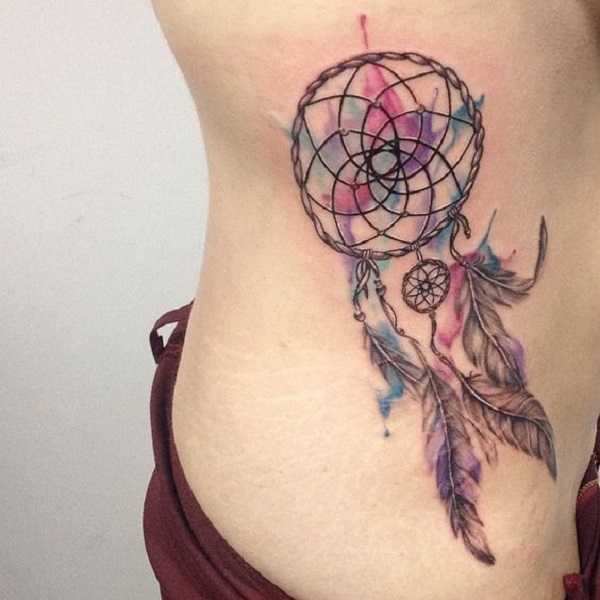 Dreamcatcher with Multi-dimensional Mosaic
This dreamcatcher is inked with the multi-dimensional ring, that depicts the protection from each zone.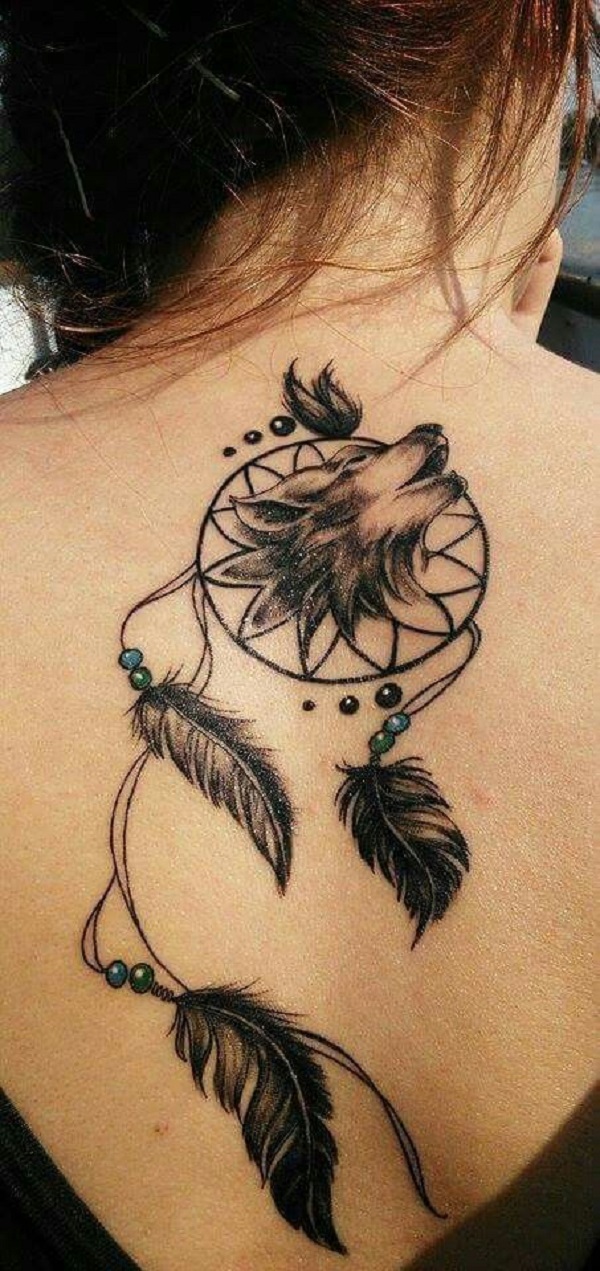 Black and white Dreamcatcher tattoo with Wolf
Wolves in the tattoos depicts strength. So the dreamcatcher coupled with the wolf offers a meaningful design.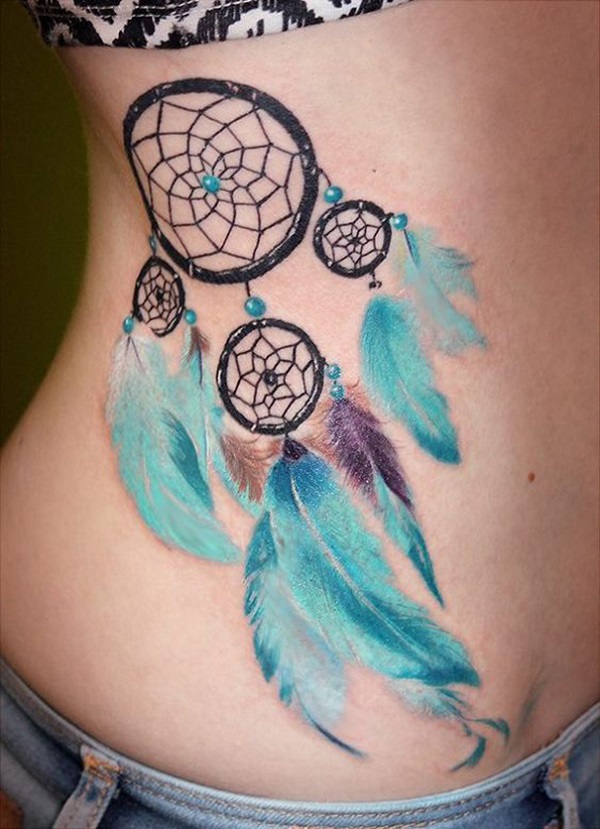 Girly Girl's Dreamcatcher. With the array of blue feathers hanging, this dreamcatcher is for all girly girls out there.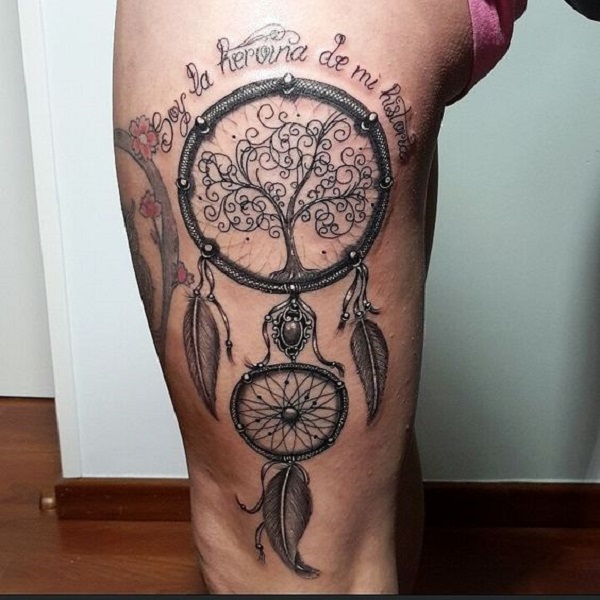 Dreamcatcher with a Spanish quote. "Soy la Hermana De Mi Historica" is a Spanish quote that means I'm a sister of my story. You can customize this tattoo by incorporating your own quote.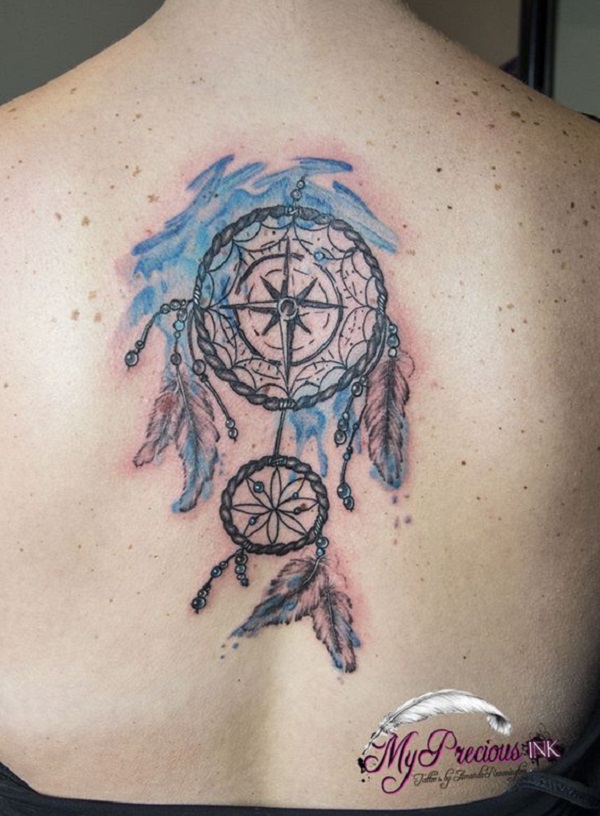 Two Dreamcatchers within a single tattoo. You can make your protection guaranteed by adding as many dreamcatchers in your tattoo, as you want.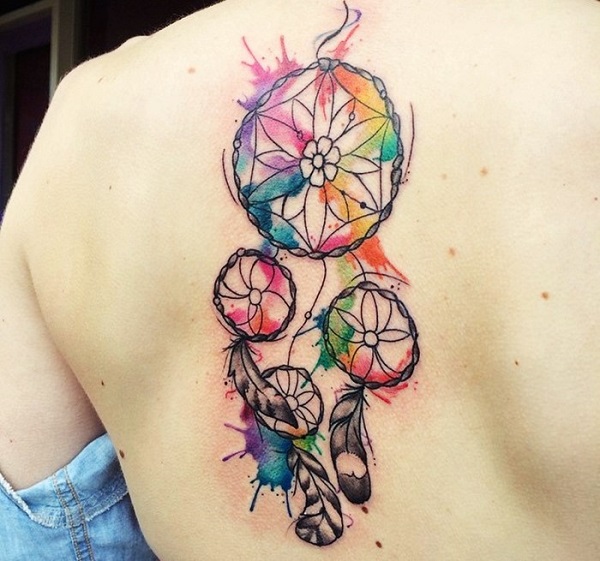 The Dreamcatcher Chain. Thus, this tattoo is offering an extensive chain of dreamcatchers that offer full protection for those who believe.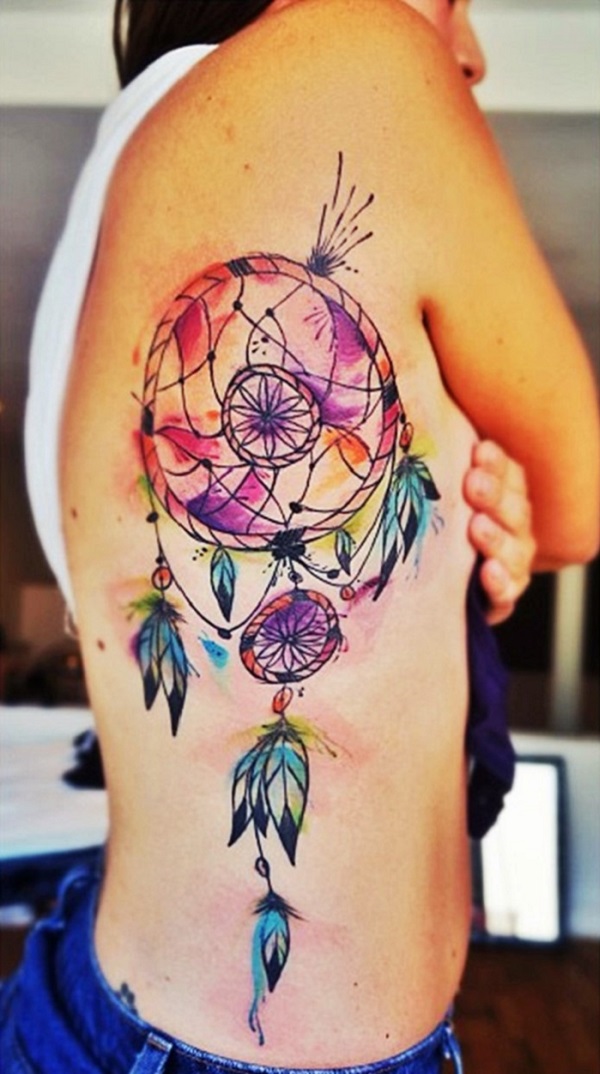 Rib Dreamcatcher Design for Girls. Rib is the best placement of tattoos for girls as they can cover it up when going for work.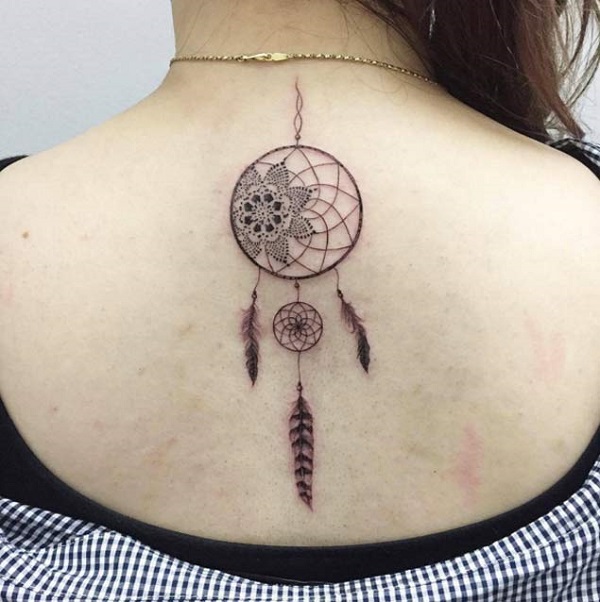 Flower within the Dreamcatcher. The simple is attractive.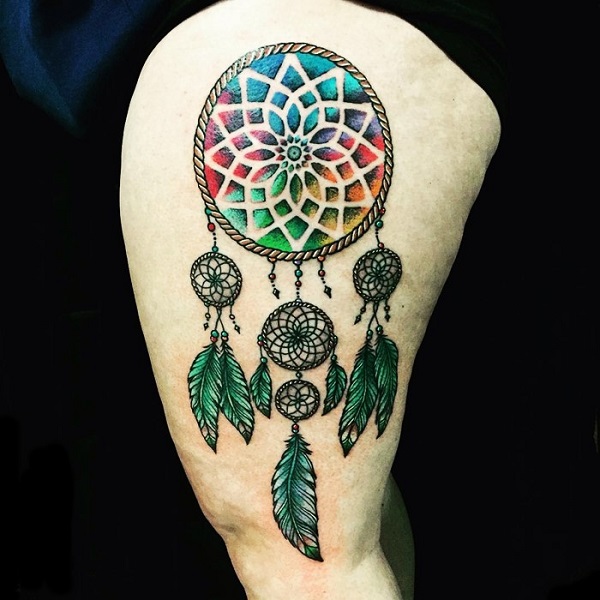 That Multi-Colored Dreamcatcher Tattoo Design. The multi-colored dreamcatcher tattoo design is all that you need to add colors in your life.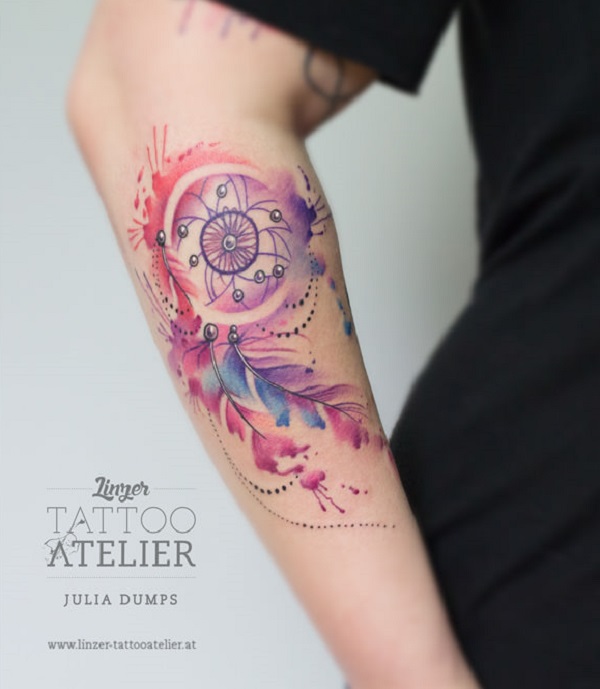 Beaded Dreamcatcher Tattoo Design. Beads depict positive energy within the dreamcatcher, so the next tattoo on the list is full of beads.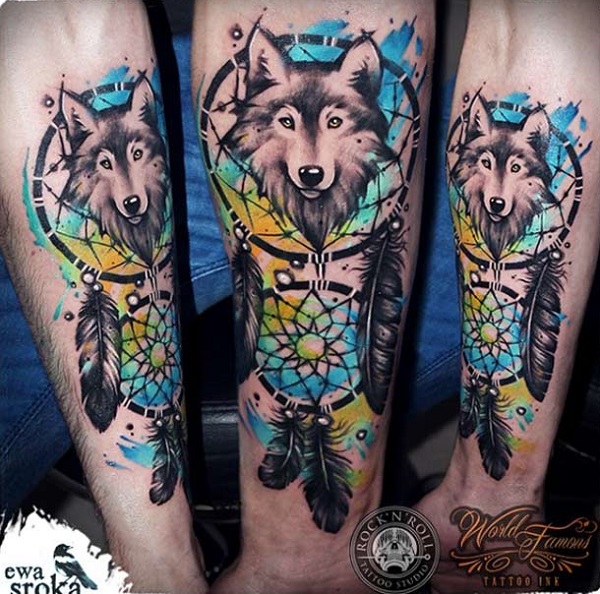 The realistic Dreamcatcher with a Wild Wolf. This detailed dreamcatcher is an inspiration for those men, who want strength with the protection.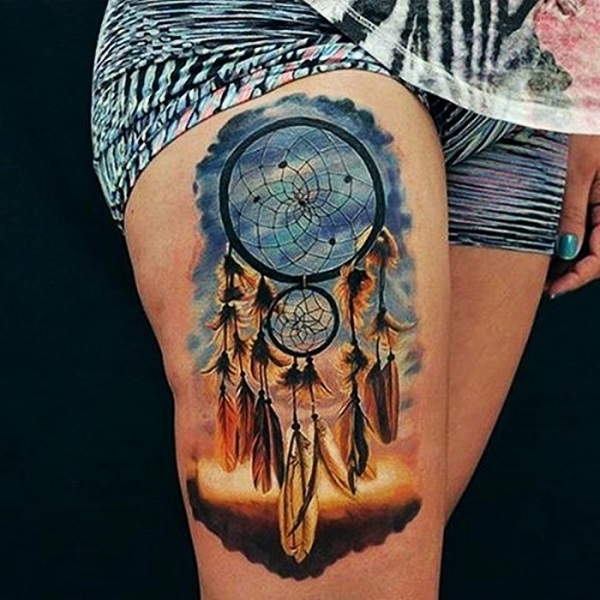 Detailed Dreamcatcher. The gold feather hanging with the dreamcatchers and its details are worth watching.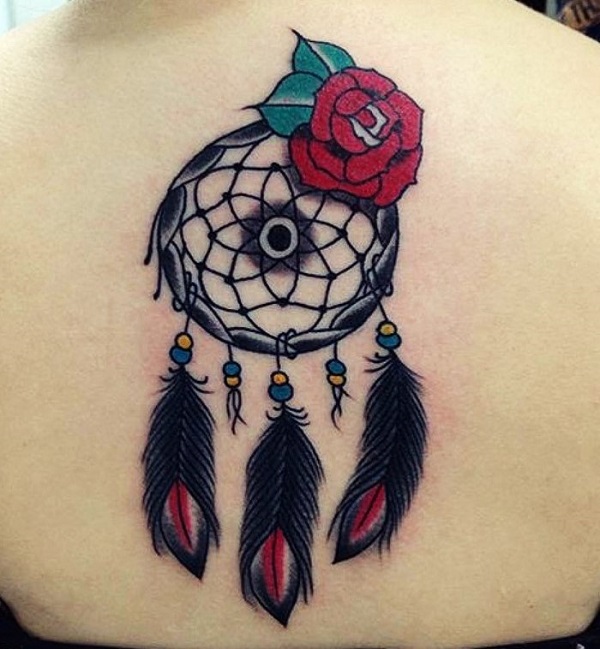 Dreamcatcher with a Red Rose. Vibrant red rose with the dull dreamcatcher is a vision for all those looking for simple yet effective tattoo.
Dreamcatcher with Spring Elements. Spring is often depicted as a season of happiness and dreamcatcher offers the same purpose. when both these elements are coupled, they make the great tattoo design along with the meaningful meaning.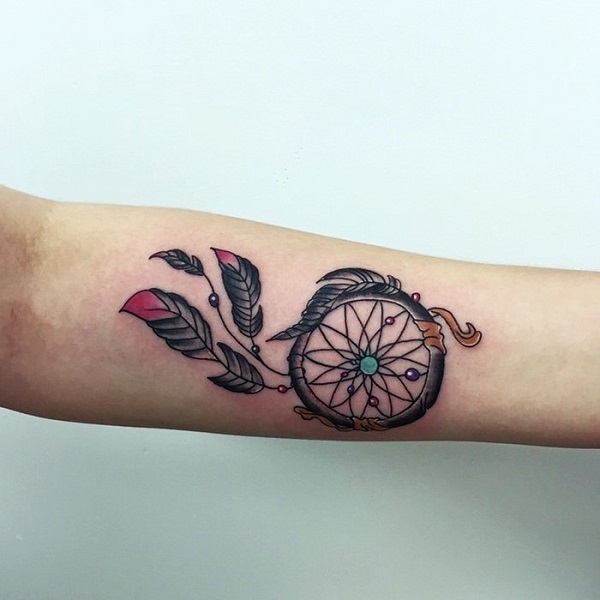 A Simple Dreamcatcher Tattoo for Inner arm. For those looking for something simple yet functional, this is worth noticing.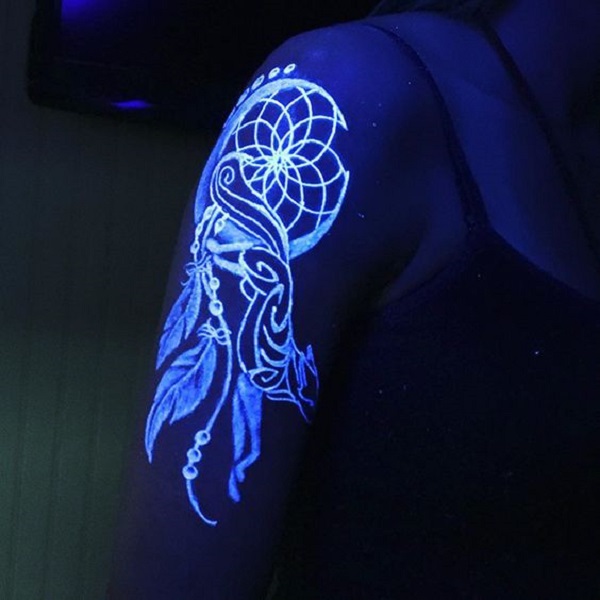 Highlighted Dreamcatcher Tattoo.As dreamcatchers serves the purpose of enlightening the bad dreams, this tattoo offers the same meaning.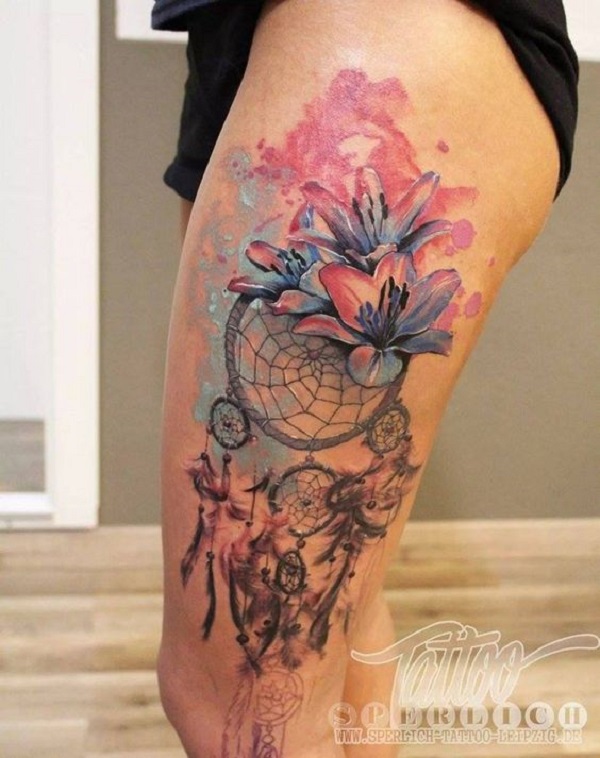 Vivid Water-colored Dreamcatcher.Get your full thigh covered with this amazingly shaded dreamcatcher tattoo design.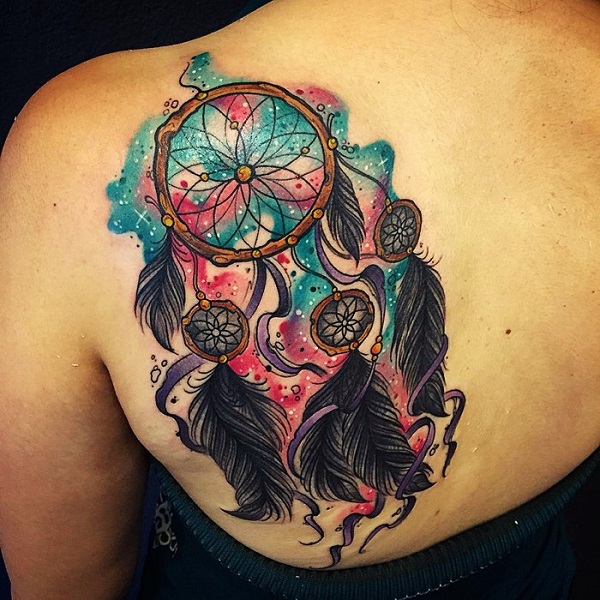 Dreamcatcher for Upper Back. Get your upper back embellished with this amazingly colorful dreamcatcher tattoo design.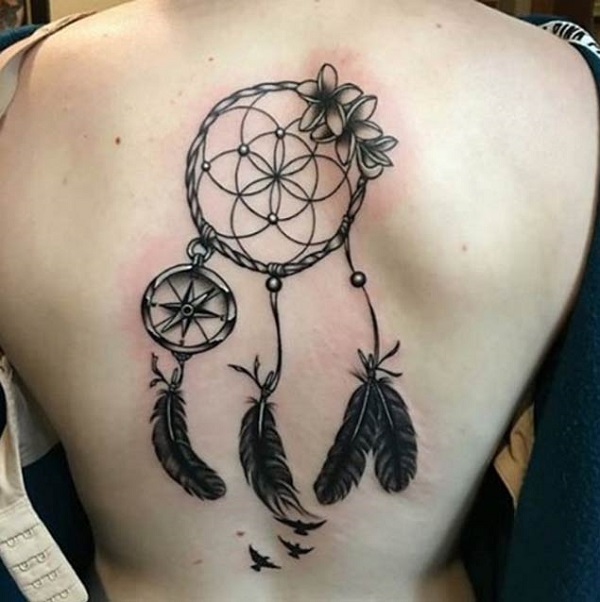 Dreamcatcher with Flower and Compass. The stenncil tattoo design is becoming popular among the world.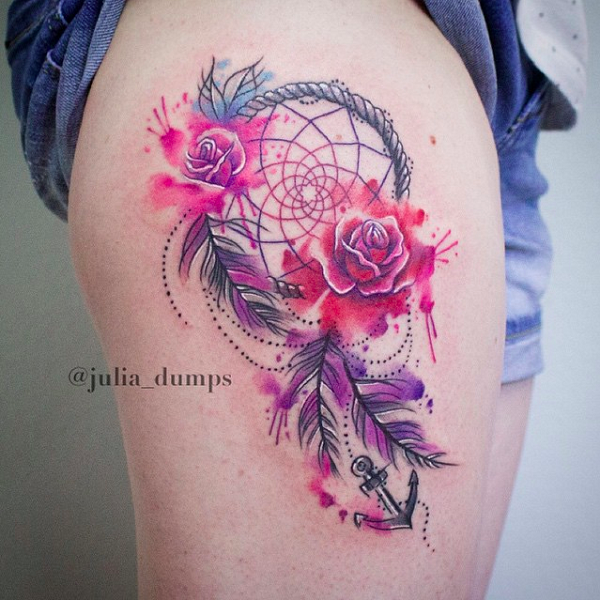 A Dreamcatcher with Anchor. The anchor, the roses and the dreamcatcher collectively makes an amazing dreamcatcher tattoo design that you need to try.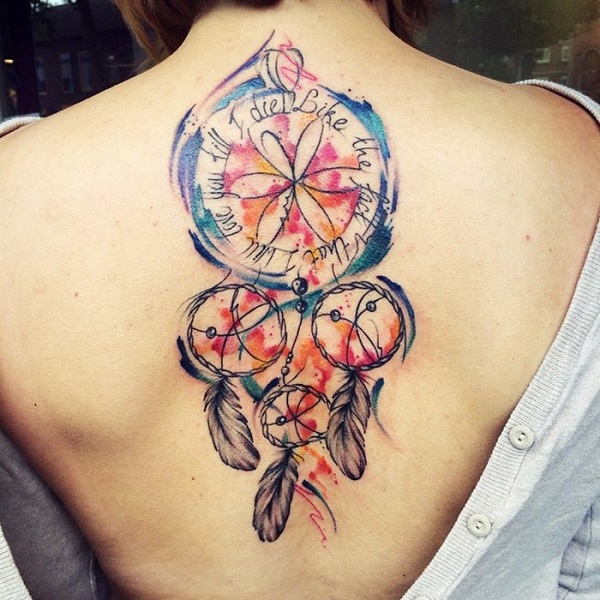 Dreamcatcher tattoo Design with Quote. Dreamcatcher tattoo with different quotes embedded are becoming popular among both, men and women.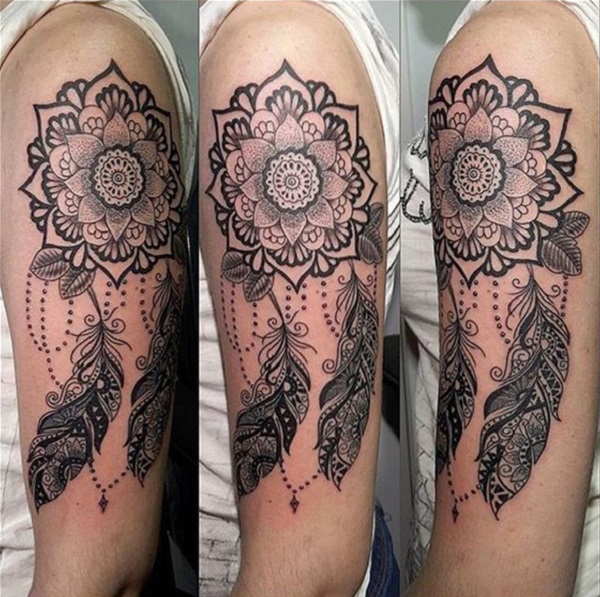 Arabic Dreamcatcher. For all those lovers of Arabic Mehndi designs, this is something similar but meaningful, as it is incorporated with a dreamcatcher.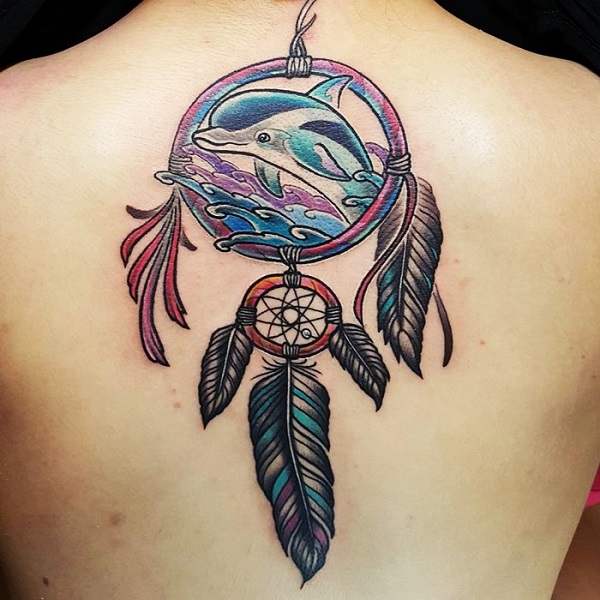 Dolphin within Dreamcatcher. A dolphin head resting within the hoop of dreamcatcher is unique in design and is very meaningful.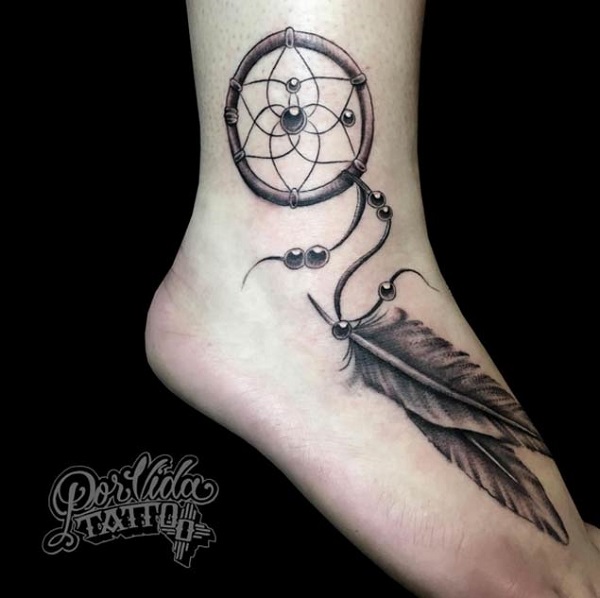 Dreamcatcher Tattoo Extending from Ankle to Foot. This simple yet attractive ankle piece is for all those who are looking to get their ankles embellished with something meaningful.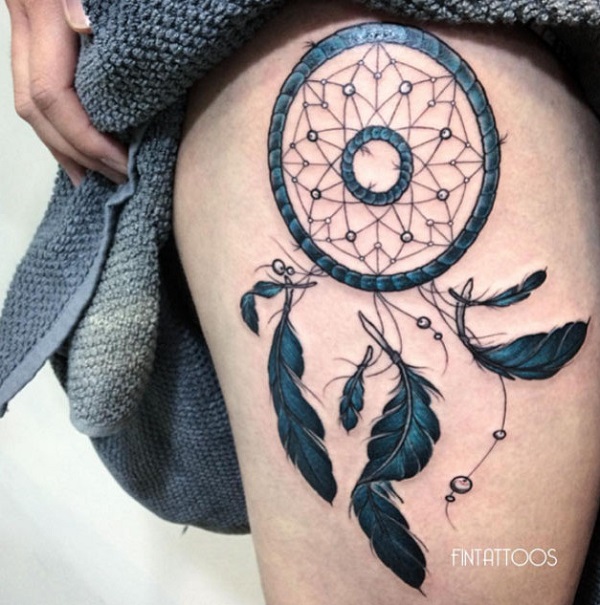 Blue Dreamcatchers. Basically, the original dreamcatchers were blue in color. So, if you want to depict the cultural heritage of the Native America, then blue dreamcatcher is what to go for.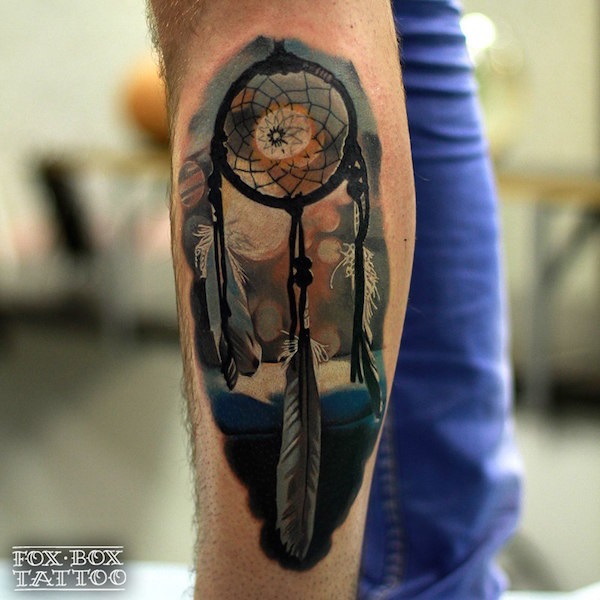 Detailed Dreamcatcher for Men. This one is a vision for all as it is inked beautifully. I bet you have never seen such a dreamcatcher tattoo design before.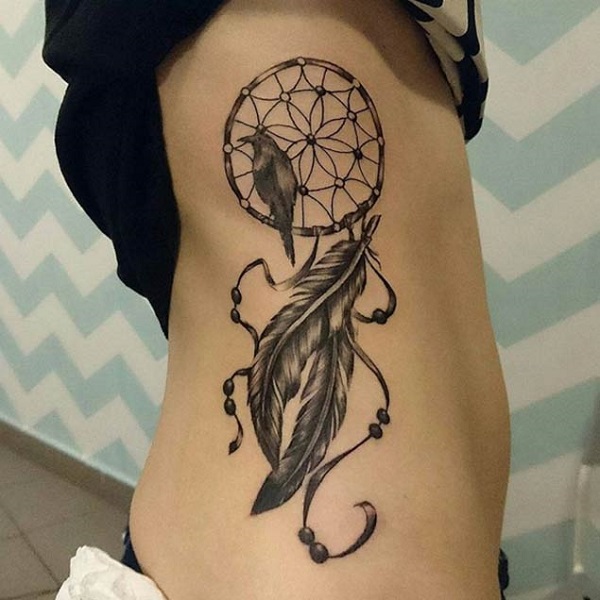 Dreamcatcher with a Bird. Birds are often taken as a symbol of freedom and when they are coupled with dreamcatcher, they serve the very unique meaning.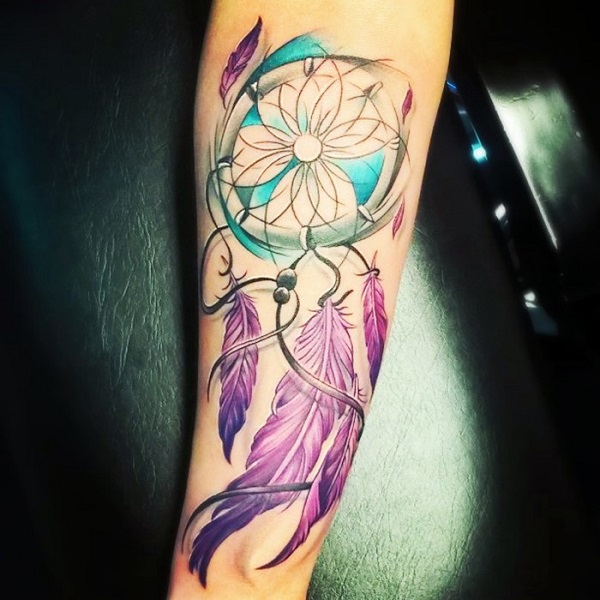 This unique dreamcatcher tattoo design can be added into your gallery, if you are looking for a unique and colorful dreamcatcher tattoo design.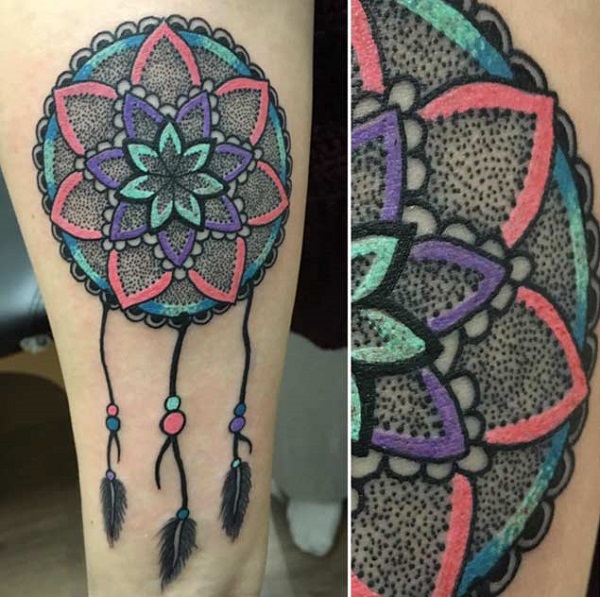 Dotted Dreamcatcher
You can watch the dotted details within this amazing dreamcatcher tattoo design.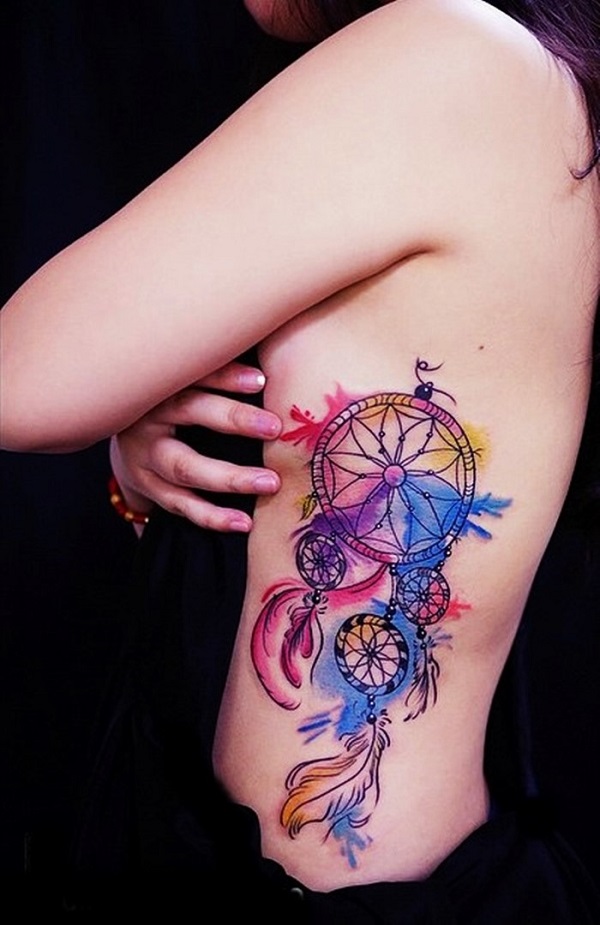 Flying Colors in Dreamcatcher
If you are looking for something colorful yet meaningful, this dreamcatcher is worth trying.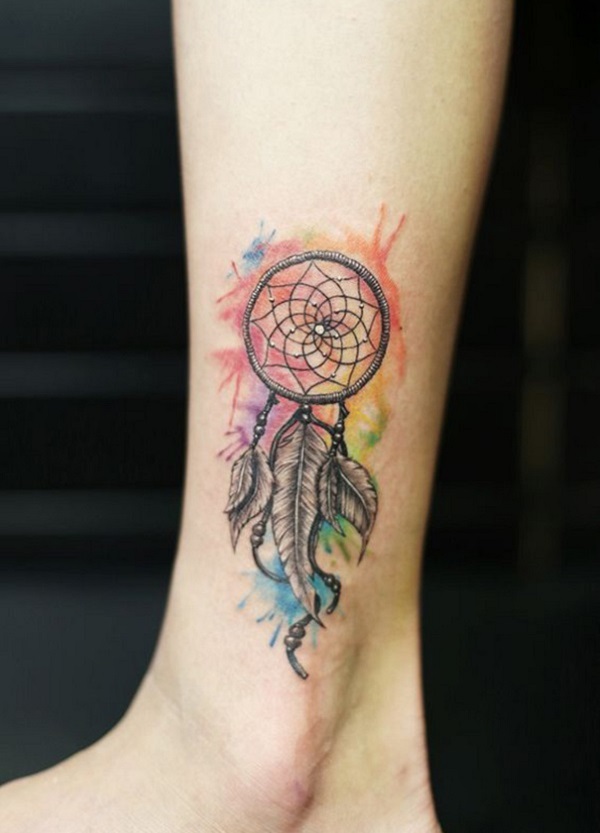 Colorful Dreamcatcher tattoo Design. This calf piece is eye-catching.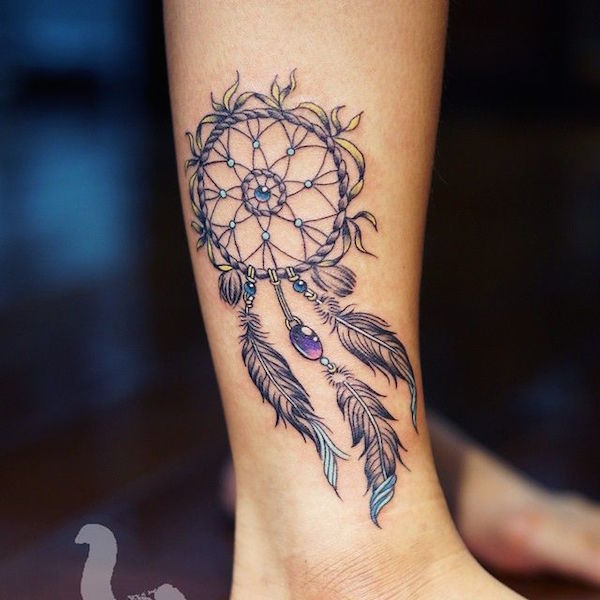 Simple Dreamcatcher. With the simple dreamcatcher, you can make your life meaningful.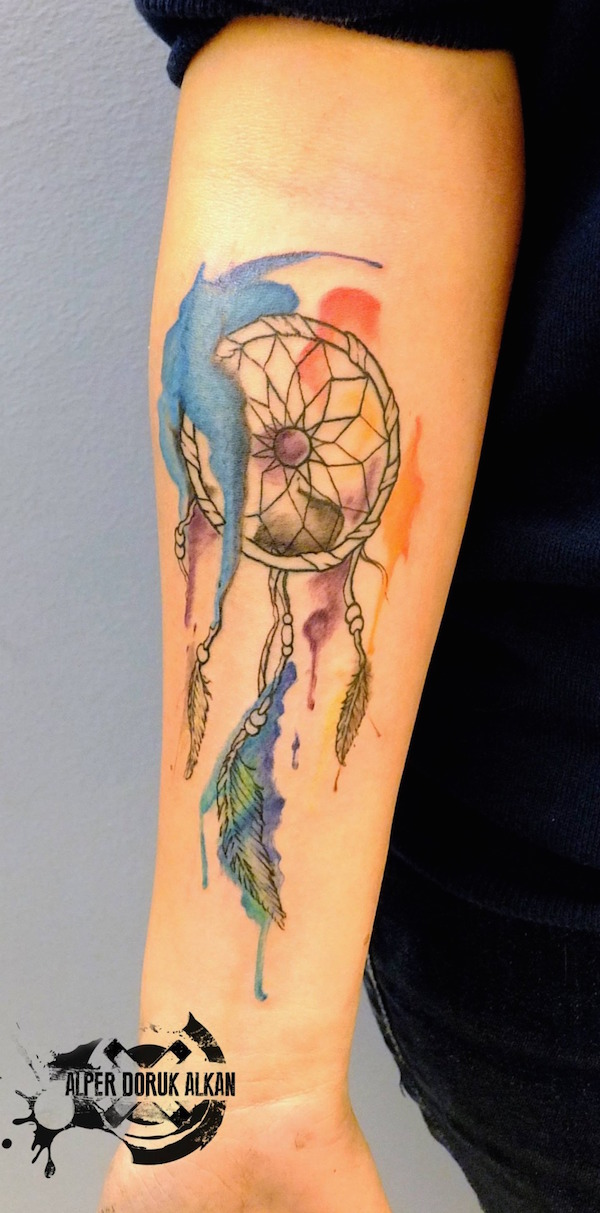 The play of Color over Dreamcatcher. The play of colors within the dreamcatcher is worth trying tattoo for the girls.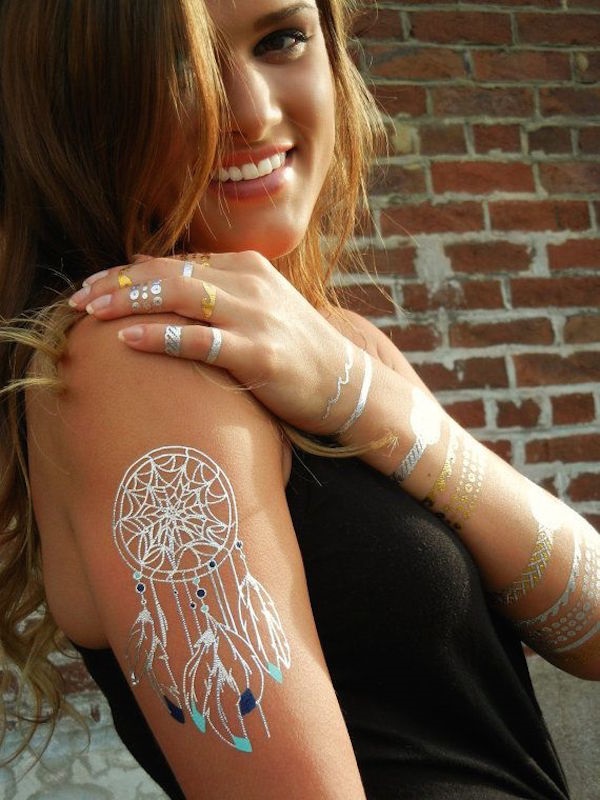 Glittery Dreamcatcher Design for Girls. For all the girls, this is what you might be looking for.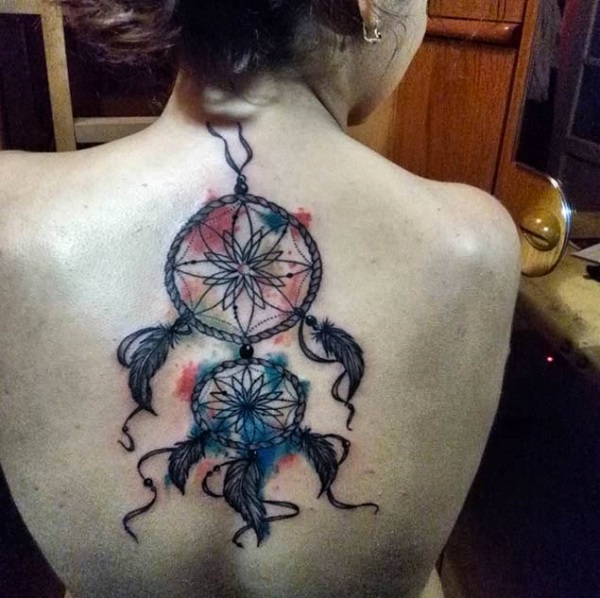 Dreamcatcher for Back. Looking for a back tattoo? This one's for you that you can't lose.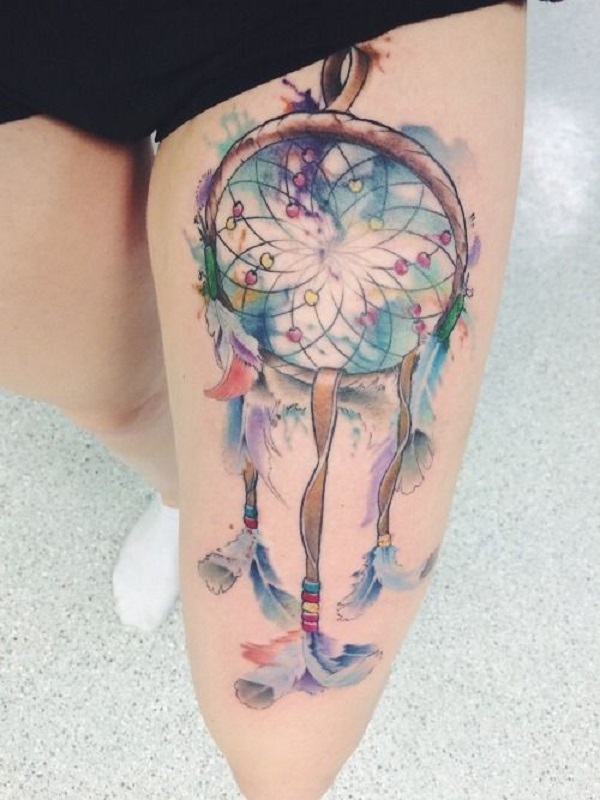 Colorful Beads on a Dreamcatcher. This dreamcatcher tattoo has different colored beads held within.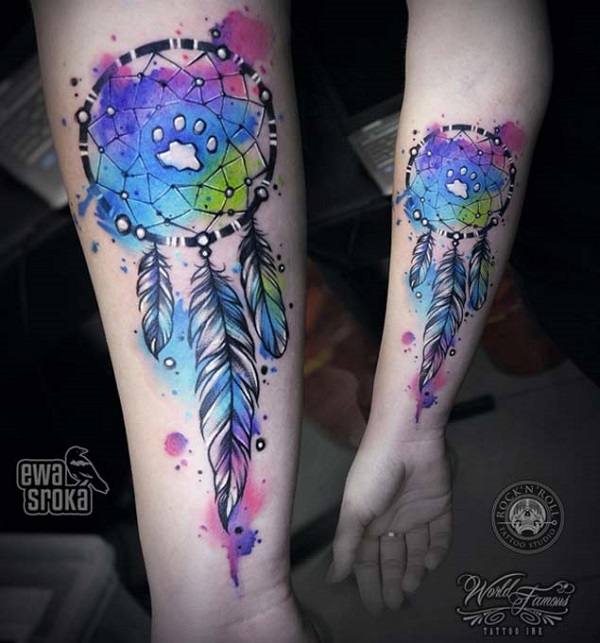 Twin Dreamcatcher Tattoos by Rock n' Roll. This one is a bit messy, but looks amazing on both arms.
Embellished Thigh with Dreamcatcher. With an array of dreamcatchers, this one makes the best tattoo design to wear on thigh.
Dreamcatcher on Ribs and Breast. For the girls, this one is eye- catching.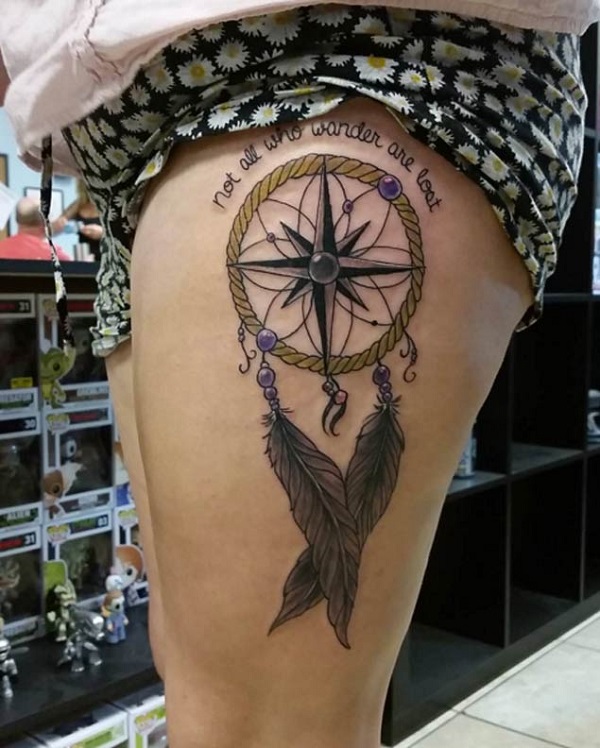 Not all who wonder lost Dreamcatcher Tattoo. Dreamcatcher tattoo designs with quotes are getting popular and this one depicts the best example.
Fading Dreamcatcher Tattoo. This one is another worthy of consider, if you want dreamcatcher tattoo to be your next one.
Night inside Dreamcatcher. Night with the dreamcatcher looks amazing with the spark and glitter.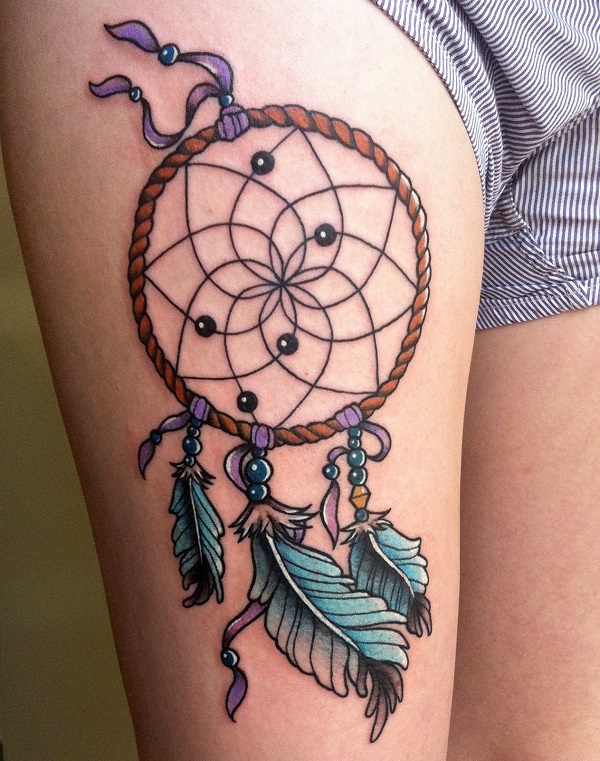 Knotted Feathers and Beads on Dreamcatcher. With the hope of longevity and positive vibes, the feathers are knotted with the dreamcatcher in this tattoo.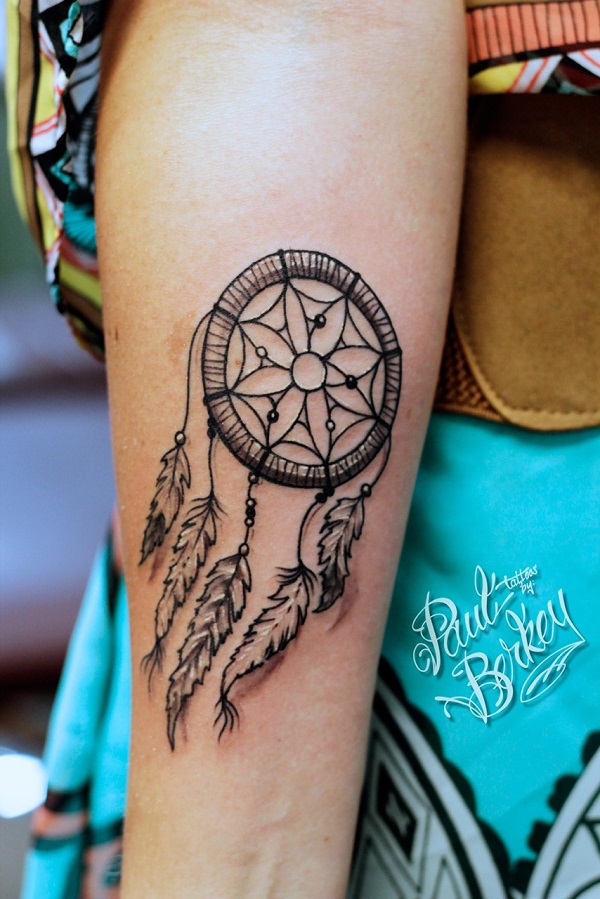 Dreamcatcher Tattoo Design by Paul Berkey. This arm tattoo design looks amazing with feathers hanging.
In summary, when it comes to dreamcatcher designs, there are tons of things that you can go with. You can decide the elements that you want tour dreamcatcher to couple with and also the color combinations, in order to customize your own tattoo with something creative and unique.