Bored of French Tip? Want something casual yet pretty? If your answers to these questions are a yes, then you are at the right place. As a matter pf fact6, white nails are always in fashion, just like the black nails, and they go pretty well with whatever you wear and wherever you are going. Whether it is your elegant romantic date or just an official meeting with formal employees, the classy white nail art designs is what you all need for a classy and overall attractive look.
Previously, white nails were often deemed as boring but now, just like its competent, black, white have become the fashion color now-a-days. Especially, when it comes to nails, white adds life and class to them. Moreover., white is a pure color that goes well with every other color and elements to give your nails an enhanced look. Now-a-days, people are more creative, so they can make more of the white color, in nails.
White Nail Art Designs:
You can choose any color or element with white, depending on your needs, requirements and choices. You can even the change of your nails using this base color, that is more than just a base color. If you don't know what I am talking about, check out some of the best white nail art designs that are more fun than a French Tip.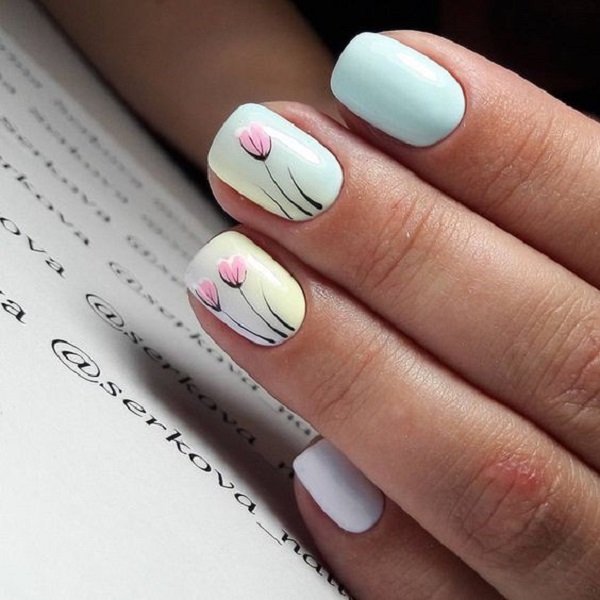 Pink Tulips on White base. These beautiful pink tulips looks effortlessly beautiful and magnificent in the white backdrop.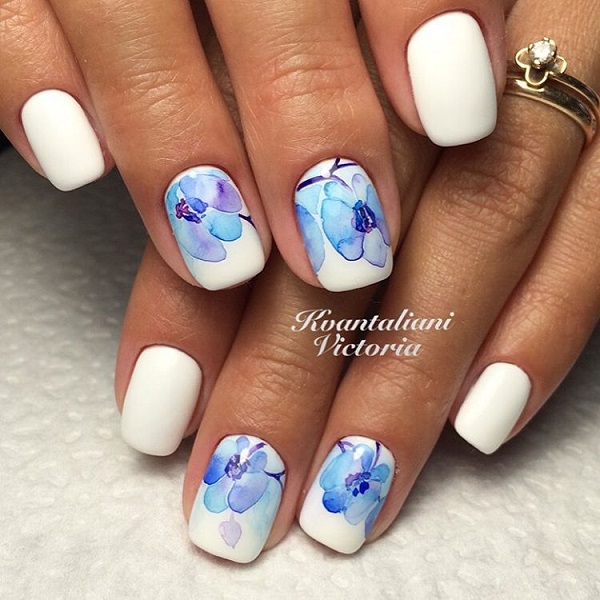 Blue and White Elegant Nail Art Design. More like blue flowers, this blue and white nail art design will go well with your denim days.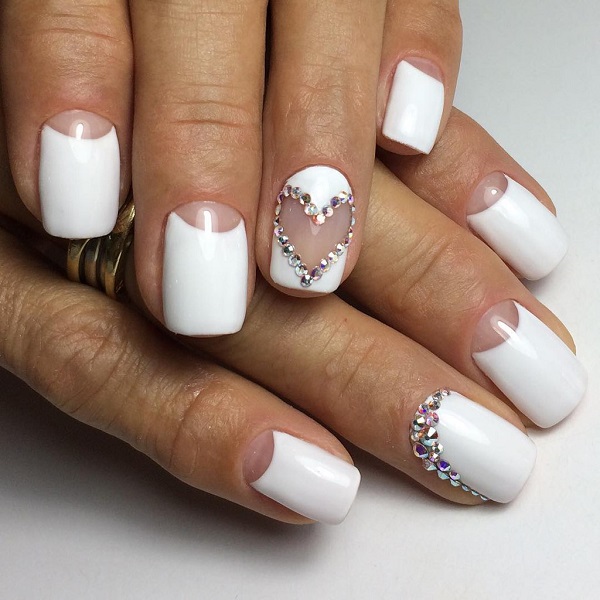 The Rhinestones' Heart on White Nails. If you are going on a romantic date with your loved one, nothing would suit more than this nail art that is enhanced with white rhinestones in the shape of heart.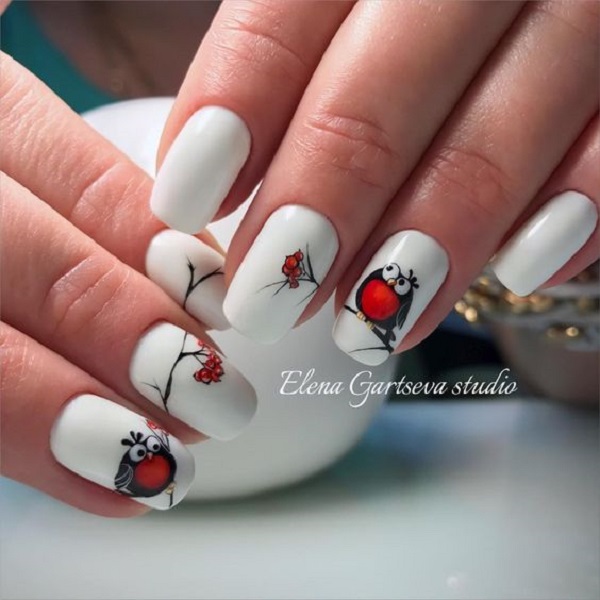 This Cute White Nail Art Design. A cute owl starring at the red cherries will never catch a vision without this white background color.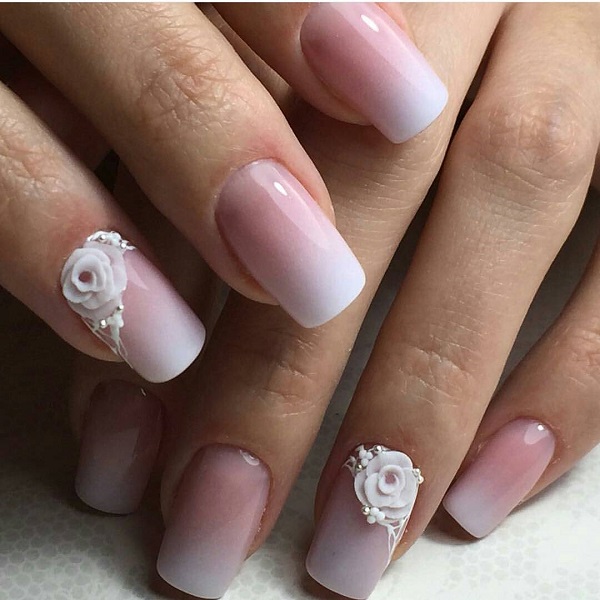 Ombre White Nail Art. A gradient nail art embossed with white flowers is definitely an  inspiration for your formal days.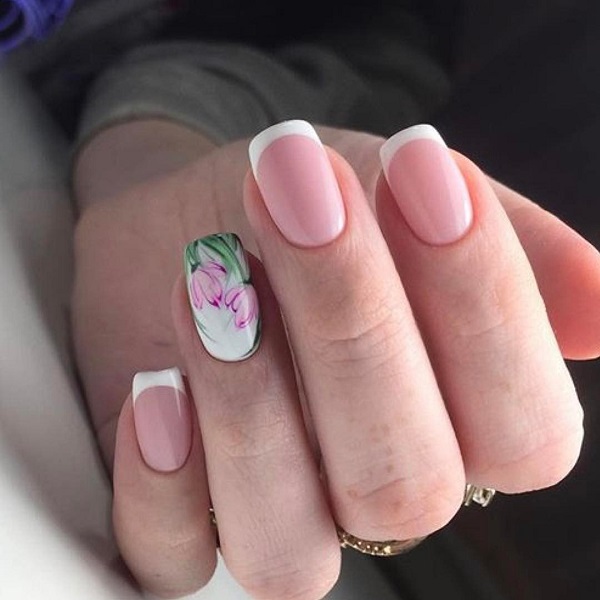 Pink and White French Tip. This one suits best for the working women, who love these girly girls like prints on their nails.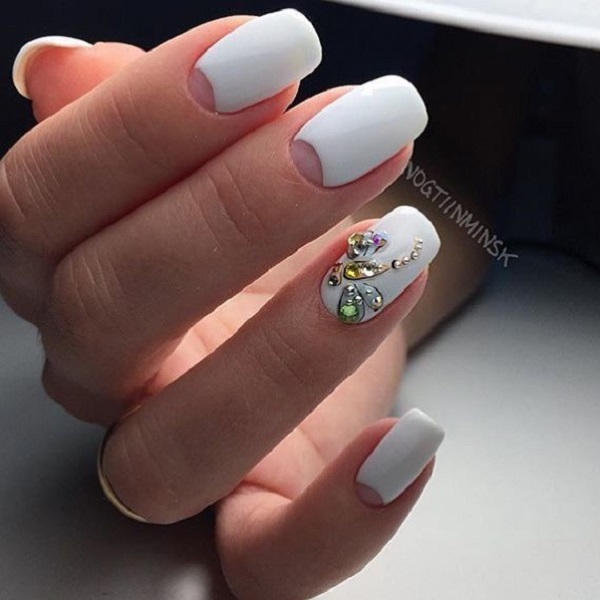 Stoned Half Moon Nail Art Design. Have you tried the half moon nail art lately? If not, then this can be your first half moon nail art enhanced with different shiny elements.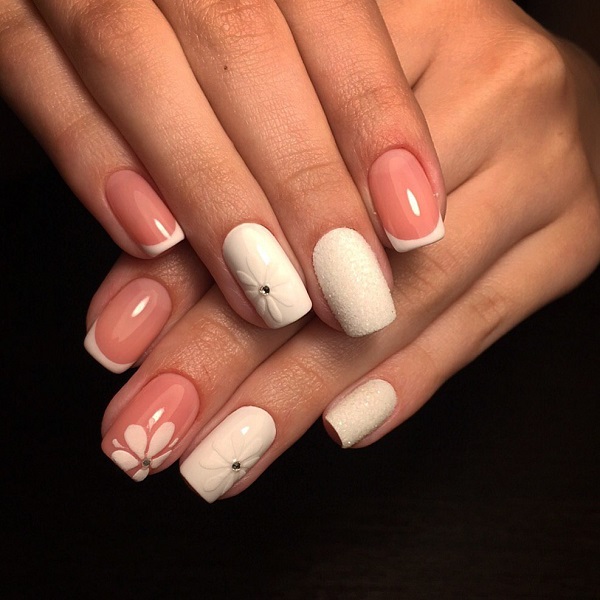 This cute White and Pink Nail Art. A classic nail art with exotic details is next on our list that is worth considering for your casual days.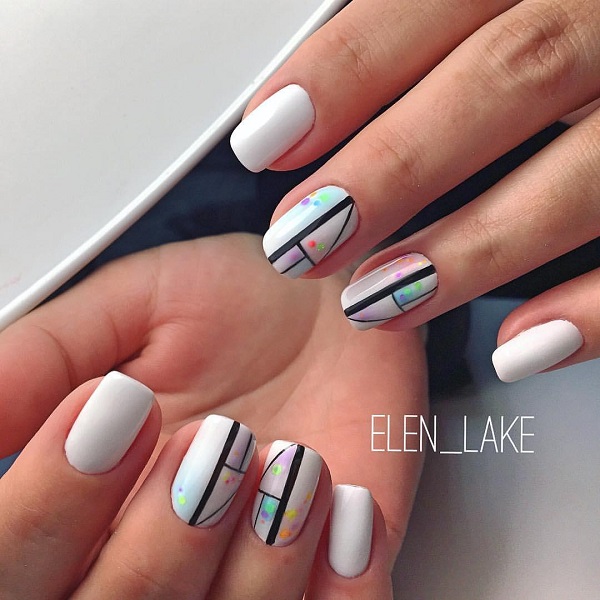 This Patterned White Nail Art Design. Patterned White Nail Art Design is something really easy to do and very classy to wear.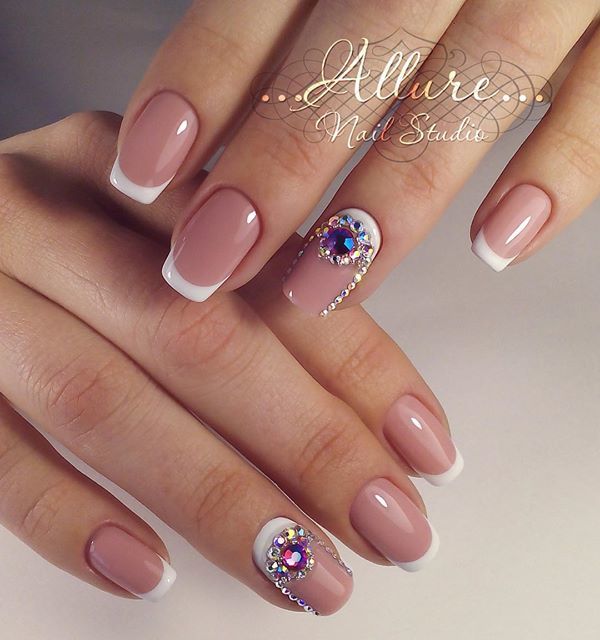 French Tip Decorated with Rhinestones. Bored with the regular French tip? Here's what you can go with.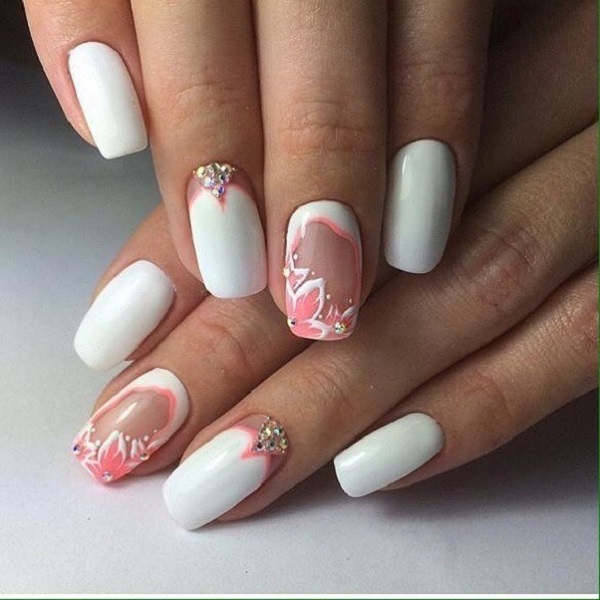 Framed White Nail Art Design. Here is something unique that I bet you had never tried before. This framed white nail art with pink enhancement is really worth trying.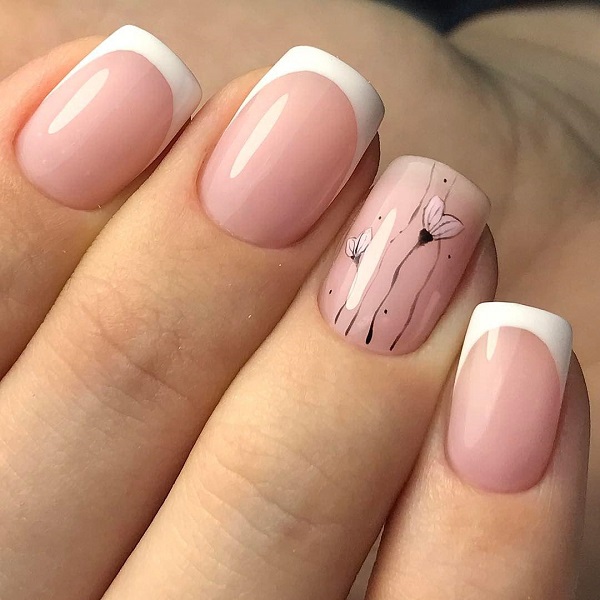 This Nude French Tip. If you love the nude colors and love something really simple yet stylish, this one's specially made for you.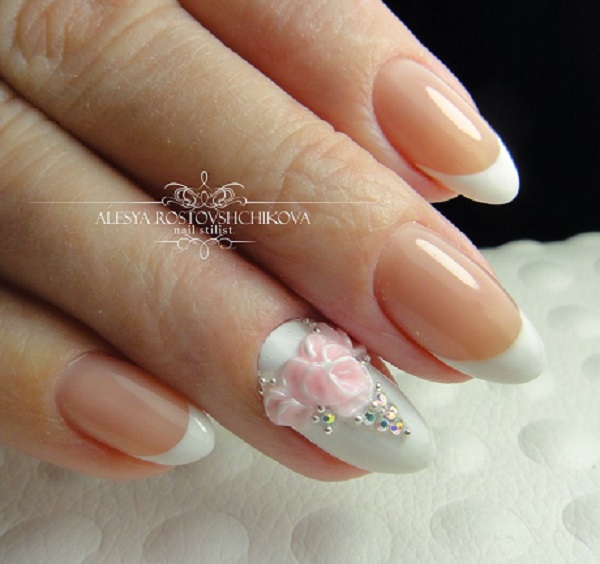 Round French Tips with Details. When it comes to rhinestones or diamonds, white nail polish fits them perfectly. This is more of a formal look so you might wear it with your formal occasions or events.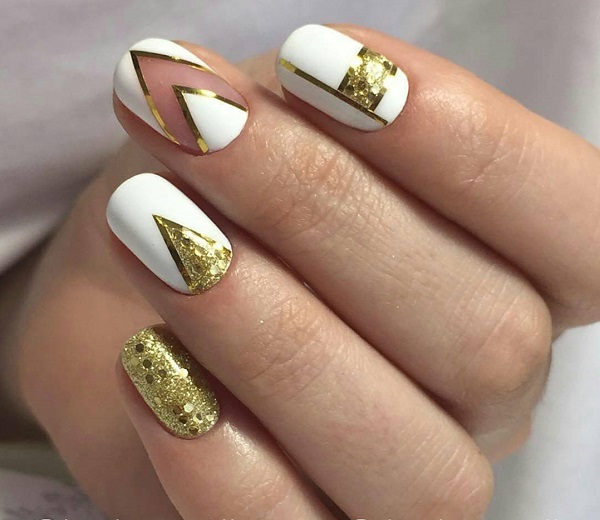 White and Gold Classy Nail Art.White and Gold, ah perfect hue. Well, if you don't agree, see this glittery, sparkly and perfect example of this saying.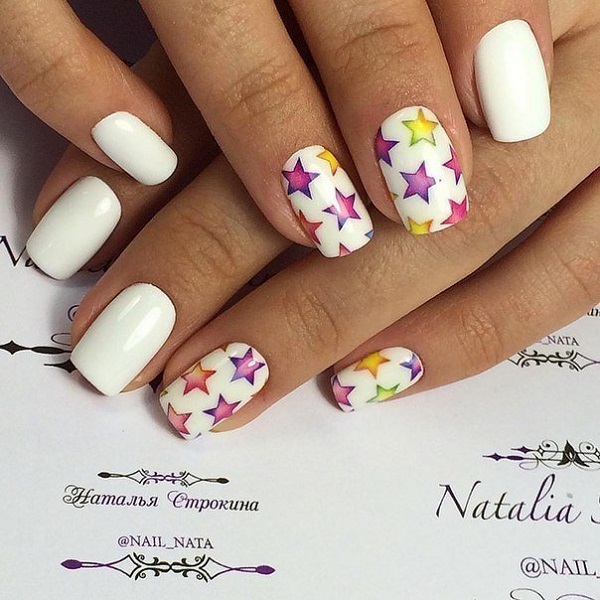 White base with Multi -Colored Stars by Natalia. As said earlier, white is the color that can go with every other color. This multi-colored stars on white base is the best example that you can customize according to your choice, mood and needs.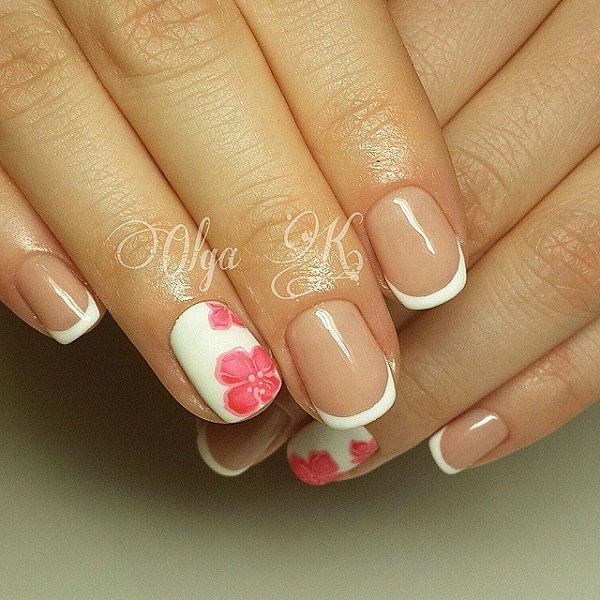 Summer Nail Art. Summer is just arriving and you can welcome this season with this perfect nail art for summers.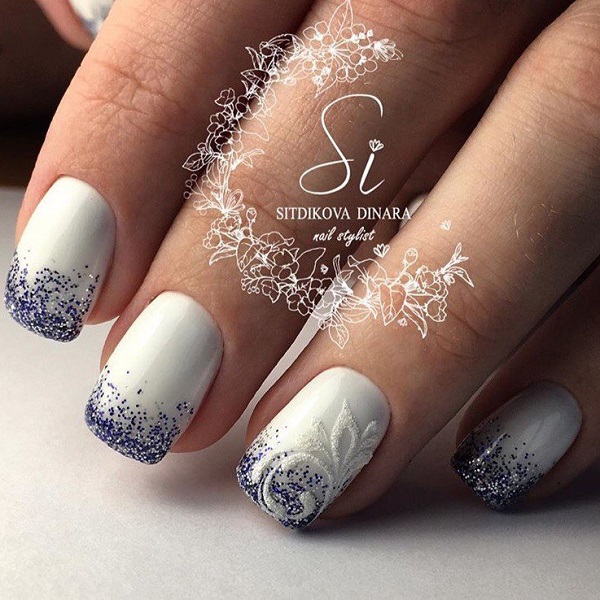 The Blue Shimmered White Nails Embossed with White Vine. Embossed nails are my personal favorite, so I've included a few in this article. This blue and white embossed nail art will definitely catch your mind.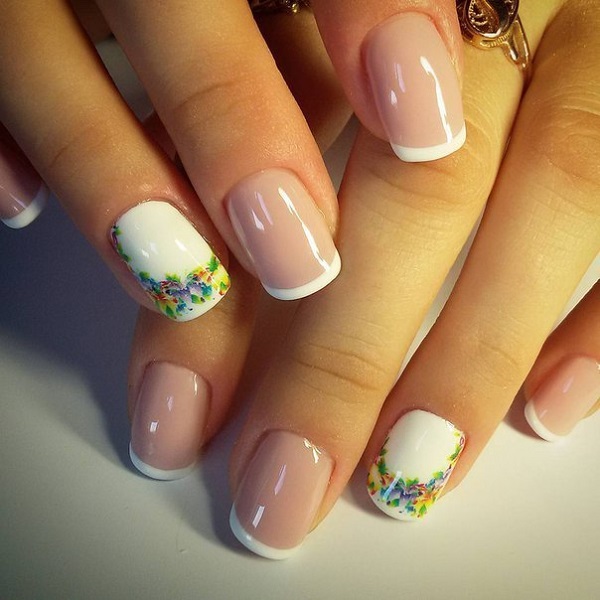 This Elegant Art. The play of colors is what the nail art is about. You can create your DIY version of this nail art design by customizing it with different colors and designs.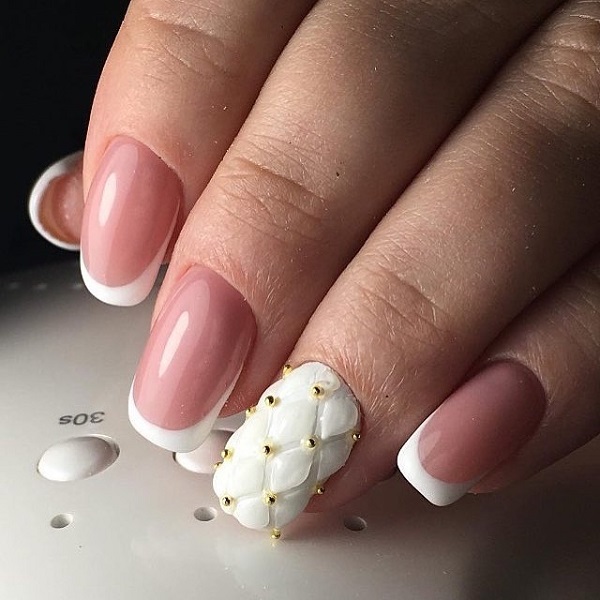 The Studded White and Gold Nail Art Design. French Tip with this studded alternate nails is something attractive yet elegant simultaneously.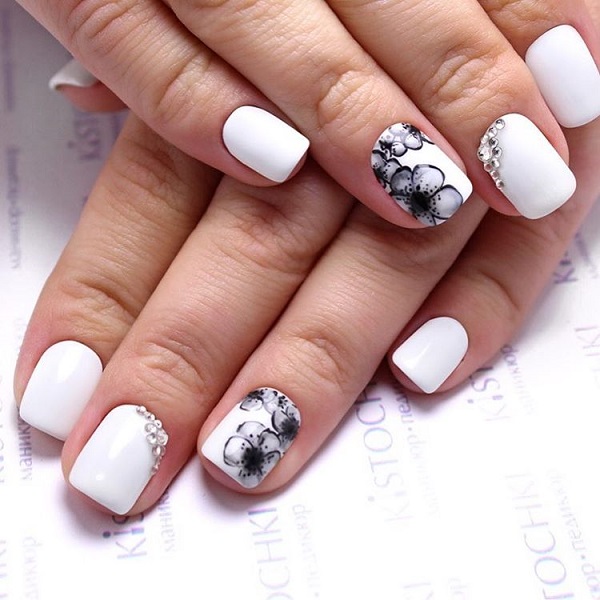 Studded White and Black Nail Art. Most of you own black and white formal dress and in that case, you would definitely need this kind of black and white nail art.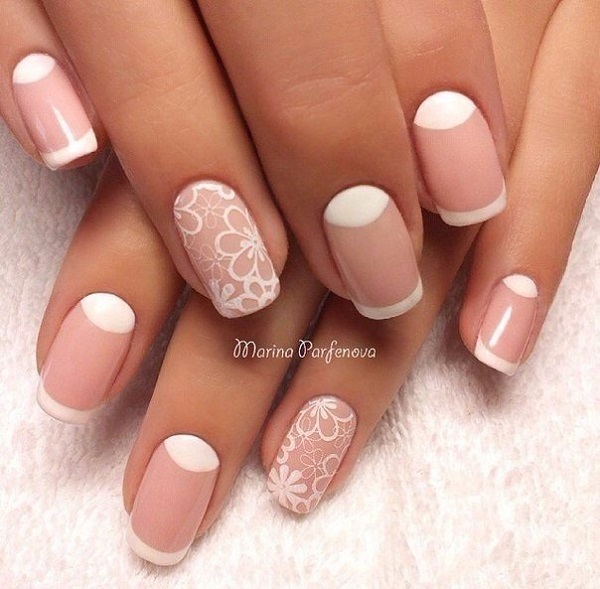 The Glossy Nudes. Transparent nails are in fashion since the few months and here's it is with the combo of white. This simple eye-catching nail art design is a mix of simplicity and creativity.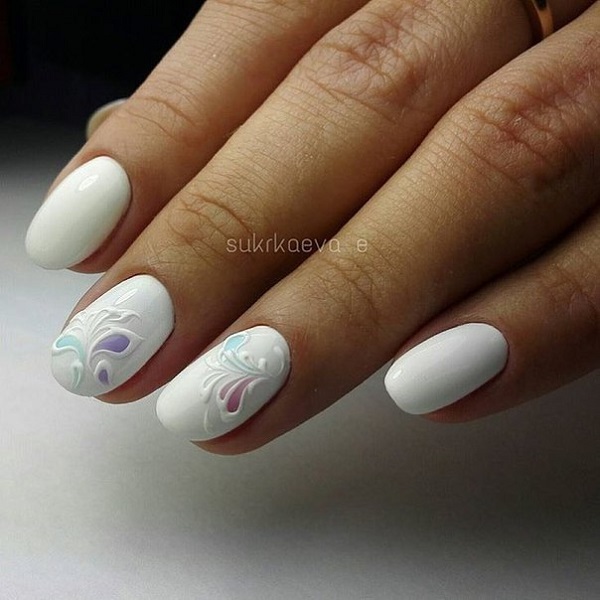 Matte White Embossed Nail Art. Matte white base with different colored embossed butterfly – beautiful.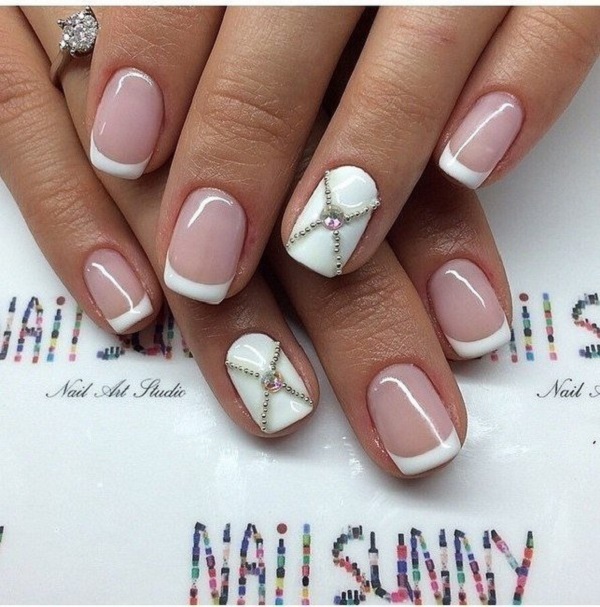 French Tips Studded with Rhinestones. Nothing is perfect than a French tip with a nail studded with Rhinestone and chain.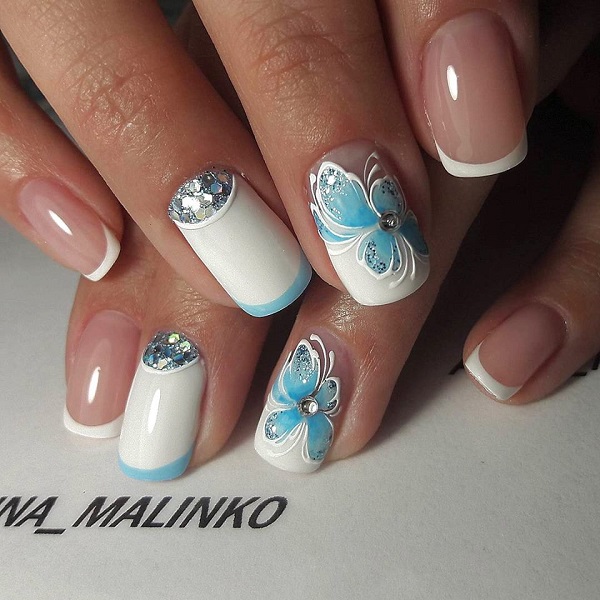 The Blue Butterflied White Nail Art Design. Enhance the look of your nails with this beautifully created white base with the blue butterfly nail art design. This is something new that you can try with your blue and white prom dress.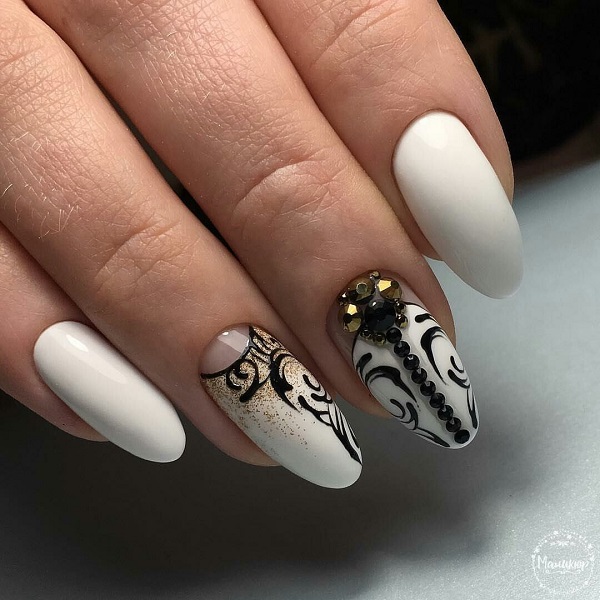 Black and White Studded Nail Art Design. Nothing is more beautiful than a combination of black and white with a spark of gold glitter and studs.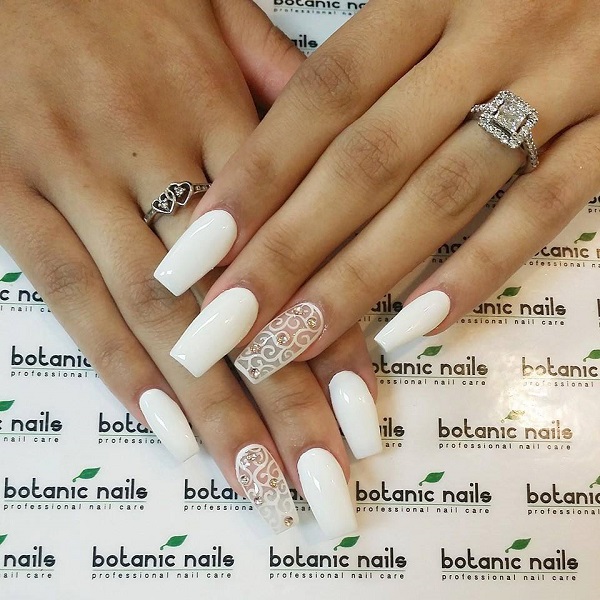 Laced Up White Nail Art Design. Coffin nails are the best to try nail art with. And this laced up white nail art design is perfectly made for your beautiful and elegant coffin nails.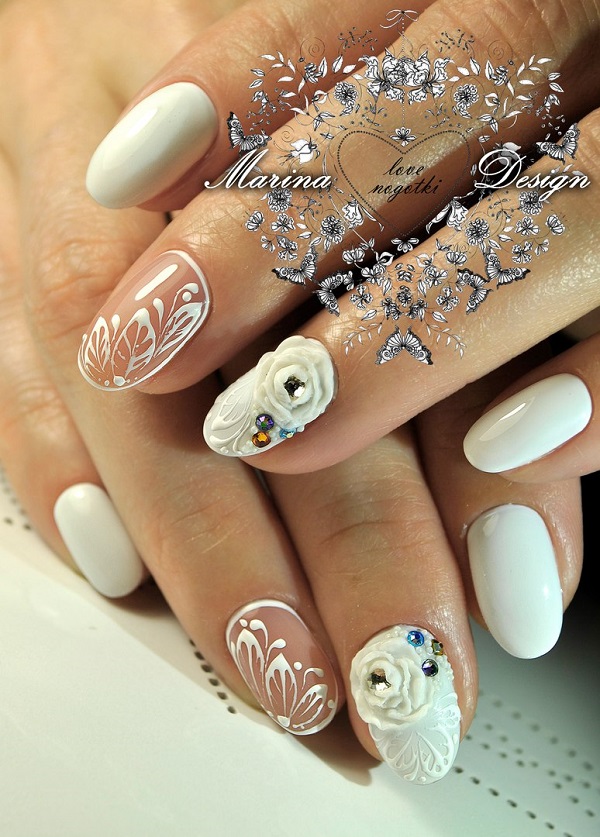 White Nail Art by Marina Design. Instead of painting your nails all white, you can create unique designs with some other elements like the one in the picture above.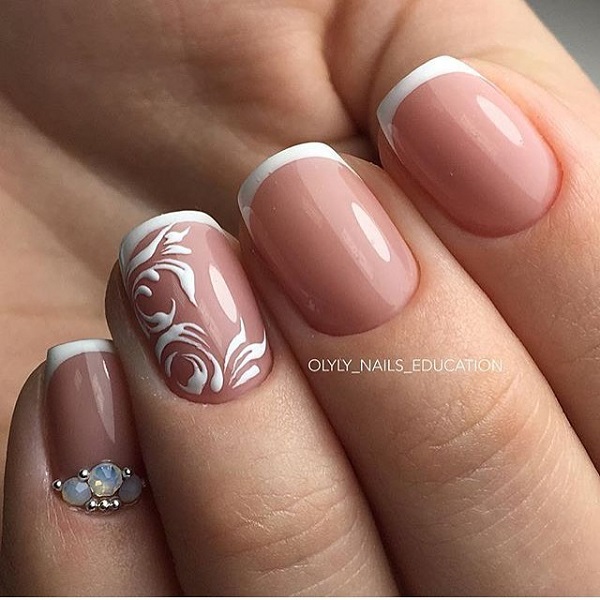 This Unique White Nail Art. You can modify your french tips using your own creativity as well as using this amazing nail art design with modified French Tips. The swirling white design and rhinestones are the great addition to French Tips.
Floral Vine for Short Nails. Facing hard time with short nails? Don't worry, you can go with this amazing floral vine on white base that is perfectly made for your short length nails.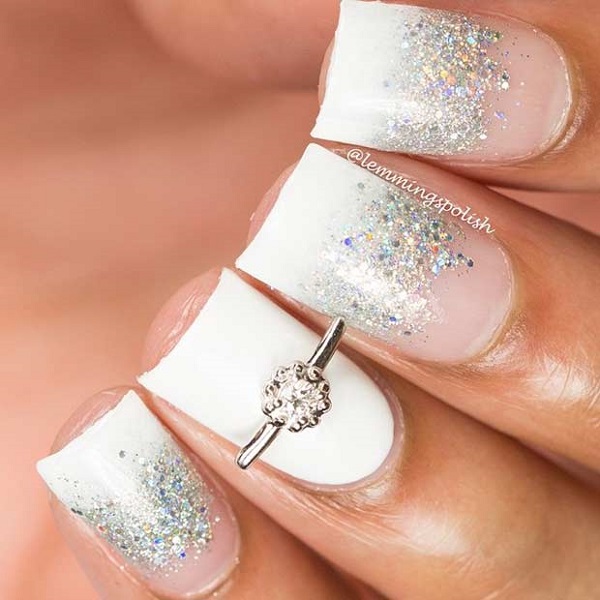 Glittery White Nails for Prom. Prom is really a day to remember. Complete your look for this special day by adopting this amazing glittery white nails with silver stud to impress your partner.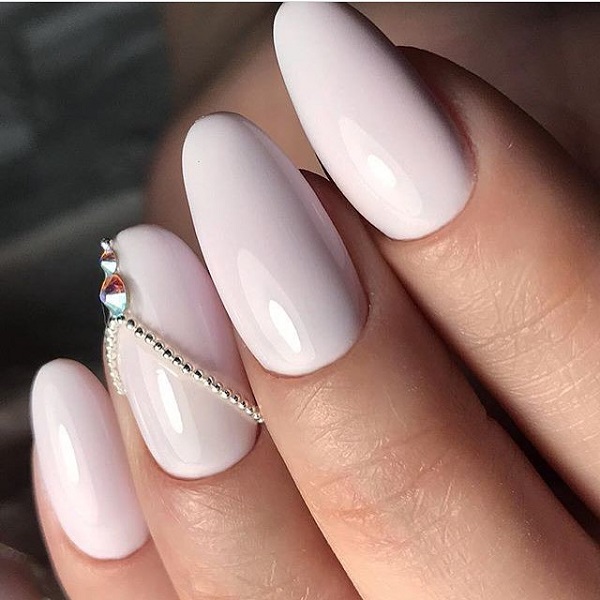 The Glossy White Nails. Keep your look simple with this white glossy nails and a simple stud on a single nail.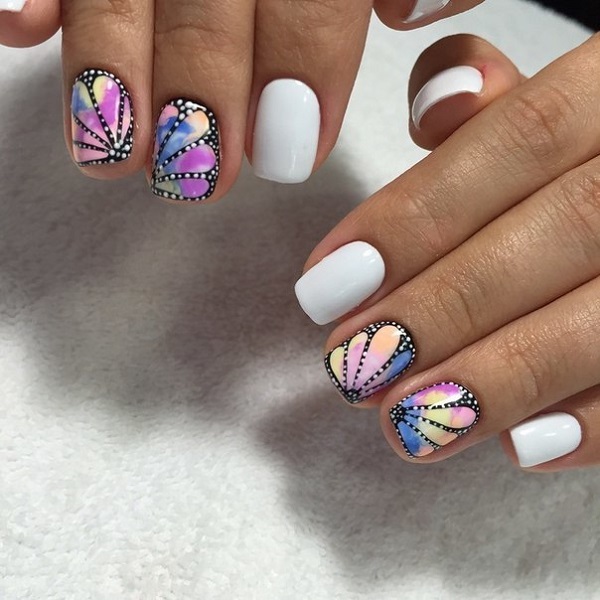 The Spring White Nail Art. Spring is just about to arrive and you can enjoy this season with some preparation on your nails. This butterfly wing is the perfect welcome for the spring season.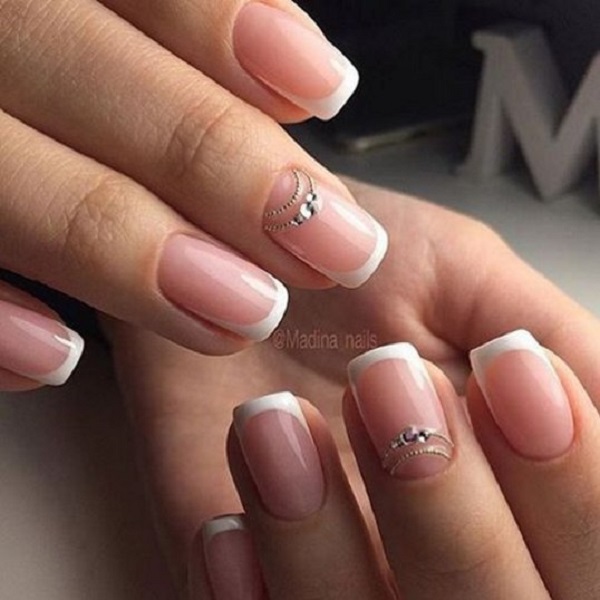 Simple French Tip with Enhancement. Keep it simple with this simple french tip nail art and a unique enhancement.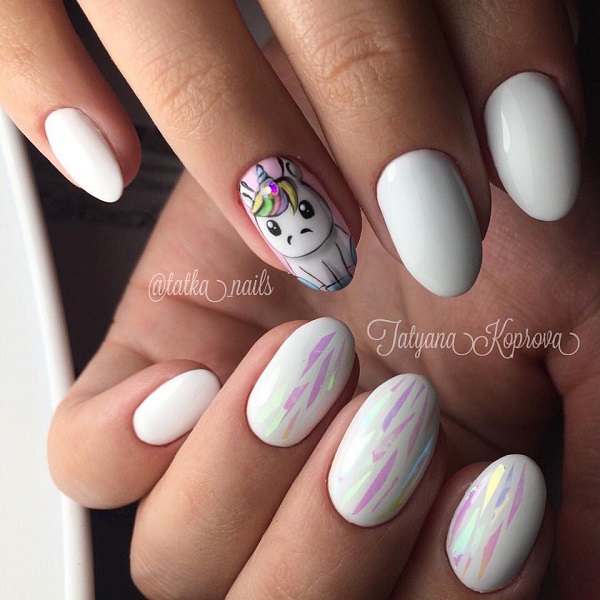 White Cute Unicorn Nail Art Design. For all those girly girls out there, this white cute unicorn nail art is worth trying that can go well with your kitty party outfit or a perfect girl day out.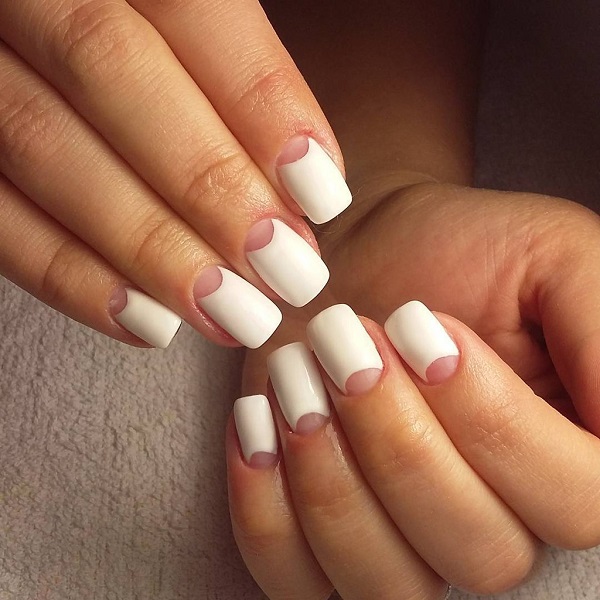 Half Moon Nail Art. If you find no time for those difficult nail arts, then you can simply go with this simple yet attractive half moon nail art.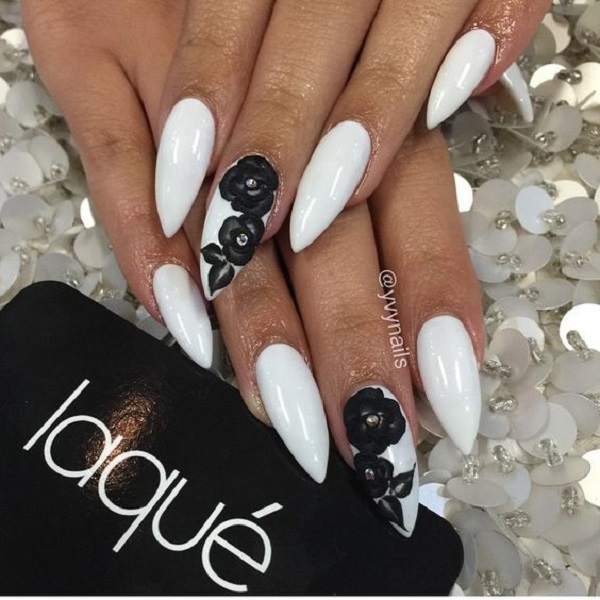 White Coffin Nails with Black Flowers. Enhance your look of your night date with your partner by adopting this amazing floral black and white studded nail art design.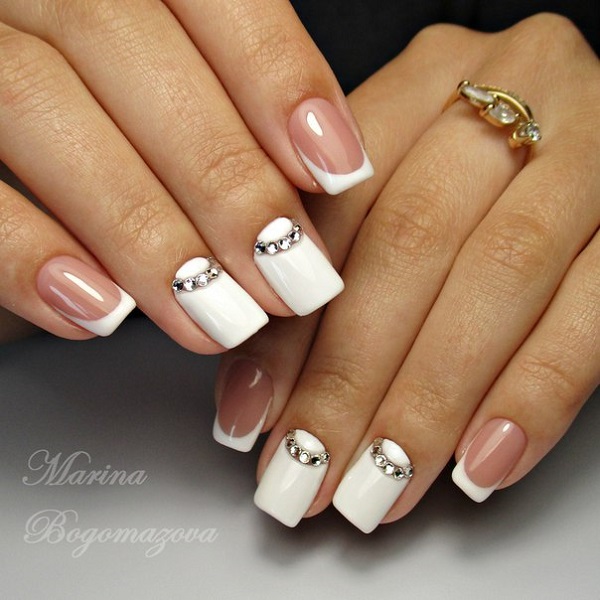 Diamond Studded White Nail Art Design. Diamonds go perfect with the white nail color and when they are placed in special order, they go from perfect to something extra-ordinary.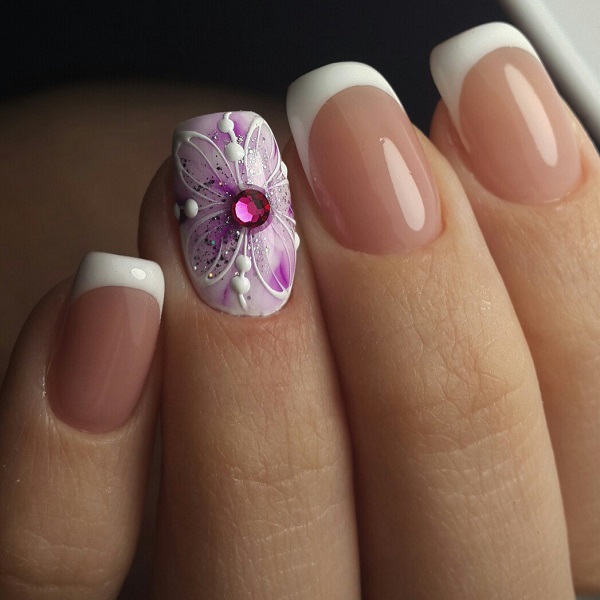 Purple and White Nail Art Design. Spruce up your boring nails with this addition of of purple color and pink stud in the middle of the nail along with French Tip.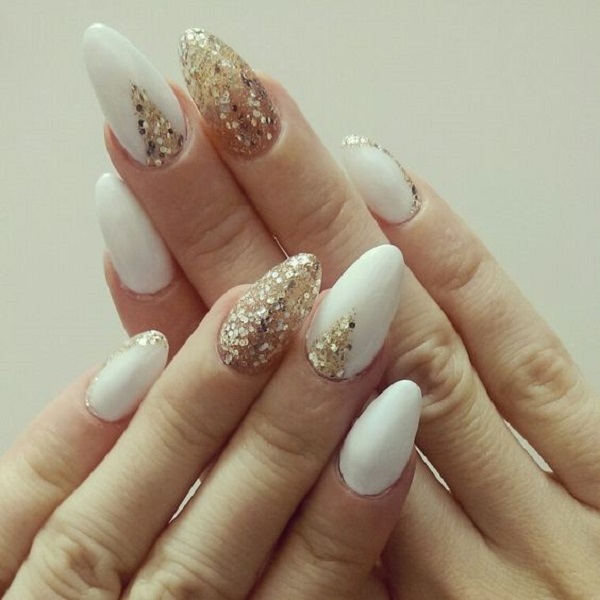 White and Gold Glittery Nail Art Design. Go bold and elegant with your nails using gold glitter on white base. Or you can just change the pattern of leaving gold on the nails, just like the way you like.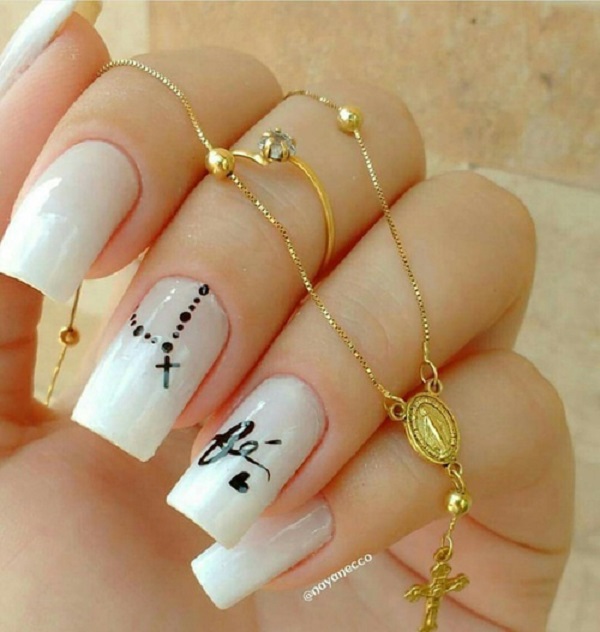 The Holy White Nail Art Design. Go strong with the accessories , go feminine and Love your God!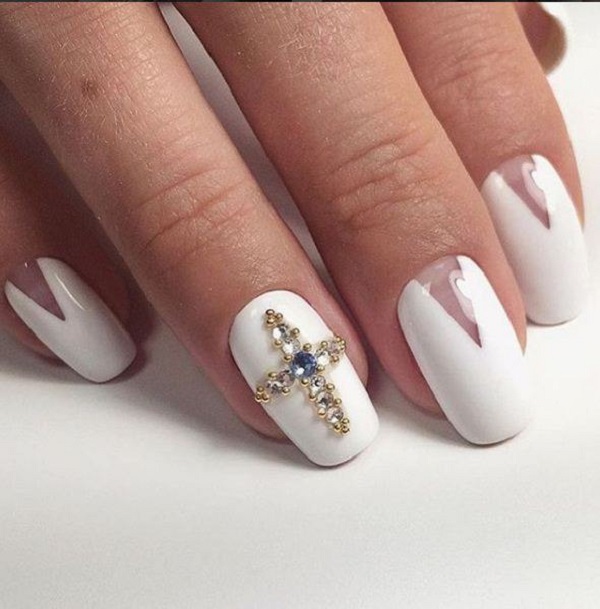 Crossed White Nail Art Design. God is pure, so the white nail color symbolizes. Stud up your white pure nails with the beautiful cross to show your love and spirituality towards your God.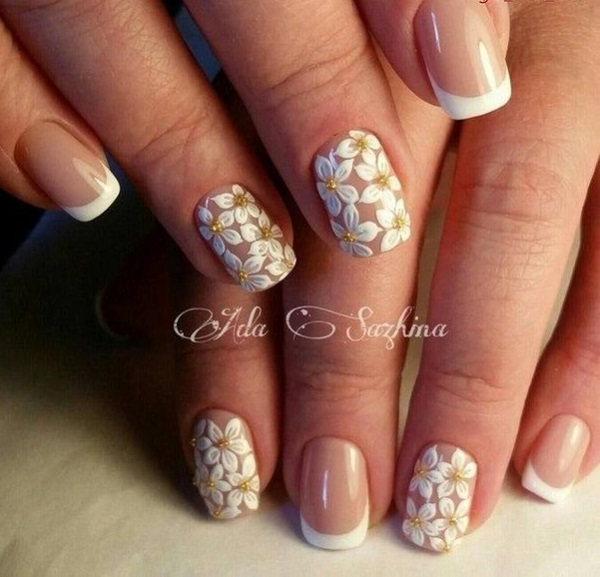 White and Transparent Floral Nail Art Design. If you think French Tips are too old to try, you can make it a little classy with this floral and studded design.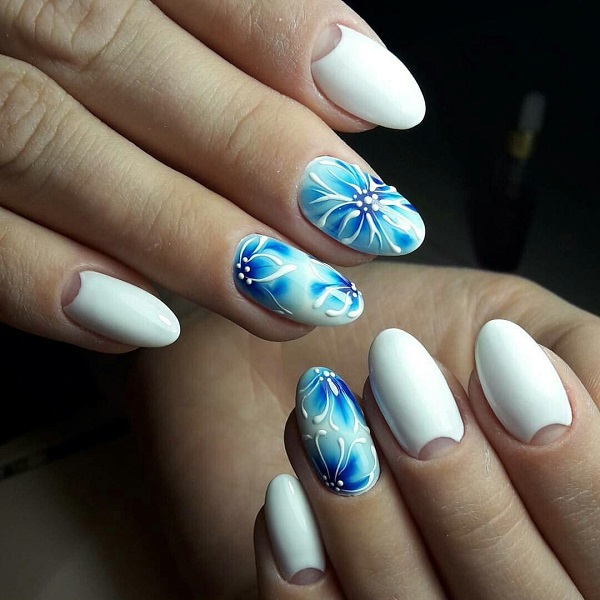 White and Shades of Blue. If you don't like white going alone, combine it with different colors and make your nails looking gorgeously perfect with your every outfit.
Alternate White Nails. Here's the next embossement design that you can carry either on your prom or on your wedding day.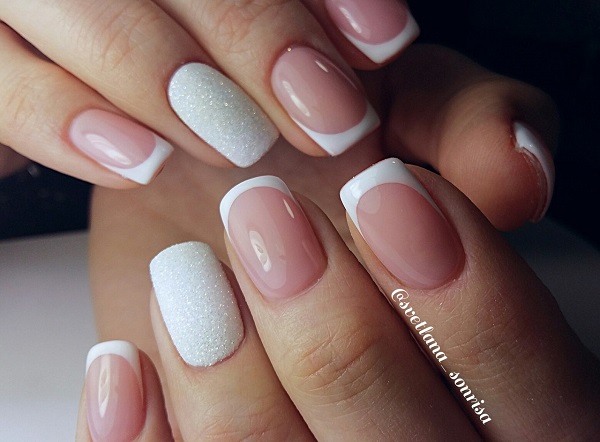 Sugar-y White Nails. For all those sugar people out there, who love to spread love, this nail art is best made for them.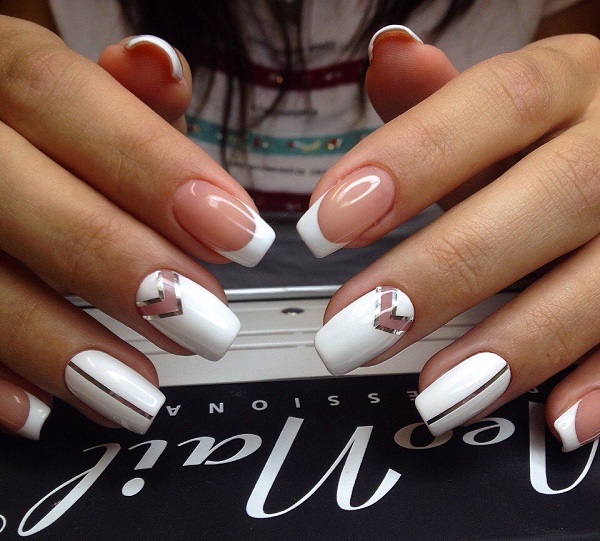 Classic White Chevron + Stripped Nail Art. Chevron and stripes never go out of fashion. So make your nails a bit of stylish and wear this nail art design with a spark of gold.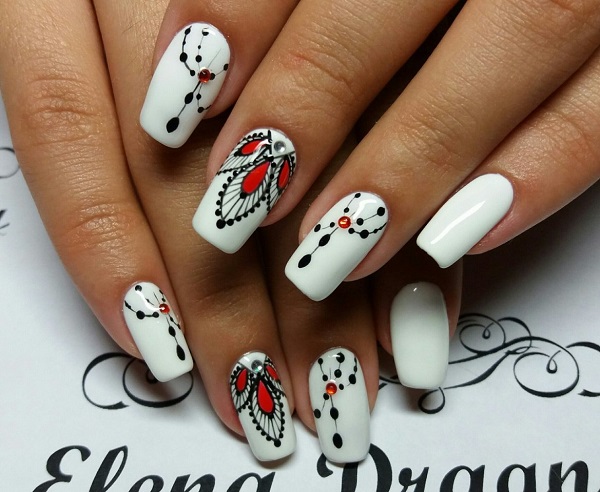 Sizzling White and Red Combo. White when coupled with red gives a sizzling hot combo, that cannot be resisted by anyone. Try this nail art and you'll agree.
That Simple French Tip with Half Mooned Nails. Go simple and be attractive!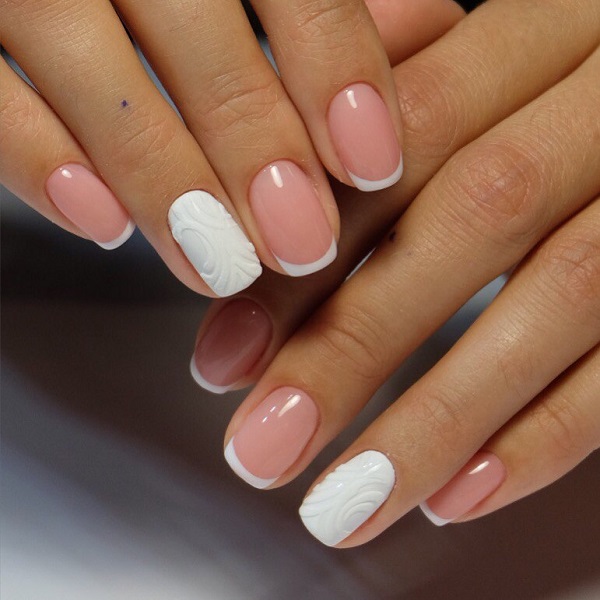 Nude Pink with White Embossed. Another embossement is on my list. Combine the white color with the nude pink and add some enhancement to increase its looks.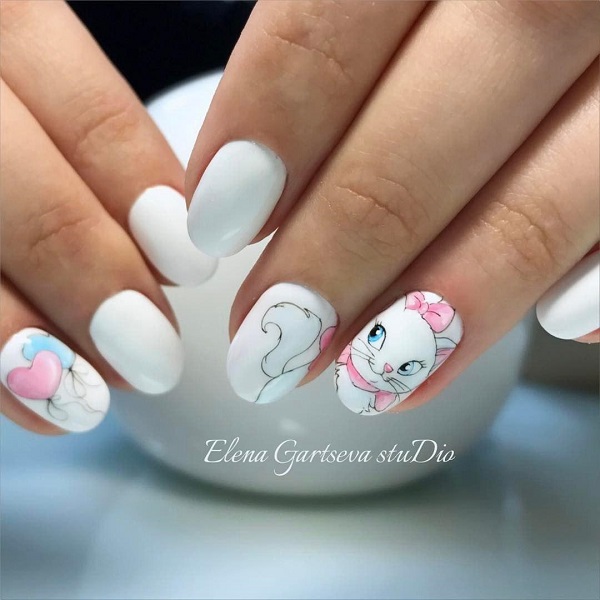 Aristo Cat Marrie Nail Art. If you love Aristo cats and Marrie is your special favorite character, then you can wear its nail art. This cute nail art is truly eye-catching.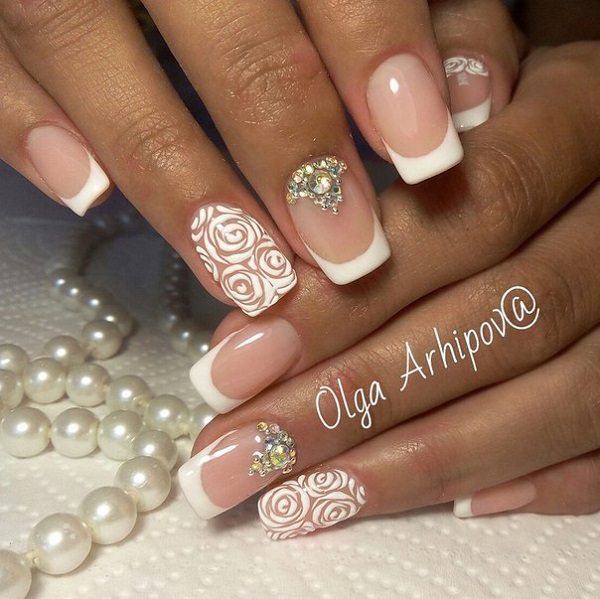 The Round and Round White Florals. Create your own fusion look of your nails using the swirling flow of brush. Add your creativity and you are done with this amazing nail art design.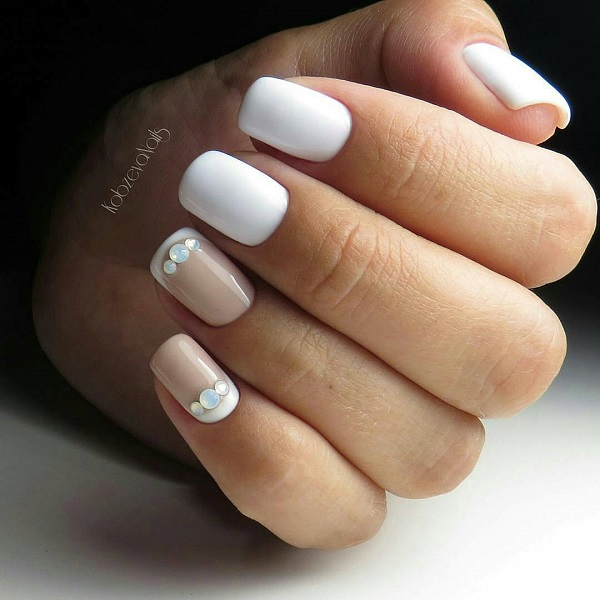 Elegant White Nail Art. If you want to keep it simple, try this amazing yet elegant white nail art design, that can go perfect with your casual and as well as formal events.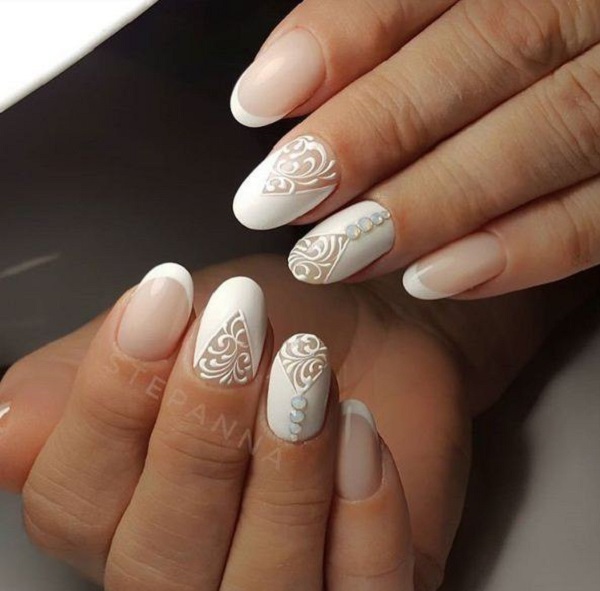 Classic White Studded Nail Art Design. Create your patterns and stud it up using different studs.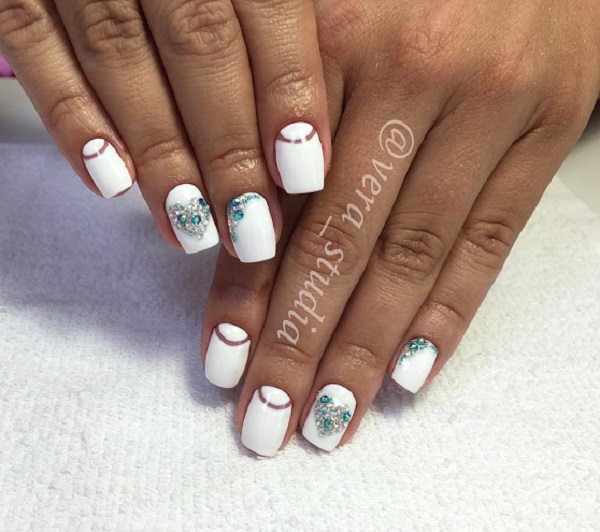 Studded Heart on White Base. Heart is the best and easy thing to draw, whether its on nails or on paper. So draw a heart on your white based nails and fill it up with blue and silver diamonds (or whatever color you like).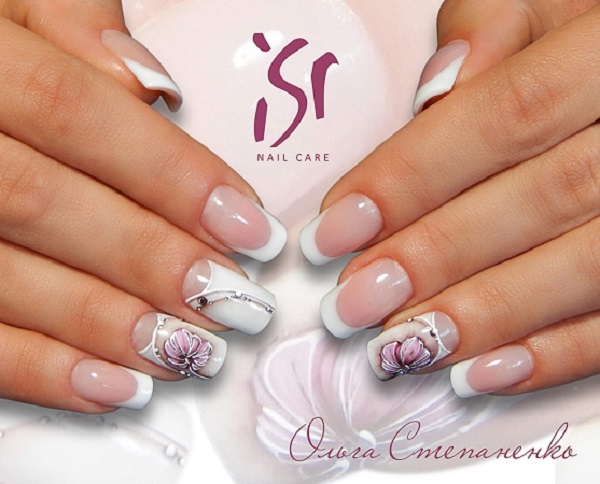 This Double Shaded White Nail Art. Coupling white base with a dull colored flower is another trick that all those celebs use to add elegance to their look.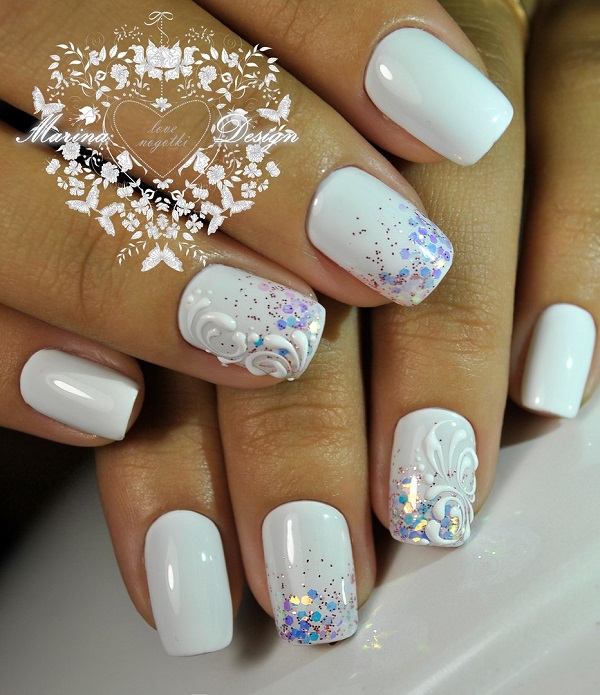 Another Elegant White Nail Art by Marina Designs. This embossement is best for your prom look or for any other formal event.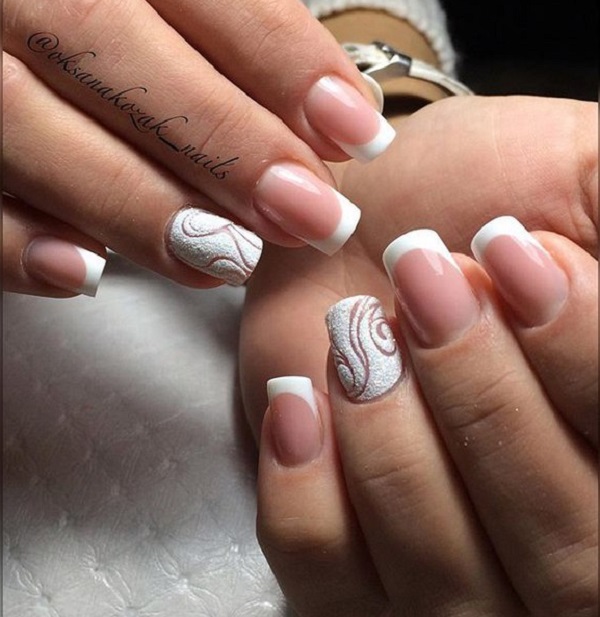 Unique White Glitter Work for Mid Length Nails. Glitter is what that makes your look formal. Just add some glitter to your simple French Tip and go formal within 5 minutes.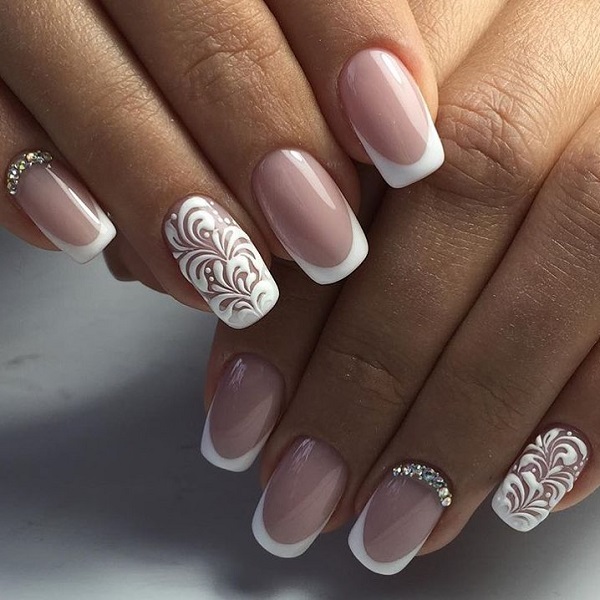 This Lace Work. Spruce up your look while wearing your white lace dress by trying this lace work nail art and stud it up to complete your look.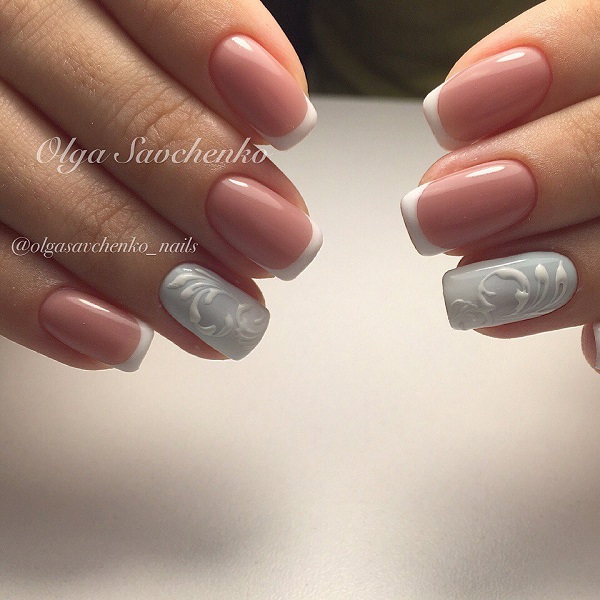 Grey Nails with White Embossment. This perfect regal design is for all those people who want to feel a sense of royalty.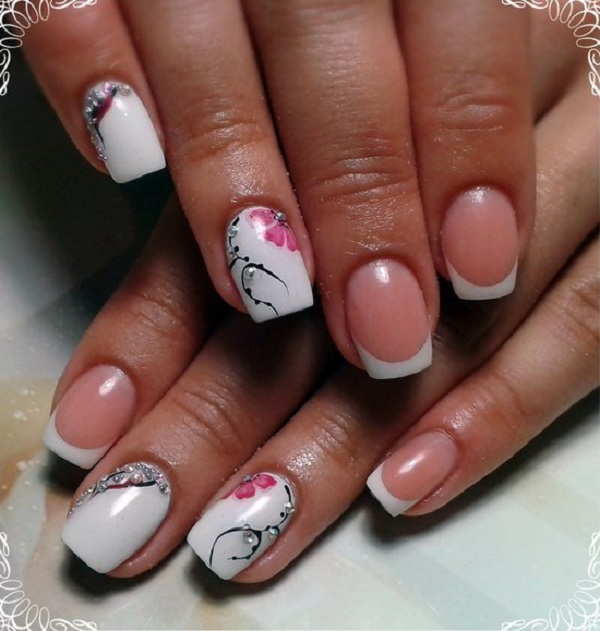 Diamond Studded Pink, Black and White Nail Art. This pretty pink enhancement to white base color will cease to make you feel relaxed and more feminine. That's what floral and studs do for a woman.
Recreate these nail art designs or just customize them according to the way you like, to feel good and confident. These, some traditional and modern white nail art designs are pretty much classy to try. Try these out and do mention your favorite out of these 60 in the comments below.