Welcome the spring with colorful and beautiful nail art designs
What better way to spend your time that painting your nails. The beauty of painting nails is that you can change them every few weeks and can also be seasonal. Therefore if you're someone who loves getting into the trend and trying something new then you should definitely start getting into nail art.
Speaking of being in tune with the season, spring is almost around the corner and it may be about time that you look up on some of the interesting spring nail art designs that you can possibly paint for yourself. Spring is always the start of new colors and brighter tones, you may have loved your winter nail art but there's simply nothing like welcoming the new season with bright and pretty nails. Of course you would be very excited to go outside after being stuck inside your home for a long time.
Worry no more since below is some great spring nail art ideas that you can recreate for your own nails.
You can start with the French Tips
This design is truly classic and well favored by all. No matter how long the French tips have been around they are always one of the favorites in the nail design world. The great thing about French tips is that you can easily customize them into any color combination that you want. For spring for example you can change the regular white French tips with bright spring colors. Why not try the rainbow colors as a nod to the new season? Decorate your nails in red, blue, green, orange and more colors of your choice. They will look fun, vibrant and even give you a younger feel.
You also have your Popsicle Ombre nail art
True to its name, the Popsicle Ombre nail art looks just like that cool Popsicle that you love eating on the hot summer days. Now you can enjoy looking at them on your nails. If you are familiar with how Ombre nail art works then you may have an idea on how to make the Popsicle Ombre nail art design. This doesn't however mean that you need to follow the Ombre technique, the popsicles follow the same three or more color rule but you need not blend them together. Rather have them set solidly on their own, only do a little blending with the sides recreating what a frozen popsicle looks like when water starts melting the colors into each other. The blend will depend on what style you want, it can be light or heavily blended. Just make sure to let the solid colors remain or it will end up looking like Ombre.
Intricate Outlines
If you are feeling extra artistic then you can always play around with intricate and well detailed outlines. This kind of design is pretty popular because of how they look so detailed and well drawn on the nails. You may need help from special brushes or items for some of the designs that you wish to replicate on your nails. Practice on a design that you love or look for references especially on the theme you want to work on. The most popular concept is drawing flowers with ling stems intertwining with each other in the form of silhouettes. You can recreate this by creating random curved lines that connect with each other. For this to work you will need to prepare you canvass and color it well, your nails are the canvas and you should choose a appropriate base color to serve as the background.
Then you have the Foil Flecks design
If you are a fan of foils or metallic hints on your nails then you could definitely go with this style. Begin by painting your favorite bright colors unto your nails. You may have a theme for your nails so you can definitely go with it. It doesn't matter if you're doing a colorful French tip or an abstract design, anything can look good with a few foils on top. The key is creating a good base design as you will use the foil as an accent on top. The foil should be in small flaky shapes for a better effect. You can choose from silver or gold foils or any type of color as long as it complements with your base color or design.
Simple and easy nail polish design
If you're not that confident or ready to take on the more complicated designs then you can always go for the simpler ones. One of those is the double color. You don't even need a lot of layers for this design; just two. You will only paint two layers on your nails and you are done. Simply pick two nail polish colors of your choice and paint them on your nails side by side. This gives your nails a variety of color in just one layer. You can choose another pairing of colors for another nail or you can paint your two original colors alternatively on each nail. Then you paint on the top clear coat and you're done! Simple, easy and fast!
Aren't these spring nail art ideas great? There are more that you can actually do, depending on the level of commitment that you wish to spend on your nails or what you think you can recreate best. Always remember that practice makes perfect and you can surely paint that dream nail polish design of yours when you have practiced enough and gathered references that you need for the design. Greet the spring with a wonderful new beginning and a new you.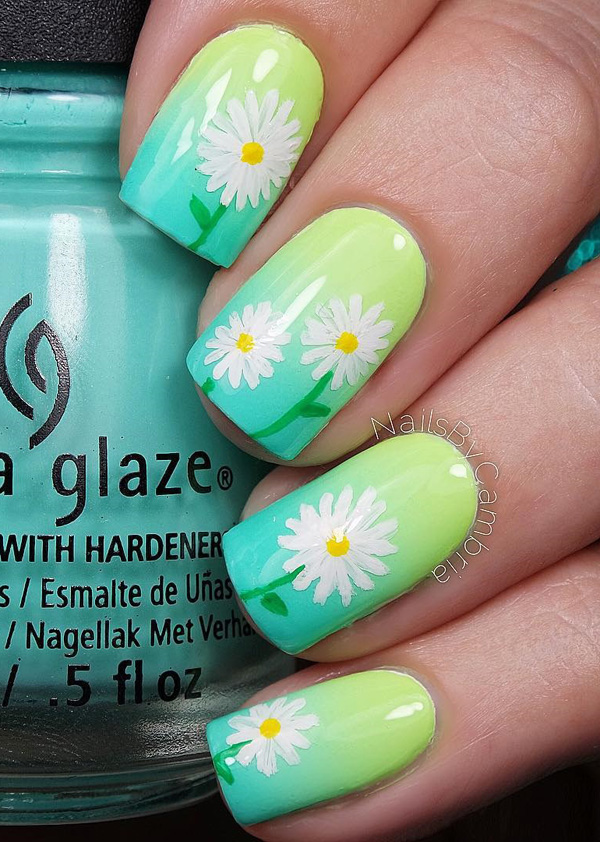 A very pretty spring nail art design. Starting with a green gradient base color, white flower details are then painted on top. This creates a warm and vibrant vibe for your nails.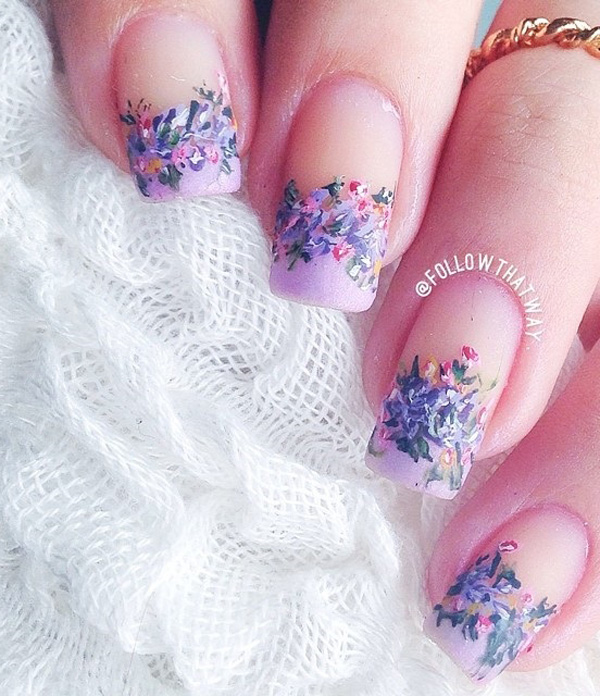 Flower inspired French tip spring nail art design. The flowers are in periwinkle theme and are crowning the French tips making your nails look really pretty and cute.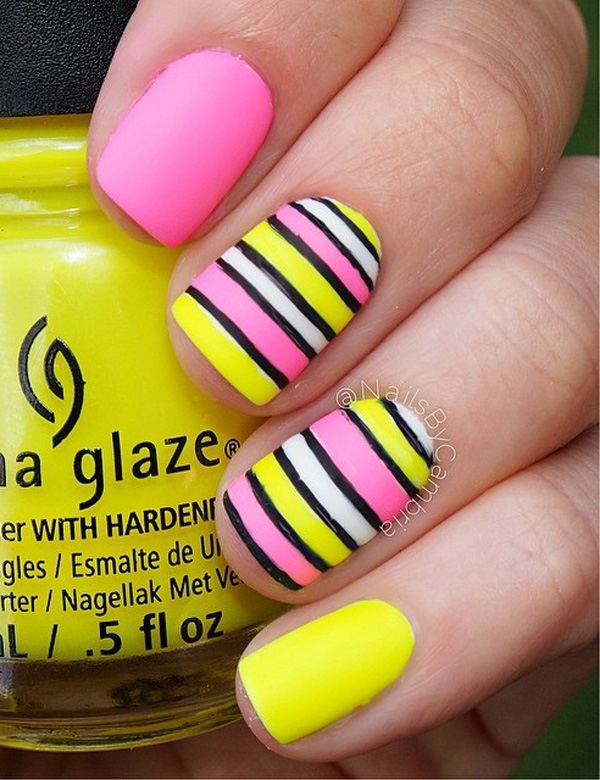 Yellow and pink themed spring nail art design. The bright and bold colors definitely speak of spring with the help of the thick black lines you can make a striped alternate color combination.
Source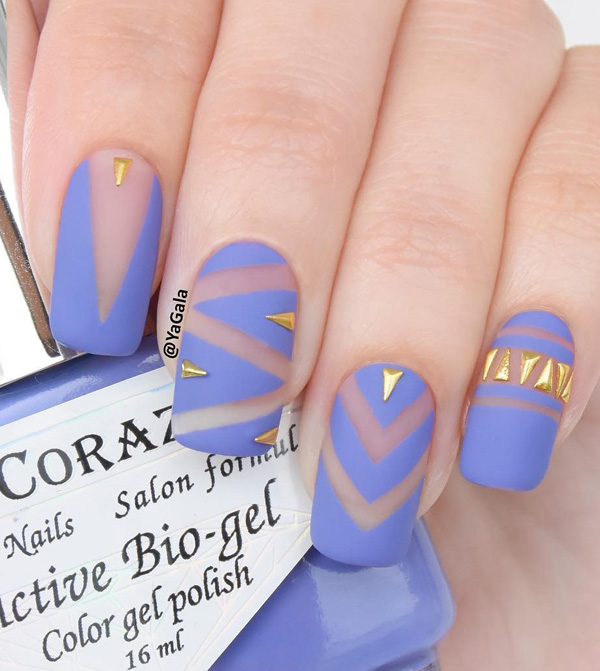 Sheer and gray blue spring nail art combination. You can play along with the blue gray polish and give it a zigzag effect, add gold embellishments on top to complete the look.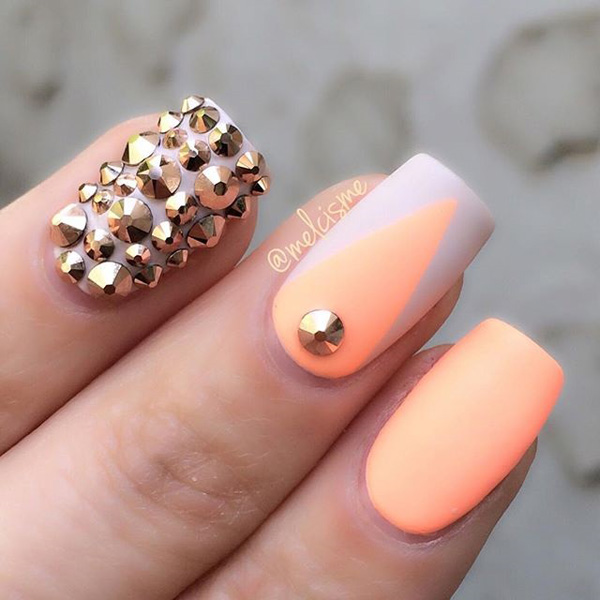 White and melon theme spring nail art design. Combine the bright melon polish with white nail polish to create that fresh look. You can even add gold stud embellishments on top for accent.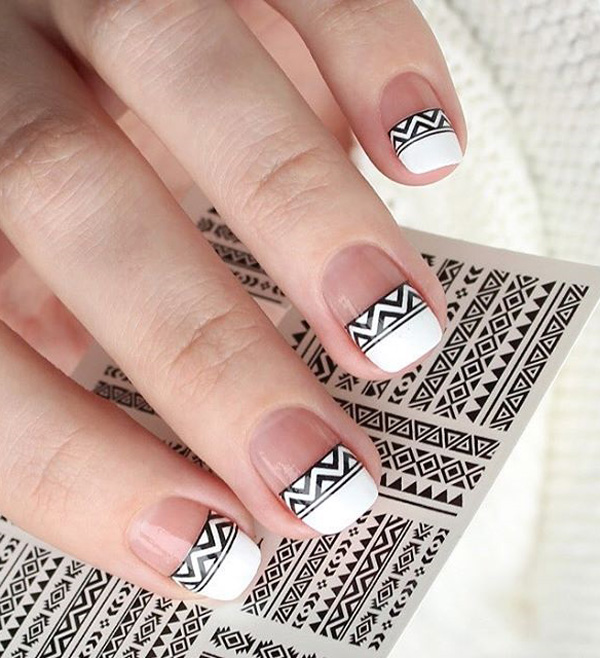 Black and white tribal inspired spring nail art. Make your French tips as interesting as ever with this tribal themed design in black and white nail polish.
source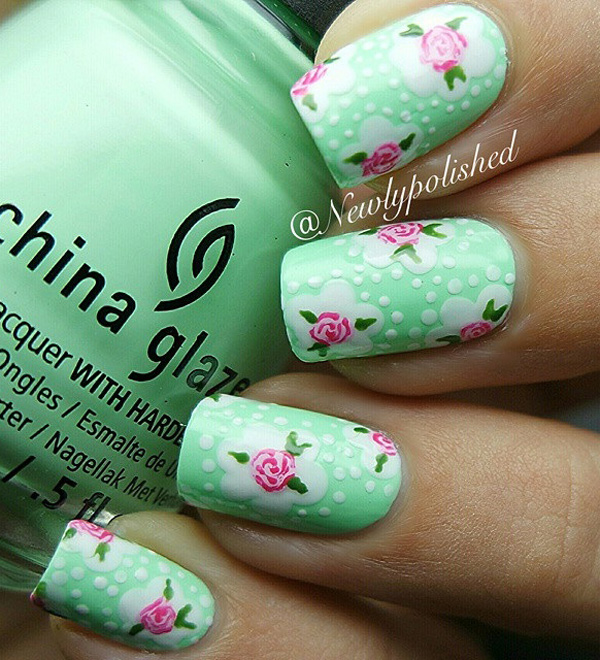 Pink roses on a sea green polka dot base color. A wonderful looking spring nail art design that you can paint when you want your nails to bloom along with the spring flowers.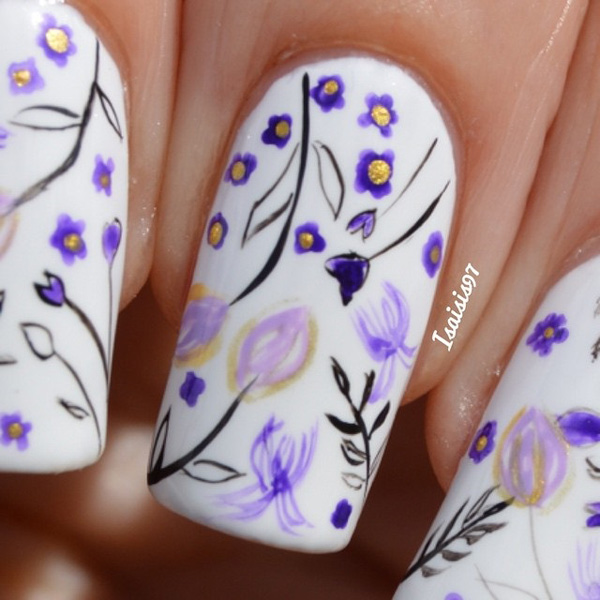 White and violet inspired spring nail art design. Coated with a white base color, simple and cute drawings of violet flowers with black outlines are painted on top giving the nails a cute and homey vibe.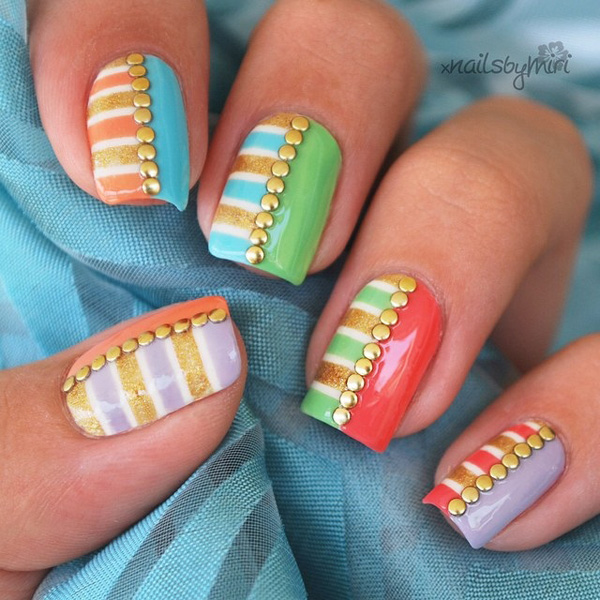 Adorable pastel inspired spring nail art. Pastels are definitely the colors of spring. You can mix them up into various designs with the help of white and gold glitter polish with gold beads on top for effect.
source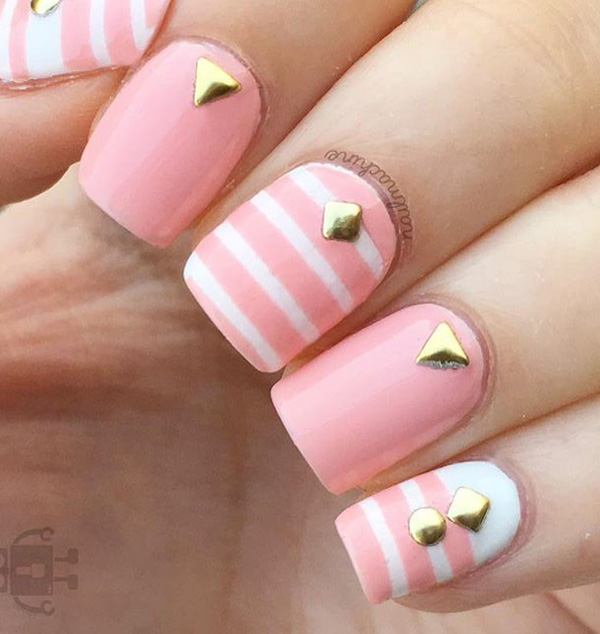 Cute baby pink and white spring nail art design. Give your nails that fresh new look as you welcome the spring. To make the light colors strand out add gold embellishments on top as accent.
source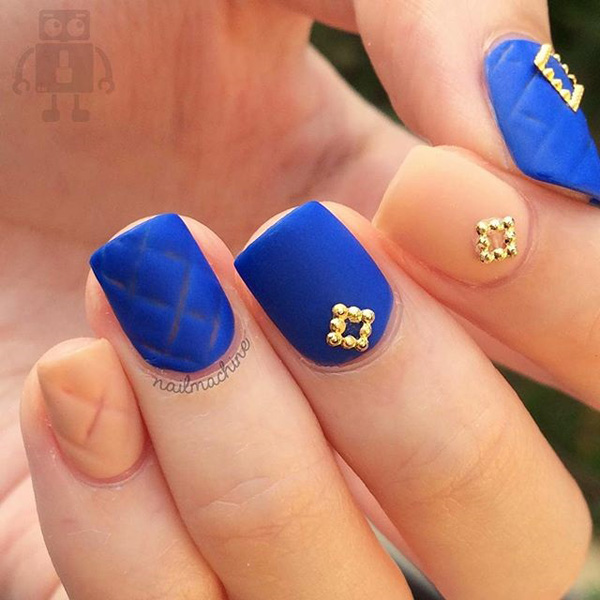 Royal blue and nude spring nail art design. Make your regular laid back color combinations stand out with help from gold beads as embellishments and a bit of style on the nails.
source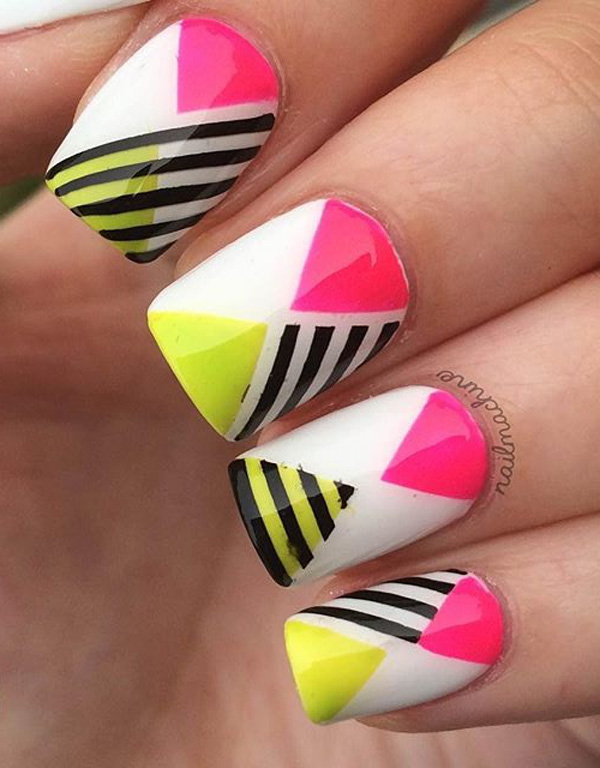 Amazing abstract themed spring nail art design. With help from vibrant colors such as yellow and pink with black and white stripes, your nails will look like they jumped out from a crazy party.
source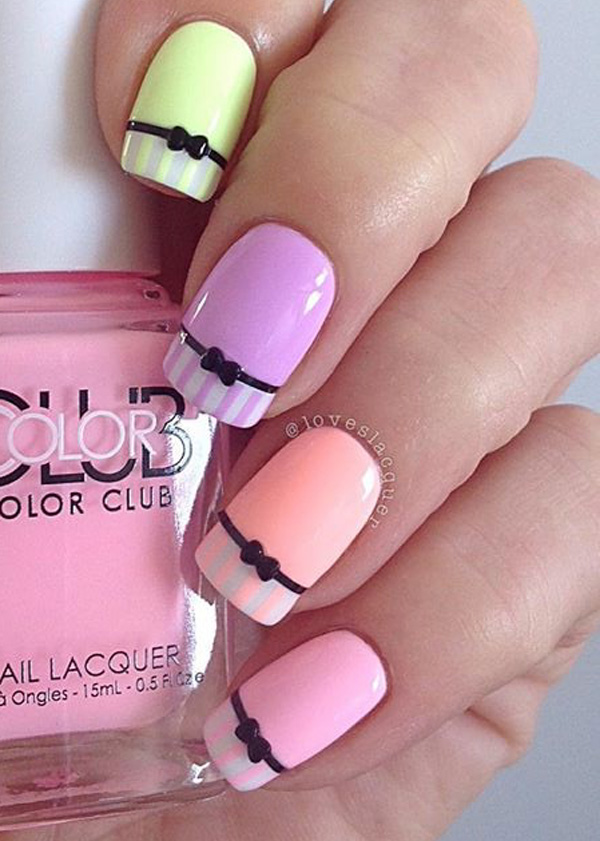 Very cute bow inspired spring nail art design. Add style to your regular bow nail art design by making the French tip a striped one leaving the rest of the inner nails in matte color.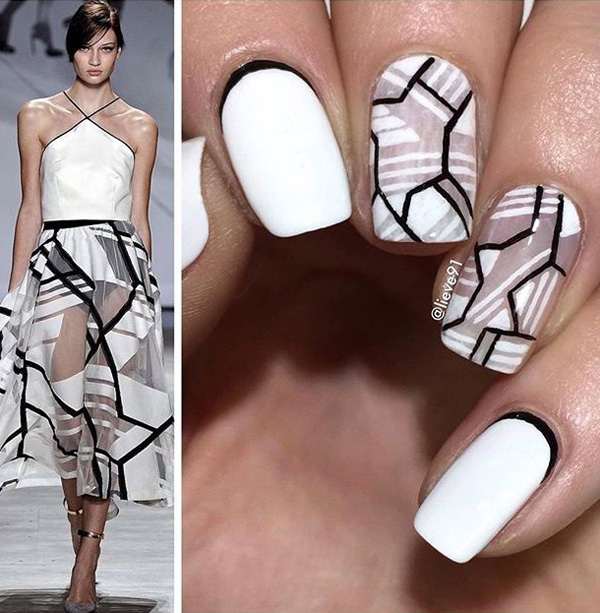 Mosaic inspired spring nail art design. The light beige and gray colors help make the nail art design laid back while the bold black lines separating the tiles help bring out life to the design.
source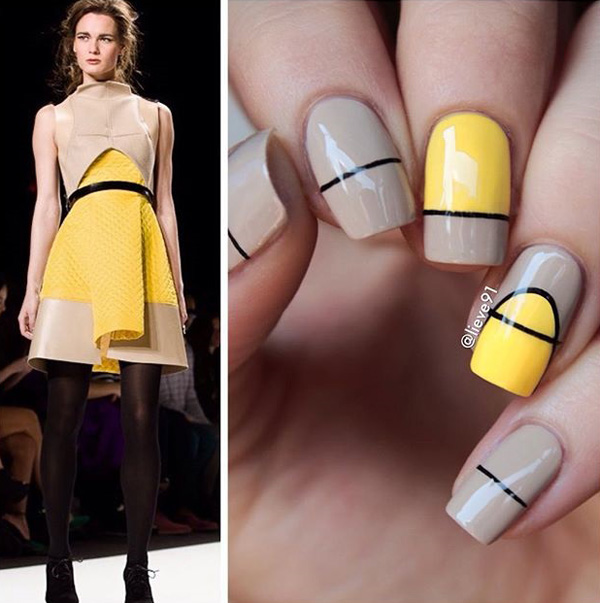 Yellow and beige spring nail art design. This wonderful color combination complements each other amazingly and adding the thin black lines only makes the design even more interesting.
source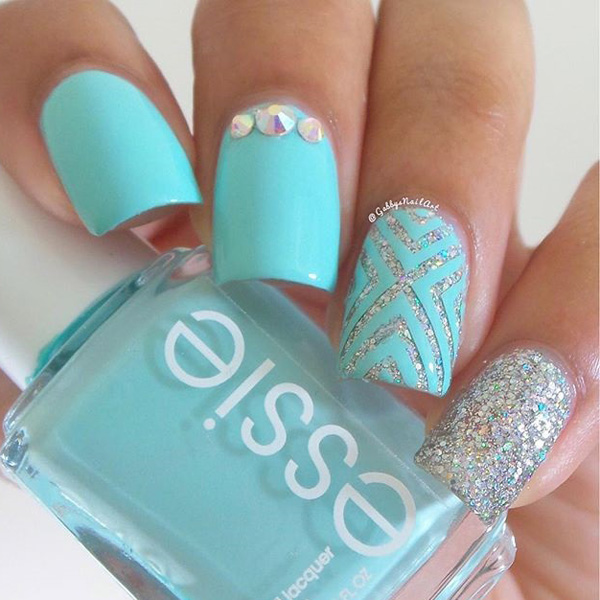 Sky blue and silver glitter spring nail art design. There's nothing more spring inspired look than the brightly colored polish similar as the sky. The silver glitter polish also adds sparkle to the design.
source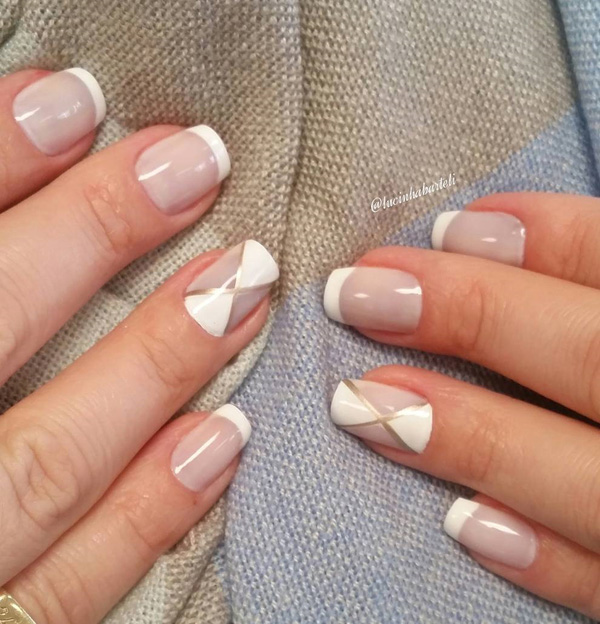 White and sheer French tips for the spring. If you want to don the classic French tip but still stand out then this design is perfect for you. Give your nails the makeover it deserves.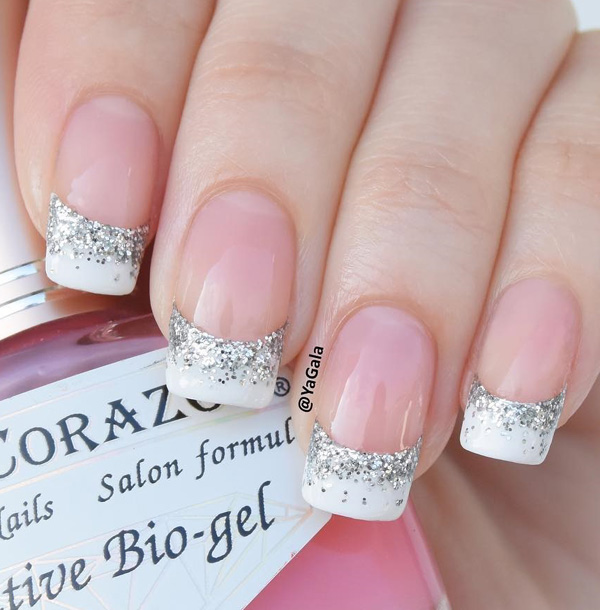 Simple but beautiful French tip. Coated in white, add more attitude to your French tips by putting silver glitter polish on the ends of the tips to give it a more vibrant feel.
Spring nail art design taking inspiration from earth colors. You can make it so each of your nails has different designs using bright melon and chocolate colors.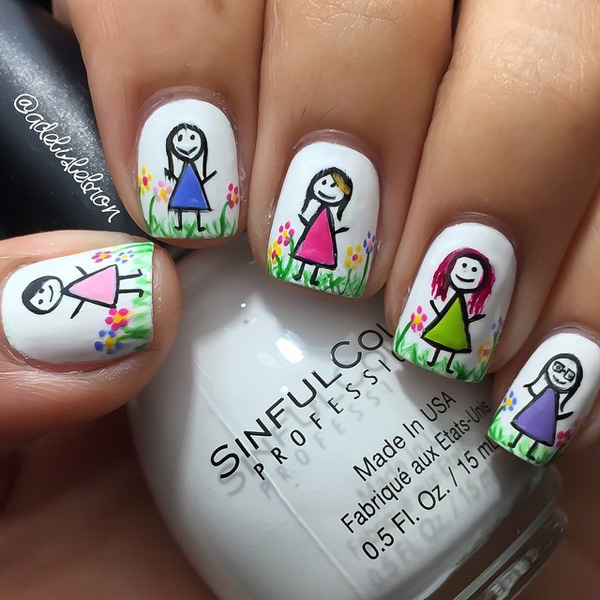 Cute and quirky spring nail art design. Start making your nails your very own canvass for art. Get to draw pretty little girls on each nail with a background of a wide field of spring flowers.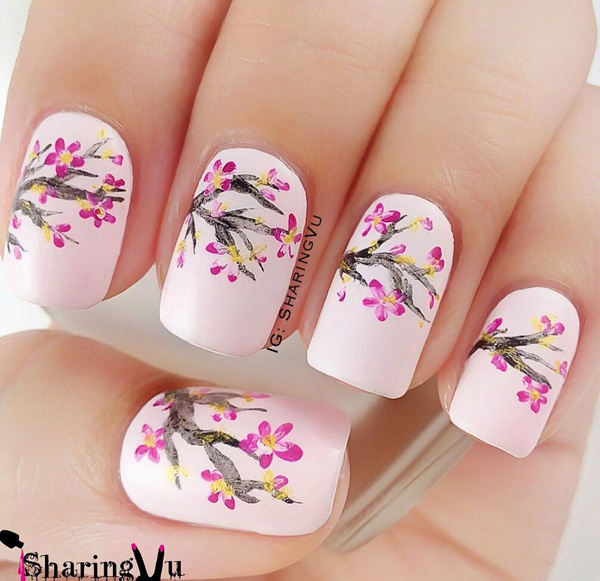 Beautiful cherry blossom spring nail art design. Spring is the time when cherry blossoms come about and what better way than to recreate them on your own nails.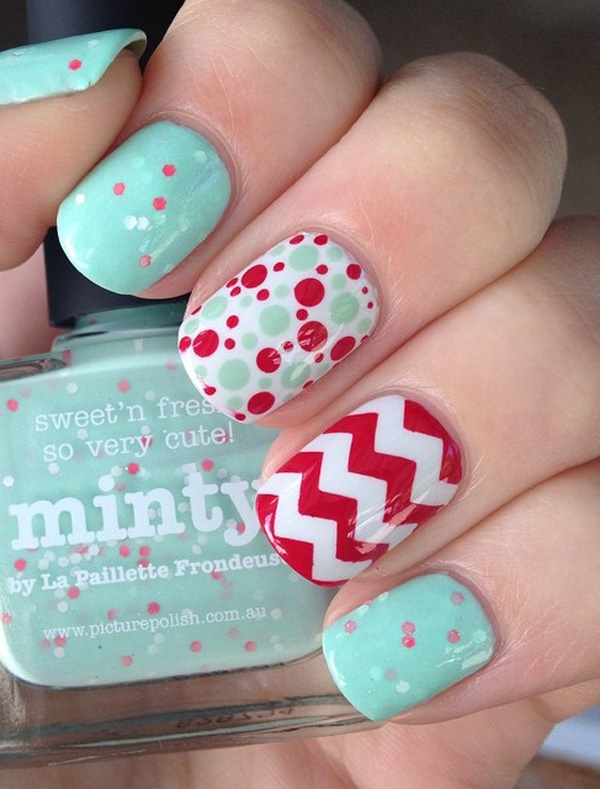 Make your nails an explosion of shapes and colors with this red and sea green color combination. You can add random zigzag shapes as well as pretty polka dot shapes alternatively on your nails.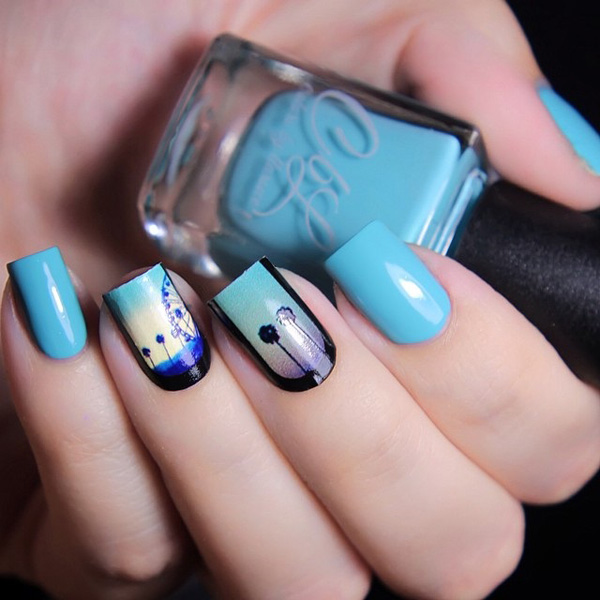 Be classy and stand out with this blue and silhouette themed spring nail art design. Paint your nails in bright blue base with silhouettes of trees on top with dark blue and black polish.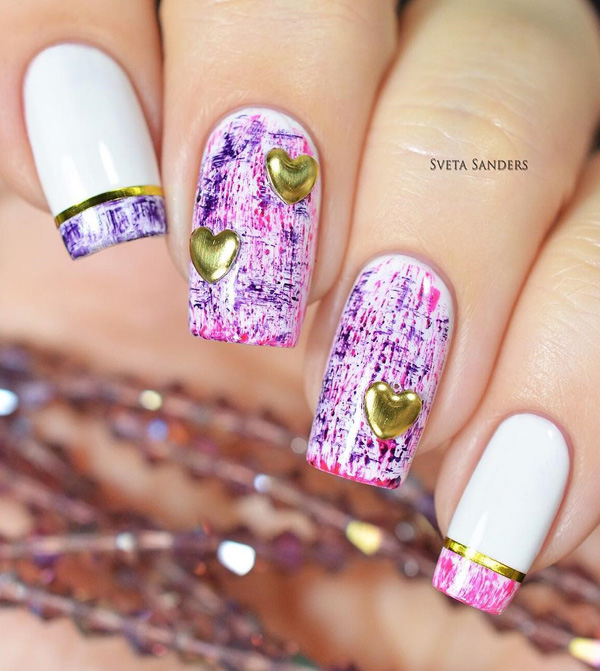 A very pretty paint splatter inspired spring nail art design. Cover your nails with white base color and let loose with the explosion of pink and purple paint splatters on top. Add gold heart shaped embellishments on to for accent.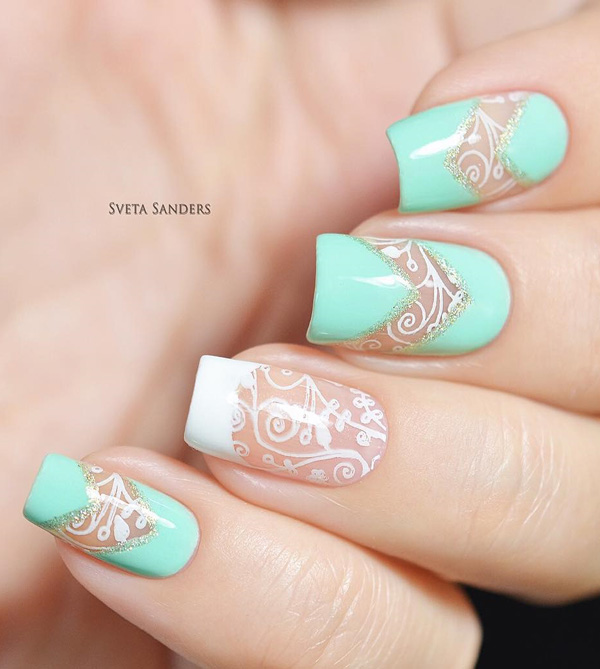 Elegant looking light blue spring nail art design. Give more attention to detail to your nails with this beautiful nail art design in partner with a white nail polish.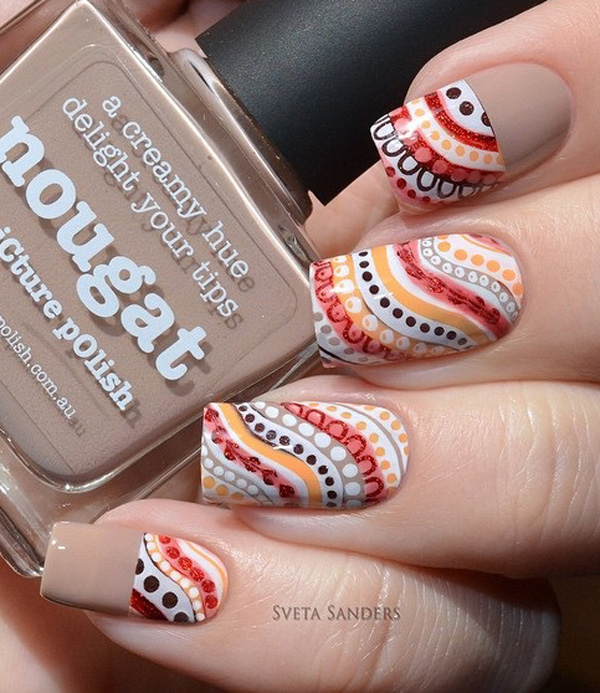 Colorful and cute spring nail art design. Bring together earth inspired colors and make your own tribal inspired design with playful uniform shapes.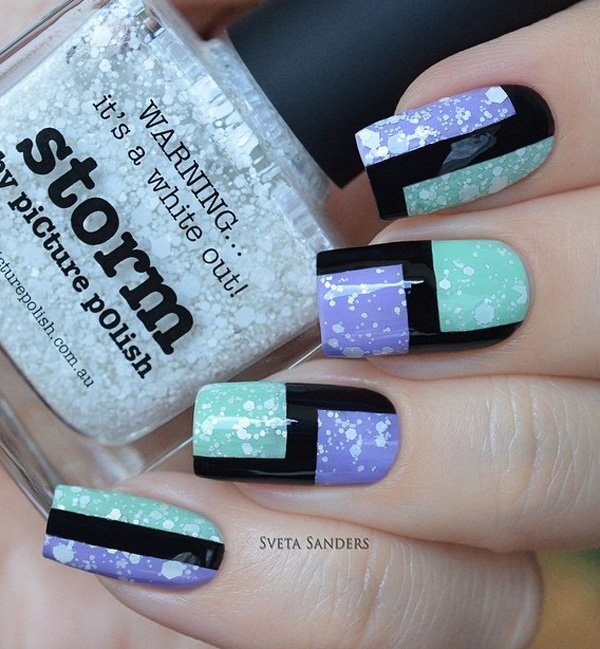 A refreshing green and purple abstract nail art design. This design is perfect for spring because of its light colors and the water splatter details on top. The black bold lines separating the colors help bring life to the design.
source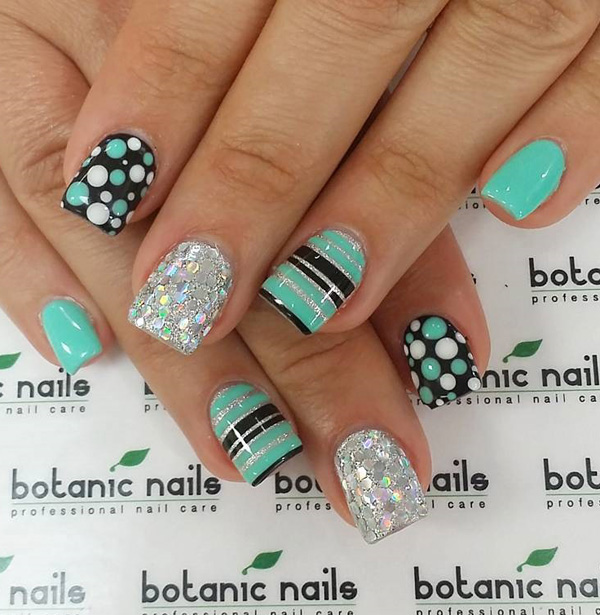 Sea green and black themed spring nail art design. Make sure your nails truly stand out with this quirky design of stripes and polka dots. Bring more attitude to your nails with silver glitter polish.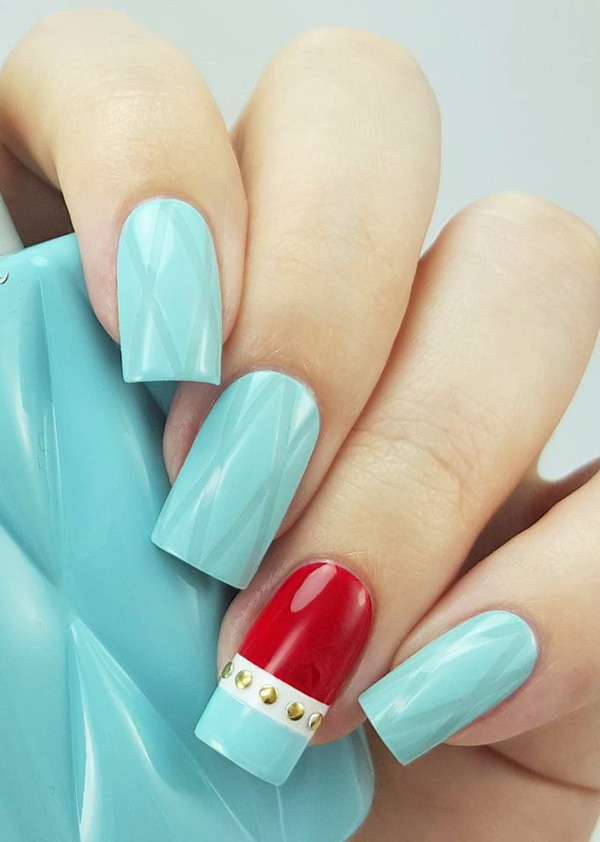 Sea green and bright red spring nail art design. Spring lets you experiment with all the bright colors such as red. This design highlights the bright red polish as well as the gold beads added in between the bottom and tip of the nails.
source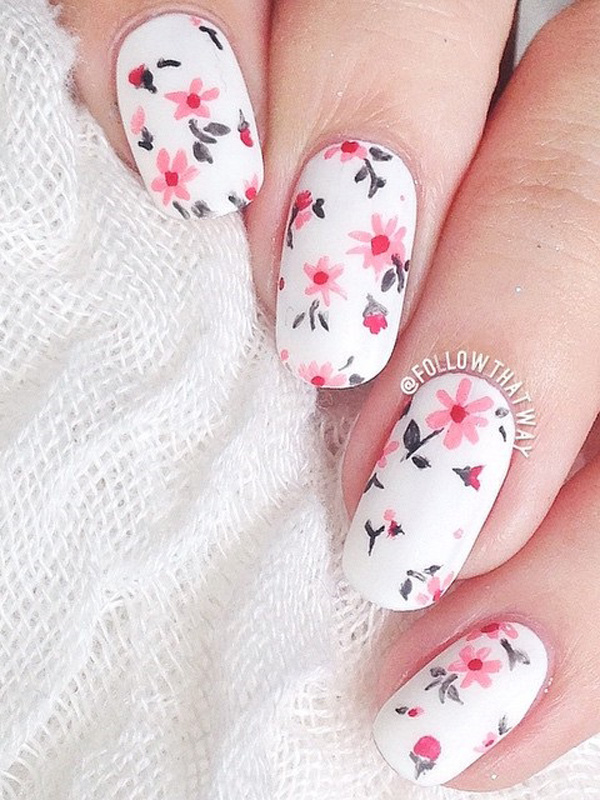 Give your nails a bright spring feel with this flower inspired nail art design. The falling pink flowers look perfect against the white base color of the nails.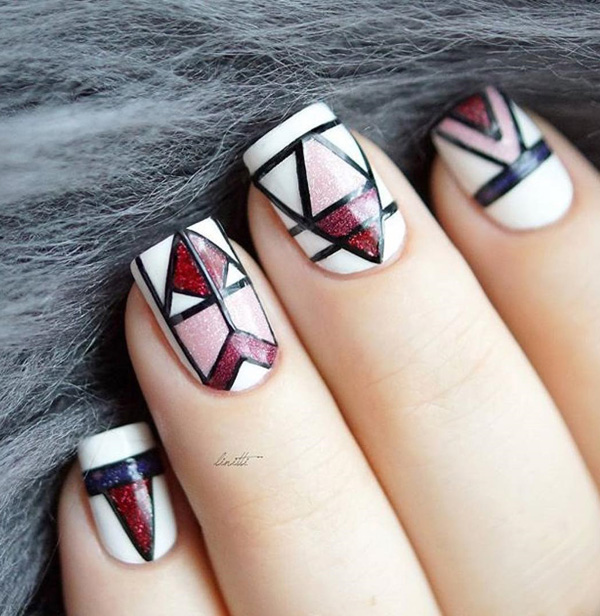 Red, pink and blue glitters polish themed spring nail art design. The abstract design of this nail art looks absolutely gorgeous with the help of white and black polish to separate the colors.
source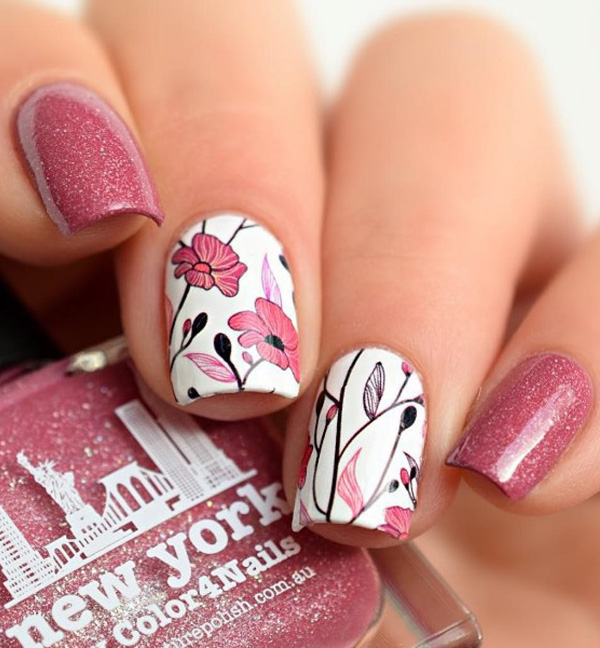 Another pretty in pink spring nail art design. Using white polis as base color as well as pink sheer color with glitters, your nails will look absolutely gorgeous. Add pretty flower details on top and everything is perfect.
source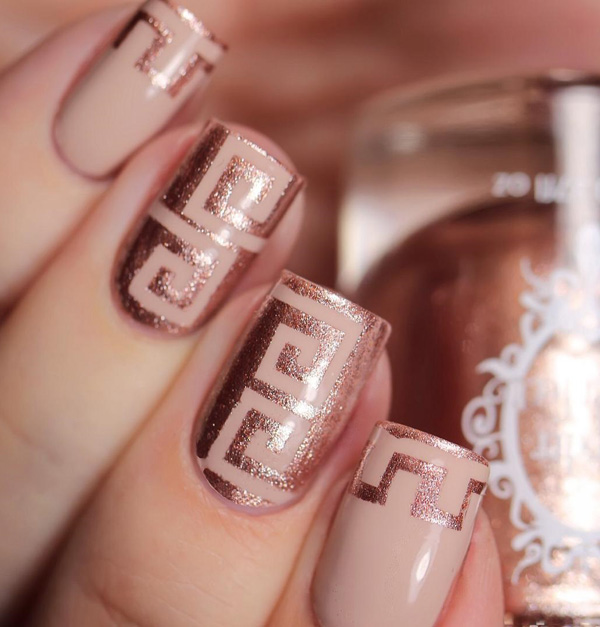 Nude and glitter gold polish spring nail art design. You can still incorporate your favorite classic colors even if it's spring. This simple yet wonderfully designed nail art works just fine with the spring season.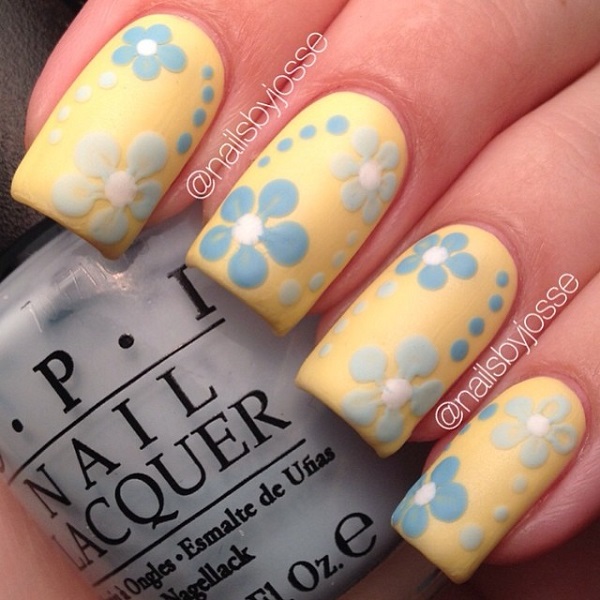 A really cute and light spring nail art design. Play along with baby blue and yellow colors as you paint on polka dots and flowers unto each nail.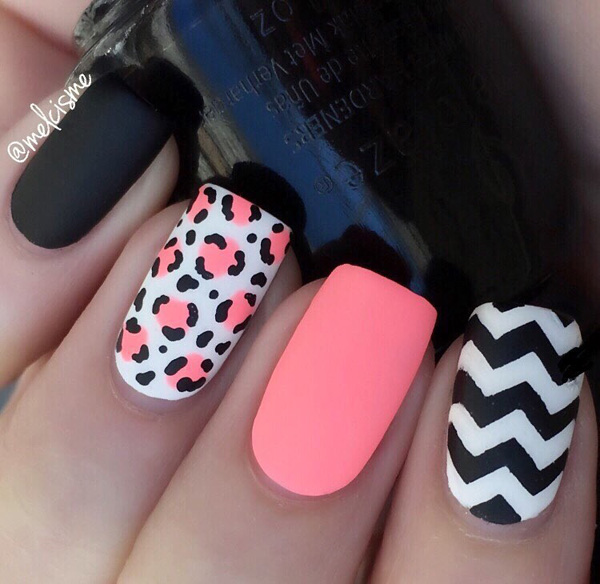 Pink, black and white spring nail art design combination. Bring out the vogue in you this spring with these matte, zigzag and animal print designed nail art.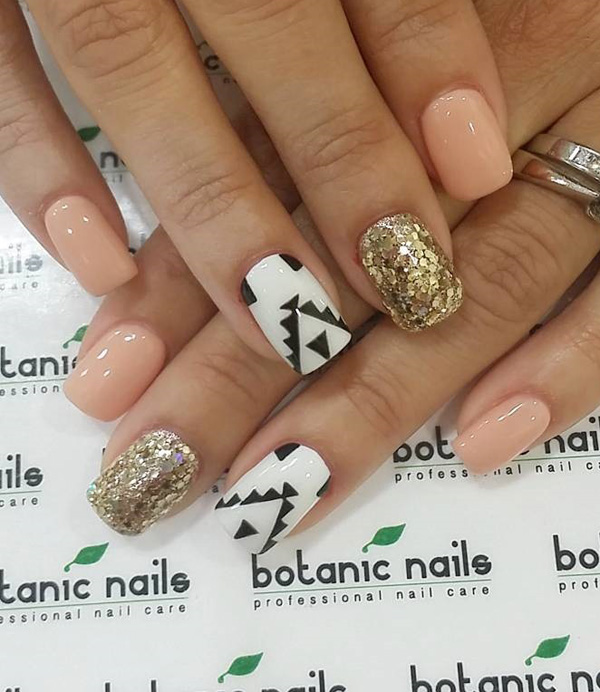 Stunning nude, gold, black and white spring nail art ensemble. Gives your nails a truly smashing look by making them uniquely designed from one nail to another.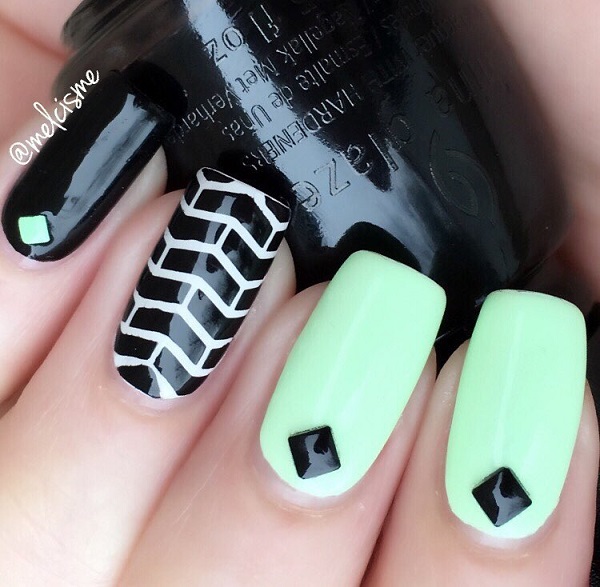 Start your spring strong with this smashing black and white nail art. Paint on black and white matte color as your base and add brick wall designs on top as well as embellishments to complete the effect.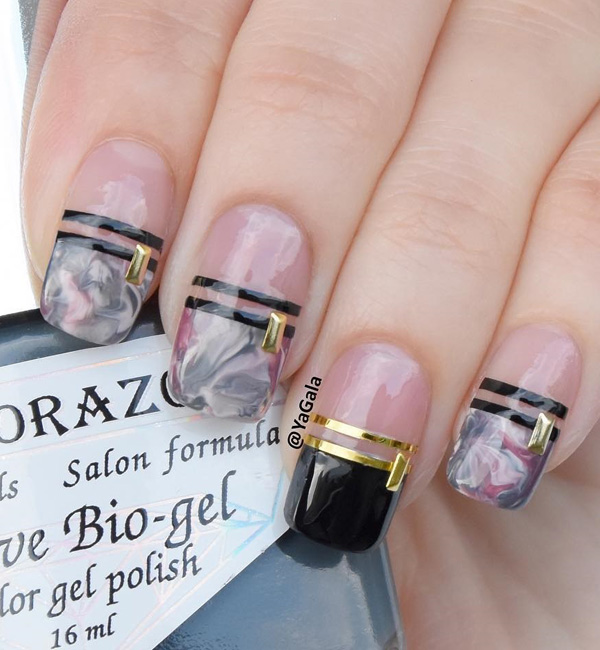 Marble designed spring nail art. Make your French tips stand out with the marble inspired gray and pink combination. Outline them with thin black polish lines and add gold embellishments and foil on top for the lines.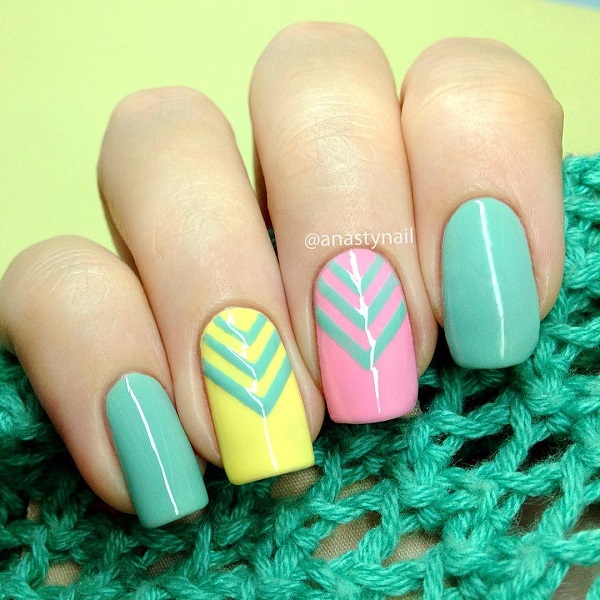 Candy colored spring nail art design. Simple yet very eye catching. Choose your favorite bright spring colors and add simple v-shaped details near the cuticle for effect.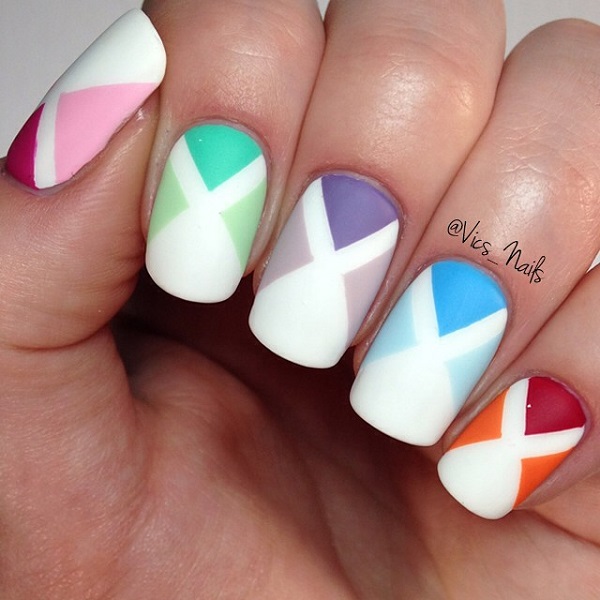 Multi colored x-shaped spring nail art design. This is a nail art design that is truly impressive when it comes to color hues. Simple and very interesting to look at you can recreate this on your own nails in no time.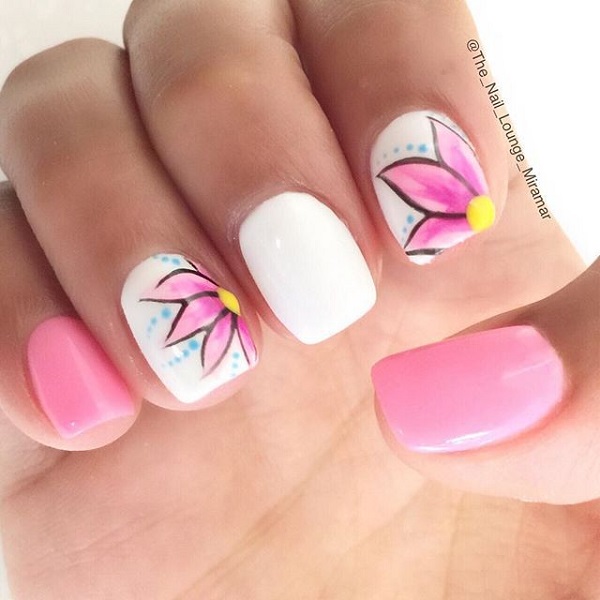 A really pretty pink flower inspired spring nail art design. Nothing beats the fresh look of the summer and the pink and white color combination is simply perfect for the season.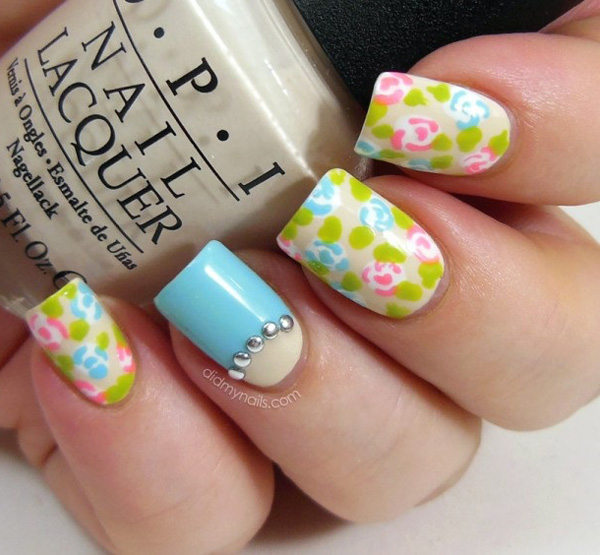 Flower themed spring nail art design. Make your nails look fresh and beautiful with an ensemble of blue and pink roses. Add silver beads on top for accent.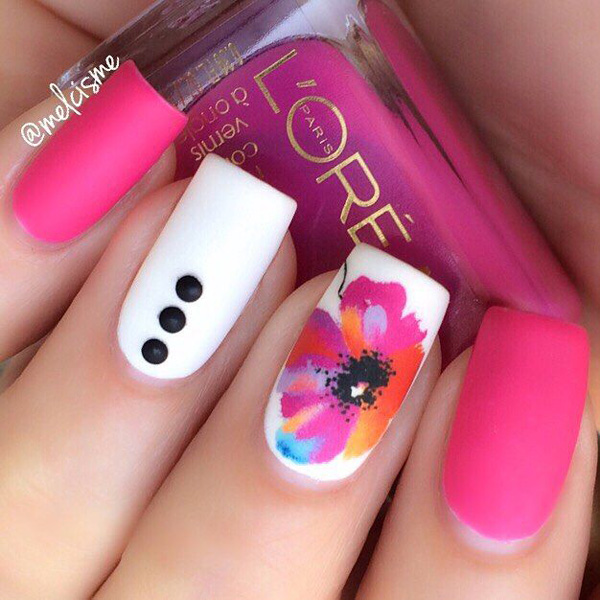 A gorgeous looking spring nail art design in pink and white polish. Create a matte effect on your nails with the pink and white polish and paint on an abstract colored on the other to stand out.
Baby pink and gold glitter polish spring nail art design. Make pretty gold glitter designs on top of your nails to make it even cuter.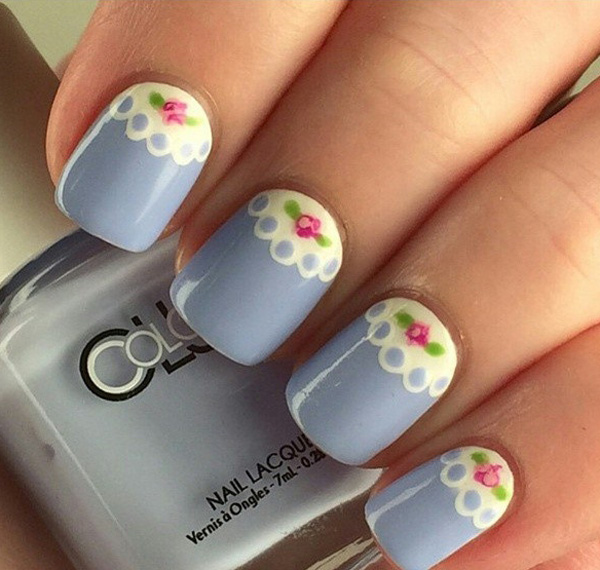 Gray blue lace inspired spring nail art design. The lace design combined with the spring theme is simply perfect. Make your nails look absolutely cute by adding pretty pink roses near the cuticle.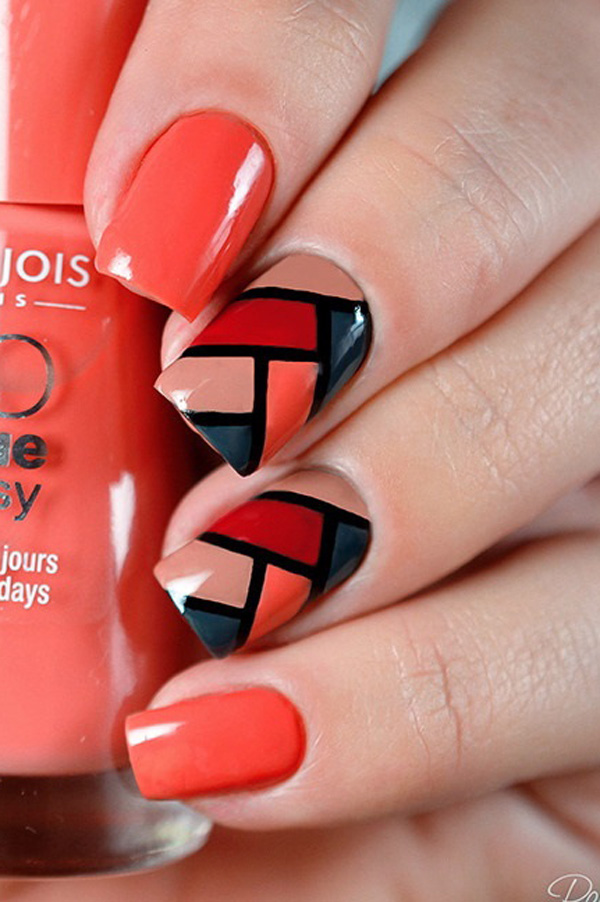 Red, pink, melon and blue themed spring nail art design. If you don't want to go light this spring you can always go delightfully dark with this color combination.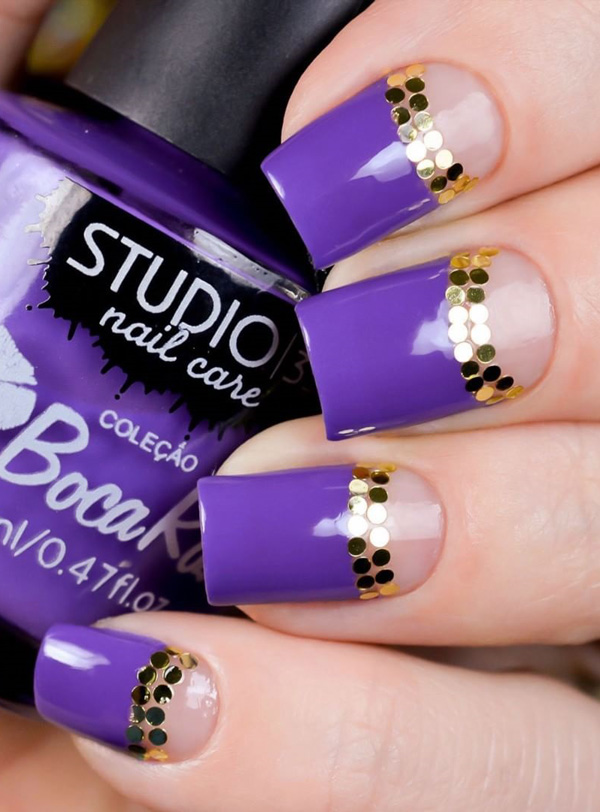 Violet inspired spring nail art design. A classy looking nail art design using violet polis painted from the tip of the nails towards a little ways from the cuticle with gold embellishments.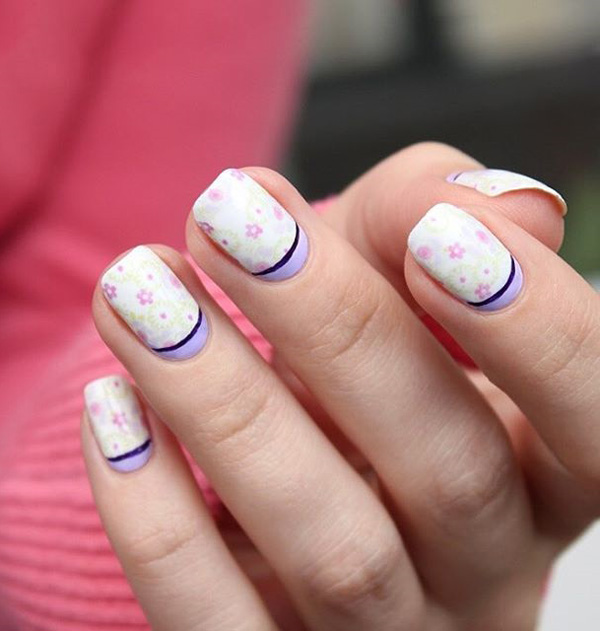 Pretty white and periwinkle spring nail art design. To add to the adorable design are cite little pink roses and leaves to signify the start of spring.
source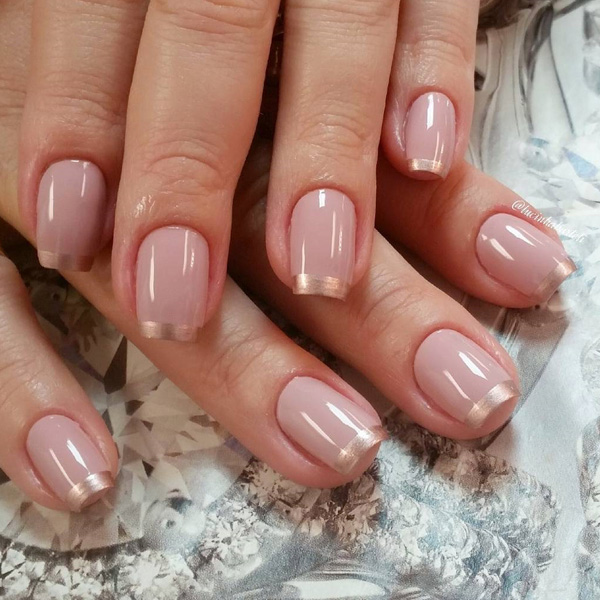 Elegant looking nude and gold spring nail art design. Make your nails look brand new and fresh with this nail art design and with the help of the gold glitter French tips.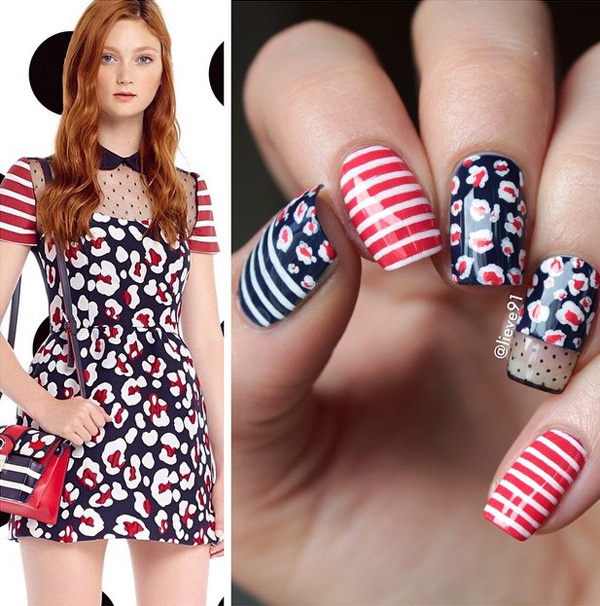 Stripes and prints spring nail art design. Play along with the red, blue and white colors using this design since spring is the season of coming out to play this look will looks absolutely on point.
Source