Coffin nails have been in the fashion since the past few years, but it seemed to be going nowhere as that of French Manicure. The coffin nails are also known as Ballerina nails, that have been spotted on almost every fashion Diva ranging from Kim Kardashian to Rihanna.
As mentioned, these nails have been evolved since the past few years, but they have been staying around for most of the coming years. The reason for this fact is not known, however, it is indeed the fact that Coffin nails have been the coolest nail trends for not only the summer season, but also for the winter season.
Coffin nails are no different than the normal nails, however, they got their name because of their resemblance to the coffin. They are as long as coffin and as wide as the one in nature, with the tight C- curved front, tapered sides and the straight free edge.
So, if you are looking for the nails this season, you can create one, according to your own choice and needs.
How to Get Coffin Nails:
To achieve coffin nails, all you need is to extend your nails with a regular square shape. After your nails gets a length of little extension, you need to file the corners down near the free edge to get the tapered shape.
The 50 Fun Ways to Wear Coffin Nails:
Well, you can see number of inspirations for Ballerina nails your all around, ranging from Instagram beauties to your Hollywood divas. For getting the amazing ideas and creativity for such nails, you can check Instagram with the hashtag #nailprodigy.
However, if you are not a nerd of Instagram, I am definitely going to give you some amazing ideas to wear these amazing nail trends on the go. As in fashion, these nails looks great with the whites, nudes, reds, coupled with the gold and different colors. Matte and glossy nails are also seemed to be dominating the coffin nail trend. However, the choice of colors seriously depend on your suitability and look.
So, here, check our few great examples of the coffin nails, that you can have to nail your look, this season.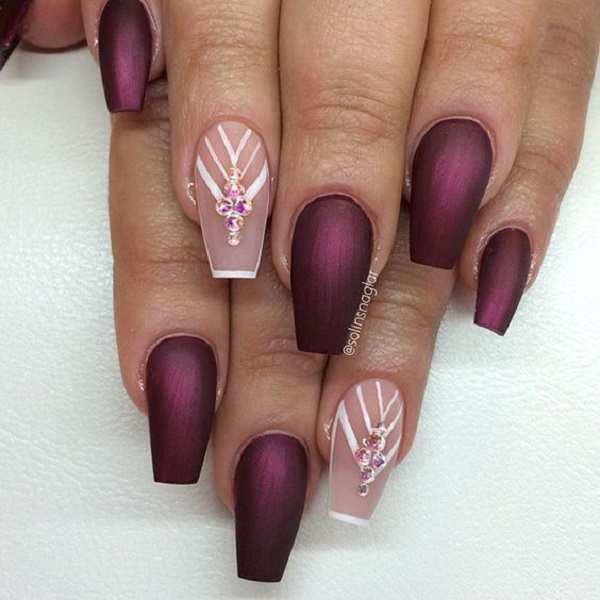 Maroon Coffin Nails with nude. Maroon color is always a plus, when you wear it on your nails. and when it comes to coffin nails, this look great with the rhinestones and white lines.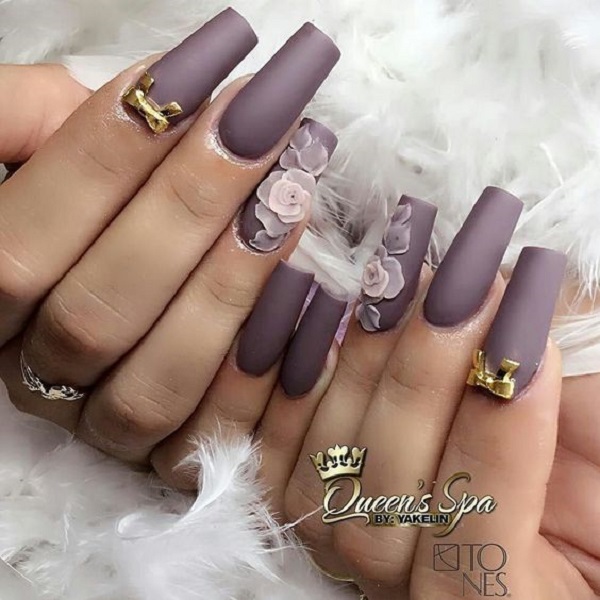 Matte Grey Coffin Nails with Flowers and gold Ribbon. Matte color is going with the trend and when done with the grey and gold ribbons, it just look awesome.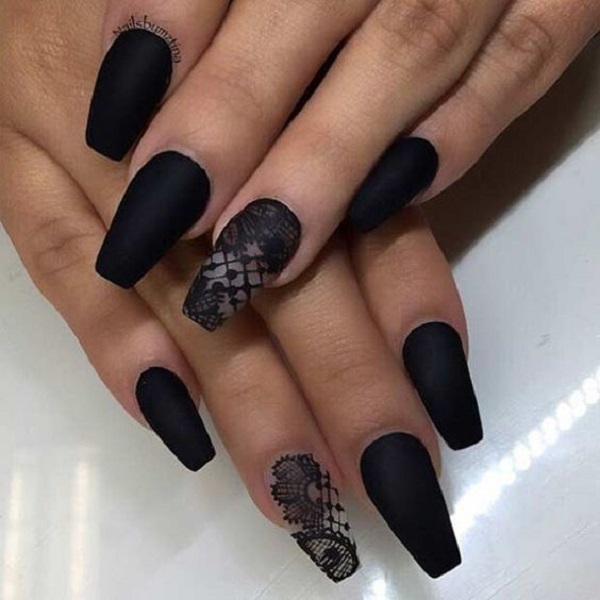 Laced Black Matte Coffin Nails. Lace up your nails with the matte black color and the lace design on the ring finger to create an awesome look.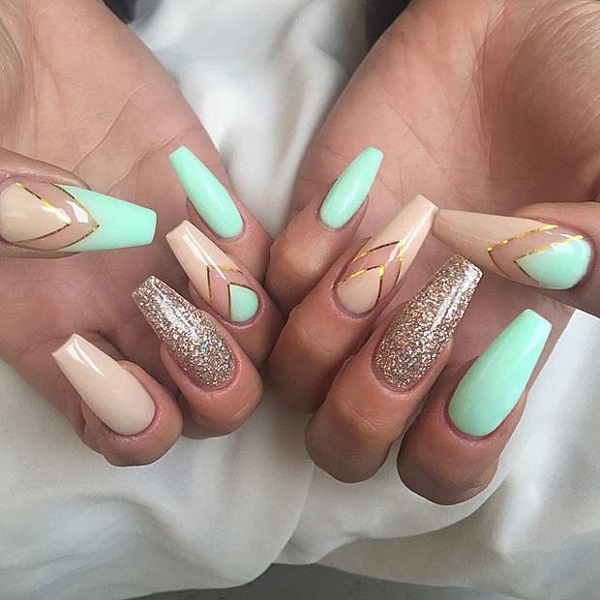 Glittered Coffin Nails with V shaped nail art. Chevron nails is always on the trend and when they are embellished with gold glitter and nude nails, they make great combination.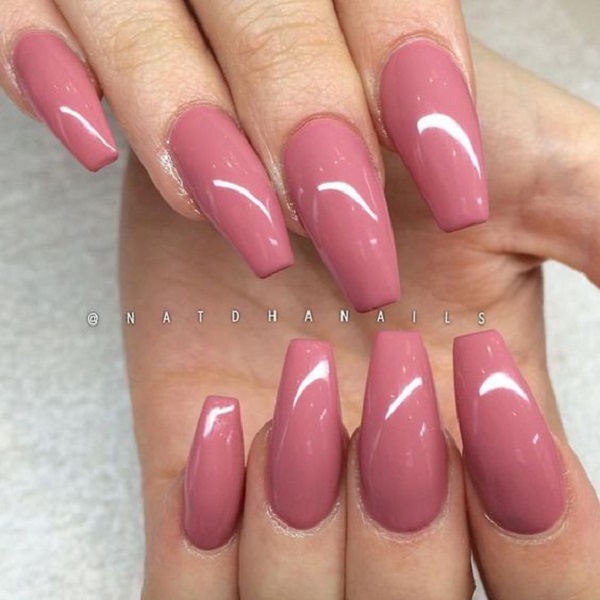 Pinky pink Glossy Coffin Nails. Simplicity is beauty, they said. This pinky pink glossy coffin nails is the best example of this saying.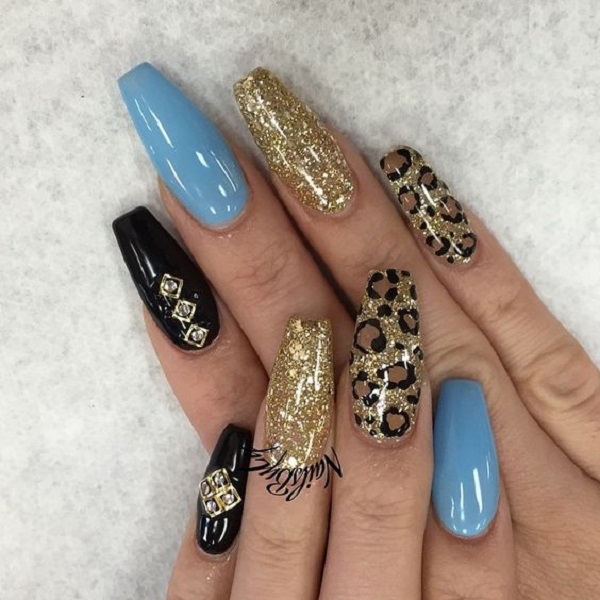 Cheetah Coffin Nails with Gold and Black. The combination of glossy blue, glittered gold, studded black and cheetah nails is the one to try, if you are looking for something extraordinary.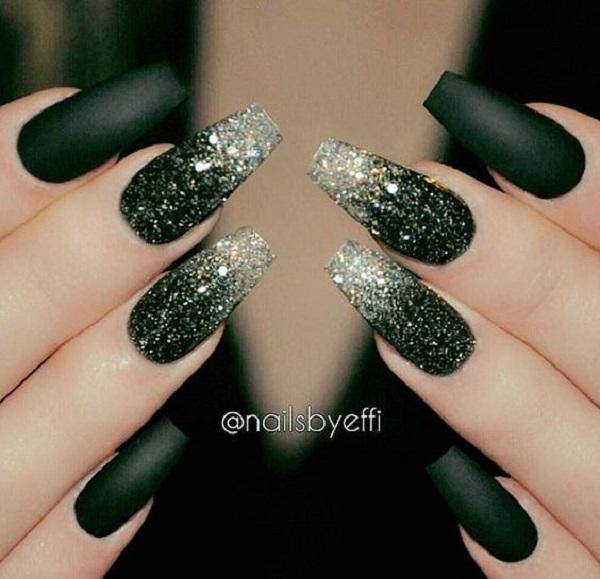 Bottle Green Glittered Omber Coffin Nails. Ombre glittered bottle green coffin nails looks decent and amazing, as seen in the picture.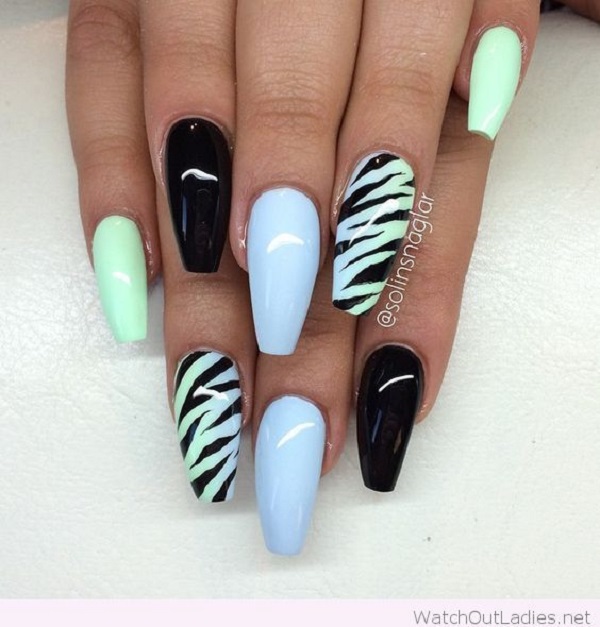 The Zebra Lined Coffin Nails. Pattern of zebra is always on the trend, whether it comes on coats or on nails. Zebra patterned coffin nails is the worth trying nail art design, if you are looking for some casual look.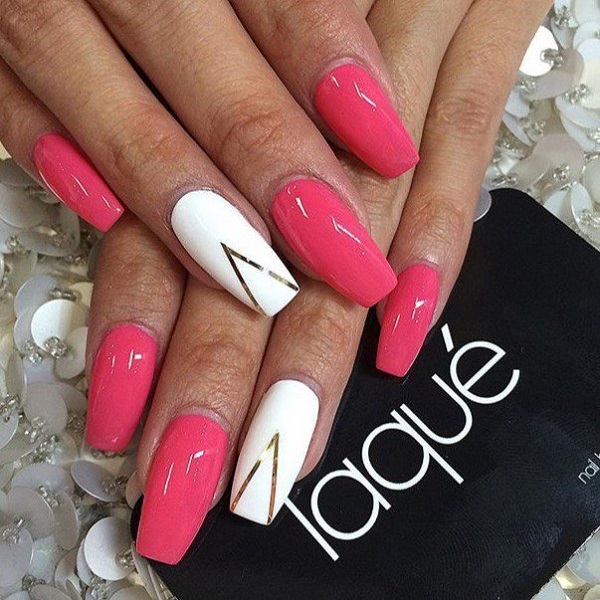 Chevron White and Pink Coffin Nails. White color goes great with pink and golden, as seen in the picture. The decent touch of Chevron on a single nail is an inspiration.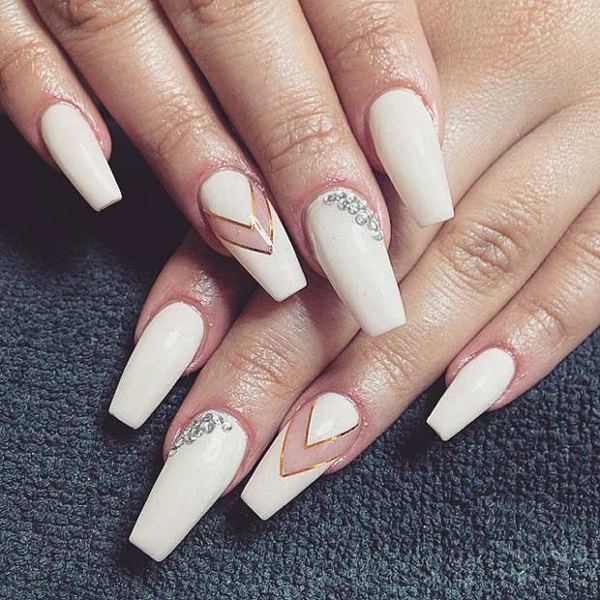 White Coffin Nails with diamonds. Coffin nails are more dominated by the nudes and whites, that is clearly seen in the example above. The diamond studded white and transparent coffin nail design is the trend setter.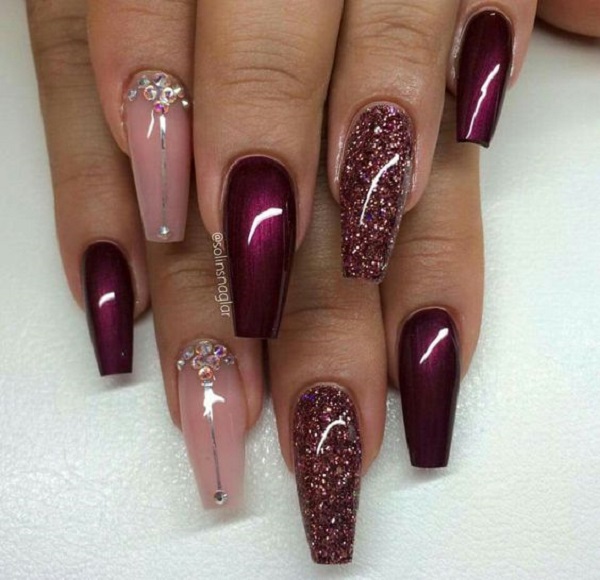 Glossy Maroon Coffin Nails with Glitter. Maroon color is or winners and when they are embellished with glitter and rhinestones, they make a worth trying nail art.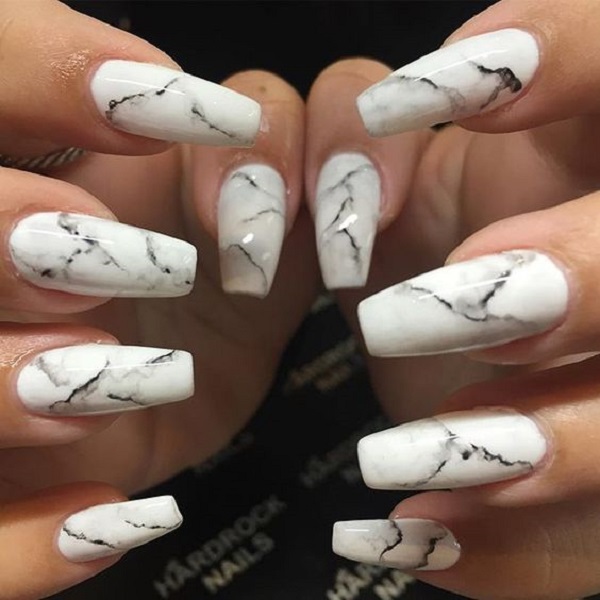 White Marbled Coffin Nails. This white marbled look on the coffin nails looks equally stylish and eye catching as that of other coffin nail art designs.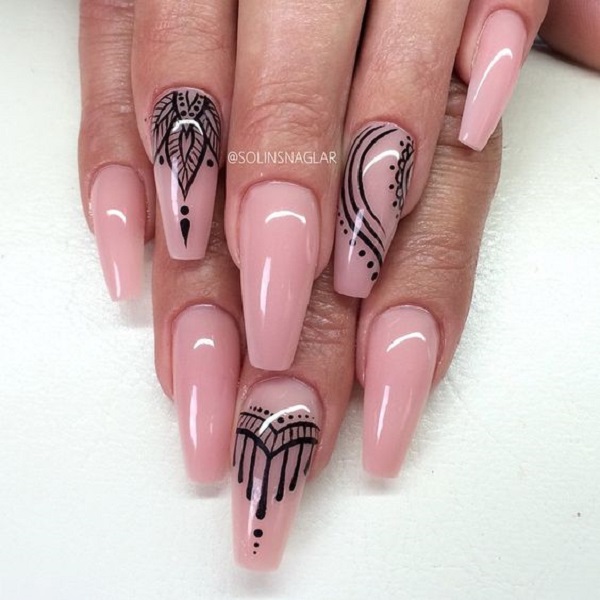 Nude Pink with Black Nail Art. The simpler the better. Nude pink with Black nail art on the coffin nails is the best example of this saying.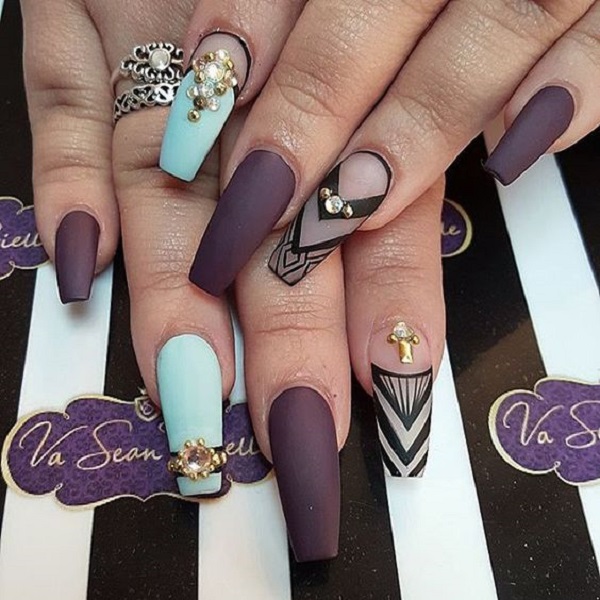 Matte Purple and Sky Blue studded with Rhinestones. The combo of purple and sky blue is rare yet elegant. You can create this amazingly elegant look with the rhinestones and black nail art to impress anyone you want.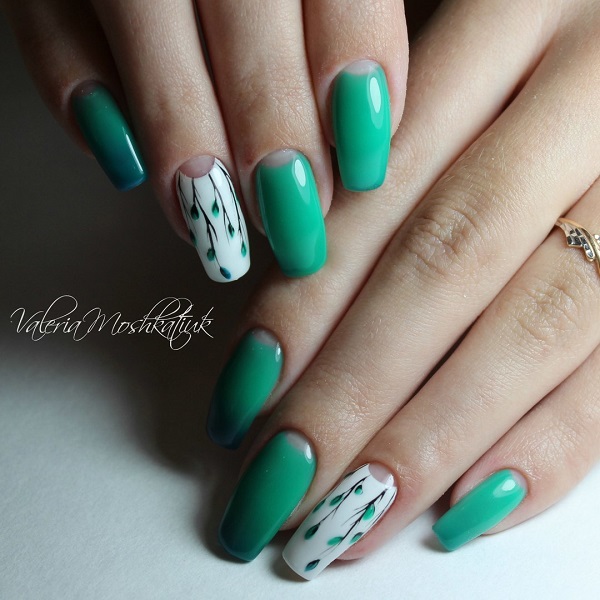 Blue and White Coffin Nail Art Design. The white and blue nail art is simply the one to try, without any hesitation.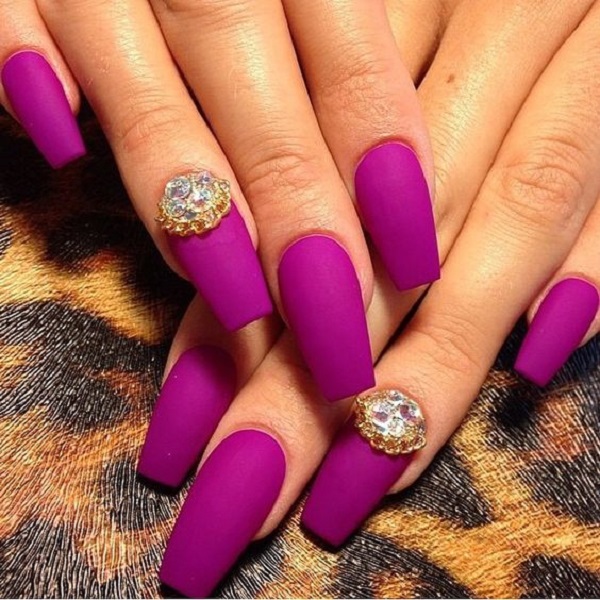 Bright Pink Matte Coffin Nails with studs. The studded matte bright pink coffin nail art design is worth trying, f you are looking for something mind blowing.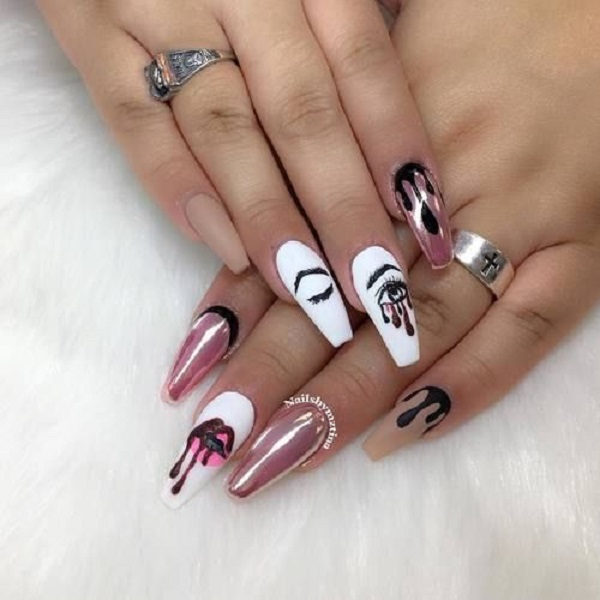 The Bleeding Coffin Nails. As coffin is considered to be associated with death, you can try this bleeding coffin nail art to fully symbolize its meaning.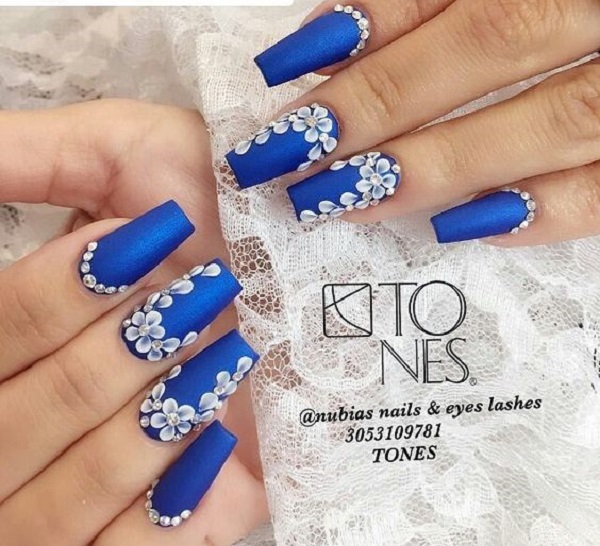 The Floral Blue and White Coffin Nail art Design. Floral blue and white nail art design on the matte nail polishes is the one for all the girly girls looking to embellish their hands while staying classy.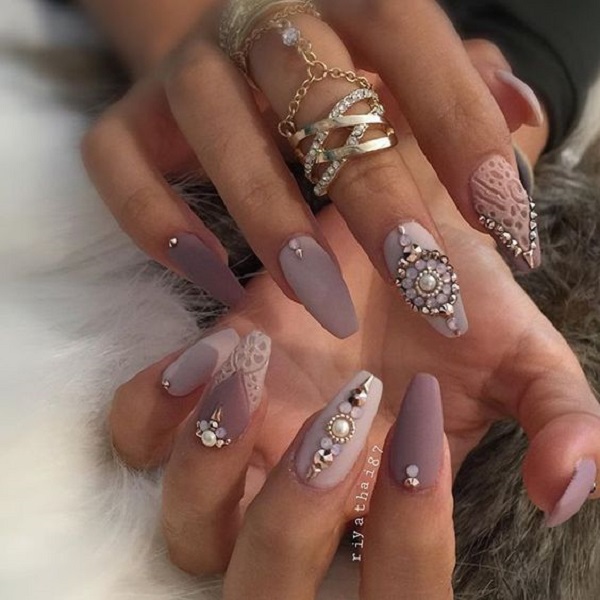 Nude Grey and white Coffin Nails embellished with Rhinestones. Nude grey color when embellished with the differently shaped rhinestones, makes the elegant piece of art worth trying.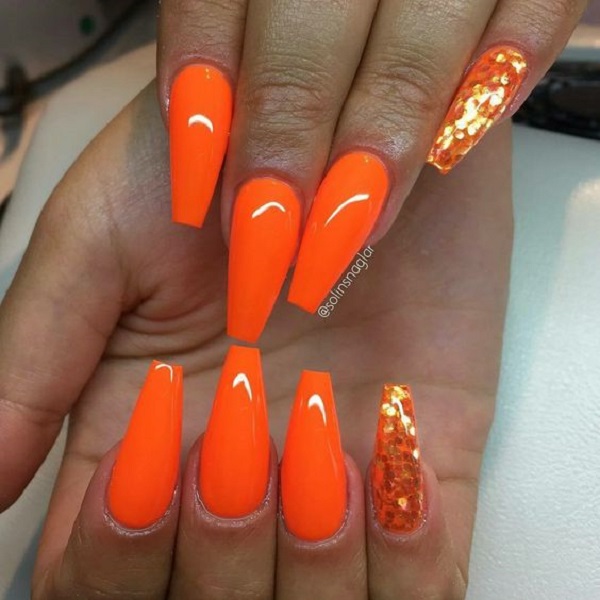 Glittery Glossy Orange Coffin Nails. This funky and vibrant orange colored nail art on coffin nails is an inspiration for all the fun lovers out there.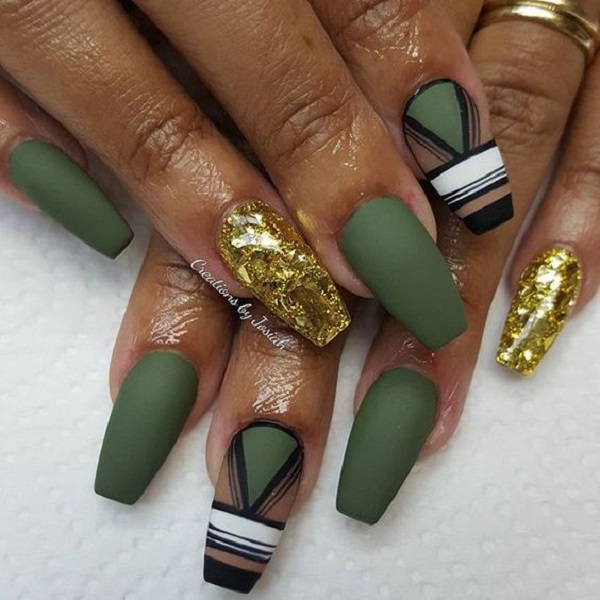 Tribal Look Army  Coffin Nail Art Design. These tribal army coffin nails is best suited for your outfit, military in nature. You can also wear this design on your casual days too.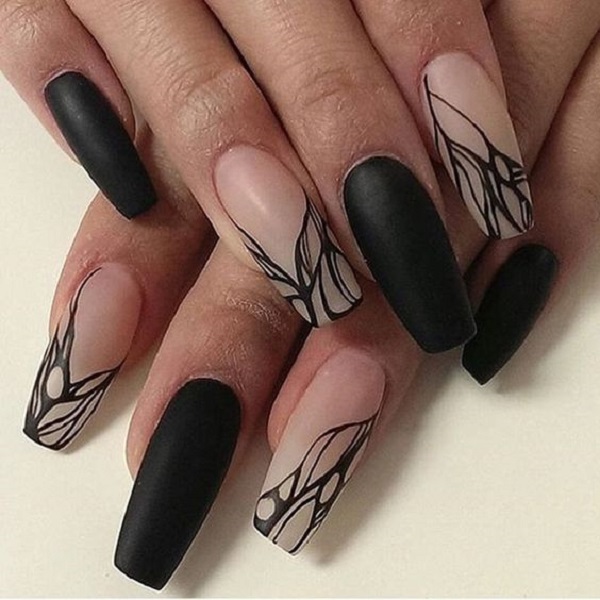 Nude Ombre with Black Nail Art on Coffin Nails. The best example of simplicity is the ultimate trend  is seen in the picture above, where black and nude ombre nail art is done well.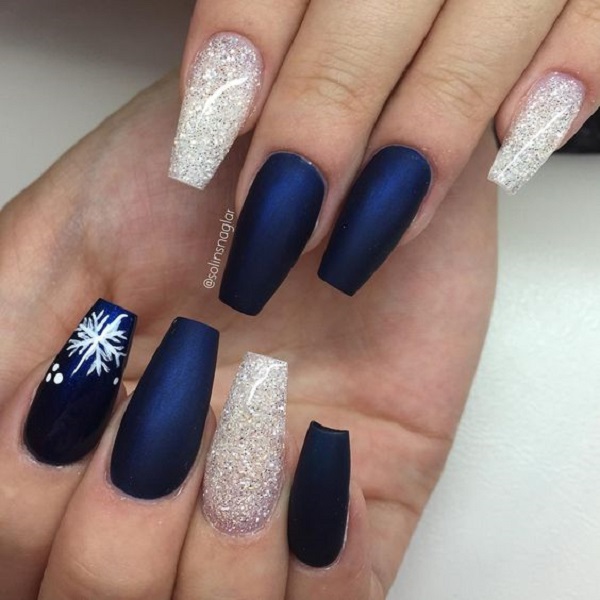 The Frozen Coffin Nail Design with Silver Glitter. If you are looking for something to celebrate this winter season, you can go with this amazing frozen coffin nail art design with silver glitter representing snow.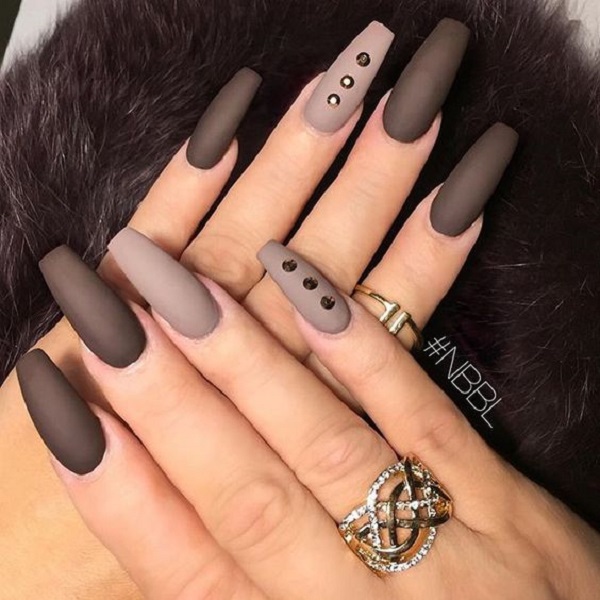 The Neutral Matte Brown Nails with Studs. Accentuate your nails with these simple yet stylish matte neutral colors on your coffin nails studded with diamonds.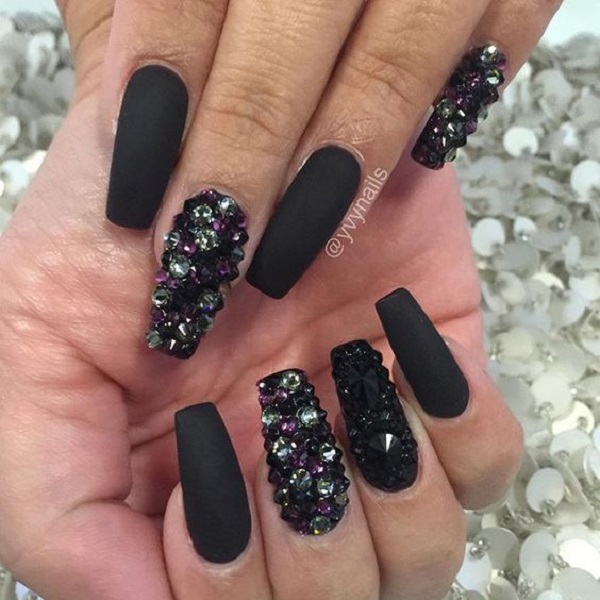 Matte Black Studded Coffin Nails. What's the best way to enhance your matte nails look? Well studs and different beads knows the answer best.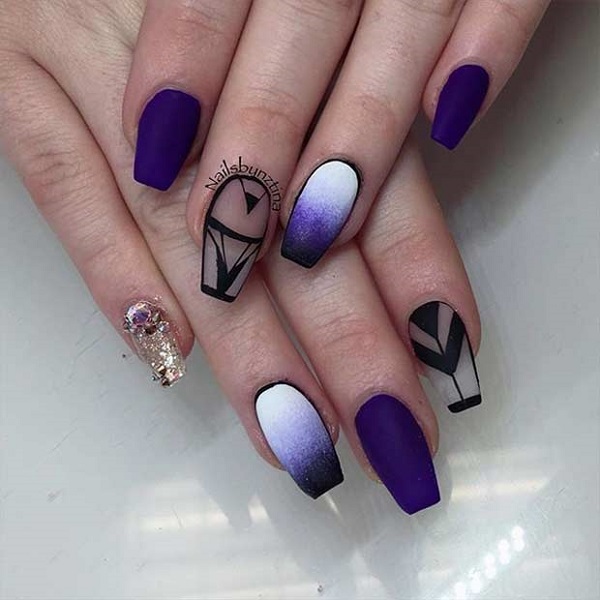 Transparent, Purple and Ombre Coffin Nail Art Design. If you want to create something unique with your coffin nails, you really don't need to work that hard. You can just leave your nails naked by creating different patterns where other parts show your normal nails.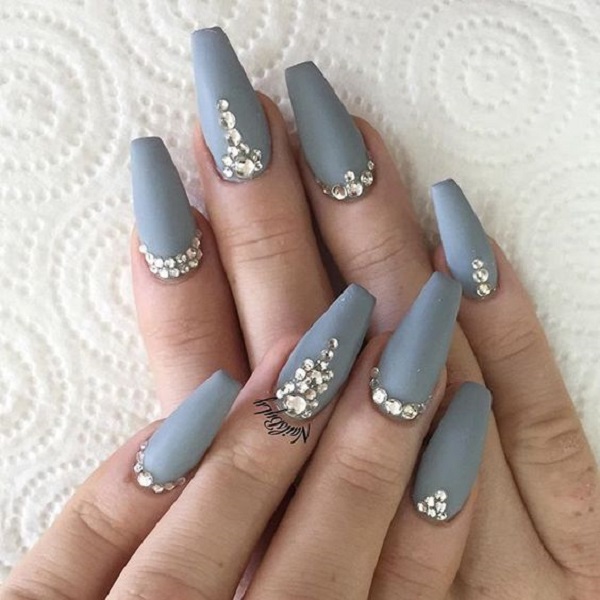 Matte Grey Nails with Diamonds. This matte and studded look is perfect for your casual denim look.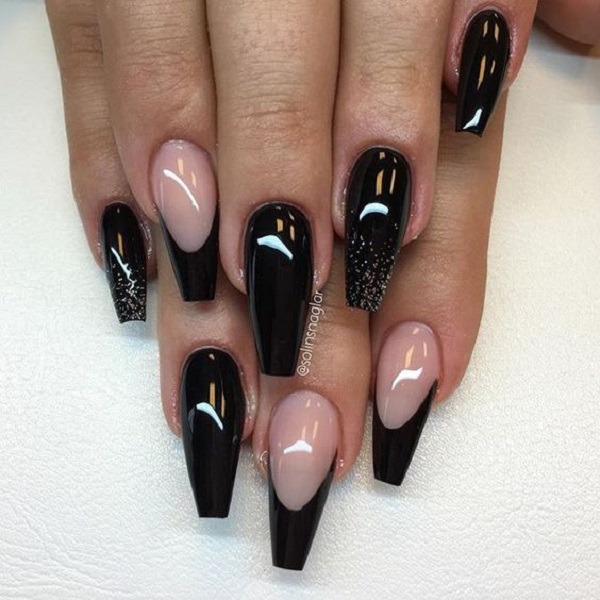 Black and Transparent French Tip Coffin Nail art design. Black is the evergreen and the stylish-est color, when it comes to trend. So, go with this great combination of black French tip coffin nail art design, to add something to your personality.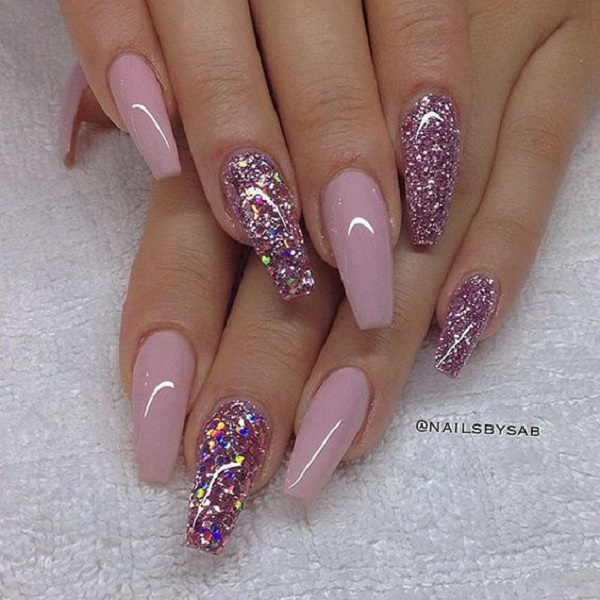 The Nude and Glittery Coffin Nails. The rainbow shaded glitters when coupled with the nude and naked colors on coffin nails seemed to catch the mind of every trend seeker.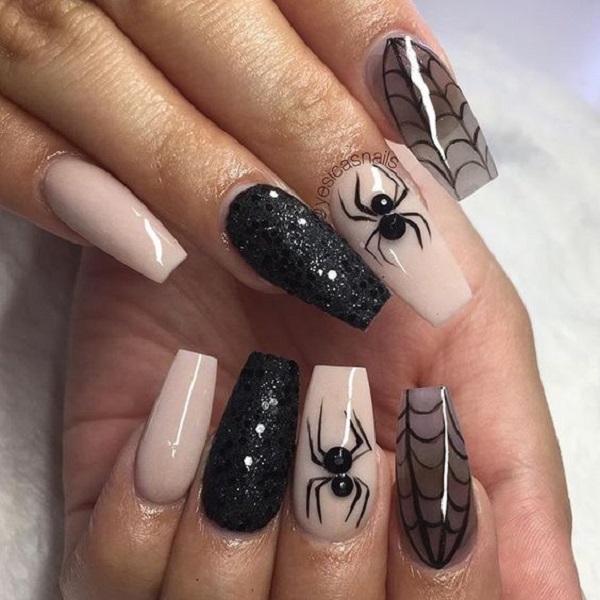 The Spider Web Coffin Nail Art Design. Spider and its web is always an inspiration for trying hard again and again. So, if you want an inspiration to work hard, yu can have this amazing spider web design over your coffin nails.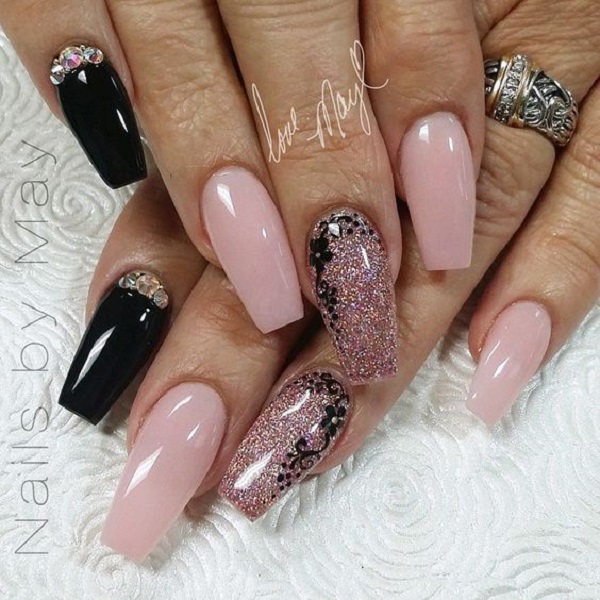 Nud-y Floral Coffin Nail Art Design with Black and Glitter. Mac nudes are always in the trend, no matter what. if you love those mac nudes, then you would definitely admire this amazing coffin nail art design with floral pattern embellished.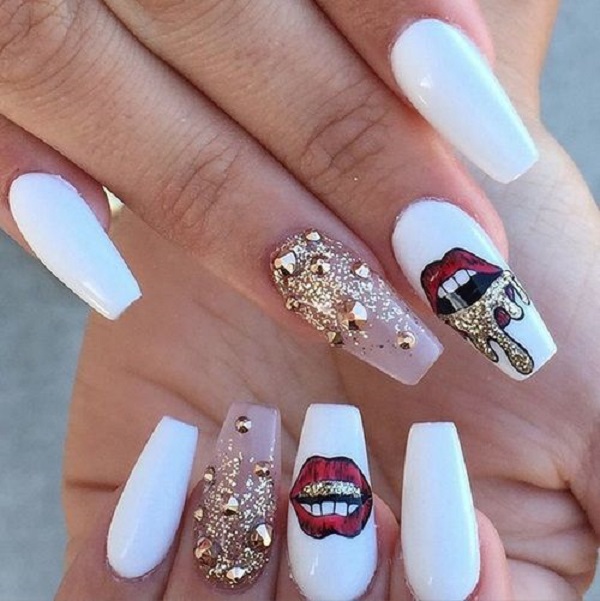 Nudes embellished with Red Lips. The love for glitter and music can be seen best in this amazingly craeted coffin nail art design.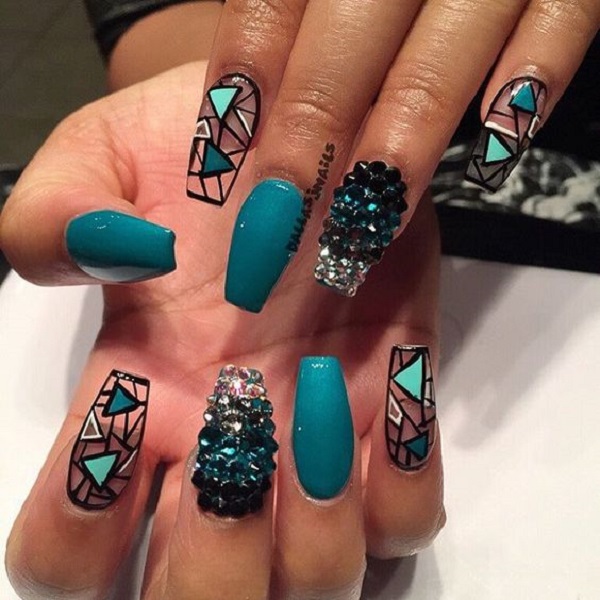 The transparent, glossy blue and studded coffin nails. With the transparent nails hitting the market trends, this nail art design is worth considering.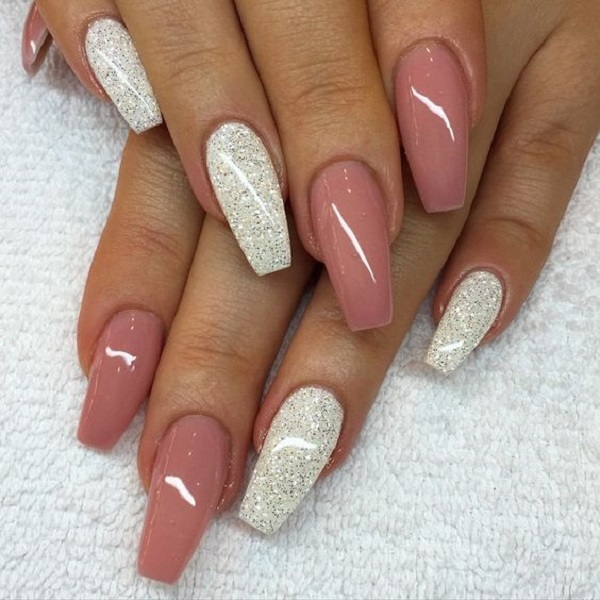 Nude Pink with Silver Glitter on Coffin Nails. Silver glitter is always a great combination with each and every color on the Earth. With the nude pink,silver glitter is saying 1000 words.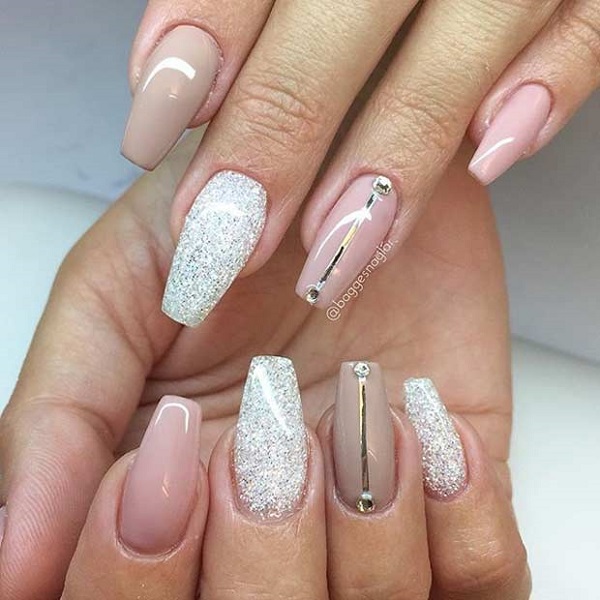 The Nude coffin Nails with Gold and Diamonds. This peachy pink nude and glitter is the perfect combo for any occasion.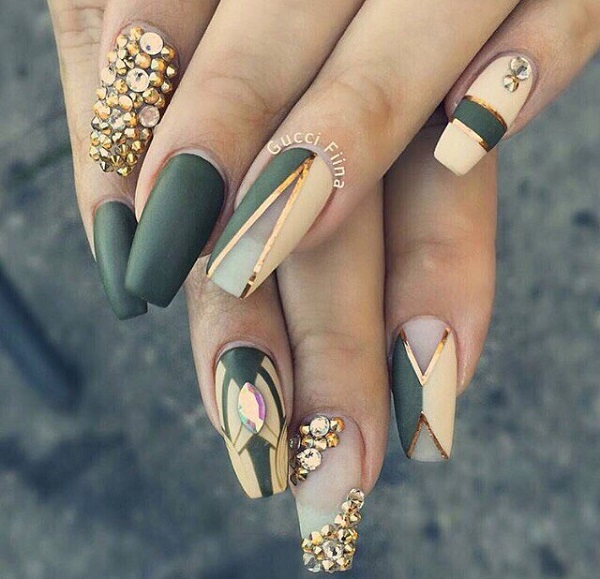 Matte Coffin Nails with White and Rhinestones. This V shaped studded green and white coffin nails are the best things that you can wear on every occasion, ranging from a formal military camp to your bonfire.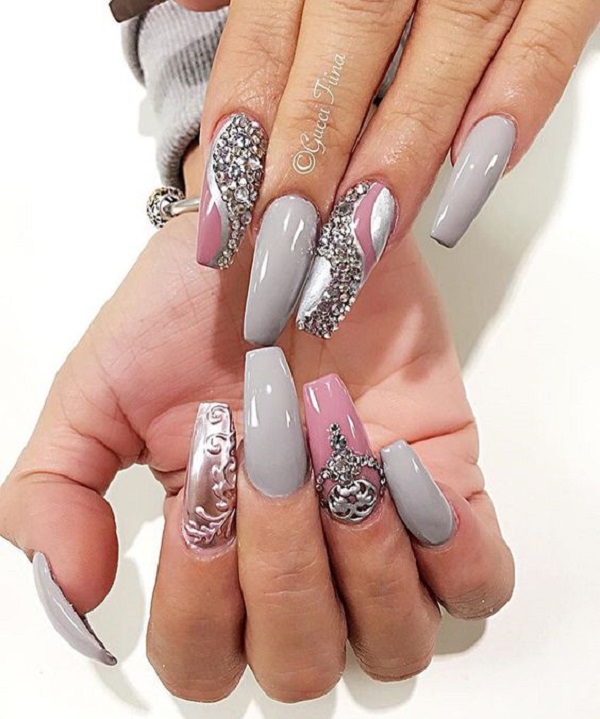 Demon Coffin Nails with Glossy Pink and Grey. This wholly studded pink and grey coffin air art design is truly an inspiration for all those girly girls out there.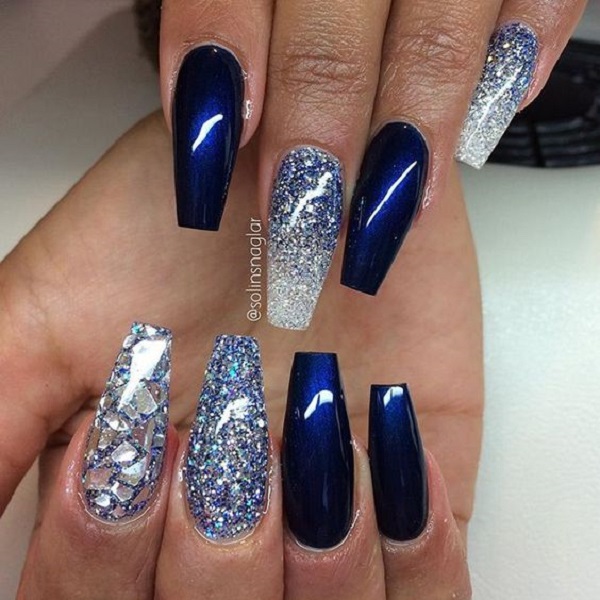 Blur and Silver Coffin Nails with studs and Glitter. The shattered look and the glittery silver nails coupled with the glossy navy blue color is another best way to wear the coffin nails this season.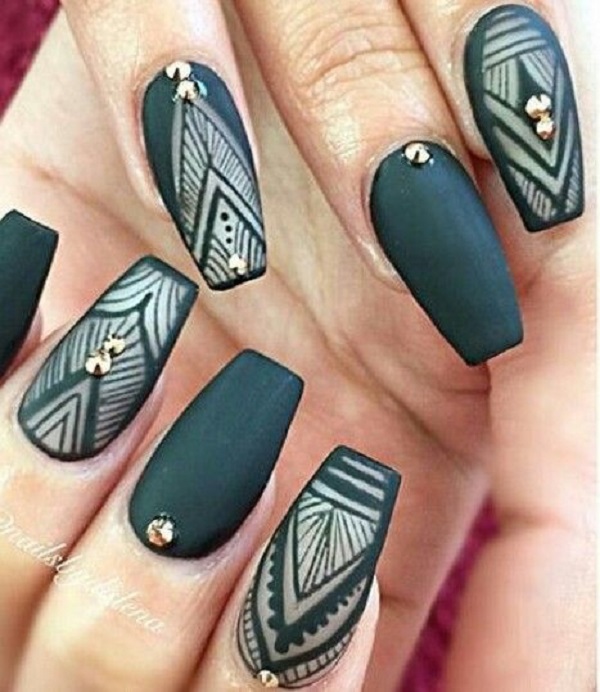 Matte Green with Nude colors. The patterned green and white with the single or couple of gold stud at the bottom of the nails is the true inspiration for all the pattern lovers.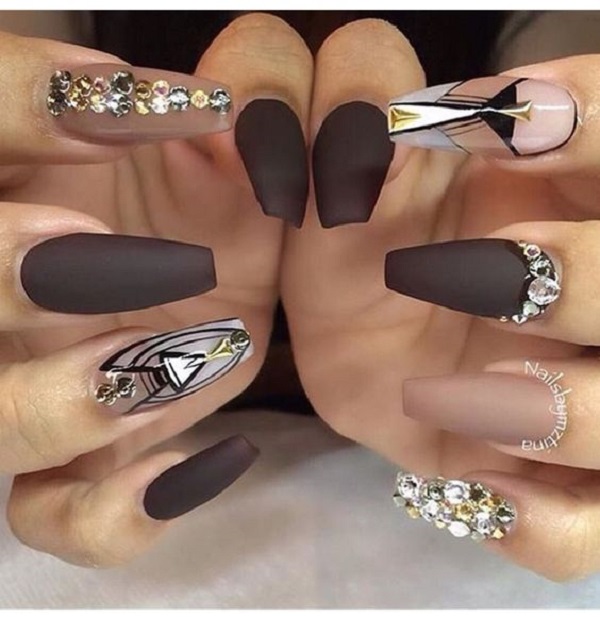 The shades of matte brown with diamonds. Chocolate brown and its shades are truly worth of your attention, when it goes coupled with the studs and diamonds.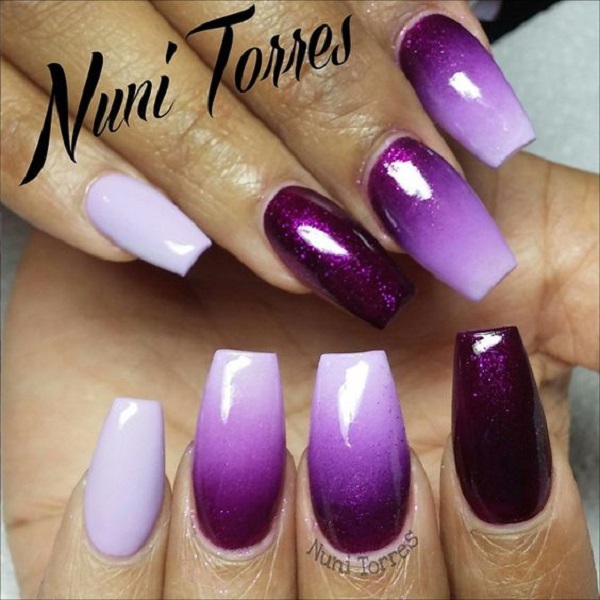 The Purple Coffin Nails with Ombre White. If you haven't tried any ombre nail art with coffin nails, definitely you have to.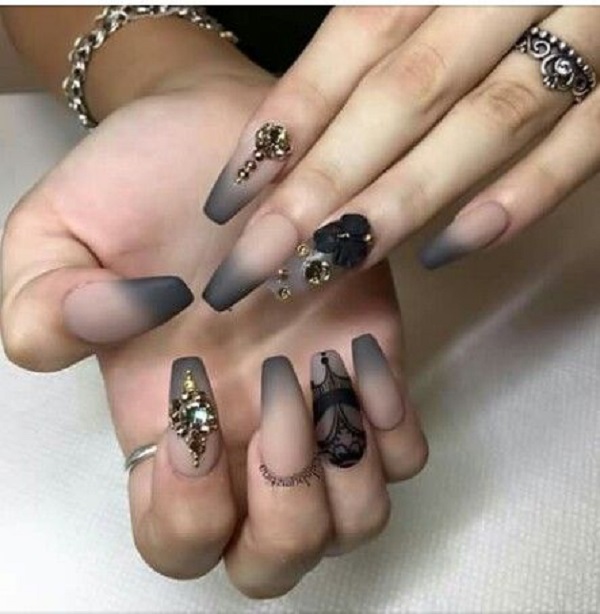 Ombre Nude Skin and Grey Studded Coffin Nails. Another ombre styled coffin nail art design on the list that is equally equipped with style and uniqueness with the sparkle of trend.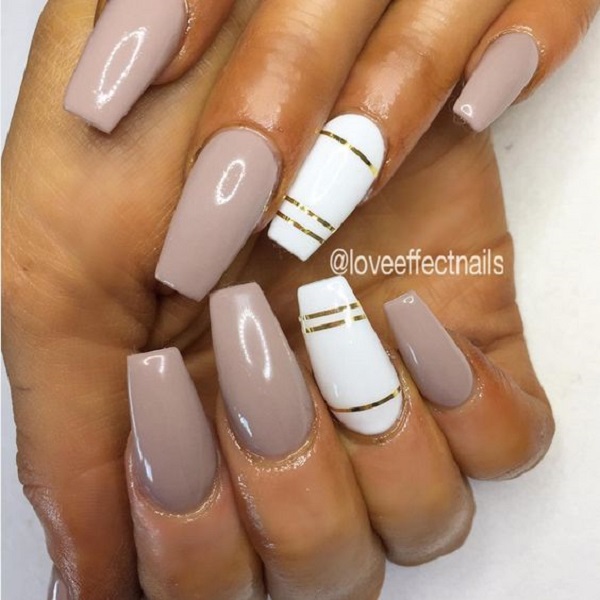 Glossy White and Nude Gold Coffin Nails. This simple glossy nail art design for the coffin nails is what you need to have.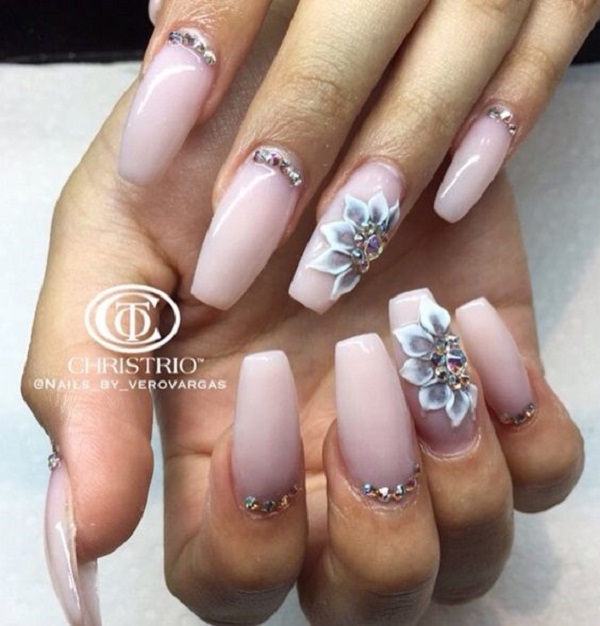 Neutral Studded Coffin Nails. If you love top embellish your nails with studs, beads and other amazing patterns, this neutral shaded nail art design is something that you need to try.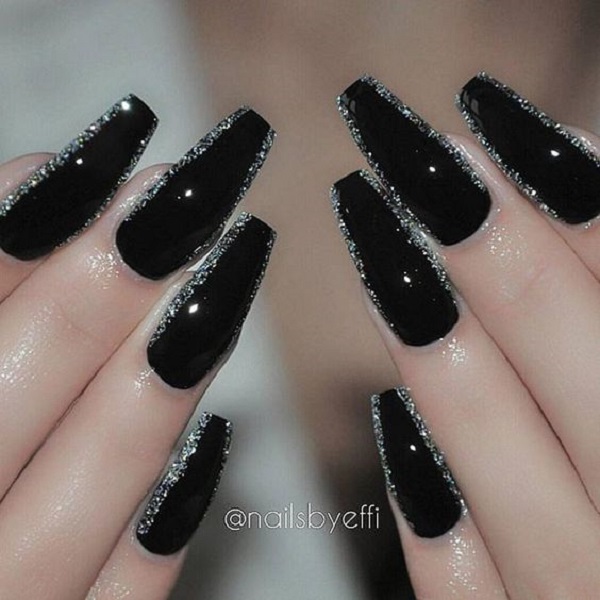 Black Glittered Coffin Nail Art Design. Black and silver glitter is love. This is extremely unique when done on coffin nails.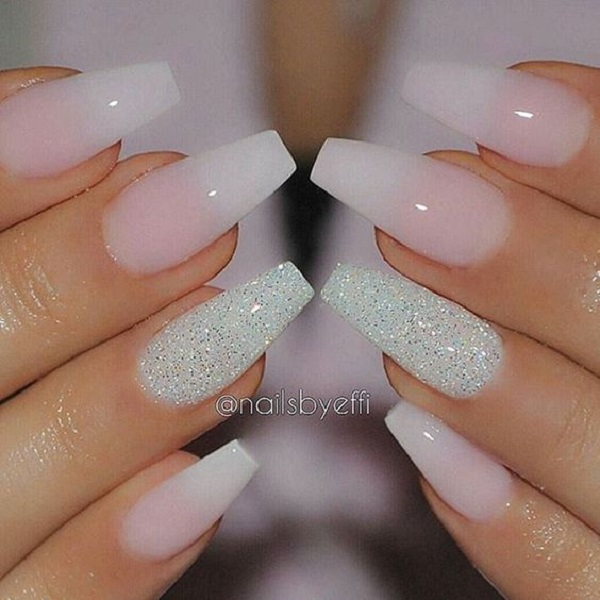 Transparent Nails with Center Glittered Coffin Nails. This slaying ombre transparent nails with the ring finger being glittered.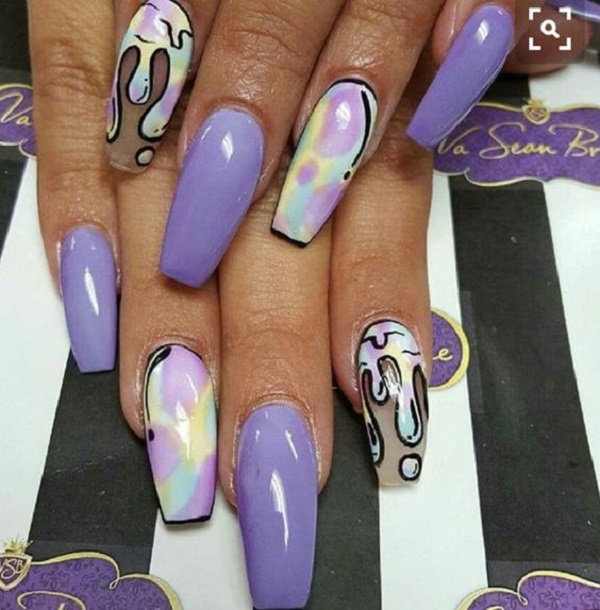 The Animated Coffin Nails. Not yet animated, but sort of animated coffin nail art design is next on the list to try. The Dripping water and the off rainbow colors seemed to be amazingly created on the coffin nails.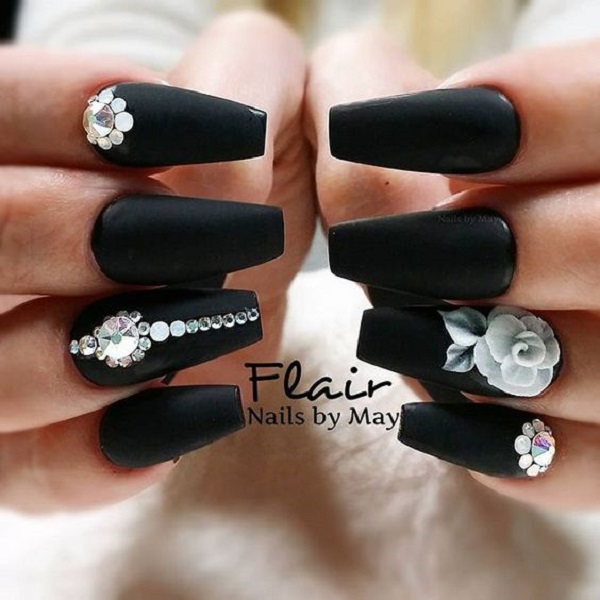 matte Black Coffin nails with Studs and Flowers. The studded white flowers on the bold black matte color is another great way to embellish your coffin nails with style.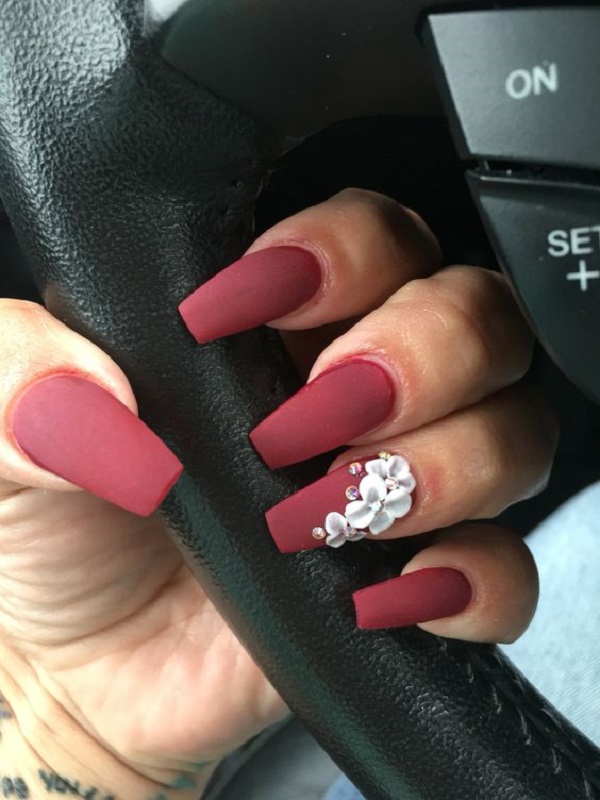 Matte Shade of Red with Flower on Coffin Nails. The matte red with the white clay flowers on is another great way to wear the coffin nails.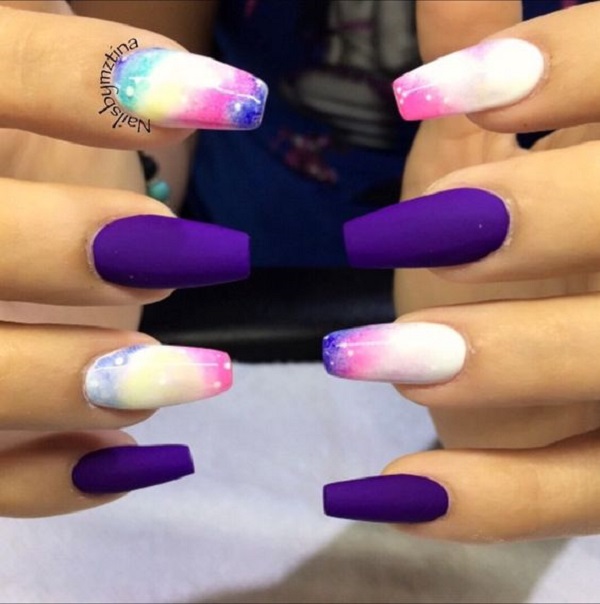 Matte Purple goes great with Sparkly Ombre Pink and purple on white. The sparkly nails are love, especially when they comes with the vibrant and bright color, like purple. You can try this amazing nail art design with other vibrant color like yellow or blue to add your sense of creativity.
As Ballerina or Coffin Nails offers more room to add creativity, you can do lot more with these nails. Try these simple yet attractive coffin nail art designs on your home and don't forget to mention your favorite design in the comments below :)