No matter what is in the style the latest year, Black color, always remain in the buzz. This is the color that never grows old, that never gets out of the fashion and that never goes wrong. Especially, when it comes to nail paint, black is the color, that can go cool, with any color that you are wearing.
Black nail Polish is the color, that is always talked about. From prepster to hipster, Gothic or prestine, black color is always loved and admired. And the best thing about this evergreen Black color is that, it suits both – Men and Women – Elegantly.
So, if you are wondering about your next nail color art, that can suit your personality, without any bother, Black is the color that you can always go with.
The Black Color Psychology and Meaning:
Just like any other color, Black color is also thought to have number of connotations. As in the old rituals, this color was thought to be mournful and threatening, but, at the same time, it is considered to be the signature color of style and attitude.
The Black color is associated with number of positive and negative aspects, that one can imagine according to his environment and culture. However, the color represents powerful and strong emotion evoking feelings, that can be overwhelming and mysterious simultaneously. Moreover, the color is thought to represent:
Death
Power
Elegance
Formality
Evil
Grief
Sophistication
Importance of Black Nail Art Designs:
When it comes to wearing as an outfit or on nails, black is undoubtedly the most classic and the most prominent choice for most of the people. Not only because it represents number of meanings, but also, it looks majestic, mysterious and classy with everything and at every occasion.
So, if you are considering for something for your nails, black color is the right choice for you. There are number of endless options that you can do with black color, especially when it comes to nail art. There are tons of styles that you can go with and among them, I am going to highlight a few, that you would surely love!
50 Black Nail Art Designs:
Glossy Black with Glittery Golden. If you are a girly girl type of a girl who love glitters and shiny things, then this nail art is worth trying. The combination of black and golden and glitter with gloss is awesome and can make your hands feel wow.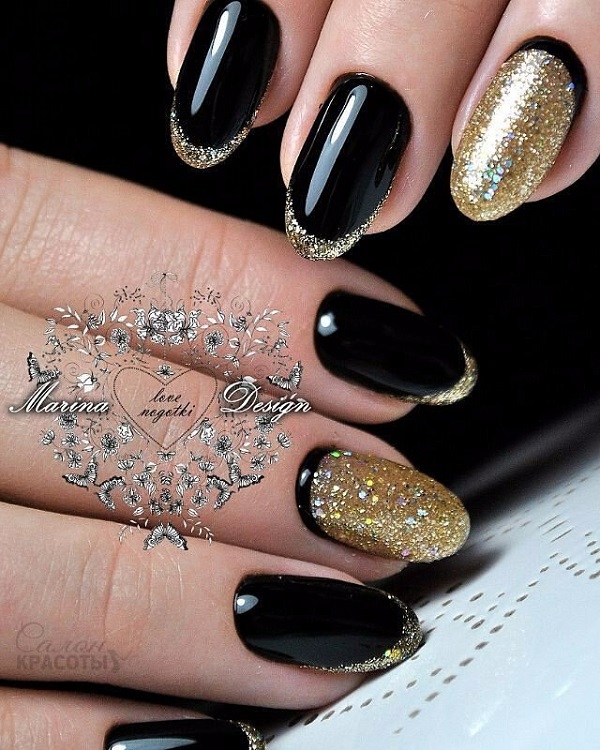 Matte Black with Glitter. Matte nail colors are trending these days and when it comes in black- elegance at its peak. So, the next amazing option that you can have is the matte black nail color with glittery black and grey tweak.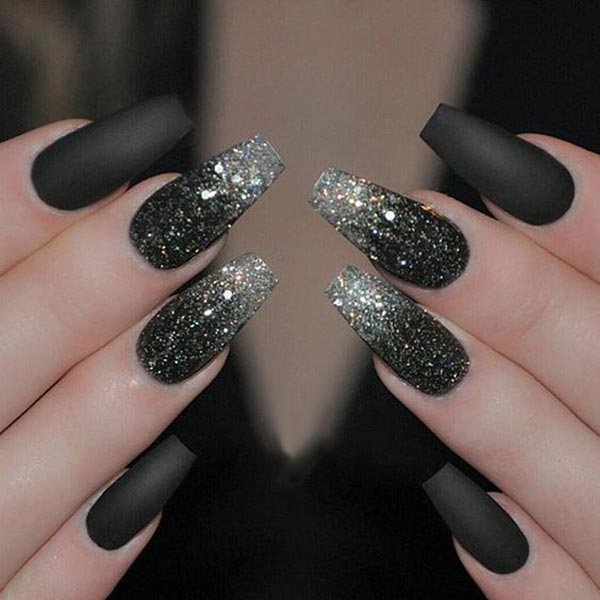 Black and White Floral Nail Art. The combination of black and white is evergreen, since the time of their evolution. The both color makes great combo, and when coupled with the art of professionalism and creativity, it makes the best option to wear on nails.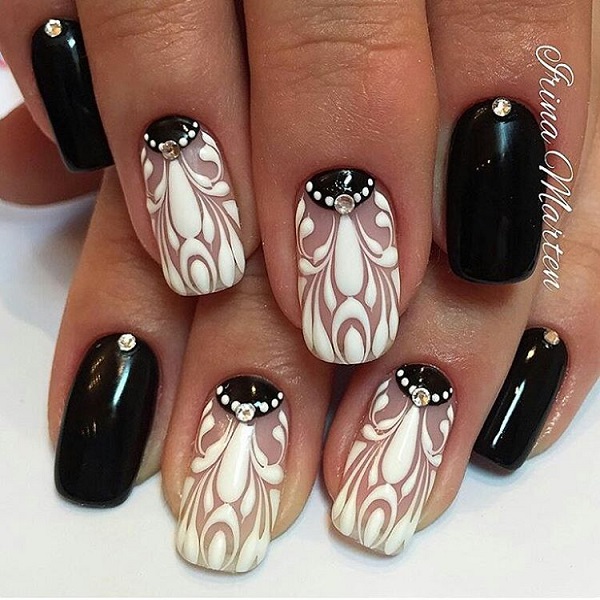 Simple yet effective Black and Transparent Nail Design. Coupled with the base coat and the floral design, this nail art can also be considered, if you are looking for something elegant yet simple.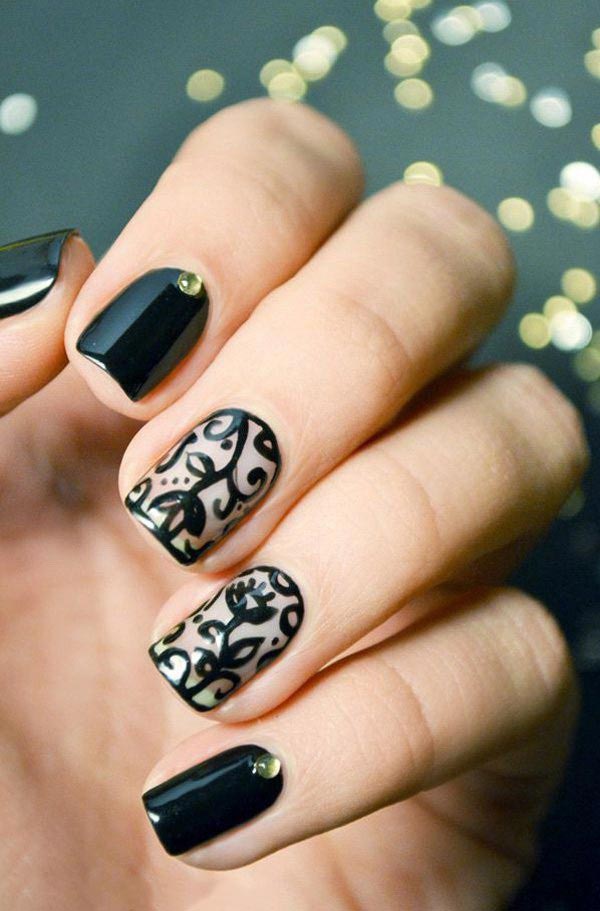 Black matte color with Nude Art. so, this one is for all those girls who are looking for the nude colors mixed with the tweak of bright colors] like black. This art combines the stone work, that perfectly gives this nail art a sense of elegance.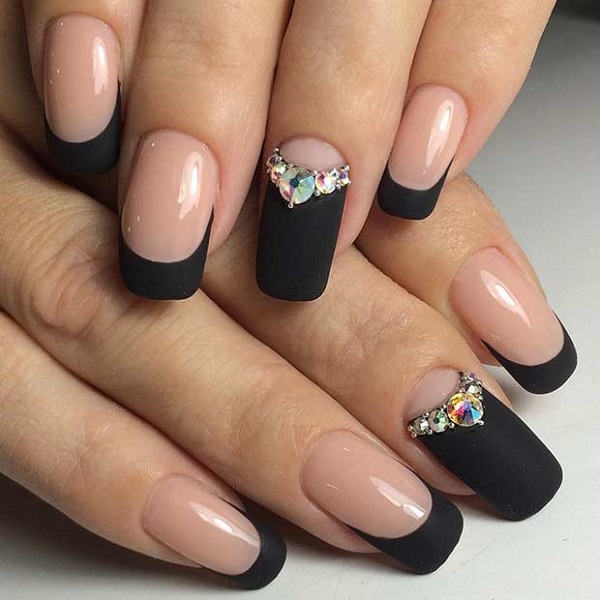 Glittery Black Matte Nail Art. You can try this seamless geometrical V-shaped nail art using the black glittery matte nail color.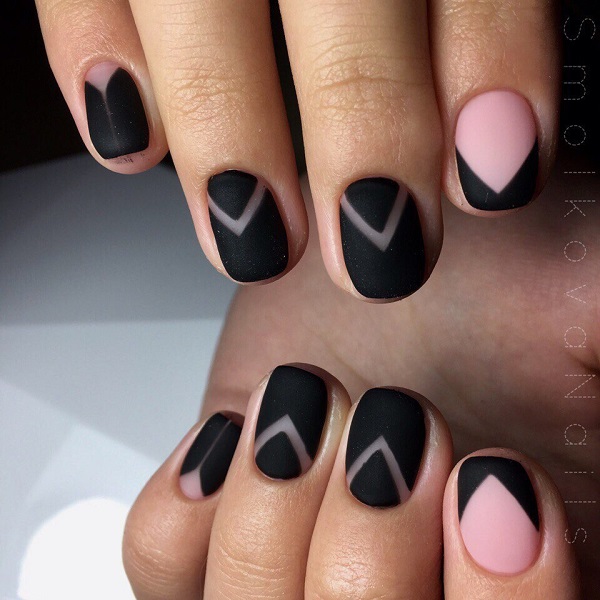 Matte Black with White Floral Nail Art. Flower makes the best choice for all the girls, when it comes to anything. So adding the floral white design in your black nail art also make the best choice for the all time classic nails.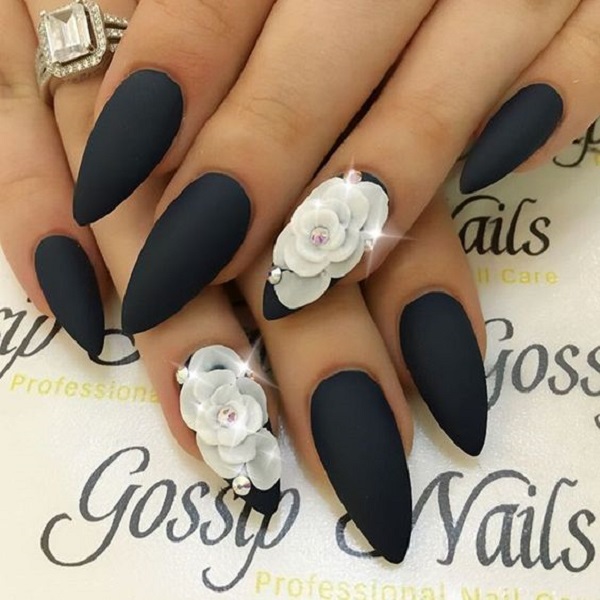 Black white Floral nail art. Matte nail colors with the tweak of floral art is another best choice for your nails, that can suit all your styles.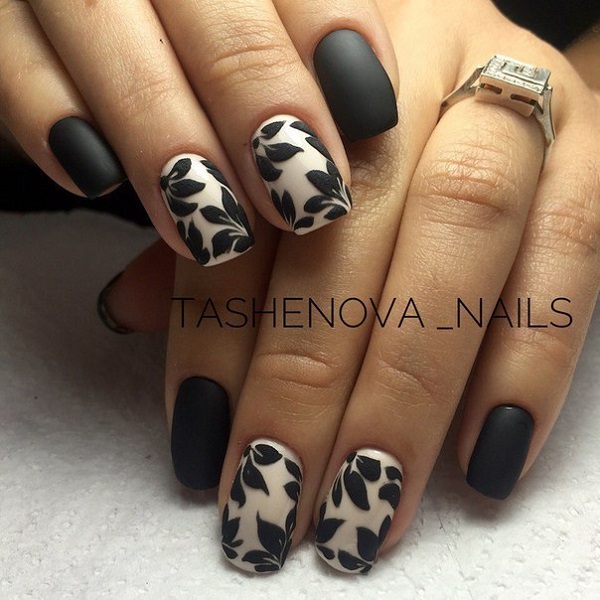 Simple, glittered and patterned nail art combined. If you are a person with multi- personality, then this nail art is something worth trying. This design incorporates simple matter black color coupled with the glittery and patterned nail art, with some stone thingy.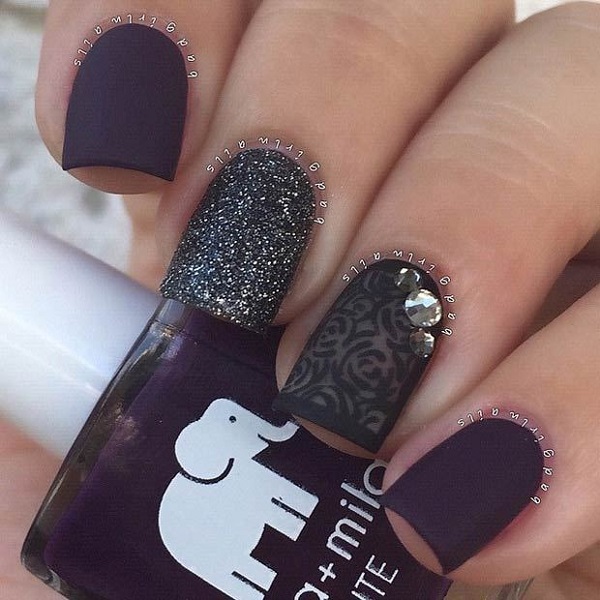 Hearty Black and white nail work. This simple yet amazing nail art is another option, that you can go for. The black glittery hearts on the white base makes the best elegant choice for the classy people out there.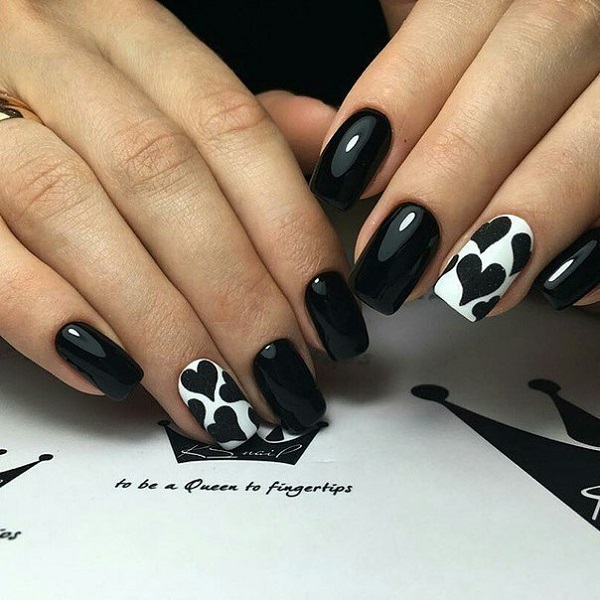 Elegant Looking black and white nail art design. combine the black and white matte nail colors with your creativity and get this amazing nail art design that looks elegant with style simultaneously.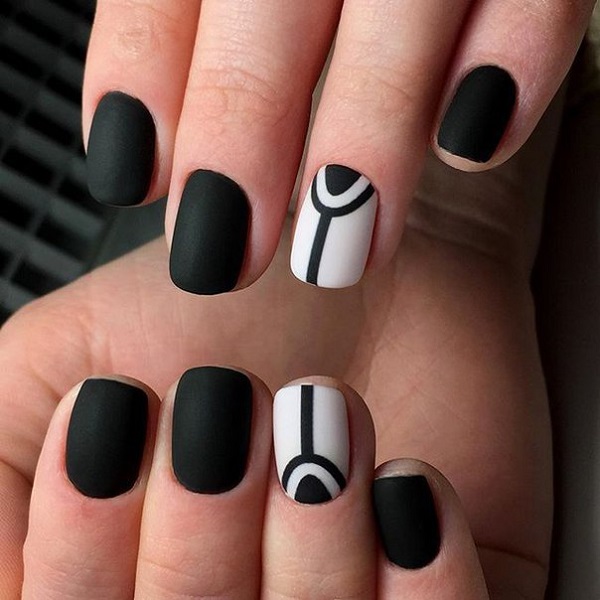 Glossy Black petaled Nail art design. With the combination of different girly beads and black glossy nail color, you can have this nail art design on your beautiful hands, to enhance its beauty and elegance all together.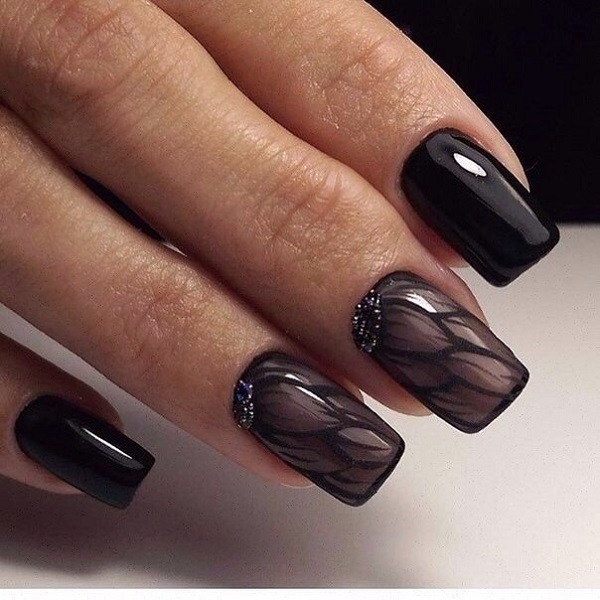 Matte Black and Tribal inspired Nail Art. You can have this amazing bold black matte nail color on your nails with the spark of tribal design and patterns along with some tweak of French tip for the dramatic effect.
Classy Bold Nail Art with Girly Look. Cover your nails with the bold black matte nail color with the addition of some girly effect like enhanced color flowers and stone design to give classier look and to impress your peers.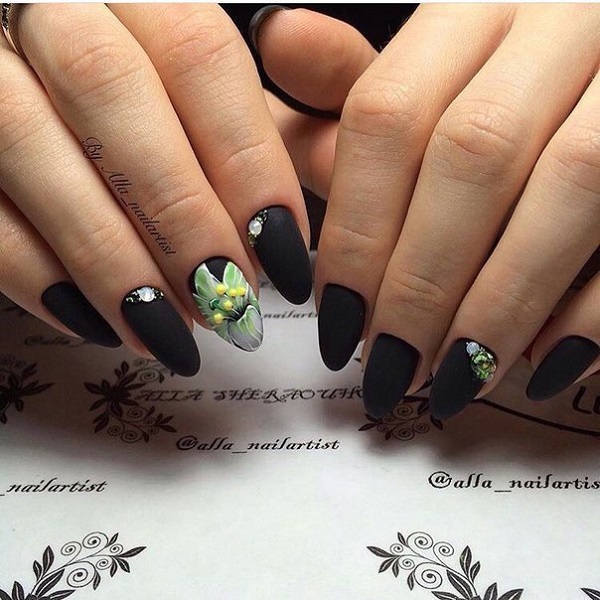 Another Nude + Black Nail Art design. The base of nude color and the tips of black color can make your ext nail art design, if you want to ow something very elegant and stylish.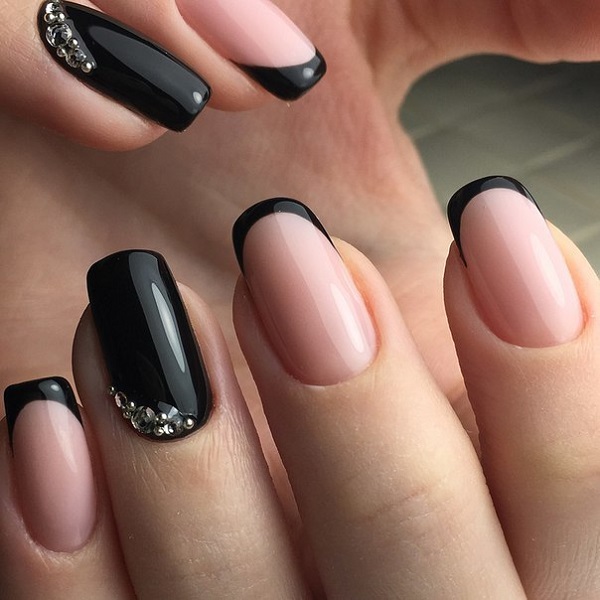 Differently patterned Glossy nail work. The combination of black, white and transparent glossy nail colors when go along different patterns on your nails can give a shout out impressive look to your hands.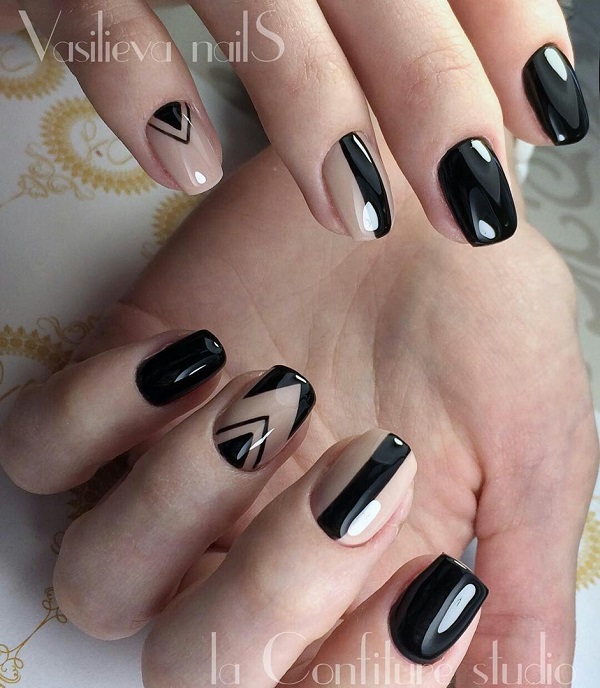 Black nail art with a beautiful butterfly work. Girls are often considered to be sleek and beautiful as butterflies. So, if you want to represent the beauty of you being a girl, you can try this amazing butterfly incorporated nail art design on your hands.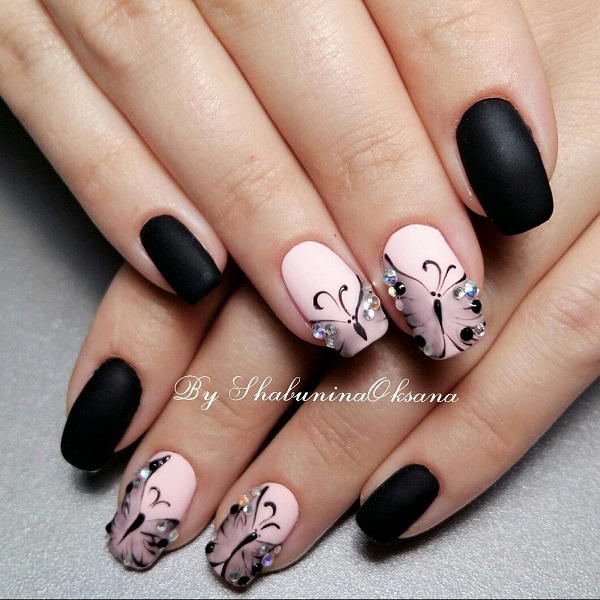 Coupled Matte and Glossy black colors with Glittery enhancement. Boost the look of your hands by covering your nails with this stylish yet attractive nail art design which includes the touch of glittery black nail color along with the base of bold matte black and the tip of glossy shiny nail paint.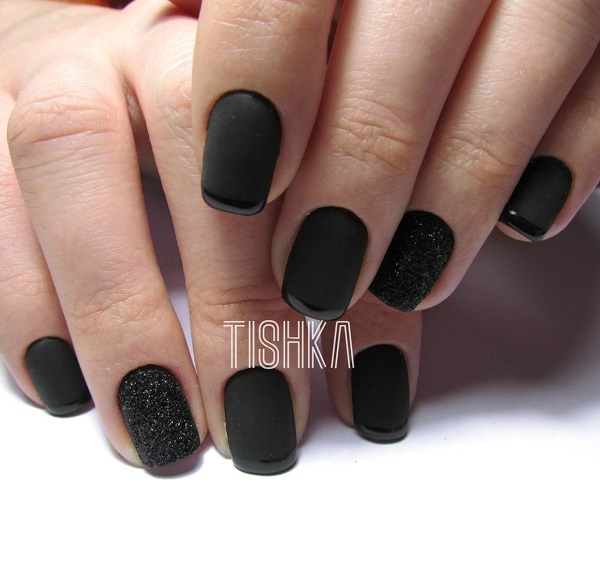 Glossy Black and Matte Grey Nail art design is the next on my count to have. This one is something really beautiful without elegance being compromised.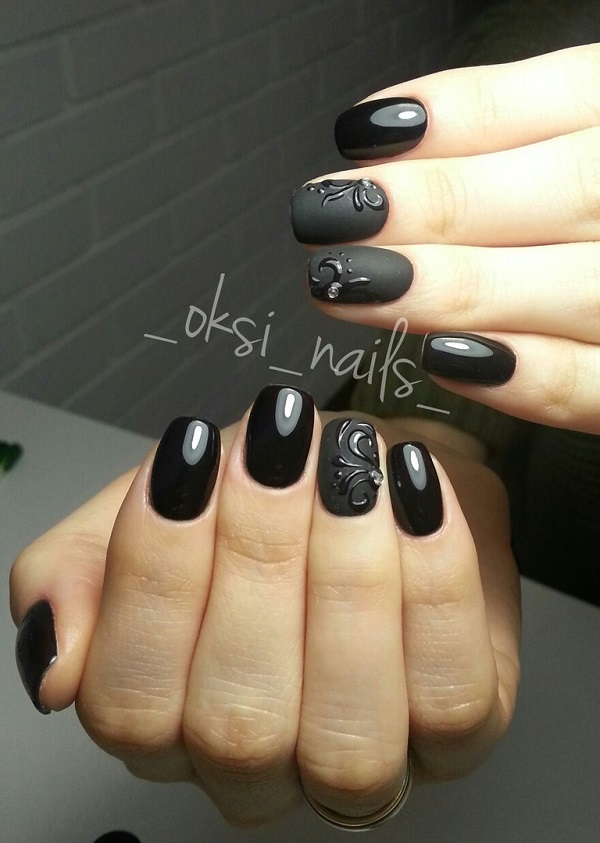 The Starred Black and silver nail art. Get your nails covered with the base of matte black and silver stars above to represent the beauty of night on your nails.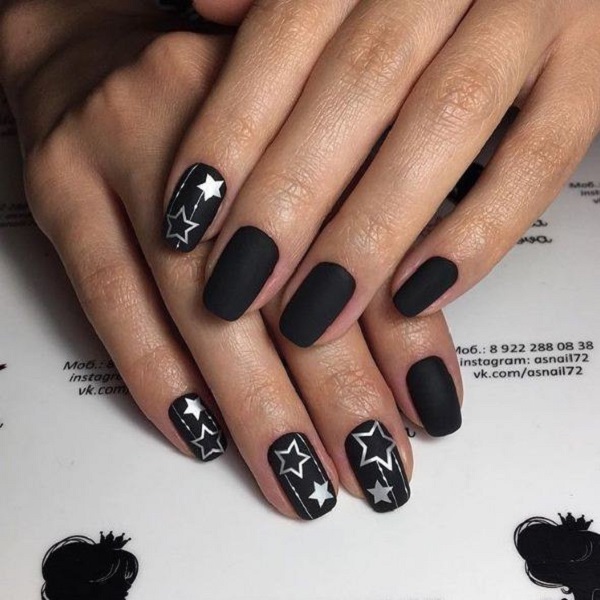 Black and white summer nail art with yellow touch. You can try this nail art design on sunny day as it incorporates the sunny colors with the summer flowers. However, if you are also going to attend a beach night party, this anil art design is something worth getting.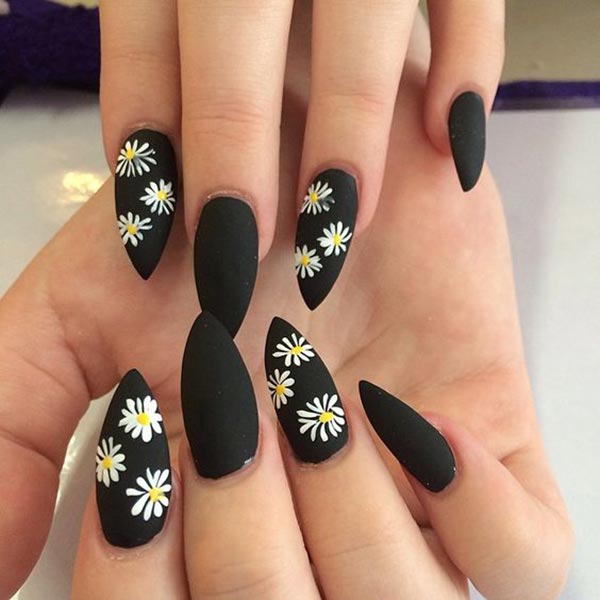 The Combination of glossy and Matte Black. If you are a die hard fan of the black color alone and don't want the grace of this color to be minimized with any other color, then having this nail art design can definitely worth your interest.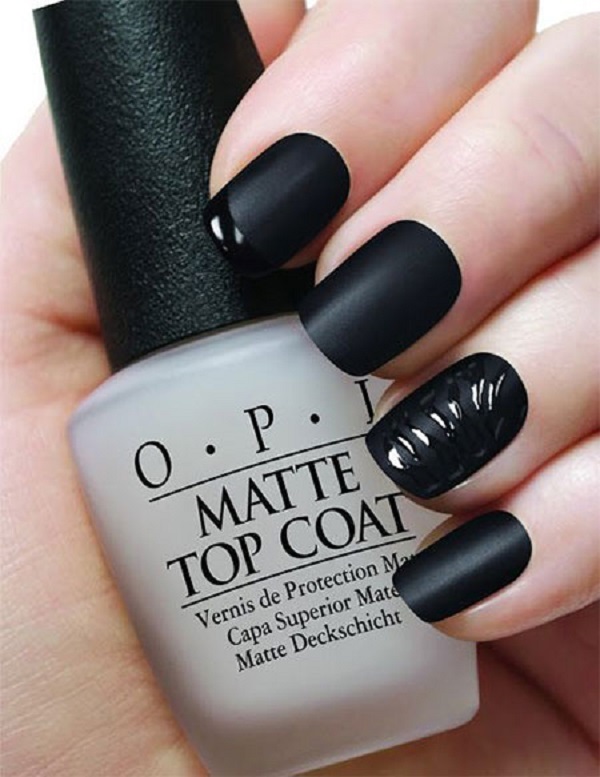 A Simple Black Heart on Nude Nails. All the nails covered in the glossy black shade and ring finger covered in a simple black heart, can be your next choice, if you are looking for something stylish yet simple.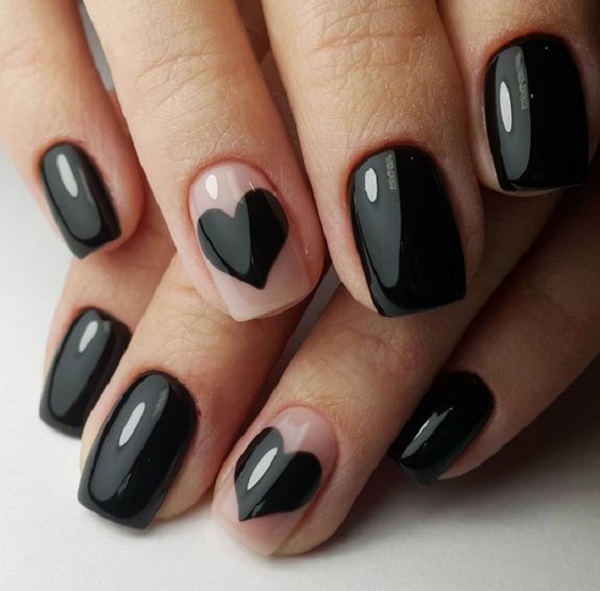 The Fierce Black Tiger on Nails. The combination of minimalist and tiger tattooing on the nails make our next nail art design, that is worth having, if you know what actually creativity means.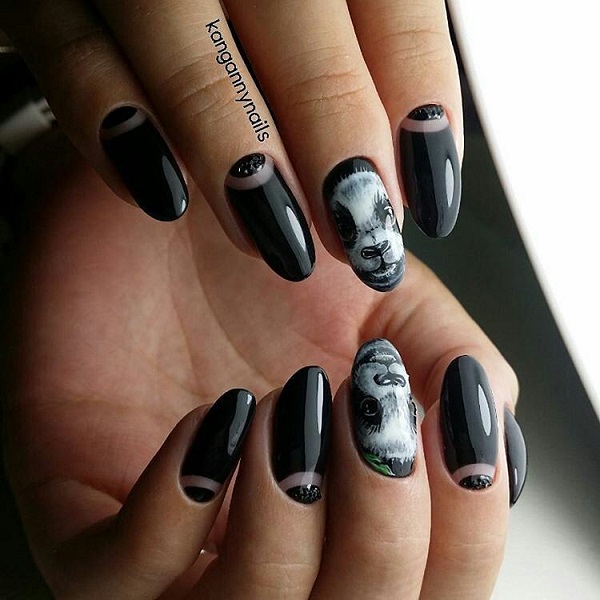 Rather simple Glossy Nail art design. With the tweak of silver beads on the simple black glossy nails, this nail art is simply awesome and enchanting.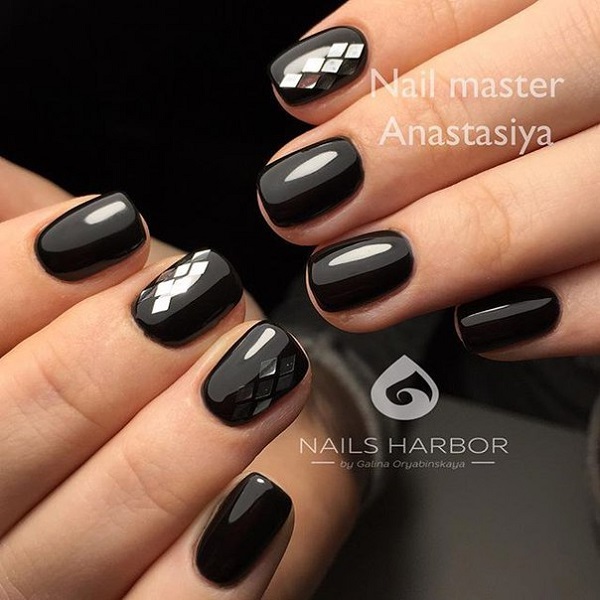 Black chocolate syrup inspired nail art design is for all the chocolate lovers out there. let your nails look like just dipped in the delicious chocolate syrup using you creativity and bold glossy black nail color.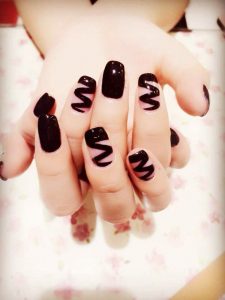 The Studded Matte Black Nail art Design. Decorate your nails with this gold studded black matte nail art design, with the coupling of glittery little color.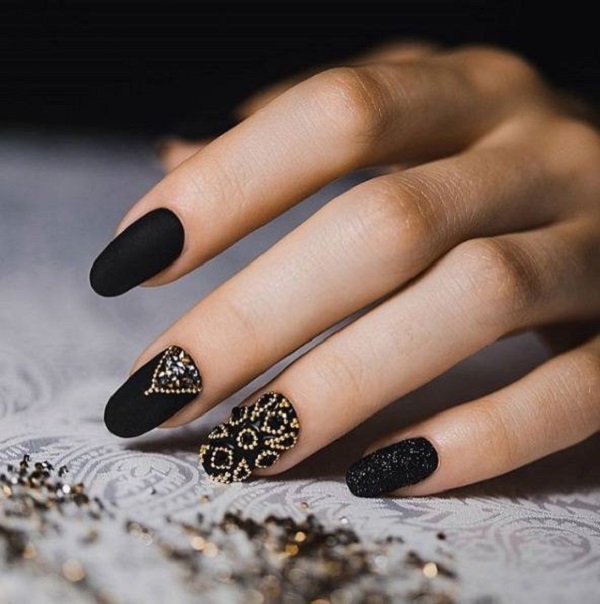 A Belle Dancer Nail Art Design with Black Enhancements. If dance runs in your blood and you want to show the world its actual meaning, you can decorate your nails with the black belle dancer on white base.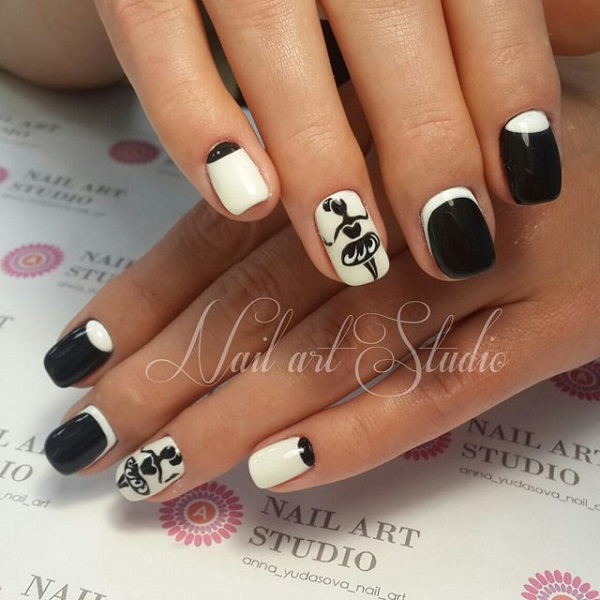 The Black outlined colored peony nail art. Get your middle and ring finger nails covered with the different colored peony design with rest colored with the bold matte black color, to enjoy your girliness.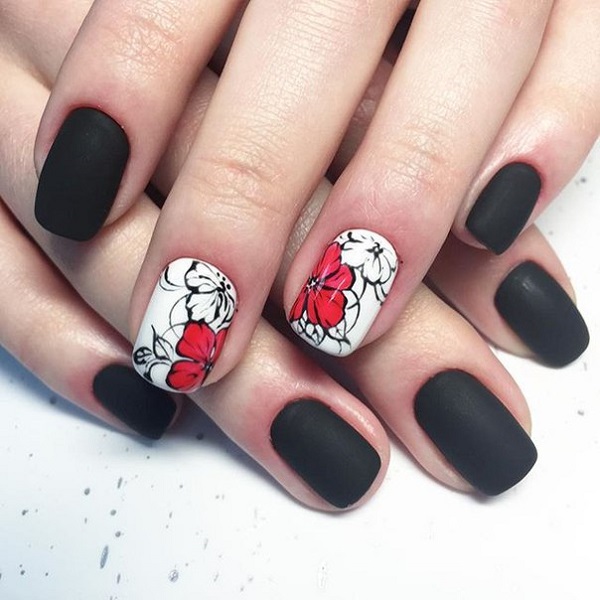 Minimalist Feathery Nail Art. Show the world your creativity with this cute, yet attractive nail art design that incorporates the dotted feathers and minimalist nail art design in silver color on black base.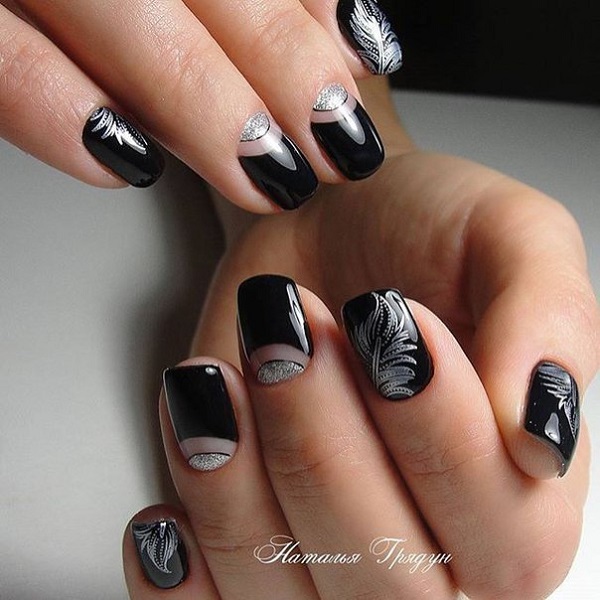 The phases of Moon on Matte Black Nails. If you want your nails to look pretty as moon, try this nail art design that is phenomenally representing the different phases of moon on the nails.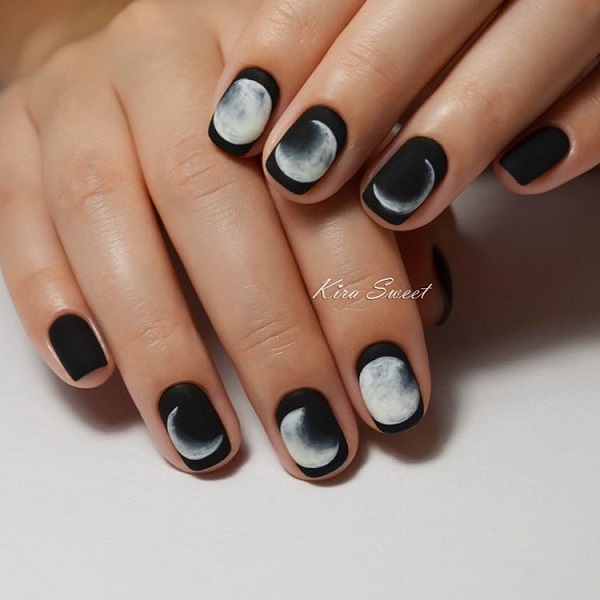 The Glossy nail work with Black and white. Complement your nails with our next f=great black and white nail art design. This one incorporates the white lace design over the glossy black base on alternate nails.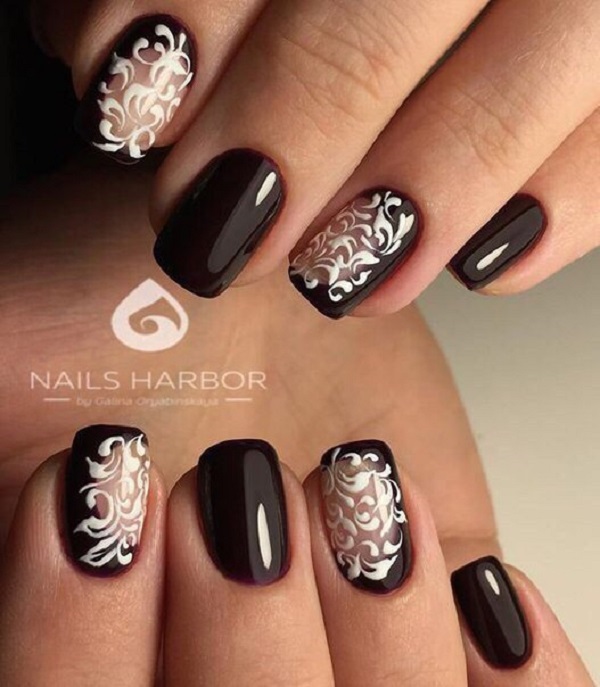 Dark glittery + tigerry Nail Art. Another nail art design on the list that carries fiery tiger is next that is bit different but much classier. The details of the tiger and glitter work when done well, can give this amazing output.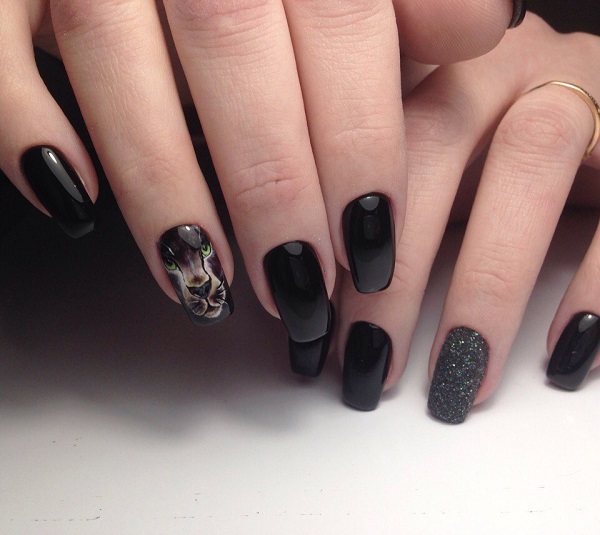 Black and Orange Minimalist Nail Art. Tweak the color of grace with some bit of orange in the minimalist design. The crown of beads and stones is the major focus of this masterpiece.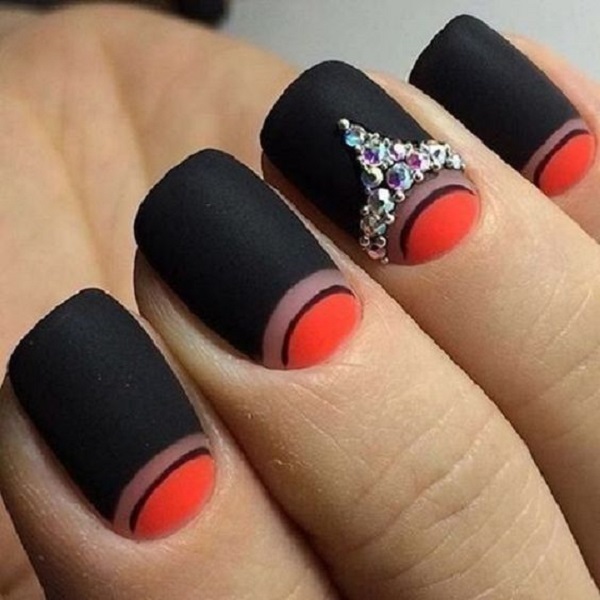 Another classy white and black nail art design. Cover your nails with our next pick of the black nail art design. The balance of two opposite colors is well indicated through this piece of art.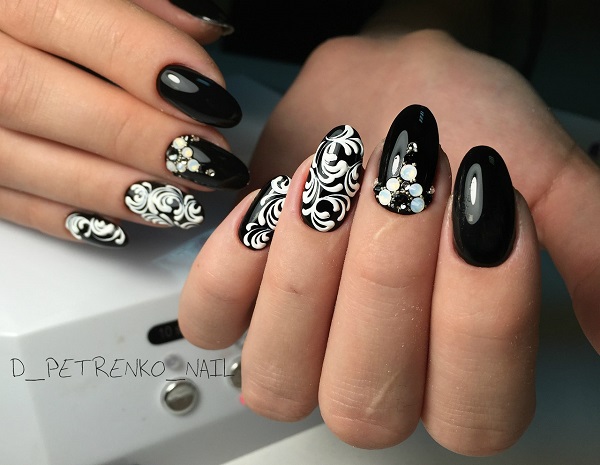 An Amazing Black and Silver Play. Creatively play with the combination of black and silver nail colors, like the one below upon your nails and get what you are looking for.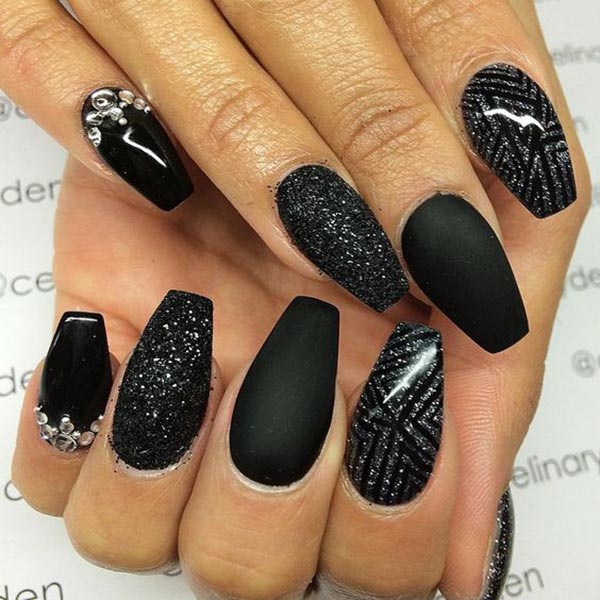 The wholly Matte Gorgeous Nail work. If you are in love with the matte trend this season, this nail art design is worth your interest. The multi- colored beads, matte black lace work on nude nail and alternate black base coat of matte color makes the great design, that can catch your mind too.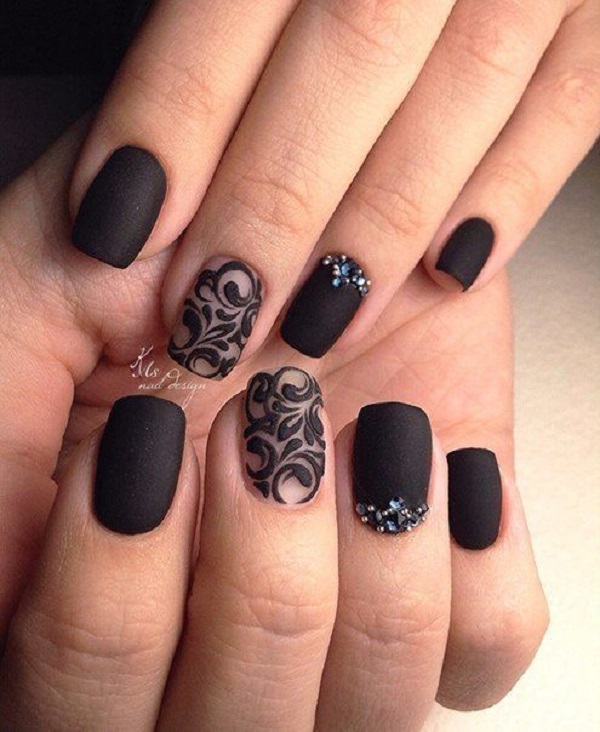 Another studded Black Nail art. If you love ornamented nails and black color as well, this nail art design is worth trying for you.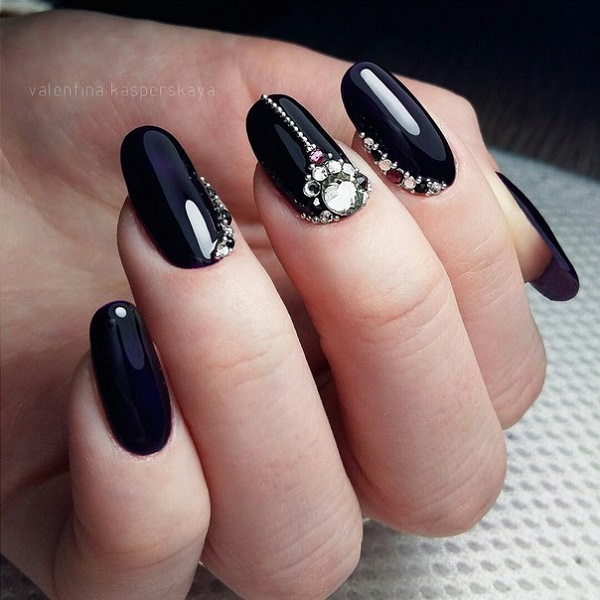 Matte Black lace work. Lace up your nails elegantly, just as in the picture, to get your next amazing nail art design.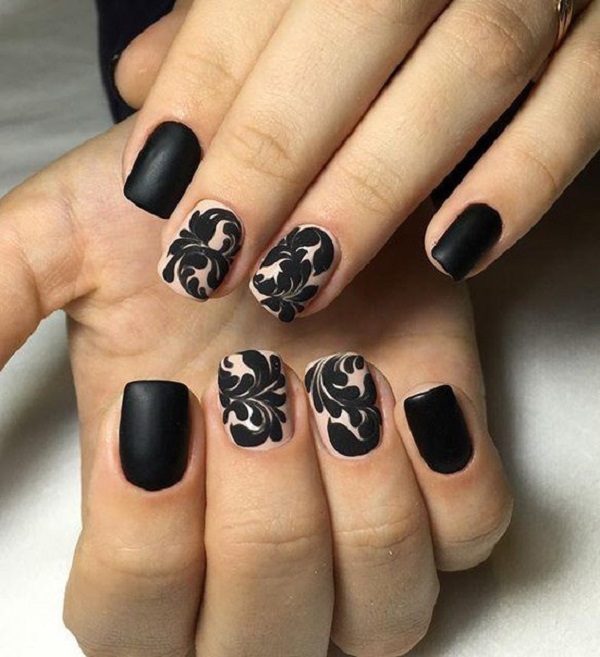 Beautiful Glossy Black and Skin Nail Art. Although matte nail colors are in trends, however, this nail art design cannot pop out without this glossy black nail paint.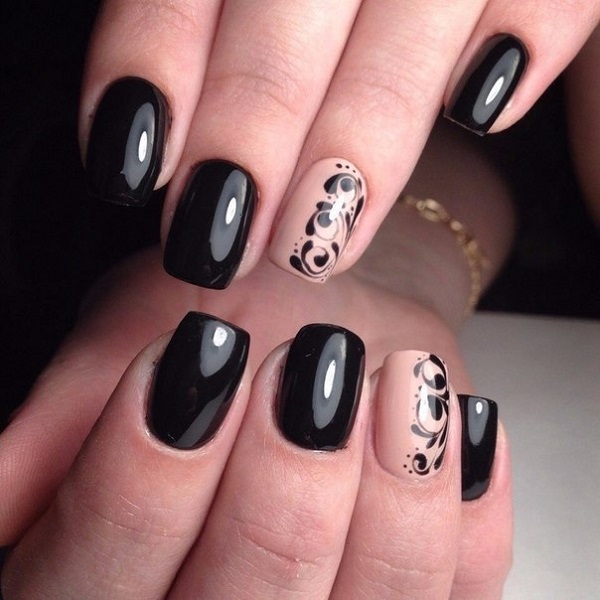 The Tribal Nail Art on Black Base. Get your glossy black nails covered with this tribal multi- colored design.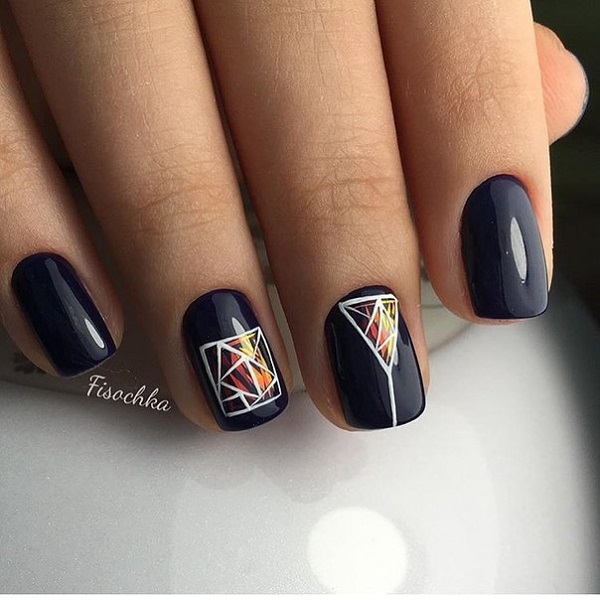 The clock on Nails. If you want to be punctual in your life a head, try this amazing motivational clock nail art design, that incorporates a beautiful girly clock along with the elegance of black color and crystal stones.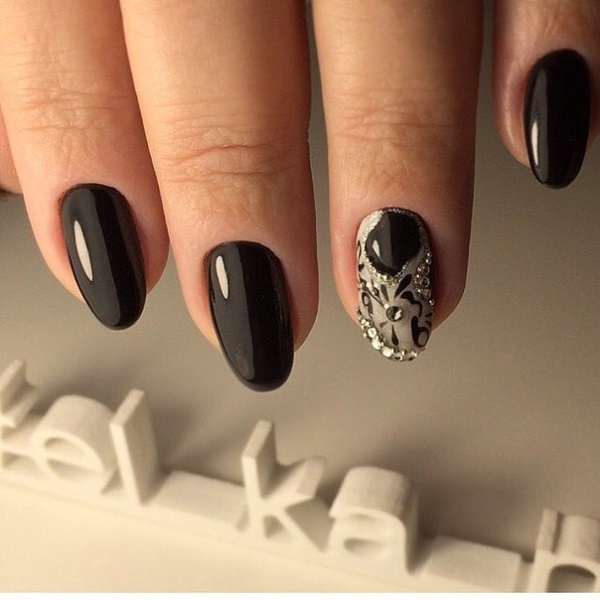 Multi colored studded Nail art design over Black Nail Paint. Well, i don't need to explain this nail art as its appearance is explaining it all.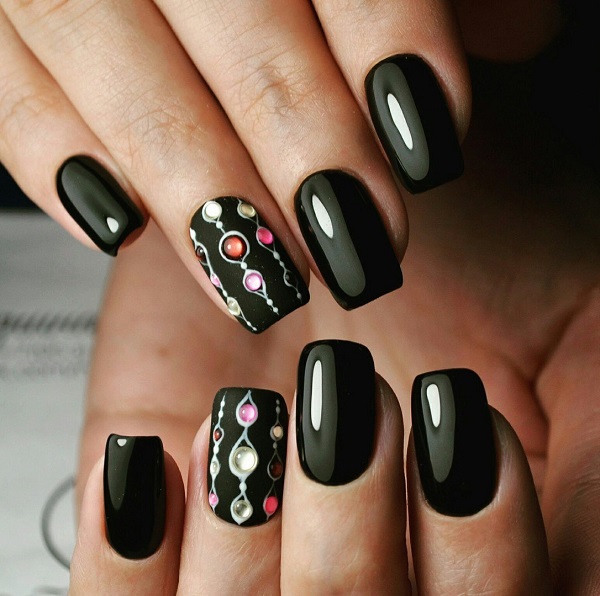 As mentioned all above, black and white makes the best choice for your nail art design, if you are looking for something exquisite and amazing at the same time.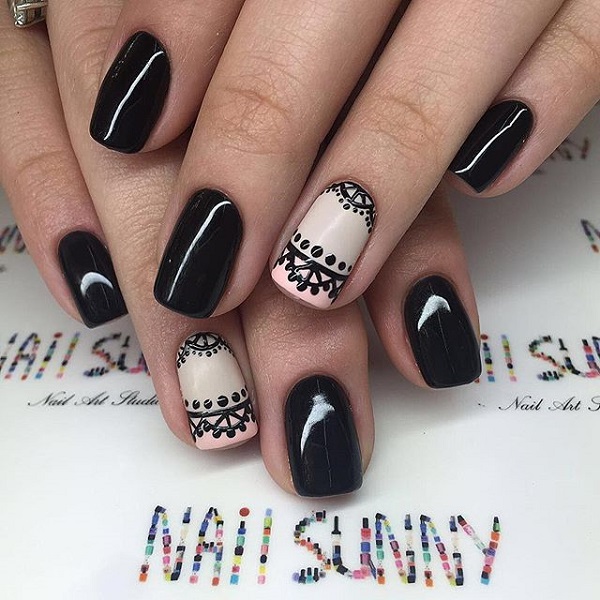 The girly Black and White Piece of Nail Art. Get your nails covered with this amazing combination nail art pack for girls. The tweak of studs, beads and floral pattern can surely get the mind of each and every girl out there.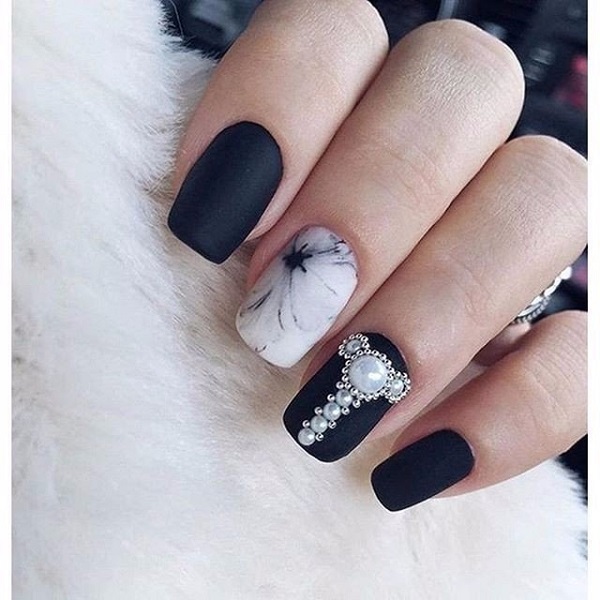 Glittered Minimalist Black Nail Art Design is the next option for you on the list. As a matter of fact, such minimalist nail designs never get old and remain as much enchanting as they were ever before.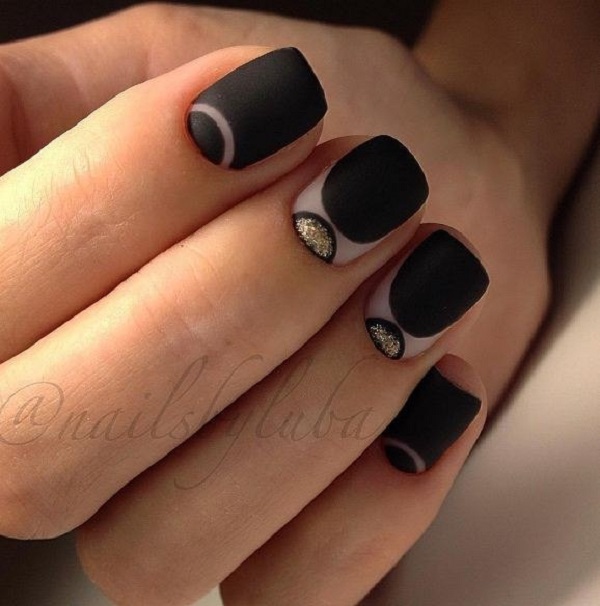 Eiffel  Tower Gradient Nail Art Design. if you love Paris and its Eiffel Tower, then having its nail art is not a bad idea. This gradient nail art design equipped with the studded Eiffel tower makes the great choice for nail art.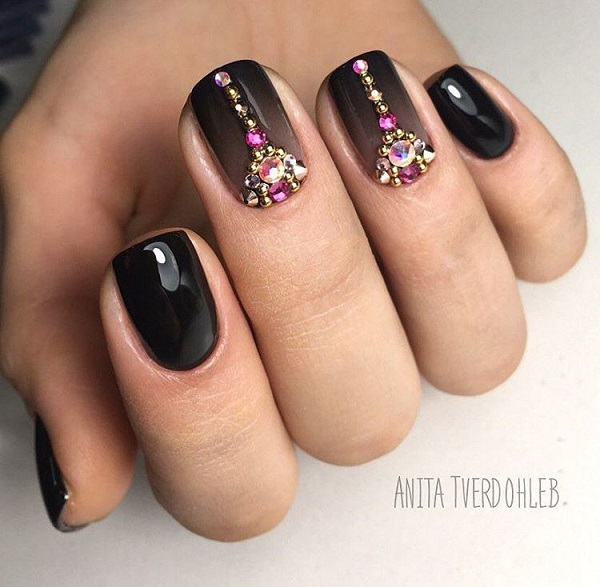 Lace up your nails in the most stylish way than ever, with this next nail art design that we have on our list. The combination of glossy white and black nail paints along with the matte glittered black makes the next amazing masterpiece worth trying.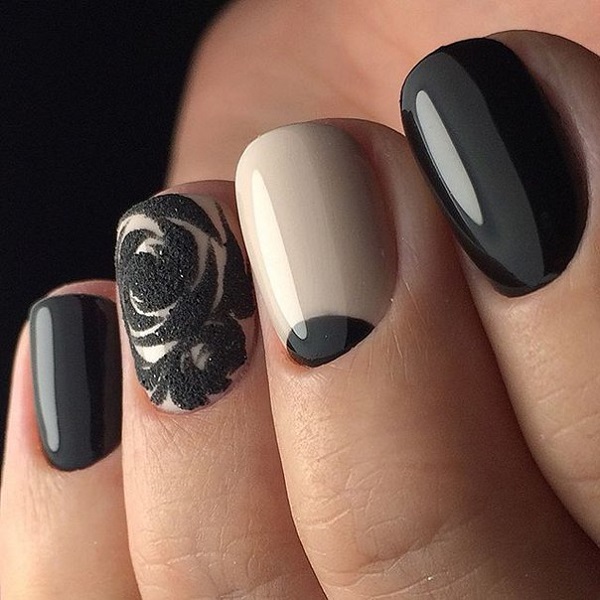 This Black and white Piece of Art. If you are an emo person with some fondness with insects, then this nail art with ant is the best thing that you can have out of the list.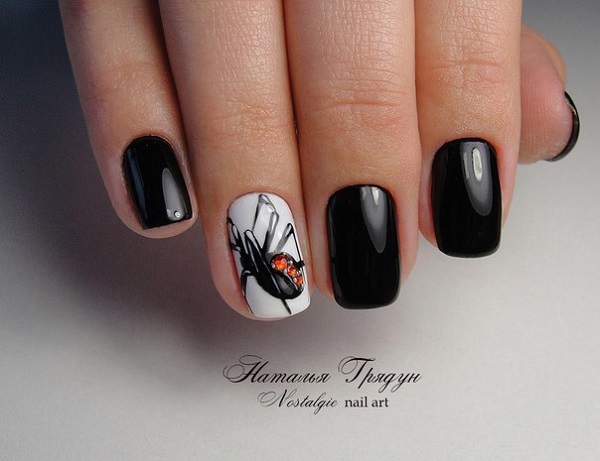 Transparent black Nail art. Stud up your nails with the stones and glossy black nail color, just like the way in the picture, to, make your hands perfectly going with your prom night dress.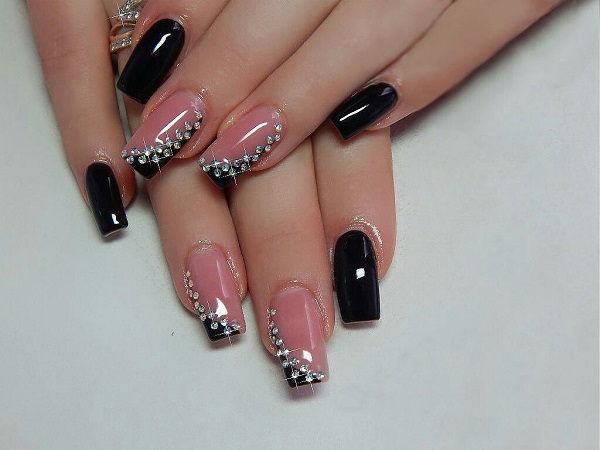 This Royal Black, Grey and White Nail Art Design. Feel the royal ambiance by getting this amazing royal looking nail art design with the combination of black, white and grey nail colors boosted up with the pearls.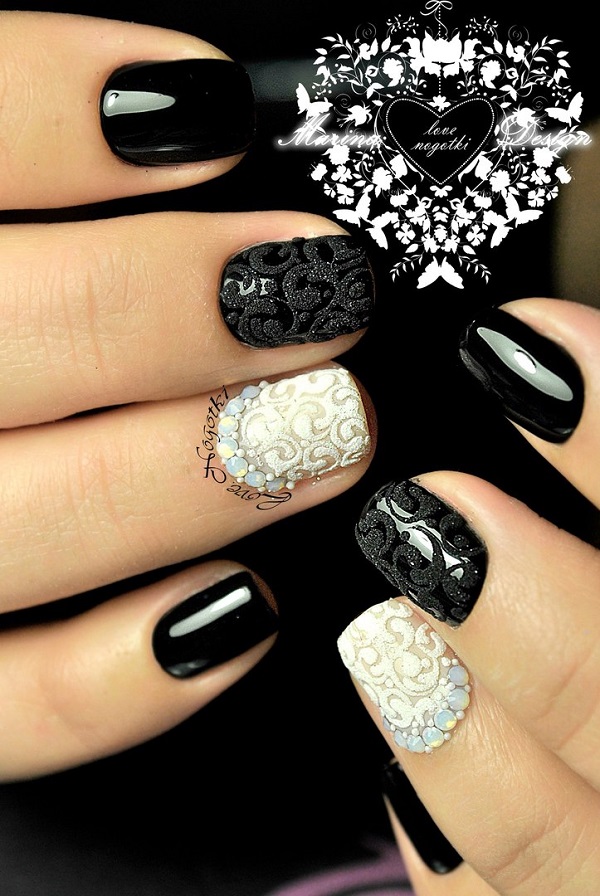 So, if you are looking for something black that can get your nails covered amazingly, you can find all in this fully- featured nail art design guide. If you have something different in your mind regarding this subject, feel free to share in the comments below :)