When you hear about the stars, watermelons, beaches, this means the Summers are here and wheeheee! your nails are ready to play in the summer colors too!
You can go with all those funky colors on your nails that you haven't tried ever in the season of summer.  Yellow is one of the funky colors that is often considered to be the color of summers as it gives the amazing sunny appeal. But the fact is, yellow color is not only used in summers, but it goes well throughout the year.
When it comes to fashion of nails, nail art designs is the most common hype. You can try the en-daring colors on your nails in isolation or you can couple them with different colors like yellow in order to enhance the looks of your nails . Moreover, there are number of shades of yellow that you can go with on your summer days, so that you can catch up all the sunny fun altogether.
So, if you don't want to miss the sunny fun with yellow nails, here are some creative yellow nail art ideas to try on!
45 Amazing Yellow Nail Art Designs to Go with This Summer:
Check out below some of the most inspiring yellow color nail art designs that you would love going with your summer outfits: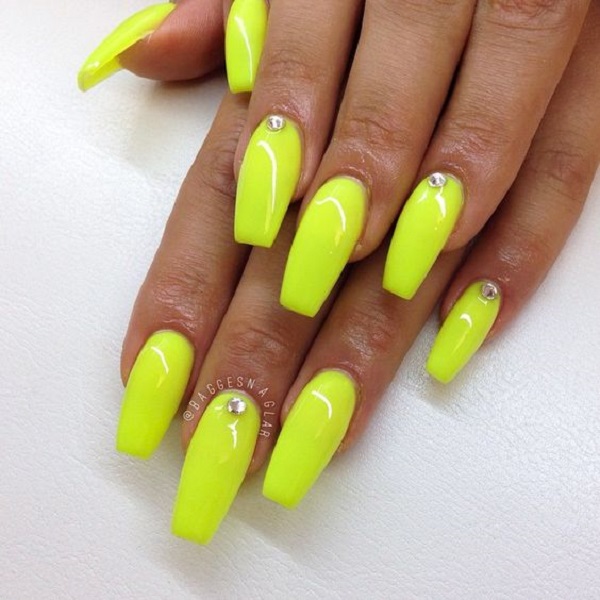 Lemon Yellow Glossy Coffin Nails. Looking for something sassy yet simple? Here you go withe the beautifully done lemon colored nails with a diamond on it.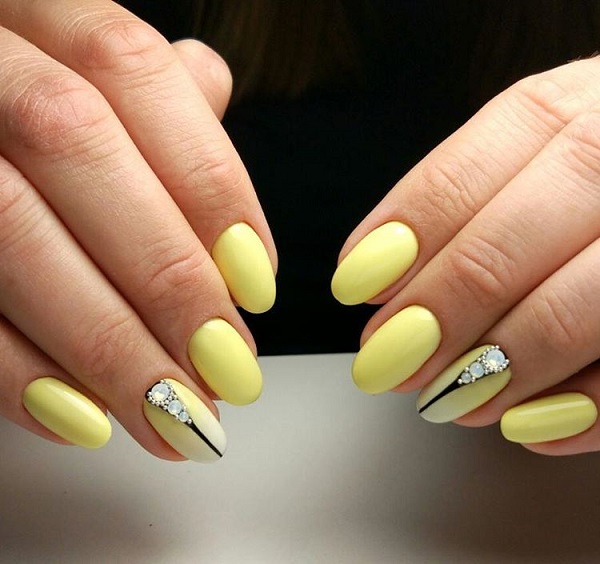 Yellow and Black Diamond Nails. Get your yellow nails coupled with the black strips and rhinestones, so that they can go with your fancy yellow evening outfit.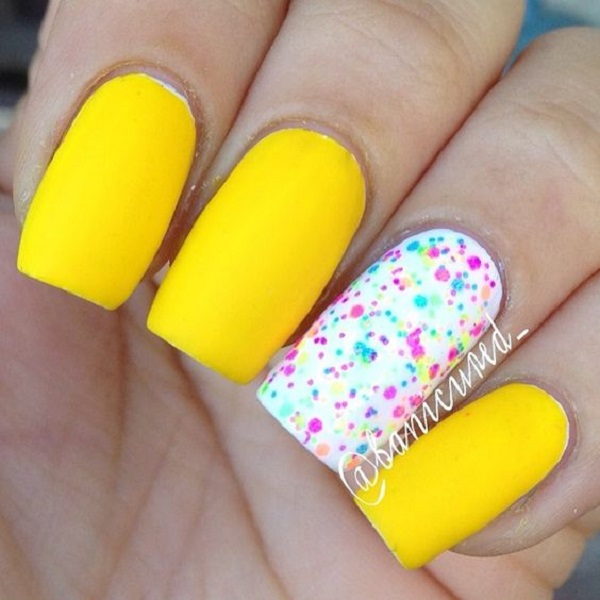 Fun Summer Nail Art Design. Summer is associated with all the funky colors. Get the bright yellow color mixed with white and other summer colors, just like the one in the picture.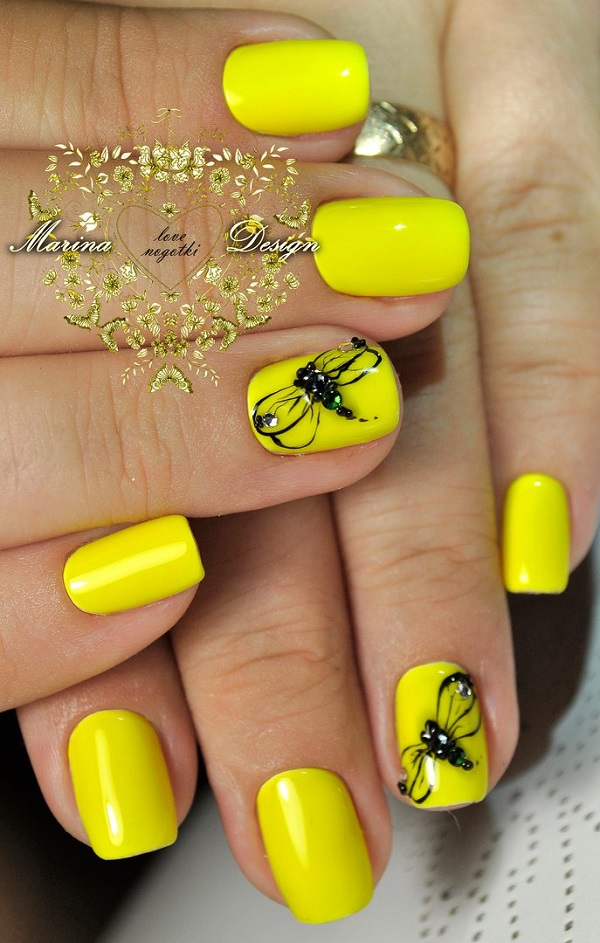 The Summer Fly on Yellow Nails. This is really a cute looking yellow nail art design with the tweak of black in it. The summer fly is studded with black and silver studs, that enhance the look of this design.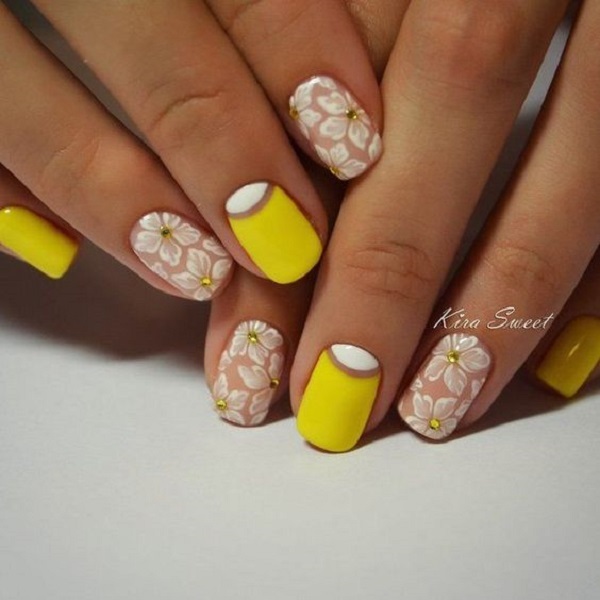 Floral Themed Yellow Nail Art. The one who is looking for an attractive nail art with yellow touch, here's the best that she can have.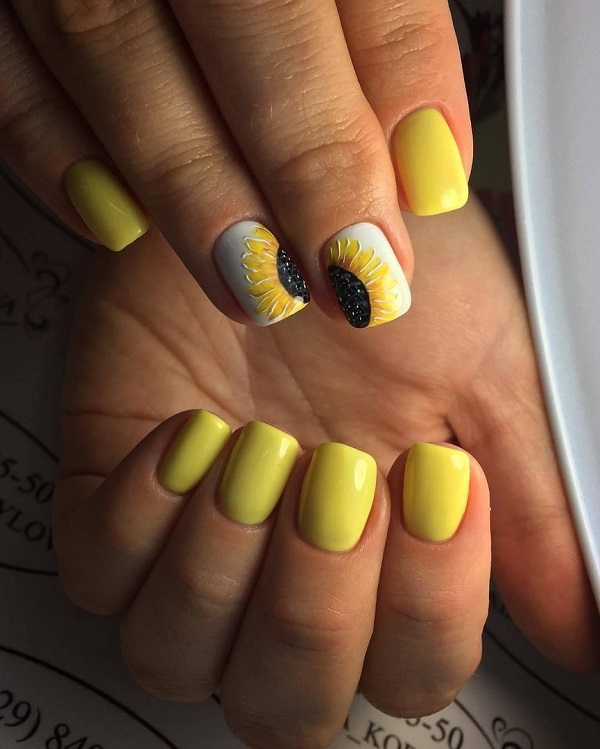 Sun Flower Nail Art Design. Sun flower and yellow, both are associated with the summers. So why not go with these two elements and create your very own stylish yet elegant looking nail art design.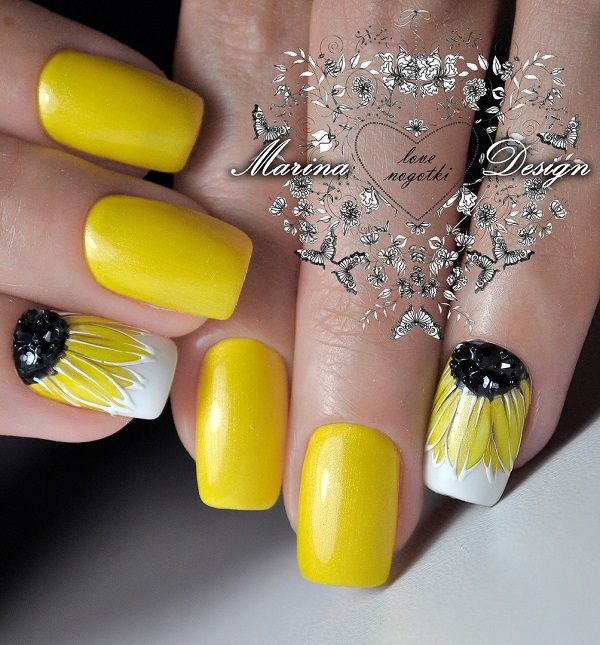 Incredible Sun Flower Themed Nails. Unlike the other sunflower nail art design, this one incorporates black studs and detailed finishing, that looks just incredible with the summer feel.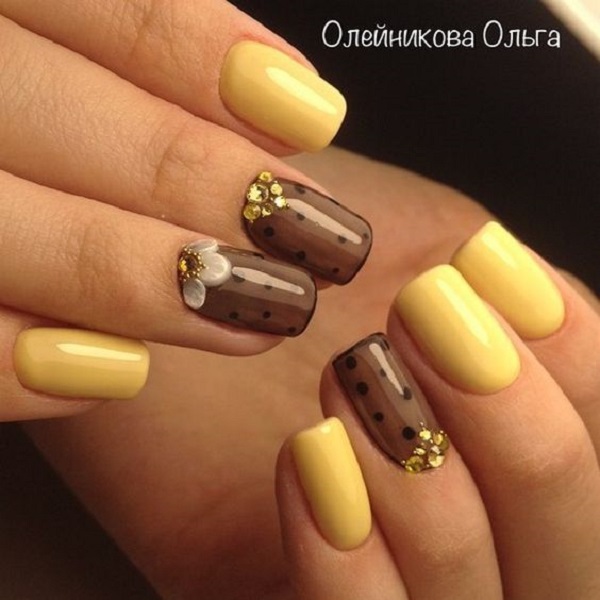 Wonderful Looking Yellow Nail Art Design. Get your nails beautifully done with this wonderful looking yellow nail art design with the spark of black and gold rhinestones.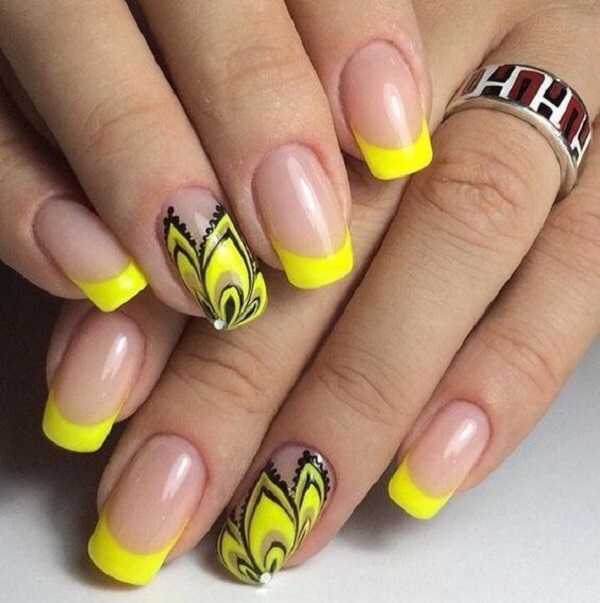 Creative Yellow Themed French Tip Nail Art Design. This half yellow and black flower and the yellow french tips is another very creative and simple yellow nail art design to go with. You can try this one out with any of your beach party costume and just look sassy.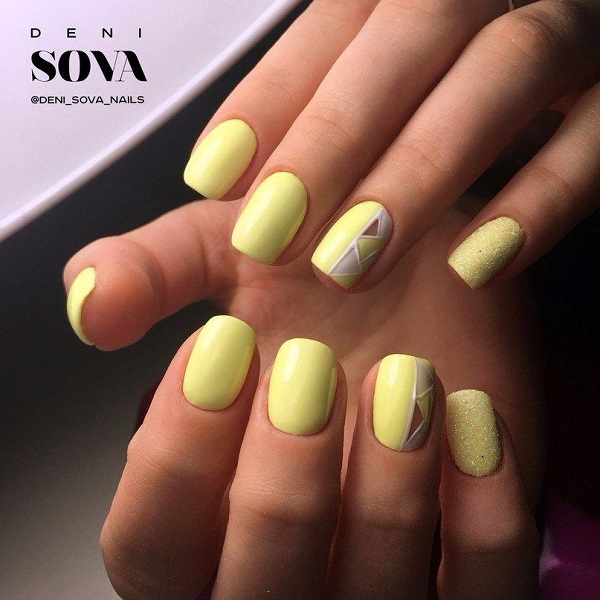 Alternate Yellow Nail Art Design. The tweak of yellow glitter, the white fusion and the yellow base would simply go perfect with your night and day outfit.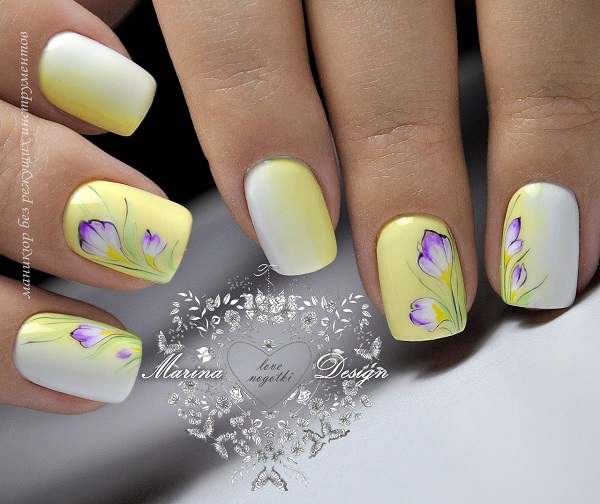 Ombre White and Yellow Floral Nail Art Design. If you want something floral on your nails, try this one out. The ombre look and the purple flowers over the ombred nails are just awesome.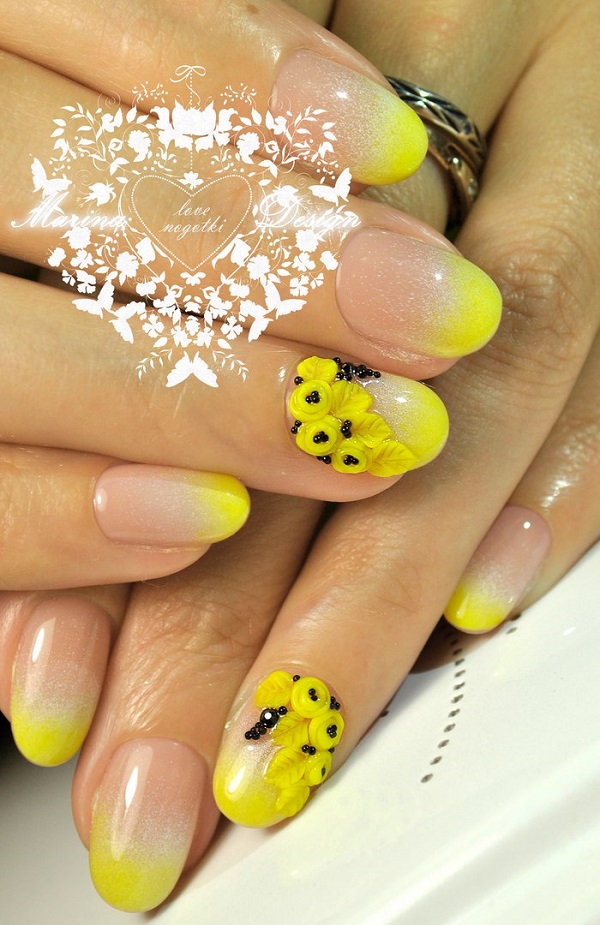 The Beautiful Yellow Nail Art with Beads. Paint your nails something different this summer. It would just be a perfect nail art design with any of your yellow and black outfit.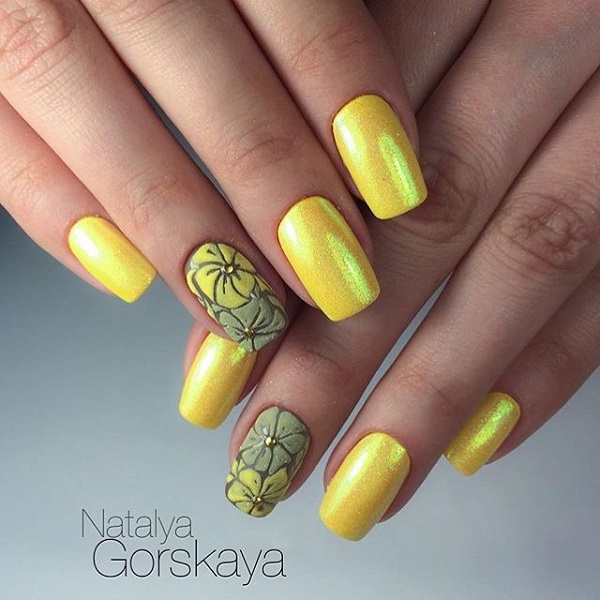 Glittered Yellow and Grey Floral Art on alternate Nails. The combination of grey and yellow is often not used, especially when it comes to nails. So, if you are looking for something unique, you can go with this yellow and grey floral art with the touch of crackle that adds more appeal to the design.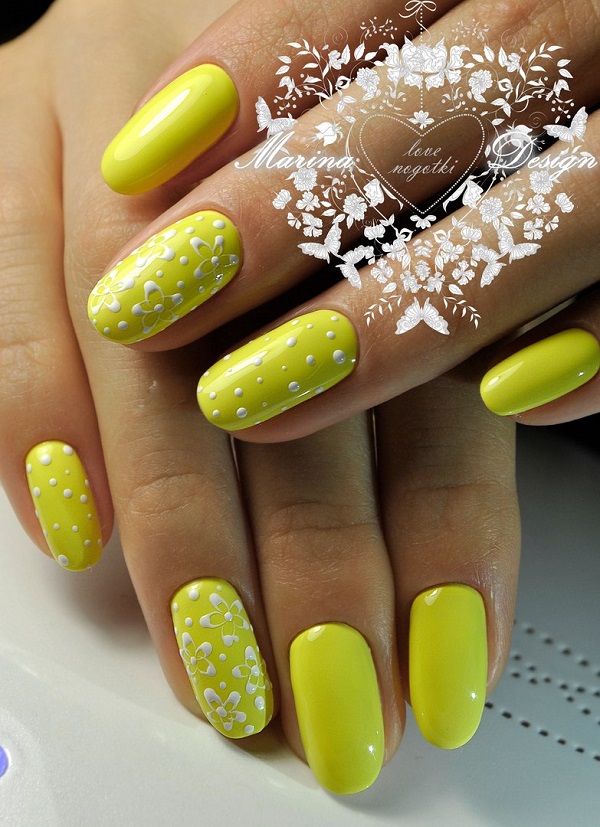 White Spray on Yellow Nails. Get these awesome yellow nails done within minutes. All you need to have is a bright yellow nail color, white color and your nails. Make patterns or flowers with white on yellow base and you are good to go!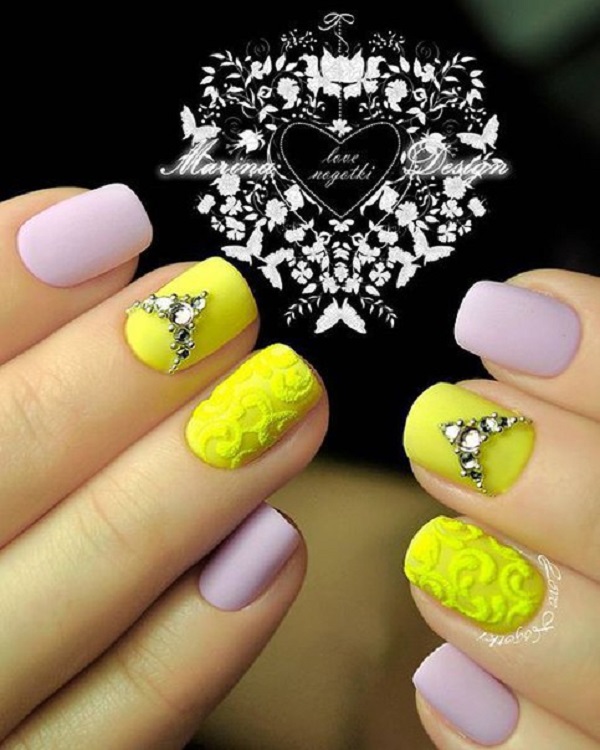 The Matte 3D Yellow in Trend. Want something extra ordinary for your yellow prom dress? Go with this incredible 3D yellow matte nail art design that would definitely add to your look for your special day.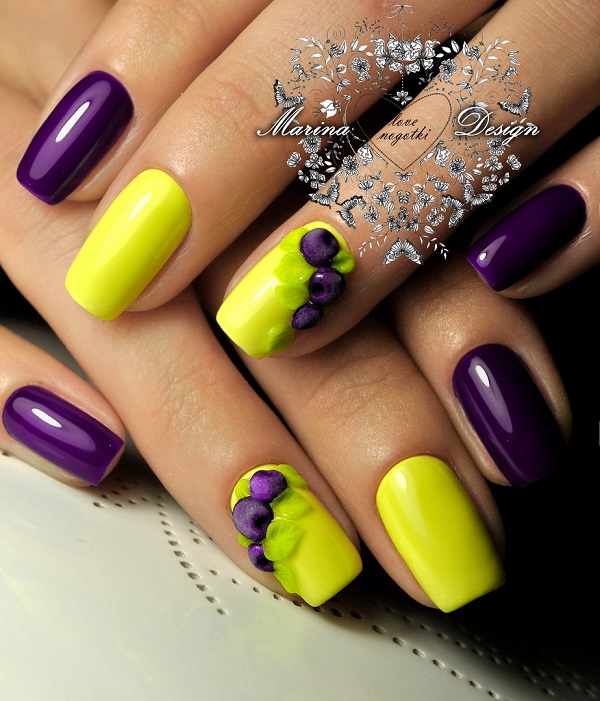 Enchanting Yellow and Purple Nail Art Design. Get your nails done with this beautiful and bright nail art design whether you are going to a beach party or just going to hang out with your friends. It will go oh-so incredible with all the occasions.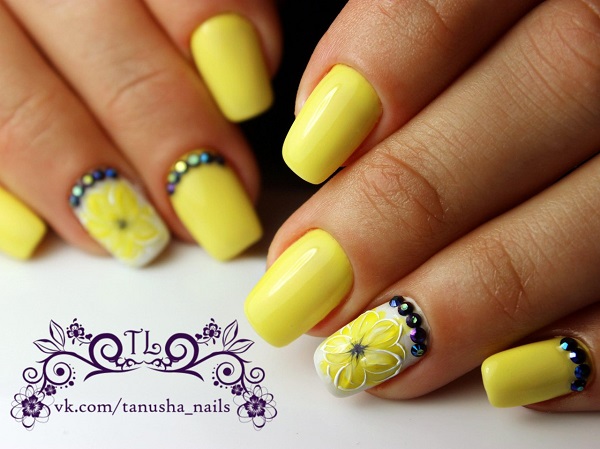 Beautiful Flower Inspired Yellow and White Nail Art Design. Turn your nails into the summer colors with this amazing and beautifully done yellow nail art design. Add your stuff like rhinestones and 3D flowers to make the look elegant-er.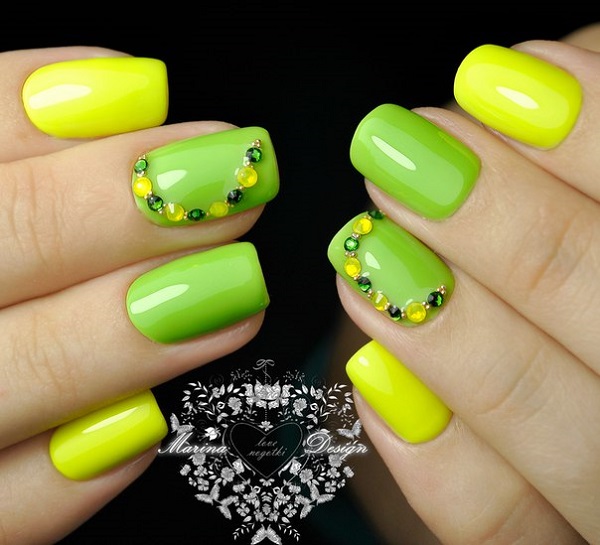 Simple Yellow and Green Studded Nail Art Design. This is a combination of great bright colors. The alternate yellow and parrot green color with the same sequence of stones on ring finger nail is just an inspiration.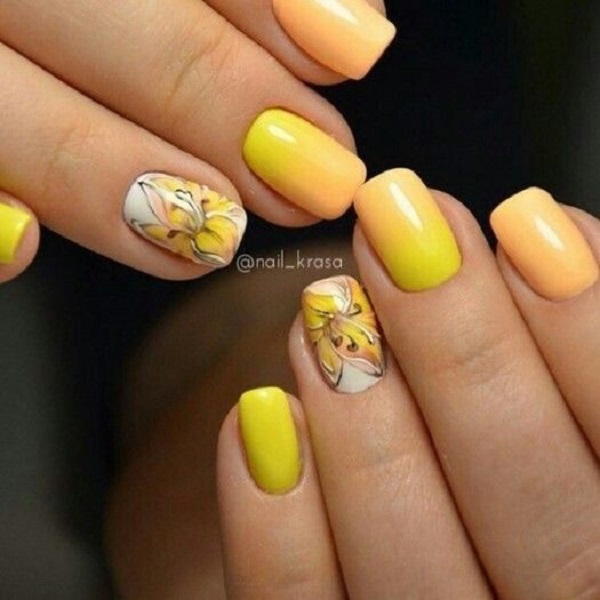 Hot Summer Ombre Nails. Turn your nails in sunny colors just like the sky is turning yellow. You can add a touch of flower to your nails, just like the one depicted in picture above.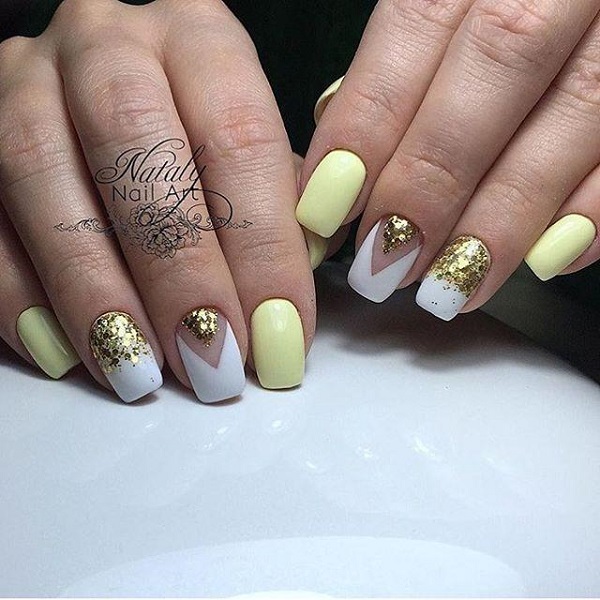 White and Yellow Nails with the Spark of Gold Dust. This pretty nail art that incorporates whites, yellows, and a tweak of gold dust is just awesome. Copy this nail art that is simple to do and attractive to wear.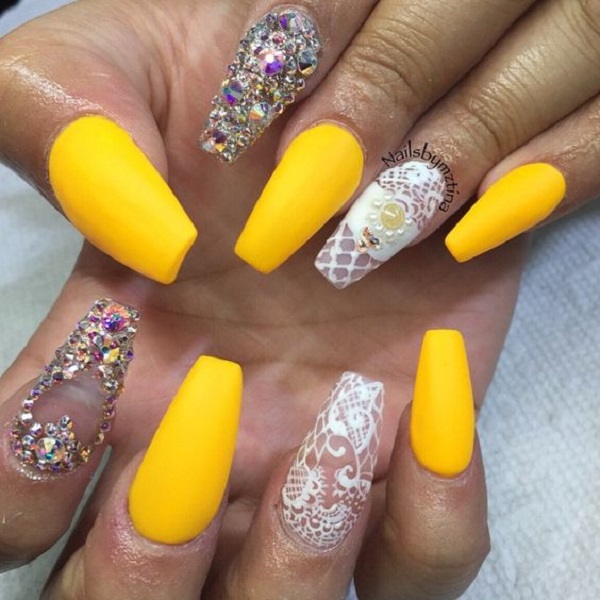 Fancy White and Mustard Yellow Nails. Amazingly done, these bright mustard yellow and white nails would be yours, if you want to.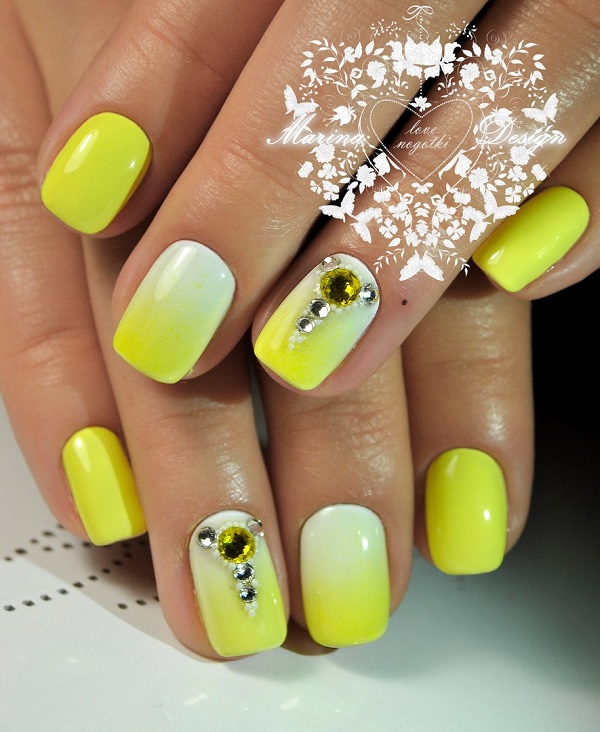 White and Yellow Ombred Nail Art with Studs. Just pattern your nails with the yellow and white ombre and stud it up with the stones you have in your jar and have the most amazing yellow colored nail art design.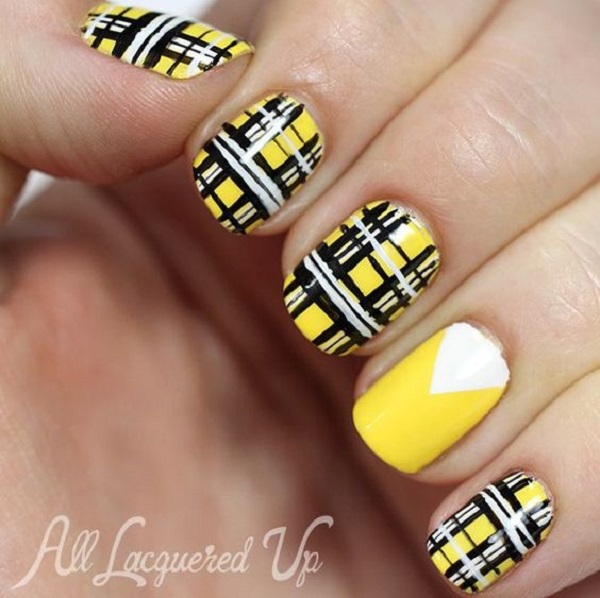 Beautiful Yellow, Black and White Plaid Nails. Plaid is one of the designs that is easy to do and very elegant to look. Just cover your nails in a plaid pattern using white, black and yellow color and you are done.
Fun Picnic Nail Art Design. Summers are fun because of its activities like beach parties, picnics and Mangoes! Recall your picnic party with your friends and cover your nails juts like the one. Alternately, plaid your nails, pattern flowers over and just simply cover one of them into a yellow shade.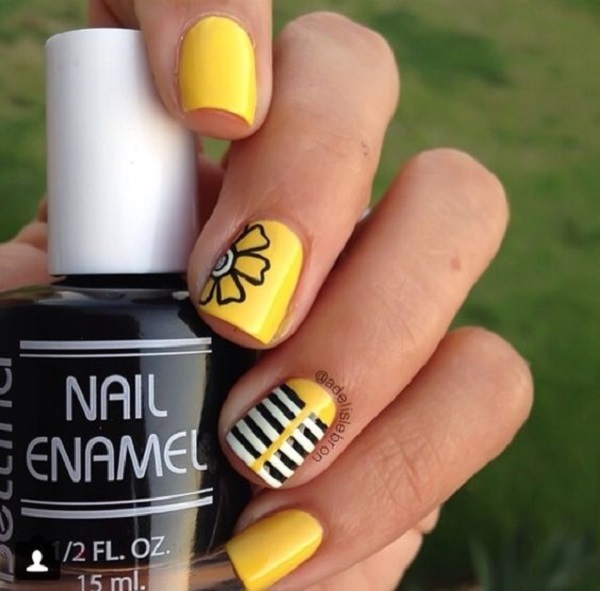 Anime Looking Yellow Nails. If you love something with anime feel, just go with this amazing yellow, black and white anime nails with different patterns and flowers.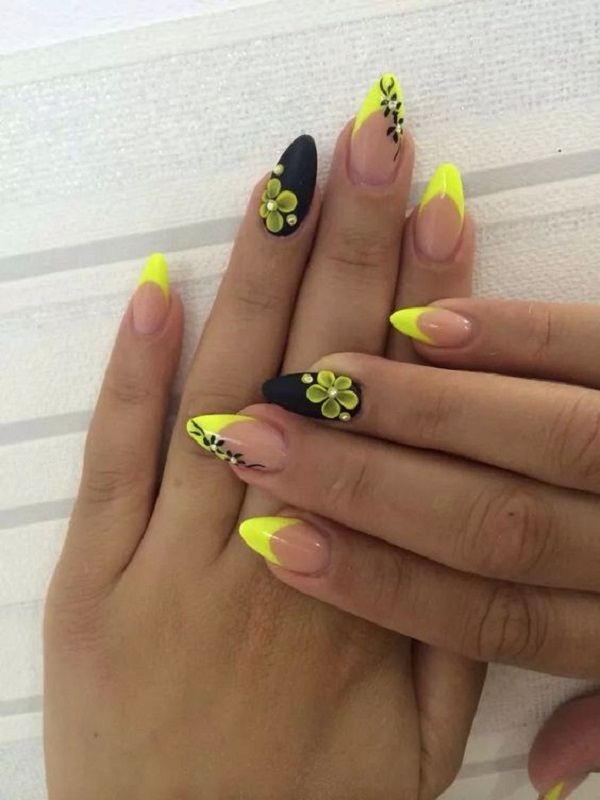 Matte Black and Yellow Themed Nails. Matte nail colors are so in fashion. So just cover your nails with the simple matte colors or go with the nail arts adding elements just like the one in the picture above.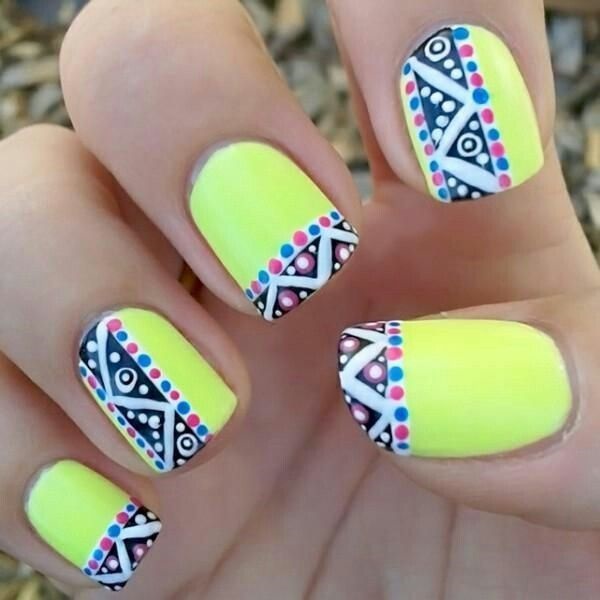 Contemporary Tribal Yellow Nail Art Design. This pretty tribal yellow nail art design can be your option this summer. it incorporates an amazing twist of normal french tip and nail dividing techniques, that collectively make this nail art design goes awesome.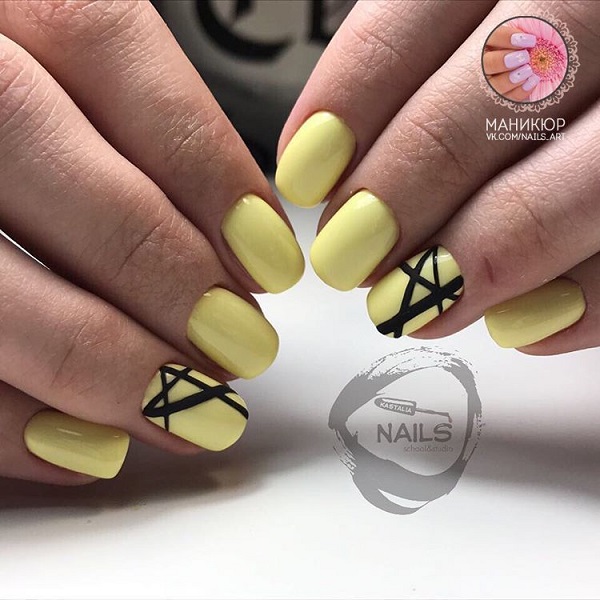 Strip it Up Yellow Nail Art. If you have your lunch date within hour and you still don't know what to do with your nails, just go with this simple yet amazing black stripped nails over yellow base. Trust me this can beat your fancy nails.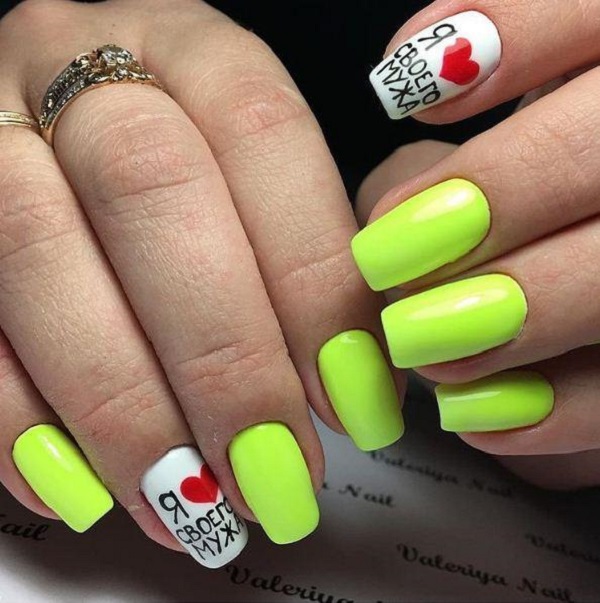 Yellow Dutch Nail Art Design. Expressing your feelings through your nails have become a trend. Share your love towards your country or your nation using the nail art techniques, just like the one depicted in the picture.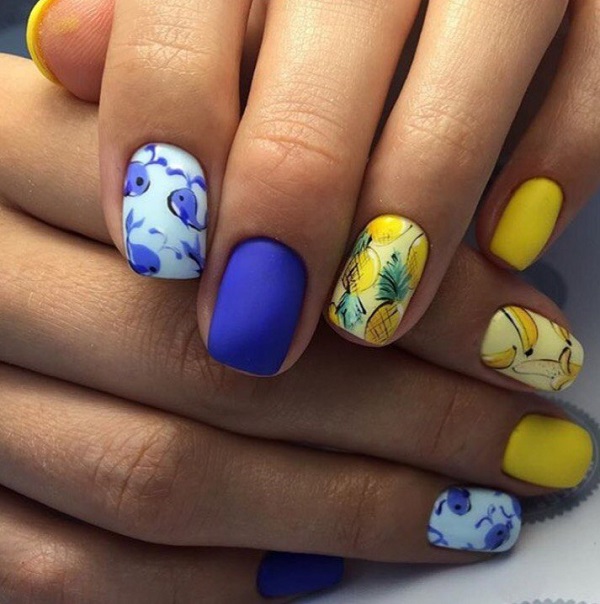 Neon Blue and Yellow Summer Themed Nail Art Design. Very simple yet damn attractive. This amazingly done neon blue and bright yellow summer themed nail art design is an inspiration for those looking to do summer nail art.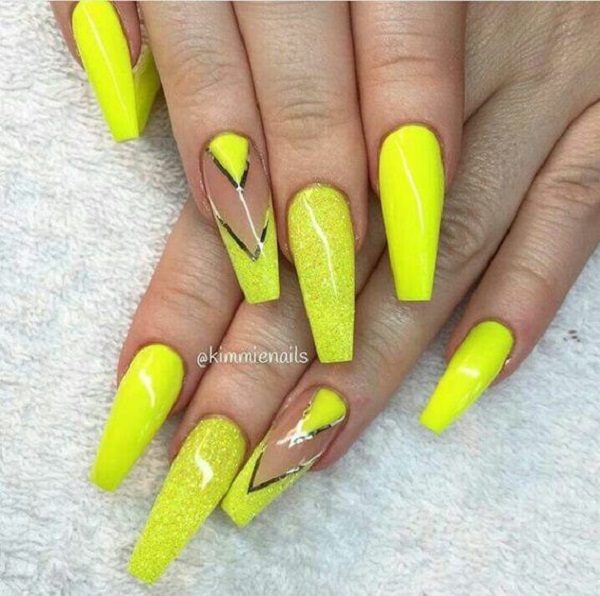 Abstract Yellow Nail Art on Stiletto Nails. It is often very difficult to change your long stiletto nails into something attractive. But this isn't a problem anymore. Just use all the shades of yellow and cover your nails up creatively.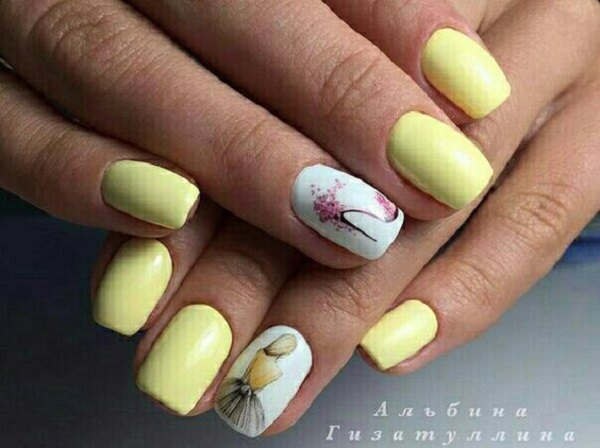 Girly Girls Matte Yellow and White Nail Art. Want something to go with your regular denim days? here's the thing that might end up your quest. Girly girl matte yellow and white nail art is something that you can use on your regular days.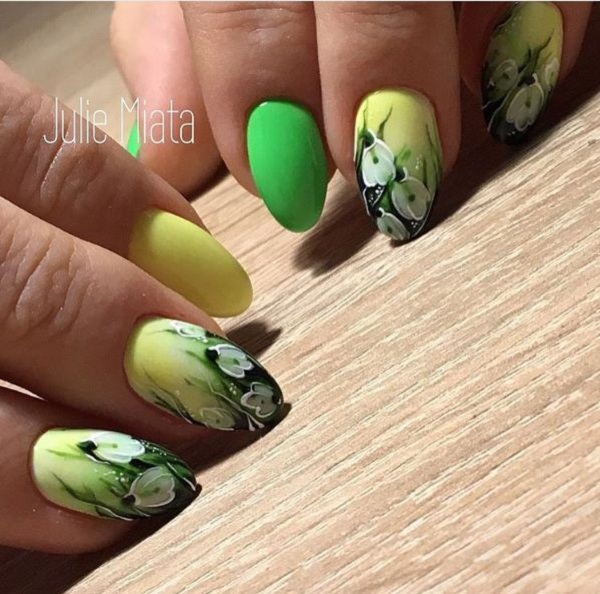 Beautiful Floral Inspired Green and Yellow Nail Design. You can go with this amazingly done floral inspired green and yellow nail art design, if you want to enhance the look of your nails.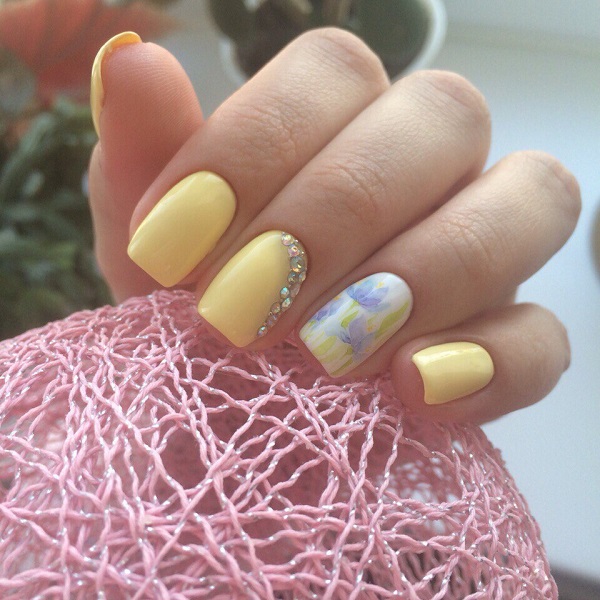 Simple Yellow Studded Nails. This nail art design is such an inspiration for all those who are in search for something yellow-ish and pretty amazing.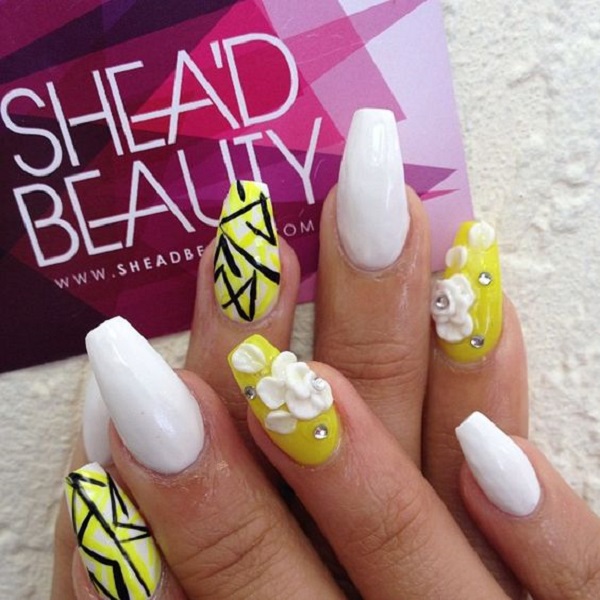 Abstract White and Yellow Nails with Clay Art. As a matter of fact, flowers and yellow color is always linked  our minds. In this instance, you can with any kind of flowers in any color and add with them a touch of yellow color.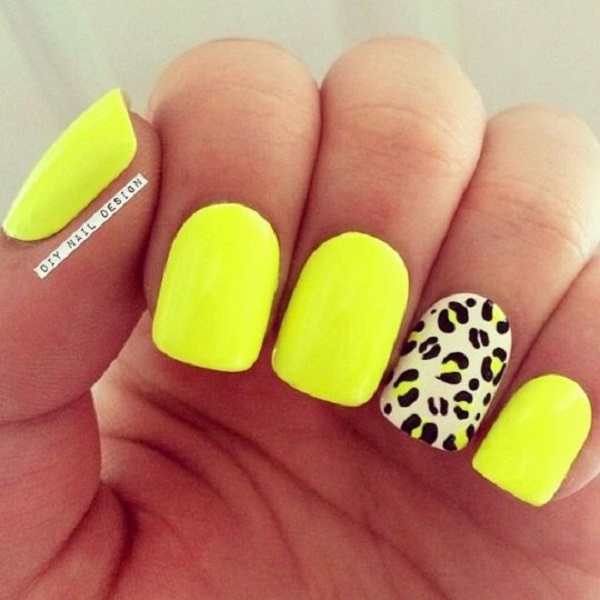 Animal Printed Yellow Nails. Go animal-istic with your nails by painting them in animal prints. This seductive yellow, black and white nail art design turned into cheetah print is something worth trying.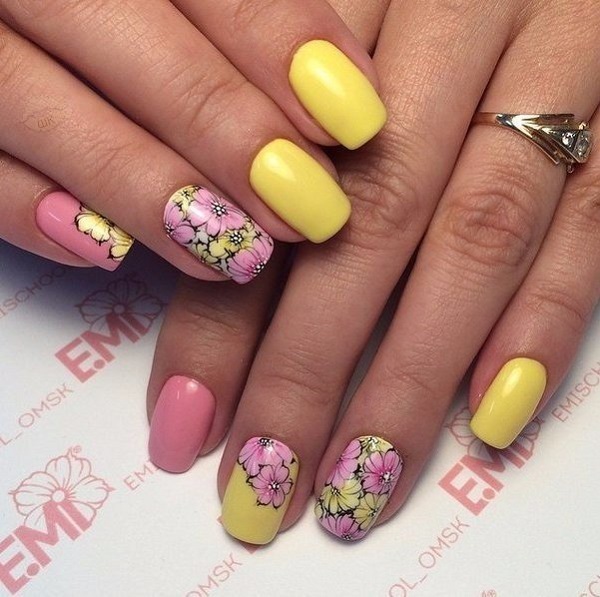 Wonderful looking Yellow Nail Art Design. When it comes to summers, all you think about flowers and colors. So, if you are looking for the nail art that you can do in your summer days, here the thing that might end up your search. Flower it up and mix different colors. Don't forget to add a tweak of yellow, too!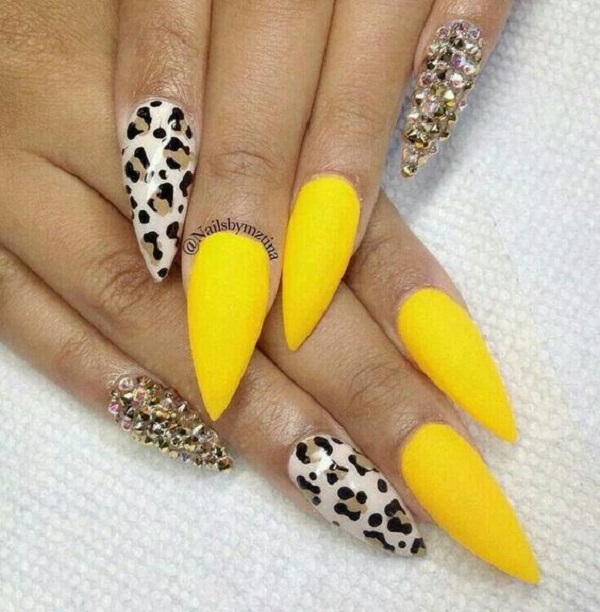 Cheetah Printed Nails with Tweak of Bright Yellow and Gold. Another animal print is on the list of the best yellow nail art designs. This is because, animal prints looks too attractive and unique as well. Add a touch of yellow color and some glitter to make your art more creative.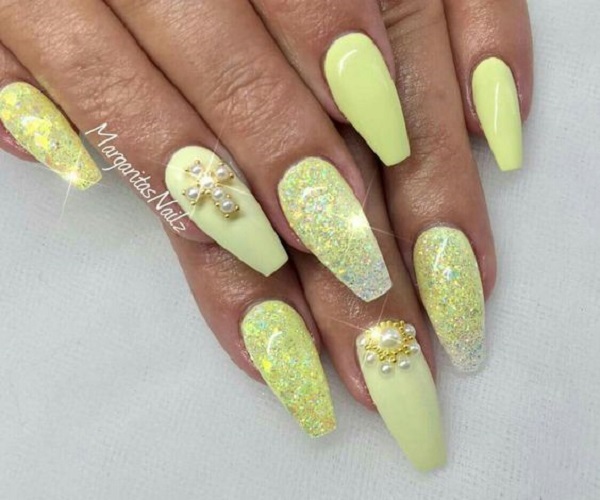 Glossy and Fancy Yellow Nails with Yellow Glitters. Glitters have been in trend since the past few years. And for girls, it's a great trend! Glitter up your nails in fancy yellow color and you are ready to shine!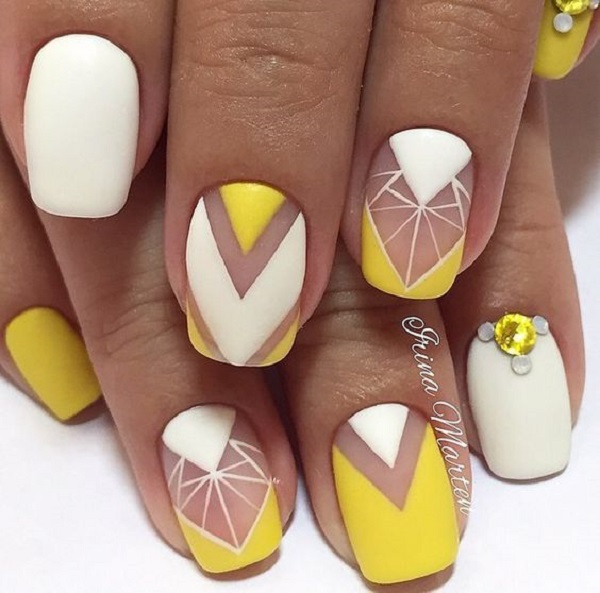 Another abstract Inspired Yellow and White Nail Art Design. The best part of the nail art design is that you don't need to be professional. Just go with the things you like and you are done. This abstract inspired nail art design in yellow and white is such an inspiration for the novice.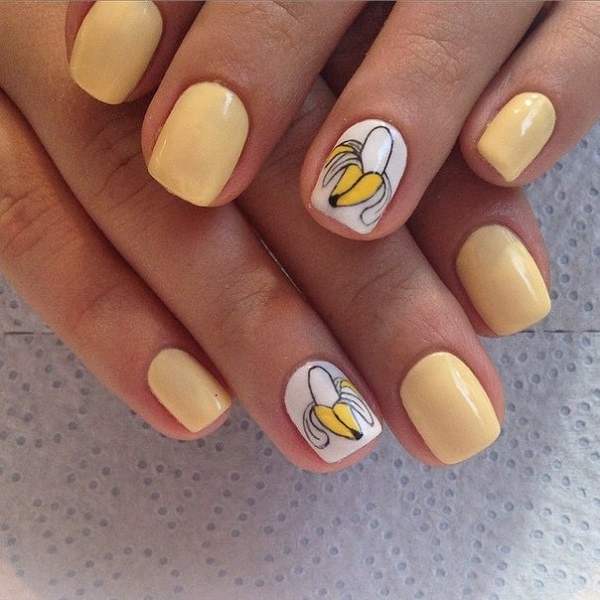 Banana On Nails. Off yellow color is really nice to try. You can couple it up with the bright colors like dark yellow and white, to enhance its look. You can add yellow colored objects as well like Bananas.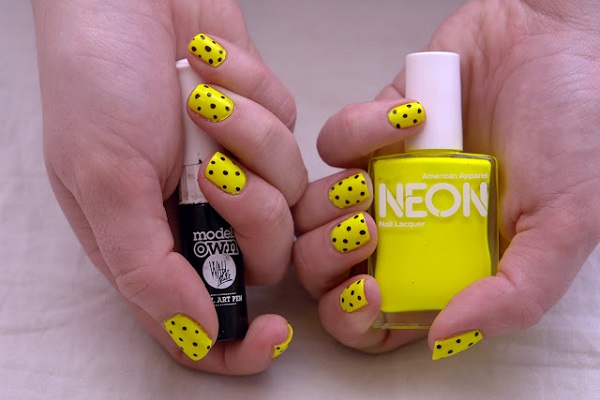 Polka Dotted Yellow Nails. For me, polka dots are the best parts of the summer feel. Just coat your nails into bright yellow color and dot it up with the random black or white color.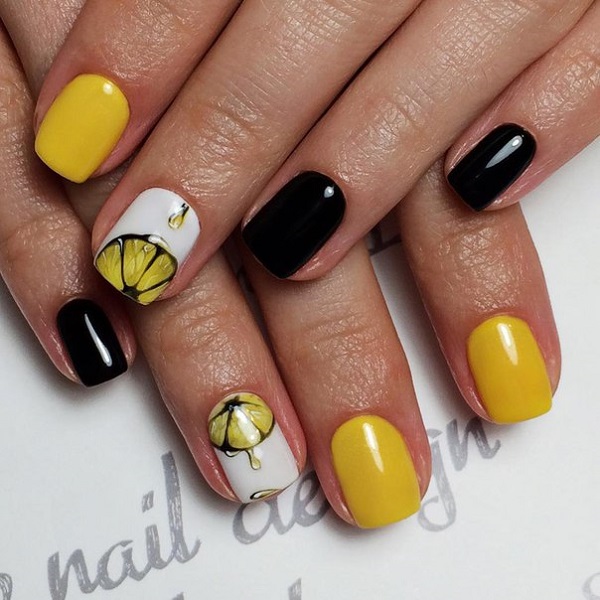 Beautiful Yellow and Black Nails with Lemon Slices. Lemonade and Beach Party! Ahhh that feel so good. If you want to feel the same, cover your nails with the yellow, black and white nail colors with the slices of lemon.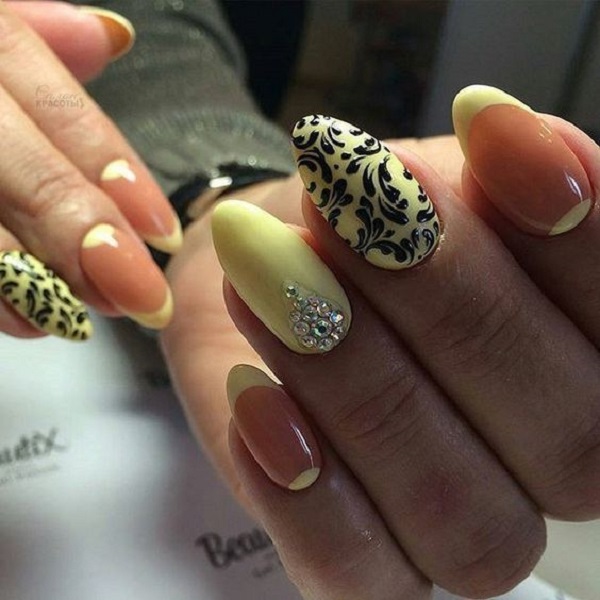 Laced Yellow and Black Nail Art Design. Nothing would look better with your black and off yellow prom dress than this laced nail art design. You can add studs or diamonds in the design to make it look more charming and sassy.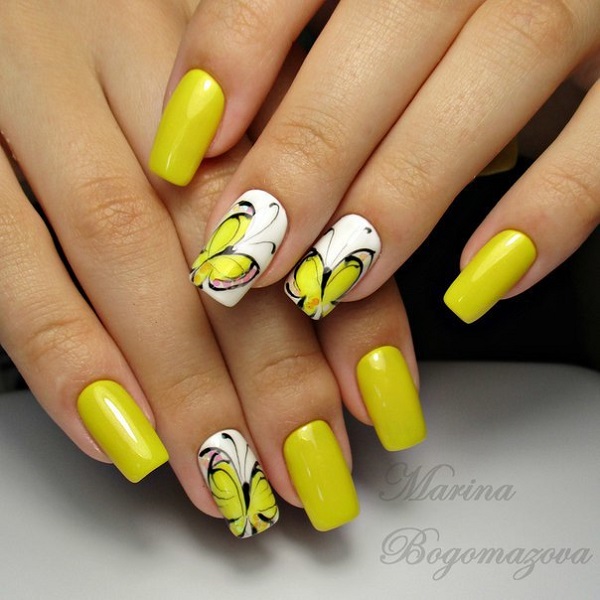 Real Pretty Yellow Nails with Flying Butterfly. Pretty little yellow butterfly flying around the yellow flowers on a bright sunny day. Isn't it fantastic to gaze such a scene? Yup, it is. Create such scene on your nails and you can see it whenever you want.
Painting your nails creatively is such an easy task that you can try at your home. There are tons f tutorials available online that you can watch and try them on. Use the yellow color in your nail art and be yourself!