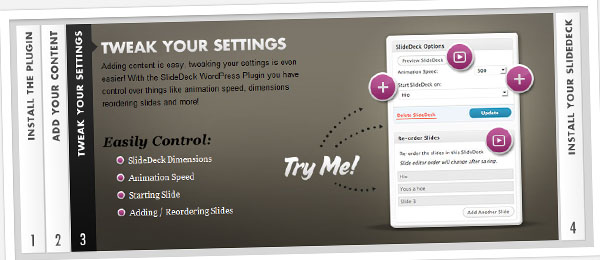 Nearly all paid and free premium WordPress themes come with a content slider in one form or another.
But if you were wondering what is required to have one within your WordPress installation this collection of resources dedicated to content sliders, with the option to develop and customise your own or download one already developed.
This is just a small collection of what's available but if you think we have missed a vital resource, please drop a comment below and we will include it!
Content Slider by SlideDeck

The SlideDeck WordPress slider plugin allows you to easily create a content slider widget or slideshow on your WordPress blog without having to write any code. Just create a new slider with the SlideDeck control panel tool and insert the widget into your post via the WYSIWYG editor with the TinyMCE plugin SlideDeck picker.
Design An Elegant Featured Content Slider for WordPress

This featured content slider is based on "The Coda Slider," a neat device used by Panic Software to display information about their "Coda" product on their website (http://www.panic.com). This effect is beautiful, flexible, and often copied.
WP Featured Content Slider

WP Featured Content Slider is a very powerful WordPress Slideshow. You can feature as many Posts and Pages as you want. You can define a picture for every single post/page which will then be automatically cropped to the right resolution. WP-Featured Content Slider comes with a great option set.
Creating a Content Slider for WordPress using TinySlider

TinySlider is a lightweight javascript component – 1.5KB – that can be easily integrated in any website. It is easy to alter it visually through CSS which makes it a perfect component for designers. Another point that needs to be reminded is that the component is cross-browser compatible – yes, IE6 too.
vSlider – WordPress Image Slider Plugin

vSlider is a jQuery based image slide show script that can display specific images on your WordPress based website with fading or sliding transitions. This way you can future the more important pages or products from your website or even other websites.
WordPress Content Slide Plugin

COIN SLIDER 4 WORDPRESS

Coin Slider 4 WP will show your featured posts as image slider and rotate them using unique effects provided by jQuery's Coin Slider.
FRONT SLIDER WORDPRESS PLUGIN

You are looking for a fancy Slideshow to improve your Blog's/Website's Design? This is perfect for you! Front Slider includes as many Featured Posts as you like. You can define an image for every post. It shows an excerpt, date, time and number of comments for every post.
Smooth Slider: Free WordPress Plugin For Slideshow Of Featured Posts

Smooth Slider is a WordPress Plugin for creating a dynamic slideshow for featured posts on a blog. The slideshow created by Smooth Slider are JavaScript and Text based, that's why bloggers and site owners will get full benefit of Search Engine Optimization as the texts are readable by Search Engines.
HOW TO: CREATE A FEATURED CONTENT SLIDER

There are a stack of plug-ins out there which use a mess of Java and jQuery to do what you could do in 50 lines or less. Creating a Featured Content Slider is easy when you take advantage of a Sub-Loop, Template Tags, TimThumb, and a little bit of jQuery inside the Thesis Theme.
Featured Content Gallery by iePlexus – WordPress Plugin

Featured Content Gallery is a WordPress plugin by iePlexus that creates an automated rotating image gallery of your posts or pages for use anywhere within your theme.
Featured Slider

I've spent so much time looking for good solutions, that I can surely say – this is one of the best out there. Based on the AnythingSlider jQuery plugin it really slides anything. The thumbnail, the excerpt – what more do we need? It can for sure slide any kind of content.
How to add Featured Content Slider in Thesis WordPress Theme

In this article, we will tell you how to add featured content slider in thesis WordPress theme. Benefit of adding Content slider to helps you summarize your best featured content of the blog or website, in a sophisticated way. Here is a screenshot below to make it more clear.
WP Slideshow Gallery

d13slideshow

D13Slideshow is a plugin that will create an animated promo slideshow as part of your WordPress blog. You can use it to promote any pages or posts in your site and it is fully customisable through the admin pages of your blog. Unlike some other slideshow components, D13Slideshow makes use of the script.aculo.us and Prototype JavaScript frameworks.
WordPress SmoothGallery Plugin

This WordPress plugin helps you to embed JonDesign's SmoothGallery in your blog.
10 Techniques To Display Featured Articles in WordPress Blog

Featured Article gives your site a professional appearance, and once you have created 3 or 4 posts under this area you will see the benefits of it.
ADDING A FEATURED CONTENT SLIDER TO THESIS IN 5 QUICK STEPS

One of the most popular features to have in websites today is the "featured content slider" (or "featured post slider"). It gives people a glimpse into your better posts and can catch their attention right away. For these reasons, it was one of the first features I included in my latest premium Thesis skin.
Create a featured posts slider in WordPress using jQuery

Many premium themes feature cool featured content sliding areas, where the latest posts appear. There is one such plugin, built around the Mootools library, but I wanted to use jQuery, as I prefer it over the other libraries. I also wanted it to automatically scroll. Of course, this can easily be modified to use the navigation buttons as well.
WP Nivo Slider

This plugin creates a Slideshow/Slider with post thumbnails in your posts configured for a particular category of your wordpress. It is entirely written in jQuery (following the pattern of my other plugins).
Meteor Slides
Easily create slideshows and publish them with a shortcode or widget. The slideshows are powered by jQuery Cycle and have over twenty transition styles to choose from.
WordPress Content Slide

Content Slide is used to create fully customizable jquery Fading image slideshow anywhere within your WordPress site. Custom options include slideshow size, color, style and more. Created using Jquery Coin Slider and the fade effect is created using jquery inner Fade effect.