For the past few weeks I have showcased some fantastic Vexel and Vector artwork, showing creativity at a whole new level.
In today's resource showcase we are featuring 30 easy to follow Photoshop and Illustrator tutorials which will show you how to create vector and vexel artwork, with utilizing your new skills you may also be featured in the coming weeks!
But untill then please enjoy these thirty easy to follow tutorials!
Please note that clicking on the screenshot below will take you to the full tutorial.
Vexel
Vexel Tutorial: Eyes by by binjoo
In this tutorial you will learn how to vexel eyes.
Vexel Tutorial – Hair by VAngelLJ

In this tutorial you will learn how to vexel hair.
Vexel or Vector Tutorial by biancamangels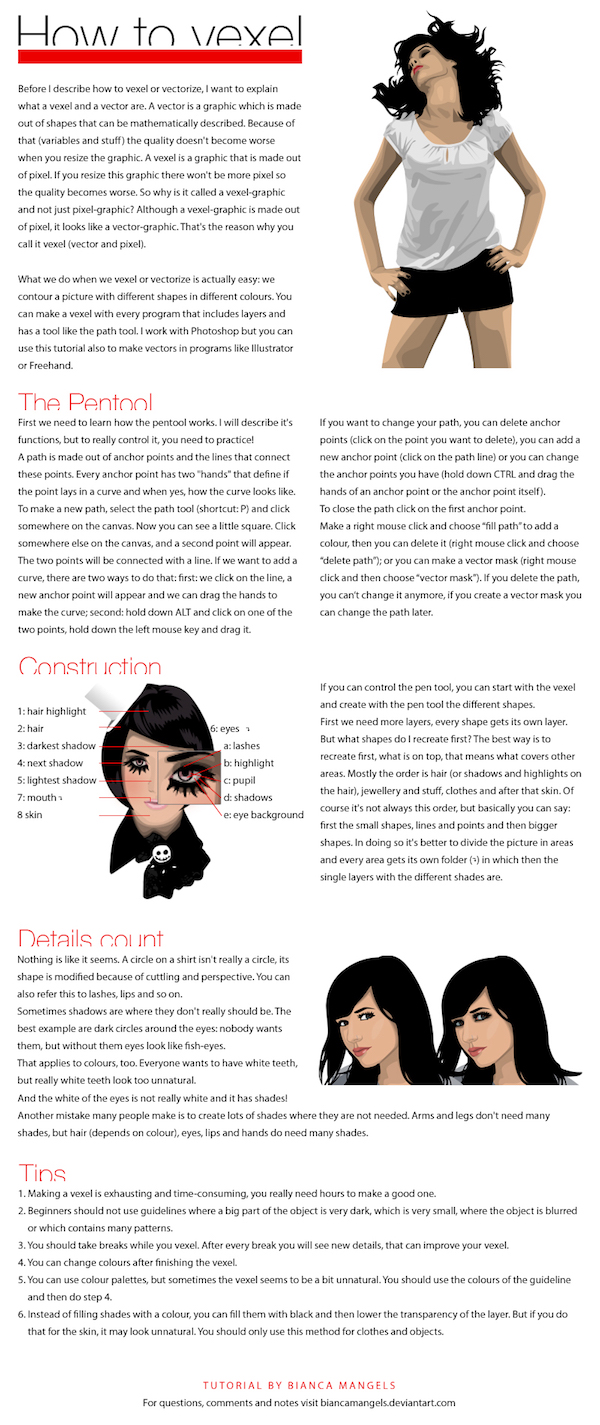 Learning the key aspects of vectoring and vexeling.
Something Red Walkthrough by verucasalt82

This is a walkthrough on how I did the picture Something Red, based on a photo by hard-not-to-adore . And it's probably the closest thing to a tutorial that I'll ever make.
Vexel Start Tutorial by binjoo
Learning to Vexel? Follow this simple tutorial to get with the basics.
V. Tut. Extra – Vexel lineart by tsukishoujo

Please remember that if you use this method for the lineart, your artwork is not a vector – it's a vexel.
The first thing to do after the base is create a new layer on top of the base and select the eye-dropper tool. Using the eye-dropper tool, try to choose the lightest strands of hair you can find (it's much easier to work from light to dark than dark to light, in my opinion).
fast and easy vexel tutorial by ronaldesign

Fast and easy vexel tutorial for beginners.
Create a Complete Vexel Image Using Photoshop via psd tuts+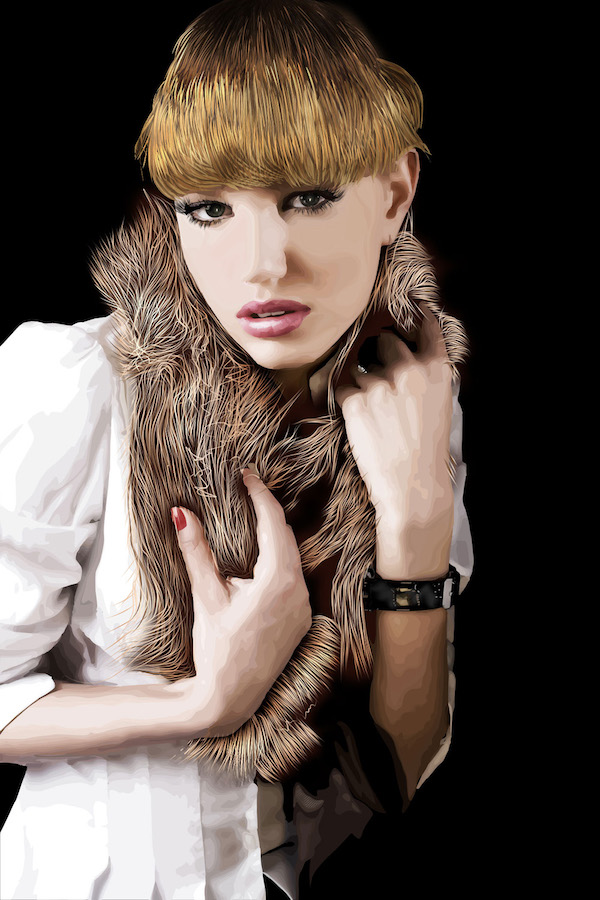 This tutorial will instruct the reader on how to take a picture and create a vexel image out of it, through Photoshop. Numerous vexel techniques are taught. You'll learn how to use the Pen Tool, and then put it to good use to construct hundreds of shapes that will compose a full vexel image.
Create a Basic Vexel Image via psd tuts+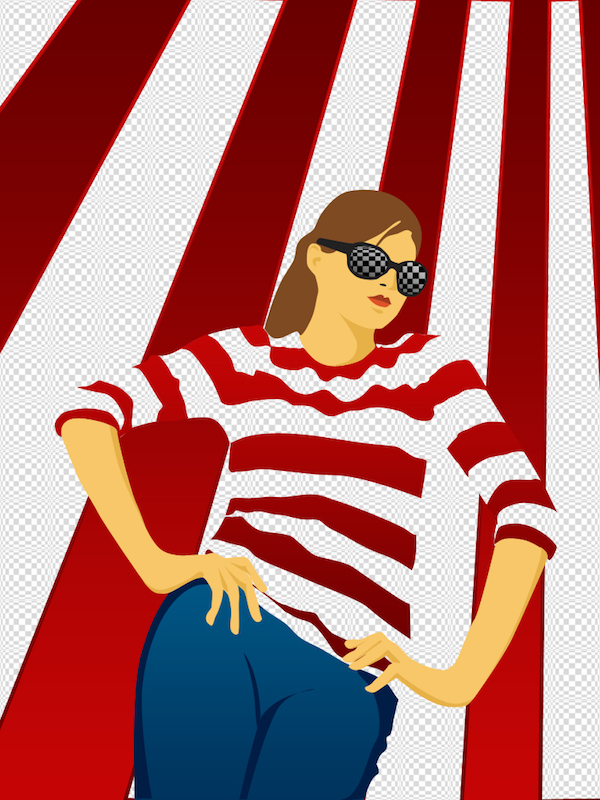 This time we'll create a simple vexel image from a picture. Also, we'll use some pattern effects to give the image some interesting texture. This is a basic way to create a vexel image using predominately Photoshop's vector based tools. After completing this tutorial, you'll become a master of the Pen Tool.
n this tutorial I will teach you some of the techniques I use when designing my banners. It requires a basic knowledge of Illustrator and Photoshop, but if you don't understand anything please feel free to ask me.
How to vexel skin via zazzy.me
This tutorial is made for photoshop and requires you to have somewhat knowledge on how to use the pentool.
The Pen Tool Is Your Friend by Aeoll
In this tutorial you will learn the art of the pen tool.
Vexel Carbon Fiber Tutorial by dangeruss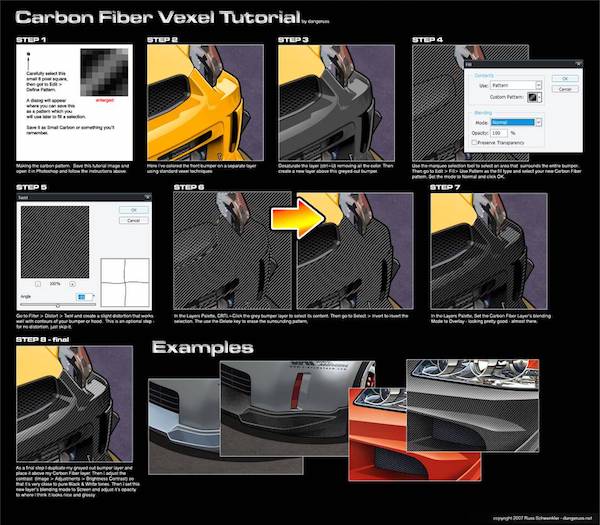 By popular demand a simple carbon-fiber tutorial of my vexel technique. Enjoy.
My Vexel Tutorial by fabulosity

In this tutorial I will explain how I vexel skin using Photoshop.
Vector
Create a Cool Vector Girl with Wavy Scanlines  via 10steps.sg
This tutorial will show how we can create wavy scanlines using Illustrator in simple steps and bring them into Photoshop to make a beautiful piece of design work. We will also touch on the use of Pen tool in Shape Layers mode to draw a vector girl.
Design a Retro Summer Poster Illustration via PSDFAN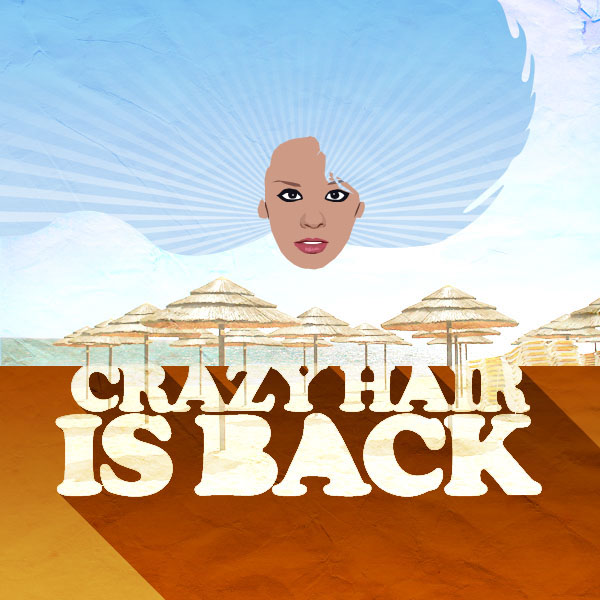 This tutorial will cover some really cool illustration techniques, exploring Photoshop's vector capabilities as well as playing with textures and selection methods.
Create Vector Portrait Photoshop Tutorial via css creme
In this tutorial you will learn how to vectorize your images in a more easy way. First time you will be doing this probably you will think that I'm kidding, but take another image and make the tutorial again and you will see that I'm right.
CS Vector Tutorial 3 by yajido

Create a stunning vector in Illustrator.
Create a Vector-Based Zune with Photoshop via Tutorial9
Since our Zune is going to be a nice sleek back, let's setup a light blue background that will compliment the black.
Create a Penguins Illustration Tutorial for Global Warming Cause via Tutorial Lounge
In this tutorial I will show you how to create an illustration of penguins whose habitat is being destroyed by global warming.
Swirl Mania in Illustrator & Photoshop via abduzeedo
However in this tutorial I will show 4 ways to create swirls, and by mixing them you will learn some very powerful techniques that will allow you to easily make tons of different styles of swirls and crazy sperm vectors.
Create a Super Happy Octopus Character via vector tuts+
In Illustrator it's really easy to create fun characters with some simple shapes and the Pathfinder Panel. In the following tutorial I will explain how to create a Happy Octopus Character. You can use these techniques and elements to create whatever character you want!
Stylish Vector Flower via n.design studio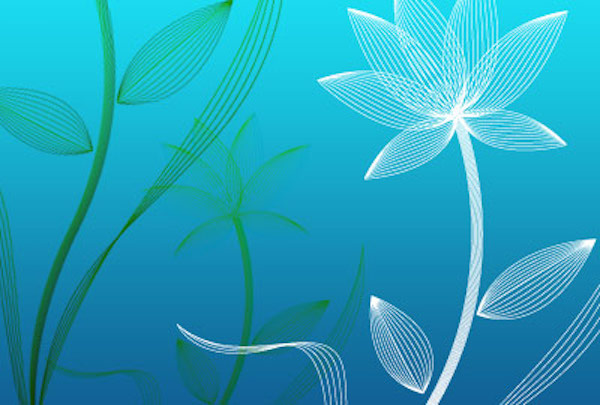 Learn how to create stylish vector/line flower with Illustrator Blend Tool. This Adobe Illustrator tutorial is great for creating background and large print illustration.
Create a Cool Vector Panda Character in Illustrator via blog.spoongraphics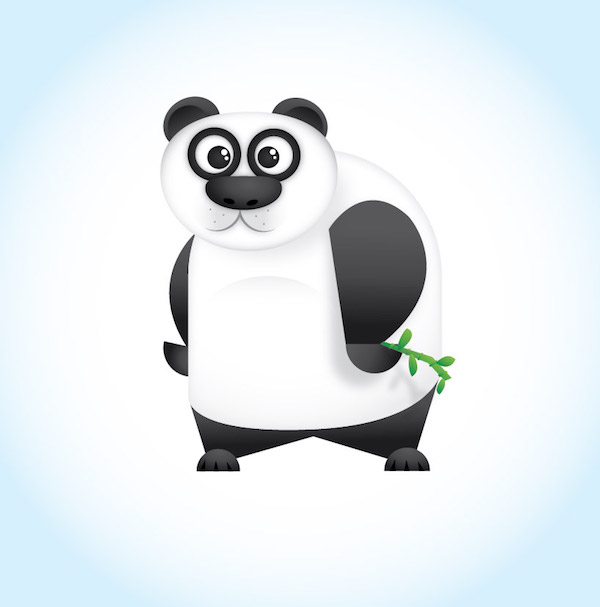 Adobe Illustrator is my favourite tool for creating fun and cute character designs. With just a few simple shapes, a mix of gradient colours and a few shadows here and there you can build some great looking illustrations.
How to Create a Cute Vector Bear T-Shirt Design via blog.spoongraphics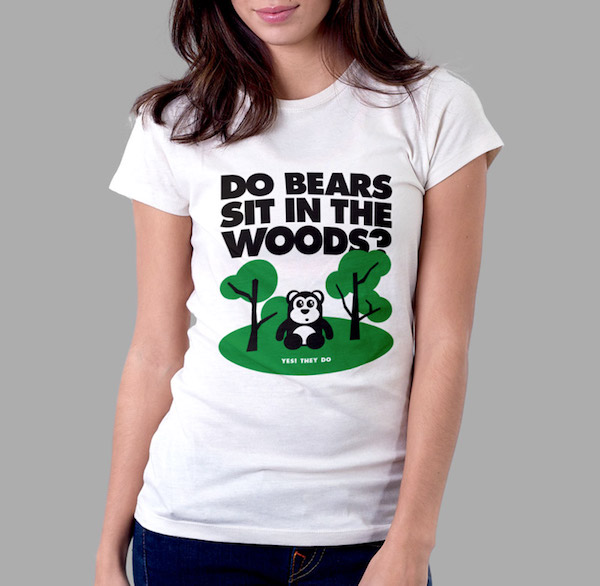 Let's get busy with Adobe Illustrator and design a cute bear character and surrounding scenery in just two colours, ready for use as a cool t-shirt design.
Illustrator Tutorial: Surprise Gift via Vector Diary
There are times when you will need to do gift box and effects for special occasions. This tutorial will give you an idea how this can be done using brushes and some other techniques. I will not be going into details how each step is done but I will illustrate on some of the techniques used to create this illustration.
How to Create an Abstract Vector Design in Illustrator via blog.spoongraphics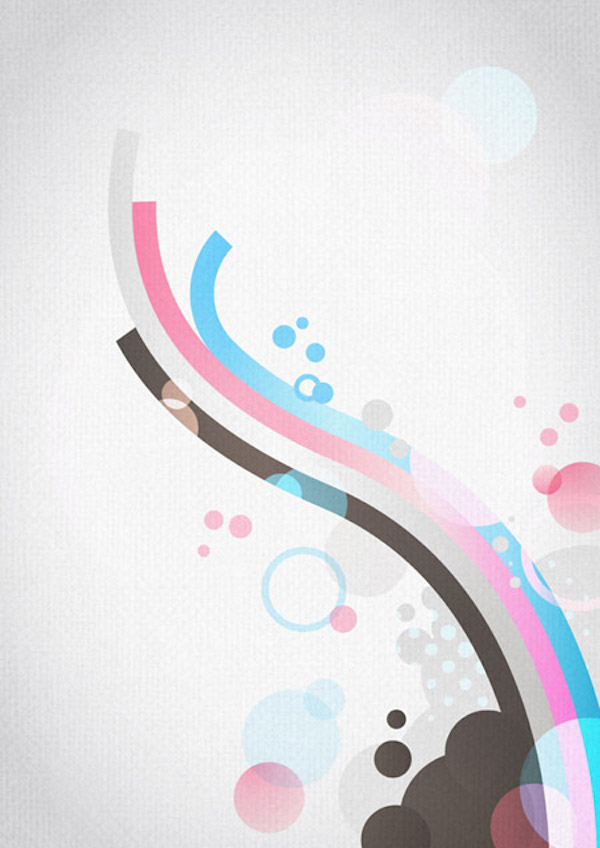 Let's take a look at compiling various geometric shapes and objects to form a dynamic composition in Illustrator, then polishing it all up with some transparency effects to create a trendy vector illustration.
Illustrator Tutorial: Vector Plasma Television via Vector Diary
In this lesson, I'll show you how to make a realistic plasma television in Illustrator. You will learn how to draw basic shapes and apply gradients to add realism to the television. Beginners will discover how to draw household electronics in this great tutorial.
How to Make an Attractive Vector Butterfly via vector tuts+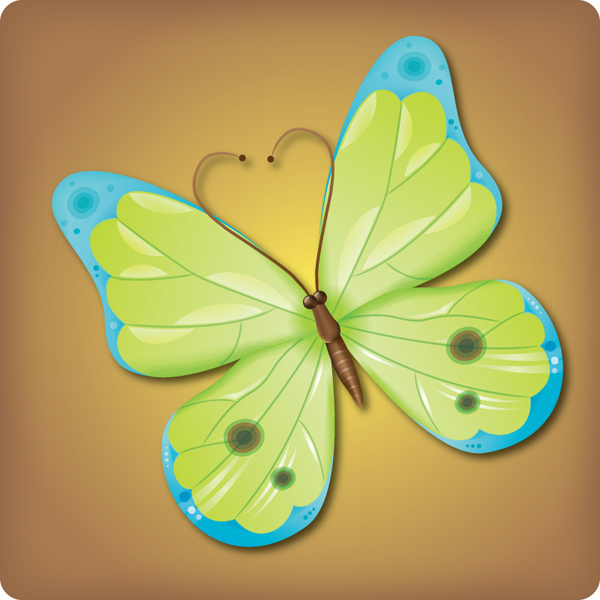 In this tutorial I will show you how to make a vector butterfly using the blending mode from transparency box and the gradient mesh. The techniques shown in this tutorial will help you make shades on objects and liquid transition of colors. Believe me it is very easy.
On a side note, we are looking for some of your contributions! Got something creative to share with the community? Now is the perfect time to get involved! Learn more about Contributing.