With the tattoos being one of the common and most adopted form of art in the modern world, more and more people are turning towards it. Without any doubt, there are number of forms of tattoos, that can be seen carved on the people's different body parts. We have mentioned few in our posts, and continuing to do so.
Today, the form of tattoos, that I am going to contribute to the blog is Origami Bird Tattoos, that have been in the fashion, since the time of evolution of Paper in 6th century, when Buddhist Monks introduced the paper to the country.
The Importance of Origami Bird Tattoos and Their Meanings:
No doubt, Origami is the art of paper that has been adopted not only in the form of tattoos, but also in the Math classrooms, in the forms of airplanes or as the love letters sent by a secret lover. Although, these l0ve letters  have been replaced by SMS, emails or social media, but the Origami tattoos still maintained to survive.
Origami Tattoos are equally popular among both, men and women, however, their sizes and shapes vary among both sexes. Mostly, men opt for the engineered animals Origami tattoos while women choose flowers, birds and animals. These tattoos, when done well, give the extra details and adds meaning to this art.
Origami Tattoos are mostly done by the black paint that highlight ts concise and severity of forms. Different Origami Tattoos are known to offer different meanings, but the Origami Bird Tattoos are known, in the Japanese culture, yo be the symbol of peace, happiness and recovery.
While in the Chinese and Korean culture, the same origami bird tattoo is considered to be a symbol of long life and purity. Moreover, in the ancient culture of Greece and Rome, Origami cranes were thought to represent the symbol of joy and love.
The Origami birds are carved with the different combinations, dimensions and drawings, with complex backgrounds, peonies or compositions. They are embellished on hip, arm, neck, shoulder and back and you can try them as well, by having a look at our best picks of 65 Origami Bird tattoos from around the world.
65 Best Origami Bird Tattoo Designs To Try:
If you are looking to give these origami tattoos, a shot, then you cannot afford missing the following best Origami tattoo designs from across the globe.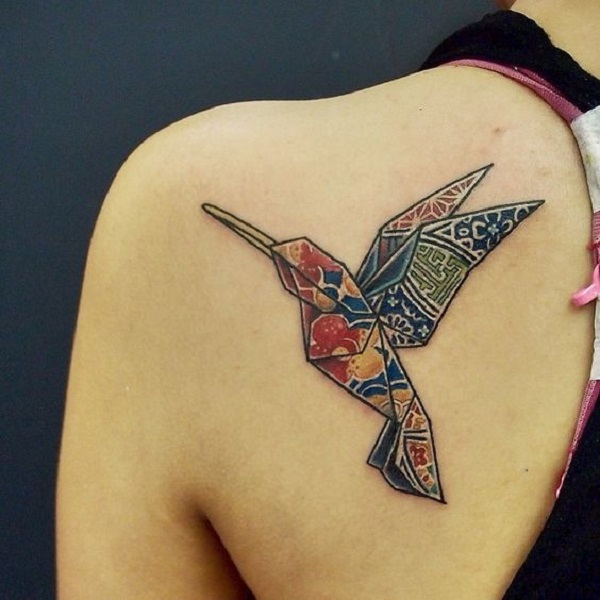 Patterned Crane on Shoulder. This colorful patterned crane on the shoulder is another great idea that you can consider, if you are looking to have an origami tattoo for yourself. Its amazing color combinations, details and minutiae can best catch your mind.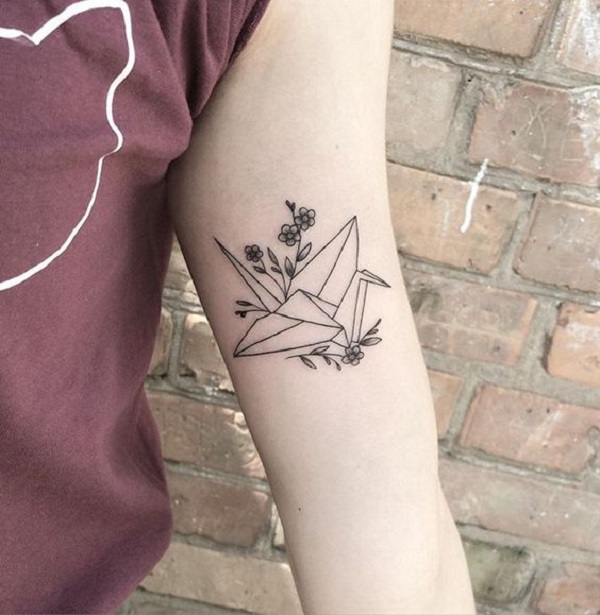 Simple yet cute, whole black Origami bird tattoo for the arm can be your first tattoo, especially if you are looking for something decent. This crane coupled with flowers and shading is surely mind blowing.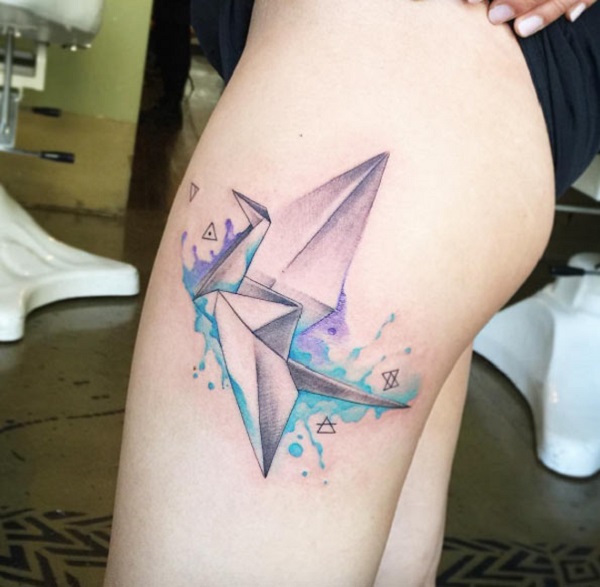 Gorgeous Crane on Thigh. If you are looking to give your thigh a sign of peace and symbolize yourself as a representor of harmony, then having this black and blue crane on your thigh can help.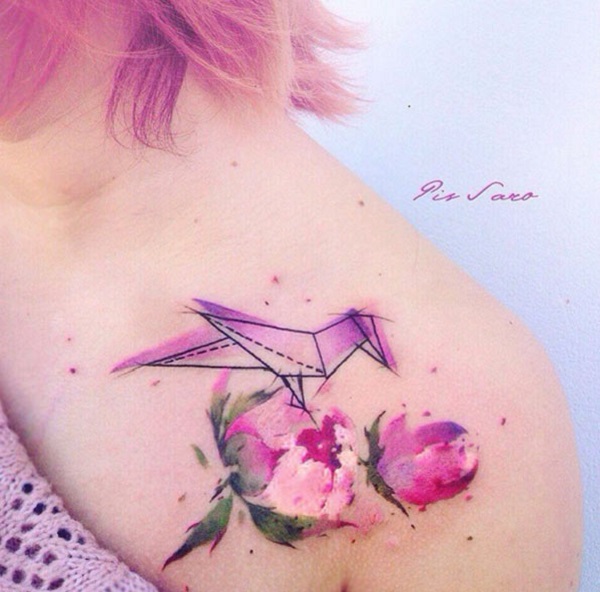 Origami Bird sitting on Peony. When Origami bird is coupled with peony, it offers the best combo, as fully described by the image. This combination of tattoos look best on shoulder, but you can also try it on your thigh, to add much creativity for yourself.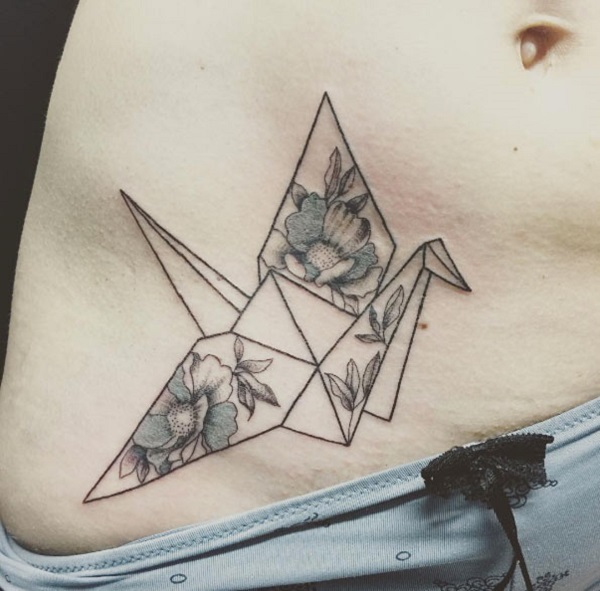 Floral Origami Bird on Waist. To give your tattoo a sexy look, try this one on your waist. The hollow Origami bird with flowers incorporated can serve the best option for you to symbolize happiness and purity simultaneously.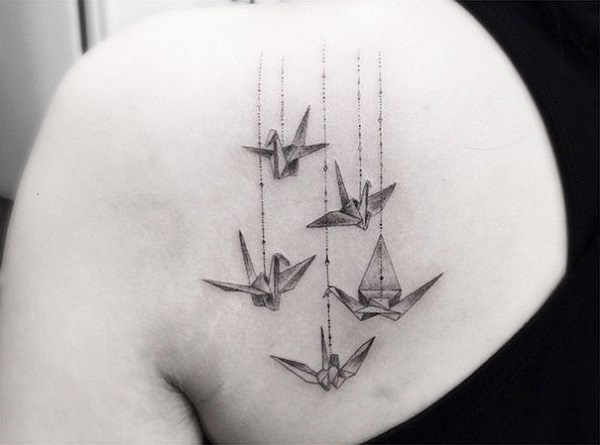 This Mobile. Well, if you are true admirer of the black and white origami bird tattoos, then this will surely catch your mind. These mobile hanging origami birds is surely the best thing that you can add to your shoulder.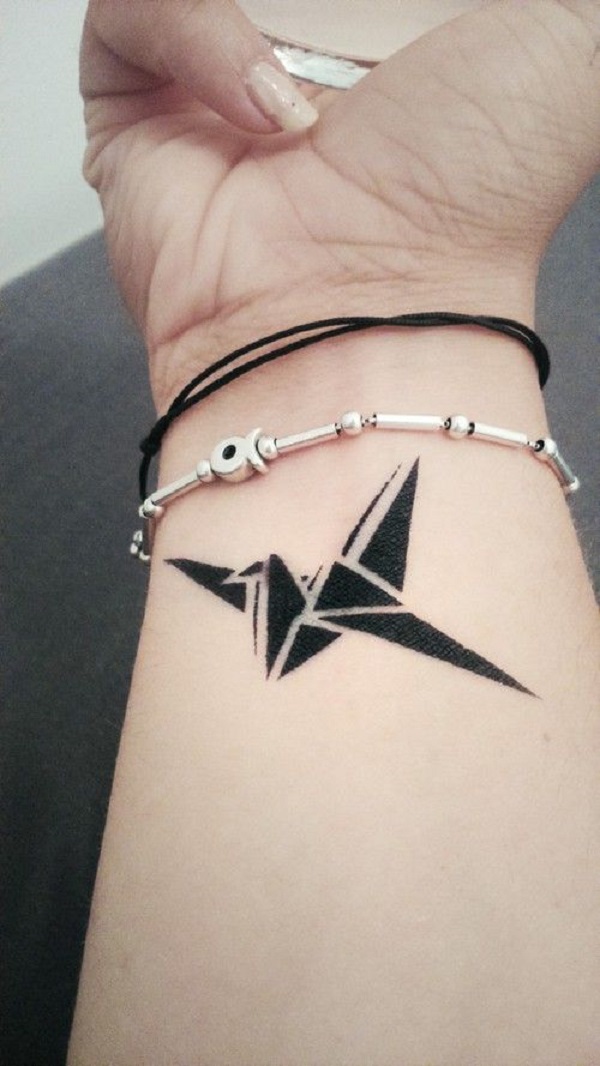 Origami Bird on Wrist. This shaded, wholly black origami bird on the wrist is another worth trying option that can embellish your wrist like no other bracelet or band can.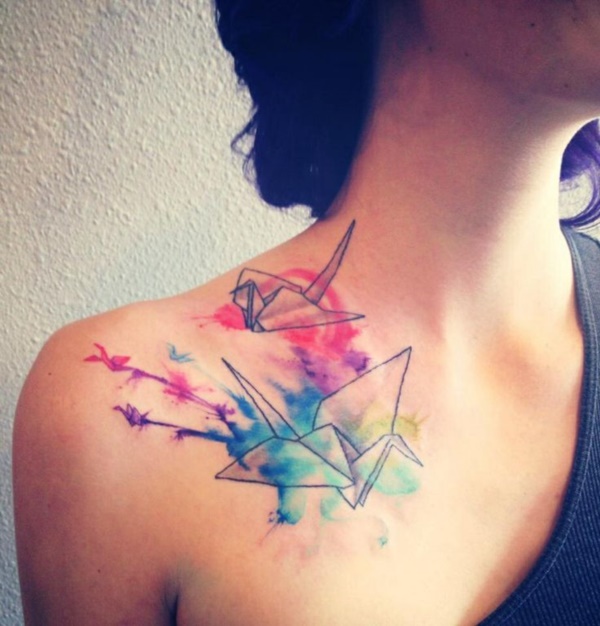 Hollow Origami Birds with Faded Colored Background. This play of colors and art is something worth admiring. The hollow origami birds, playing in the faded array of colors can give the best scene on your shoulder.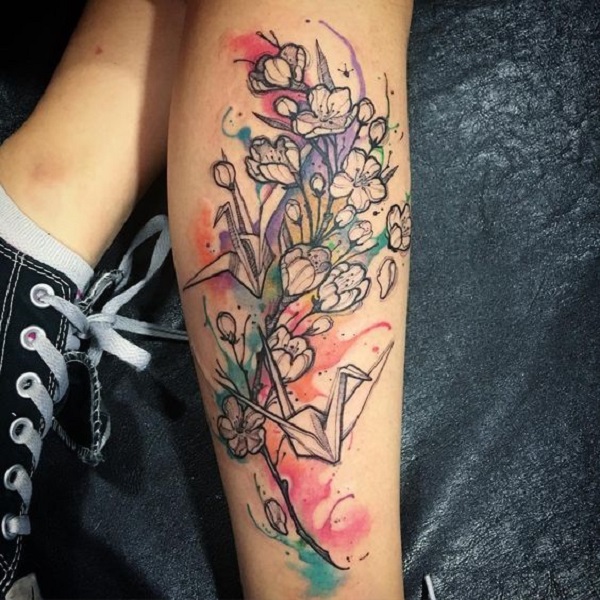 Origami Bird Coupled with Flowers and Colors. This tattoo shows the high level of professionalism and creativity.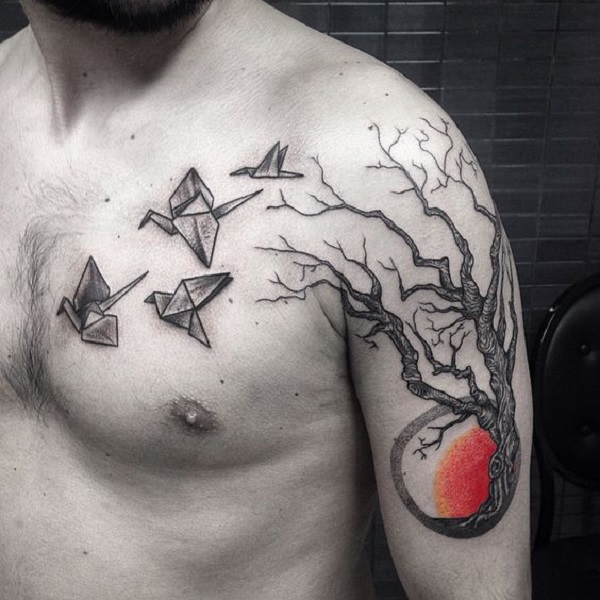 Origami Tattoo on arm and chest. well, this tattoo is unisex and only men can have this, but if you love this tattoo being a woman, you can have it too with some creativity and more colors. This tattoo shows the leafless and barren tree that captured a setting sun ad flying birds along. the scene is too captivating and amazing.
This Rib Cage Origami tattoo.If you want to embellish your rib cage with something colorful and meaningful, then nothing could be better than this origami art of tattoo.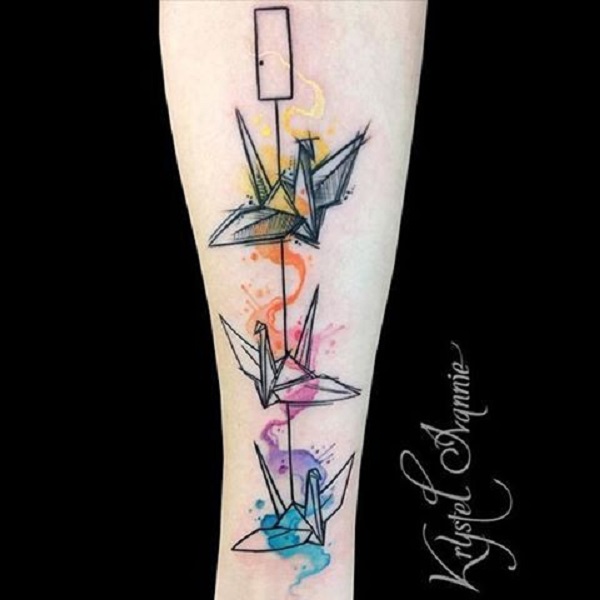 The hanging Cranes. one after the other, hanging birds is another best idea to have on your arm length or on your leg. You can add different colors and more highlights in order to make this tattoo idea more interesting.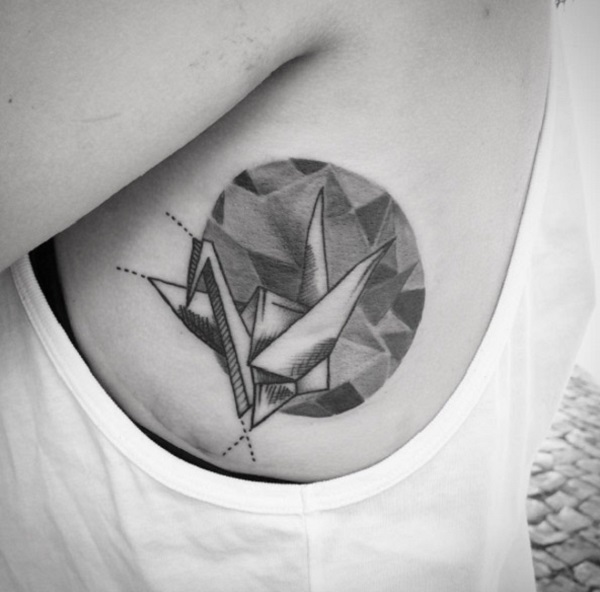 A Diamond and 3D Origami Bird. A 3D origami tattoo design can be your choice, if you are looking for something more creative and unique. this tattoo on the chest make the most attractive and famine looking, making it the best option for ladies.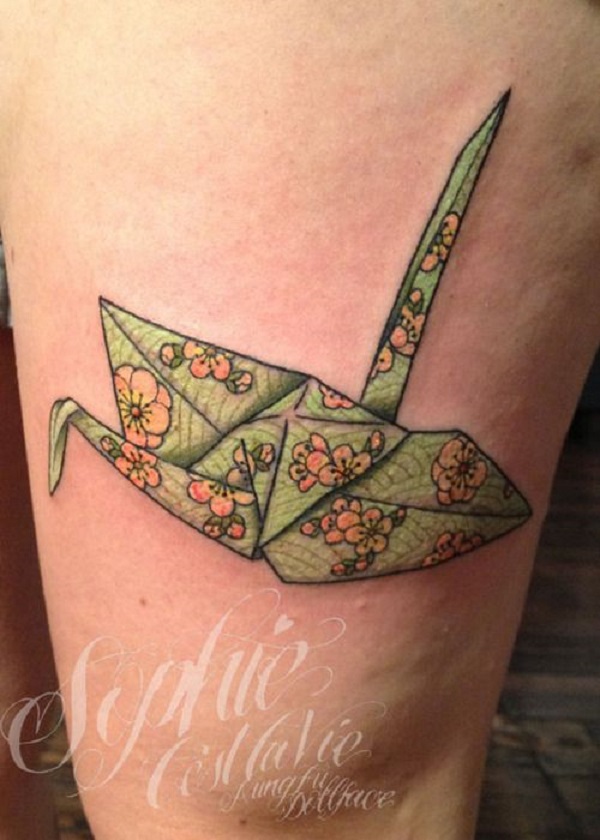 A fl0ral Origami Bird. This tattoo is another great idea for the ladies who are looking to embellish their thigh with origami art. The floral theme in this tattoo and the color scheme is what that give it the girly look.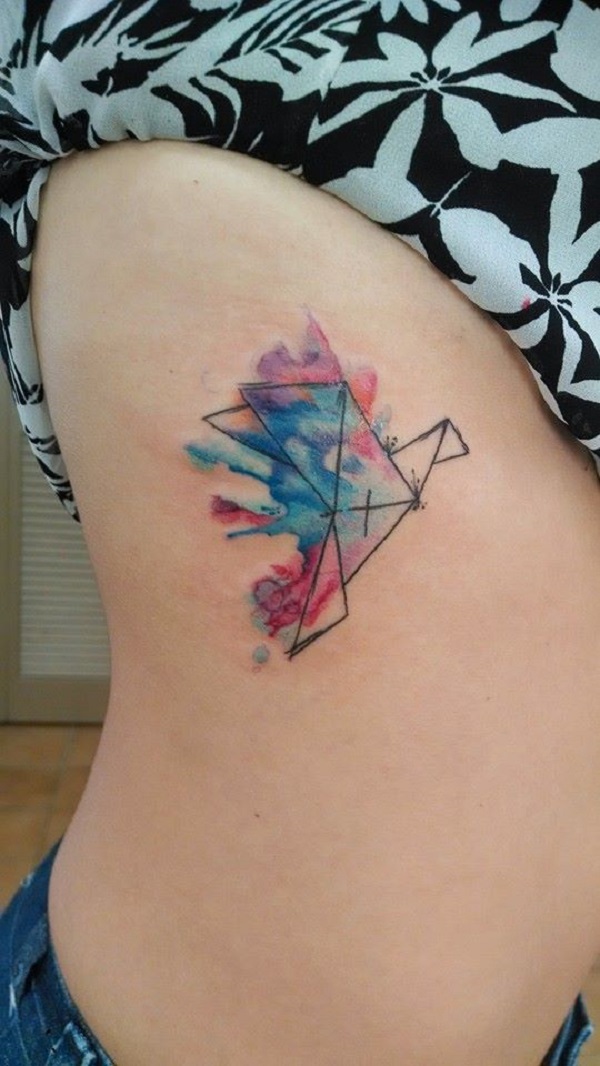 Another Rib Cage Bird tattoo. A colorful rib cage tattoo is next idea for all the ladies who are considering to give this form of tattoo, a shot. This tattoo idea symbolizes the strength and sophistication at the same time.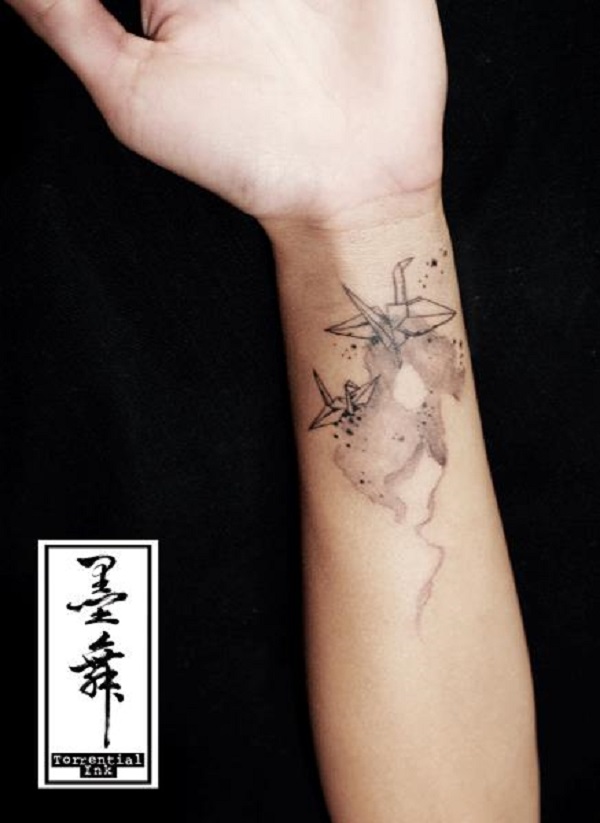 The Water Color Origami Birds. One more tattoo for the wrist is what that you can see. This hollow piece of art is something extremely mind blowing and eye catching.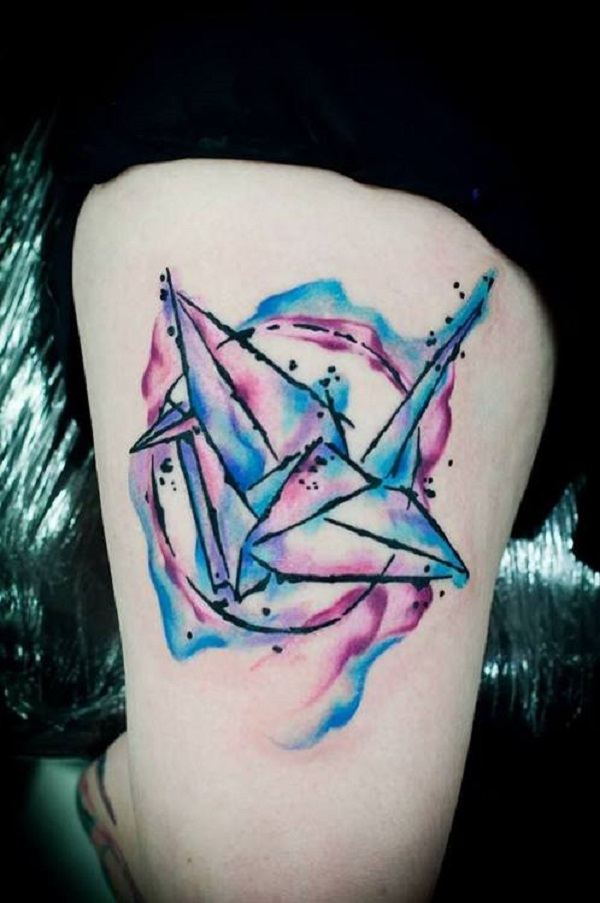 Abstract Origami Bird tattoo. If you are an admirer of the abstract art and looking to have it on your body, then having this tattoo can simply meet your desires. The unique yet decent color combination and the beautiful origami art is something that has not to be missed.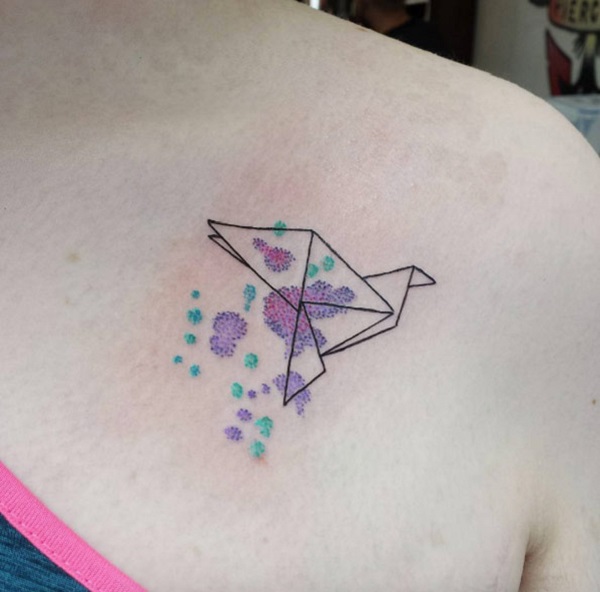 A Cute Origami Bird Tattoo. This one is another to embellish your shoulder, that is having faded colored background. The tattoo is simple yet attractive.
This is another amazing embellishment for all the ladies who are looking to have their shoulders decorated. The Origami birds are colored with array of different colors, that definitely symbolizes the peace and harmony.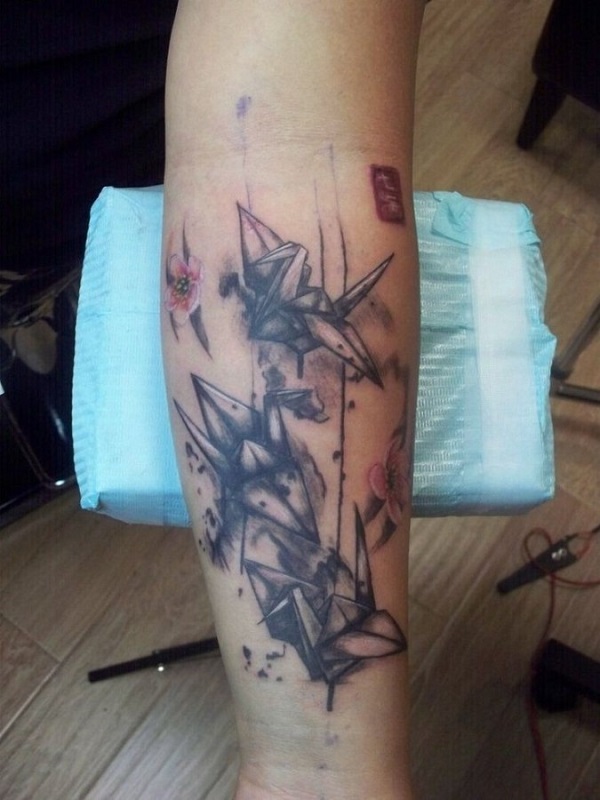 Another piece of abstract art coupled with origami paper birds is next on our list that you can try for your tattoo. This tattoo can look great on the arm or on the thigh, for both men and women.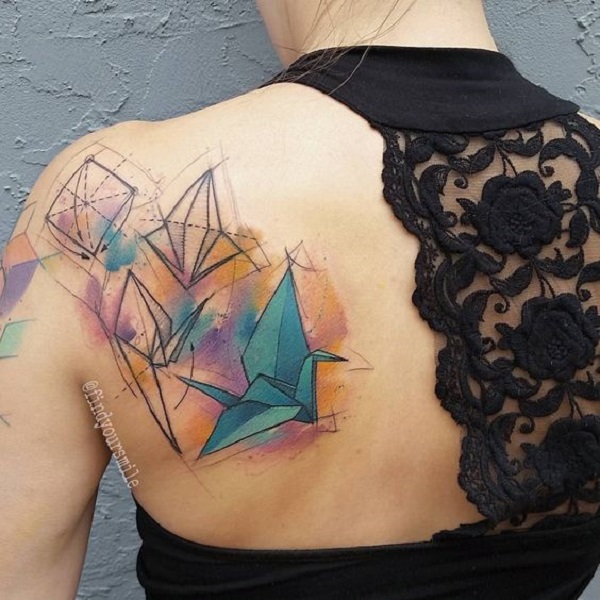 The geometrical Origami Birds is next on our list of the top 65 Origami birds tattoos, that can best suit your shoulder and arm. this tattoo design extend from the shoulder to upper arm and offers the meaningful meaning you ever had known.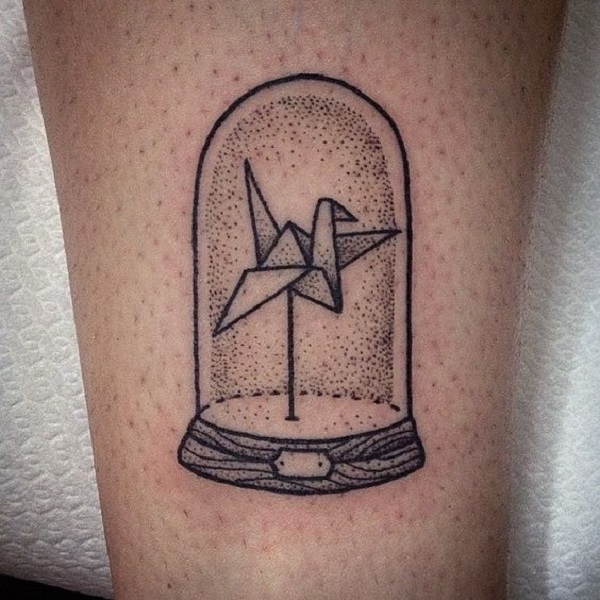 Origami Bird in the Cage. This Origami bird cage is one of the great idea for those who are trying to have something different and unique on their bodies. You can add your colors and different creativity to this design, to customize it in your own way.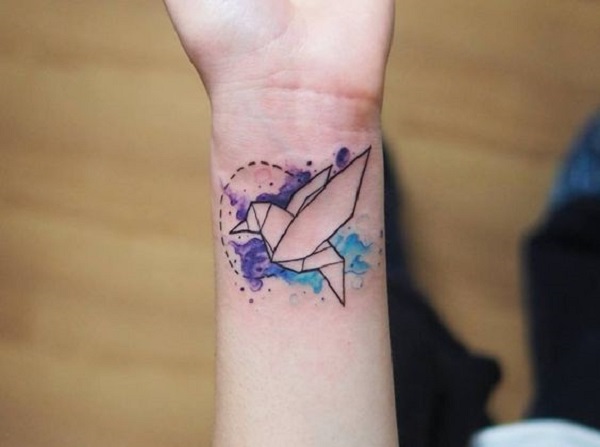 Another wrist-y Bird. With the shades of blue in the background, this origami bird tattoo design is ext on my list. The tattoo is great in design and offer great meaning.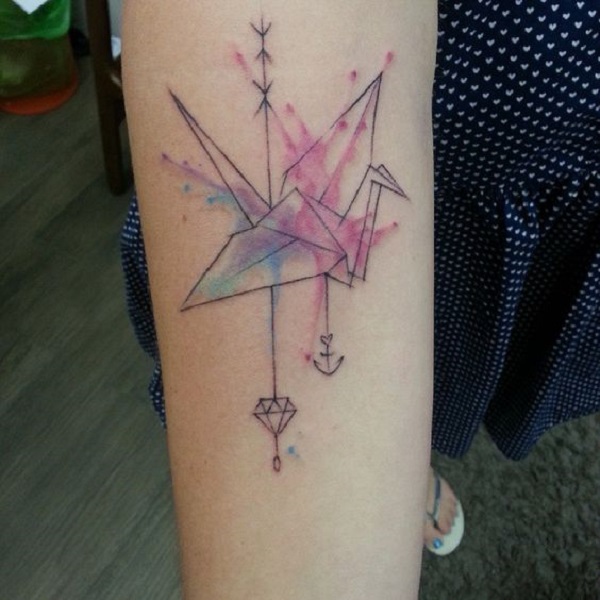 If you lack the ideas for tattooing your arm, here's the idea that you can consider. The mix of few water colors and a simple origami bird can explain all the ideas that you need.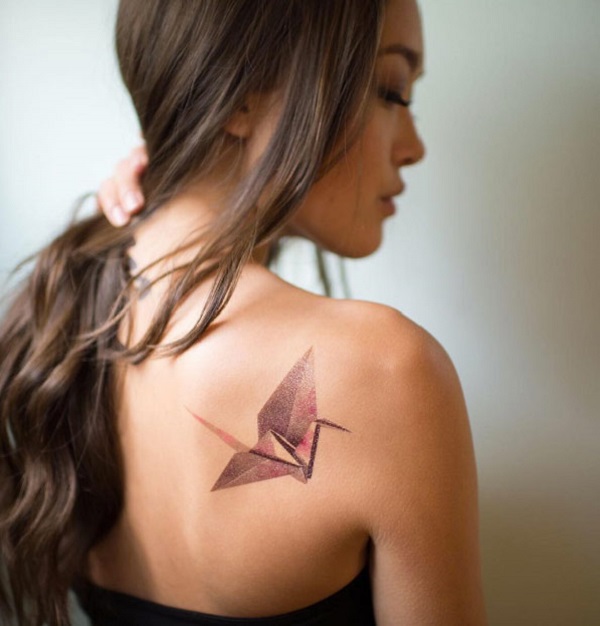 This gorgeous Crane on the back shoulder. If you observe this tattoo in depth, you can see an advanced level of professionalism and details, that are rare to see in this this form of the tattoos.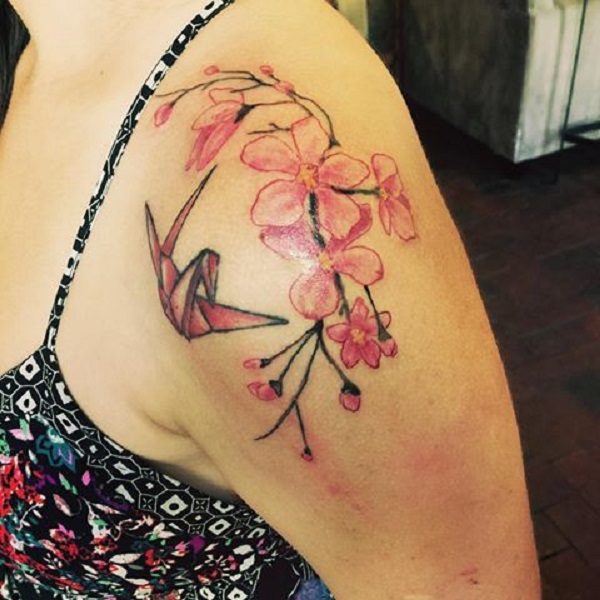 A Bird Dancing with Flowers. This is surely a true girly piece for all those ladies who have lady blood running in their bodies. This piece of origami tattoo dwindling over the colorful flowers is what that is something really mind and heart catching.
A simple Origami Bird with Blue. Blue and black is a great combination that you can have in your tattoo. This tattoo offers different shades of blue merged together flying with the bird.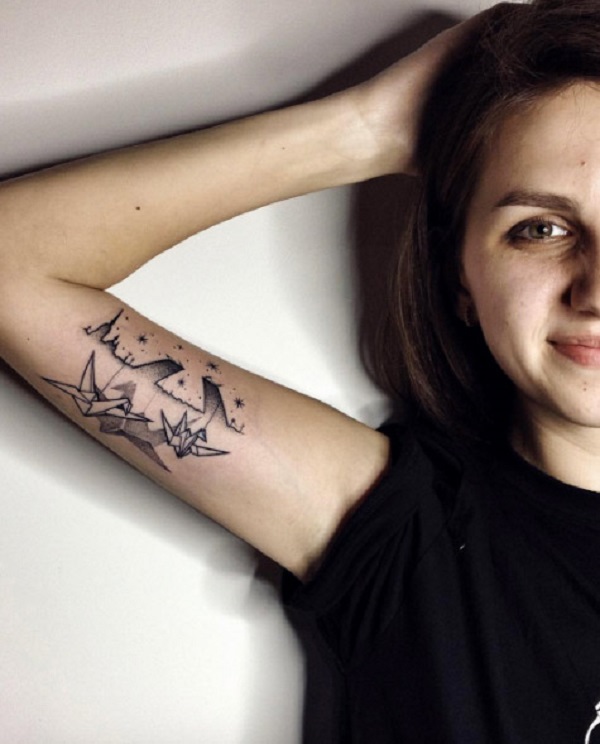 Black shaded tattoo with flying Birds is something worth trying that comes among the most preferred design for the art lovers. This tattoo offers a full scenario with stars on the top, buildings on the back and birds flying around symbolizing peace and harmony.
Random colors and geometric Design. A 3D origami bird with the geometric flower on the base is another great idea if you are looking for something unique.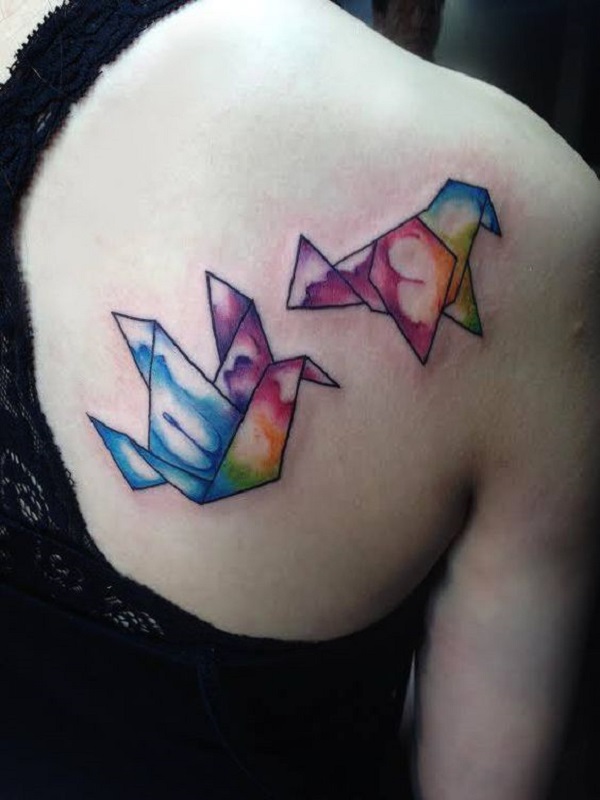 The water colored Origami Birds. Two birds with multi colors seemed to be flying in this tattoo design. The tattoo is surely mind catching with some unique and decent touch.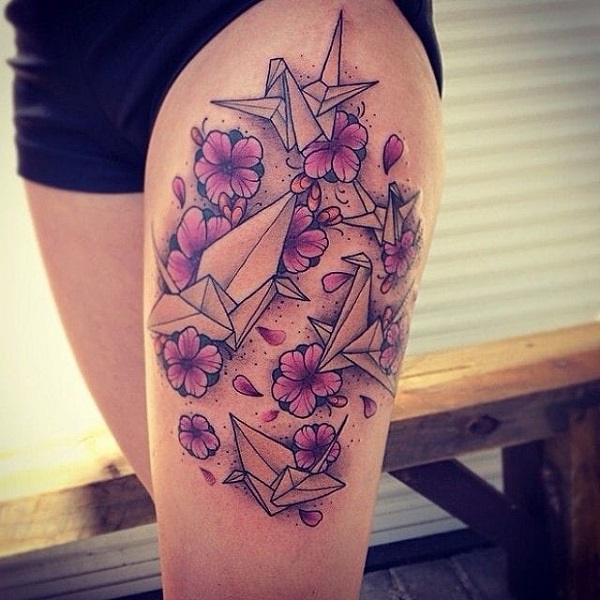 A tattoo for full full thigh length. If you are looking to get your thigh covered with decent plus simple tattoo, then this tattoo could be your option. The tattoo is coupled with the flowers and amazing paper birds giving the most captivating scene.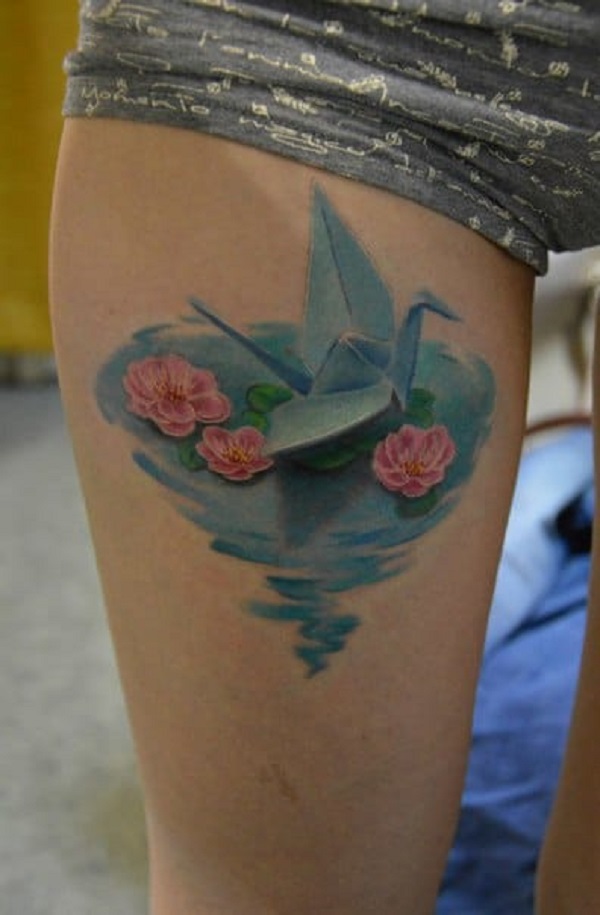 A swan in the water. Above all the designs, this one has got my mind. The water and swan is shown with blue color while the flowers are shown with the pink color along with leaves in green color.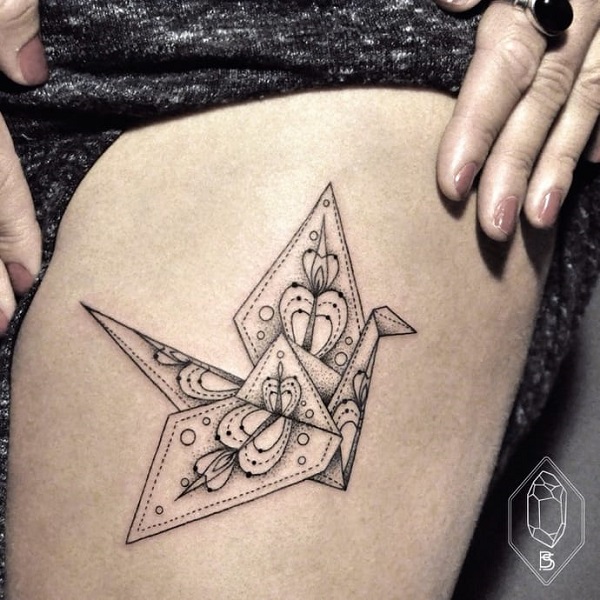 Black- always a love for all can also add to your personalty if you bother to choose this one for yor body. This all black origami bird tattoo can simply look great on your neck, shoulder, arm or thigh.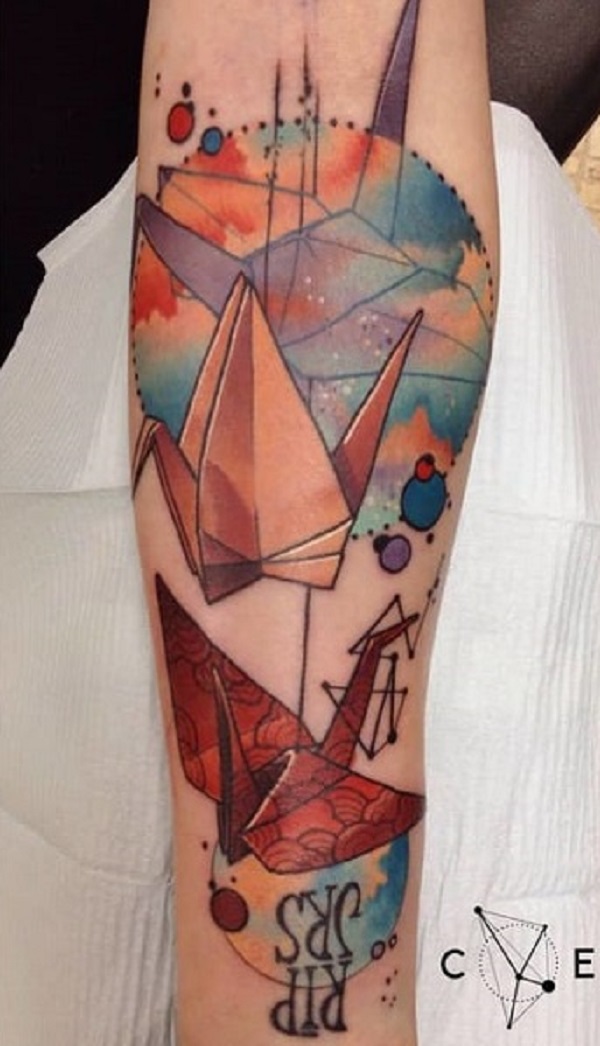 Another geometrical pattern coupled with Origami birds is makes our next pick, as it can cover all your arm or thigh with its abstract objects and positioning.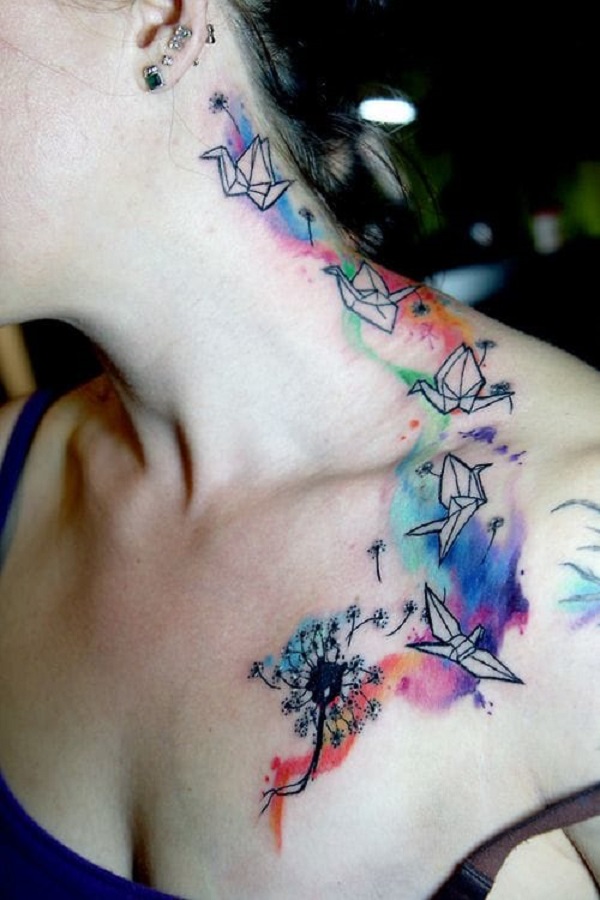 Originating from the back of your ear and extending towards your arm and chest, the next origami bird tattoo design can also make the best option. This design involves a play of colors, objects and meaningful meaning.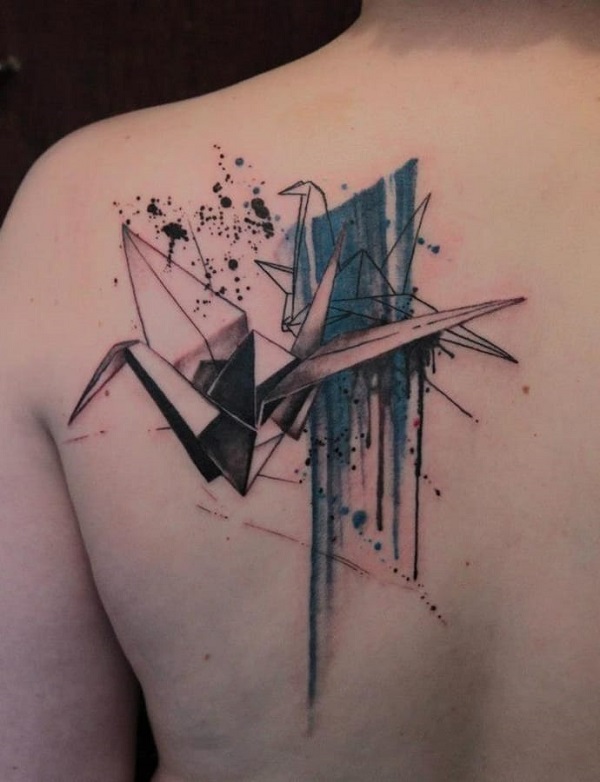 The play of water colors with origami birds.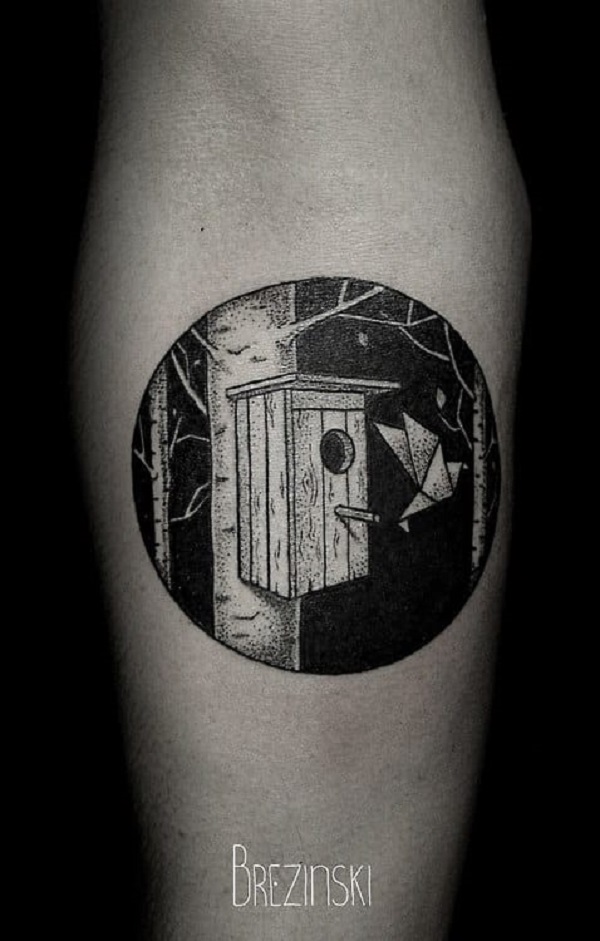 A night-y Origami bird flying out of the nest.
A decent Shoulder Origami bird tattoo with pattern.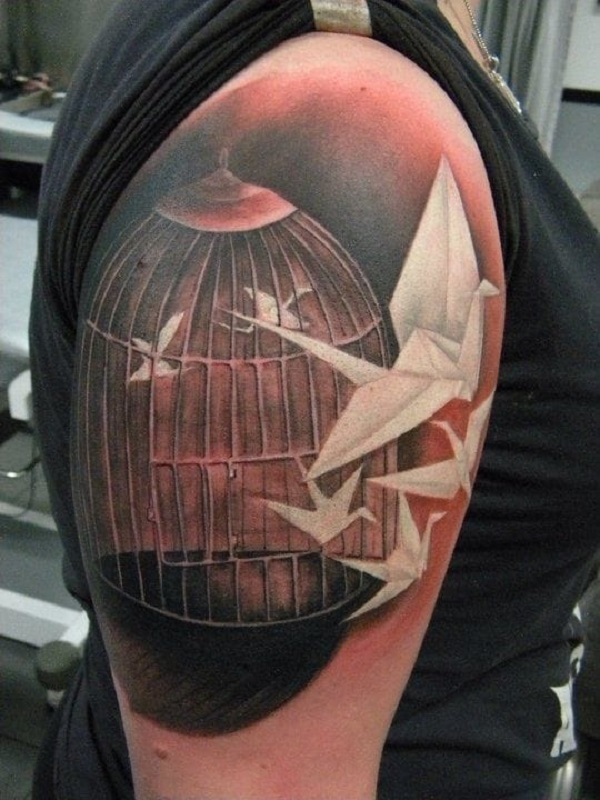 Escaping Birds from the Cage shows the clear meaning of harmony, peace and freedom. The details of this design will never fail to catch your mind.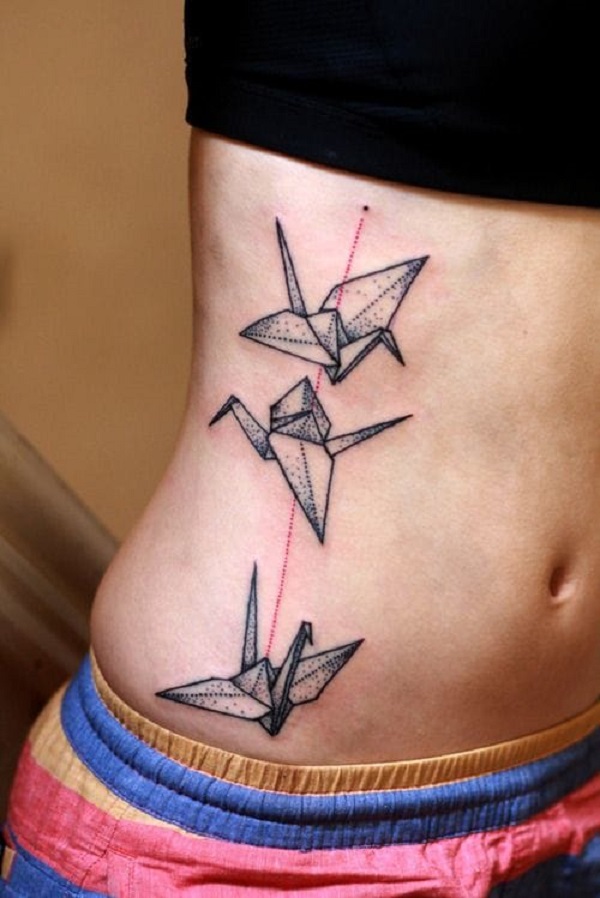 The mobile Origami birds on the waist is another to try for your body embellishment.
Rib Cage Embellishment Origami tattoo is all you need to embellish your rib cage area. This tattoo involves a bunch of flowers and buds, a paper bird flying randomly, offering a great meaning for the brainies.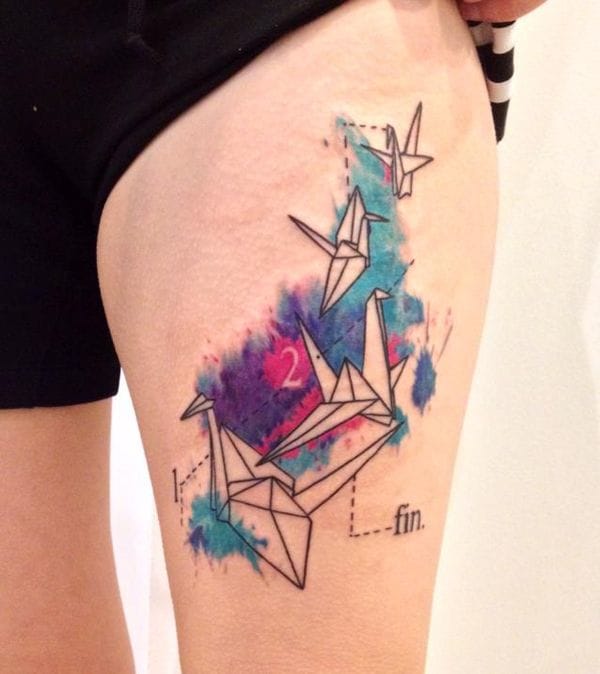 The colorful water color origami birds on thigh.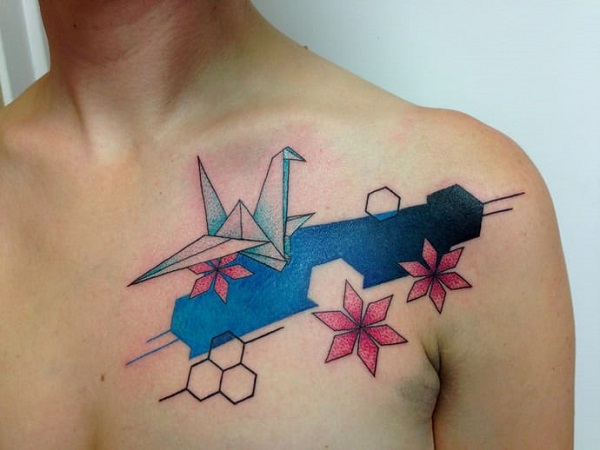 Another Geometrical Paper bird with geometric flowers can also be your first shot for the origami bird tattoos, as it incoporates amazing color combinations, shapes and design.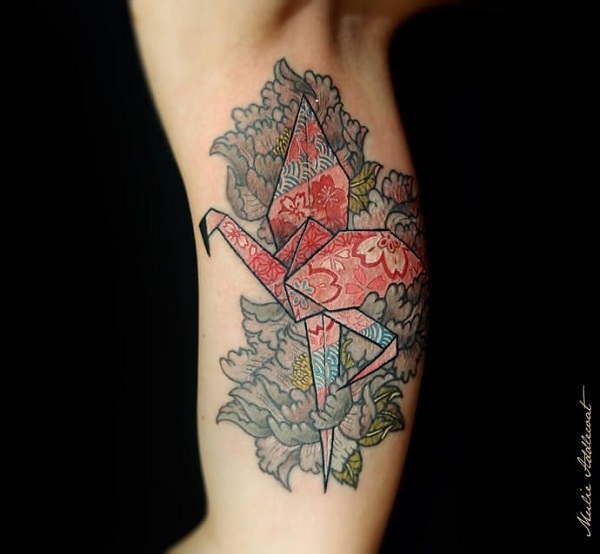 The floral piece with the patterned origami bird is another best option for all those looking for colorful yet decent origami tattoo.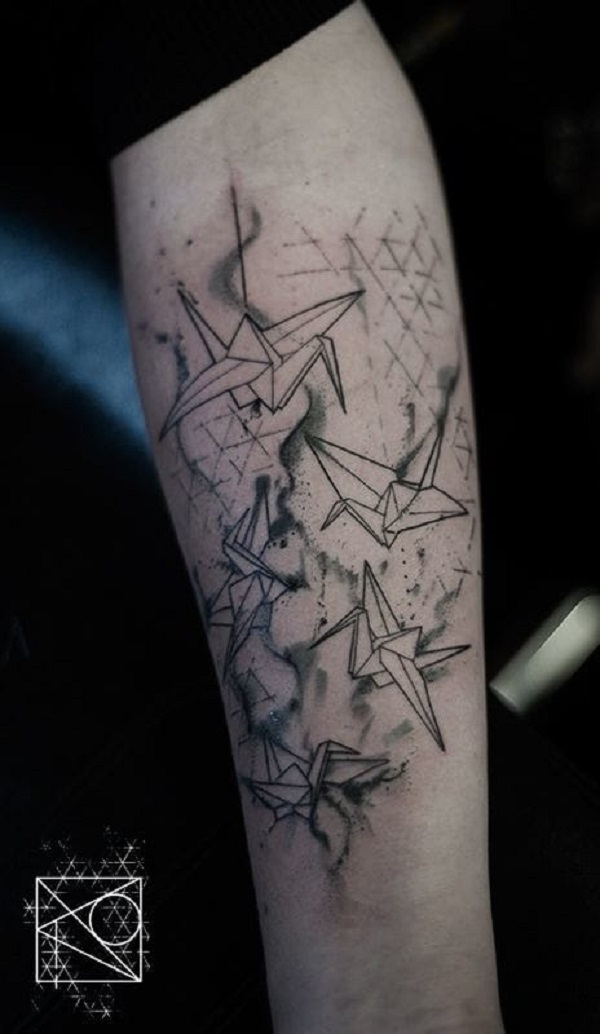 The abstract water colored birds offer the great tattoo cover that you can also have on your arm or thigh for the great origami bird experience.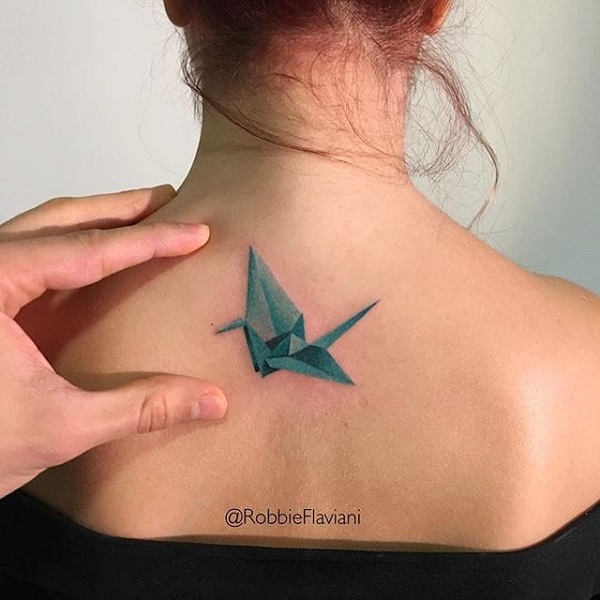 This gorgeous 3D Aqua Colored Origami Bird. This bird is simple yet attractive that looks attractive and sexy on the back neck. Having this in mind, this is the common option for ladies but not that rare for the male population as well.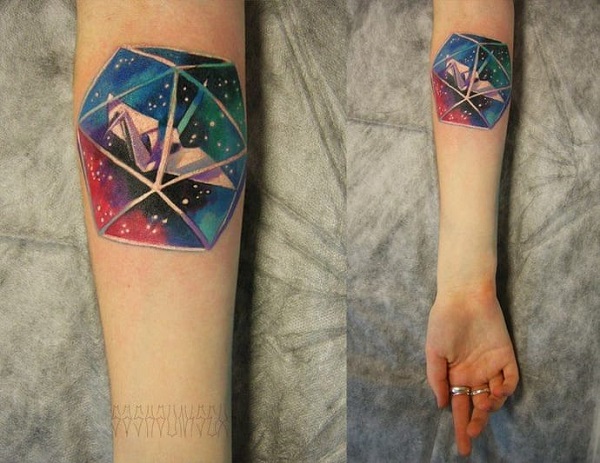 A Bird enclosed in the crystal with spark and colors also can be your first shot for origami tattoos.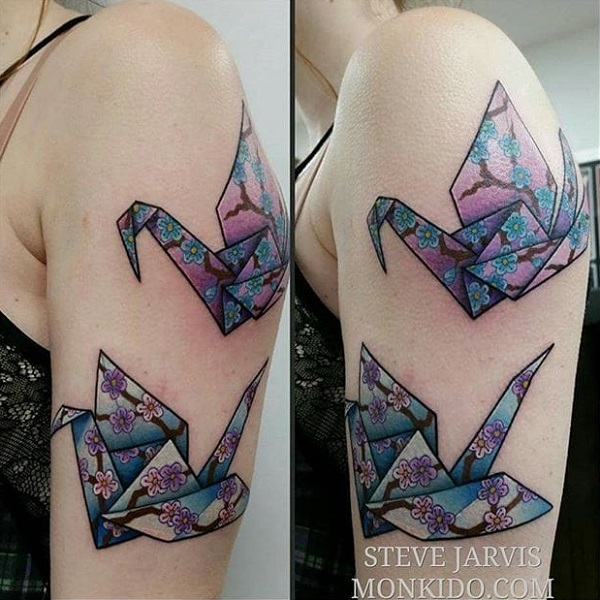 Another origami Bird tattoo is next on the list that is patterned with flowers all around. This tattoo looks great on the arm and you can get them as many as you like, as it simply contribute to your personality with amazing colors and awesome shape.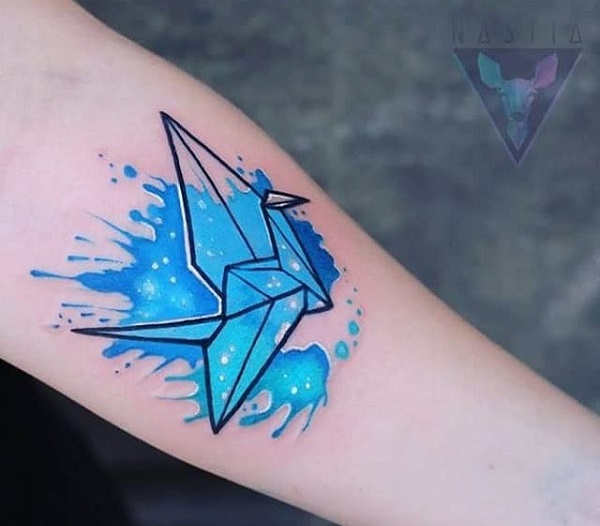 If you love blue, this tattoo will survive to get your mind as it involves a great use of blue color along with the shade of white and always in trend- black. Blue color can be considered depicting sky and bird flying and dwindling around it.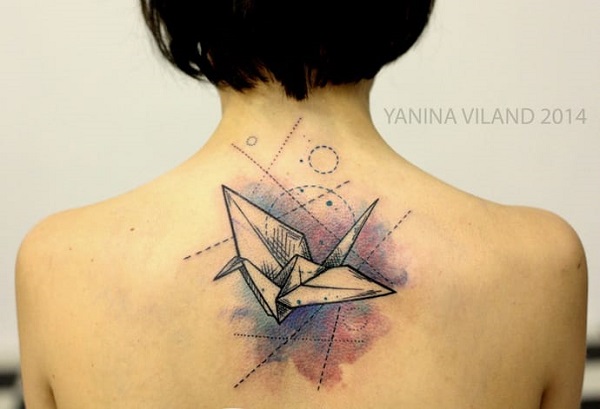 The Geometrical Bird in Abstract Geometry. Whether you are a Math person or not, this tattoo offering geometric shapes and geometric art will still got your mind. The tattoo offer great mix of colors and details, that are rarely seen in most of the tattoos.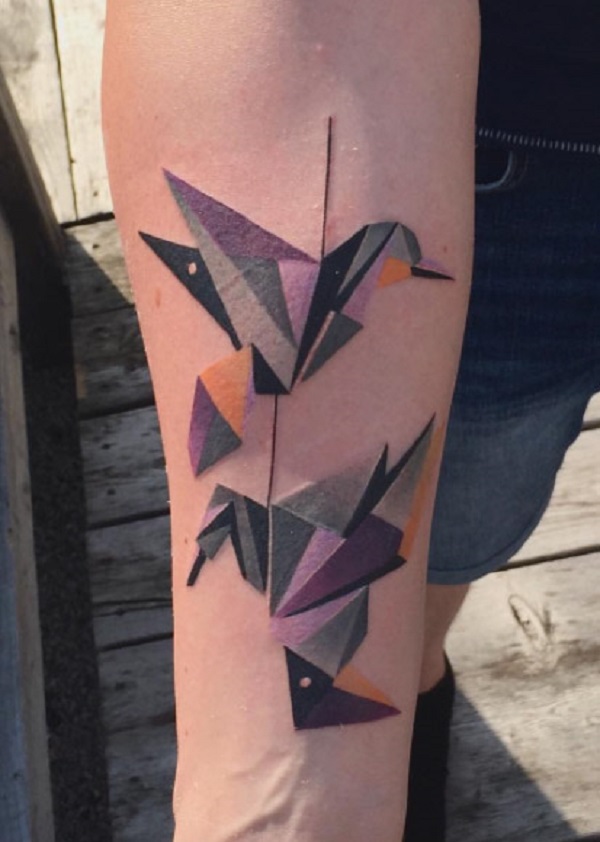 Origami Birds on Thigh makes our next pick as this one offers number of birds with magnified sizes. Three birds are attached to one another offering the symbol of peace and negating the element of racism.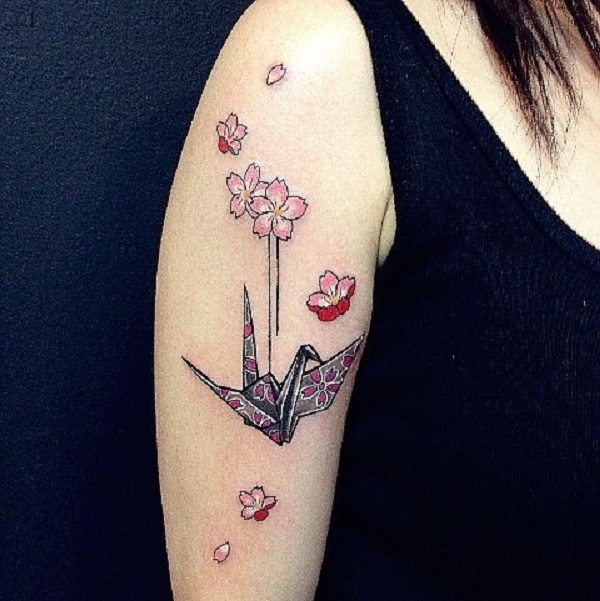 The Colored Bird with Flowers. This thing is another great thing to try, as it offers flowers and birds in the single tattoo. The combination looks great for all the ladies love the flowers and birds at the same time.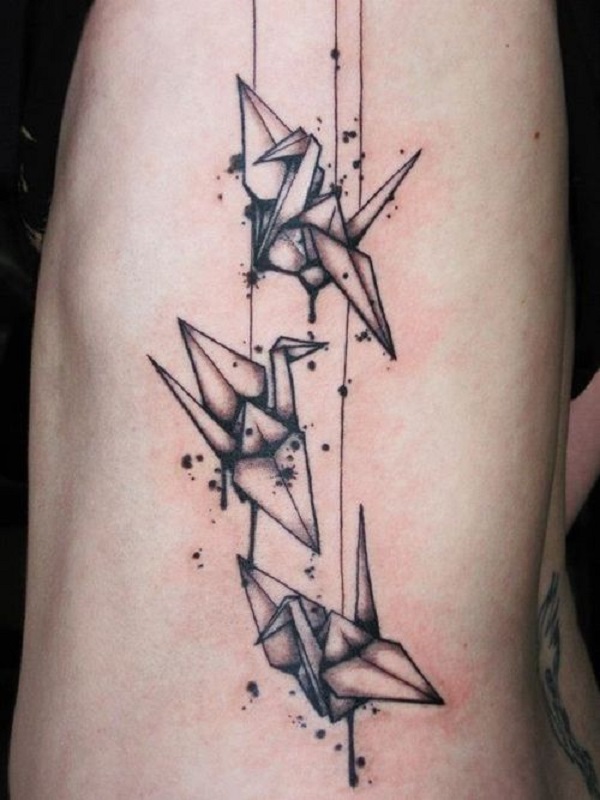 The Bleeding Birds. These birds one after the other makes a great choice for tattooing on the rib cage, as it covers all your part with style and decency.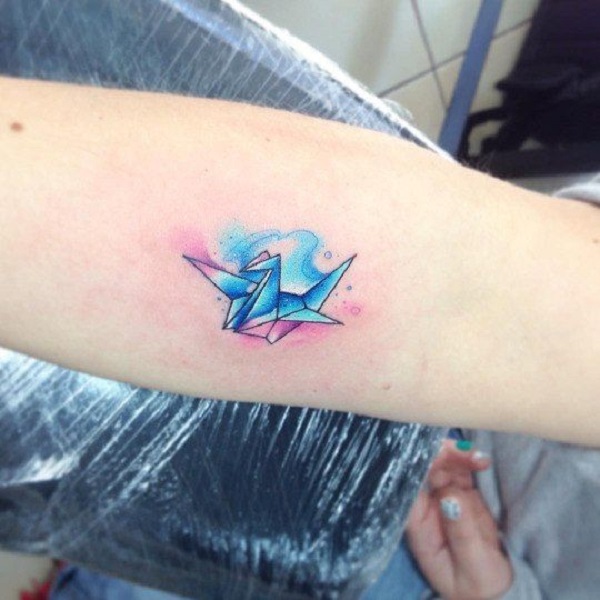 With the blue and purple shades, This origami bird flying in the colors is another worthy trying option that will look great on your body, no matter on which part you get it.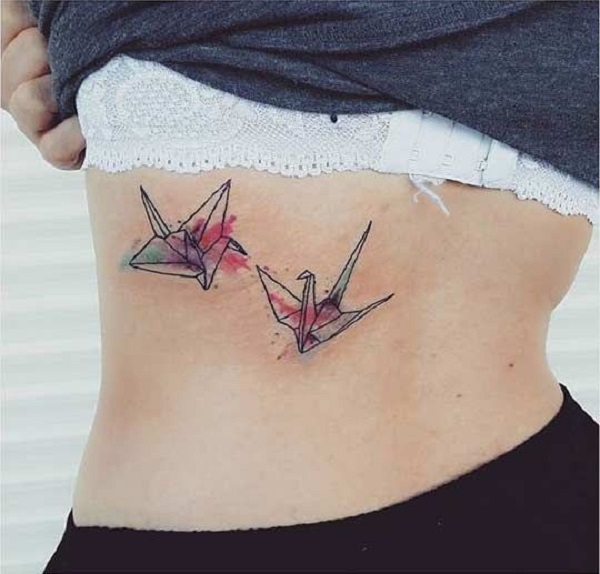 This Rib Cage work is really amazing masterpiece that you will definitely find to be distinct as this one make one of the finest choice for rib origami tattoo.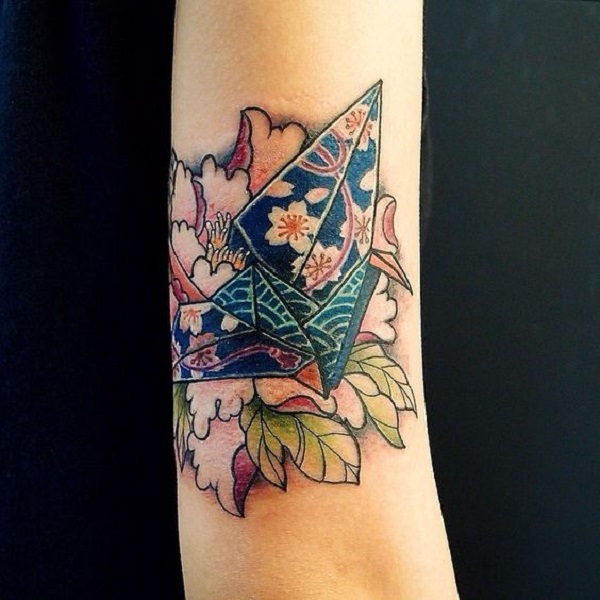 Patterned Bird with Abstract Objects.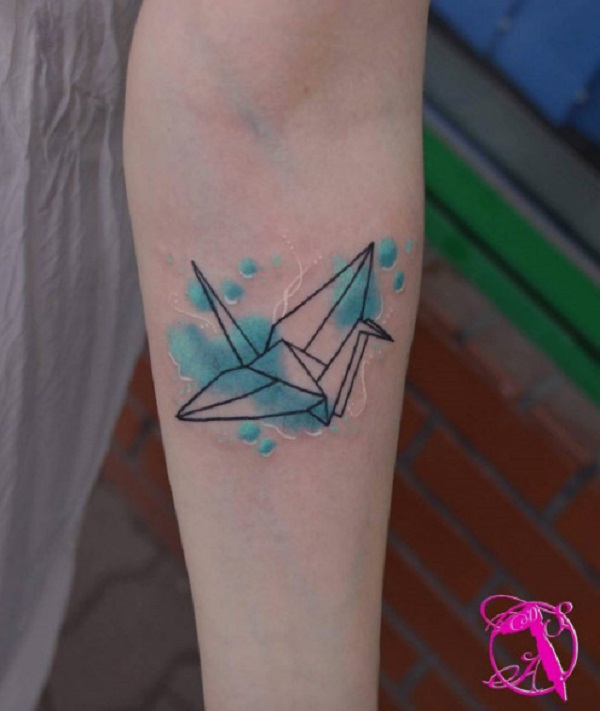 One more tattoo for the posterior of your arm. Now you can see why this origami bird tattoos makes one of the popular forms of tattoos.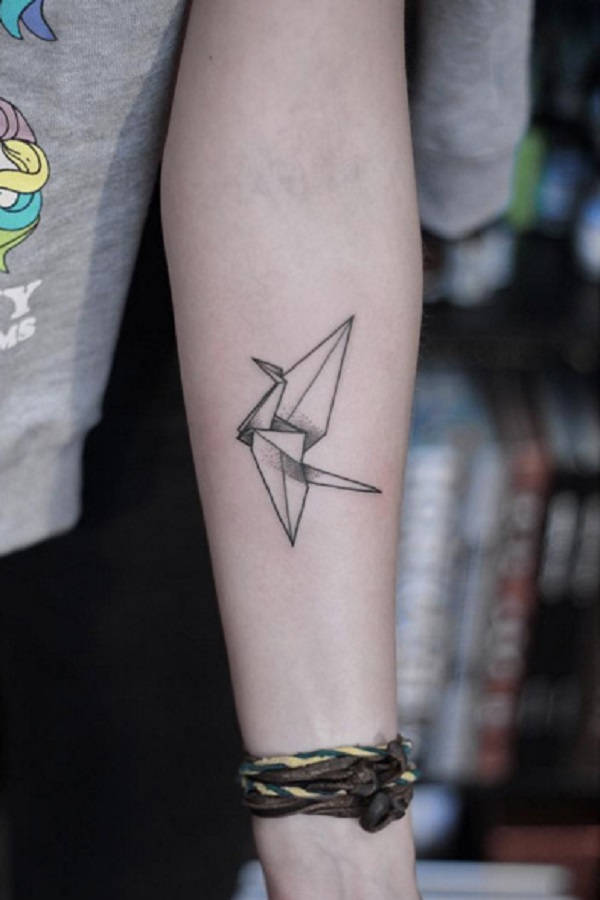 A simple single bird can make your decent tattoo, if you know what decency actually means.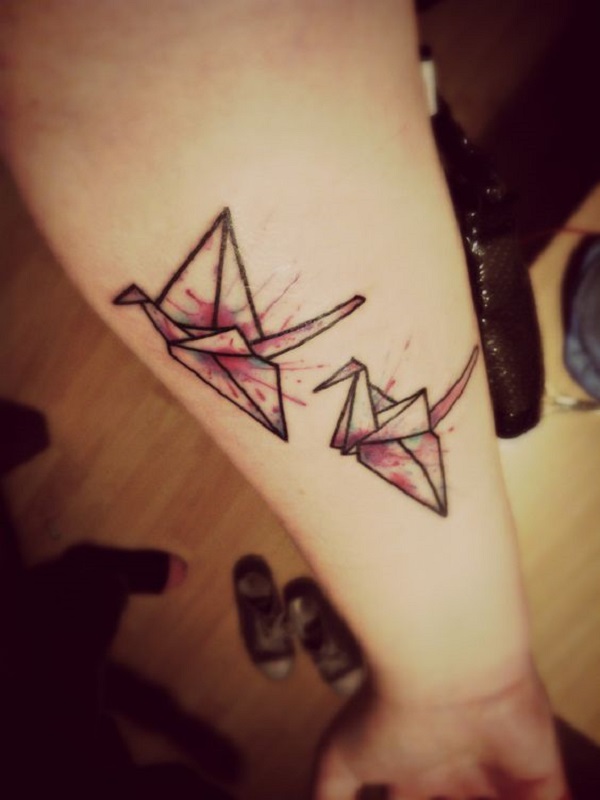 Two Birds Flying on the posterior arm is another valuable origami tattoo design that can surely win your mind and heart, if you are a true lover of art.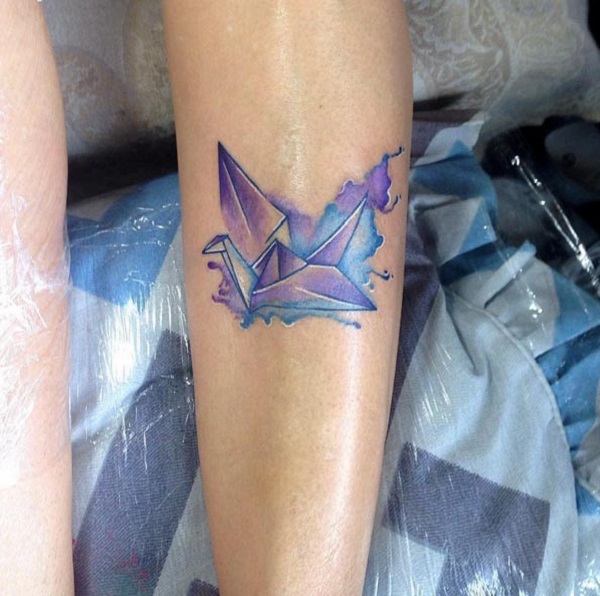 The Faded Bird. Only true admirers of love with unique choice find this tattoo to be wonderful, as this one incorporates the amazing color combinations along with the detailed origami bird flying in the colors.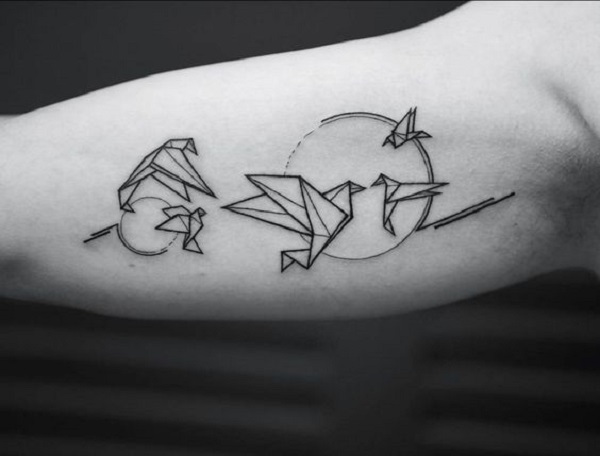 This amazing discreet black tattoo design is worth trying if you are one of the person with some decent character. The birds are flying randomly in the circle that gives the rare scene in tattooing scenario.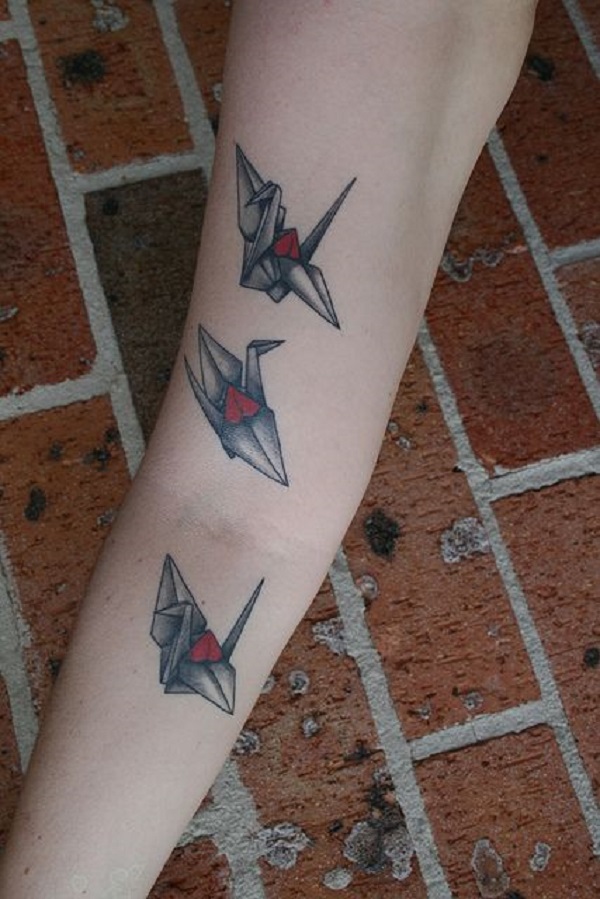 The Love Origami Birds. Well, in the ancient times, birds were considered to be the source of exchange of love messages, that is what shown in this amazing tattoo design with the high level of professionalism. The origami birds are carrying heart within their wings and symbolize the great message of love.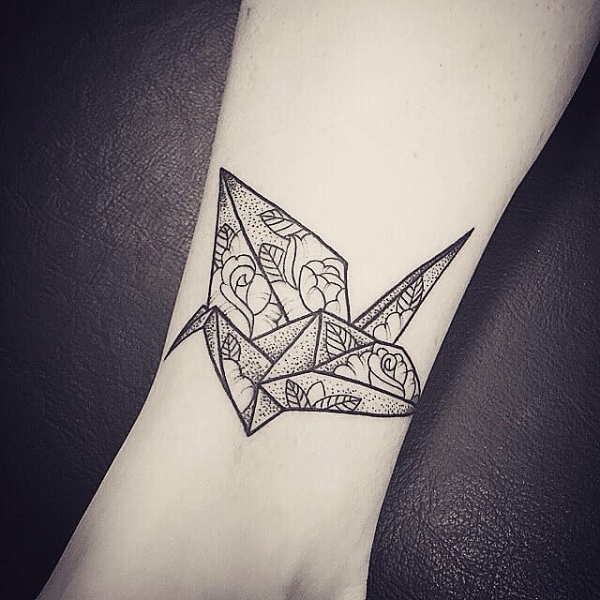 This Patterned Origami bird is an amazing thing to try if you want to get into this tattooing thing. The tattoo design is completely decent that can look decent on ecah and every part of the body especially the wrist and shoulder.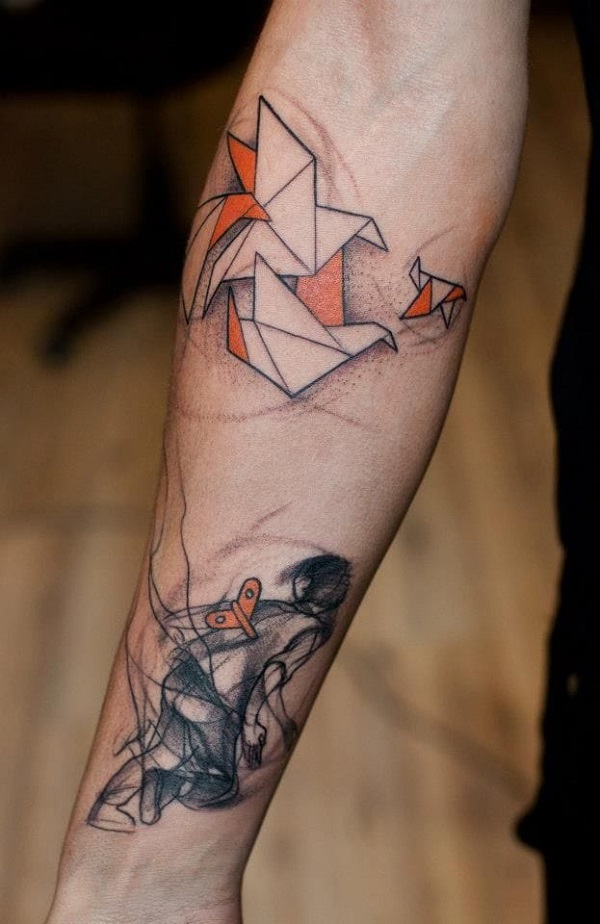 This tattoo with the whole unique scenario is another great idea for you to try, that shows the vulnerability of man and the bitter truth of his death and transforming further into peaceful birds.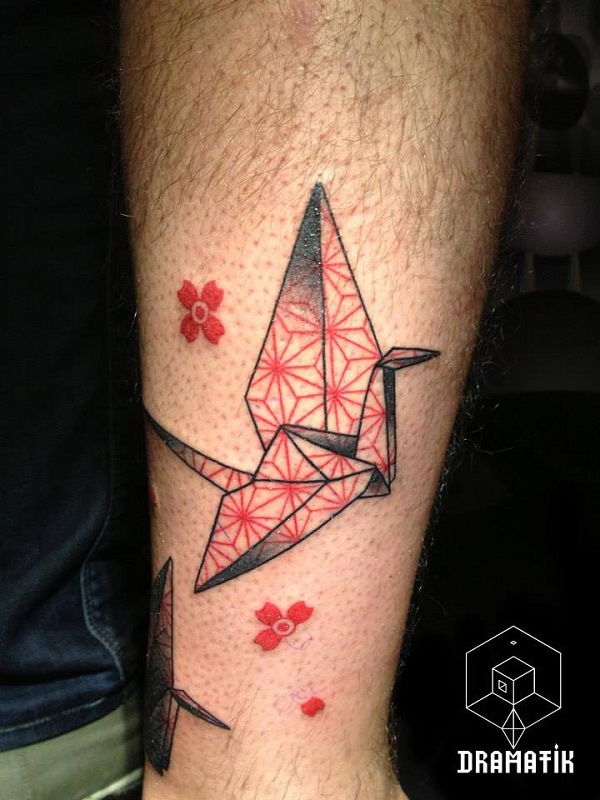 With the fiery red color and all rounder black makes the best tattoo option, especially when it comes to origami birds. The tattoo that you can see in the picture is patterned with the red color, that give this tattoo design a unique touch of color combination and sophistication.