Tattoos are reaching sky heights day by day and tree tattoos is one of the steps from these heights. From the range of tattoo forms being carved and done by many professionals throughout the world, tree tattoos have become the famous one, that has got popularity among both men and women.
As a matter of fact, these forms of tattooing dates back to centuries and are thought to be very symbolic among some cultures. Moreover, tree tattoos are also considered to be the one very unique form of tattooing and that is the reason, why they are so much popular all across the globe.
The Meaning of Tree Tattoos:
Regardless to mention, trees are the most basic and the main element on earth and they provide human beings with the oxygen and fruit to eat. That is the reason why trees are considered to be the symbol of life and strength. Moreover, this form of tattoo have been adopted by the people who admire and adore the nature and God's creations. So, of you are dedicated to nature nad God's creation, tree tattoos makes the best choice for you.
Tree Tattoos Designs and Ideas:
If you have decided to wear the symbol of beauty, nature, life and strength, then you need to look for some unique ideas that can make your look most ideal. Well, the tree tattoo itself, can make you look strenuous, however, you can bring your own creativity to them. Tree tattoos are available in every size, ranging from small, medium to large sizes. And these tattoos look great when combined with other elements like leaves, birds, flowers or others.
As mentioned above, tree tattoos can be adopted by both, men and women, so you can create your own signature tree tattoo on your back, shoulder, calf, inner arm, leg, thigh, ankle, or behind the ear as well, like the way you want.
So, here we bring some awesome Tree Tattoo designs for both men and women.
55 Tree Tattoo Designs: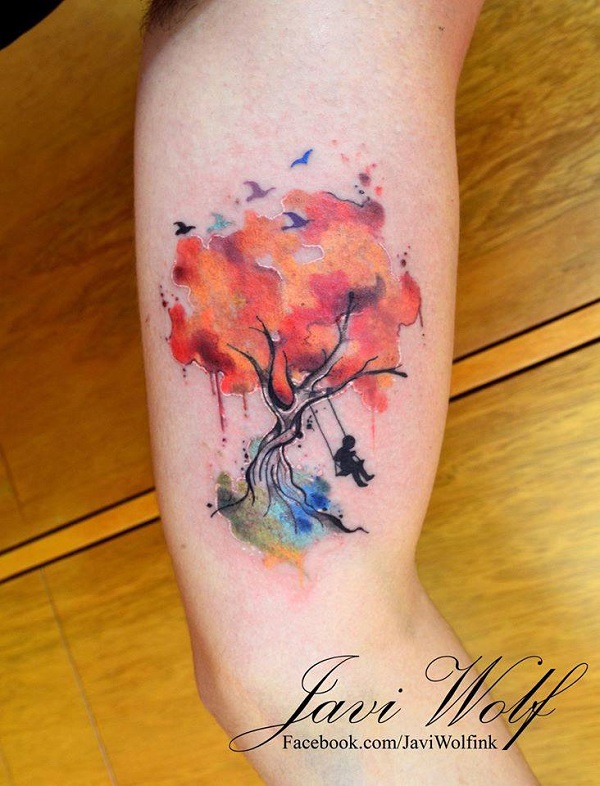 Tree Tattoo with a Man swinging: Getting this tree tattoo inked on your body would symbolize that you love your life, and enjoy every aspect of it with your roots too.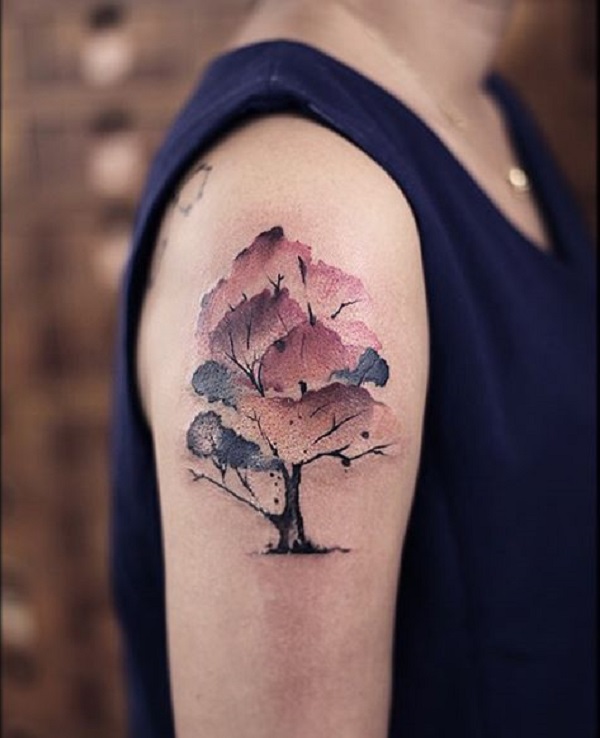 Tree Tattoo on the Upper Arm. As mentioned earlier, the tree tattoo can be placed on any part of the body. This tattoo is best placed on the upper arm with the beautiful combination of colors.
Watercolor Tree Tattoo. Another amazing tree tattoo idea for the girls is water colored piece, that is beautifully done with the girl swinging in the shadow of tree.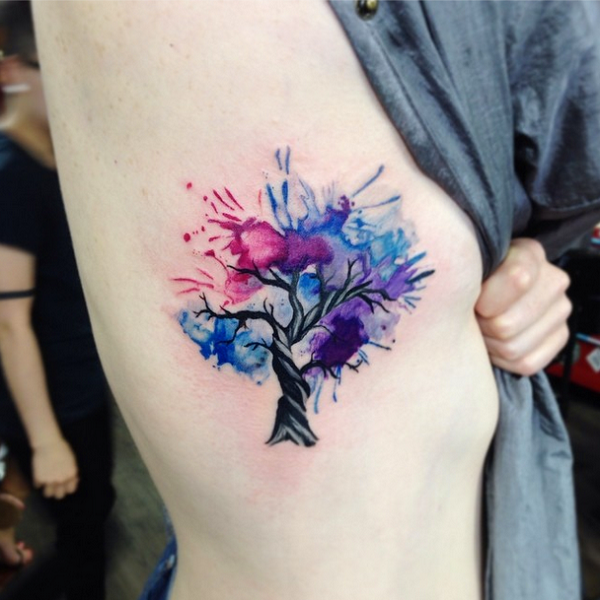 Rib Tree Tattoo for girls. This rib piece is for all the girls who are looking to embellish their body with something beautiful yet symbolic. So, this water colored tree tattoo is must for all those girls.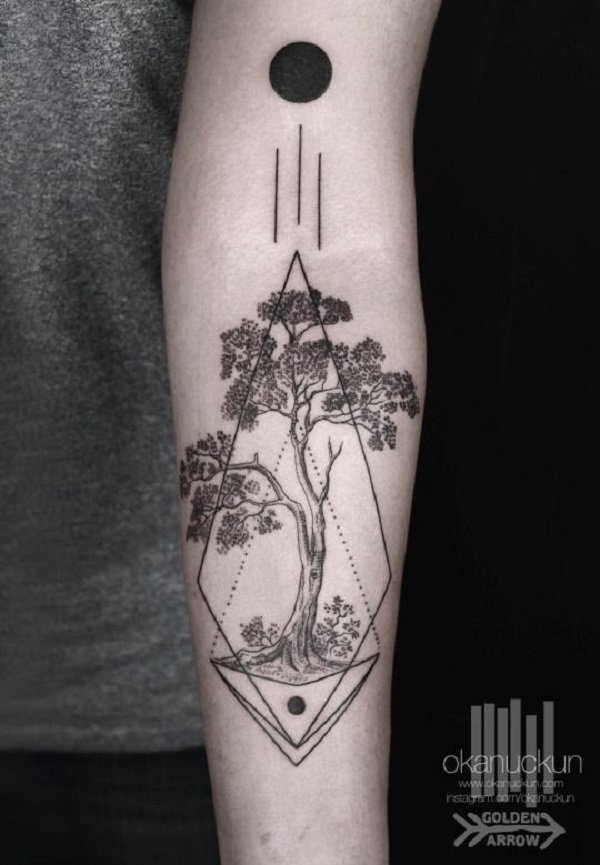 Tree Tattoo by Golden Arrow. This black inked tree tattoo is another great option for the persons who are looking to get their arm covered. The tattoo is made more attractive by the fine lines and creativity of Golden Arrow, that is difficult to find in any other tree tattoo form.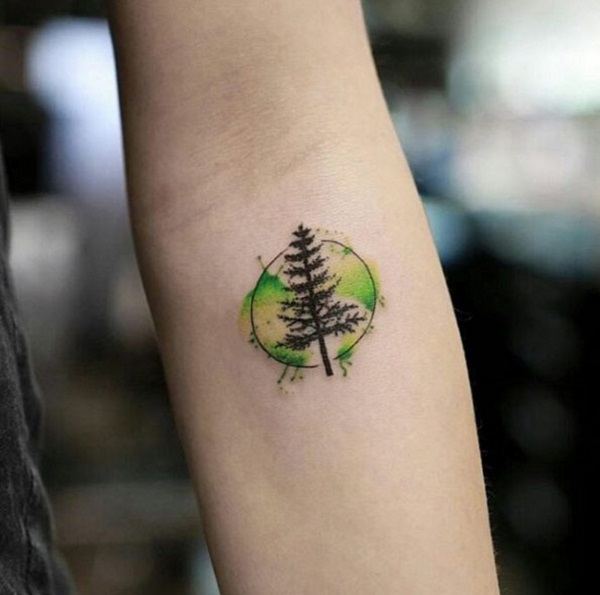 Tree in Earth. As a matter of fact, tree provides us with the oxygen, food and fuel. It is the basic reason of our existence and that is what, clearly represented by this small piece of art in green.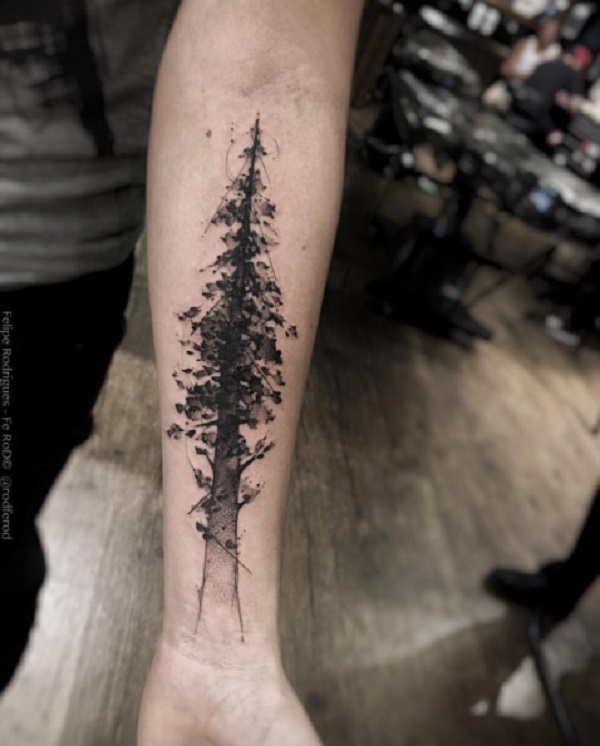 Inner Arm Tree tattoo. If you love the tattoo is black, then you can go with this amazing black inked tree tattoo for your inner arm.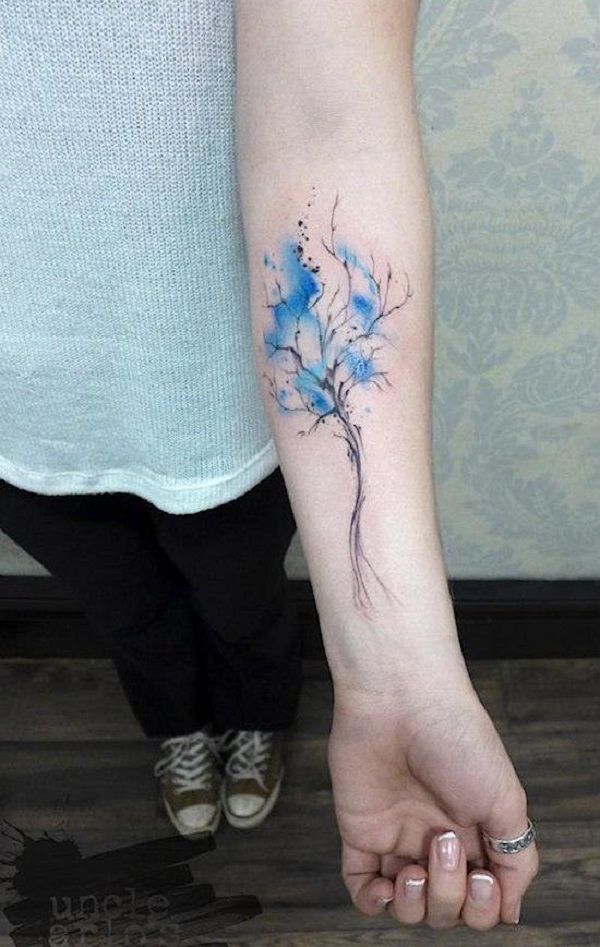 A Simple Tree Tattoo for Girls. This blue colored tree tattoo makes great choice for the girls, who are looking to get their inner arm covered with something meaningful.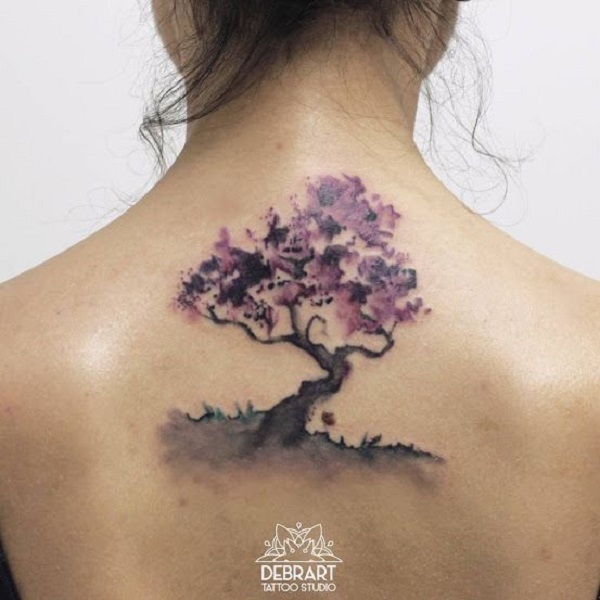 Old Tree Tattoo. This old tree on the back is another great idea for those, who are looking to cover their under spine. This tattoo would really embellish your back, when done nicely.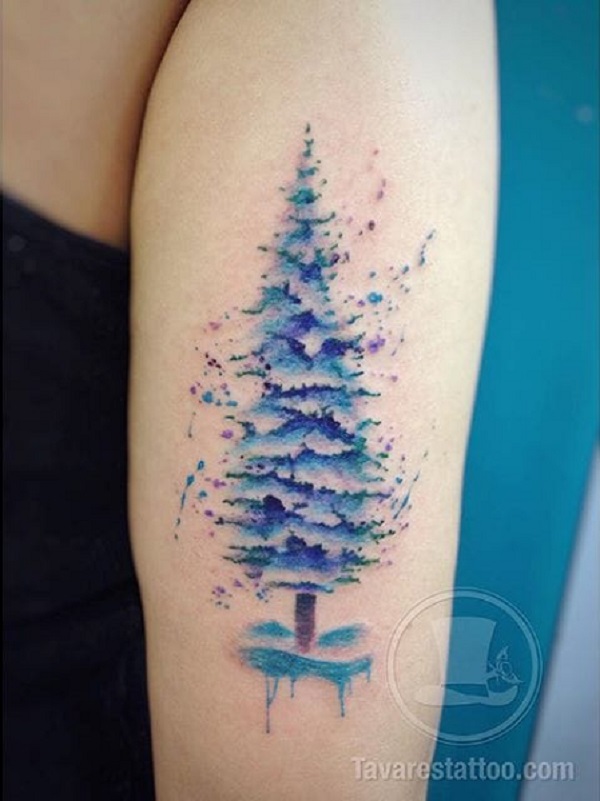 Pine Tree Tattoo. Pine Tree covered with blues and purple makes a great choice for tattooing.
Rib Tree Piece for Girls. This medium sized rib tree piece makes great idea for the girls who love nature and God's creation.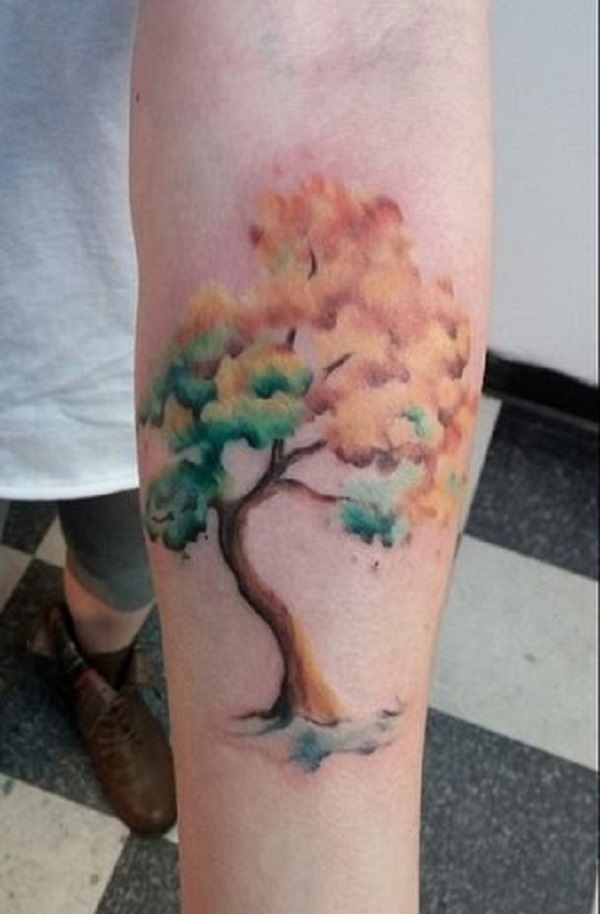 Tree Tattoo for Men. This faded tree tattoo is another great option for those men, who are looking to get their inner arms covered. The tree tattoo symbolizes number of meaning and thus, makes the great choice in tattooing.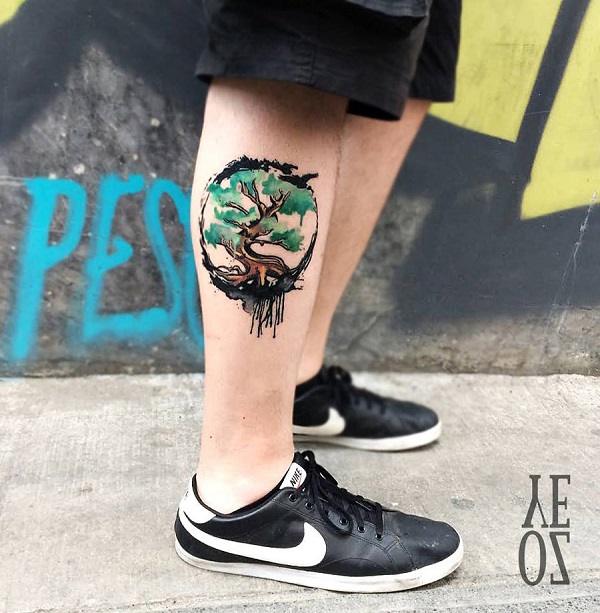 Water colored Calf Tree Tattoo. I have never seen such a clear and detailed tattoo ever. This amazing and beautifully done tree tattoo with water colors is great option for you, if you love trees.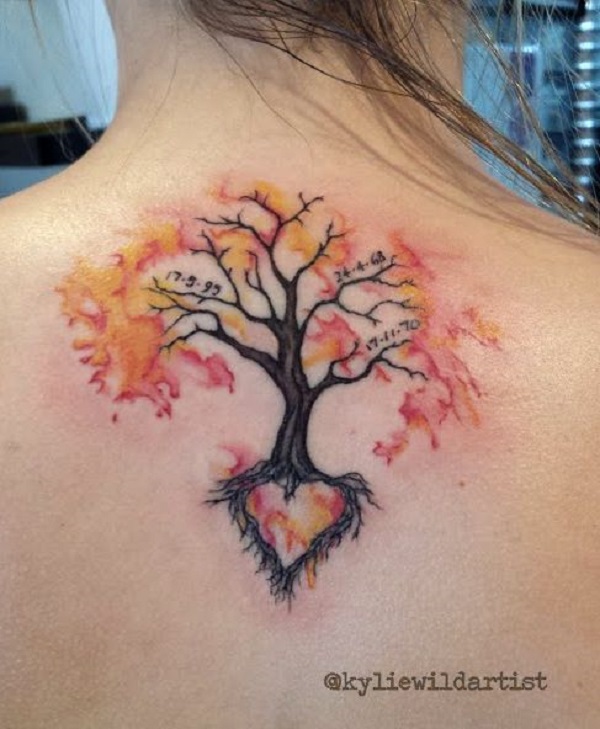 Tree tattoo with Heart. it is thought that the trees symbolizes the strength and incorporating a heart with the tree tattoo would indicate the strength in the relationship or love.
Black Inked Tree. This black inked tattoo is specially made for the girls, however, guys can also try this cool black tattoo, as black is the symbol of grace and mortality.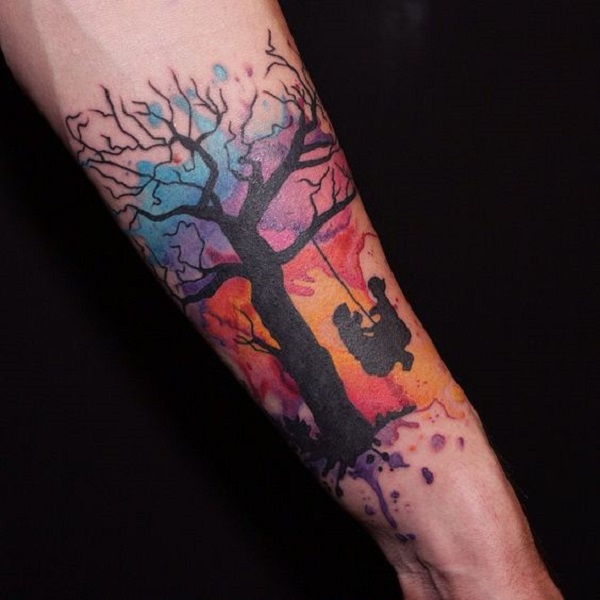 The Symbol of Love. This beautifully done water colored tattoo actually symbolize the unity and monogamy with the other person. The couple swinging on the branch of tree really offer great and positive message.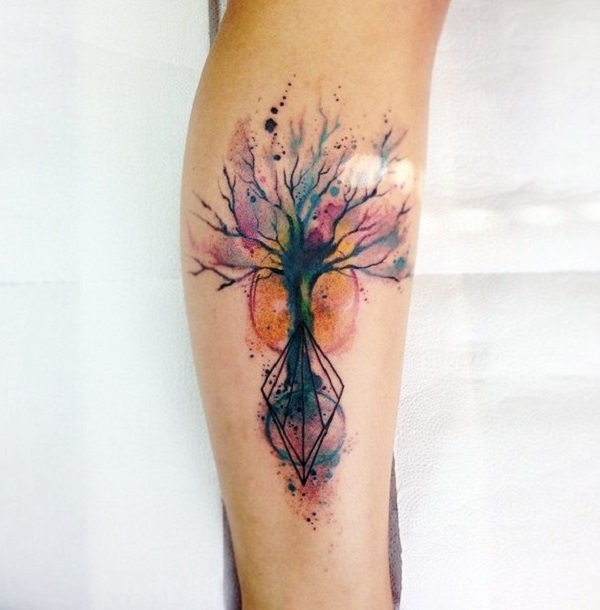 Tree Tattoo with Sun. This tattoo can be portraying the process of photosynthesis, that is done by the plants in the presence of photosynthesis or is representing a variation of tree of life.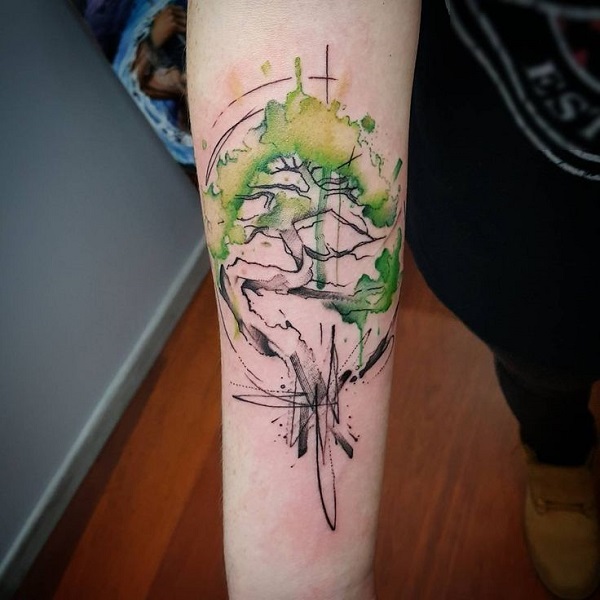 Go Green Tree Tattoo. This tattoo is offering a great message of Save Trees and Go Green. It is indeed a fact that life isn't possible without these creatures on Earth.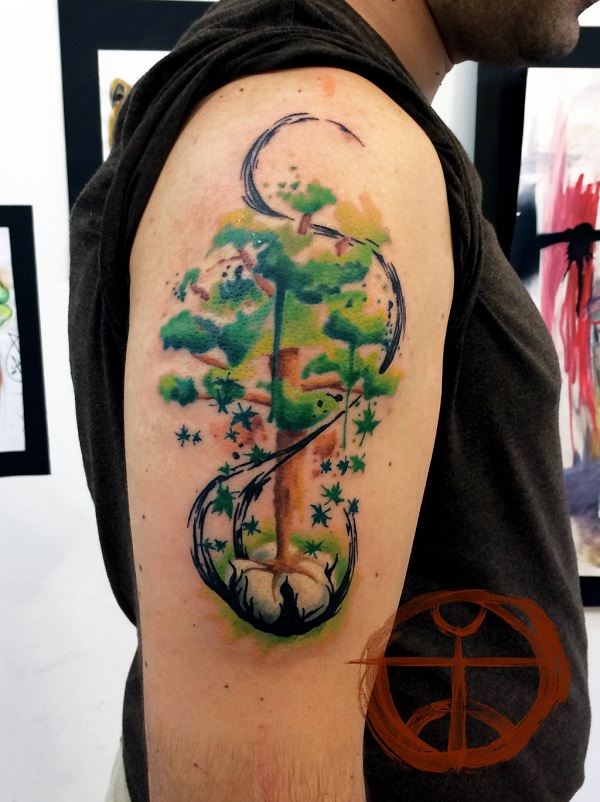 Japanese Tree tattoo. Tree tattoo in Japanese culture represents the symbol of humanity, loyalty and peace. If you are also a maniac of these symbols, then go with this Japanese Tree Tattoo design.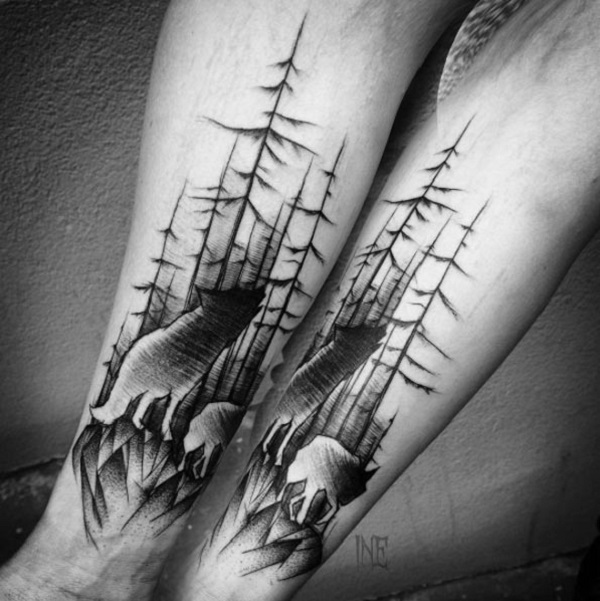 Shaded Inner Arm Tree Tattoo with Wolf. This tree tattoo have been incorporated with the symbol of wolf, that represents powerful energy. When the wolf is combined with the tree tattoo, it would reflect the powerful life with strength and longevity.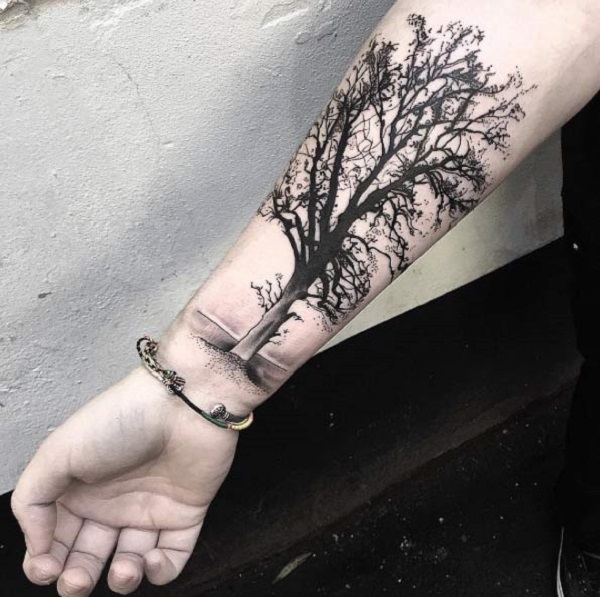 Tree with Bare Branches Tattoo. The tree with the bare branches is standing next on my list of the best tree tattoo designs. these trees with no leaves and bare branches have deep meanings.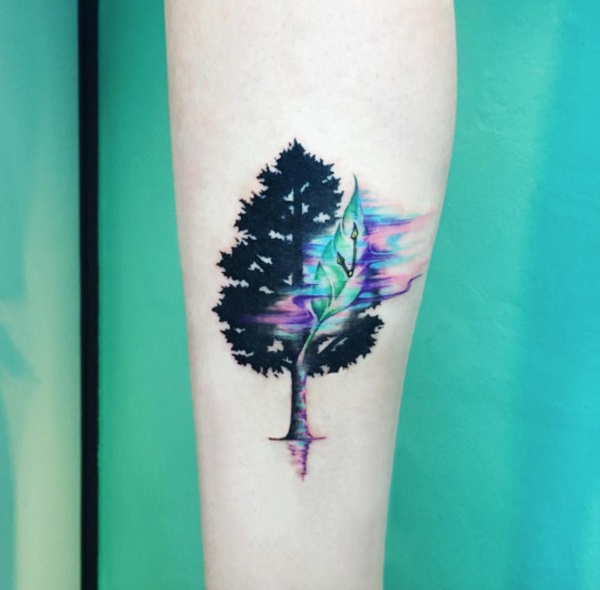 Beautiful Water Colored Tree tattoo. Another amazing tree tattoo design is next on the list. This tree is beautifully done with the play of blue, black and pink colors.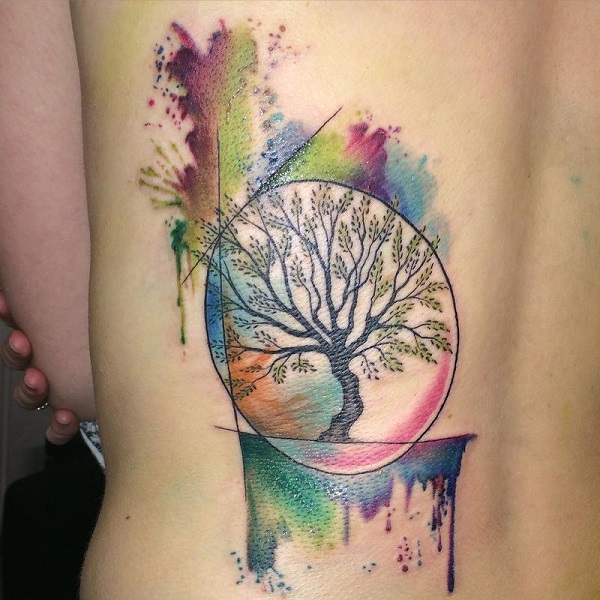 Tree in a Bubble. If you are looking for some unique tree tattoo design, then going with this one won't make your regret.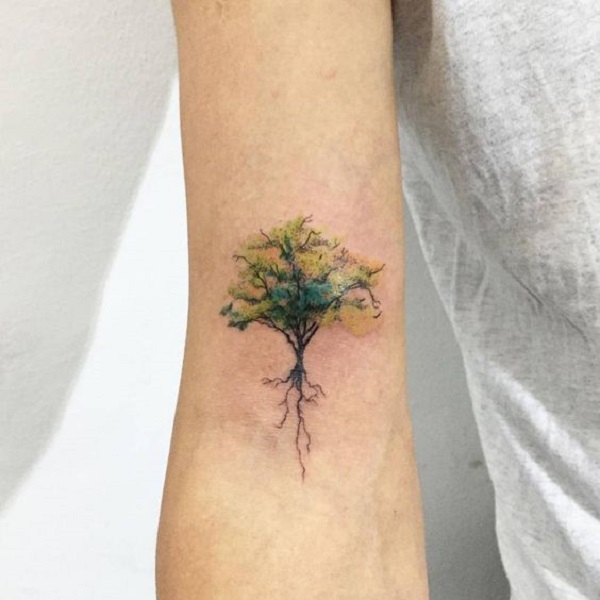 A Simple yet Attractive Piece. if you are finding some small piece of tree art to go with, then this simple yet attractive tree should be considered.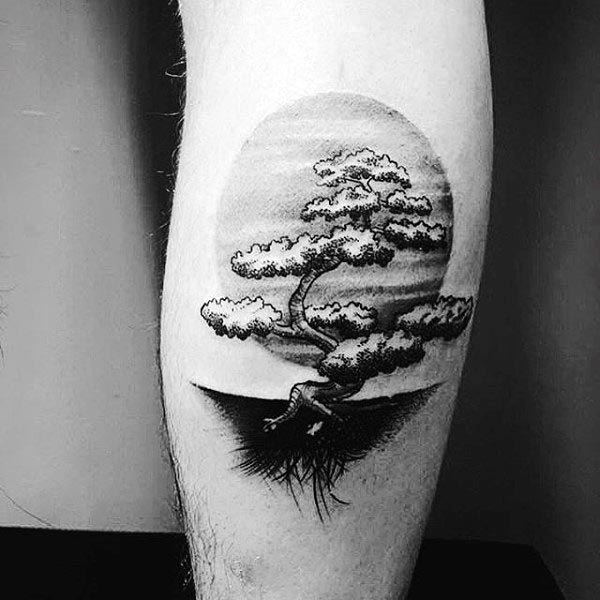 A tree with Full Moon Tattoo. The Dark night with branched tree and the romantic light of full moon, offers the great scene to get carved on the inner arm.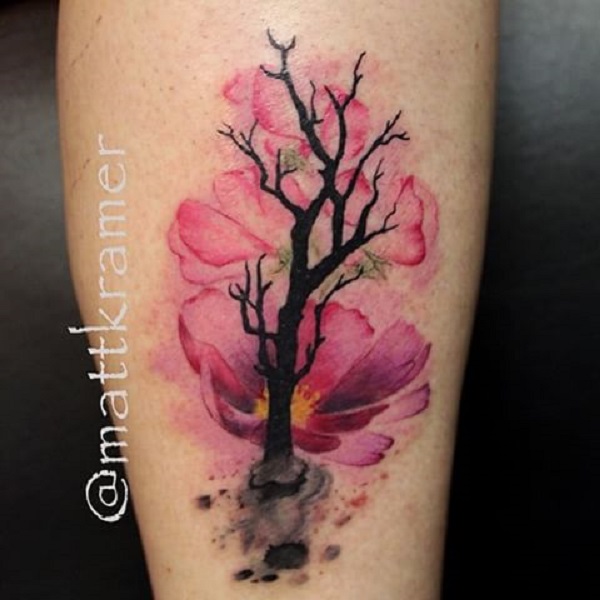 Dead Tree with Bright Flower. This tattoo is offering the message of mortality.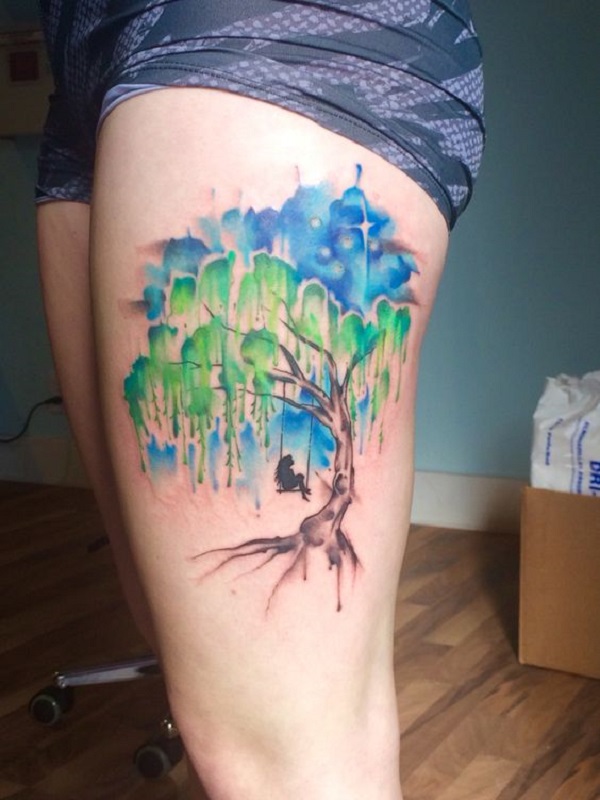 Thigh Piece with Tree and Girl. The tree tattoo also depict the meaning of femininity, fertility, beauty and rejuvenation. So tree tattoos are must for girls.
Attractive Tree Tattoo for Girls. The next tattoo on the list offer the cherry blossom, that is one of the most popular form of tree tattoos. in Asian cultures, cheery blossoms are thought to symbolize beauty and that is why these tree tattoos are ideal for the Girls.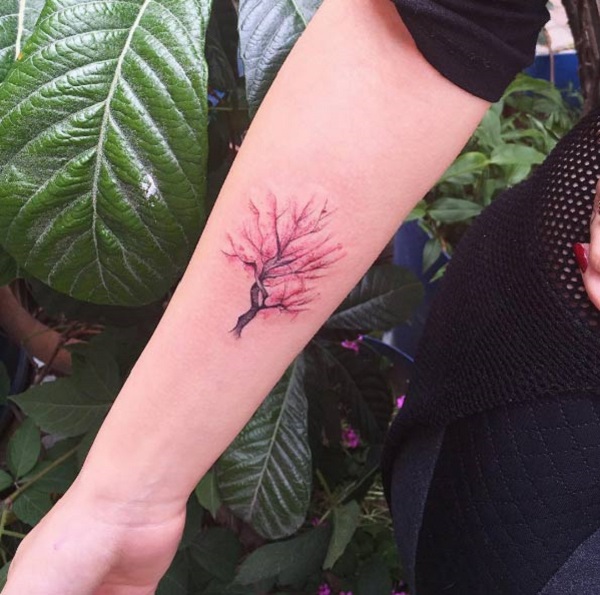 This Unique Piece. If you are looking for something unique and simple, then trying this out won't make any bad decision.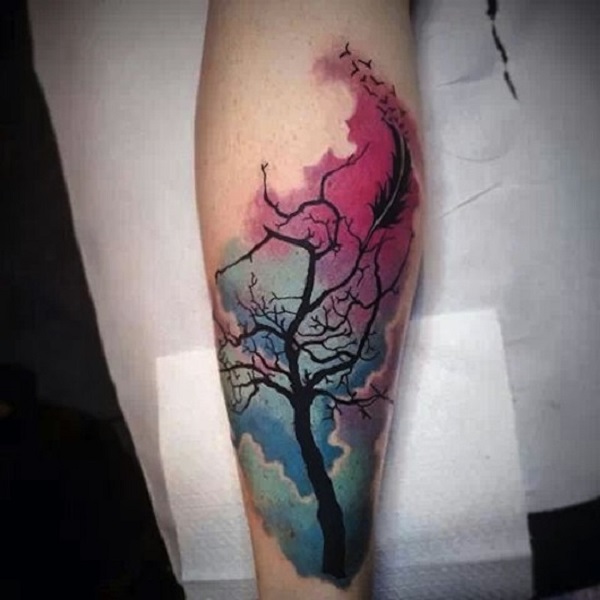 Water Colored Tree Tattoo with a Feather and Birds. This inner arm tattoo also make the great choice for the people who love colorful and meaningful things. The feather and birds along with the trees symbolize something deep.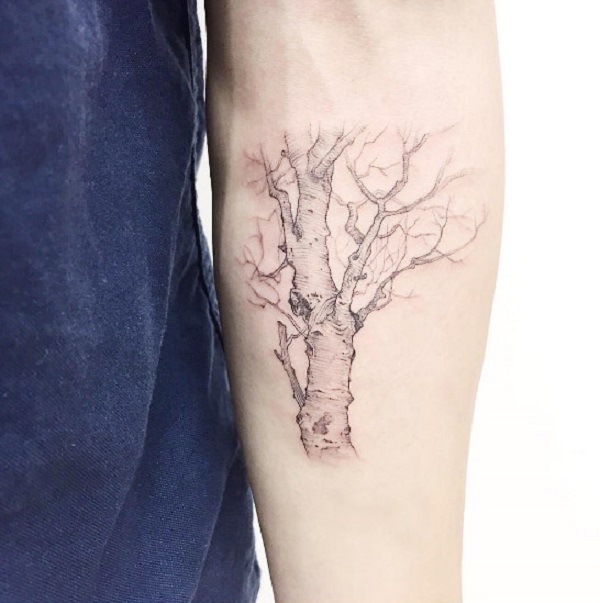 Old Tree with No Leaves. Another bare branch tree tattoo in the list.
Till Death Tree Tattoo. This till death tree tattoo is unique and makes great choice for both men and women. The tattoo symbolizes the loyalty and long term relationship till death.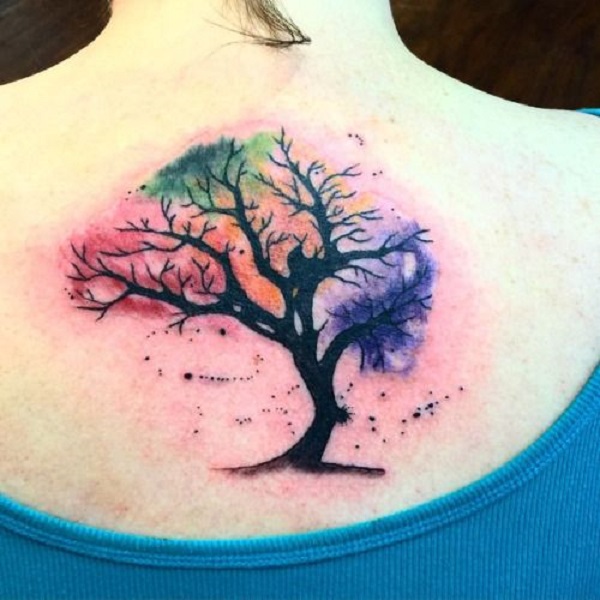 4 Colored Bare Tree Tattoo. Bare trees symbolizes the lost of the loved one. But the incorporation of different colors in the tattoo would mean the pounce back of happiness after the loss of the loved one.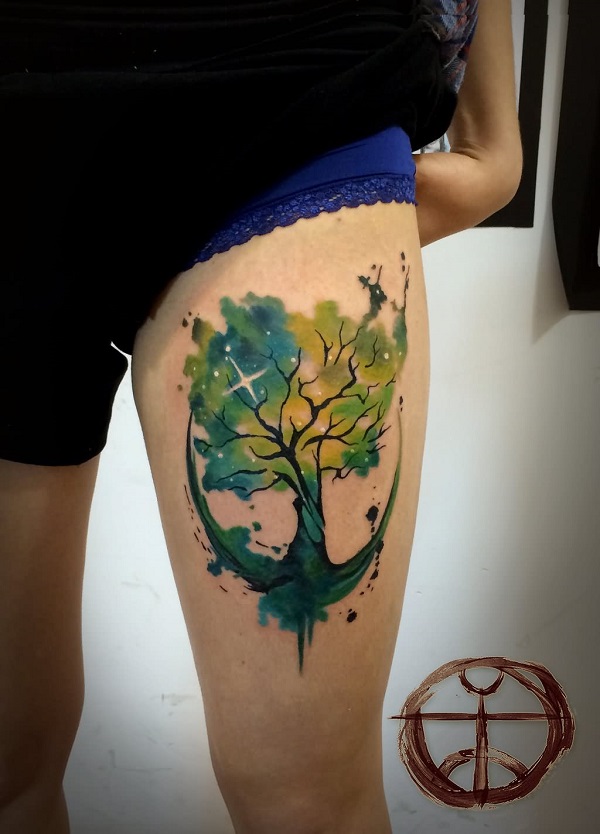 Sparkly Tree Tattoo. This tattoo incorporates the oak tree, that symbolizes the durability, strength and bravery.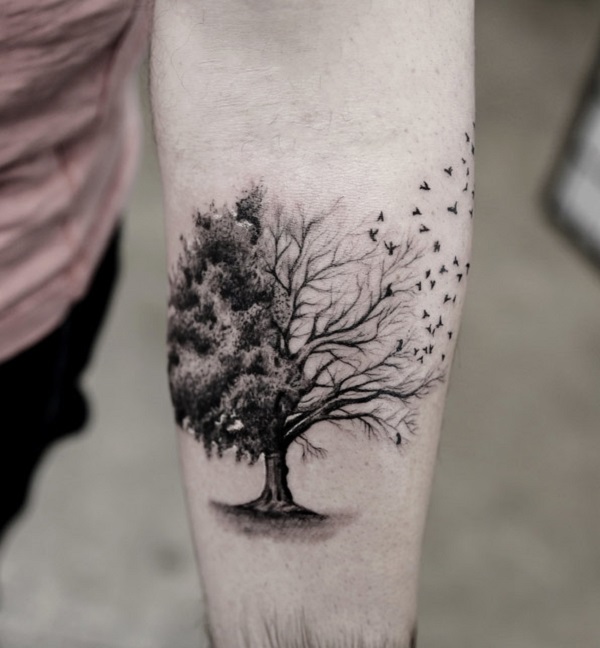 The Meaning of Life. As mentioned earlier, the tree symbolizes the bitter reality of mortality, and that is what being depicted in this tattoo.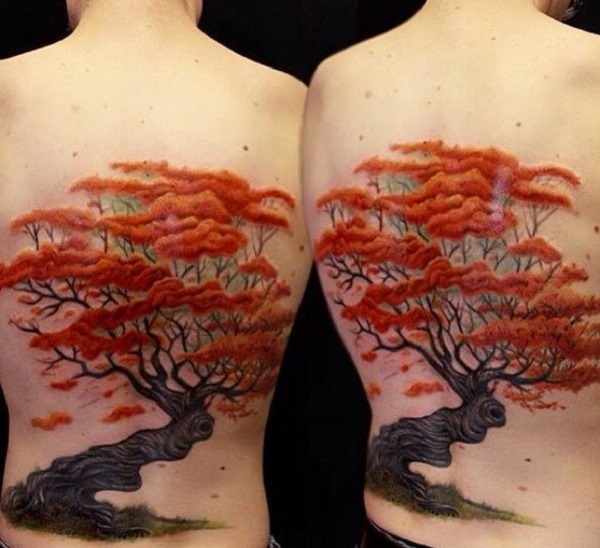 Full Back Orange Autumn Piece. This beautiful piece of tree tattoo with vibrant orange leaves clearly depicts that it is an oak tree in autumn season. The oak has always been considered to be the symbol of wisdom and nobility.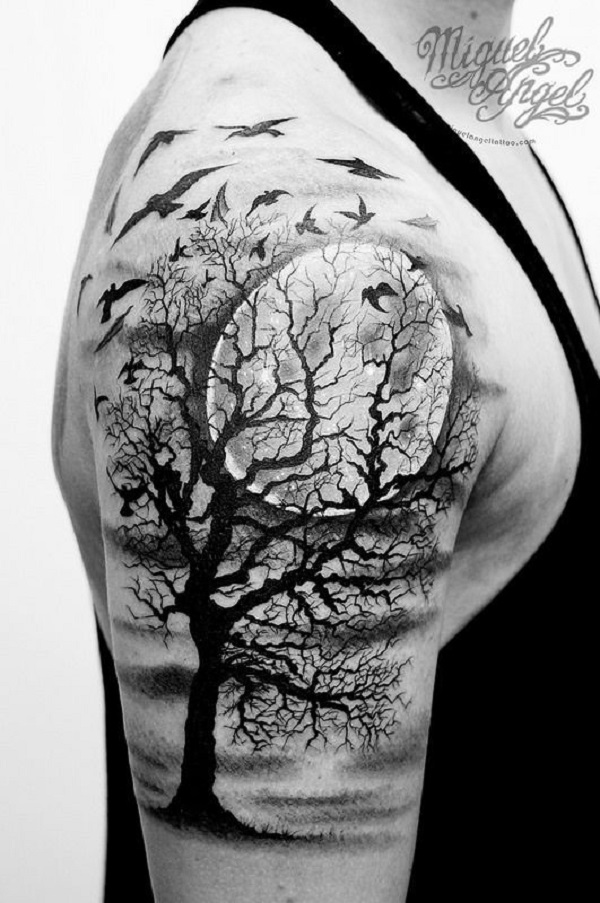 Sleeve Tree Tattoo. Bare tree, Birds and Full Moon. This tattoo is my personal favorite, because of its realistic scenery and awesome view.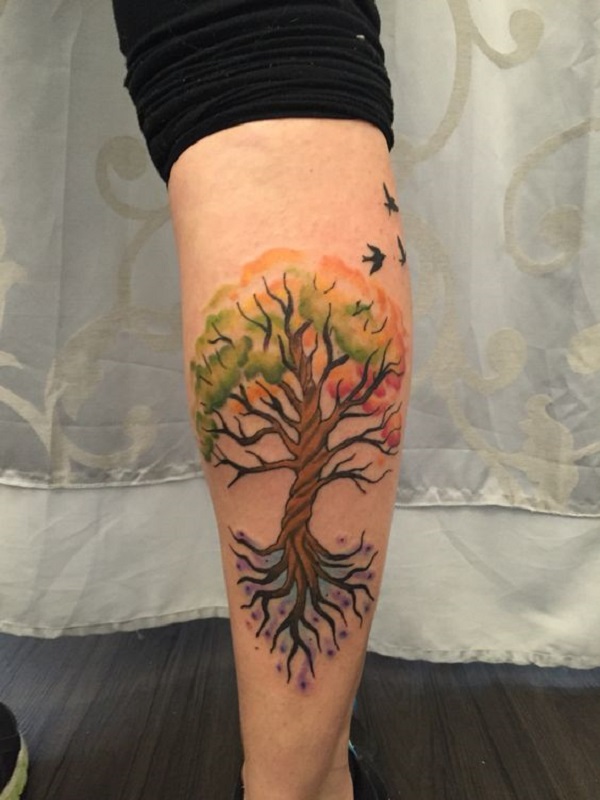 The Positive Vibes. Birds and Trees are always considered to be the forever combination and that combo offer positive vibes always. If you want to start and end your day with positive vibes, going with this tattoo won't make nay bad decision.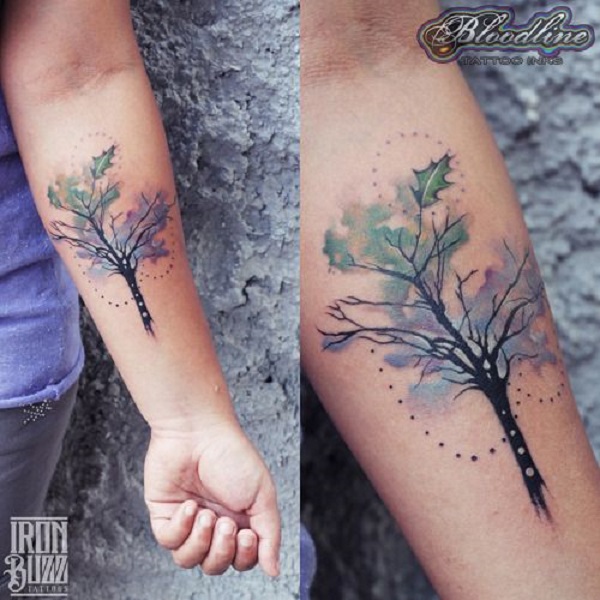 Branches with no Leaves. The bare tree with no leaves simply defines old age and experience.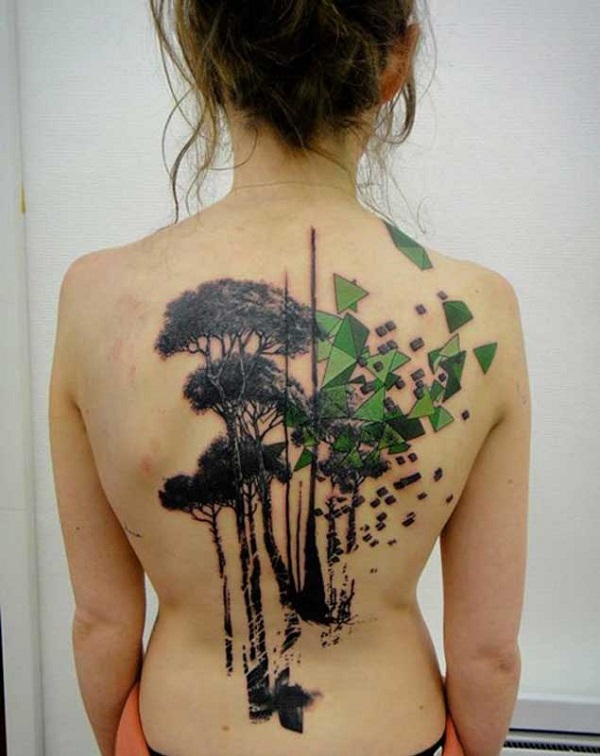 Insanely Gorgeous Giant Tree. If you are looking to get your back covered, nothing would make great idea other than this insanely gorgeous giant tree, that requires room to offer its meaning and shadow.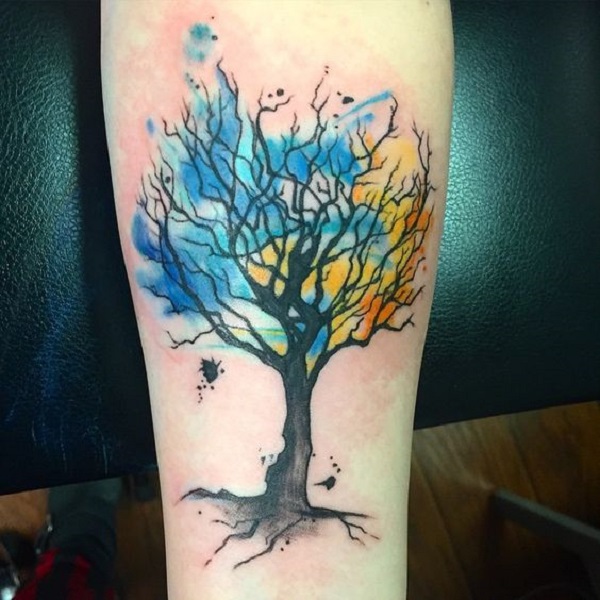 Watercolor Painted Tree. Another bare branched tree on the list. If you love bare branched tree tattoos, consider this one for your next tree tattoo.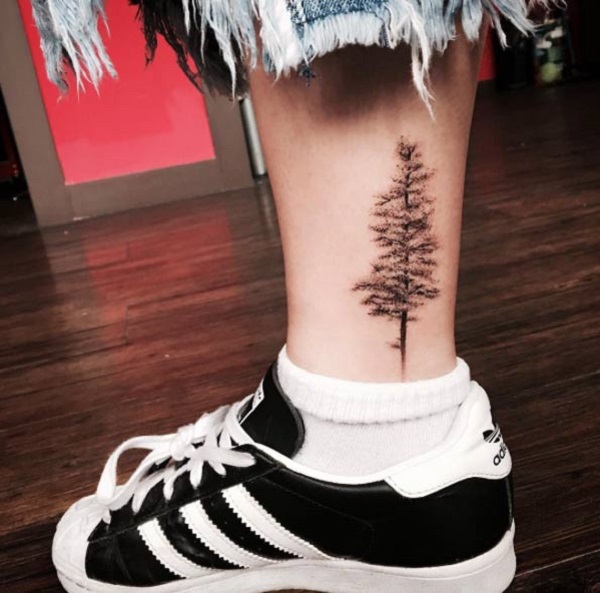 Calf Pine. Erected pine are always in the fashion because they are thought to be the symbol of serenity.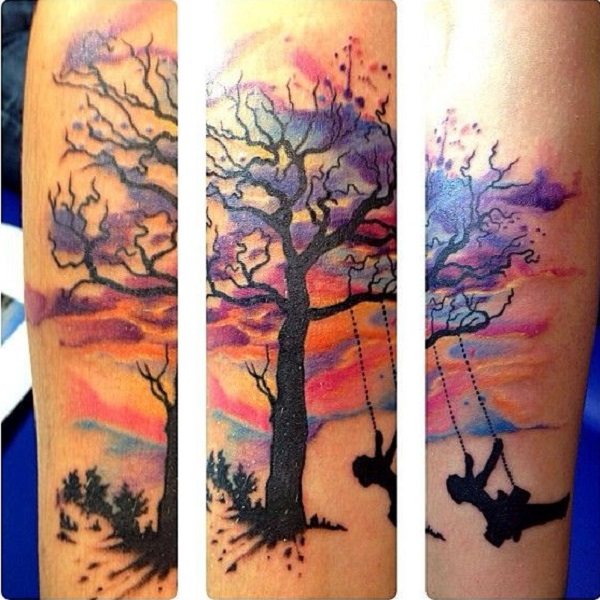 Swinging in the Forest. Don't let your inner child die with this poetic piece of tree tattoo with swinging child. This tattoo resemble freedom, dream and innocence.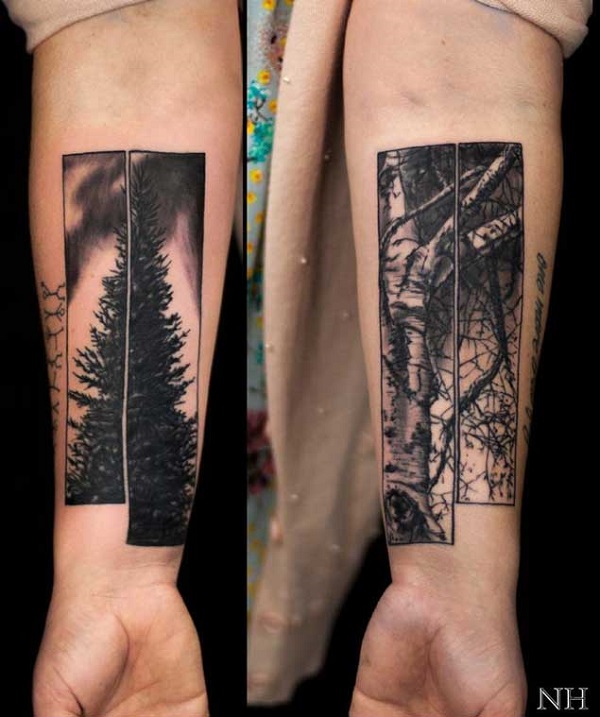 The Tree of Life. This pair of tree tattoo offer the bitter reality of life. The first stage of life is filled with leaves and fruits and the older stage offer the bare branches with no fruit and leaves.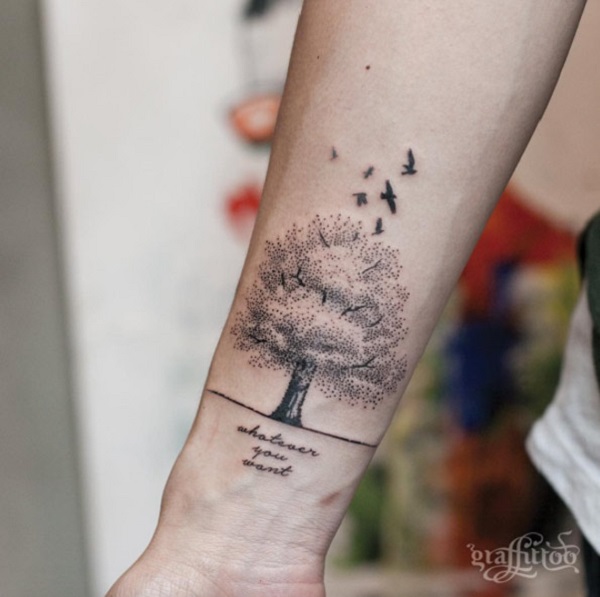 Tree Tattoo with Quote. Whatever you want tree tattoo, is the great tree tattoo option for the girls.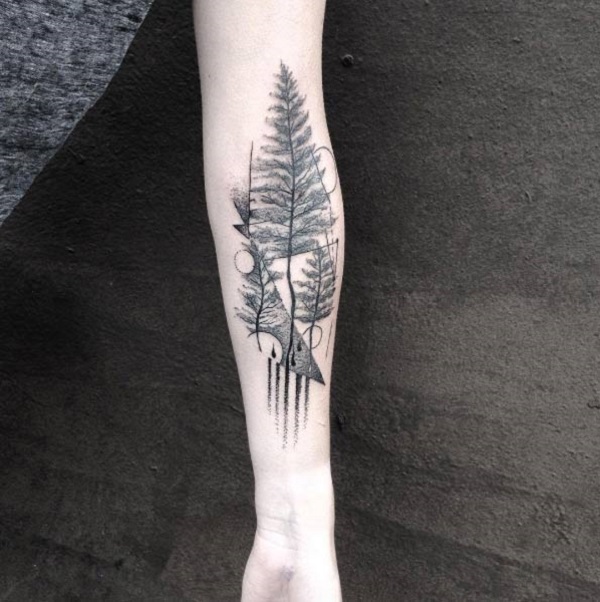 The Shady Forest. for ink enthusiast, no concept other than dense collection of trees with black ink offer more customization.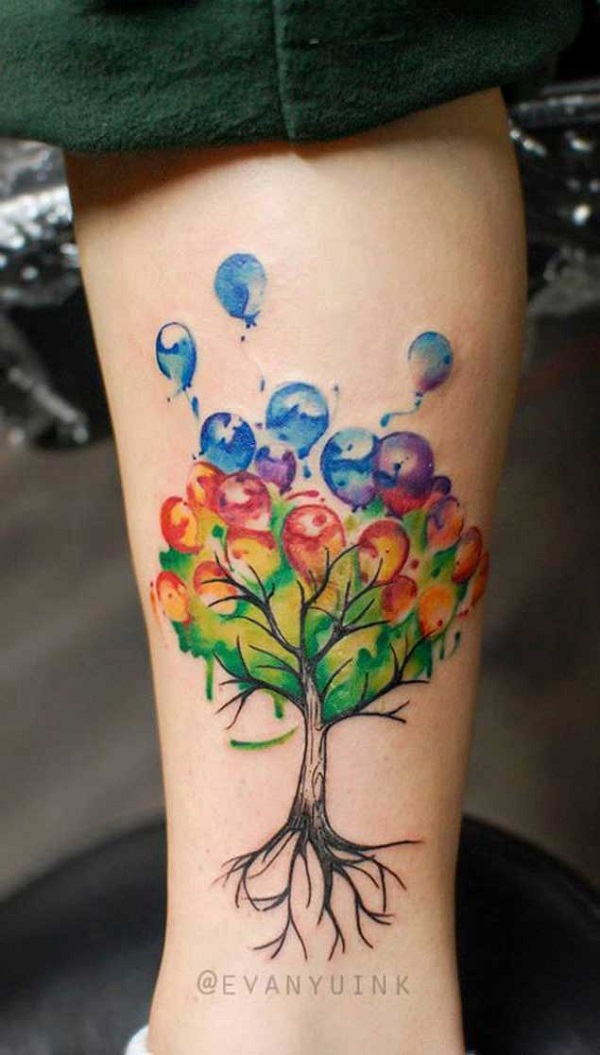 The Tree of Joy. Instead of leaves, this tree tattoo incorporates the balloons, that represents the happiness and joy. Fulfill your life with happiness and joy with this creative tree tattoo.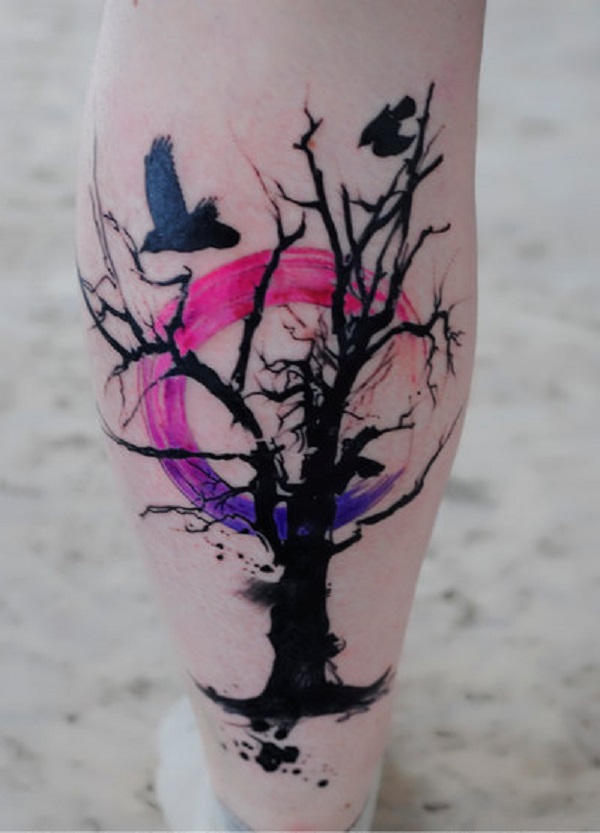 Birds on the Tree. The forever combination of tree and birds makes our next tree tattoo option on the list, but with a twist. The play of colors and details in this tattoo design make it one of the great option to try.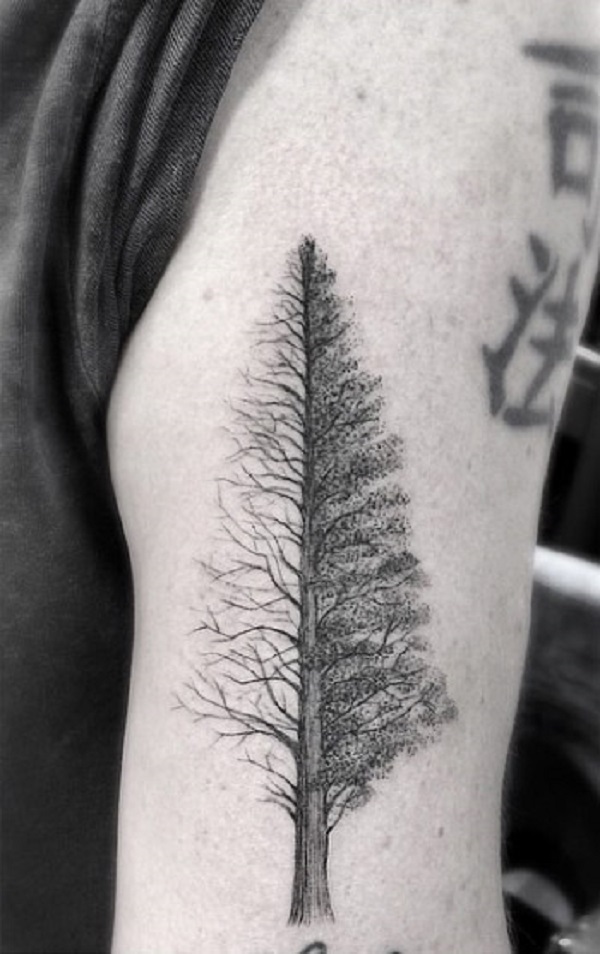 The meaning of Life Tattoo. The alternate sides of the tree represents the true meaning of life.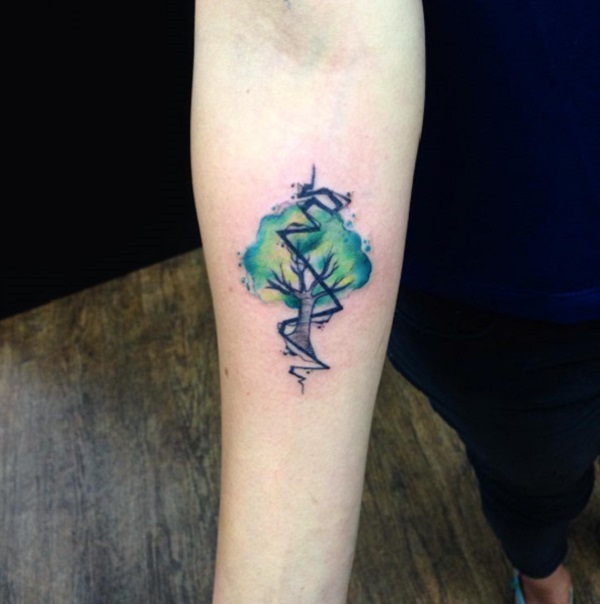 A small tree tattoo for inner arm. This small oak tree represents the symbol of bravery. You can simply embellish your inner arm with this small yet attractive piece of art.
Tree with Origami. This green tree with origami bird makes another amazing tree tattoo for all those who are looking to celebrate life with happiness, pace and love.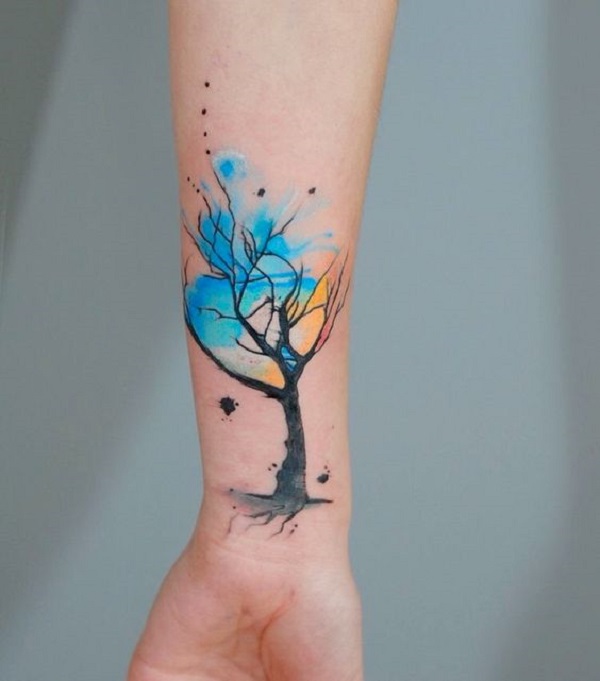 Colored Tree with No Leaves.This intriguing and eye- catching tree tattoo design is simply great for all those who are in search for something simple and attractive.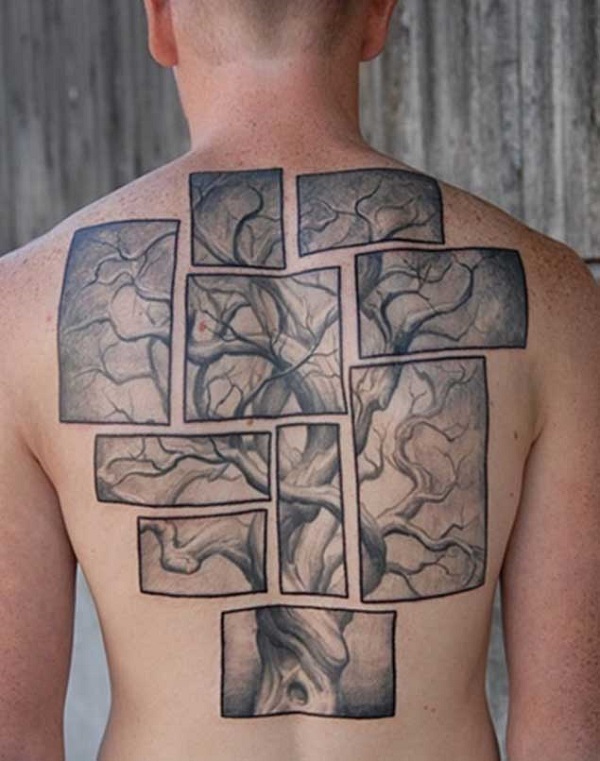 The Stages of Life. This tattoo is well representing the circle of life, from the beginning to end.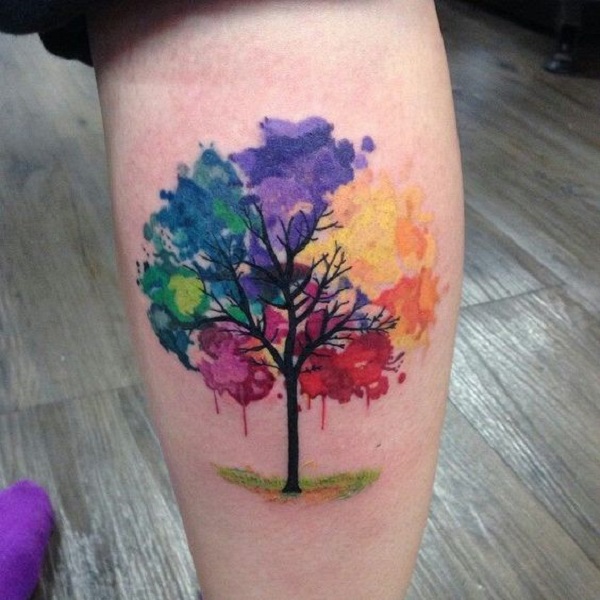 Gloomy Tree Tattoo. A tree tattoo collectively represent different emotions of life, with the meanings of understanding, femininity, healing, insight, good luck, beauty, wisdom, vitality, rejuvenation, generation and life.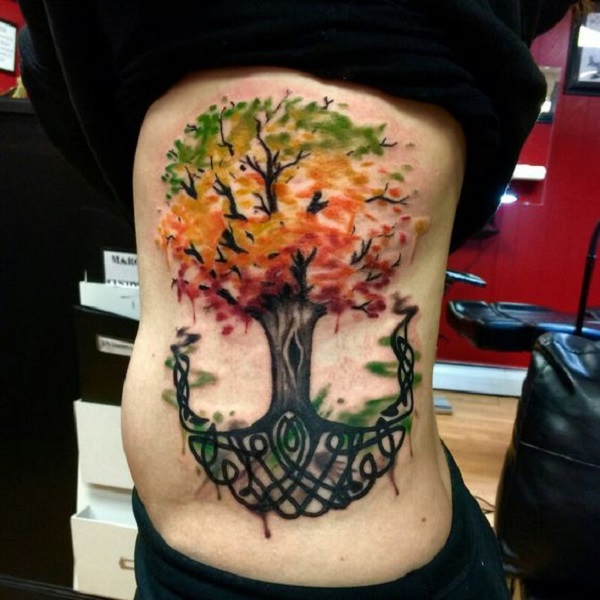 Swing in the Forest. The gloomy tree with the extended roots offer the sweetest fruit.
Each tree is a beautiful reminder of strength, life and power. If you truly admire the nature and love to represent the symbolic meanings of tree, then you can simply go with these amazing tree tattoo designs. Or you can also have an artist to create a unique design according to your creativity.