Regardless to mention, Castles have been around since many centuries. Although, the castle tattoos are not that mainstream, however, they have been in fashion as they look great with almost every element combined with. There could be extensive variations that can be carried out with the castle tattoos, and that is one of the reason why Castle Tattoos have been in trends, for both men and women these days.
The History and Meaning of Castle Tattoos:
To get in the permanent state of the royalty, guys and girls of almost all ages are getting engaged stylishly with the ancient castle tattoos, that hold symbolic values. Castle tattoos, depending on the person who is wearing it, can depict many meanings including the positive and negative as well.
As mentioned earlier, the castles are around since many centuries, however, the early castles were first built during the 5th century B.C, with the help of stones. Since then, the castle remained not only in England, but also in the whole Europe, that depicts protection, power, royalty and strength. Today, these castles also depicts the symbol of our past and heritage. The fact remains intact that these castles can alone and with various elements give the person a chance to express his love for this ancient royalty.
As far as the castle tattoos are concerned, they can be done in gray, black and white colors, as well as in the different combinations and in several styles. These tattoos can be worn both by men and women. So, if these castle are intriguing your mind, have a look at our best 55 picks for the castle tattoo art designs, that you can wear with some style and creativity.
55 Best Castle Tattoo Art Designs:
If you are ready to travel through the magical and mysterious land of dreams of castle, here have a look at the best gorgeous Fantasy castle designs: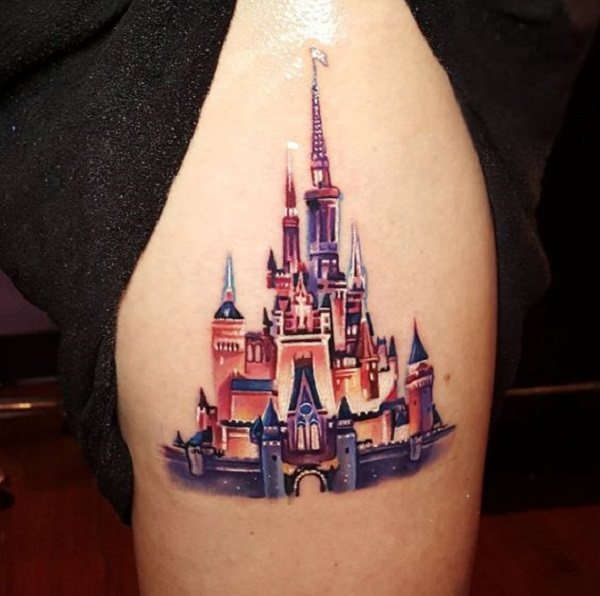 En-lighted Castle Piece. Spread the light in the world by en-carving this en-lighted castle on your arm or anywhere on your body.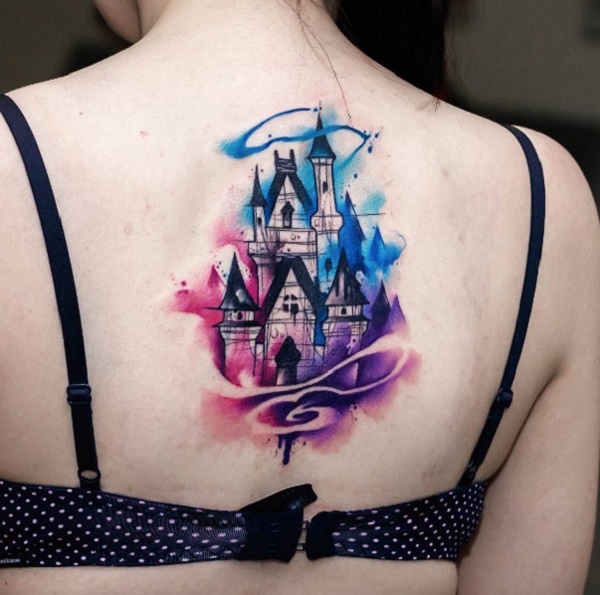 Mind Blowing Castle Tattoo on Back. If you are a Disney girl and want something enchanting, then consider this mind blowing castle tattoo for back.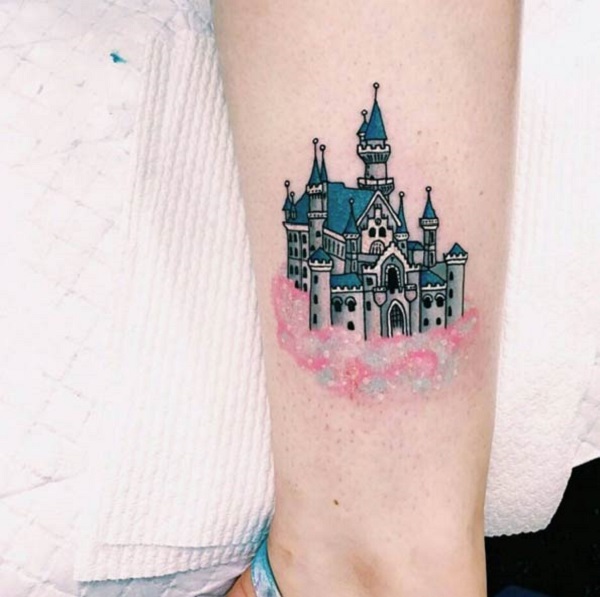 Cute Castle Tattoo on Clouds. This magical cute castle on the clouds is for all those girls, who love to live in fantasy and dreams.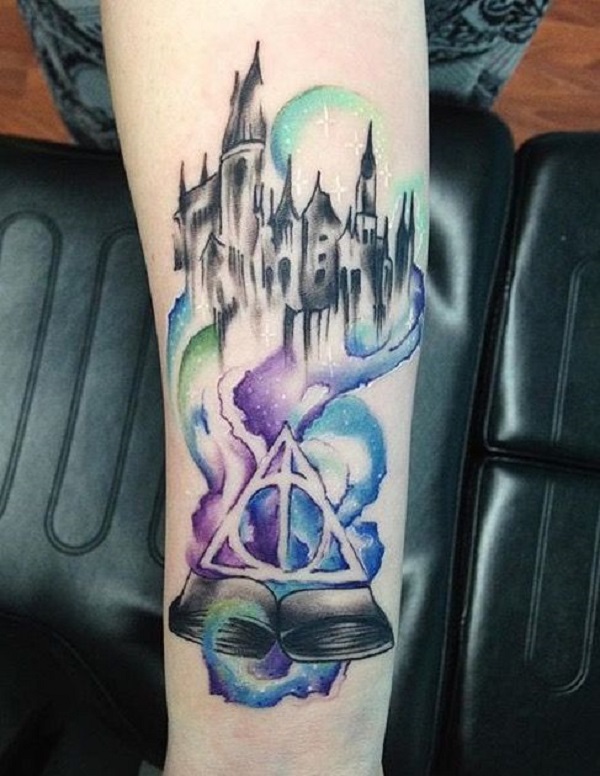 This mysterious Castle piece. If you are one of those mysterious guys out there, have this mysterious castle piece on your arm and let the world indulge in your mystery.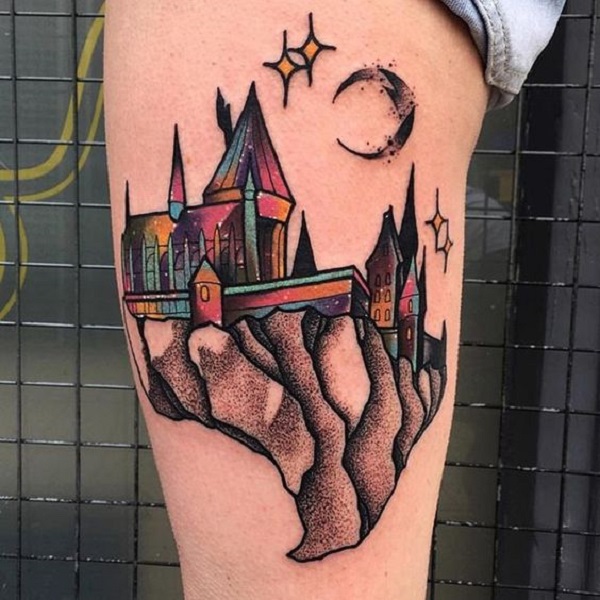 Castle on piece of Mountain. This colorful drawing of castle on the piece of mountains, shows the enchanting and influencing details, that is hard to see in tattoos, now-a-days.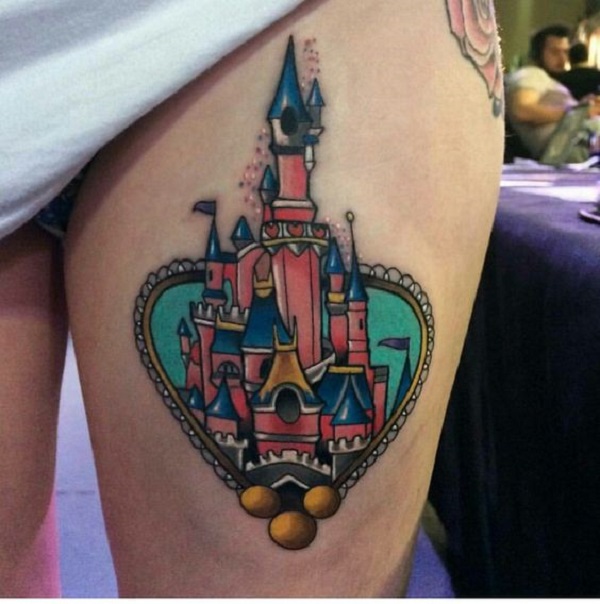 Castle in Frame. This princess' castle in the frame depicts the boundaries, as well as the beauty, that lies within a person.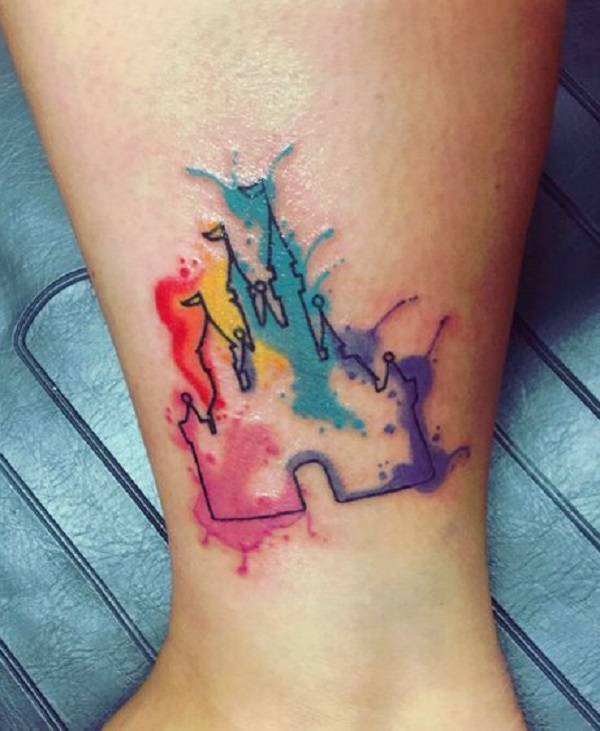 Outlined Castle. If you are looking for something simple yet attractive, then nothing is better than this piece of outlined castle.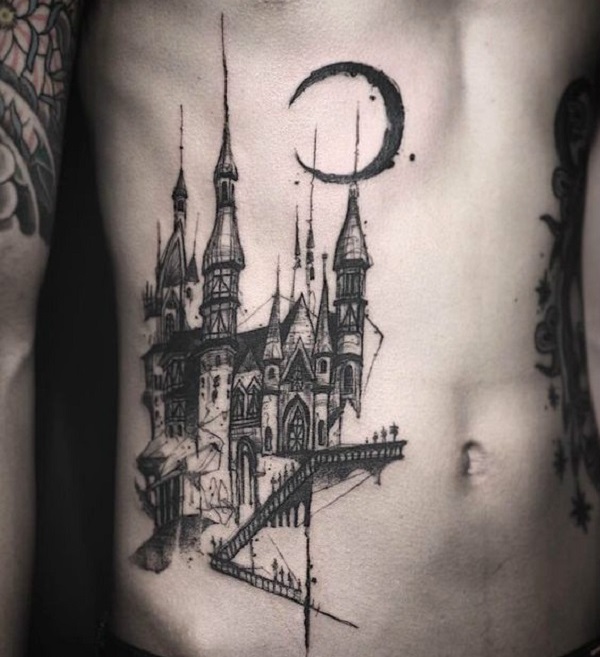 Mysterious Shaded Castle Tattoo Design. This 3D castle is eye-catching piece that is made with the creativity and play of art using a single color, black. There can be some shady secrets lying within the walls of this castle tattoo design.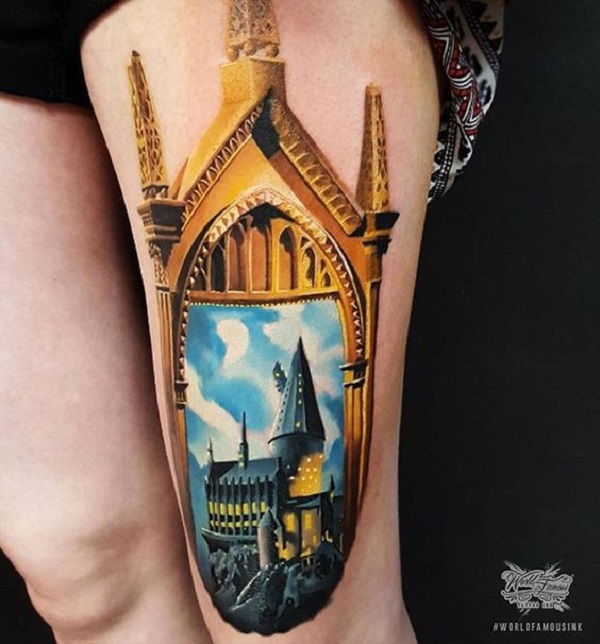 Fantastic Castle Tattoo Design. This realistic fantastic castle tattoo design is worth noticing, if you are a true admirer of something creative and realistic.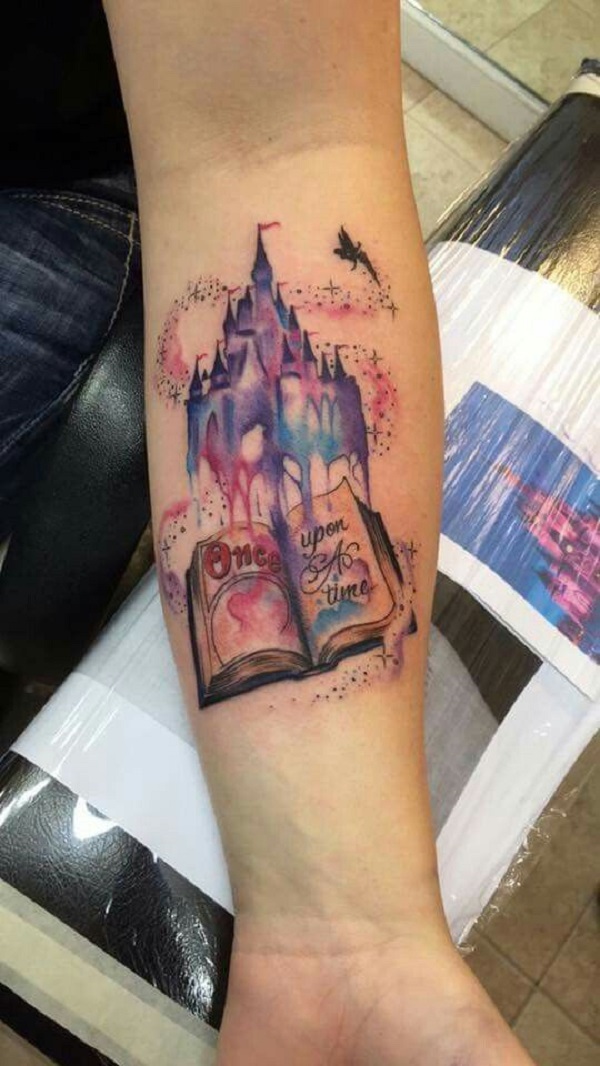 Fairy tale Castle. You can live up your dreams by having this amazingly beautiful fairy tale castle on the arm emerging from a fairy tale book.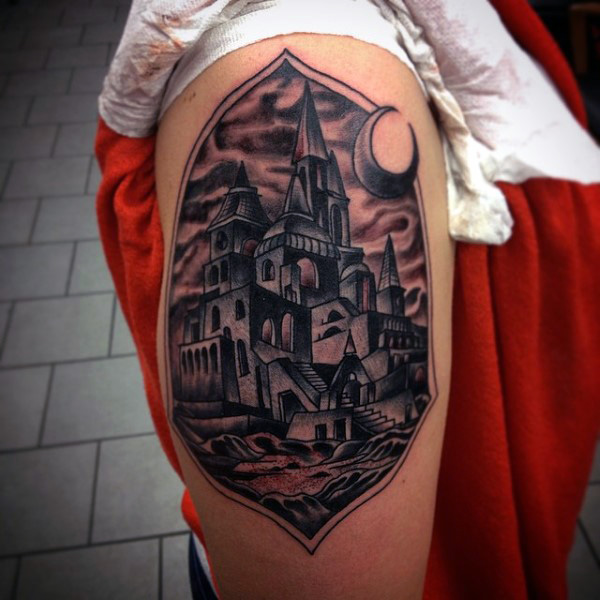 This Hidden Secret Piece. The walls of this castle have some secrets buried inside. If you are a person with same process of thoughts, this piece of art is worth calling for.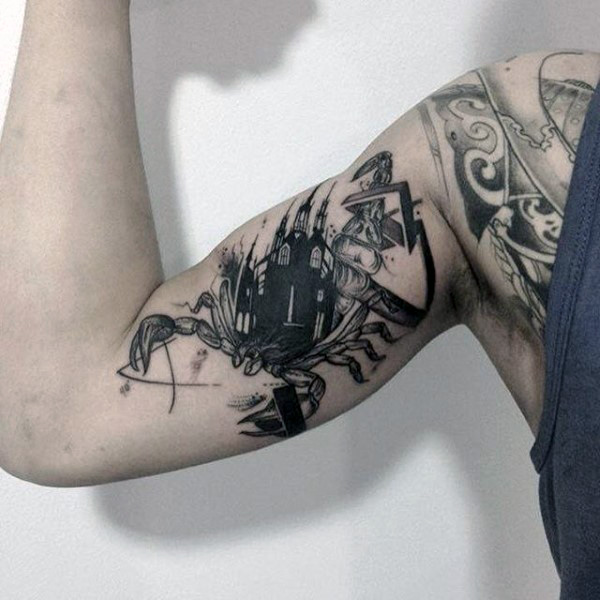 Magical Shaded Castle. Embellish your arm with this magical shaded castle, that has array of mysteries ad secrets inside the darkness.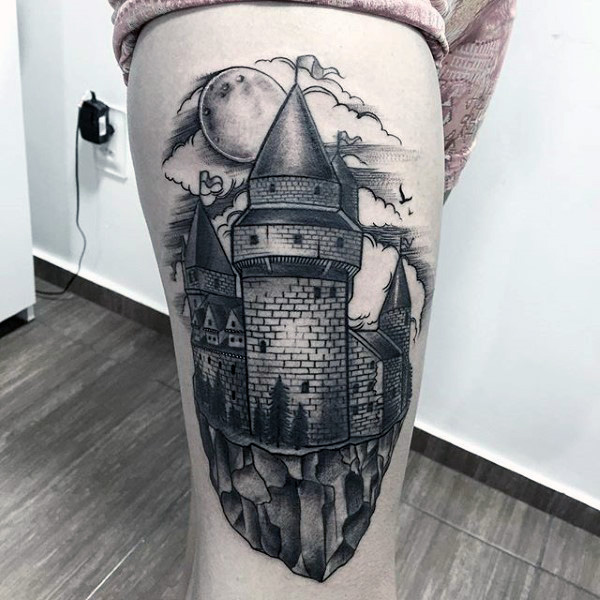 Full Moon Castle. This stoned castle makes another great choice for all those people who are looking for amazing castle tattoo designs. The shine of the full moon depicts the strength and peace.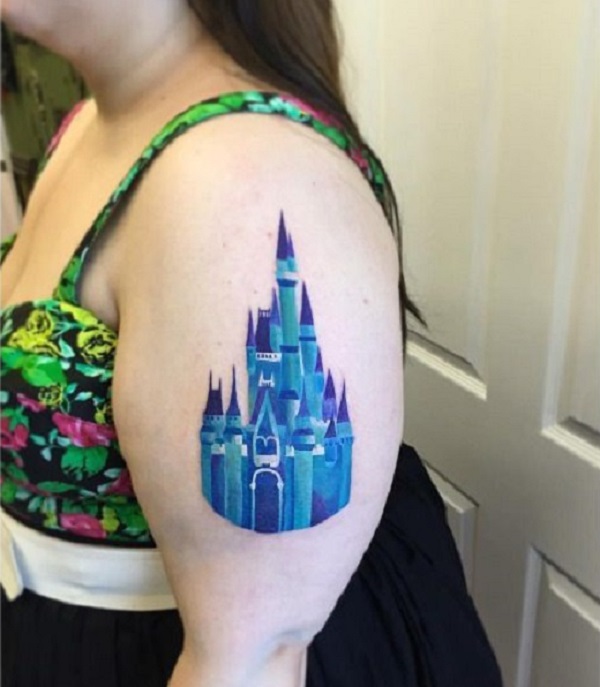 Blue Castle on Arm. For all those Disney girls, this blue castle on the arm is all what they are looking for.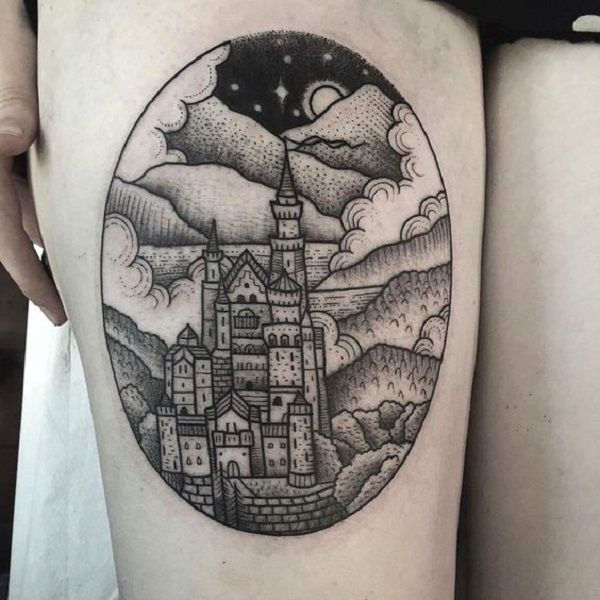 Black and Gray Castle in a Frame. This thigh piece is for all men, who love the black and gray play of color. Full scenery is depicted in this tattoo, that can cover the whole thigh.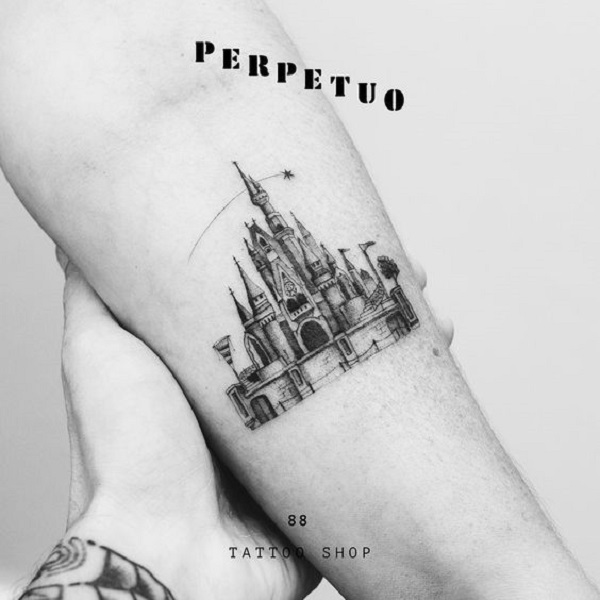 Fantasy Castle Tattoo Design. This simple yet attractive piece of art is what, you might be searching for. This unique fantasy castle is the true sign of royalty.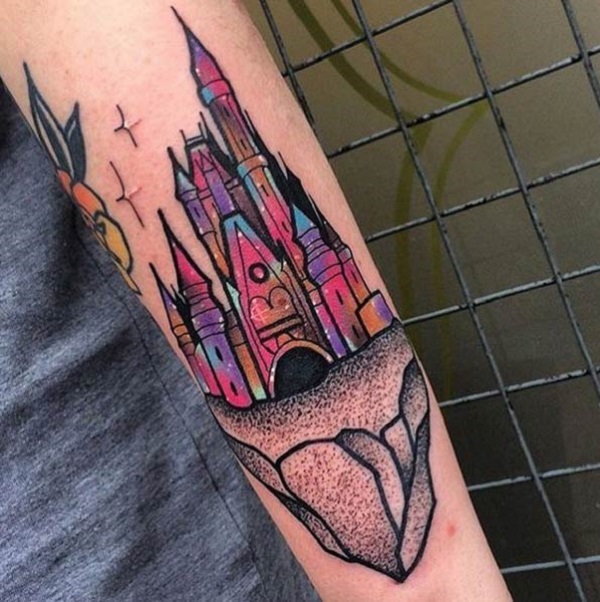 Colorful Castle Tattoo Design. If you the play of colors within the tattoo, then this colorful castle tattoo design is everything that you need.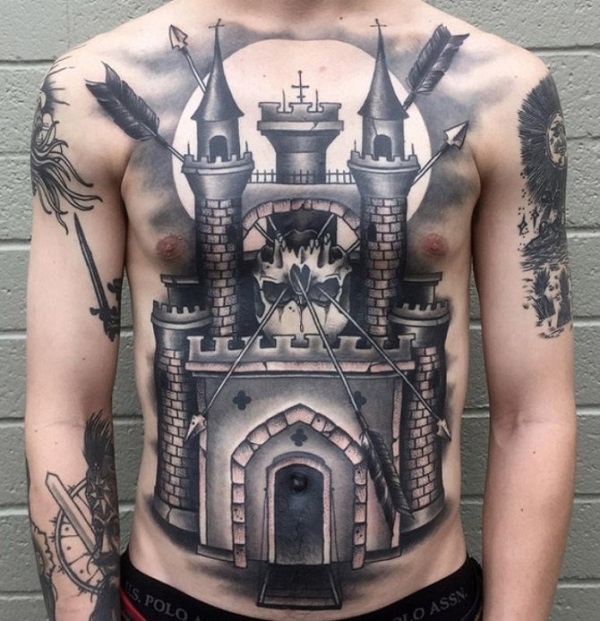 Wonderful Castle Tattoo Design on Upper Body. This castle tattoo design is for all the men who are looking for the whole body coverage as it can cover your whole upper body. The full moon is representing the symbol of peace and power.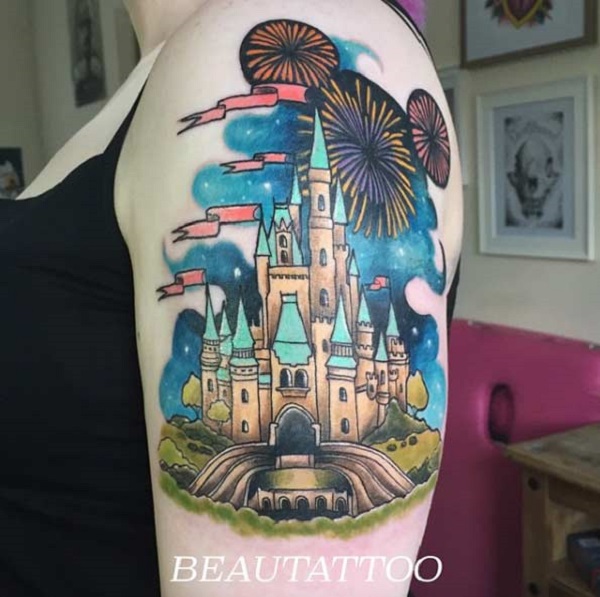 Disney Castle on Arm. Disney castle on the arm is for all the Disney nerds. So if you want something cute and interesting, then this castle tattoo is worth trying.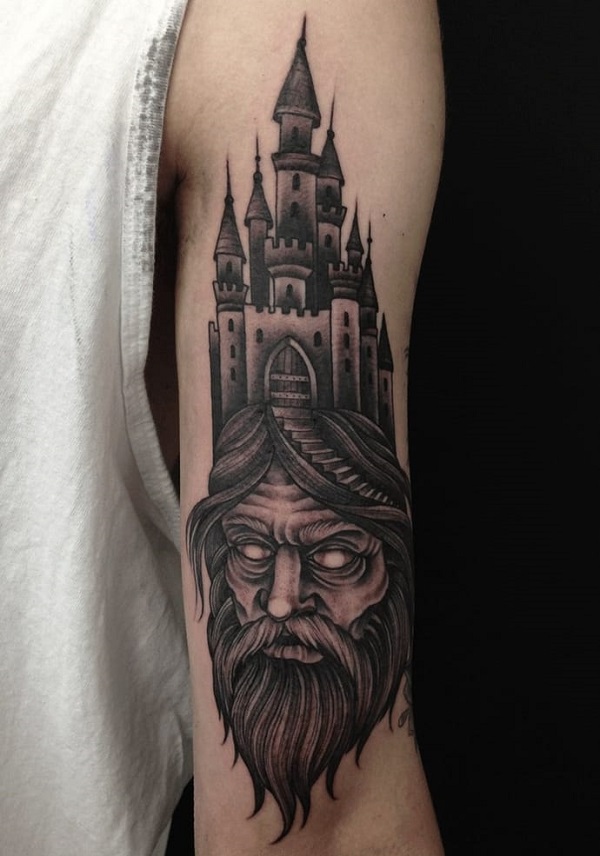 Castle on the Head of a Man. This one is pure evil tattoo, offering an evil person with the castle erected.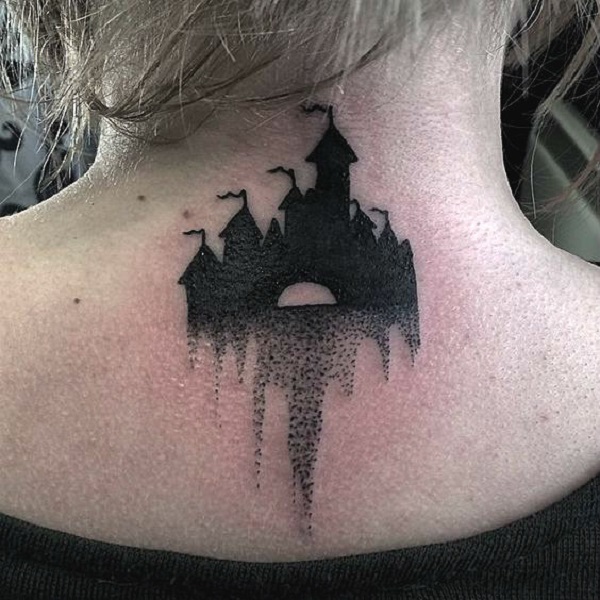 Black Castle Tattoos. This back neck piece is something unique and simple.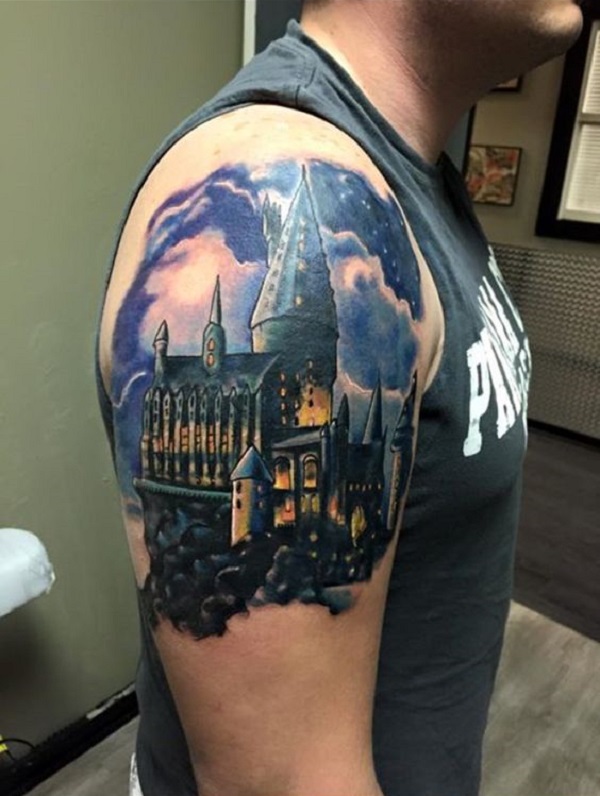 Smoky Castle on the Upper Arm. Get your arm housed with this mysterious castle all surrounded by the smoky clouds.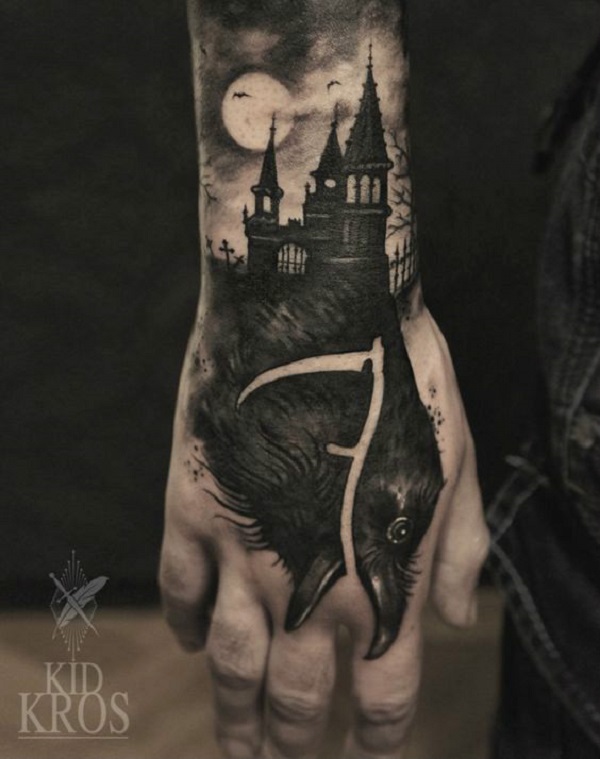 Black Castle with an Eagle. Love mysterious things? If your answer to this question is aa yes, then this black castle with an eagle is the true representative of mystery.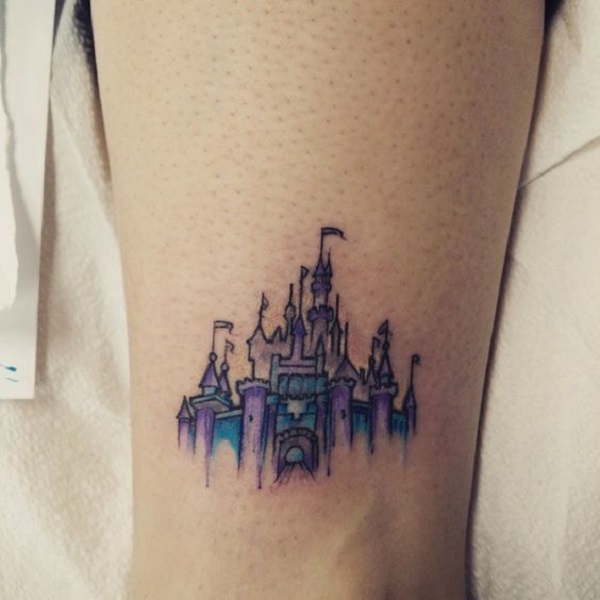 Blue and Purple Castle. This unique yet attractive blue and purple castle tattoo is for all those papa's princesses who live the Fairy Tales.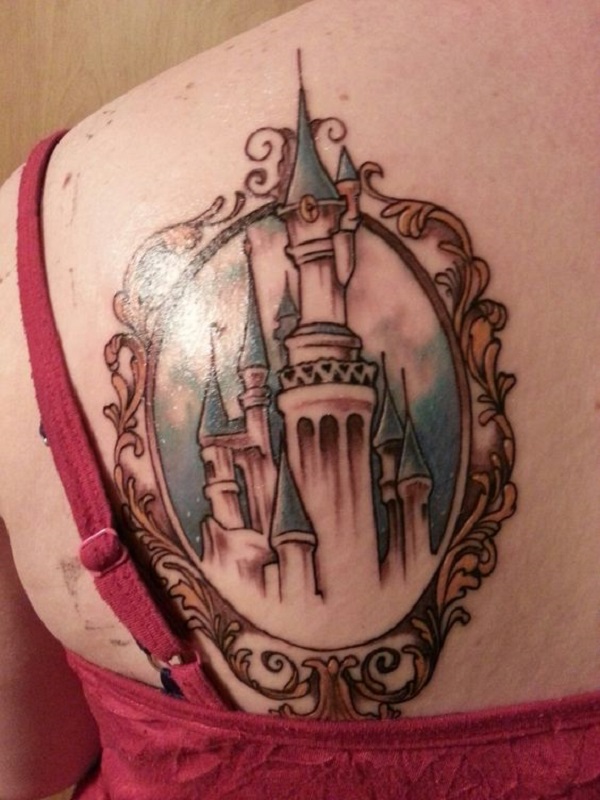 Snow White Castle in the Mirror. Mirror mirror on the back! shows the beautiful castle tattoo of all.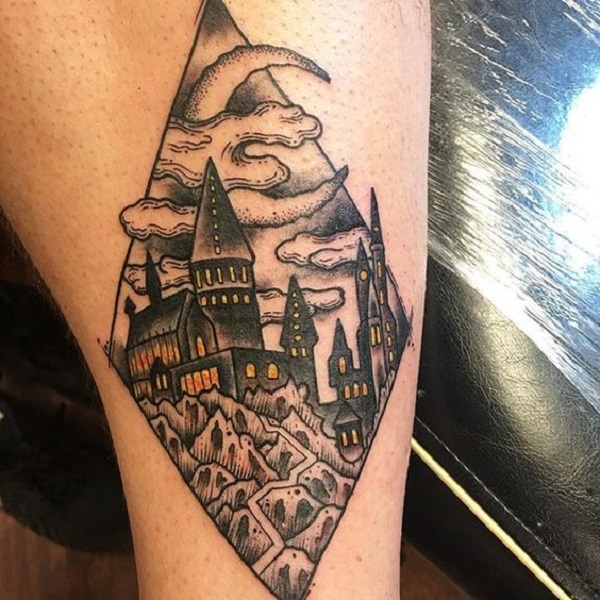 Evil Castle Tattoo in a Prism. If you love darkness and want others to feel it, then this evil castle tattoo in the prism is the true depiction.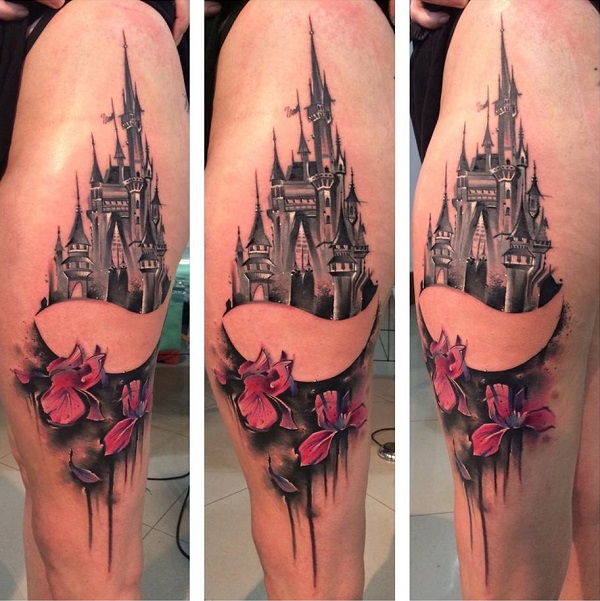 3D Castle on Arm. You might not find any other castle tattoo well-detailed than this one. The castle is made with lots of creativity and fine lines, that is hard to find in any other castle tattoos, especially for women.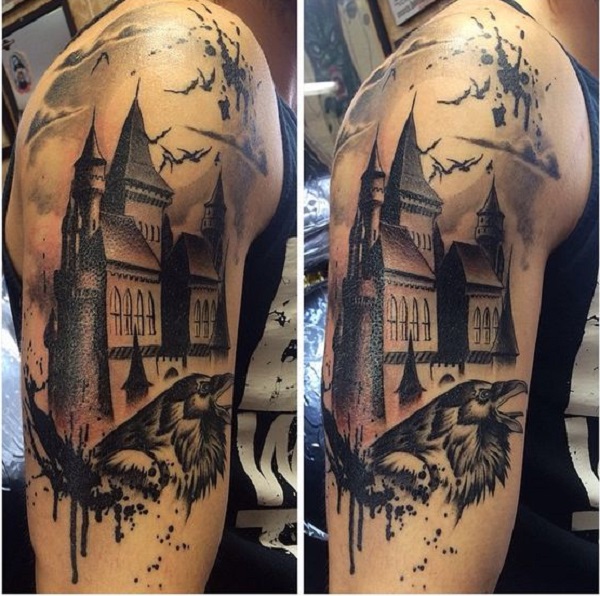 3D Black Shaded Castle with Eagle. This sleeve shaded castle tattoo is also depicting the symbol of power, evil, and strength along with the eagle below.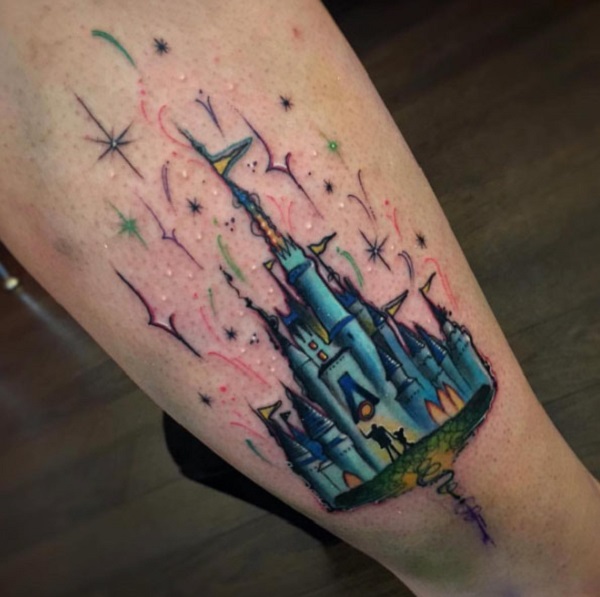 Cute Blue Castle with King and Princess. If you love this tattoo, you are amazing!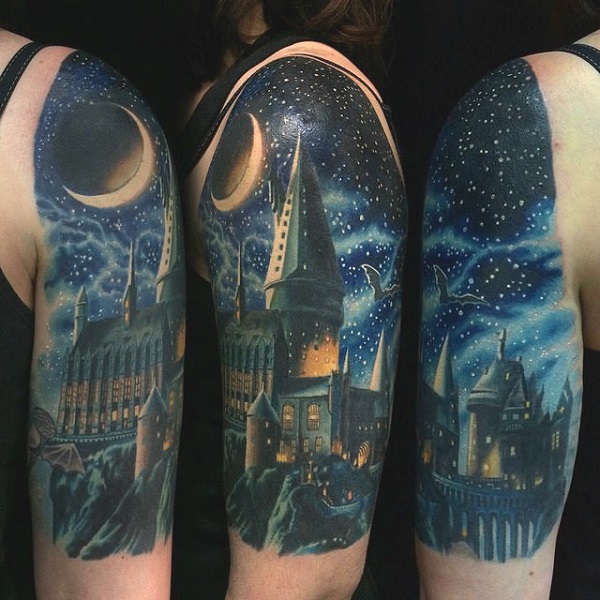 Castle in Snowy Evening. Embellish your arm with this beautiful snowy evening with a mysterious castle on the front.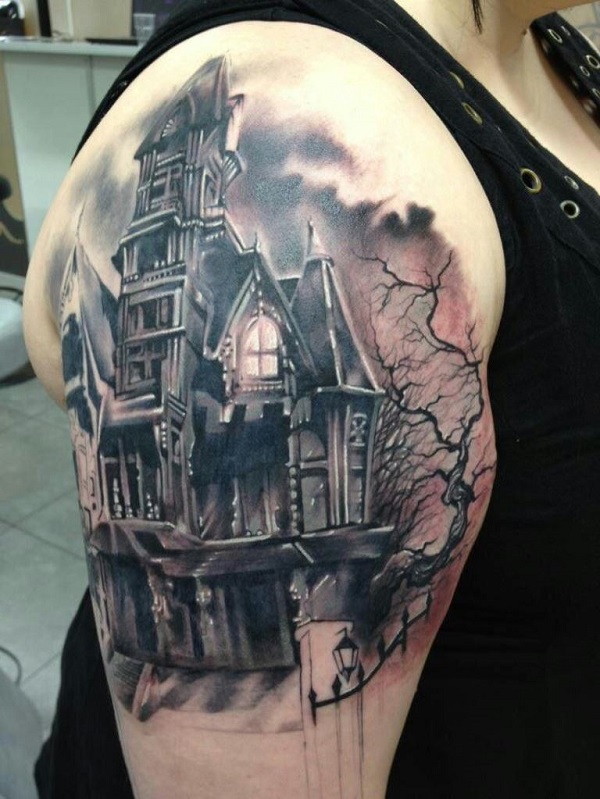 Barren Castle with evil Shadow. If you have body with abs and muscles, then this castle tattoo is worth trying, as it requires a room to get covered.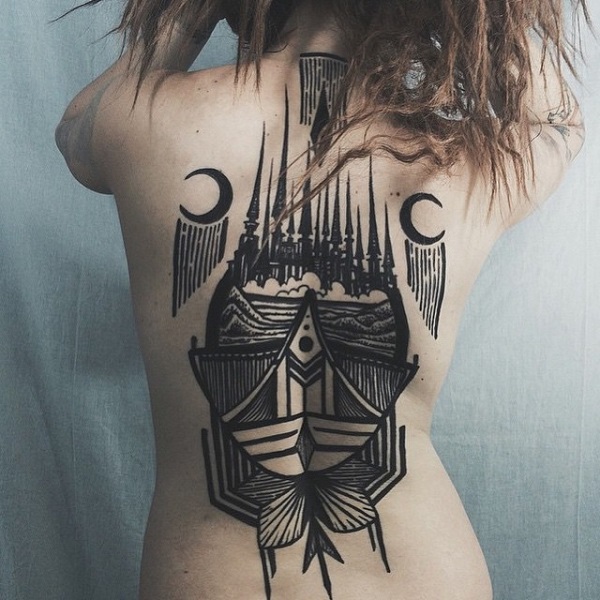 Abstract Castle on Back. Abstract art is one of the most complex form of art and that is the reason why most complex people love this kind of the art. If you are among those abstract art lovers, then having this abstract castle art on the back is not a bad option.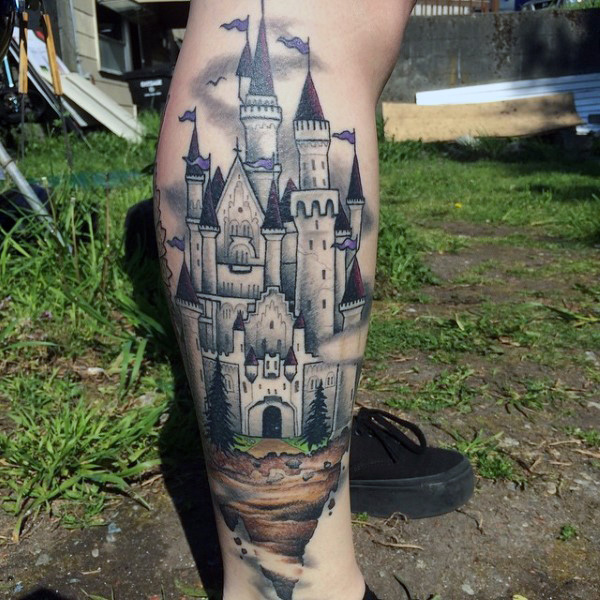 Tower Castle Tattoo Design. Get your arm embellished with this highly erected tower castle tattoo design, with the mix of colors.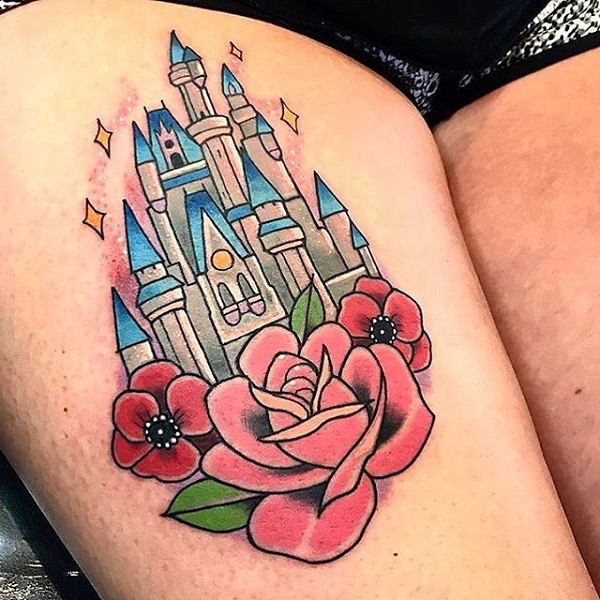 Animated Castle Tattoo Design. If you are a lover of animated tattoos, then this will surely click your mind.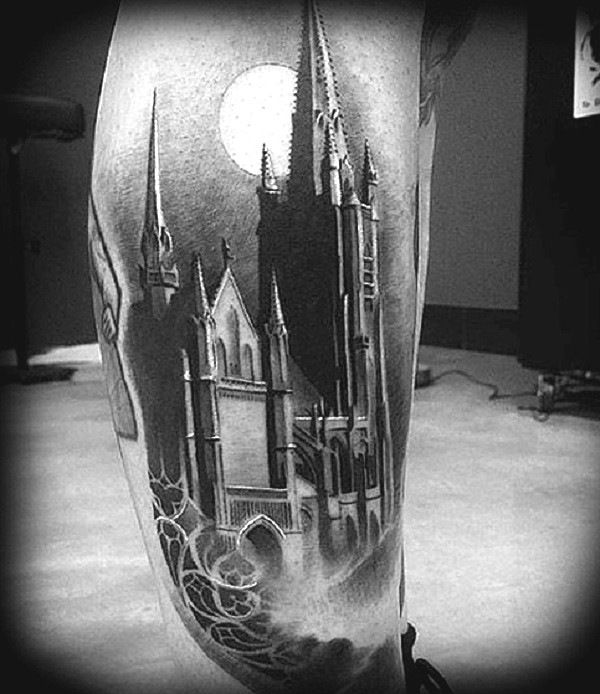 The Evil Evening in Castle. Frightened? No? Dare to have this tattoo on your arm then!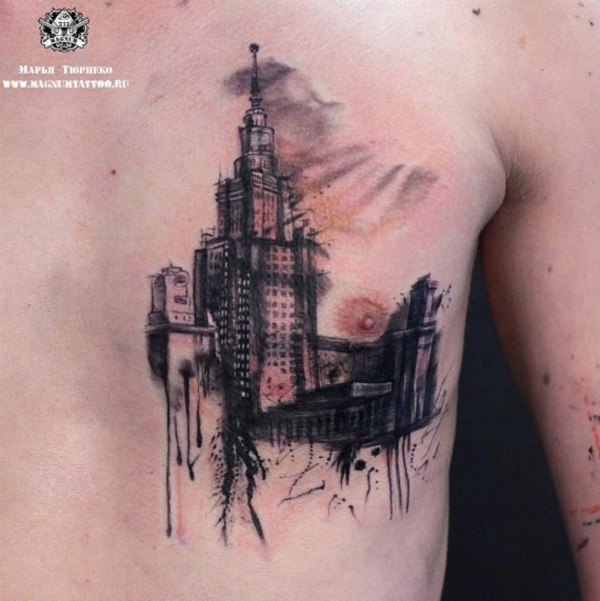 Awesome Castle like Building. Get your chest area covered with this awesome castle tattoo design, that is unique and surely new to trends.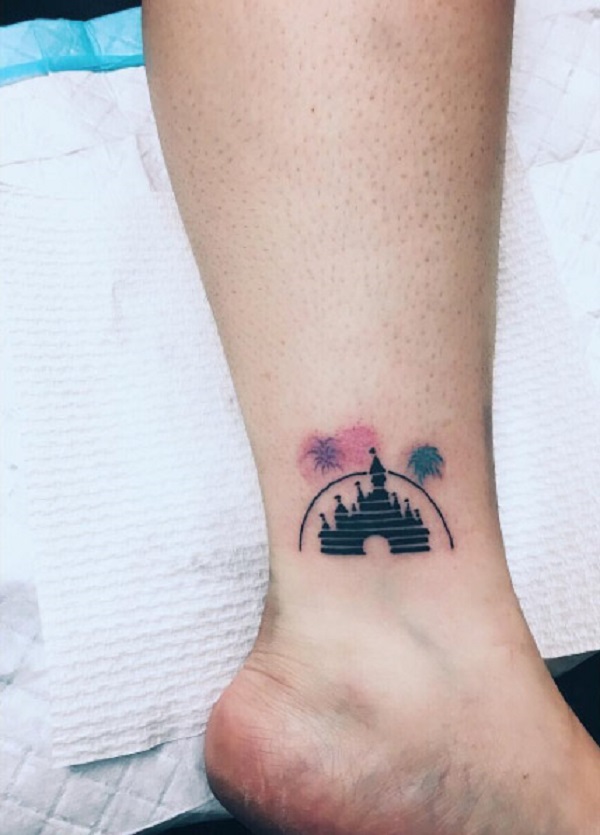 Walt Disney Castle on Ankle. Love Walt Disney? Yes? Then having this Walt Disney castle tattoo on your ankle is worth it.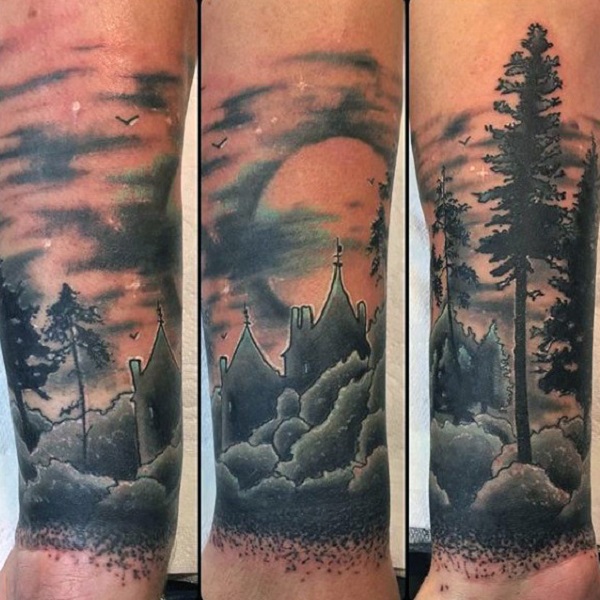 Scenery with Shaded Castle. Embellish your arm with this amazingly detailed scenery, along with the shaded castles all along.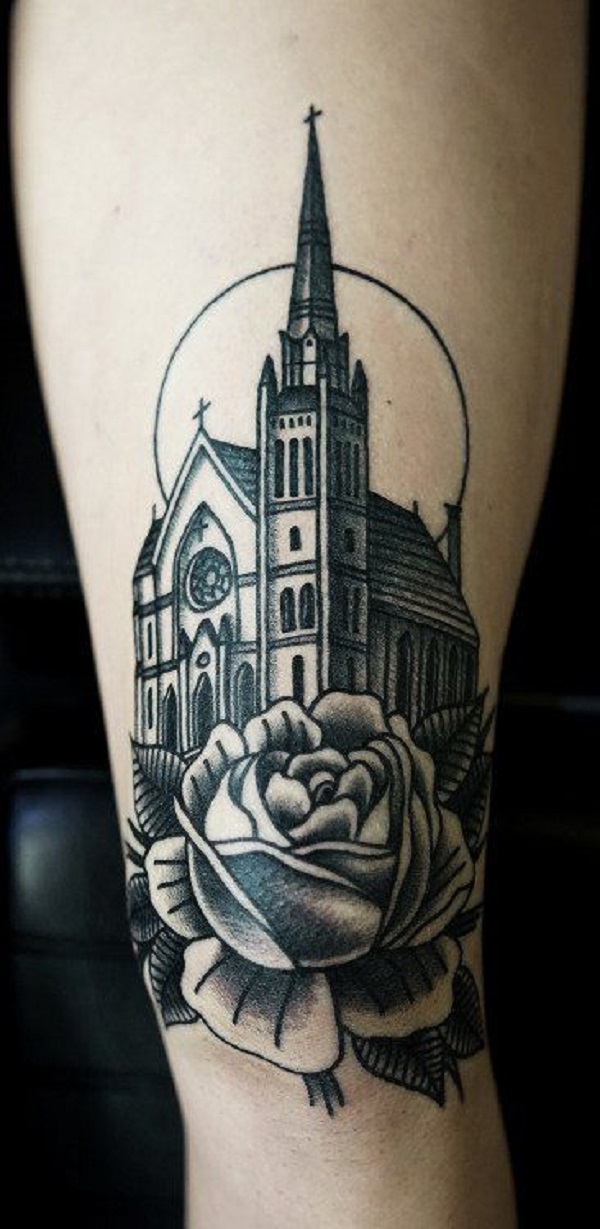 3D Church Castle with Rose. Display your spiritualism and love towards your God by having this amazing 3D Church Castle with rose on your body.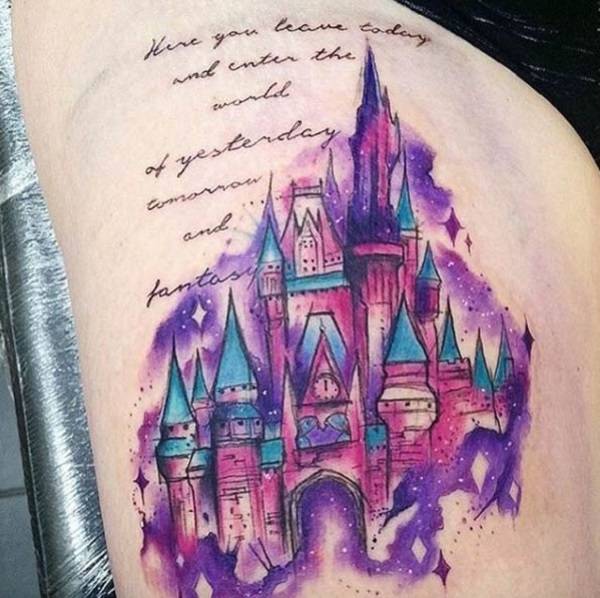 Colorful Fairy Tale Castle. Enter the world of fantasy and dreams by having this amazing tattoo engraved on your body.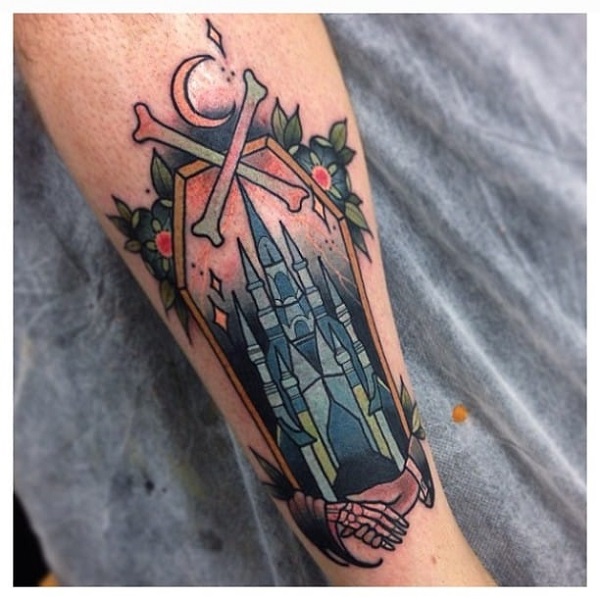 Castle in the Coffin. this tattoo is showing the bitter reality of life. No matter what you are on this Earth and what you have to display, at the end, it all goes to end in a coffin.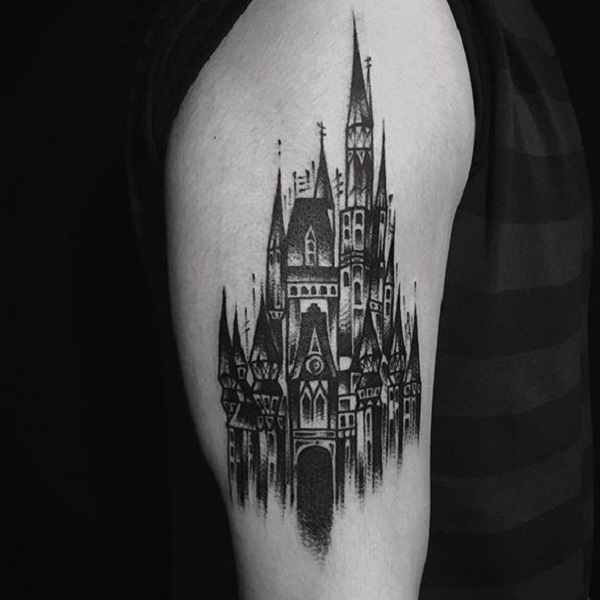 Shaded Black Castle. This castle formed as a result of the awesome creativity is Black in color and shows great meaning and grace towards the castles.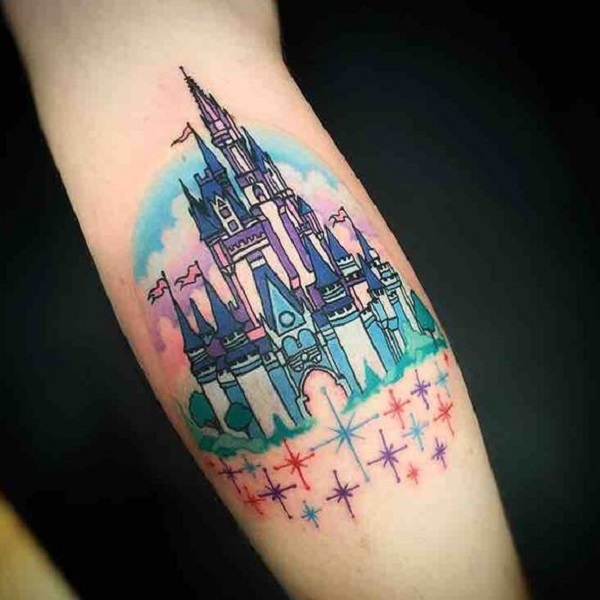 Royal Castle. Royal castles have been in stories since the time of their evolution and that is the reason , this royal castle is worth trying for all the royal people out there.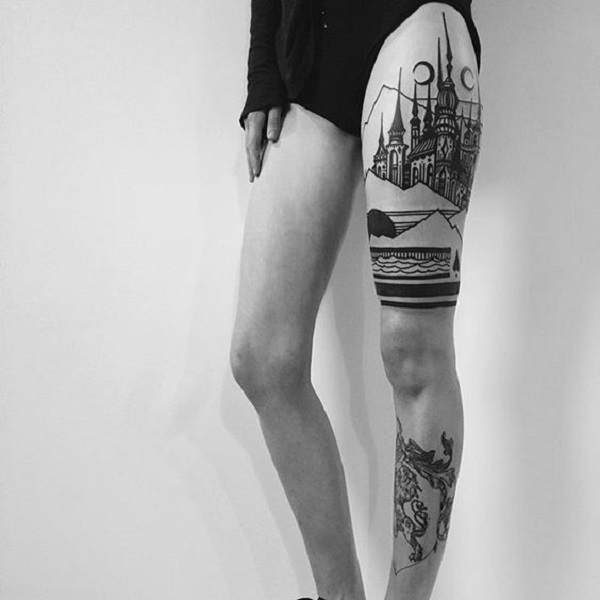 Black and Grey Castle on Girl's Thigh. This tattoo is for the girls who grew up dreaming about their prince charming and own castles.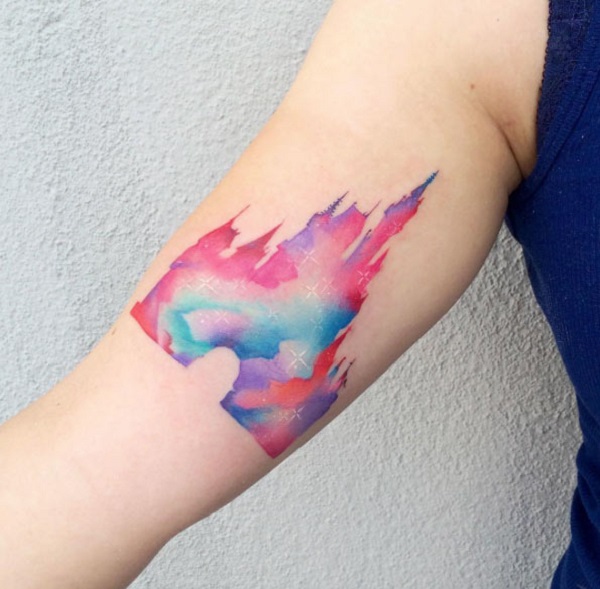 Fantasy Castle. This fantasy castle is another one to add in the library of the most amazing and worth trying castle tattoo art designs.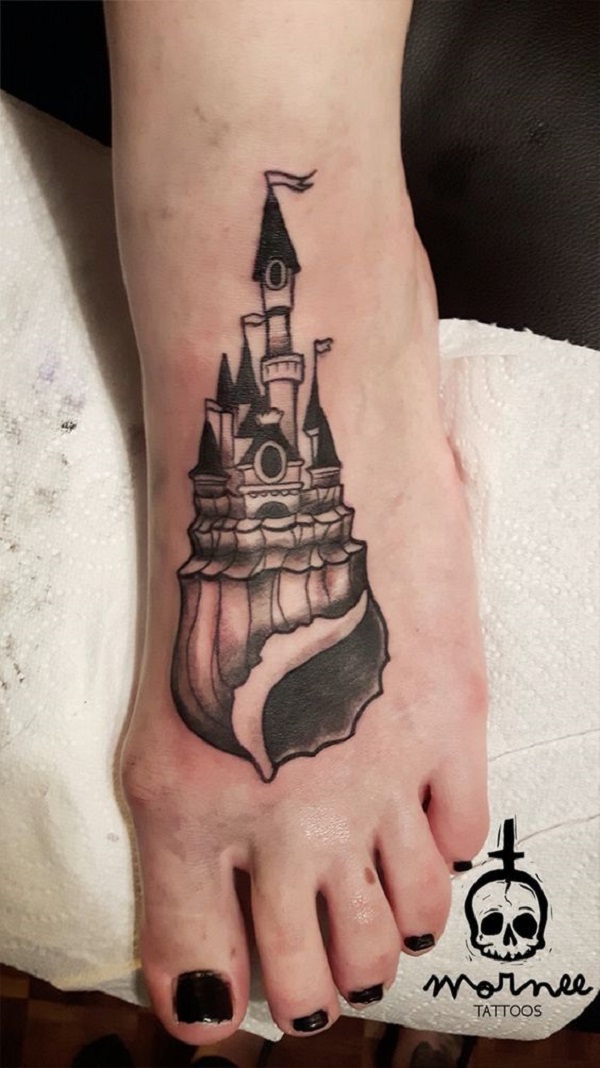 Mysterious Castle. This foot piece is amazingly amazing, and is for all the girls who wanted to live in a fantasy world.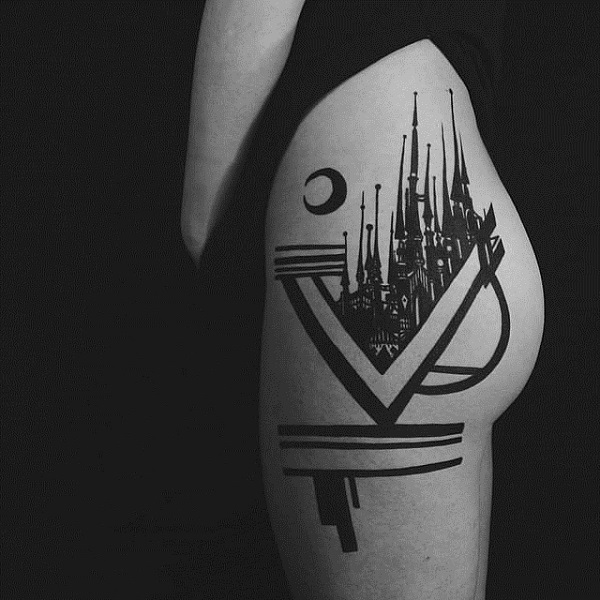 Abstract Castle on Hip and Thigh. Try this abstract castle for hip and thigh, if you are looking to cover up this area with something interesting.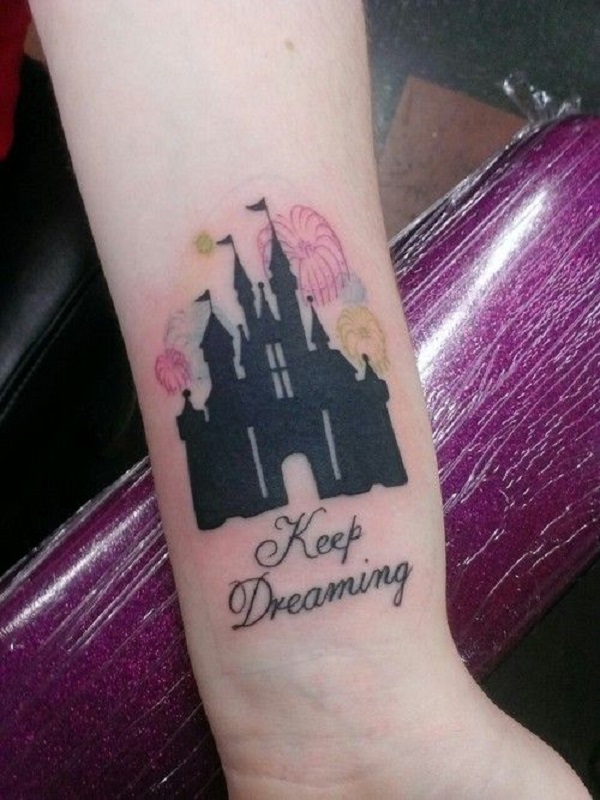 Keep Dreaming Castle. if your moto in life is "Keep dreaming because it costs nothing", then have this tattoo as your inspiration.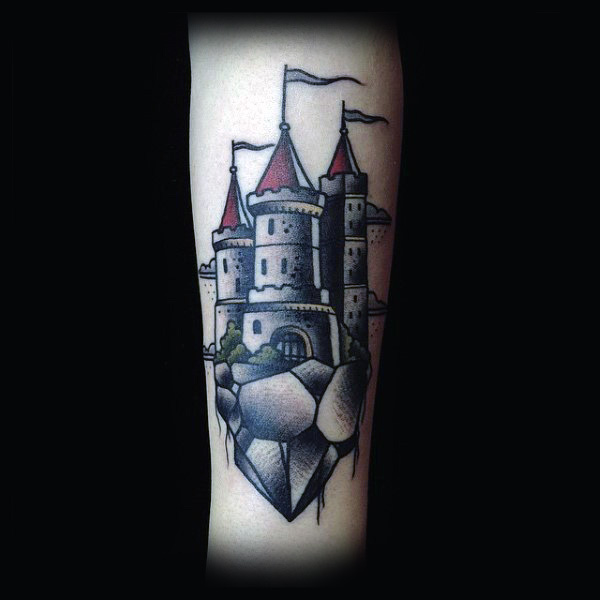 Royal Castle. as mentioned earlier, castle tattoos represent the royalty of ancient castles. So have this royal castle on your body and become a symbol of heritage.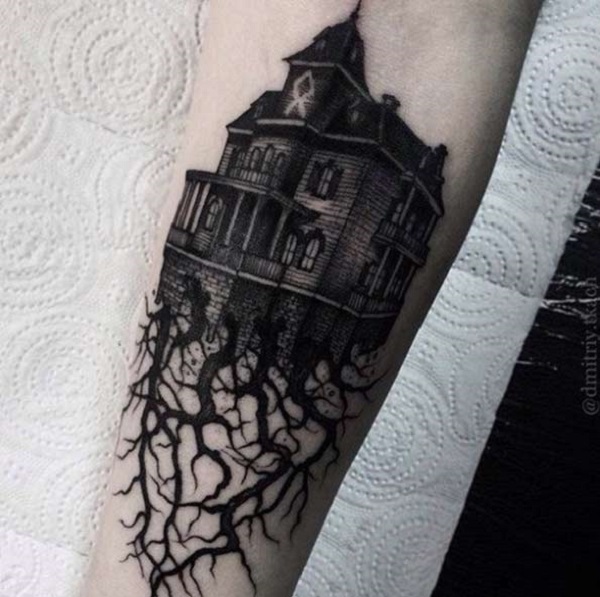 The Barren Castle with Extended Roots. this 3D castle is worth eye-catching, that is purely evil and have secrets hidden within its walls.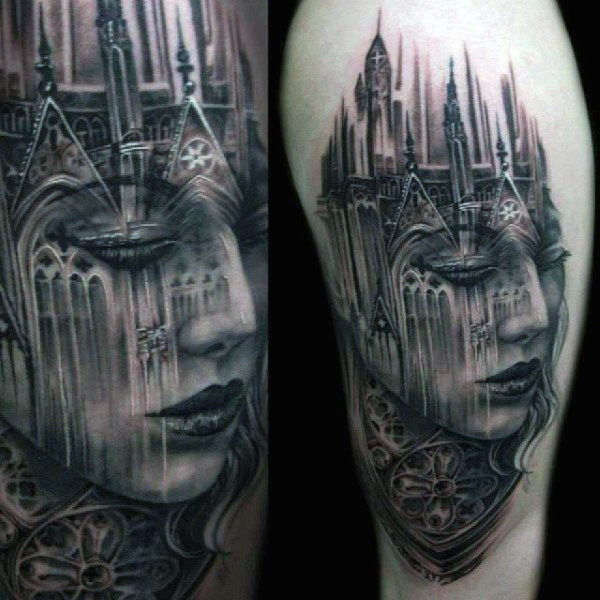 Castle Tattoo on Girl. Although this tattoo has a girl in it, however, it can be worn by the men as well, who love the mysterious tattoos on their bodies.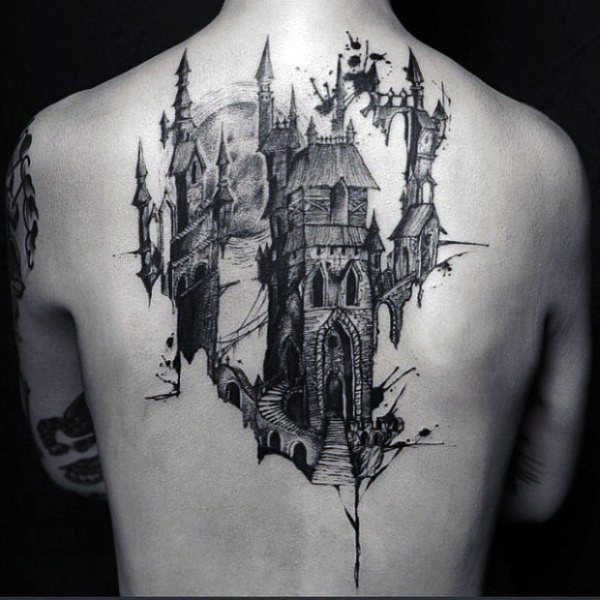 Black and Grey 3D Castle. Get your back covered with this amazingly created 3D castle tattoo design.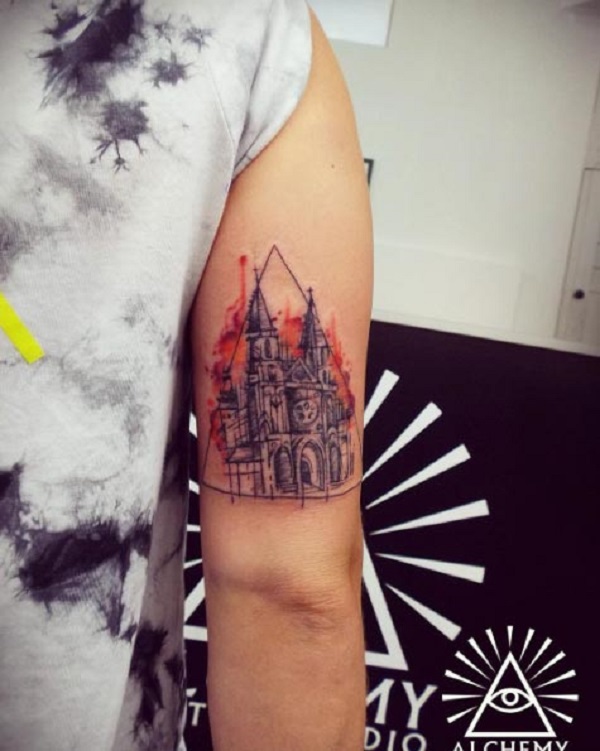 Castle in Alchemy theme. if you are obsessed with Alchemy and castles as well, then this piece of art is worth considering.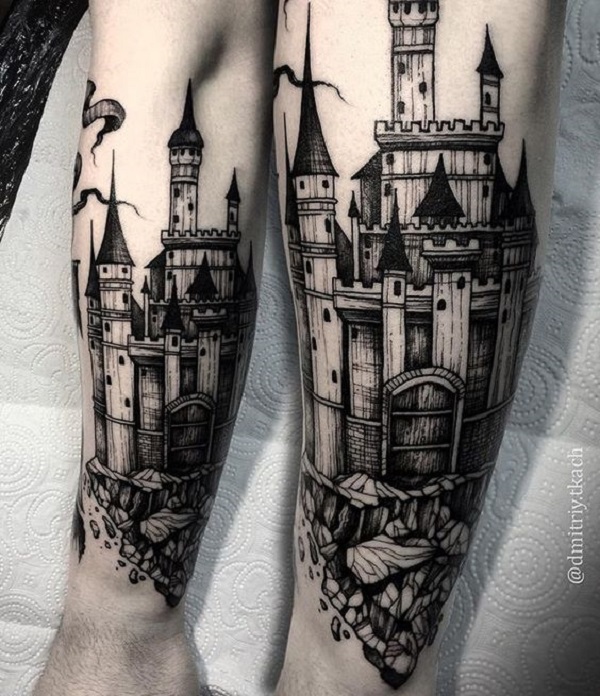 Terrific Castle Tattoo on Arm. This one is perhaps the most terrifying castle tattoo design on the list and I bet you would be terrified at first sight.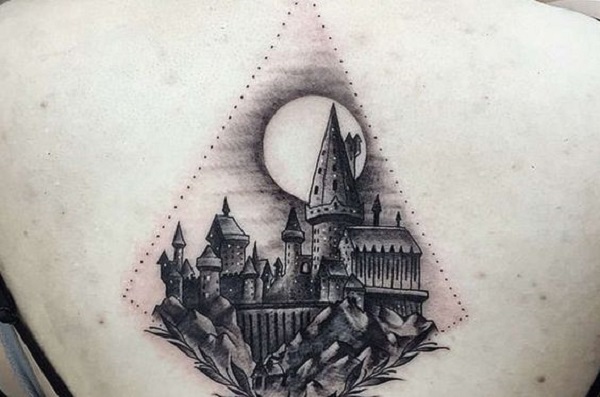 Little Solar Plexus Castle. Try this little solar plexus castle on your back or on your arm, if you are worth looking for something extraordinary.
As mentioned, castle tattoo designs can be done in the variety of forms. You can add the tweaks to this amazing collection of ours to make your signature and mysterious castle tattoo design.