Tattoos have always been in the trend, since the time of their evaluation. The tattoos are considered the form of art that not only express the signs, but also express emotions and feelings of the person on whom, it has been engraved.
The history of the tattoos have been rooted back to the Chinese tradition, that might represent the company, any public figure and any design that surely depends on the choice and personal preferences of the person. Among the popular tattoo designs, the one form that is most commonly engraved on the bodies of not only youth, but the people of all ages, is the Peony Tattoos.
Introduction to Peony Tattoos and Their Meaning:
Peony Tattoos are actually the floral tattoos, that are often associated with the wealth and honor. These floral designs in the tattoos generally include:
Traditional Chinese floral Symbol
Indiana State flower
12th Anniversary Wedding Flowers.
Moreover, according to most of the people, Peonies are actually the signs of the prosperity and happy married life that embodies romance and good fortune as well. Moreover, these kinds of tattoos depict getting good rewards are only possible, when the risks are taken.
With the emerging advancements in the tattoo industry, peony tattoos has been combined with various other symbols and elements like dragons, demons and lions that traditionally means delicate power and beauty balance.
Traditionally, these peony flowers deep red that transformed with the time and were changed to the peonies with the colors that are deep shades of orange, white, yellow and pink. Further, they might also be created in the colors of blue and purple, for further enhancement.
So, if you are looking to have a floral peony tattoo on your body, here are the top 50 peony tattoo designs that you can try!
50 Worth Trying Peony Tattoo Designs:
With more and more people turning towards the peony tattoos, you can try our favorite picks, if you are looking to have one!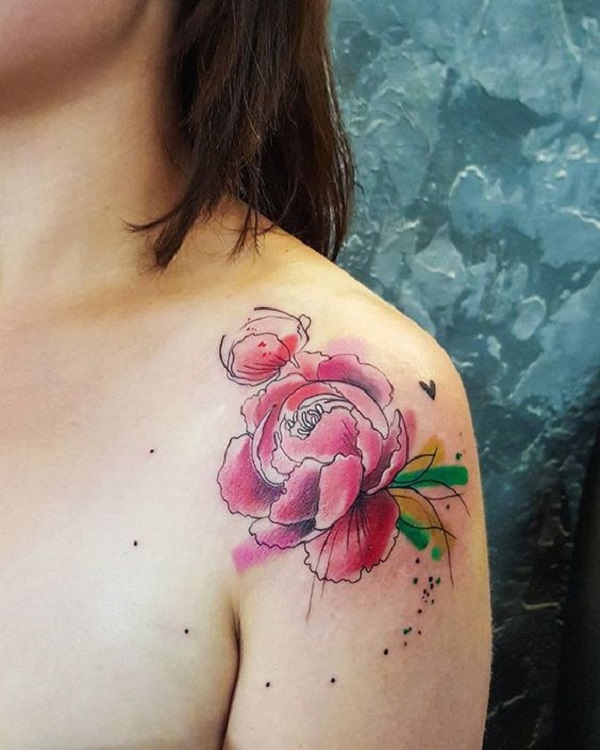 One of the amazing peony tattoo design that you can try is the one on the shoulder. This colorful yet elegant tattoo can make your first tattoo experience just awe-some.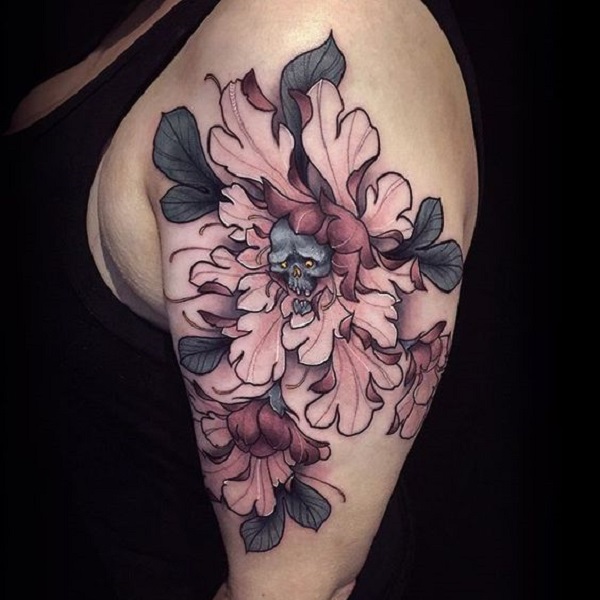 Black cannot be ignored, especially when it comes to tattoo. So, this black colored tattoo when emerged with different vibrant colors will definitely look good on your arm.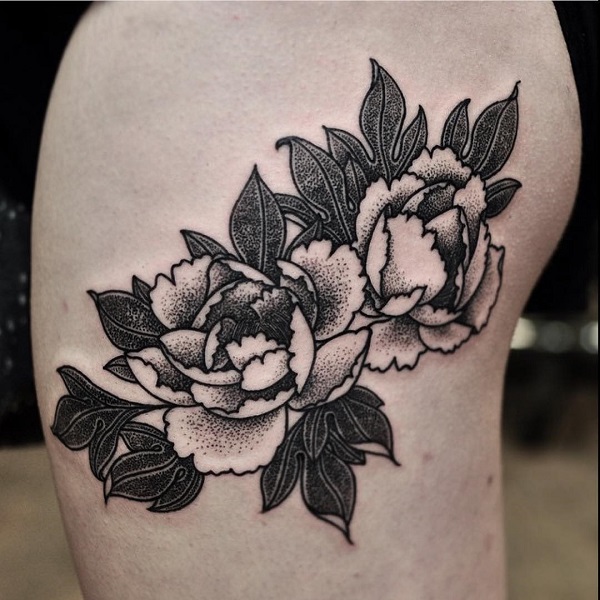 If you are an admirer of black color, this blacked peony tattoo design can be the best choice for you. this tattoo is often drawn on the shoulder length with deep layers, that gives the tattoo as realistic appearance.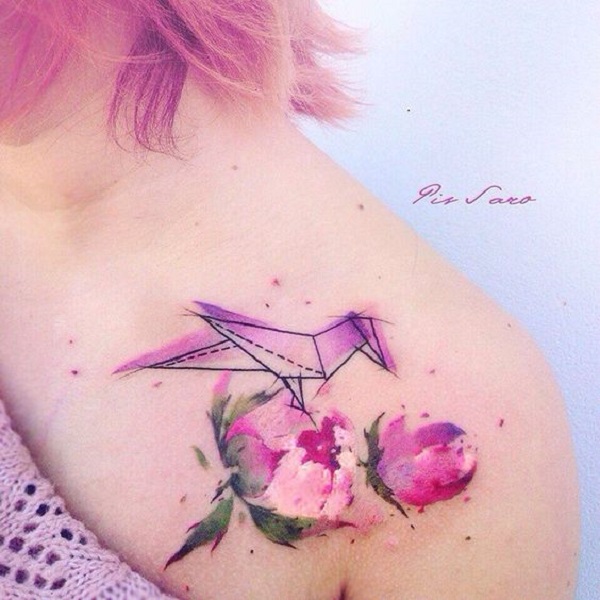 This colorful peony Tattoo design is combined with paper bird, that adds further to the appearance of your tattoo, that you can have on your shoulder.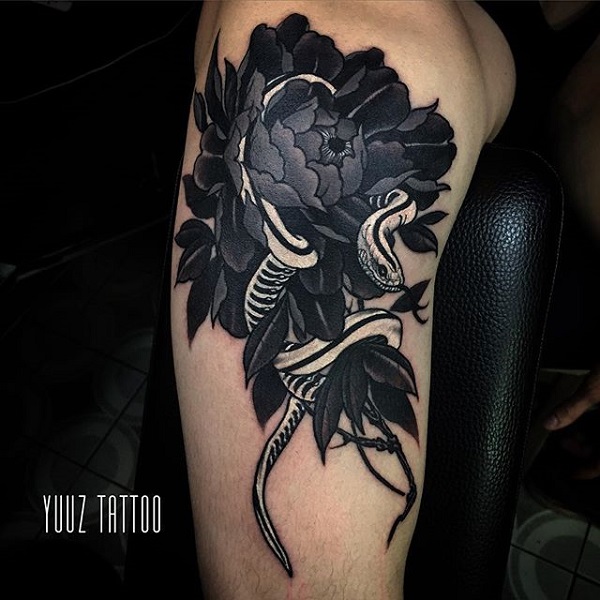 Blacked tattoo style is another form of the peony tattoo, that is often embellished on arm. This kind of tattoo is often combined with other elements or symbols like honey bee, that attribute to loyalty, protection and defense. They could also be a significance of variety of cultures.
The one extended on your full arm can also make the best peony tattoo option. This will add something not only to your personality but also to your happiness, as it depicts prosperity.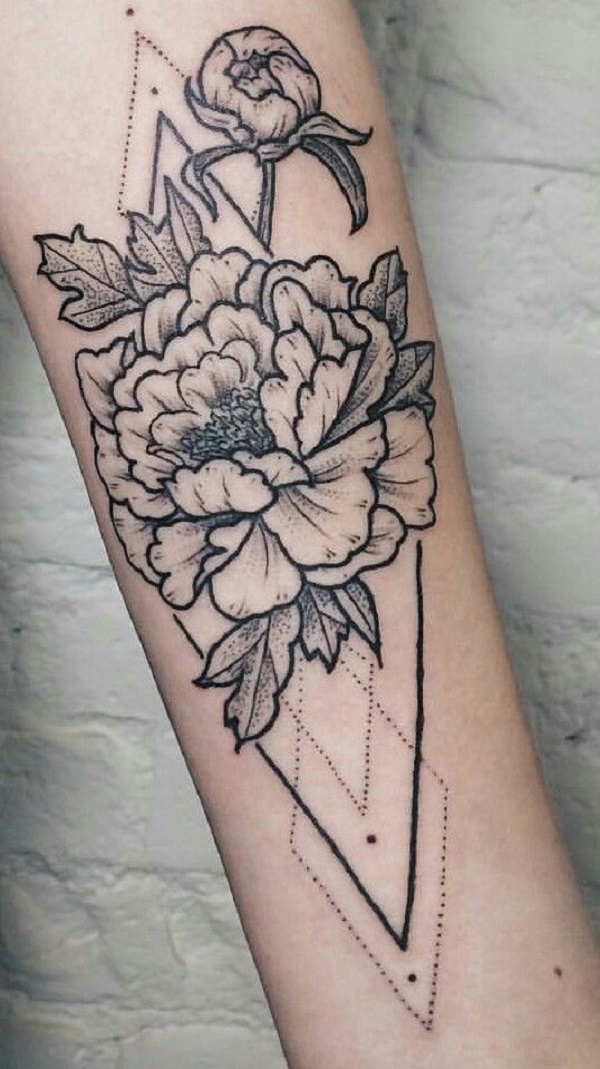 This one is the elegant looking looking tattoo, which can embellish your  like no other thing. The Black color of this design represents the elegance plus grace, that is surely the part of your personality.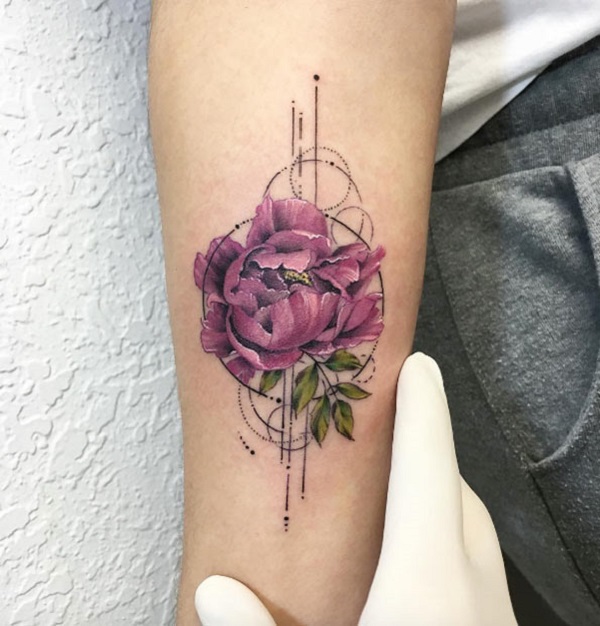 The real looking peony tattoo, is next in our picks, because of the fact that this not only look stunning on your arm, but also, it would help you to catch attention of others.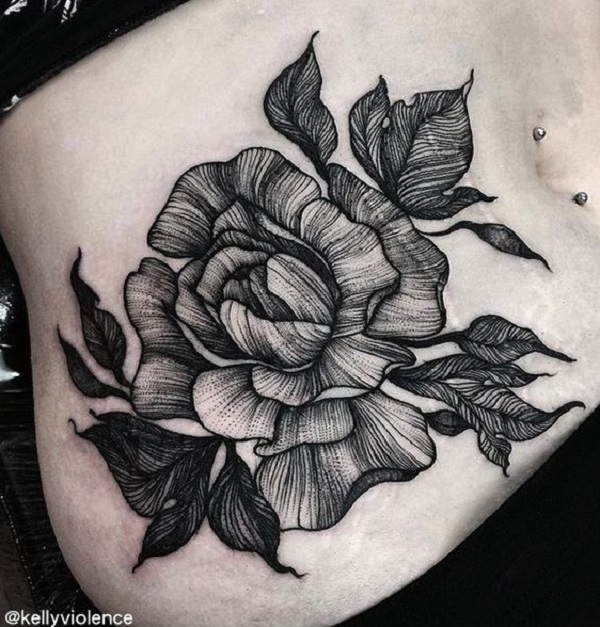 Gray scale peony tattoo  on the abdomen is another one to try. This tattoo looks amazing would look amazing , if you have got your body embellished with piercing as well.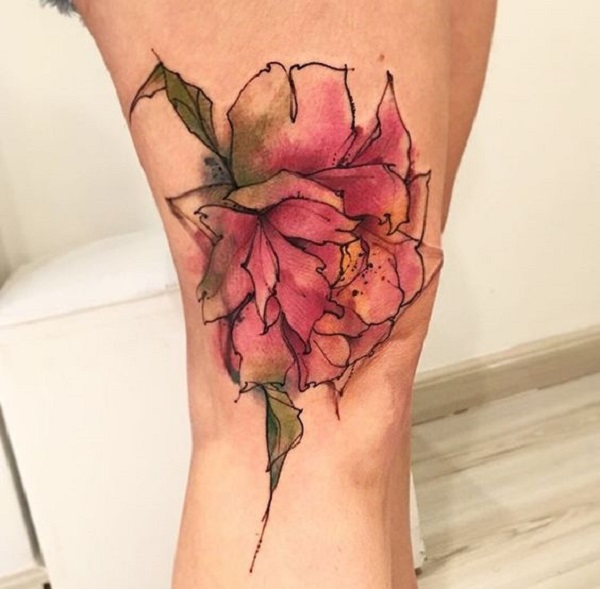 This rib peony tattoo, is surely the attention catcher that is rendered in realistic style. A red rose is engraved on the ribs with green leaves and no thorns. This amazing tattoo, too, is a symbol of prosperity.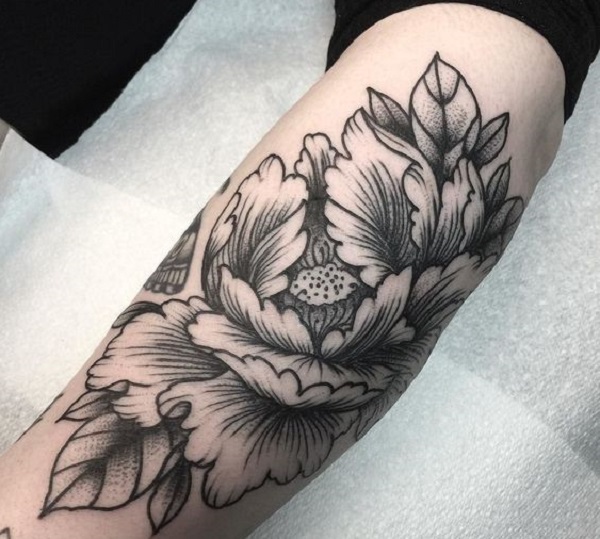 Another peony tattoo, that can blow your mind off is the deep colored peony tattoo, that best can expose in shades of black. this peony tattoo is the signature of saturated love, that you can also have on your thigh or arm for classy yet sexy look.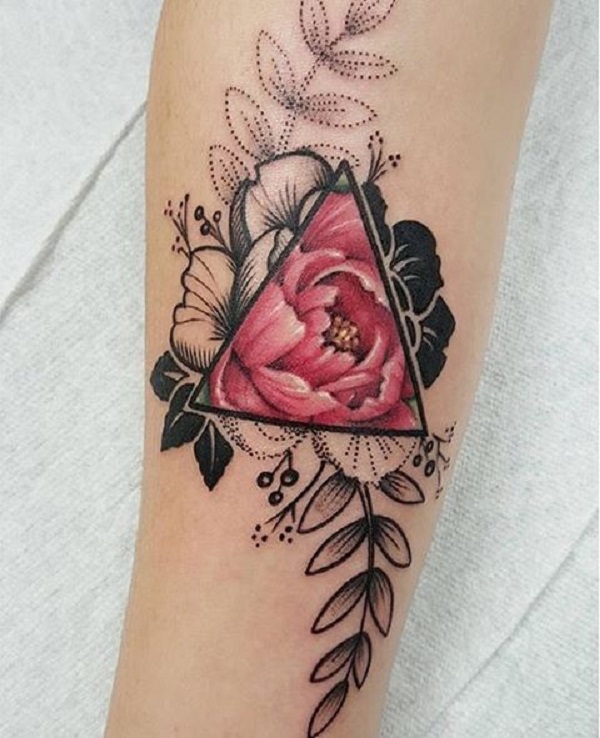 A red rose stuck in the triangle of black color, is another worth trying peony tattoo, that is unique in its idea and beautiful in its looks.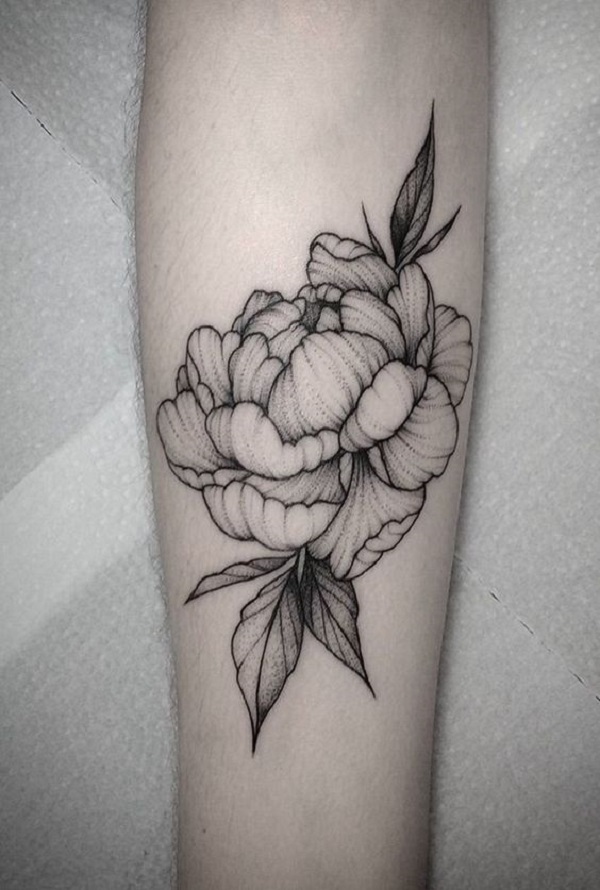 If you are a person with some bold character, here, you can try this peony tattoo that can suit your personality and style. It is a good idea for the women, who are looking for their first attractive tattoo.
This peony tattoo on the upper leg is something that you don't want to miss. The tattoo, as shown in the picture truly represents the vibrant colors, that shows prosperity and liveliness, at all senses.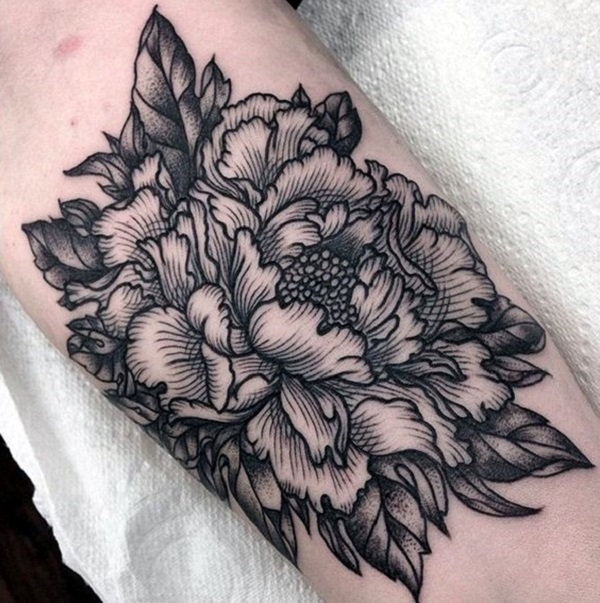 Finally, this peony tattoo looks really like something peony. You will never regret having this tattoo, if carved by an excellent artist.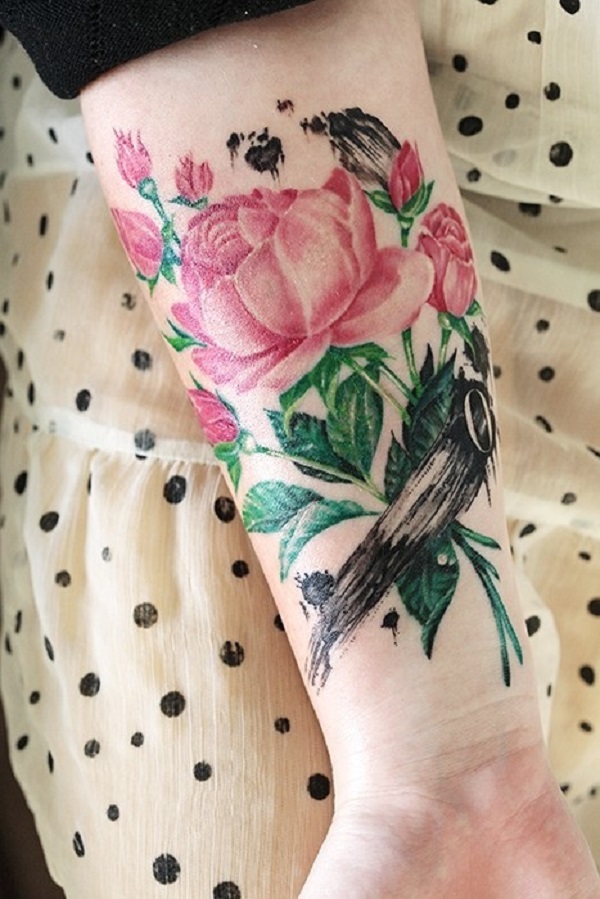 Another vibrant colored tattoo on the arm is our next pick for you. This peony tattoo can embellish your arm like anything before.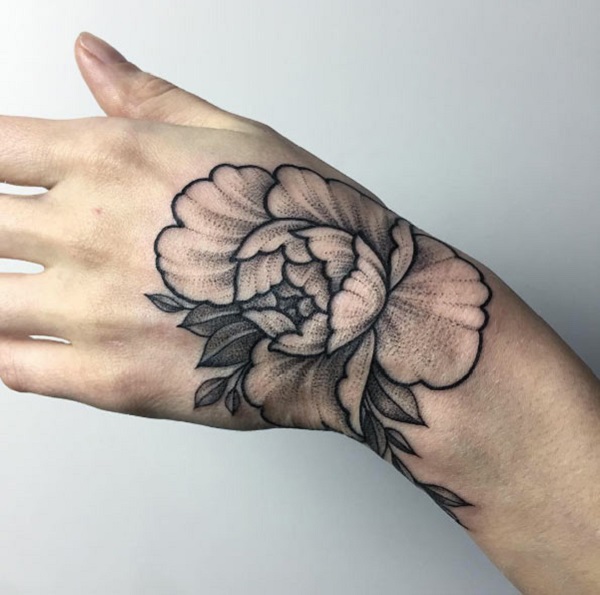 Shaded peony hand tattoo, is something worth trying. Well, if you are art lover, you would definitely love to have this on your hand.
The bleeding peony tattoo is next on our list that represent the true value of expressing your feelings. This tattoo looks best when carved on arm.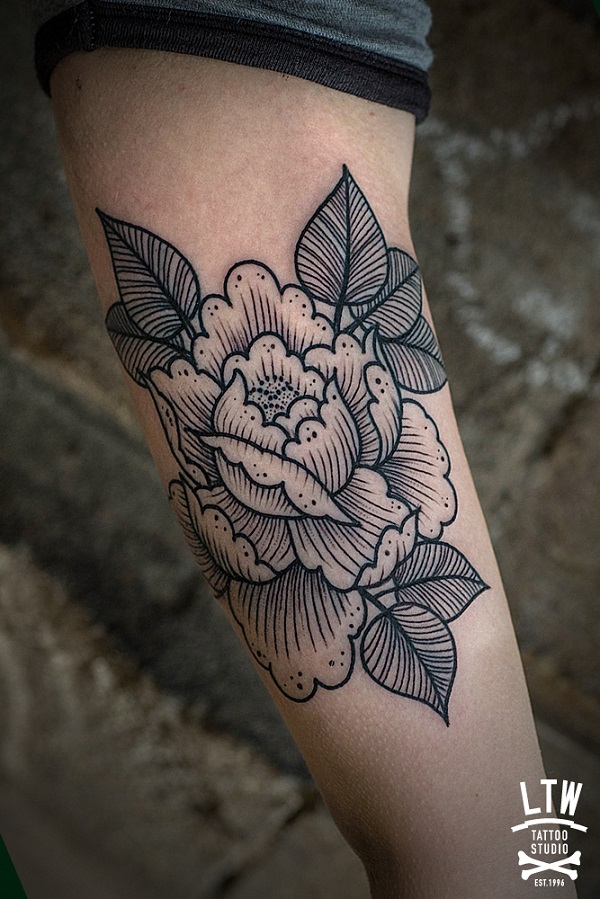 This detailed peony tattoo is simply amazing that has 100 percent chances of getting your heart and mind.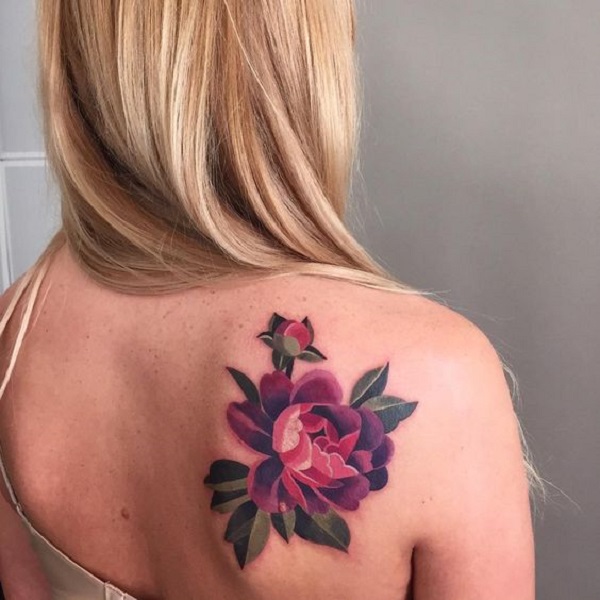 This vibrant and colorful, truly majestic shoulder peony tattoo with green leaves is the true symbol of prosperity. This can be your first peony tattoo, if you are a girly girl!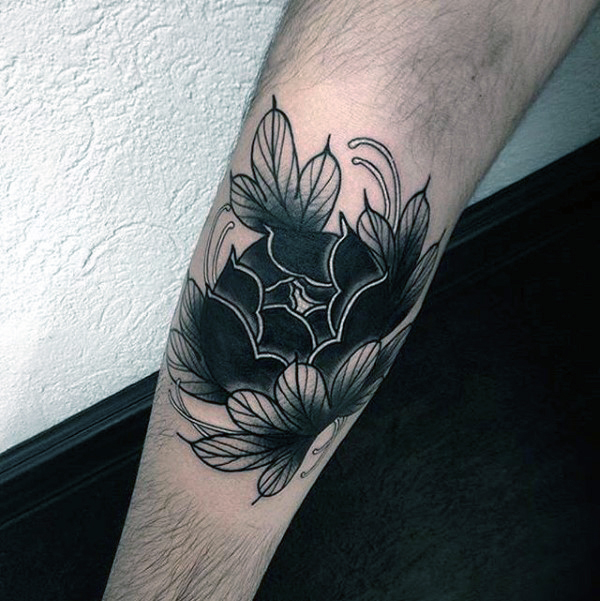 Highlighted black and white peony tattoo for arm is something that you should never miss. The amazing patterns and black effects in this tattoo give it a pure realistic sense.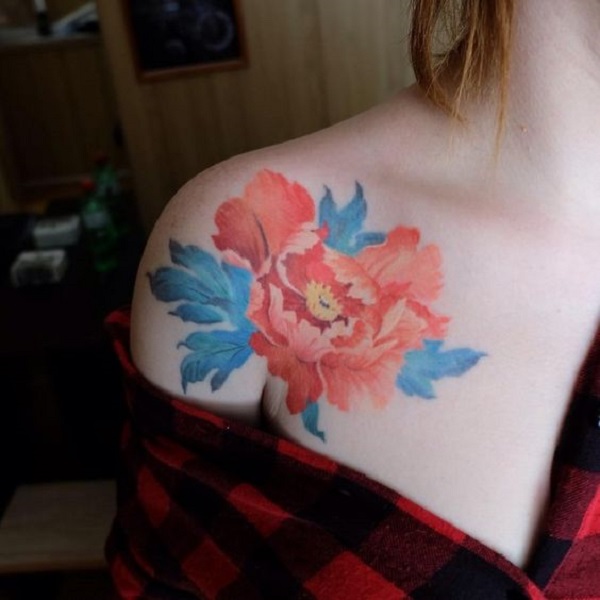 The front shoulder oil colored floral tattoo filled with the beautiful blue and shade of orange gives this tattoo a unique appearance with class.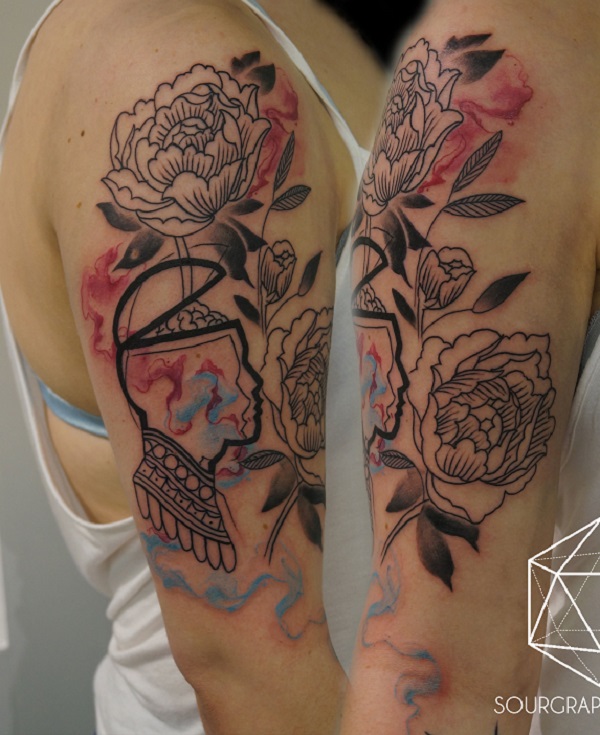 A detail rich peony tattoo can win your mind, if you are a true admirer of the art. this peony tattoo is combined with human brain that give it a true meaning. Can you guess what?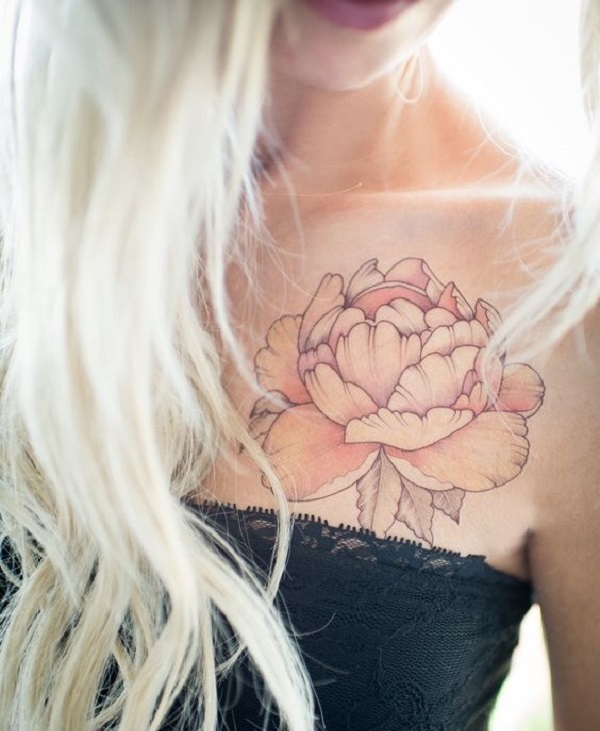 A simple peony tattoo for girls above the breast line is another great one, if you are looking for something girly with some deep meaning of prosperity.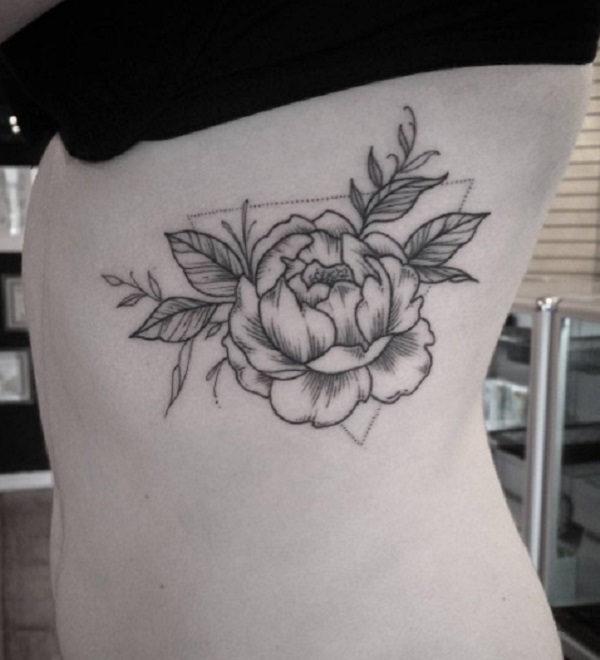 This black and white rib tattoo can be your choice as it incorporates a geometric triangle in its background with the well- detailed flower on its front.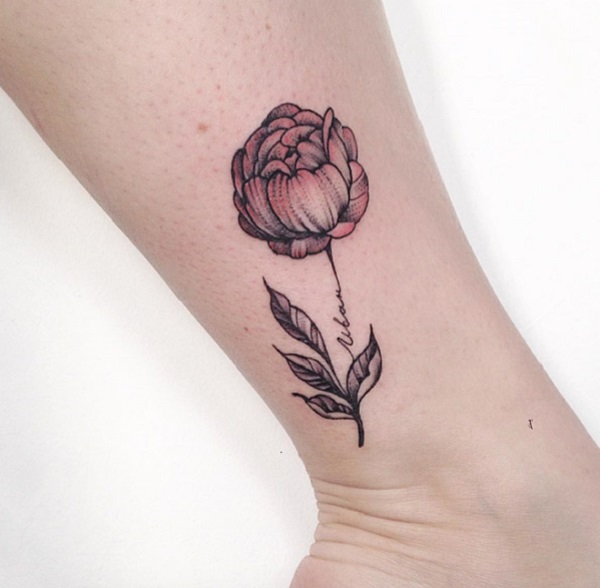 A Simple peony tattoo with dull orange is all you need, if you are a person with some decent looks and deep thoughts.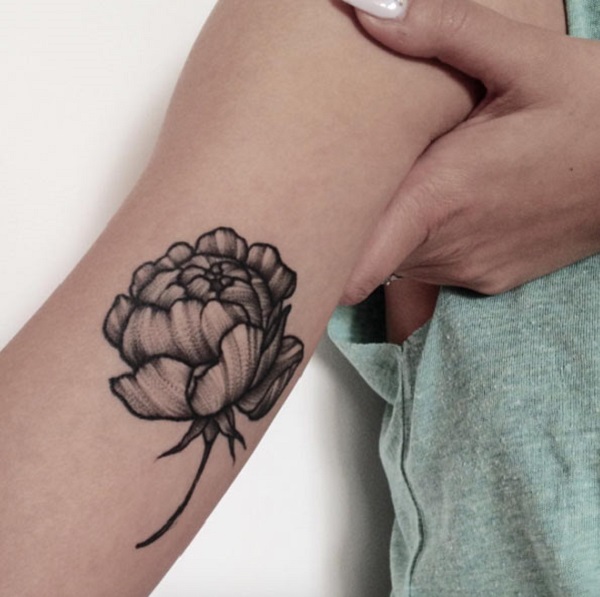 This peony tattoo on the arm is simply beautiful. No colors, no details, yet an amazing decent and graceful choice for you.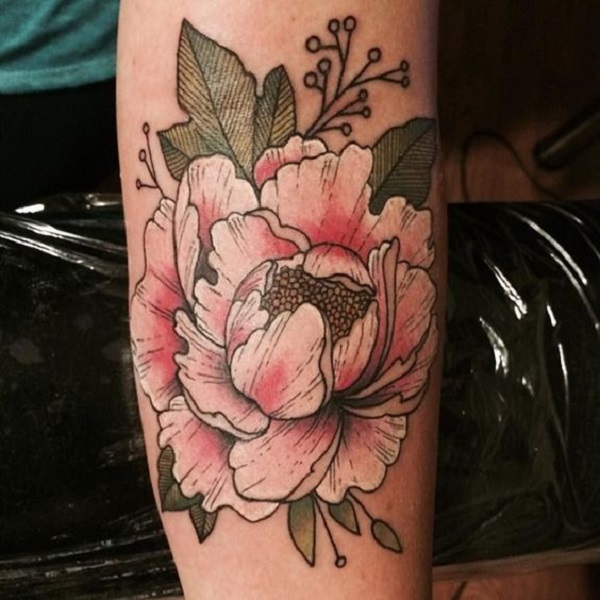 A leafy floral tattoo with in-depth details can be your first peony tattoo, as it represents beauty, prosperity, loyalty and happiness as well.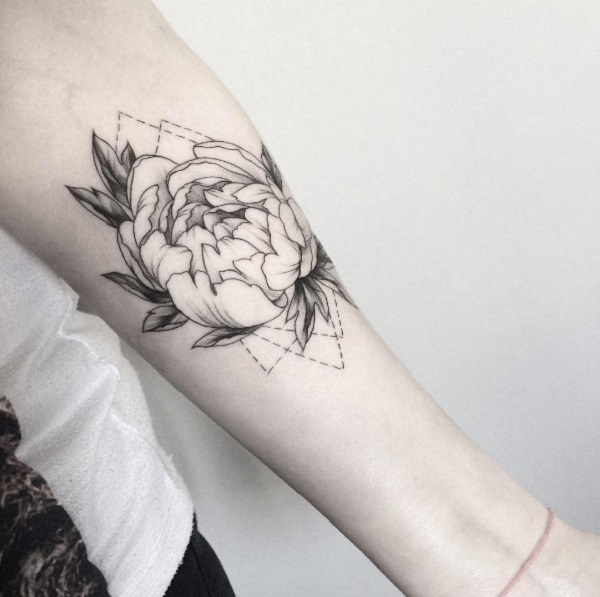 The Black and white, well distinct floral tattoo for girls. This tattoo is drawn up with some geometric dotted lines, giving this tattoo as unique appearance.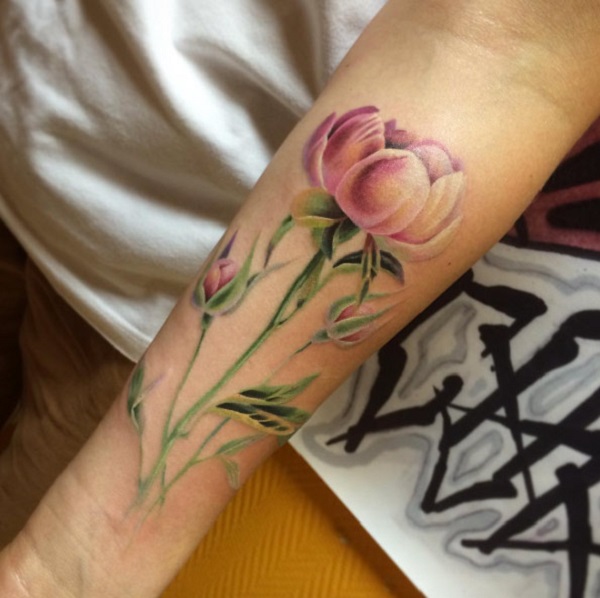 The peony tattoo with several shades of pink can make the best tattoo on your arm, if you are feeling it. The buds in this tattoo are growing, that represent the happiness of spring in our lives.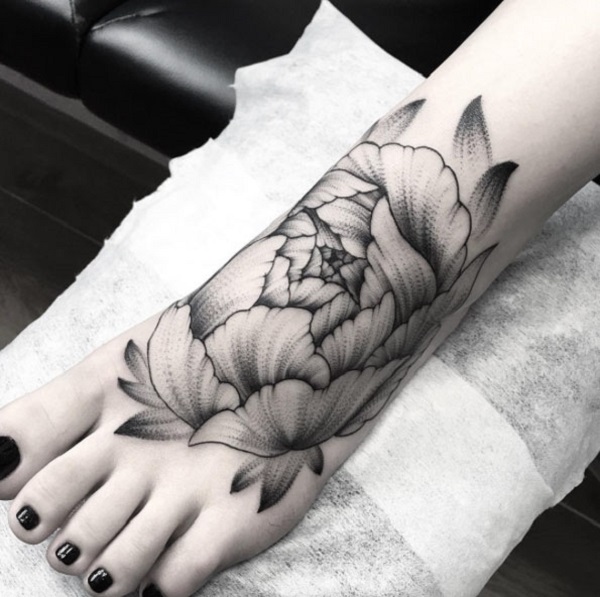 How could you miss this amazingly patterned peony tattoo for the foot? The emerging details in this tattoo are truly eye- catching, that can win mind of any art and tattoo lover.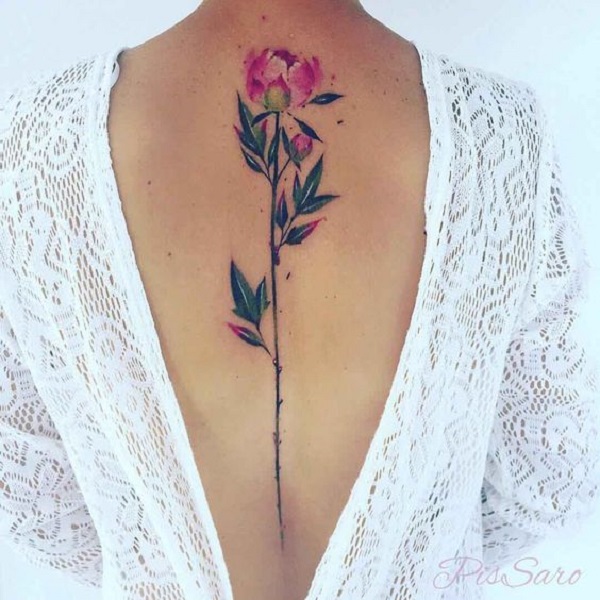 The magic of oil colors and art can be seen in this tattoo, that is best for all the women out there. The long stem and the beautiful colors of this tattoo, surely make it one of a  kind.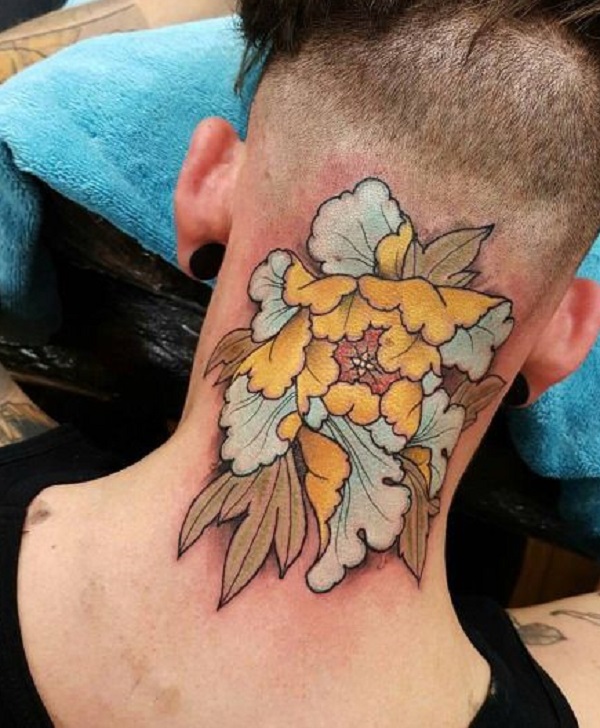 The peony on skull and neck. the vibrant mix of yellow, white, skin and brown colors with the in-depth details can be your creative choice.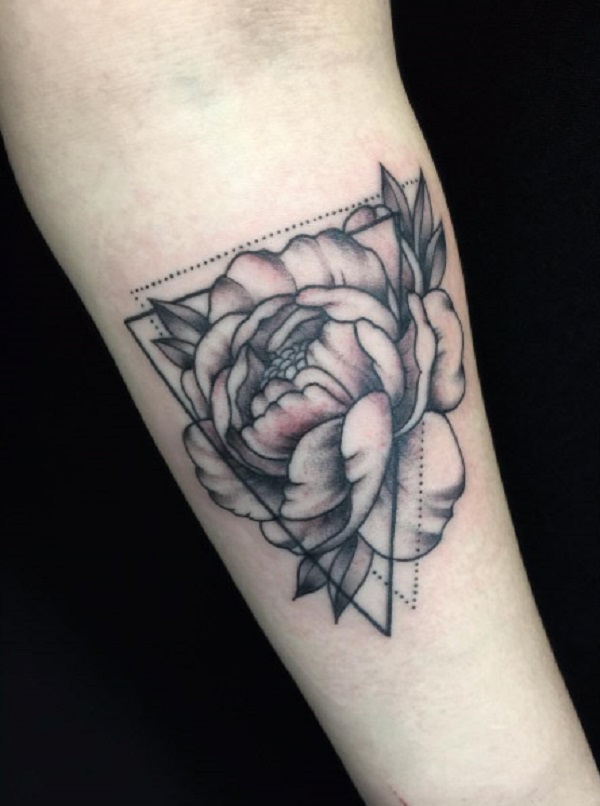 A tattoo with the unlimited details in it. This mixture of  black and white geometry and art makes a great combo.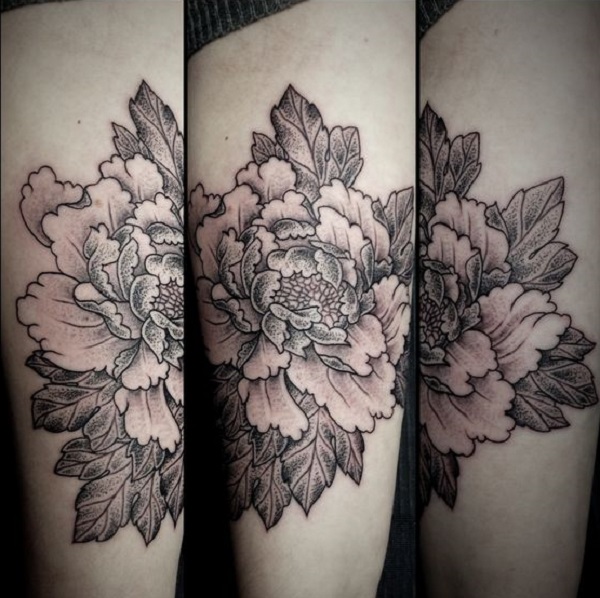 A simple yet attractive peony tattoo can win your mind as it has got a lot of details and highlights. The prominent of all thing about this tattoo is that it offers decent yet classy look.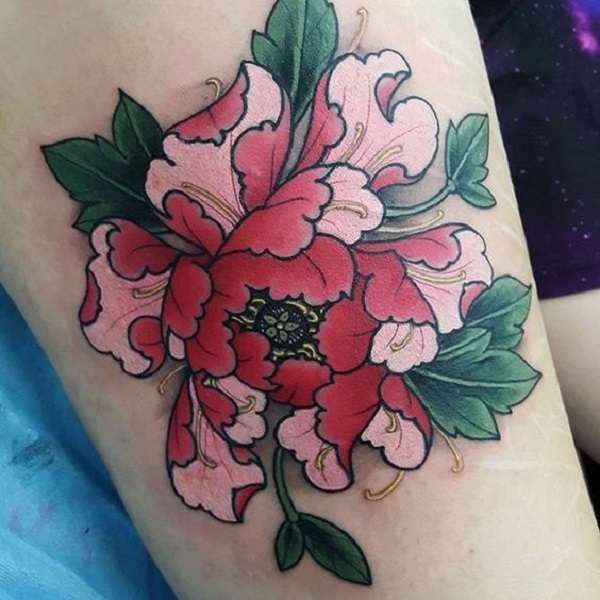 Symbol of prosperity is our next pick that can best suit your nature when engraved on your arm. The tattoo is colorful with great combinations, that surely give the sign of prosperity.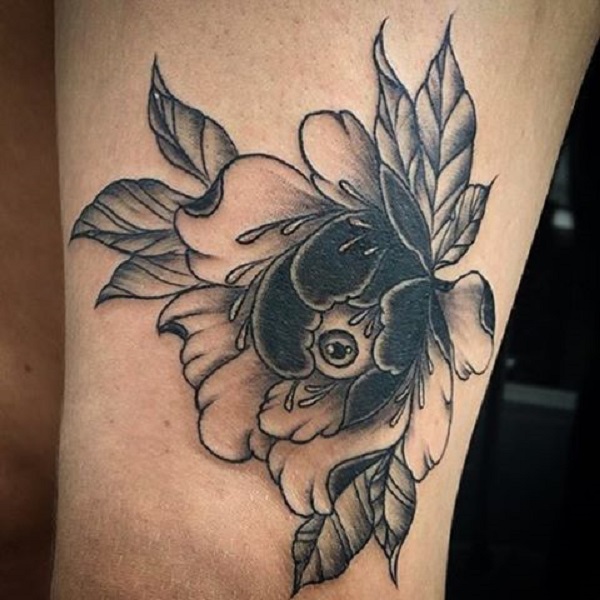 The black and white peony with an eye. The leaves are shaded and eye ball is sparkling, giving this tattoo a magnificent look.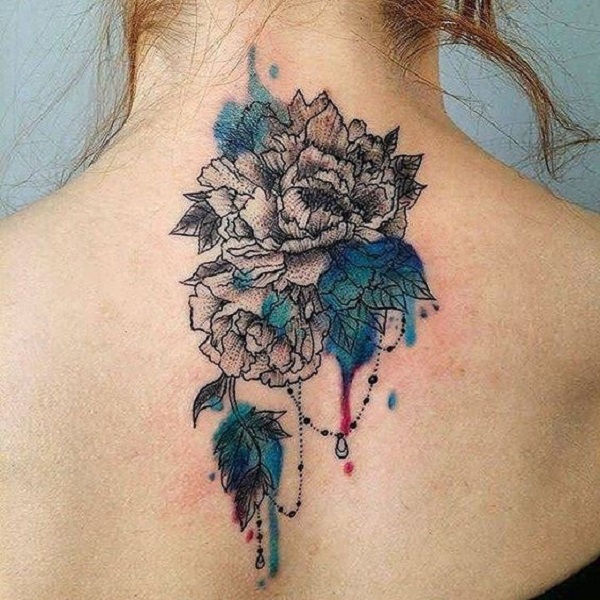 This tattoo is the true representative of the art with water colors and the knack of details. This tattoo can embellish your spine with some class.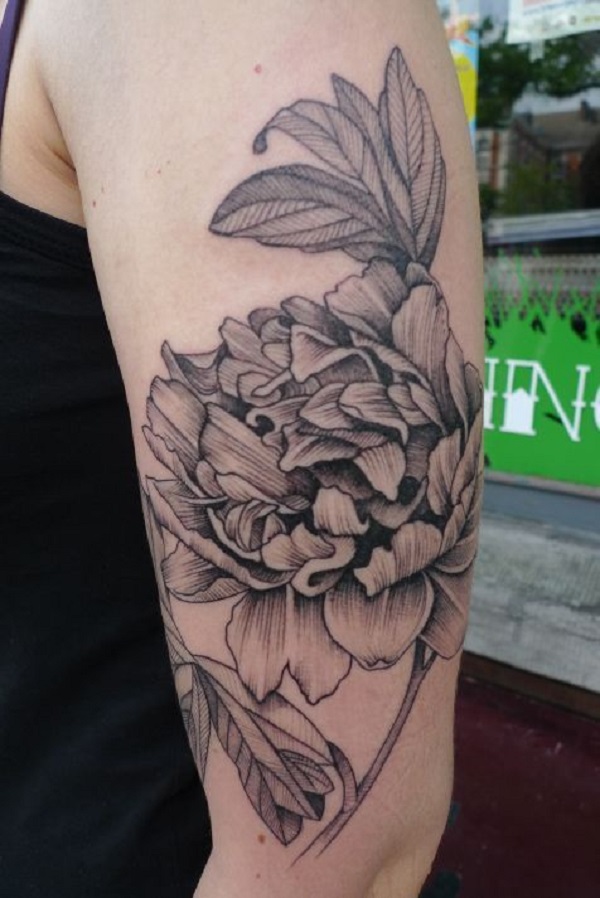 This blackwork tattoo, can drive you crazy with its charming look and deep meaning.
The play of water colors, the play of art and the play of creativity, all can be seen in this amazing peony tattoo for your thigh.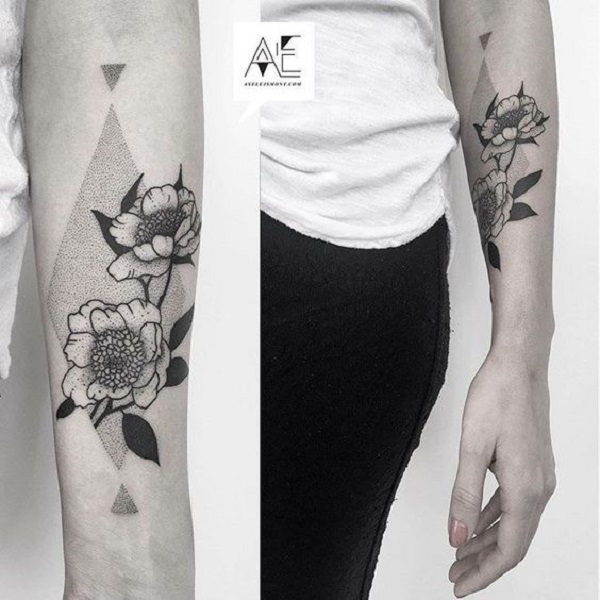 This flower tattoo, is something that you won't find rarely. This tattoo is the combination of great creativity, details and highlights.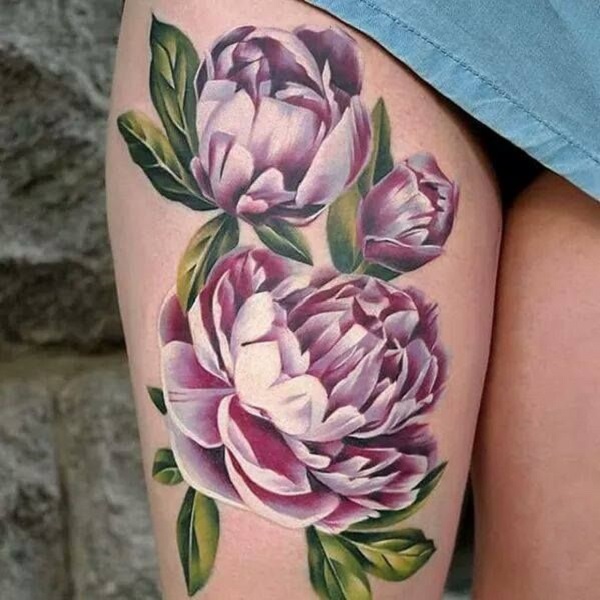 Thigh tattoo is something that you definitely need to have. The purple shaded with white color peony with green leaves offer great appearance and meaningful design.
This tattoo is amazingly equipped with details and black color's grace. The abstract kind of design offers a wonderful look that is unique in its own and stand out from the rest.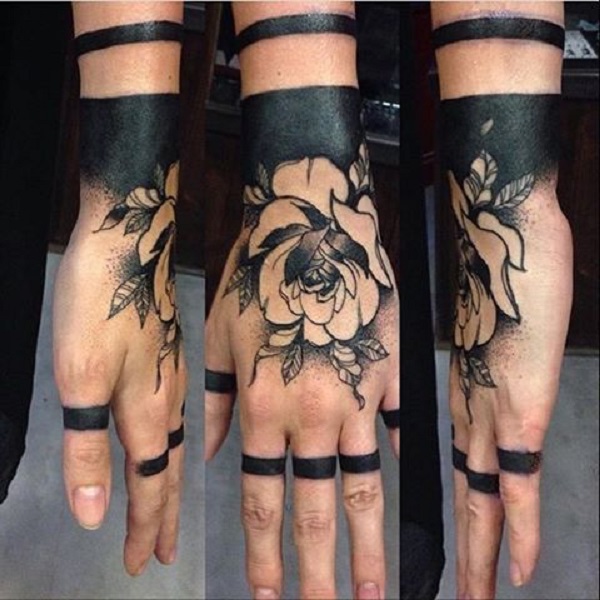 The one that can suit your emo look, is next on our list. The touch of black color, and the details in this tattoo, make it something different of all.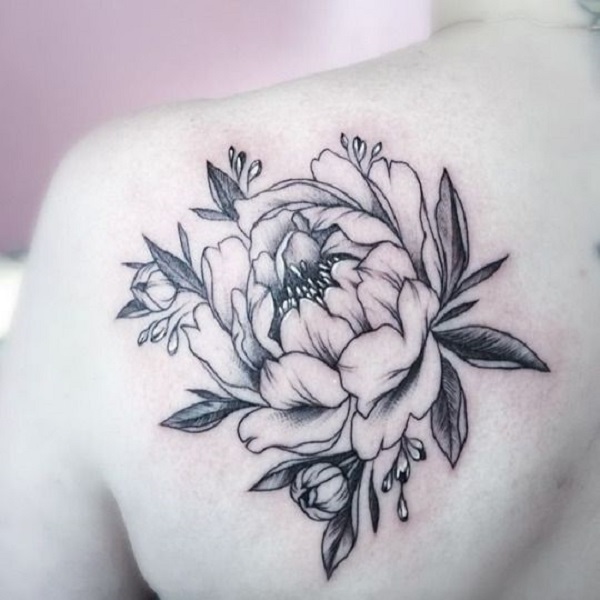 Another shoulder tattoo is on the list, that is decent with some spark of grace. Its highlighted leaves, with the hollow petals and buds, add magnificence to this art.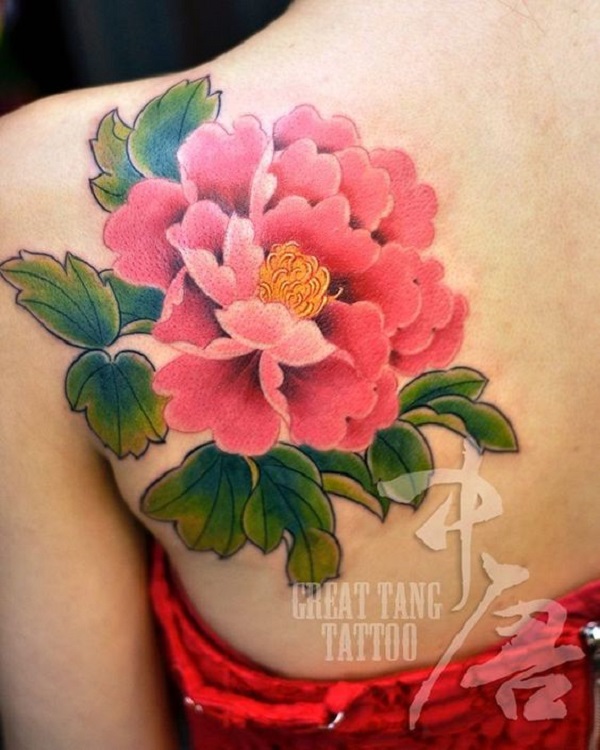 This colorful tattoo on the shoulder is our next pick that you can try. the color combinations are just amazing that, when merged with your creativity can prove to be the best peony ever.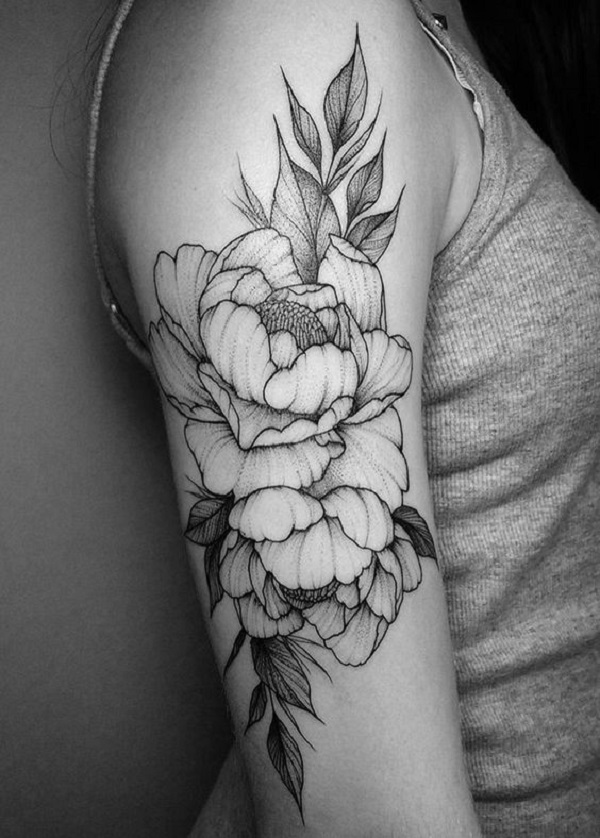 Black and white peony with shaded leaves is magically the great tattoo, that can best suit your needs of great floral tattoo.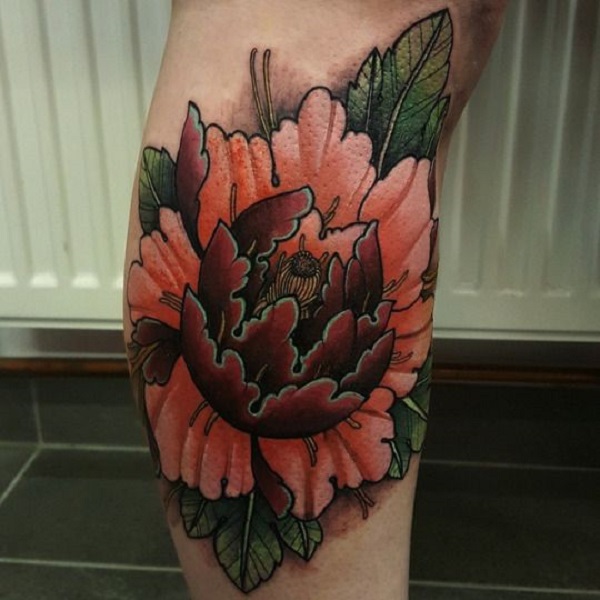 This eye-catching peony tattoo with lots of colors emerged, can be the one that you are looking for. The tattoo is inked with lots of complex details, that is a plus for this one.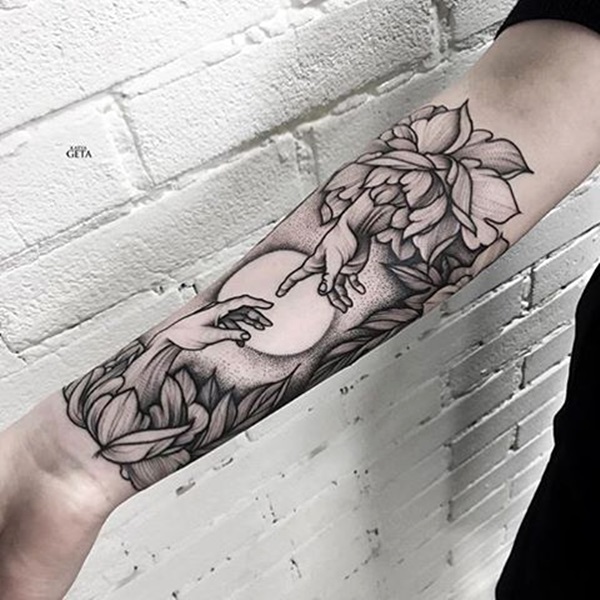 A peony tattoo with lots of creativity merged. This tattoo can have plethora of meanings related to the love life, as moon, hands and flowers are often depicted as love.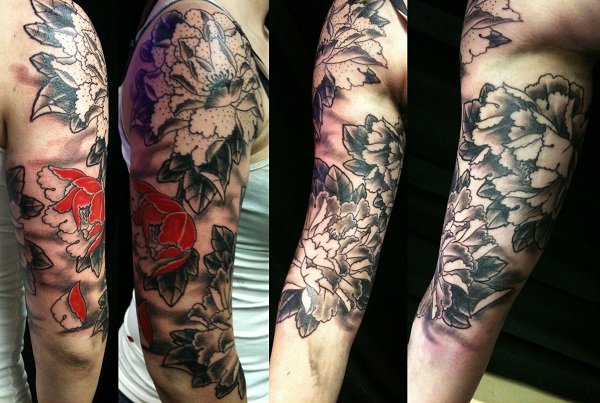 This sleeve tattoo is something that you need to give a try. It is enthralling with some red bright color, that gives this one a mysterious, yet classier look.
As seen, the peony tattoos are full of variety and creativity. You can have such tattoos on your body, but be sure to do some homework. Search for the unique designs that you can combine with your creativity to have a beautiful looking tattoo.