When it comes to tattoos, flowers makes the most popular subjects for all the people, including men and women. And among the flowers, Orchid is one of the best and the most beautiful tattoo to get inked on the body. As a matter of fact, Orchid flowers are rare species and comes in variety of forms and that signifies that based on their type and color, orchid flower tattoos symbolizes tons of meanings.
So, if you are planning to get Orchid Flower Tattoos on your body, we have got you covered with some beautiful inspirations. Check them out and thank us later!
50+ Classic Orchid Tattoo Designs to Try Out Right Now:
So without any further ado, let's jump to some best and classic Orchid tattoo designs that are worth considering for your next tattoo.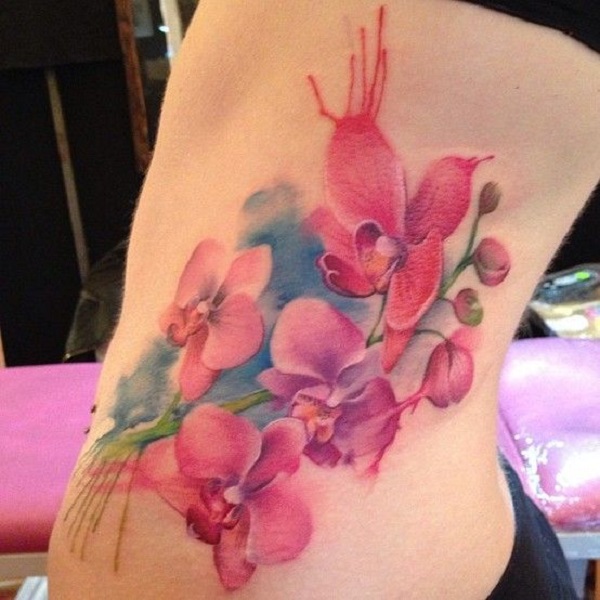 Pink Orchid On the Back. If you are looking for a tattoo that can cover your whole back, this pink orchid tattoo design is the best thing you have got.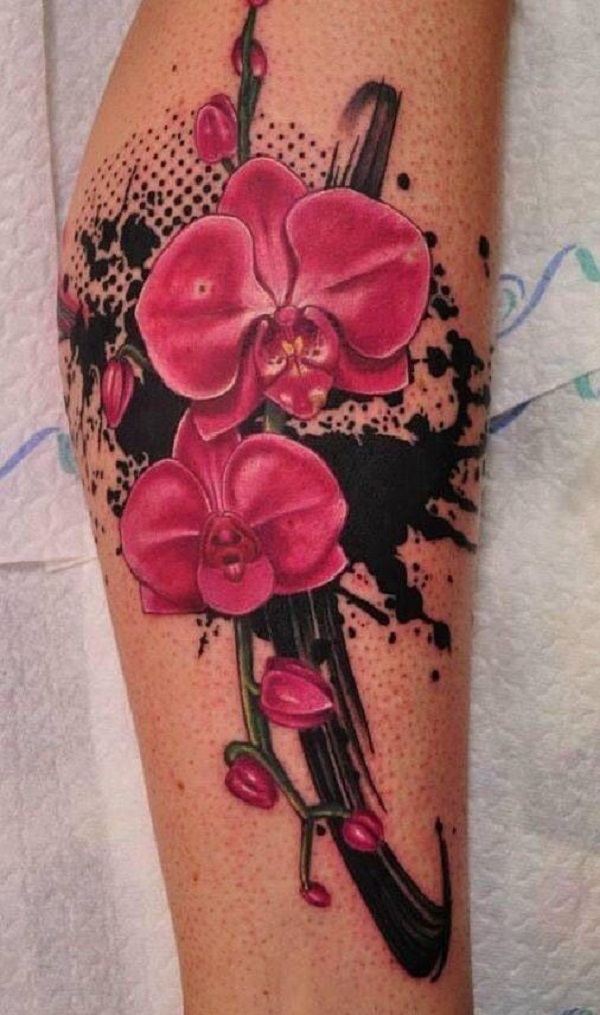 Pink Orchid Tattoo with Black Details. This tattoo made in pink and black details will definitely catch the attention of many.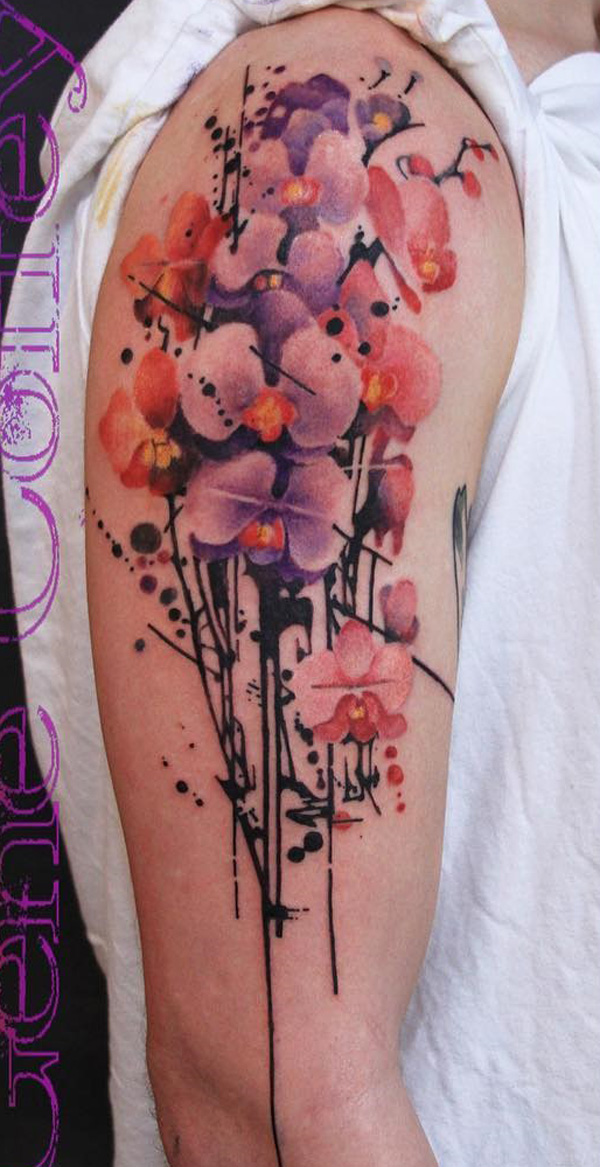 Beautiful Half Sleeve Orchid Tattoo. The bunch of different colored orchids is the best thing you can see today.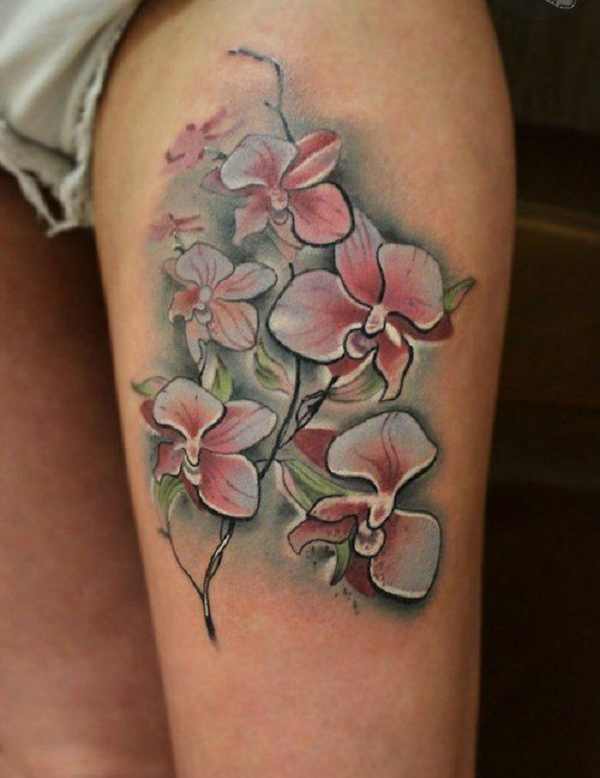 Unique Orchid tattoo. As a matter of fact, Orchids come in a variety of colors and these colors enhance their beauty.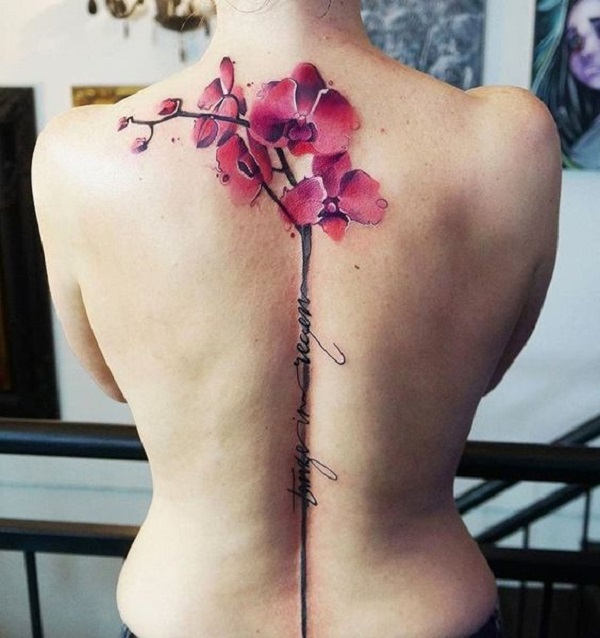 Back to Spine Orchid Tattoo. This spine tattoo is giving us serious tattoo goals!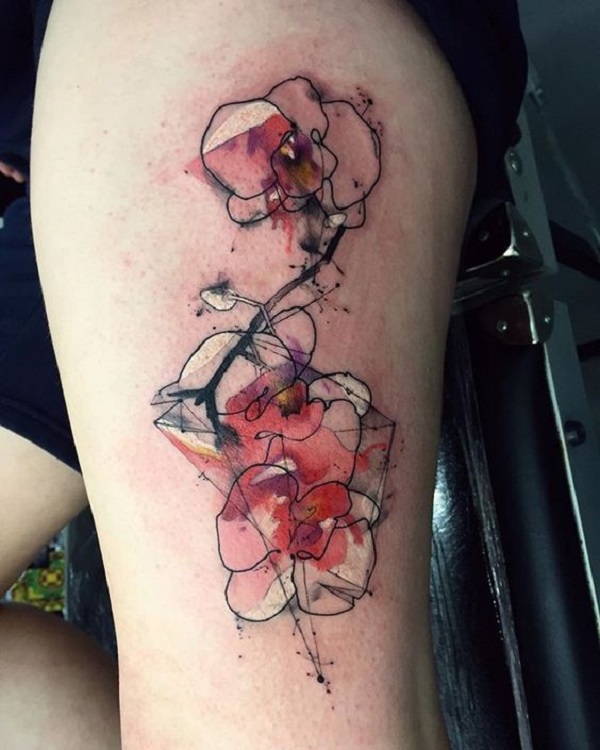 Water-Colored Orchid Tattoo. The water-colored form of tattoos are really great to get. This one makes a true inspiration.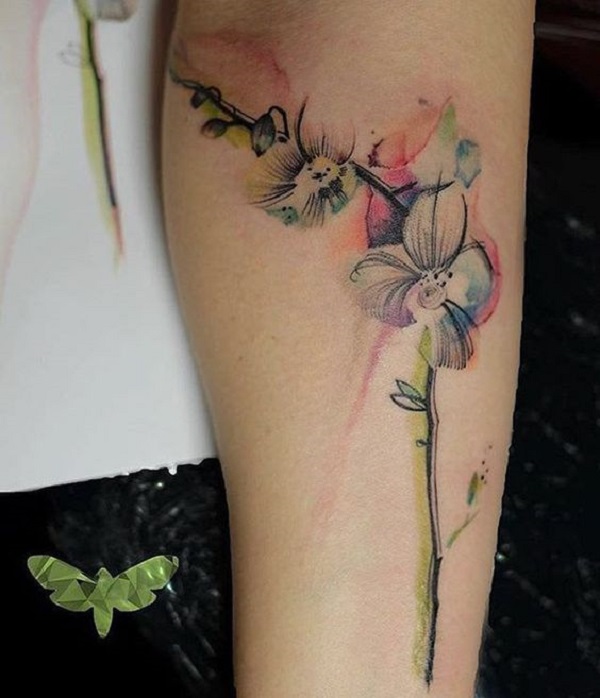 Faded Orchid Tattoo. With the touch of faded colors, this orchid tattoo is definitely a great one to get.
Beautifully Colored Orchid Tattoo. You might not have seen the orchid in multi-colors, but this tattoo is offering pop of colors is eye-popping.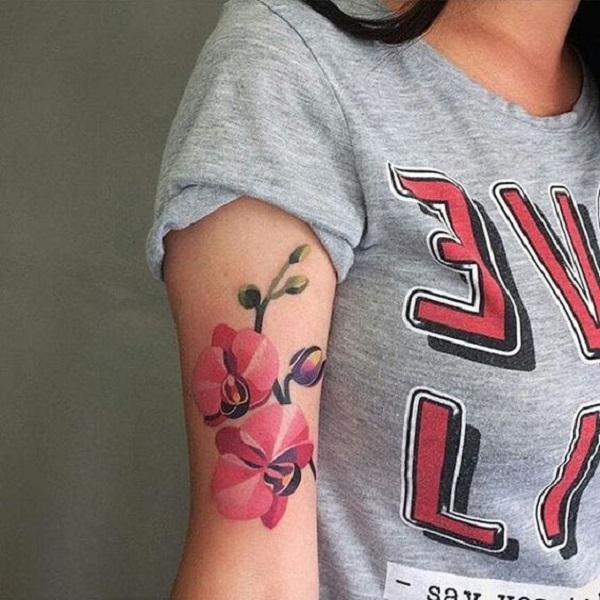 Girly Orchid tattoo for Her. Most of the orchid tattoos are won bty the girls because of the fact that it symbolizes the women power.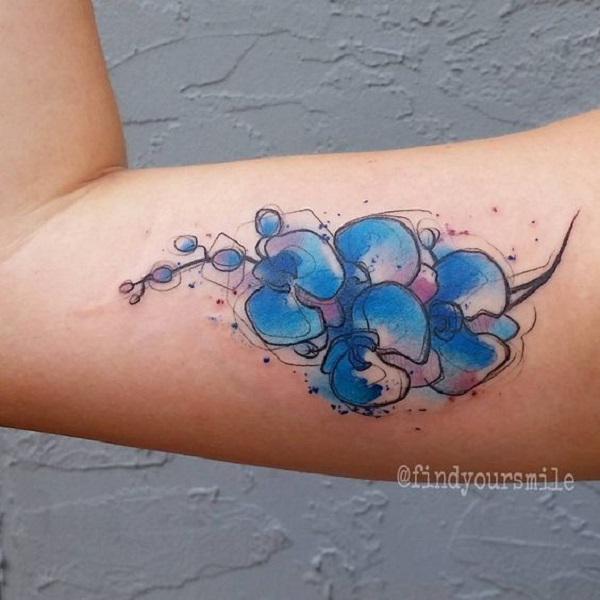 Blue Orchids. Blue colored Orchids are the sight worth watching and if you don't believe us, check this one out.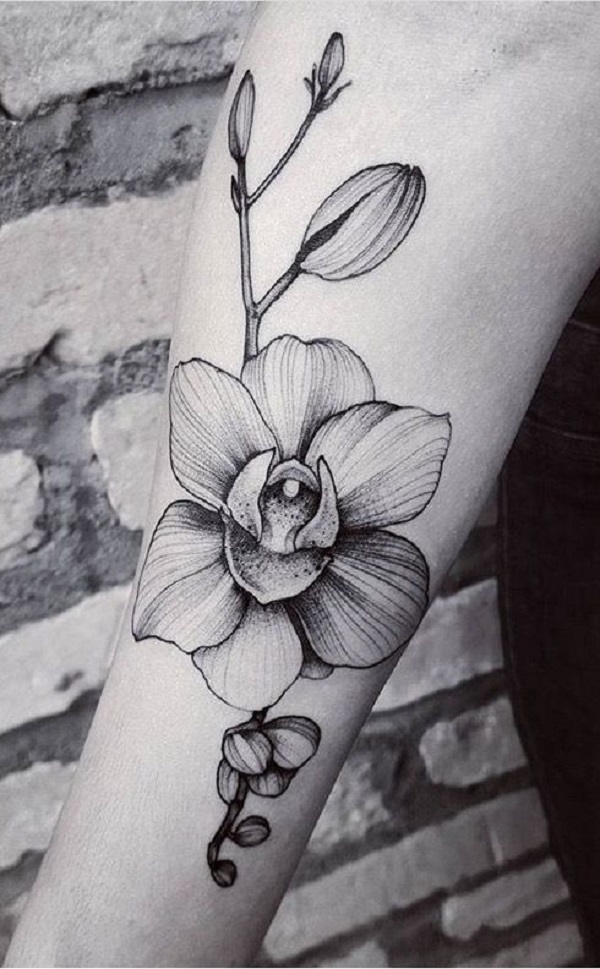 Gray-Scaled Orchid Tattoo. Although colored tattoos look beautiful, but the grace of the gray-scaled tattoos is seamless.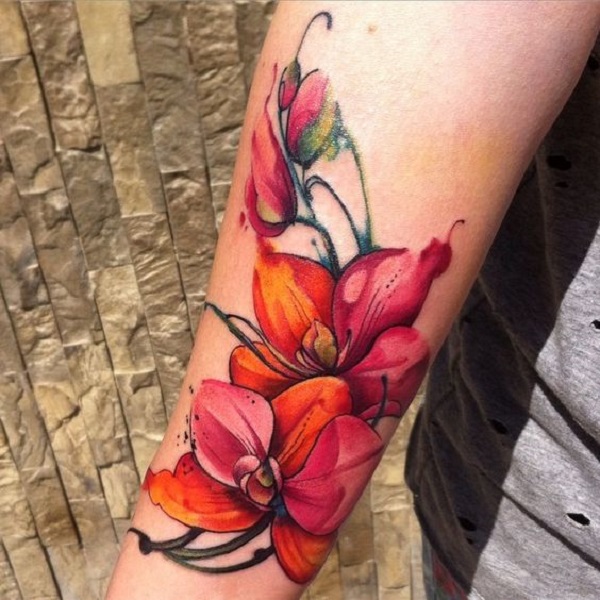 Colorful Orchid Tattoo. This orchid design is really beautiful and colorful. The colors used in this tattoo makes it look cheerful and enchanting.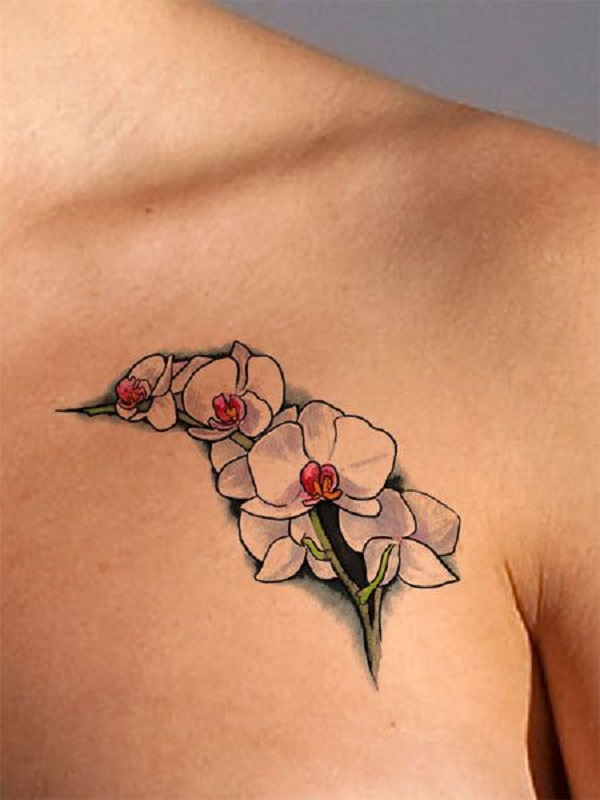 The beautiful One. If you are wearing a off-shoulder top, this beautiful orchid tattoo design will definitely enhance your look.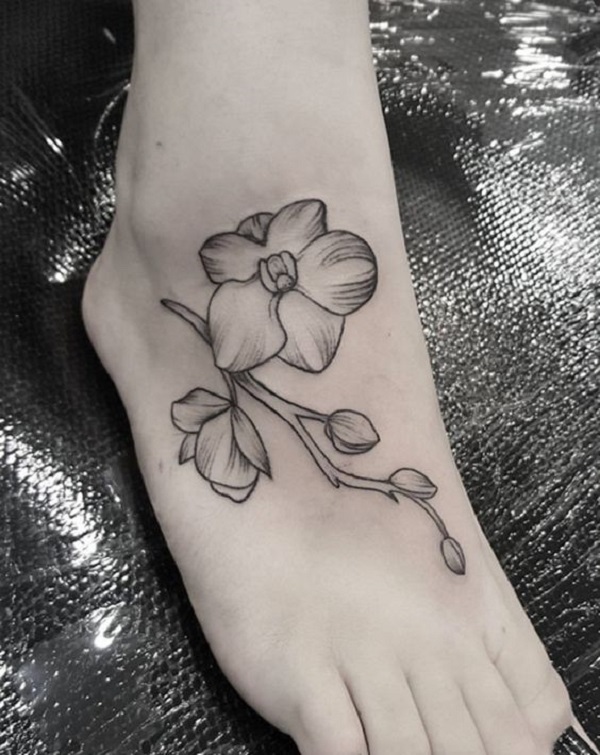 Shaded Orchid Tattoo for Foot. The best part of these orchid tattoos is that they can be placed anywhere on the body. Look at this foot piece!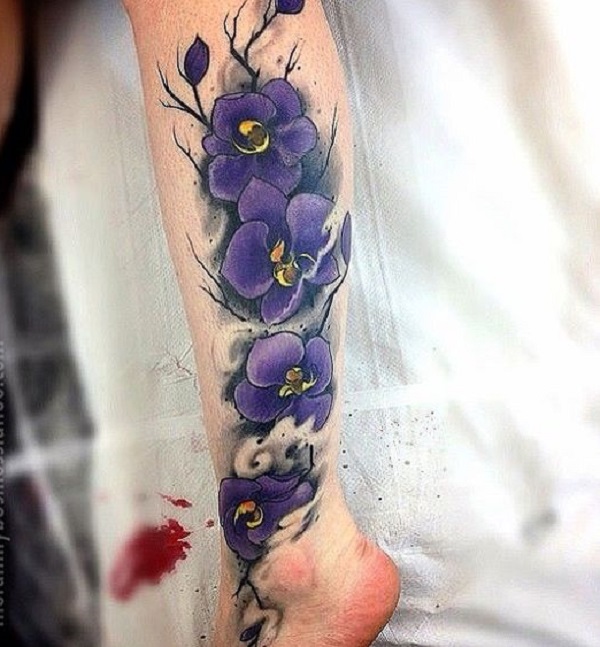 Bold Inked Calf Orchid Tattoo. This calf-length bold inked orchid tattoo is definitely worth-considering.
Sensuous Rib Orchid Tattoo. The orchids are considered to be exotic flowers and that is the reason they are considered as the sensuous sign for a woman.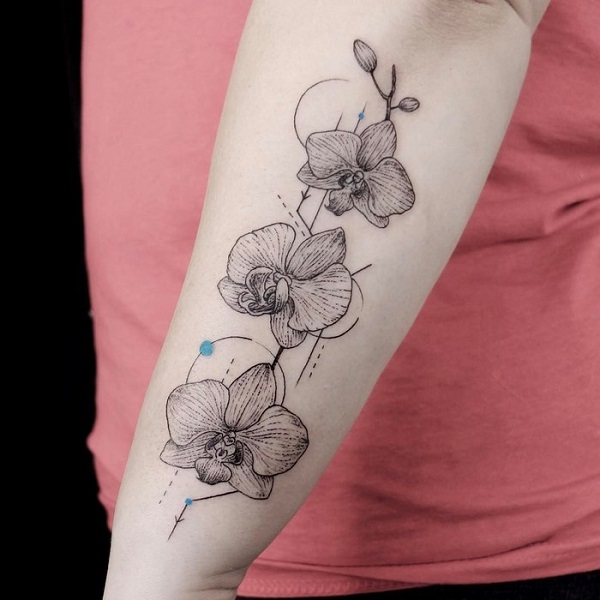 Geometrical Orchid Tattoo for Arm. this unique yet simple orchid tattoo design is definitely worth it.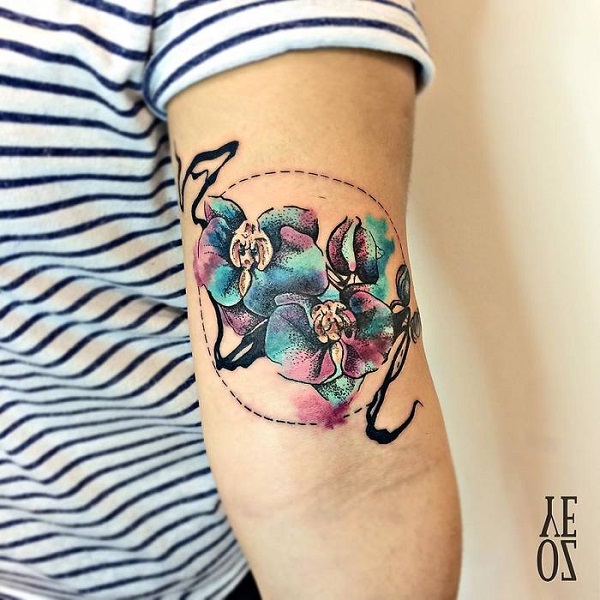 pop of Colors. The different pop pf colors used in this tattoo makes it look more beautiful and worth-getting.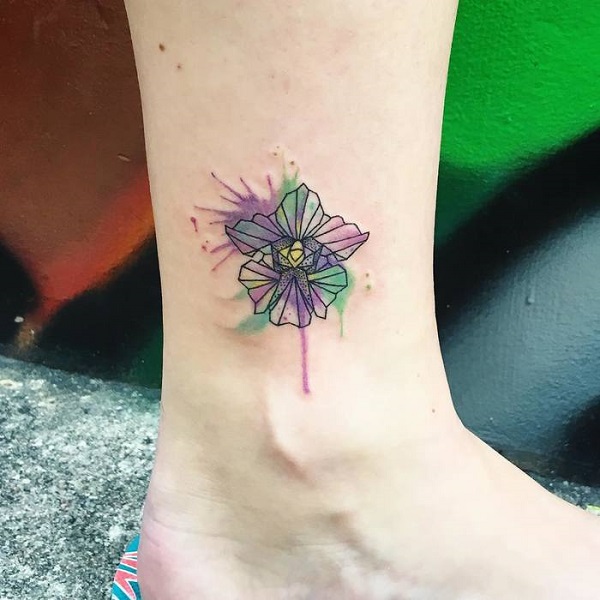 The Tiny One. This is the tiny little ankle tattoo with the colors dripping outside. Beautiful, isn't it?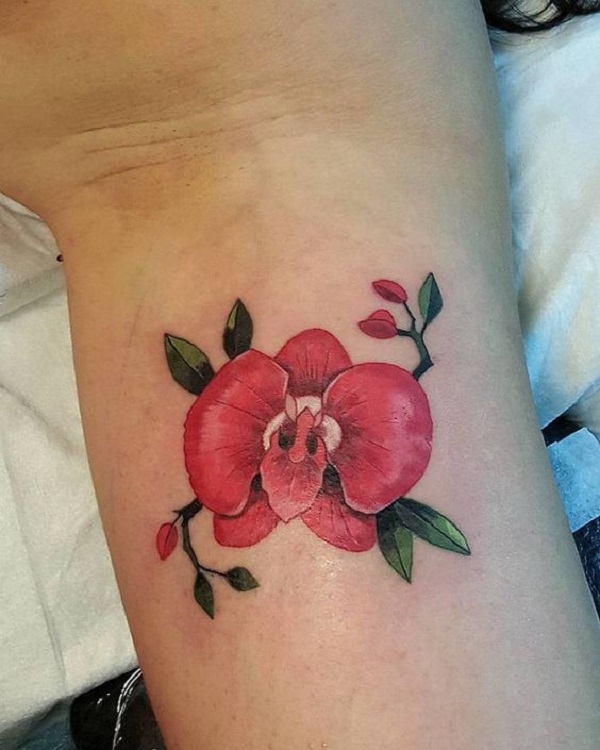 Red and Green Orchid Tattoo. This red and green combo is perfect for an orchid tattoo. What you think?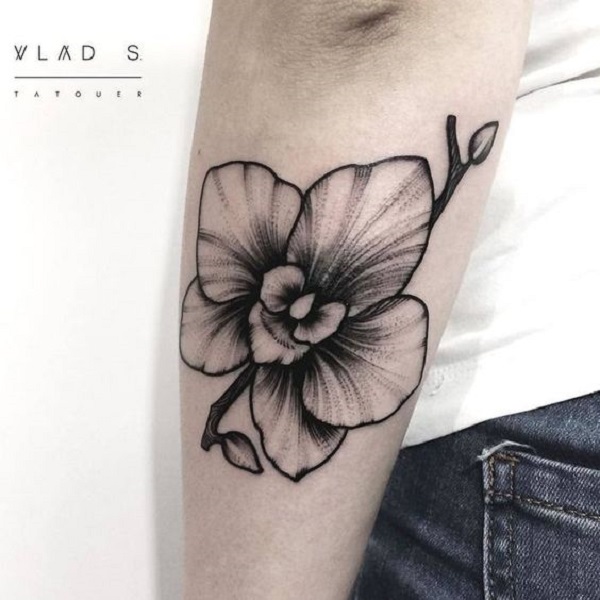 Sketched Orchid Tattoos. With the effect of sketch, this single orchid bloom is giving us major tattoo goals.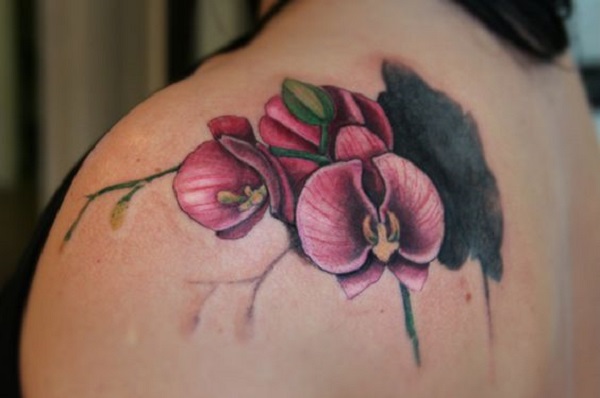 Shoulder Orchid Tattoo. No placement would get better than shoulder for this tattoo.
3-D Back Piece. Another rib piece for getting sensuous.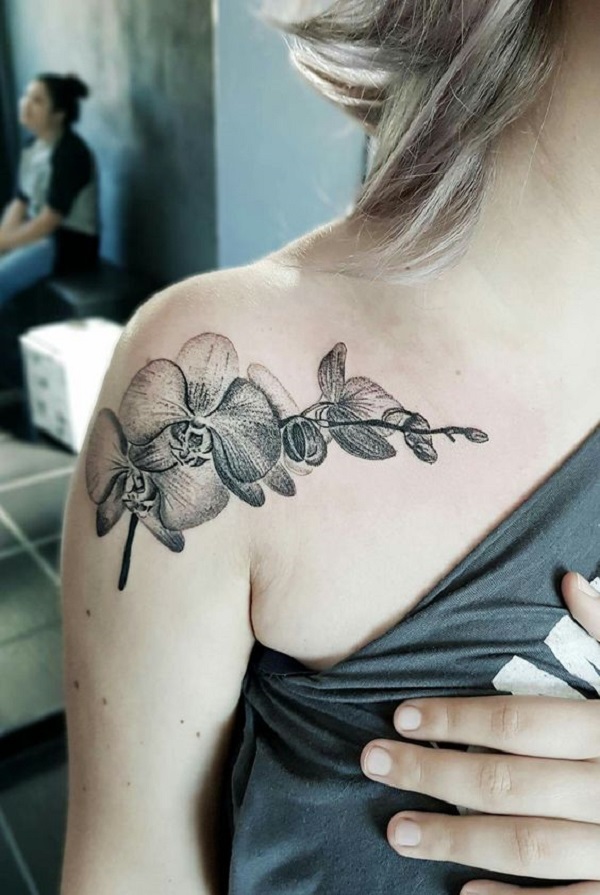 Sexy Should Orchid Tattoo. Wear it on your date night and make it perfect.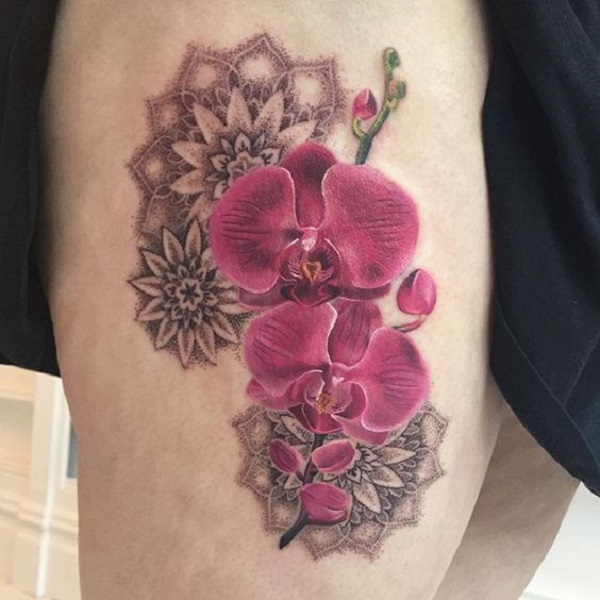 The Tribal Orchid Tattoo. This tribal orchid tattoo is sketched with the bold pink color and the dull gray color and that makes it look perfect.

The Growing Buds. Watching the buds growing is the most beautiful thing and if you haven't got any chance before, check this tattoo.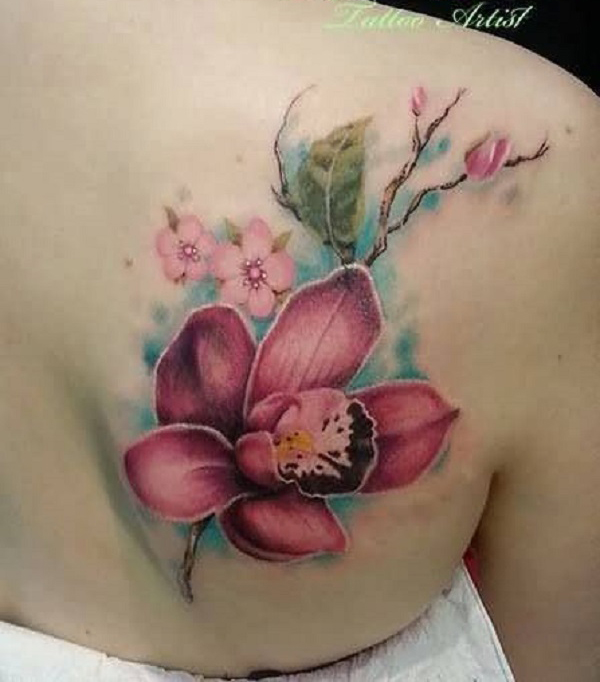 Girly Girl Orchid Tattoo Design. The color combo, the art and the placement – simply perfect!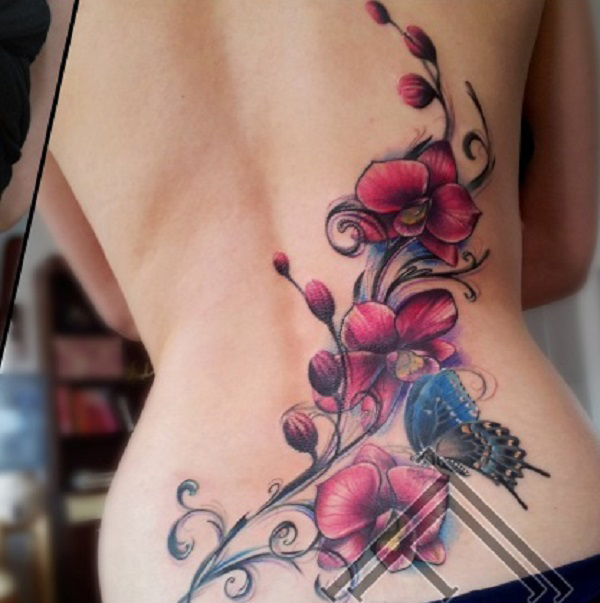 Orchid Twig with a Butterfly. With the element of beauty – Butterfly and the element of woman's strength, this tattoo is the perfect thing for a woman.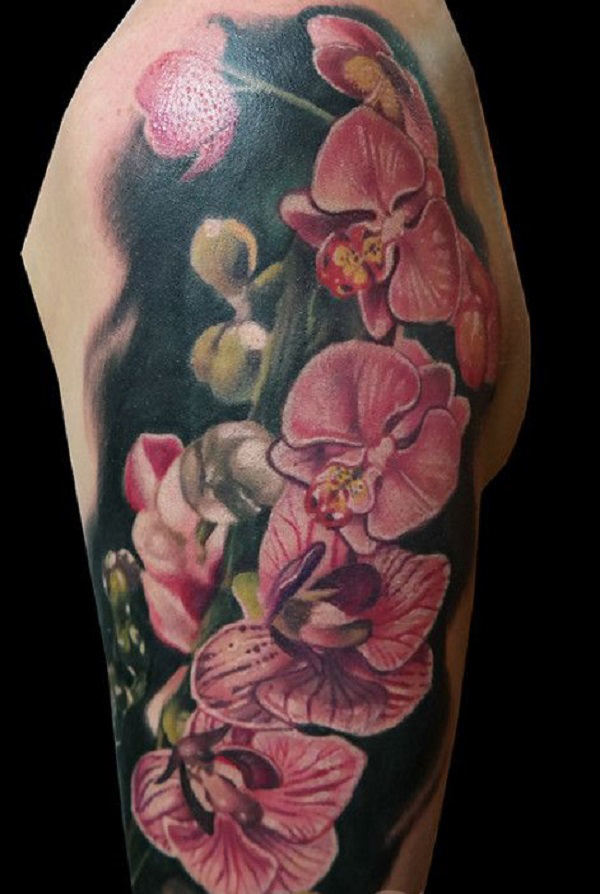 The Realistic One. With the bold back BG and the loud elements above, this orchid tattoo looks so realistic.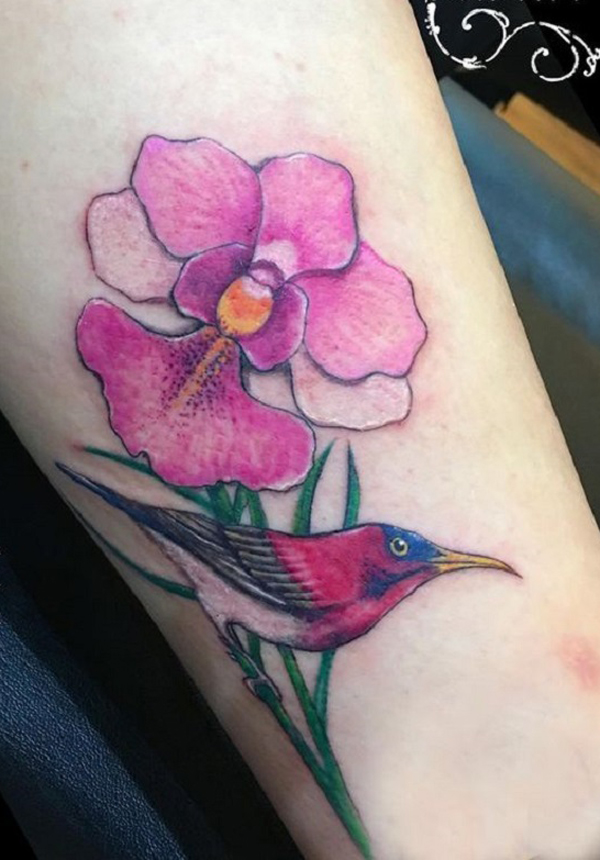 One with Hummingbird. Many people opt for the orchid coupled with the hummingbird to symbolize the sense of feminine power.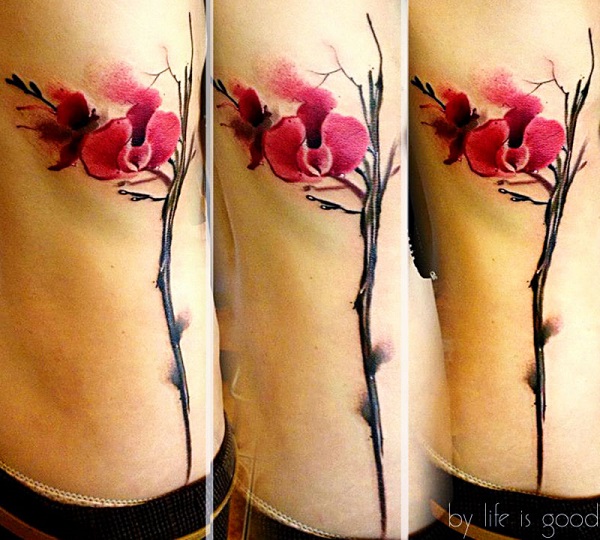 Beautiful Orchid Tattoo Design by Life is Good. This beautiful design can be inked on any part of the body including the spine, wrist, back or even on arms.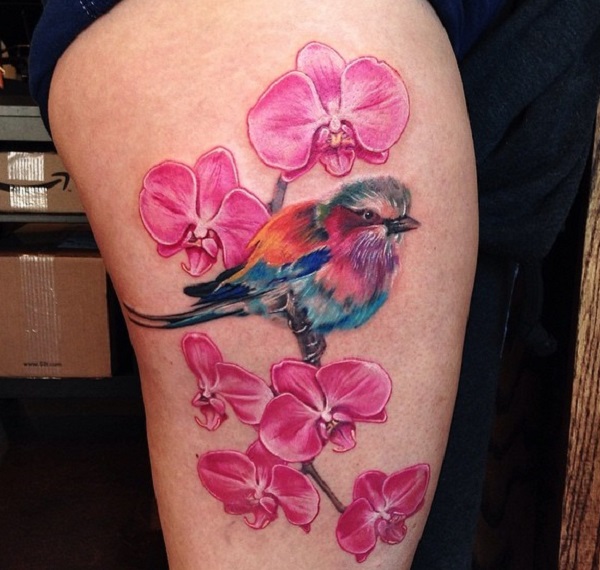 The cute One. This cute tattoo piece is definitely worth-considering.
Faded Details. Orchids are also called the flower of magnificence and the tattoo above s justifying its title.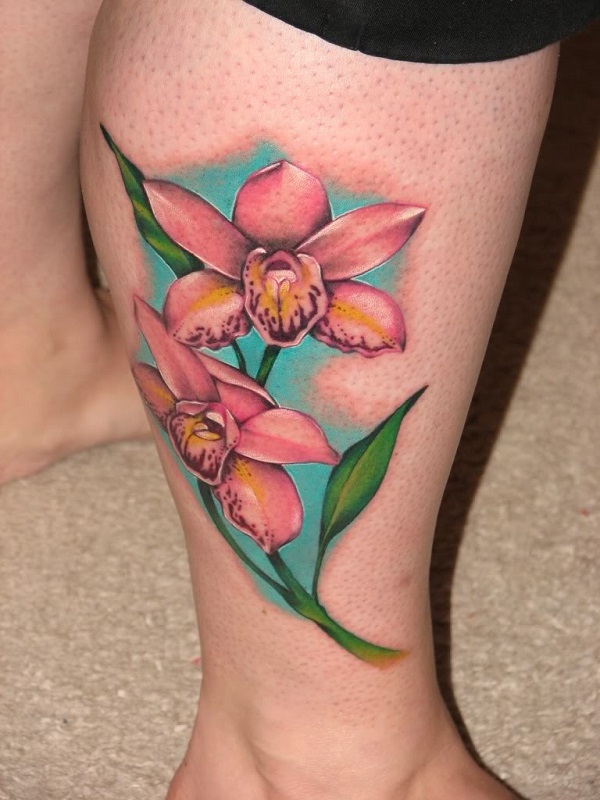 Alluring Orchid Tattoo Design. this one is truly alluring and colorful. Get this one if you want something perfect.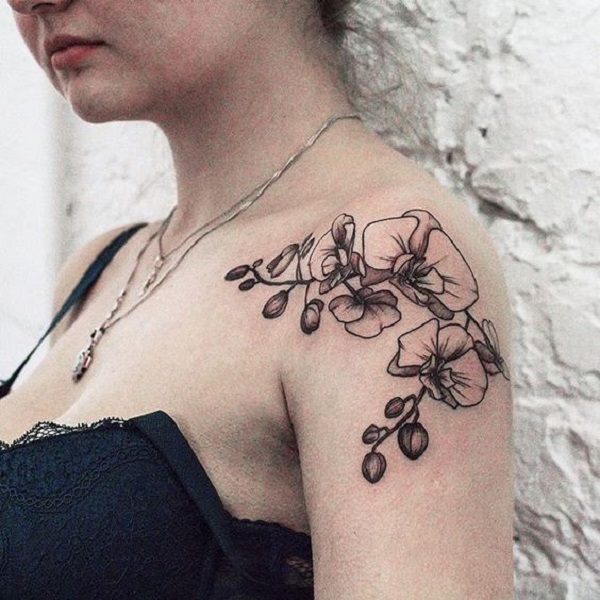 The Simple One. The orchid – a flower that is very elegant to look at.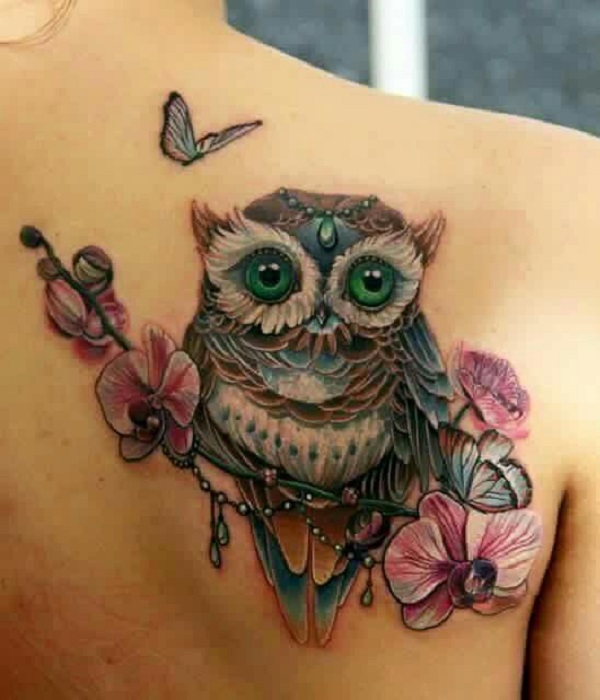 An Owl Sitting on Orchid Twig. Jeweled owl sitting on the twig of orchids makes a perfect tattoo for all the females.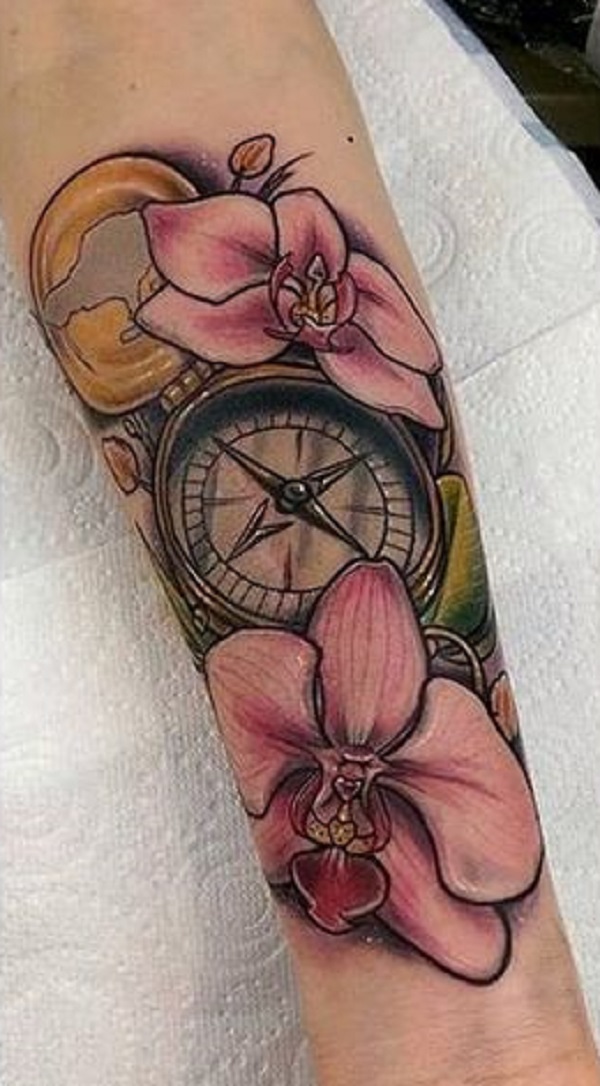 Meaningful Orchid Tattoo Design. This forearm tattoo combined with the compass is truly meaningful.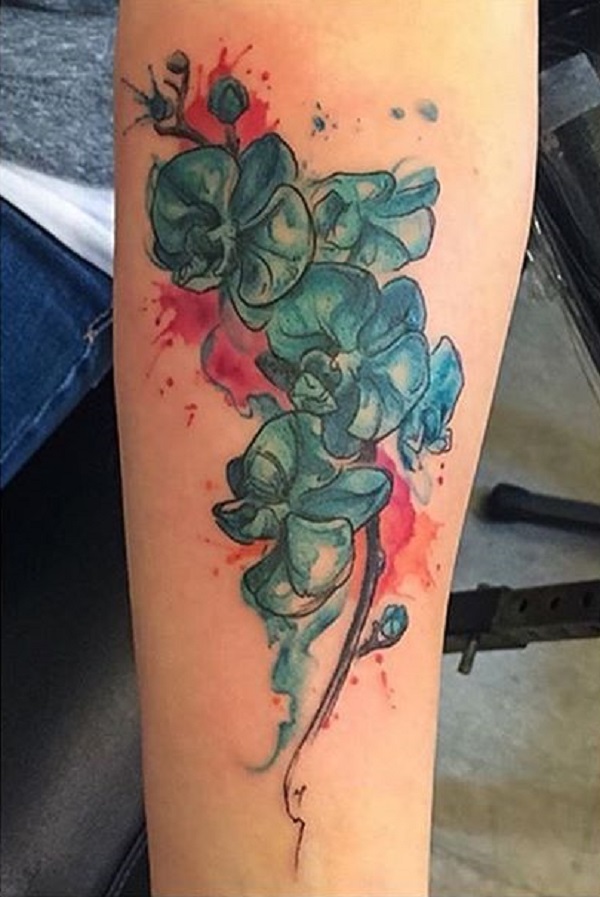 Magnificent Water-Colored Orchid Tattoo Idea. This is a really popular tattoo design.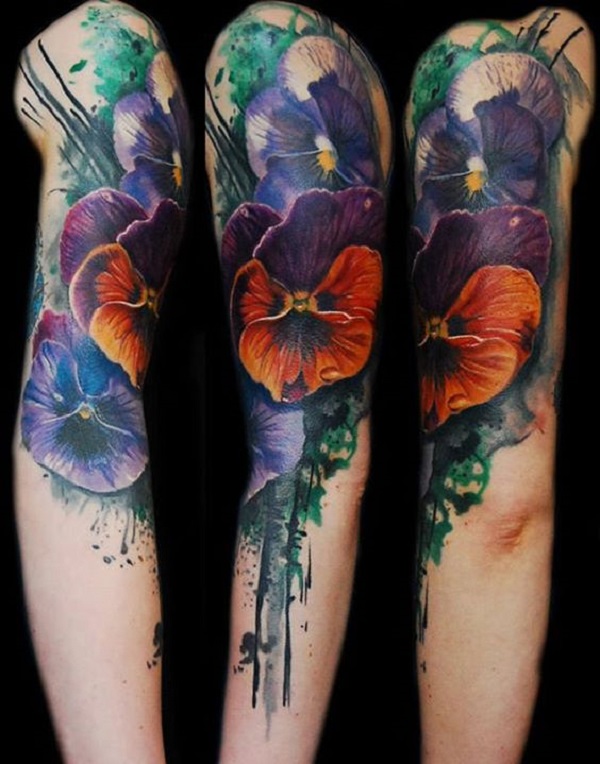 Orchid Flower Sleeve tattoo. Looking for a sleeve tattoo? This one is a great tattoo to get.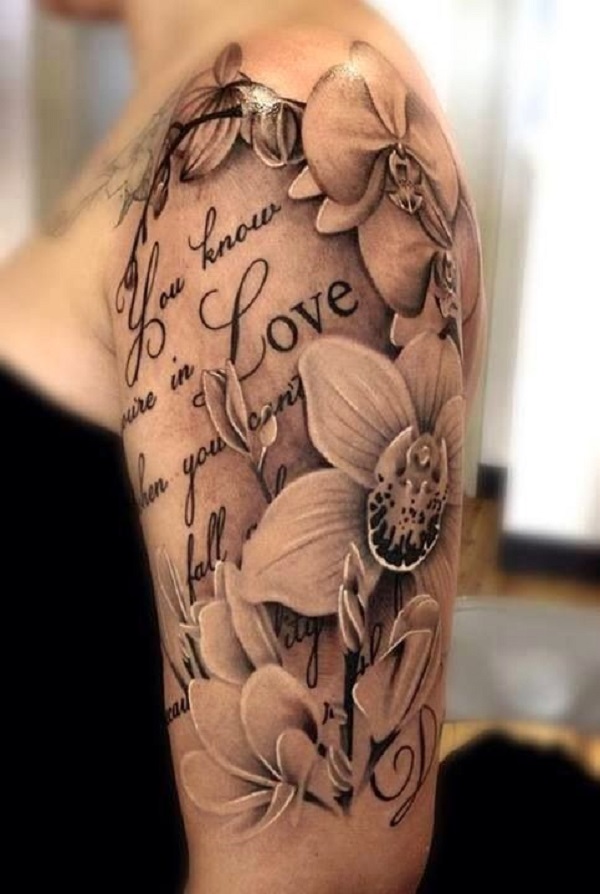 The Sign of Love. Orchids are rare and beautiful and mean so many things to so many people. This can mean the sign of love or the strength of woman.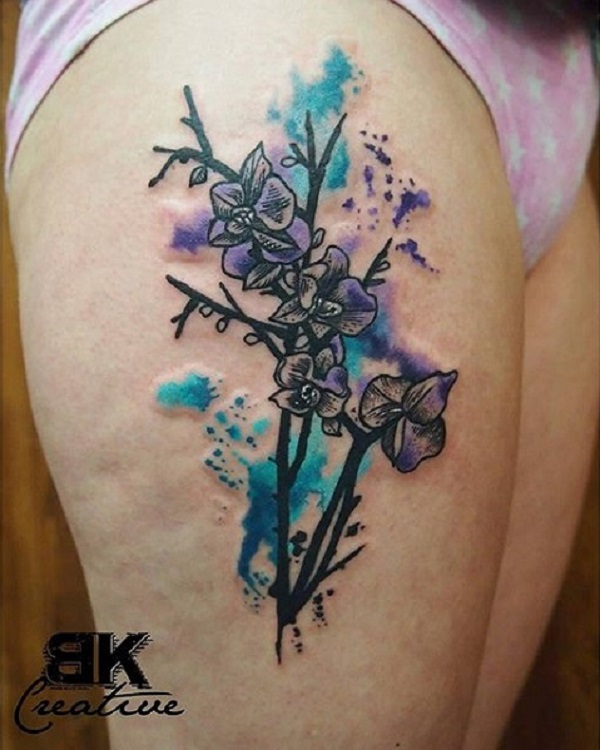 Unique Orcgid Tattoo Design by BKCreature. This unique and attractive tattoo is for you.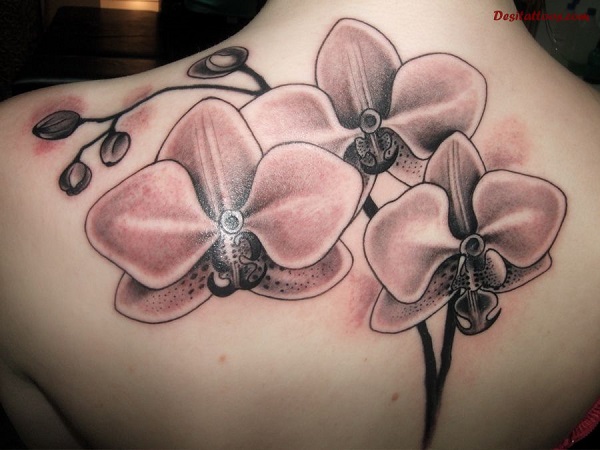 Orchid with Anthers. The anthers of the three orchids are done in the dull brown color and looks very prominent. A very detailed and beautiful tattoo.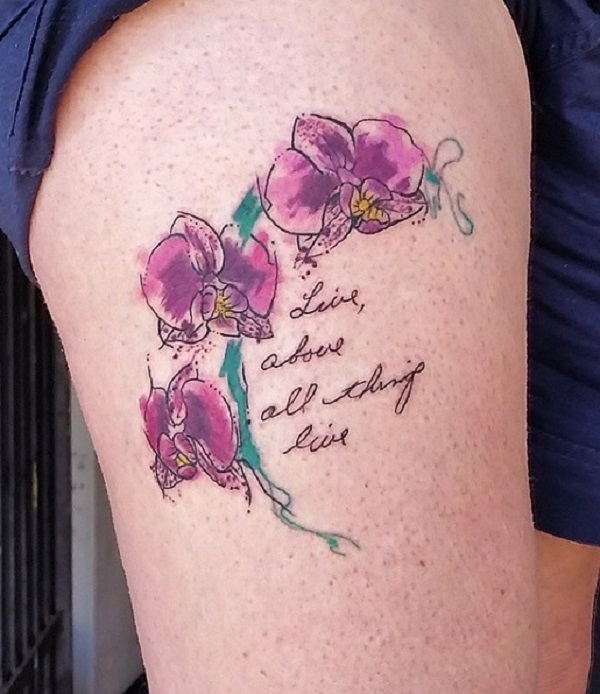 Live, Above All Thing Orchid Tattoo Design. With the quote, Live Above all thing, this orchid tattoo is definitely a seamless option.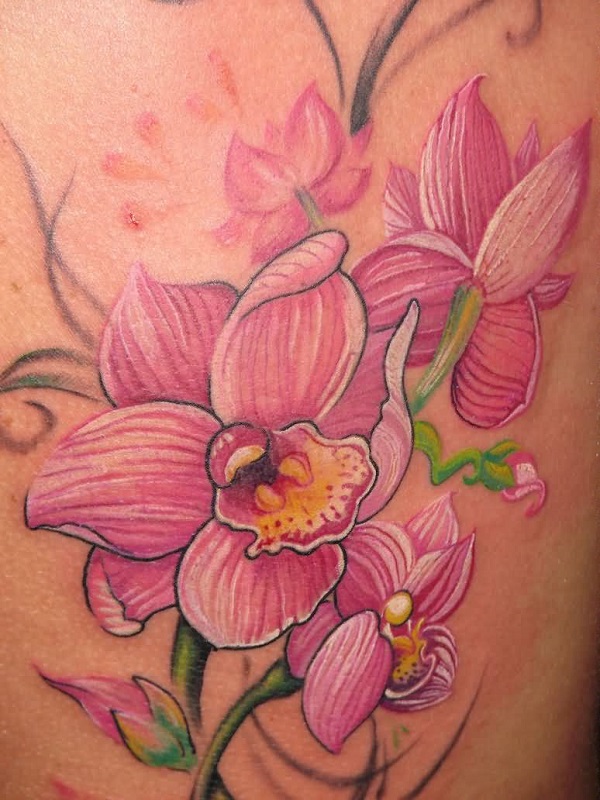 One with Details. Another detailed option on the list that is really beautiful and full of elements.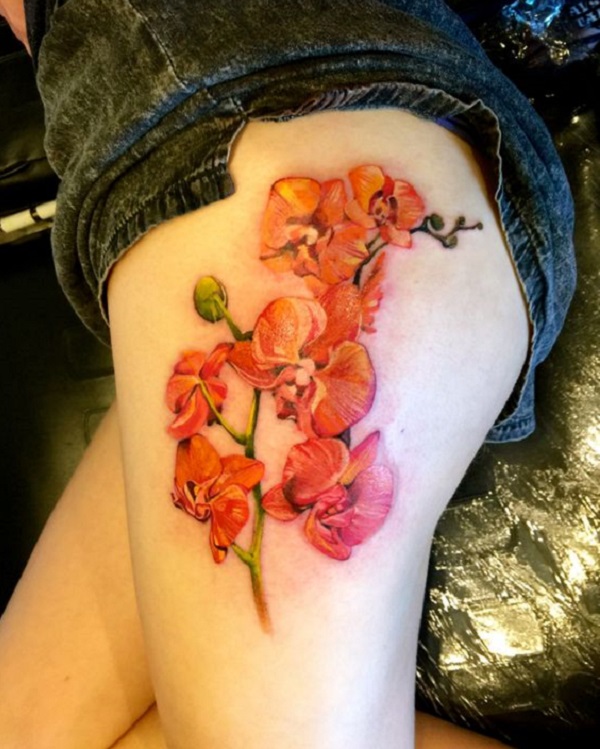 Orange Orchids on Thighs. If orange is your favorite color, this orange orchid tattoo is the best thing for you.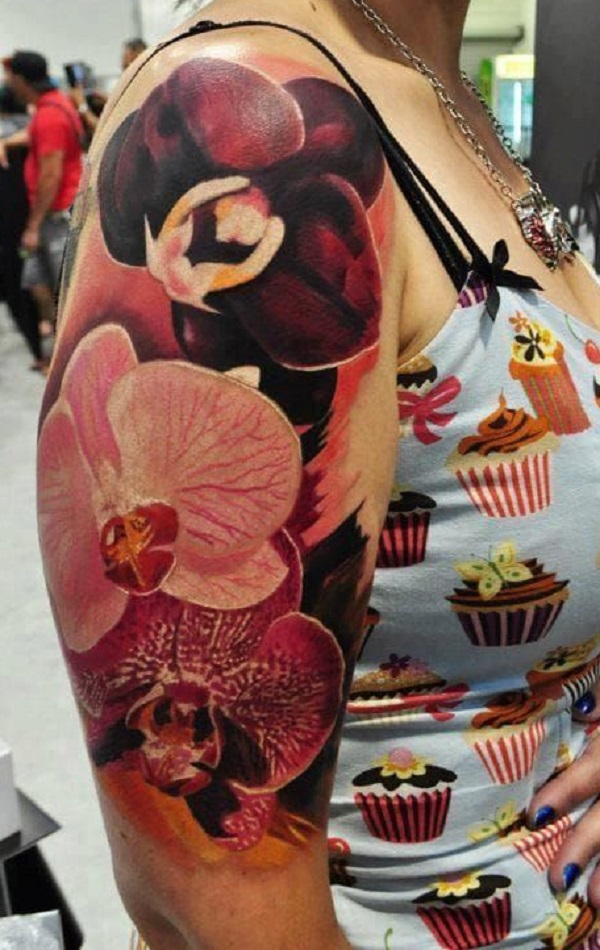 Bold Orchid Tattoo Design. This sleeve tattoo can be won by both men and women, because of the fact it uses bold inks and very attractive design.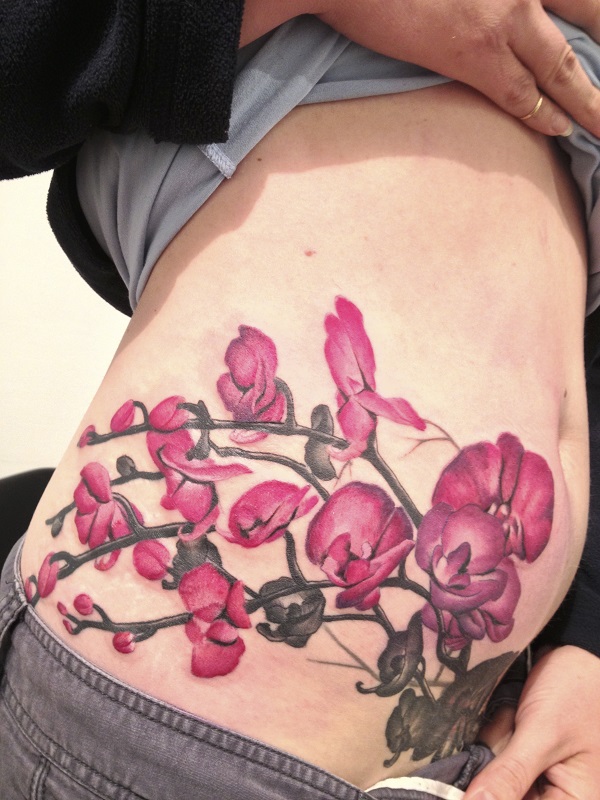 Orchid tattoo Design for Waist. This design and placements – simply perfect. Isn't it?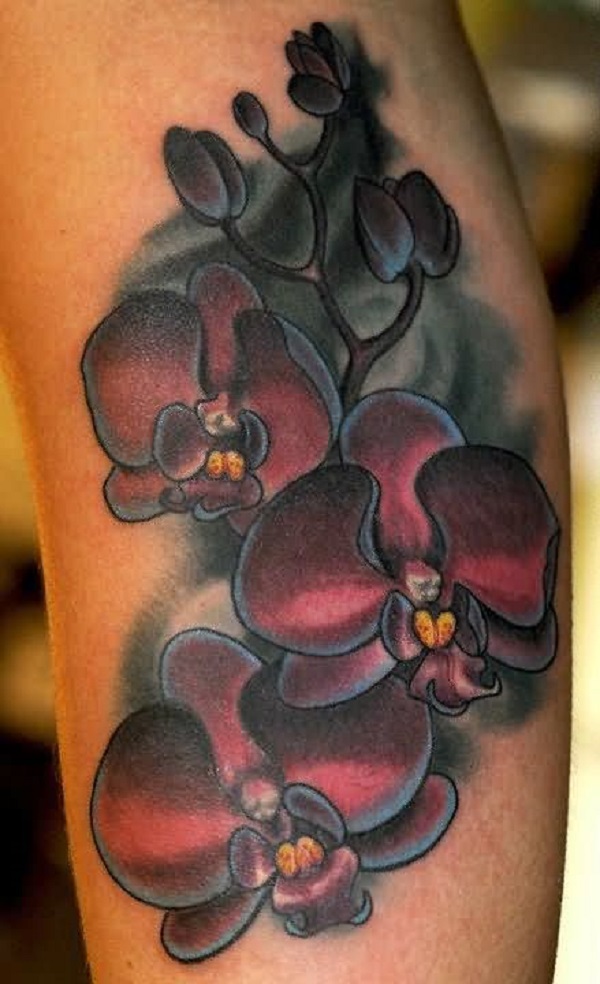 The Lavish Orchid Tattoo Design. we bet, you haven't seen any lavish orchid tattoo design than this one before. Have you?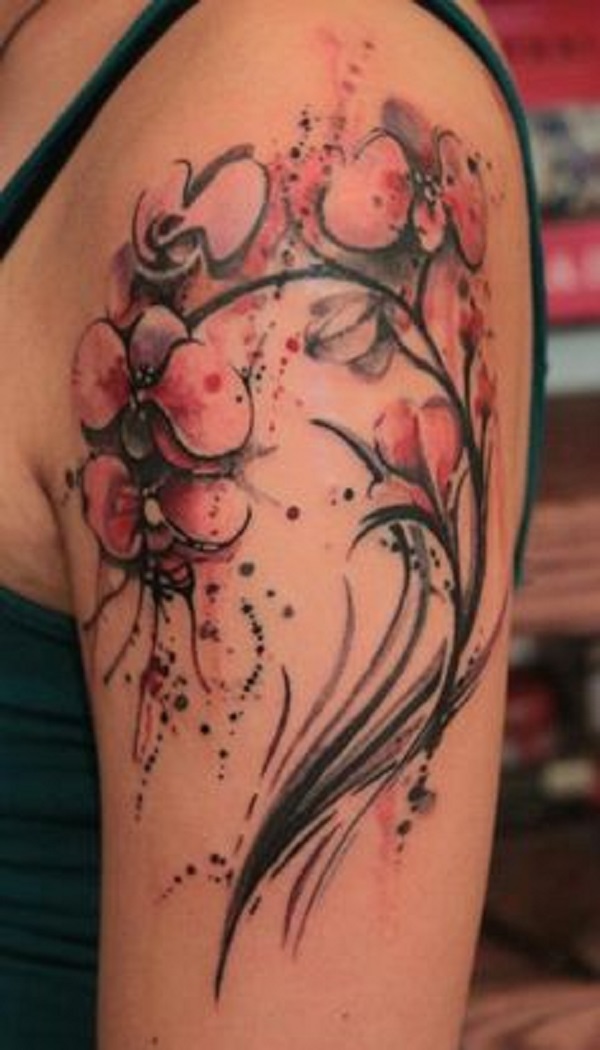 Stunning Orchid Tattoo Design. The floral patterns with the dotted details and the beautiful colors makes a perfect tattoo. You should get this one from a professional and it will be slaying.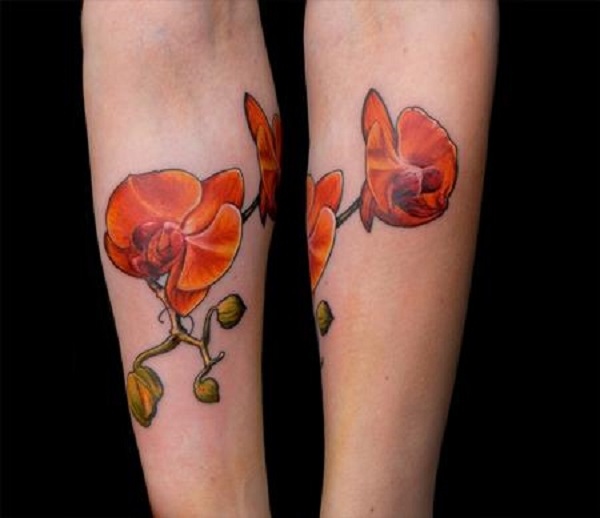 Beautifully Done Orchid tattoo. Another orchid tattoo in orange. We simply can't resist its looks. Can you?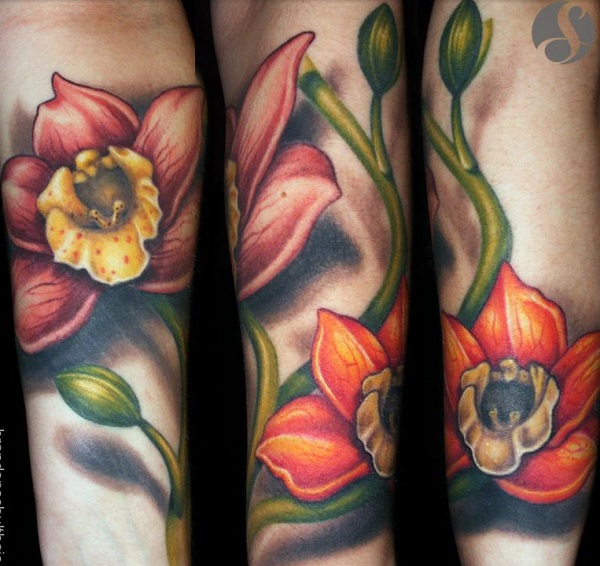 Orchids on a Twig. This is another very colorful orchid tattoo that you can do on a large scale.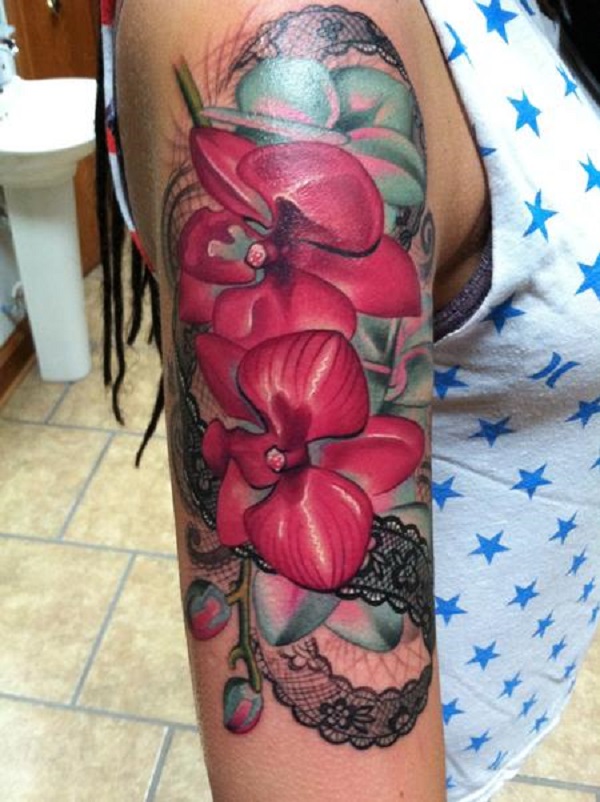 Orchid with Lace Tattoo Design. Orchid with the lace design gives a sign of sensuousness and beauty!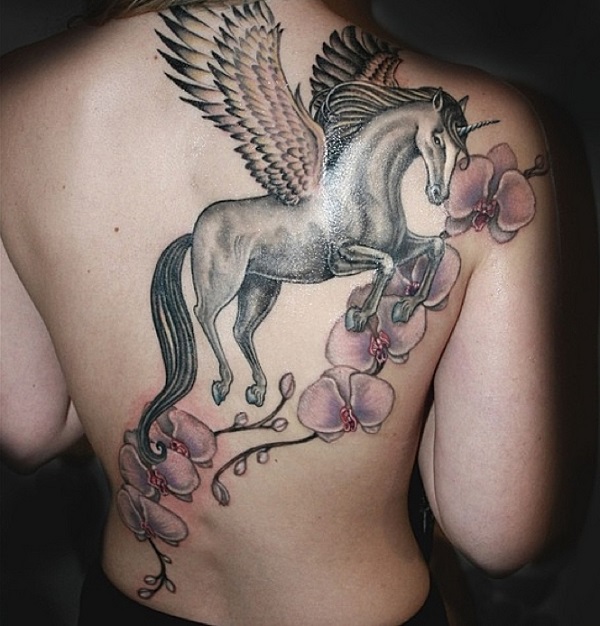 Fairytale Orchid tattoo Design. If you ever fantasize the fairytale in your mind, you need to get this tattoo right now.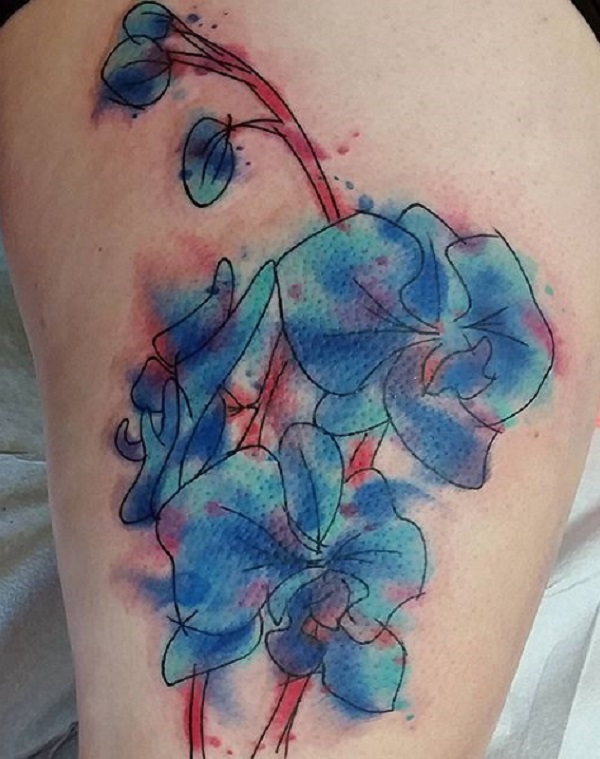 The Elegant One. There is elegance coupled with the grace in this tattoo.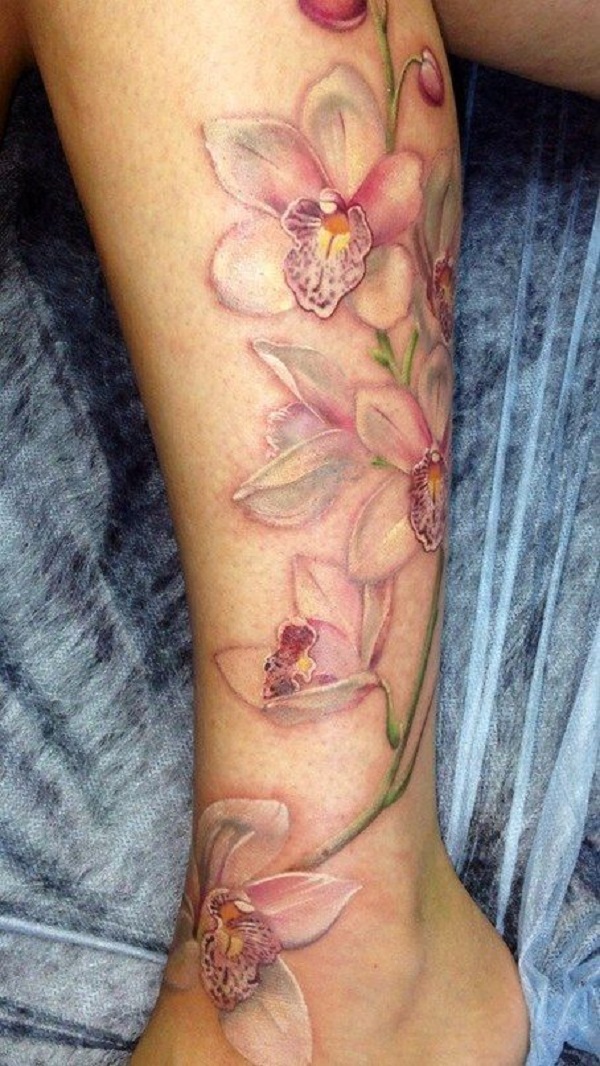 The Nude Orchid Tattoo Idea. With the nude colors trending, why not take the trend to the next level?
Add your creativity in these beautiful Orchid tattoo Designs and get the customize tattoo inked on your body!