If your tattoo quest is all abut elegance, symmetrical designs and deep symbolic meaning, then look no further. Here, we are about to give you a complete list of beautiful yet meaningful beetle tattoo designs that are guaranteed to get you satisfied with meaningful body art.
As a matter of fact, in the real time, these little poor creatures, first do not get our attention, but when they manage to get it, we don't mind uttering anything other than an occasional "Ewwww" sound. However, there tattoo matters a lot as they represent loads of meanings and potential symbolism.
The History of Beetle Tattoos:
The beetle tattoos dates back to Egyptian history who believed that these beetles belonged to the God as they roll dung across the Earth. These beetles become a sacred symbol because they symbolize creation and rebirth. With this in mind, the beetles became popular among the tattoo designs, making them perfect body art to wear.
The Symbolic Meanings of Beetle Tattoos
The beetles come in the variety of sizes, shapes and colors. It is often said that these beetles have as numerous faces as there is sand on this earth. So that is the reason there are plethora of meanings linked to beetles and its tattoos. These includes:
Time
Strength
Structure
Creativity
Recycling
Cleanliness
Adaptation
Community
Uniqueness
Transformation
Luck
Love
Organization
Discipline
Prosperity
Abundance
The Divine
Nobility
Immortality
So, if you are looking for such multi-meaning yet beautiful tattoos, we have rounded some best ideas for you down below.
50 Breathtaking Beetle Tattoo Designs:
The best part of the beetle tattoos is that they are really flexible to variations and can come in all sizes and shapes.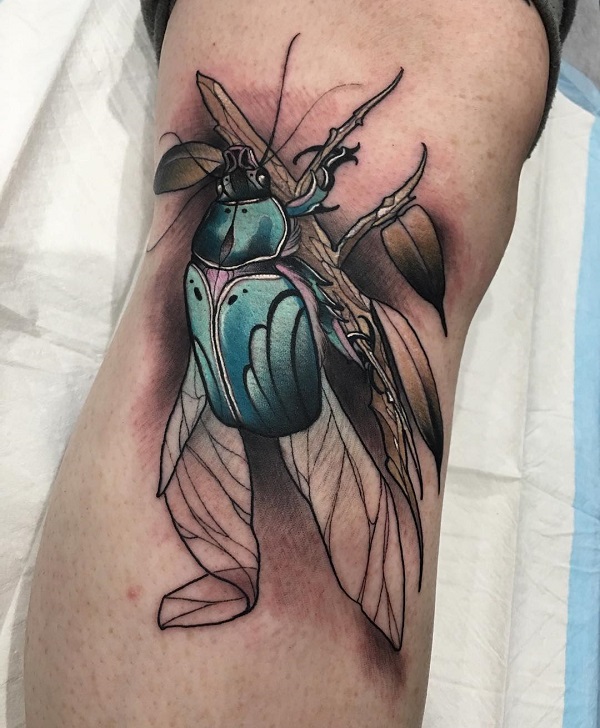 The Detailed Beetle Design. Do it seem like a real one? Well it is!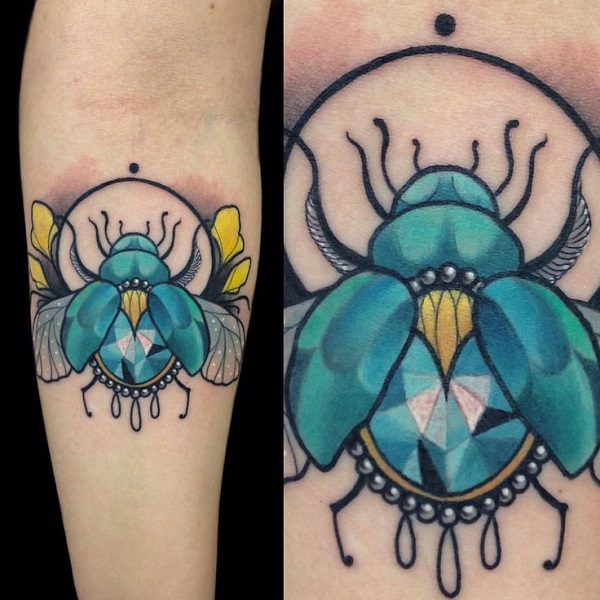 Magical Beetle Tattoo Design. This beautiful  beetle tattoo design is seriously magical.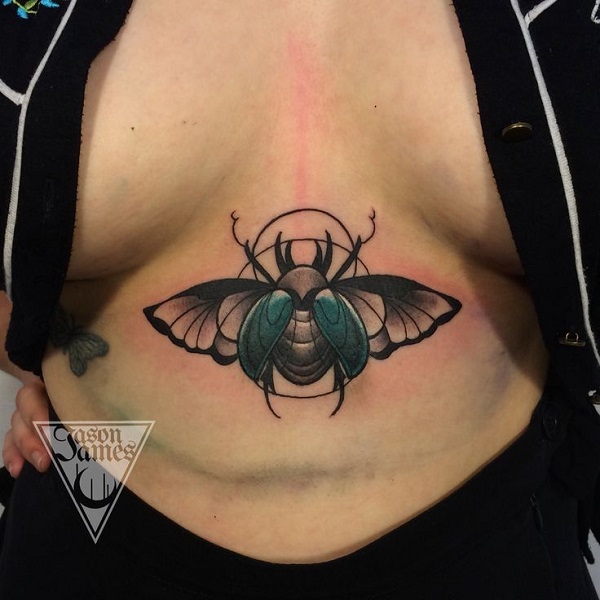 The Black Abdomen Piece. Check the placement of this tattoo. We are loving it!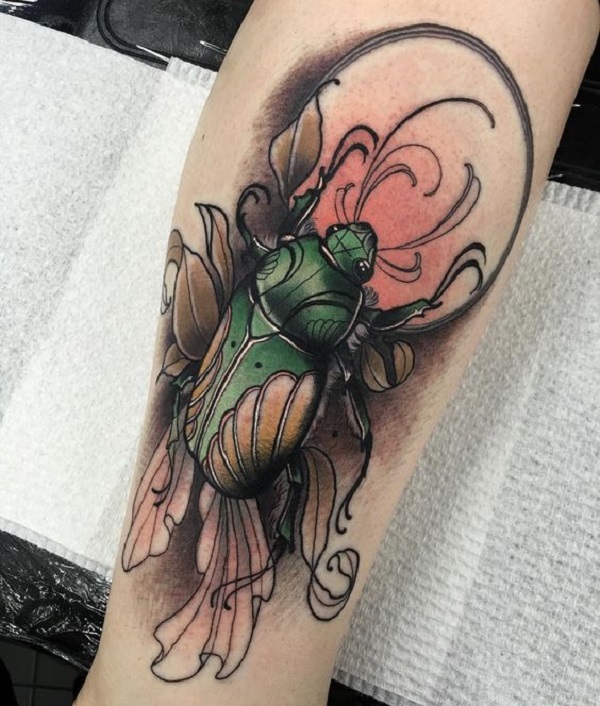 The Gorgeous Beetle Tattoo Design. The flow of art and the compliment of colors… Ah perfect.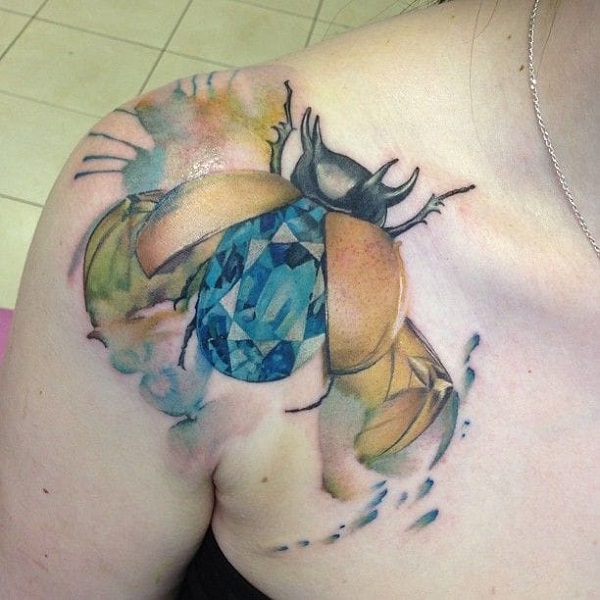 Water colored Shoulder Tattoo. We are obsessed with this beautifully colored and depicted beetle tattoo. Are you?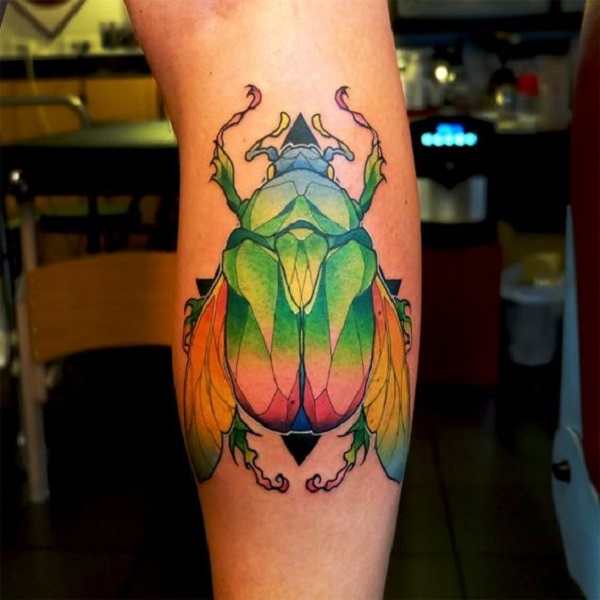 Beautiful Colored Beetle Arm Tattoo. A magnificent piece of art.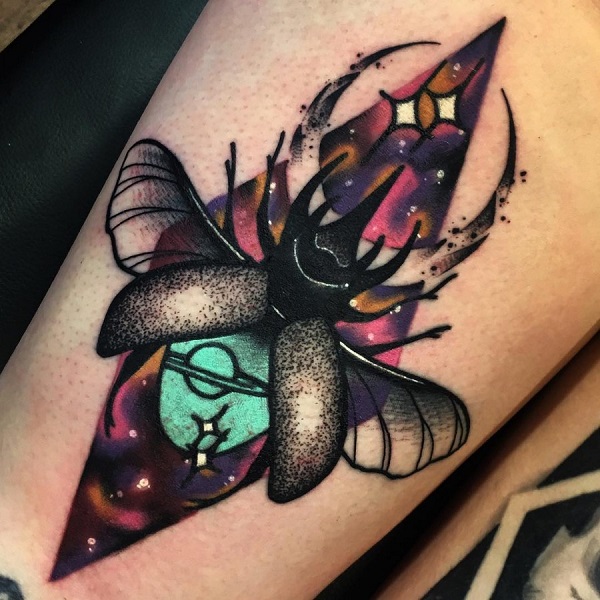 Beetle Tattoo with Geometrical Elements. We know you are not a fan of beetles, but after checking this beetle design, you will change your mind.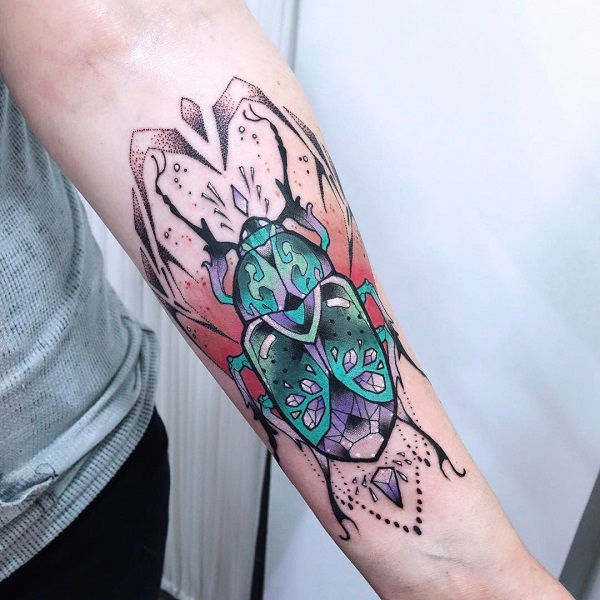 Realistic Beetle Tattoo Design. The details, the colors, the art! Simply magnificent.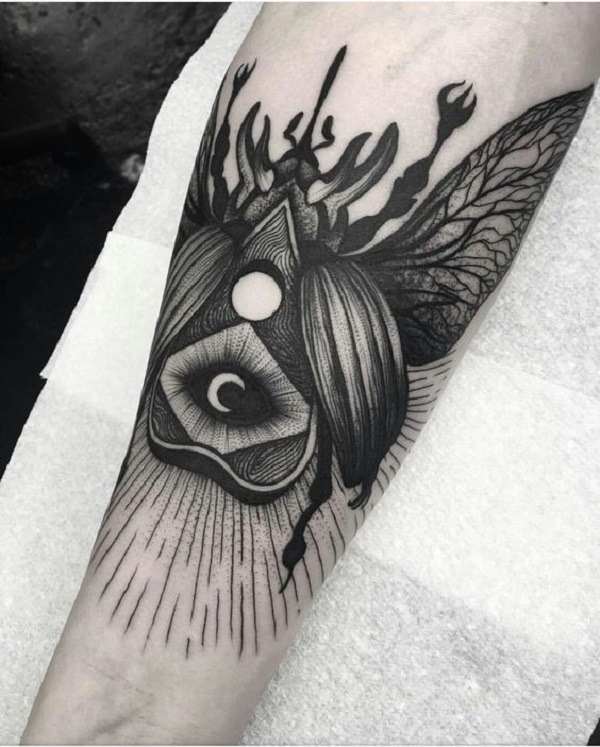 The Shaded Beetle Tattoo Design. This black inked beetle is taking our breath!
Beautifully Colored Beetle Design. Eye-catching, isn't it?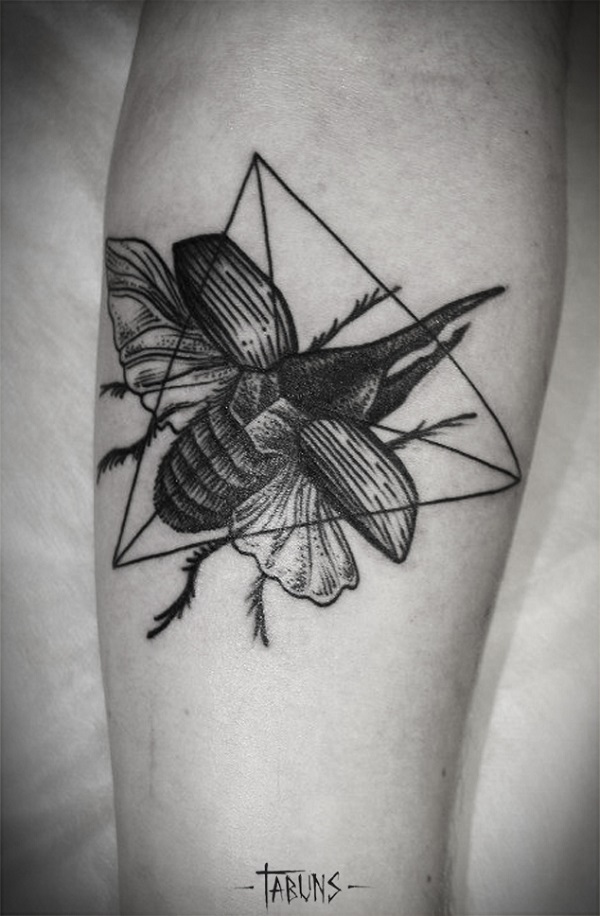 Realistic Beetle Tattoo by TABUNS. The geometrical element and the gray-scale filterover this realistic beetle tattoo makes it worth trying.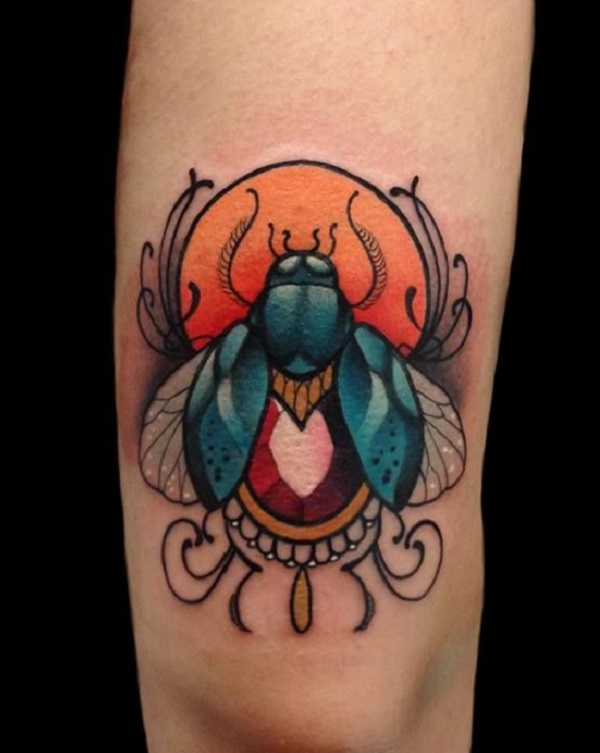 Beautifully Colored Design on Forearm. Fan of beetles? This one is designed for you!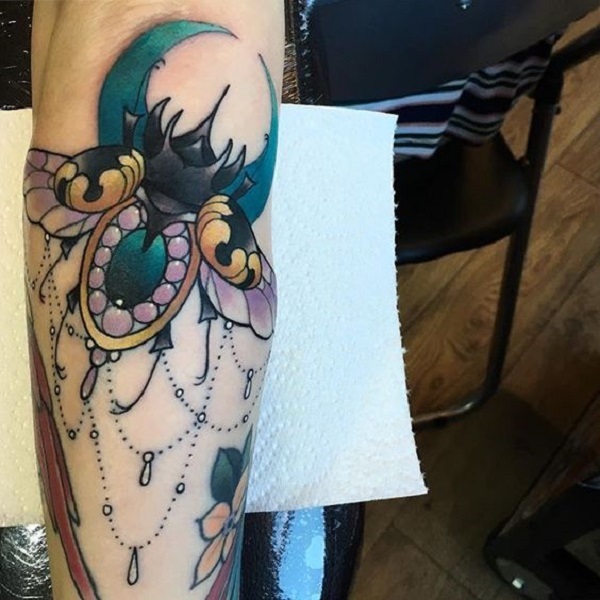 The Beetle Sleeve Tattoo. This half-sleeve tattoo is our obsession.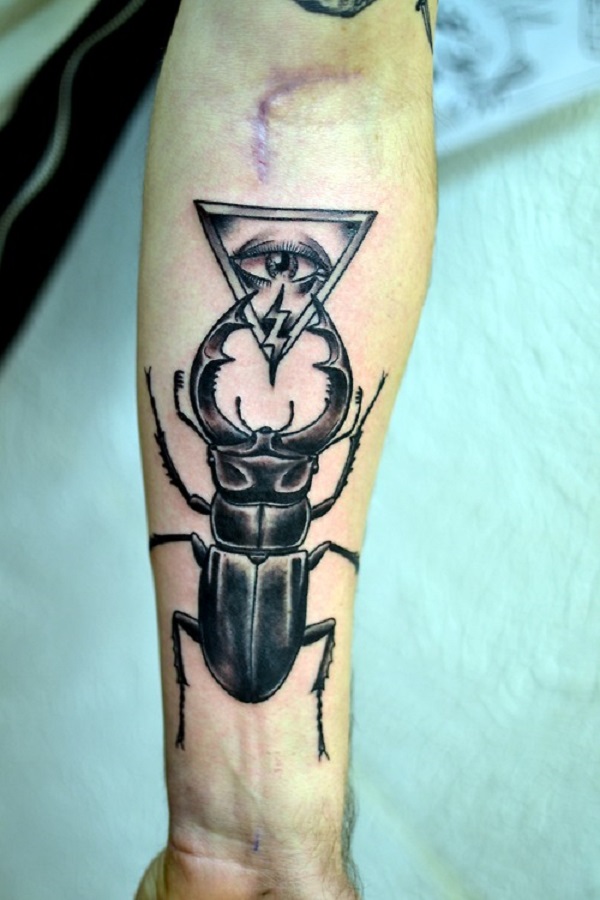 The Black Fierce Beetle Tattoo. This black inked fierce beetle is the true depiction of strength.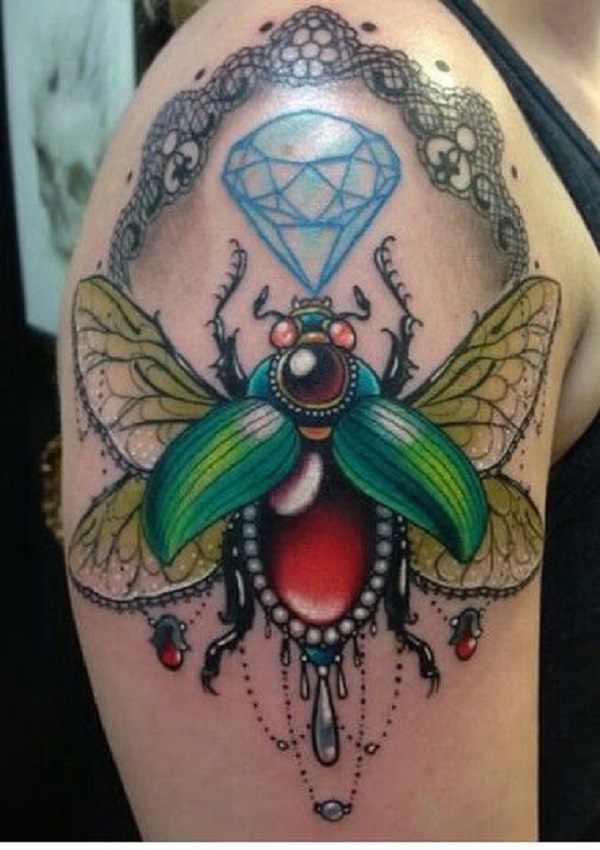 The Jeweled One. Do you know beetles have two sets of wings that are harder than skeletal shield that is the reason they can carry treasures inside them.
Classy Beetle Tattoo Design. This beetle tattoo design is giving us serious style goals.
The Night View. Hidden night view inside the beetle's wings. Isn't it beautiful?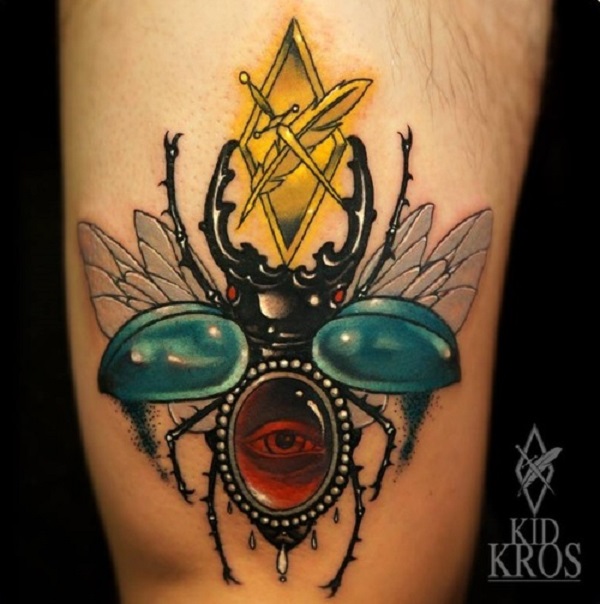 Realistic Beetle Tattoo Design. The sign of strength and prosperity! Yes this is beetle tattoo for you!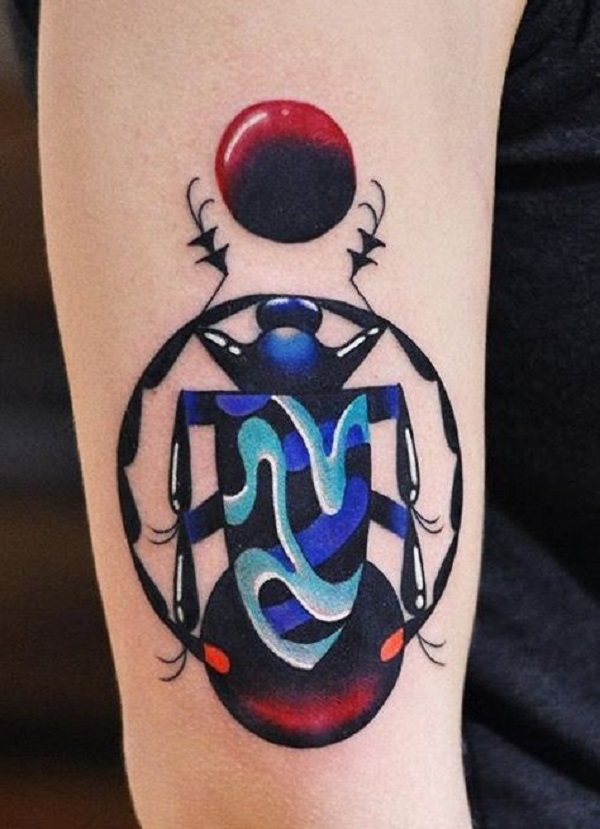 Abstract Beetle Design. This abstract beetle design will definitely get the attention of many.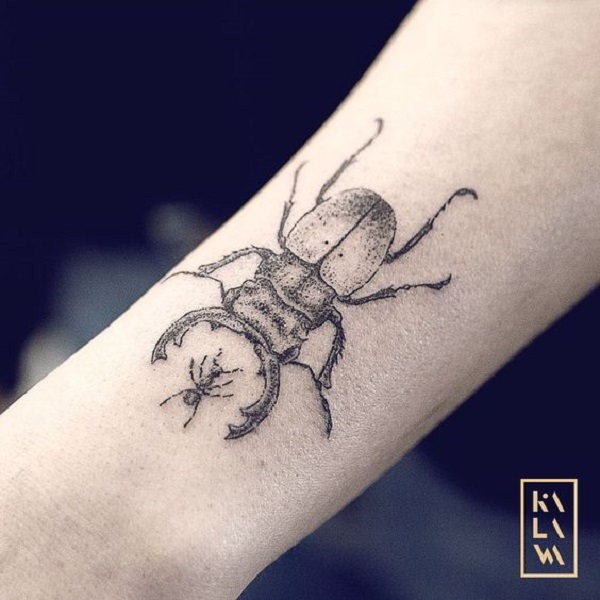 Eye Catching Beetle Tattoo Design. The dotwork and the shading within this beetle tattoo is the best thing you can see.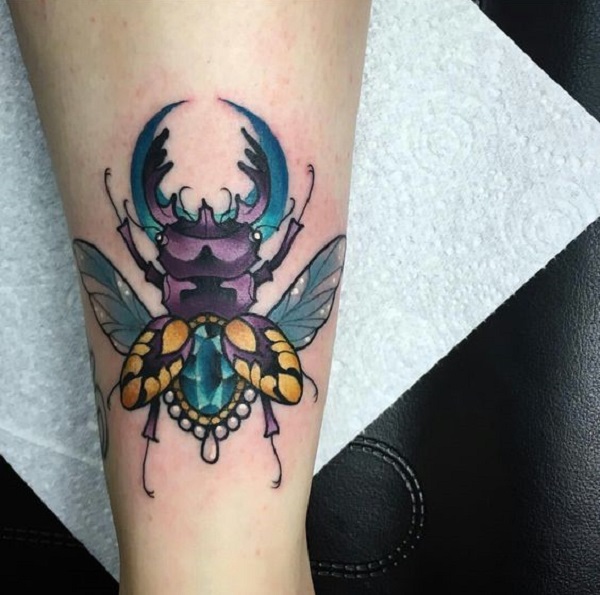 Beautifully Colored Tattoo Design. This version of beetle tattoo is simple yet attractive.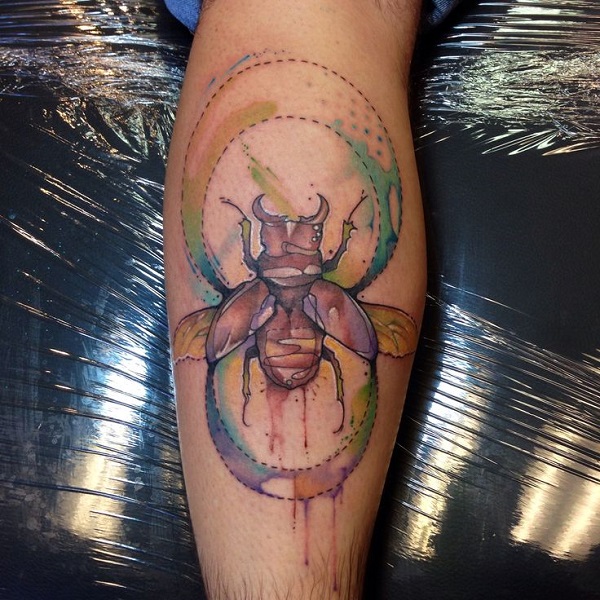 The Water Colored Beetle Tattoo. This tattoo depicts the circle of life, the rebirth and the immortality!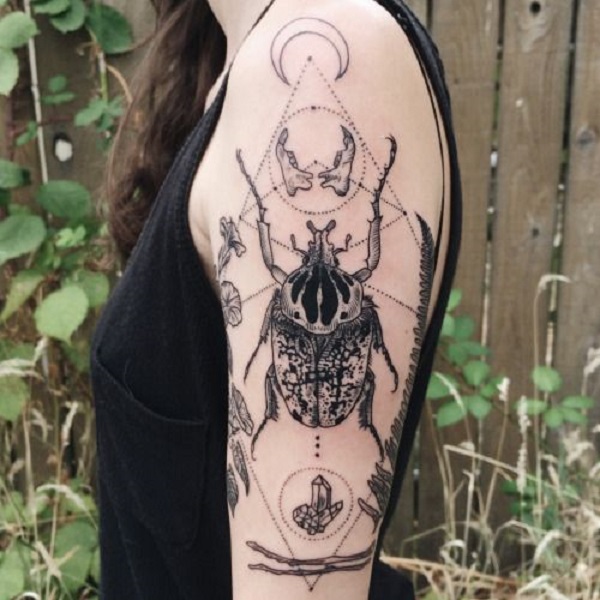 Geometrical Tattoo. This sleeve tattoo is worth giving a shot.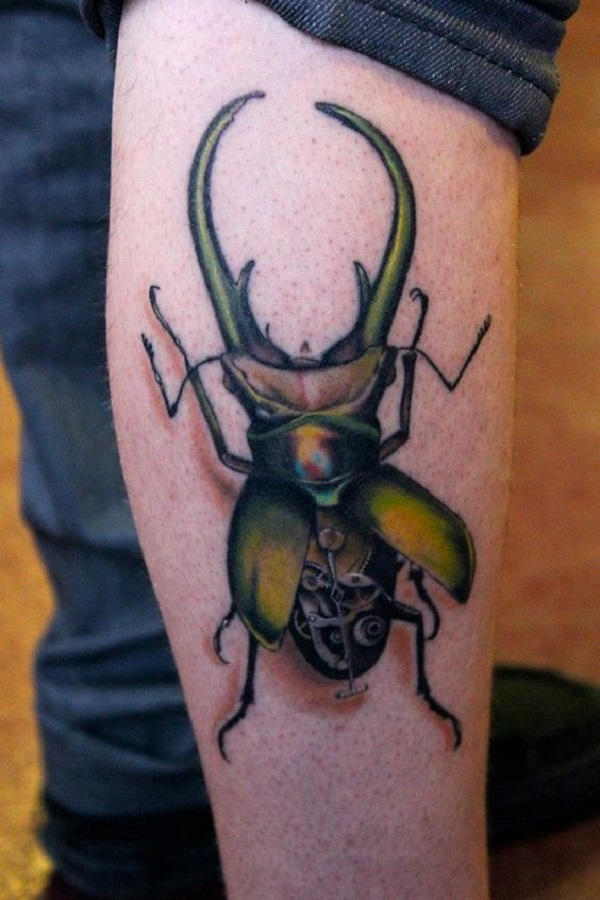 The Simple One. It is really hard to picture scarab, but this thing is done well.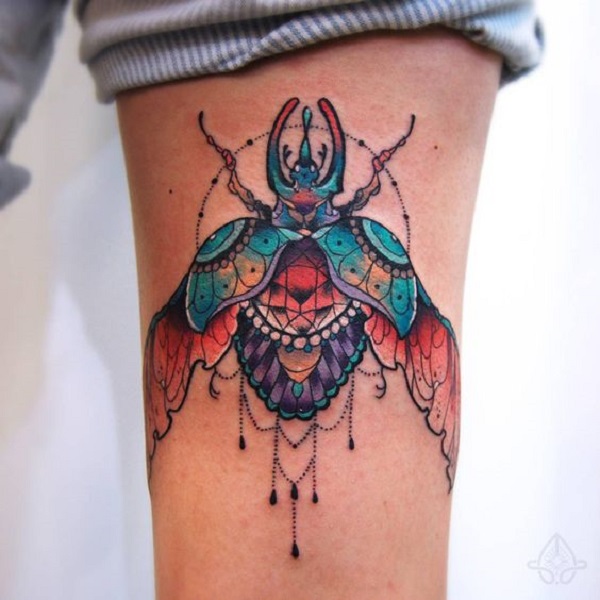 Open Wing-ed Beetle Tattoo Design. This multi-meaning wing-ed beetle tattoo design is the best thing that you can wear.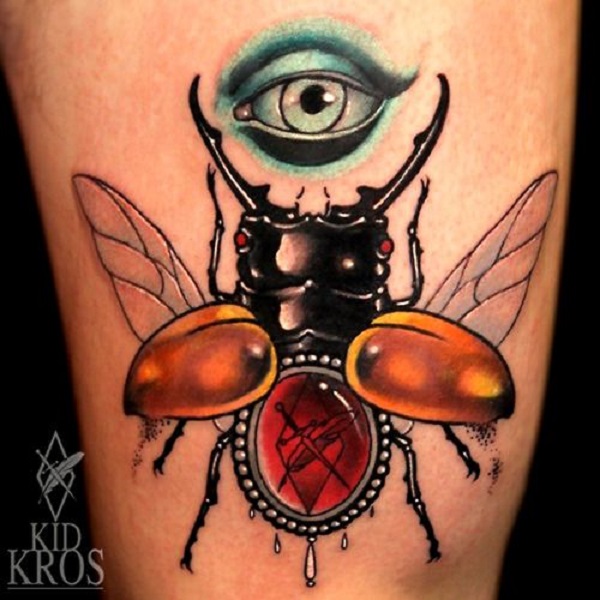 Beautiful Beetle Tattoo by Kid Kros. This tattoo by Kid Kros is giving us a major inspiration.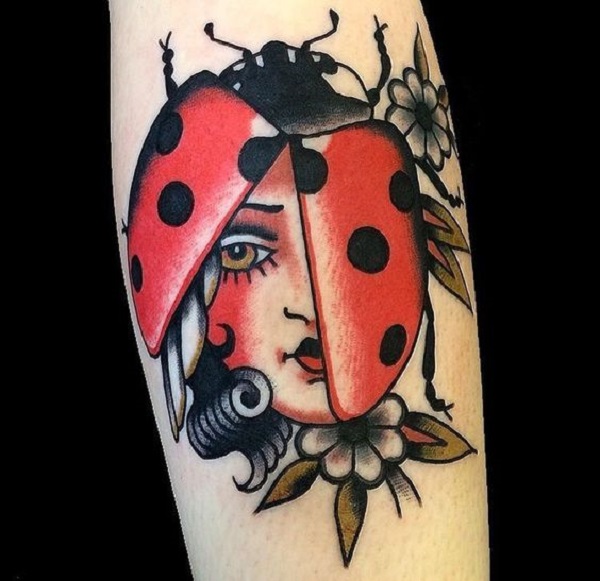 The Lady- Bug Tattoo. The lady beetles are termed as lady bugs. The lady bug tattoos are thought to be a sign of luck and prosperity and fertility too.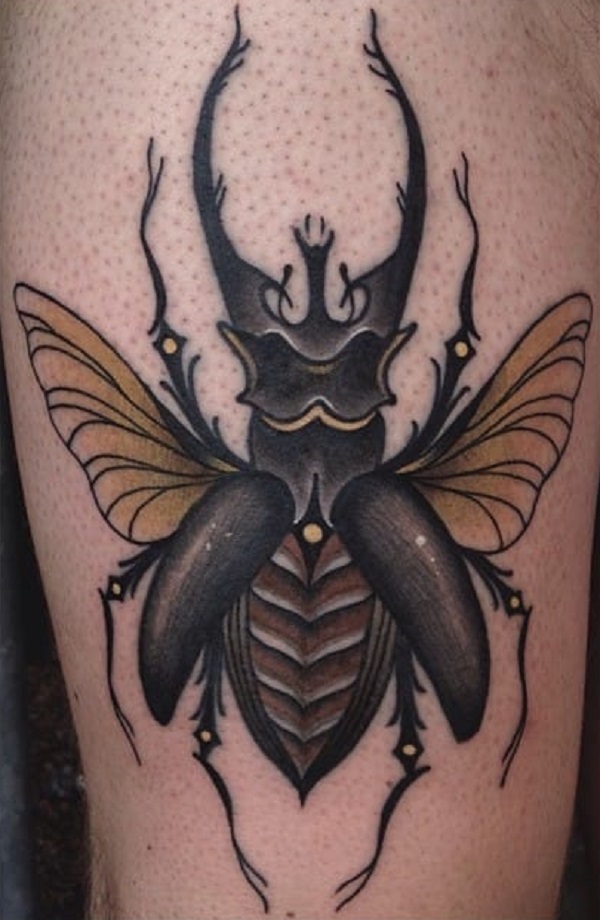 The King Beetle. This King Beetle represents royal culture.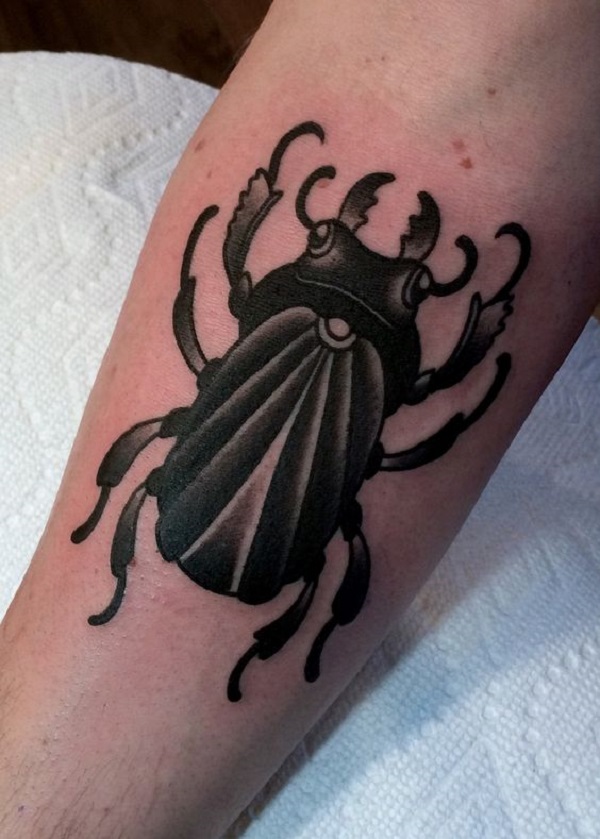 That Forearm Piece. This black inked forearm piece is really graceful. Don't you think?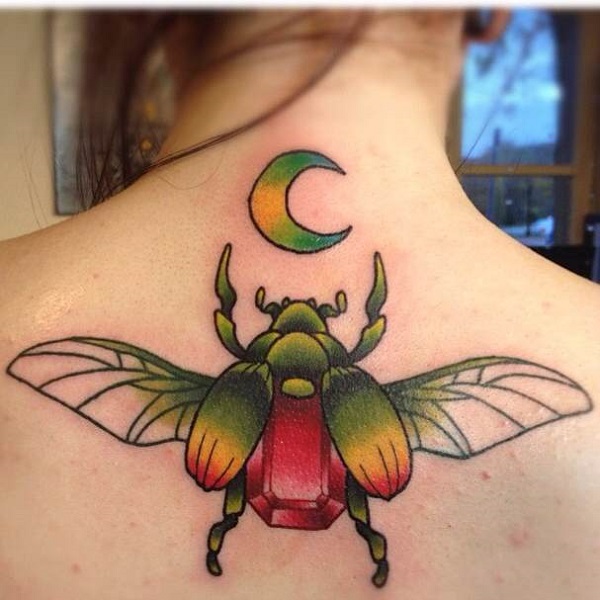 Gem-ed Beetle Tattoo Design. As beetles are thought to be helpful in financial situation, so this gem-ed beetle tattoo design is a true depiction.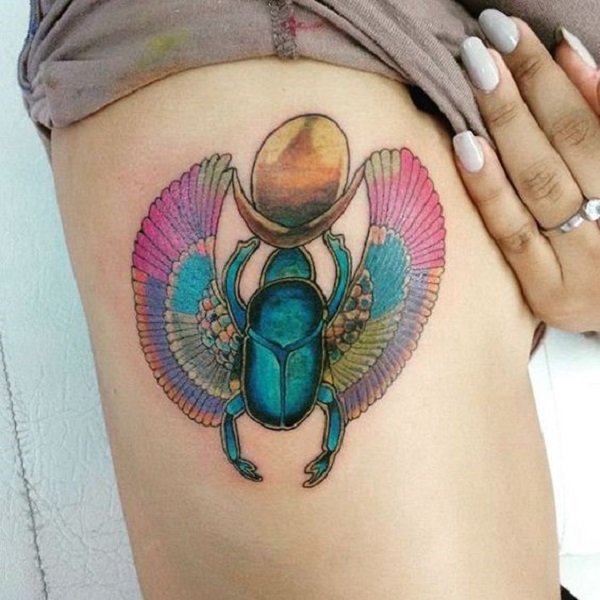 Realistic Beetle Tattoo on Ribs. The placement and the colors of this realistic tattoo is a true inspiration.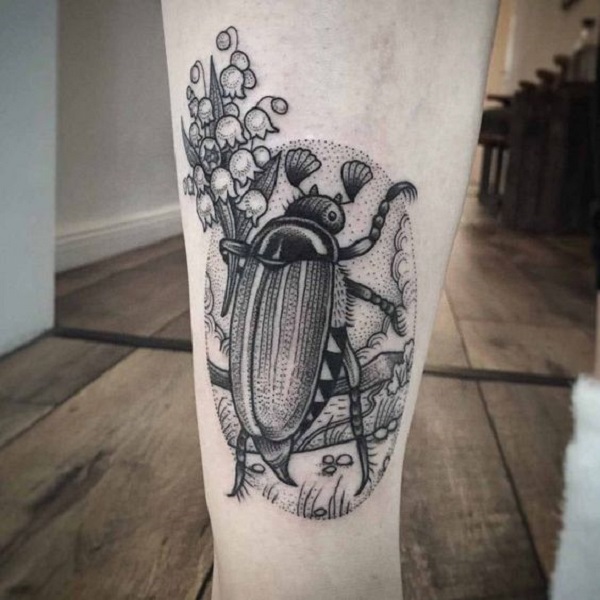 The Cute One. An amazing tattoo design that be worn by anyone and appear more charming than ever.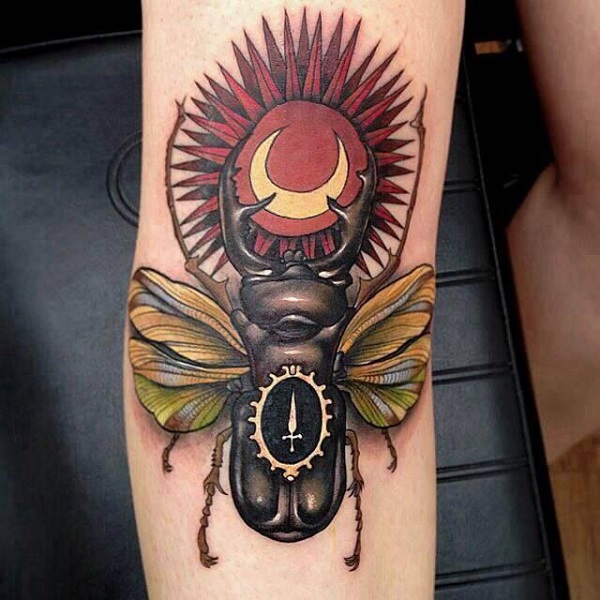 The Black Scarab. This is a perfect tattoo design for male folks out there. So what are you waiting for?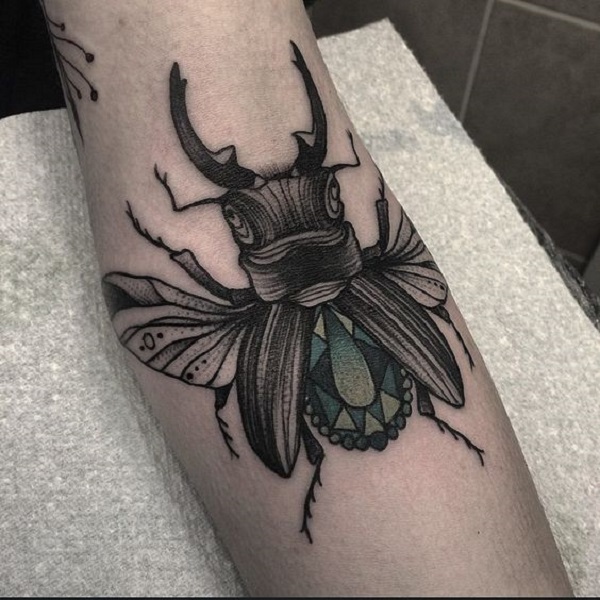 Angry Beetle Tattoo Design. No matter how many colors you use, nothing can beat the grace of black ink.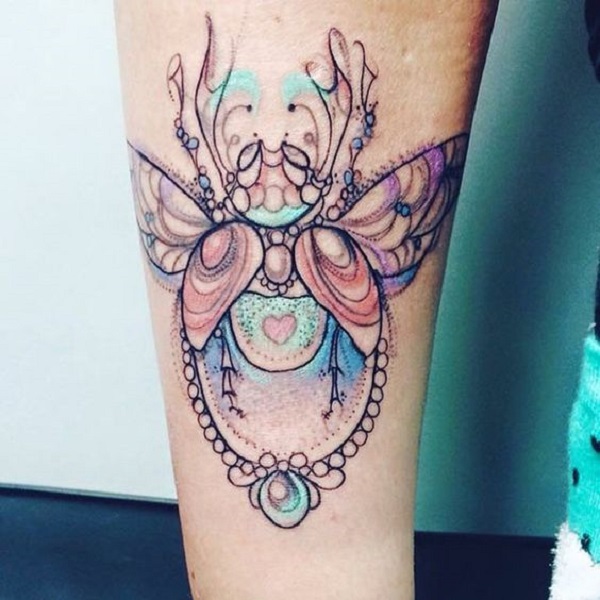 The Fantasy Version. This fantasy version is for all the girls waiting for some fairy tale.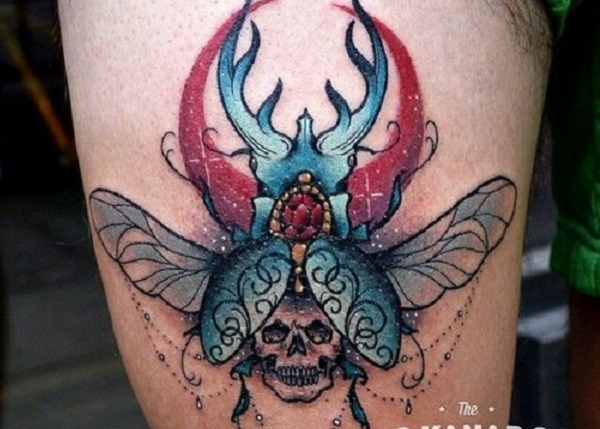 The Skull within Beetle Tattoo Design. Drawn with the skull, this design has been beautifully inked, giving a striking look.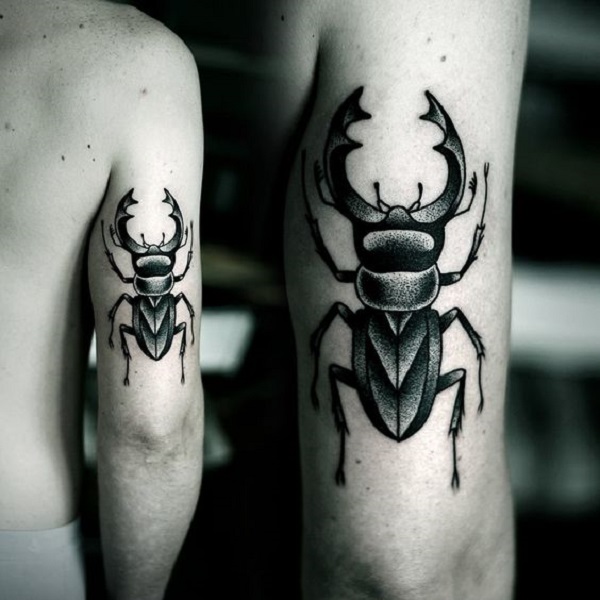 The Tribal Beetle Tattoo. Tribal beetles are rich form of cultures and are often linked with unique traits including luck, love, prosperity etc.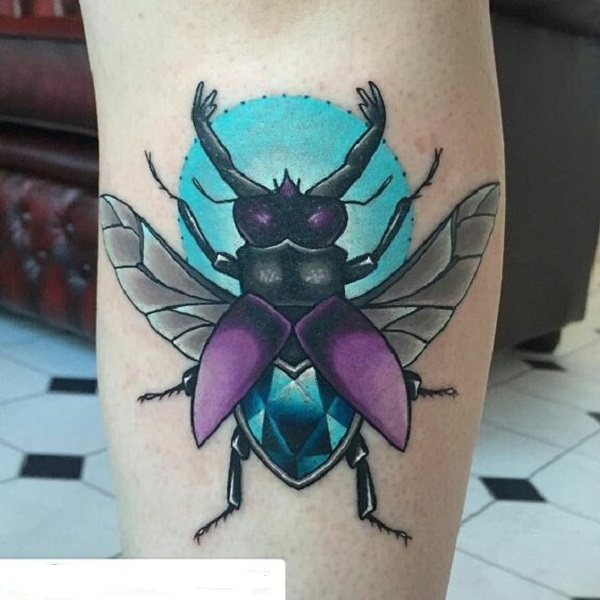 The Epic Scarab Tattoo. This Scarab tattoo is lending a striking look to the wearer. What you think?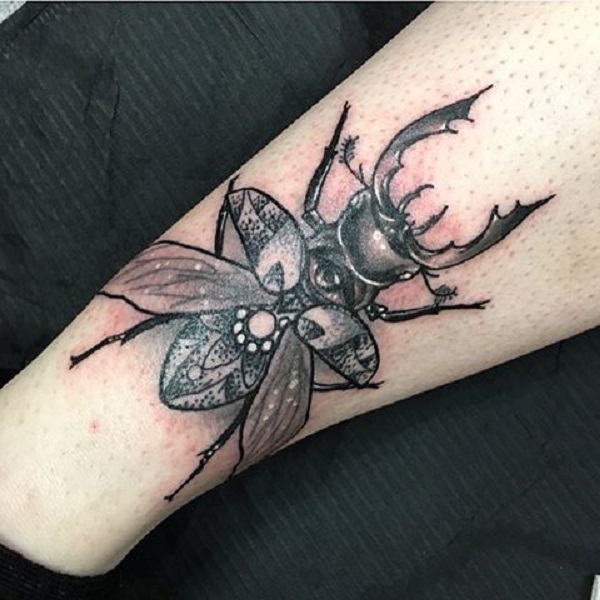 The Detailed One. Hats off to the artist of this tattoo. The details are awesome!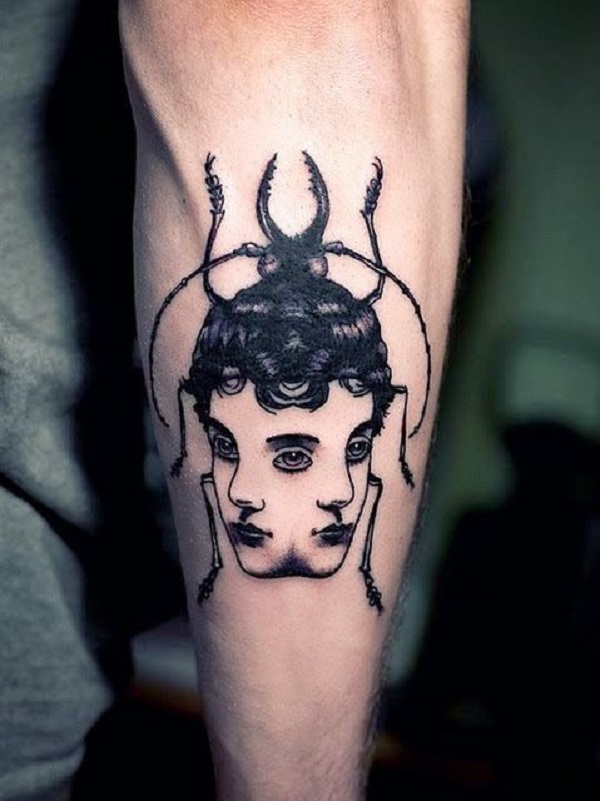 Dual Faced Beetle Tattoo. This might depict the sign of recreation or rebirth!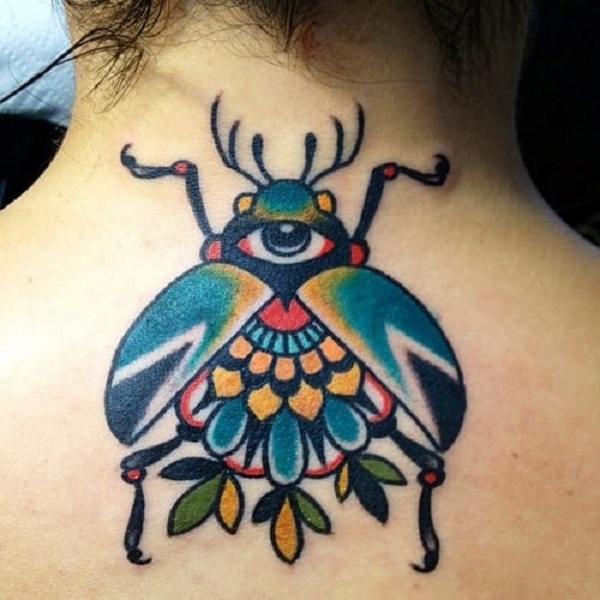 One- Eyed Beetle Tattoo Design. This multi-colored beetle tattoo design on the spine is really an inspiration.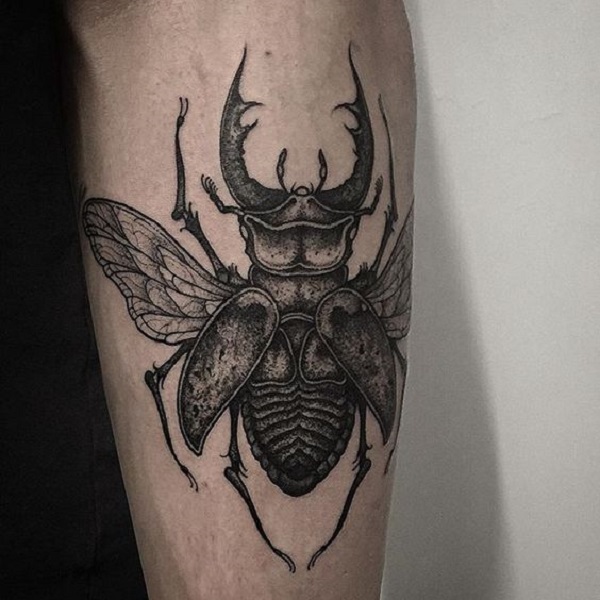 Mythological Beetle Tattoo Idea. Fierce one! Isn't it?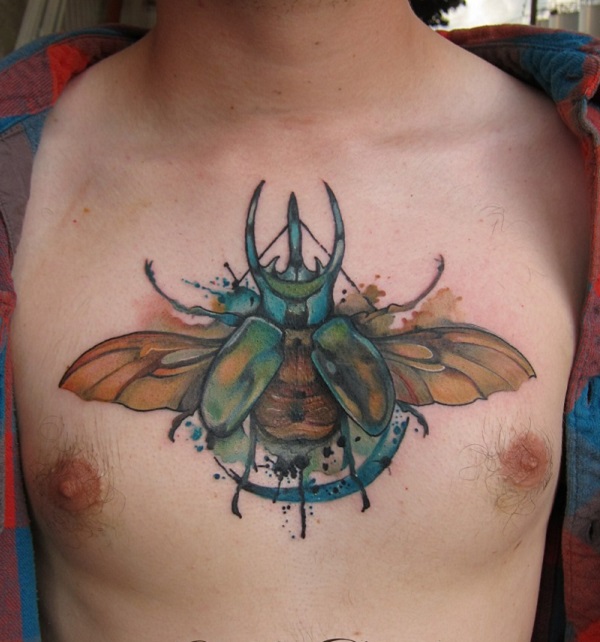 Abstract Watercolored Beetle Tattoo. The Blue beetle designs symbolizes freedom.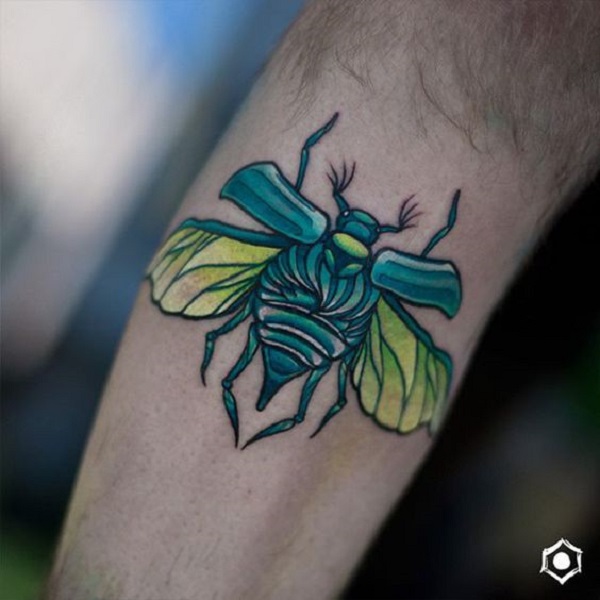 The Tiny Beetle Tattoo. These Blue beetles are pretty sensitive by heart.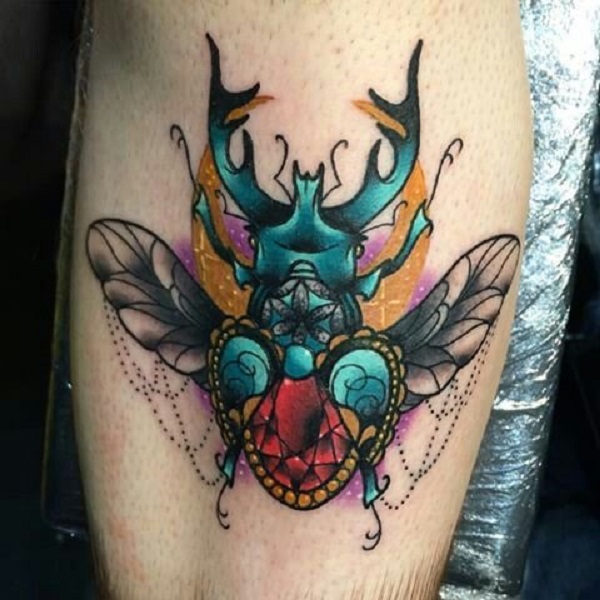 The Dotwork. This beautiful beetle design is crafted in such a way that it looks lovely and attractive at the same time.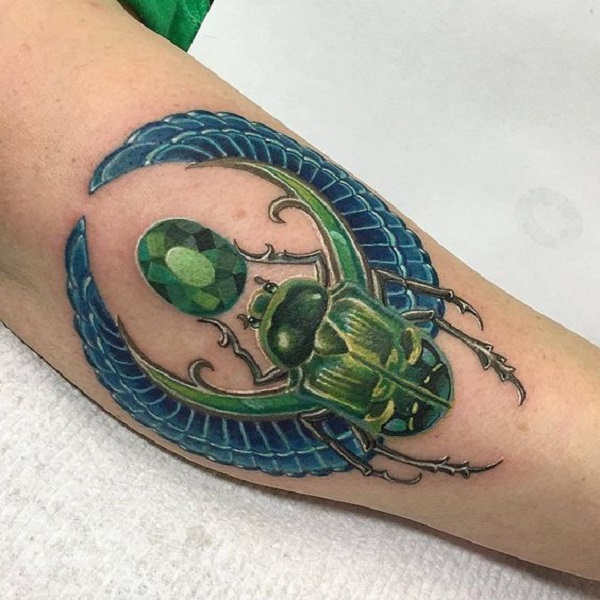 The Dung Beetle Tattoo Design. This dung beetle tattoo is definitely amazing and heart melting.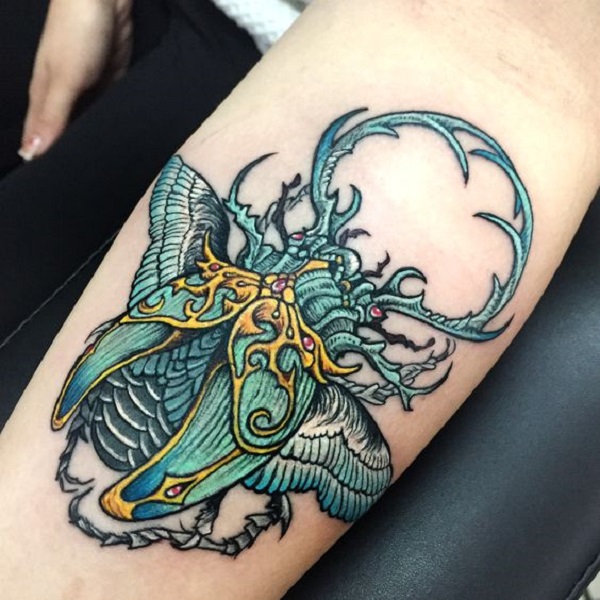 The Blue Tattoo. This blue beetle tattoo is really mind blowing. The bright blue and bold gold is giving us serious inspiration.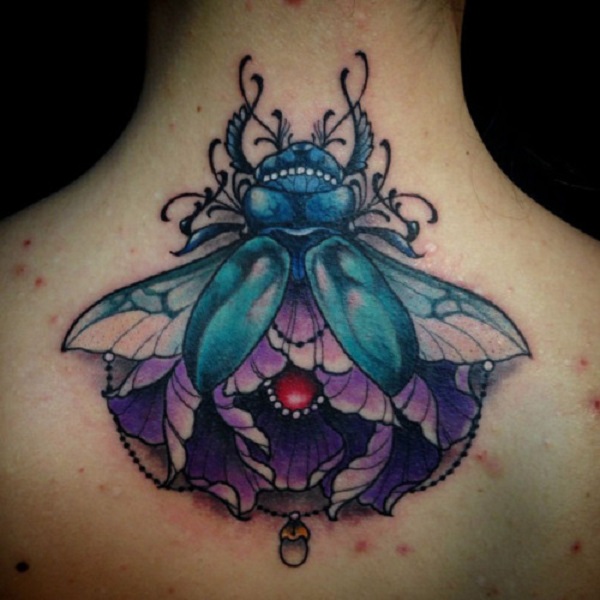 The Bold Spine Piece. There is no better placement of this bold piece other than spine. What you think?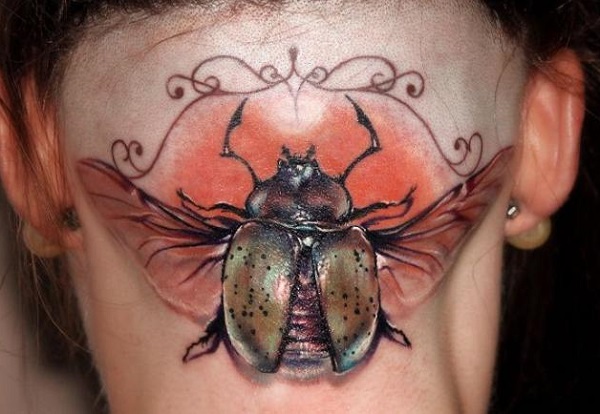 Scary Beetle Tattoo Design. This scary beetle tattoo is best for Halloween. Do you dare to wear it?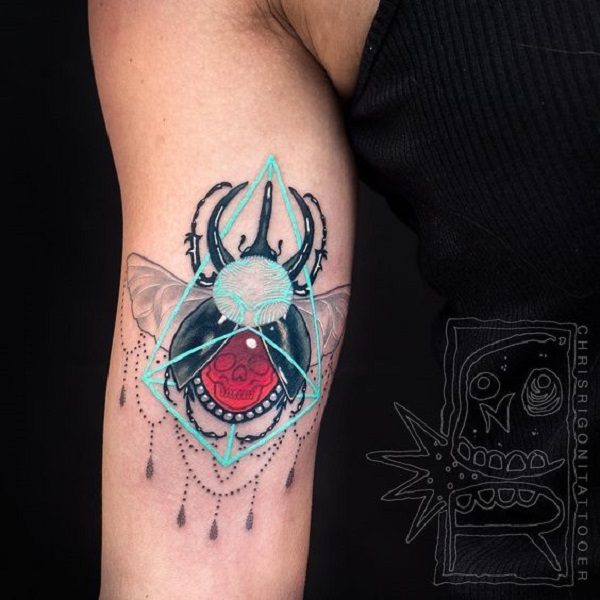 The Highlighted Skull-ed Beetle Tattoo. Here comes the elegant yet mind blowing beetle tattoo design. With the geometrical element, the tattoo looks gorgeous.
So, select your perfect beetle tattoo and show your love to these cute little creatures with multiple meanings!