Right after the evening, you will find these creatures lurking around the sky, all across the globe searching for their meals. These creatures are mostly feared and yet popular because of the pop culture references and batman series. Yes, we are talking about "Bats".
Bats are scientifically the mammals that are nocturnal and omnivorous. They have long been associated with many legends and cultures. And that is the reason they make popular tattoo form – Bat Tattoos. If you are looking for something unique for your next body art, the bat tattoos are the great options.
Bat Tattoo Meanings:
Hovering and flying in the dark, bats are the creatures of nightmares that symbolize quite a umber of meanings. Many of the bat symbolic meanings are fear based and that is the reason these forms of tattoos are getting popularized among the people.
Bat Tattoos can symbolize:
Illusion
Rebirth
Dreams
Intuition
Initiation
Journeying
Inner Depth
Communication
Renewing thoughts and beliefs
Wealth
Good Fortune
Prosperity
Motherhood
Darkness
Evil
Demonic
Fertility
Sexuality
Freedom
Happiness
As you can see, there are variety of meani9ngs associated with bat tattoos. Some people choose them for their symbolism while others choose them for their uniqueness and mysterious nature. No matter why you choose the bat tattoos for your body, in the end these tattoos represents what you want them to.
So, for your inspiration, we have gathered some best bat tattoo ideas. Check them out below!
50 Cool Bat Tattoo Designs: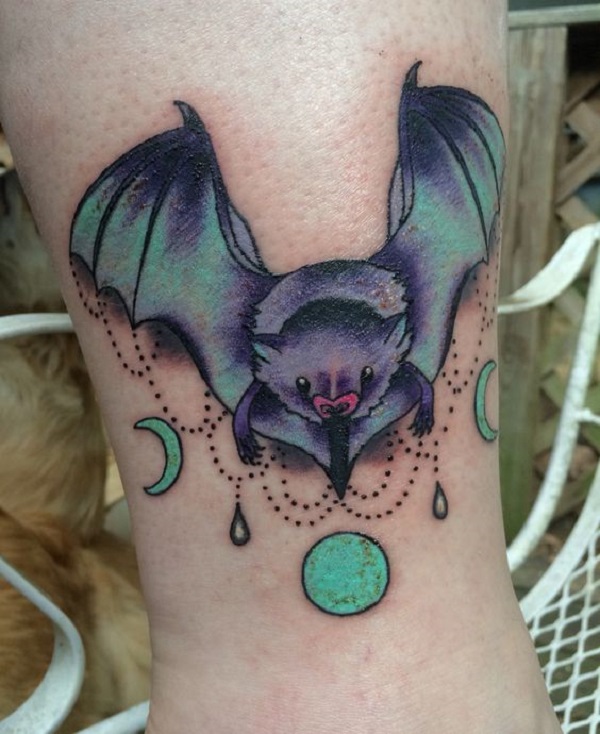 The Baby Bat Tattoo Design. Looking for something cute yet meaningful? This tattoo is for you!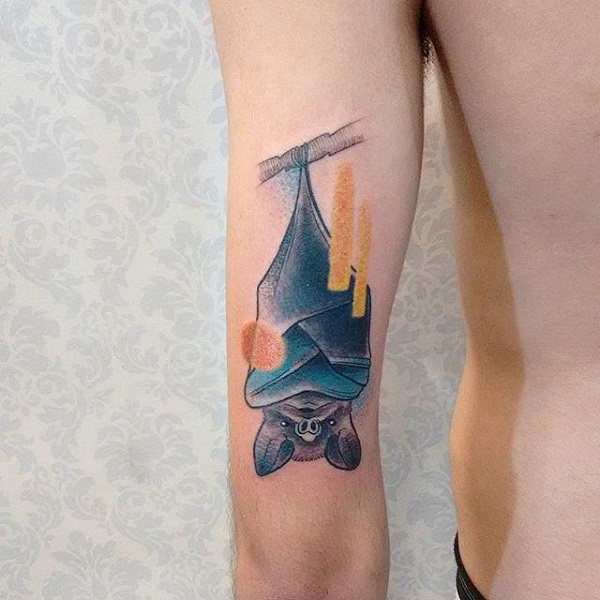 Relaxing Bat Tattoo Design. As a matter of fact, bats are very calm creatures that want to relax all the time after getting their meals.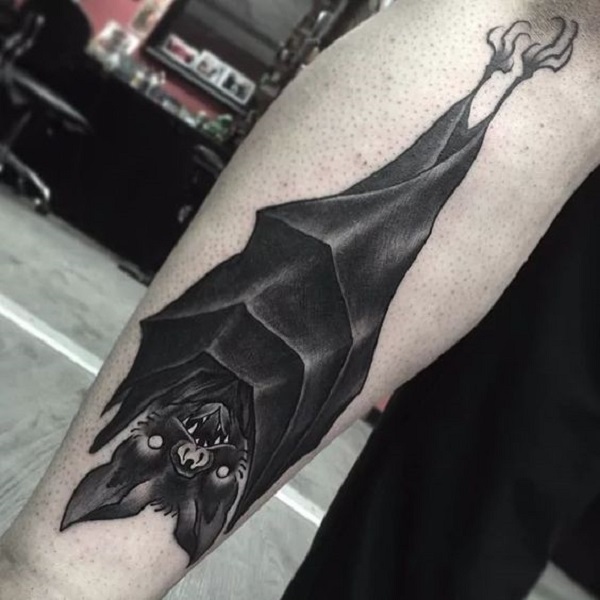 Black Inked Bat tattoo Design. Darkness and black color is the bat thing and that is the reason these bat tattoos are inked mostly in black color.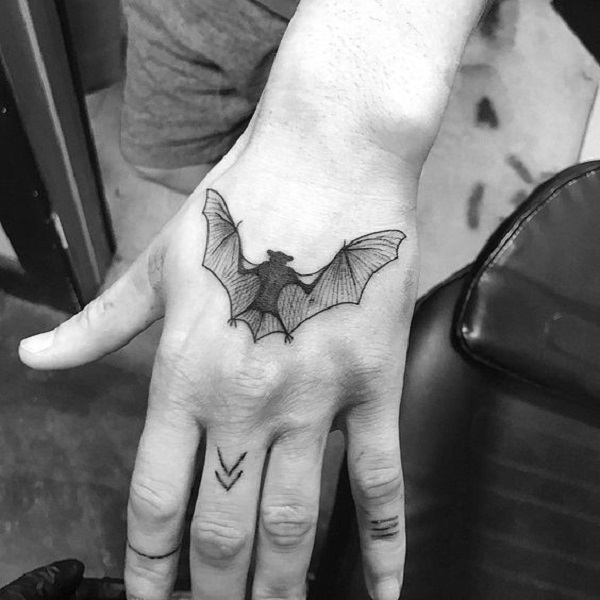 Webbed Wings Bat. If you are looking for some small tattoo with a unique placement, this webbed wing tattoo is a great option.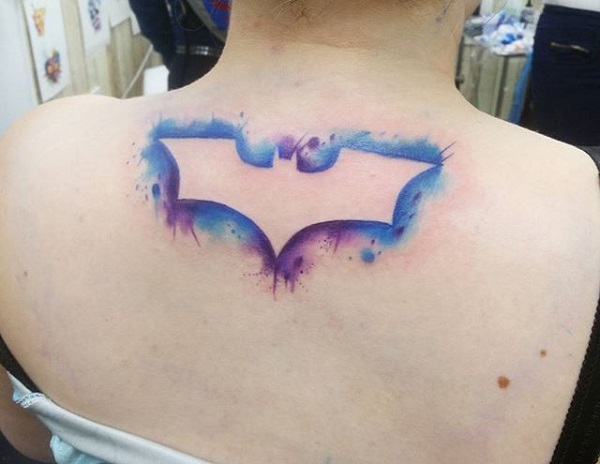 Beautifully Outlined Bat Tattoo. Water colored outline makes his tattoo perfect.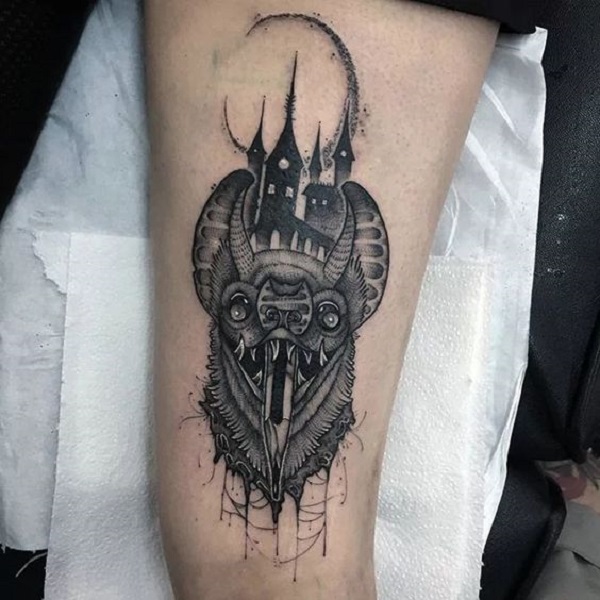 Fierce Bat Tattoo Idea. As mentioned, bats are mostly feared and if you also wants to be feared, get this tattoo inked.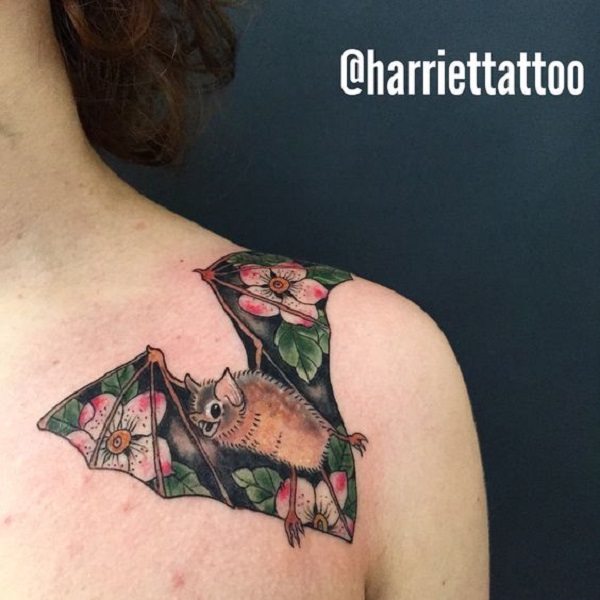 Printed Bat Tattoo for Her. Girly girls want something meaningful yet girly and that tattoo is a great inspiration for them.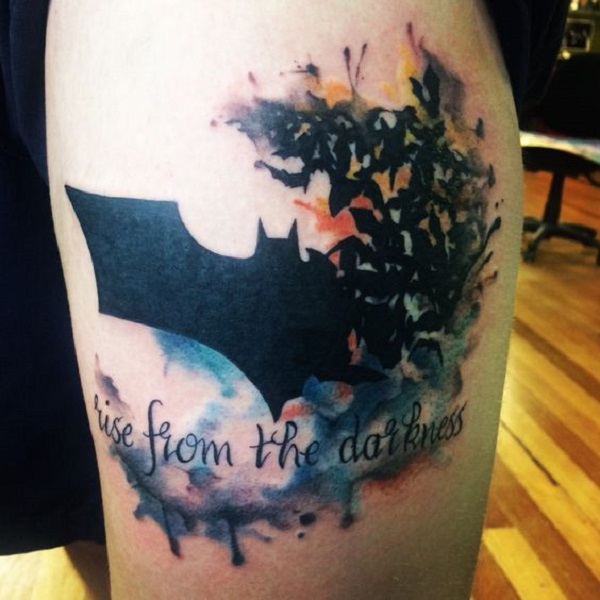 Rise from the Darkness Bat Tattoo Design. This Batman series inspired tattoo is my favorite.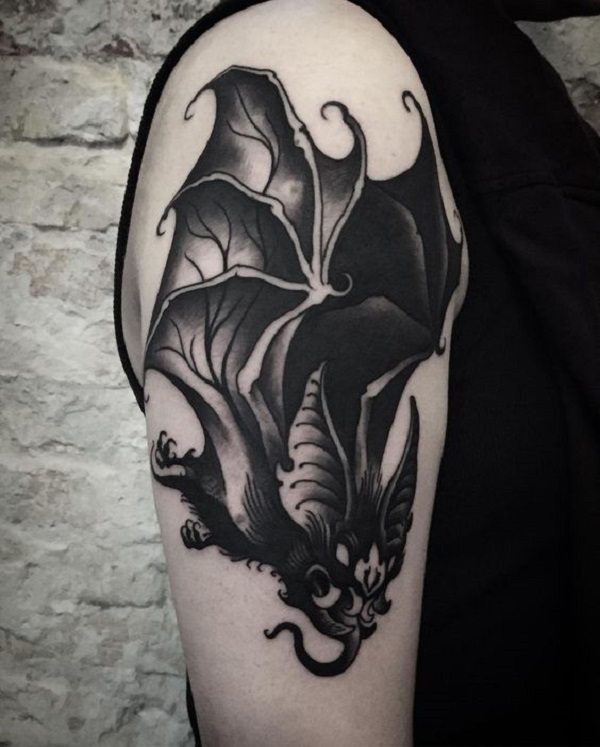 Hyper- realism. This hyper-realism bat tattoo is associated with Lucifer itself. Do you agree?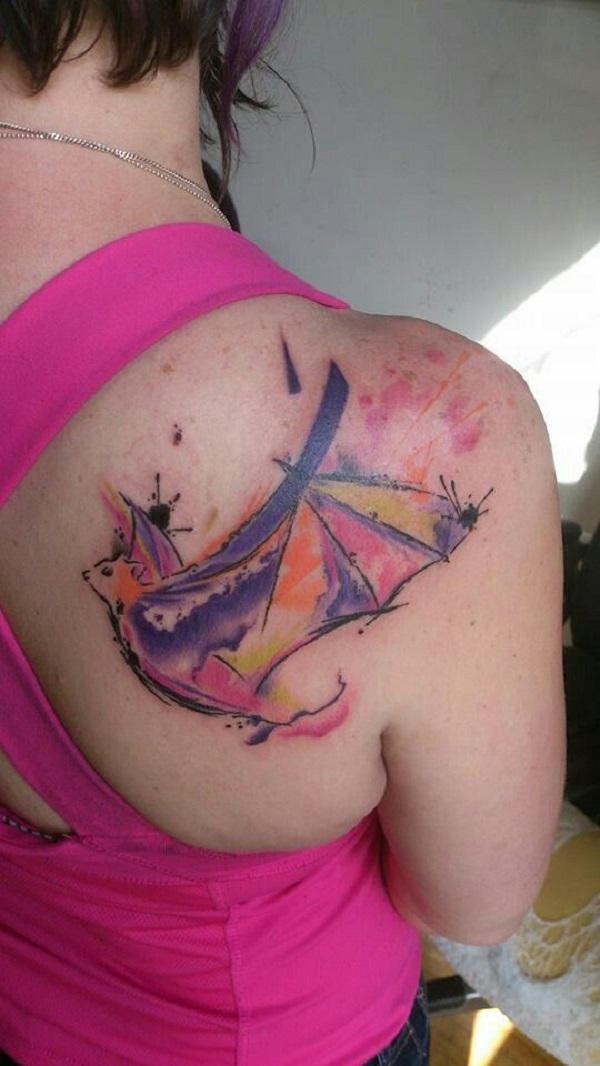 Colorful Flying Bat Tattoo Design. This tattoo seems to be the work of a child, yet gives serious tattoo goals.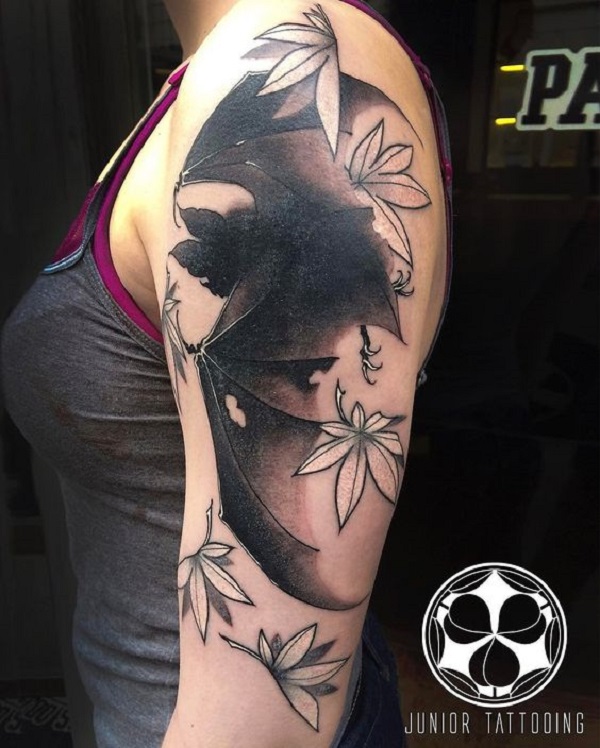 Amazing Bat Tattoo Design by Junior Tattooing. This half sleeve bat tattoo idea is truly the best thing that you can get, if you are looking to cover your arm with something attractive and meaningful.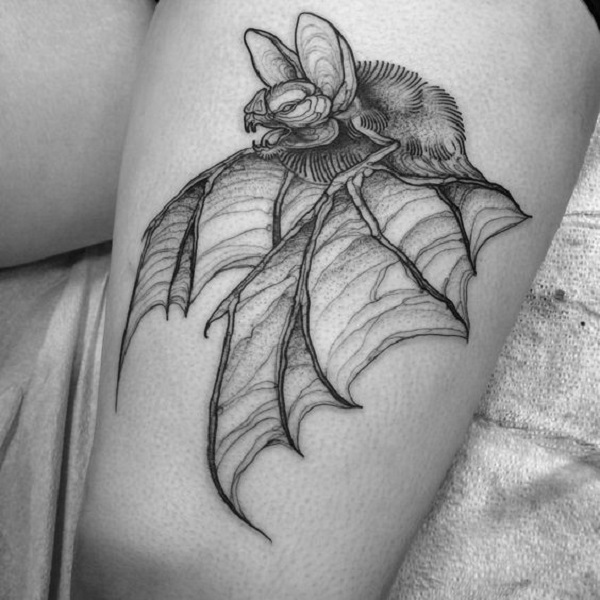 Bat Portrait. To truly define the symbolism of bats, you can get this tattoo inked on your body.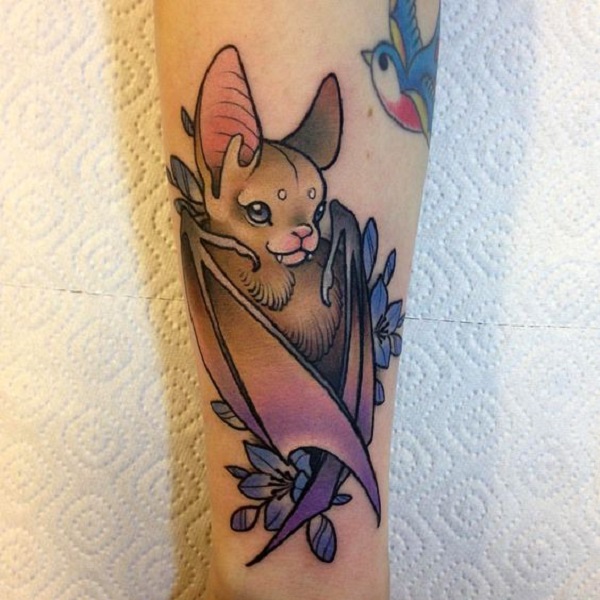 Cartoon-ish Bat Tattoo Design. For many, bats are far from evil and dead and they adore bats for their cuteness. If you are one of them, this cute bat tattoo is for you.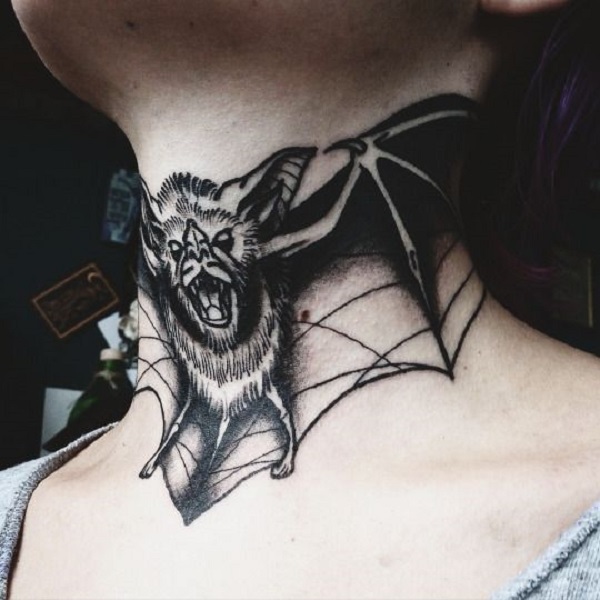 Angry Bat Tattoo on Neck. The bat is a symbol of birth and depth. It is a creature that lives in the belly of earth.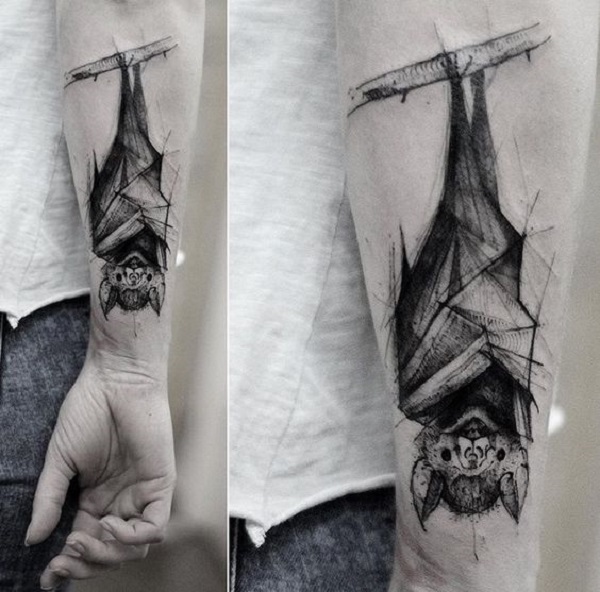 Upside Down Bat Tattoo. This upside down bat tattoo is great to get.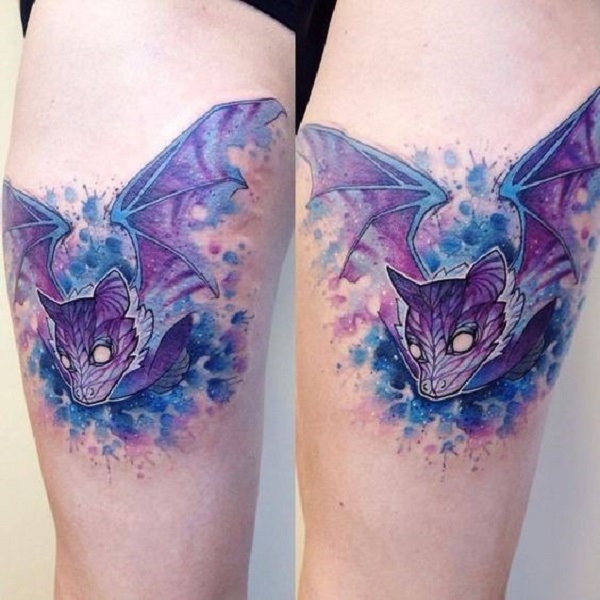 Water colored Bat tattoo Design. This vibrant colored bat tattoo is worth giving a shot.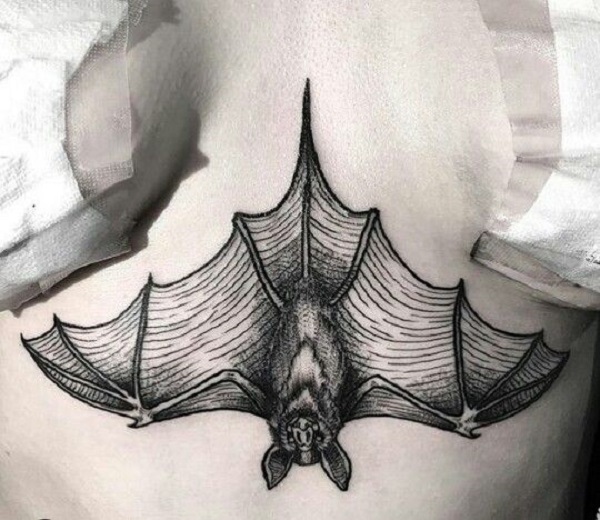 Contemporary Bat Tattoo. When bat tattoos are placed in sensual places, they symbolizes sex and fertility.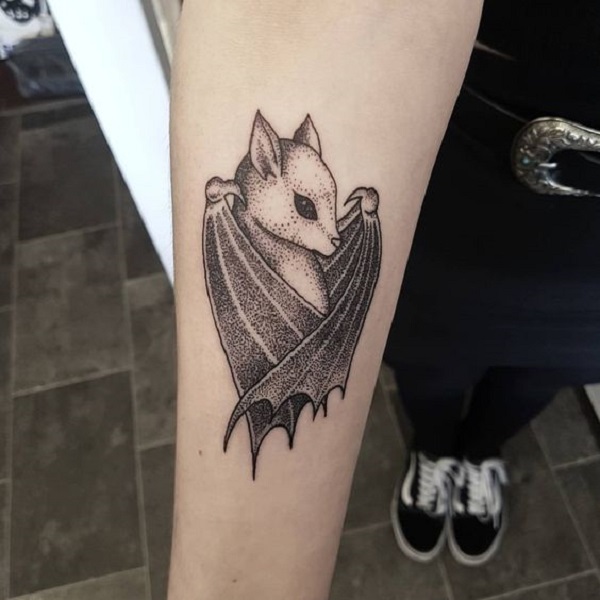 Baby Bat Arm Tattoo. This cute little baby bat is great if you are looking for some little coverage.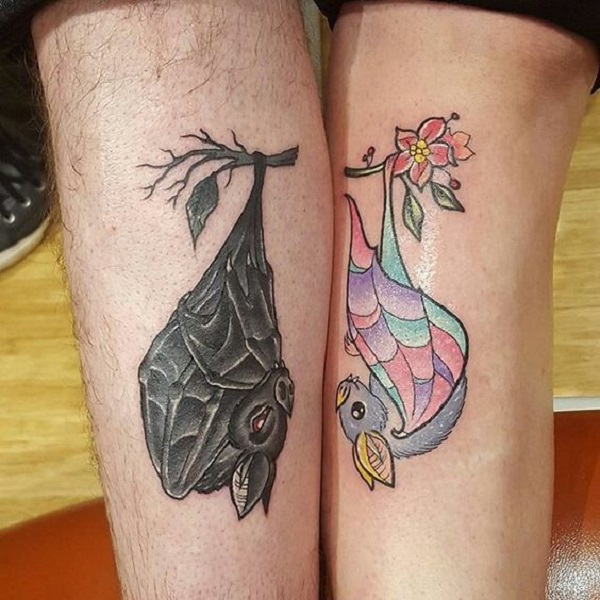 The Evil and the Good. Bat tattoos symbolizes both positive and negative meanings. This tattoo is the true depiction.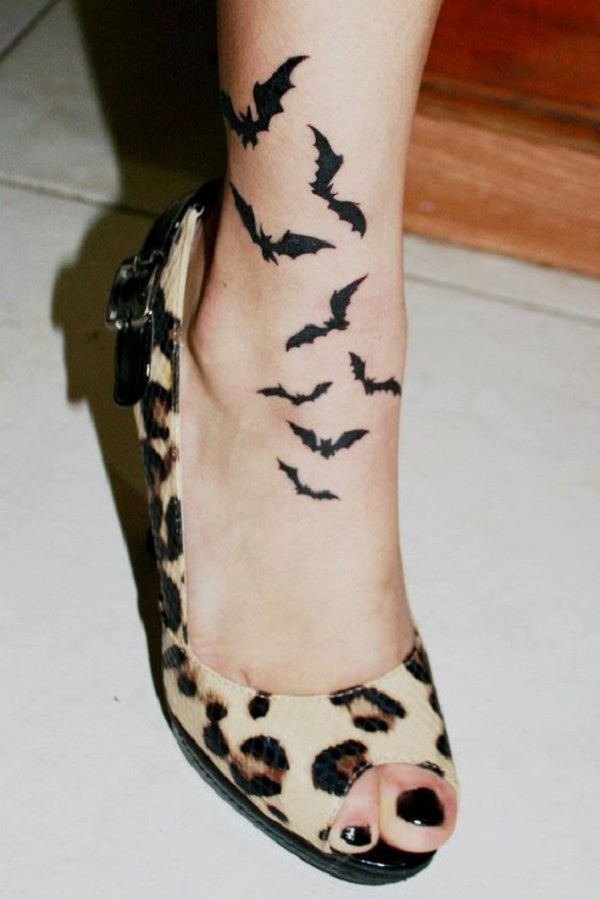 The Horde of Bats Tattoo. This tattoo is great for all the girls.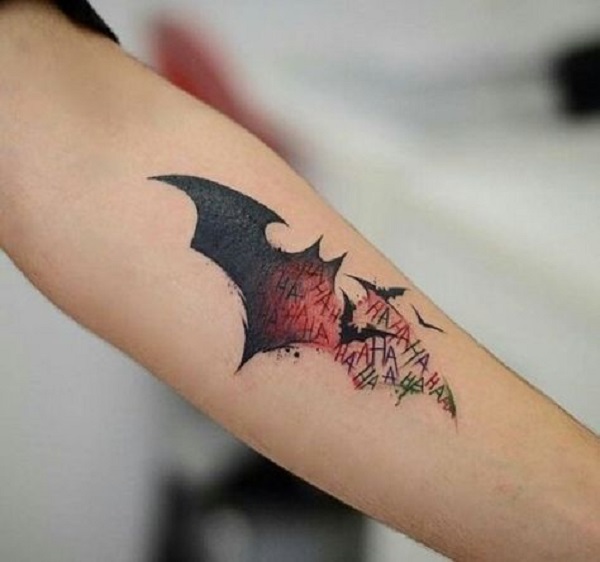 The Batman Bat. Fan of batman series? This tattoo is for you.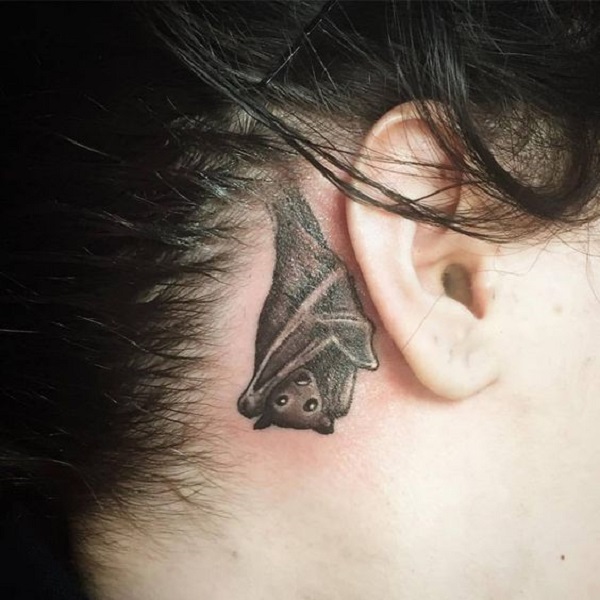 Little Bat Behind the Ear Tattoo. The placement, the art, the color – perfect for the girls.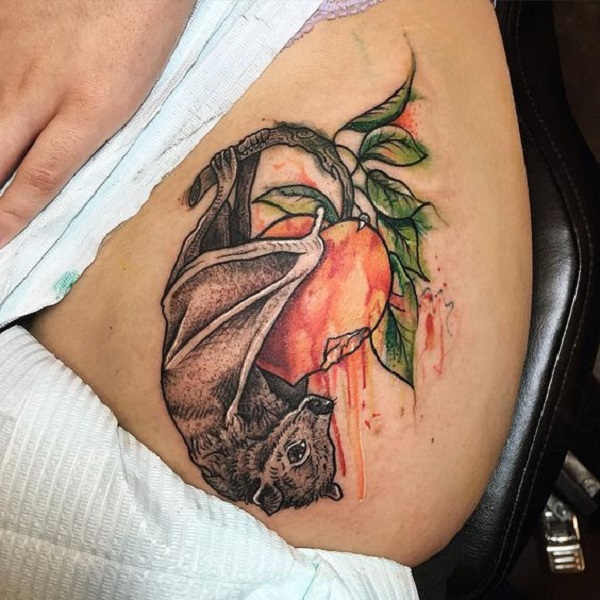 Bat Eating Fruit. It is thought that bats drink blood, but it is far from the truth. Among the hundreds of species of bats, only 4 kinds drink blood and rest of them eats fruits and insects as their meals.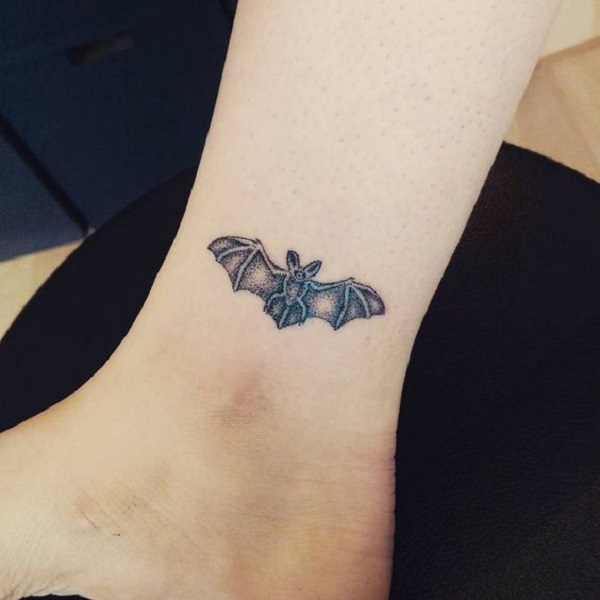 Tiny Bat Wrist Tattoo. This tiny little cute bat tattoo is giving me serious tattoo goals.
Realistic Bat Tattoo. The portrait with the bats and the spider web is kind of scary. what you think?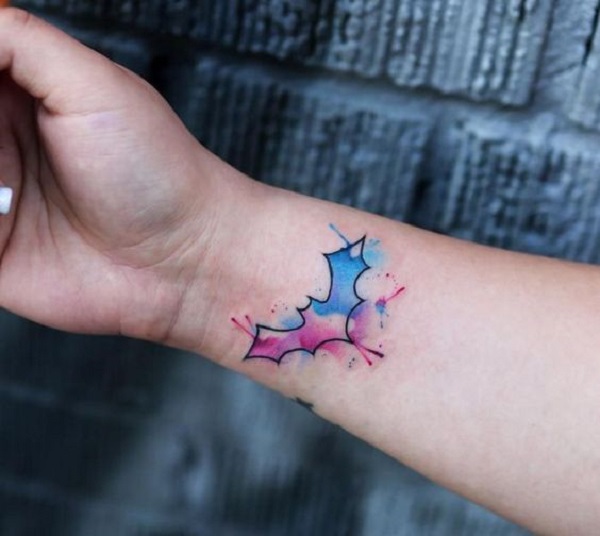 Colorful Tiny little Bat Tattoo for Her. This bat tattoo appears to me a sing of good luck and happiness.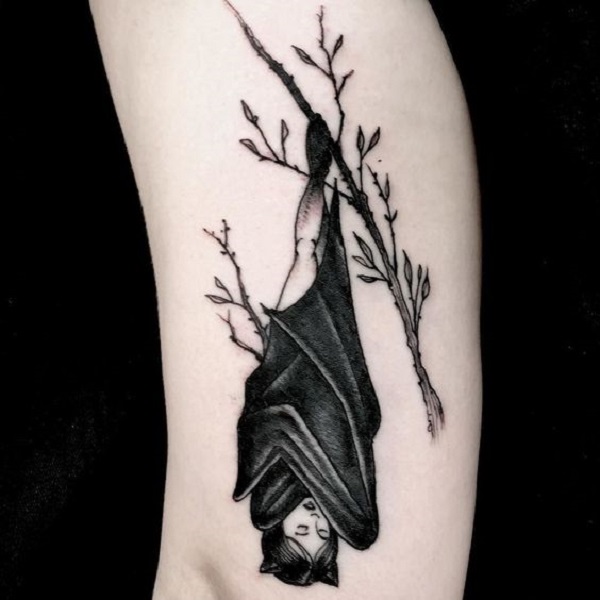 The Diana. In ancient Greek mythology, bats are associated with the virgin goddess Diana.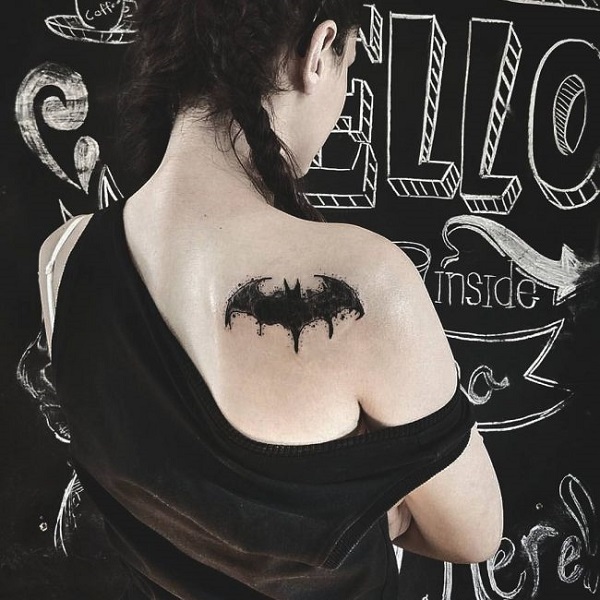 Batman Emblem. Another batman emblem to show your craze for the series.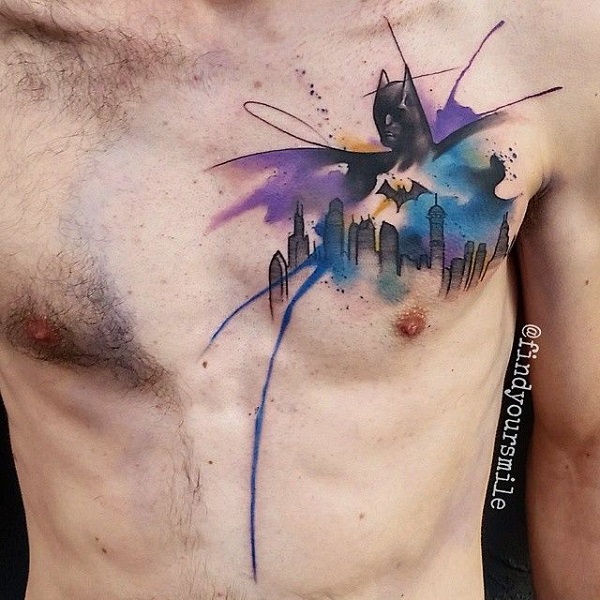 Batman in the City. You can also opt for something different, like this batman tattoo, so as to reflect your true craze for this superhero.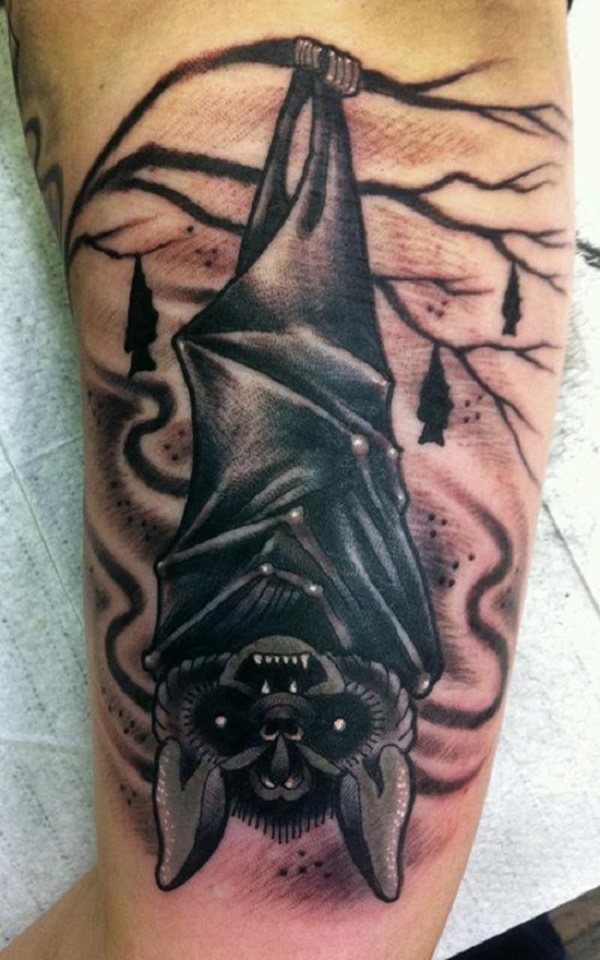 The Evil Bat Tattoo Design. The upside down bats symbolizes the luck and good fortune. Hope for the same by getting this tattoo.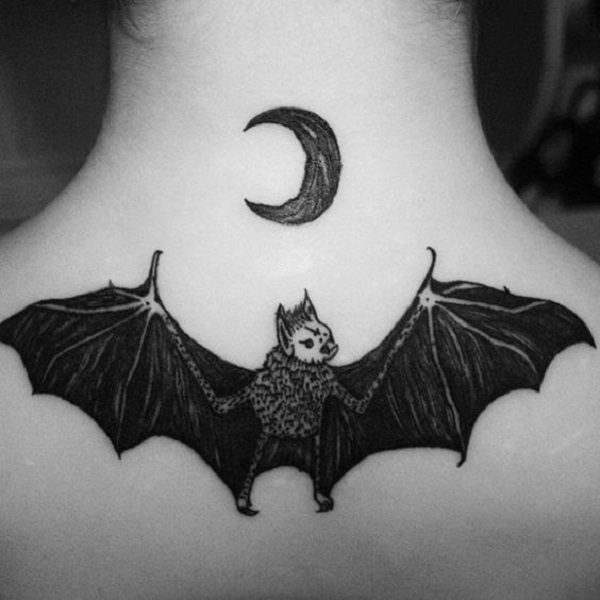 Flying Bat in the Night. Get this tattoo on the back of your neck to truly depict the evilness.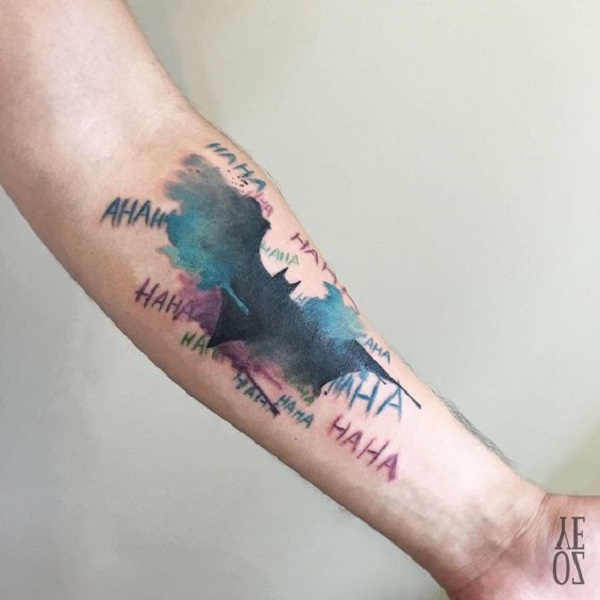 The Dark Knight Bat Tattoo. Show your love to the superhero by getting this dark knight bat tattoo on your arm.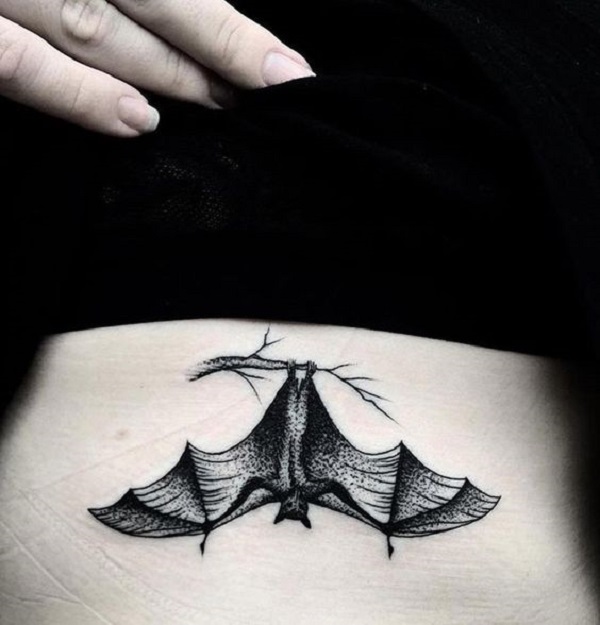 Hanging Bat tattoo. Another hanging bat tattoo for the arrival of luck.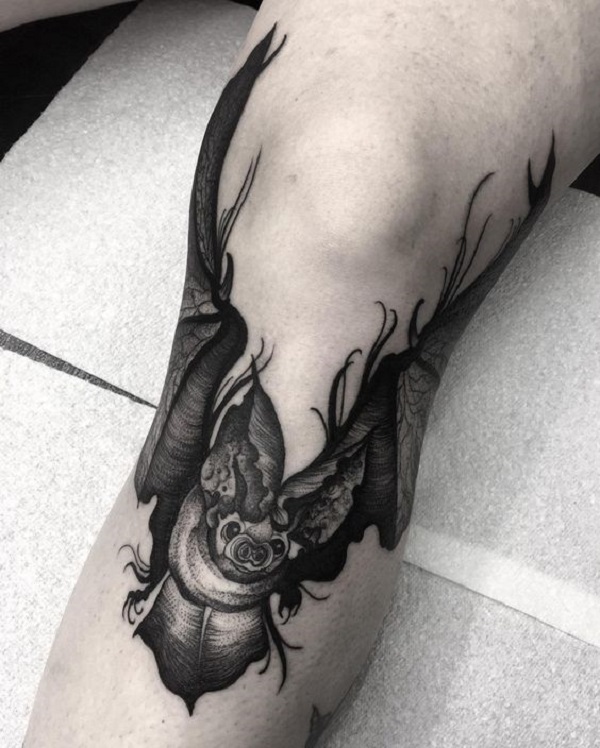 The Realistic Flying Bat Tattoo. Hats off to the artist of this tattoo. The creativity and the placement are truly admirable.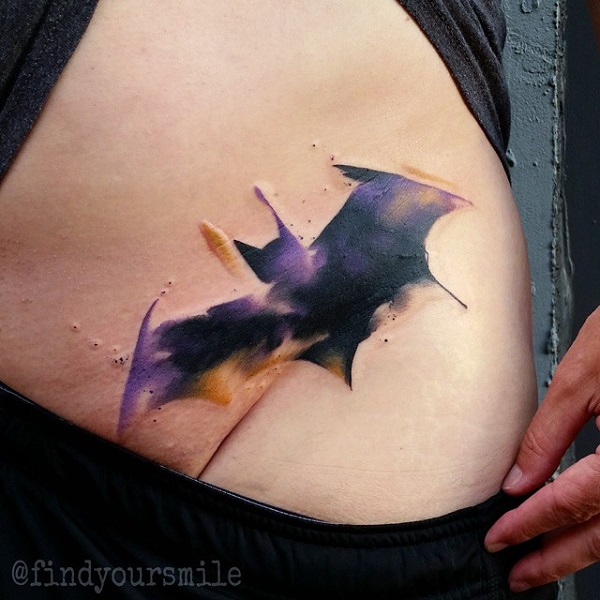 Colorful Waist Bat Tattoo Design. Want some tattoo on the waist? This colorful waist bat tattoo is for you.
Another Black Inked Flying Bat Tattoo. The Flowers and the bat in black ink represents the hate and love at the same time.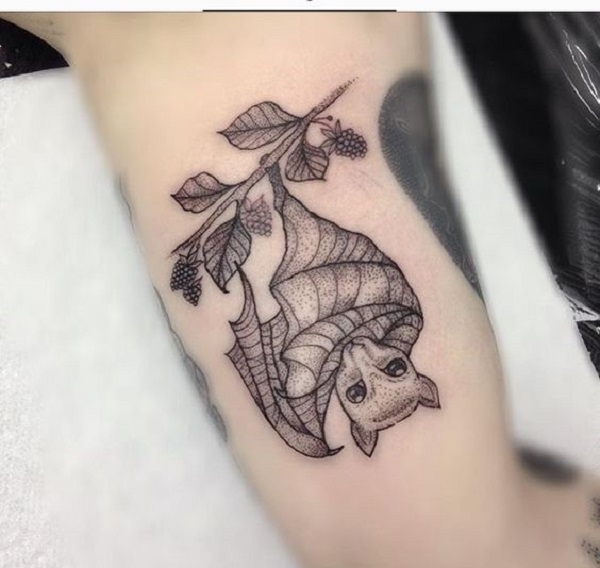 Vertical Bat Tattoo. Sign of Luck and happiness!
The Sexy Placement. Are you too finding this tattoo sensual?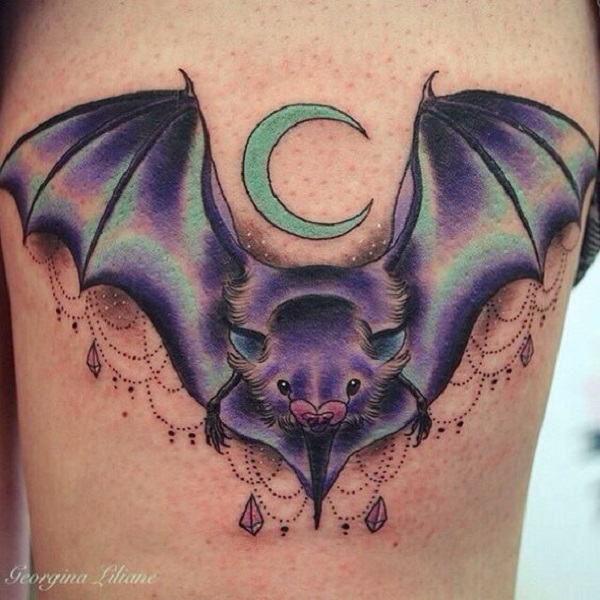 Gorgeous Bat Tattoo. This gorgeous bat tattoo is for all the gorgeous ladies out there.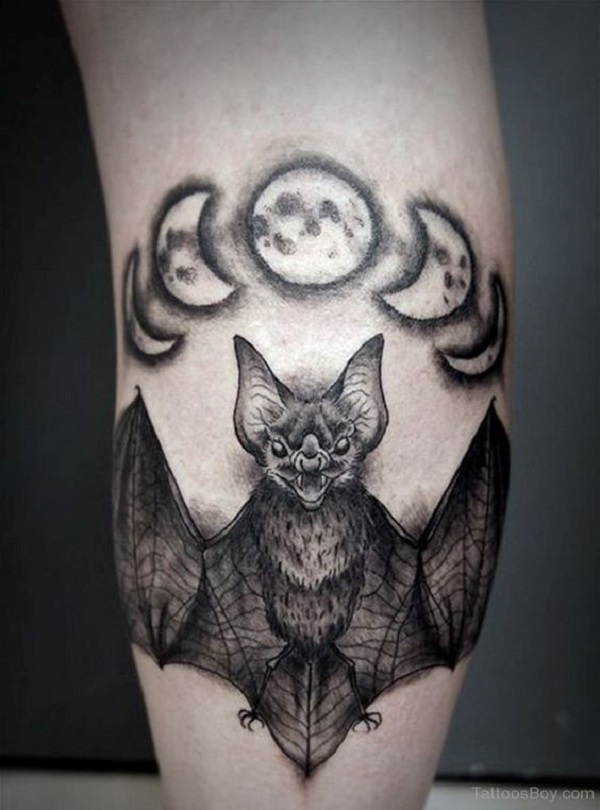 The Sign of Rebirth. Looking for a Halloween tattoo? Get this scary tattoo and scare them all!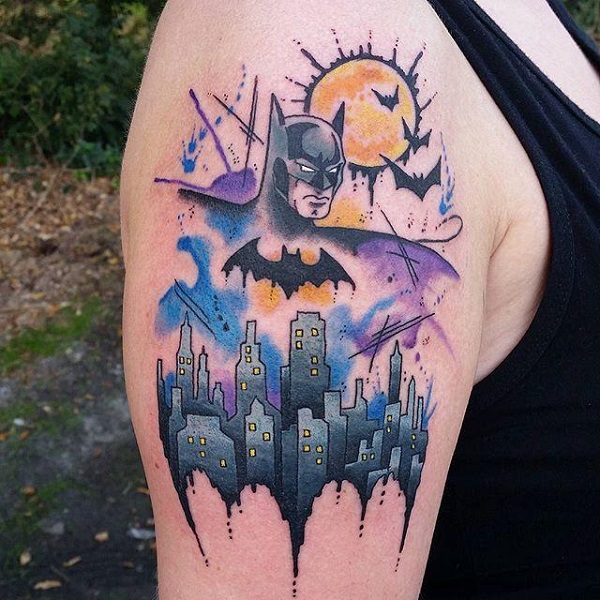 Batman Fanatic. Any batman fanatic left out there?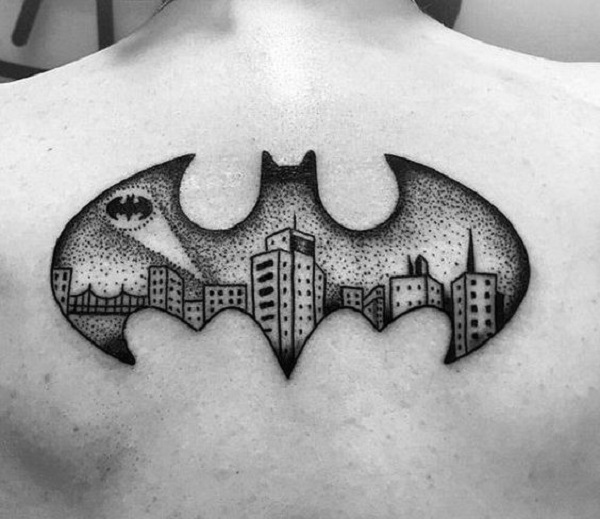 The Dark Knight. We have got all the batman fans covered with another Dark Knight tattoo.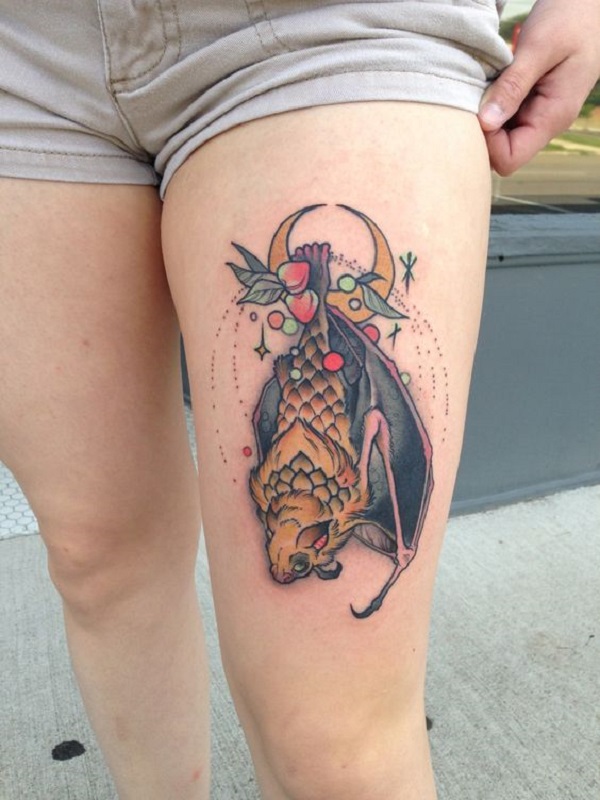 Colorful Bat Thigh Tattoo. I love the placement of this tattoo and its vibrant colors.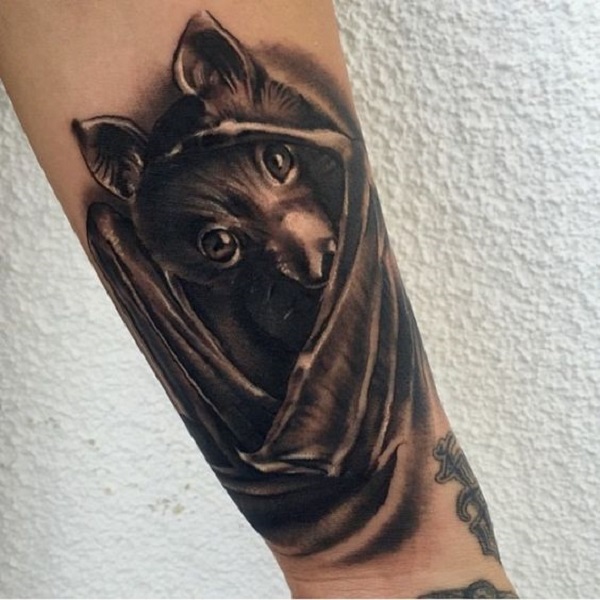 Cutie Bat Tattoo. Looking for something cute? This tattoo will make the best choice.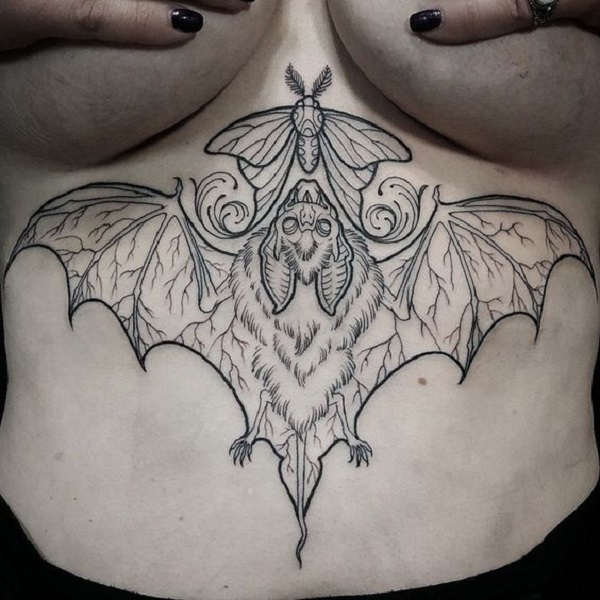 The Lined Tattoo. This lined tattoo depicts the bat chasing a butterfly.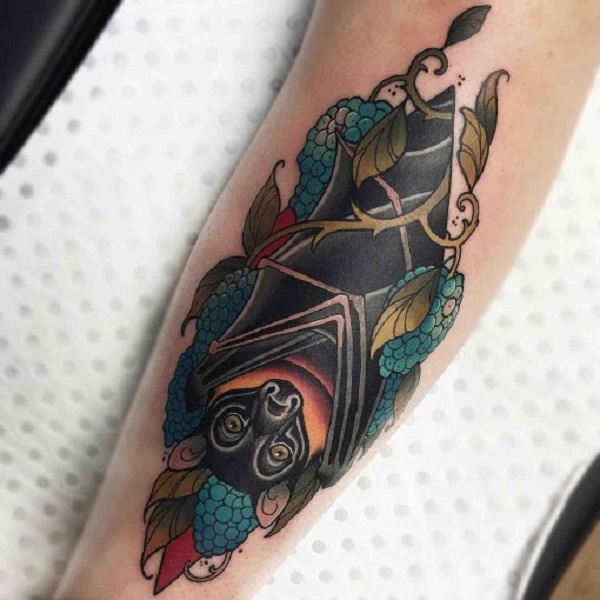 Neo Traditional Bat Tattoo Design. We are obsessed with this neo traditional bat tattoo design. You will too!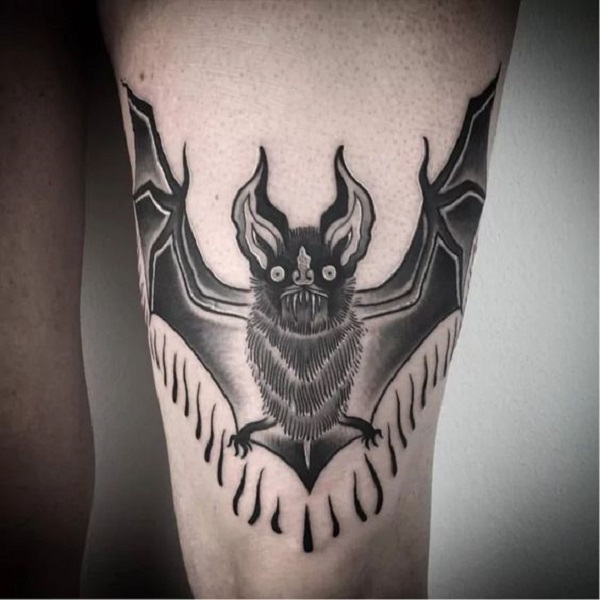 Terrifying Bat Tattoo Design. Enough of the positive meanings. Get this terrifying bat tattoo for the Halloween and be the scariest!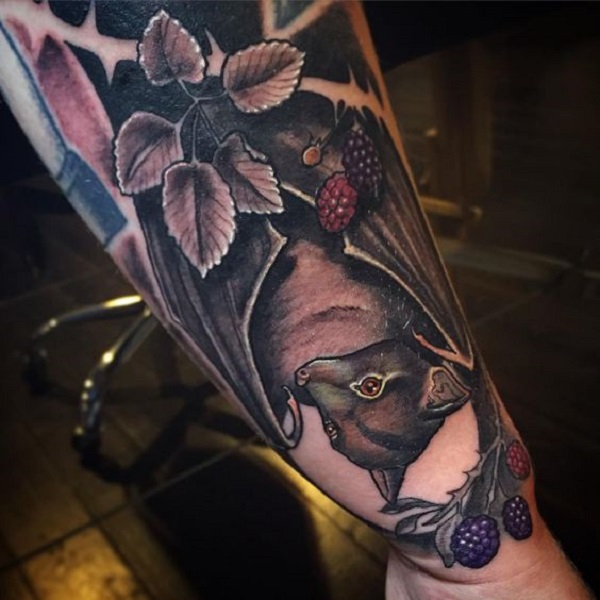 Lovely New School Bat. Another tattoo showing the nature of bats living on fruits.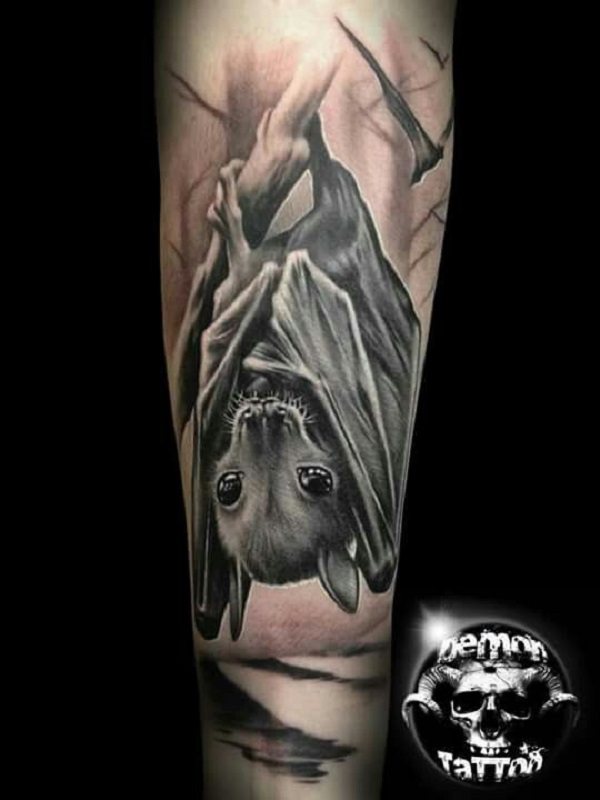 Realistic Bat Tattoo Design by Demon Tattoos. Wait for the good luck to arrive in your life, after getting this tattoo.
Flapped Wings. This flapped winged bat is kind of cute. What you think?
So which design has caught your fancy? Do let us know in the comments below!