It's safe to say that probably one of the most popular tattoos out there is of the superhero Superman. In all honesty who doesn't even know Superman nowadays? From comics to cartoons and even to the big screens, he is everywhere. Even though Superman started in America he has become a memorable character all throughout the world. The character was created by Jerry Siegel and Joe Shuster and for more than 80 years since the characters' first appearance; he is still in the hearts of many.
One of the contributing factors as to why people love to get superman tattoos is because of the movie franchise. Owing to the buzz of new Superman movies to come out a lot of younger generations have become fans and would like to have a tattoo of the icon himself. The great thing about Superman tattoos is the variety of poses that you can get. Superman appears slightly different in every media, and you can choose from a variety of personas that he is portrayed whether from the original comics to the cartoons and movies. The choices are endless and you can find it easier to customize your very own Superman tattoo.
Since Superman has evolved around the years it helps to relate to him in different ways. The tattoos are even great for men and women as well as young adults and older. Generation gap has been slowly closed and it makes it easier for everyone to have the tattoo. A lot of times tattoos are gotten by people because they serve as symbols of something that they believe in. you don't have to worry about having to run out of Superman tattoo design because of the huge variety of choices out there.
What does the Superman Tattoo mean?
Superman tattoos are special and symbolic especially for the fans who decide to have them. Basically, having the tattoo means that you embody the characteristics and the traits of the superhero himself. Then again the tattoo design should also say something about your ideals or personality.
Some of the things that the Superman tattoo means:

Strength
Honor
Respect
Bravery
Flight
Endurance
Durability
Hope
What Superman tattoo you should get
Owing to the many designs out there it might be confusing for you what to pick. It can take you days or weeks and even months to sort out which Superman tattoo you think is best. Nearly every one of them is awesome and finding the perfect choice can be really daunting. What you need to remember is that there are different patterns and depictions of Superman in the tattoos.
One of the most popular Superman tattoos is the one with the symbol patterned like an A. it's designed with red and yellow color or just about any pattern that you like. You can have as much customization as you like and it will still look like a genuine Superman tattoo. When picking out your final choice, it is best to consult with the tattoo artist you plan on visiting. You may also need to ask them if they can make the designs for you or if they have a group of Superman tattoo designs that you can pick out from.
Do your research
Like any other endeavor you might want to start, you should always begin your research thoroughly. Make sure that you know and understand what the tattoo stands for. It is crucial that you know what the tattoo represents and that you believe in it. The biggest mistake you can make is getting a tattoo that is representing something that isn't what you originally believe in.
It's normal that you get excited about getting a tattoo but you shouldn't rush it especially when you aren't completely sure of what to get. Regret is the last thing you want to feel especially when getting something as permanent as a tattoo. Think about it again and again, talk to your friend about it and ask their opinions if it would help. If you are till at the phase of questioning yourself then give it some time.
The different sides of Superman
There are many reasons why people choose the Superman tattoo. It's a great choice to start off and a very positive iconic symbol that everyone recognizes and relates with. Gone are the days where people will look at you weird when you have a kid's tattoo, because with the help of media nowadays there are more sides of Superman being shown.
Be mentally and physically prepared when you finally go out to get your tattoo. Make sure that you are going to a tattoo artist that you completely trust and have had enough experience to handle the inking. Safety should always be your first priority and you can always bring a copy of your Superman tattoo reference if the design is not already in the tattoo artist's shop.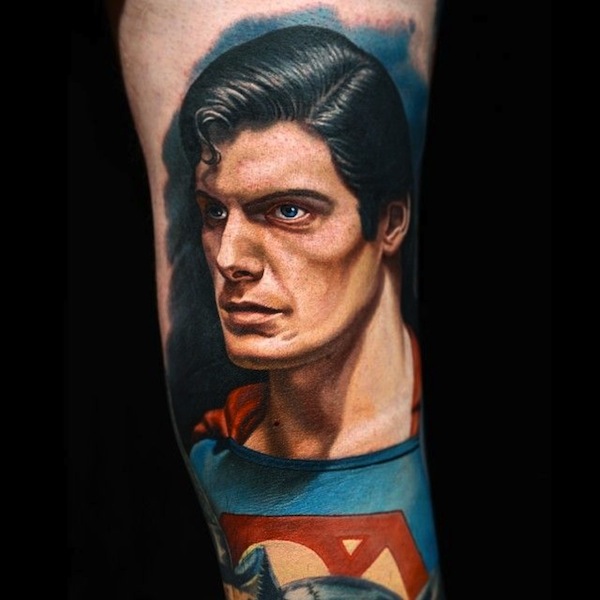 Classic superman tattoo for the arm. This is a wonderful looking tattoo that represents Superman as the strong and chiseled hero that everybody looks up to. He is shown to be strong and unbeatable.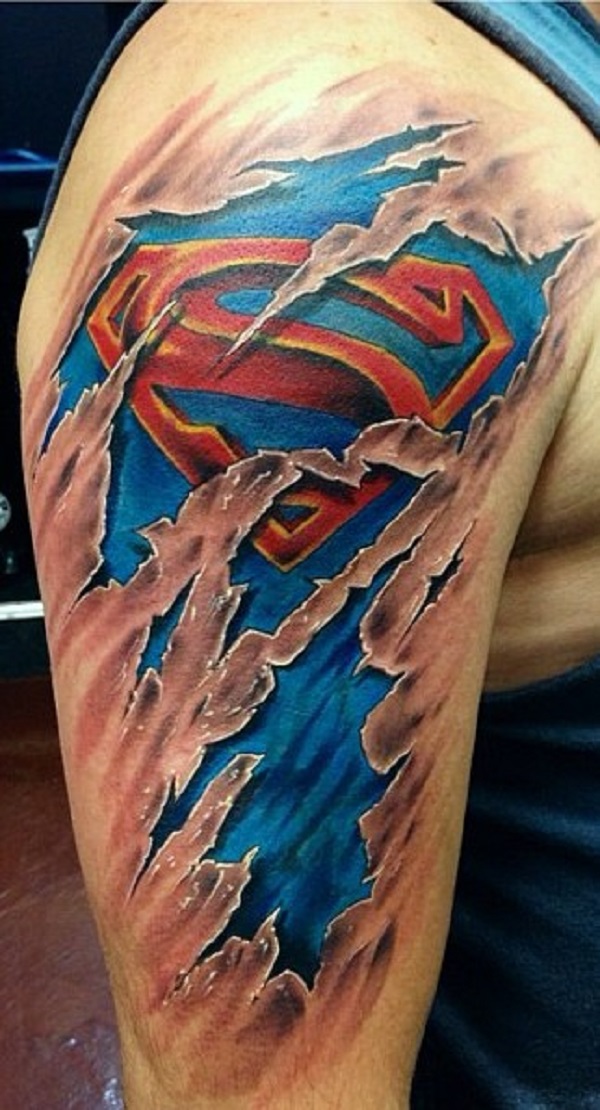 A ripped off Superman sleeve with the Superman logo on it. A dramatic looking Superman tattoo showing the weaker side of the hero, implying that he also has weaknesses and can experience pain beneath his strong façade.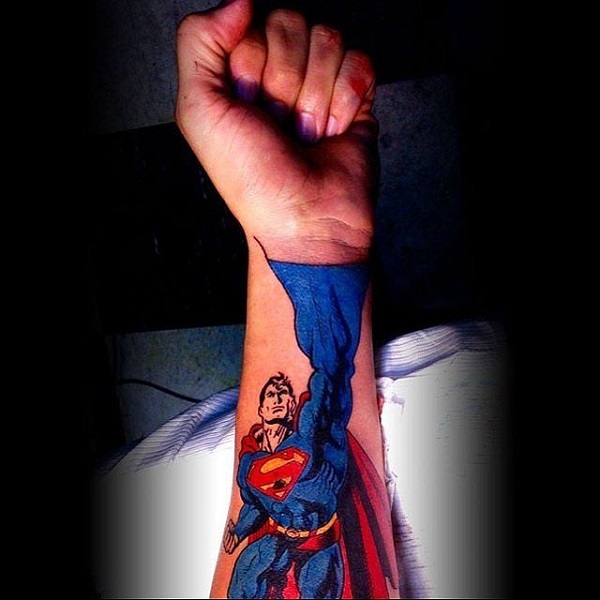 A creative looking Superman tattoo where his arm extends to be the person's arm. Quirky and definitely interesting to look at.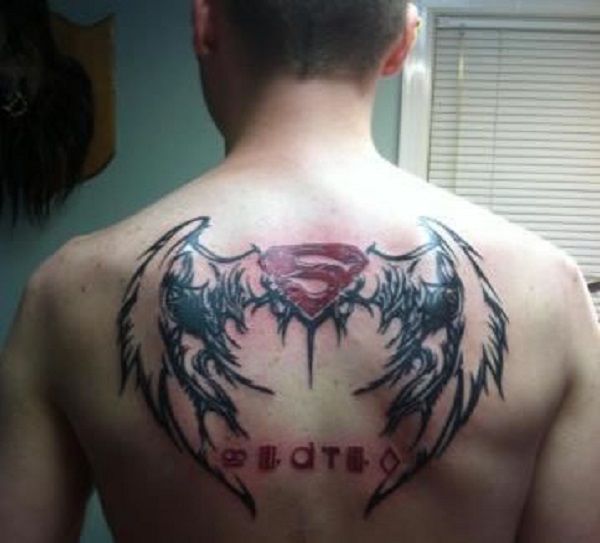 Superman dark angel tattoo. Personalize your Superman tattoo and add custom parts like wings and a few words of your own to make an impact.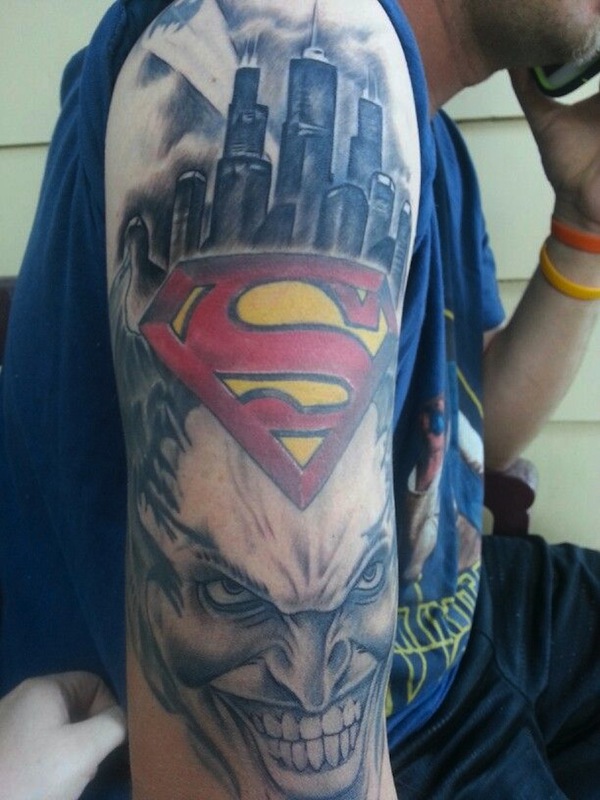 A full arm Superman tattoo showing the city that Superman saves as well as a representation of the villains he has to face and save the people from.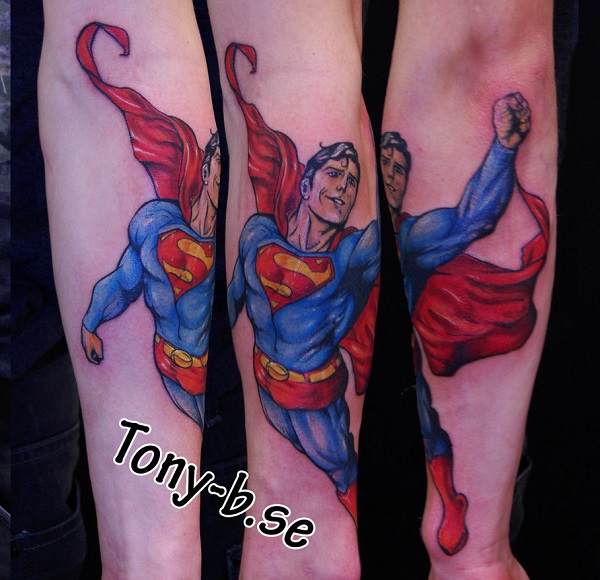 A great looking Superman tattoo that extends all around the arm. It shows Superman majestically flying upwards showcasing his costume and iconic red cape.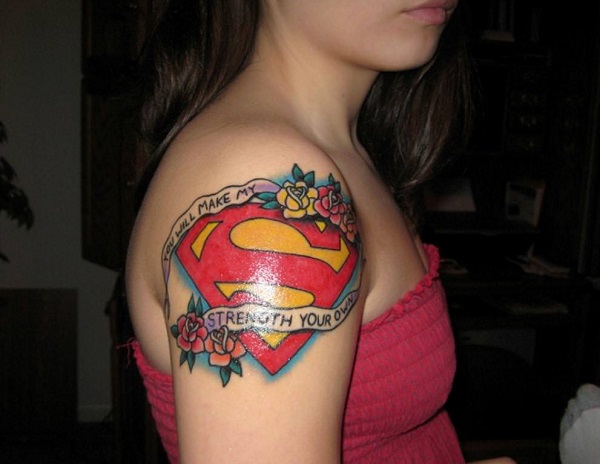 Iconic Superman symbol on the arm with added flowers and a quote. The symbol represents Superman as a strong person who is not only the physical strength but emotional strength of people as well.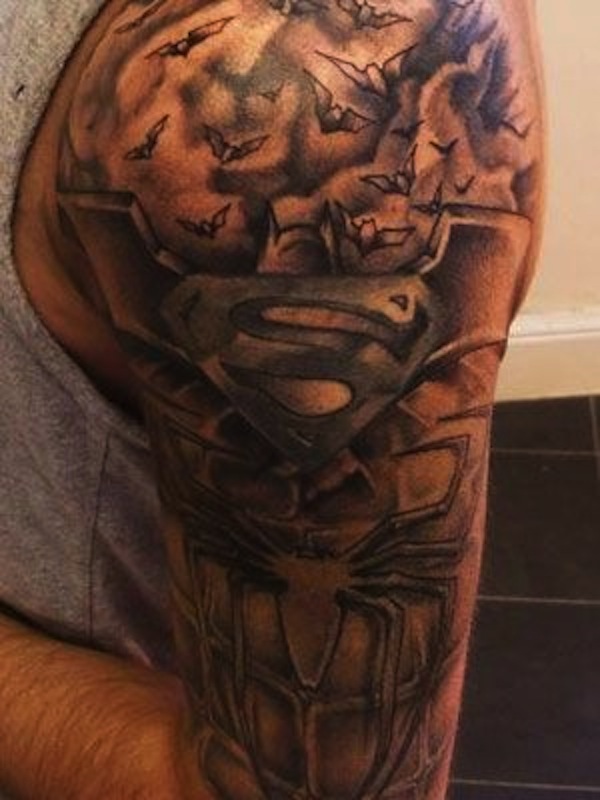 A charcoal inspired tattoo of Superman along with other heroes such as batman and Superman. The Collage of the superheroes' iconic signs looks amazing and truly eye catching.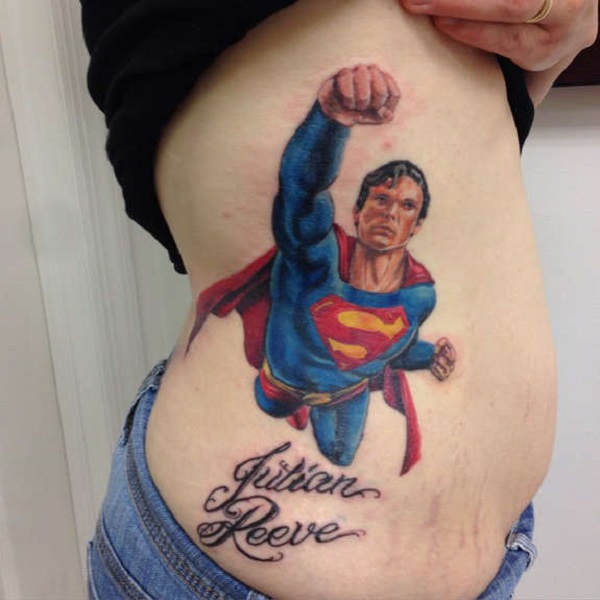 A flying Superman tattoo on the side of the stomach. A rather painful pricking of the skin, but very well worth it. Superman is shown to be flying forward with a name engraved below.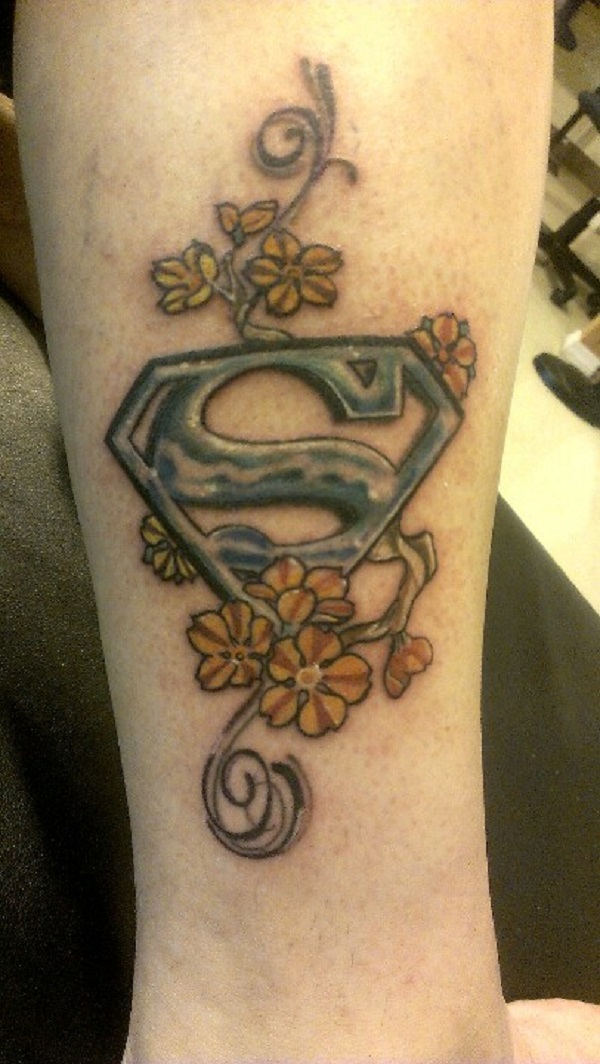 Superman symbol in blue ink. To make the symbol unique from the rest, flowers have been added all around it and seemingly stems from the "S" itself.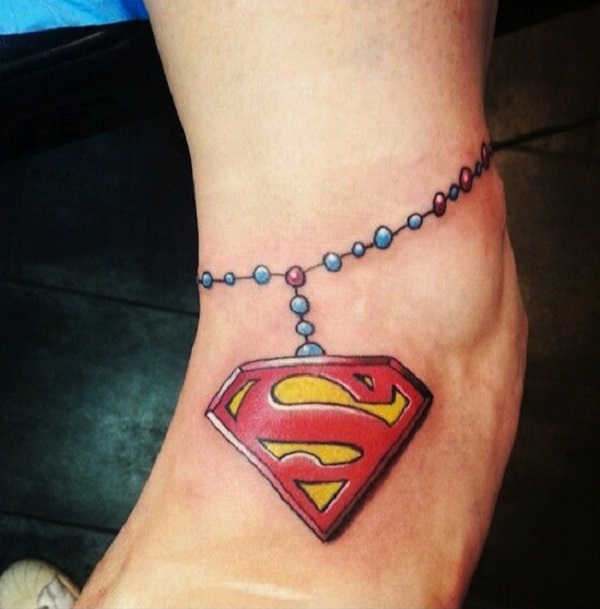 Anklet designed Superman tattoo. Why not get a permanent anklet with this colorful Superman symbol and beads tattoo.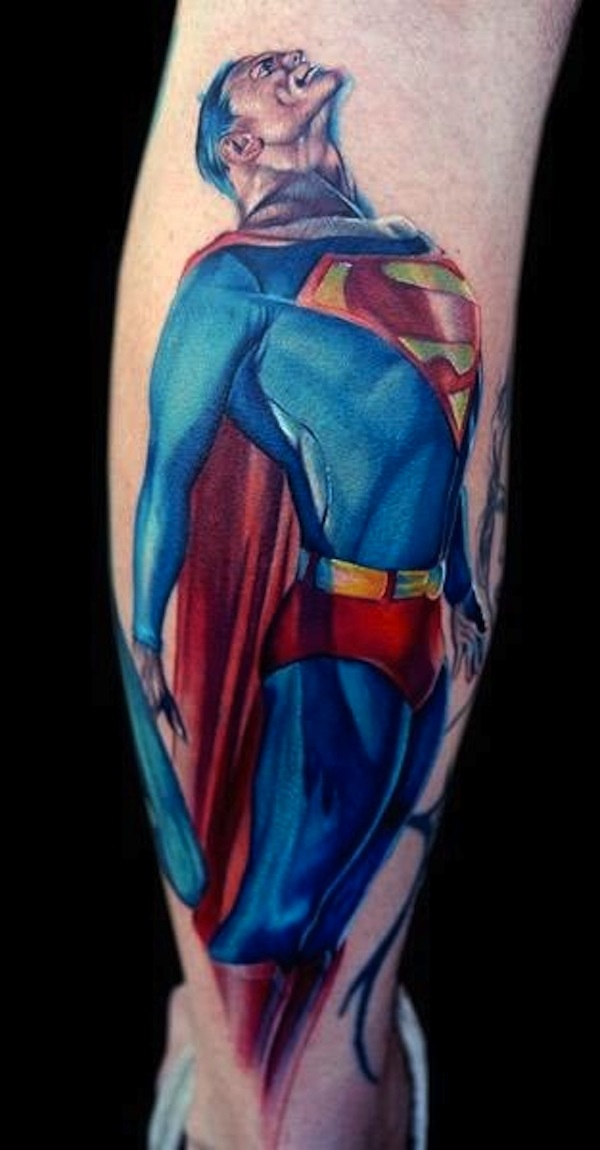 A strong and able bodied Superman lunging forward. Tattoo of Superman in action as he escalates upward the person's arm implying speed and determination.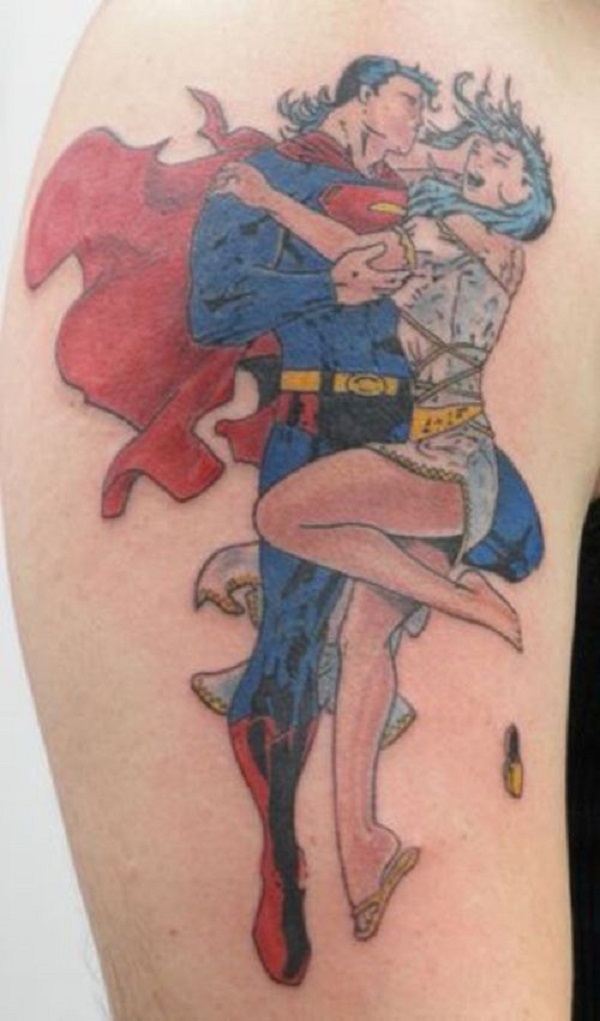 Superman and Lois Lane. The iconic superhero is of course nowhere without his beloved love interest. Superman appears to be carrying Lois up in the sky as the damsel holds on dear to him.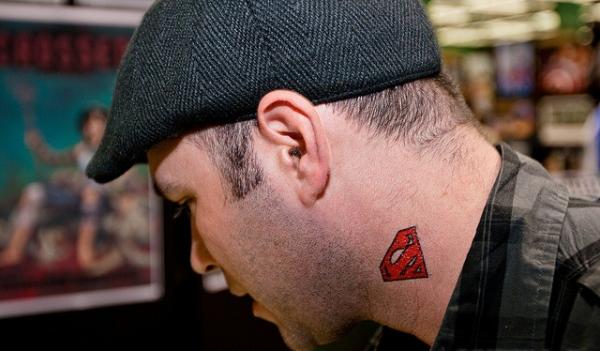 Minimalist Superman tattoo on the neck. Simple, eye catching and meaningful. The blood red "S" symbol is enough to make a statement.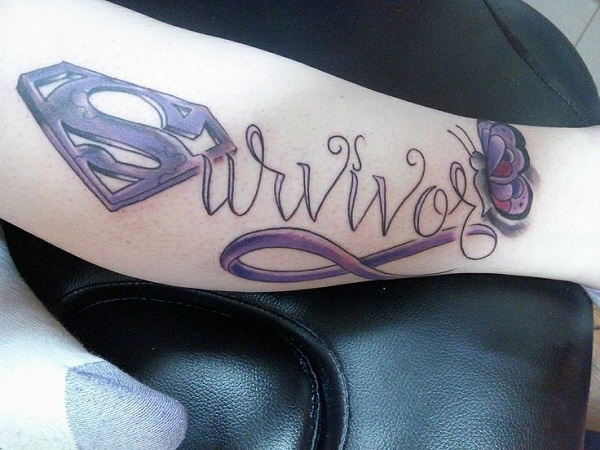 "S" for survivor Superman tattoo. Superman isn't only a comic book hero, but is also a hero of people suffering from all kinds of battles in life. He helps symbolize the resilience and strength of a person who is struggling to survive and overcome obstacles in his or her life.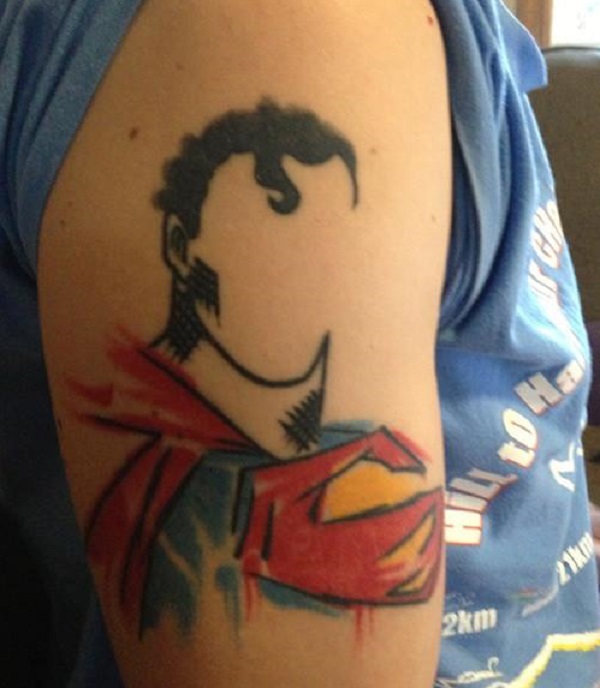 An artistic take on an unfinished Superman tattoo. Simple, minimalist but gives you a perfect view of Superman.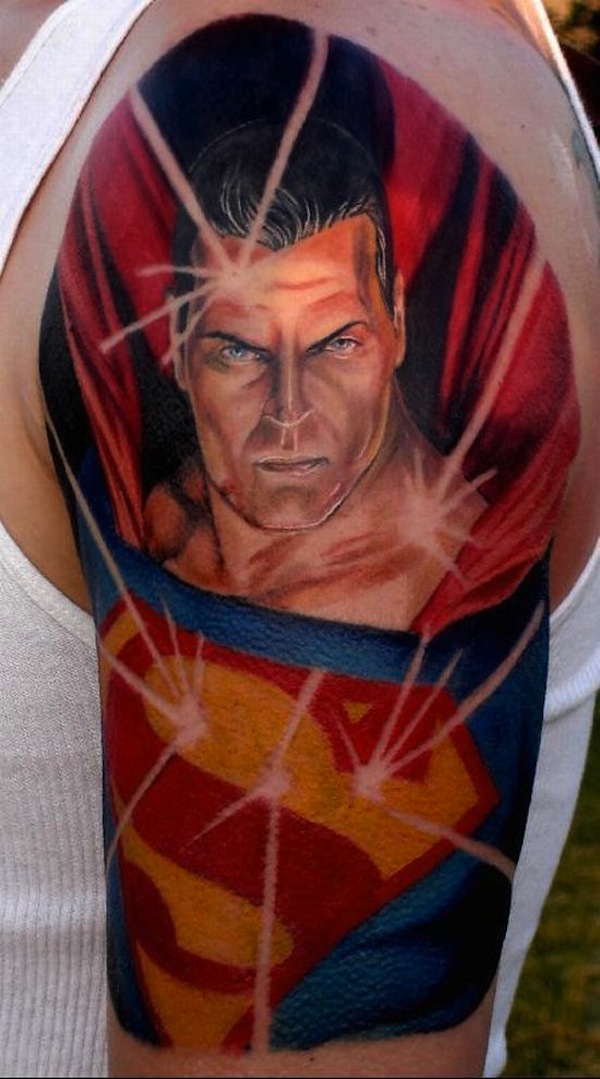 Majestic Superman tattoo. The tattoo presents Superman as bold, strong and the defender of the people in need. His features have been drawn strongly and precisely to show his strength.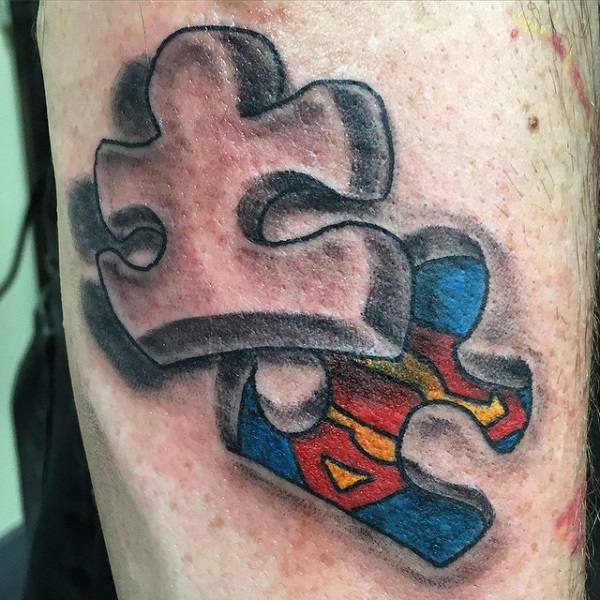 Superman symbol in a puzzle. A symbolic tattoo representing Superman as a piece of a jigsaw puzzle waiting to be completed.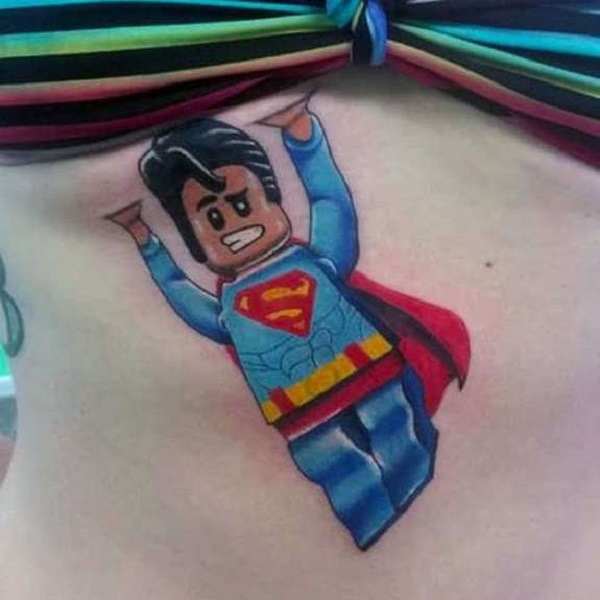 A funny and quirky Superman tattoo done with a bit of humor. Apart from being represented as serious and strong, Superman can also come off as comical and cute.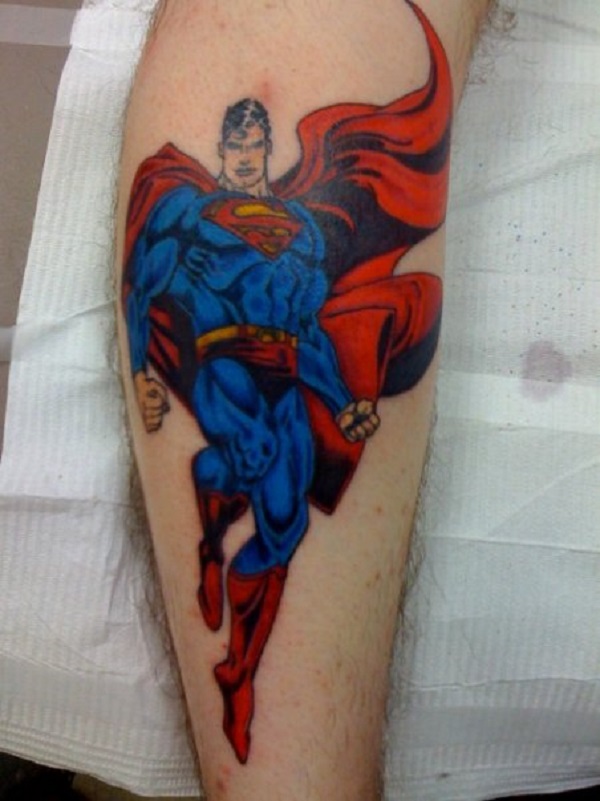 Superman tattoo where the hero is shown to be slowly descending to the ground from flight. His strong expressions tells us that he is ready for anything and that he can take on any challenge in front of him.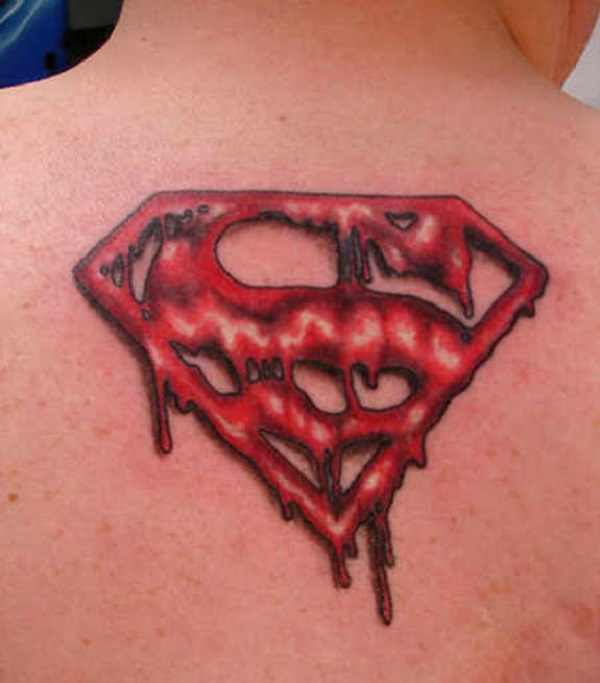 A Superman symbol in a somewhat bloody mess. The dripping effect shows a rather injured Superman, but is still fighting no matter. The tattoo conveys the meaning of holding in despite the pain.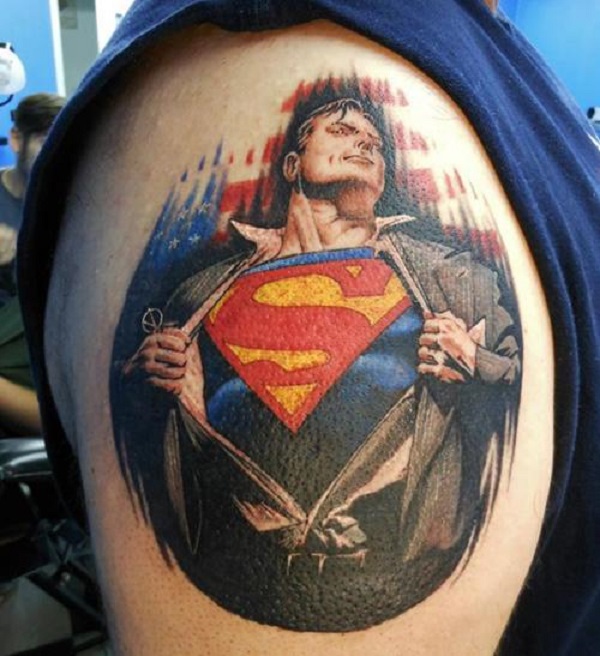 A beautiful tattoo of Superman evolving from the simple Clark Kent to the iconic superhero. It shows the scene where he takes off his normal clothes to reveal the secret within that he really is the beloved superhero in disguise.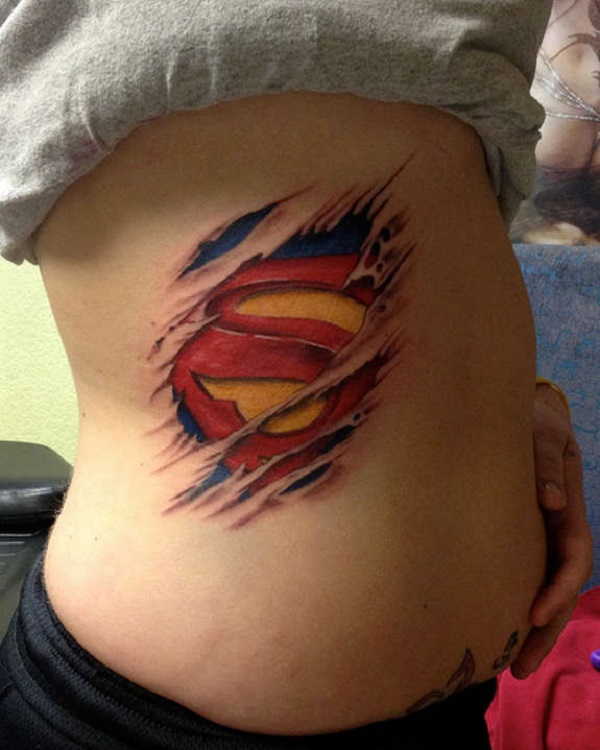 Another ripped Superman tattoo. This is a fairly popular Superman tattoo because of the message it conveys as well as the artistic fling that it has because of the ripping effect.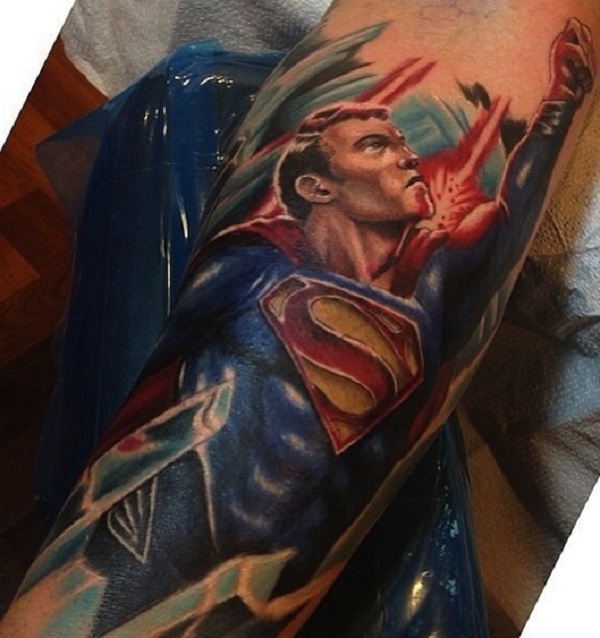 A fighting Superman surrounded by kryptonite. Kryptonite is Superman's weakness but the tattoo represents him as struggling to fight on and having a determined look on his face to ward off his attackers.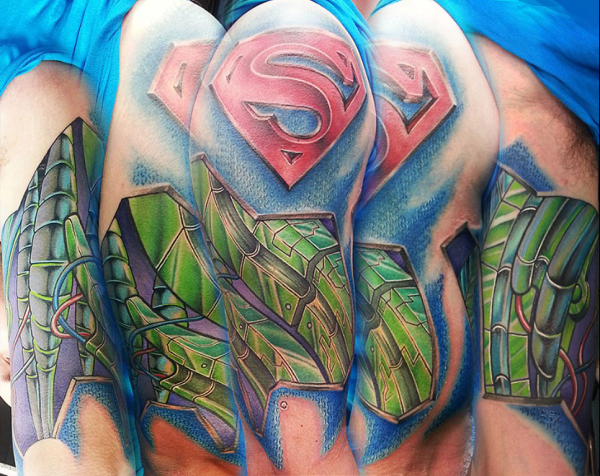 Artistic representation of the man of steel in literal. The tattoo shows the inner side of Superman's body which is made out of circuits and steel making him invincible as he is.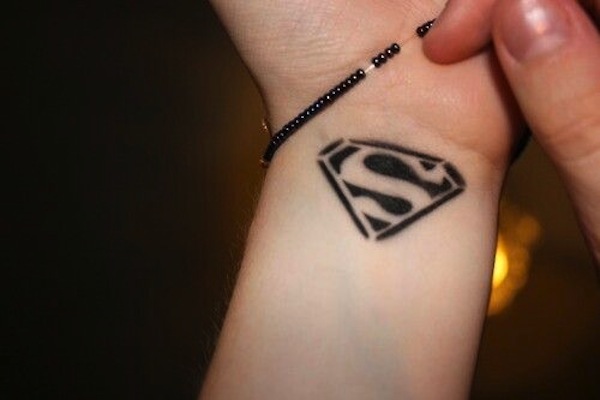 Minimalist Superman tattoo in simple black ink, perfect for those who want to have a memorable symbol of Superman on the part of their body which they can always see, the wrists.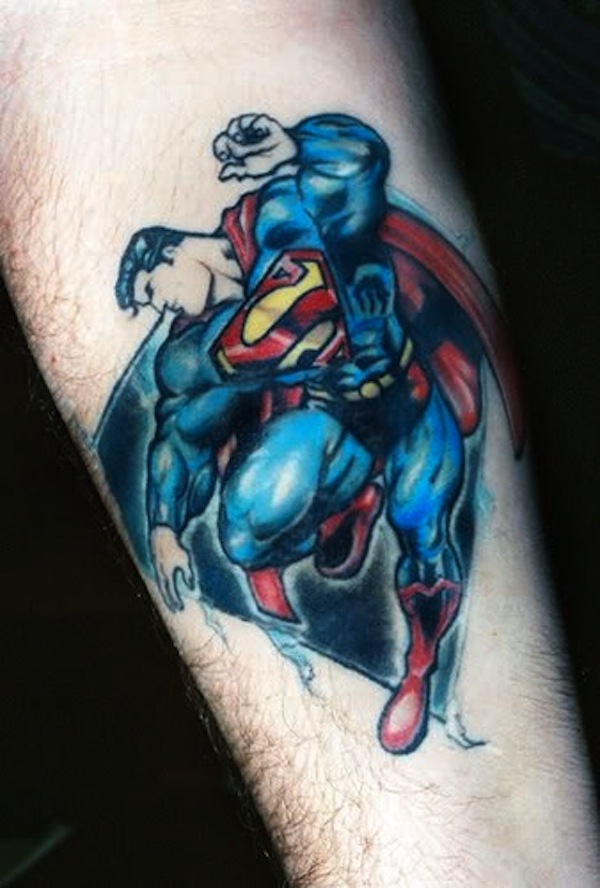 Superman tattoo where the man of steel is in mid flight. A flying Superman is a great representation of hope, determination and positivity for many which is why they would choose to have a Superman flying tattoo.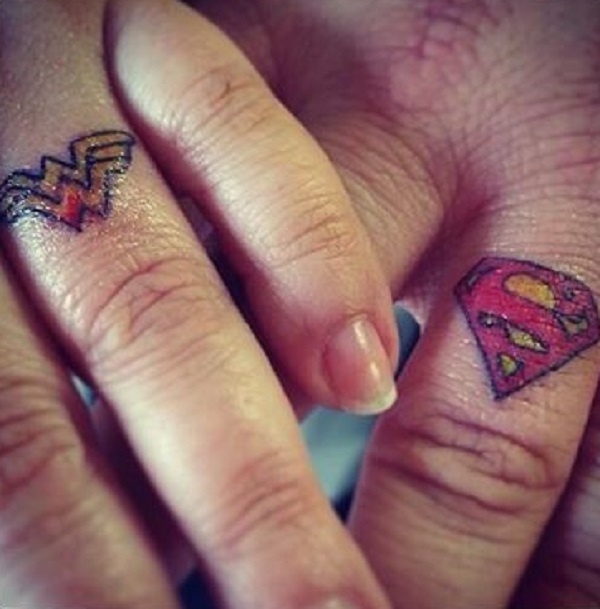 Superman ring tattoo. For those who want to be subtle about the tattoos, a ring tattoo is perfect. The Superman "S" icon even goes perfectly with the ring illusion.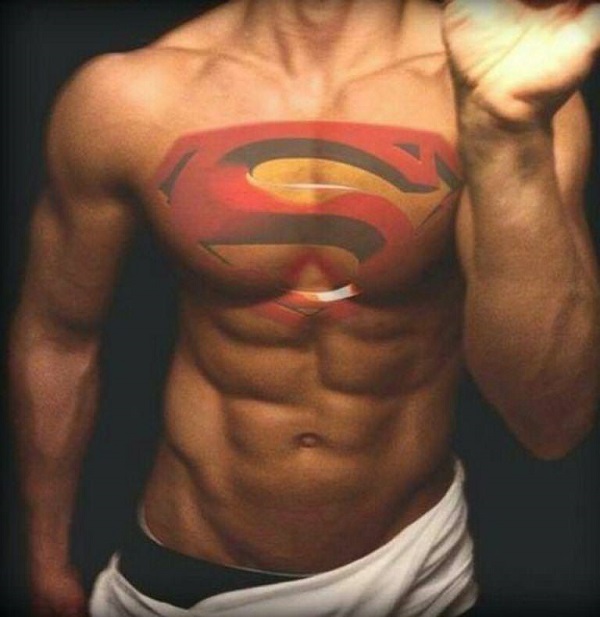 Superman symbol tattoos on the chest. A perfect Superman tattoo for people who are not afraid of feeling a bit of pain. The tattoo is truly worthwhile and you can even copy Superman's iconic actions of ripping his disguise and revealing the symbol engraved on his chest.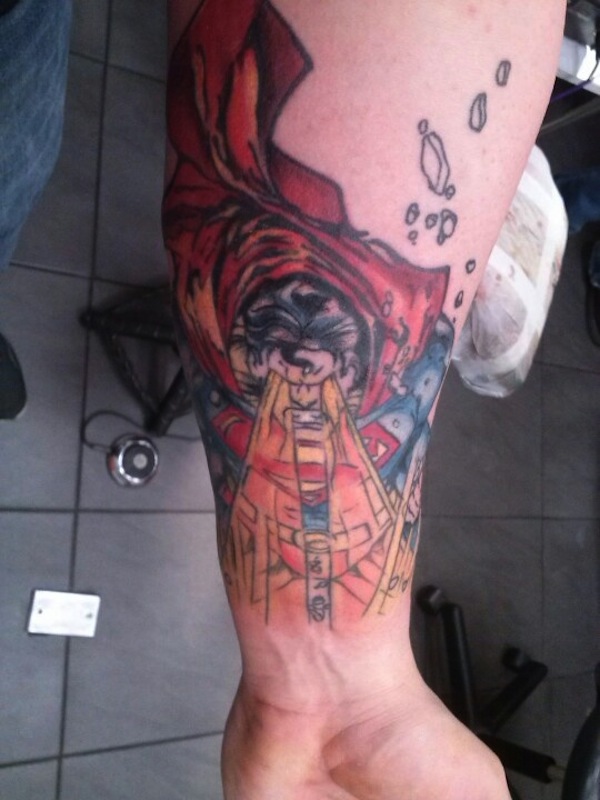 Tattoo of a fighting Superman. Using his superhuman powers. Superman is shown to be fighting evil and crime. The tattoo showcases his powers and what makes him special and powerful altogether.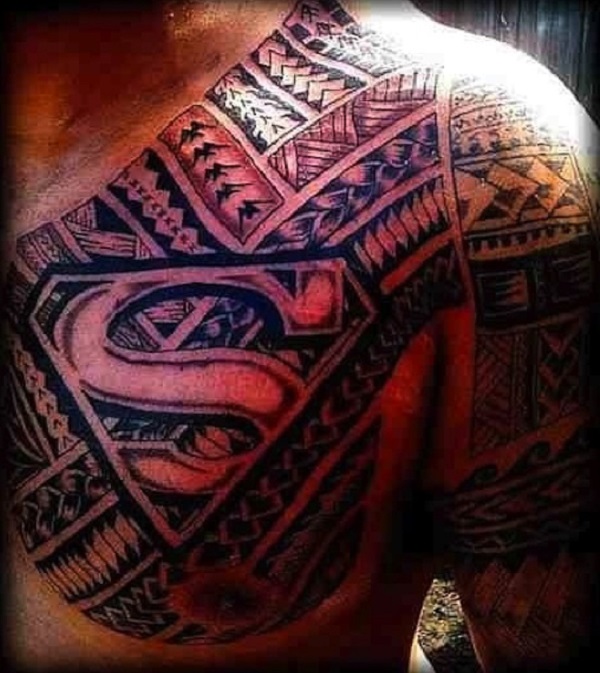 Tribal tattoo inspired by Superman. It is easy to customize your own Superman tattoo since there are so many things you can add into the designs. This one is perfectly amazing because of how the symbol was incorporated into the patterns.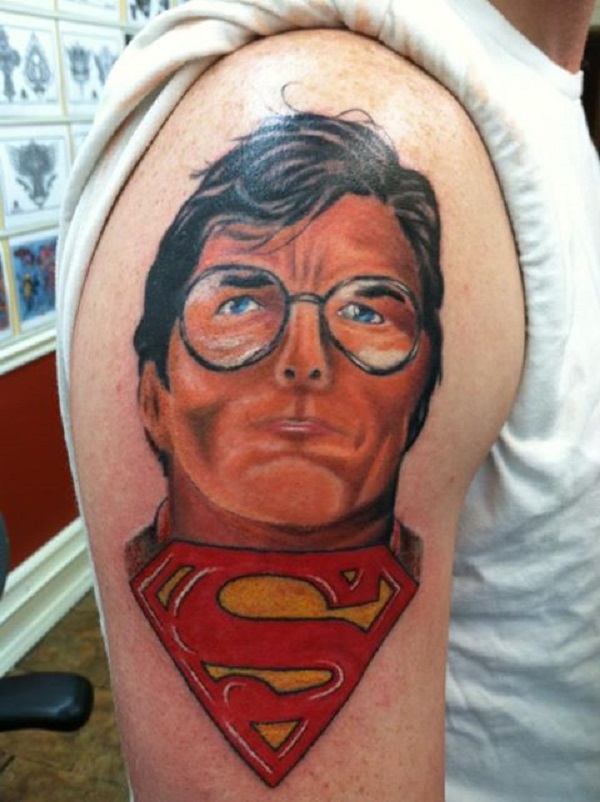 Superman in his Clark Kent form. In the tattoo he is shown to be in his human self with the Superman symbol hanging in his neck. This shows that no matter what form he is, the man of steel is still the same and one.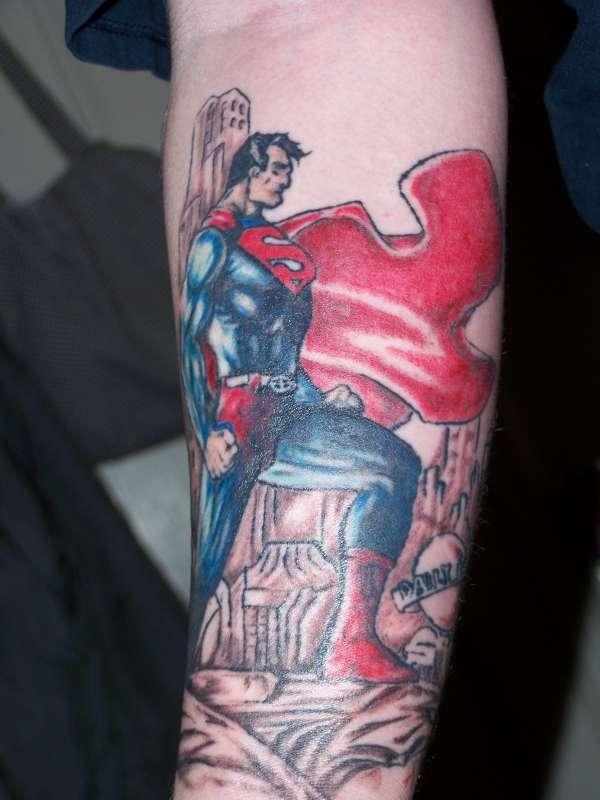 A majestic pose from Superman tattoo. He is shown to be standing over a pile of debris, most probably from after a triumphant fight with evil villains.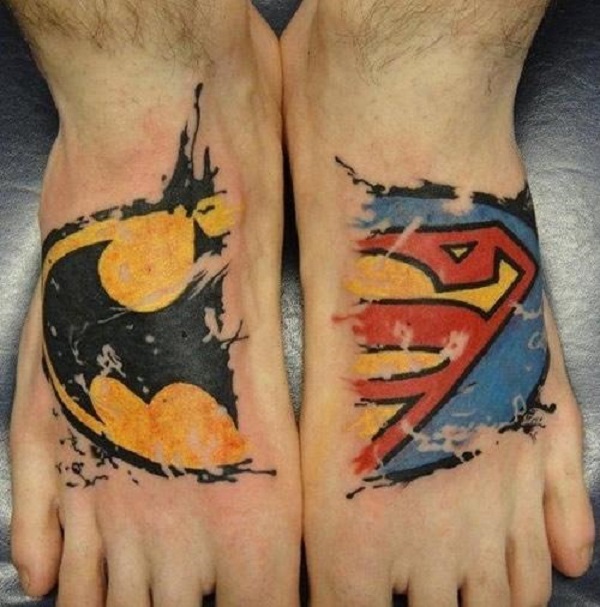 A very artistic tattoo of both Superman and Batman. The tattoo is inspired from Batman v Superman: Dawn of Justice wherein both fight each other while trying to protect humankind.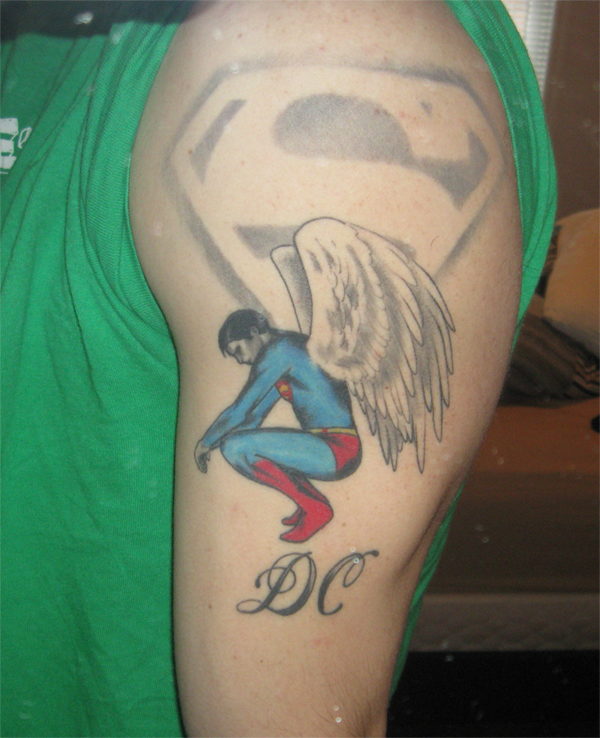 Superman with angel wings tattoo. The tattoo shows Superman crouching down with angel wings and behind him is a light silhouette of the "S" symbol and the words DC below. It's like a memorabilia for all the memories Superman has imparted to everyone.