Here we have chosen to showcase over thirty of the best photographers and photography studios I have found on Facebook. I would encourage you to check them all out and each picture links to each fan page.

This showcase and roundup has come together after several hours of work in seeking out, search, browsing and finding you my favourite photographers and photography fanpages on Facebook. All are my personal opinion having already seen there work on Facebook or having seen there work in recent weeks.
I showcase these fan pages in no real order and trust that you will be just as inspired as I was with all of them.
Adam Robertson Photography
4362 fans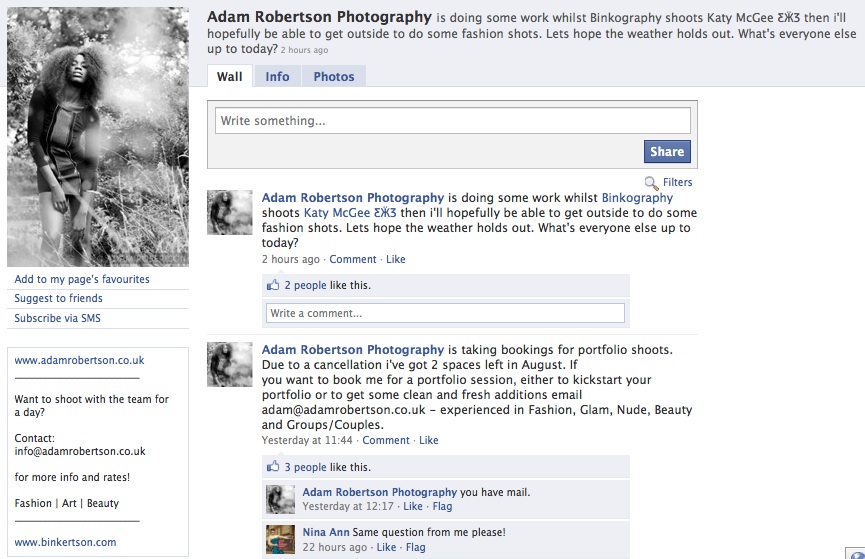 I'm Adam Robertson and I'm here for the weird, wild, creative and beautiful. I'm a full time professional photographer. Widely published. Shooting mainly fashion, art and beauty; although I am also known to shoot entertainment and live venue work. Capturing well known events, festivals, bands and DJ's world wide.
Aiko 273 Photography
888 fans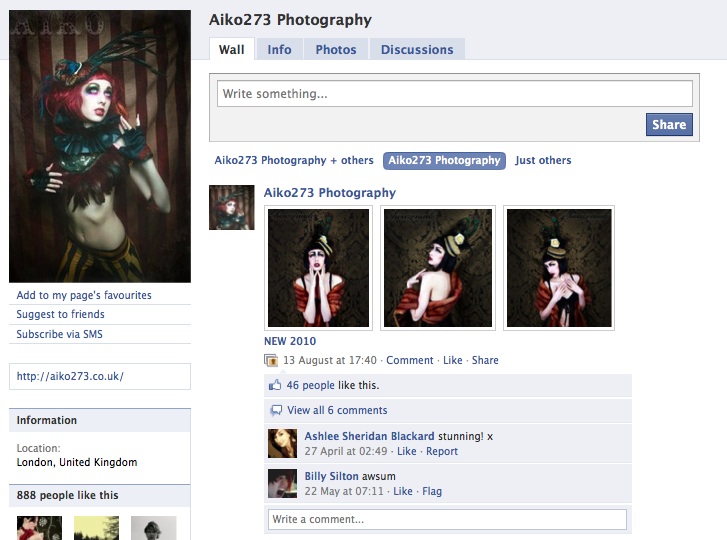 Check out her DeviantART Profile
Amman Jordan Photography
230 People like this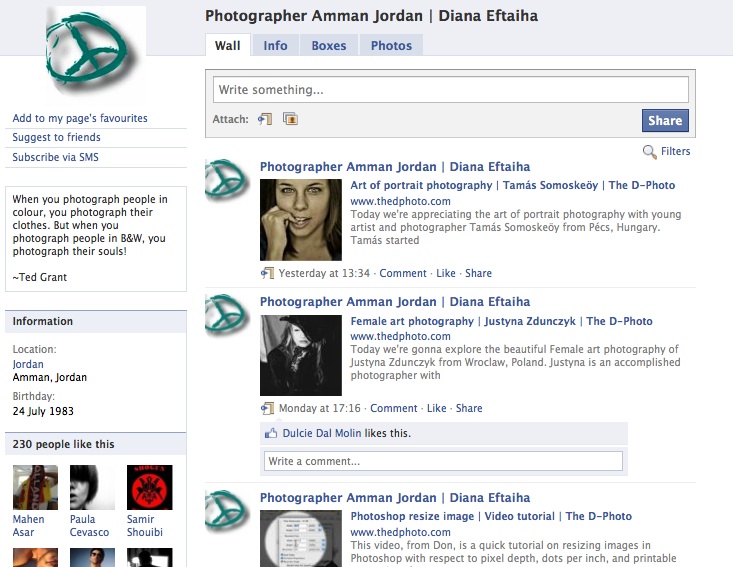 Photographer, web developer, and founder of thedphoto.com photoblog.
You can follow her on twitter @graceofrox, or drop an email to say hi at [email protected] =)
Andrewf Photography
2255 fans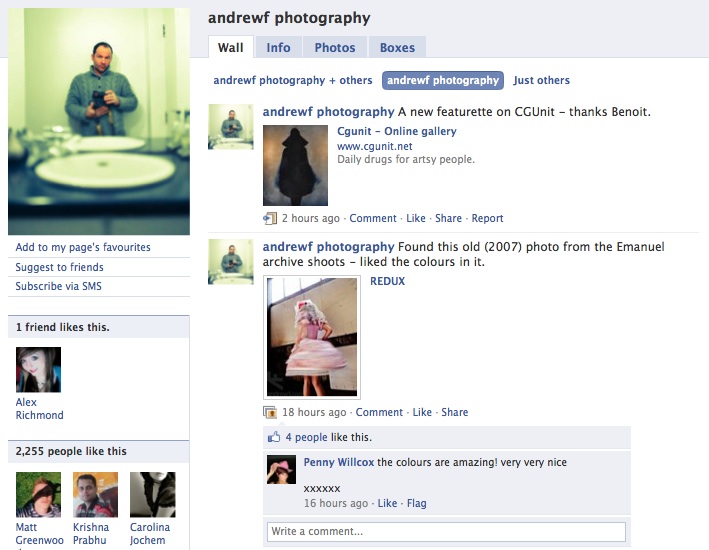 UK based photographer with over 20 years experience, including 10 at the BBC and 10 freelance.
Check out Andrew's personal Website
Cathleen Tarawhiti
2507 fans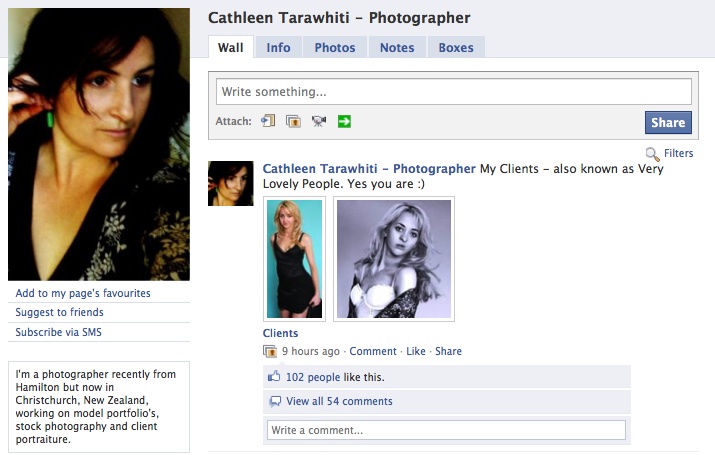 I'm a photographer recently from Hamilton but now in Christchurch, New Zealand, working on model portfolio's, stock photography and client portraiture.
Find her personal website here
Chaotic Photography
1744 fans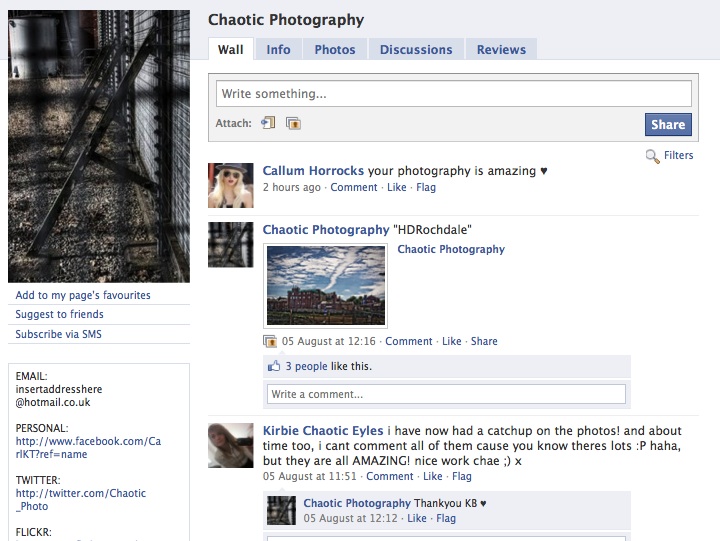 Find Them on Flickr and Twitter.
Chris Conway Photography
2763 fans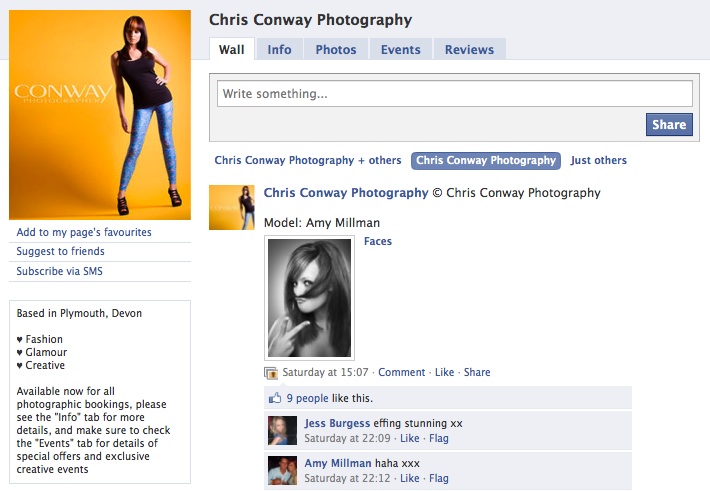 Chris Conway Photography is based on Mutley Plain in Plymouth, Devon. Operating a large, fully equipped studio and offering a wide range of photographic services.
Find Chris' personal site online
Click Click Bang Photography
1327 fans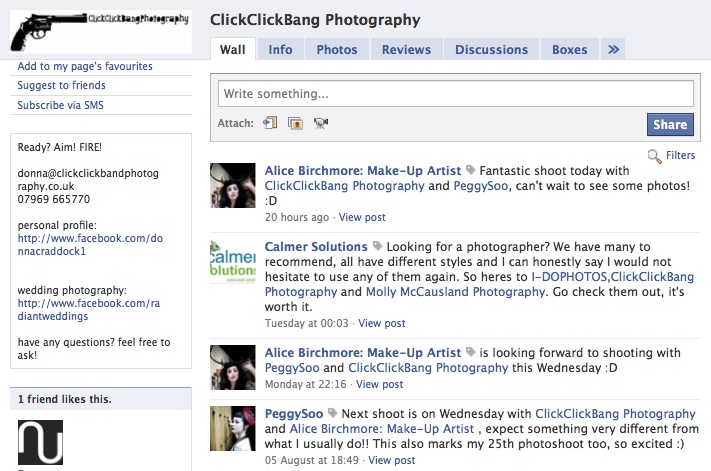 Founded in 2007 under the name ladytwiglet photography, ClickClickBang provides fabulous portraits for all kinds of people. from natural-light child portraits capturing their playfulness and innocence, boudoir and artistic nude for those with a little dash of daring, and horror/alternative photography for those who love something a little different, any theme is covered and the only limit is your imagination!
Daboo Ratnani Photography
20723 fans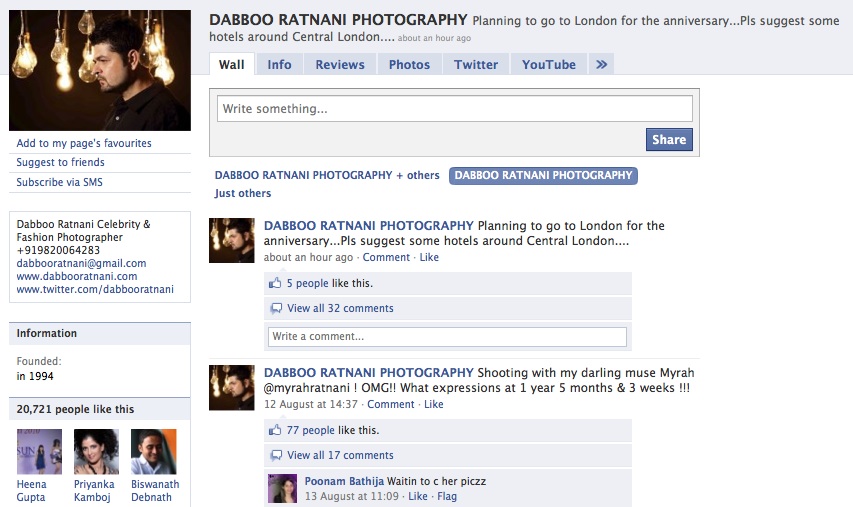 Dave Spink Photography
1861 fans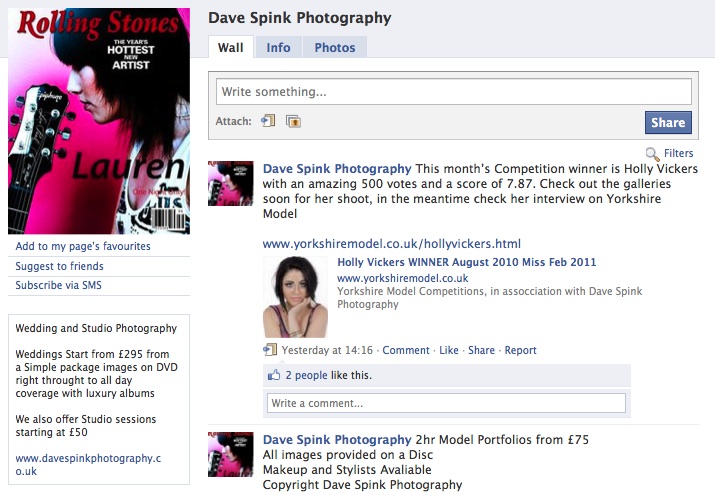 Find Dave's Personal Site
Distorted Smile
1201 fans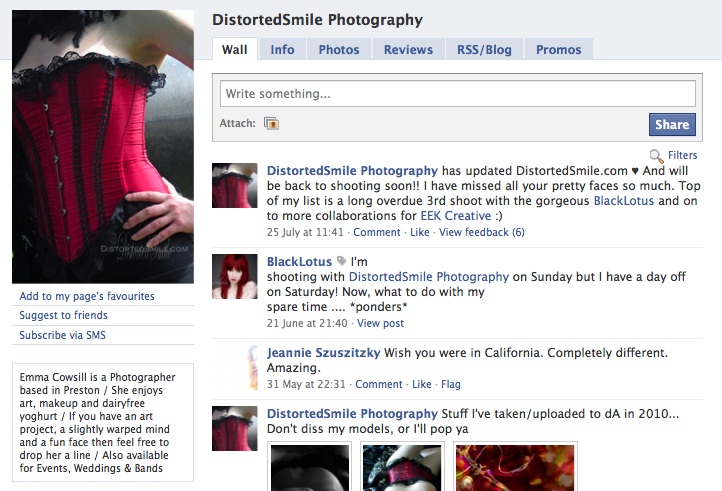 Emma Cowsill is a Photographer based in Preston. She enjoys art, makeup and dairy free yoghurt, If you have an art project, a slightly warped mind and a fun face then feel free to drop her a line. Also available for Events, Weddings & Bands.
Find her on DeviantART and her personal website.
Doco Photography
3,375 People Like this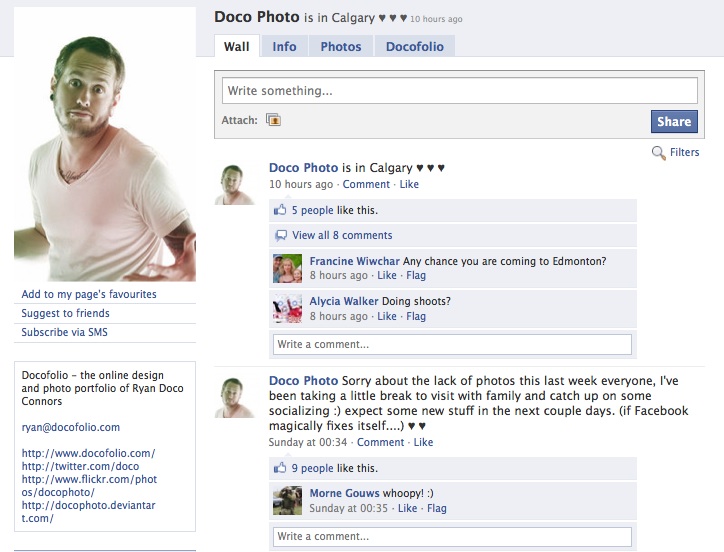 Growing up in vancouver this photographer is inspired by art, culture, music, photography and design. If there is a new way to solve an old problem he would love to solve it. His expression and passion for photography grew whilst in school and sees himself as young, passionate and describes himself as 'his own person.'
Be sure to also find Doco Photo on Behance, DeviantART, Flickr and @doco.
Elizabeth Chiyoko Photography
691 fans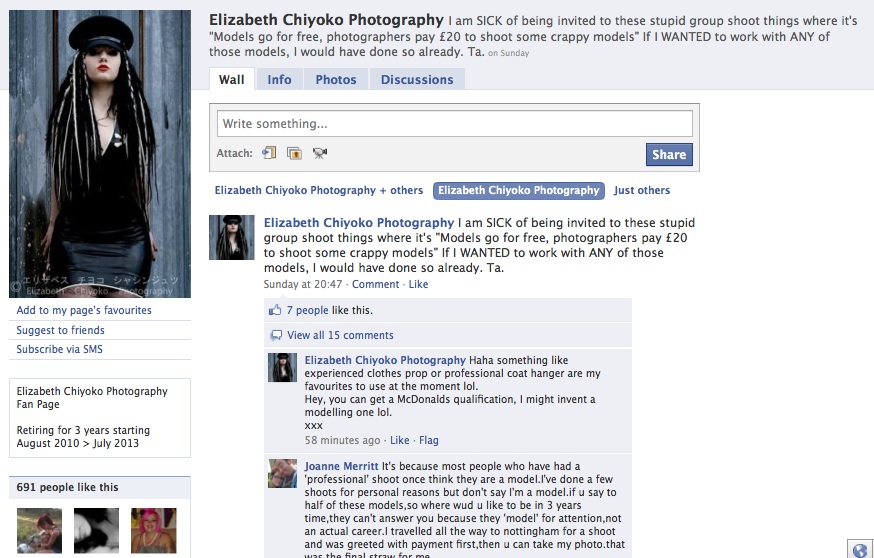 South Yorkshire based am photographer, soon to be based in Luton. I dont have a particular style and I dont restrict myself to any in particular. I enjoy shooting nudes, alternative, fashion, implied, sexy and soon I am aiming to set up a small studio for erotic nude shoots.
Heidi Anne Morris Photography
269 fans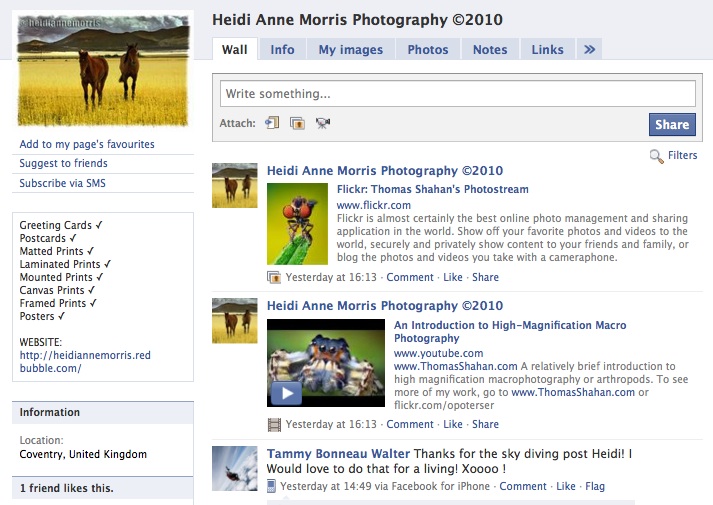 People enjoy buying my Photographic Art for a number of reasons, they want something unique, colourful and excellent value for money. They love the imaginative idea's I create and they always come back for more :)
I-Do Photos
244 fans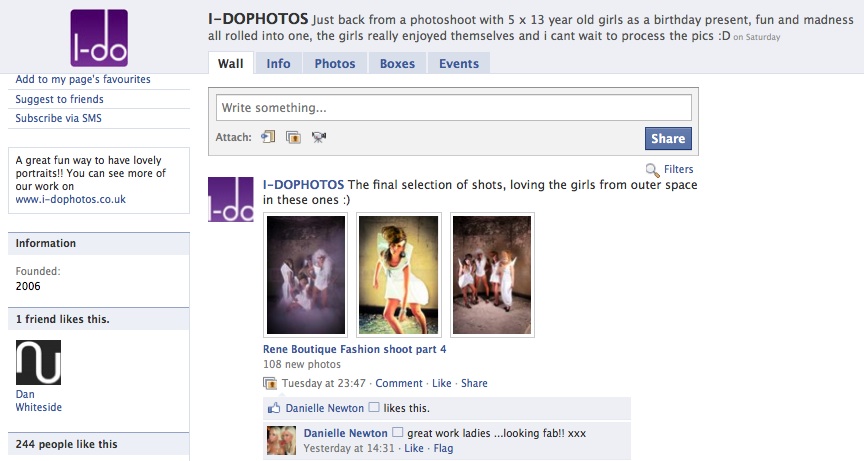 Immortal Rockstar: Alternative Photography
301 fans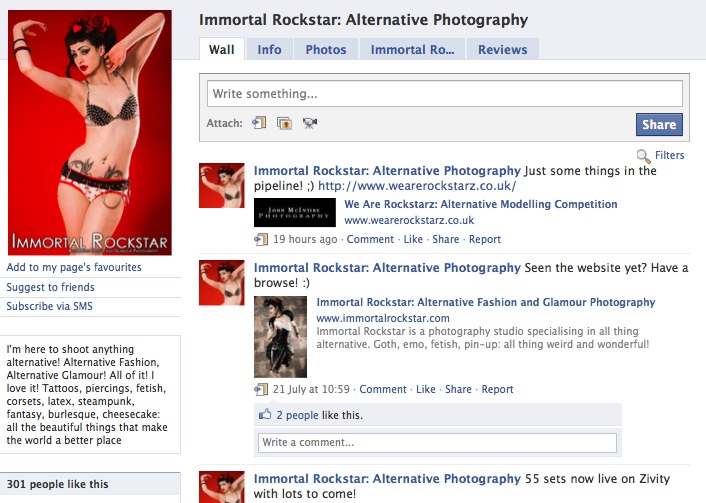 I'm here to shoot anything alternative! Alternative Fashion, Alternative Glamour! All of it! I love it! Tattoos, piercings, fetish, corsets, latex, steam punk, fantasy, burlesque, cheesecake: all the beautiful things that make the world a better place.
John Mcintire Photography
786 fans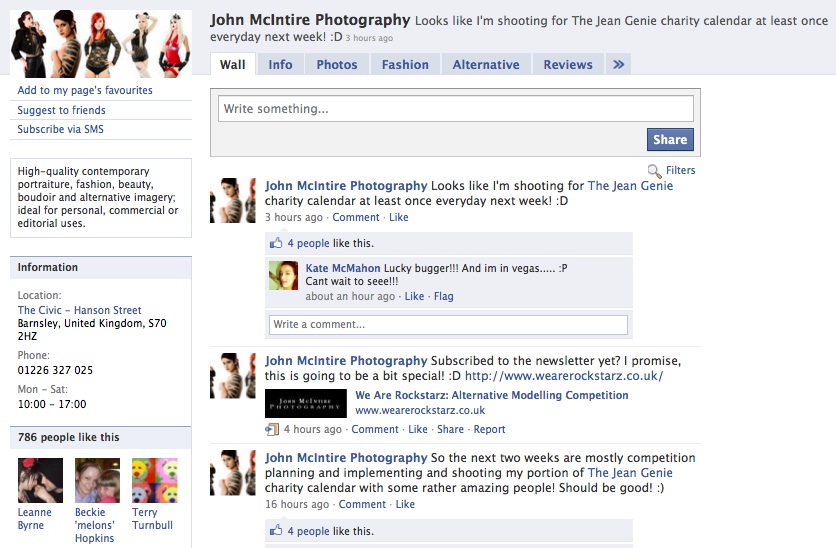 High-quality contemporary portraiture, fashion, beauty, boudoir and alternative imagery; ideal for personal, commercial or editorial uses.
JMG Galleries
907 fans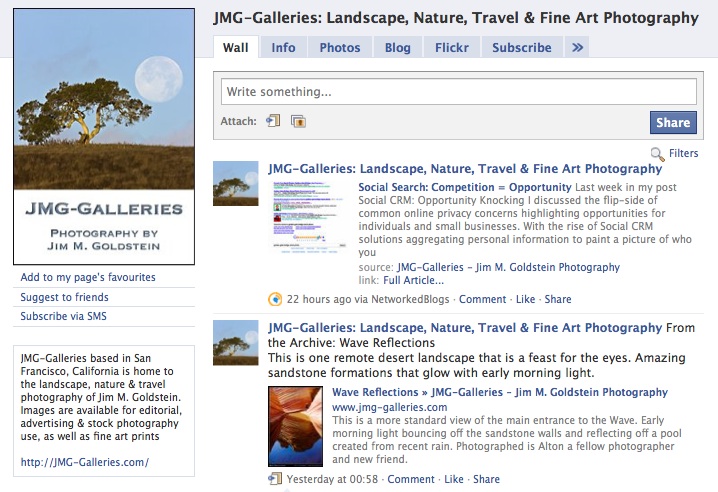 JMG-Galleries based in San Francisco, California is home to the landscape, nature & travel photography of Jim M. Goldstein. Images are available for editorial, advertising & stock photography use, as well as fine art prints
Kieran Peat Photography
463 fans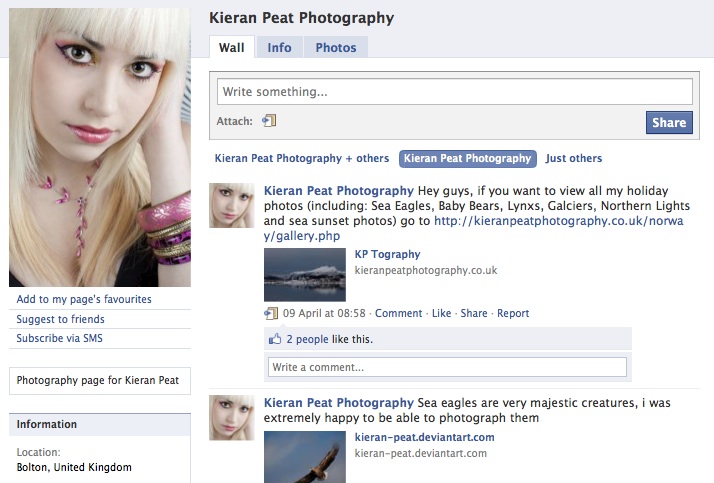 Kitaeru Photography
309 fans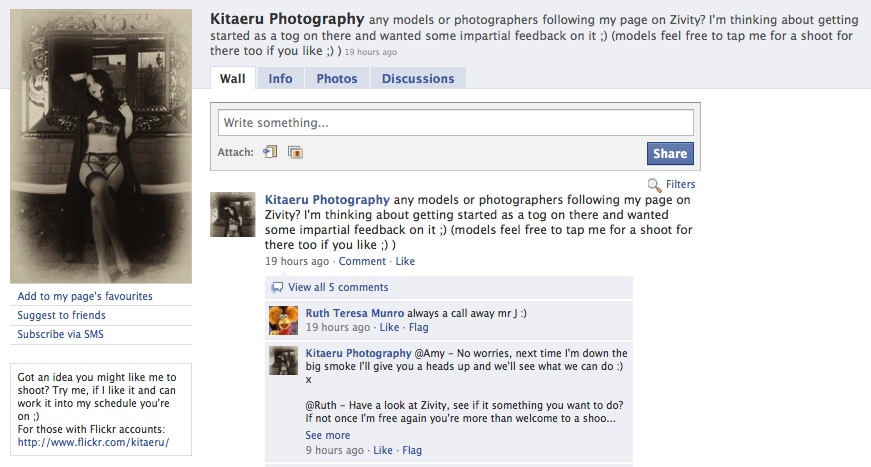 LM Photo
584 fans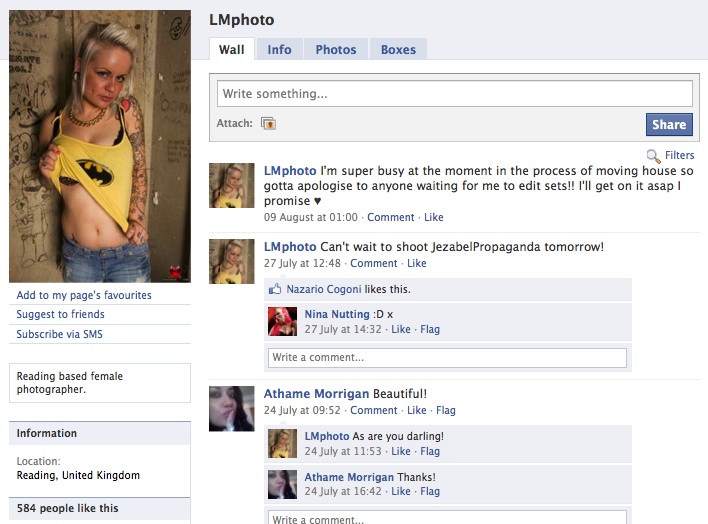 Find her personal site & on Myspace.
Matt Monath Photography
887 People Like this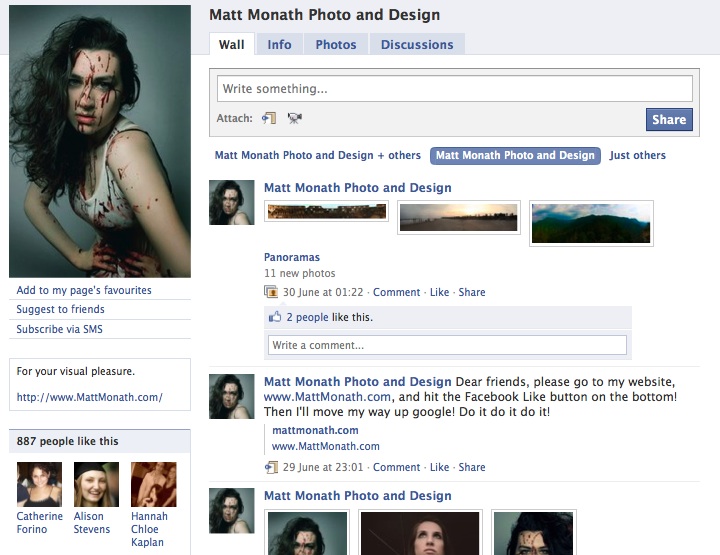 Matt is a twenty two year old photographer based in New York City, he has interests in alternative portrait photography and landscape photography. Be sure to also find him on Flickr. He also has skills in graphic design and photo manipulation.
See Matt Interviewed on Design Juices
Matthew Stansfield Model Photography
4120 fans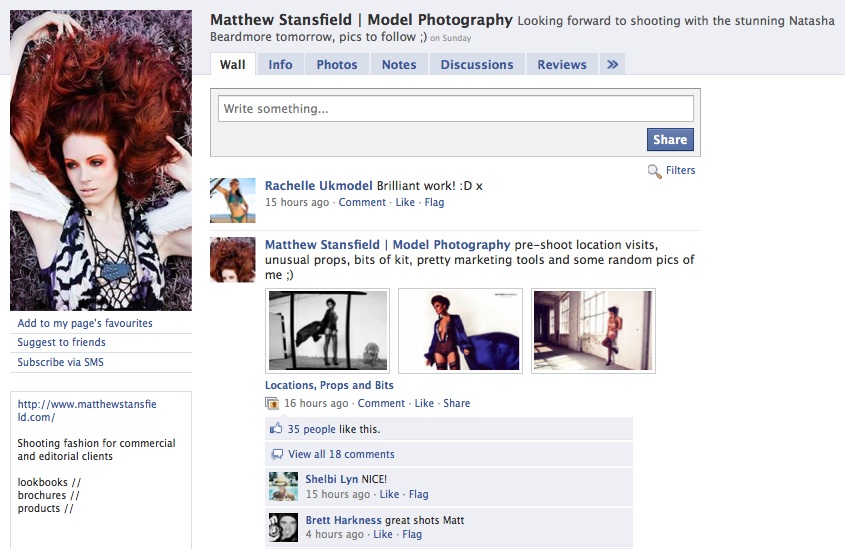 Check out Matt's Personal Site
New Media Photographer
234 fans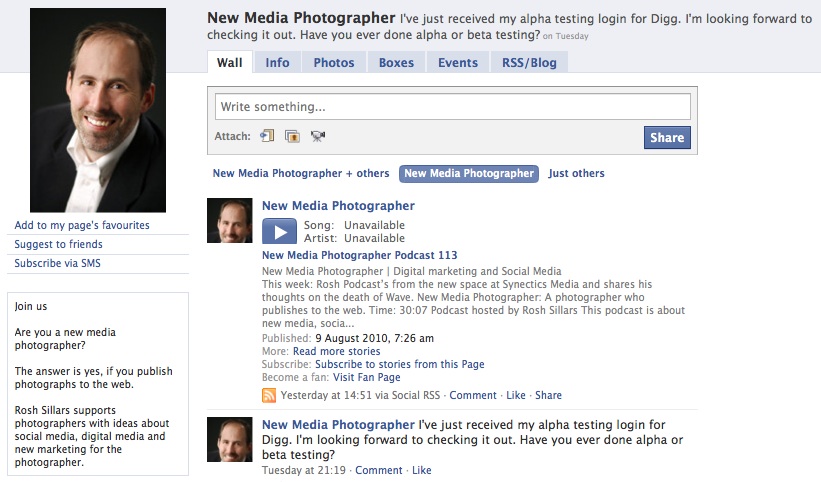 Nicolesy
558 fans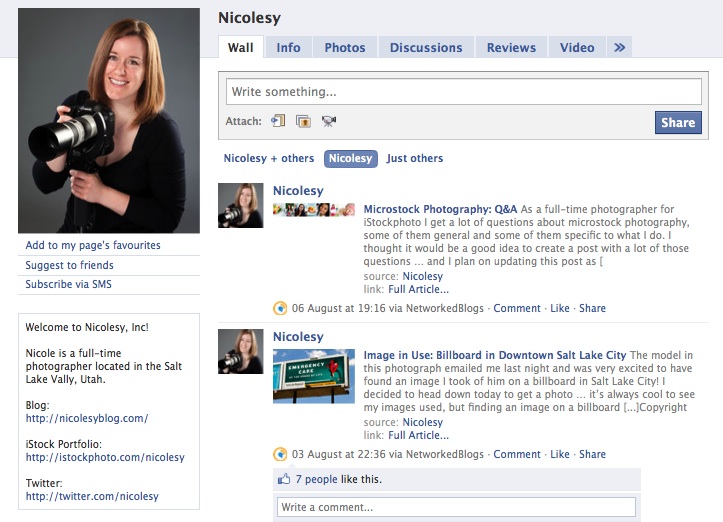 A full-time photographer working in the Salt Lake Valley, Utah.
Find her on twitter @nicolesy and her personal site.
Oh Ok Glamour Portfolio Photography
3071 fans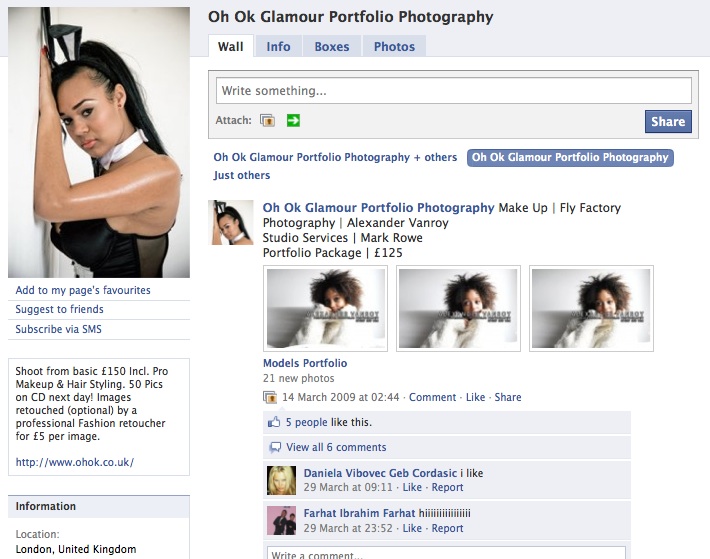 Alexander Vanroy Glamour Portfolio Photography – Specialises in Glamour Portfolios for aspiring models.
Pirate Photography
992 fans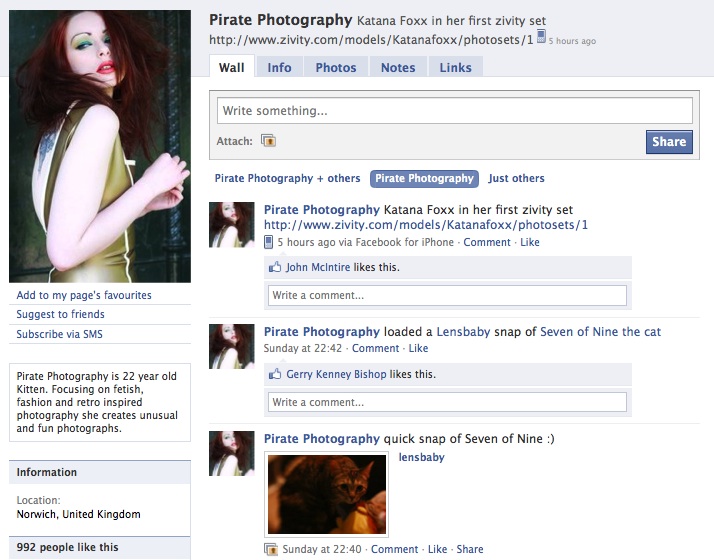 Pirate Photography is 22 years old Kitten. I'm tall, addicted to cats, Hello Kitty and photography. I specialise in fetish, fashion, pin up, glamour, conceptual and alternative photography.
Find her personal site, on Twitter and DeviantART.
Pravin Talan Photography
17965 fans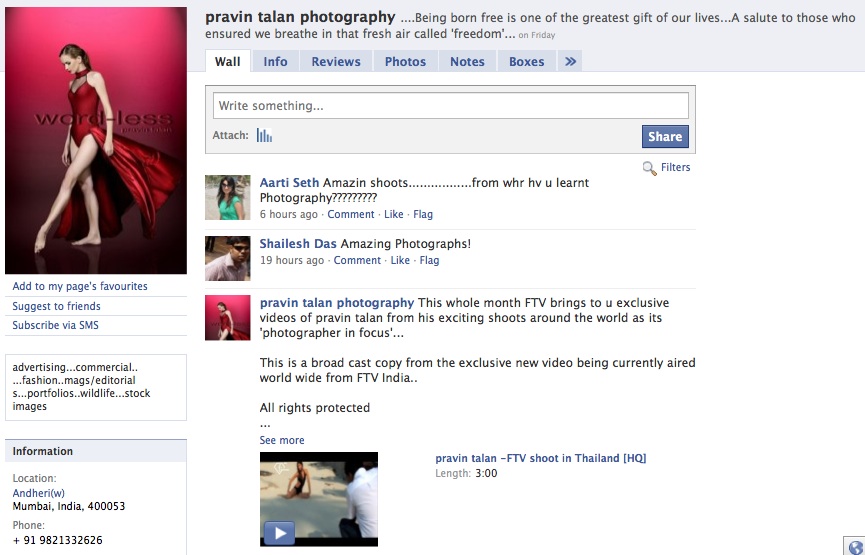 Photography to me ,is my vision statement…it's a humble effort on my part to share with others what I see, and I see beauty in everything.
Scott Chalmers Photography
758 fans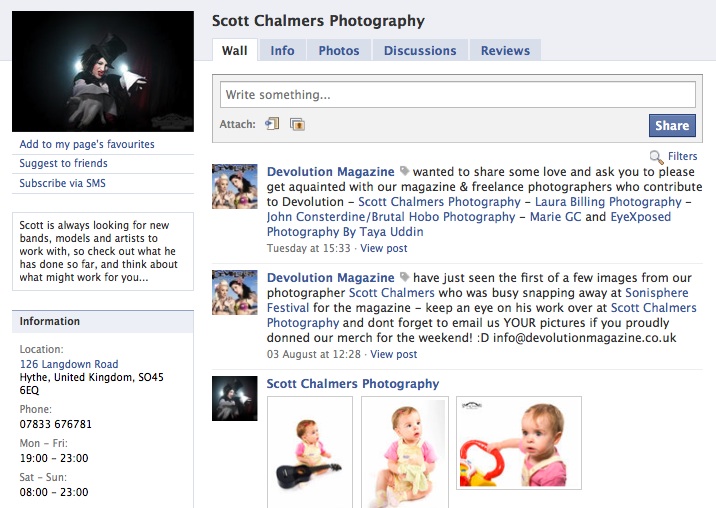 Shannon Louise Photography
1602 fans
You can also find her on Myspace
Shaun Joyce Photography
875 fans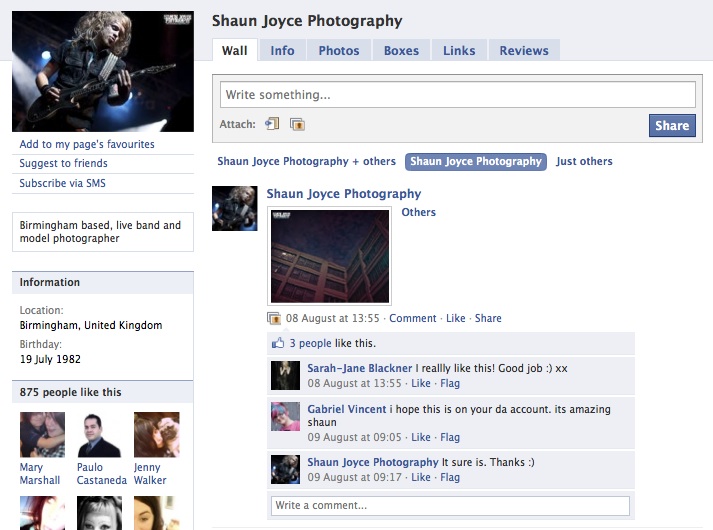 Si Photography
690 fans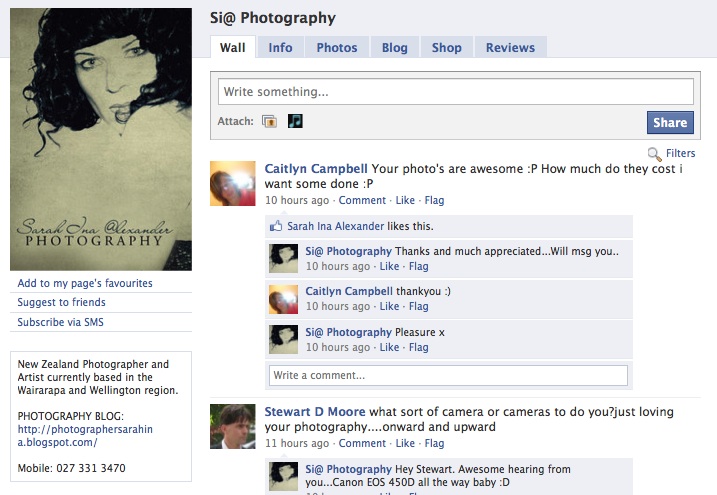 Find her Photography Blog here
T-two Photography
5201 fans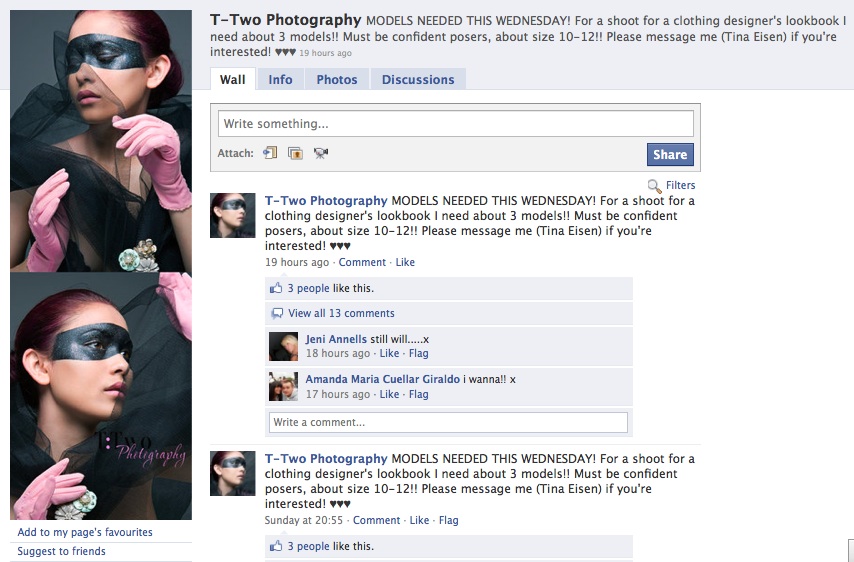 I'm a young (so I keep telling myself) photographer from Milton Keynes, aiming to deliver unusual, creative pictures to my customers!
If you would like to link up with Nenuno Creative for sponsorship or other advertising opportunities we would love to hear from you. All emails and ideas are considered, head over to our contact page or drop us a message on twitter @Nenuo.