As the days start to lengthen and the sun start to rise, only one thing comes to mind, Yuppie Spring's here! With the spring full on its verge to swing, you might be very excited about those floral dresses and the sun fun. But what about your nails? Have you wondered what to do with your nails all around spring? Not yet? Then seriously the time's here to think about the spring nail art designs, that can go all along with your spring dresses and sun bathe costumes – in fashion and style.
We previously covered some amazing winter styles for nails that surely had made your winters awesome, now we are here to get you covered this spring season too. In this article, you will find some amazing, colorful and fully spring themed nail art designs, that you can try in springs and have fun with your clothing as well.
60 Amazing Worth Trying Nail Art Designs for Spring: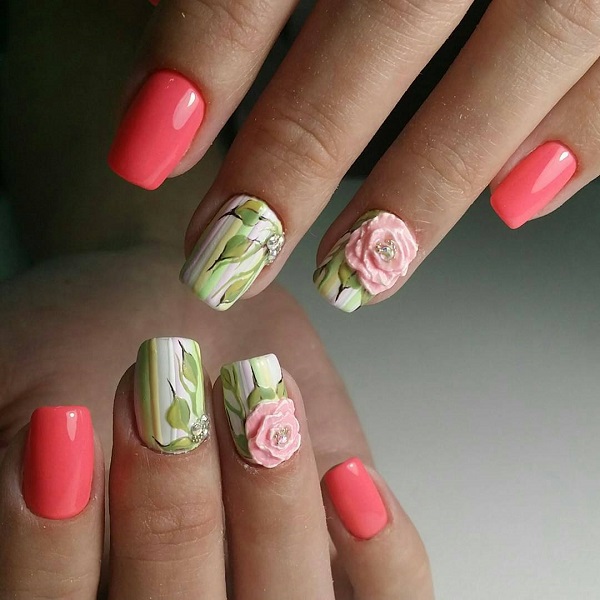 Embossed Pink Rose on Green and White base. Get your nails embellished with amazing nail art design that features white and green base, with the pink rose embossed on the bottom, with the stud in diamond.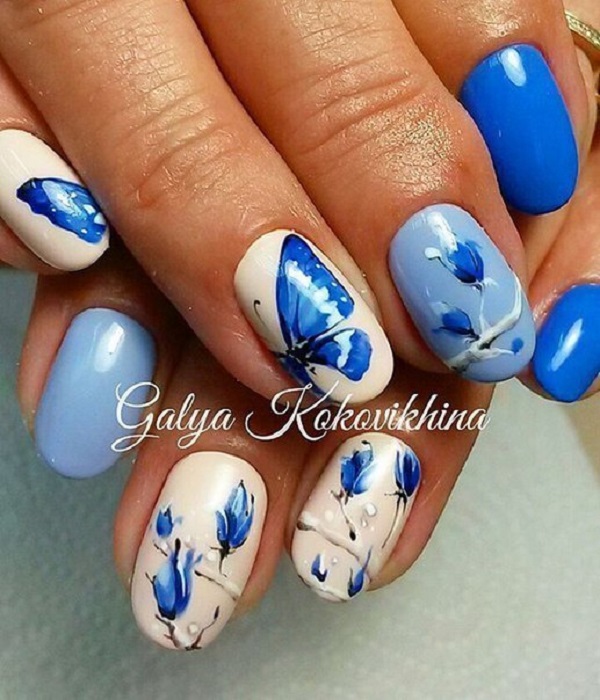 Blue and White Butterfly Nail art Design. What's the meaning of spring without butterflies and flowers all around? Equip your nails with the beautiful blue and white flowers along with the flying butterflies. The water drops pattern along with the design add something extraordinary to the whole art.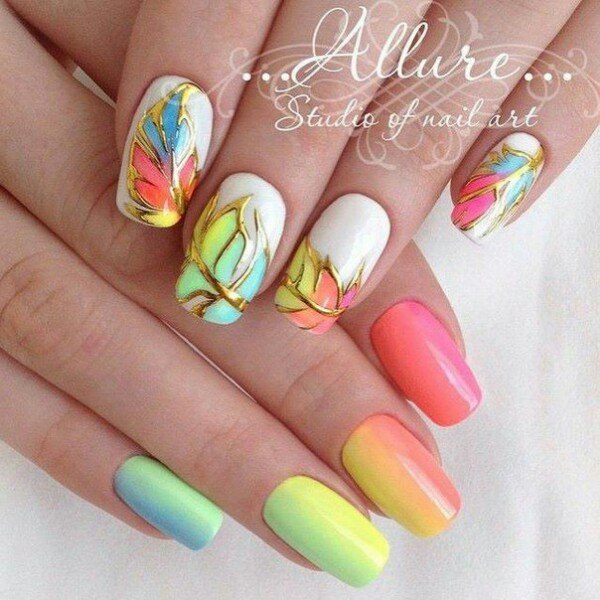 Rainbow Shaded Nails. Rainbow and colors are all associated with the spring and you can get this on your nails to get the amazing feel of spring. The mix of yellow, blue, green, orange and red along with the white color looks extraordinary, just like the rainbow in the spring season. The gold outline is also a plus for this design.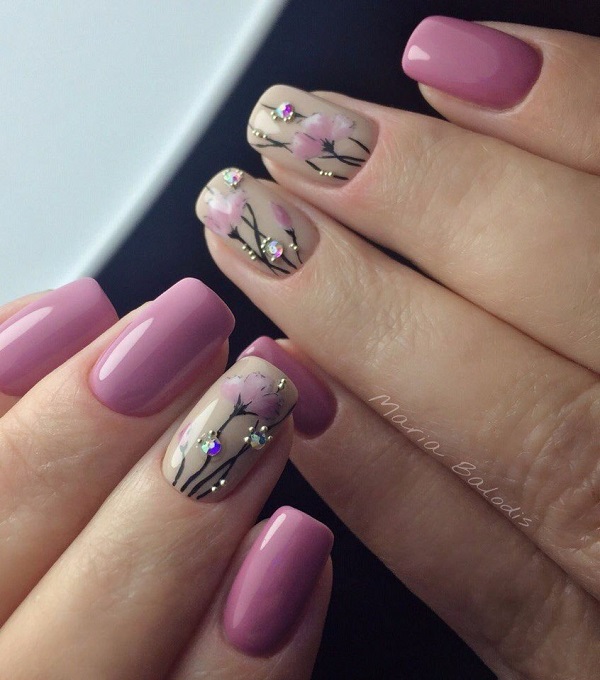 Studded Purple Flower-y Nail Art Design. Another amazing nail art design to cover this spring season is next on our list. This purple studded flower on the nude base looks amazingly perfect with the other nails fully coated in glossy purple color.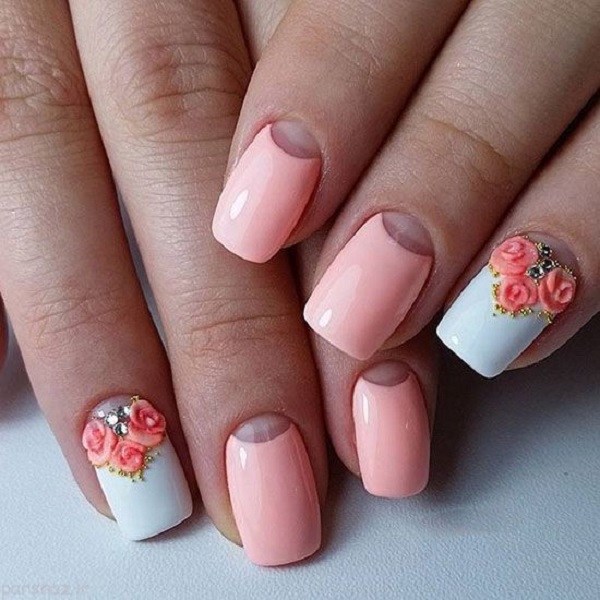 Peachy Embossed Flowers on White Base. The peachy colors and the white-y bases are fully in trend this summer. Get your nails embellished with the white base and peach flowers with the diamonds and studs to add aesthetic value to the nails. You can also try this design with other nude colors like creamy skin or nude pink.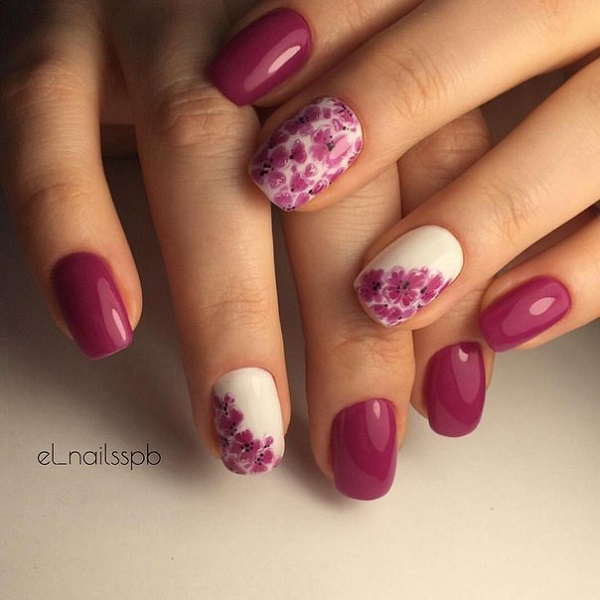 Spring Flowers. The flowers especially multi in colors are always associated with the spring. So, get your nails covered this spring with the amazing pink and white flowers, with some dotted details and sharp outlines.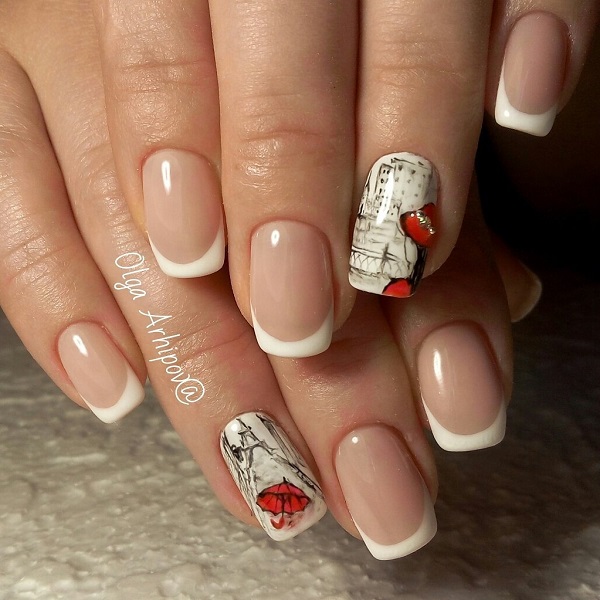 Spring in Paris with French Tip. Well, the love for Paris and Spring is all common now-a-days. If you love the combo of these two, then this spring, you need this amazing nail art design with the red umbrella and black and whit Eiffel Tower in bg. Cover the rest of the nails with the French tip.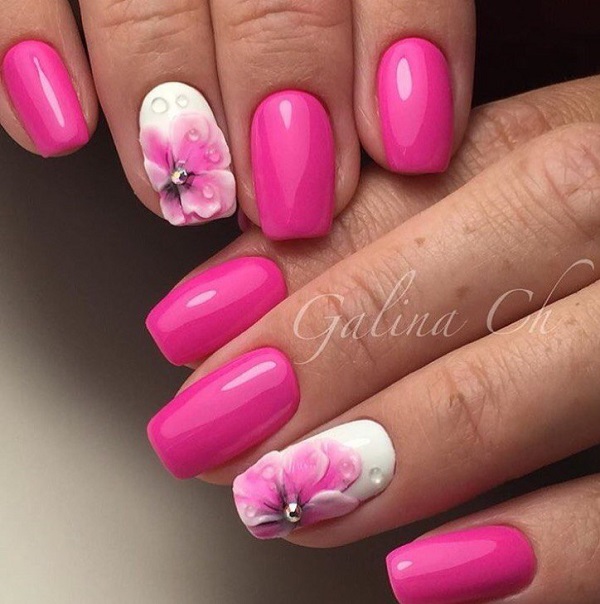 The Rainy Spring. Spring is all about the play of colors and feelings. This bold pink and white nail art design with the embossed flowers for spring is just another amazing example to get your nails amazingly covered with something extraordinary.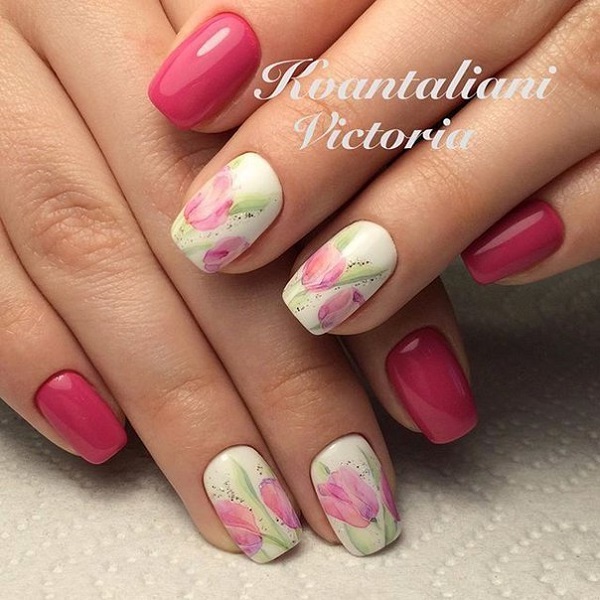 Pink Tulips on Nails. The growing tulips on nails is another gorgeous idea to spruce up your hands this spring season.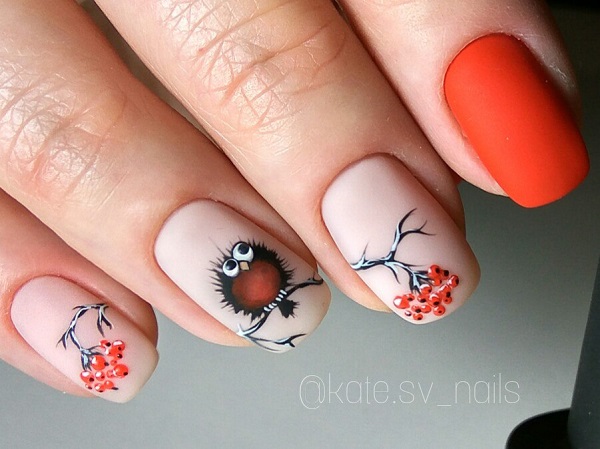 Owl Love. The Nude and Bold combination of Orange and Off color is just an inspiration this season. The amazingly drawn owl with the tree branch looks perfectly perfect with the matte orange on index finger nail.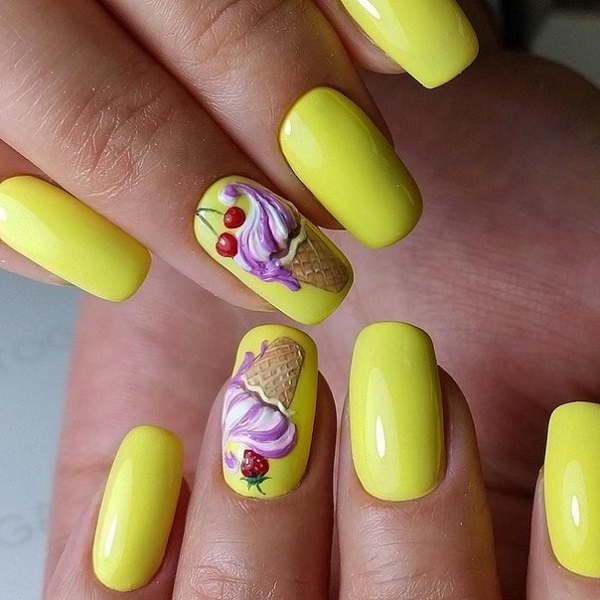 Strawberry Ice Cream on Yellow Base. These yellow nails with the perfectly drawn strawberry ice cream with cone is inspiration for the colorful spring for all those ice cream lovers out there.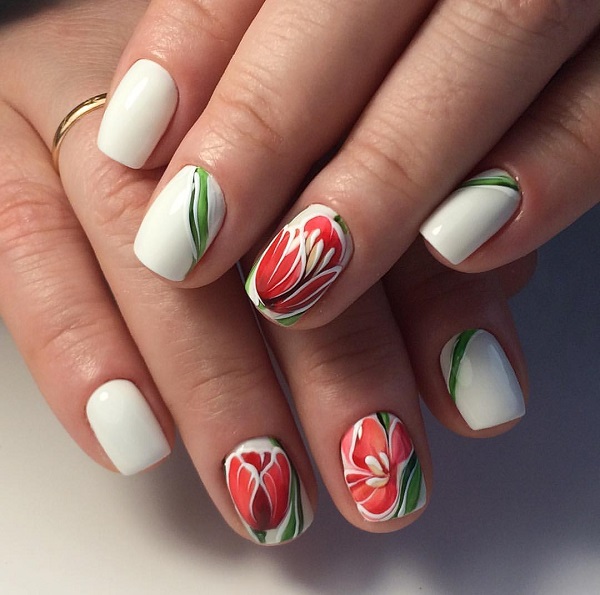 These Simple Spring Nails. If you want something simple yet amazingly themed with spring, then this nail art design is worth considering, that is equipped with the amazing play of colors and deep details. The growing red tulips on alternate nails with white base and green stems is simply wow!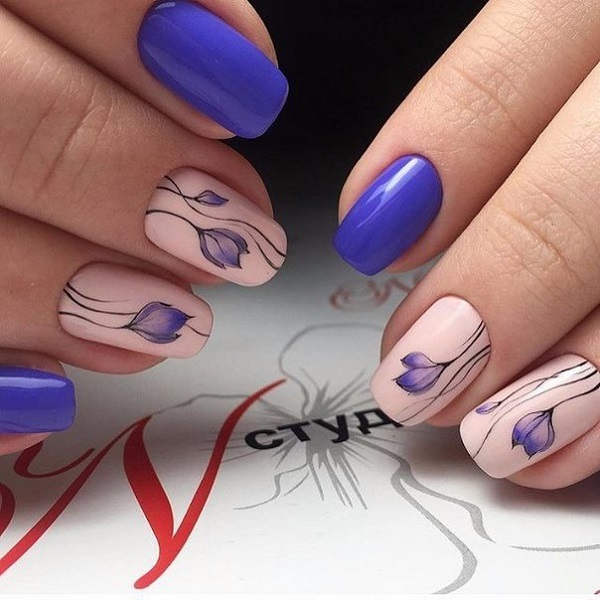 The Spring Sprouts. Get ready to enjoy your spring season while wearing these amazing nails on your denim days. The blue and white coated nails would simply enhance your appearance whether you are on work or enjoying beach.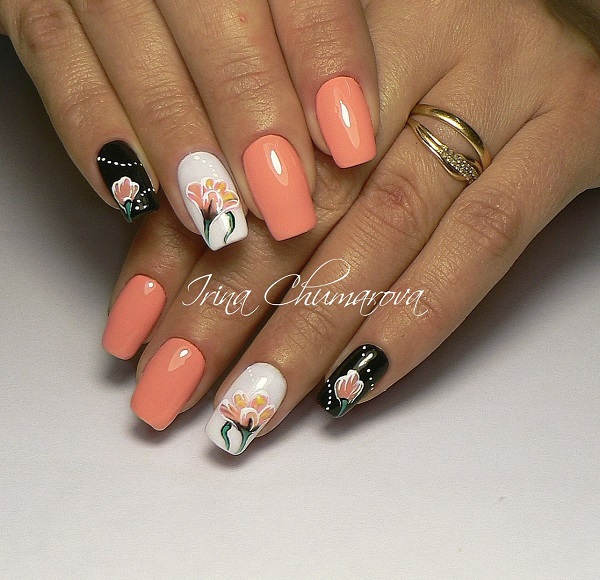 The mix of Bold and Nudes. Black, Peach and White, with the mix of yellow, green and other colors on the nails is a good example to try at ho,e during the coming spring season.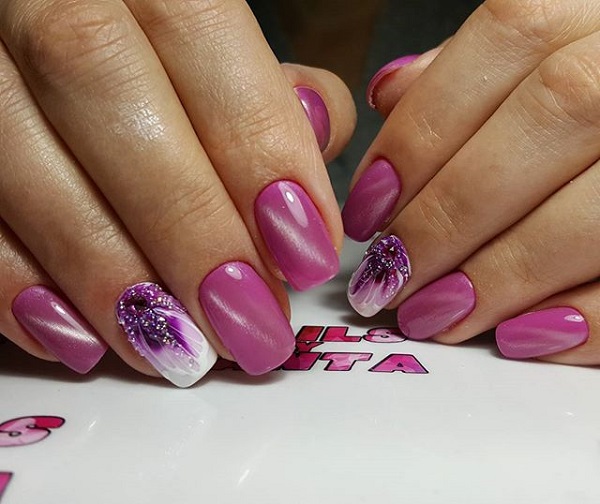 Glittered Pink Flowers. For all those girly girls out there, this one is something worth trying. You can equip your nails with this amazing nail art design that features the dazzling play of glitter, studs and different nail paints.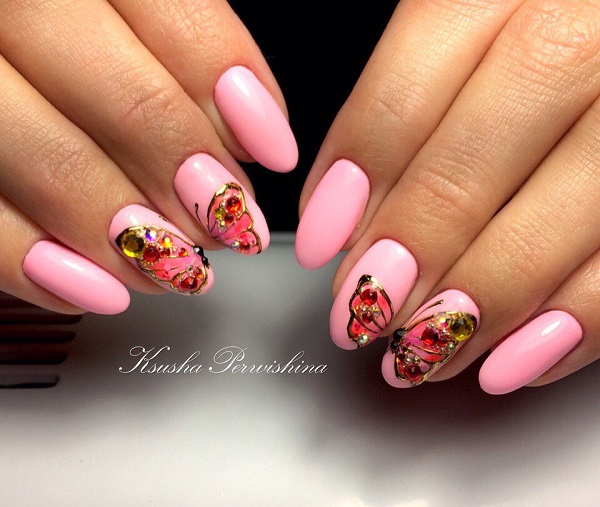 Studded Butterflies. Nude colors on base and bold butterfly over is an inspiration this season of spring.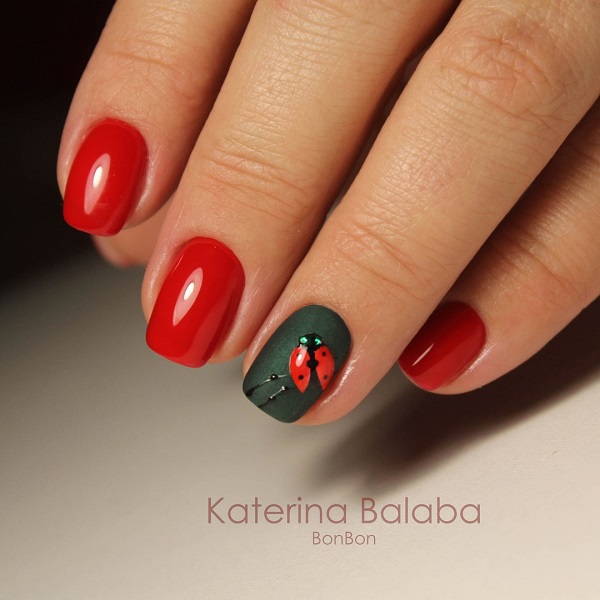 Ladybug. The thought of having this charming ladybug on nails seemed to be perfect going with the springs. Just use the simple natural combo of lady bugs on your nails and enjoy the natural beauty of spring.
The Floral Nude Nails. Although spring season is full of colors, but if you want something sober and elegant, then going with this perfect spring nail art design won't make any bad. Just use the nude and light colors, with the spark of some glitter and go fancy this spring.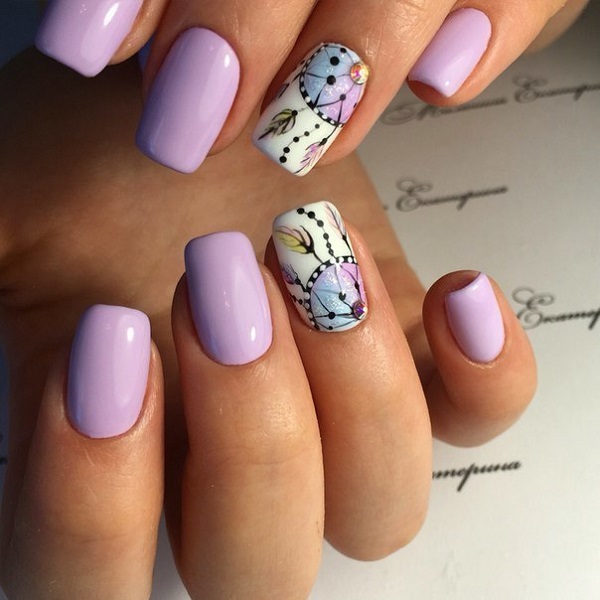 Simple Spring Accent. This accent for spring with the black and white outline and flowers is simply worth of trying, if you are looking for something different yet effective.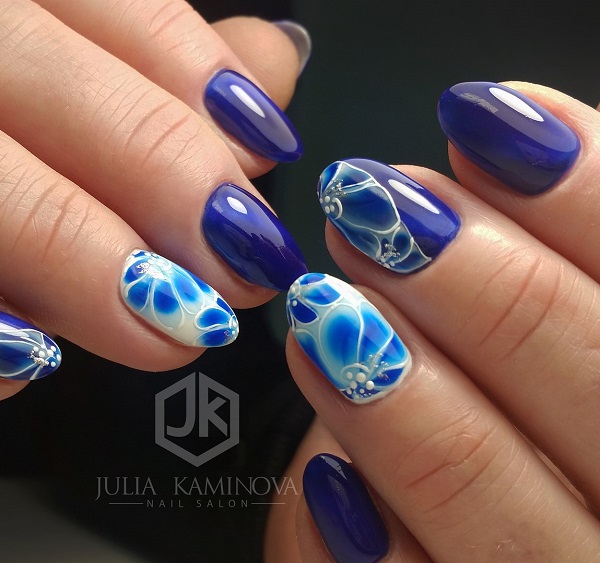 Bluish Accent. This white ad different hues of blue is really perfect for the spring, as it features all the colors and patterns that can fit the spring theme.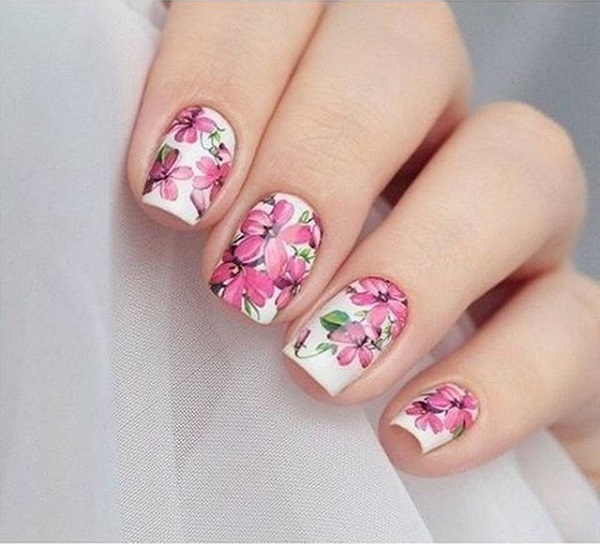 This floral design. If you are not wearing floral nails in spring, then you are not at all a kind person.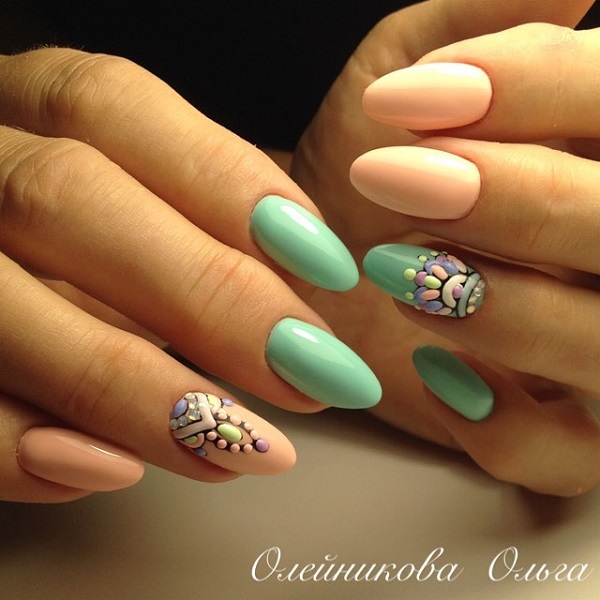 This Nude Accent with Embossed Dots. Get ready to blow the spring off with this amazing nude accent of peach and blue with the multi colored embossed dots and rhinestones.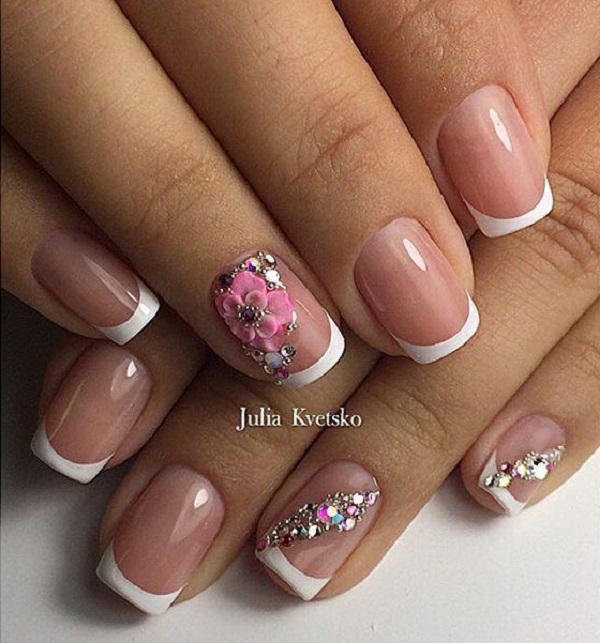 Girly Girl Spring Nail Art Design with Rhinestones. Embellish your nails with this pink flowered french tip nails along with the rhinestones in diagonal pattern.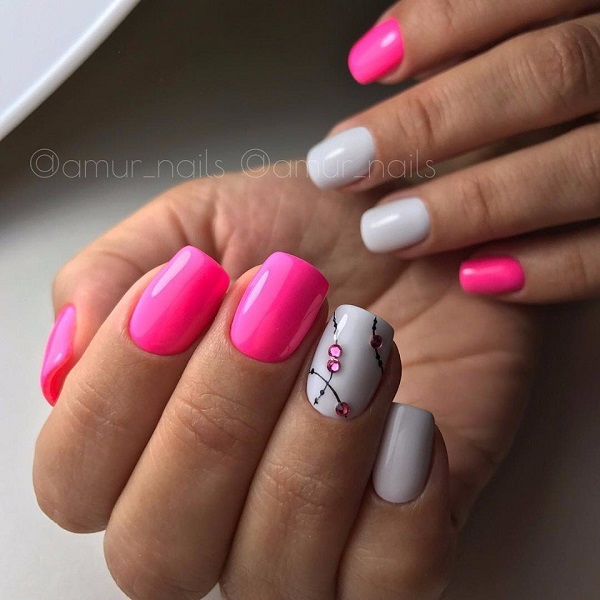 Simple White and Pink Accent. This one is seriously worth trying if you are not a fancy person. Just get your nails embellished with the bold pink and simple white accent with the tweak of some black lines and pink studs alternately.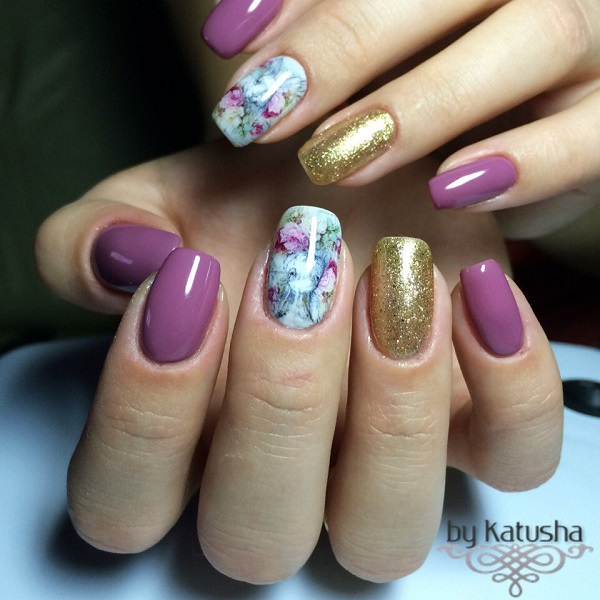 Marble Patterned Nails with Gold. The combination of uniquely patterned nails with the simple purple and gold glitters is always in trend. S this spring, this could be your style especially when you are attending some amazing spring festivals.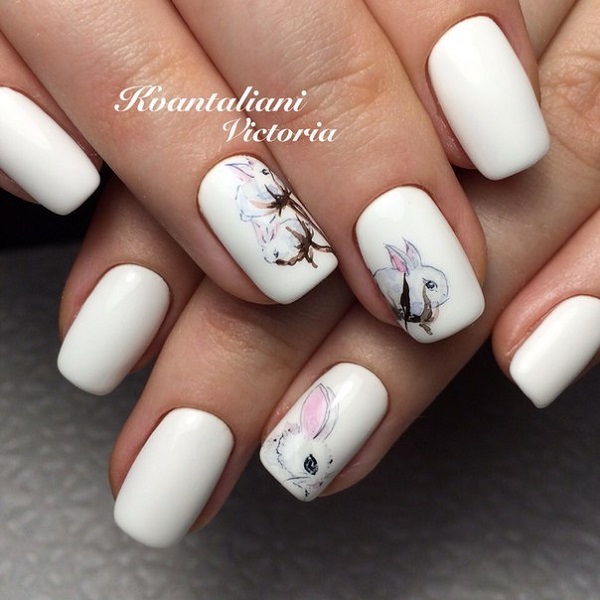 Cute Rabbit Love. White furry rabbit with black and pink details is another option to wear this spring. The sprakly eyes and the cute white fur of rabbit will make you go crazy.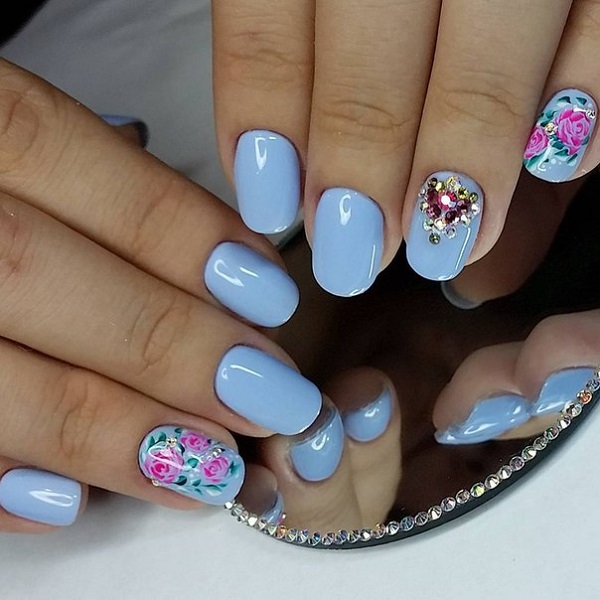 Glossy Blues with Flowers. Another inspirational spring nail art is next on our list. Try these amazing glossy blue nails with the pink flowers carved over to give it a feel of amazing spring.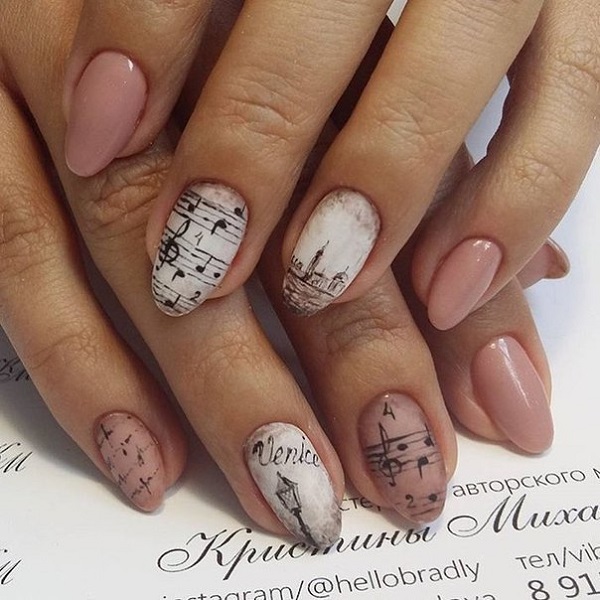 Music Love Venice. Love for music and Venice is never ending- at least at my side. If you are too, in love with these too in combo with spring, then having this simple and elegant nail design is must.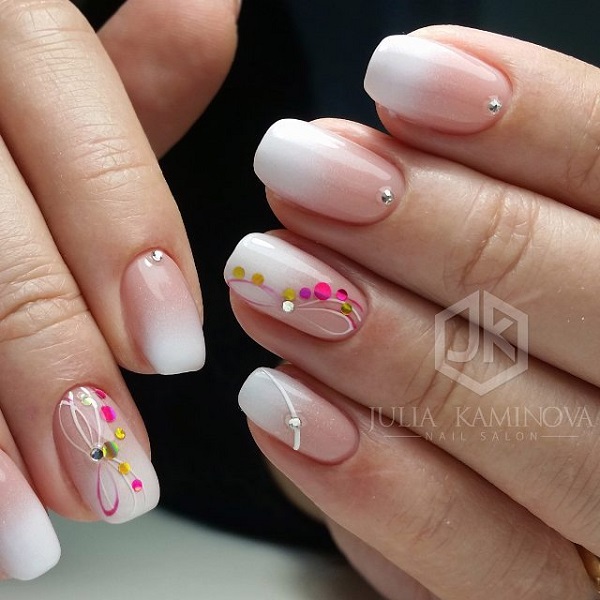 The Play of Studs on ombre Nails. Get your nails embellished with the ombre design along with the play of multi shades studs over them. This is amazing nail art design for spring, that can go with any of your outfit.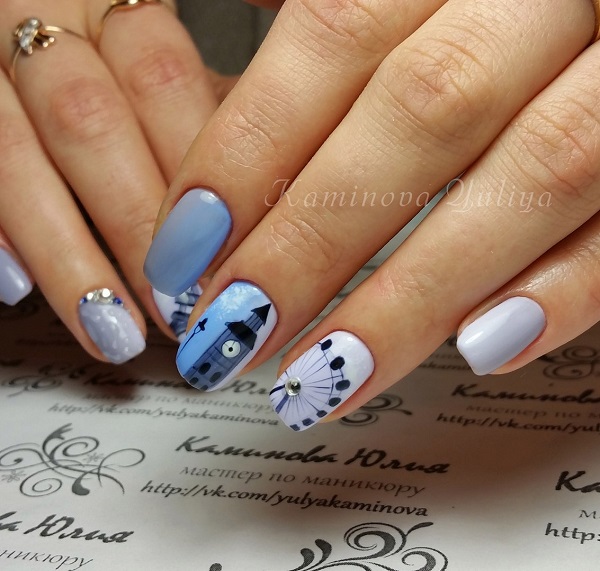 The Blue Details. With all blue, black and white, you can create your own spring city on your nails, with this amazing inspiration.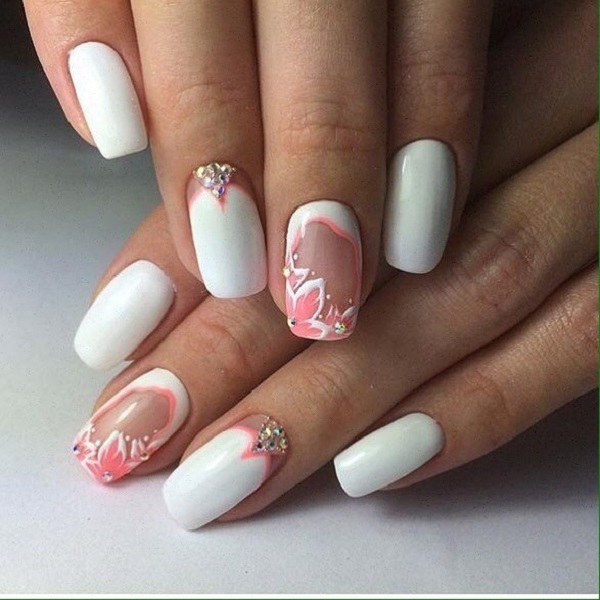 The Spring Piece. Well, this nail art design is surely worth considering, if you know what simplicity and elegance actually mean.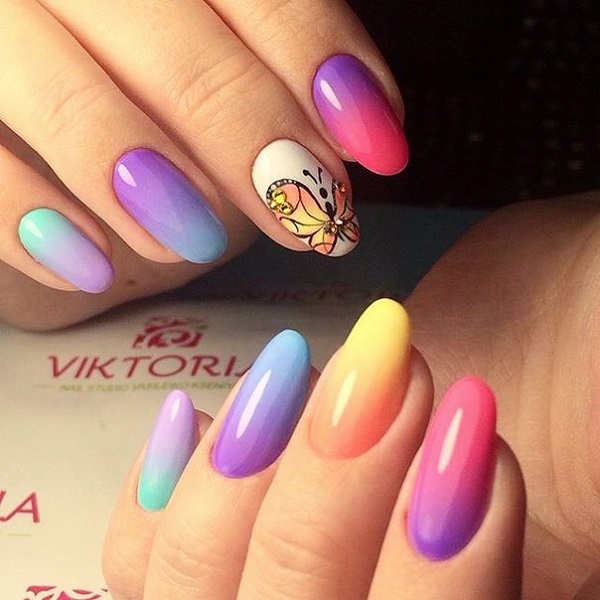 Rainbow Butterfly. This amazing play of colors and the buzzing of butterfly is simple awesome with respect to the spring season. Just merge the rainbow colors along with the accent butterfly on your nails and get spring fashion at hand.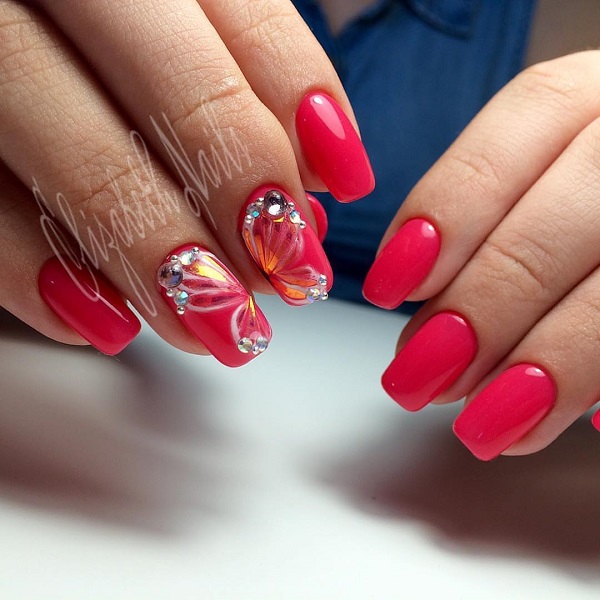 Bold Studded Butterfly. This one's my personal favorite as it incorporates the bold pink color with the tweak of glitters and rhinestones, that all makes a beautiful butterfly.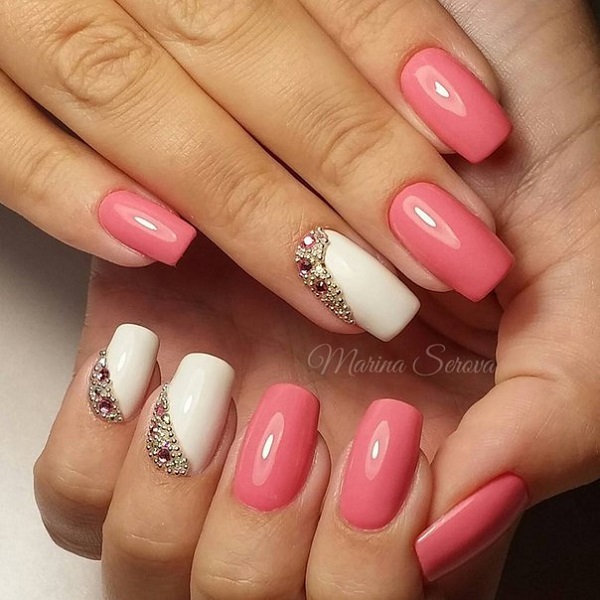 Studded Spring Nail Art Design. Simple yet attractive, this pink and white nail art with the diagonal studs arranged is another worth trying design for spring.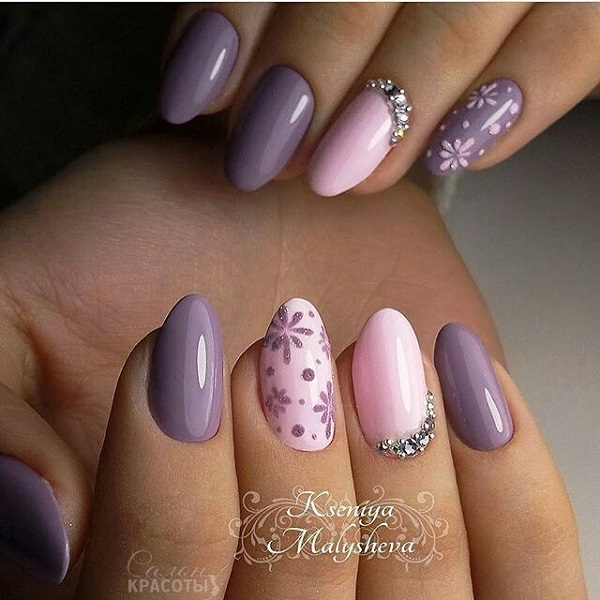 The Royal Spring. Get your nails look royal with this piece of art on your nails, the spark of glitter, the glow of diamonds and the touch of glossy purples makes this nail art design for royal spring perfect.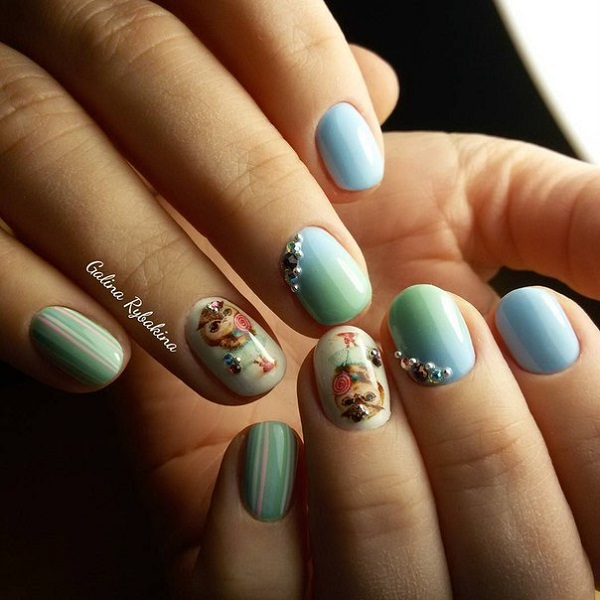 The Beach Party. Spring season, beach, bamboo trees and lots of fun is all that one craves for. You can get all this at your hand, by practicing the amazing nail art design shown in the picture.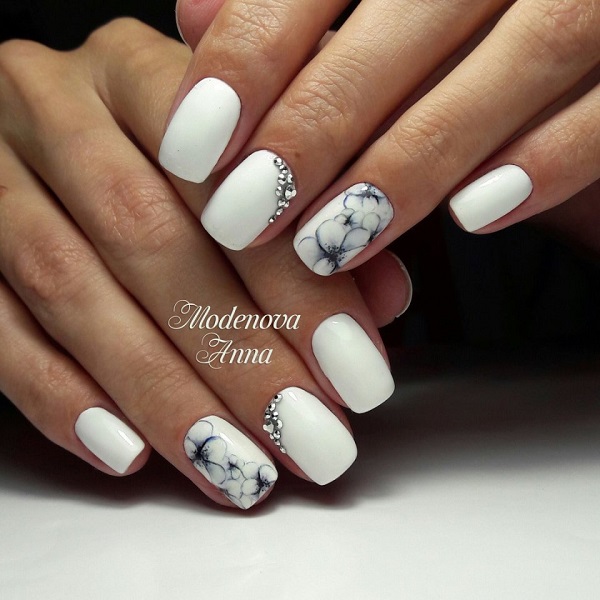 Elegant White Nail Art Design. Studded with silver diamonds and embossed with the detailed flowers, this white nail art design is inspiration for spring.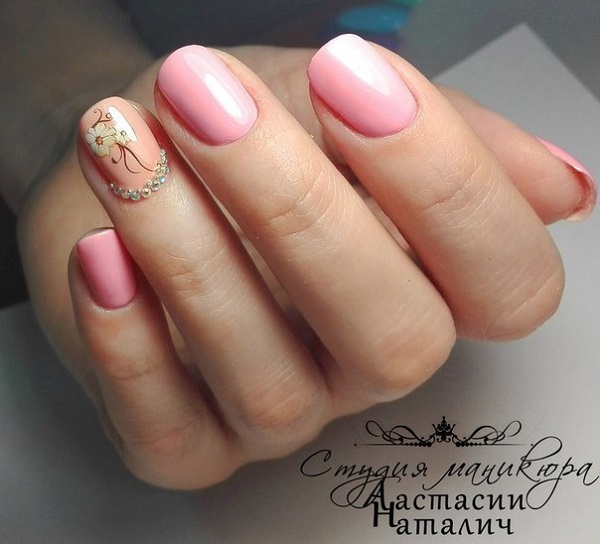 Studded Peach and Pink Accent. With all your spring outfits, this studded peach and pink accent would go awesome. Just pick up your nail colors and draw your creativity out.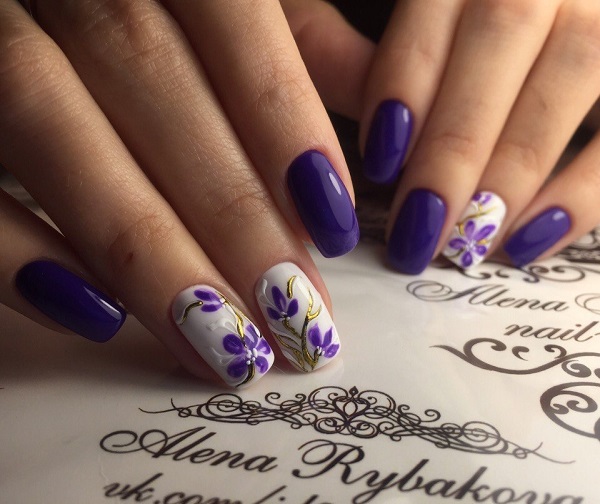 The  Bold Spring Nail Art Design. Cover your nails with this amazing bluish purple and white nail art design with the flowers carved over. The tweak of gold adds much to this piece of art.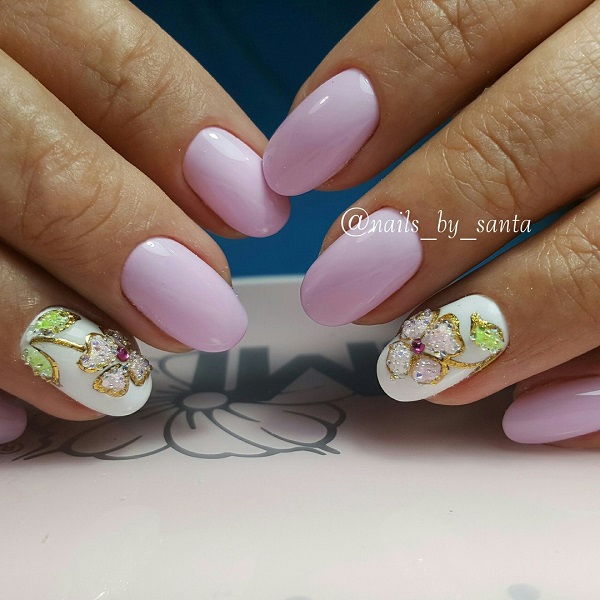 The Embossed Silver Flower Nail Art for Spring. Emboss your nude nails with the silver flower 0utlined with gold glossy nail color and green studs on leaves. This accent would make your hands a perfect fit for spring season.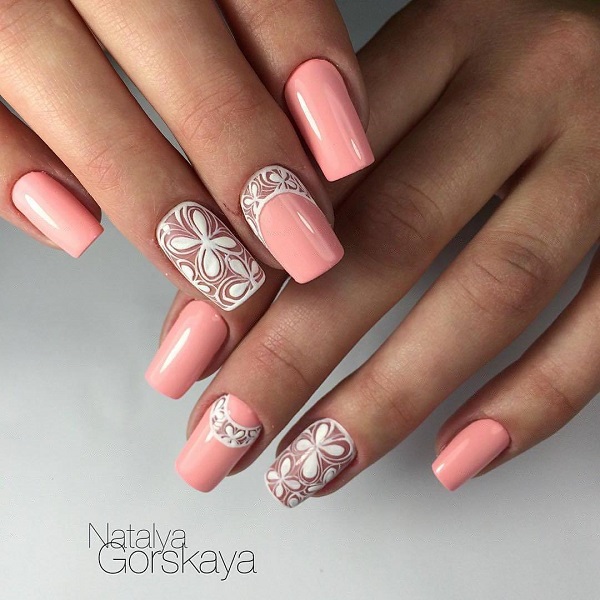 The White and Peach Floral Design. As mentioned, peach is the fire for this spring, you can try anything nude with this trendy color, like the one shown in the picture. Just coat your nails with the peach color, embellish it with studs or mix it with your creativity by combining it with white floral design.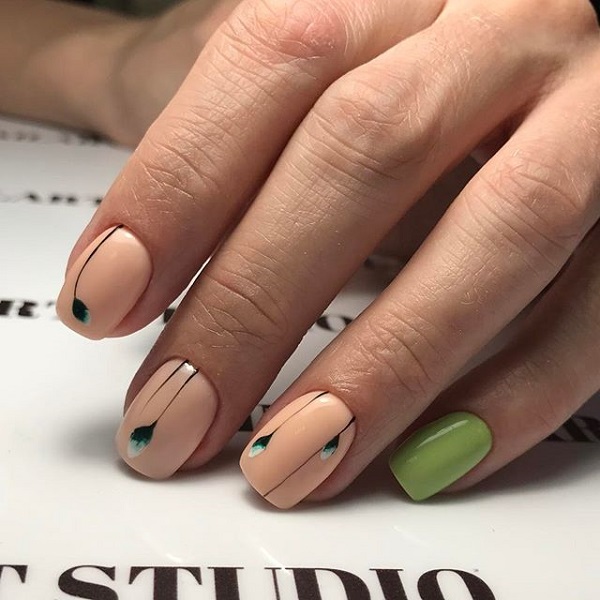 The Green Sprouts. Spring season is best associated with the blooming flowers. So get your nails covered with this symbol like green sprouts growing on nude peach. The light green addition to this piece of art adds to its beauty.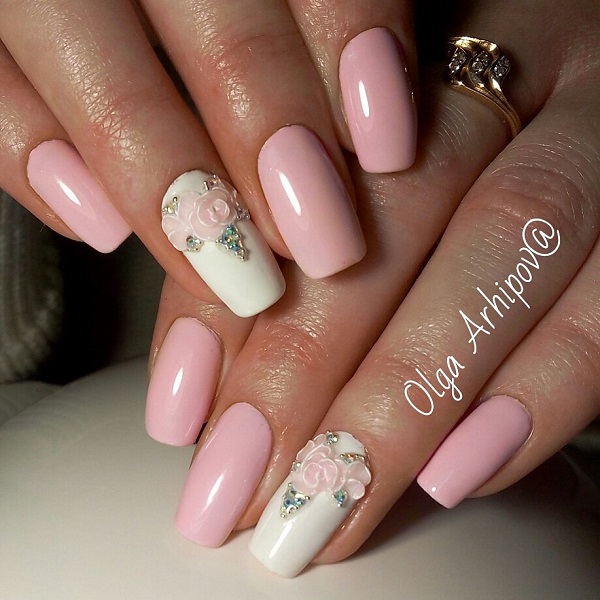 The Embossed Flowers with Rhinestones. Another spring design with the embossed flowers and rhinestones on the list. The combination of nude pink with white is just great for spring season.
The Red Spring Nail Art. Color-ify your spring with this great combo of white, red and black on your nails. Simply add red flowers and black dots on white base and embellish it up with red studs to give it presentable look for spring season.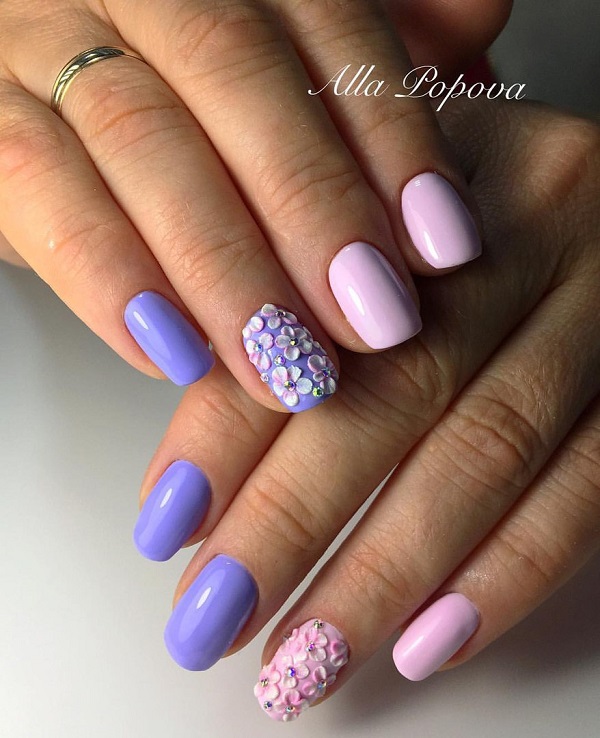 Bright and Bold Spring Flowers. Try this amazing nail art design that incorporates accent bold pink and blue flowers with the studs in middle. This neon amazing combination would definitely get some attention.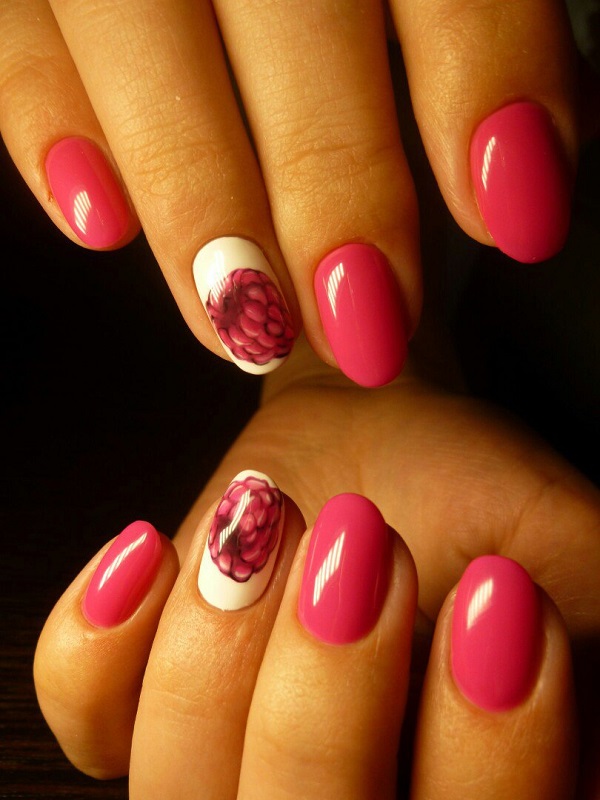 Spring's first blossom. Enjoy the first blossom of spring with a bit abstract but uniquely looking pink and white nail art design.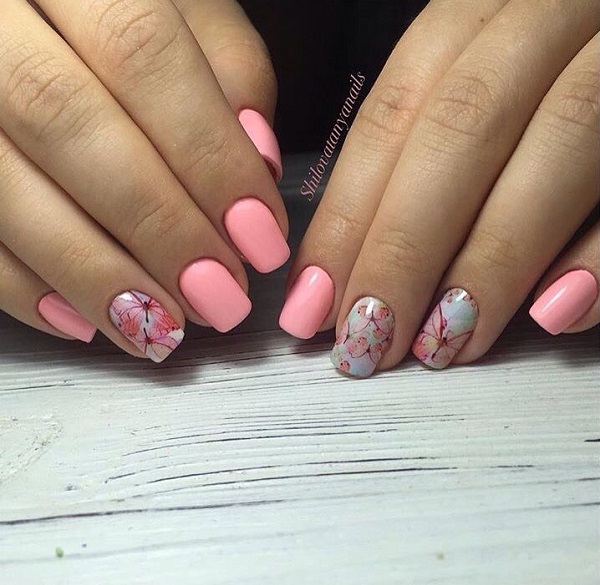 The Butterflies. This cheerful nail art design is the actual inspiration for the spring season as it incorporates the amazing color combination and spring's butterfly as well.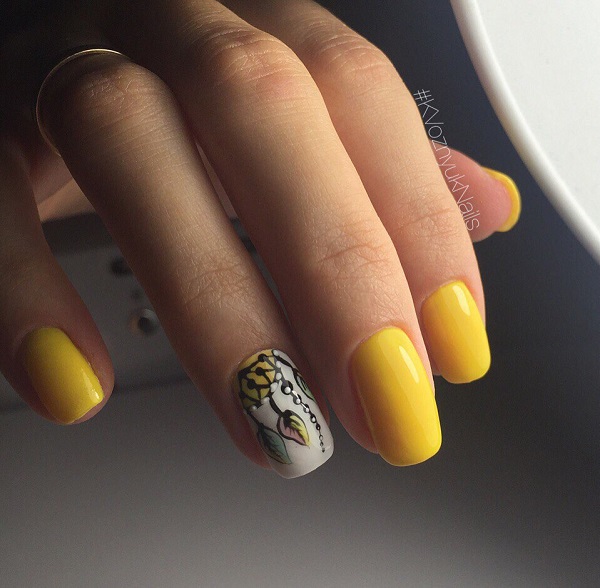 The Bold Yellow. The bold yellow colored nails is perfect fit for all the beach parties that you are looking for in spring and summer seasons.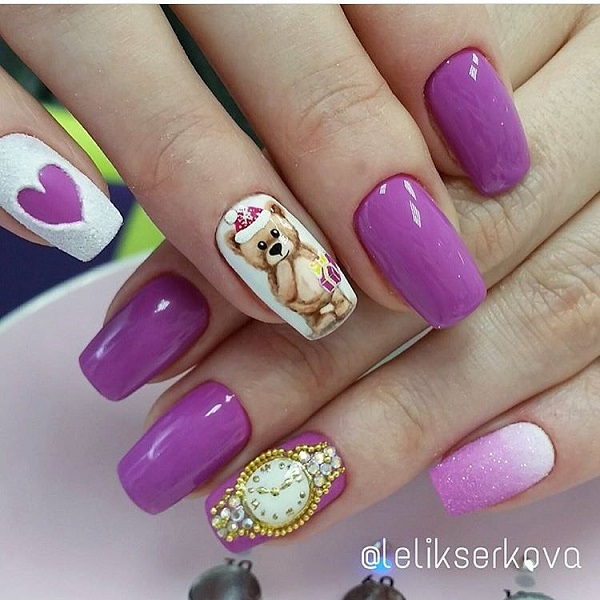 Sugar Bear Nail Art Design. If you are one of the girly girls and love the sugar bear, then trying sugar bear nail art design is must. Mix all your creativity and enjoy your spring season with this cute sugar bear.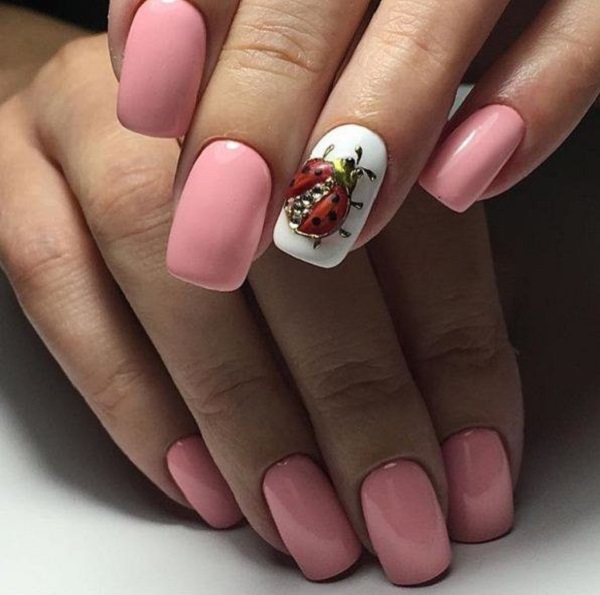 Another Ladybug on Nail. Another ladybug on nail art design is worth trying this summer, if you are o0ne of the nature lovers. Coat all your nails with the nude pink color and emboss a lady bug on ring finger nail with the gold touch and black details.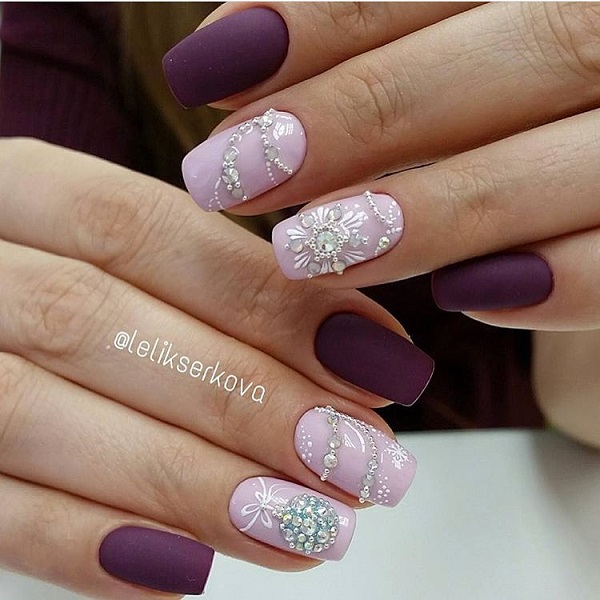 This studded purple floral design. Stud up your purple nails with flowers and white diamonds, to add amazing touch of spring and festivity to your nails.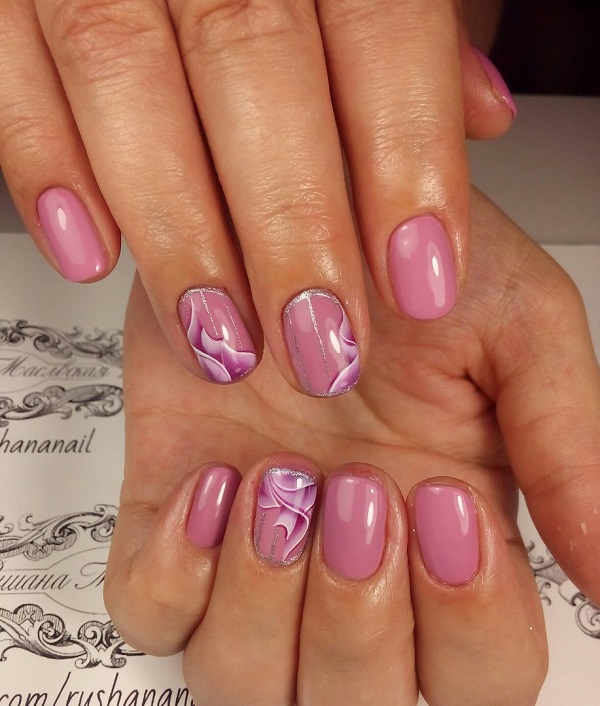 3D Ribbon Nail Art. Add the feel of festivity to your nails with this 3D nail art design. Simply embellish your nails in pink colored glossy nail paint and carve the 3D looking ribbon with the tweak of silver glitter all along.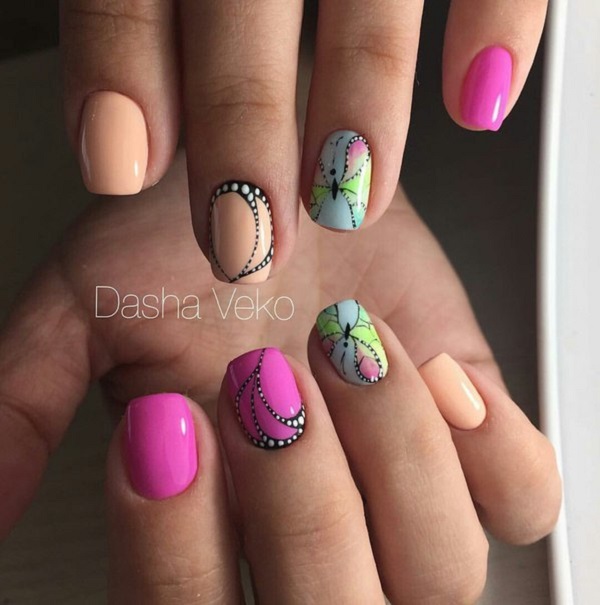 The Butterfly Wing. Spruce up the look of your nails with the microscopic view of butterfly wings, instead of drawing the whole butterfly. It will make the people look twice to admire your art and creativity.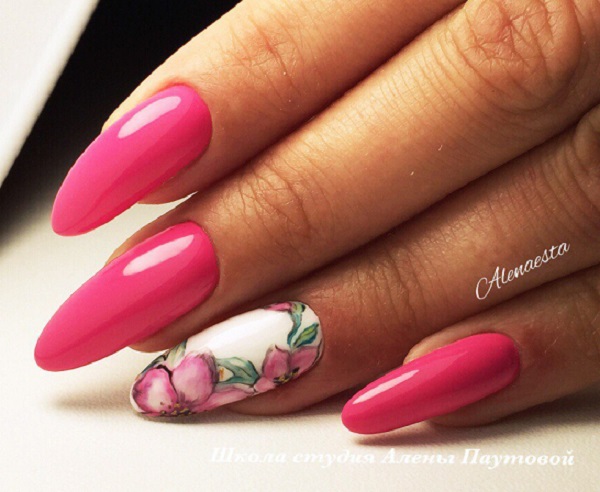 The Bold Pink Nail Art Design. Spring nail art is incomplete with flowers. So let's embellish our bold pink nails with the flowers deep in details and beautiful on gaze.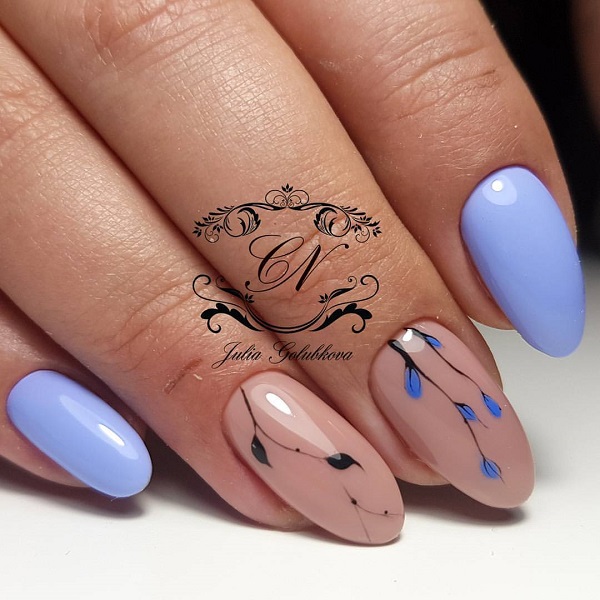 Black and Blue Sprouts. If you are looking for something that goes with your casual days in spring, then trying out this one doesn't make any bad decision. Just paint up your nails and go casual.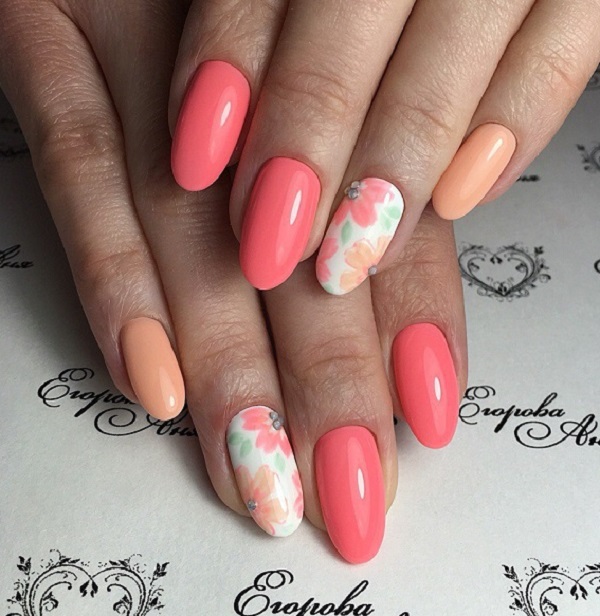 Sweet Spring Flowers. Enhance the look of your nails by painting the sweet spring flowers on the your nails in different colors. The trend of peach hues is in this spring, so why not try those?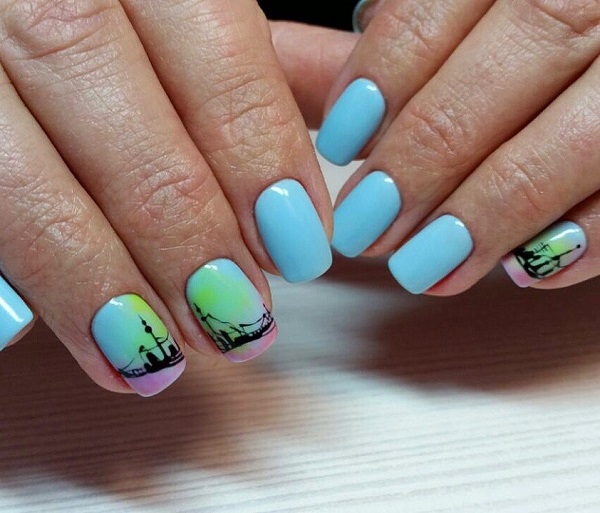 Spring in London. Enjoy the spring season in London by painting the Bridge of London on the nails with the play of different colors.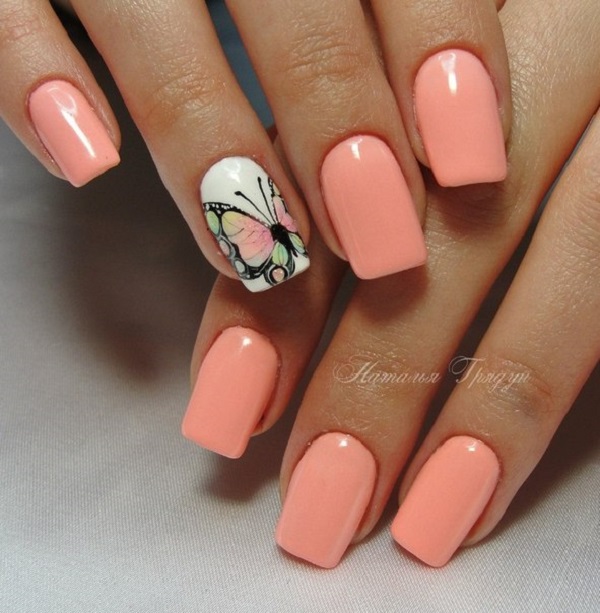 Enlarged Butterfly. Make a combo of peach and enlarged butterfly over your nails to give your nails a touch of spring theme.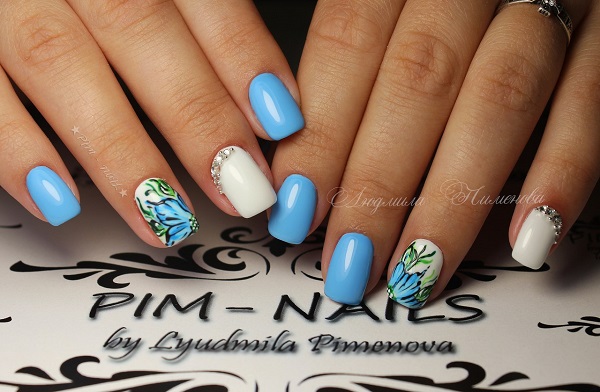 The Floral embellished Nails. Get your nails embellished with the blue floral pattern and white colored accent along with the diamonds.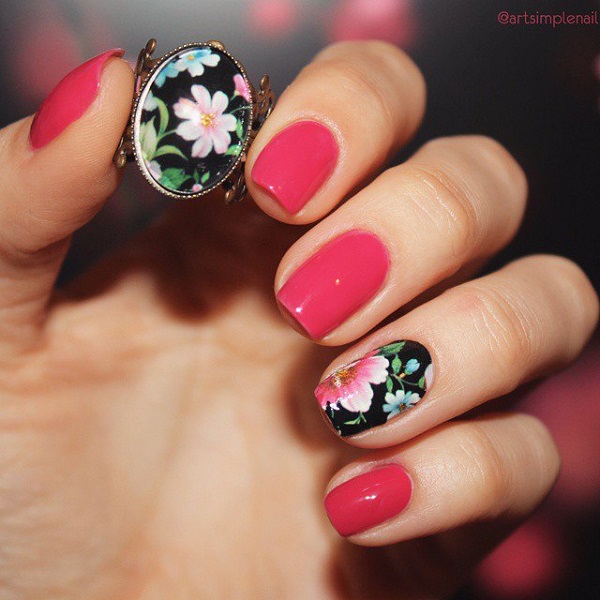 Black Floral Patterned Nail Accent. The artist got the inspiration for this art from a ring that the girl's holding in the picture, but there's nothing wrong with this cheerful nail art design for spring season.
So, enjoy your new season with the new nails, in all oh-so pretty shades and patterns!