Create a festivity on your nails with colorful feather nail art!
When it comes to special occasions we would always make an extra effort to look good. We keep ourselves looking good from head to toe and from arm to nail. You want to go for something lovely and festive. Feather nail art is probably the best choice that you can make. However, there may be times that you feel as though creating feather nail art is too much work or looks very complicated. Of course only looking at the design can scare just about anybody away; what you have to remember is that feather nail is not as hard as it looks like. Almost anyone can do it, you just have to know how to.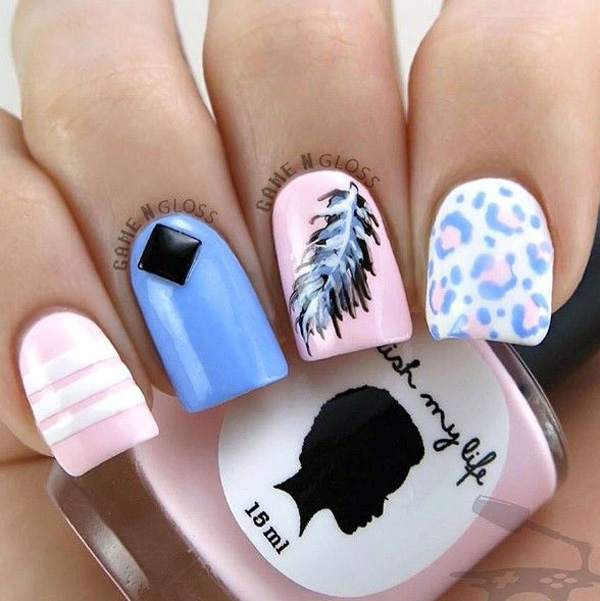 There are plenty of ways where you can design feathers onto your nails. It can be on summer themes or even feathers in the winter times or holidays, take your pick! The great thing about feather nail art is that you can choose just about any type of theme and it can definitely fit.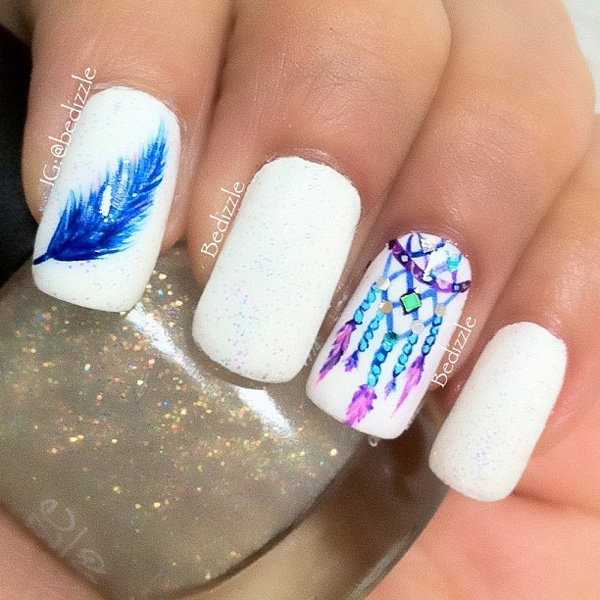 Among the most favorite type of feather art is the colorful ones that you can see in cabaret and burlesque performances. These feathers denote the feeling of festivity, happiness and the sense of being free. It's like jumping out of reality and into a place where you can have absolute fun.
If that isn't enough to convince what good choice having feather nail art are then you are missing out on a wonderful opportunity of painting something different and meaningful on your nails. You can always try on new designs and who knows? Maybe feather nail art is just perfect for you.
Tips on painting your very own feather nail art
Here are some things that you will need when you will be attempting a feather nail art design:
nail polish for base
black nail polish since this color can match just about any nail polish you may have
clear top coat or stronger than can hold polish and embellishments in place
synthetic feather, small ones that you use in crafting
a clean toothpick
scissors
Getting started
As always begin your nail art with a good amount of base coat. In most cases you need to make sure that the base coat covers the entirety of the nail. You would want to protect your nails from the additional layers on top so it is important that you see to it that the coat is applied evenly. Make two coats of the base coat just to be sure and let it dry completely before proceeding.
Then apply another polish of your choice on top while adding the feather on top of it. You have to make sure that the feather's tip is aligned on the cuticle of the nail. That makes it easier for you to trim the feathers later on. Of course in some instances you can paint the feathers yourself o the nails by using a really thin brush point, but on this example you will be using the synthetic feather that you can buy from craft store.
Make sure that you position the feather well and may need to press on it to keep it place. When everything is dry and well, you can proceed on trimming the excess feathers off the nail. Do this carefully as not to chip the coat underneath the feather. In some cases you will need a smaller type of scissors to get the precision trim that you need, however regular scissors can work to when you know how to trim it off properly.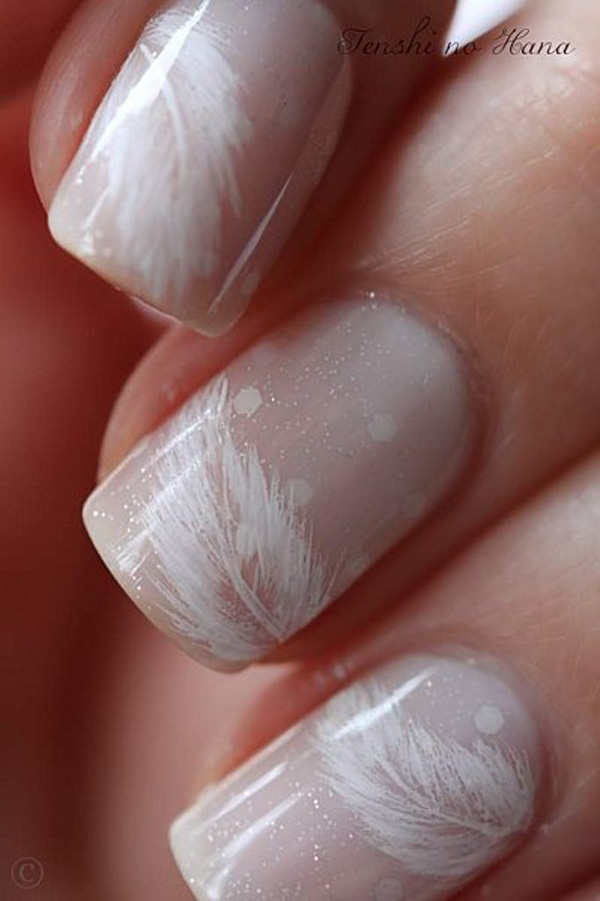 Last but not the least, apply the top coat. Usually a clear coat is used so that the feather and the polish behind it can be seen. Clear coats also give that shiny afterglow effect that looks absolutely great on the nails. The glow also gives your nails a cleaner and tidy look.
This nail art can last for days and the clear coat on top help preserve. A word of caution though in washing your nails or doing activities like washing your hair or the dishes or any household work that will involve wetting the nails for a long amount of time; be careful. There will be instances that the nail art will be destroyed if not taken cared of properly.
This nail art design will work best when you are not going to perform any strenuous activities. For example, this is a perfect nail art design when you are going off to vacation for a week or visiting your friends and relatives over the holidays. It's a very festive and out of this world nail art design that deserves to be shown off and not continually hidden eroded inside the house. It is also a great piece to practice with, take your time at home to perfect the feather strokes if you plan to paint it on so that when the day you are going to use it for vacation, you can perfectly paint it well.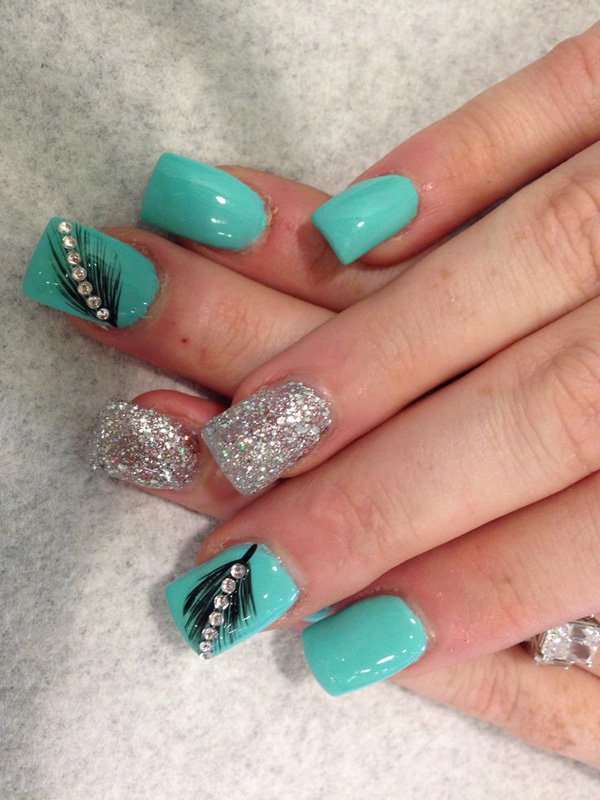 Really pretty feathers nail art in aquamarine nail polish. Silver glitter polish has also been painted on the nails to highlight the feather design with embellishments of silver beads on top.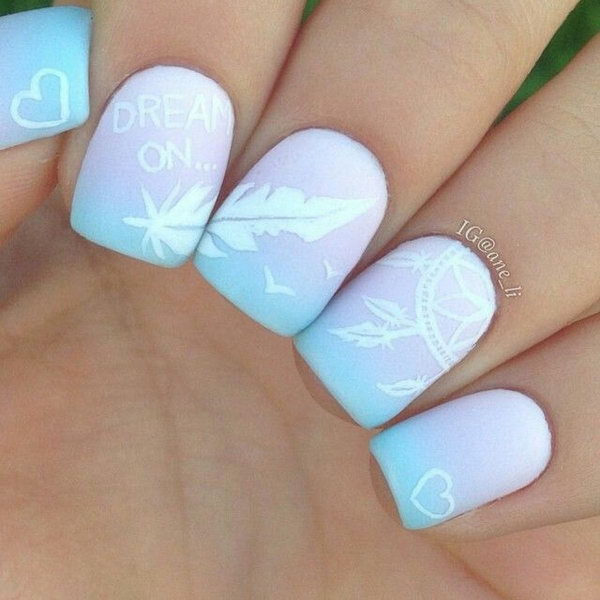 Light gradient feather nail art. Create a light gradient on your nails in baby blue and periwinkle hues. Add the feather details in white polish to give that clean and tidy look.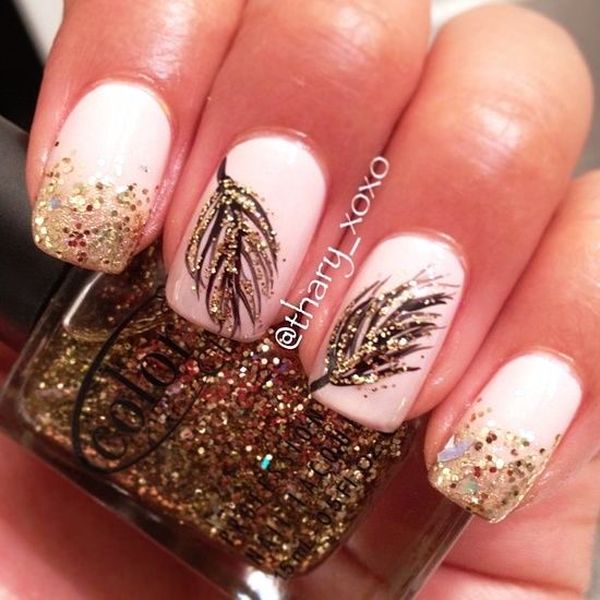 White and gold themed feather nail art. Coat your nails in matte white polish and add gold glitter on the tip of the nails as well as to highlight the feathers.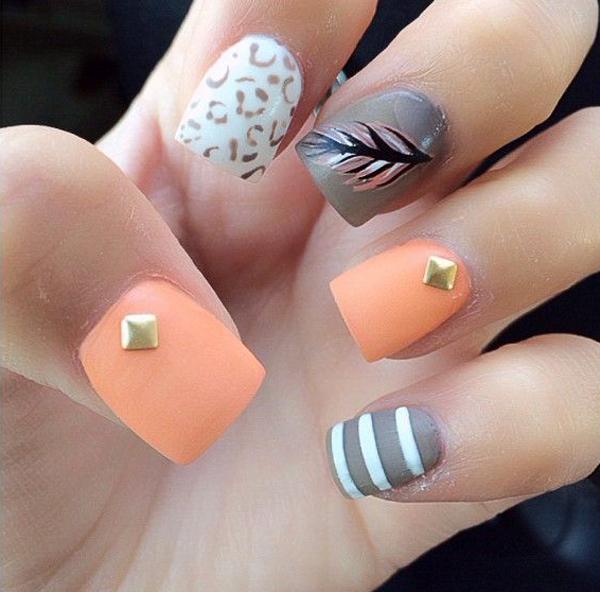 Cute animal print, stripes and feather nail art design. Paint your nails with these pretty pastel colors and design them in various patterns such as animal prints, stripes, and matte and of course feathers.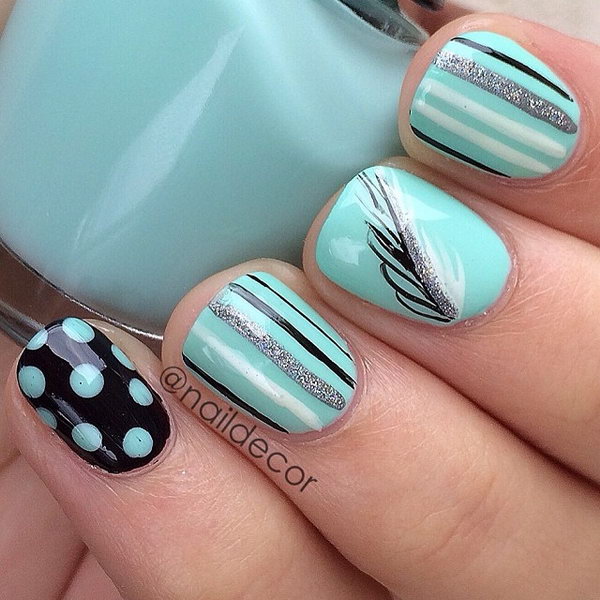 Polka dot, stripes and feather nail art design. Coat your nails in this bright blue color opposite of the black and white polish used for the details. Silver glitter has also been added for accent.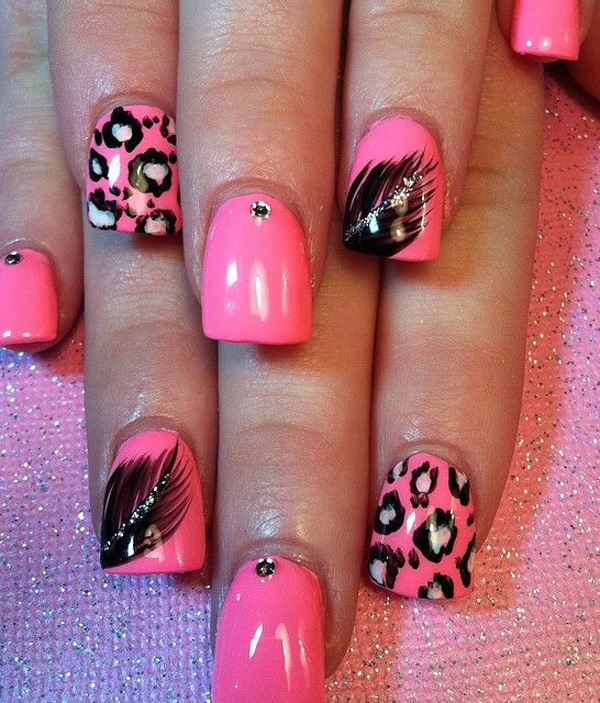 Soft and feminine feather nail art. Give your nails that delicate look with this baby pink nail polish beneath a white feather nail art. Make the accent of the feather stronger by adding silver glitter.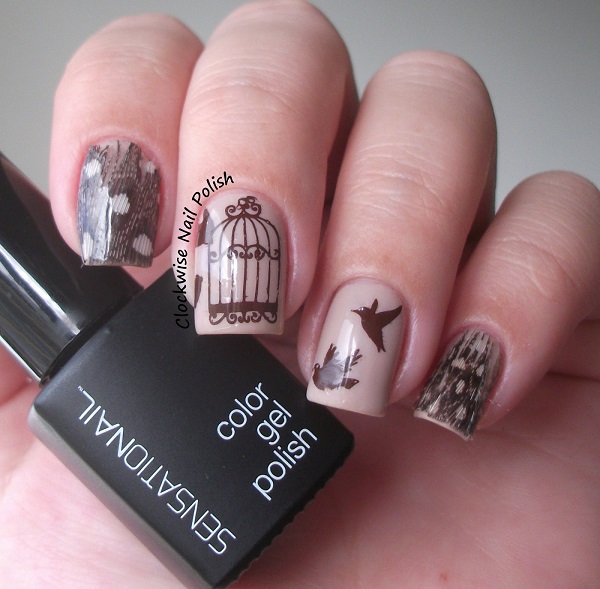 Quirky and artistic birds and feathers nail art. Give life to your nude polish nails by adding details of birds, birdcages and feathers to your nails.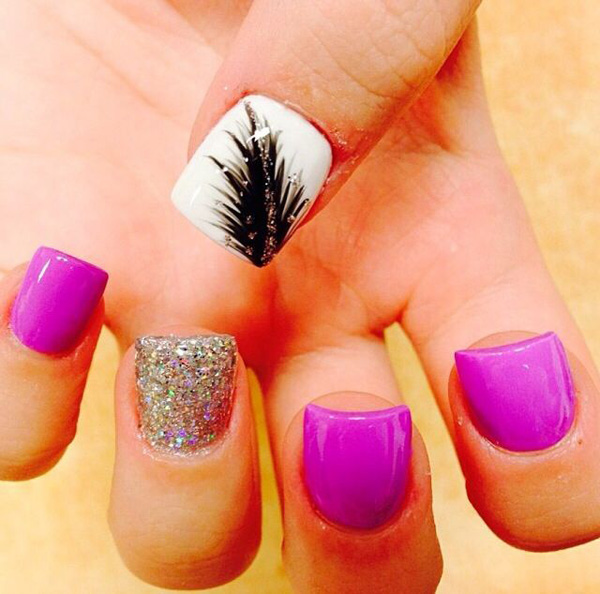 Purple kissed nails paired with feather and glitter nail art. Create purple monochrome nails then add glitters and feather nails for that kiss.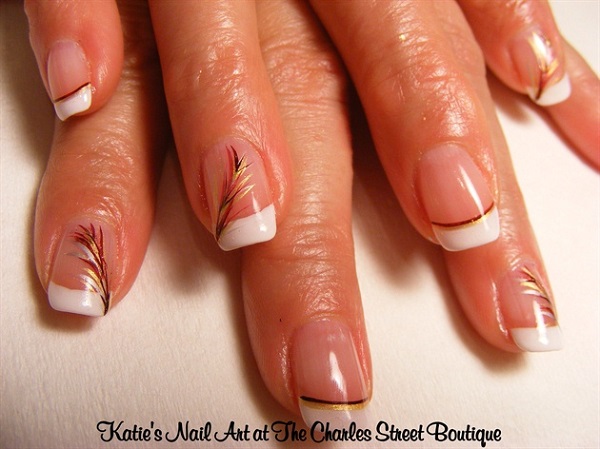 Elegant feather nails French tip. Work your nails into this classy looking French tips with a red and gold feather detail on top.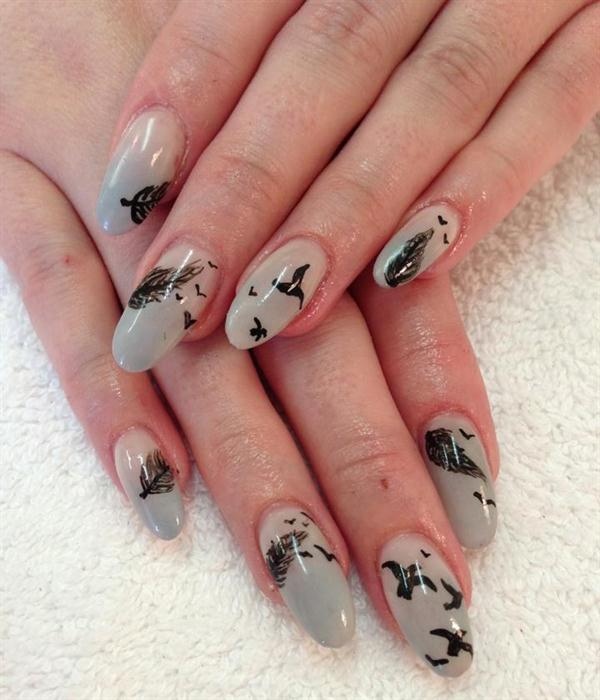 Birds and feathers nail art silhouettes. Give that sense of tranquility unto your nails with painting on silhouettes of birds in flight and falling feather in black polish over a matte gray color.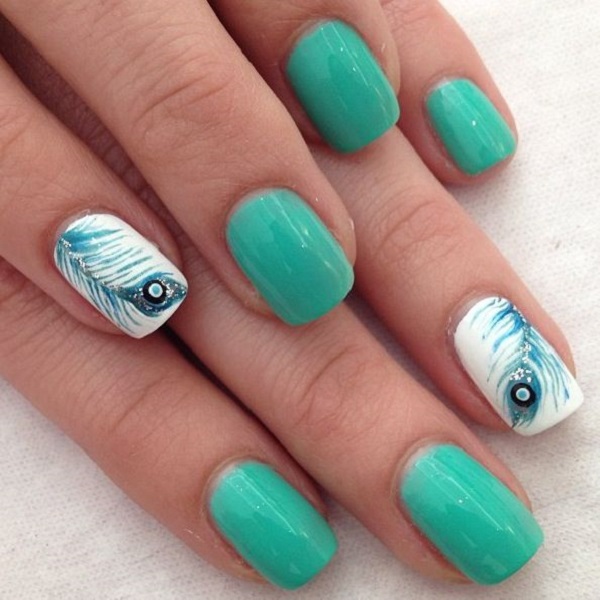 Bathe your nails in perfect aquamarine color with this feather nail art design. Paint your nails in aquamarine polish and reverse by using white polish as background for your aquamarine feather detail. Add accents such as beads on top of the feather.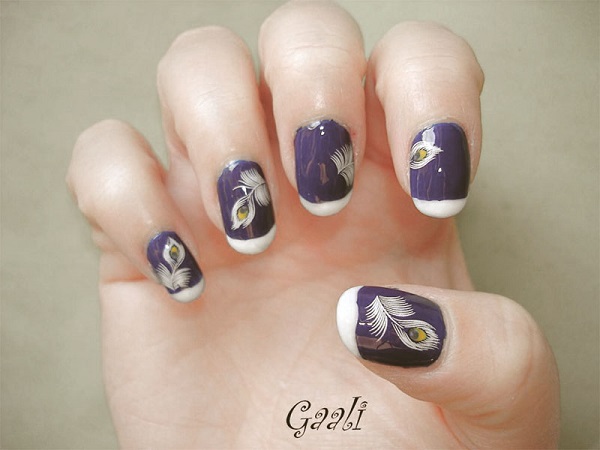 Feathers nail art in white French tip. Play along with your nails in this blue and white ensemble. Draw on intricate details of white feathers on the blue part of your nails.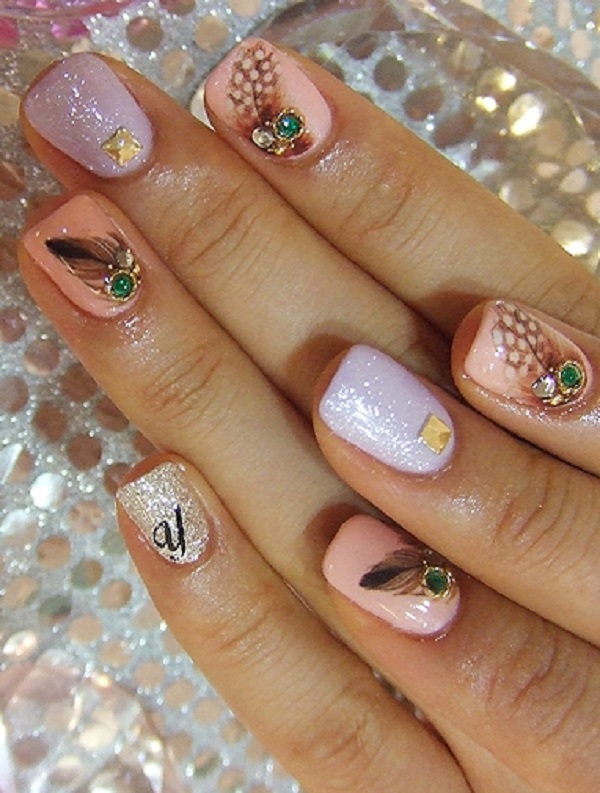 Bedazzled and glittering feather nail art. Spice up your nails with not only pretty feather details but with embellishments and glitter polish such as beads to highlight the feathers.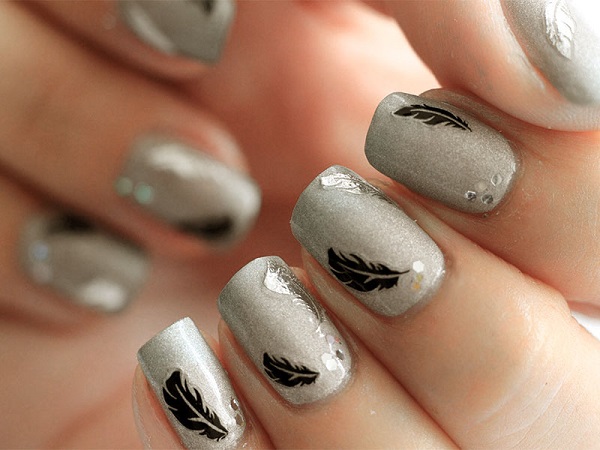 Elegant and classy looking feather nail art design. Who says gray is a dull color> you can definitely add more attitude to your nails by painting on black feathers and adding silver feather embellishments for accent.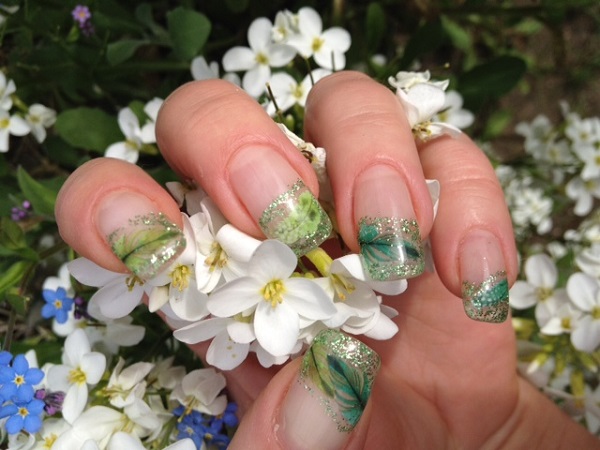 Spring themed feather nails French tip/ absolutely fresh looking and beautiful. Take your French tips to another level by adding feathers and glitter polish.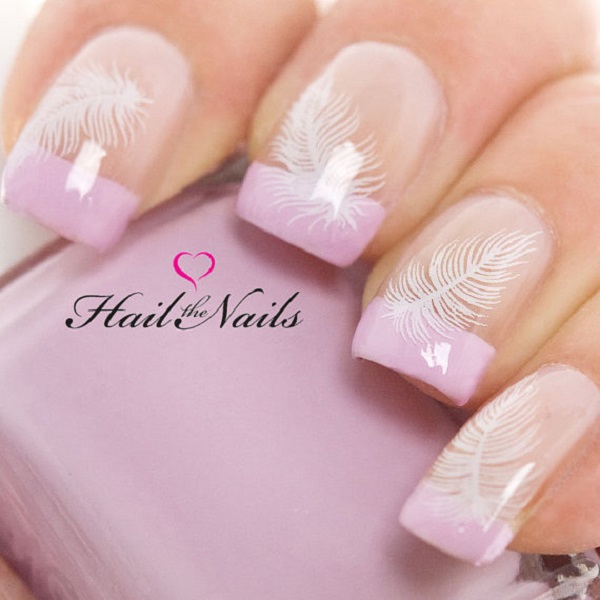 Pink and white feather nail art French tip. There is so much more that you can do with French tips and this feather nail art proves so. Add white feather details on top of your pink French tips and finish off with a shiny clear coat.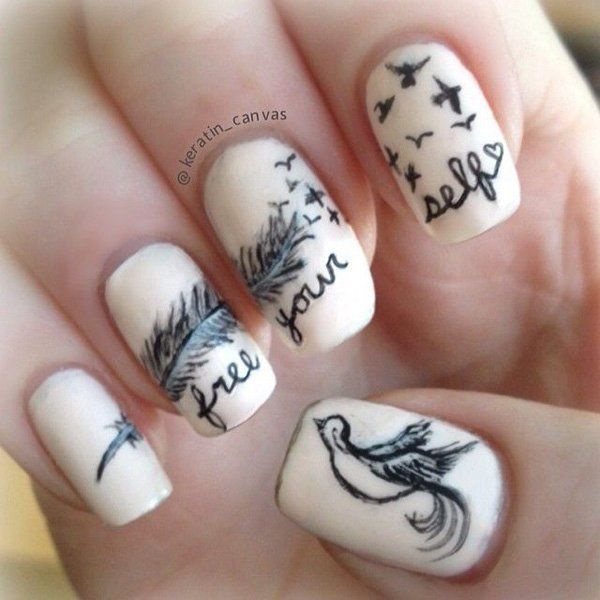 The more creativity you add on your nails the more interesting it looks. Black and white feather nail art that travels through the nails. Add a bird detail on one of the nails for better accent.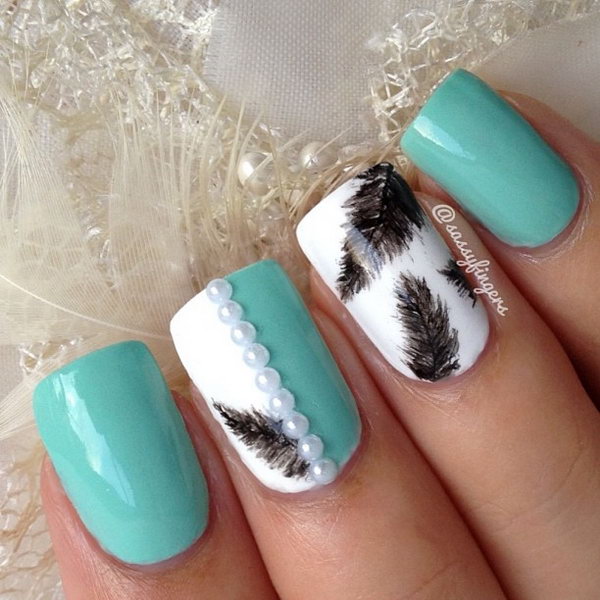 Blue and white feather nail art design. Give more style to your nails by adding beads on top of the feathers. Alternating the blue and white polish also helps in making it look more interesting.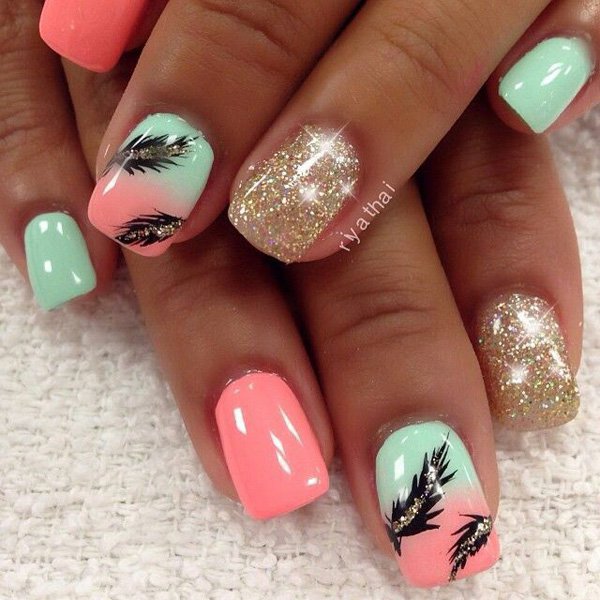 Gradient and gold themed feather nail art design. Combine pink and green polishes to form a gradient design, add the feather in black polish on top. To complete the design you can also add on gold and silver glitter polish.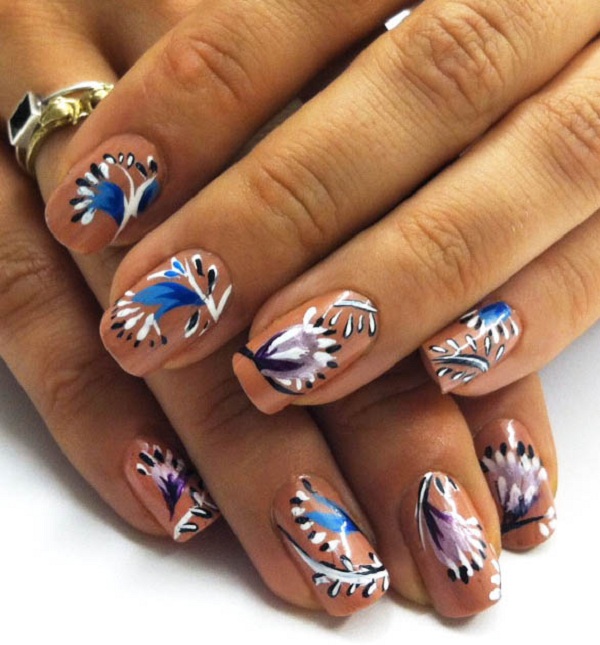 Cute and quirky looking feathers nail art design. The feather dotted love and nude polish combination gives a great look to the nails making the design appear fun and cute at the same time.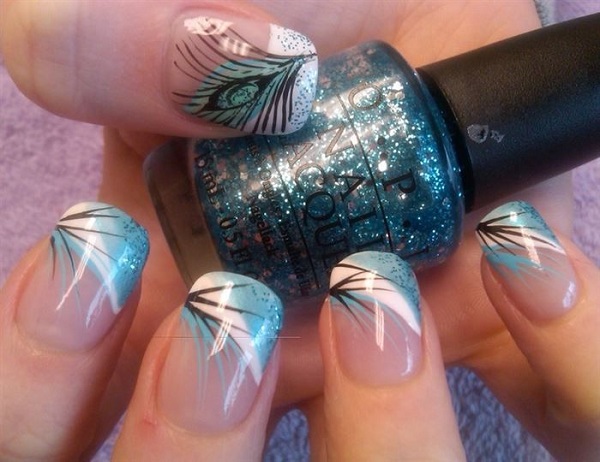 A very pretty and classy looking feather nail art French tip. Combine blue and white polish to create the French tip and add the feathers on top with a black polish. You can also add blue glitter polish for accent.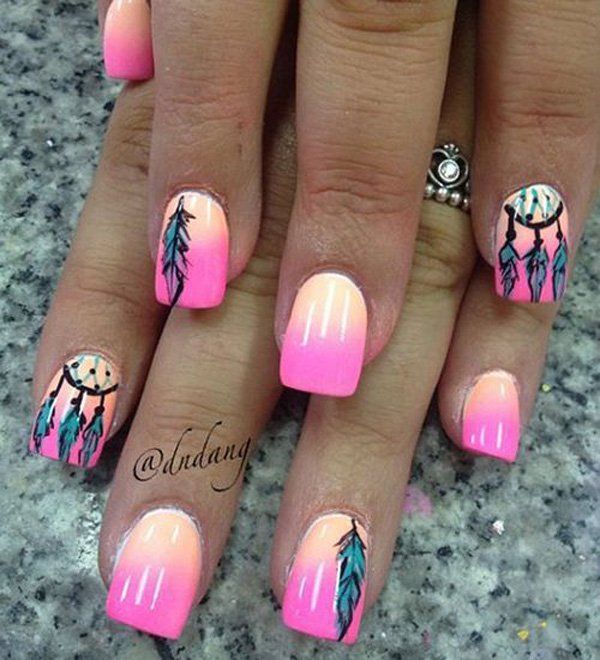 Summer inspired feather nail art. Make a gradient of the summer colors pink and add Dreamcatcher feather detailsto complete the effect.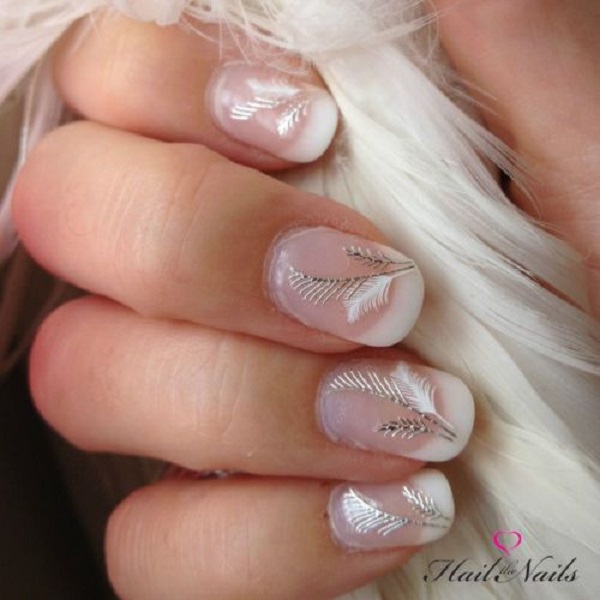 Beautiful white themed feather nail art. You can use a readymade synthetic feather for this design. Begin with a classic French tip in white polish on your nails. Then add the synthetic feather on top, make sure it is trimmed well before applying the final coat.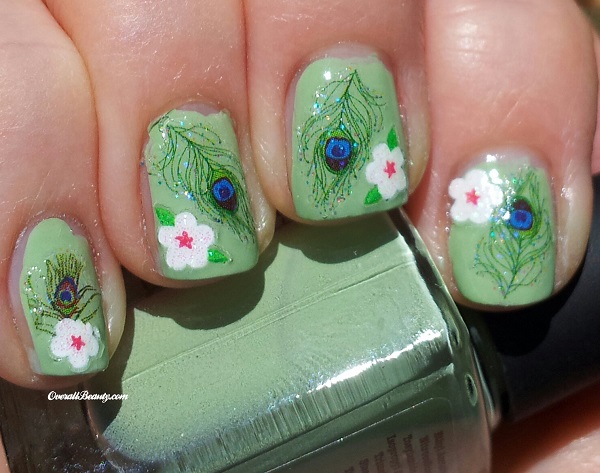 Pretty in green feather nail art design. Add spice to your green nails by adding green feather details on top with additional white flower accents.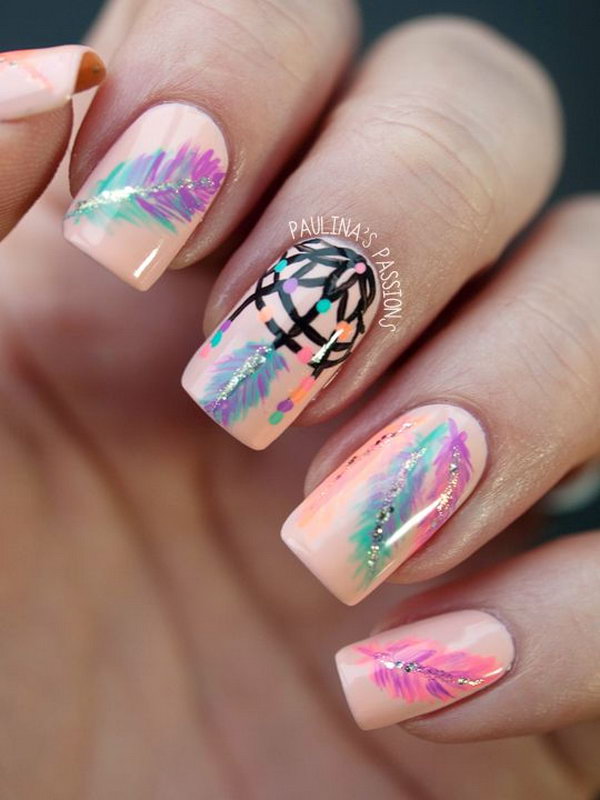 Cute and tribal themed feathers nail art design. Use pastel colors to create the sweet effect of this nail art. You can also add a black polish to define the design of the dream catcher painted on top.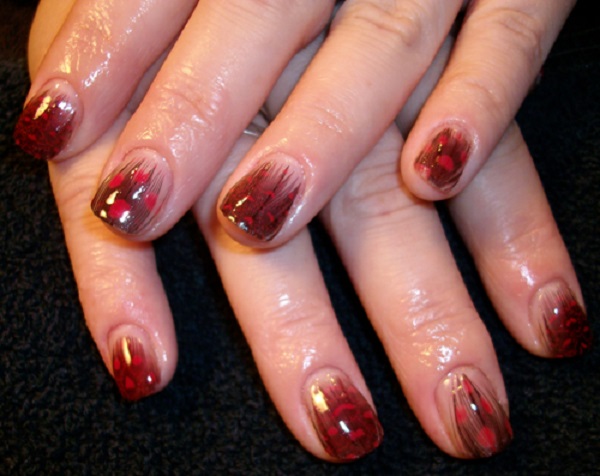 Bloody red feather nail art French tip. Stand out from the rest by making your French tips take the form of feathers extending towards the cuticle.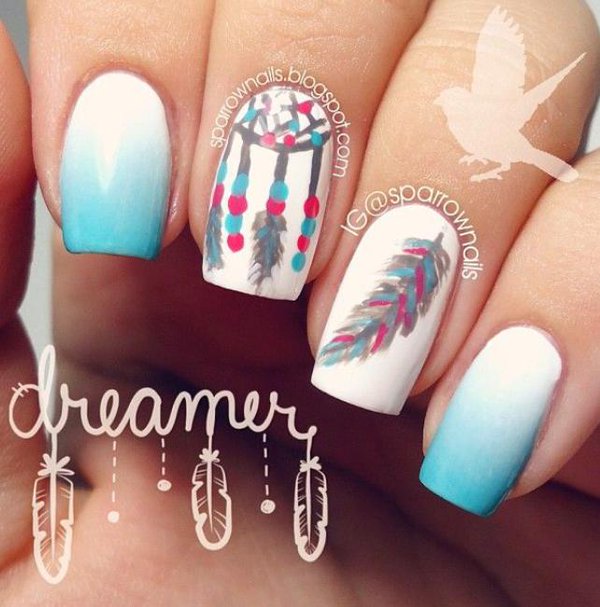 Dreamcatcher feather nail art design. Paint on this heavenly nail art by creating a blue to white gradient depicting the bright blue skies while adding Dreamcatcher and feathers on white nails.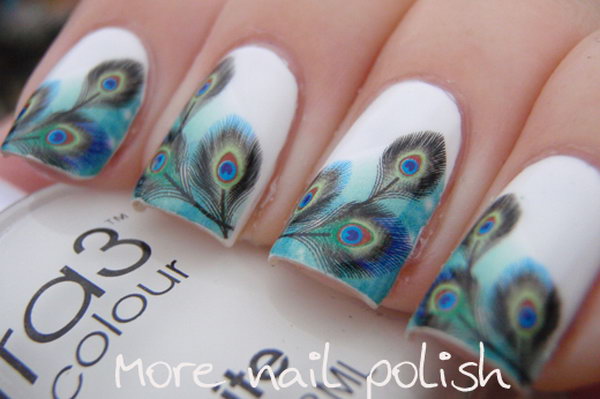 Feathers nail art French tips. Give spice to your nails with this collection of colorful feathers as your French tip, it works great with a white base color.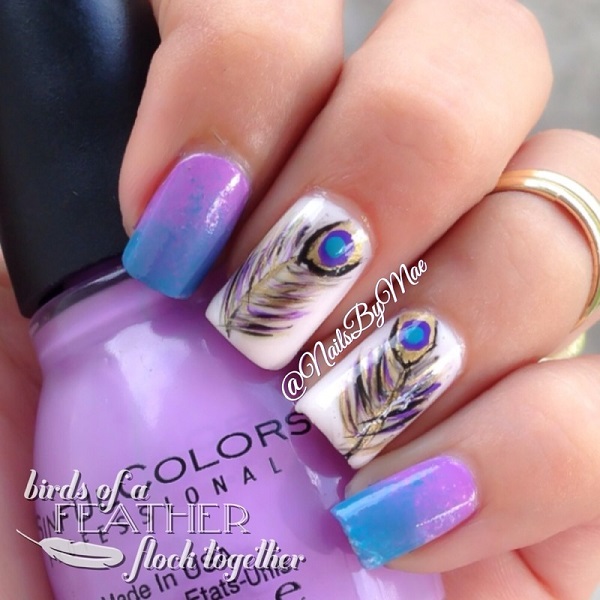 Violet themed feather nail art. Alternate the white and violet polishes to create drama in your nails. Combine the violet polish with blue to form a gradient and complete the design by painting the feathers on top.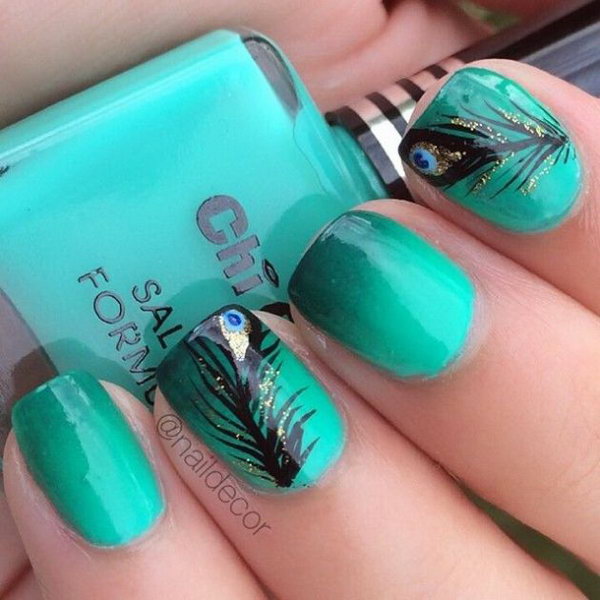 Sea green themed feather nail art design. Make your nails stand out by using sea green as the background and using black polish as silhouette figures of the feathers.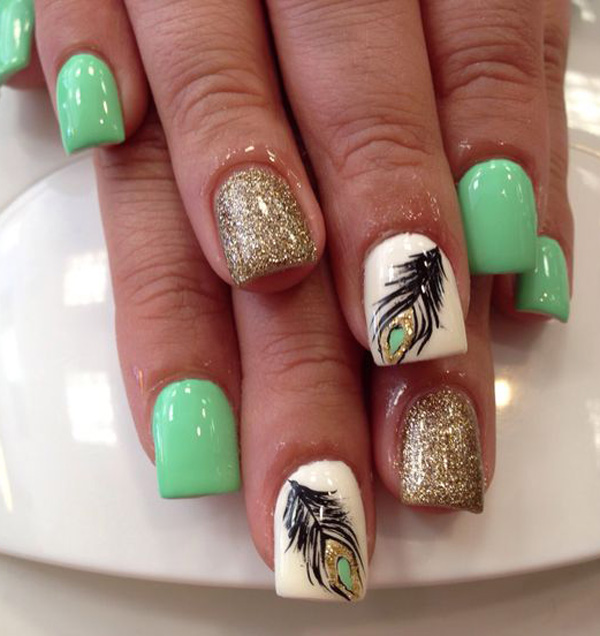 Attractive looking olive green gold glitter and feather nail art. Paint your nails in olive green polish and pair with peacock feathers on white polish and gold glitter nails.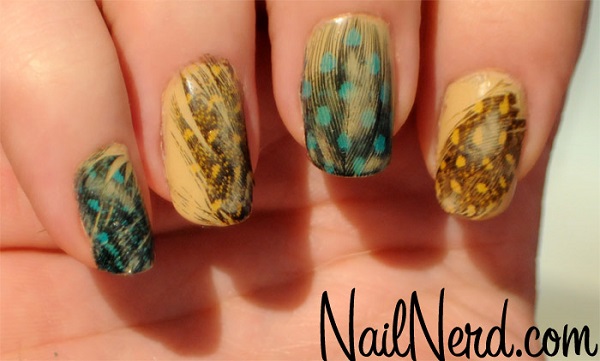 Very colorful and creative looking feathers nail art. Fill your nails with these almost vintage looking feathers in yellow and blue colors. The feather designs also look great with the base polish used.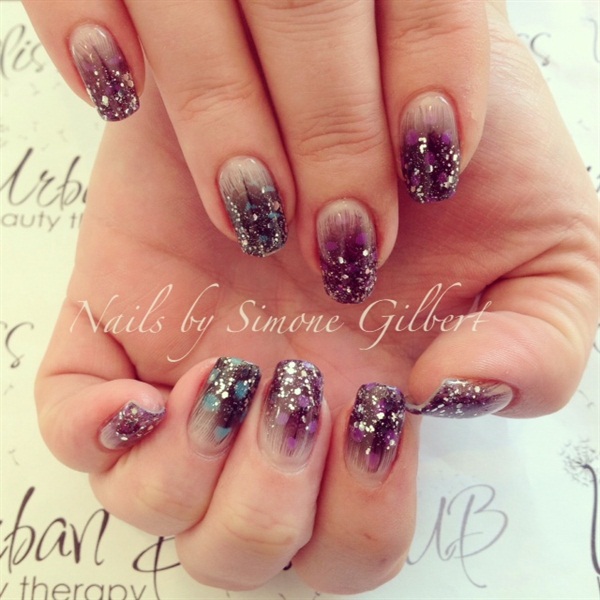 Violet themed feather French tips. Make your French tips stand out by painting on violet feathers as your French tips and adding colorful embellishments on top for accent.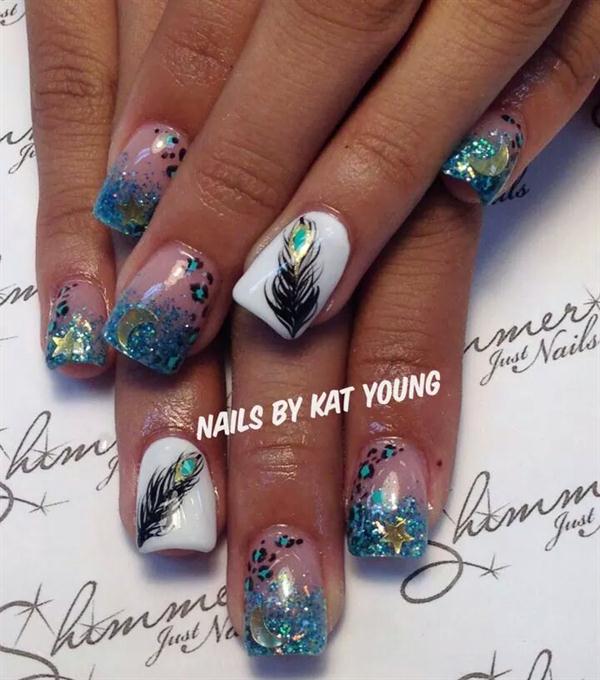 White and blue animal print and feather nail art. Start by painting on your base color and animal print designs. Top off the French tips with colorful moon and star shaped beads and draw on feathers on the matte white parts of the nails.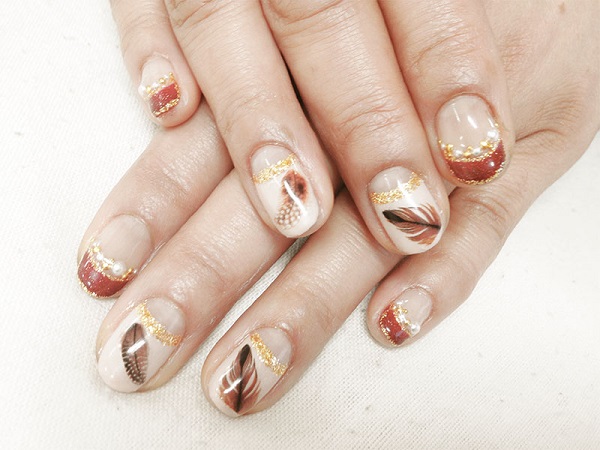 Very attractive looking feathers nail art design. Paint your nails in clear and nude colors so as to make way for the feather designs on top. Create various French tips and feather details to complement the rest of the nails. Add gold glitter to increase the accent.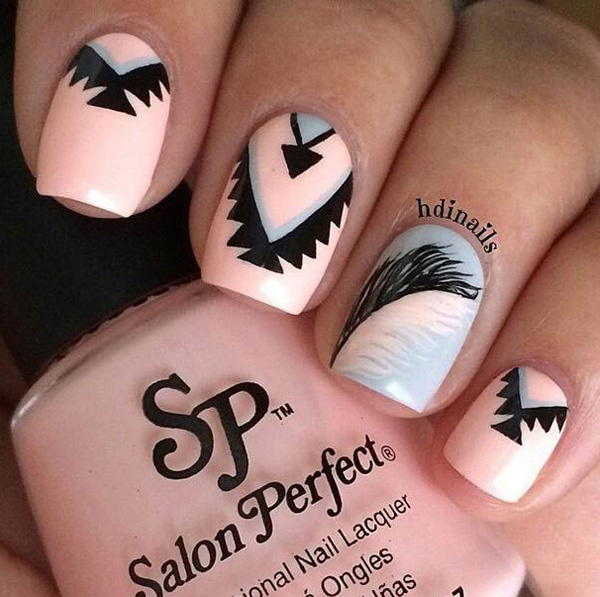 A glamorous pink theme feathers nail art design. Cover your nails in pink grey polish adding black and grey feather and tribal designs. It looks pretty and gorgeous at the same time.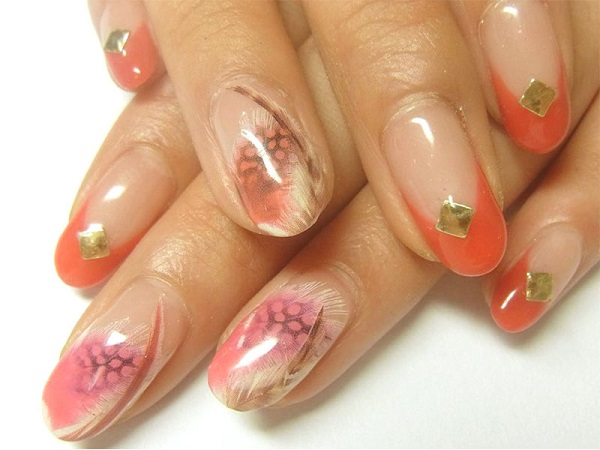 Melon and pink feathers nail art design. Give your French tips another look by painting them in feather style. You can even add gold beads on top of the nail tips to increase the accent.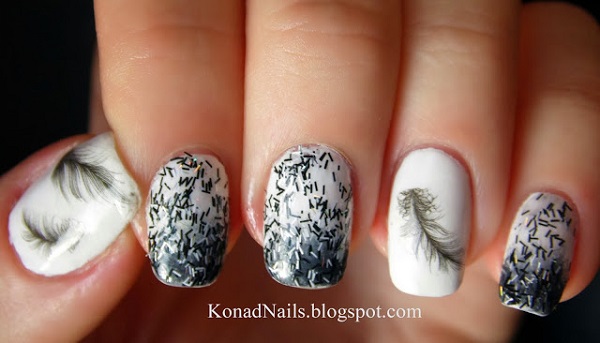 Black and white vintage feathers nail art design. There is nothing more vintage than going for black and white. Don this classy number on just about any occasion you are going to.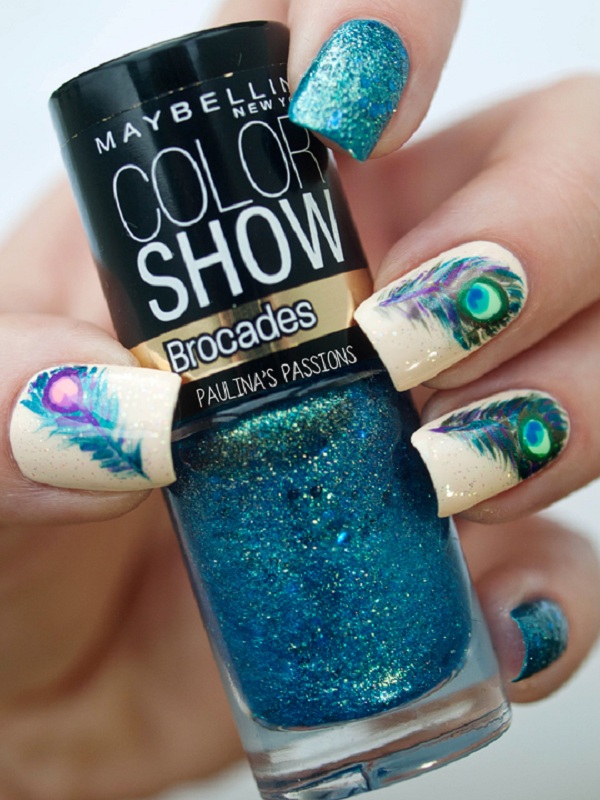 Metallic blue themed peacock feathers nail art design and show your love of Dreamcatcher. This design looks perfectly good on long nails wherein you can paint the metallic polish longer and create more drama on the feather French tips.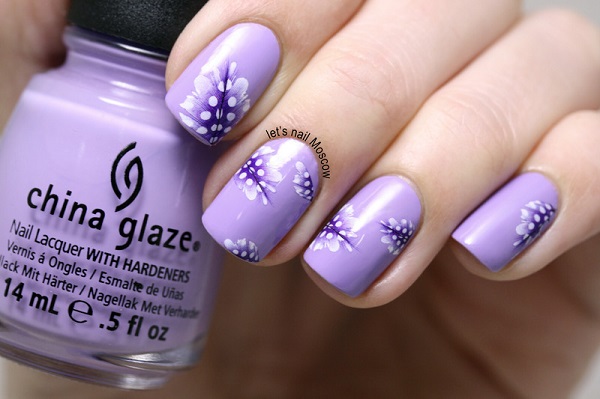 Adorable violet feather nail art design. Feathers can take form of other designs and this simple yet cute looking feather detail looks simply perfect on the matte violet background.