Can't get enough of snow? It's the end of the holidays but snow just keeps on coming and making you cuddle up to the fireplace. It's not a bad thing at all, it makes you want to feel comfortable, relaxed and enjoy that hot mug of cocoa and marshmallows. Nothing is perfect than having a warm cup of chocolate inside the house during a snowy day. Since you love snow this much why not spend your free time painting on beautiful snowflake nail art designs?
Afraid they are too complicated to do? Don't worry too much!
Snowflake nail art designs are not that hard to recreate if you know what you should do. It's the winter time and it only comes once a year so you wouldn't want to pass up this opportunity of getting in fashion with the season. Don't let your hopes down even without starting yet. You will never know if you can paint a nail art design without trying it first.
What can help you the most are good nail art references. For a starter take as much references as you can. You need them to study how the designs can be made and you also need choices that will fit you best. You can take your pick from the references and paint on the one that is easiest for you to do.
What you should prepare
– White nail polish or acrylic paint, a white art pen can also be used
– Your base color
– Clear top coat
– Glitter polish, optional
How to start your snowflake nail art
When you have prepared all your things, as always, start with the base coat. The base coat is important because it protects your nails from further damage it can incur from the nail art. It's important that you start off all your nail art designs with a base coat to help preserve the health of your nails longer.
Bear in mind that you're going for a snowflake design, so its best to choose a darker color for the base color of the nails. This is so that your snowflake design will be more visible from afar no matter how big or small it is. Or you can choose really attractive and festive shades like metallic ones. Try going for blue or red metallic colors for starters.
For the snowflakes
It's important not to get nervous when drawing the snowflakes. It will help if you practice a few more times before just to get the strokes right. In another sense you can also try the simpler styles and you can work your way from the simple towards the more complicated snowflakes. So for the simplest technique, mark an "x" on your nails. The size will depend on how big or small you would want the snowflakes to be. When you are finished with the initial mark, make sure that it is dry before attempting to paint over it. A wet nail polish might smudge if you are not careful enough. Paint another "x" mark on the first "x" in an interlocking manner. There you have your main snowflake. Add more details by painting spikes on the arms of the snowflakes. Repeat with other nails and make sure they are dry then seal then with the clear top coat.
You also don't have to worry if the snowflakes aren't uniform on your nails, in real life; no snowflake is identical to another. It would be easier and fun if you drew different styles of snowflakes on your nails. Experiment with the designs and shapes so that you can come up with something entirely unique.
There is also another technique in drawing the snowflakes where you start with three intersecting lines instead of an "x". Once you have drawn the intersecting lines, draw small slanted lines just by the ends of the intersecting lines. By now the lines resemble a snowflake. However don't stop there, draw more slanting lines alternately on the inner part of the intersecting lines or the legs. All in all you can work up to three lines since the nails are not that big enough to support a huge snowflake design.
And you are done!
If you want a simple manicure then the snowflakes design will fit you best. It looks complicated but the truth is, it's when easier done. Try and look for other snowflake designs that are very easy to recreate on the nails. Practice and practice more until you are able to paint the snowflake you desire. Hold up your references and pick out a snowflake design that you are comfortable painting with. If it helps try practicing with a friend's nail so that you can have better control of the brush in the first time.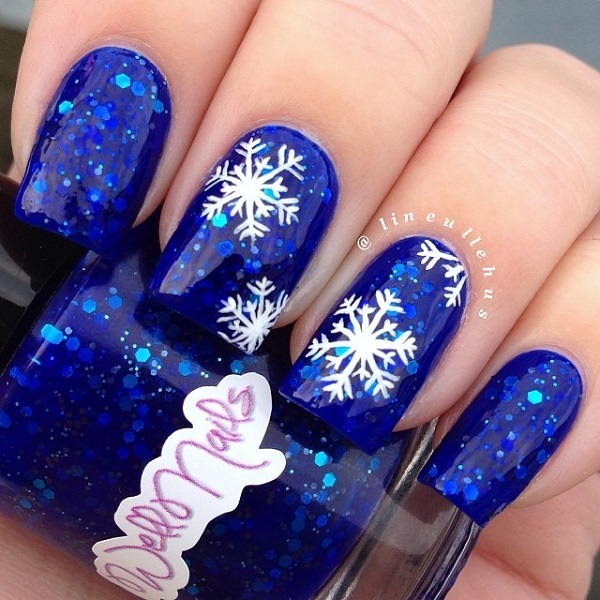 Beautiful blue and white snowflakes nail art design. Painted with sequins in sandwich style nail art, white snowflakes are painted above the nails giving the impression of snow in a sparkling night sky.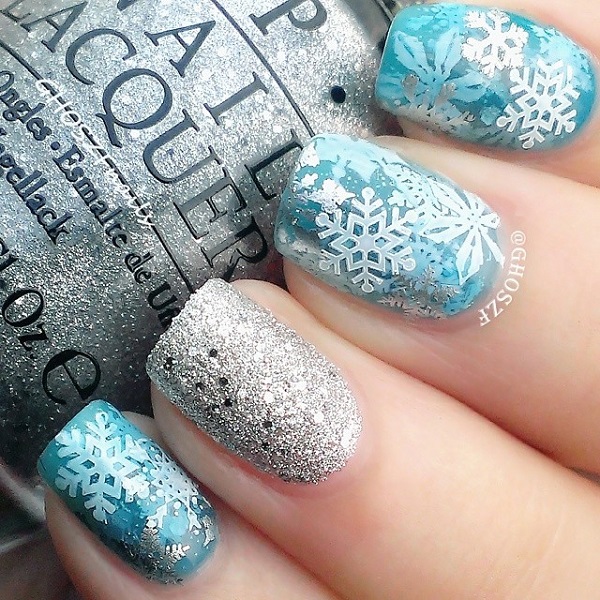 Bright colored snowflakes nail art design with sequins and glitter polish. Design your snowflake nail art into something interesting and sparkling as adding silver glitter and sequins underneath the sandwich nail art.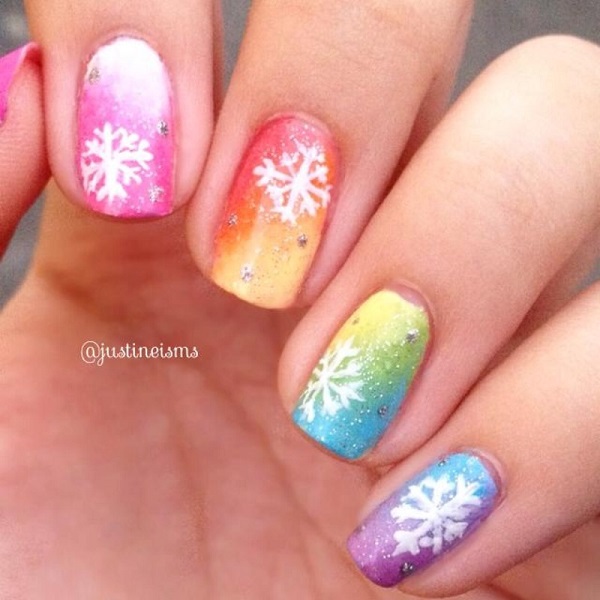 Rainbow gradient with snowflakes. Stand out by painting your nails in colorful rainbow colors with glitter polish and adding snowflakes on top.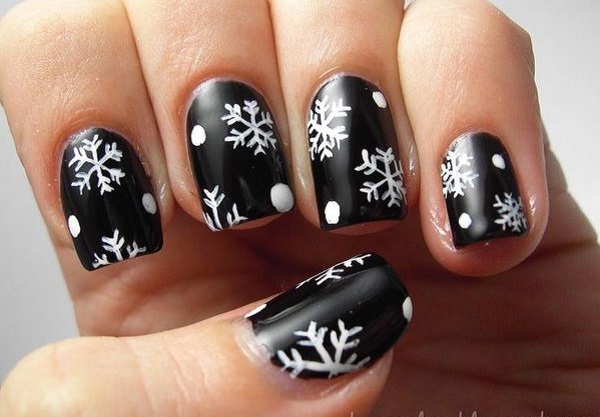 Black and white polka dot and snowflakes nail art design. Classy, fun and trendy; you will never go wrong with the black and white color combination.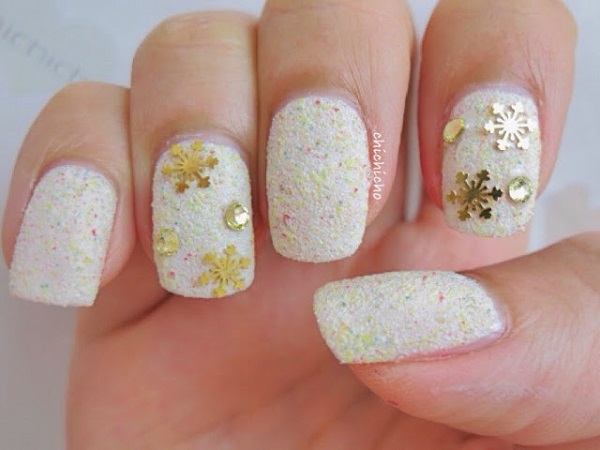 Gold and white snowflake nails art design. Simple yet elegant to look at especially with the combination of the white and gold snowflakes placed on top of the nails.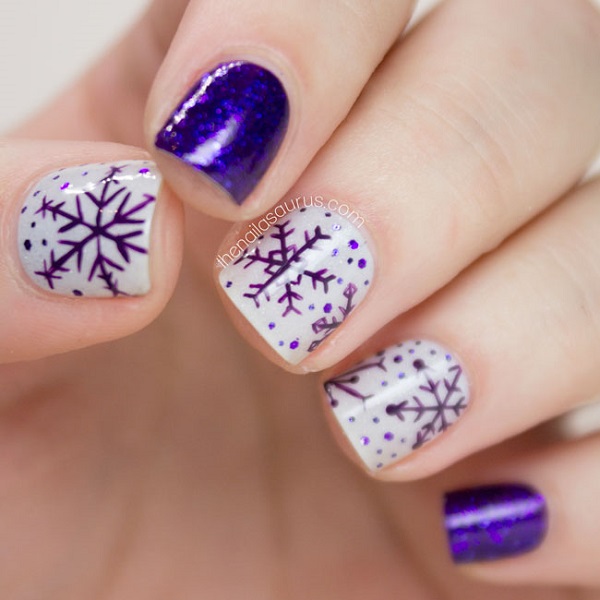 Blue violet and white themed snowflakes nail art. Add variety to your snowflakes nails by adding polka dots around the snowflakes and creating a sandwich illusion using the sheer blue violet polish.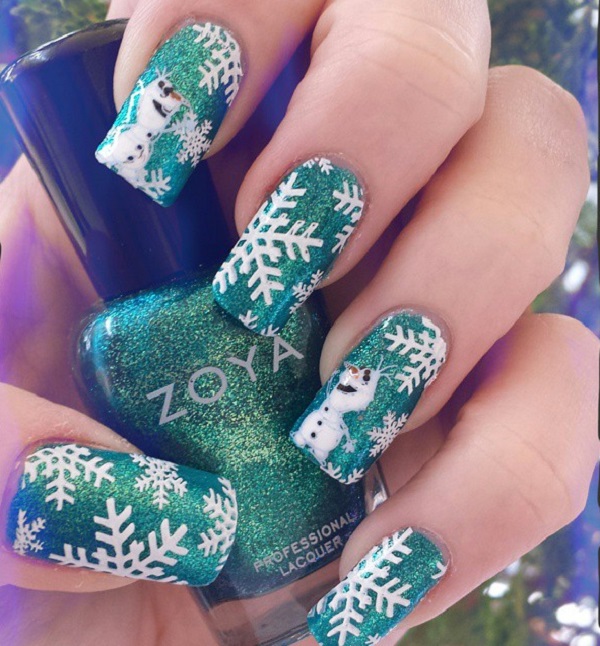 Give your nails the Christmas feel with this green glitter and white snowflakes nail art design. Fill your nails with green glitter polish and add random sized white snowflakes on top plus details of a cute snowman.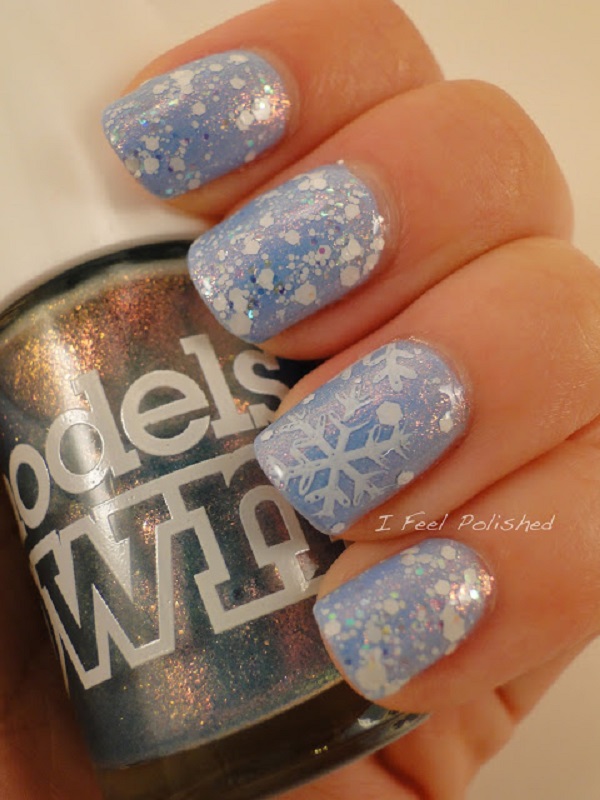 Baby blue and white snowflakes nail art design. Make your nails have that heavenly feel by painting on pretty white snowflakes over your baby blue nail polish and glitter.
CANNOT VIEW IMAGE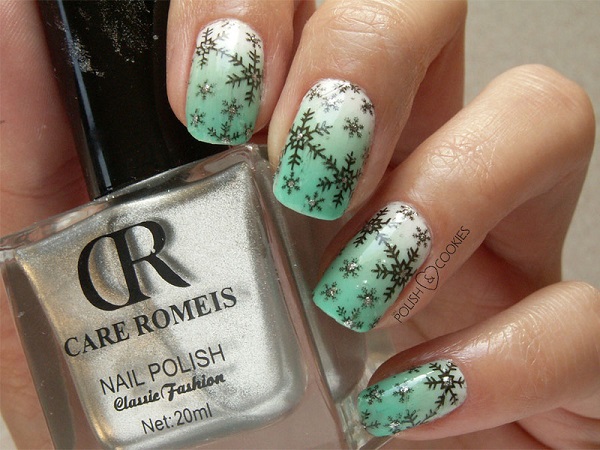 Gradient green and white snowflakes nail art design. The snowflakes are then painted using glitter copper nail polish giving it a glossy and shimmering effect for the nails.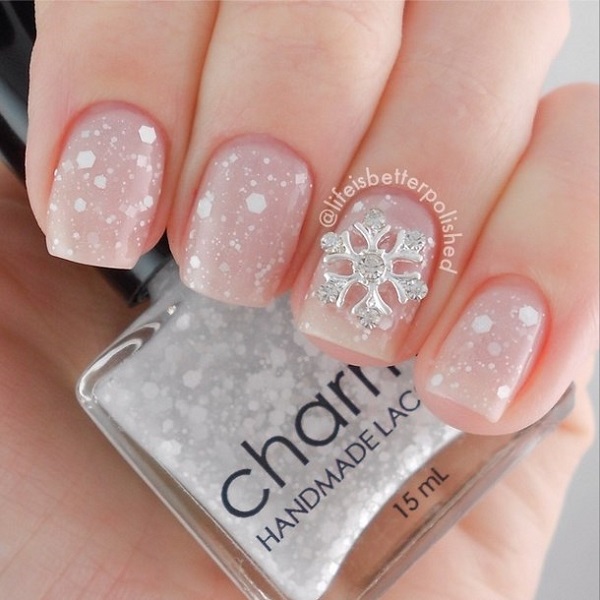 Neat and clean looking snowflakes inspired nail art. Cover your nails in wonderful looking snowflakes while using a clear base coat. This helps keep your nails look fresh and clean and at the same time trendy.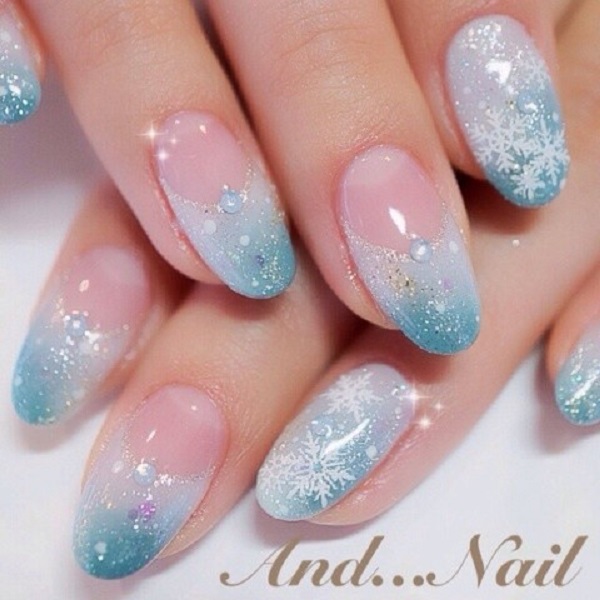 Crystal blue French tip snowflake nail art design. Give more sparkle to your French tip by giving it the gradient effect of white to crystal blue. Add embellishments on top to make it look like it's fresh from the snow outside.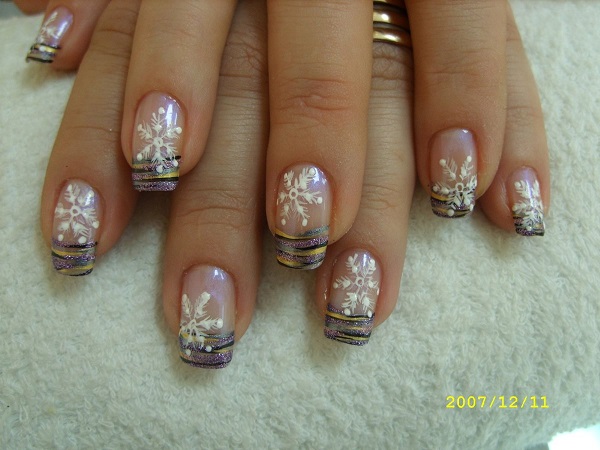 Wonderful looking glitter French tip with snowflakes on top. You can make your French tips a whole lot more exciting by adding cute snowflakes on top.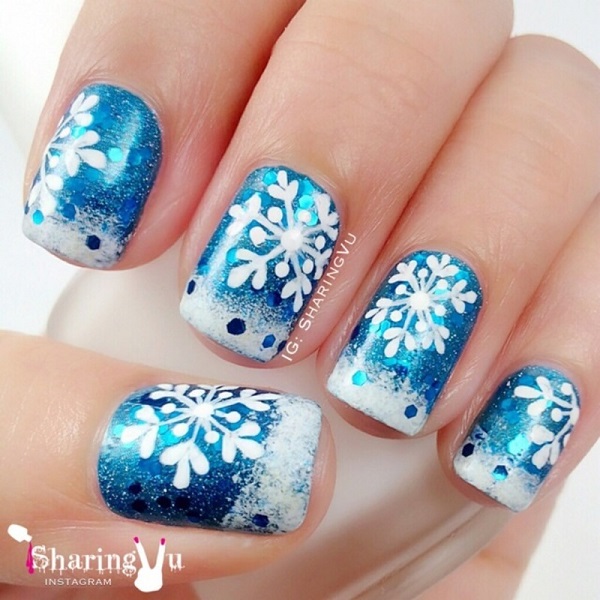 Winter inspired snowflake nail art design. Dress your nails in metallic blue and add mystical white snowflakes on top in addition, sprinkle some silver dust to make the entire nail glitter in wonder.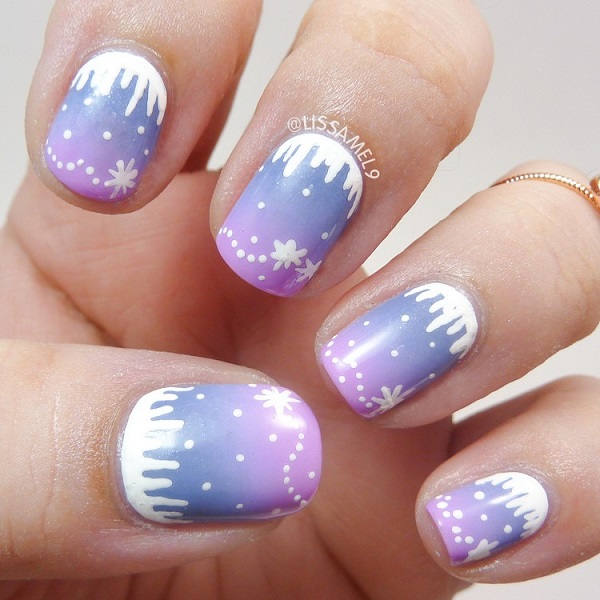 Candy colored snowflake themed nail art design. Combine cute candy colors into a beautiful gradient on your nails and top it off with cute randomly sized snowflakes.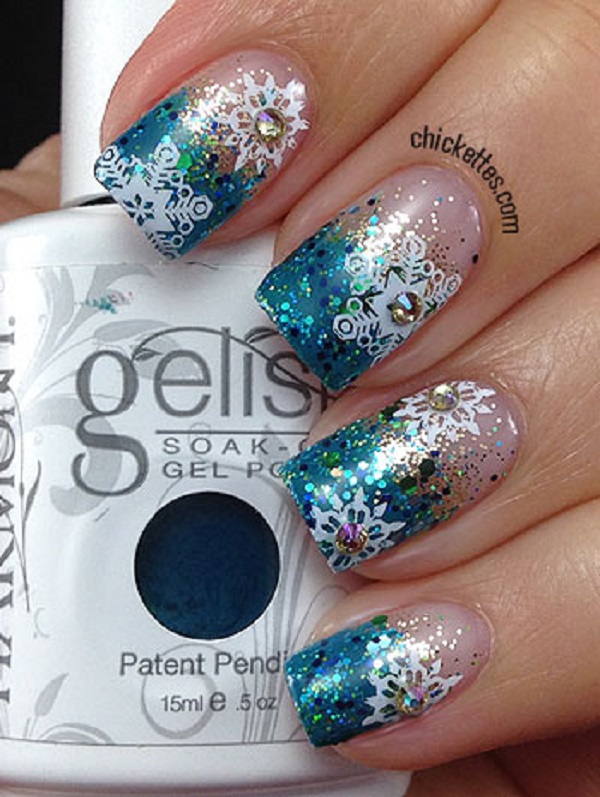 Decorate your nails in sparkling and glorious colors that surely pop out from afar. Add embellishments on top to accentuate the snowflakes and combine a variety of bold colors for the sequins.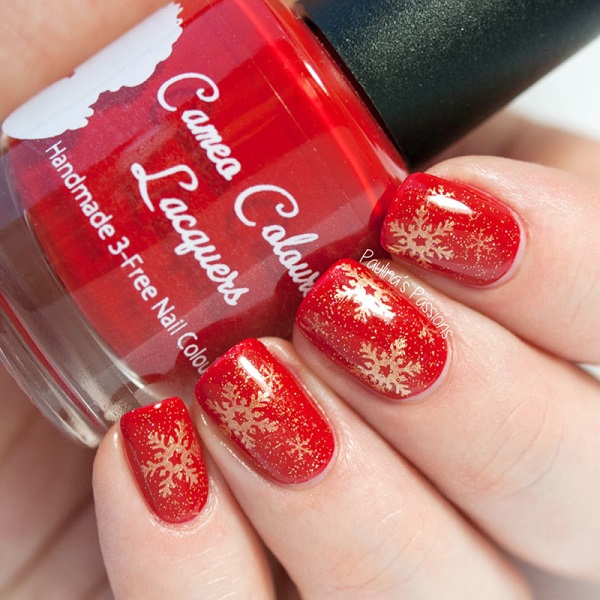 Bright red and gold snowflake themed nail art design. Bring life into your nails by painting a matte red nail polish and covering it with sprinkles of gold dust and detailed gold snowflakes.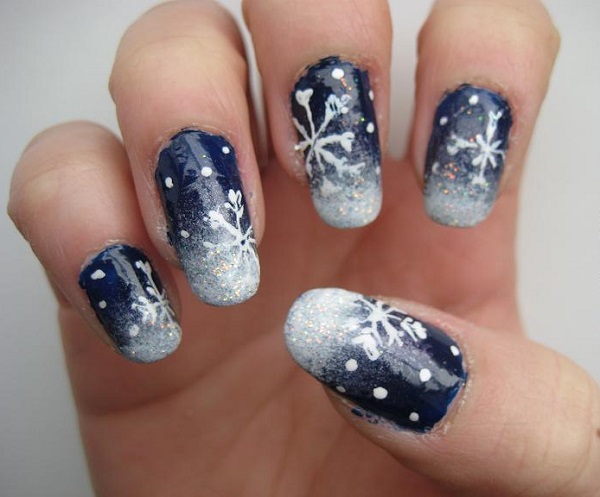 Frosted French tips ad snowflakes. Make your nails stand out by painting an Illusion of frosted French tips. Give more attitude to the design by painting white snowflakes on top.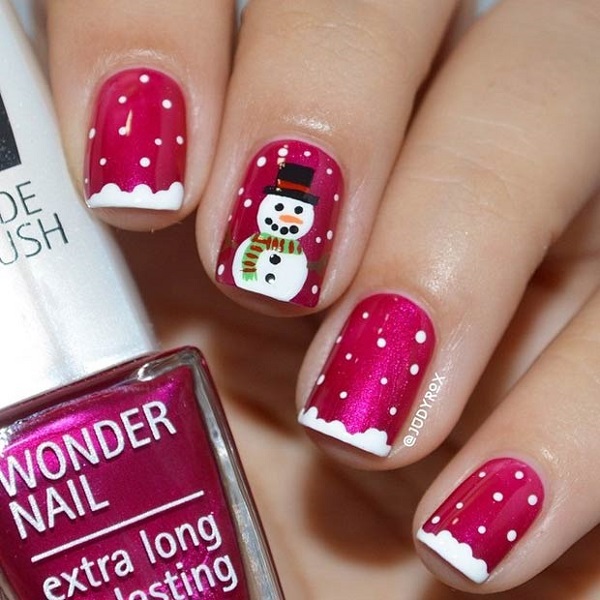 A cute and adorable snowman and polka dot winter themed nail art design. Paint a cute snowman on your nails amidst a magenta shade and white falling snow on a snow tipped nail.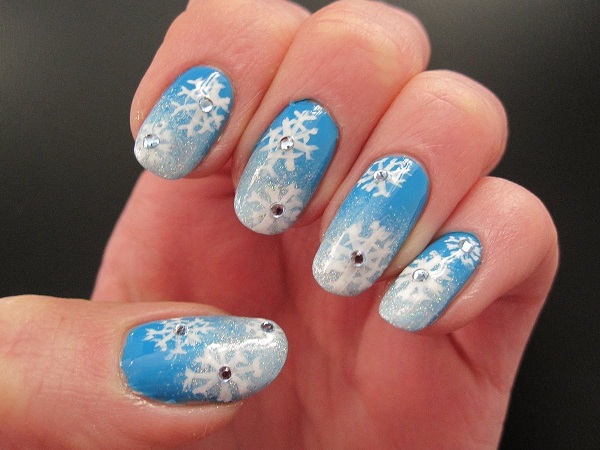 Blue and white frosted nails with white snowflakes on top. Don't forget to top it off with silver beads and glitter to make the snow really sparkle from afar.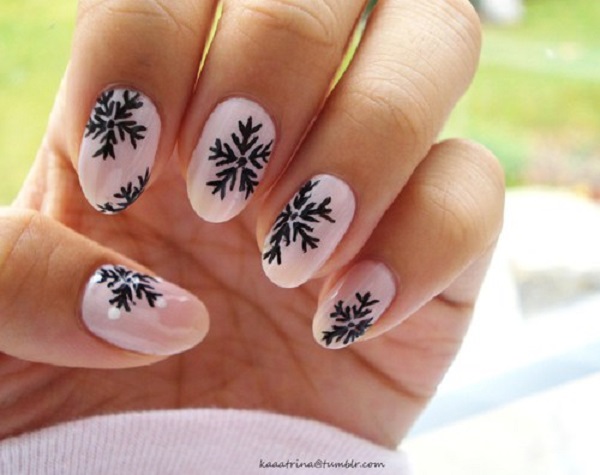 Black and pink snowflakes nail art design. Paint your nails in pale pink nail polish and add black colored snowflakes on top for effect.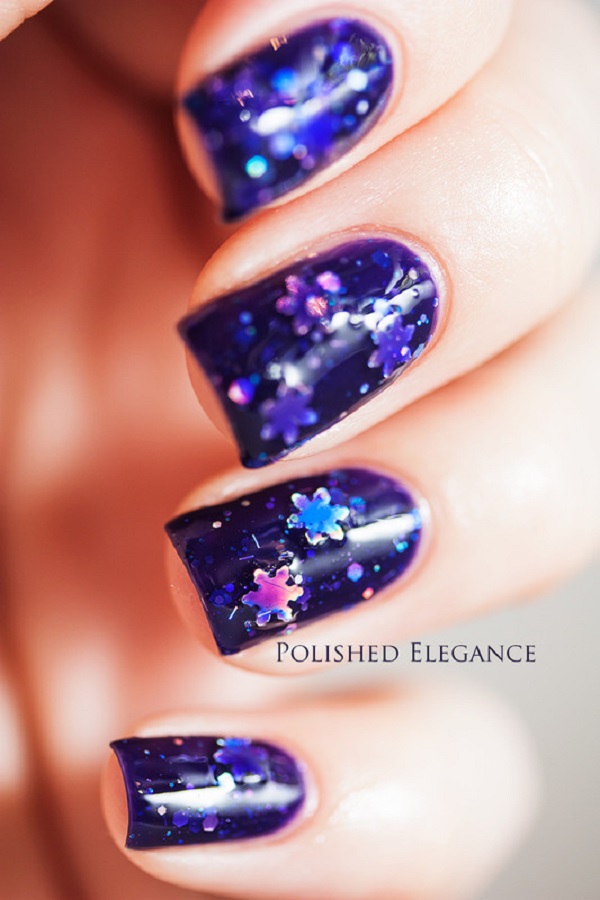 Galaxy themed snowflake nail polish design. Give your nails a galactic look with the blue violet base color and the shiny metallic snowflakes on top.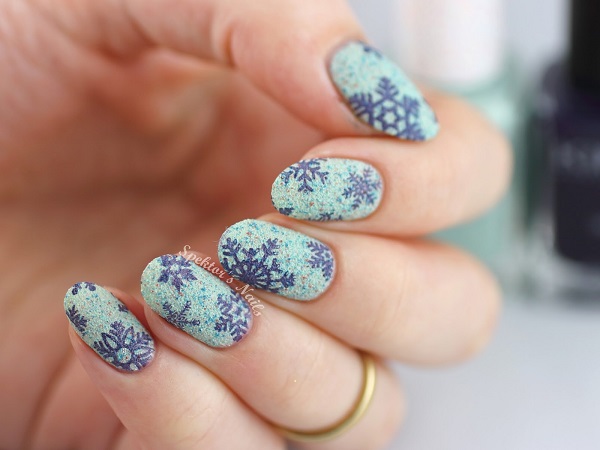 Make your nails as frosty and trendy as it can. Add colorful glitter polish on your nails and top it off with purple glitter polish recreating snowflakes.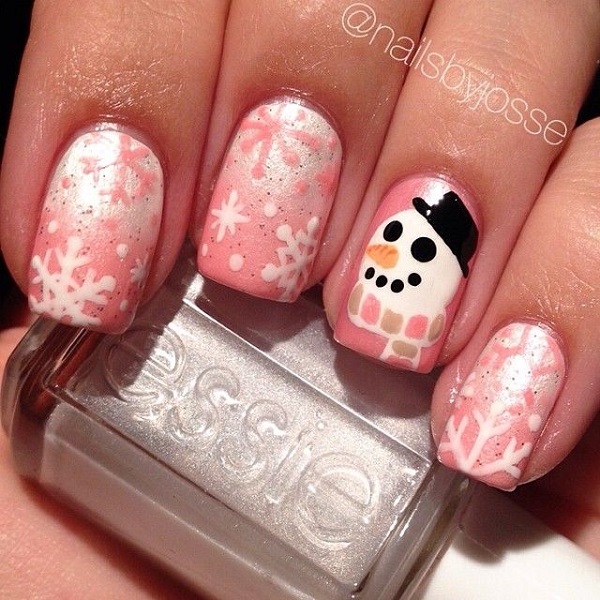 Adorable pink and white snowflake themed nail art design. Add a dab of cuteness into your snowflakes by painting on a pink snowman along with silver dust all over.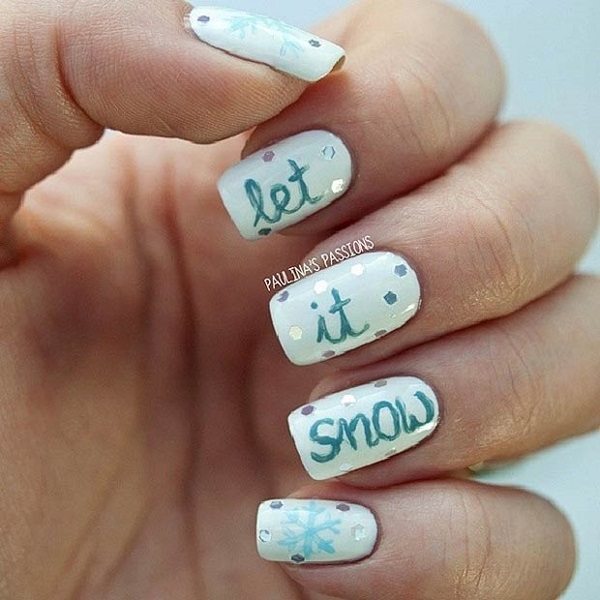 A simple yet pretty looking winter themed nail art. Paint your nails in matte white and add colorful sequins to serve as snowflakes. Make a statement and add a quote on top.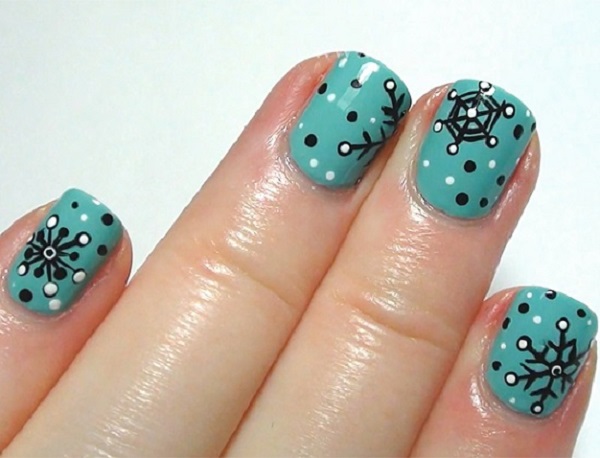 Quirky looking snowflakes painted in black and white polish. Enhance the snowflakes by adding a striking base color such as blue green with a couple of black and white polka dots for a cuter effect.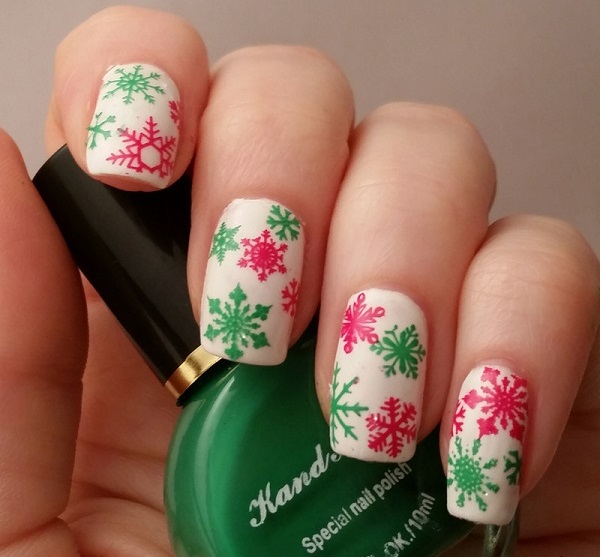 Christmas themed snowflake nails art design. Check out the Christmas colored all rolled into one, use green and red polish for the snowflakes while using plain white as base color to make the snowflakes visible.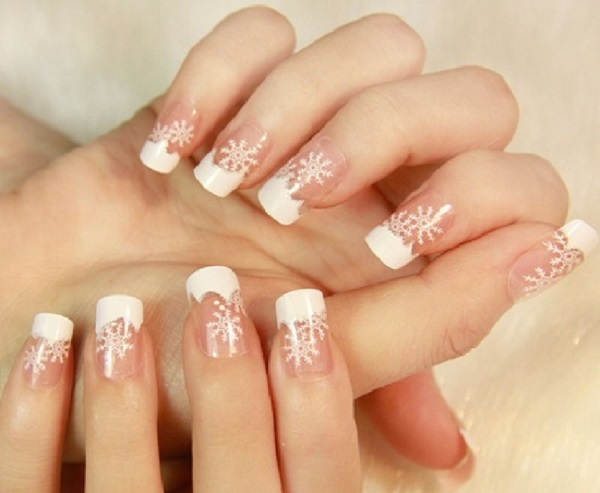 White French tips with snowflakes. Give attitude to your simple French tips by adding elegant white snowflake crystals in front while using a clear coat as your base color.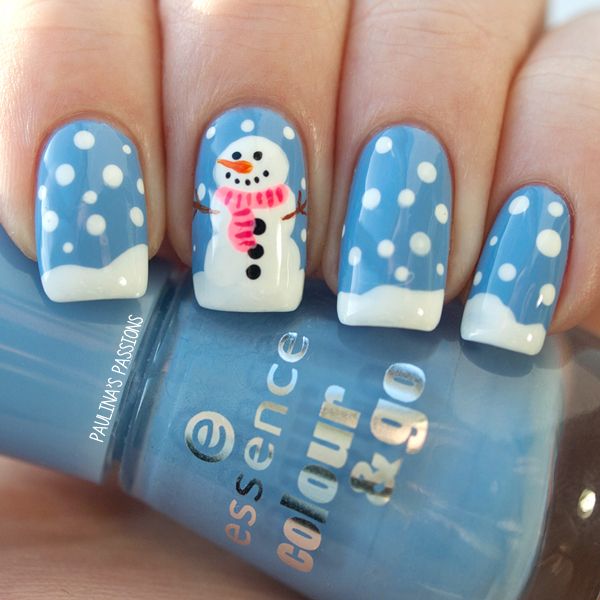 Adorable baby blue and white winter themed nail art. Paint your nails with a matte baby blue color and simply add white polka dots to signify the snowflakes. Add in a bit of cuteness with an adorable snowman with a scarf.
Beautiful white and blue snowflakes nail art design. Work your way through your nails by painting a matte white polish under an array of light to dark colored snowflakes. The effect of the colors looks great from afar.
Fancy metallic snowflakes inspired nail art. Up your nail game a notch by using silver metallic polish for your winter nail art, add snowflake embellishments on top to create a gorgeous statement.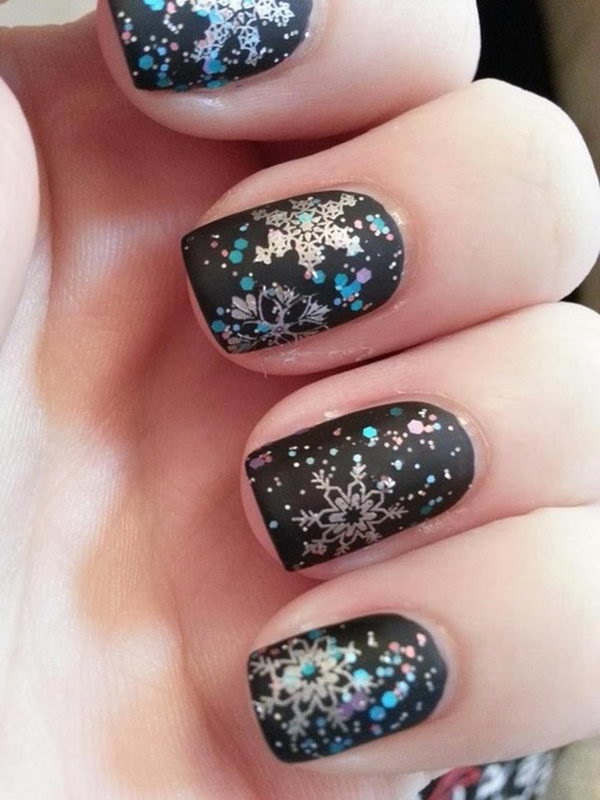 Beautiful multicolor snowflakes nail art design against a matte black nail polish. Play along with pretty colors for your snowflakes when you use matte black as your base color.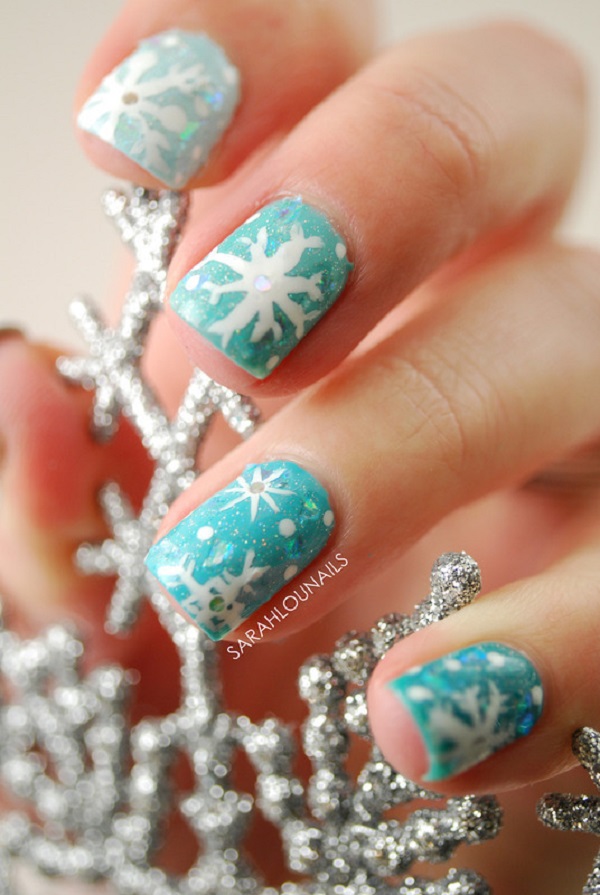 Pretty aquamarine and white snowflakes nail art combination. Give that fresh look in your nails by using aquamarine base color; brighten it up further by using silver dust and white polish to define the snowflake details on top.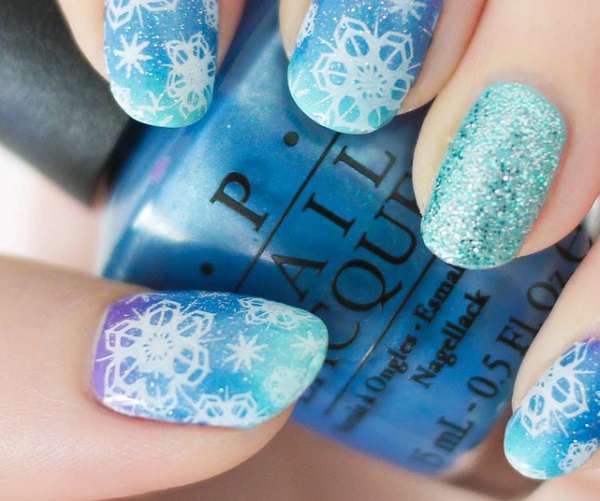 Amazing gradient themed snowflake nail art design. Start off with a midnight to light blue gradient and glitter polish. Then create your white snowflakes on top of your base colors to get this wonderful effect.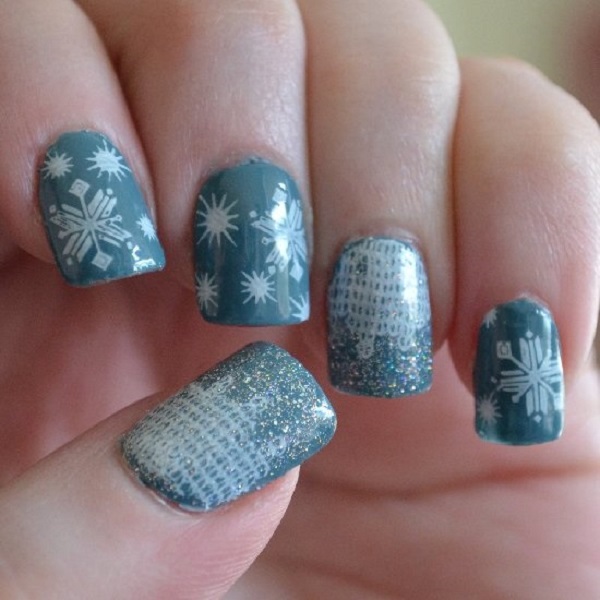 Blue gray and white winter themed nail art design. Make your nails stand out by using silver dust in coating the top. A simple yet very pretty nail art design.