Have fun with adorable looking winter nail art
Some people tend to wear gloves in the winter to cover up their manicure. There may be days that you just don't know what to put on your nails and that just genuinely frustrate you. What you need is inspiration, especially in the winter season where you can find a lot of winter nails art ideas you can work on. Start by keeping all your summer and neon colored polishes in the cabinet and take in the cold and chilly season. Blue, white and gray are the winter colors and you can mix them up with other tones if you want to.
Snowflakes, glitters and red shades are the thing and they give you the best color combinations. You don't have to worry about what kind of nail design you should use because even the simplest French manicure can be changed into something amazing with help from winter nail art references that you can look up and combine to create your very own winter nail art designs.
Winter nail art designs can range from matte to intricate designs that use layer on layer of nail polish techniques. It really doesn't matter how many techniques you use on a nail art designs, what's important is that you known how to combine them so that you produce a really pretty looking overall winter nail design.
The biggest thing for a winter nail art design is the snowflakes. They help make the nail design shine through and easily give out the winter vibe from your nails. Look into the pretty shapes of snowflakes and get inspired by them. The trick in making snowflakes work on your nail art design is getting the right brush with thin bristles. You can even get nail brush kits that help you recreate snowflakes on your nails.
Wonderful winter nail art ideas
Now you are thinking how do I begin this? There is so much out there that you don't know where to start. You want to begin painting your winter nail art right away and there is a fun, cheap and wonderful way to do that, and that's looking up references for your winter nail art project.
The winter season can be very cold and chilly and it shouldn't stop your from making your nails look hot despite the freezing temperatures. Having polish on your nails also helps protect it from the weather apart from its obvious decoration purposes. Having pretty winter nails also help make your feel more confident and beautiful throughout the season.
The Christmas look
This is probably one of the most popular winter nail art designs for this season. Since winter tends to bring the joy of Christmas why not recreate the theme on your nails as well? It's the easiest thing to think about when you're looking for winter nail art ideas. To get the Christmas look it's essential to have shades of red, white, green, stripes and even star designs. When you have these on point then you are definitely feeling the winter vibe and have less to worry about in keeping up with the season.
The winter wonderland look
This might be one of the simple designs you'd want to look into if you're just starting to learn about painting winter nail art design. The winter wonderland look is the most basic and the most winter-ish look of all with the blue background and flowing snowflakes.
First off, prepare your nails by cleaning them. If you have a prior nail art polish then you need to clean the nails thoroughly before applying any layers to not destroy the colors of the polishes. Then you can start gathering the polishes that you need for the winter nail art. Prepare sky blue and white polishes as well as silver glitter polish. Also don't forget to get a clear nail polish for the finishing of the nail art design.
Begin with the sky blue polish as your background. Paint on two layers to make the colors more visible and clean. Once that is done take the white polish and draw various "X" marks on top of the sky blue background. Then draw another "X" mark on top of the initial mark. This will then make the snowflakes on your nails. To make them look like legitimate snowflakes from afar, you should add small v-shapes on each end of the lines. To finish the design, add small white dots around the snowflakes to mimic the smaller snowflakes falling behind. You can also use glitter polish for effect.
When done, coat the design in clear nail polish. This helps preserve the design for a longer time and they can also make the overall design shiny and clean.
Giving your nails the winter spirit
What's important is you should be able to have an idea of what type of design you want for your nails. You can choose from stars to Christmas wreaths and so on. You can even incorporate your favorite characters in winter theme for a more personalized winter nail art design.
Look through online blogs and eve tutorials to find just the right winter nail art design that will fit you the best. Most designs can be done with practice and they will not cost you as much. You don't really need expensive brushes when you can't afford them, you can use alternative things that you can find around the house. Tap into your inner creativity to be able to make that perfect winter nail art design.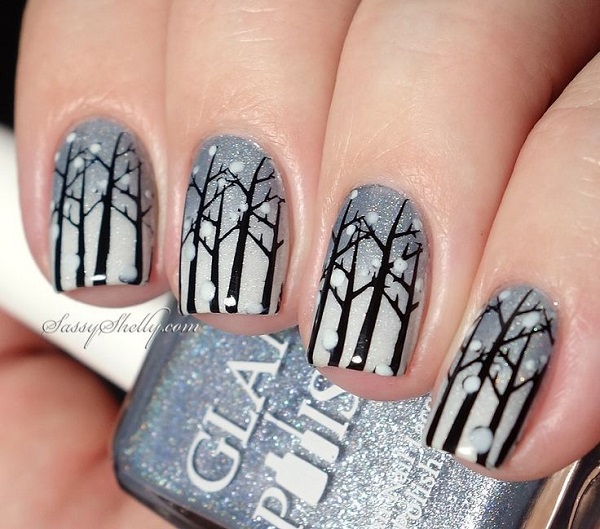 Wonderful looking winter nail art design. The design shows silhouettes of trees amidst snow falling gently from the sky. Glitter polish is also used to top off the layers.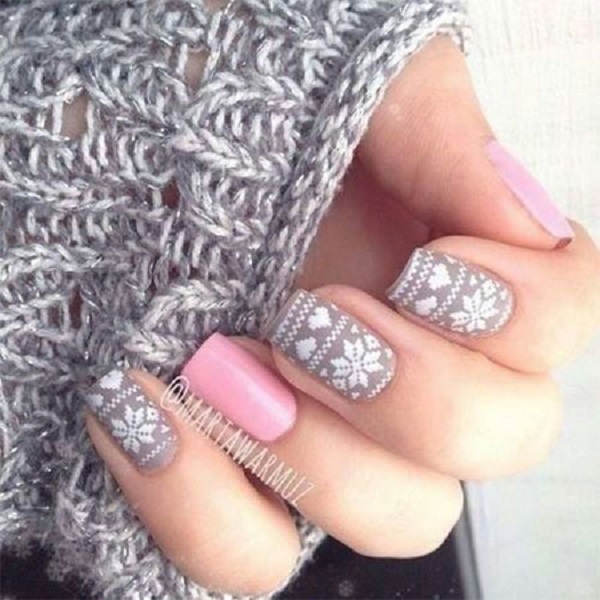 Cute and adorable looking winter nail art. Pixel inspired patterns and snowflakes are painted in white polish on top of periwinkle and baby pink backgrounds.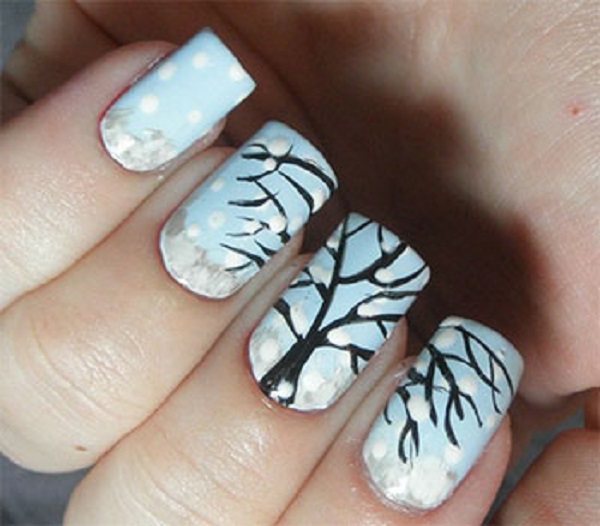 Pretty winter nail art. Black polish is used to draw the silhouette of the tree that extends towards the rest of the nails. Baby blue polish is used as the background while white polish is used to paint the snow and snowflakes falling down.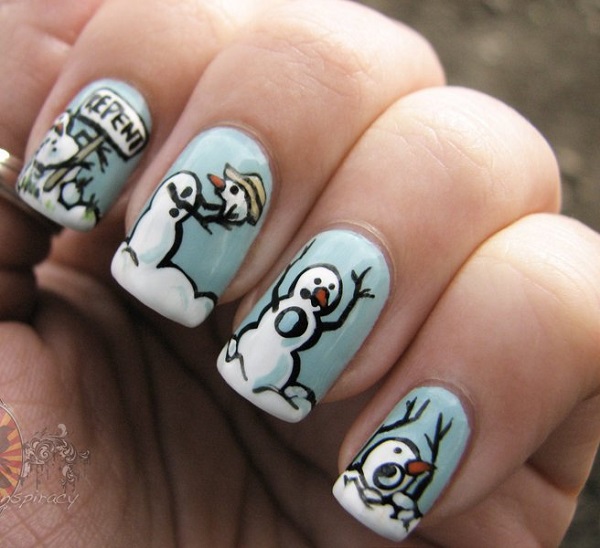 Really cute winter nail art design with different snowman caricatures. Add some humor into your winter nail art with these funny looking snowmen drawings.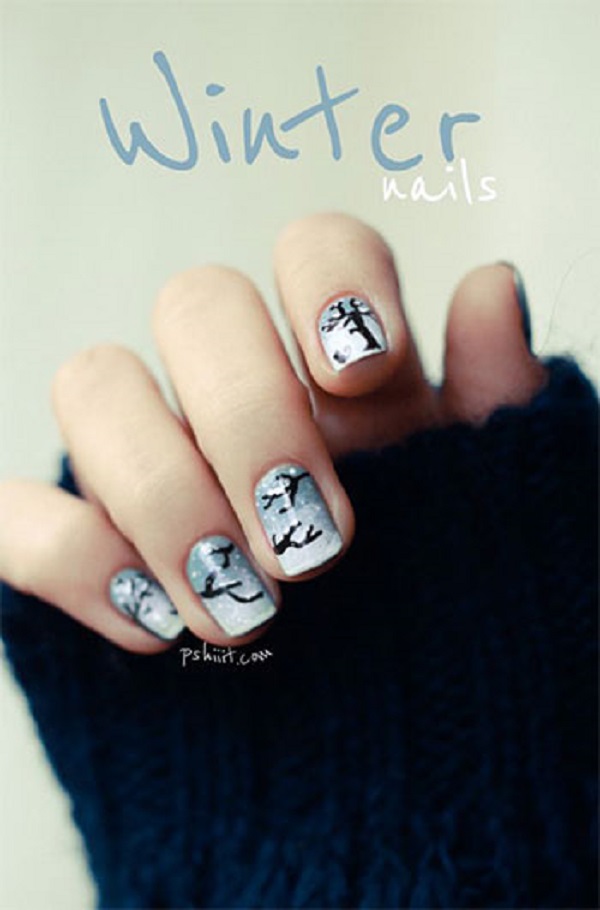 Adorable winter nail art design. The background uses a gradient design to further highlight the sky and it also has silhouettes of branches in front with the snow slowly falling around it.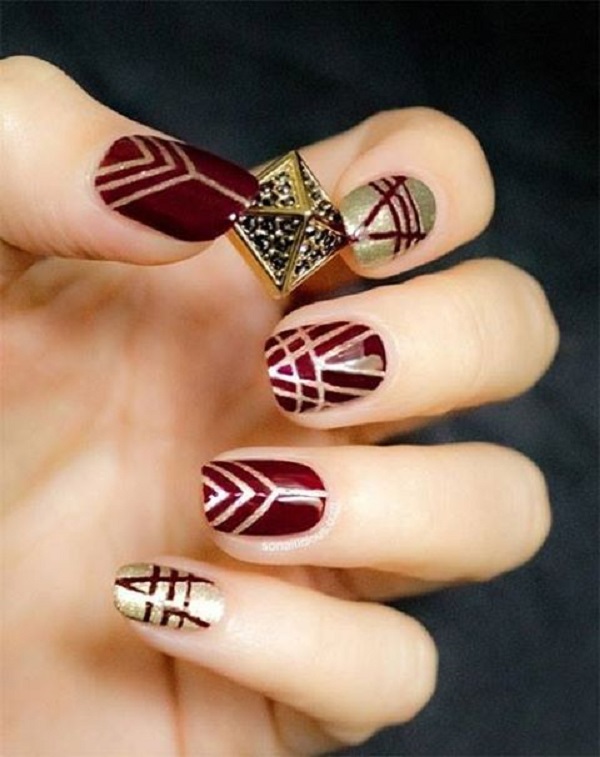 Marvelous looking winter nail art design. The design plays around dark red and gold polish in various linear patterns that intersect with each other creating wonderful looking design for each nail.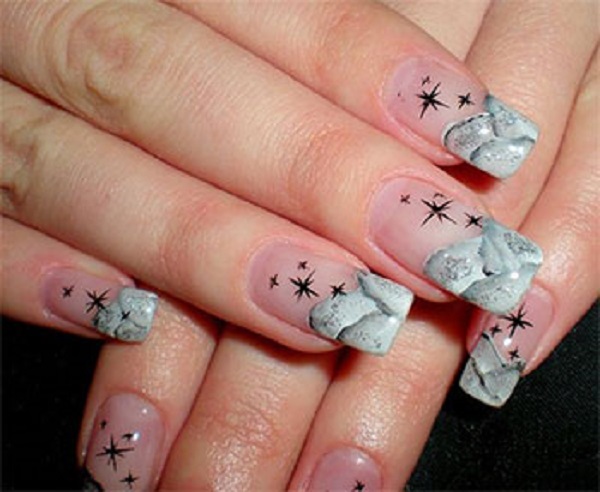 Snow and snowflake inspired nail art design. This design is truly out of the box and is very cute to look at. Simple yet very eye catching.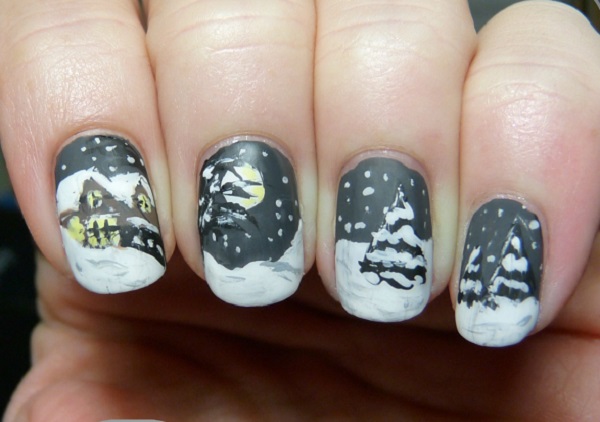 A snowy night. The nail art features a house covered with snow and surrounded by trees also covered by the falling snow in the middle of the winter night.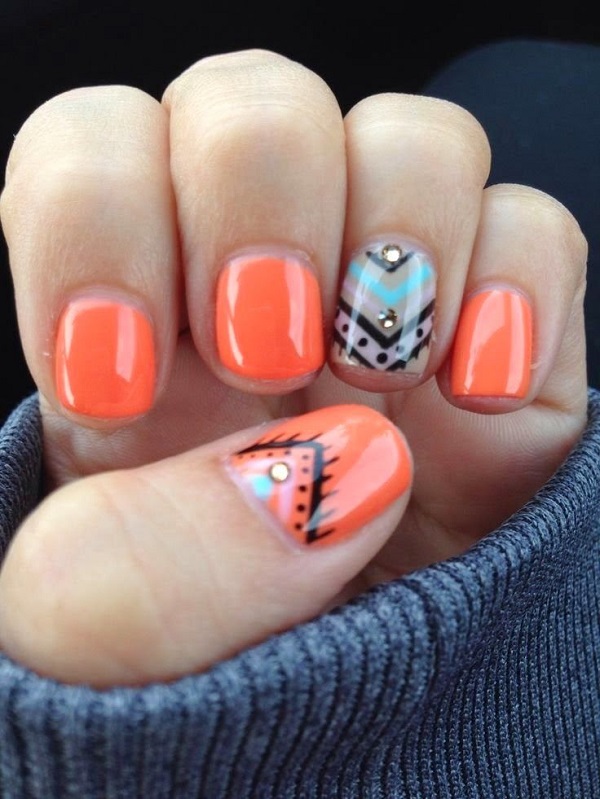 Orange and blue themed winter nail art designs. The design features tribal inspired patterns with black nail polish as well and silver beads on top.
Silver and red themed nail art design. The metallic silver polish does a great job in highlighting the red snowflake shaped design on top.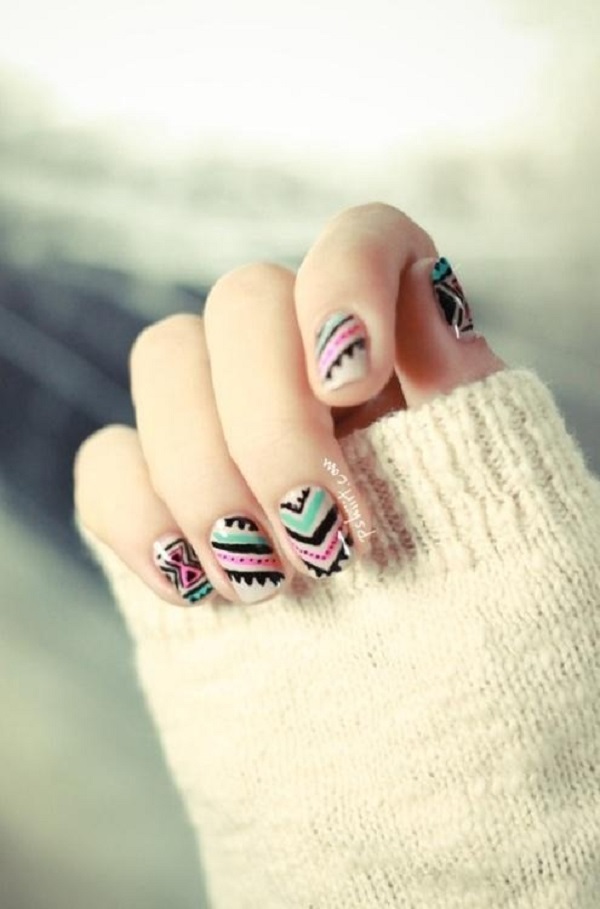 Tribal inspired winter nail art design. Using a white background, the tribal patterns are painted with black, sky blue and magenta colored polishes. The colors are contrasting and perfectly highlight each other.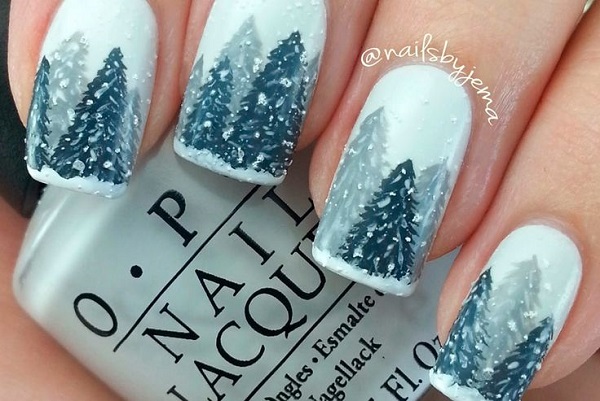 Wonderful looking winter nail art. Using various shades of blue gray and dark green, pine trees are painted on the nails while using lighter shades to depict further trees behind. The falling snowflakes also add a mysterious effect.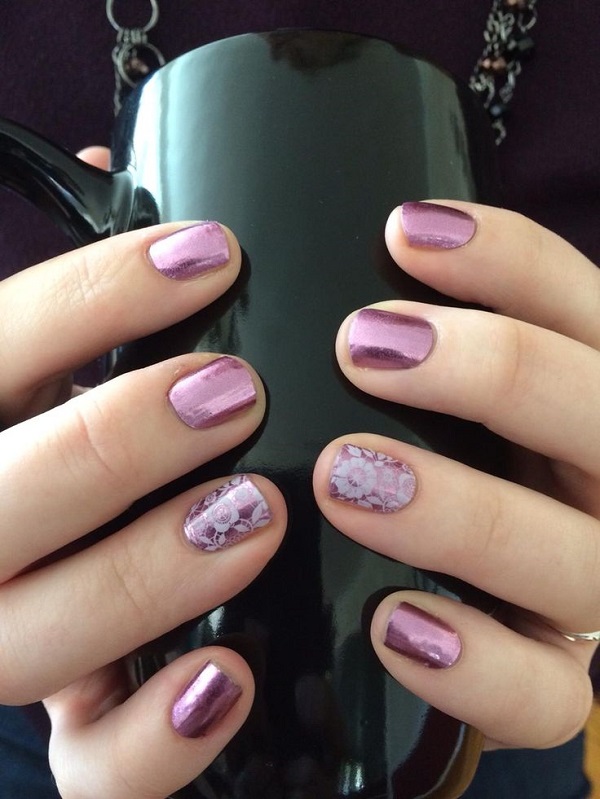 Floral inspired winter nail art. Winter designs don't always have to involve snowflakes. This floral inspired design in metallic pink and white polish is simply stunning.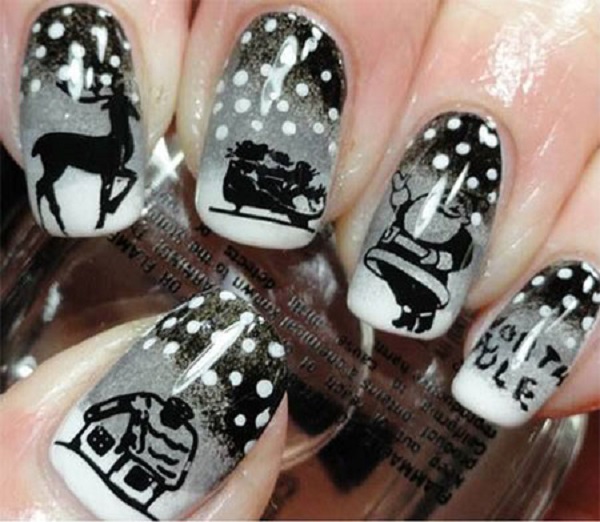 Black and white winter nail art. The nail art design almost has a vintage take on it. The black and white design simply adds to the novelty and uniqueness of the design.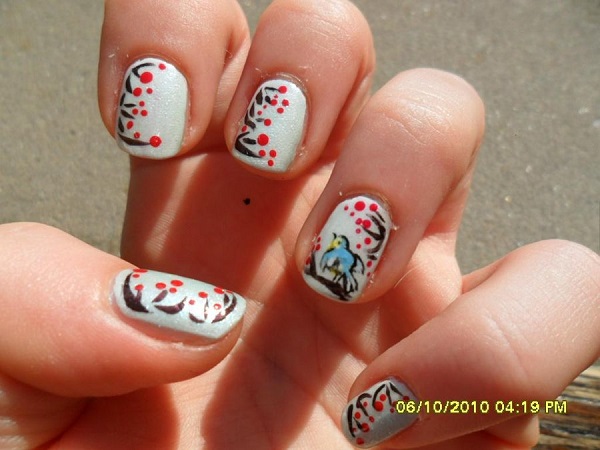 A really simple and pretty looking winter nail art. The designs depict a flowerbed of red flowers with blue birds singing along and enjoying the weather.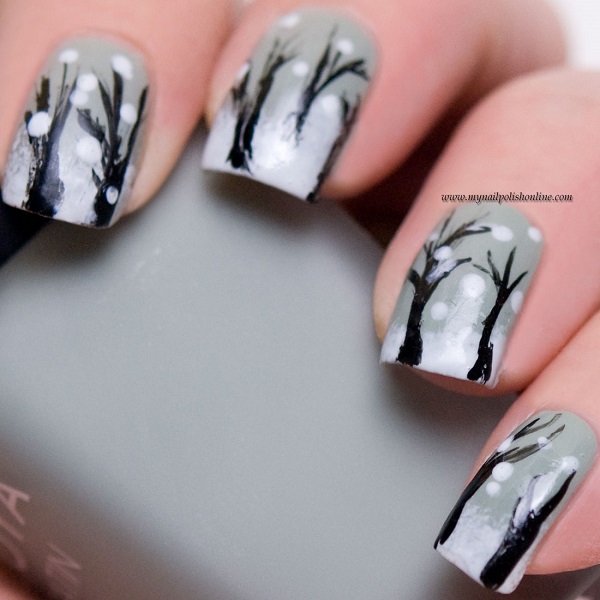 Mysterious looking winter nail art. To add to the air of mystery the silhouette of trees in black polish are painted on a gray and white gradient background. The falling snow in white polish also gives dimension to the mystery effect.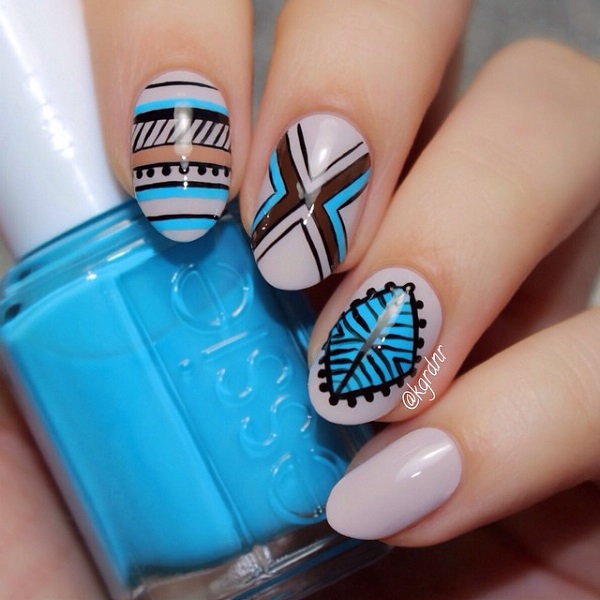 Black, blue and periwinkle winter nail art, creating various tribal patterns on the nails make the design truly interesting and unique.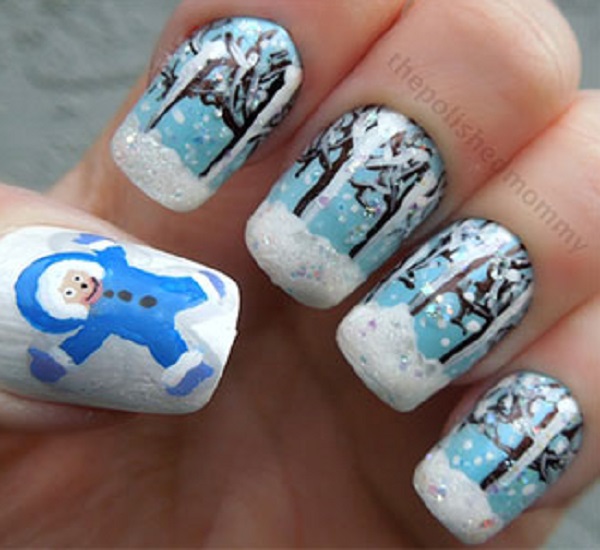 A frosty and chilling winter nails art design. A group of snow covered trees are depicted in the nail art with falling snow on them. There is also a boy painted on the thumb nail seemingly enjoying the snow.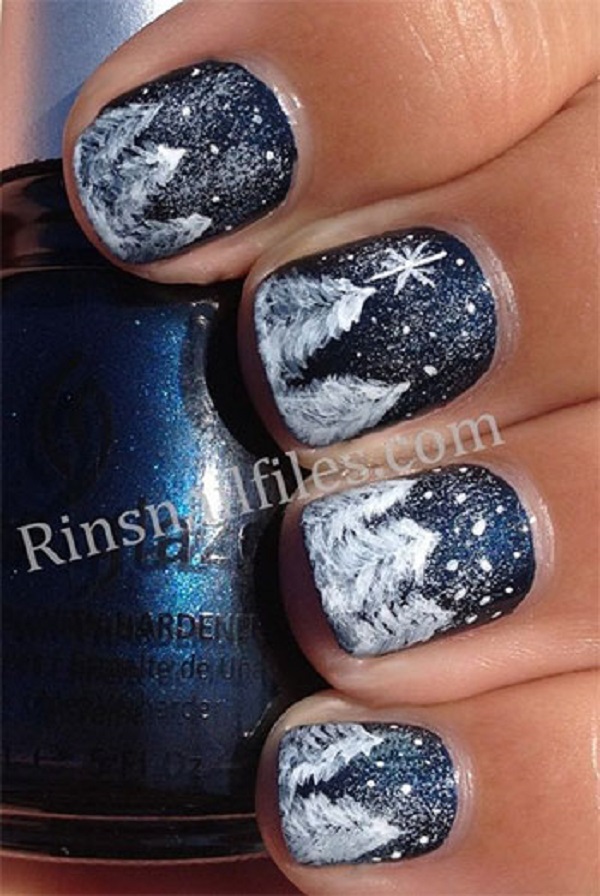 A magnificent winter nails art. The design shows snow coated pine trees at night with snowflakes falling from and looking like bright white stars in the sky.
Another forest inspired winter nail art. The bright blue background gives life to the trees covered in snow which are painted on top with flurries of snowflake painted on top.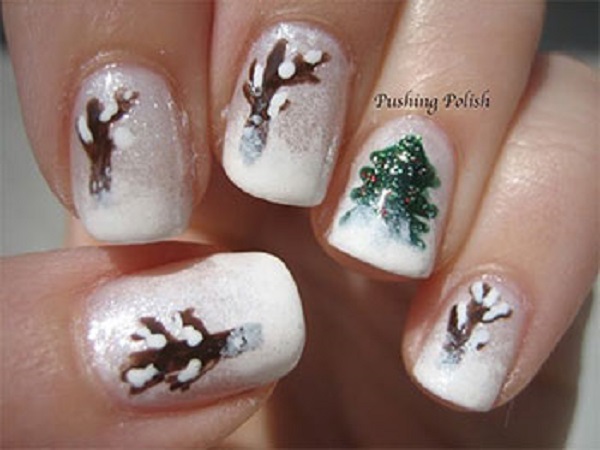 Wonderful looking winter nail art design with a soft French tip look. This design features a Christmas tree with colorful lights as well as trees that are covered with snow. The snow then descends to become the white French tip design.
Lace inspired winter nail art design. This simple yet pretty nail art design uses a nude polish as base color and black nail polish for the lace inspired French tips.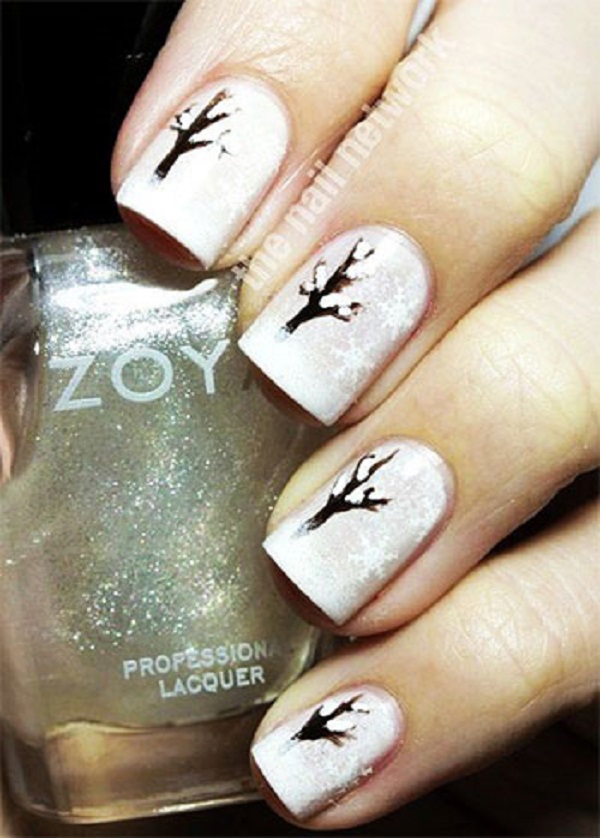 Black and white winter inspired nail art. The black polish is used to paint the tree silhouettes and white polish is used for the snow. There is also additional glitter polish to add to the accent.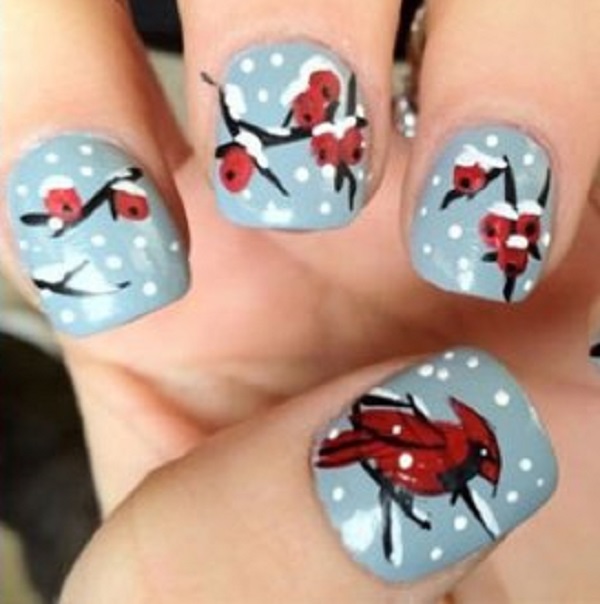 This is a very cute and adorable winter nail art design. The nail art design added a cute red bird to the regular snow filled tree and bright background which makes it livelier.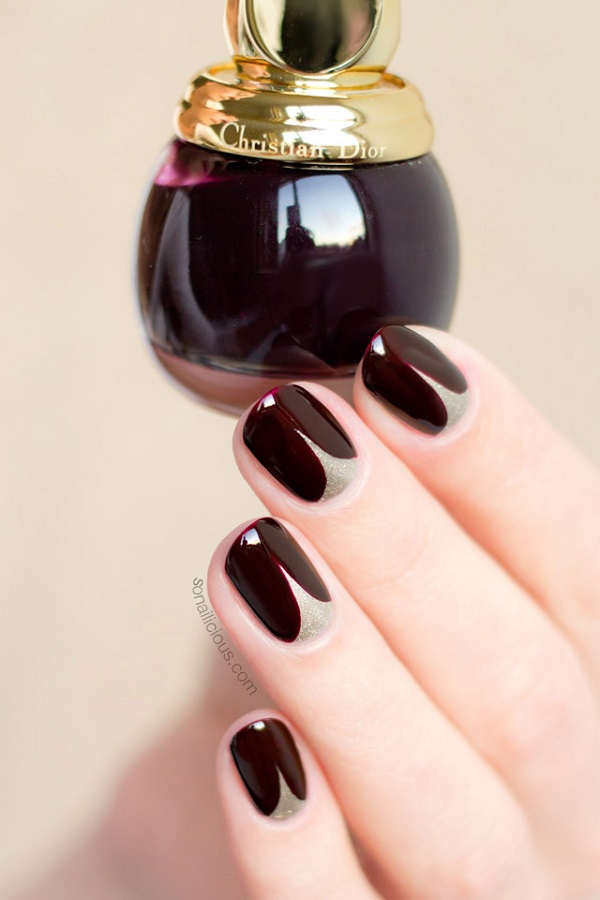 Mysterious and glamorous looking winter nail art design. The bloody red and silver glitter polish makes the nail truly classy and elegant.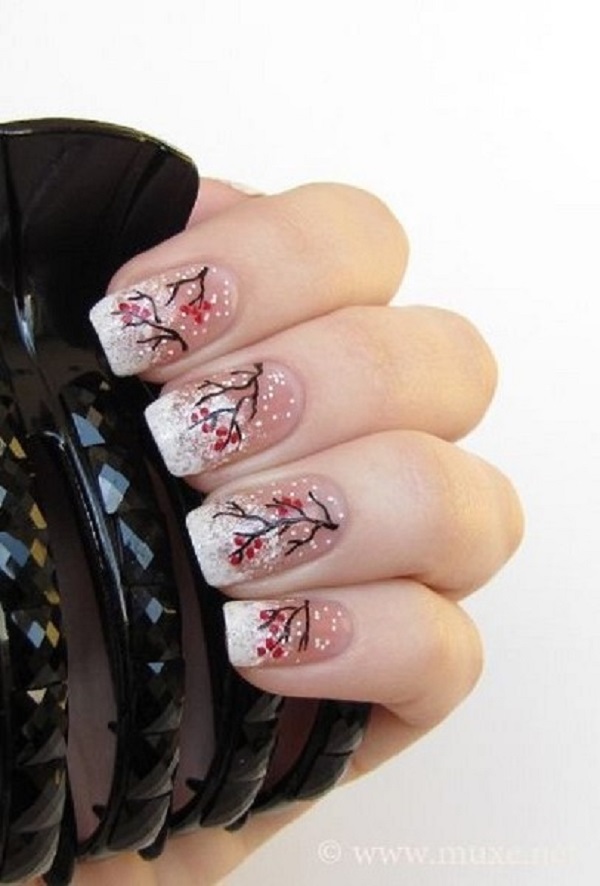 Cute and adorable snow filled winter nail art design. The nails are painted in baby pink base color with tree branches and red leaves. The glitter polish serves as the design for the French tip.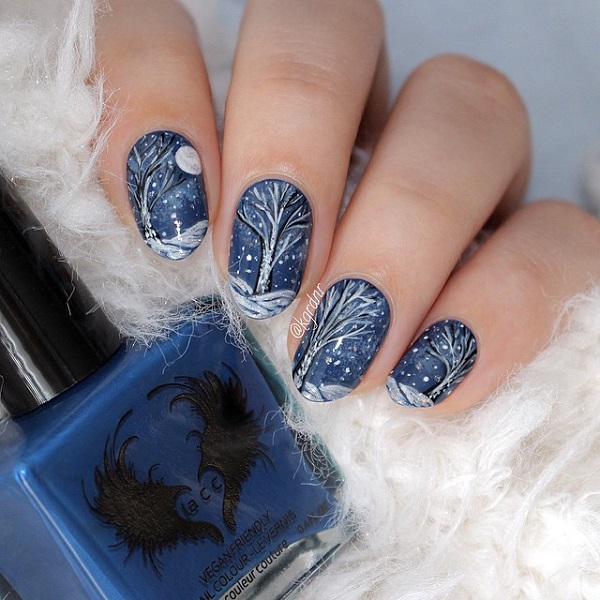 A magical looking winter nails art design. Painted in midnight blue base color, the trees are then painted in black polish and decorated with white polish as the snow and falling snowflakes.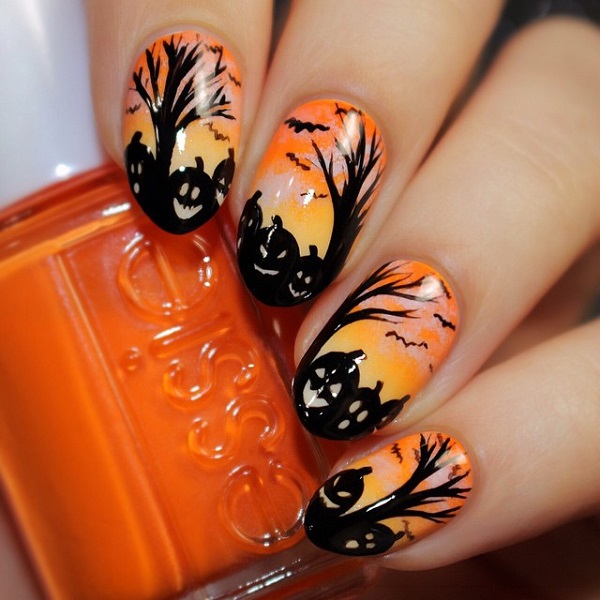 Halloween inspired winter nail art design. Since Halloween has been around the corner it's not that bad to incorporate a winter feel into it. The design is using the black, orange, yellow and white color theme.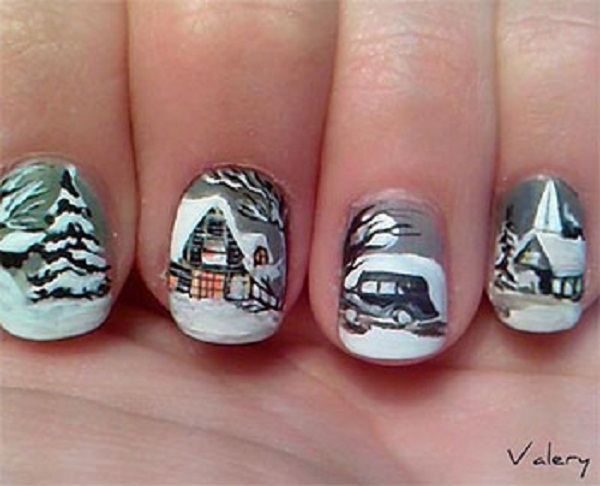 Vintage looking winter nail art design. A wonderful and cozy looking neighborhood is painted on the nails complete with houses and cars that perfectly depict a peaceful winter evening.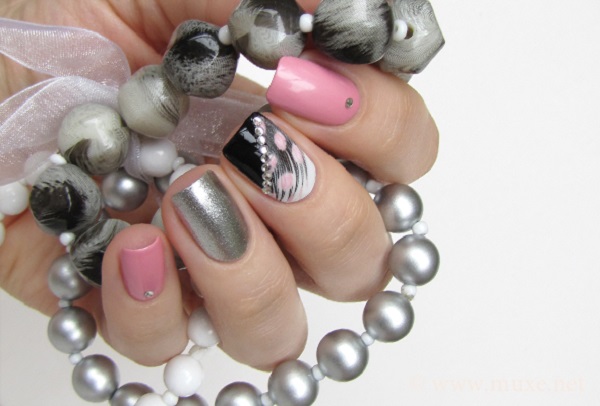 Chic and classy looking winter nail art design. This uses pink, silver and black color themes. The silver glitter polish also adds to the uniqueness of the design, silver beads are also added on top for effect.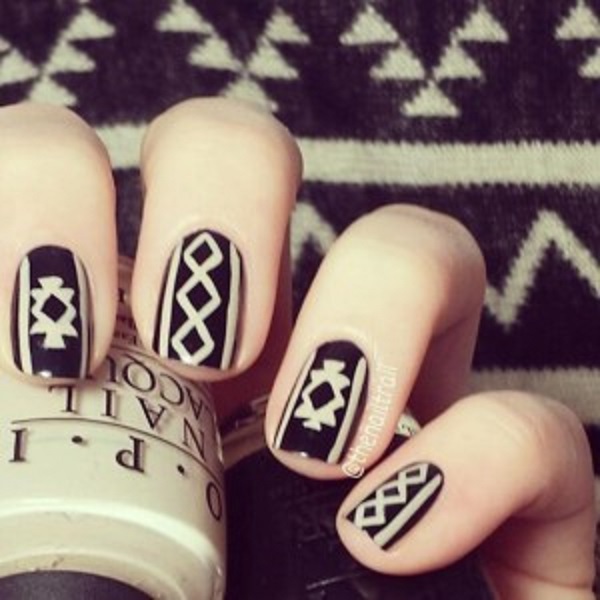 Black and white tribal themed winter nail art design. If you want to go unique and simple then this tribal theme in black and white polish is the perfect choice.
Christmas tree inspired winter nail art design. Painting the popular pine tree on a gray base color with snow covered leaves is simply perfect for the season.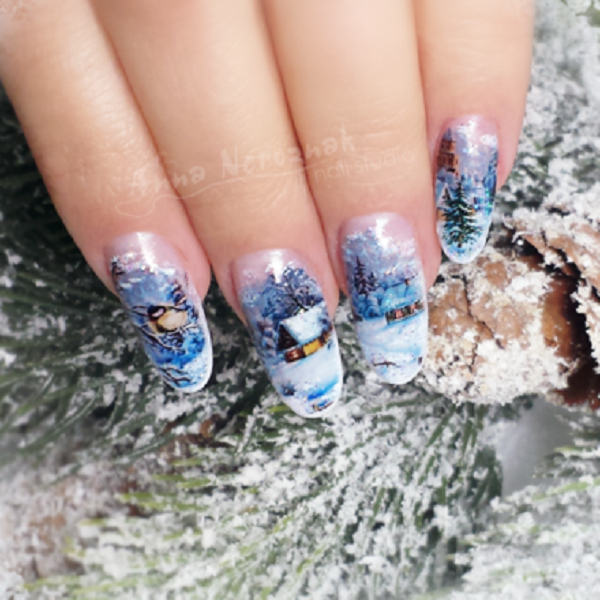 Christmas eve with cottages nail art design. A wonderful looking winter nails art in blue and white theme with brown painted cottages to add to the theme.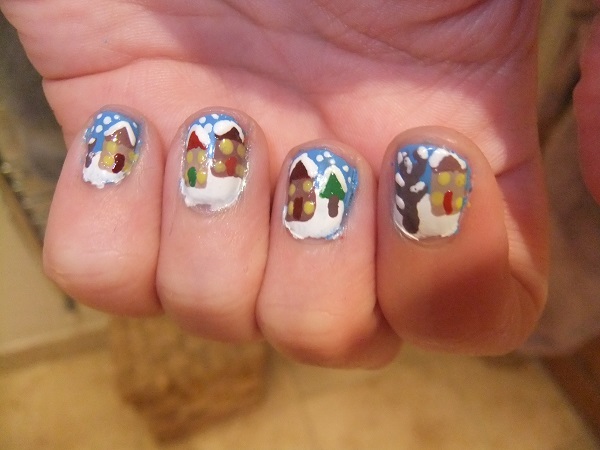 Simple and cute winter nail art design. Simple cottages and trees covered in snow are painted on each nail making them look really adorable.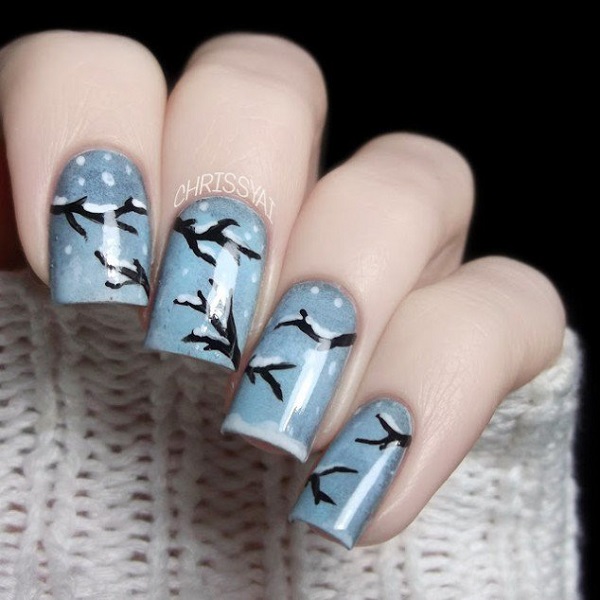 Snow covered tree branches winter nail art design. Painted on a baby blue background, the tree branches are painted in black polish with white polish use for the snow and snowflakes.