The kind of color that you use for your nail polish usually indicates what mood you are in or what you want to express yourself. You can use nail polish colors to be able to show what your personality is; it's a way of expressing yourself and what you like and what kind of a person you are. There are many different shades for you to choose from and you can even combine them to create the design that you want for your nails. Colors can show a lot about a person's taste and it's a great way of expressing oneself and feeling confident about who you are and what you like.
How to know which nail polish color to choose?
Since there are many colors out there it can be very confusing to sit down and choose which one to like. You may be a person who likes the deep red shades, or you may be someone who likes light pink colors. Maybe you're a person who loves black and sheer colors or you might be a blue person. The cool thing about nail polish is that you can easily change them whenever you like. You can even match it with your outfit or enhance the way you look with the right color combination. If you want to know what nail polish would suit you best then you should consider looking at the color meanings to have an idea on what would work best.
Colors also help people get an impression of you. A lot of first impressions can last and they're important when you want to make yourself look good on a party or in an event or just simply visiting your friends or family. Learn how to make your nails stand out and express yourself at the same time.
Why people just love blue nail polish
If you're a fan of the blue color then you may love the number of blue themed nail polish designs out there. Blue is a very mystical color and it almost always is present wherever we go. It is the color of the skies, the sea and even the water that we use everyday has shades of blue. It's very refreshing in the eyes and makes your nails look fresh and clean all the time. You can even use various shades of blue to be able to show your creativity when it comes to your nails.
However, there is also more to the blue color than what it looks like on the outside. It is also a color with a lot of meanings. If you want to understand the color blue better, then it can help you to look up their meanings and what they say about you as a person.
What does Blue say?
Even if blue can be represented as peaceful and tranquil, it can turn into something fierce and strong when used as a nail polish. It gives you the look of an adrenalin junkie, a person who loves adventure and is willing to take risks in order to get what you want. You are an exciting person, very youthful and are open to try new and interesting things. Blue gives you the persona of someone who is always on the go and has an open mind.
A darker blue nail polish represents the deep waters in the ocean. Since the water reflects the skies it also shows blue hues. The deeper the water the darker the blue gets because not enough sunlight is able to illuminate the color. That is also the reason why blue is associated with being mysterious and secretive. When you choose blue you are also saying that you are close with nature and that you feel very young at heart. You are also kind and are loyal to those you value the most. You are reliable and trustworthy to your friends and when they need someone to trust, you are one of the people that easily come to mind.
In association with blue, you are also seen as someone who is daring and at the same time pure. You can do well on your own and you have strong opinions. You want to stand out from the crowd and you stand by your decisions. Blue also paints the personality of someone who is free spirited and is unique on his or her own. You also have good depth in thinking and are always prioritizing stability. This means that you are a well-grounded person even though you are spontaneous you still view things realistically and want everything to go on track.
Looking at another explanation, blue can also symbolize your sophistication as well as being authoritative. Blue is a symbol of trust and excellence which is why you would feel confident in donning blue when you are a strong leader with high regard for excellence; this is what makes you a good leader and as someone worthwhile to follow.
Making your blue polish nails even more exciting
There are many things that you can do to make your nails look exciting enough. Even though a simple matte or plain blue color will still look amazing on your nails there are still more techniques to make them look truly unique and stand out from the rest.
You can use glitter polish to make your nails look more glamorous. You can also use chrome styles when you want to look tough as steel. There is also the duo-chrome style that makes your nails look futuristic and stylish at the same time. Nail wraps are also great for making your nails look out of this world and funky; if you want to come out as trendy, cool and fashionable then this is the style you need to go for. You can also go for painted blue polish nail art designs that involve characters or figures painted on your nails.
Whatever you choose to design your nails with, make sure that you are able to paint it well and the design speaks about you the most. Don't worry about the type of design you would find since there are plenty of tutorials online to help you. You can also check the image below to find amazing inspiration for your blue nail polish designs.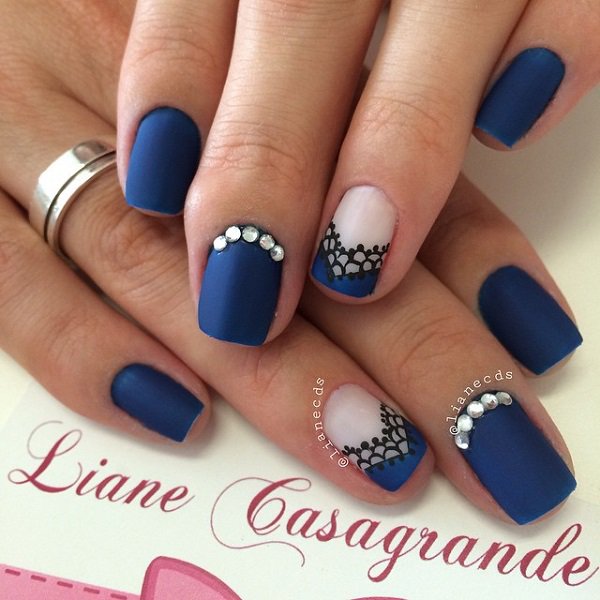 Beautiful and dark matte blue nails. The matte effect of the nail polish makes a perfect combination on its other designs and embellishments combined.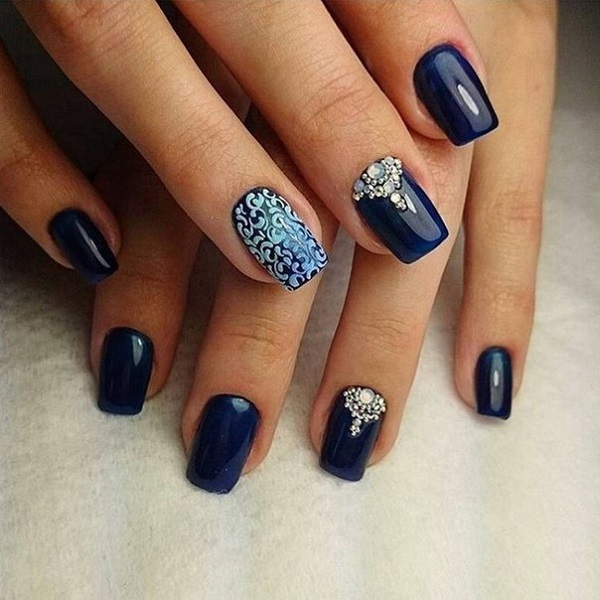 Elegant looking dark blue nail art design. You can see that there are tribal inspired designs that are added on top in white polish to make the design stand out more.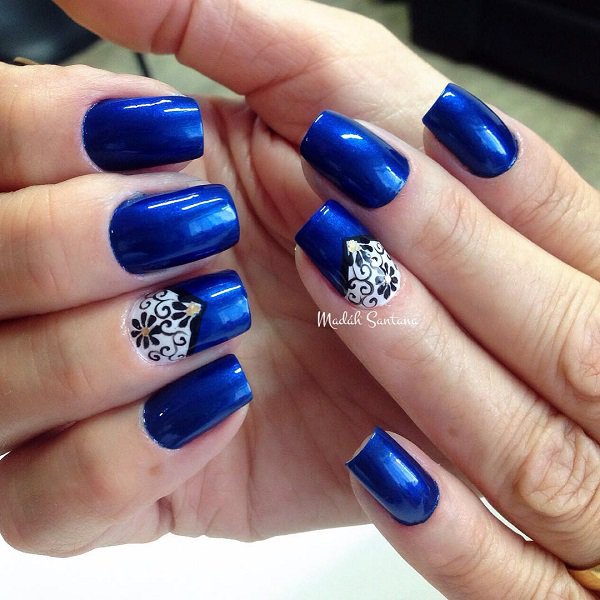 Amazing metallic dark blue nail art design. This electrifying nail art color is simply amazing and can make the nails look very alive and exciting.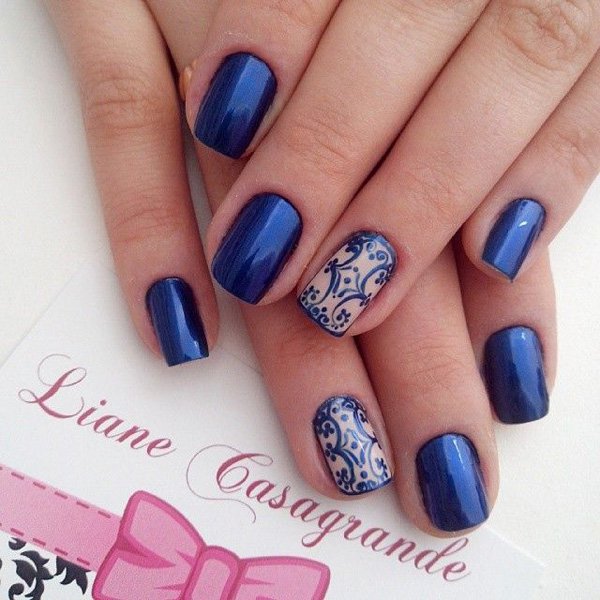 Simple and creative looking dark blue nail art design. The simple nail art designs makes it look neat and clean. The opposite designs of full color and lace design makes the contrast even more interesting.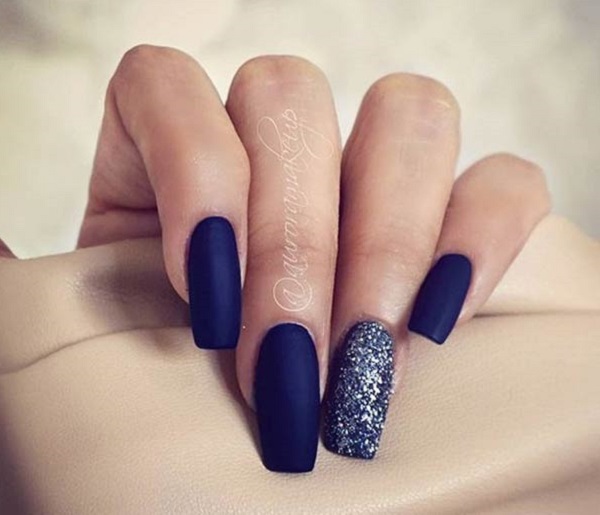 Another elegant looking dark blue nail art design in matte polish. The combination of the matte and the glitter polish are striking contrasts that make the entire design look beautiful.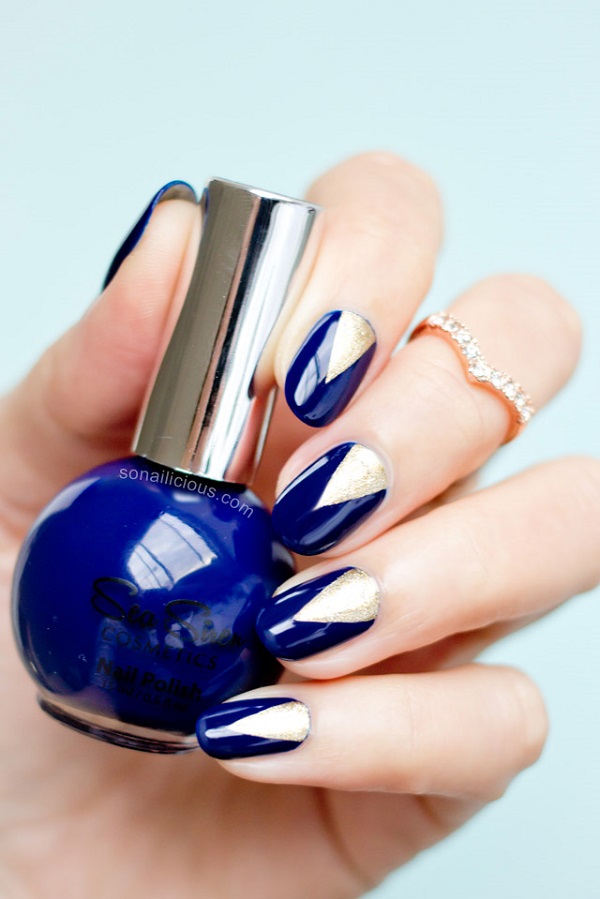 Beautiful v-shaped dark blue nail art design. The nails have a dark blue polish background d and are topped with white nail polish in v-shapes.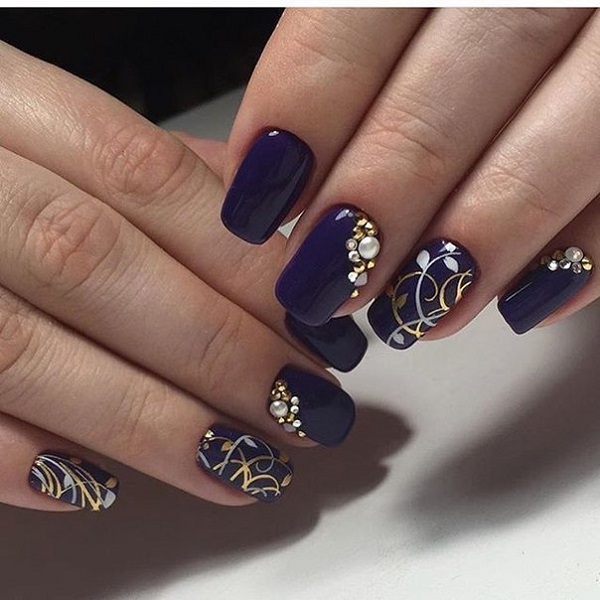 Sophisticated looking dark blue nail art design. The nails are painted in dark blue nail polish and have additional elements on top in gold and silver colors. Other embellishments are also added to highlight the nails like silver and gold beads.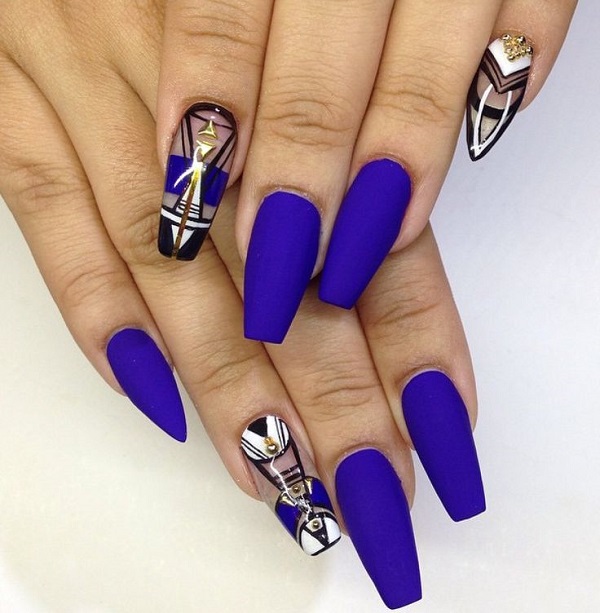 An abstract inspired dark blue nail art design. While the dominant color of the nail art design is blue, you can see that the abstract element is added on the nails with the clear polish with the help of black, white and gold polishes.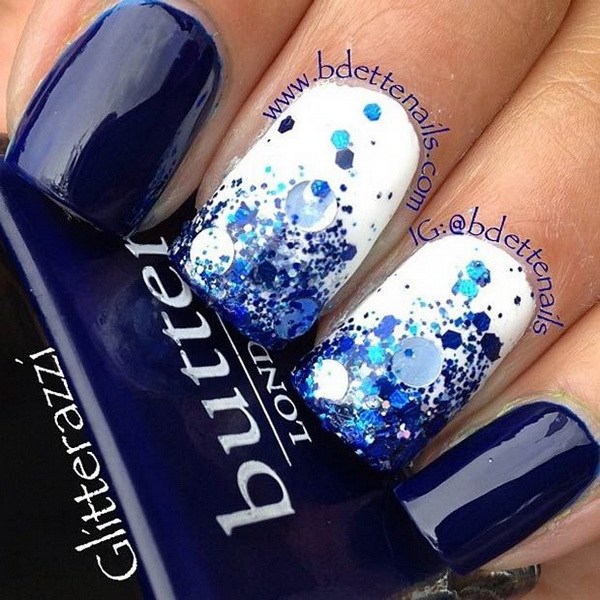 Exciting dark blue nail art with a twist. This nail art design looks like a wonderful splash of summer with the help of dark blue glitter and sequins added on top of a white polish background.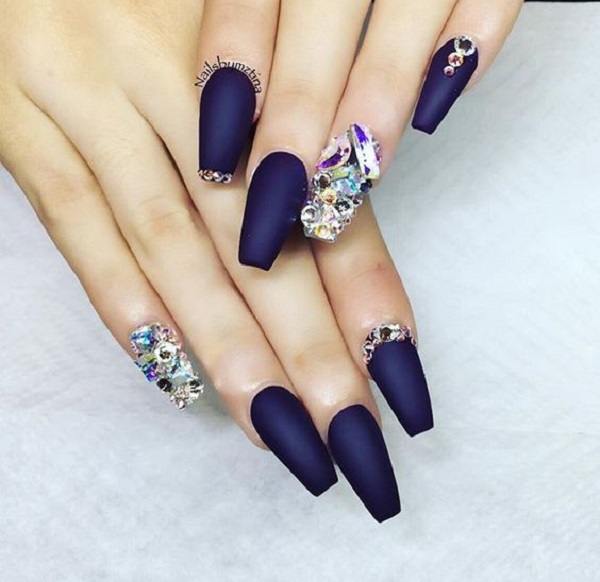 Matte dark blue nail art design. The stark contrast between the sharp matte nail polish with the eccentric and colorful design filled with embellishments is what makes this nail art truly beautiful and unique.
Floral inspired dark blue nail art design. The matte blue nail polish is contrasted by white colored floral embellishments that are beautifully placed on top of the blue nails as background.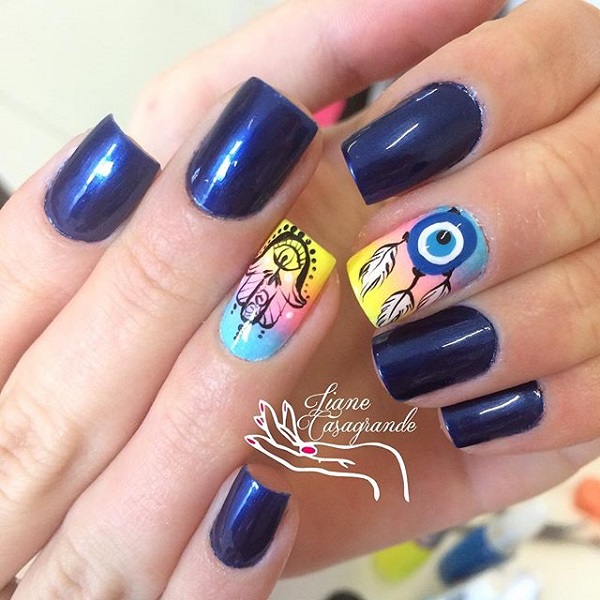 Metallic dark blue nail art design with inspiration from a dream catcher. The design is beautifully made as you can see each detail paced on the design of the dream catcher.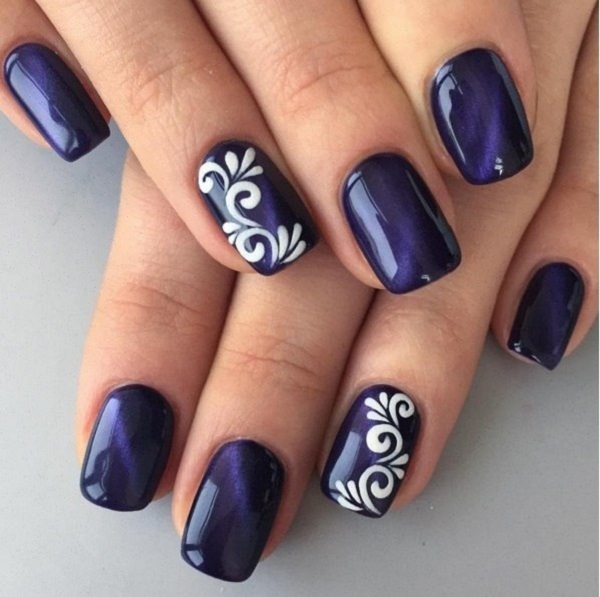 Simple yet elegant looking dark blue nail art design. The dark blue nail polish that serves as the background is then topped by a white nail polish in tribal inspired shapes.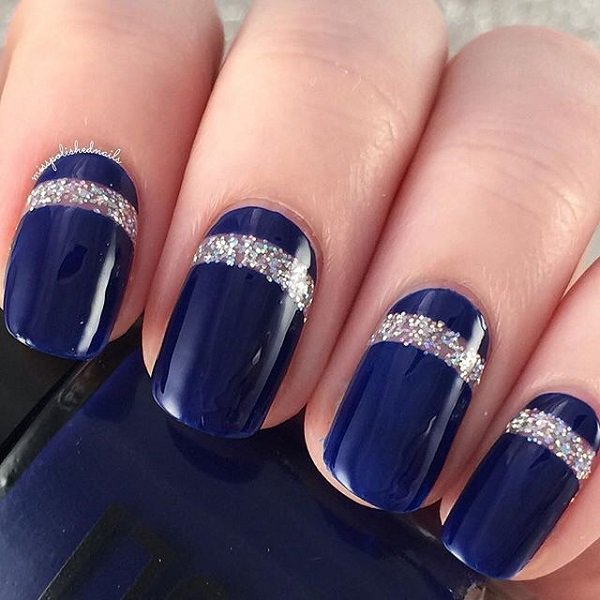 Beautiful looking dark blue nail art design. The blue nail art is framed by a line of silver glitter polish all over the nails making it look uniform and interesting to see.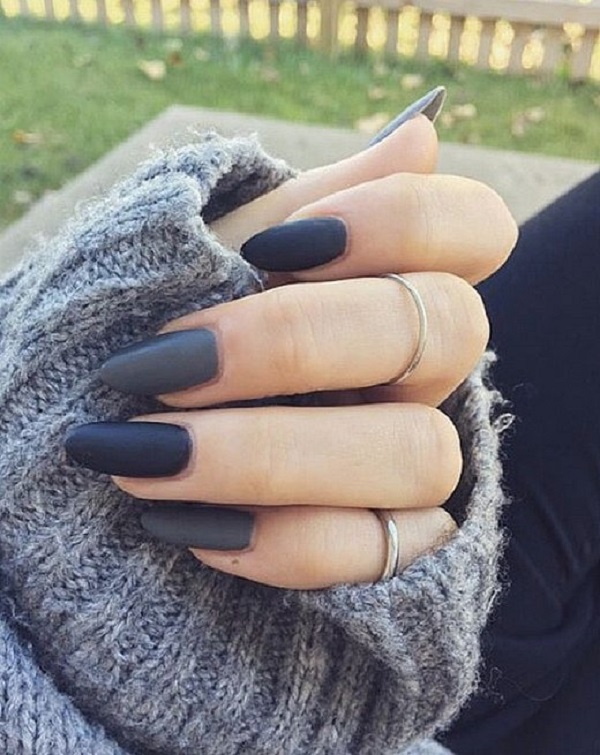 Amazing matte dark blue nail art design. What makes the rather plain design look great is because of its simplicity and the soft yet dark color of the blue on the nail polish. It is dark but subtle and looks warm on the nails.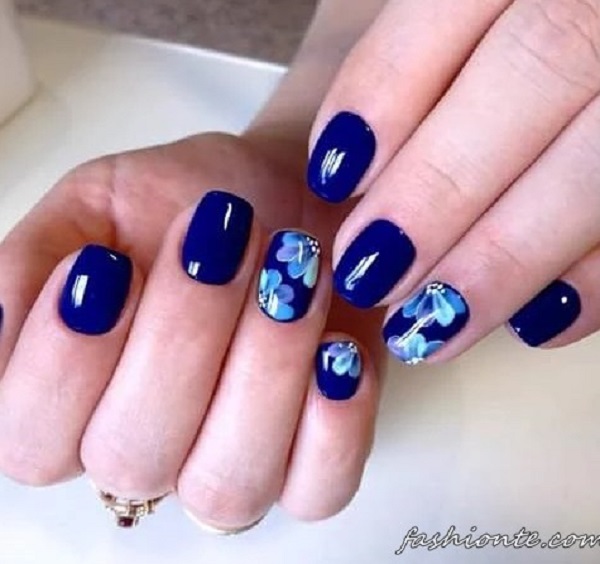 Another flora inspired dark blue nail art design. The blue background is painted with light blue flowers making the design have summer vibes with it.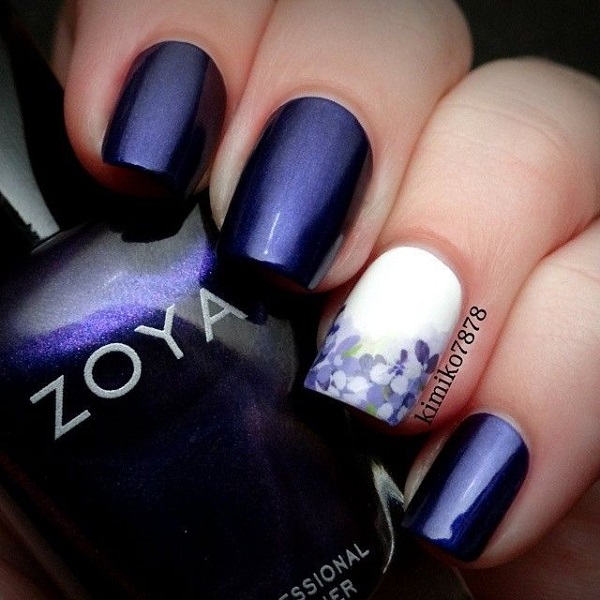 Amazing looking dark blue nail art design with white nail polish. The sole white nail polish with the blue flowers is the highlight of the design which makes it truly stand out from the sea of magnificent blue hues.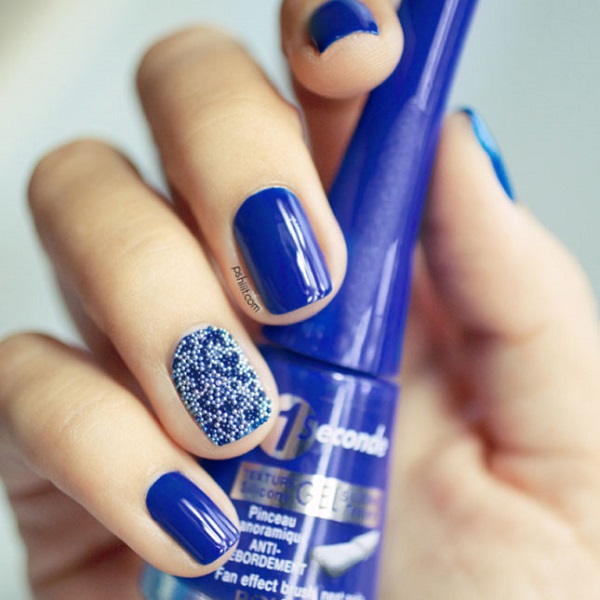 Cute looking dark blue nail art design. The blues are joined by a special nail design that consists of small light blue beads on top of dark blue background.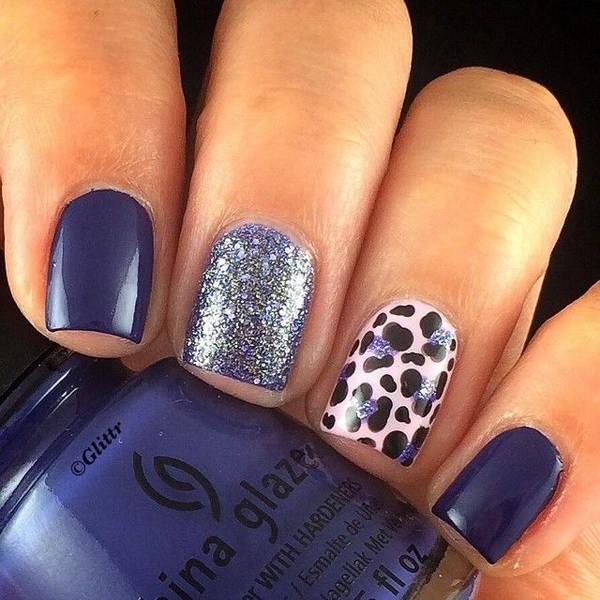 Pretty looking dark blue nail art design. The nails have a design of their own and look amazing with the combination of plain, animal print and glitter nail art designs.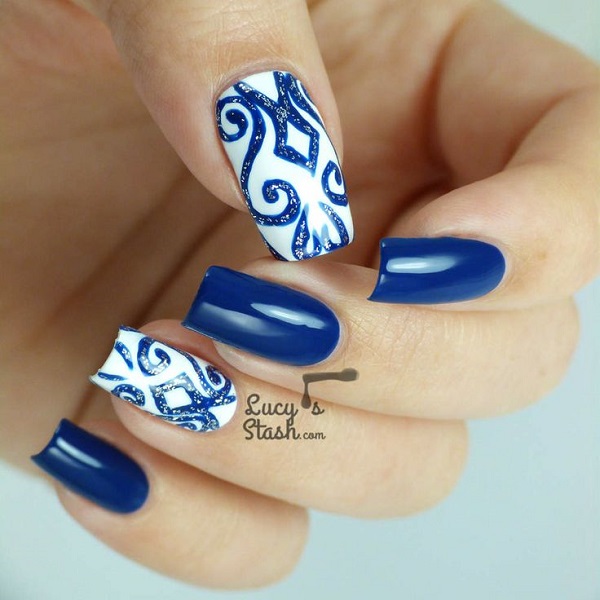 Beautiful blue dark blue nail art design inspired by lace designs. The lace-like designs are painted in blue glitter polish against a white background while the rest of the nails don an electric blue shade.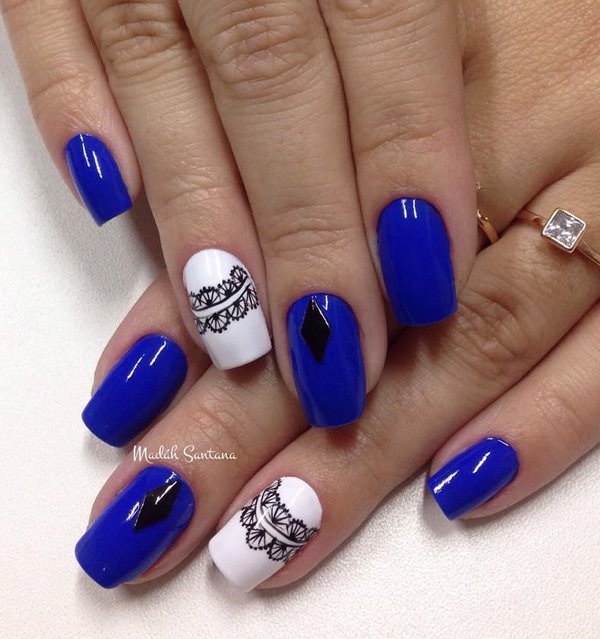 A perfectly blue dark blue nail art design. The blues on this design are definitely eye-catching as they are combined with white nail polish and embellishments as well as black nail polish lace designs.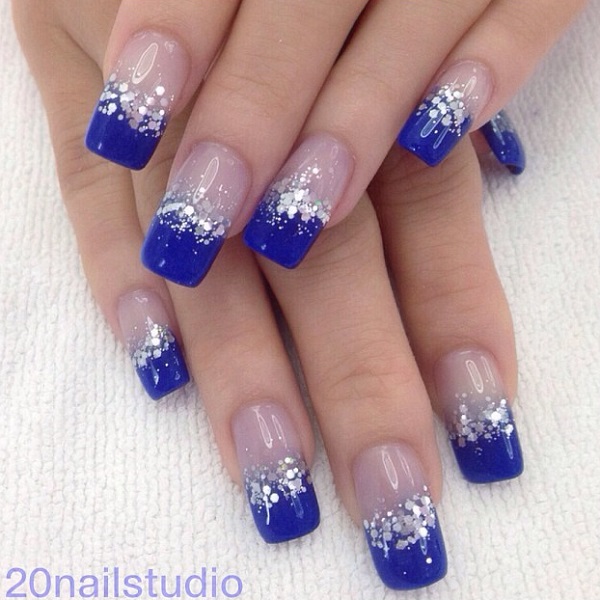 Beautiful dark blue nail art design in French tips. The French tip designs are n blue nail polish and are bordered with silver glitter and sequins as they transition in to clear polish when the design reaches the cuticle of the nails.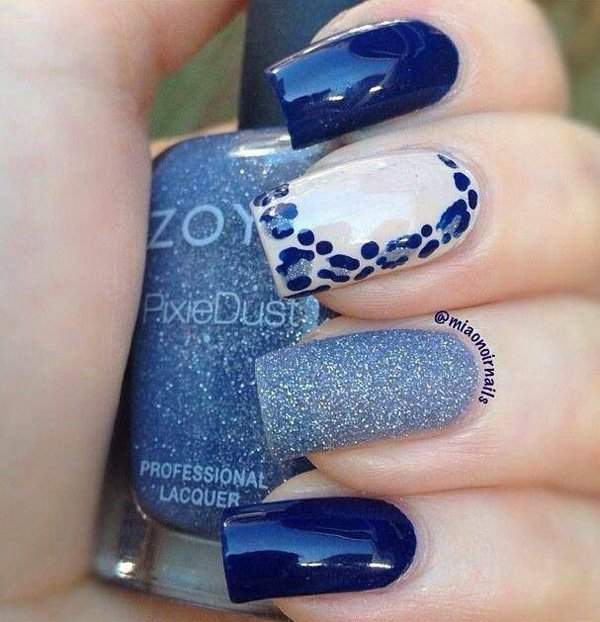 Creative dark blue nail art design. Each nail on this design has its own unique concept, one is plain, and the other is animal prints while the other consists of glitter polish.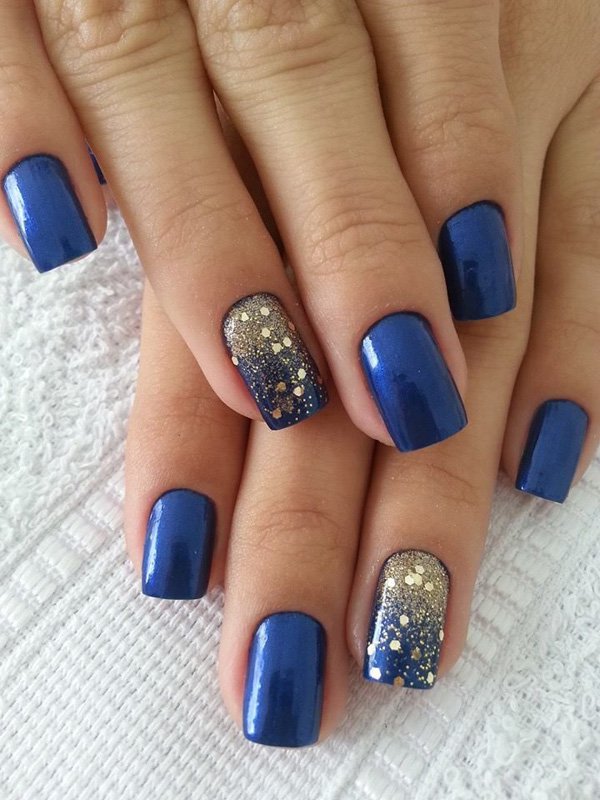 Metallic dark blue nail art design with gold designs. The nails are designed in predominantly blue shades while there is one with gold glitter highlights that stands out from the rest of the nails.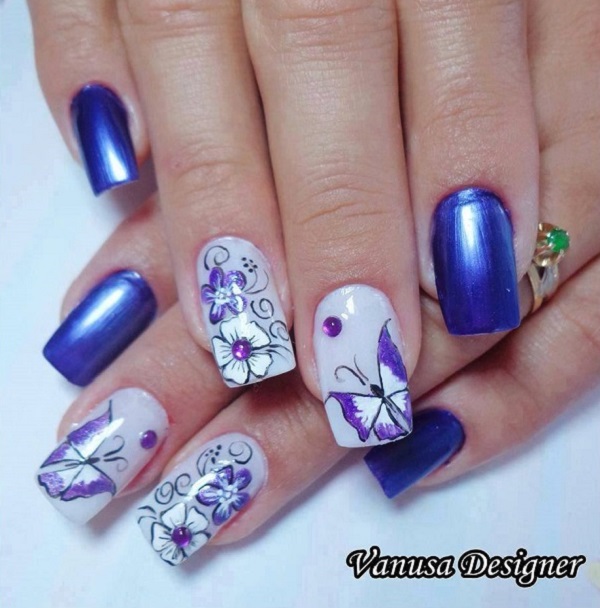 Beautiful looking dark blue nail art design with flowers and butterflies. The nails have blue and white polishes painted on them with the white ones having the flower and butterfly designs on them.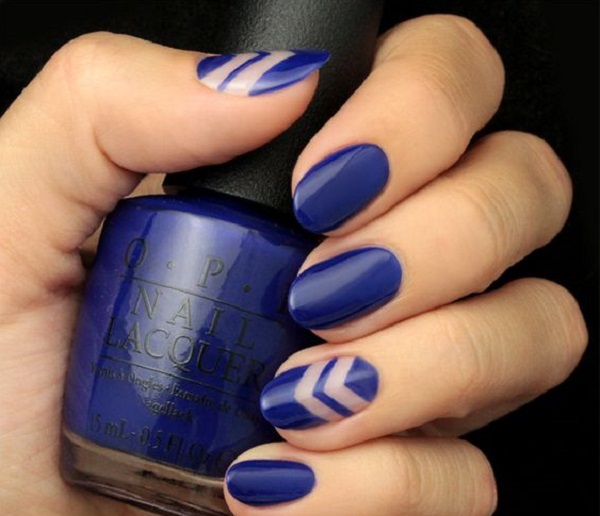 Simple yet funky looking dark blue nail art design. The blue nail polish is further designed by adding clear nail polish that shows successive v-shapes on a few of the nails making it look great.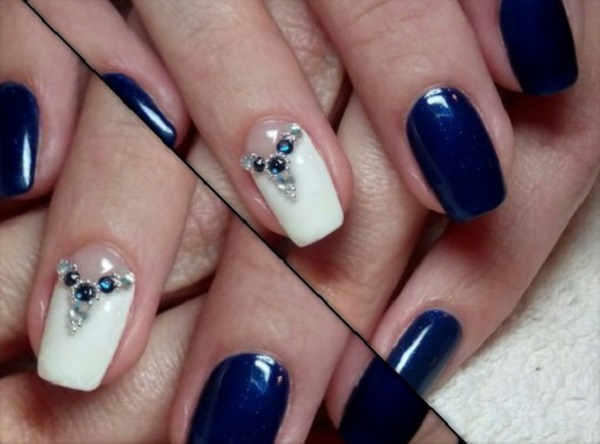 Elegant looking dark blue nail art design with white shades. The blue and the white color combination never fail to impress as they look perfectly good together on this design. Additional beads are added on top of the white polish to make it look even more interesting.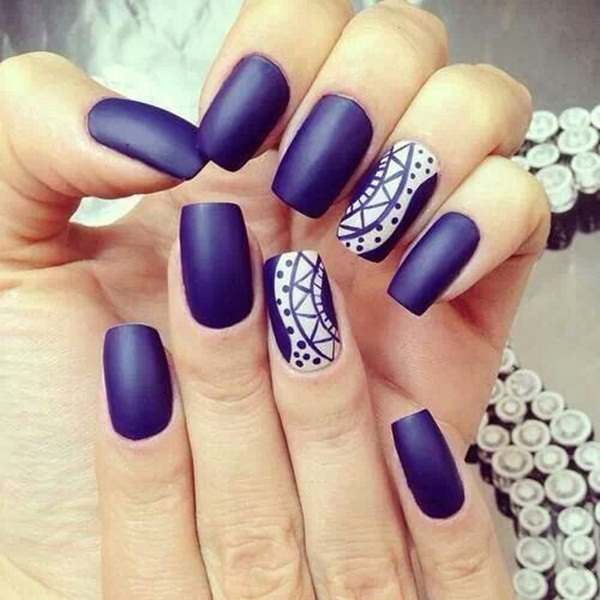 Dark blue nail art design with white abstract designs as well. Atop the dark blue polish are abstract looking designs painted in white. The designs look simple but at the same time fun and exciting.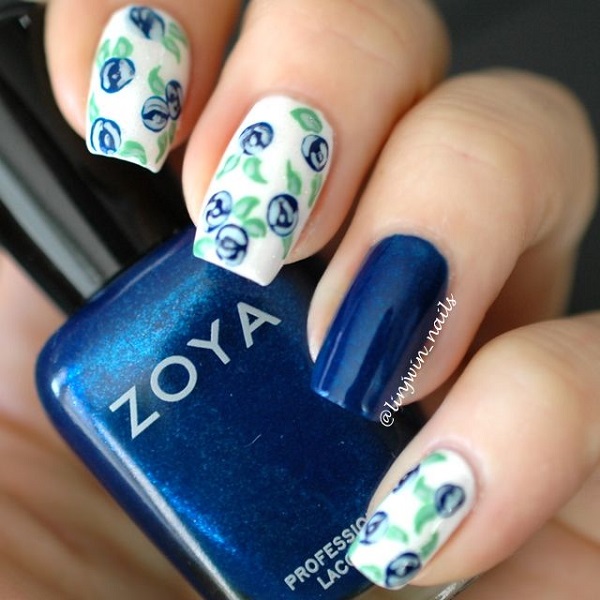 One more floral inspired dark blue nail art design. The nails are in metallic blue shades as well as white. On the white polish the blue flowers are painted and they look absolutely stunning.
Feisty looking dark blue nail art design. The blues are also designed with animal prints in brown hues. The designs looks very strong and fierce just like what a wild animal is.