Christmas is around the corner. If you are the fan of the festive season, you are probably filling in your calendar with your various preparations. Home décor is one of preparations you should never miss as it could invoke festive air and create cozy environment for each of family members. Not only homes, but also offices and public places are decorated with greenery, wreaths and various ornaments to celebrate the cheering holiday. If you have not figured out your Christmas home decoration ideas, it's the right place here you can take reference and find your inspirations.
Christmas home decor ideas
The traditional Christmas decorations feature ornaments of red, green and gold, which incl. fir tree, greenery, bells, candles, stockings, wreaths, etc. When the Christmas tree is lit with candles it creates fairy lights, which represent hope and symbolize everlasting life of Jesus. Nowadays, a lot of ideas are inspired by the holiday season, which makes the world more splendid. Various DIYs are used for home décors. And you can easily purchase ornaments and accessories online. It's also gratifying to see various ideas keeping emerged. So it's a lot easy for you to start the work. Keep in mind to consider your budget and house conditions before making decision. Now let's take you to go through each of pictures.
Traditionally decorated living room
Above is a picture of cozy living room decorated with traditional Christmas elements, fir tree, greenery, wreath, stockings, candles.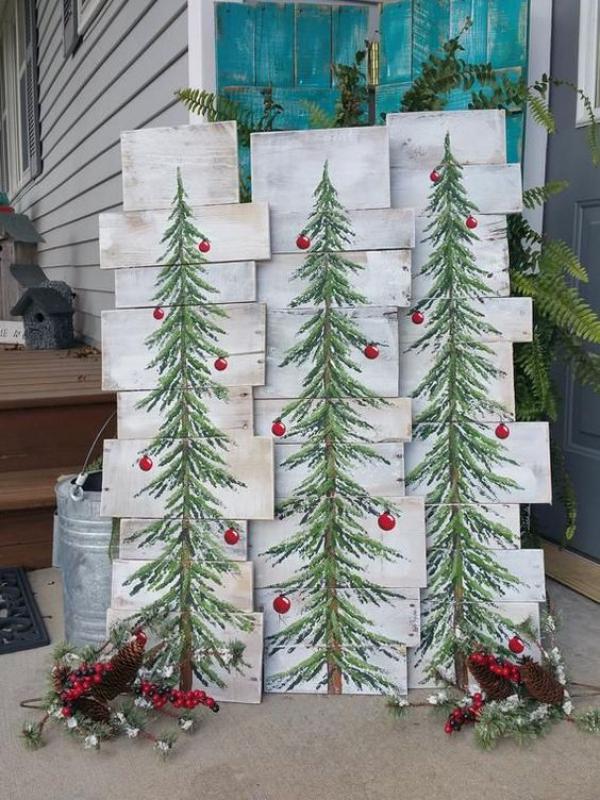 Pine Collage
If you are looking for ideas on wall décor, consider the brick sheets with elegant pine trees. The holly berries add holiday accent but could also be feasible for non-holidays days. Furthermore, the pine cones remind us of arrival of winter season.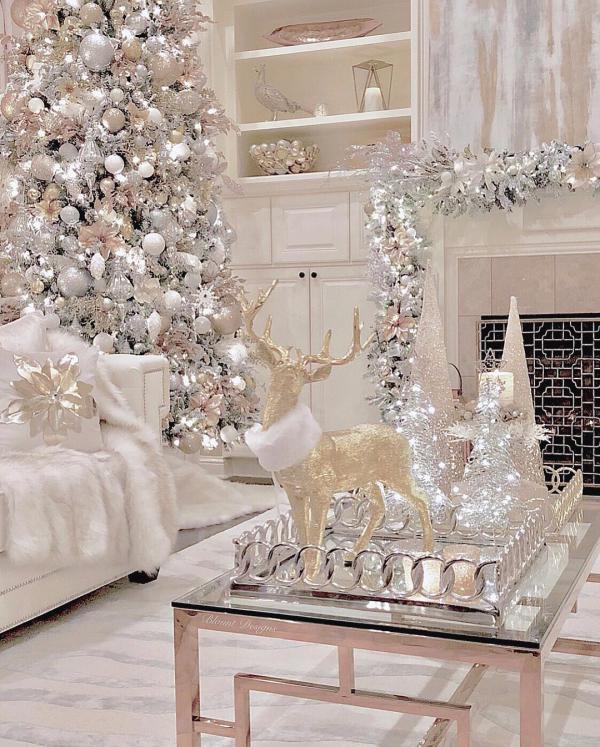 Regal White
Decorate the bedroom with snow-dusted fir tree and golden ornaments, which just matches the hue of the room, creating regal air for the holiday.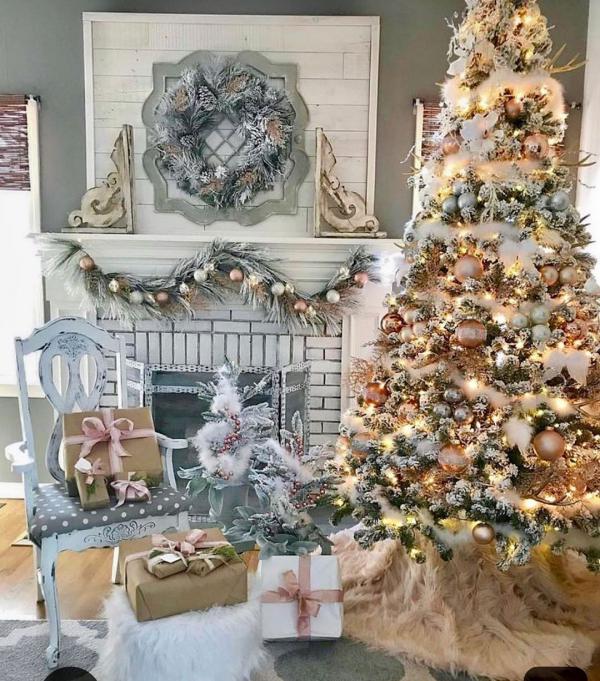 Lighting the Winter
If the room is decorated in a grey winter theme, fill in the room with lighting effect. The Christmas tree is decorated with frosty pinecones, golden balls and illuminating lights.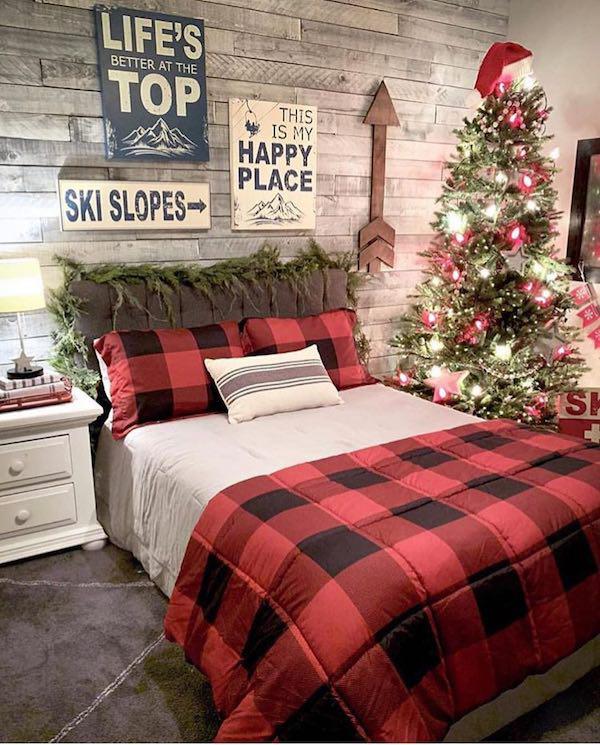 Rustic Gingham
A clean and tidy room is connecting to air of holidays. Decorate the bedroom in rustic Christmas style with fir tree, greenery, quilt and pillow with plaid patterns.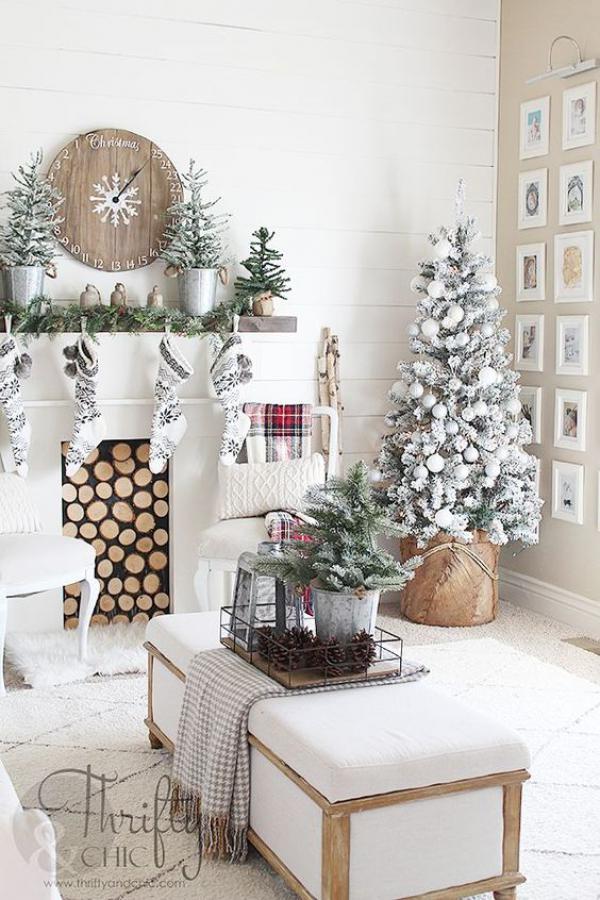 Snowy Room
All of the ornaments in the room, Christmas trees, stockings, carpet and the end table are decorated as if covered by a layer of white snow.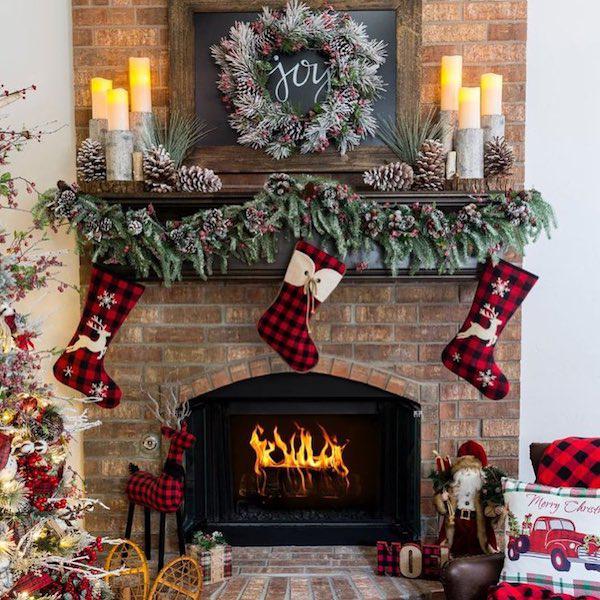 Christmas Wonderland
Add joy and warmth to your home décor by using the traditional this Christmas elements, such as wreath, stockings, deer, pinecones, etc. Give your home a bit of rustic style with the tartan patterns.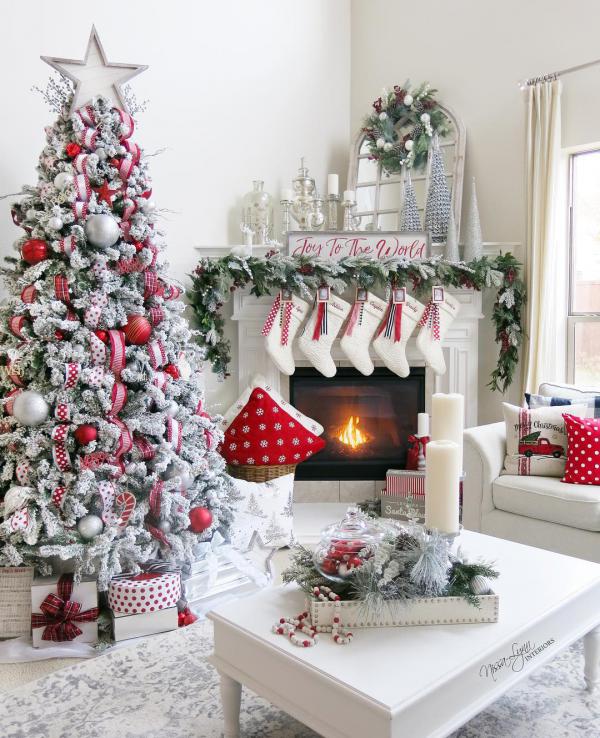 Christmas Ribbon
Send out joy to the world by using various patterns of ribbons, plaid, polka dots on Christmas tree or hang with stockings. Red is good combination with white and add accent of cheering winter.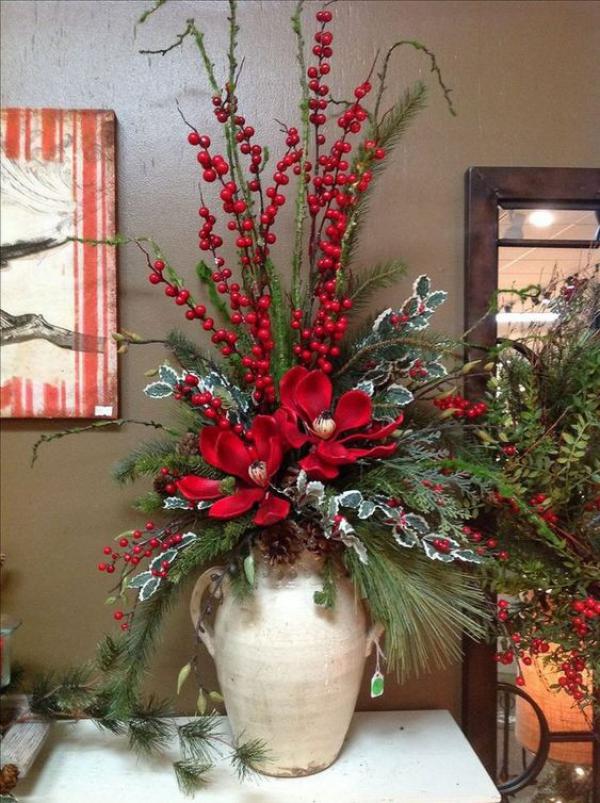 Red Greenery
Flaunt a rich red hue by combining leaves of pine and cypress with holly berries in the vase. It's great to show up the greenery bouquet in the living room.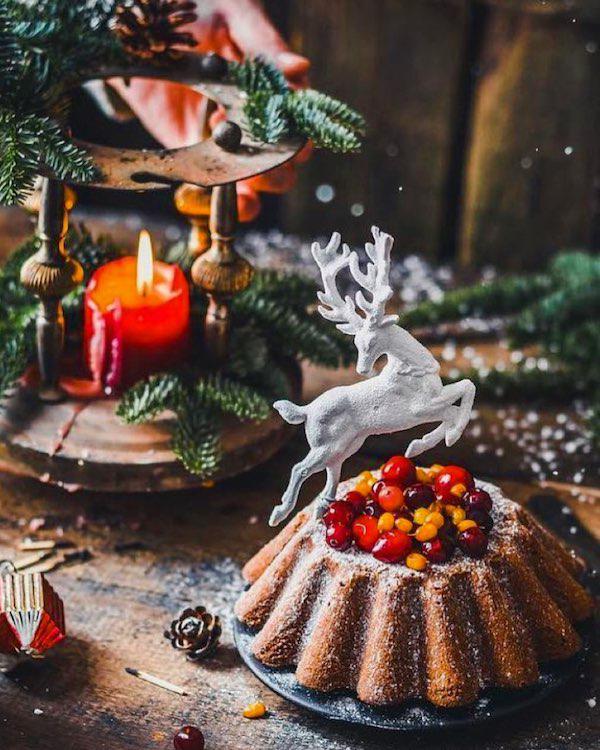 Christmas Cake
If you are a fan of Christmas food, add the edible Christmas cake decoration on the table. The cake topper could be a deer, Santa Claus or any other relevant characters.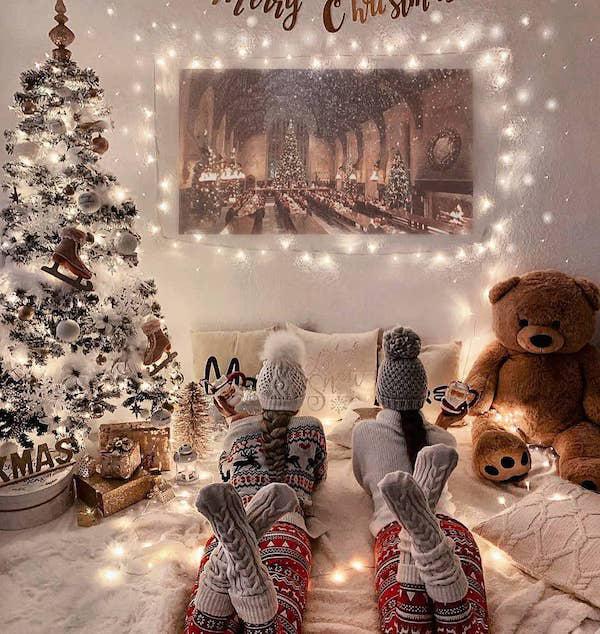 Glowing Bedroom
If you love to celebrate Christmas all the night, fill your bedroom with the glowing light with the fine-tuned lighting design. The lights are reflected on the wall like stars glowing in the sky.
source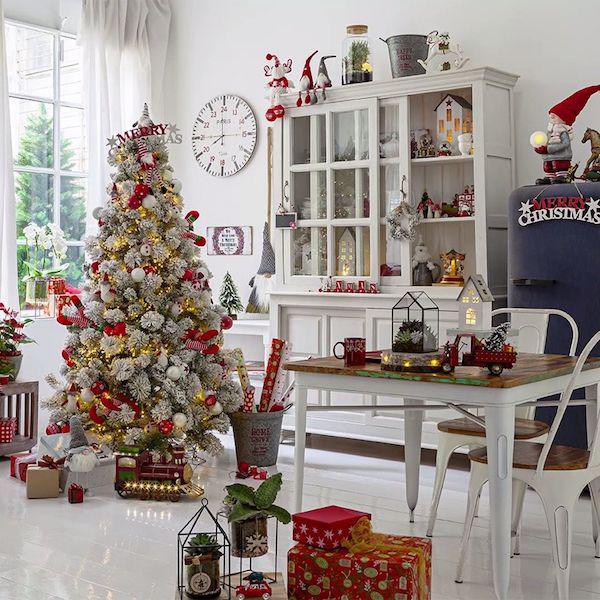 Dining Room
Christmas vibe can be extended to not only living room or bedroom but also dining room like this one. Christmas tree and presents are placed to make everyone feel the atmosphere of the holiday.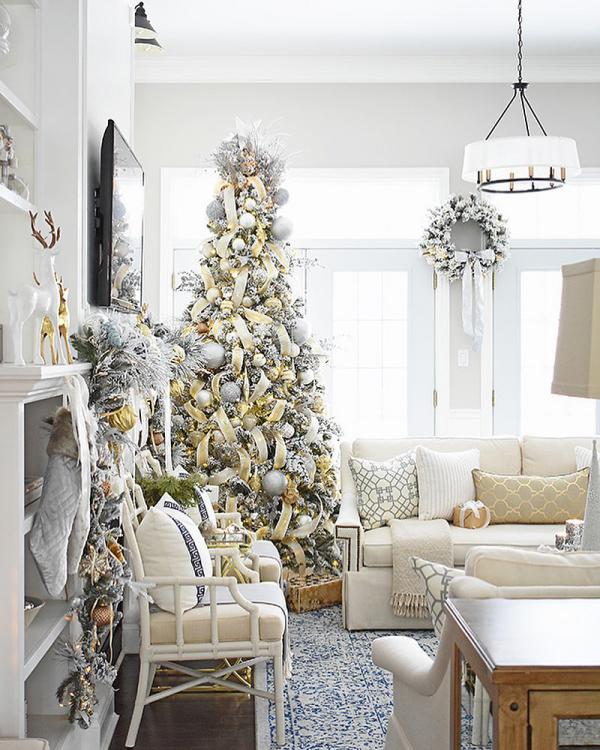 Royal Winter
The winter themed living room features white ornaments like stockings, frosty greenery and a wreath woven with white flowers. A smell of royal air is sent out by the large Christmas tree decorated with golden ribbons.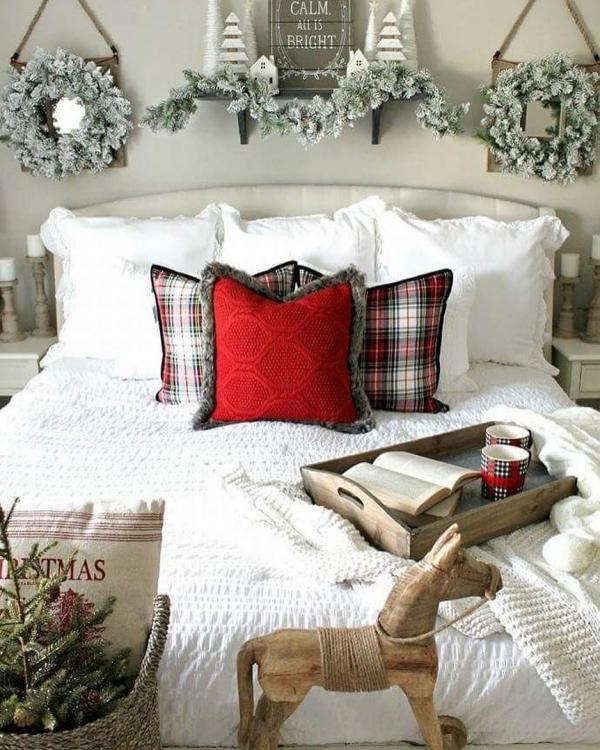 Burgundy dream
If you are going for some imaginations in your bedroom, consider this simple Christmas home decoration idea. Add a pillow in burgundy color as this color is said to be sign of wealth and success if it appears in your dream.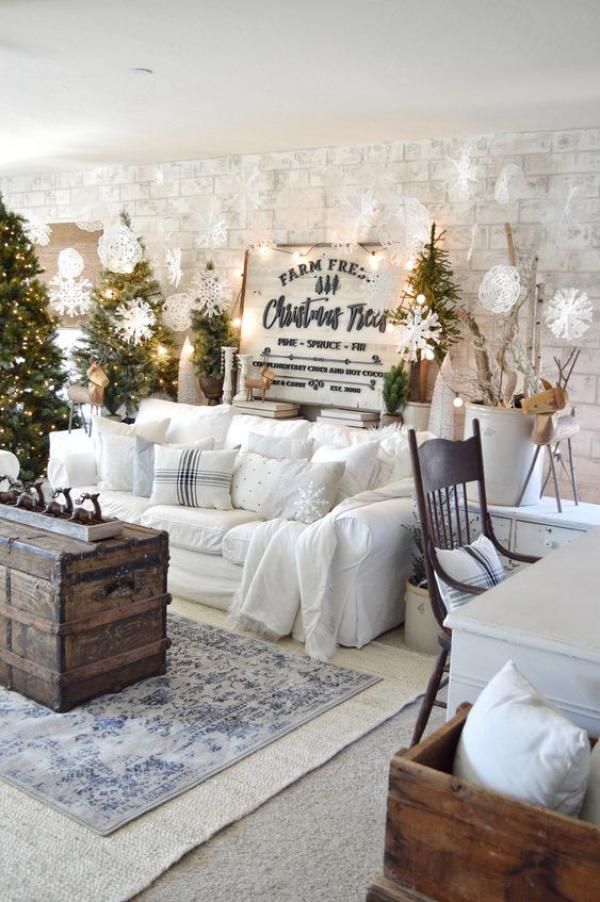 Snowy Living Room
Heavy snow means harvest and prosperity in the second year. Decorate your living room with the paper cutting of snowflakes on the wall, fir tree. Even you can buy a pillow with the lovely pattern.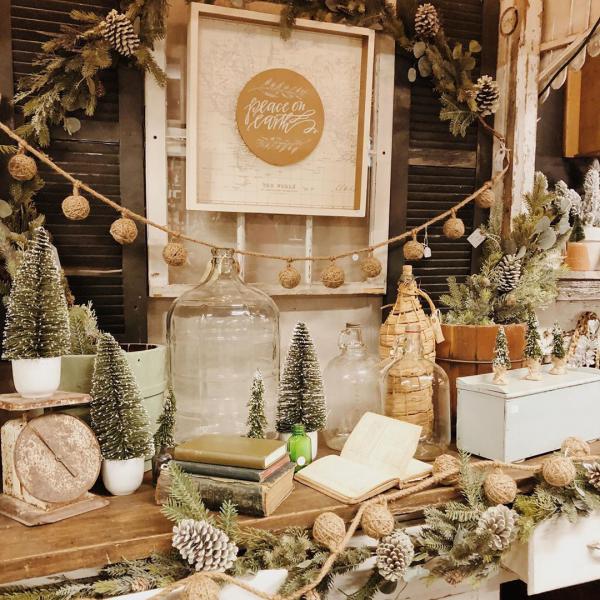 Peace on earth
Express your call for peace of the world by using the garland made of yarn balls in the home décor. Garlands are popular signs associated with peace, love and passion. Along with the pinecones, old books as well as mini Christmas tree, a peaceful scene in countryside style is presented ahead.
source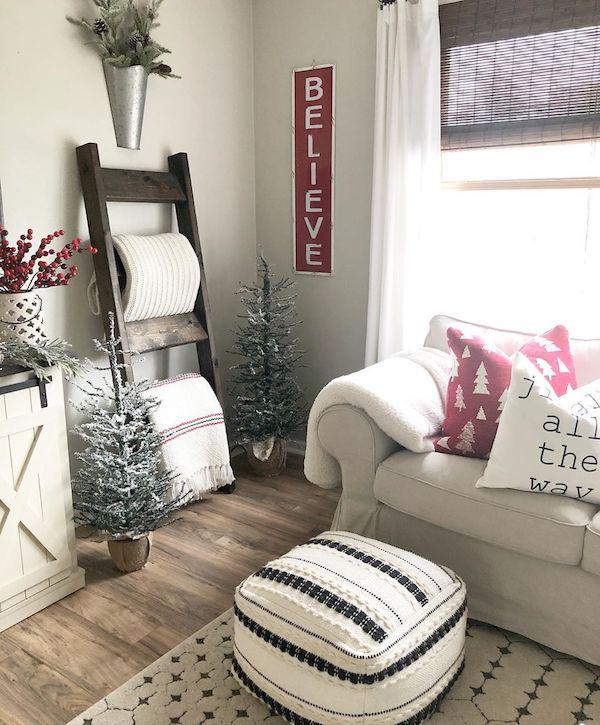 Small Space
Don't have enough space for a large tree? Try to make use of vertical space on the wall like the greenery bouquet. Or you can place mini Christmas trees instead without intervening overall style of the room. Of course, the best idea to save space is to use some stuff with Christmas elements, like the pillow.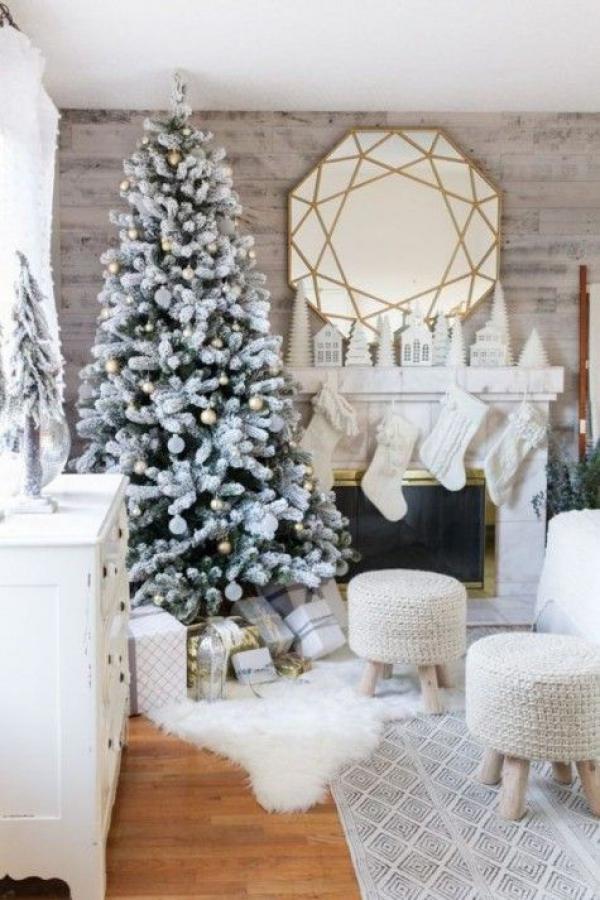 Mini Castle
Longing for snowy castle at Disneyland? Decorate your room with the miniature architecture paired with Christmas ornaments, all in frosty white, stockings, fir tree and gifts, etc.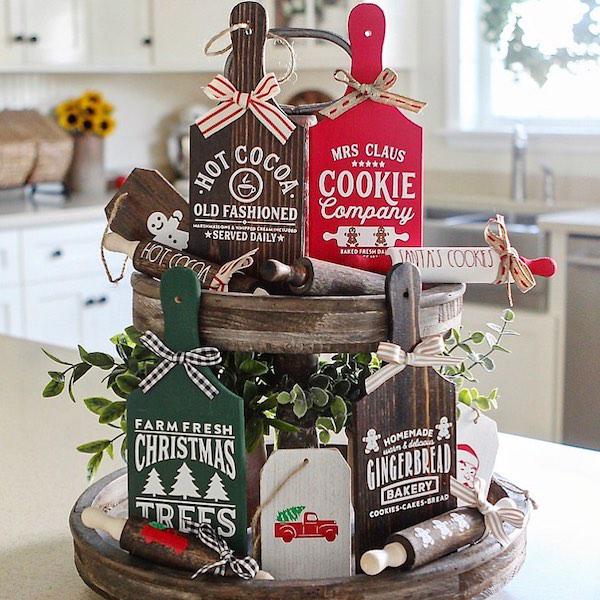 Decorative Cutting Boards
If you are looking for decorative parts or ancillaries, here are some examples of cutting boards. You can select one with your subject. Tied with a bow in various patterns, it's just cute!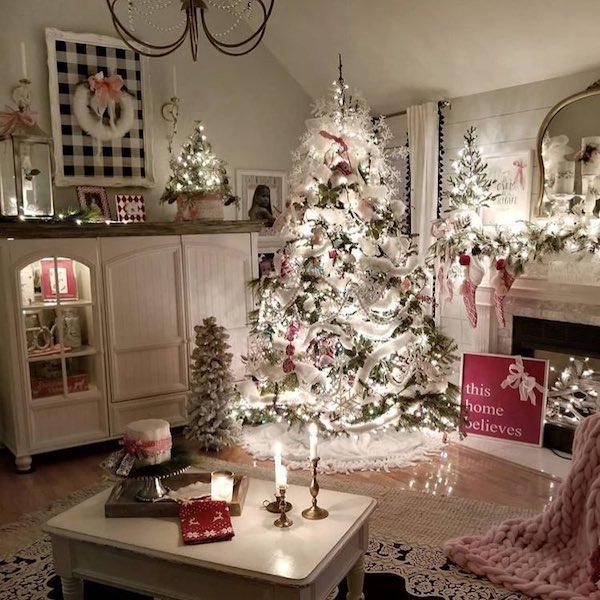 Brilliant Living Room
Illuminate your room with the lights decorated on the Christmas tree, garlands as well as candles. Enjoy the exciting moment in your life.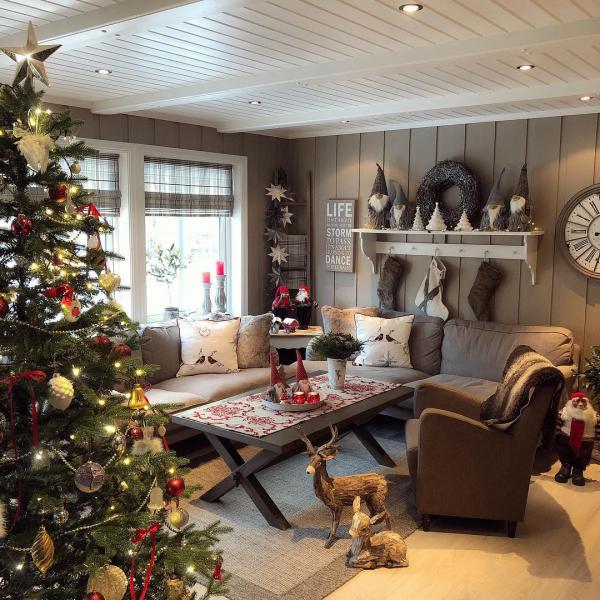 Elegant Christmas Home Decoration Idea
Set up holiday hue in the elegant small living room. Make use of vertical space like wall by decorating with wreath, stockings. The glittering light on the Christmas tree looks like stars in the night sky.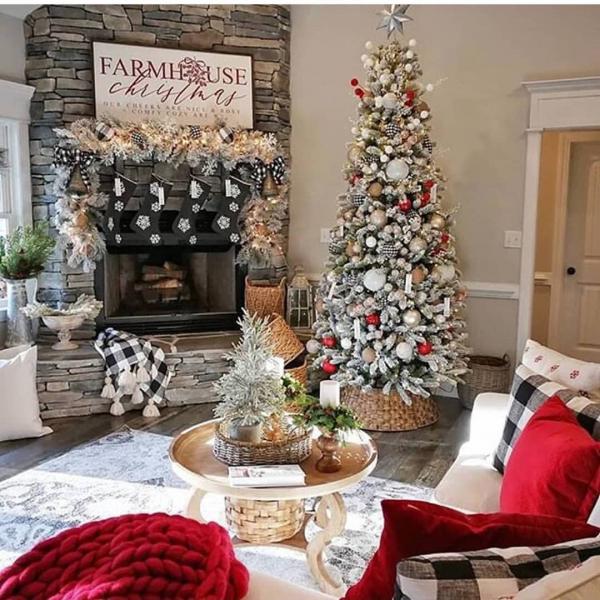 Farmhouse
Check this rustic Christmas home décor idea in winter theme. Fill up the living home with frosty garland , snowflake stickers as well as giant Christmas tree.
Home Sweet
How to make your small single bedroom cozy and pleasing with air of holiday? This Christmas home decoration idea gives some hints in its design. You can decorate the room with some holiday elements such as garland or other embellishments on the wall. Keep your bedding tidy and simple. Fill in the room air of warmth and pleasing by using bed runners with plaid patterns in rustic style.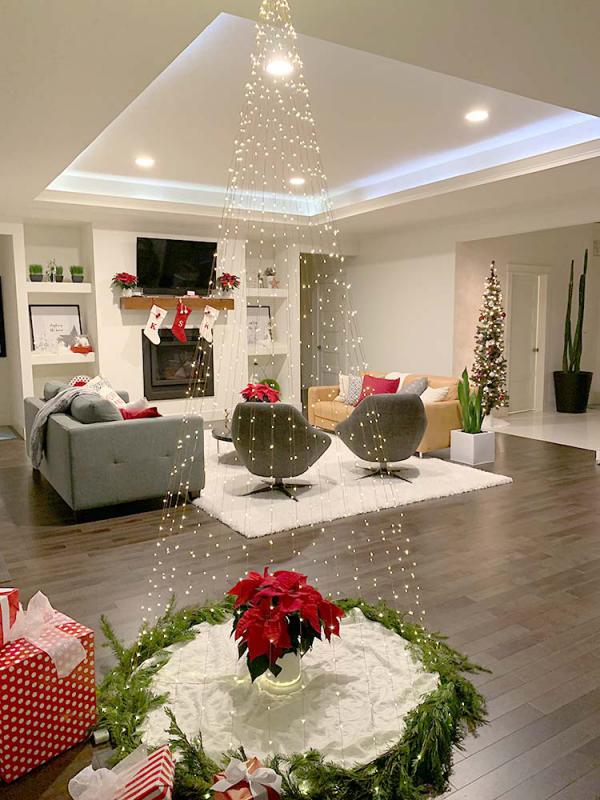 Christmas tree of firefly lights
Want more creative Christmas home decoration ideas? This is an example to make a glowing Christmas tree by only using firefly lights. It is also very cost effective as all the parts used from Amazon cost less than $60. The base of the design is decorated with poinsettia flower in deep red color, with garland greenery surrounding the skirt.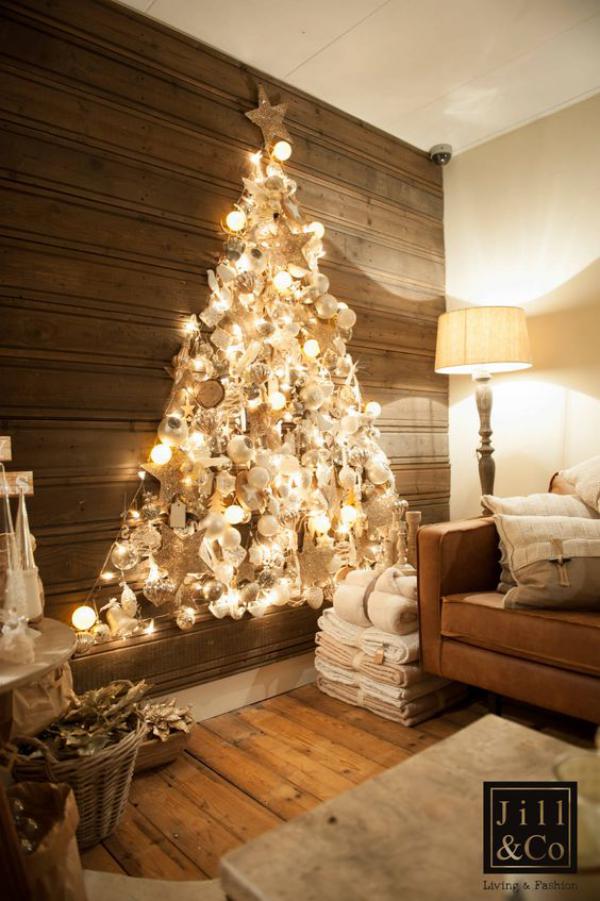 Dazzling Christmas Tree on Wall
If you have limited space and still want splendid effect, try the alternative Christmas home decoration idea. The components are actually installed on the wall without consuming any space in the room. With the dazzling lights and other ornaments in golden color, the whole room looks brilliant and splendid.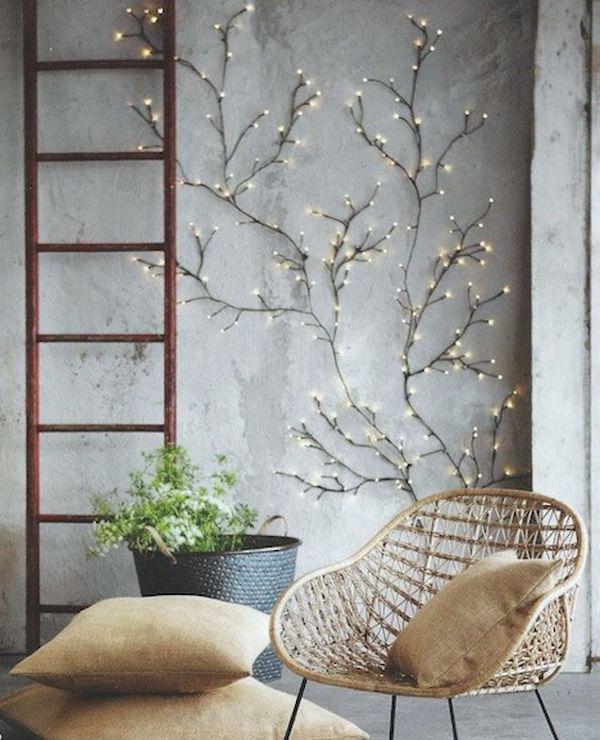 Minimal Christmas home décor
If you are going for simplicity, you may find inspiration in this minimal home décor. Without expensive ornaments, the tree climbs on the wall like vine with twinkle lights. Does it still present any holiday air? "What you see is what you see", as said by minimalist painter, Frank Stella.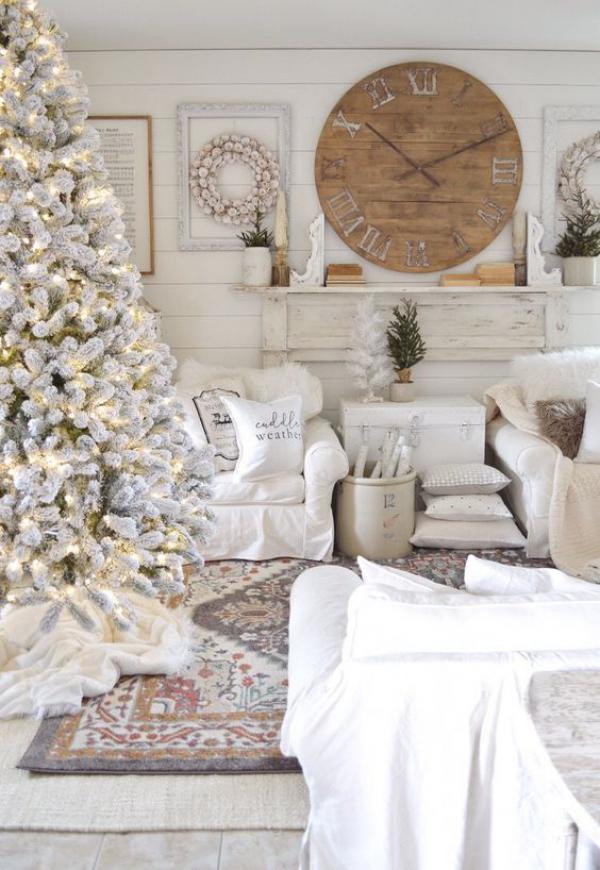 Winter Scene
Turn the room to a cheering winter picture by the frosty Flocked Christmas tree, wreaths. The wooden clock hung in the center exhibits rustic beauty as if it's calling for the advent of the New Year.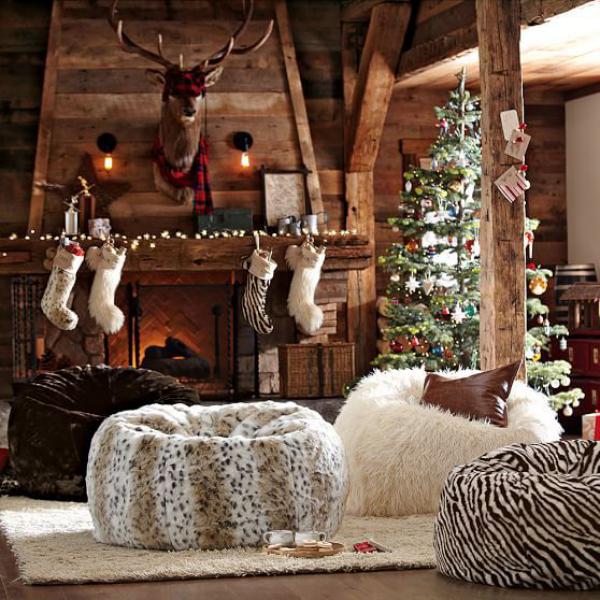 Santa Claus's reindeer
Decorated in the rustic style, the reindeer is reminding kids of upcoming visit by Santa Claus. What is inside the stockings hung over the fireplace may be the biggest expectation for them on the second day.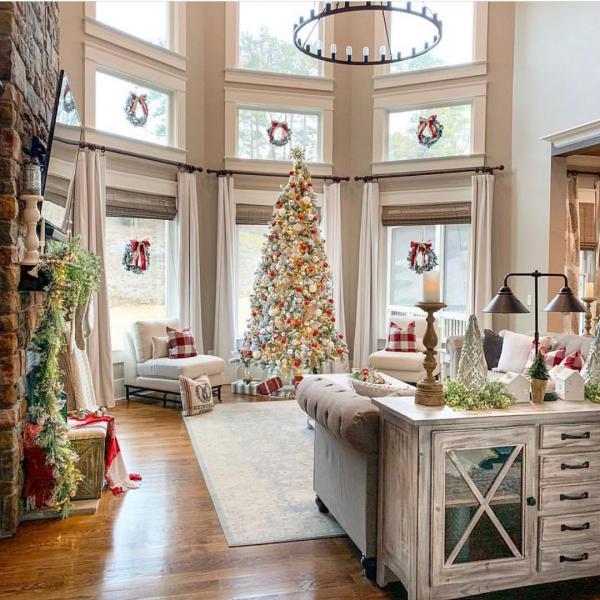 Grand Living Room
If you are looking for Christmas home decoration ideas for a big room, how to avoid it overwhelmed with all kinds of ornaments. This gorgeous living room could be one of the best examples. Although it looks small compared with the height of the roof, the beautiful Christmas tree dominates theme complimented by unattainable wreaths on the windows.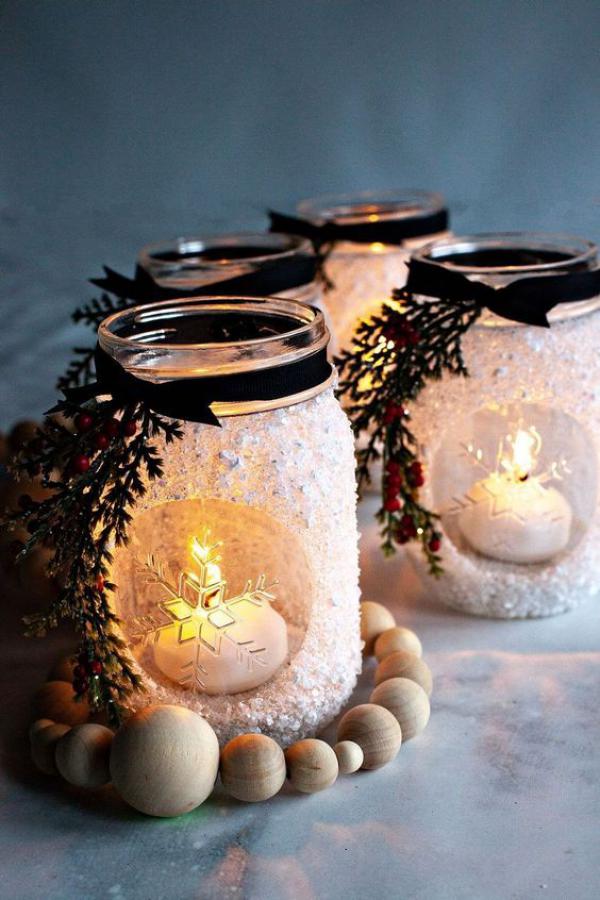 Christmas Candle DIY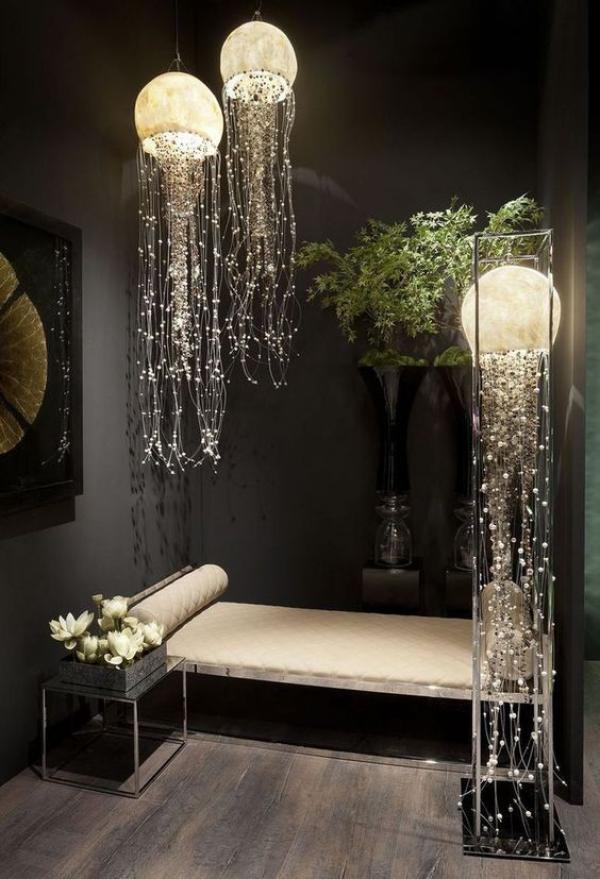 Jellyfish Lamp Christmas home decoration idea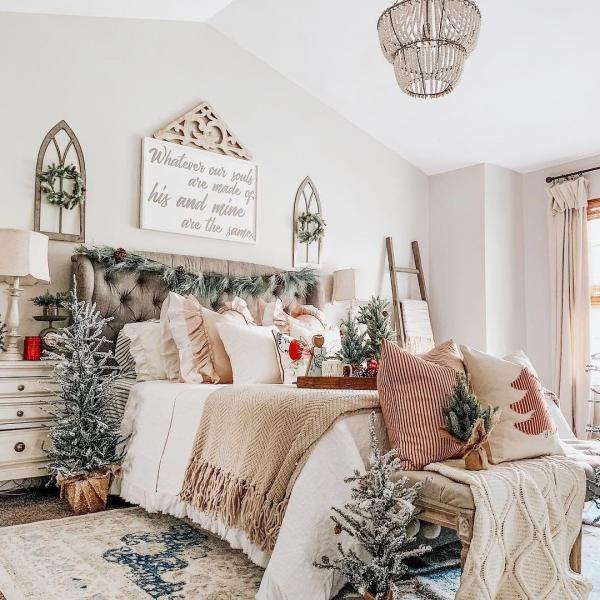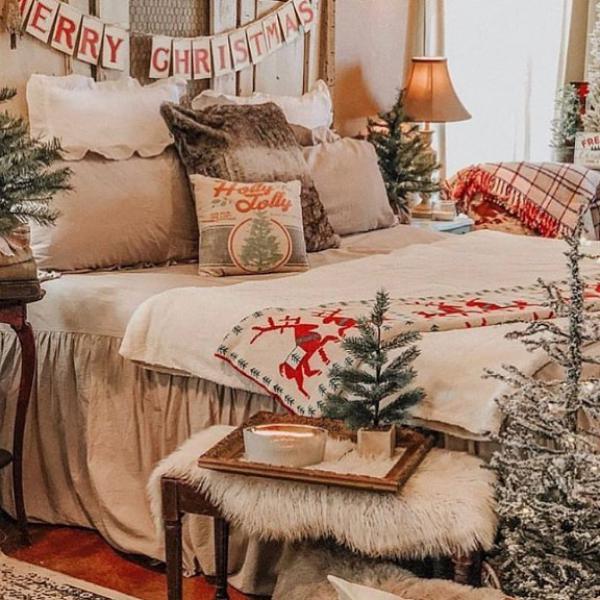 Cozy Christmas home decoration idea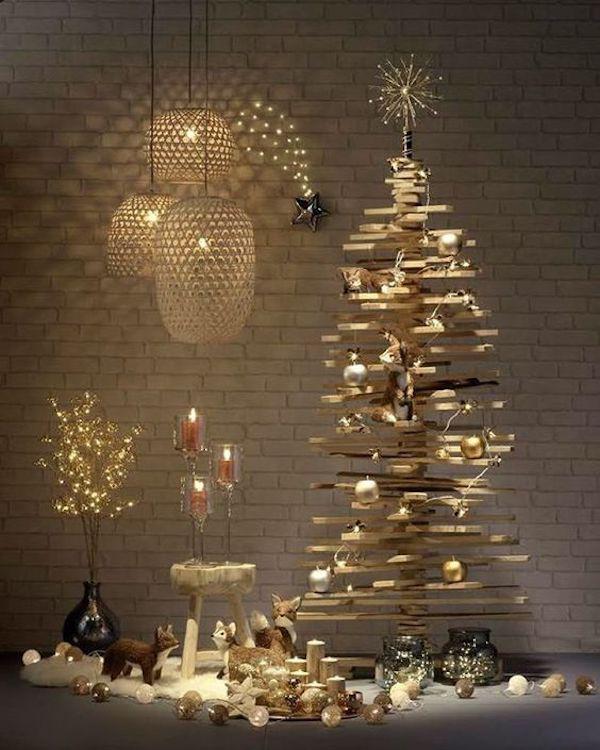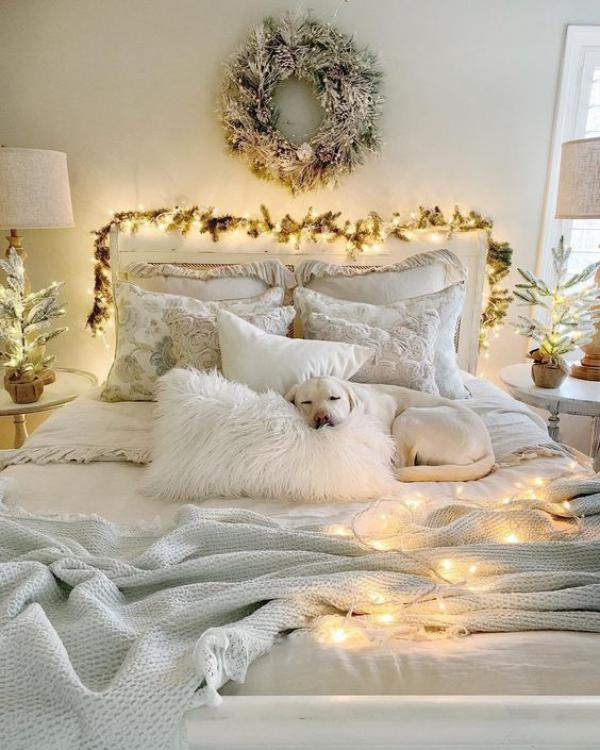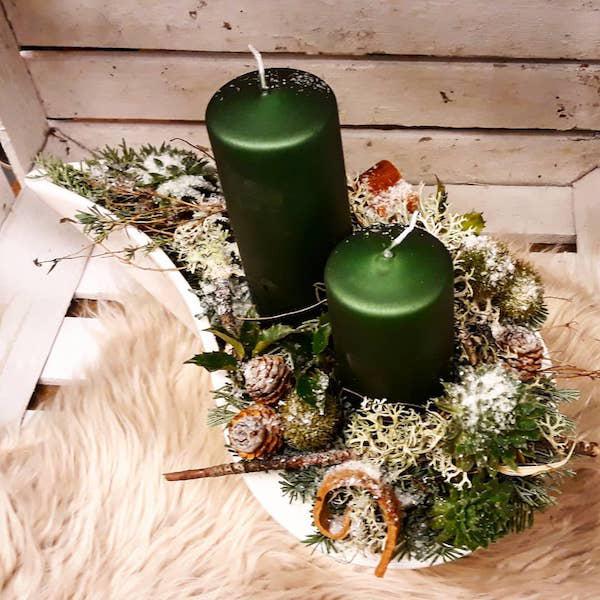 Christmas Candles home decor idea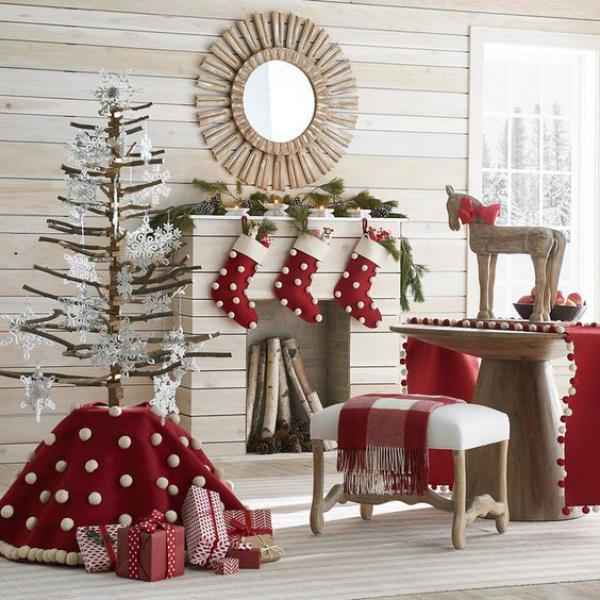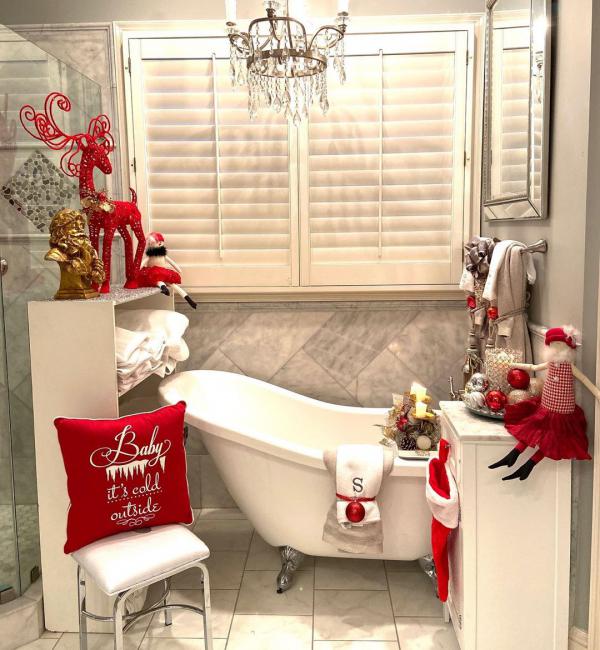 Christmas Red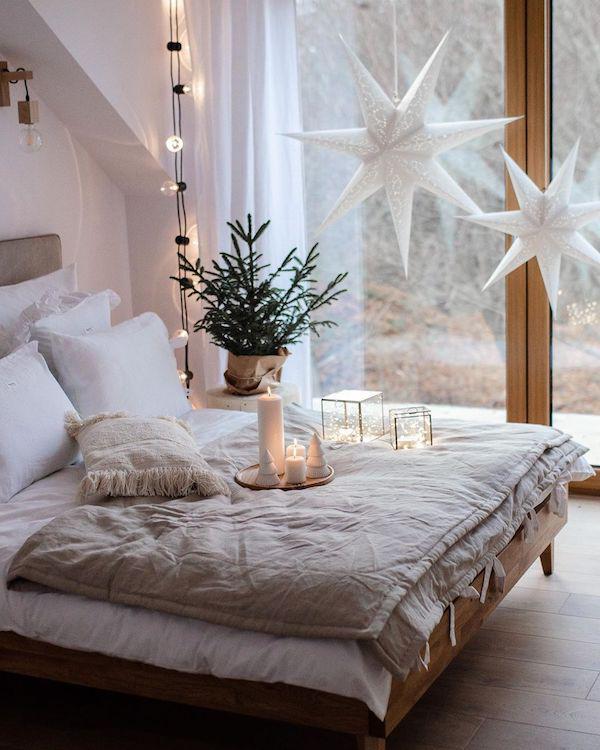 Christmas bedroom home decor idea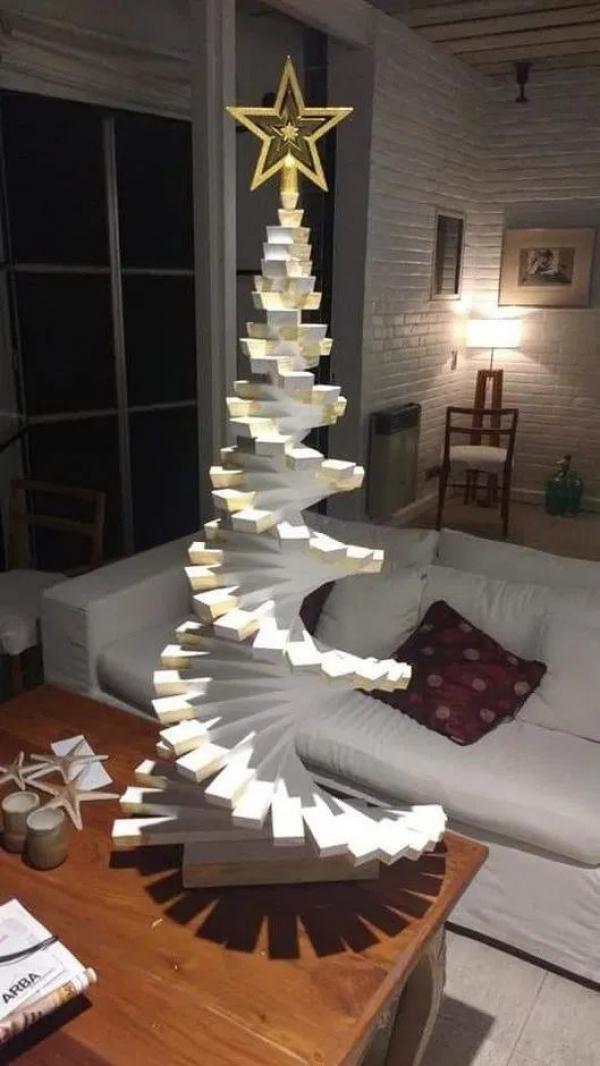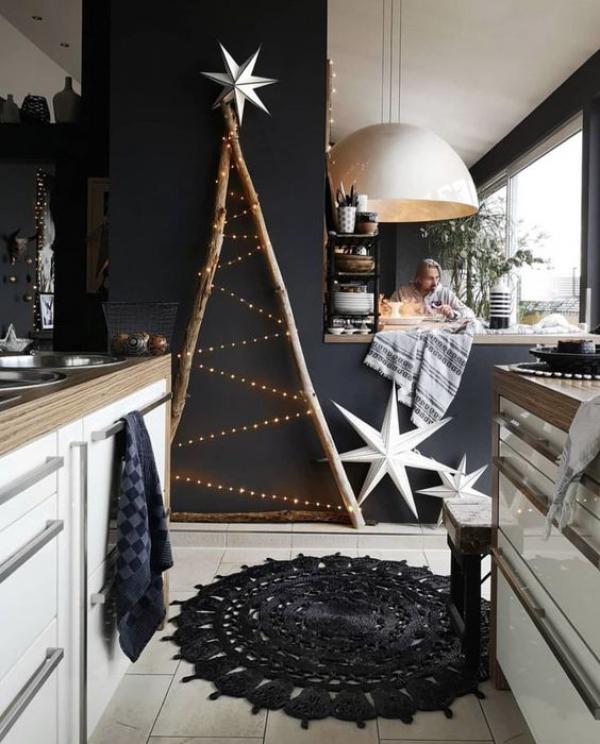 Wooden Tree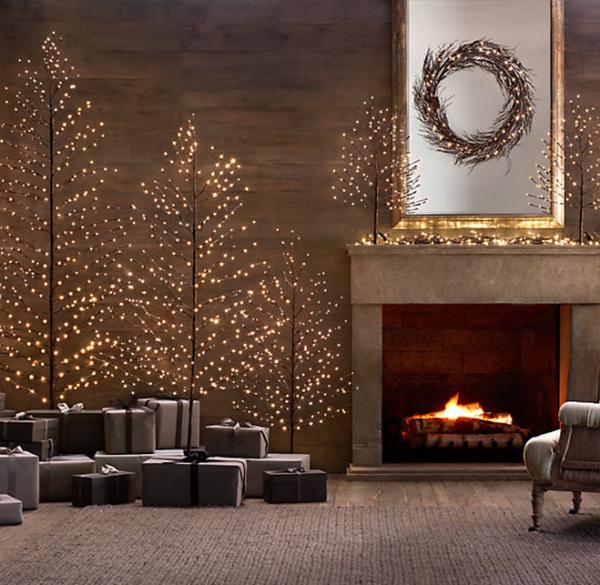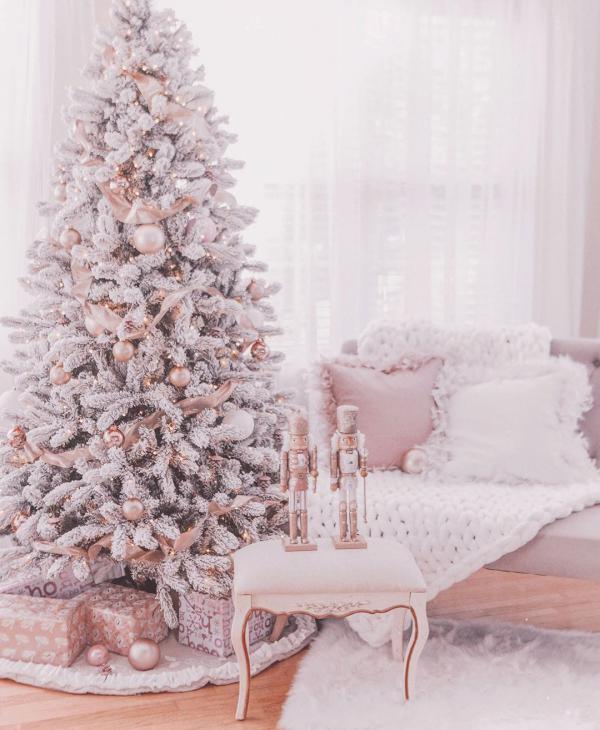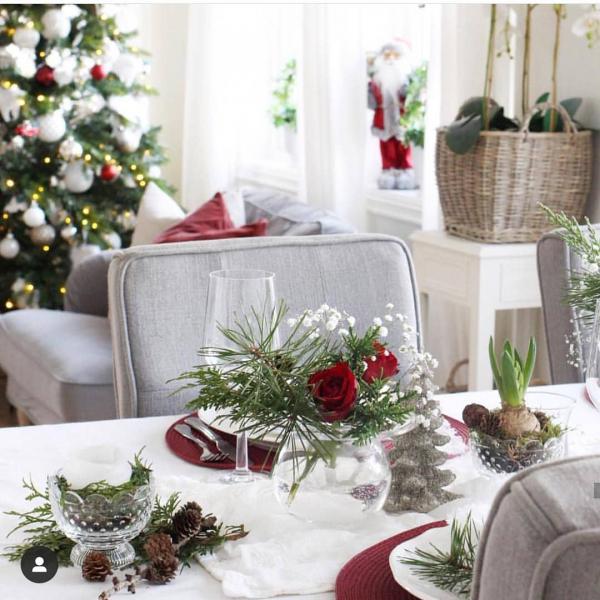 Dinner with Family
source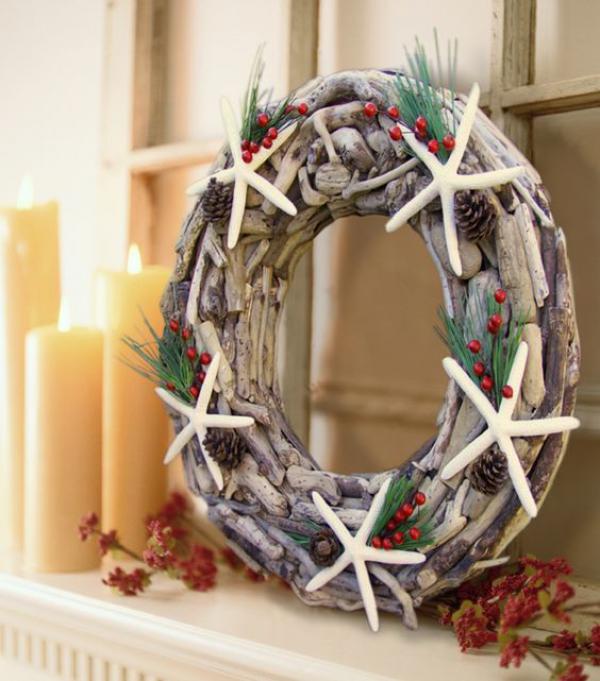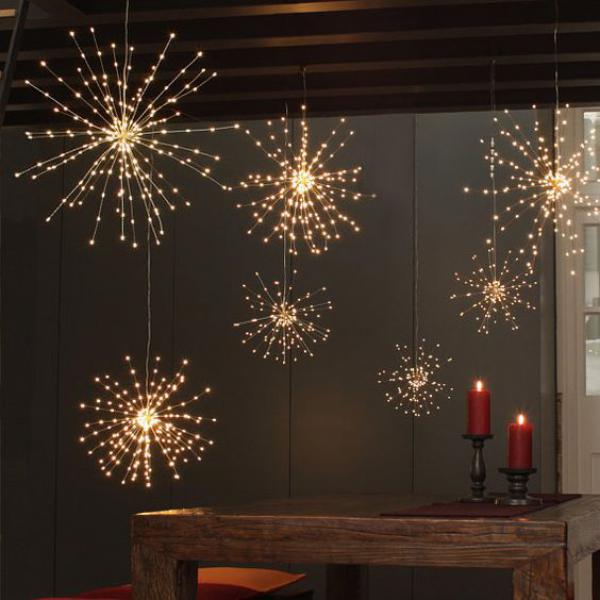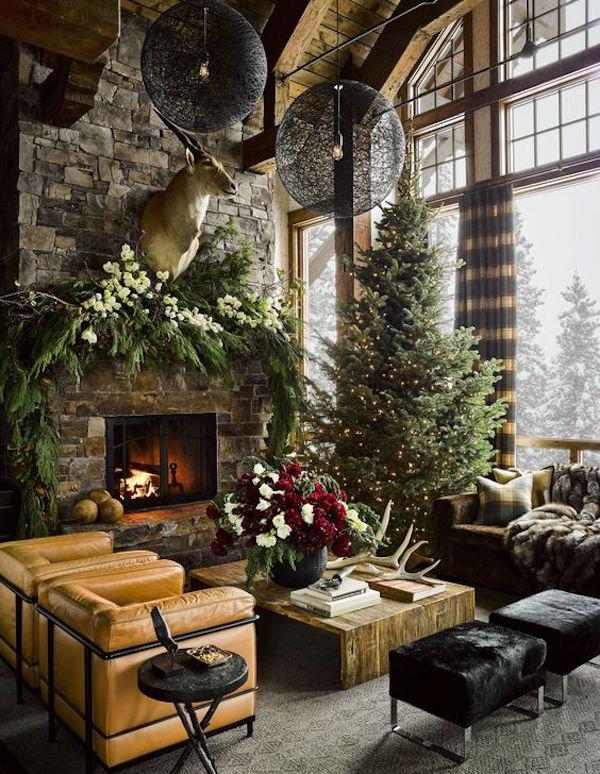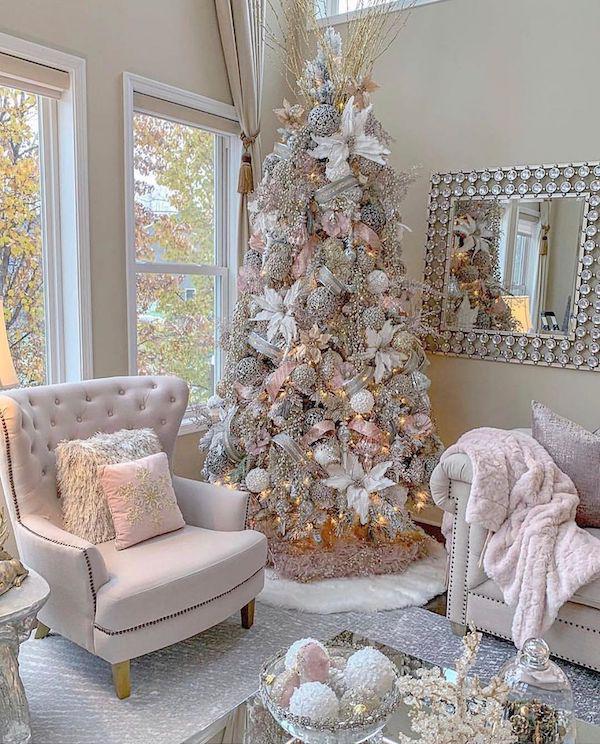 Frosty Living Room Christmas home decoration idea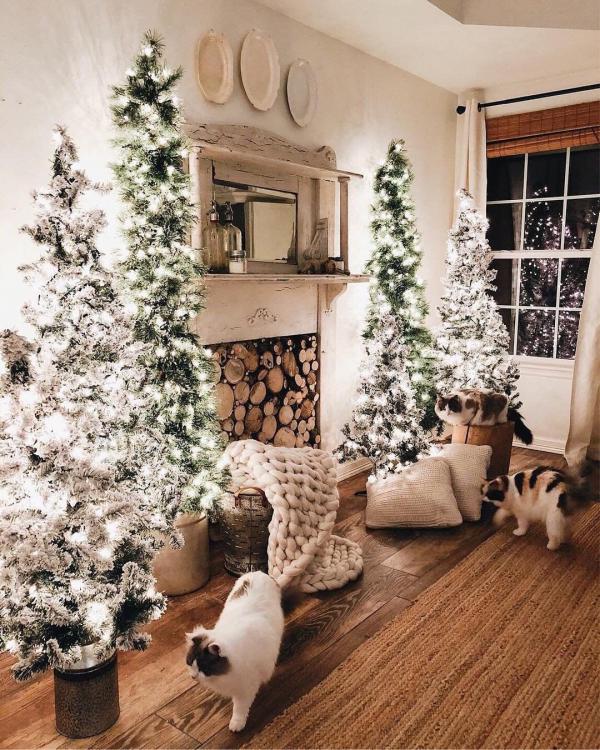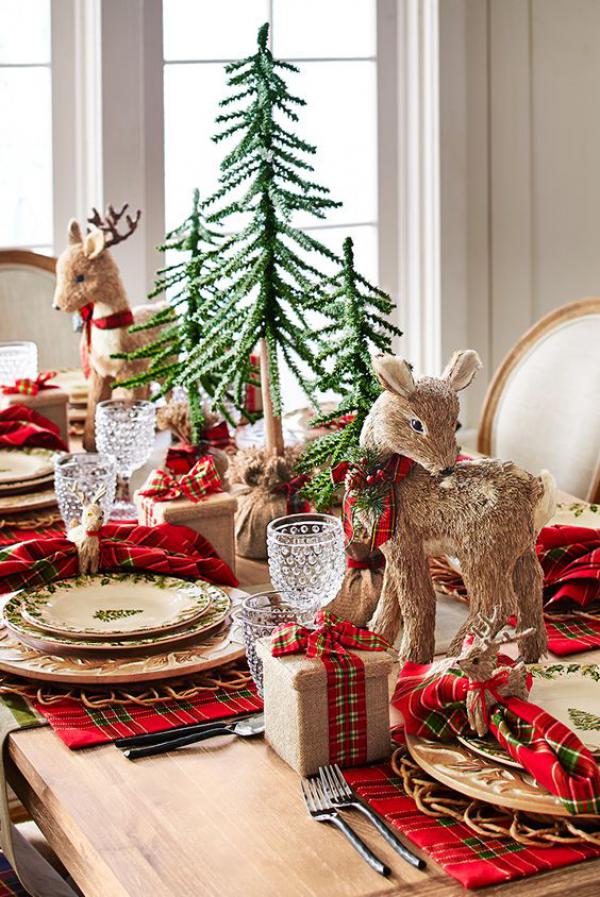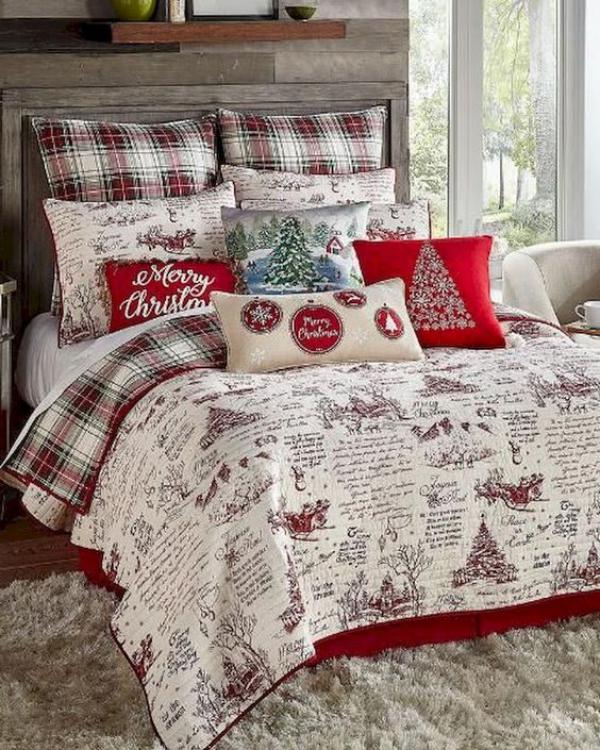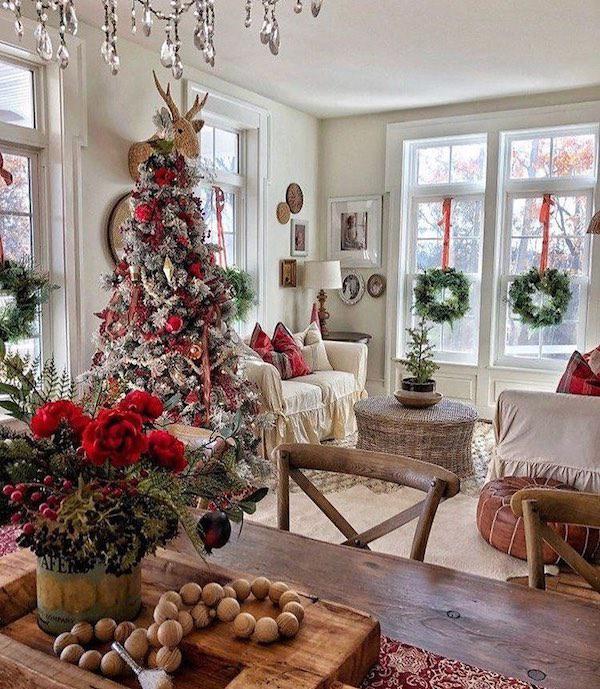 Reindeer on the tree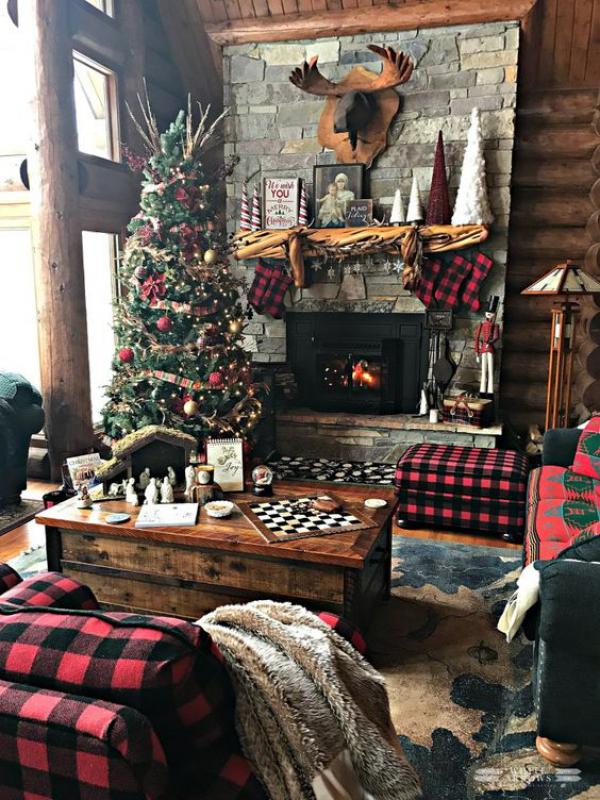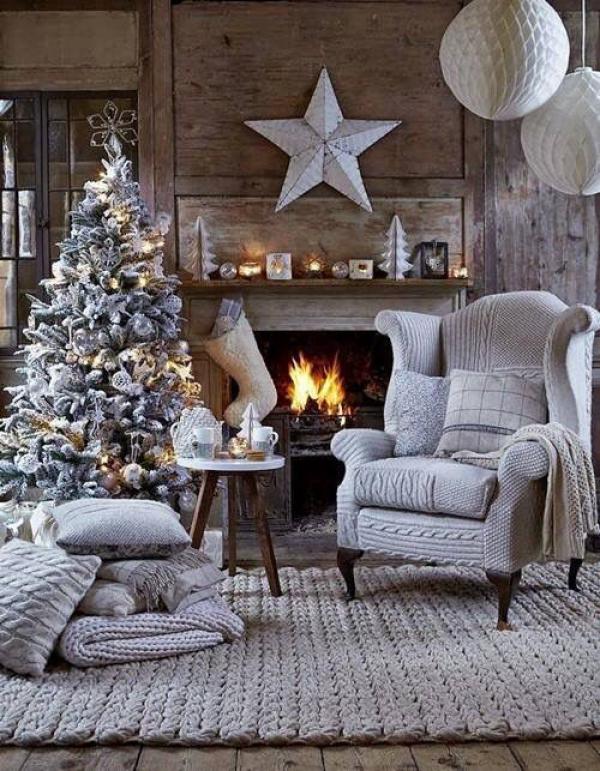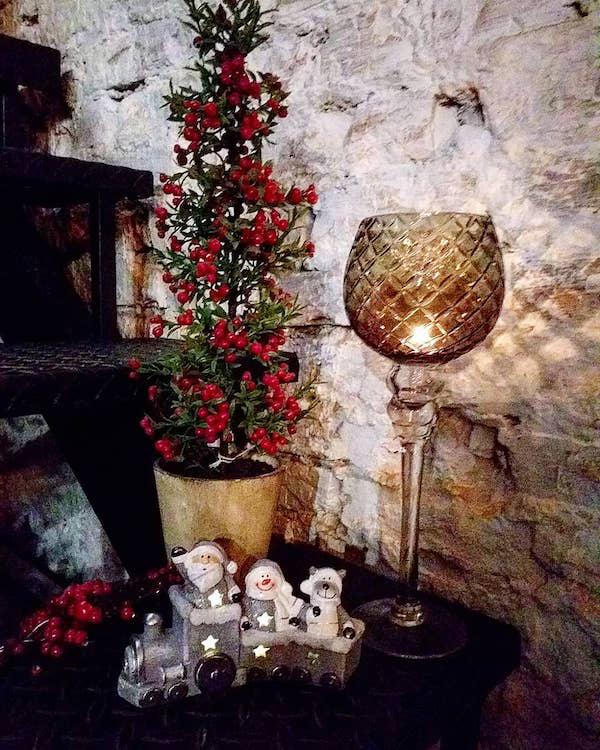 Holly Christmas tree
Balloon Tree Christmas home decoration idea
source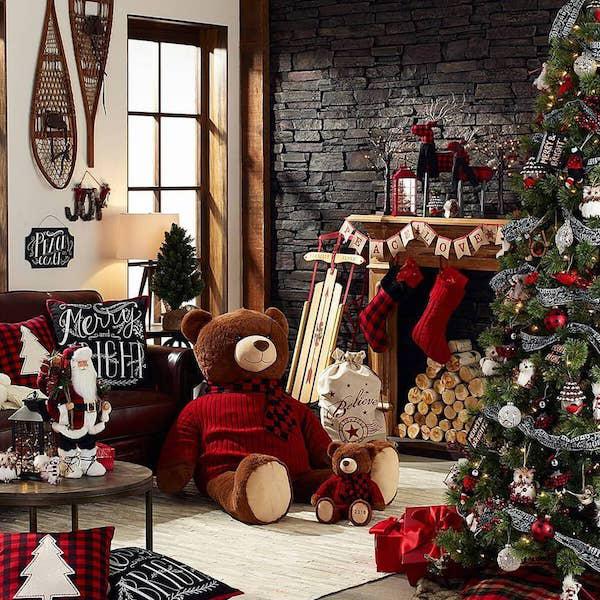 Christmas Wonderland