The purpose of this article is not to outline to benefits of guest writing, I am aware that not only have I covered that idea before, in previous guest posts and interview. But it is something which has been previously covered before on the web. I wanted to share with you the good and bad experiences I have experienced on a personal level when writing for various design sites and also share the experiences I have had hosting guest posters on my site.
You see not only have I taken my time out to seek out (and also be approached) guest writing opportunities, but I have also taken the plunge in offering guest writing opportunities myself. Most have which have been really positive experiences and something which I will continue to do so for long into the future.
Here at Nenuno creative we are looking to expand our guest writing standing, and we are inviting you all as a design/creative community to get in touch with us to share any ideas for possible guest post topics. We are particularly keen to widen our article span to include topics and tutorials on WordPress and other strands of the web design and Content Management systems (CMS.)
Personal Experiences with Guest Writing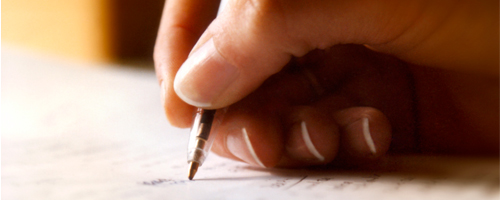 When first writing I was always building up my knowledge and experiences and trying to improve myself not only as a designer, but as a writer as well. My first forays into the online writing world were probably not my best moments. But these first steps were essential as the stepping stones to where I am today.
The best experiences and one of the biggest motivators I have had when writing was having a positive relationship with the person you are writing for. My initial writing was minimal at best but Andrew Houle (who most people will know from his previous inclination as owner of myinkblog.com (up until recently,) was the first person who took me on and gave me my first solid writing opportunity. Previous to that I had been discarded by several sites who in some cases, threw away my efforts and were very abrupt in there communications.
The positive factor in having that solid email contact meant that if I had a problem, or a query about the article I was putting together I had a point of contact. I was given full reign to write on a topic we had talked about and found this to be the spark point at which my love for writing online was ignited. Building up a working relationship/ friendship with website owners when putting together guest posts for them is a major factor to if a writer is going to come back and write for you again. I would like to signal out both Andrew Houle and more recently Nate Smith (of Box Model Junkie) who I had a particular pleasure with guest writing.
Guest writing has been positive on my in other ways, I was also lucky enough to be asked to write for the blog of the brilliant podcast Teesinapod. From this it also lead me to be interviewed later on and be featured talking about guest writing with them, my guest writing was recognized so much so that I was talking about this very subject.
Getting paid of course is also a good thing, if a site is bringing in the money and is open to guest offers. Reward them, give them an incentive to write the best and most interesting articles. I wrote under a tiered system, which saw my writing improve over the three articles I wrote at Myinkblog and I believe my writing improved over time which meant that the financial reward for my articles repaid this effort. So make sure that you are rewarding the people, who are going out of the way to write for your site.
On the flip side we aren't all able to offer financial reward, for the most part design blogs and site offer an author information box and will offer credit at the bottom of posts. This is a great way to give the writer a link back to posts and show that you recognize there work on the post. Unfortunately I have received the opposite and disappointing event where my writing has since been removed of all credit, and even when this was pointed out little effort was made in rectifying the situation.
It's a shame that this isn't the only way in which this website owner is ignoring the effort of the people who put time and effort into helping them with various aspects of there website. People are seemingly happy to continually rip off content from the larger more recognized sites such as Abduzeedo and reproduce the same article. With no scope to spin there own creative ideas, on the same subject.
People taking down your author information and then taking credit for the article themselves is something you should be wary of this possibility occurring. Some authors and sites don't have the best motives online, you may experience people who are willing to trample over a relationship they have created. As ultimately they may have other goals in making money online by whatever means possible, or they may eventually lose their drive and motivation for the site they run.
You are also at the mercy of losing your writing if a website you write for is later sold or if that website is discarded by the owner. Not everyone has the time in running a website, some people fall in and out of love with writing. These are factors we can often not foresee, I have had the personal experience of a site selling up and being sold on to someone who removed all of the content to change the direction of the site. My guest articles have since been lost to the wind, and in my opinion those articles not only were some of my first writing but also so great articles which I worked hard towards. Yes I was financially rewarded for my articles, but I can't deny I'm disappointed to see the site close and my articles be lost.
Personal Experience with Guest Writers

Again personal experiences come with the good and the bad, I have been lucky enough on my site to offer guest writers opportunities, in the same that I have been. Not only as a site owner does it allow me a slight break if people are offering posts for you to post but it has brought some real positive experiences as well. The first great positive for me was a build of relationships with fellow creatives and designers, some great people I have come across have been; Chris Trude, Michael Dambold and Dspickett.
Each individual I knew in small circles via twitter and other social networks, but working with them through writing projects really helped build up a positive relationship with them and its really helped the writing experience. I think that on a personal level I have tried to be as open an available to guest writers as possible and I hope that all three of these guys would testify to this. I would encourage you to be as available as possible to your guest writers, whether it be on Skype, email or other method. Have open communication lines to offer up advice, be approachable for further opportunities and more. As you never know what kind of relationship your next guest writer may bring.
The back and forth of email in particular I don't think he will mind me saying between myself and Michael was a particular highlight, or a DM on twitter. We felt that the constant communication elevated his comfort level in writing for Design Juices and he got a really good personal article which did really well and I hope to see more of his writing in the future.
Something I have really enjoyed being a writer who stretches himself over several sites on the web, is that i'm not always on my own site. So when previous guest writers are positive in taking the step in offering up more than one article, I really love them taking the initiative. Guest writers should be positive enough in themselves to asses if they had a great experience in writing why not do it again? DSPickett has done this so much so as to now be a part of my team of writers at Design Juices, and has opened my mind to the opportunity of having a team of writers to help my make Design Juices as positive an environment as possible.
Another great working relationship which has developed was a recent guest poster @manifest_1, who is always in contact with myself, we worked together to understand a concept of article writing he was trying to convey. It may not be the first draft which gets posted straight away, be patient and willing to improve your writing to the levels you can achieve. Don't be offended if a site is willing to work with you to expand your writing and improve an article, you should work with them as much as possible. Often they will have more experience in knowing; if your topic has been covered before, length and content of an article. Take their advice and offer up your own opinions as well, working with @manifest_1 I think we achieved a great article and we are already excited to see what other writing comes in the future.
Now some mistakes can be put down to inexperience, and are easily fixable. But I would encourage people to make sure you have an understanding of the writing ethic and etiquette when writing for sites for the first time. Be sure to read up on what the website expects from its guest posters, often they will have a dedicated page on their site outlining what you will receive in return for your writing. (Our page for guest writers can be found here on Nenuno.) Make sure you read all of this before first contacting sites to write for them, if you don't follow any of these guidelines then mistakes can be punished through sites discarding your article and dissolving any future relationship with you.
A big black mark to avoid is posting on more than one site, this is a mistake which is not tolerated on any site. Make sure that your content is as original and in most cases as personal as possible. Try to write about topics which you enjoy, and will have fun in researching and learning about something. Build on the knowledge you already posses and have that come out in the article. Sites if they find your mistake of posting to more than one site can serious dent your presence on the web and there is also the possibility of them tarnishing your name across the web so be sure to watch out.
One of my biggest bug bears by guest posters who I give the opportunity to write for my sites, is that they don't keep up with the comments and conversation in the comments on the post. You need to be a part of the discuss and act as a kind of medium to the responses you receive from the readers, in my opinion any writer should keep up with the comments posted on their articles; guest writer or not. Another of my personal bug bears with using guest writers who dissolve all communication once there article is up, it shows a lack of respect I often feel. If you have built up a relationship once you have written an article why not keep up that relationship, obvious you should watch that you are not making a nuisance of any relationship. But don't discourage the person and dissolve a positive contact which may help you in the future, with more work or a pass on of work opportunities.
Check out my Articles across the Web
10+ Creative Kinetic Typography Videos

20+ Photo Manipulations Which Shout Creativity
Splashes of Inspiration: Enlightened Typography Artworks, Portraits & Typefaces
written on Box Model Junkie
25 Superb Photo Manipulations from the best Digital Artists on the Web
written on Creative Fan

Finding a Design Community Online
written on Design O'Blog
10 WordPress Plug ins for a more Interactive Design Site
written on Inspire Bit

30 Typography Wallpapers for Your Inspiration
written on Junkiee

3D Design Inspiration: Awesome concept 3D Model Vehicles
written on Lucas Cobb Design


Facebook and its connection to the design communities
written on Onextrapixel (Smashing Magazine)

The Benefits of Guest Writing
written on Teesinapod

What Benefits does Guest Writing Bring
written on Tripwire Magazine
Dark and Emotive Portrait Photography
written on Webexpedition 18


Five of the Best Industrial Design Talks on TED
written on Webexpedition 18
30 Product Package Designs Showcasing Amazing High Quality Package Graphics
written on Design Beep

Sexy Glasses Portrait Photography
written on Inspiredology
Be sure to leave any comments thought and opinions below.