It's about time to make your own masterpiece
Planning on entering the world of digital painting? In today's modern world more and more people are having access online. Why? It's because tots of things can be done on the computer, shopping, chatting as well as looking at things like art. It's not just art that you can takes pictures of from the museum or from the streets, its art that has been made digitally. How is this? You may be used to seeing painters make their masterpiece through paintbrushes and oil, and the idea of doing this on the computer is simply so outstanding for you. Digital painting is brilliant, surprising and definitely doable.
All you need to do is to grab your drawing tablet and upgrade those drawing and art skills that you have. Being motivated is important in painting. Just like any other artist you must have a goal or an objective to reach. In order to be good at digital painting you need to condition yourself into learning new things and practicing as much as you can to achieve the art style you always wanted to have. So start setting up your drawing tablet and drawing program and take a look at these helpful tips that can possibly help you make your very first digital masterpiece.
Always start things with a sketch
It's important that you draft out your ideas first. Sketching helps you think about the composition, colors and the lighting effects that you could work on as you go. You may take your time in sketching as it will be your foundation for the outcome of the art. Don't be too worried if your sketch does not come out good, most sketches are meant to be messy. Make sure that you cover everything on your sketch. Missing a simple detail can make things hard for you on the long run and you would not want to repeat everything again from scratch just because you left out a minor detail on the sketch.
Fill in the elements
Now that you are done with your sketch it's time to gradually add in the elements. You can use a lot of brushes that you can work on with digital painting. It depends on which one works for you the best. For starters round brushes are normally used because they can be adjusted easily and does not give the rough edges on your drawing. It's also in this stage that you have to consider your light source and shadows intricately. Wrong casting of shadows can affect the entire coloring process and the entire drawing as well. Make use of the color picker and start grabbing colors while you are blending them.
Smudge and blending
This is the most exciting part of digital paint. When you just love how the colors come together to form a part of the drawing then blending will be your favorite part. This is where you get to combine colors, create highlights and deepen shadows to make the artworks stand out. You can play along with each detail of which part of the artwork you would like to highlight and which part stays within the shadows. This is also where you usually use custom brushes to help you out in contouring and detailing your work. There are a lot of custom brushes that you can find online that would help you in hair detailing as well as skin smoothing.
Layering
It's a must when you create digital paint. Not if you want to destroy the entire canvass when you don't have extra layers around. It is always better to work on various layers to protect your main layer and background. The number of layers depends on how you would want to work with them. There are artists who prefer to work with smaller number of layers to prevent confusion. However there are also other artists who are more comfortable working with tons of layers. Nevertheless the more that you work on your digital art, the more you will learn about what layering type you wish to use.
Blurring
This is an important tool in making your digital paint have that soft and smooth texture. You can try and look at the various luring effects on the program that you are using. You can find a variety of them which you can use on your drawing. You don't have to blur every inch of your drawing as that would wash away the highlighting effects that you put, just choose an area where the blur needs to go and slowly work on the effect to get the results that you need.
Filters
Not all digital art need filters but this can help you out a lot when you need a certain color effect for your digital art. It makes everything look lighter or darker without the need to adjust the colors one by one. Color and texture filters are among the options that you can definitely try out that would give helpful color tones to your overall art.
These are just some of the options that you can tweak around when creating your first digital painting. If you need more tips you can always go online and search for blogs that give steps on how to create a style in digital painting. You can also try and look at digital paint for inspiration. Motivation and inspiration are the key things that you need when you truly want to make a masterpiece of your own, never give up on the first try and bear in mind that practice is always needed. Most of all enjoy what you're doing and have fun with creating your masterpiece.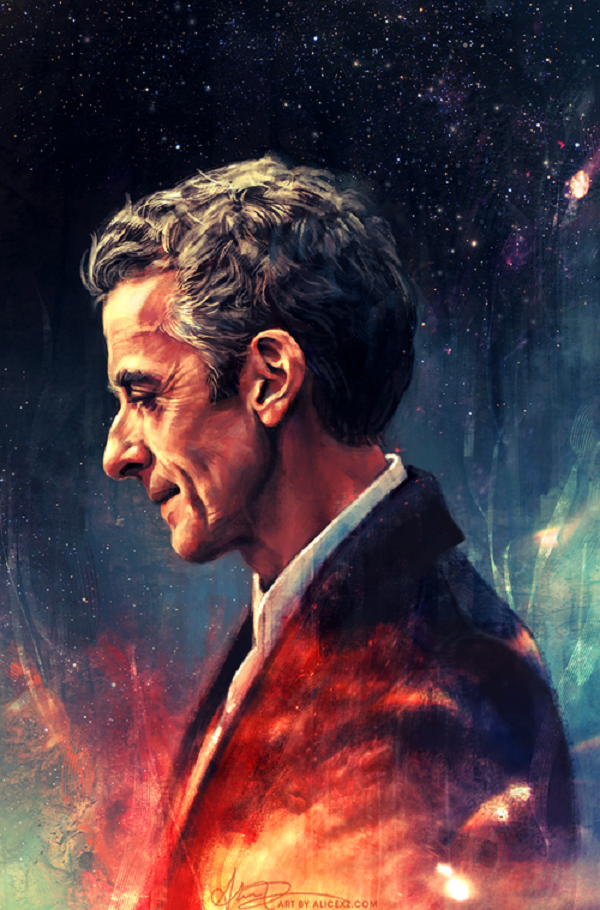 Digital painting by Dr. Alicexz. It shows the wonderful combination of a portrait and abstract background while playing around with cool and warm colors.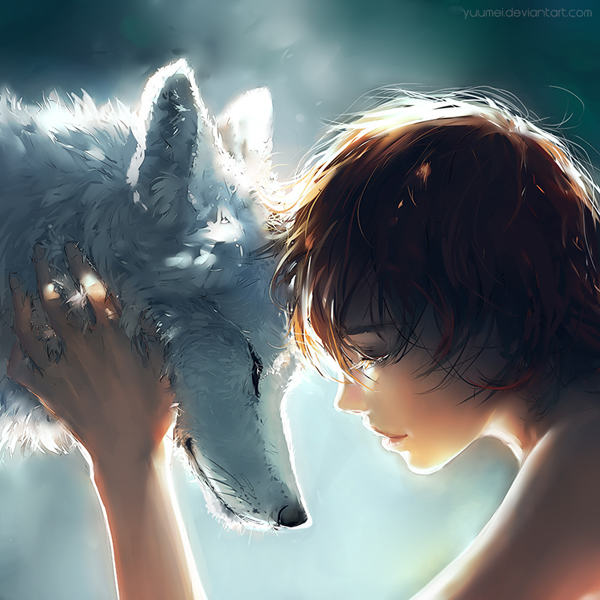 Digital art by Yuumei depicting a connection between wolf and human. The serenity of this digital art is highly depicted as the two creatures pause for the moment to connect with each other.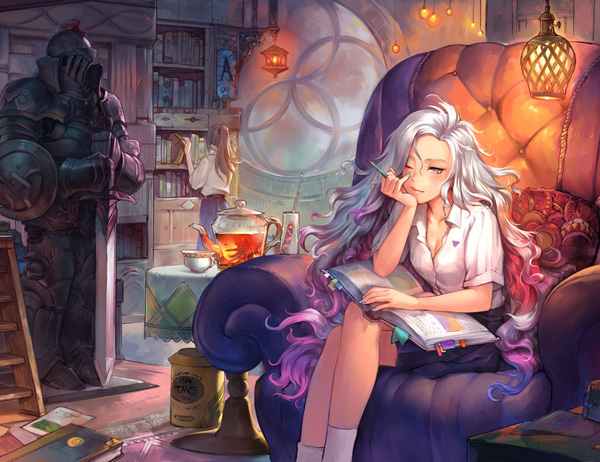 A light and simple digital painting of two girls in a library. There is a certain wonder in the painting that makes you think about the story behind the girls and what's inside the library.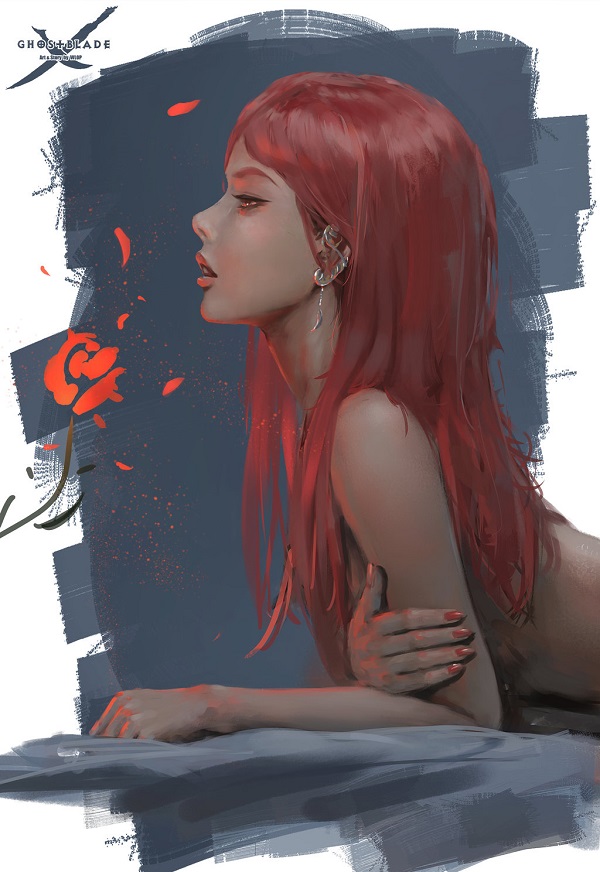 Ghost Blade digital painting. A fiery haired girl with a silver earring is painted as she looks onward to where the rose petals are blown.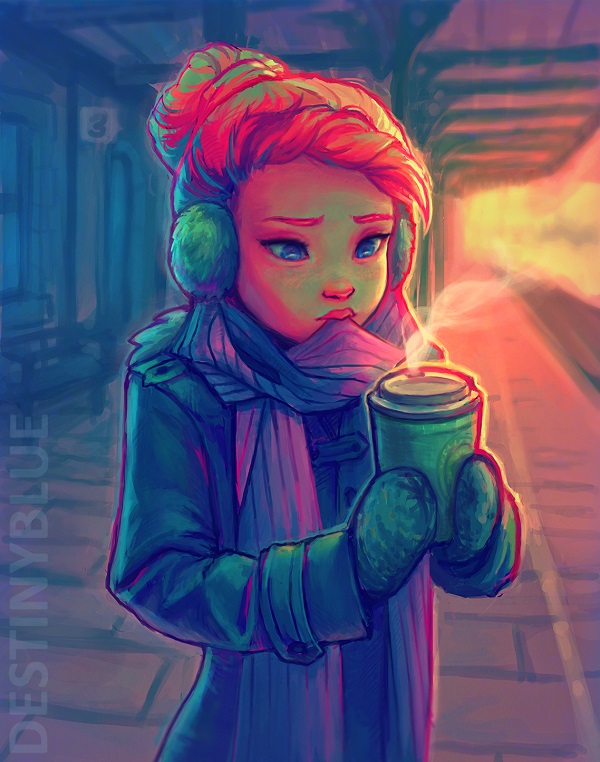 Digital paint by Destiny Blue. It's about a girl enjoying a warm cup of coffee amidst a cold winter night.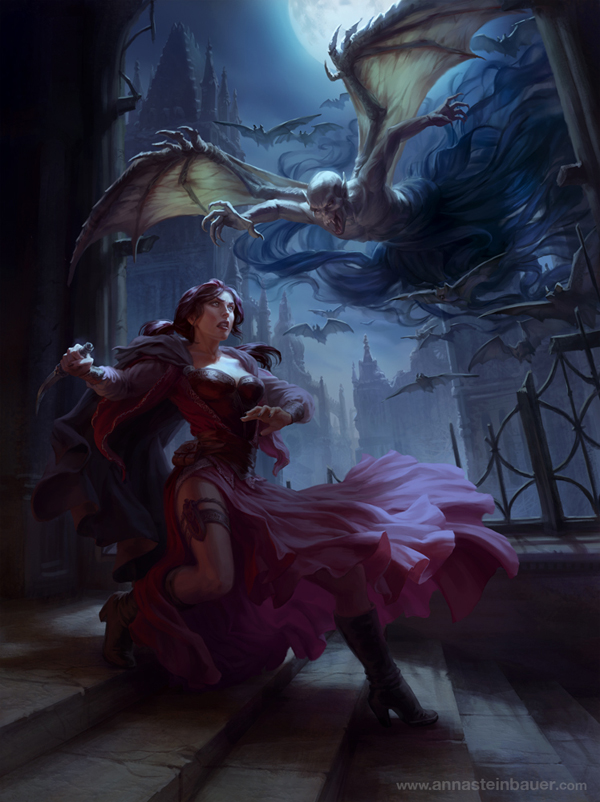 Fantasy digital paint by Anna Stein Bauer. The painting shows a woman being attacked by a ghoul like creature In an almost medieval midnight setting.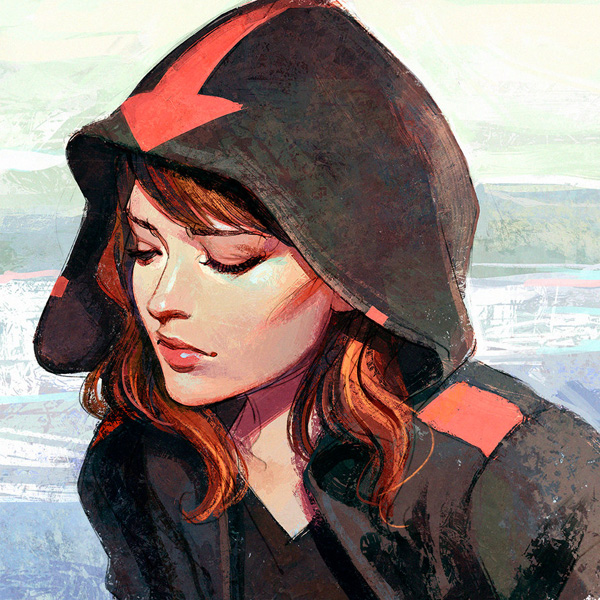 Beautiful hooded girl digital painting. This style pans more to the 2D style painting while retaining the 3D nature of the portrait.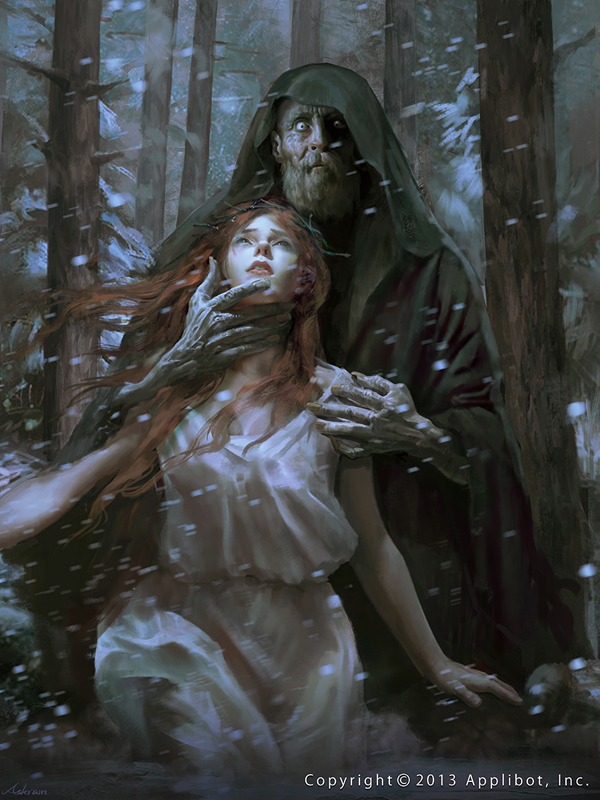 A mystifying digital painting of Hades and Persephone as he captures her from the upper world and drags he down to live with him in darkness. Art by Applibot.Inc.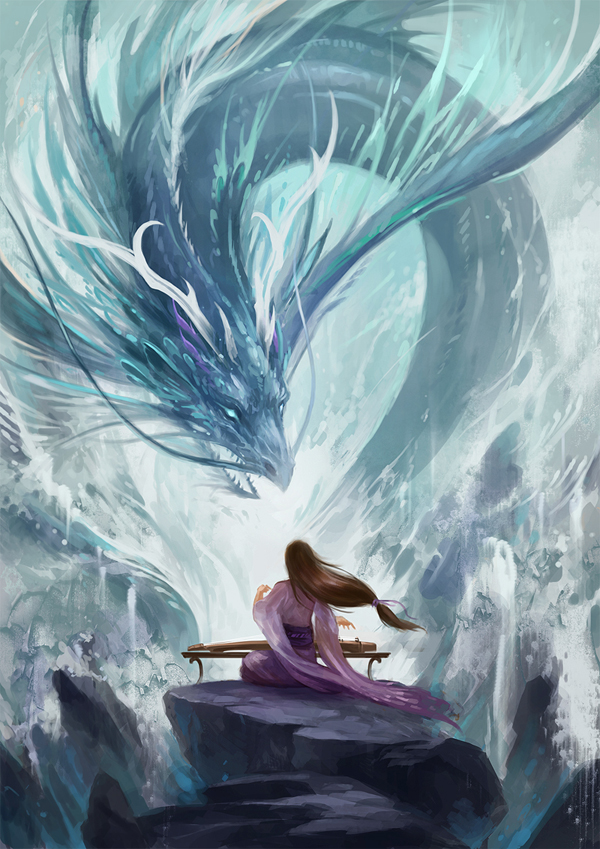 Magnificent water dragon digital paint with a woman playing the samisen. A peaceful yet powerful art that shows the serenity of playing within the waters and the power of the waves crashing down the rocks.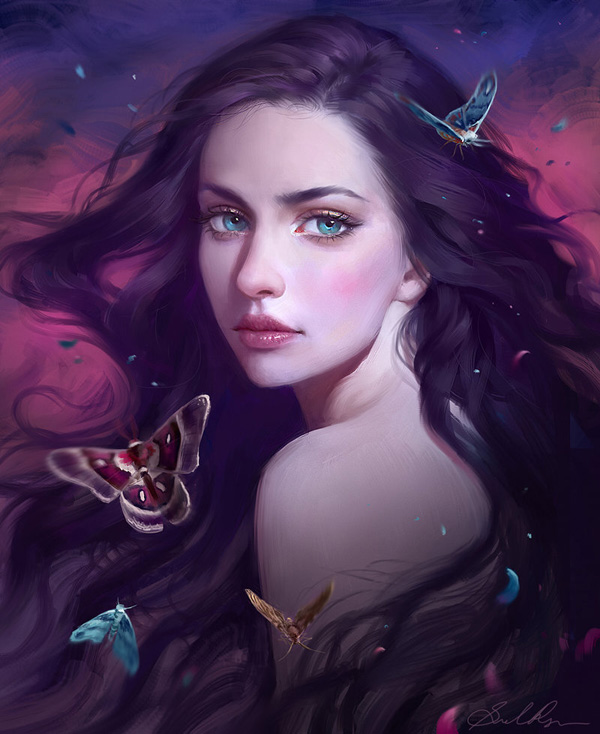 Digital painting of a beautiful girl surrounded by butterflies. The purple hue and overall dark tone contrasts with the soft facial features of the girl.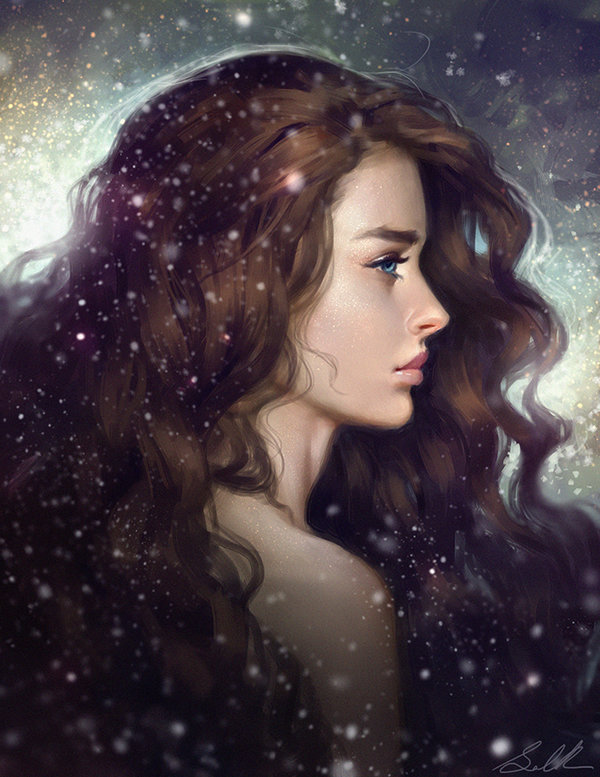 Wonderful painting of a girl experiencing the first snow. The snowflakes are depicted to be gently falling around her as she looks forward to the winter debris.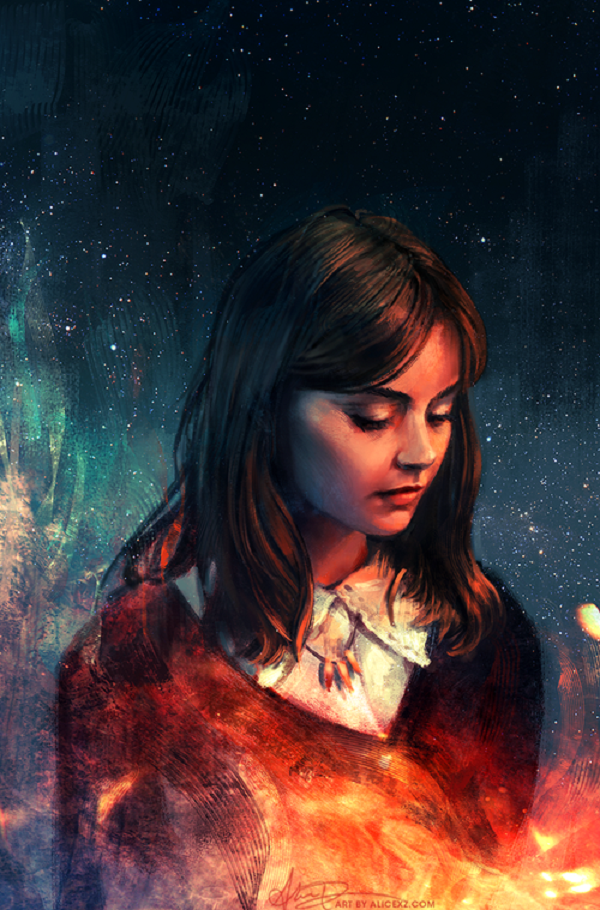 Digital painting of Clara Alicexz. It's a portrait of a young girl who has eyes downcast with a rather knowing expression.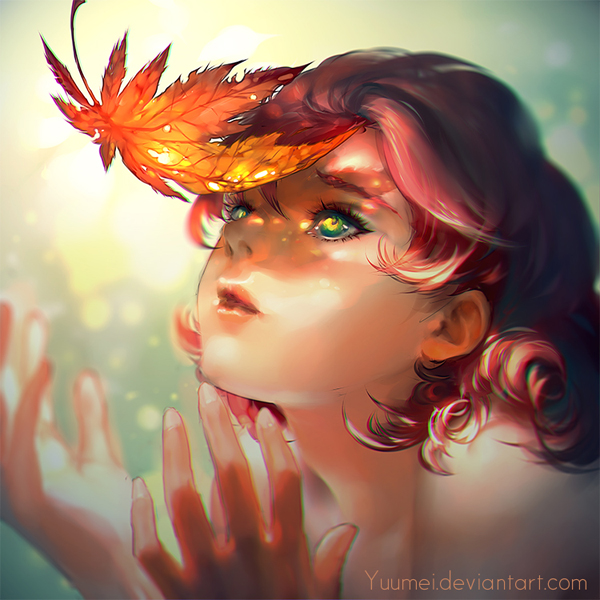 Another digital paint by Yuumei. The art celebrates the autumn breeze and you can just see from the warm and peaceful colors of how homey and wonderful autumn feels like.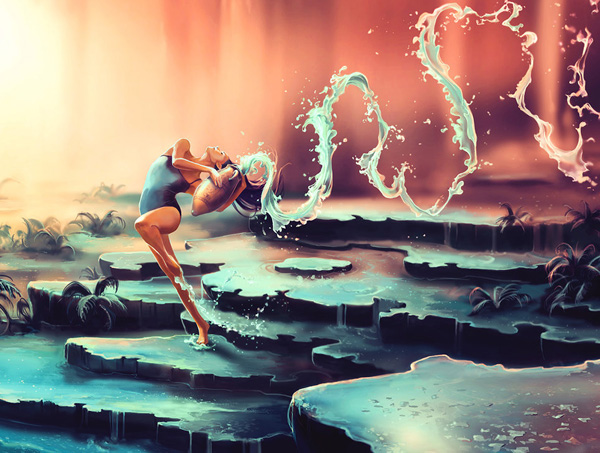 A refreshing digital paint of the Aquarius zodiac. Governed by water, the zodiac is painted as enjoying the bliss of being within its element with the water dancing along with her.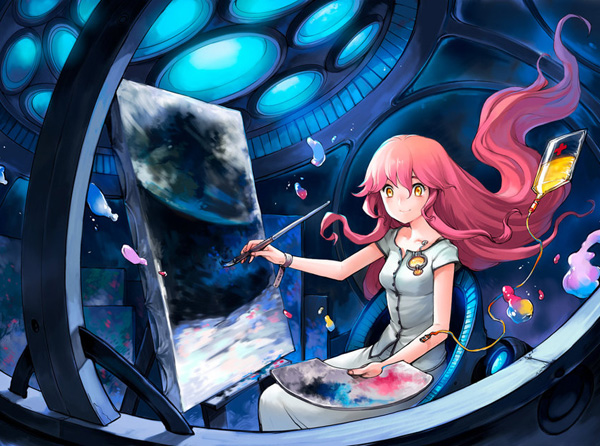 Girl painting the moon digital painting. The cute girl with sunny eyes is drawn to be painting the moon from a space ship like vessel.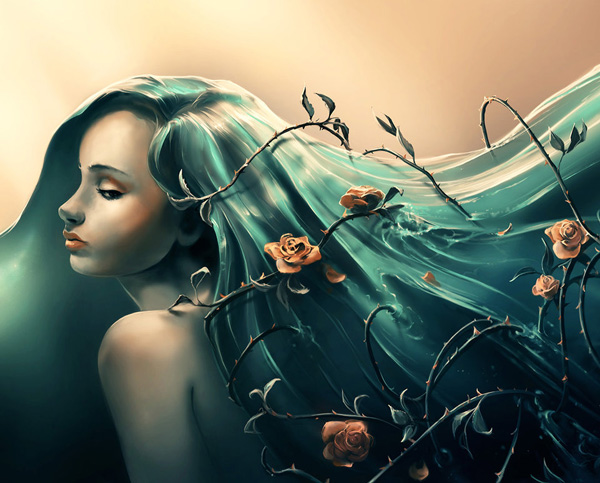 Amazing painting of a woman with thorns and roses growing out of her hair. Mystified and curious at the same time, the painting speaks of the troubles that hang on to you as you go through with life.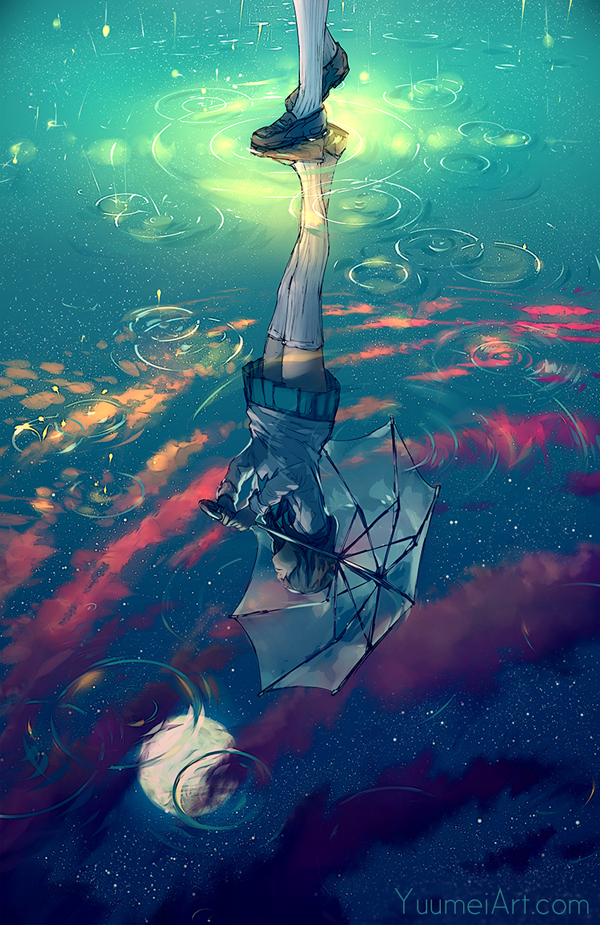 Wonderful perspective on this digital paint by Yuumei. The sky is seen through the reflection of the girl's feet where there is a puddle formed because of the rain.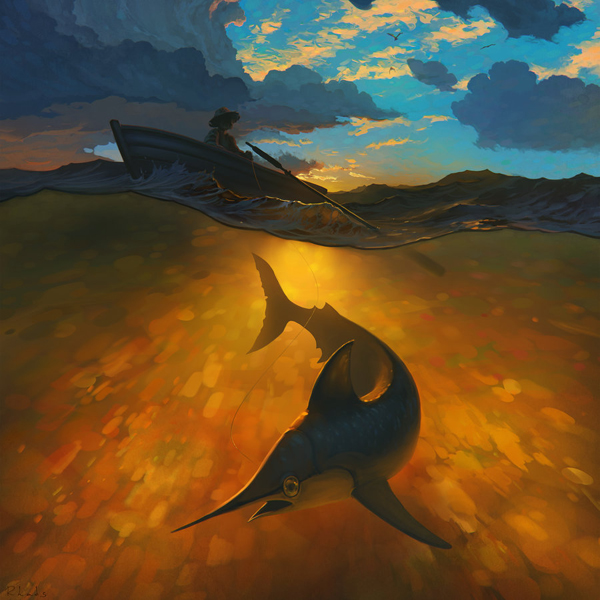 A rather powerful and magnificent digital painting of the sea and what goes beneath it. Above is an old man on a boat while below the silent waters is a creature and wonders that one could ever imagine.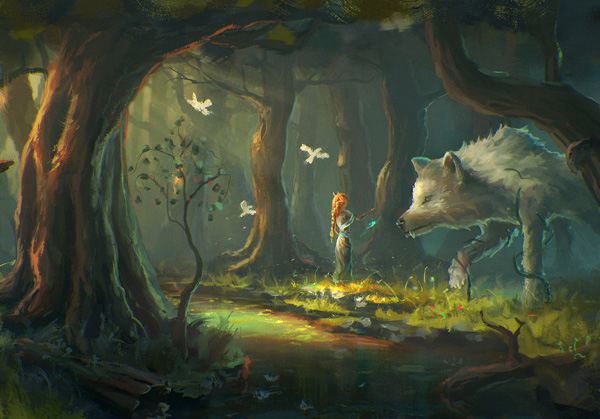 Another fantasy inspired digital paint. Here we see a lone woman with birds to accompany her communicating with a giant white wolf in the middle of a magical forest.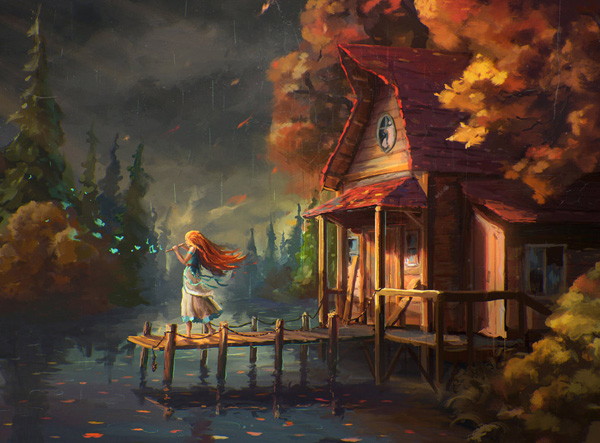 Cottage by the lake digital painting. A girl is drawn to be playing a flute outside of a pretty little cottage by the lake. Birds are seen to form from her musical notes.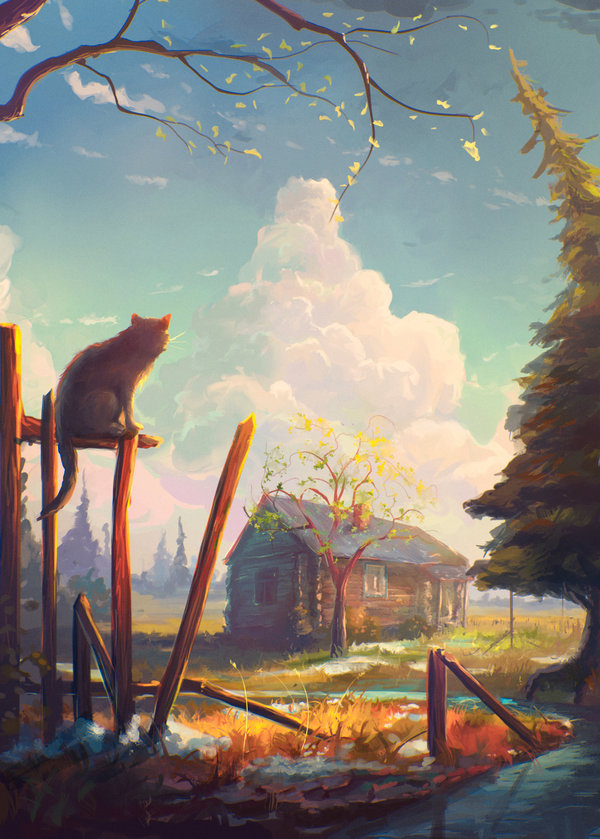 Serenity depicted in this wonderful digital painting. A cat sits by a broken fence overlooking a small cottage in the middle of the field.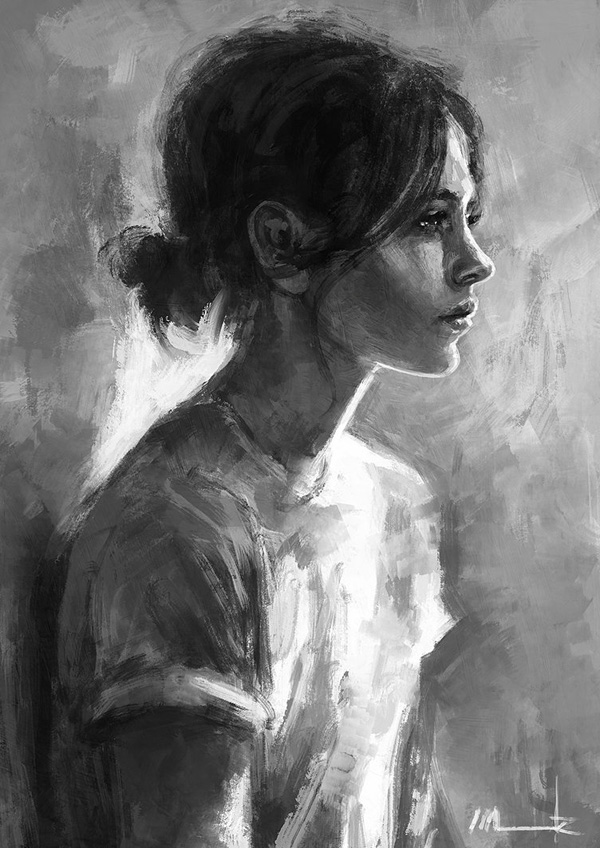 Monochromatic digital painting. A woman is painted in black and white colors, looking far away with disheveled hair and humble clothing.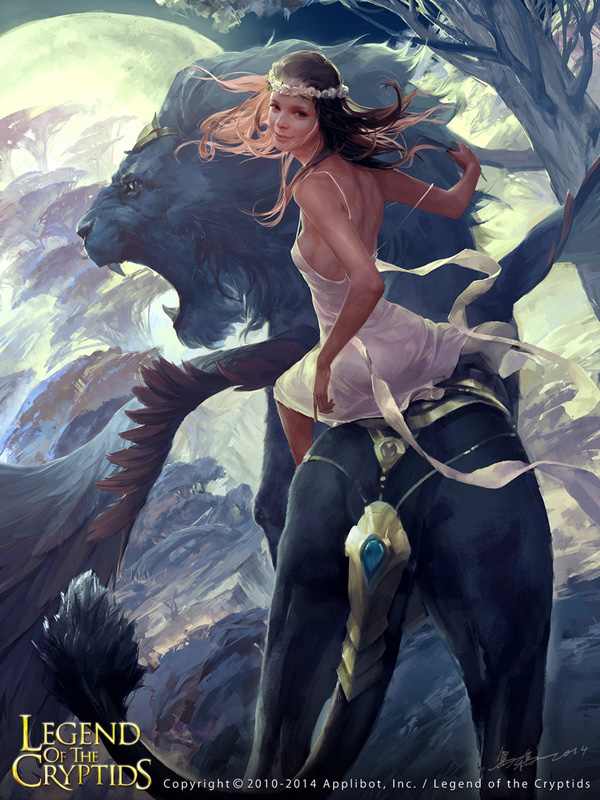 Legend of the Cryptids digital paint. A woman in white with a flower crown is drawn over a mystical creature that looks like an armored lion.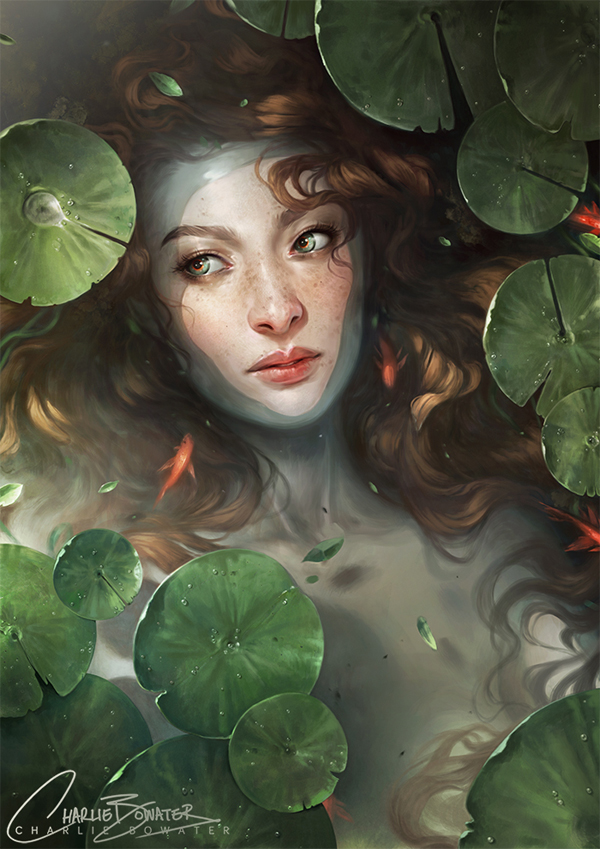 Marvelous digital painting by Charlie Bowater. A woman is drawn to be lying in water full of lily pads and she is seemingly looking unto her side expecting someone to pass by.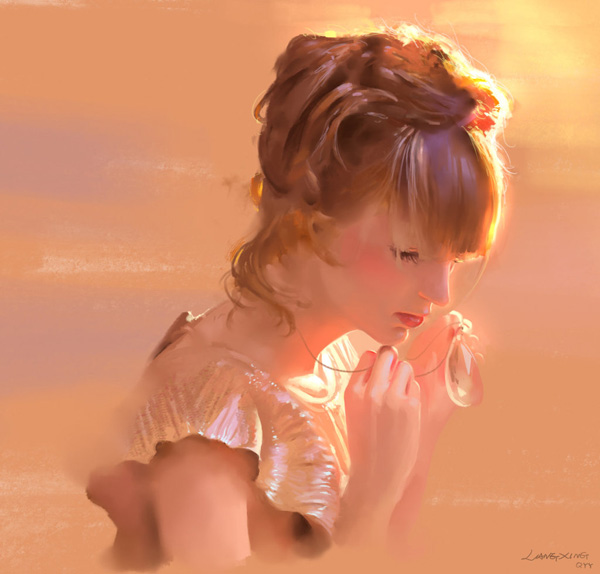 A beautiful and soft digital painting. A pretty girl is drawn looking at her necklace in this light and cherry toned painting.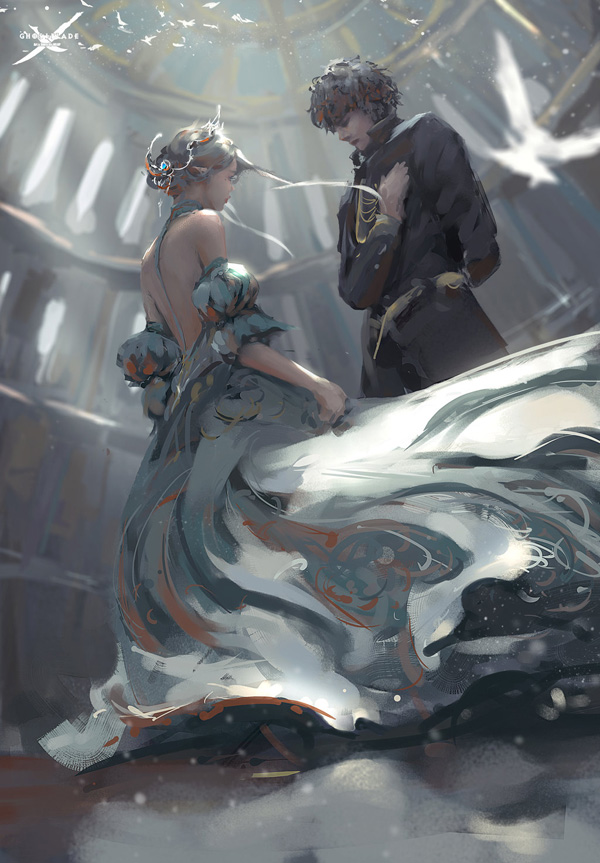 A painting of a man and a woman in a fantasy medieval setting. The man is drawn as if to promise something to the woman who appears to be of noble status or a princess with a crown and flowing blue dress.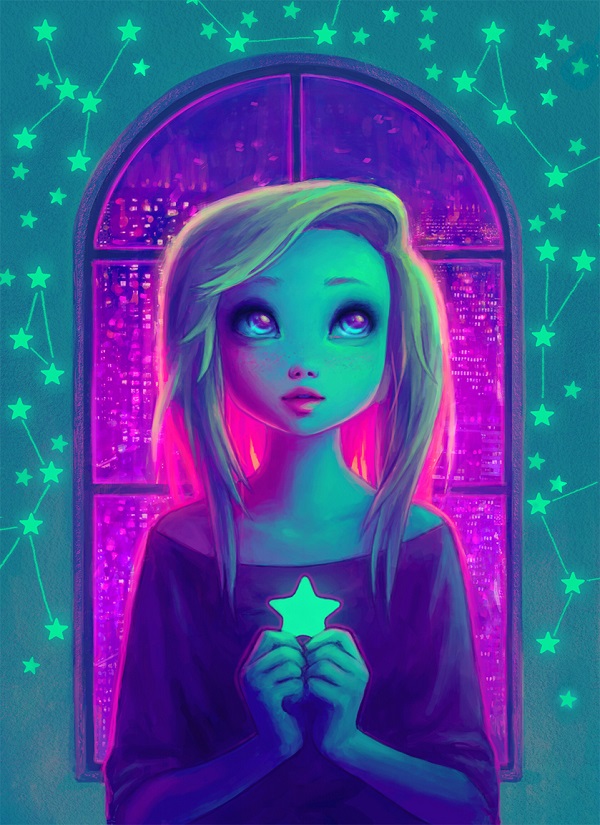 A quirky yet endearing digital paint of a girl holding a star. The magenta and blue color combination adds to the mysterious and curious world in which this girl is wishing for in.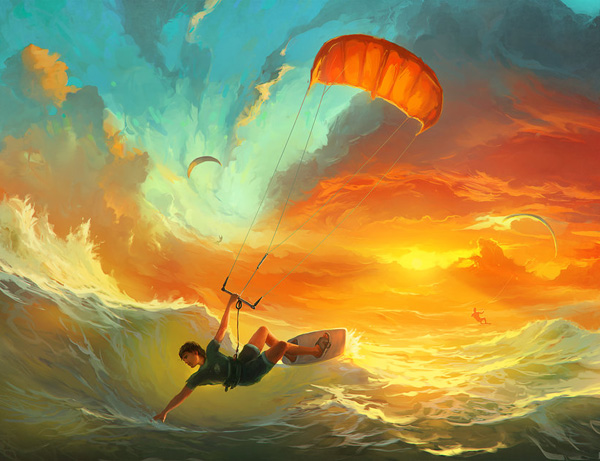 Action packed digital painting of a boy parasailing through the sea. The wonderful sunset is also depicted beyond the horizon giving you a sense of tranquility.