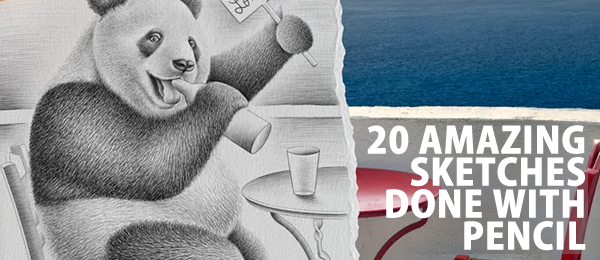 A sketch, by definition, is rapidly executed. It's a quick way of recording an idea or a small study which serves as practice or research for a final piece. Pencils are cheap, readily available and take no time to dry, so you can see why they're perfect for sketching. What's more, if you make a mistake, you can simply whip out your eraser.
Most of the drawings below are sketches in the true sense of the word. Others have clearly taken a while to produce, but are so staggeringly impressive that they simply had to be included here. Hopefully you'll feel inspired by the images below to do a sketch of your own – all you need is a pencil and paper, so give it a go!
Father and child are lovingly represented here. The expression of a proud new father has been captured perfectly.
30 hours of work went into this pencil portrait and it's really paid off. Every wrinkle and liver spot has been painstakingly included.
3. Wernberg (Pernhart Markus)
Attention to detail is second to none in this extremely precise drawing of a German building in Wernberg, produced in 1850.
When it comes to this portrait, it's all in the eyes of the young genius who is recognised today to be one of the most talented composers of all time.
This terrific portrait is not new – it's almost a quarter of a century old. The shadowing in the subject's clothing is superb, as is the faint suggestion of cigarette smoke.
Neither the name of the artist nor the subject of this portrait is particularly easy to pronounce. What is clear for all to see, however, is the real quality of this drawing, most likely produced in Copenhagen of the 1850s.
I really love this sketch, which depicts at least 22 different female faces. August Corrodi, the artist, was a male poet and painter who lived in Zurich between 1826 and 1885.
8. Paris Streetscape (Ifmuth)
OK, so it's not just a pencil drawing, but all the lines were drawn in pencil, by hand. Colours were added afterwards with Photoshop. The image has a certain quality that's really endearing.
Wladimir Inostroza, aka Fredo, is truly one of a kind. His three-dimensional pencil drawings are out of this world. Whoever thought that a pencil drawing could interact with its environment in such a way?
10. Utero (Fredo)
Instantly recognisable as another Fredo masterpiece, this drawing shows an elephant literally bursting through the page. Would you believe that Fredo drew this at the age of seventeen?

Ben Heine is another artist who sketches in a completely unique way. By introducing drawings into real life situations and then photographing them, he manages to blur the lines between imagination and reality.
12. Panda (Ben Heine)
Ever seen a panda sitting on a balcony drinking out of a bottle? No, neither have I! Welcome to the crazy world of Ben Heine, once more.
13. Celebrity (Iain Macarthur)
Is it Lady GaGa? It certainly looks like her, but it's hard to be certain. What's for sure is that the use of negative space to represent her hands looks really, really cool.
14. Krush (T.S. Abe)
It's incredible to think that such a photorealistic drawing could be produced with pencil and paper alone. This really is a work of shading genius.
Pencil drawing does not have to be restricted to the page. Cesar Del Valle has broken free from the shackles of traditional portraiture and drawn many of his creations on walls.
Most artists prefer to use pencils for portraits, hence the lack of landscapes in this list. I'm very pleased to include a piece of Haydex Li's work, however. Haydex tends to focus on construction sites, piles of rubble and other vistas which often go unnoticed.
17. Frederik (Kim Holtermand)

Babies' faces are smooth and often rather featureless. This makes drawing them in pencil all the trickier and requires a highly skilled technique, like the one employed here.
18. Form (Jonny Shaw)
Jonny Shaw is a magnificent artist and I strongly suggest you seek out some of his scarily realistic portraits. For the sake of variety, I've chosen to include one of his equally impressive abstract shape sketches. You can't fail to admire the dedication required to produce a piece of this quality.
19. Cat (Paul Lung)
Pets tend to be furry – especially cats – and furriness adds great complexity to pencil sketches. Paul Lung takes this in his stride, often selecting the furriest of cats to represent. He does it so well.
An impressionistic take on a camping trip. One shady figure takes his shoes off, another seems to scrutinize the contents of a saucepan, while a third makes adjustments to the tent.