COLORISED® and Nenuno creative supports Internet for Peace with an online contest. 20 T-shirts from the KI-MONO Collection to be won!
COLORISED® is the new Made in Italy apparel brand that setting the Internet as its own development center, supports Internet for Peace (the initiative launched by themagazine WIRED) with the online contest "Tees for Peace" in the final dash towards theassignation of the Nobel Peace Prize to the Net. 20 T‐shirts from the KI-MONOCollection by COLORISED® are at stake! Customized with the winners' phrases dedicated to the Internet and its nomination for the Nobel Peace Prize.
The
Tees for Peace
contest will take place between the
15th
and the
30th
September 2010 only and exclusively in the Internet through the main social networks. Users who want totake part just need to connect to the COLORISED® Facebook fan page (
www.facebook.com/COLORISED
) and write his/her own thought dedicated to the Internet and its positive impact on humanity in 140 characters max, followed by the code
#i4p
. The authors of the 20 most voted phrases will win a t‐shirt from the KI-MONO Collection by COLORISED® with their own winning phrase printed on it.
The people of the web will be electing the 20 most impressive phrases through a simple click on the "Like It" button. The 20 winners will be announced on October 8th at 11:00 a.m. at the same time with the official nomination of 2010 Nobel Peace Prize winner.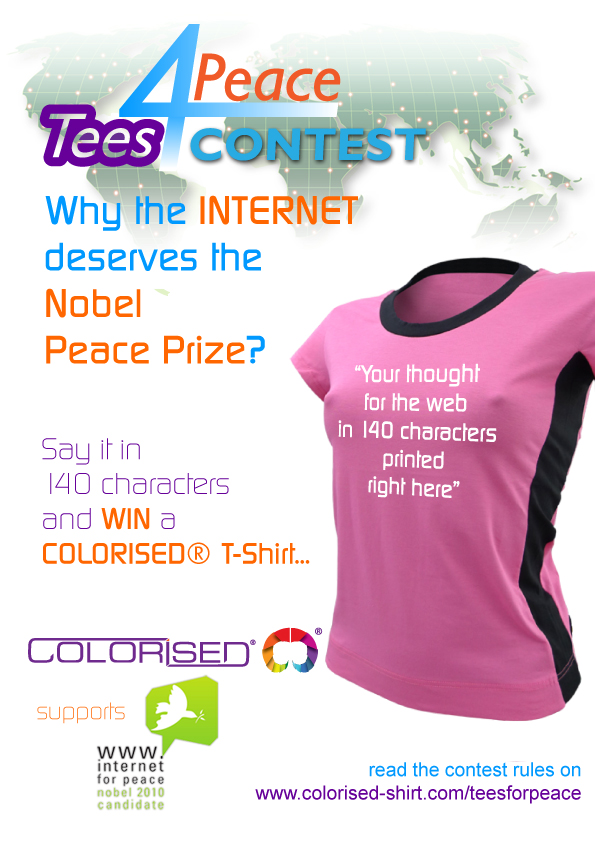 This contest aims to strengthen the message the initiative Internet for Peace brings along, showing once again how the web brings all time's and space's, cultures' and languages' barriers down, making multitude of people meet each other, come together having fun, withan endless ideas' variety to be shared and compared.
COLORISED® takes this initiative up coherently with its own start‐up mission which intends to give the Made in Italy a new dash through the online marketing and customization of its products, thanks to the immediacy and wide diffusion of the web.
Official webpage
www.colorised‐shirt.com/teesforpeace