Yes it's that time again, another fantastic give-away which has been kindly been provided to us from our friends over at redbubble!
We are able to offer our lovely readers of nenuno creative the change to win 1 of 3 T-shirts from the massive creative collection that redbubble has to offer and its something we are very excited about. To celebrate we have also added a Tee Design category!
Who Are Redbubble?
Redbubble allows any designer, illustrator and writer to sell there work with zero hassle, they just need you to provide the raw file such as the psd orpng and they will take care of all the manufacturing. Think of it as your very own e-commerce store to sell all your work!
They sell all sorts of goodies from tee's, posters, cards, stickers, framed prints, calendars and canvases to just name a few and you will earn commission from any of your designs that are sold.
Be sure to drop by there Community and start getting involved!
Winners Announced!
John who loves Monkey Kung Fu with Knife
Francois who loves Oh The Humanity
Kelly who loves No Sign of Yetis
I will be e-mailing the winners shortly with full instructions to claim there new tee!
How Do I Win A Tee?
Entering this give-away is very simple and here's what you are required to do!
1. Drop by there Tee Store!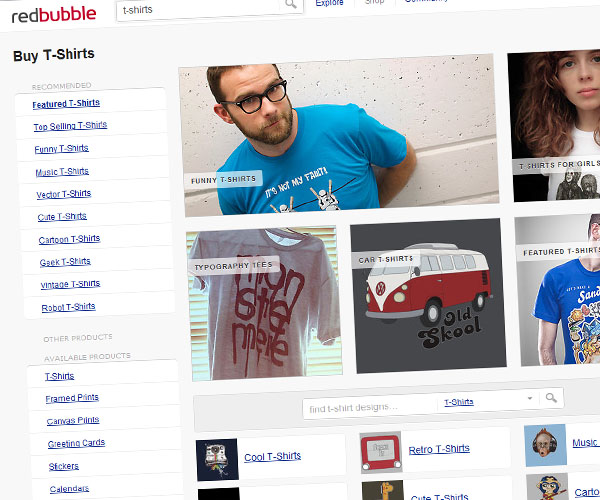 2. Find your favourite tee, from there huge collection! For further inspiration be sure to check out Get Your Tee On With Inspiring Designs From Redbubble. Be sure to check that it doesn't cost more than $29 or £15. Which will aid in extra delivery costs on our behalf.
3. Post a link to your favourite tee design and why you love it so much!
4. Be sure to tweet this give-away for extra promotion!
5. If you are eager to be updated when we offer more give-away's or want to keep up to date with our showcases and articles, be sure to check us out over at Facebook.
6. Last but not least, follow us and rebubble over at Twitter: @nenuno – @redbubble!
Who Can Participate In This Give-away?
We are happy to announce that this is a worldwide give-away as all delivery is catered by redbubble delivery which is normally 10 to 15 days. Obviously some countries are unable to receive delivery but that is down to other reasons!
Just follow each step as listed above and we will announce the winners in two weeks time, so be sure to check by on the 14th November 2010! We will e-mail all winners so please use a valid e-mail address when posting your entry in our comments section.
If we are overwhelmed with entries, we may add extra prizes to cater for the demand!
Good Luck!
Contests are a good way to decide which are the best, to make sure that you stand out in the computing contests the best way is to get the certifications such as the 1z0-043 and with that you can also get other certifications just to make sure that if the questions come from any field you will be able to answer them quickly and correctly. The dumps such as the 642-504 dumps give you more practice, by providing you a set of questions of ST0-91W that are closely linked to the examination.